Home

/

Home Maintenance Checklist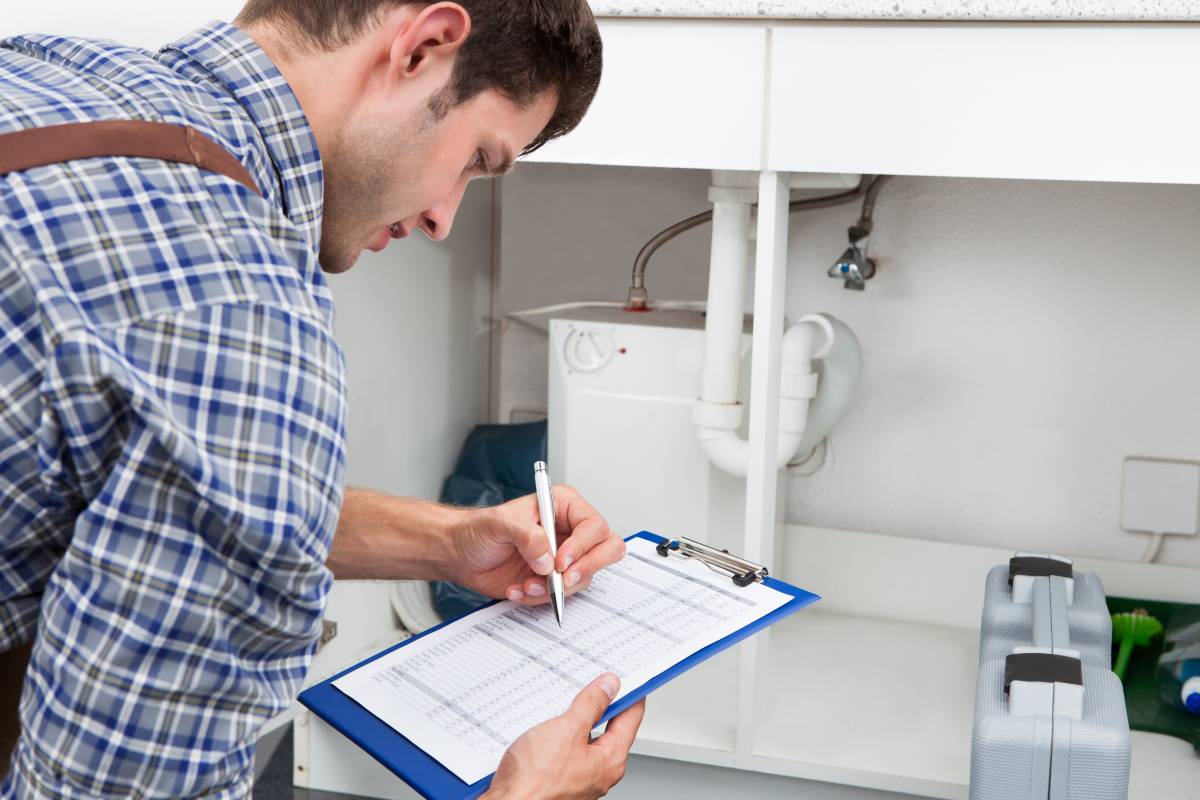 Find general maintenance contractors, fast

Post a task with your price in mind, then get offers.

It's free and takes only a minute.

See how it works
Your home is an investment that requires utmost attention. As the years pass, you want to ensure your home retains its quality and beauty. Regular upkeep is important to continue making your home a safe and comfortable place for your family.
With seasonal changes come different tasks for your home's maintenance. This makes it important to have a home maintenance checklist you can always refer to. This provides you with all the tasks you need to keep in mind, as well as the different issues you have to watch out for. Read this guide for a thorough home maintenance plan and work on those annoying home repairs. 
Monthly home maintenance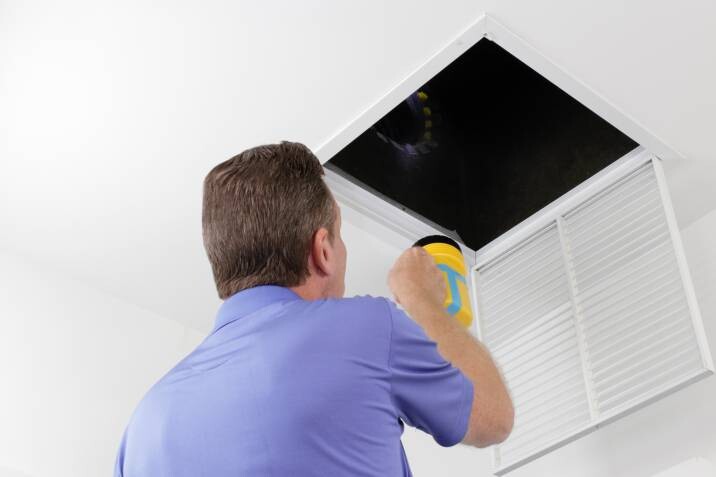 Inspect and change out HVAC filters. HVAC filters can get nasty – especially if you've got pets. Check them out every month to see if they need to be changed.

Clean kitchen sink disposal. There are a bunch of ways to do this, but the handiest and the best all-around solution is vinegar ice cubes. Put some vinegar in an ice tray and let it freeze, then run the ice cubes through the disposal. It freshens it, but as a bonus, ice sharpens the blades. (who knew?!)

Clean range hood filters. So, if you haven't done this – it's going to be gross. We suggest getting an auto degreaser (yes, you'll need something heavy-duty) and using that to clean with hot water.

Fire safety checks should be included in your house maintenance checklist. Make sure your smoke alarms are working as well as your fire extinguishers.

Test your carbon monoxide detectors. This one is simple and life-saving.
Quarterly home maintenance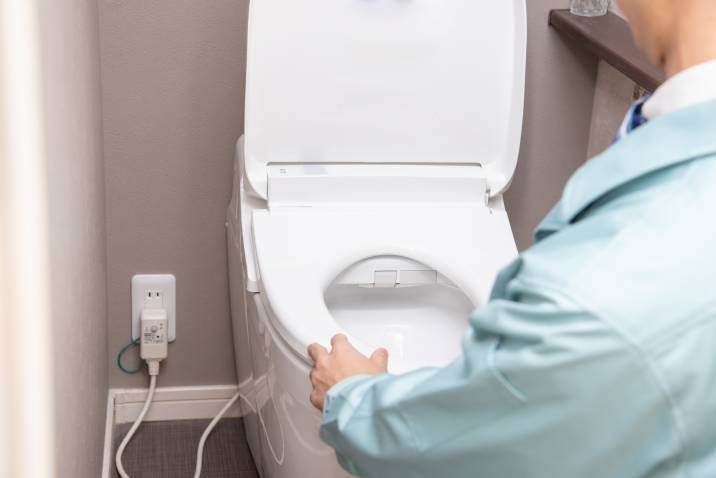 Test garage door auto-reverse feature.

Run water and flush toilets in unused spaces. If you've got bathrooms that aren't used much, make sure they are getting some TLC.

Clean your gutters if they are full of debris. Some homeowners luck out and don't get much debris in their gutters – others? Not so much. If your gutters get extra full, it might be worth getting a leaf-free gutter system.
Biannual home maintenance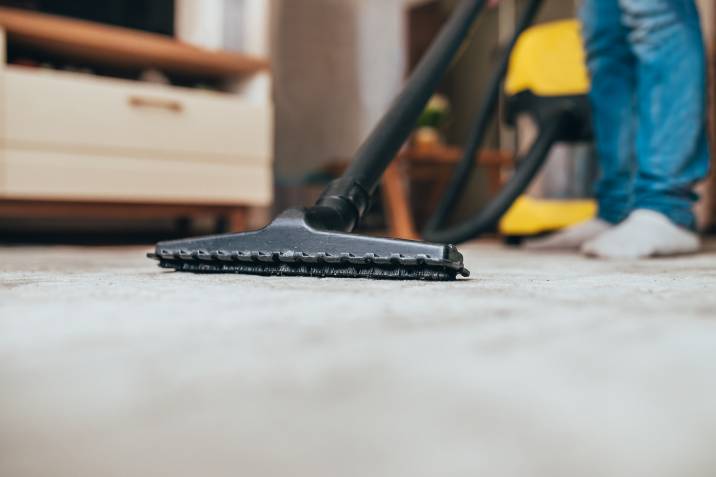 Deep clean. Trust us; this will be your new favorite thing in your home maintenance schedule. Go for a deep clean and get your home sparkling once again. This includes things like cleaning baseboards and appliances.

Vacuum your refrigerator coils. Did you know that your refrigerator can use up to 15% of your home power? You want your refrigerator running efficiently, and part of that is cleaning your refrigerator coils.
Spring maintenance checklist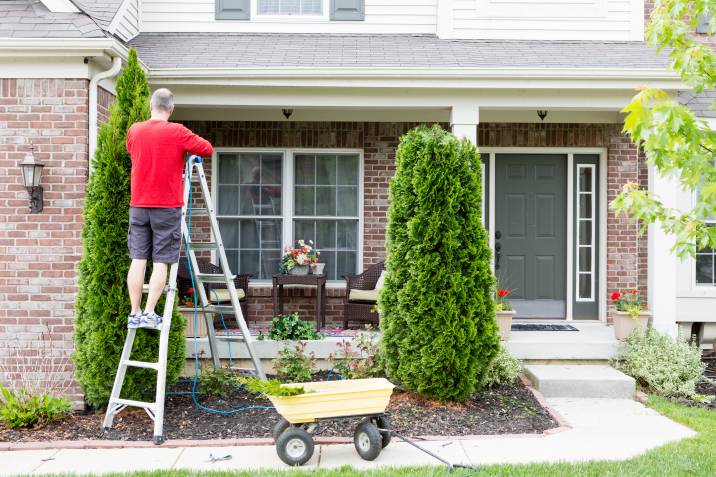 Check the exterior drainage and have your gutters cleaned. 

Check the exterior of your home for any damage, like paint chipping.

Get your HVAC tuned up.

Repair any damaged windows or screens.

Get rid of the dead plants around your home or anything that might attract insects.

Look up! How are your trees doing? They probably need to be trimmed.

Have a pro inspect your roof for damage or potential damage. 
For more spring home maintenance tips, read our ultimate spring cleaning checklist! This will provide you with cleaning hacks to include in your regular home maintenance.  
Summer maintenance checklist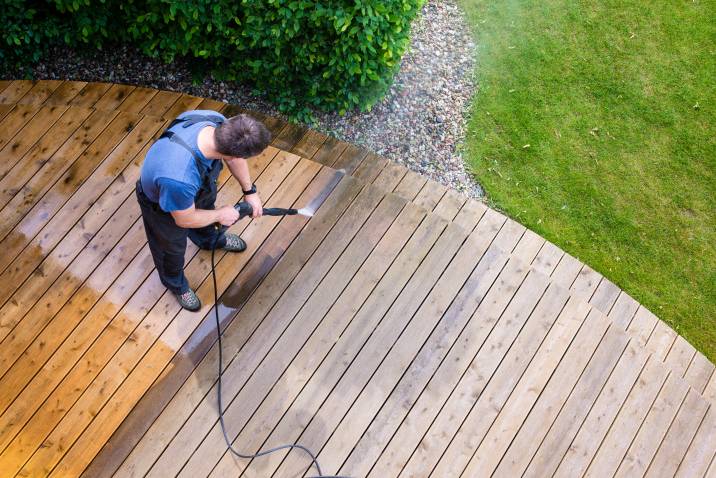 Check grout in bathrooms and kitchen and make repairs as needed.

Inspect plumbing for leaks.

Hire a pro to get rid of pests.

Have your decks and patios pressure washed.

Check and clean out your dryer vent.

Clean out the garage.
See what else you can do to prepare your home for the summer to keep your home cozy and comfortable during the warmer months. 
Fall home maintenance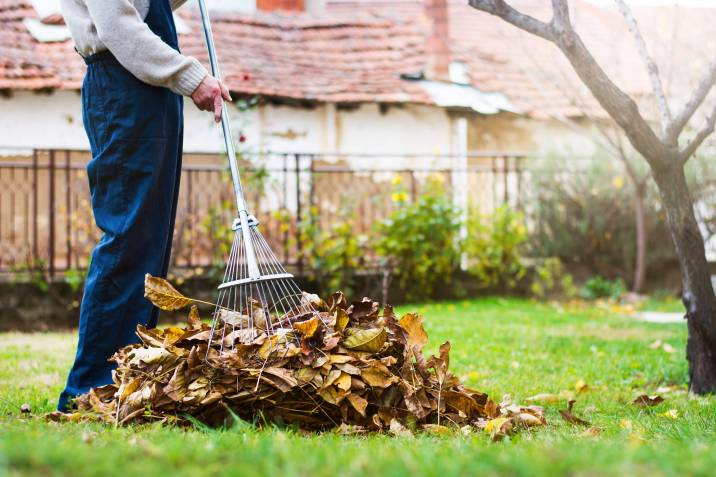 Flush your hot water heater.

Winterize air conditioning systems.

Get the heating system ready for winter.

Turn off and flush outdoor water faucets and flush them.

Get the chimney cleaned.

Make sure your sump pump is working.
Get more tips for your fall home maintenance checklist and keep everything in place before the colder months. 
Winter home maintenance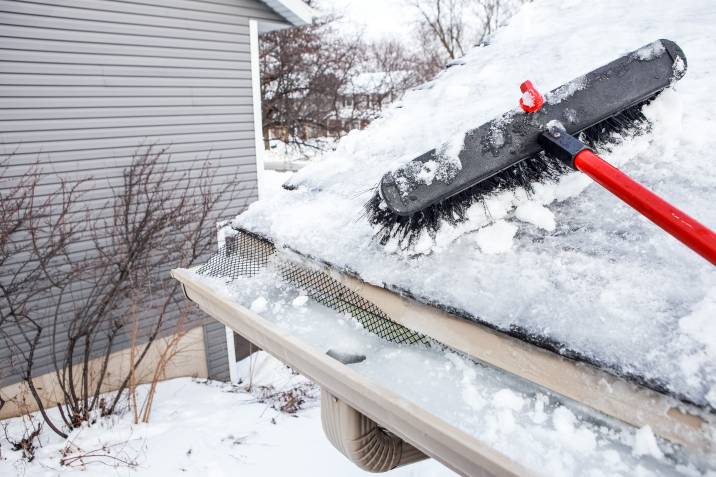 Regularly check for ice dams and icicles.

Tighten any handles, knobs, or racks, inside and out.

Check all locks and deadbolts on your doors and windows.

Remove showerheads and clean sediment.

Give your basement a good cleaning and check for any signs of water damage.
Of course, don't forget the nice touches for your winter maintenance! Painting, updating hardware, changing appliances, replacing those old, nasty carpets with new, beautiful hardwood. Your home deserves the very best! 
The most annoying home repairs
You either love them or hate them, but home repairs are a must. Some repairs are simple and enjoyable; others a little more complicated – it all depends on the building's quality. So, here are a few of the annoying home repairs to watch out for when you're doing your home maintenance plan. 
1. Leaking roof
Check the condition of your roof at least a few times a year, even if there are no obvious signs of leakage. Hail storms, shoddy construction, and UV damage can weaken the structure of your roof and allow water to get in.
Water leads to water damage; water damage leads to electrical damage; electrical damage leads to your house burning down. If you find a leak, fix it ASAP! 
It's probably best to leave this one to the professionals. Hire a roof specialist or appropriately qualified handyman to check and repair your roof (and clean out the gutters while they're up there).
2. Squeaking floorboards
Floorboards are easy to maintain and look great, but when you hear them squeaking as you walk around, it can get a bit annoying and worrying. For a quick fix, use some talcum powder in between to stop the rubbing. If that doesn't work, you'll need to secure them properly.
3. Door damage from pets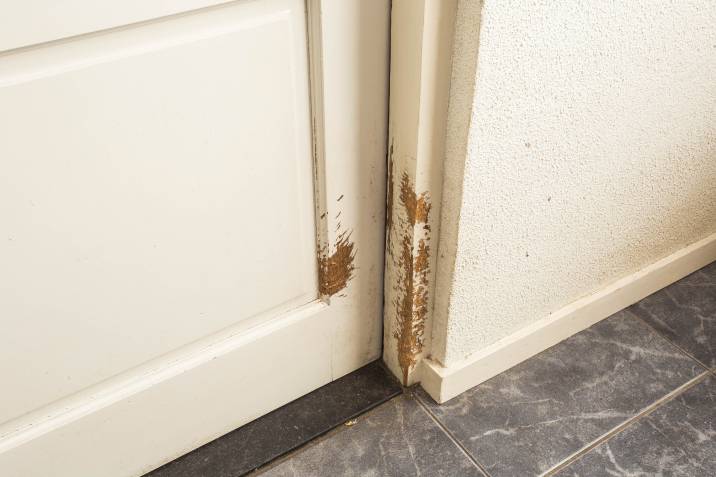 Do you have cats or dogs? Unless they're extremely well-trained, they'll likely destroy your doors. Whether by scratching up the wood or slashing through the fly screen, cute little claws can equal annoying door and fly screen repairs. Door damage caused by pets is another task on your list of home repairs. 
If it's a small rip, some clear nail polish will do the trick to keep it closed until it needs to be completely replaced.
For door scratches, if they are shallow, you should be able to sand them back and paint over them or stain them again. However, doors are relatively cheap so you could simply replace them and not do the hard work.
4. Remove wallpaper
Tacky wallpaper needs to go (and fast!), and it's something you can easily do yourself with a steamer or removing agent, knife, and perforator. Learn the best ways to remove wallpaper so you can give your walls a new look. Once you've removed your old wallpaper,  you're free to put up new beautiful wallpaper or repaint it.
5. Dripping taps
Nothing is worse than when you're trying to sleep, and all you can hear is the tap drip non-stop. Try to replace the washer that's worn out. If that doesn't do the job, check out the manufacturer's website and see if they have some notes on how to repair it.
6. Clogged drain pipes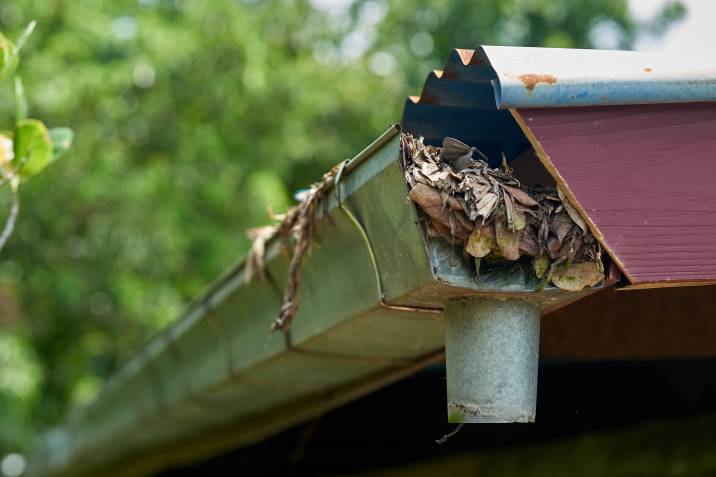 After a big storm, it's important to ensure that your gutters are clear of debris and rubbish so that the water can drain easily. You'll also need to check that it's not pooling, which you can easily do with a garden hose. If there's pooling, you might need to adjust them or if a whole side is bad, replace it.
7. Unfinished home repairs
One of the biggest peeves, especially for those who have just purchased a home, is having to repair unfinished work. Nothing is worse than having a missing tile staring at you because it was removed six months ago to get to a hidden pipe, then never replaced. If you don't have the skills or time to do the work, find a general maintenance handyman to help you with these unfinished repairs. 
8. Patching holes in the wall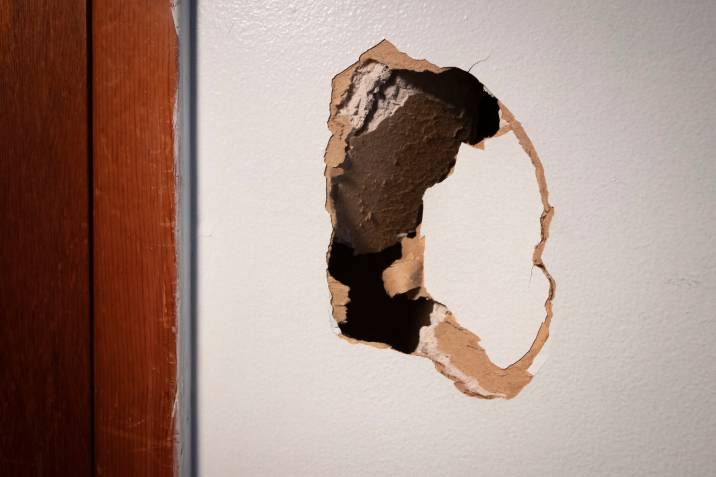 It seems easy; mix 'A' with 'B,' pop it on the wall, and the wall is fixed! If you think this is how holes are patched, you might be in for a rude shock. 
If you don't know what you're doing, no matter how many times you scrape that goop, it won't be right. You'll be left with ridges and lumps, and then you'll have to sand and paint it. We suggest that if you're short on time, hire a professional and step back and watch the magic. You'll save yourself a tin of goop and a lot of frustration.
Update your daily maintenance checklist as needed. If you don't have the capacity to cover all the tasks in your yearly house maintenance checklist, hire a Tasker for an extra pair of hands to do the other chores in your home. Whether it's cleaning the gutters to repairing the chimney, it's best to have pros to assist with your home's upkeep.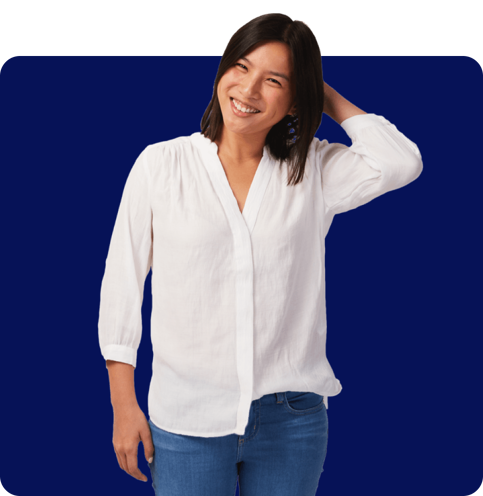 FAQs on Home Maintenance
Prevention is key, so keep your eye open to these parts of your home in your yearly house maintenance checklist:
Foundation

Roof

Water heaters

Heating and air conditioning systems

Electrical wires

Plumbing
Some home repairs require immediate action. Most of these pose risks to the safety of your household. Damaged foundations, electrical wiring, and roofing are the most critical things to fix. Leaks also need immediate attention to avoid potential water damage. Be sure to keep these things in check in your home maintenance tasks.
It's free and takes only a minute.