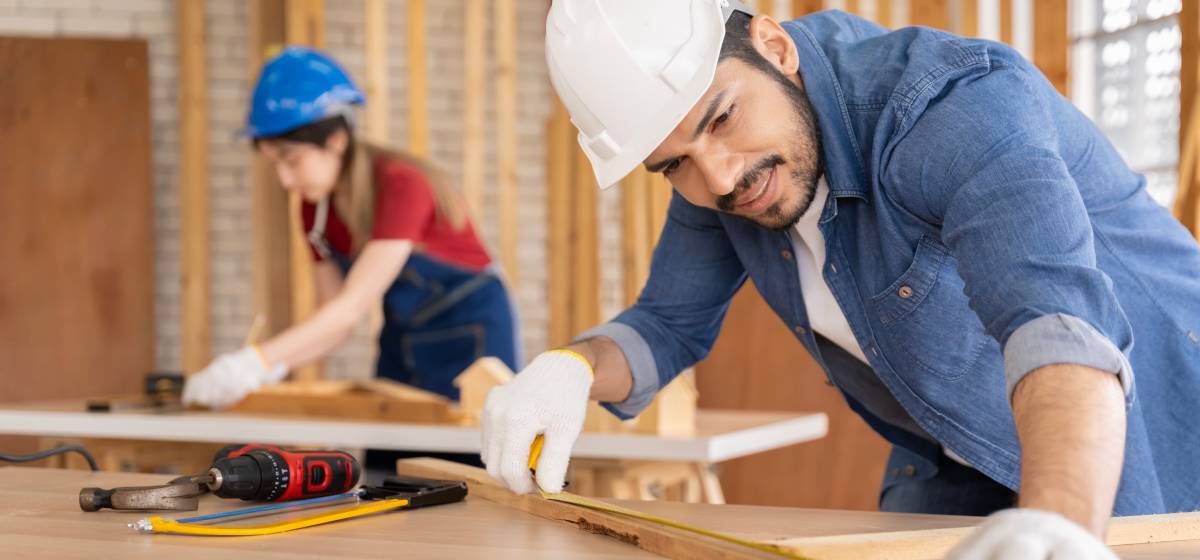 12 Profitable handyman skills you can quickly learn
Increase your income and grow your business with these handy skills.
Explore handyman jobs
So you've decided to become a handyman! After getting the proper training to develop basic handyman skills and taking on jobs, you may have reached a point where your profits aren't at the levels you'd like.
This list of handyman skills shows you more ways to earn money and grow your business.
What are a handyman's duties?
A handyman's duties include a wide range of tasks, such as cleaning facilities, doing repairs, and removing and replacing damaged items. Handyman duties can also include plumbing and electrical work. But these tasks are limited to simple repairs, maintenance work, or replacements. For example, a handyman can replace a light bulb but can't install a ceiling fan. You must be a licensed electrician to do such a task.
Profitable handyman skills you can learn
Here's a list of the skills you can develop and services you can offer to earn more income. Most of these services involve doing simple tasks like repairs, maintenance, or installing items your customer has on hand.
In most instances, you can use basic handyman tools, which will allow you to put off spending on too much equipment.
Some services may require certification as a licensed plumber or electrician. Rules on what you can or can't do without certification can vary from state to state. Please check with your local authority before offering specialized services.
Handyman services that don't require certification
1. Cleaning and clearing out dryer vents
A dryer vent channels all the hot, moist air from the drying process through a hole in the side of the house or through a chimney-like structure on the roof. As a dryer is used almost daily, a lot of lint collects in the dryer vent hose, posing a serious fire hazard. Most homeowners can forget about this important maintenance measure, which can become more tedious to do as the lint accumulates. Moreover, they'd rather not get up on the roof, so this can be profitable for the intrepid handyman.
2. Cleaning roof gutters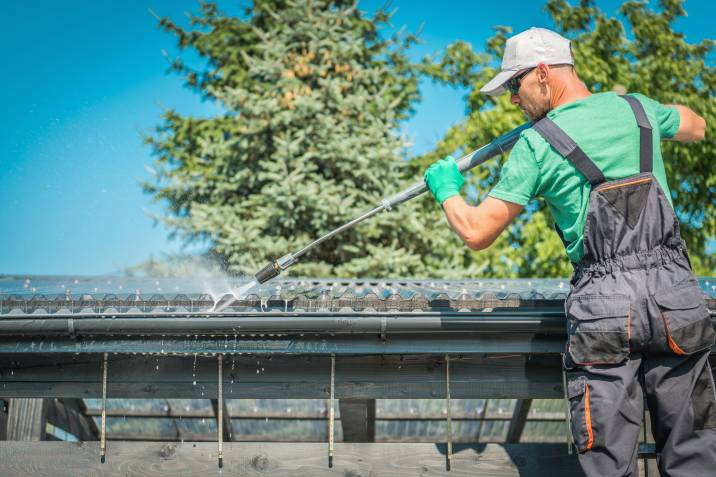 Without functioning roof gutters, rainwater can get into eaves and ceilings. Once water pools, this can cause mold growth and wood rot in roof beams, leading to more costly repairs. Roof gutters need to be cleared of any debris like dead leaves, dead twigs, or branches. Homeowners can pay top dollar to have their roof gutters cleaned out.
3. Cleaning clogged drains
Clogged drains can include those in showers, garages, as well as kitchen and bathroom sinks. Drains get clogged often, thus the constant need for cleaning services. You'll have to remove bits of soap, soap scum, and human or pet hair. You can imagine why most homeowners avoid doing this task and prefer hiring a plumber!
4. Repairing or repainting fence posts and fence panels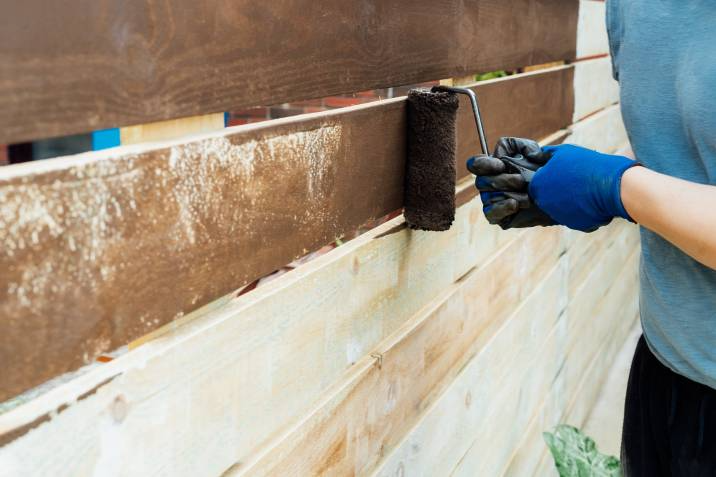 Most homeowners prefer not to repaint their fence under the hot sun on a weekend. The same goes for fixing leaning fence posts: no certification is required. Regardless, repairing or repainting fences is a tedious job.
5. Painting interior walls and rooms
While anyone can dip a paintbrush in a paint can and brush on paint, not everyone can guarantee a professional finish. Remember that some homeowners can't or won't do this themselves as they don't have the time or tools, or worse, they are allergic to paint fumes. They'll need someone like you to know which types of paint are safe for them, their children, and their pets.
6. Mounting a TV to a wall
Ever since TVs became available with only flatscreens, many homeowners would prefer to have them mounted on their walls to save space or reduce clutter. You can charge a good rate for installing TV wall mounts and attaching new flatscreen TVs to them.
7. Repairing drywall or plasterboard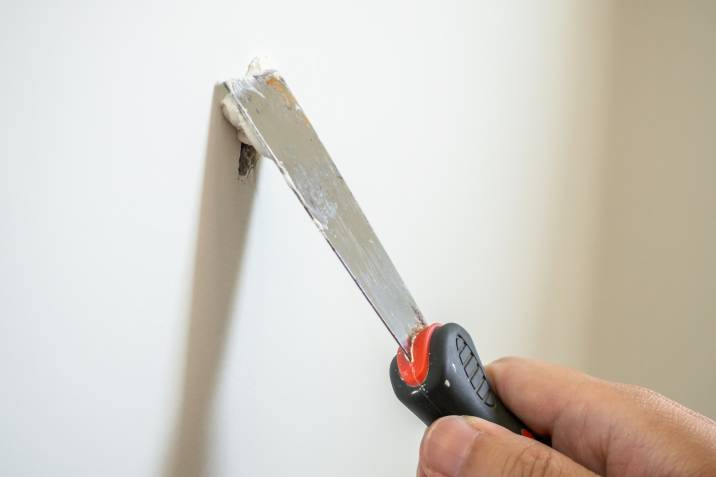 This is spot repair rather than a complete replacement. Homeowners will rely on you to remove and replace damaged sections of their drywall. These types of damage can include holes caused by children or pets accidentally gouging the drywall, termites boring holes, or weak spots and holes caused by plumbing leaks.
8. Replacing tile grout
Replacing cracked, broken, or flaking tile grout is a simple and profitable service to offer. You only need to work on specific affected areas of bathroom walls, floor tiles, or walls in other areas of a house. Only a few tools, new tile grout, and some elbow grease are all you need for this profitable service.
9. Cleaning window blinds
Many homes, offices, and commercial establishments use window blinds, so you won't have trouble finding business for this type of service. Many homeowners either neglect or forget to do this sort of cleaning. While it's not a difficult task, you will have to clean every slat on each window blind thoroughly with a vacuum cleaner or wipe them by hand to give the best results.
Handyman services that may require certification
10. Replacing light fixtures and electrical outlets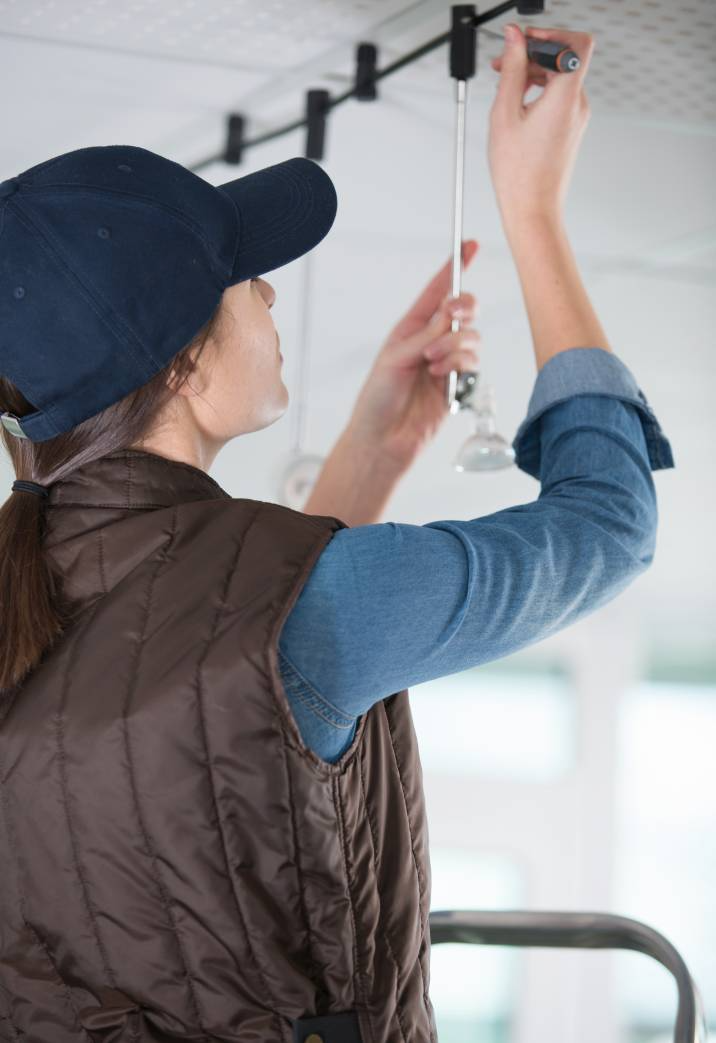 Homeowners usually avoid tasks that have anything to do with electricity. You can profit from their need to replace old light fixtures and electrical outlets. Note that in some states, you must have a license or certification as an electrician before you do jobs like this.
11. Replacing or installing ceiling fans
This can involve rewiring a ceiling light fixture to accommodate a ceiling fan. Installing a ceiling fan is a complex task; You need to be a certified electrician to do this, and yes, this can be profitable!
12. Appliance installation and repair
Some homeowners know to get their slightly damaged appliances fixed instead of replaced, but don't have the skills, tools, or know-how. They'll gladly pay a fraction of the cost of buying a new appliance to someone who can fix their existing one. Just be sure to get the necessary training and certification, usually as an electrician, to have the proper skills and knowledge for fixing appliances.
Other essential handyman skills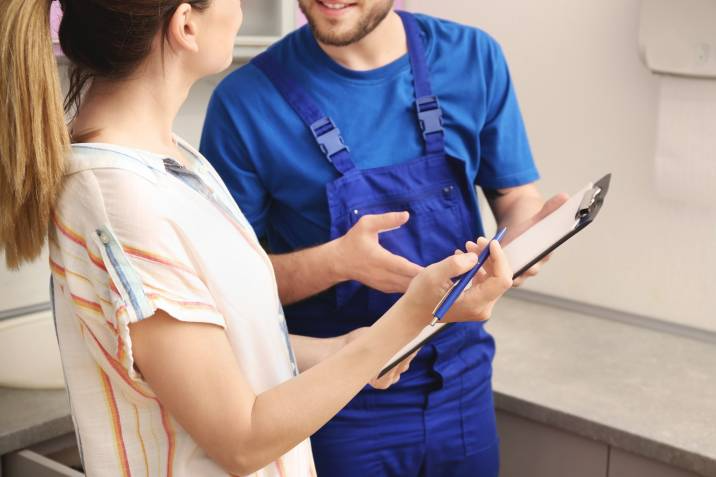 Apart from developing skills that can add to your services menu, consider developing and maintaining these skills that can help you better manage your handyman business:
Customer service
Whether you work as an independent contractor or part of a team, it's important that you know how to deal with and relate to your customers. Maintain a pleasant attitude; Show that you value your customer's time and that you appreciate them for choosing you and giving you business. Making your customers feel appreciated and special can guarantee repeat business or even get you referrals for new customers.
Record keeping
This is an important skill to have especially if you work independently and don't have your own secretary or accountant. Make sure to itemize every purchase and expenditure you make and keep important documents like job orders, purchase orders, and receipts. Take note of all the jobs you've completed and invoices you have yet to collect. Jot down the names and addresses of each of your customers so you can maintain a healthy business relationship with them.
Interpersonal skills
As a handyman, you'll be interacting daily with people from all walks of life, from homeowners to materials suppliers to security personnel and other business owners. You'll also deal with them online and in real life—whether it's making an offer on Airtasker or doing an on-site inspection. Wherever and whenever you deal with people, keep a pleasant temperament and act in a professional, friendly manner. Note that you'll be remembered not only for the services you offer but also for your attitude!
Adaptability
Not all handyman jobs are the same. A job can present different and unique circumstances like bad weather or having to squeeze into confined spaces. You may have to come up with unusual solutions to unusual problems so it helps to improvise. Develop the skill of coming up with creative solutions but don't compromise on your safety.
Good work ethic
You can be well-liked and respected as a handyman but that can all go to waste if you aren't punctual. Always honor your commitments and get to the worksite on time. Start your day early if possible and make sure to meet your deadlines. Falling short of a client's expectations can hurt your reputation, along with chances of getting repeat business or new customers from referrals.
How to expand your skill set and grow your handyman business 
1. Assess your current skills.
This is an important first step in improving and augmenting your basic handyman skills, which can help you get more handyman work and increase your income.
Make a complete list of your handyman skills, regardless of your level of skill or experience in doing them. Don't leave anything out and include everything you know how to do around the house: Do you know how to install a window? Can you hang up pictures on walls? Can you unclog a sink?
Include these in your handyman skills checklist. Remember that as a handyman, people are willing to pay you to do even the simplest of tasks. Don't disregard anything you can do; It might be profitable!
Once you've completed your list, assess which of these skills you're good at and those you think you need to improve. Make notes of these and refer to them later.
2. Research other profitable handyman services.
To find out which handyman skills to learn or services to offer that are potentially more profitable, you must be very observant and curious. Take note of your interactions with customers, and any other handymen you're friendly with or work alongside.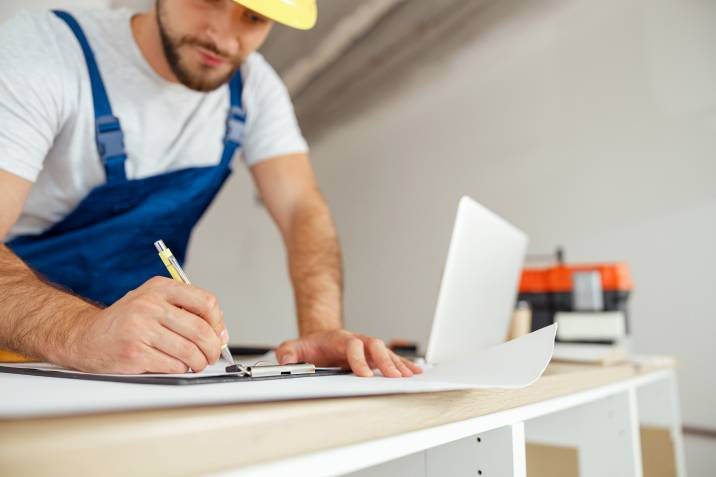 To research other potentially profitable services you can offer or skills you can learn, try these steps:
Ask your customers what other jobs they need to get done. What do they need repaired or foresee needing repairs, replacement, or maintenance in the near future?
Ask your handyman friends about their experiences. What jobs could they accept and what jobs could they not do and why. Did they lack the equipment? Did they lack the skills? Did they need specific licenses or certifications?
Take note of the weather conditions in the area where you operate. Do the homeowners get a lot of rain, and do they get hurricanes? What about flooding? What sort of repairs do they need in their locale?
Look at in-demand handyman services advertised online. What services seem to be the most in-demand in online listing platforms? Pore through job postings to see what handyman services people need.
3. List down the handyman skills you want to learn.
Make a list of the additional handyman skills you'd like to develop or must learn to meet client needs. Choosing handyman skills you're interested in is essential. You'd want to avoid wasting time on skills you won't enjoy doing in the first place! You may have to take courses in vocational schools, and that can cost money. So you must make sure to put your time, money, and effort into handyman skills that you find most interesting and rewarding.
4. Improve your handyman skills.
Now that you know which handyman skills you need to make more money, do what's necessary to learn these handyman skills. With your list of skills, it will be easier to know how to price your handyman jobs. Check first with your state as to how you should get the necessary training and certifications. This usually means taking courses or classes at vocational schools to do plumbing, electrical, or construction tasks. Research on getting certification online, or inquire at your city hall or local licensing office. You can also reach out to handyman professionals near you for coaching and apprenticeships.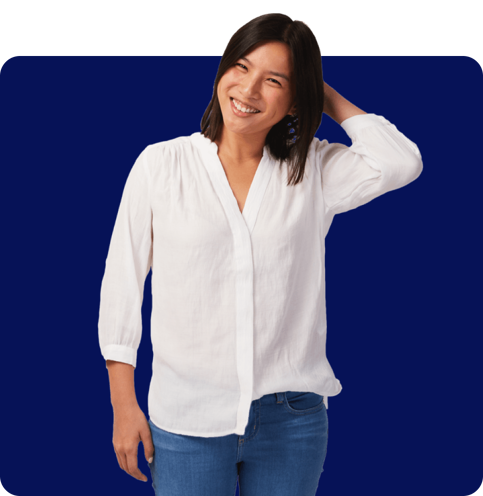 FAQs on handyman skills
You can learn to repair things by doing the appropriate research and training. You can go online and watch instructional videos or read blogs written by expert repairmen or handymen. You can also apply for an apprenticeship so you can see how things are repaired, and get some hands-on experience as you try your hand at repairing under expert supervision. Taking a course is another option, but this can cost you extra time and money.
A simple and effective way to list handyman skills on your resume is by summarizing them in one section. List down your skills in reverse chronological order, showing first what you do now to what you did in the past. Also, highlight essential handyman skills like basic repairs, appliance installations, and the ability to handle power tools. Present all your handyman skills in bullet points with only a few relevant details. Remember that interested clients will take a quick look at your skills and then reach out to you to discuss more specific project details and requirements.
Basic DIY skills are skills you can learn that enable you to replace, repair, or maintain things in your house. This can include painting walls, repairing damage to your furniture and walls, unclogging drains, and many more skills. These skills can involve your home's plumbing, lighting, wiring, and other fixtures. You can learn these and many more DIY skills with the help of online handyman guides or short courses at universities or vocational schools.