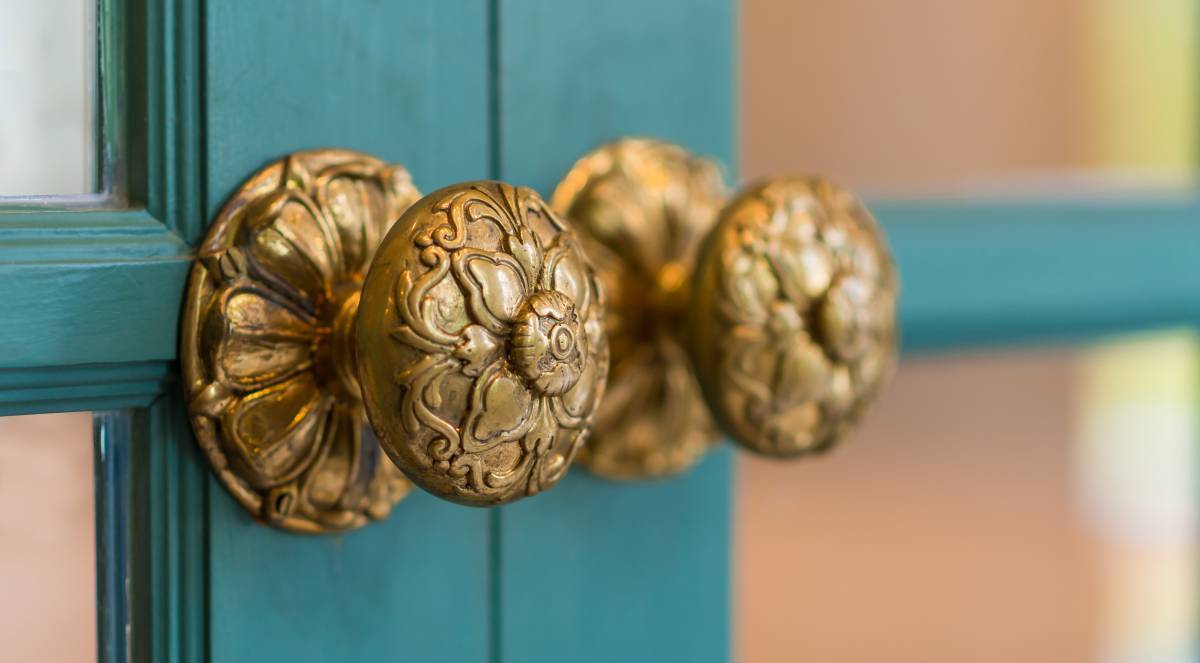 8 types of door knobs and which style to go for
Looking for the right door knob? Learn the different types that suit your needs!
Get your door knob installed
Find door knob installers, fast

Post a task with your price in mind, then get offers.

It's free and takes only a minute.

See how it works
Door knobs and handles are an integral part of doors, offering dwellers privacy and comfort. They offer a functional purpose in our homes, allowing people to get in and out of an area when opening or closing a door. They also add style to your entrances to make your home feel more put together. 
Different types of door knobs add a particular feel or functionality to your door. So if you're planning to replace or just change up your door or you need to know how to fix your existing door knob, read our guide and learn all about the types of door knobs. 
What are the different types of door knobs?
Dummy door knobs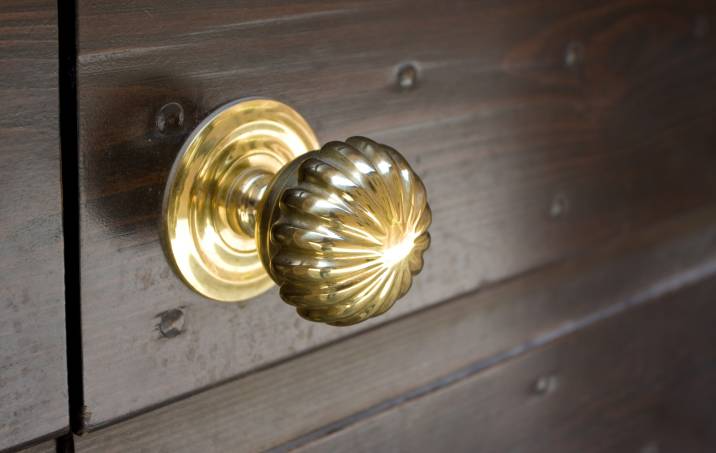 Dummy door knobs serve a decorative purpose more than a functional one. They typically don't lock nor rotate. They come in two styles: single and double. The single dummy is made to be mounted only on one side of the door where it will be seen. On the other hand, the double dummy comes in a matching set of knobs or handles to decorate either side of a single door.
When choosing a dummy door knob, consider the type of door it will be installed on. Usually, these are placed on doors attached to areas where a person never enters, like pantry doors or linen closets. Since double dummy knobs come in a unit, you may choose to place them on either side of a single door, or on opposing double French doors. 
Passage door knobs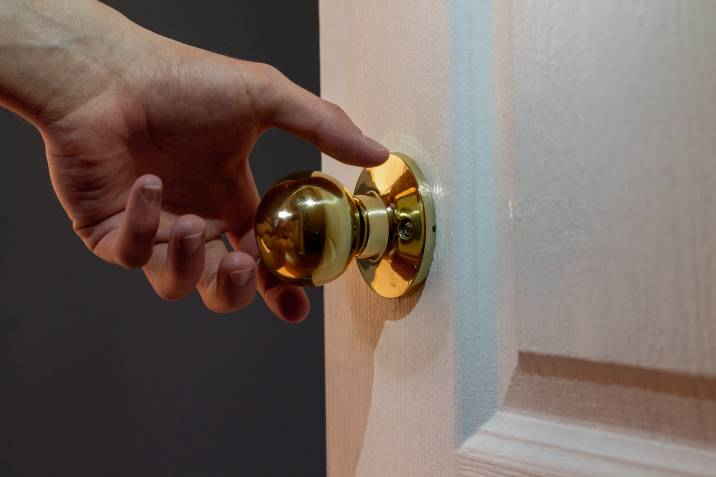 Passage door knobs have no locking mechanisms, but they do rotate. They are typically sold as a set of two, placed on either side of a door, and are designed with a latch that turns.
These are intended for use in areas that don't require privacy like hallway closets, kitchen cabinets, and pantries. These door knobs and handles are versatile and come in a variety of styles and finishes that will suit the style you're going for.
Door handle sets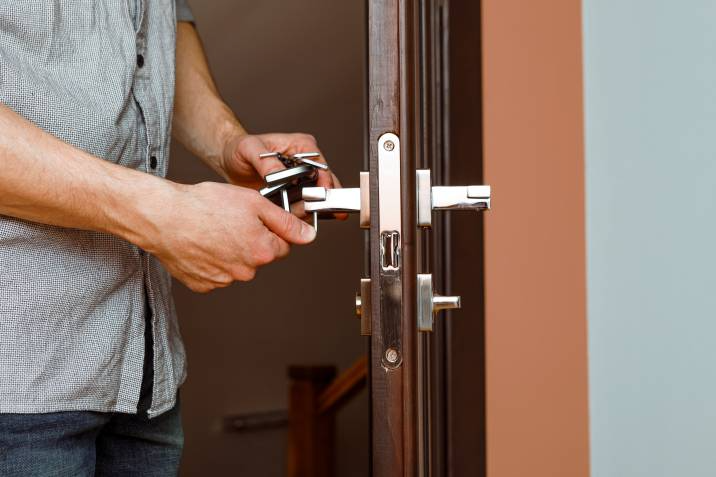 Handle sets are the most common type of exterior door knobs. These sets are made with a door knob facing the interior and an accompanying handle set on the exterior made with a built-in lock and separated deadbolt. 
This mechanism offers great security to your home because of its double lock system. It also requires the user to unlock it from the outside using a key. For traditional-style homes, consider getting a brass door handle set to give your door a beautiful, cohesive look. 
Keyed door knobs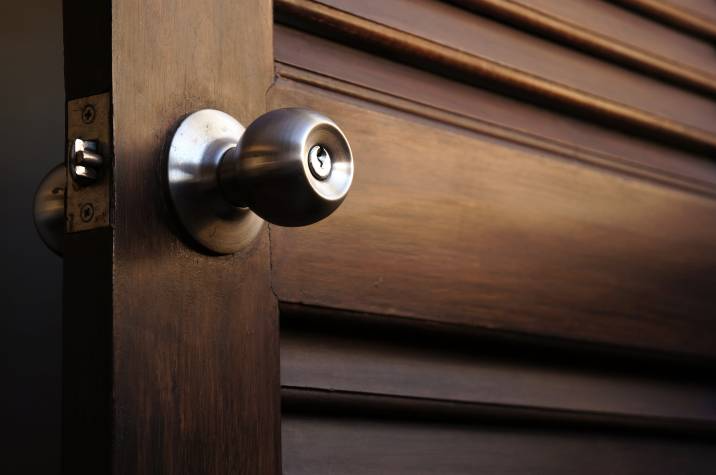 Keyed door knobs are typically installed on exterior doors, but they can also be used on interior doors, especially if you value privacy and protection. This type also comes in a set of two, where the outside knob can be locked and unlocked with a key, while the inside knob has a turn button.
It will also include a deadlatch for security. This mechanism is designed to ensure that the room can be opened or closed in cases of emergencies. In some designs, the lock and key mechanism can also be found on both sides of the door.
Use this type of door knob or handle in areas where you want extra protection such as exterior doors like the main door, or areas that lead into the home, like the garage door.
Privacy door knobs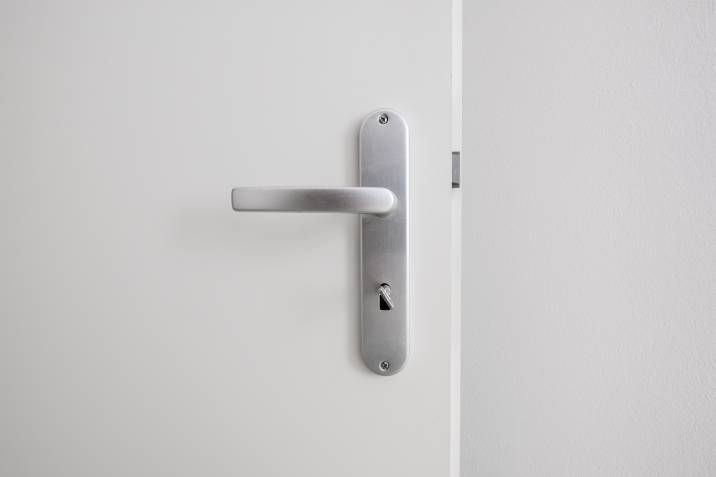 Privacy door knobs are similar to keyed knobs, but these are often made for interior doors. They can be locked and unlocked by an emergency key on the outside, and a turn button from the inside.
In case of an emergency and the key is nowhere to be found, a privacy door may be opened with a long, narrow generic key or stick-like item in the pinhole. These door knobs are usually found in rooms that require privacy like bedrooms, bathrooms, and offices.
Door levers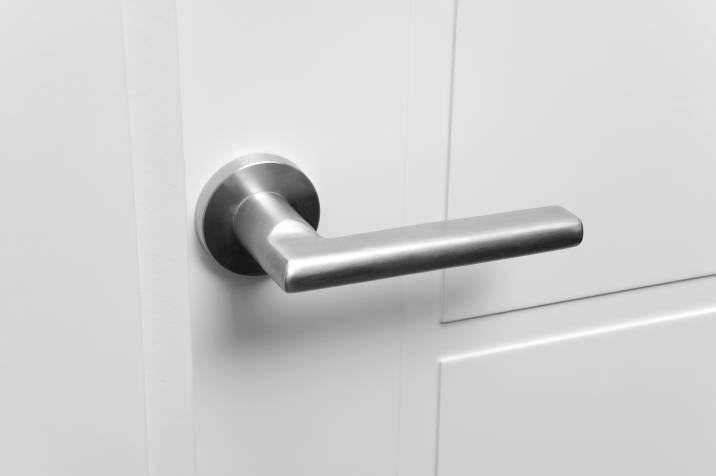 Door levers have an elongated, horizontally-aligned handle that may incorporate a lock typically located in the plate or in the barrel of the lever. These door levers are often found in areas that require ADA (Americans with Disabilities Act) compliance as these handles enable those without great hand function to access the door thanks to lack of need to turn it open.
These may also be used in areas for aesthetic purposes like French Doors.
Interior mortise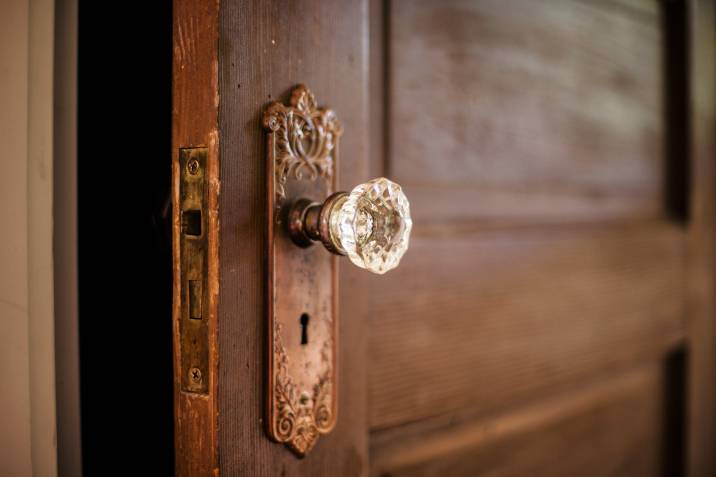 Interior mortise door knobs or handles are typically found in older homes and are great for increasing security on one's property. These have a secure locking mechanism that features a large rectangular lock set into a mortise that is cut in the side of the door. They are typically paired with skeleton keys and are connected to a deadbolt for privacy. 
The interior mortise style offers a beautiful, charming look that goes well with traditional-style homes. You may even find it as a glass door knob. But it can often be a challenge to install and may require an experienced handyman to put it up. However, you can find replicas that have an updated locking system.
Electronic door knob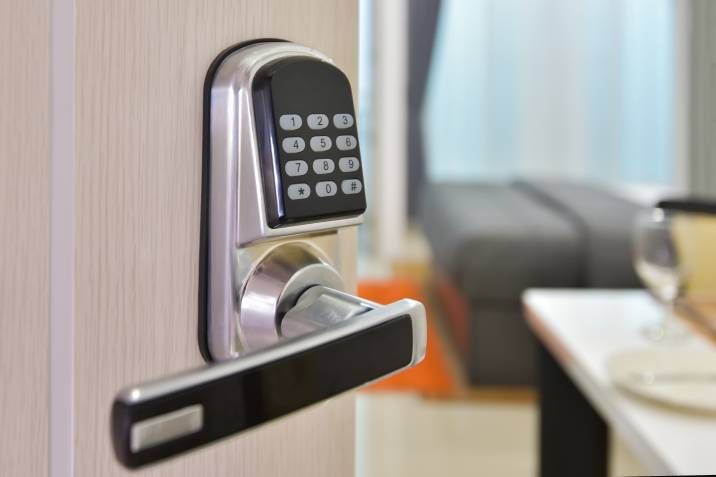 Electronic door knobs or handles are opened or closed with either a key or an electronic keypad to input a code to allow entry and exit. These are ideal for people who tend to lose their keys a lot. 
These types of door knobs or handles may be placed in interior or exterior homes that need security, or in rental units to allow access. While these are incredibly secure, some homeowners are wary of installing them in fear of intruders figuring out the code to break into their homes. While the chances of it happening are low, make sure to only divulge the pin code to the dwellers of your home.
Find the right door knob you need
Installing a door knob will take some time and effort. If you find that you don't have the time to do this on your own, get the help you need and find a Tasker!
Just post a task on Airtasker today to get your door knob installed.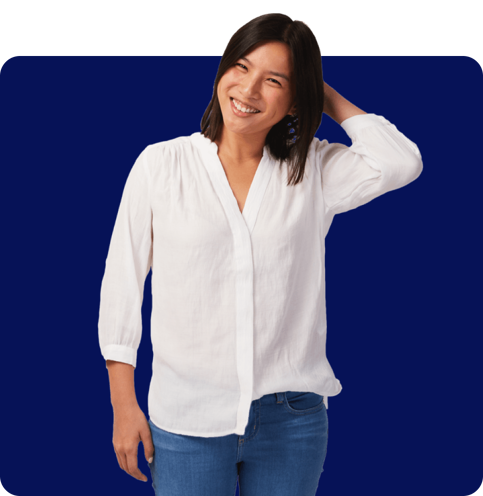 Frequently asked questions
We'll see more homes have keypad door knobs because of their modern feel and security. Passage or dummy door knobs remain to be a popular choice for interior doors that require no privacy, and these also come in a variety of finishes and designs. Keyed door knobs are still a reliable choice for door knobs, especially for those seeking privacy and security in their dwelling.
You can determine what door knob you need depending on where you will use it. For example, if you require a door for an office that needs plenty of privacy, you can consider getting a keyed door knob or a privacy door knob. If you are the type to forget your key a lot, a keypad door knob will come in useful.
It's free and takes only a minute.