Home

/

How to Install a Shower Curtain Rod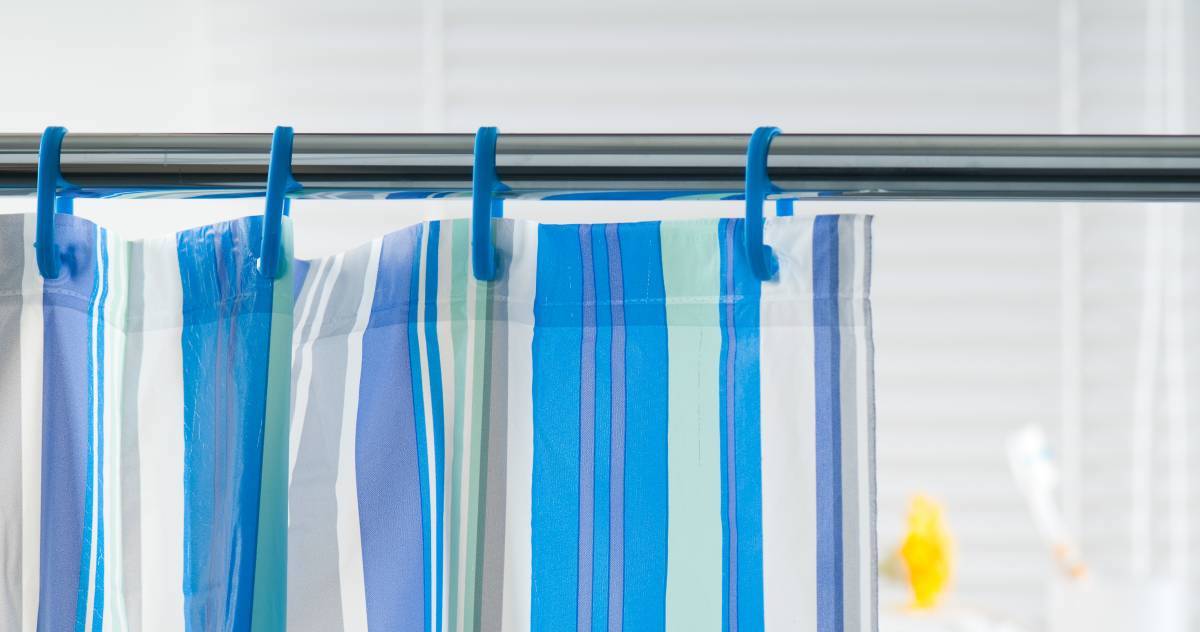 How to install a shower curtain rod: A step-by-step guide
Need help installing shower curtain rod? Learn from local handyman in our community!
Join Airtasker today!
Find curtain rod installers, fast

Post a task with your price in mind, then get offers.

It's free and takes only a minute.

See how it works
Searching for a quick guide to installing your shower curtain rod? Look no further—we're here to help! There are many types of shower curtain rods out there, so it's important to figure out which suits you. In this guide, we'll tackle the two main types of shower curtain rods: fixed rods and tension rods.
What's the difference between fixed and tension rods?
A fixed shower curtain rod is mounted onto the wall through drilling. Since it's already fastened permanently, this makes for a secure and stable option that will stay in place even when tugged on.
Meanwhile, if you're wondering how to install a shower curtain rod without drilling, then a tension rod is the answer. This type of curtain rod is a pre-assembled adjustable bar wedged in place between shower walls. Unlike a fixed rod, you won't need any special equipment to install this as it's an incredibly easy process. However, tension rods are less secure and tend to fall off.
If you want a quick, hassle-free solution, go for the standard tension rod. But if you prefer the sturdiness and aesthetic value a fixed rod brings, then ready your tools and yourself—you've got a weekend bathroom project ahead.
What do I need to install a shower curtain rod?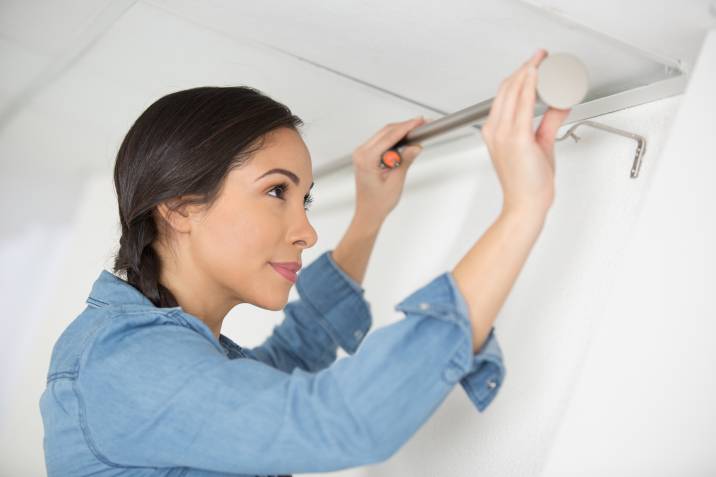 While tension rods do not need equipment to be installed, gather anything that might help you make the process easier than it already is (e.g. a stepladder to reach a higher point where you'd want to hang the rod).
General tools:
Tape measure and pencil/dry-erase marker

Stud finder

Level

Wall patching essentials (if needed)
Tools for fixed shower curtain rods:
Drill

Screwdriver

Drywall anchors
And of course, don't forget the shower rod of your choice (whether tension or fixed, including its hardware) as well as the actual shower curtain and rings.
Time of completion: It's easy to install a tension rod, which can take as fast as 10 minutes. Fixed rods are known to be more difficult to install since it requires precision, drilling, and more tools. A smooth installation process can take up to 2 hours to complete.
How do I hang a shower curtain rod?
For easier reference, we'll split this guide into two, covering both types of shower curtain bars we've discussed. But if at any point you feel like you need someone more experienced to do the job, better connect with an expert curtain rod installer instead.
Hanging a fixed shower curtain rod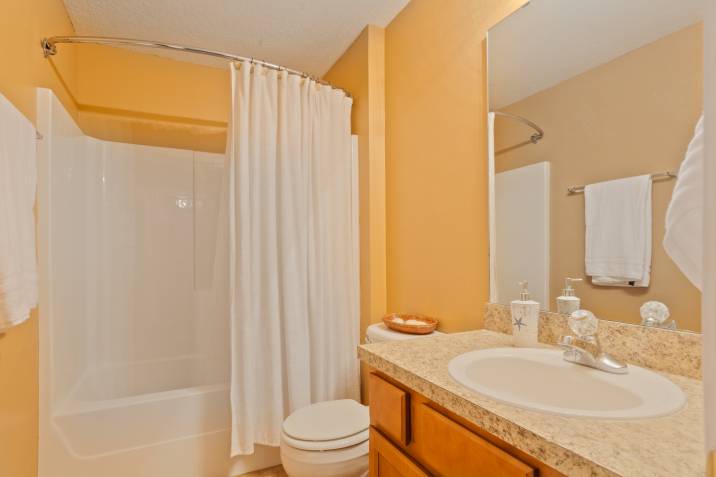 Step 1: Measure and identify the location
Grab a tape measure to determine the height of your brackets. As a general guideline, the shower curtain rod installation height has to be 15cm higher than the curtain itself. You can also try holding it up to an ideal height to identify where to hang your shower curtain rod.
With a pencil or dry-erase marker, mark the chosen spot on either side of the shower walls. Then, bring the rod up to the marked spots and use a level to ensure that your rod will be installed straight.
Step 2: Check the marked location for studs
Get a stud finder and slide it thoroughly past the spots you've marked. If the device lights up or beeps, that means there are studs behind the drywall. Areas with studs are ideal since they can hold screws better. If there are no studs, get additional support by pre-drilling holes and screwing hollow drywall anchors into them.
Step 3: Fasten the rod's mounting brackets
If you found studs behind the drywall, secure the mounting bracket by drilling holes directly on the wall and screwing the hardware in place. But if you had to pre-drill for drywall anchors, fasten the mounting bracket onto the anchors instead.


Step 4: Mount the shower curtain rod
Once the mounting brackets have been affixed, it's time to place the rod into the holes. Depending on the type of brackets you have, you'll either have to twist it to lock or simply lower the rod. You can attach the shower curtain rings before installing the rod so you can easily hang the curtain right away once in place.
Hanging a tension shower curtain rod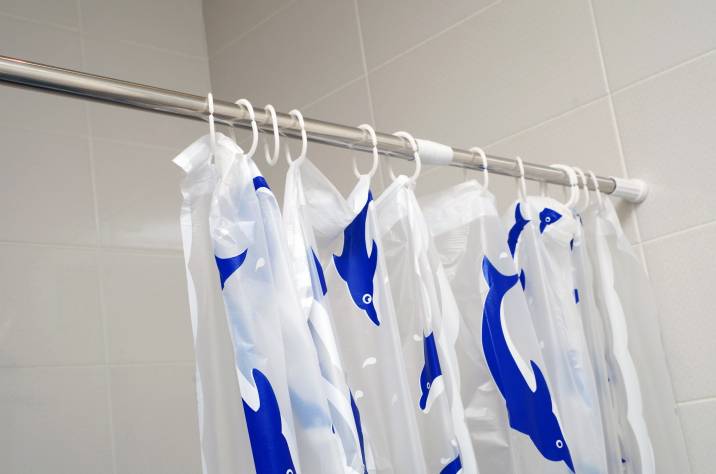 Step 1: Hold up the rod to gauge the height
Bring up the tension rod, stick one end against the wall, and identify where you want to install it. You can also insert the shower curtain rings as early as now so you won't be troubled by them later. 


Step 2: Extend the rod 
How are tension shower curtain rods mounted? It's pretty simple. Keep holding one end of the rod against the wall, and then start extending the rod either by pulling out or twisting the other side 'till it meets the parallel wall. 


Step 3: Check if it's level
What's great about tension rods is that they're adjustable. Even if it's already wedged in place, you can still move it by loosening the rod a bit and repositioning it. Once you're happy, make sure to tighten the attachment.


Step 4: Give it a tug to test
Before placing the shower curtain, put a little pressure on the rod to check if it's sturdy enough to hold some weight.
Step 5: Hang the shower curtain
How do you install a shower curtain? With the curtain hooks placed on the rod, simply thread them through the curtain holes at the top.
Your next DIY project awaits
By following the steps above, you'll have your shower curtain up in no time. In case you're unable to do it on your own, you can call in the help of your friendly neighborhood Taskers. Hop on Airtasker and post a task for your curtain rod installation needs!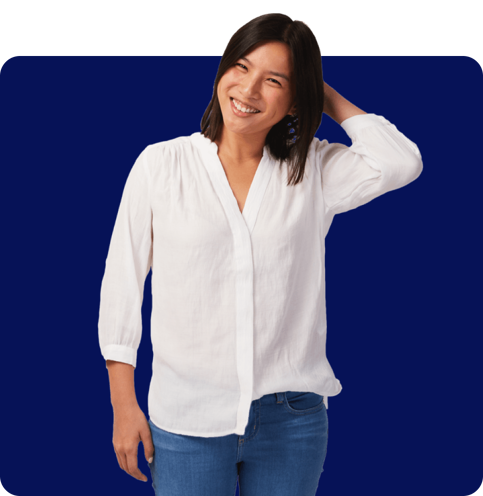 FAQs on installing a shower curtain rod
For fixed rods, it's generally advised to stray away from tiles and instead attach the brackets to the drywall. For tension rods, there shouldn't be an issue wherever you place yours so long as you tighten it.
Generally, this question applies to tension rods as a fixed shower bar will stay in place when attached right. Try tightening the rod first before anything else. You can also replace your shower curtain with a lighter one to offload some weight. For more support, you can also attach no-drill stick-on brackets.
It's free and takes only a minute.