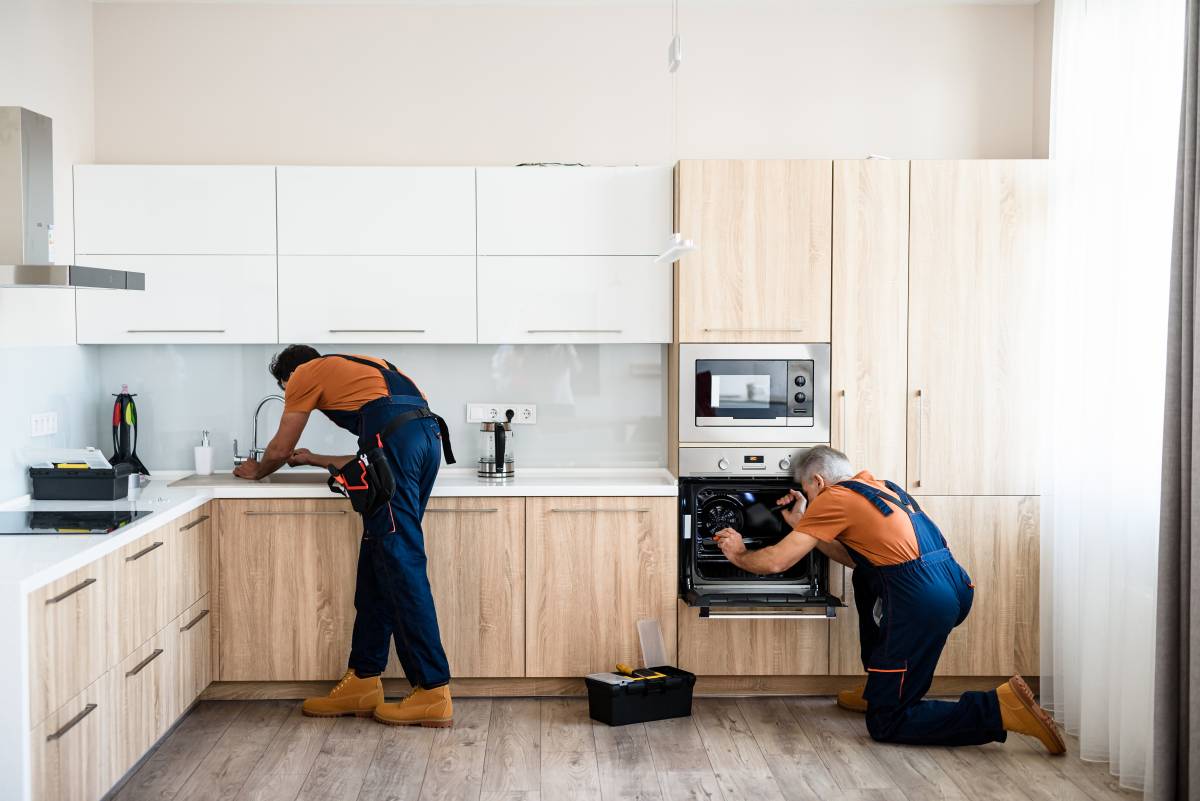 Find handyman, fast

Post a task with your price in mind, then get offers.

It's free and takes only a minute.

See how it works
There will always be a part of your home that require repairing or regular maintenance. While there's a sense of achievement in DIY-ing, it's sometimes better finding handyman services so you can focus on more important tasks. 
Finding a handyman to help with your odd jobs doesn't need to be complicated. Our top Airtaskers share some of the best tips on how to find a handyman. Read their insights so you can find the right person for your odd jobs.
Be specific
Imagine you have to hire someone for your workplace, but you can only post a 10-word job ad. You likely won't find the right person for the role. 
It sounds ridiculous, but it's something Airtasker handymen Nigel B and Martin G experience daily. Sometimes, they take on work knowing very little about the task and find that it's very hard to do a job well done. If you know how to hire a handyman who fits the work you need, this is a problem you and the Tasker can avoid. 
"A lot of customers are vague," Martin says. "And when you ask questions, they may not reply."
Some of the details he's looking for revolve around the scope of the job (what exactly you need to be done) and measurements. It doesn't need to be an essay, just enough to get a better understanding of the task.
Here's one task Martin says was very clear and detailed.
Example of an optimized Job Title and Description: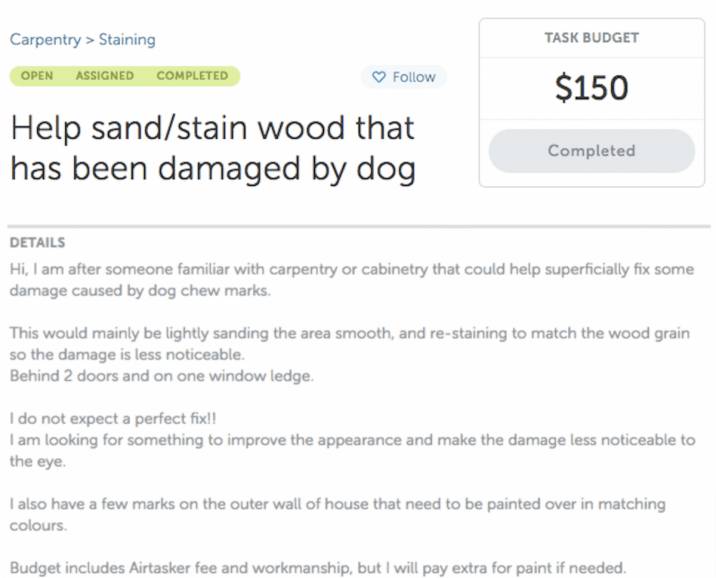 But, Martin also adds that sometimes words aren't enough, which is why it's important to use photos when hiring a handyman for a specific job request.
Send plenty of photos
Both Nigel and Martin say that taking photos and adding them to the task description are crucial when understanding what needs to be done. It also helps them assess what they need to do and provide an accurate quote for the work.
"Sometimes, even a really good description can't beat a photo," Nigel says. Though, he realizes that photos aren't always possible.
"I took on a task cleaning a gutter the other week. I fully understand they wouldn't want to send me pictures for that, as they passed me the work to avoid having to get up on the roof themselves," Nigel adds.
Price appropriately to save everyone's time
When we say 'affordable handyman', what we're talking about is getting a bang for your buck.
One of the important tips on how to find a handyman in your area is having a clear understanding of the costs of various projects. Price too cheaply, and you risk a botch job. On the other hand, heaps of companies out there will charge you a massive sum for something as simple as changing a light bulb. 
Nigel and Martin agree that doing a bit of research and offering a fair price is the best way to ensure the task runs smoothly and the work is of high quality. "You get what you pay for," Martin says.
How handymen set a price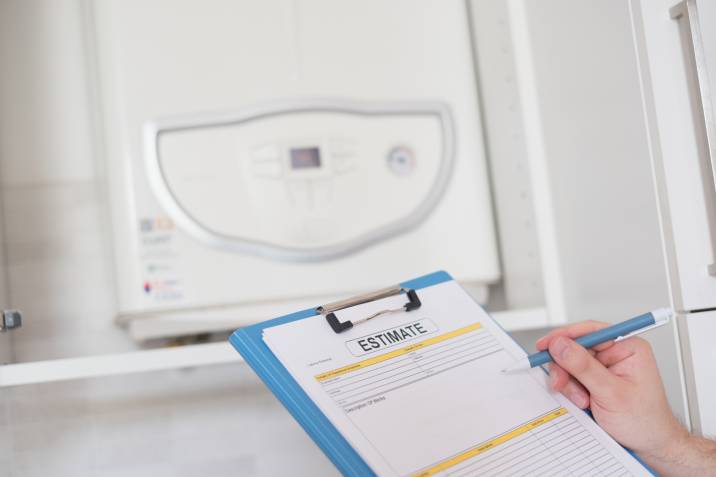 First things first, you need to get a grip on exactly how handymen charge out their services.
The end price is usually a combination of labor, equipment, and a call-out fee. We'll cover the last two a little later.
Handyman labor is typically charged by the hour, and the rate is often determined by the skill level of the handyman. There's no science to this; each handyman determines their own rate. The average hourly rate of a handyman is around $40. However, some professional handyman services may charge up to $120 an hour for more complex jobs.
Understanding the call-out fee
A call-out fee is unique to handyman services. It's a fee you pay to get the handyman to come and inspect your task. This covers the handyman's expertise, petrol, and travel time to your home. This is either factored into the total price or paid upfront for the work.
You may be able to negotiate a lower fee by hiring a local handyman that's close by. If it's convenient, they may waive or lower the fee.
Luckily, there are plenty of price guides for different types of odd jobs. Here are some that you can use as a reference:
As a general guide, Martin says his time for most tasks is around $30 per hour and that the person putting up the task should think about the total hours required. You should assess the total amount by working out the hours required for the task.
Nigel adds that you should be considerate of the handyman's additional costs when putting up a task, such as petrol to get to and from the job location.
Know if you need to buy the building materials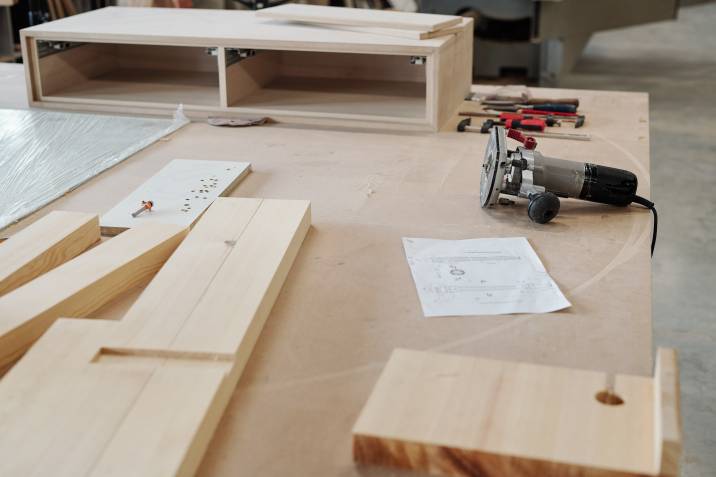 It's another way you can save on handyman costs. For example, if you're replacing a door, you buy the door, and the handyman installs it.
Handymen typically expect to have to provide all equipment and materials for any task unless you say otherwise. Depending on the complexity of the task, it's best to let them.
In some situations, people have tried to save money by buying the materials beforehand but wasted money buying the wrong things. To avoid unnecessary spending, stick to these rules:
For basic tasks (something you can do yourself), buy the materials ahead of time and shop around for a good price.

For tasks requiring expertise or specialist knowledge, leave it to the handyman to get the materials – it's part of the job.
While you may be able to save money on the call-out and materials, be wary about getting a bargain with the cost of labor, or you'll end up paying more in the long run.
Check if they have the right gear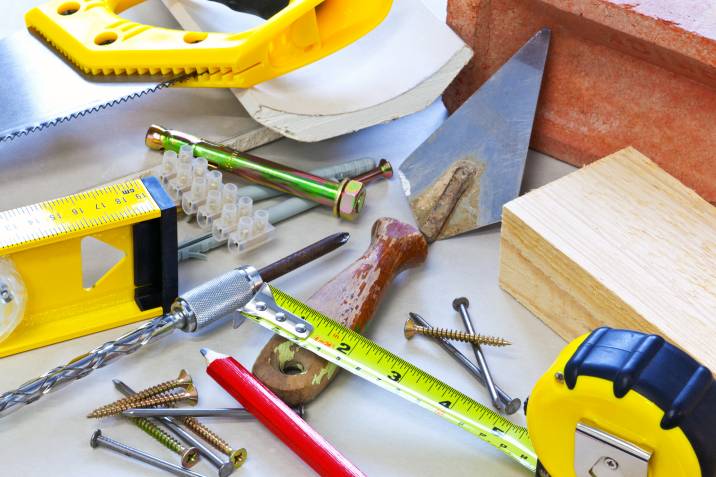 Most of the time, a handyman will have the right tools for the job, but it's always important to double-check.
"I wouldn't go to a job with any expectations that the Poster would have the tools," Nigel says.
But, he adds, it's worth double-checking this before the first visit because he's heard of times where handymen have turned up to work empty-handed.
If a handyman doesn't have a part or the right tool, they'll let you know that they might need to buy it and then come back to finish the task.
"It's all part of the service," Nigel says.
Take your time, be pleasant, and ask questions
Nigel says he's surprised by how many people don't ask questions when looking for the right handyman.
"People are generally quick to accept an offer, and don't double check exactly what they're getting," he says.
Martin adds that communication on the job also helps ensure things go smoothly and complete to the Poster's expectations.
"I will go the extra mile for someone who is easy to deal with," he says.
If you don't know where to hire a handyman, there are a number of licensed tradies for hire on Airtasker. Be clear with the job you need help with, and you'll soon receive offers from professional handymen in your area.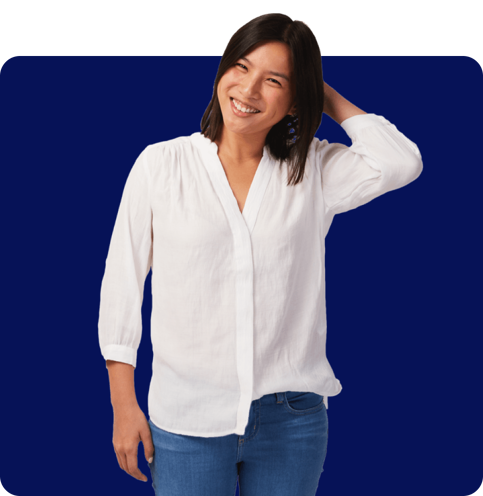 FAQs on Hiring a Handyman
A handyperson is skilled in different home improvement and maintenance tasks. Some of the common handyman repair jobs you may request are:
You want to make sure the handyman you hire doesn't only have the skills but other qualities that make them fit for the job. A good handyman possesses the following qualities:
Punctual 

Honest

Adheres to deadlines

Knows what they're capable of doing
No matter how big or small the job is, it's important to hire the right person. Ask if the handyman can provide you with references. You can also see the reviews of Taskers from previous customers to help you validate their work. Some handymen may say they're a jack of all trades. However, if you're looking for a handyman to hire for a specific job, check the type of work they can do. Taskers can include their specialties or skills to help determine if they're the right person for your request. 
How to find out if a handyman is licensed? Check with your local city's trade agency or association if the handyperson has an active license. Note that some states have different requirements for contractors. 
It's free and takes only a minute.