27 Types of curtains you'd love in your home
The best type of curtain depends on the area, fabric, and style you're going for. Find inspiration for home curtains in this guide!
Find a curtain fitter
Find curtains & blinds fitters, fast

Post a task with your price in mind, then get offers.

It's free and takes only a minute.

See how it works
Don't let your windows become an afterthought! Curtains can easily change the aesthetic of a room. It should be given the same attention as other furniture, as these details often make a huge difference in your home's atmosphere.
If you're looking for inspiration, you have come to the right place. Let's go over all the different types of curtains for the living room, bedroom, and other areas of your home.
Types of curtains according to area
Kitchen curtain ideas
Kitchen curtains provide privacy, security, and light exposure control to the very heart of your home. They are typically short curtains that drape over the top of small kitchen windows. They can also add appeal to your kitchen ambience.
Valances
Valences are one of the most common types of kitchen curtains. They drape over the top of windows and are used for decorative purposes, adding sophisticated flair to bare windows or other pre-existing kitchen curtains.
Cafe curtains
Cafe curtains, as the name suggests, are traditionally used in breakfast nooks or cafes. They can still be used on small windows where you want privacy while letting some light in.
Window sill curtains
Window sills provide total privacy to your smaller windows. They are curtains that hang slightly above the edge of the window sill. This is usually installed on windows that have fixtures or furniture below them. 
Balloon shades
Balloon shades look cute on kitchen windows. They're gathered fabric resembling a cloud with ties or split rings to control its pouf and the light entering your window. This can be installed independently or on top of pre-existing kitchen curtains. Try adding it to valences or cafe curtains for UV protection.
Priscilla curtains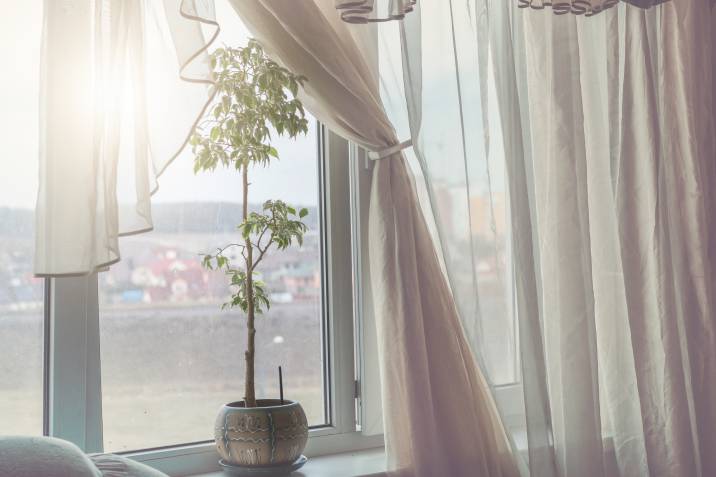 Priscilla curtains are thin, ruffled curtains mounted on each other, providing a crisscrossed, overlapping effect. They are usually made of lace and are mainly used decoratively rather than functionally.
Outdoor curtain ideas
Outdoor curtains provide UV protection and sometimes water-repellant features from the outside of the home.
Patio panels
Patio panels are usually single-panel curtains drawn to the side of the patio door. They often have a "drawing wand"  to allow easy passage in and out of a patio. Use this to add a modern luxurious touch to your space.
Door panels
Door panels are mainly used to cover French doors. They're sheets of fabric cinched in the middle with a tieback. This adds a decorative element to your doors while providing privacy to your home.
Bedroom curtain ideas
Bedroom curtains provide additional features beyond their decorative purpose, such as additional privacy, light adjustment, and temperature maintenance. Here are the best type of curtains for your bedroom.
Blackout curtains
A blackout curtain is a very thick multilayered synthetic material with a lined fabric to block out light and even cold draught. This is the best type of curtain for your bedroom if you want privacy and maintained darkness. 
Thermal curtains
Thermal curtains have acrylic foam between the layers of fabric, providing additional insulation to dampen the sounds and block out the sunlight, reducing energy use. This works for either cold or hot climates since these curtains regulate the temperature inside your home.
Living room curtain ideas
Bedroom and living room curtains can be used interchangeably. Bedroom curtains are usually more functional, while living room curtains are decorative. Below are some ideas.
Single panel
A single panel curtain is a large panel of fabric designed to be pulled from one side to cover the entire window. This gives a modern yet timeless style to any room.
Pair panels
Pair panels are the more common type of curtains. They consist of two curtain panels pulled from each side to close. Use this for a classic yet contemporary impression.
Roll-up curtains
Roll-up curtains allow you to control the amount of light that gets in by rolling up the curtain from the bottom up. They are usually used as an alternative to blinds.
Austrian panels
Austrian Panels have horizontal poufs of fabric that form a scalloped pattern. This gives a regal and dramatic look to a room, usually seen at events. Use it for your next house party if you want to go fancy.
Drapes
Drapes bring more elegance to your home. They're similar to curtains except that they are lined, thicker, and extend to the floor. Because of this, drapes form pleats and are considered more formal and luxurious than curtains.
Types of curtain pleats
Pleated curtains never go out of style. They're often used for traditional or formal aesthetics. The following types of curtain pleats differ by attachment. 
Rod pocket
Rod pocket curtains feature a "pocket" that is sewn into the top of the curtain. The insert is hidden by the way it's enveloped in the rod. Use this if you want the rod hidden.
Grommets and eyelets
Grommet and eyelet curtains are the more widely used curtains in contemporary or modern design. This is because they have big open rings large enough for the rod to pass through, making opening or closing easy. 
Tab top
Tab top curtains are similar to rod pockets in that they come with loops on the top to be pulled right over the rod. These loops are often buttons stitched on as a decorative element. 
Tie-top
Tie-top curtains are similar to tab tops in that they hang below the curtain rod. These are attached by tying bows or knots at the top. They're more on the informal style of curtains, great for evoking a bohemian, playful, or laidback atmosphere.
These types of curtains combine rod pocket and tab top curtains. Often used as decor, their differences lie in the style of ruching.
Pinch pleats
Pinch pleats are traditionally styled curtains. They are pinched at the top, creating fuller pleats as they gather down the curtain. 
Goblet style
Goblet style pleats are similar to pinched pleats, but pinched a few inches lower, resembling a goblet or an inverted wine bottle. They are usually seen in formal rooms such as ballrooms or fine dining.
Ripple fold
Ripple folds are one of the common styles of curtains. They are usually installed on a track, making opening and closing easy. They're called ripple because the folds create a soft flow, making them look modern yet classy.
Box pleat
Box pleats are pinched or folded equally to form clean, angular, equal-lengthed wide pleats. This requires precise measurements. They're usually seen in dining rooms and lounges.
Types of curtain fabric
There are also different types of curtains depending on the material or fabric. Below are the five most common ones.
Cotton
Cotton is the most common fabric choice across the different curtain styles. They are easy to clean, making them more versatile and affordable.
Sheer
Sheer curtains come with hooks. They are lightweight, semi-transparent sheets that allow light to come in. They provide some privacy, but they're not great at insulating. They're typically used together with other types of curtains. 
Lace
Lace is also a type of sheer curtain. They're also lightweight and semi-transparent but thicker. They're constructed from an openwork fabric of intricate patterns.
Velvet
Velvet is your best choice if you want some privacy. Its thick fabric also reduces noise and keeps draughts out. However, this also means it's harder to maintain or clean and usually requires a professional handyperson for help.
Silk
Silk is a semi-sheer fabric known for its luxurious effect. It provides medium sun protection, but it also rots in the sunlight. This is better used with other curtain fabrics. Its delicate material makes it difficult to clean and maintain wrinkle-free.
Time to hang your curtains
Curtains are more than just decor—they complete the look and feel of the room! From light and airy sheer curtains to classic and elegant drapes, many types of curtains can add style and function to any space.
If you're ready to tackle that to-do list and get your home looking its best, book a curtain fitter today! With Airtasker's easy-to-use platform and transparent pricing, getting the help you need has never been easier. Post a task and dress up your windows.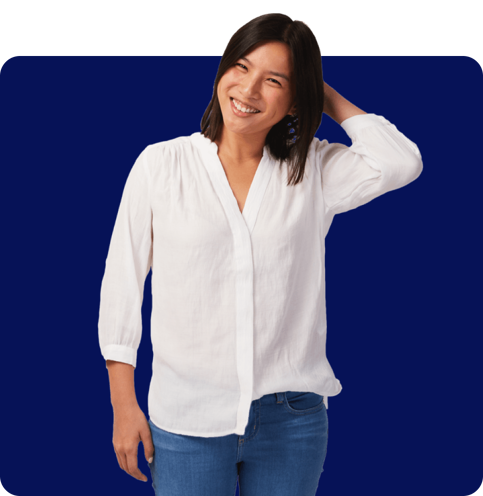 It's free and takes only a minute.