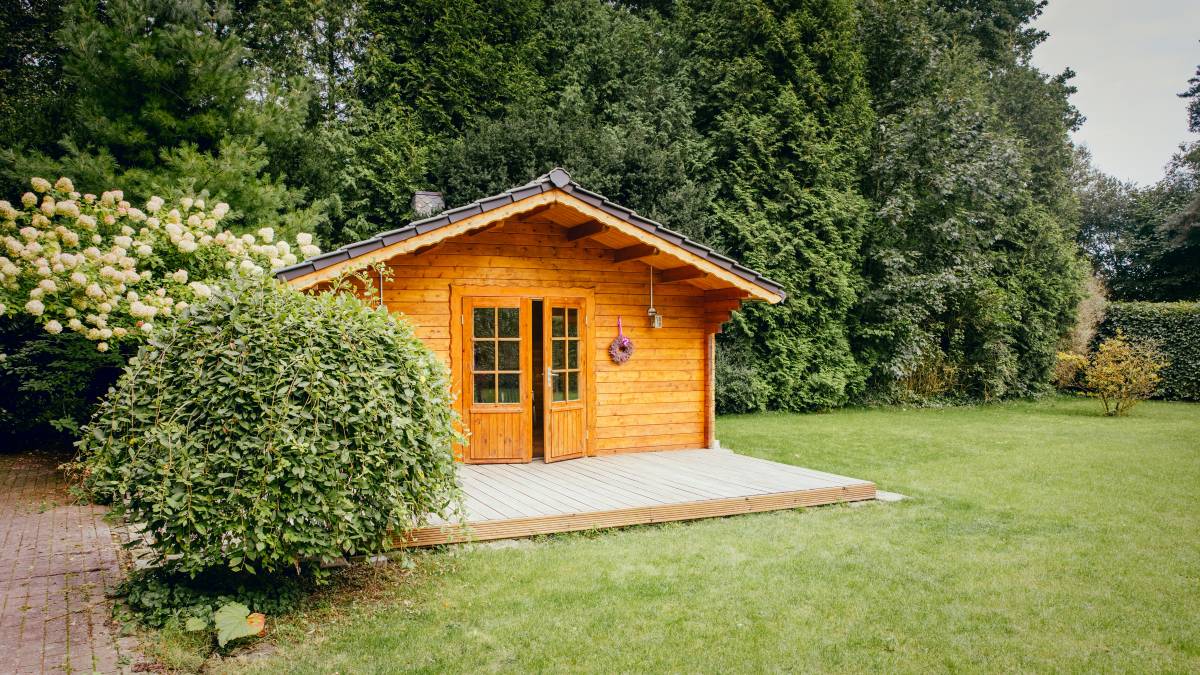 Transform your outdoor space with these stylish and functional shed ideas.
Transform your outdoor space with these stylish and functional shed ideas.
Find garden shed installers
Find garden design experts, fast

Post a task with your price in mind, then get offers.

It's free and takes only a minute.

See how it works
The garden shed doesn't need to be a crusty old frame full of spiders and hard-to-reach corners, nor does it have to house unused equipment. In fact, there are many creative shed ideas to make a stylish and functional addition to your home and show off your design personality!
From housing your lawnmower to providing a fun spot for the kids to play in, there are many ways to make use of your garden space. Read on for some of the best DIY garden shed ideas.
What can I do with my garden shed?
Idea #1: Log cabin shed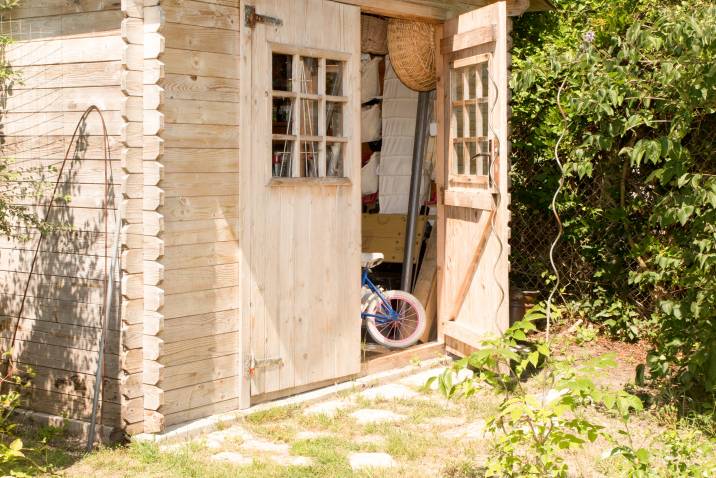 Our first idea is to create the look of a log cabin as an adorable way to introduce some rustic charm into your garden. A log cabin shed will store all your garden tools while adding a feature piece to your yard. The natural wood colour will suit every outdoor look!


Idea #2: Open-concept shed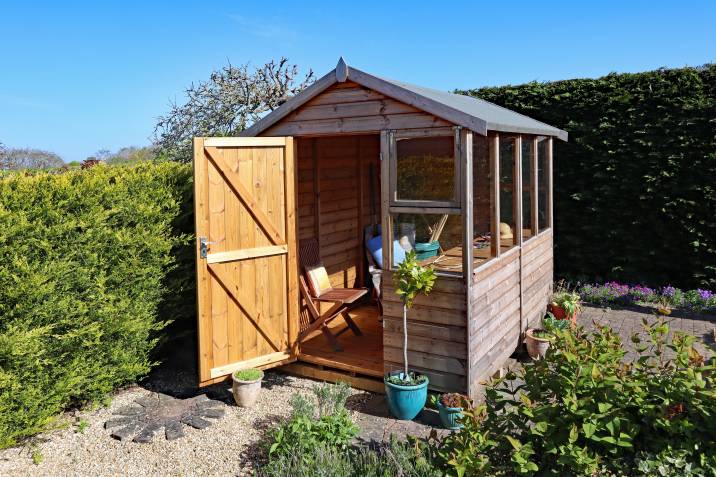 By removing the door and a wall of your shed, you can create a look that almost feels like an open bar. Hang your tools neatly on display and create easy access. An open-concept shed is a unique take on the garden shed aesthetic.
Idea #3: The backyard barn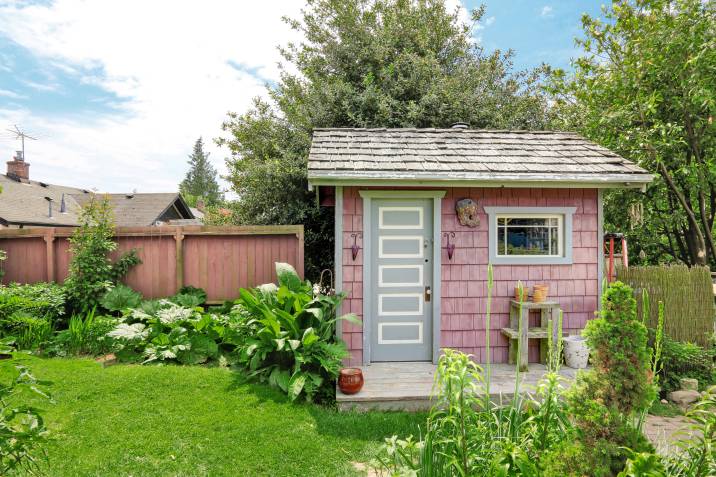 The backyard barn makes perfect sense for storage, holding all your essentials just like a real barn! If you aren't storing much, this could also be a functional space that adds class to your outdoor area. Who wouldn't comment on the mini barn sitting in your backyard? If your outdoor area is small, you can scale down the size of the "barn" to suit.


Idea #4: The keep-it-small shed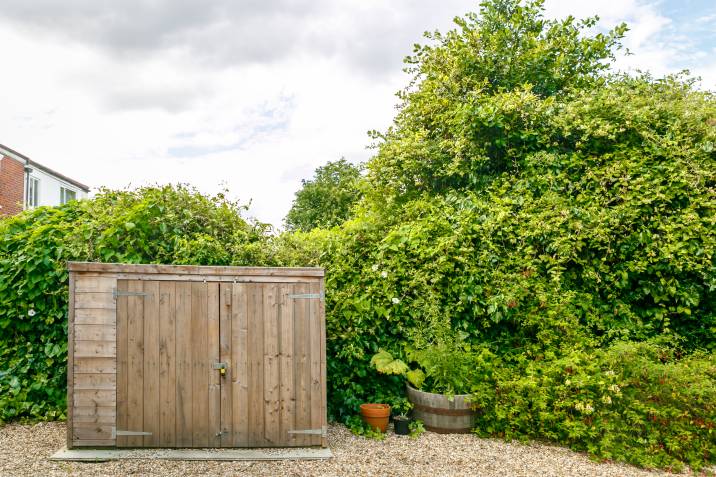 This small backyard shed is a minimalist approach to a DIY garden shed. Still a handy storage facility, the classic design is not only functional but also a great element to have in a backyard setting. Keep the shed sleek and modern to disguise it from looking like an ordinary shed.


Idea #5: A shed with a matching fence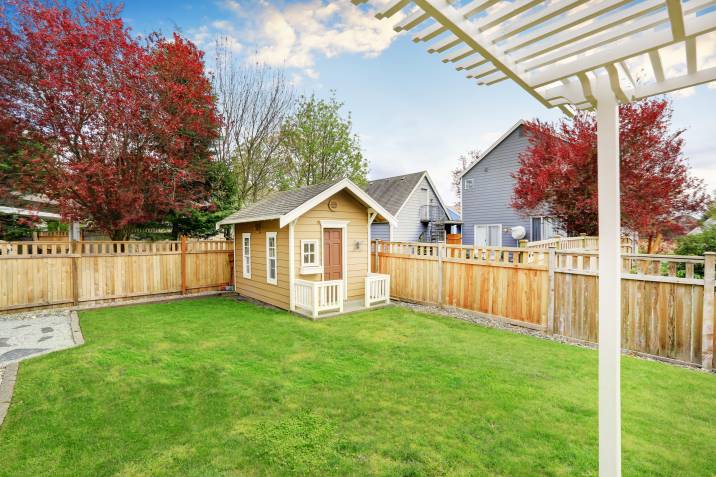 Matching wood elements are always a winner in design. A matching fence around your shed is a great way to create storage without making things look like an obvious storage shed. The mini house out the back of your yard is exactly that! You can even couple this as a playhouse for the kids; just make sure you aren't keeping any sharp or dangerous gardening tools in there.
Idea #6: The old wooden shed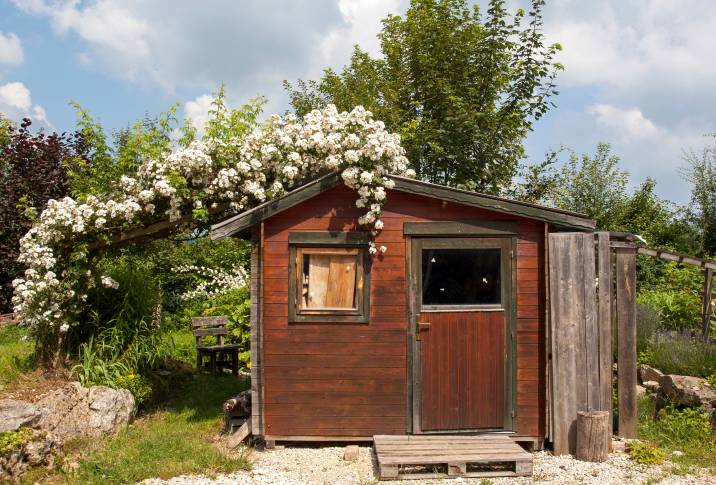 Leaning into the old wooden shed look can be a great decorative item. This garden shed also works as a standalone feature piece. There is still plenty of storage space, and things aren't so degraded that it becomes an eyesore. Striking the line between stylishly worn and decrepit is the goal here!


Idea #7: Garden shed bar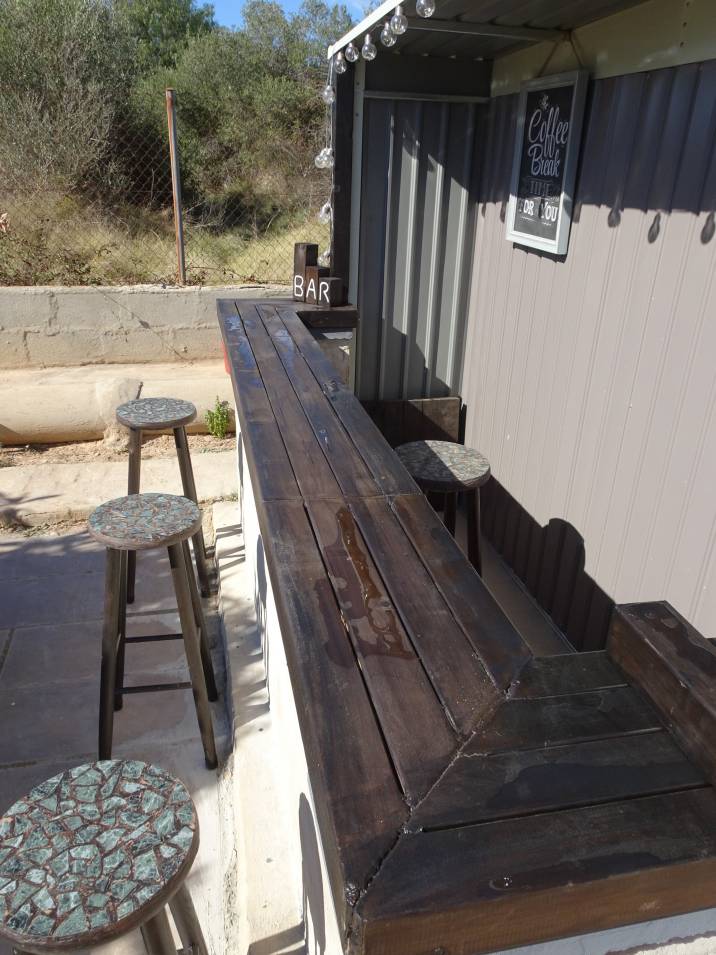 For a bit of fun and a consideration in your design plans, remember that not all garden sheds need to be for storage and gardening equipment! Take, for example, this fun shed converted into a bar. This creates an enjoyable spot to pop out to with friends when the kids are asleep or a quirky addition to your entertaining set-up.
How do you paint an old shed? 
Painting an existing shed can be easier than building an entirely new one. If you're painting an old shed, always begin by sanding it down to remove any old and flaky paint or broken bits of wood. Sand in the direction of the wood grain, then treat the wood to ensure it lasts a long time.
Here are some inspirational garden shed paint ideas.
Garden shed paint colour ideas
1. White trim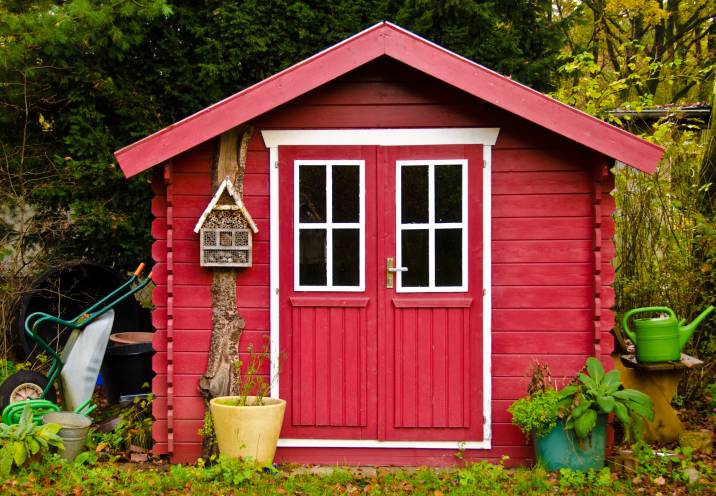 The colour of this shed is quite subtle, but the white trim makes it pop! Adding trim is a classic idea popular with modern design. As a result, you get a timeless look that will last for years and look good in every garden. You can even change up the trim colours if you want to get more creative.


2. The little red house
Still incorporating the trim, red is a bold choice in the world of garden shed paint colours. But red creates a striking, playful look in any yard. Almost like something from a fairytale, the extra elements in this example help turn the shed into a fun little cottage that will be a cute addition to your yard.
3. A pop of blue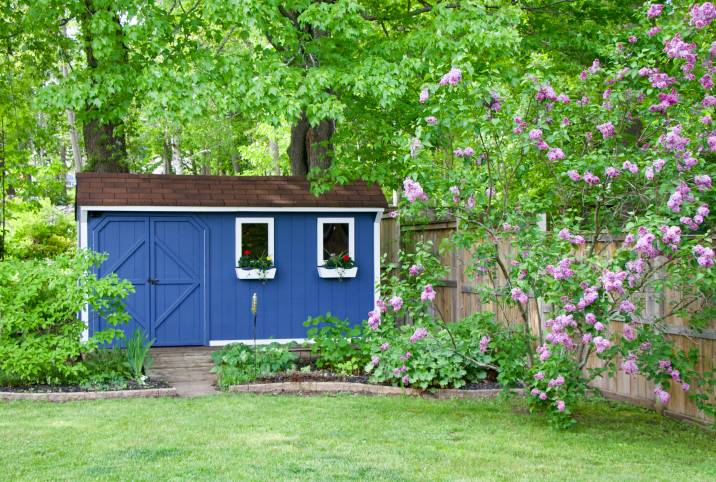 Blue and green are two colours that instil the idea of nature, thanks to the sky and the trees. By painting your shed blue, you have a playful and bright yard feature that fits an outdoor setting without being too bold. This help makes your garden shed something exciting to view without burdening the rest of your exterior design.


4. Clean, classic white
When it comes to any exterior or interior design, a clean, minimal look is created with an all-white paint job. Now, we know what you're thinking, "How is white a good idea for an outdoor shed paint? I keep my dirty garden stuff in there!" And yes, white is not the most practical colour for the outdoors, but you can buy some very durable exterior paint that will be easy to clean and keep stain-free to avoid any major issues.
Small garden shed ideas 
Garden sheds are one of the most customisable things you can add to your home, and there are no rules! They come in all shapes and sizes to suit the size of your particular garden. A good garden shed is small enough to hold whatever you need without being intrusive in a yard space, much like the following ideas.
1. The tucked-away shed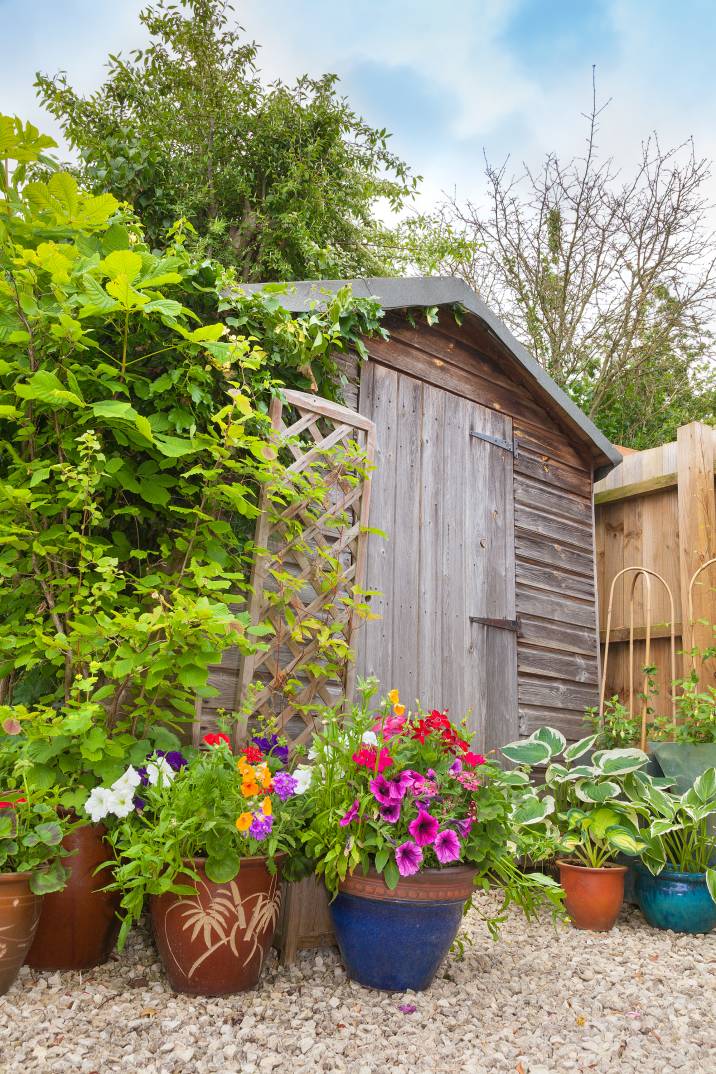 Work your shed into the furthest depths of the yard, against a fence and under a tree. The size is completely customisable, so feel free to tuck your shed into whatever pockets of space you have available. You can even blend the shed by using the same materials as your fence to create a less-invasive look.


2. The single-use shed
Less of a shed and more of an outdoor cupboard, this small single-use design is perfect for tool storage. You can opt for a door for weather protection and security or leave the front open to have the tools themselves be the display feature.
A little help for your new garden shed
Now that you have a range of design ideas, the next step is setting up your very own garden shed. If you need some help, you can connect with Taskers skilled in building garden sheds and designing gardens. A professional can quickly set up your garden shed, ensuring it is stable and looking its absolute best. Enjoy this new functional design addition to your garden!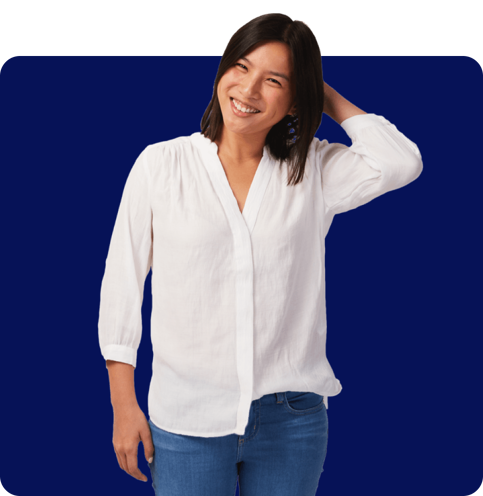 FAQs on garden sheds
There are many simple DIY ways to improve your garden shed – some that just involve a new paint job for the exterior! On the inside, consider using floating shelving, a fresh coat of paint, or even some extra windows to increase the amount of natural light to improve the look of your shed.
Wood and concrete slab blocks are the most inexpensive option for shed building materials. You can also find a range of pre-fabricated sheds at a hardware store or online that have the pieces cut for you for an affordable price. Pre-cut pieces can also save you lots of time.
It's free and takes only a minute.