Home

/

Pot Plants for Container Gardening
Find plant delivery experts, fast

Post a task with your price in mind, then get offers.

It's free and takes only a minute.

See how it works
Want to set up the garden of your dreams while living in the city? Container gardening is the practice of growing plants, herbs, and flowers in pots, tubs, or any small enclosed space. 
Container plants can add colour and vibrancy to your home. What's more, a container garden can relax and refresh your senses after a long day at work. You can even harvest, cook, and eat some container plants–making them a fresher, more affordable alternative to store-bought greens! 
If you're wondering what plants do well in containers, this list is for you! We've rounded up the best plants for pots and containers. 
What are the best pot plants?
The best pot plants are low-maintenance and naturally thrive in the temperate climate of the UK. 
Annual container plants only live during one growing season, while perennial plants have a shorter blooming period. Meanwhile, some plants are evergreen and thrive throughout the year. With this in mind, it's best to use a combination of these plants in your garden. 
Have a look at these container planting ideas ranging from evergreen pot plants to potted plant arrangements. 
You might also like: What are perennial, annual, and biennial plants?
Best evergreen container plants
Evergreen container plants remain lush and vibrant throughout the year. You can rest assured your container garden can still look alive during rainy days or bitter winters. 
Here are some excellent evergreen container plants you can grow at home. 
Dwarf mountain pine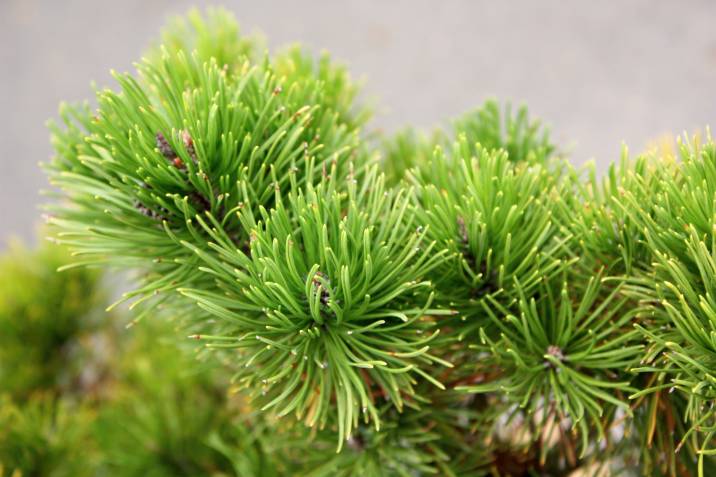 Also known as the dwarf mugo pine, this compact shrub is the smaller cousin of the taller, evergreen pines of the mountains. These plants need about 10 years to grow into
 their full size, so you won't have to prune or trim them that often. They'll also give your home a cool, fresh, alpine feel at any time of the year. 
Phormium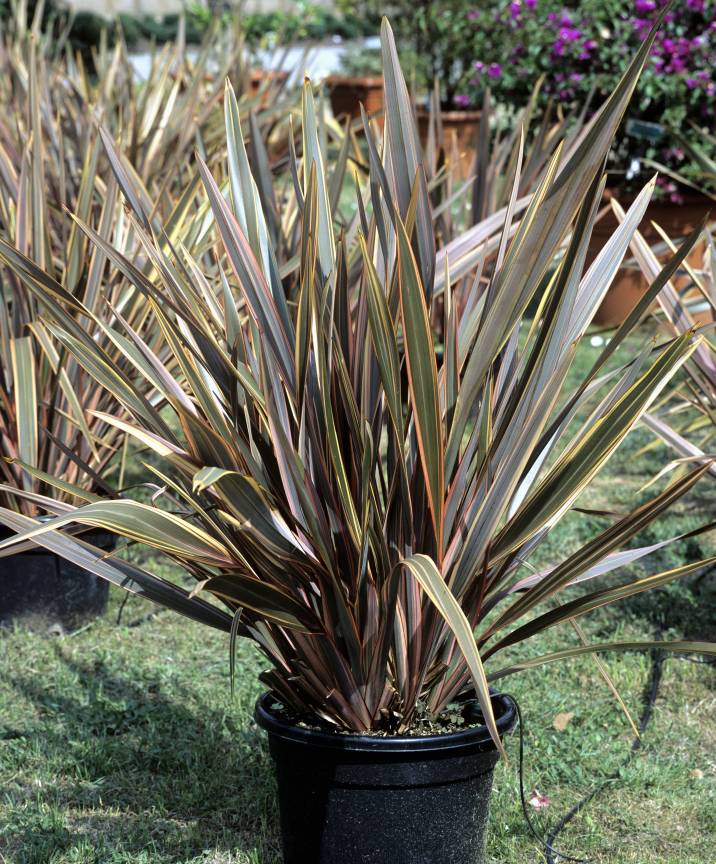 Phormiums are exotic and unique-looking specimens characterised by their sword-shaped leaves. They are also flowering plants that produce crimson or yellow-green flowers in the summer. Although phormiums are hardy throughout the seasons, they need relatively moist soil to thrive, so make sure to water them regularly.
Best winter container plants
Not all plants die during the winter. In fact, winter container plants need cold, bitter temperatures to grow. Your container garden can still look beautiful at the end of the year, and here are a couple of pot plants that will look beautiful amidst the frost. 
Wintergreens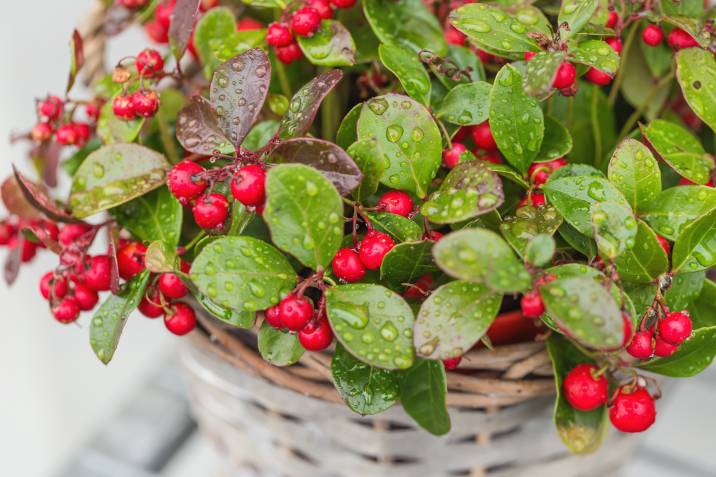 Wintergreens are bright and festive. They easily double as Christmas decor during the holiday season. Their leaves smell minty, and they grow red, edible berries that you can turn into jams or use as ingredients for tea. 
Be sure to keep your wintergreens in an area with sunlight but enough protection from pests. These plants can often be tempting to birds and other insects.
Snowdrops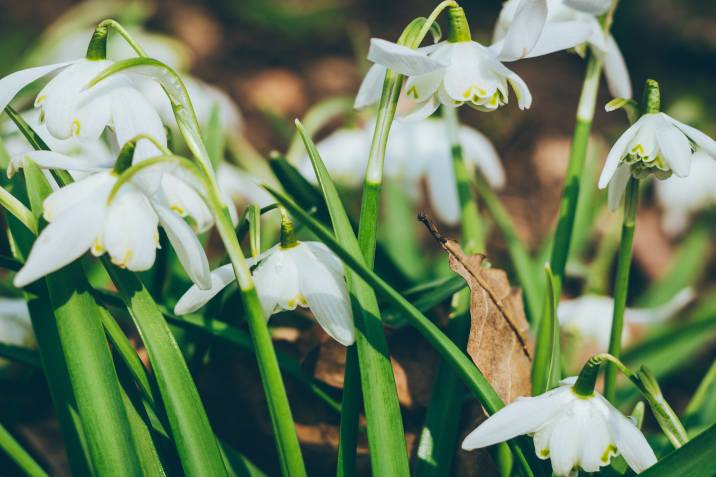 You can expect snowdrops to persist even after a heavy snowfall. Snowdrops thrive best in winter, making them a great addition to your container garden during the colder seasons. Their flowers are white, delicate, and bell-shaped that still blossom when frozen. You can easily purchase snowdrops in your local plant nursery, as they're very easy to find. 
You might also like: The best vegetables to grow in winter
Best summer container plants
Summers in the UK can be sunnier and breezy, with longer days compared to other months of the year. You can grow these summer container plants during the warmer months.  
Gerberas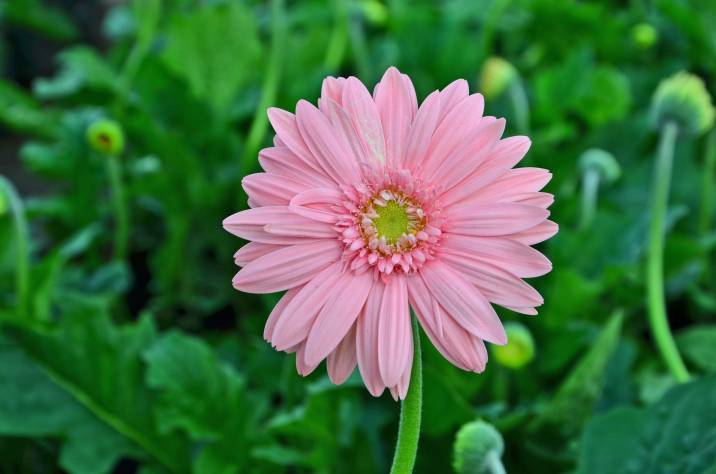 If daisies are your favourite flowers, consider growing gerberas in your container garden. They come in all kinds of colours–from pink to orange. You can also cut gerberas at their stems once they're fully grown, as they can last for weeks in a vase. Having fresh flowers at home will definitely uplift your mood!
Brave hearts
The mallow, also known as the brave heart, is another flowering specimen you can add to your garden. Brave hearts come in purple and green and often attract pollinating bees. They look gorgeous and smell absolutely fragrant! 
Plant combination ideas for container gardens
Do you really want an eye-catching garden that thrives and flourishes throughout the year? Knowing what plants grow well together in containers is essential. 
Here are potted plant arrangements for some inspiration. 
Salvia, Plectranthus, and Euphorbia
This plant combination is excellent for contemporary garden styles. Salvias have elegant, violet-coloured blooms that look stunning together with the grey-green leaves of the Plectranthus and Euphorbia.
While Euphorbia flowers come in different colours, you can go for a specimen with icy blue-green blossoms. These plants thrive best in cold weather, and you can expect them to stay vibrant until the first frost. 
Stipa and Verbascum 
Consider pairing Stipa gigantea and Verbascum for warmer, summery tones. The Stipa looks similar to wildgrass and can give your home a rustic look. Meanwhile, the Verbascum produces golden, saucer-shaped flowers. This combination is perfect to uplift any mood! And while they look best in spring, they will last well until autumn. 
How do you look after pot plants?
Keep your soil most and well-ventilated to care for your pot plants. Make sure your plants are generously exposed to sunlight but keep them away from harsh areas that may overheat the leaves and flowers. You should also do a lot of research on the pot plants you plan to buy, as each plant has its unique needs. 
Related guides: 
Get your pot plants delivered to your doorstep. 
Are you excited to display these beautiful container plants in your home? A plant delivery service can save you the trip to the local nursery or tedious search for the perfect pot plant. Get your plants delivered to you quickly and safely through Airtasker. Whether you need an indoor plant for your desk or an entire garden of wintergreens, a plant delivery Tasker can help you get the best pot plants for your home.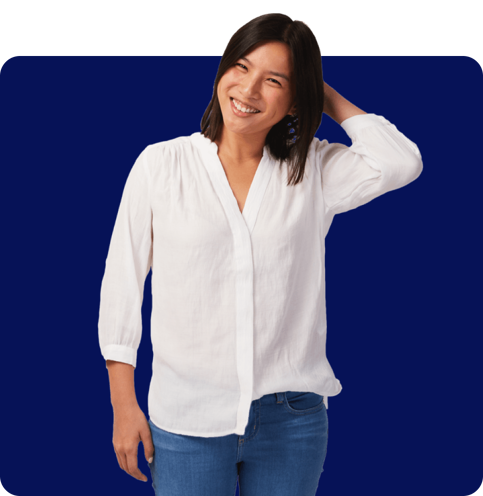 It's free and takes only a minute.