How to make money with a pickup truck
Here are all the different ways you can earn extra cash with your trusty vehicle!
Browse pickup truck tasks
Getting a new vehicle can be expensive, so it's always a clever decision to go for one that can do it all: the pickup truck. These versatile machines are capable of doing almost anything—from taking the family out for a quick holiday to hauling heavy items across long distances—these durable workhorses can do it.
With such impressive capabilities, it's not surprising that a pickup truck can be used as a service vehicle for a delivery or removal business. A powerful motor and a large cargo bed can go a long way, giving you that extra quid even in a challenging economy. If you're open to ideas, here are a few ways how to make money with a pickup truck.
Ways to earn with a pickup truck
Before taking the wheel and driving to the first customer of your pickup truck delivery or removal service, make sure that your ride is in tip-top condition. Keep in mind that most of these involve heavy work that can put a strain on your pickup. Once you've completed a maintenance check, you're ready to start making money with your pickup truck in any of these ways:
Start a removal service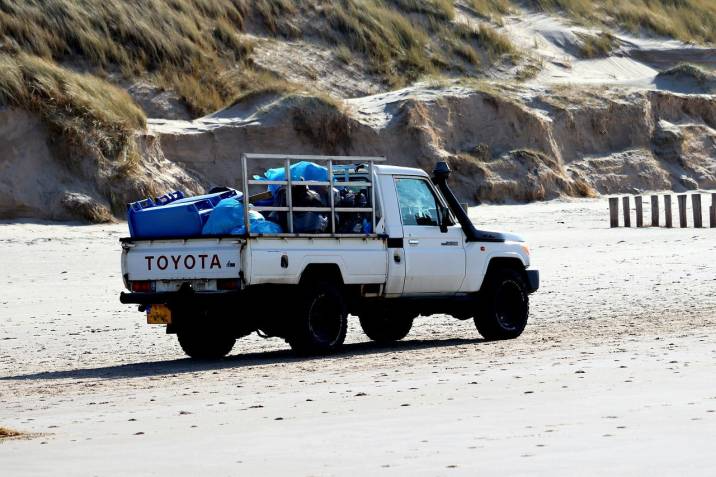 One of the most common ways to make money with a truck is through a removal service, and your best customers are people who relocate houses or need help in house removal across the city or just a few blocks away. With the help of a trolley cart, you can quickly load boxes, furniture, and other household items.
To have extra capacity, using a trailer would be more convenient. It can save you a lot of back-and-forth trips now that gas prices can burn a hole in your pocket. These are just some of the basics of knowing how to get removal jobs and perhaps start a removal business.
Haul junk
Every household would have items people no longer need, making your pickup truck work as the perfect vehicle to make money hauling stuff to the junkyard. From old mattresses and bed frames to broken appliances such as TVs and fridges, your truck's bed can accommodate all this junk to help people make more room in their homes.
From hauling junk, you can branch off and have a few other means of earning money apart from the people who need to get rid of their unwanted items. You have the options of reselling, recycling, or partnering with a junkyard to do freelance hauling—either way, it's money in the bank.
Deliver food and groceries
Can you make money delivering food? If there's one good thing we got out of the pandemic, it's the convenience of ordering food or groceries online and having them delivered right to your doorstep. You can sign up for one of those grocery delivery apps and start to make money delivering groceries. 
Another way of providing this service is by offering it in your neighbourhood. There will always be people who might not have the time or desire to head out for groceries, and your pickup truck is the best tool that can address the needs of the folks in your area.
If you want to be smart and stay out of the competition by letting the delivery apps do their thing, you can focus on the movement of food supplies at restaurants. Deliver cartons of food items, cleaning equipment, and office supplies that restaurants need to run their operations. Make sure your truck bed is equipped to handle the cargo.
Provide garden or yard care services
That ample cargo space at the back will never run out of profitable benefits, offering another answer to the proverbial question, "what can you do with a truck?"
With all the equipment and materials you can load on the bed, providing garden or yard care services is a cinch. You can cover grass cutting, leaf removal, weeding, and even landscaping. Your truck can carry sacks of soil, ornamental grass, or pond supplies while hauling off leaves and other waste from a customer's lawn. Be your own boss or partner with a local company—your truck is the star.
Offer towing services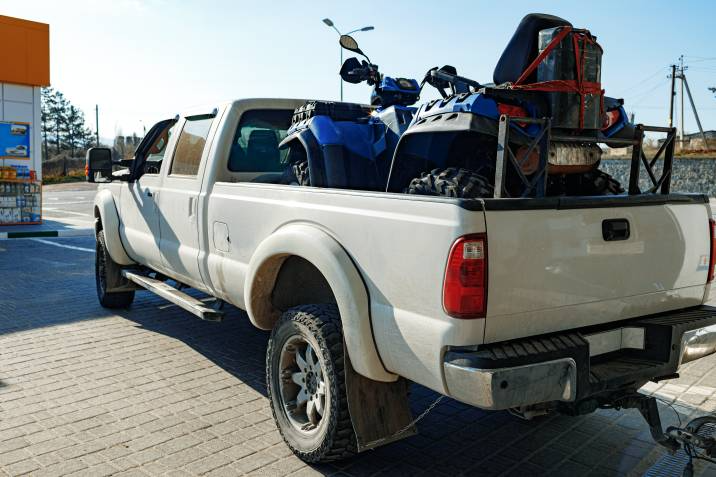 The cargo bed is not the only star of the pickup truck show. With a powerful engine designed to move heavy loads, your truck can also be used to provide reliable towing services. The key here is a high torque engine, which is capable of hauling heavy loads.
Your customer base would include owners of cars, boats, jet skis, and camper trailers. To be more effective, investing in complementary equipment such as a tow hook, strap, rope, hitch, and other towing accessories is an advantage. So if you're up for it, better dive into the job prepared.
Haul equipment for construction work
A pickup truck's strength lies in its capability to haul heavy loads such as construction equipment. Sacks of cement, sand, steel pipes, and other building materials are easily transported to a construction site with a sturdy cargo bed.
You can make money delivering these equipment and turning it into a good side hustle by looking for construction businesses and offering your services. But if you're interested in starting your own construction business, you won't have to worry about the logistics side of things with a heavy-duty pickup truck.
Plough snow
Living in a region with significant snowfall gives you another one of many awesome pickup truck business ideas. When it gets several inches heavy, you can make money driving your truck by helping people clear driveways and roads. Doing the job more effectively would involve investing in a snowplough and attaching it to the front of your pickup truck. This will cut and dig through the snow to clear a safe path for your clients.
Load up and step on it
A large bed, a powerful motor, and even luxury SUV features are good reasons to turn your pickup truck into a money-making machine. So, start putting yourself out there and find people who need pickup truck delivery or moving services. To help you get to them quicker, you can sign-up on Airtasker and start turning in a profit with your ever-reliable pickup truck.