Home

/

Kitchen Cabinet Painting Cost Guide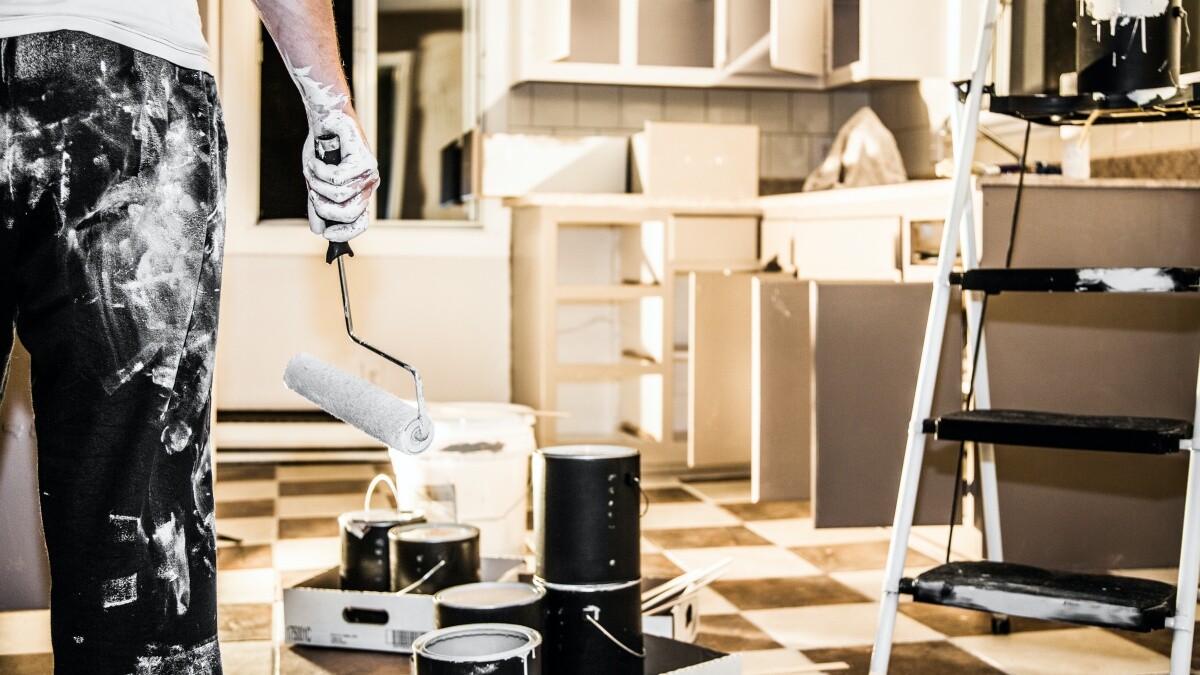 How much does it cost to paint kitchen cabinets professionally?
Get a free quote now
Post to find a price. It's free and only takes a minute.
Price guide
£80 - £100
Find kitchen cabinet painters, fast

Post a task with your price in mind, then get offers.

It's free and takes only a minute.

See how it works
Painting your kitchen cabinets is one of the easiest and least intrusive ways of renovating your kitchen. Not only does a new coat of paint enhance the look of your cabinets, but it also adds more value and personality to your space. But how much does it cost to paint kitchen cabinets? 
Professional kitchen cabinet painting costs £80 to £100 in the UK. This price guide will help you set a budget for giving your kitchen cabinets some TLC. 
Price list for kitchen cabinet painting
| | |
| --- | --- |
| Cabinet type | Estimated painting cost |
| Wood | £80 to £100 |
| Laminate | £80 to £100 |
| Acrylic | £80 to £100 |

Factors affecting the cost of painting kitchen cabinets in the UK
Consider the following things when calculating kitchen cabinet painting prices: 


Cabinet type and condition
Three popular types of kitchen cabinets are wood, laminate, and acrylic. As the name implies, wood cabinets are made of solid wood materials that last for years and decades. Laminate cabinets are made from hard plastic, giving a glossy shine finish. Lastly, acrylic cabinets have a non-toxic coating, which provides a reflective and soft texture finish.
Painting damaged kitchen cabinets is time-consuming. Some even need to be sanded or stripped for the primer and paint to adhere. Cabinet layouts are also essential to consider because tighter angles, double-hinged doors, and constricted spaces can make the paint job more costly. 


Paint type and colour
The paint you want Taskers to use can significantly affect the project's overall cost. You might pay as much as £78 per litre. Most paints that give a glossier finish are more expensive than those that leave a flatter or matter look. For a more budget-friendly option, satin paint is the way to go, as it works on almost all wood surfaces. 
If you're going for a new colour, Taskers will strip off the old paint first and sand the surface. Primers are essential if you want the paint to appear true to its colour. They provide a smoother surface for the paint to stick to and hide grains, pores, and other imperfections. Note that using more than one paint colour for your kitchen cabinets can increase your expenses since they'll need an extra layer of primer for better colour saturation and adhesion.
Painting method
As you prepare your kitchen cabinets for painting, you need to decide what painting method works best for them. Spray painting costs more, as it gets the job done more quickly. For cabinets with nooks and crannies, brush painting is ideal because it allows for more control and adhesion. And for cabinets that have flat surfaces, consider roller painting, which distributes coverage more evenly.


Labour
Whether you're renovating your cabinets or painting your entire kitchen, you'll find that most of the cost is based on the intensity of the labour. Professional painters will calculate the hours needed to complete the job—from prep work to the final touches. 
Note that some paint jobs require the removal of doors, drawers, and other cabinet hardware. Taskers might also move your appliances to access hard-to-reach surfaces, so the entire job can take several days to complete. 


Your location 
Location is another factor affecting the average cost of having kitchen cabinets painted. It's only natural for Taskers to charge more if they need to drive longer to get to your residence. Thus, if you want to save money, hire someone within your area.
Reasons to have your cabinets painted by Taskers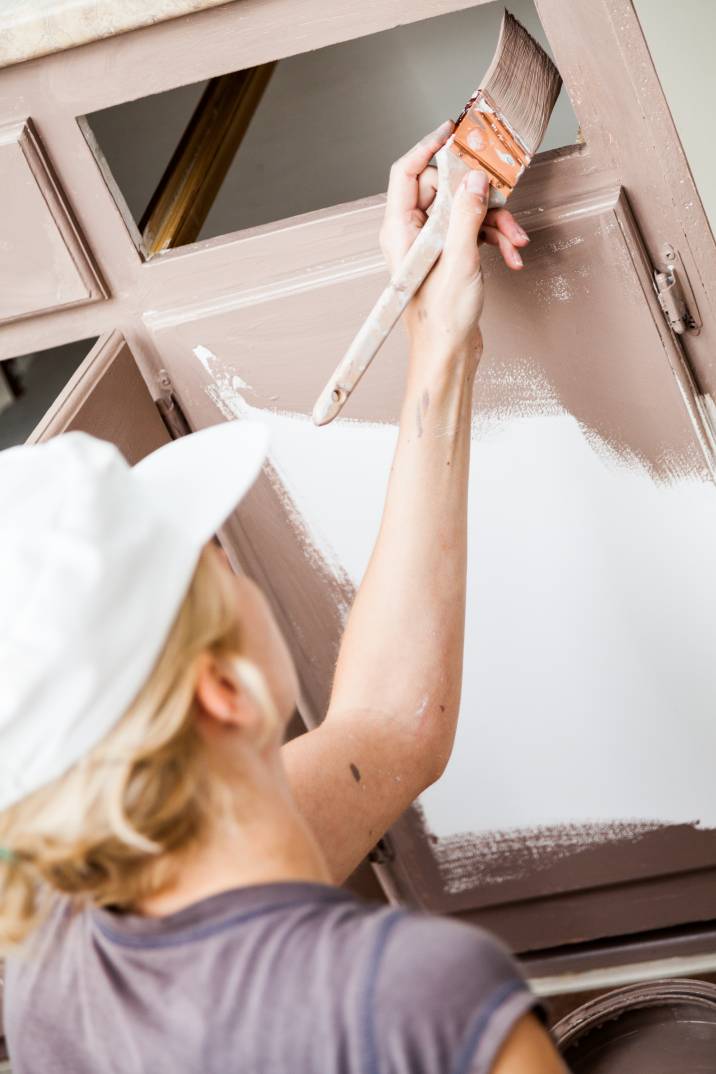 Painting kitchen cabinets is more complicated than most people think. It's a task that demands time, skills, and a heap of patience. So if you're not experienced enough, you'll likely experience significant issues. 
If you want the best results for your kitchen cabinets, you're better off with a professional painter. Taskers have the tools and techniques to finish the project efficiently. Moreover, they can make the painting job last for years, eliminating the hassle of repainting.
Post a task for kitchen cabinet painting
Now that you know how much it costs to get kitchen cabinets painted, you can post a task and get a personalised quote shortly. Whether you're looking to renovate your kitchen, paint your dining room, or give your home interiors a new look, hiring a professional painter nearby can give you quality results that last for years.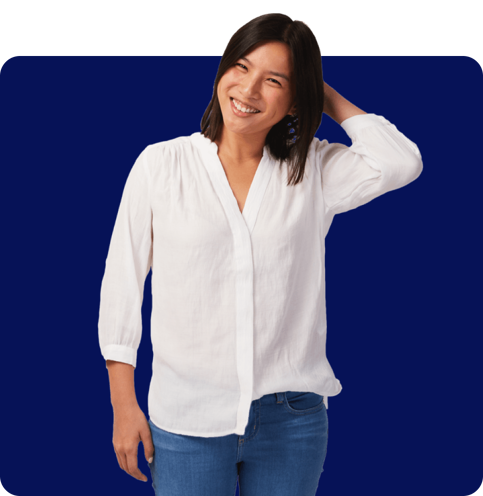 FAQs
It depends on the size of your kitchen and the number of cabinets you have. Taskers typically need one to two gallons of paint to cover all cabinets for standard-size kitchens. If your kitchen is bigger, they'll need up to three gallons of paint to complete the job.
DIY painting can take weeks to complete because of the prep work and cleanup. In contrast, it will only take four to five days for a professional painter to paint the cabinets of an average-sized kitchen.
Only if you want the interior of your kitchen cabinets to be painted. You can leave everything inside after sealing them with plastic. But if the doors of your kitchen cabinets need to be removed, it's best to have all your belongings removed so they won't get stained.
It's always more expensive to replace your kitchen cabinets because of material availability and quality differences. If you want to give your kitchen cabinets a new look, having them painted by a professional is cost-efficient.
It's free and takes only a minute.