Home

/

New Kitchen Cost Guide
How much does a new kitchen cost?
Get a free quote now
Post to find a price. It's free and only takes a minute.
Price guide
£2,500 - £35,000
Find kitchen renovators, fast

Post a task with your price in mind, then get offers.

It's free and takes only a minute.

See how it works
Are you concerned about your cluttered countertops? Over your outdated appliances? If your current setup feels more like a let-down, it might be time to renovate your kitchen.
But wait! Before you start planning your ideal kitchen, it's crucial to think about your budget. The average cost of a new kitchen in the UK is between £2,500 and £20,000. You might spend as little as £1,200 to remodel a small kitchen. Meanwhile, a fully bespoke kitchen renovation can reach £35,000. 
If you don't have the skills or extra time, be ready to ask a professional to help you survive the renovation. Read through our comprehensive cost guide to prevent your dream kitchen from becoming a budget nightmare.  
Kitchen renovation price list 
Comparing different kitchens and their costs can be like comparing apples and oranges. Newly fitted kitchen costs vary due to the layout, materials, and repairs or replacements needed. So, precisely how much does a new kitchen cost in Australia? Here's a general price figure of kitchen renovation costs by size.
| | |
| --- | --- |
| Kitchen size | Average price |
| Small kitchen (9 square metres)  | £2,500–£5,000 |
| Medium kitchen (15 square metres) | £4,000–£8,000 |
| Large kitchen (20+ square metres) | £10,000–£20,000 |
| Bespoke kitchen renovation | £15,000 - £35,000 |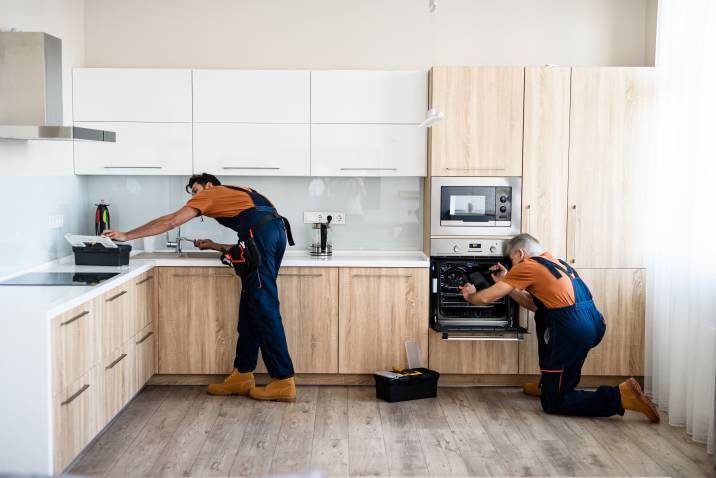 What factors affect the average cost of new kitchens?


Kitchen size
The size of your kitchen is the most significant factor that influences UK kitchen renovation costs, apart from the kinds of materials you choose. A new, small kitchen might be on the lower end of the scale, while a larger kitchen generally costs more to renovate. And if you are planning on an extension, things can add up quickly. 


Kitchen unit quality
Whether you're feeling fancy or thrifty, your personal choices will impact the cost of new kitchen cabinets. Depending on the size, materials, look, and finish, there's often a big variation in costs. It's a good idea to select your units with a budget already in mind. At a minimum, budget units cost around £50 per base cabinet. But for a more expensive style, such as a high-gloss finish, you can expect to pay £70–£130 per unit


Worktop material
From laminated to marble countertops, the price range depends on the material you choose. For a more budget-friendly option, laminate worktops cost £20–£50 per square metre, whereas wood would range from £50–£150. Marble is generally the most expensive and luxurious option, costing around £300–£500 per square metre.


Labour
Kitchen renovation professionals tend to charge by the hour. Some charge £10–£20 per hour, and the daily rate depends on where you are in the country. Kitchen fitter rates range from £200–£300 daily. Of course, the rate is higher in London and large cities in the Southeast.
The overall cost of labour also depends on the type of professional you need for the project. Do you want someone to manage the whole job, from start to finish? Or are you going to hire different workers for different jobs? It's a good idea to get a few quotes and determine who best matches your needs.
Have a few new kitchen ideas cooking? Find someone to design your kitchen and see your vision come to life. 
Different layouts for new kitchens
Whether you're going for an open concept or creating a cosy nook, the layout is always a defining feature of a home improvement project. Here are some of the most common kitchen layouts you can choose from, but note that the job complexity can increase your total costs.
A U-shaped kitchen has cabinets on three adjoining walls, making a U shape. This shape is the most efficient for a small or medium kitchen space, especially if you want more room on your worktop. This option is for those who want to maximise the space available to them.
An L-shaped kitchen is more open, with only two walls being used for cabinet and worktop space. L-shapes suit combined kitchen-dining areas, with space for a dining room table. If you have a smaller space, this might be your best choice. The open end of the layout allows your dining and kitchen areas to flow into each other.


Single-line kitchens are precisely as they sound: laid out in a single line. With a worktop, stove, sink, and fridge all along one wall, this layout suits small kitchens and can be extended to fit almost any area. However, single-line kitchens typically mean limited bench space, and if they're not designed well, there might be restricted storage.


A kitchen island is a very practical option for those who want to get more counter and storage space. The island-style design has a worktop in the middle of the kitchen, separate from the walls, which gives extra space for appliances and additional prep. 
Do you have an ideal kitchen layout? You can get a quick quote by looking for kitchen installation services.
Additional costs when building or renovating a new kitchen
There are other expenses to consider when it comes to kitchen renovation projects. These include:
Painting

New kitchen floor

Kitchen appliances

Kitchen cabinets

Countertops

Additional construction

Connections (gas and water)

Lighting

Decoration
To prepare yourself and your budget, find professionals who offer kitchen painting, lighting installation, and other services. Ask for quotations so that you can plan your project properly and stick to your budget. 
Minimising new kitchen costs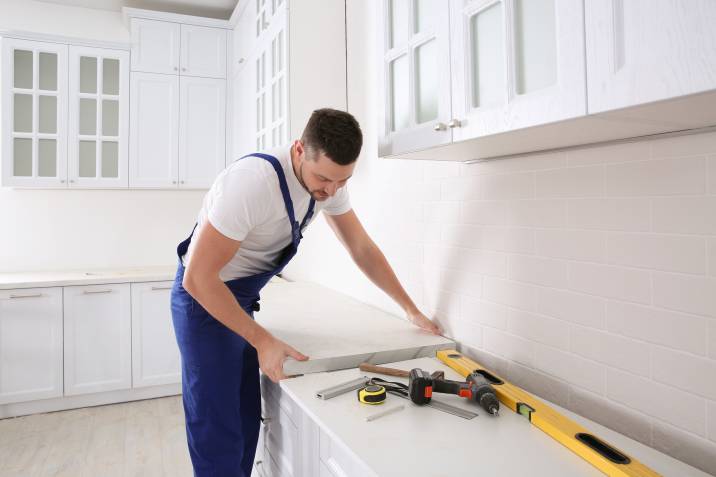 1. Set a realistic budget
The most important thing is to have a budget in mind from the beginning. Determine how much you're willing to spend on each renovation aspect. If you don't have a clear sense of what you can spend, it's easy to blow your whole budget on fancy appliances or a worktop!


2. Research, research, research
Comparing materials, appliances, layouts, cupboards, and flooring is the best way to save some money. You'd be surprised to find similar items that you want but with a much smaller price tag. Consider whether you need high-end flooring and lighting or tried-and-true affordable but quality cabinets. 


3. Remove or sell your old kitchen items
Those comfortable with handiwork can save time and reduce labour costs by removing their old kitchen fixtures. It's even possible to sell the old cabinets and make a little bit of extra cash to go towards your dream home. But if you're not comfortable with DIY projects, it's best to book a professional.
Post a task for a kitchen renovation
Are you ready to start your kitchen renovation project? Post a task for a kitchen renovation and get multiple quotes from professionals who might be a perfect fit for your needs. Provide these details when completing the request form for a more accurate estimate from our Taskers:
Your budget

Your location 

Size of the kitchen space

Any structural works required
If you want to work with a professional, it pays to shop around for the best price. Hire a reliable kitchen renovation contractor to put together your ideal kitchen space.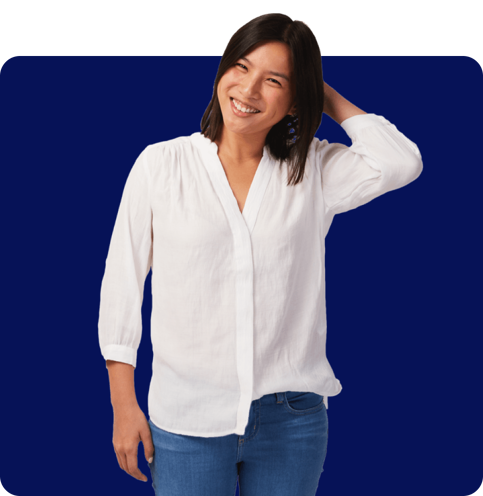 FAQs
A new and upgraded kitchen can add value to your property. Kitchen renovation projects are one of the best ways to increase your home's value and market your property. 
Generally, the most popular paints for kitchen walls are satin-semi-gloss or high-gloss finishes. Of course, choosing a paint type depends on your kitchen design and the surface you will be painting. For example, painting a kitchen cabinet requires a different consistency than your walls
It's free and takes only a minute.