We all have those odd jobs around the home that we know won't take too long but we always seem to find something better to do.
Thankfully, there are lots of ways of finding someone else to help out. So we asked our top Airtaskers to give their best tips when hiring handyman services. Here's what they had to say:
Be Specific
Imagine you have to hire someone for your workplace, but you could only post a 10-word job ad. You likely wouldn't find the right person for the role.
It sounds ridiculous, but it's something handymen Nigel B and Martin G experience on a daily basis. Sometimes they take on work knowing very little about the task and find that it's very hard to do a job well done.
"A lot of customers are vague," Martin says. "And when you ask questions, they may not reply."
Some of the details he's looking for revolve around the scope of the job (what exactly you need done) and measurements. It doesn't need to be an essay, just enough to get a better understanding of the task.
Here's one task Martin says was very clear and detailed.
Example of an optimised Job Title: 

Example of an optimised Job Description: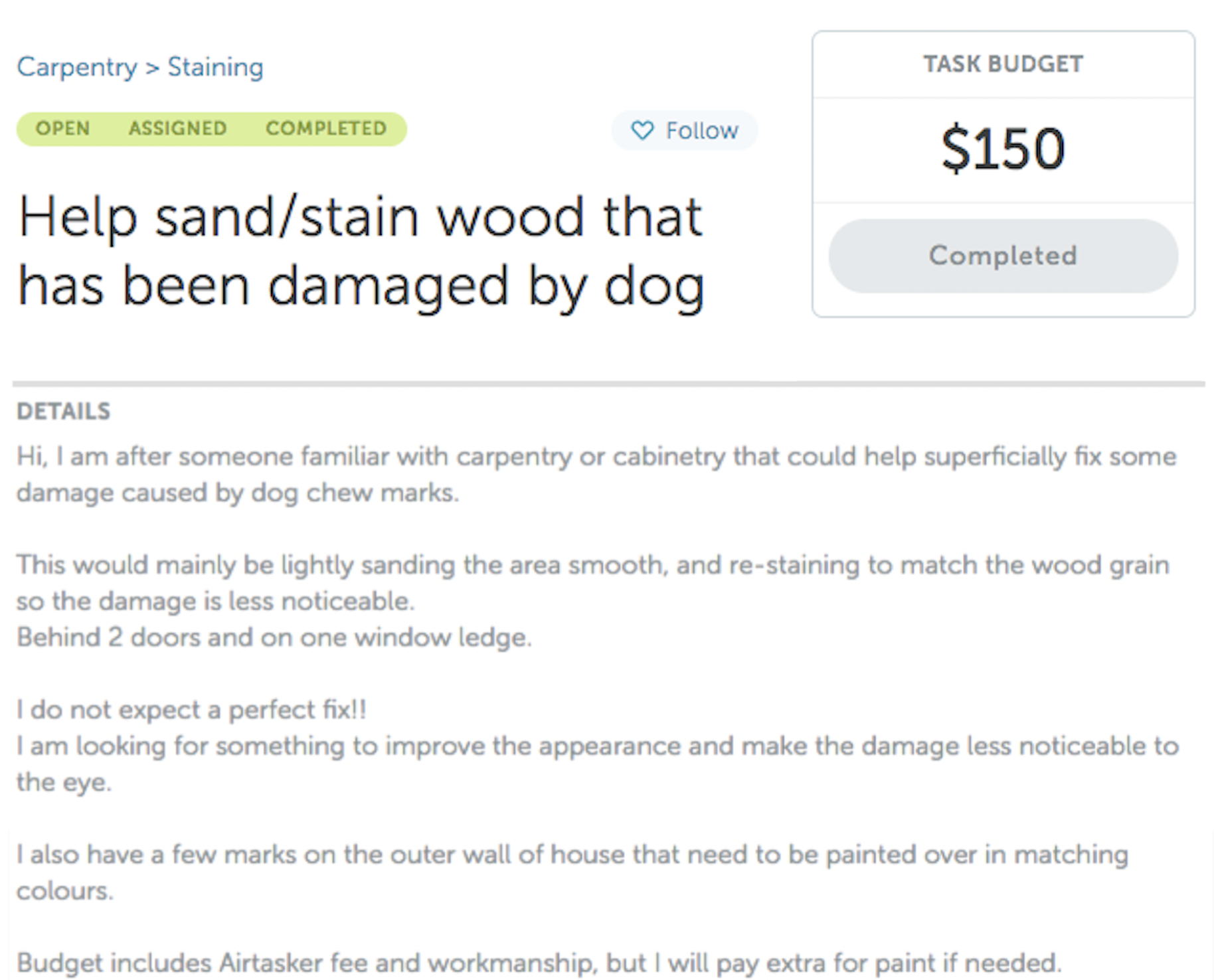 But, Martin also adds that sometimes words aren't enough, which is why it's important to use photos.
Send photos, and plenty of them
Both Nigel and Martin say that taking photos and adding them to the task description are crucial when understanding what needs to be done. It also helps them assess what they'll need to do and provide an accurate quote for the work.
To give you an example of how photos can help, the person who posted the dog damage repair task also sent these photos to Martin to help him understand what needs to be done.

"Sometimes even a really good description can't beat a photo," Nigel says.
Though, he realises that photos aren't always possible.
"I took on a task cleaning a gutter the other week. I fully understand they wouldn't want to send me pictures for that, as they passed me the work to avoid having to get up on the roof themselves," Nigel adds.
Price appropriately to save everyone's time
Nigel and Martin agree that doing a bit of research and offering a fair price is the best way to ensure the task runs smoothly and the work is high quality. "You get what you pay for," Martin says.
Luckily, there are plenty of price guides out there on the price of odd jobs to help you.
As a general guide, Martin says his time for most tasks is around $30 per hour and that the person putting up the task should think about the total hours required. You should assess a total amount by working out the hours required for the task.
Nigel adds that you should be considerate of the handyman's additional costs when putting up a task, such as petrol to get to and from the job location.
Check they have the right gear
Most of the time, a handyman will have the right tools for the job but it's always important to double check.
"I wouldn't go to a job with any expectations that the Poster would have the tools," Nigel says.
But, he adds, it's worth double-checking this before the first visit, because he's heard of times where handymen have turned up to work empty-handed.
If a handyman doesn't have a part or the right tool, they'll let you know that they might need to buy it and then come back to finish the task.
"It's all part of the service," Nigel says.
Take your time, be pleasant and ask questions
Nigel says he's surprised by how many people don't ask questions when looking for the right handyman.
"People are generally quick to accept an offer, and don't double check exactly what they're getting," he says.
Martin adds that communication on the job also helps ensure things go smoothly and complete to the Poster's expectations.
"I will go the extra mile for someone who is easy to deal with," he says.
If you're having trouble finding someone, there are a number of licensed tradies for hire on Airtasker.