Home

/

Fabulous Front Door Ideas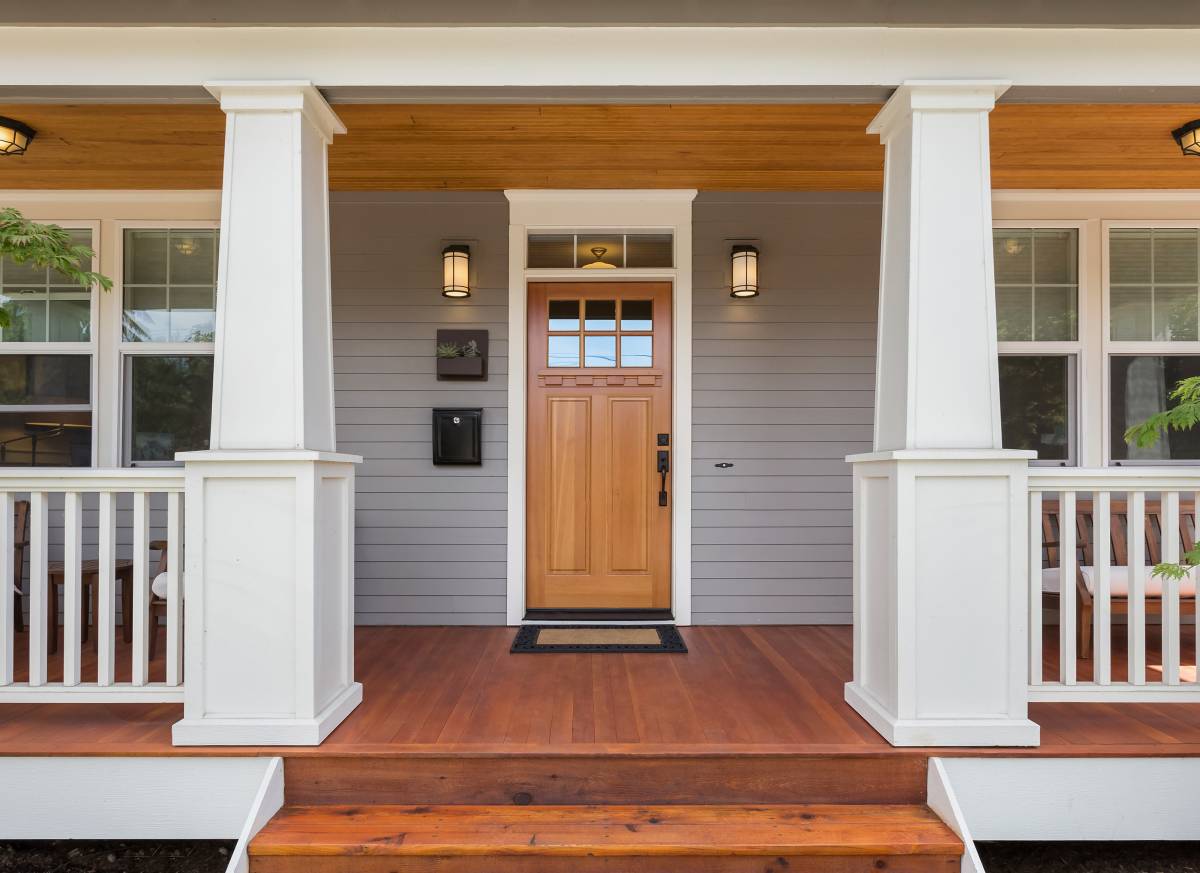 Find door installers, fast

Post a task with your price in mind, then get offers.

It's free and takes only a minute.

See how it works
Your front door can be a standout design element, whether it is a colour pop invigorating a plain facade or a striking statement piece with a design that matches your interior style. When it comes to front door ideas, most people choose one that resonates with their home's existing style. For example, you can choose a traditional design for a period home, but you might also decide to go for something unexpected – like adding modern front door designs.
With your front door, you're not only thinking of aesthetic preferences but also security, so you'll be looking at its design and structure. Some people may still prefer to add a strong steel mesh security screen door, but there are many designs to choose from these days. Making sure your lock system is modern is also imperative (e.g. with deadbolts and digital locks). And it's also a good idea to hire a handyperson to install a ring doorbell camera.
We've collected ideas for front door entrances that feature everything, from doors painted in gorgeous unusual colours to ones with stunning architectural details. Let's take a look.
Front door design themes
1. Modern arches
Arches are always a classic, and doors are the perfect way to introduce the pleasing rounded form into your home. Contemporary arched front doors are often elegantly glazed and steel-framed, with the geometric black steel adding a modern feel. If you don't have an arched doorway, you can still incorporate arches into the door design, as we'll see further down.
2. Delicate and romantic
Another updated classic look is to have beautiful leadlight detailing in side panels and above a traditional timber door. Add a gorgeous crystal chandelier to the air of sophistication, so you have a genuinely captivating main door design.
3. Coastal front door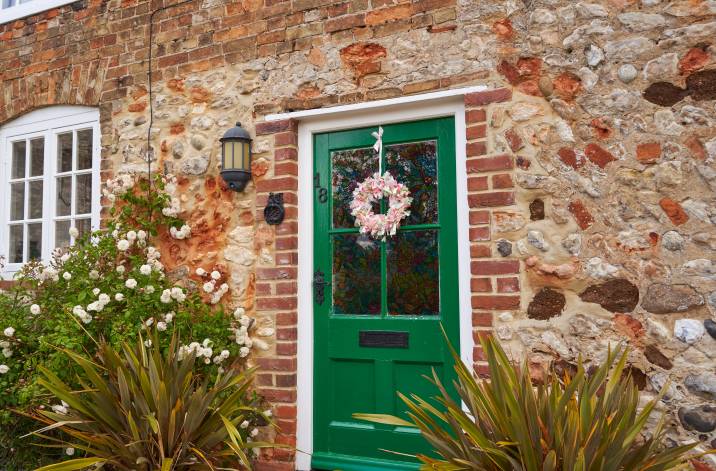 The modern organic coastal aesthetic lends itself perfectly to a soft pale timber door, such as a gorgeous rosewood one with a custom brass doorknob. Modern coastal front doors made of light timber provide a beautiful contrast if you have tiled walls. Coastal front doors also work well with a timber veranda. Add a statement pot plant for a serene front door setting.
4. Vintage timber doors
Restored vintage wooden doors add character to a home. They're not only a beautiful feature to admire from the exterior but also add plenty of charm to the interior of a hallway. 
5. Timber and minimalist
If your home has natural materials in warm, muted tones, a natural timber front door will be suitable and will signal your interior style. Then add a contrasting black door handle as a tiny accent for a striking minimal look.
6. Heritage with a glossy black door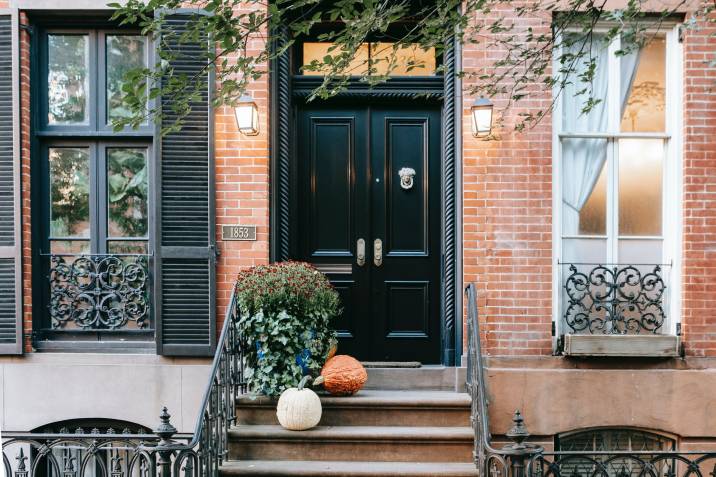 There's nothing more gorgeous than a period-style door with decorative stained glass panels. Lovingly restored and painted a high gloss black, a heritage front door can have a modern edge.
7. Custom stained glass
For a truly unique front entrance, consider having custom leadlight decorative panels made. As you are involved in the design process, you could ensure the design has special significance to your family. Bespoke stained glass door panels are another opportunity to showcase your personality and create something unique.
8. Nostalgic
Feeling the 'grand millennial' vibe lately? Satisfy that yearning for nostalgic flavoured decor that recalls simpler times with a Dutch timber door painted in a pastel sorbet colour like soft pink. Add simple organic decor and throw in a floral cushion to drive home the sweet vintage feels. It makes for a lovely front entrance and if you want to see more stunning examples, here are more fabulous front porch ideas.
9. Timber love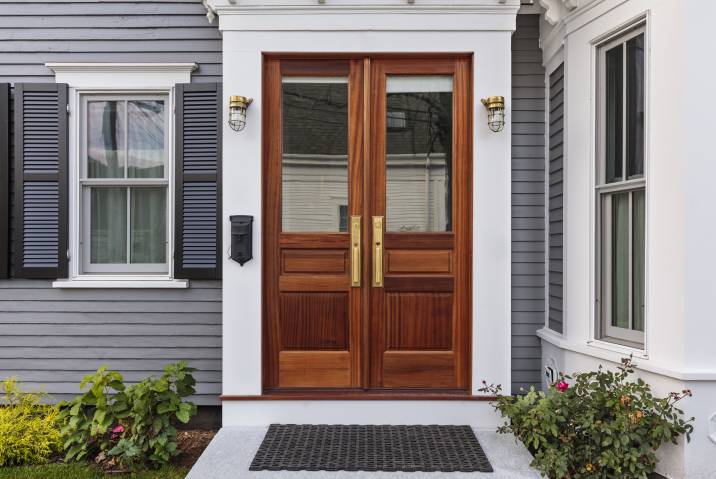 One of the classic entryway ideas is to complement the design with the outdoors. Double timber front doors are a lovely way to embrace nature and connect the outdoors with the indoors. Look for doors with a beautiful grain to add texture and interest.
10. Brick arched front door
Go for Spanish revival feels with a double-arched door in a brick facade. Painting the brick white will add even more sizzling Mediterranean flavour, while copper and brass accents in the knocker, handle, and light fittings will add timeless character.
11. Mixed textures
When you think about your home's front entrance, consider contrasting tactile materials—timber, steel, glass, concrete, slate, gravel, etc. Native plants also add texture to a setting. For more inspiration, see our front garden ideas.
12. Carved arched timber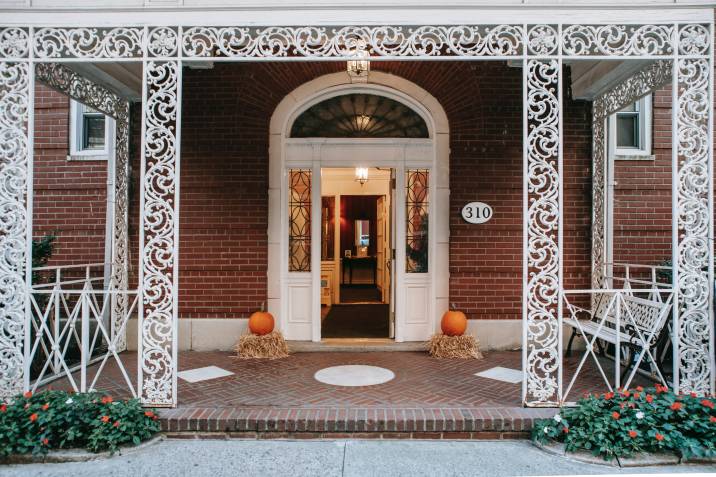 How about a stunning carved wooden door? It's striking, unique, and sure to make a statement inside and outside your home. If you have a decorative door on both sides, go for an all-white interior hallway. This allows the focus to remain firmly on the sculptural door.
13. Revamped entryway
If you have a front door with a colour you're not super fond of, you can always get someone to strip the paint and start over with a new colour! Add this to your to-do list or book a Tasker for paint stripping services!
14. Shou sugi ban door
A simple door is transformed into a statement design element by choice of materials. More people are experimenting with shou sugi ban (charred wood) timber doors. It's striking and looks fantastic, contrasted with the pale timbers and organic materials typical of a coastal-style dwelling.
15. Modernise a heritage door
Signpost your artistic side with a vibrant front door even, especially if it has a traditional, historic silhouette. Yellow is a proven knockout front door colour and quirky choice for a heritage-style entryway. It looks especially pleasing paired with a soft grey facade.
16. Parisian front door ideas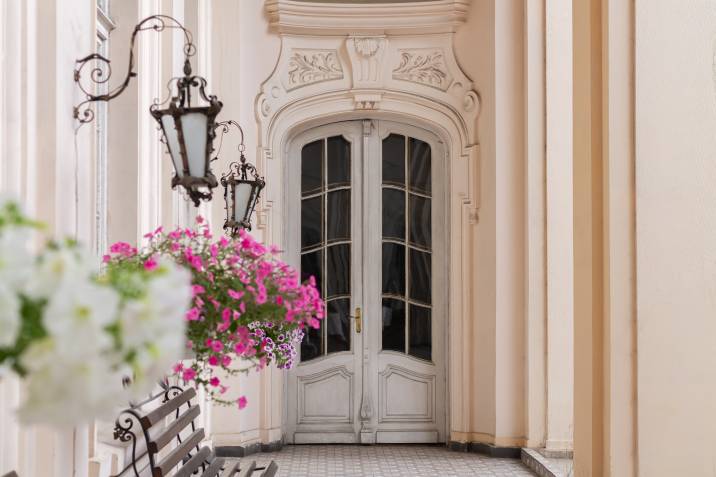 If you're looking for beautiful front door ideas, make sure you check out the hashtag #parisdoors on Pinterest and Instagram for inspiration. Parisian front doors are renowned worldwide for their unique style, and the colours are typically stunning, such as a metallic teal against a soft grey building facade.
17. Rustic pattern steel door
For a contemporary but timeless front entrance, geometric patterned steel and glass doors like X pattern double doors make a bold impression. Front entryways with lots of glazing are also ideal for letting large amounts of light infuse your hallway.
Functional and visually appealing front doors
18. Swinging steel doors
A pivoting steel door is an excellent idea for those who want to feel secure. A slim-profile, streamlined black doorframe with glazed panels gives a strong contemporary feel.
19. Spell out your house number
Your house number is another chance to express yourself—ever thought of spelling out the number on your door in a script rather than numerals?
20. Pivoting steel door
Another option for a pivoting door is to go for a rusted Corten steel one. This is perfect if you love an industrial look. Plus, it also looks and feels as safe as a bank vault!
21. Dutch door
Gaining in popularity in recent years is the Dutch door, which suits farmhouses, Hamptons, and coastal looks. These are usually enjoyed for their practicality because they easily keep kids and pets safe indoors while letting in the breeze. They also bring that old-world charm to your home's facade. A muted pastel usually works well, such as light blue.
Colour ideas for front doors 
22. Black front door ideas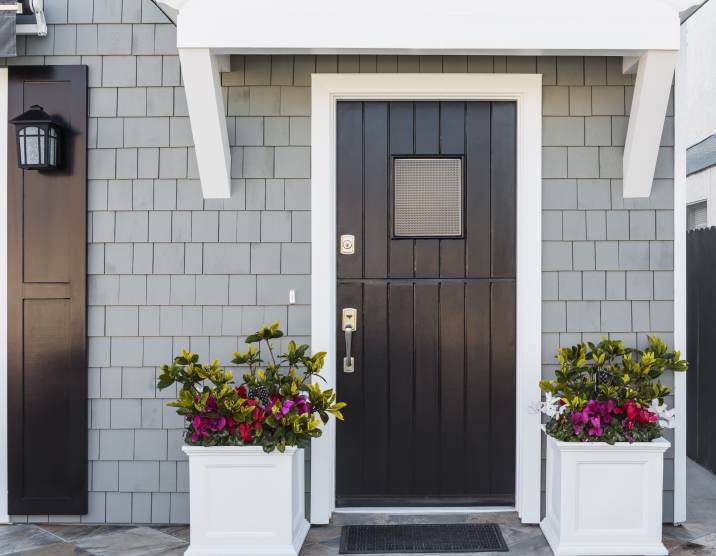 Another contemporary look is minimal timber front doors with unusual, oversized knobs. A timber door suits a home that's been built to complement a beautiful natural setting. For inspiration, check out the front door at Eaglemont Residence, designed by Kennedy Nolan.
23. Grey neutral front door
If a minimal look is for you, grey is a lovely soft neutral that will still pop nicely against most house exteriors. Extend the colour onto the porch, and add an oversized black pendant lamp as a good accent to tonally balance the grey shade.
24. Minty front door
Planning on a painted front door? For front door colour ideas, apart from the usual bold hues that people often choose for a striking front door—like postbox red, electric blue, and sunflower yellow—you might like to consider a softer pastel like sweet mint. A softer shade will be less "in your face" while still allowing you to make a style statement with saturated tones.
25. Solid black front door
A sleek, matte black double door makes a stylish entrance for a modern home, especially when paired with streamlined contemporary lights and modern planters.
26. Black timber contrasting handle
For a bold contemporary home with a gorgeous dark exterior palette, a black timber door works beautifully. You can add a contrasting timber handle to link up outside and inside.
27. White timber front door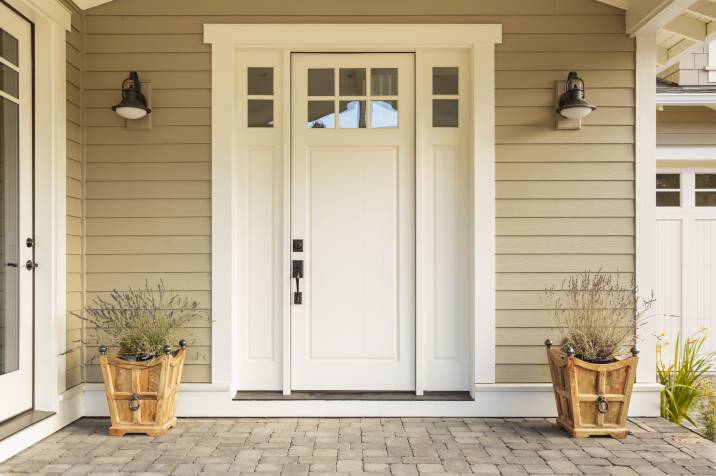 Simple, minimalist timber front entrances suit contemporary homes, especially those which emphasise natural coastal materials like faded and whitewashed timbers. Opt for a Scandi-style white wood door, featuring a highly contemporary stacked round handle.
28. Double yellow doors
For a classic Palm Springs aesthetic, go for brightly painted doors. You can have double doors in an oversized sculptural frame. Yellow is much-loved as a front door colour because of its happy vibes, and it also speaks of desert heat.
29. Sage green front door
For a modern farmhouse entrance, go for a sage-green painted front door. Add large pewter vats full of lavender, a metal pendant, and a cute welcome mat.  For front door colour ideas, sage is a classic nature-inspired favourite.
30. Striking black and white
If you love a monochrome look, keep it from looking flat by playing with the texture. For example, contrast a velvety-soft-looking, matte black double door with a home's white stucco exterior.
31. Bright yellow Dutch door
Love a bold-coloured front door? Yellow is definitely a standout colour that has its ardent fans. It can look especially lovely against soft sky blue cladding and flowering vines. Consider a Dutch door, so you can halve the dose of yellow if you wish. Dutch doors are popular for front doors thanks to their versatility—they basically become a hybrid door/window, as well as have their inherent nostalgic charm.
32. Pink and grey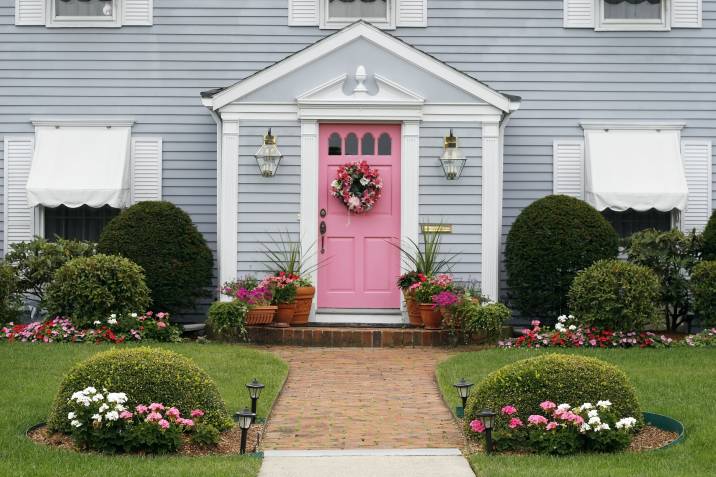 From baby pink to magenta, pink is a perennial favourite for coloured front doors. If you're not afraid of going girly with candy colours, turn your doorway into a confection for the eyes, such as with a lolly pink one. Adding grey as an accent always matures the palette, and brings continuity if you also have a grey hallway.
33. Pale wood door
A Hamptons-style beach house deserves a gorgeous but simple wooden door. Pale natural timber looks lovely with all the sandy whites and natural stone. You can also add a black steel awning to balance the light palette.
34. Aqua front door
Have a blinding white exterior? Give it a little definition with a burst of aqua blue paint on your front door, with silver metal fixtures for accents.
35. Teal front door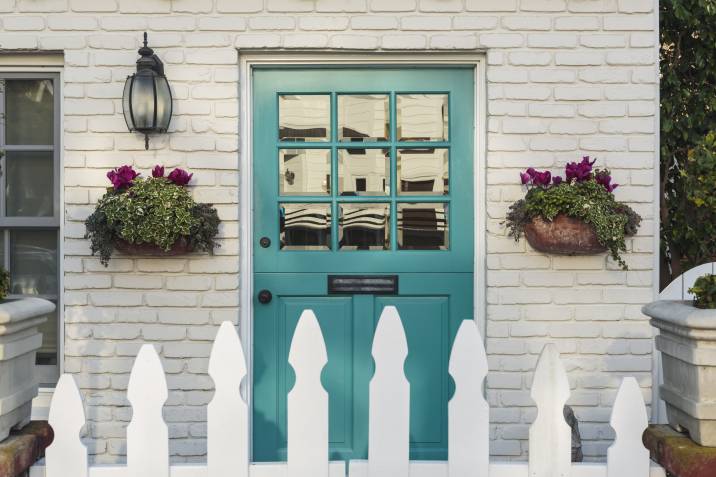 Having your front door painted your favourite colour is an easy way to add cheer to your life. Teal is a beautiful and uncommon colour to consider. Against an all-white interior, a painted door acts as a mini-feature wall and natural focal point.
36. White door with painted walls
Reverse the coloured door concept. Keep your door white and paint your home exterior an appealing shade instead. A simple, clean white door with metallic fixtures can catch attention, as well.
37. Victorian with black door
Mixing black and white always makes for a striking façade—just whitewash your ornate Victorian terrace and add in a punchy black door for oodles of street appeal. Keep the stained glass panels and add a minimalist security screen that doesn't detract from the door's aesthetic.
38. Peachy front door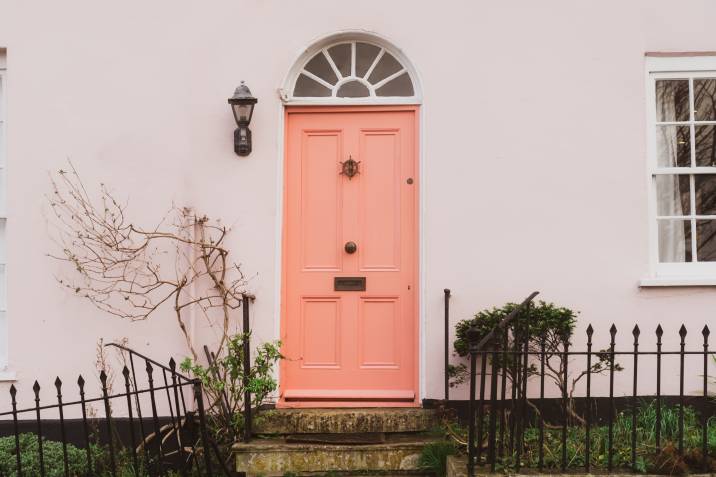 Peach is a gorgeous and unexpected colour for a front door. It works so well for a calm, neutral-toned home. It's a colour that looks stunning against dark green plants, so make sure to add a few healthy specimens in containers next to the front door.
39. Two-tone Dutch doors
A wide Dutch door has a traditional character that suits a modern farmhouse aesthetic. Dutch doors let you have fun with your colour palette. Just paint each side a different colour, and you can bring in the other colour in different ways, depending on how you latch the door.
So, that's a wrap on gorgeous front door ideas! Discover how to make a huge style statement with your home's entry—which is your favourite front door design? Get an idea of how much it costs to install a door, so you can consider the budget to spend on your next door design! Don't forget you can find someone locally to expertly install your doors or handle any door repairs you need.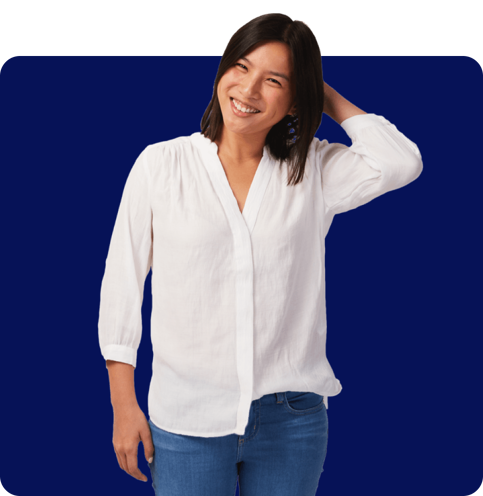 FAQs on Front Door Designs
Adding lights can make your front doors look more attractive and inviting. Choose sconces that match the exterior of your home. For instance, if you have brick exterior walls, vintage lanterns on both sides of your entryway can make that elegant appeal. You can also emphasise your front entrance with decorative trim for added curb appeal.
When it comes to security and longevity, steel doors make a great option. They don't easily warp and crack compared to timber doors. If you're looking for versatility, wood is your best bet. You can choose from a range of both hard and softwood varieties for your front entry.
This will depend on the overall style and colour of your home. If you have light exterior walls, you can go for bolder, darker shades for your entry door. If you have dark exteriors, a lighter hue will work best. However, it's also a trend for some with tiny homes to choose monochrome tones, so their exteriors and doors blend well.
It's free and takes only a minute.