Home

/

How to Build a Shed Foundation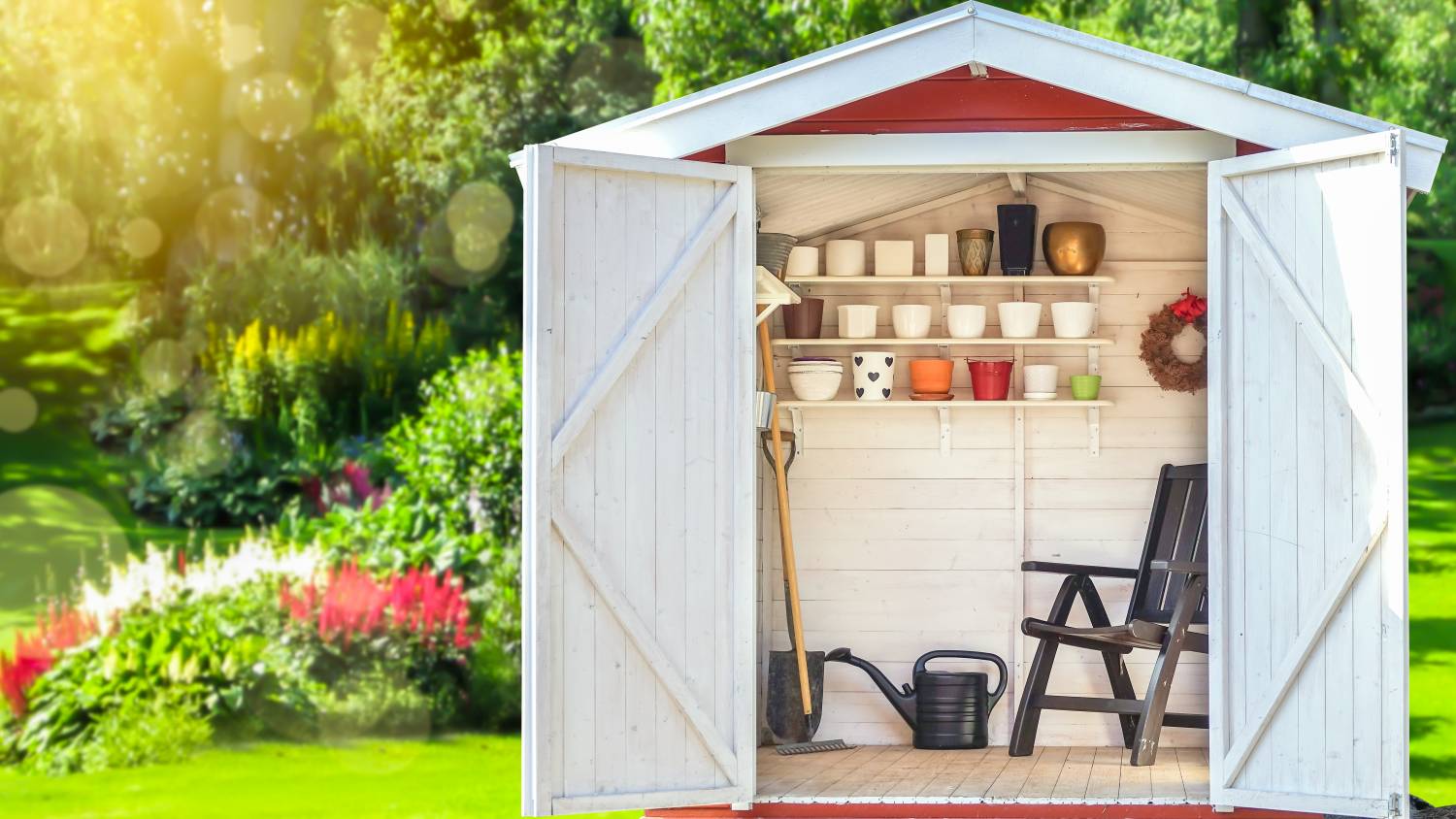 Find garden shed repair & installers, fast

Post a task with your price in mind, then get offers.

It's free and takes only a minute.

See how it works
Everyone (with a garden) needs a good shed. This useful space is great for extra storage or a place to craft other various projects. However, every good shed starts with a solid foundation. You want to ensure that your garden shed offers stability and safety, and learning how to build a shed foundation is the path to achieving that.
Whether you are building your shed from scratch or buying a pre-fabricated option, both methods require you to form the shed foundation. How do you build a durable foundation? Read on for all of the essential steps on levelling the surface to building a shed foundation.
Consider the purpose and design of your shed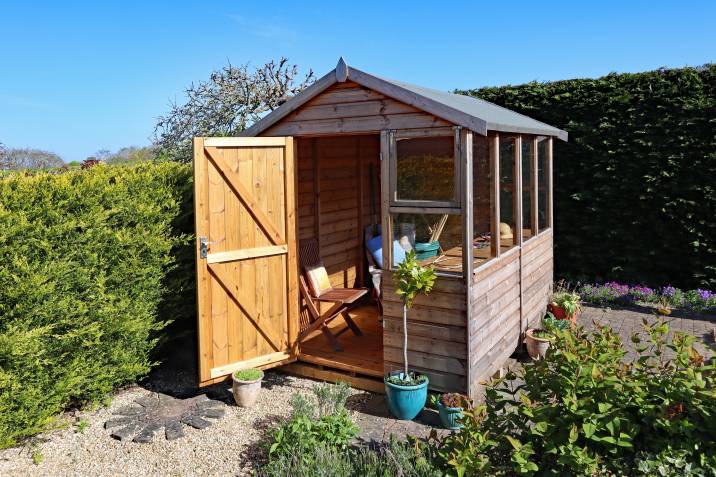 The purpose and design of your shed play an important part when choosing the type of foundation to build. You want to make sure it can withstand the equipment or activities you plan for your shed. Here are some things you may want to address so your shed's foundation maintains structural integrity:
What is the size of the shed?

Would you need to move heavy equipment or machinery to and from the shed?

Are you planning to install windows?

What needs do you foresee for your garden shed?
Before you start on your construction project, be sure to get clearance from your local building inspector.
Start by levelling the surface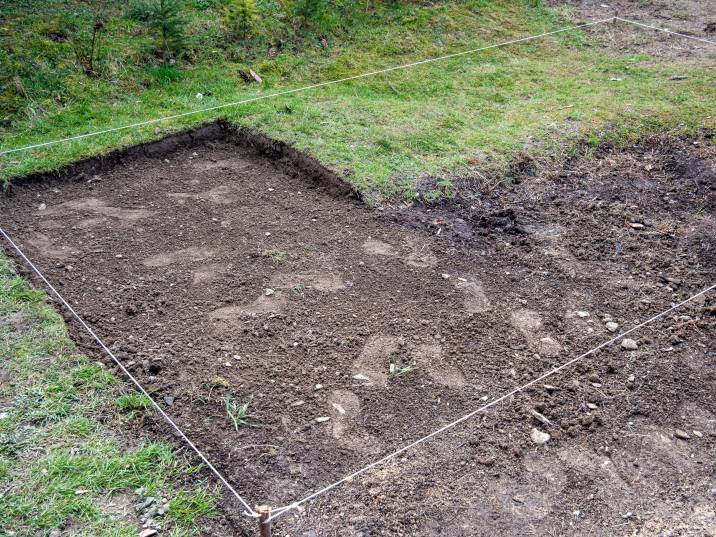 You have a few options for your foundation - be it concrete, a raised wooden deck or concrete slabs. However, you need to start with a level surface. Your shed will probably warp over time, and the adverse effects of this will be lessened if you level the ground first. Remove the debris and place a weed-proof membrane down to prevent things from growing through the shed floor.
Grass and weeds growing under your shed can be a problem as the floor will not dry out properly after the rain. This can cause premature rot, mould, and mildew. Learn how to stop weeds from growing and causing structural damage to your permanent shed foundation.
Lay the base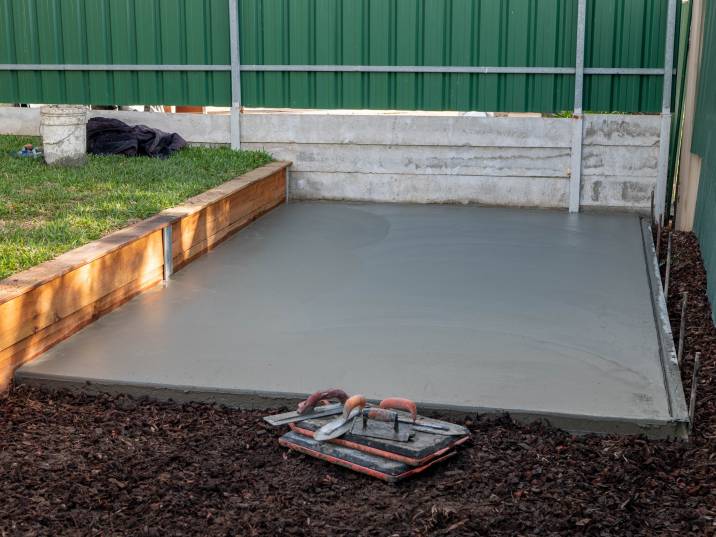 There are many base options for your shed, but the most popular are cast concrete or concrete paving slabs. Both options provide a longer-lasting garden shed foundation, and will require these steps:
Use mason's string and batter boards as a border around the area.

Dig about 15 cm deep.

Place a wooden framework for the concrete slab.

Place a level layer of 7 cm deep gravel, then pour the mixture of cement and concrete.

Spread out with a hand screed.

Let it dry completely before starting on the shed.
Make sure you have all the tools and materials before you start for a more efficient process. While this is a task that is made easier with two people, it most certainly can be done with just one.
Common mistakes to avoid when building a shed foundation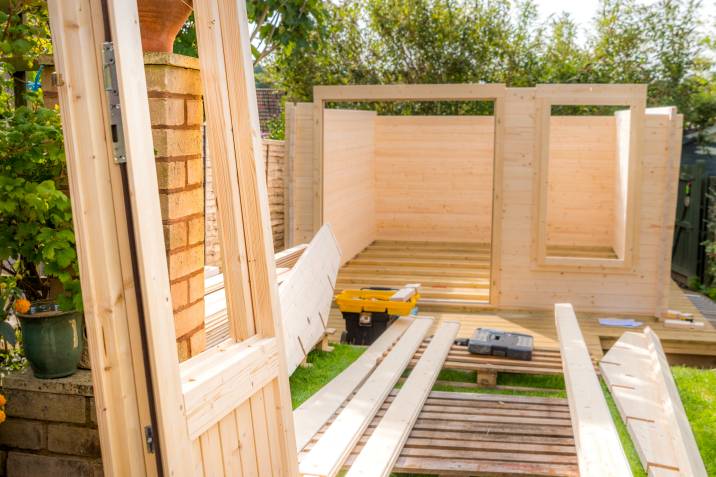 The first thing to avoid is laying paving slabs on irregularly spread gravel as this will create an unstable base that will warp and crack over the years. Your base will likely sink once the underlying material disintegrates.
If opting for a raised wooden deck, ensure you clear the ground first and use a weed-proof membrane. While ideally, you'll find a spot that is already level, you can still build shed foundations on uneven ground. This will require grading the soil and making sure you are not in a spot that will collect water.
If you want to ensure that your base area stays dry, remove all grass from the site and use a dirt tamper with 5-6 cm of gravel to drain the water underneath. Knowing how to build a gravel foundation will help secure the longevity of shed bases when up against the elements.
How to build shed foundations with deck blocks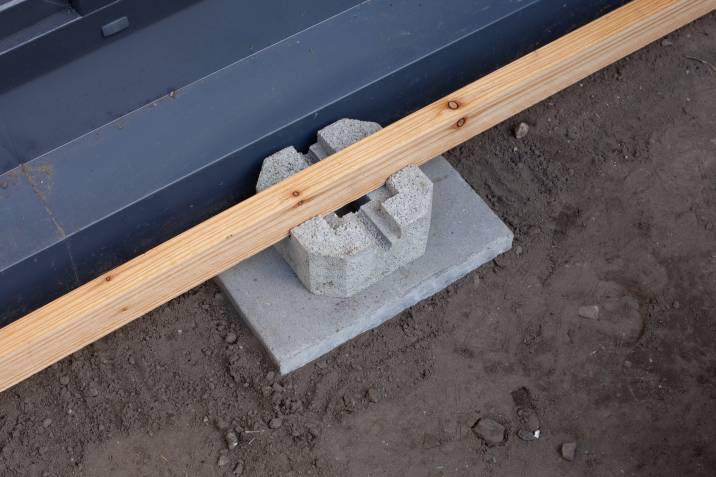 Deck blocks are another option for your shed foundation. These pre-formed masses of concrete feature formations in the top to hold vertical posts or beams. Many people prefer this feature as a form of extra structure security.
While they are generally a more temporary foundation for freestanding or floating structures, many people use them as they have a more straightforward installation process. You should not consider the option, however, if you are in a high wind area. Your local building code office will usually have the final say on whether or not you can use them.
Deck blocks are quicker and cheaper to install and require minimal surface prep or digging. The number of blocks you need will depend on the weight, layout, and size of your shed. The bigger the shed, the bigger your blocks. You will likely need help moving larger ones into place as they can be weighty.
Steps on building a shed foundation with deck blocks
First, you'll want to level your blocks and ensure you have the following tools on-hand:
Tape Measure

Mason Line

Level

Safety Glasses

Knee Pads

Laser Level
1: Calculate where your blocks will be located and prepare the area with level string lines
2: Place your blocks in position and continually check to ensure your structure is level 
3: Measure diagonals to make sure all blocks are in the correct position. 
While deck blocks can be a very stable base, they can be challenging to level if the ground settles once the shed is built. Try to avoid disturbing the environment too much while levelling the deck blocks.
What happens if I have no or inadequate foundation?
Apart from being unsafe, a shed that is not level won't look good or remain stable. Doors and windows may not close properly as your shed will settle over time, causing things to come out of alignment. Avoid this right from the start with a solid foundation.
You may also find that the centre of the shed floor may not be well supported if you use concrete blocks on an uneven base. If the centre of the floor is inadequately supported, it will result in a bouncy floor that sags over time. This is especially the case in larger sheds or a garage that will be storing heavy vehicles or equipment. To make sure you build a solid shed foundation, find a local handyman in your area to help with your project. 
Enjoy the peace of mind in knowing your shed will stay up!
Now that you've learned how to build a shed foundation, you can push on with the rest of the construction knowing the structure won't collapse! We're sure you'll undoubtedly appreciate that peace of mind when standing inside of it. Safety first, always!
If you've mastered the foundation but are having a little trouble with the project, you can book experts to help with your garden shed installation! You'll find experienced handymen who can help with Bunnings shed installation, or know how to work with garden shed designs to ensure you have a quality space that will function for many years to come. If you already have a shed that needs some drastic repair, we have the people to help with that, as well.
Ready for your next project? Get ideas for your backyard area and proceed with building the shed yourself. These blogs will give you some other great DIY projects! It will not only increase the value of your home but also the function and feel of your outdoor areas. Grab the tools, get to work, and make your backyard something you are proud of today!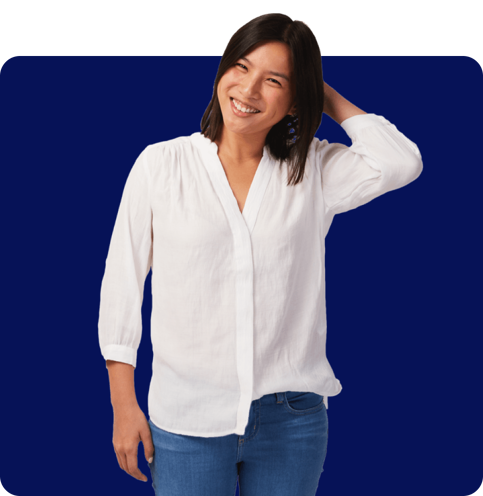 Frequently asked questions
You have a few options for your foundation, most commonly concrete, a raised wooden deck, or concrete slabs. The most popular shed foundations are cast concrete foundations or concrete paving slabs. They are longer-lasting and more durable over time. Wooden decking is a popular option as it looks neater and easier to level. Some wooden decks use timber frame foundation. If you opt for this, however, ensure that you lay a weed membrane beneath it to prevent various growth through your deck. Ultimately, the decision will be based on whichever aesthetics you prefer or the best shed foundation that fits your budget.
Absolutely! Whether you are building one from scratch or buying a pre-fabricated option, both methods require you to form a foundation. The foundation will help ensure your shed's longevity as it battles the outdoor elements. The quality of your foundation will also help you avoid other issues. Besides poor aesthetics, doors may not close properly on an unstable shed base. You may also have drainage issues or problems with wet areas underneath your shed if the flooring has not been treated properly.
Gravel can be considered the most suitable foundation for sheds, especially for buildings containing wooden floors. If you have prebuilt floors for a garage or garden storage shed, you might want to go for concrete as your building base material.
For most garden sheds, the ideal depth of a concrete base is 75mm to 100mm. This can provide you with a site to stablise the foundation. Bear in mind that the thickness of your base will depend on the condition of the soil, local climate, and the function of the shed you're planning to build.
It's free and takes only a minute.