Home

/

How to Hang Curtain Rods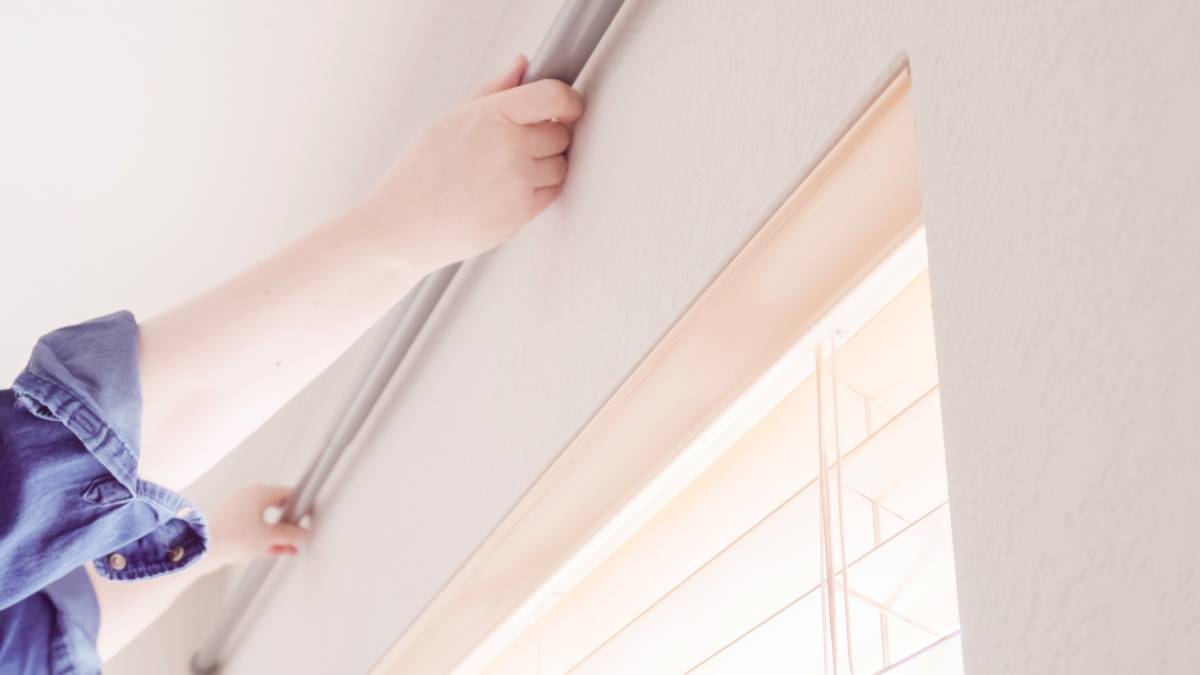 Find curtain rod installers, fast

Post a task with your price in mind, then get offers.

It's free and takes only a minute.

See how it works
Curtains play a major role in the overall design of your space. Some may even argue that no room is complete without window treatments for their aesthetic value and functionality. 
But correctly hanging curtain rods is crucial. If they're not properly hung, they won't make a difference. 
This guide covers everything you need to know about installing curtain rods, including rod types and placement. Here are three simple steps and tips for hanging curtain rods stress-free!
What you need to hang curtain rods 
Curtain rod
Curtain brackets
Curtains
Stepladder 
Tape measure
Pencil
Screwdriver
Hammer
Drill or screwdriver
Steps for hanging curtain rods
Step 1: Mark where the brackets will go.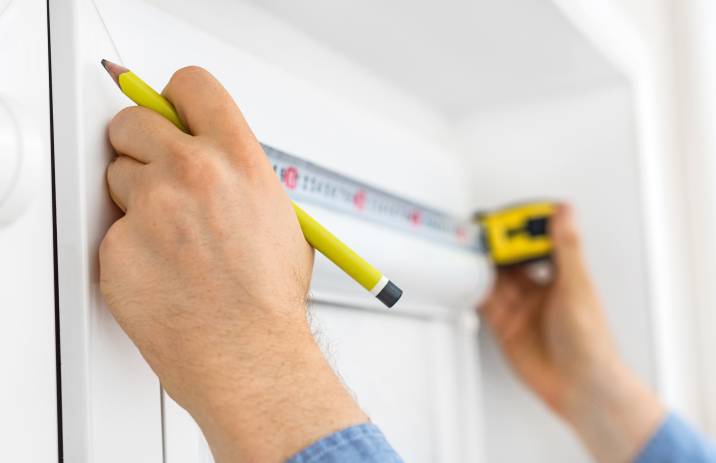 After you've laid out the materials, visualise your curtain against the window and measure it.
Take measurements by holding the bracket in place.
Hang one curtain panel to see what spot looks best. 
Curtain rod placement is the most crucial part when installing curtain rods. Make sure that the rod is level and not too high or low. 
How high to hang the curtain rod
According to Architectural Digest, the rule of thumb for curtain rod height is 10 to 15 centimetres above the window or at least 5 centimetres.
But, again, measurements are a personal preference. You can mount the rods to the wall above the window or directly on the trim.
Tips: 
Mounting directly on the trim will allow you to still see some of the decorative woodwork.
Hanging the rod closer to the ceiling will make the window appear taller.
Curtains extending to the floor like a puddle will make them look more formal. But this style isn't ideal if you want to frequently open or close your curtains; the bottoms may get dirty quickly.
How far a curtain rod should extend past the window
There are no rules to this, and measurements are totally up to you. You can even hang the rod directly onto the window frame if desired. 
But here are a few guidelines that might help you: 
For wall-mounted rods, allow at least 2 to 8 centimetres of space on each side of the window to accommodate an open curtain.
To make the window seem larger, allow as much as 15 centimetres on each side of the frame.
Consider additional wall space for decorative finials.
After taking measurements, position the rod bracket. Using a pencil, mark the screw hole in the rod bracket. This makes it easier to know where to drill.
Step 2: Install the curtain rod brackets.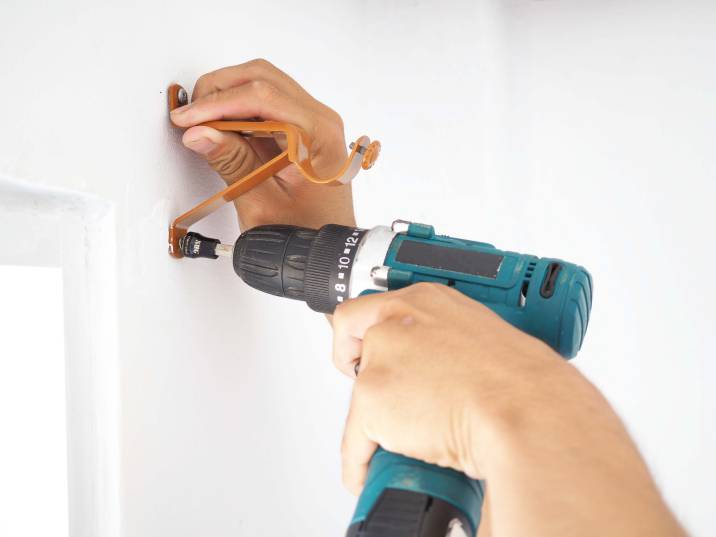 Drilling the guide holes is the next step. Once you've chosen the placement, fasten the brackets to the wall using a drill or screwdriver.
Tips: 
Pre-drill the pilot holes at the initial markings before inserting the screws.
You can use a centre bracket for extra support with longer rods or heavyweight curtains.
Curtain rod kits come with all the brackets and fasteners you need, but if you bought the rod and brackets separately, make sure the brackets fit around the rod's diameter. 
Step 3: Hang the rod and curtain.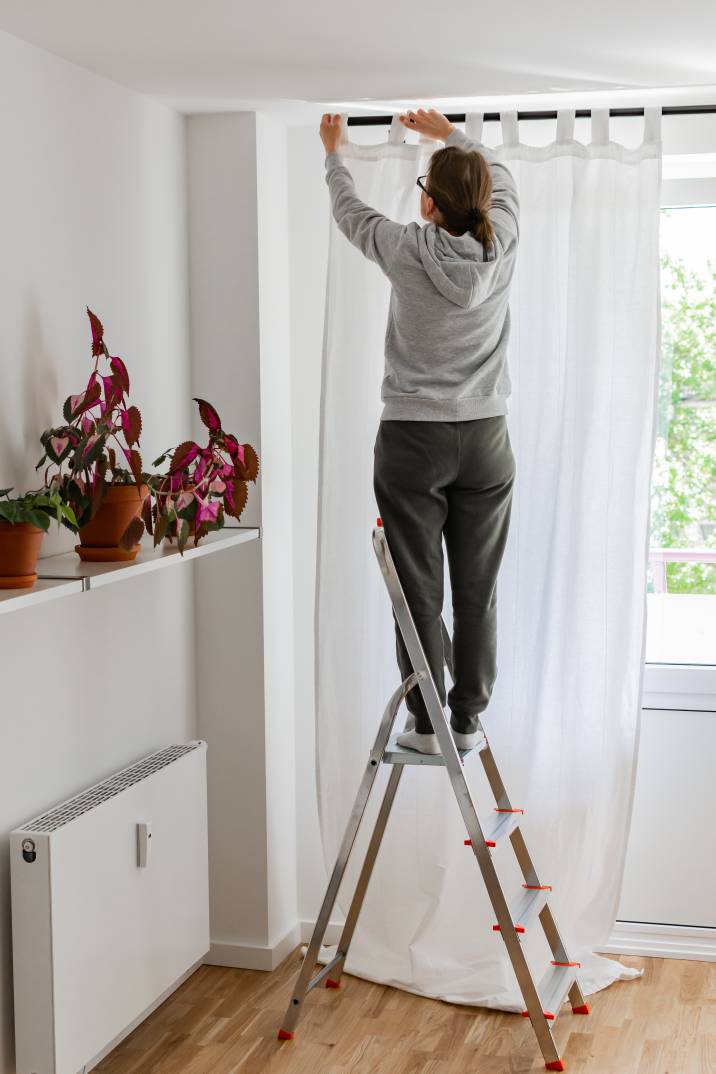 Lastly, hang the curtains onto your rod by inserting the rod through the pole pocket, grommet rings, or fabric tabs. Double-check if the brackets are secure, then rest the pole in the brackets.
Now, you can step back and admire your curtains!
Some extra tips:
Use a step ladder to safely hang the curtain rod and brackets. Step ladders are designed to be self-supporting, making it easier and safer to install curtains on your own. 
Finish them off with finials if desired.
When to hire a handyperson
Hiring a professional can be helpful when hanging curtain rods at a height, such as long windows and stair landings. A handyperson would have the proper tools and skills to do such tasks. Moreover, you can hire a handyperson if you need help with several tasks around your home.
Whether you're dealing with a challenging task or simply too busy to hang your curtain rods, feel free to post a task to find reliable handypersons near you.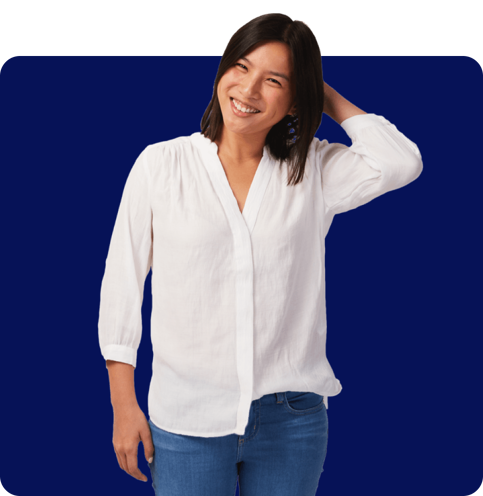 FAQs on curtain rod installation
According to Architectural Digest, 10 to 15 centimetres above the window, or at least 5 centimetres, is a rule of thumb for curtain rod height. Anything higher than 20 centimetres above the window frame can look awkward.
There are no rules as to how far a curtain rod should hang over the window. It depends on how you want the window to appear. The closer the curtain rod is to the window, the smaller the window will seem. If you want to make the window appear taller, extend the curtain rod at least 7 to 15 centimetres past the window frame. 
Here are various ways to hang curtain rods: 
Use adhesive hooks or strips made for hanging hooks. Renters will benefit from this method since they can easily remove the rods without damaging the walls.
Use magnetic curtain rods if you're hanging on a metal door or window frame. A stronger magnetic rod can hang heavier drapes but cost more.
Use a tension rod inside window frames or between two walls. This design is perfect for shower curtain rods that lack a rod pocket.
Use plastic wall anchors to provide proper support when hanging a curtain rod on drywall. Just fasten the brackets to the walls using your drill or screwdriver. It helps to have a hand tool for this task, as mounting with a larger electric drill can be difficult.
It's free and takes only a minute.