Thinking about or perhaps only dreaming of a bathroom makeover? You've come to the right place! A bathroom renovation is no small task but with a bit of research, careful planning and good quality trades – you can turn your bathroom into a relaxing sanctuary that you'll never want to leave.
When you get to the end of this article, you'll have all of the bathroom ideas that you need for any room size and whoever it's for – master, kids or guest bathroom, I've got it all for you…
Bathroom renovation checklist
It's easy to get swept up in renovation bliss when scrolling through Pinterest, but it's really important that you look at the space that you have as well as being very well planned. Having a bathroom renovation checklist ensures that you leave no stone left unturned, so here is a quick-look guide for you:
Bathroom layout
Who will be using the bathroom?
Do you need it kid or mobility friendly?
Do you have enough room for a bathtub?
Will you have space for a double or single vanity?
Where will your bathroom storage be?

Under the sink
Above the sink
Separate cabinetry
Building and bathroom budget
Do you need council approval?
Do you have a timeframe you need this completed by and are the trades you want available?
Are you taking advantage of existing plumbing or starting from scratch?
Speak to an electrician about where electrical plugs can go
What heating will there be? Lights, underfloor, towel rails
What ventilation/ exhaust do you need?
Do you have sufficient lighting around the vanity?
Get quotes from plumbers, tilers, electricians, waterproofers and builders
Are you using the builder's suppliers for items required or buying your own? This can impact the quotes given by your trades.
What is your bathroom budget?
Have you built in a budget buffer? You might need it!
If you need a starting point for your budget, check out our guide on how much a plumber costs.
Design and style
Are you wanting to maintain your interior design aesthetic in the bathroom?
Have you picked out colours of paint, faucets, tiles, vanities?
Have you found the products you want and also some alternatives in case it doesn't work with the build or unavailable?
Bathroom layouts
While there are your standard requirements (toilet, shower, vanity, sink etc.), there are many different layouts that you can have in your bathroom.
Wet rooms
Having a designated wet area for your bathroom is quite a new trend. A wet room bathroom means that there is little or no glass to contains splashes from a shower/ bath and that it's perfectly ok to get every inch of the room wet.
A semi-wet room is a great approach to getting the best of both worlds with just a single piece of glass.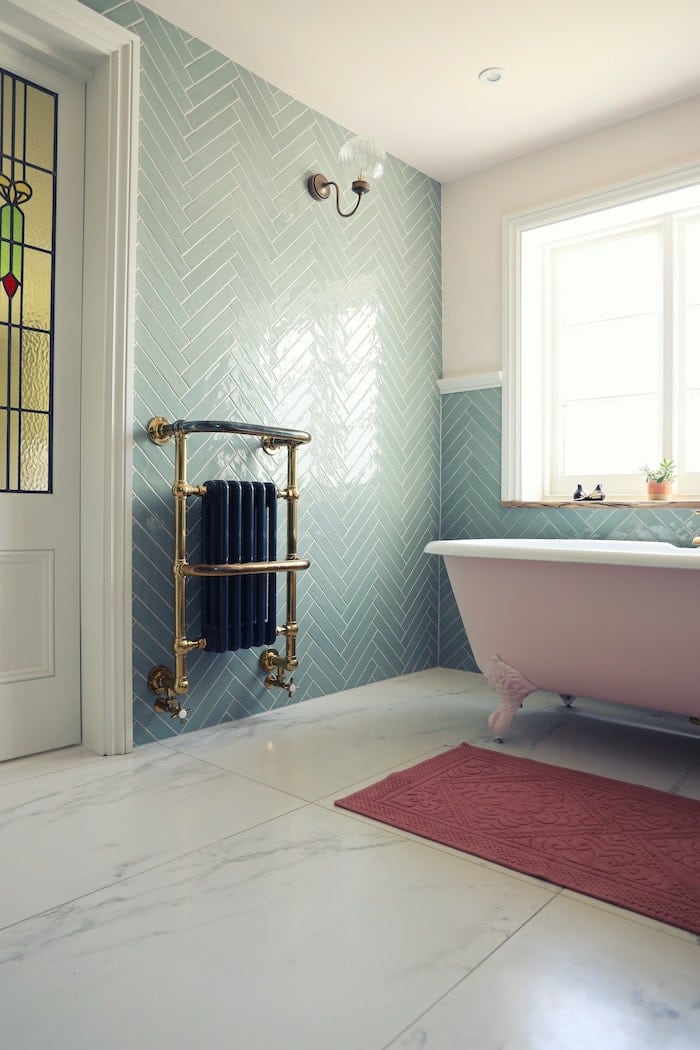 This works super well in kids bathrooms so that you don't have to keep cleaning up after them all of the time and also in ensuites as it feels a little more intimate.
Sloping roof layouts
Not all rooms have perfectly even four walls and sometimes you just have to work with what you've got. That can be made even more difficult when it's a sloping roof, but whether you put a bathtub under the slope or incorporate a shower into that space, you can definitely make it work to maximise the space you have.
Curved walls
Whether this is the card you've been dealt with or you want to build your own curved wall, it's beautifully modern and adds an extra flair to your bathroom.
Double showers
It's intimate and perfect in an ensuite/ master bathroom. Nowadays it has become a standardised item in larger bathrooms but it's still a standout.
Corner shower ideas
Whilst people are generally preferring a straight-edged shower at the moment, a corner shower can still be special with gorgeous gold accents against the white bathroom colour palette.
Bathtub ideas
Having a bathtub in the bathroom is very important for people with children. But a bath is also for those Friday nights where you just want to light a candle, pour a glass of wine and take some time for yourself.
There are so many sizes, shapes and installation bath types. If space is an issue you might have to pick a small tub or one that incorporates a shower overhead as well. However, if you have a large spacious bathroom you might want to consider a beautiful freestanding bathtub that looks like something out of a magazine. Like this:
Compact bathtub
Tubs generally come in a few sizes these days and as houses become smaller, so do the items that need to fit inside it. This is great news because if you love a bath, you're more likely to still get on in your bathroom no matter what the size.
Freestanding vs. inset bathtubs
Freestanding bathtubs sure do look pretty but I'm going to have to burst the bubble there because these tubs are really only suited to larger bathrooms where you have enough space. Not only do they need to be set back from the wall with about 100mm of space all around it, but also enough room so that you can easily clean all around it. Speaking of cleaning, it's a pain with freestanding tubs – sorry, but it is!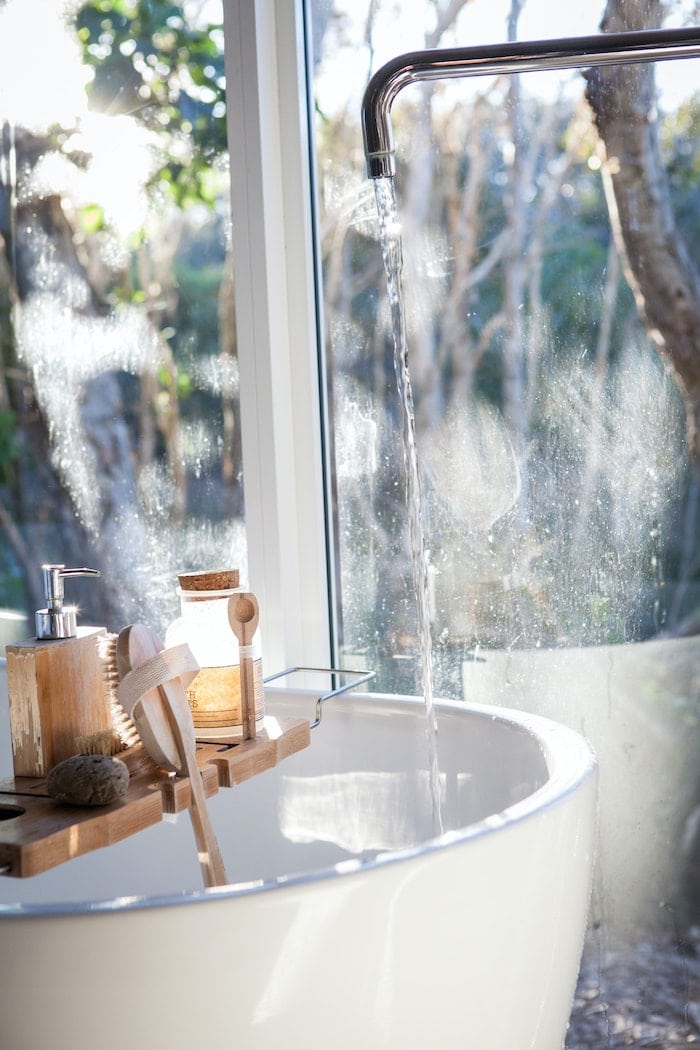 But if the cleaning doesn't bother you, go for it, freestanding bathtubs are gorgeous, just look below.
Now for inset bathtubs, they've come a long LONG way and just like a freestanding, you can also make an inset bath a feature by using marble or another stone surround. So if beautiful clean lines are something that you love, then you'll adore a bespoke designed inset bathtub.
Shower over bath
If you can't go without a bath but are short on space, a shower over a bathtub is your best bet. There are a few variations out there but for practical functionality, my preference is a shower over an inset tub against a wall so that you can utilise the space but more importantly not drop anything outside of the tub on the floor.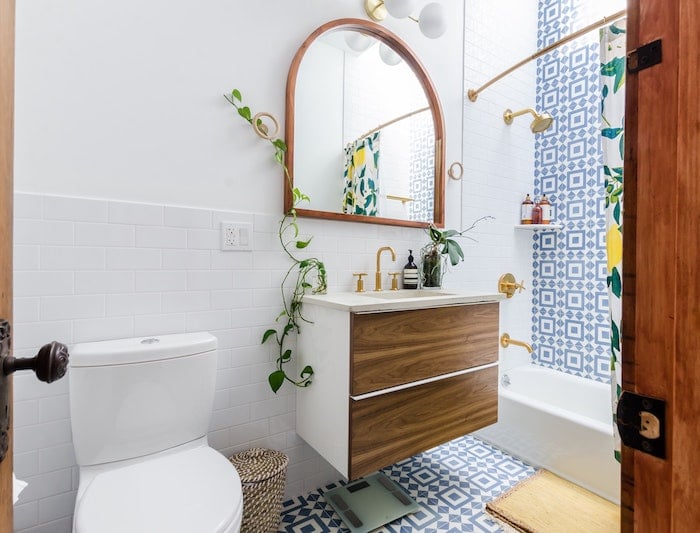 Bathroom mirror ideas
A mirror is essential in any bathroom and there are so many different options when it comes to mirrors from the popular round mirror to built-in options. So here's a collection of some of the best bathroom mirror ideas:
Double vanity mirrors
Perfect for a master bathroom, a double vanity is what you want when it comes to getting ready in the mornings before work and also so that your side clean and organised just the way you like it. Here are more beautiful Jack and Jill bathroom ideas.
Oversized mirrors
Hello gorgeous! In a space that is reasonably minimalistic, an oversized mirror is a way to make a mirror the stand out feature of a room.
Square mirrors
Could square be the next round mirror? Quite possibly, especially with the rounded edges and the size making the room look larger too. Love this!
Mirror with storage
If you're short on space, you really can't go past a mirror that also has storage. This means you can keep your make-up, toiletries and other small things packed away. These are relatively easy to put up but you can always get an extra hand to take care of your mirror hanging.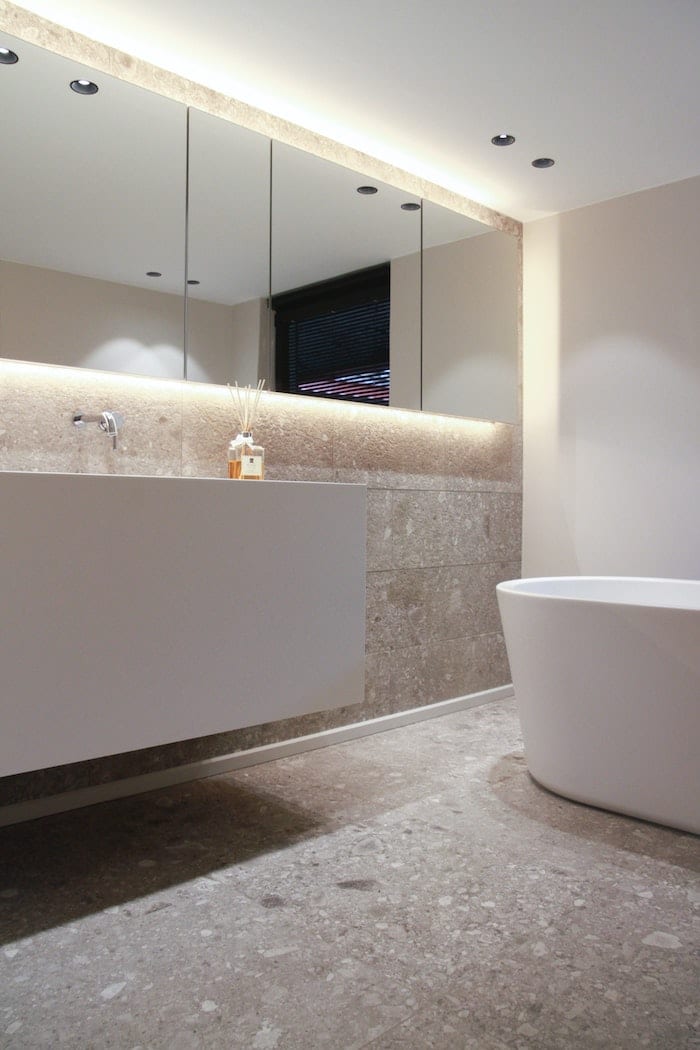 In-built mirror
If you're going through a total bathroom renovation then why not get the mirror built into the wall for a seamless finish.
Mirrored cabinetry
Mirrored cabinets running the length of the vanity, or perhaps the whole length of the wall, are back in fashion as functionality takes over as a priority for homeowners.
Bathroom vanity ideas
Double vanity
It's the solution to all bathroom fights! The double vanity works well in a busy family bathroom or just the master ensuite. A double vanity also usually means double the storage too – everybody wins.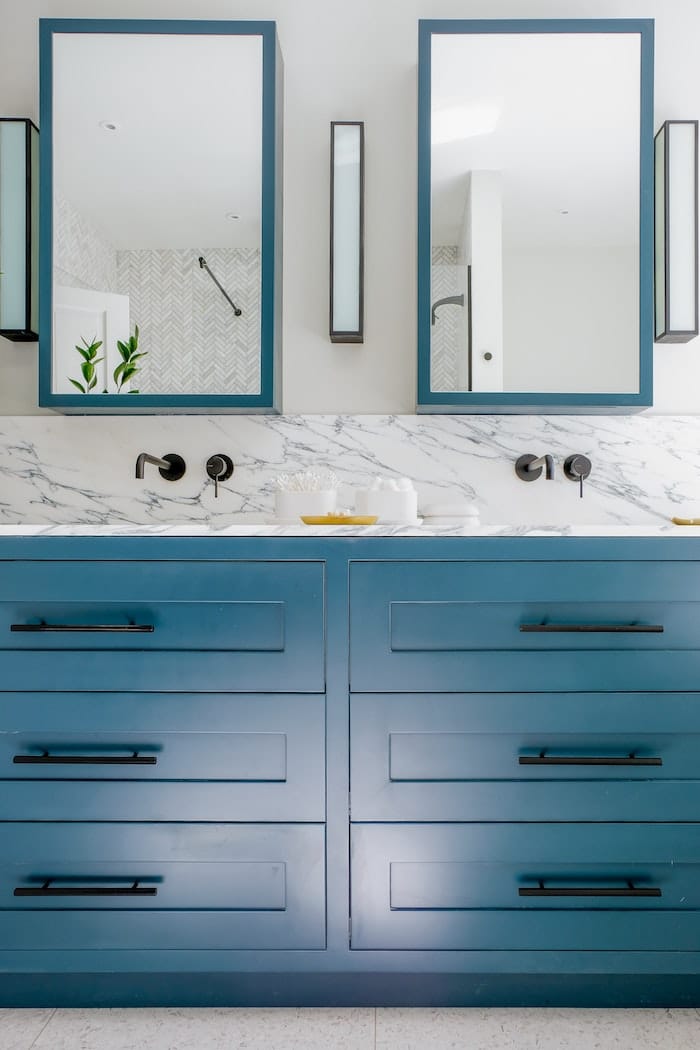 Timber vanity
The use of timber throughout the home has been mainly due to the Scandi influence. A light oak bathroom vanity softens a room and also pairs nicely with marble, tiles and feature tapware.
Curved vanity
Bring a little bit of old Hollywood glamour into your home with a retro-inspired vanity with rounded corners. It's a small change from the 'norm' but because it's a little 'different' it has quite the impact.
Floating vanity
It's a luxe approach to under sink storage and there are plenty of different varieties to choose from with open and closed storage underneath.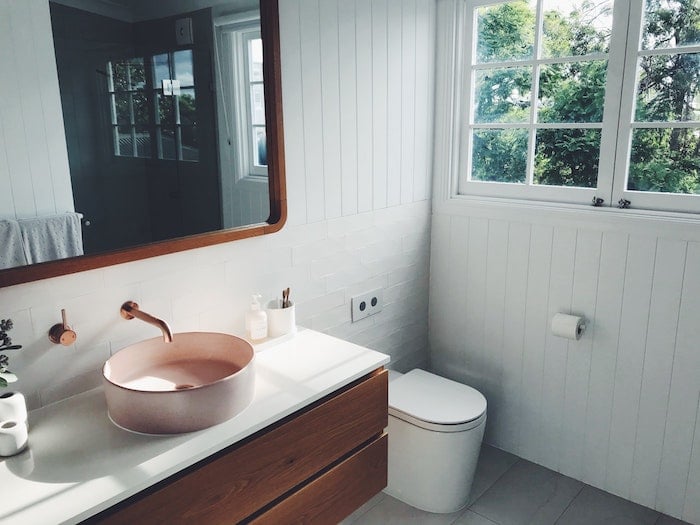 Built-in vanity
If you don't want a floating vanity you can get a cabinet that goes to the floor and offer you that additional storage that you need. You won't have to worry about cleaning underneath or things falling under it either.
Open vanity
People often get vanities with enclosed doors so that they can hide the mess and have a clean looking bathroom. However, you can opt for an open vanity, which is perfect for guest bathrooms where you don't use that particular bathroom as often.
Bathroom sink ideas
Undermount sink
This type of sink is installed underneath the vanity top and they are extremely easy to clean and help you achieve a seamless design. You're a bit more restricted on what you can do with the vanity though, so make sure you double check all of these details.
Wall-mounted sink
If you're after minimalism, look no further than a wall-mounted sink. They offer little to no storage, so you would probably need to put in eye-level mirror storage, but it's a perfectly simple solution if that's what you need.
Countertop sink
The main benefit with an above-counter sink is that it doesn't take up as much storage space from inside the vanity. There is a lot of different shapes (round, rectangle, oval etc) and sizes to choose from for countertop sinks.
Farmhouse sink
If you're in the country or just embracing the rustic vibe, you can't find a better match for your basin than a farmhouse sink which typically overhangs the vanity slightly.
Coloured sink
Nothing says boujee like a pastel pink concrete sink. There are so many wonderfully coloured sinks on the market now, which are giving them a bit of a moment in the spotlight at the moment.
Concrete sink
As you can see in the picture above, concrete bathroom sinks give that added creative flexibility that people want to make their bathrooms bespoke. You can get a simple countertop concrete sink (above) or you can get the entire vanity, sink included, made out of concrete as you can see below.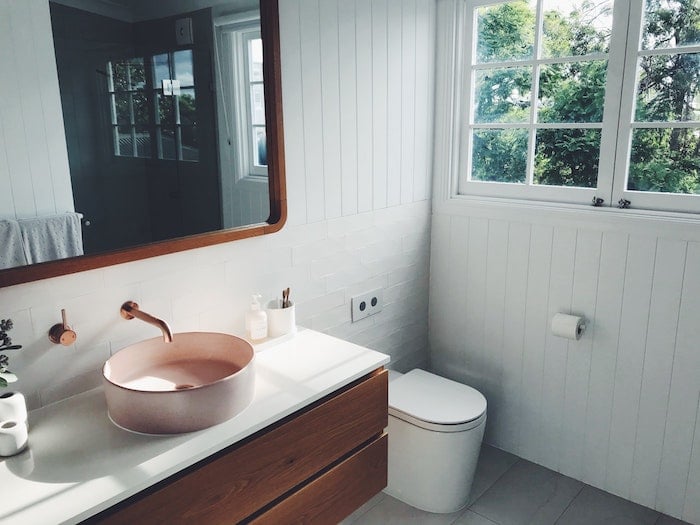 Copper sink
You don't see many of these around, but copper sinks are very eye-catching.
Terrazzo sink
Terrazzo is the hottest trend in interior design at the moment and anything can use a terrazzo finish, including the bathroom sink in this case.
Faucets and taps
Brass, matte black and chrome -when it comes to choosing the right faucets and taps for your bathroom, colours are just the starting point. There are quite a few different options that you can look at, but the most important thing is to keep the design and style consistent. So double-check that the same design exists for all of your taps.
Not sure what is the amount that you should pay a plumber to install your taps? Here's our helpful guide on how much it costs for faucet and tap installation.
Mixer taps
Wall-mounted taps
If you're short on space around the sink or the bathtub, then wall taps are the way to go.
Floor taps
If you have a freestanding bath you can either place the taps within the wall, as you see above, or you can have a tall tap running up from the floor. Floor taps can make a statement by themselves and usually come in black, brass and chrome.
Black taps & faucets
Black taps (usually in a matte finish) add an additional focal point to your bathroom and can work with a variety of styles including industrial and modern design.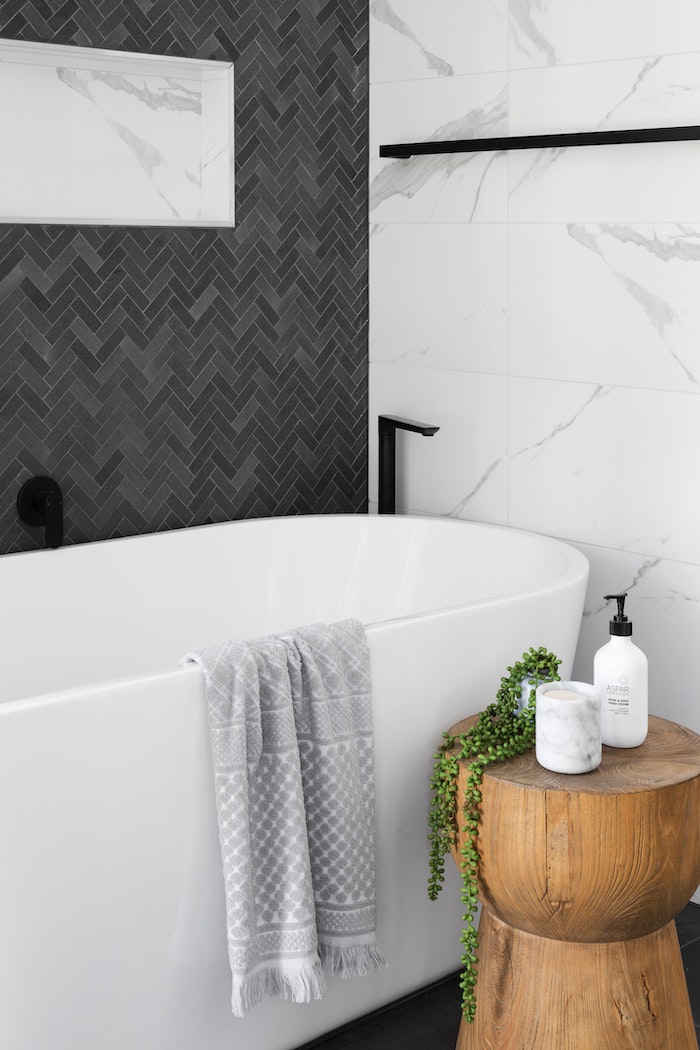 Brass taps & faucets
First, it was black and now it's all about the brass. Once reserved for homes following a Federation/vintage style, it has been rejuvenated into a new era of tap design. Brass is back at the top of the bathroom wishlist!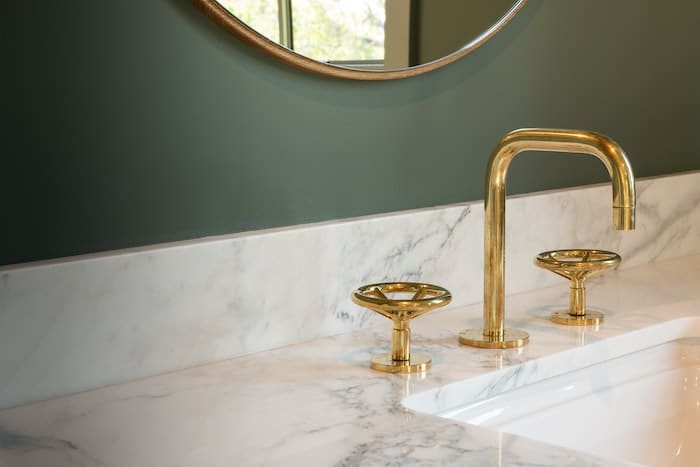 Matte taps
Matte and brushed chrome gives a subtle yet refined finish to your bathroom.
Got an issue with a leaking tap? Here's everything you need to know about fixing a leaking tap by doing it yourself.
Towel rails and storage ideas
Towel basket
If you can't have a permanent storage area, a basket is an easy and cheap way to store your rolled up towels.
Custom wall storage
If you have the extra room when you're renovating, get a specific spot for your towel to be easily stored away.
Vintage cabinet
If DIY is your thing, restoring a vintage cabinet is a beautiful way to add warmth to your bathroom and also provide precious storage.
Bathroom shelving ideas
Looking for inspiration to solve a storage issue and enhance your bathroom design? Picking the right storage for both function and style is a priority.
Open shelving
Create great looking storage space by mounting shelves. Brackets used to position the shelving can easily work as part of the design if you choose your materials and colour scheme wisely.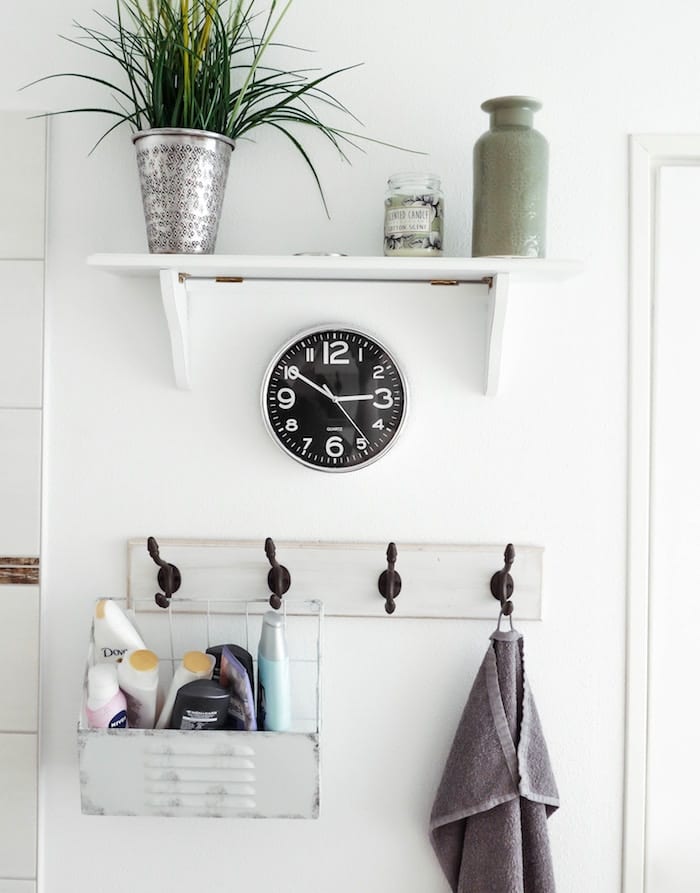 Floating shelves
If you want to do something a little more modern, floating shelves are what you want. The 'floating' look is a variation of mounted shelving where the shelves are slipped over protruding support which is attached to the wall. This makes it appear to float against it. They look really effective in white or natural wood.
And the best part… You can pick these up relatively cheaply from a hardware shop or IKEA.
Industrial shelving
Bathrooms are full of pipes and plumbing, so if you're into the industrial look, the bathroom is a great place to implement it. You can achieve this by exposing pipes and plumbing, and complimenting their aesthetic by installing industrial style shelving, towel racks and toilet roll holders. Teaming industrial elements with reclaimed wood gives a really nice effect.
Cube shelving
Clean lines and symmetry; there's nothing nicer. Give your bathroom a fashionable, modern makeover by installing cube shelves. Use them to display lotions and towels, or even a little hint of greenery. You can DIY your own by using old drawers or crates. This is the perfect option for anyone renting as you can easily move and adjust them to suit the space you have available.
Recessed shelves
If you're a bit tight on space to comfortably move around your bathroom, you could recess shelves into the walls between studs. The little 'nook and cranny' seen below is actually quite beautiful.
Freestanding shelves
Can't drill into the walls? No problem! Freestanding storage racks come in many different designs, are cost-effective and moveable. If you don't have the room, hanging storage racks are a great option if you've got a towel rail to hang them over or even just a removable wall hook for lighter items.
Ladder shelving
Leaning shelves that have the 'leaning' or 'ladder' effect are wonderful; their height, varied depth and sturdy base allow you to store plenty of essential bathroom items from soaps to towels and everything in-between.
Toilet ideas
We're not going to spend too long on this simply because from a design perspective only a few types of toilets that exist; wall hung toilet (mounted for a modern look), wall faced toilet (great for small bathrooms to hide cistern inside the wall) and back to wall toilet (attached directly to the wall). Toilet installation is always something that is best left to the professionals.
Wall hung toilet
Wall faced toilet
Back to wall toilet
Bathroom shower ideas
To have a long hot shower in peace is every parent's dream so it's important that you have the shower that you love.
Rainfall shower
You can get a ceiling installed or wall rainfall showerhead installed, but they always look so much better when the showerhead is suspended from the ceiling for that true rainfall effect.
Handheld shower
Regardless of your showerhead, you need a handheld one as well for shower cleaning. It makes the cleaning effort ten times easier, otherwise, you'll be filling up a bucket and using a sponge to clean the walls and shower screen.
If you have a rainfall overhead shower that doesn't adjust, you'll also want a handheld shower for the days that you don't want to wash your hair.
Adjustable shower
These are great because they can be moved for the different heights of people using the shower. Just make sure it's installed high enough for the taller people.
Shower screen ideas
There may not be as much flexibility with design or budget here but there are more and more interesting shower screen designs entering the bathroom market.
Fully framed shower screen
Enclosed in an aluminium frame, a fully framed shower is for a budget-conscious family orientated home.
Black framed shower screen
If contemporary or industrial is your jam, look no further than black-framed or Crittall (as it's officially known as) inspired shower screens. You could have a simple black frame around the glass or multiple black panels to make it look like a windowpane. It is one of the most stunning features you can have.
Sliding door shower screen
These are perfect when you still want an enclosed shower but need to practically think about space.
Pivot door shower screen
These traditional screens can be opened similar to a door but only suited to a larger bathroom.
When you're looking to get a new screen, it's important to get your preferred supplier out early to make measurements so that when it comes to your shower screen installation – it goes without a hitch.
Frosted shower screen
Want a little added privacy? Simply get a frosted glass shower screen.
Frameless shower screen
If you have a smaller bathroom a frameless shower screen is great as it can let you designate a wetroom section of the bathroom and you can get the glass cut to the size that you need. It is the ultimate modern look.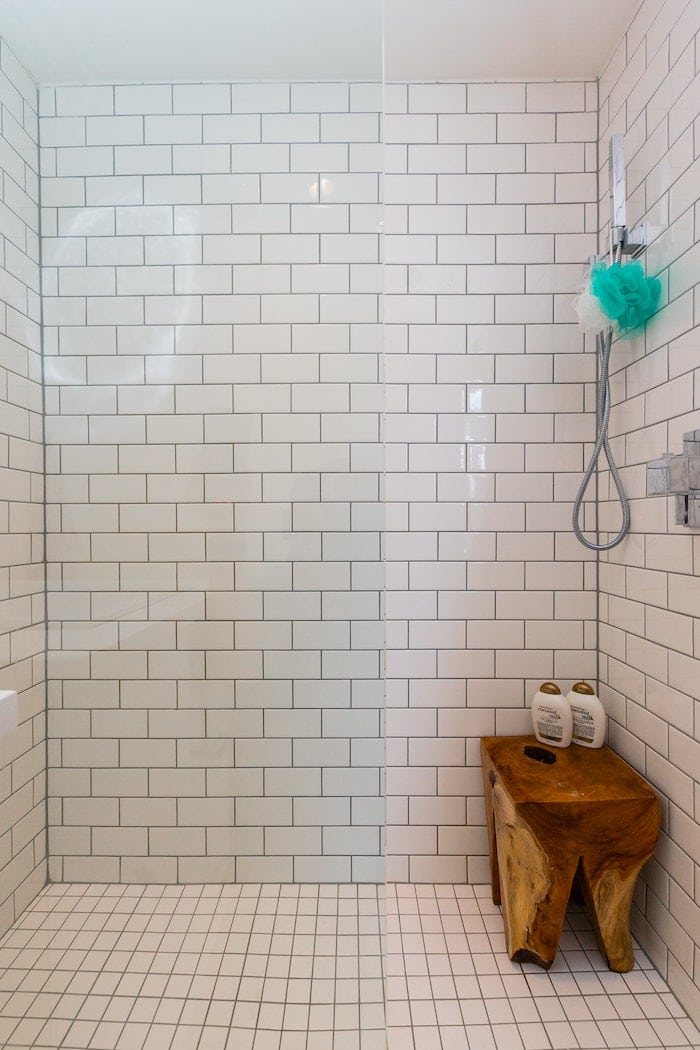 Bi-fold shower screen
These definitely fall into the practical bucket because it's not the most stylish solution. But if it's for a small guest room bathroom – it's perfect.
Small bathroom ideas
When you have a tiny space to work with, especially in a bathroom where so many elements are required, it means you need to be a little more imaginative and willing to compromise on design elements.
So what should you do with a small bathroom? Well, you need to make sure you have the basics covered like a toilet and vanity with a basin. But the most important decision in a small bathroom is whether you can have both a shower and bath, a shower over a bath or just a shower. To help you make this decision, think about who is using this bathroom because if kids aren't using it then you're less likely to need a bath.
Layout
You need to map out the room to understand what space you have available and try a few different layouts to make use of it in the most efficient way possible. If you have a long, narrow room, try positioning larger fixtures at the end of the room so they're not in the way. If you have a small, square or rectangular room, use corners for a shower cubicle or storage.
Rainfall shower
In small bathrooms, you can maximise floor space by opting for a shower instead of a tub. Skipping the bubble bath doesn't mean you have to skip out on luxury though; there are plenty of indulgent shower options to choose from, such as the rainfall style shower head.
Large bathroom tiles
The bigger the tiles are the larger the room will appear. Another clever optical illusion to make a room feel bigger is to run tiles from the floor all the way up to the ceiling. Although, you can still use smaller tiles to act as a feature or focal point on a wall.
Pull out storage
The beauty of pull out storage is that you can have more storage space without having the inconvenience of trying to access it by opening a cupboard door in a tight spot. You can literally pull out a narrow, vertical storage shelf and have easy access to the entire shelf without having dead space at the back of the cupboard. Here are some more bathroom storage ideas.
Hidden hampers
If you don't have space to hide your dirty washing basket, there are plenty of good looking options available online and in bathroom accessory stores. You can use them to store towels or laundry and slip them underneath the bathroom vanity or shelves so that they're out of the way.
Over the door hooks
These aren't initially thought of when it comes to bathroom ideas but an over-the-door hook a great alternative to a towel rack when you're lacking the space. They're cost-effective, temporary,  unlikely to do damage when installed correctly, and available in a range of materials and colours to suit your bathroom decor.
Minimalism
Having too much 'stuff' in a small area creates a sense of clutter and can make a room feel claustrophobic. Taking a minimalist approach to your small bathroom design will help you achieve the illusion of a larger space. A strategically placed small succulent or a candle here and there will add character to the room, but avoid going over the top. Strip out everything but the basics and enjoy the cleanliness!
If you're renovating, we have some great tips on top renovation mistakes to avoid which you may want to have a look at before you get started.
Bathroom plant ideas
To bring life into your bathroom, greenery is the answer. From hanging plants to potted varieties, here are a few different bathroom ideas to think about when you're looking to add a pop of green.
The really good news about bathroom plants is that you don't need to do much to keep them alive as they usually thrive off the humidity. But, if you're like me (someone who seems to kill all indoor plants instantly) you'll find this guide on how to keep indoor plants alive super useful.
Hanging plants
My favourite plant for the bathroom has to be the Boston Fern (pictured below), which has an abundance of green and really brings life to what can sometimes feel like a sterile environment.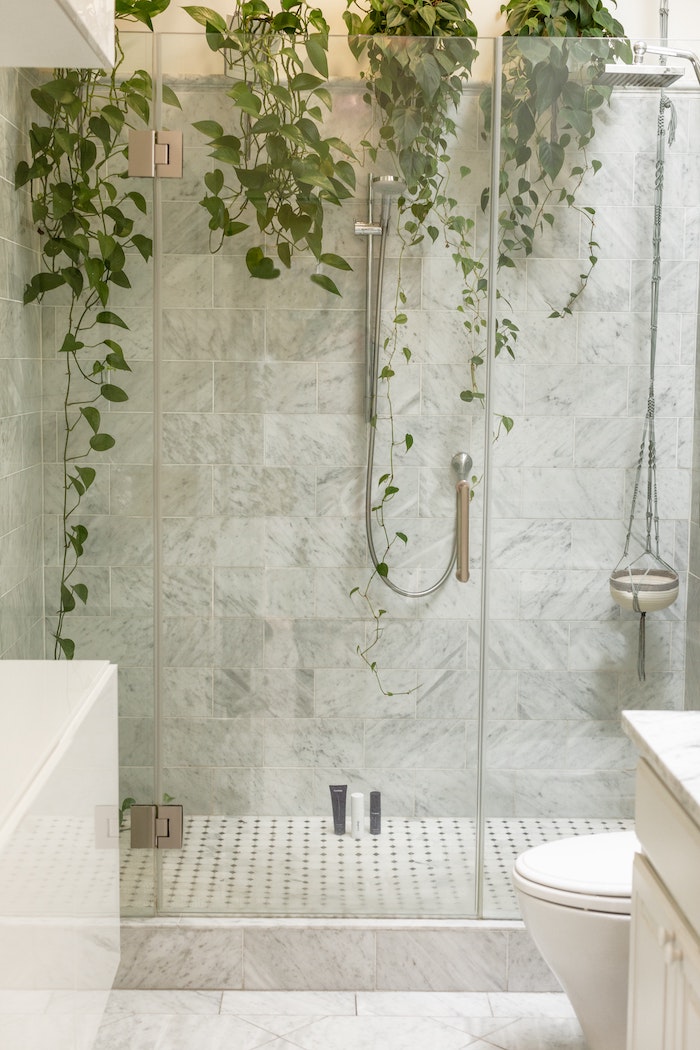 Other great plants to hang in your bathroom include Ivy and Staghorn, which can hang from the ceiling or shower rails.
Potted plants
If you're looking for a potted plant there are a few different varieties will suit this. Go for a Peace Lily, Orchid or Snake Plant for medium plants. But if you want something that is going to make a grand statement try Bamboo or a Golden Palm variety.
These a just a couple of plant ideas for the bathroom, however, if you're looking for more inspiration throughout your home, check out our list of the best indoor plants for Australian homes, and where to get them.
Bathroom light ideas
Lighting has come a long way from the single heated downlight and extractor fan combo that featured in many bathrooms during the '90s / '00s. I've put a few of my favourite bathroom light ideas below for you.
Just remember when picking out your lights, it's not as easy as what looks pretty. You need to have a functional lighting design in your bathroom.
Pendant lights
Nothing says 'LOOK AT ME' like an eye-catching pendant light.
Mirror lights
These are well suited to a corporate/ modern bathroom design and have that hotel look about them.
Wall sconce lights
Wall sconces have come a long way from plain shells or opaque bowl-type lights to beautiful filament lights, such as the ones below.
LED lights
LED backlighting in a bathroom is the new luxe look but it's not the most practical, so it's worth saving this for the guest bathroom or installing some more functional lighting solutions as well. What a striking dark bathroom this is!
Master bathroom ideas
When you're designing for an ensuite or master bathroom, it's got to feel beautiful yet intimate. There are some really lovely touches can make your ensuite a little more special.
Paired back ideas
If you don't want to go over the top, using bright whites with wooden bathroom accents really helps you to achieve this design. I especially like the use of the timber stool in the corner for that extra storage and it also adds depth too.
High-end luxe ensuite
Using metallic tapware with matte tile will give you the super high-end feel to your master suite.
Seamless design
If you're one of the lucky ones to have a walk-in-wardrobe that flows into the master bathroom, you'll want to have an effortless flow to take you through the different spaces. Neutral tones are your best bet here.
Beauty/make-up vanity ideas
If I had an ensuite with plenty of space, a specific spot to put on my make-up would be at the top of my list. For an alternative to the Hollywood light mirror, is this stunning laidback look with a large mirror and simple stool.
Kids bathroom ideas
Who says kids can't have a well designed and decked out bathroom? Well, they obviously haven't seen these totally amazing kids bathroom ideas.
Personalised hooks
No more fighting over whose towel is whose with individual towel hooks. I don't know how I didn't think about this before – genius!
Pink themed bathroom
If you want a girly bathroom, you really can't go past a pastel pink. Make it on-trend with some mid-century timber accents, funky lights and of course a step stool so that they can reach up to the basin.
Navy bathroom
And one for the boys…
Colour accents
Using pops of colour with removable items means that it can still look like a kids bathroom but always change as they get older or if you need to put your house on the market.
Locker storage
If you're willing to invest a little more into your child's bathroom, these locker storage solutions not only look great but also hide all of their mess.
Bath mats
If you don't want anything too permanent, adorable bath mats and towels are the way to go.
Wall art
If you need some helpful reminders for the kids to wash their hands and brush their teeth, use artwork to display it in an educational but fun way.
Guest bathroom ideas
If you have a powder room for your guests, you don't need to do too much – just cover the basics. So with guest bathroom decor, it's always the small touches that count.
Minimal guest bathroom decor
It may be a small space but a narrow bathroom can still be on trend with the latest in Hamptons bathroom design or any other modern style that you have in your home.
Simplistic modern powder room
A powder room is not a room to be neglected when looking at a bathroom renovation. After all, it may be small, but WOW can it make a big impact.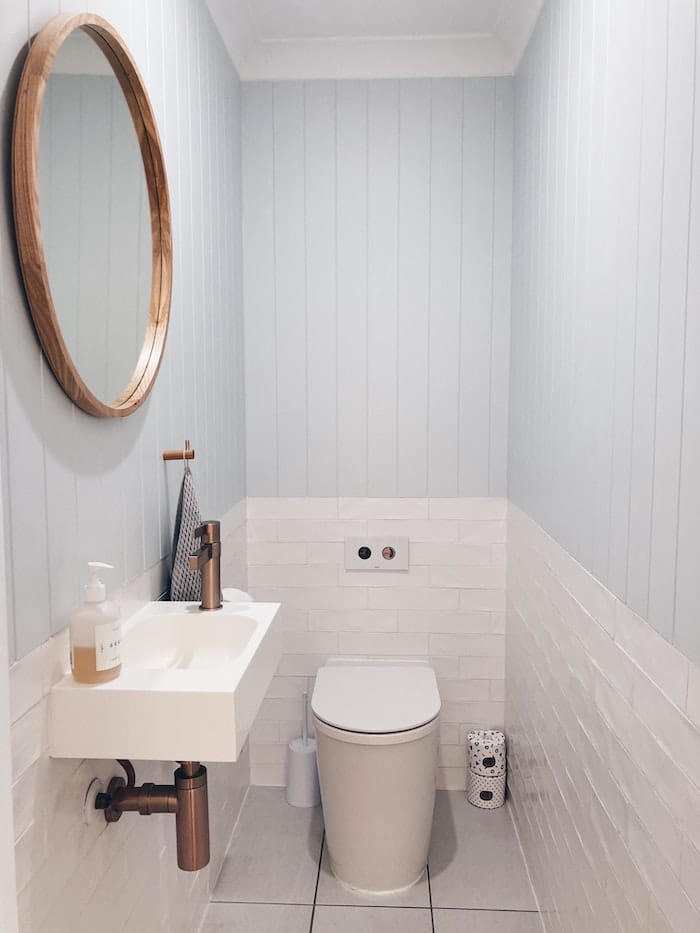 Candles and nick-nacks
You can't go wrong with a candle, plant and some lovely hand cream in a guest bathroom. It's amazing how much a few bathroom decor touches can make a guest bathroom that touch of luxury.
Storage solutions
When you have guests they might need access to extra towels, toothpaste or just an extra loo roll. So making these items easily accessible is key to a guest bathroom.
Laundry bathroom ideas
If you're short on space or just want to make your rooms a little more compact, combining a bathroom and laundry is a great idea. From having your appliances out in full view to concealing them behind doors, here are a couple of beautiful laundry bathroom ideas for your home.
Laundry nook
By using bi-folding doors you can create a separate space for your laundry items within your bathroom. This also acts as a great way to quickly hide mess before guests visit.
Compact laundry design
No matter how small your space is, if you need to combine the two – you'll always make it work.
Outdoor bathroom ideas
This won't be everyone's cup of tea but perhaps if you have a very private coastal home an outdoor bathroom is a dream come true.
Inside and outside bathroom combination
This is a great idea to get the best of both worlds.
Outdoor shower
Perfect for a seaside home, an outdoor shower helps get rid of sand and wash down the kids before they step indoors.
Outdoor bath
Imagine being in the bath and simply staring up at the clouds (or stars) and just thinking of absolutely nothing – sounds like a holiday. So imagine if you could build this outdoor bath in your home!
And that's it, all of my lovely bathroom ideas! I had so much fun putting all of these bathroom decors ideas together for you and if you're still looking for more inspiration, why not look at how to plan your bathroom design in more detail.
If you have any ideas that you think I've skipped over or want to include, please let me know in the comments below!
Services you might also be interested in: