Over the last few years, wet rooms have slid onto the bathroom renovation scene as the new must-have trend – and it's easy to see why. Wet rooms not only look amazing but they're also practical when it comes to cleaning, as you can clean down the whole area without worrying about splashing the rest of your bathroom.
But what exactly is a wet room? Well, I'm glad you asked! A wet room is an open space shower room where all the surfaces are waterproofed so that they can get wet.  Wet rooms can be extremely classy and luxurious whilst being great for a big family with messy kids and pets that like to splash around! It's a style that definitely needs waterproofing done, but luckily you can easily find a bathroom waterproofing contractor in your local area.
Plus, adding a wet space to your bathroom could add value to your house when it comes time to sell. So, what are you waiting for? Start planning your renovation today with these 20+ wet room bathroom ideas.
1. Take advantage of windows
The large windows in this space emphasise the high ceilings in this lovely neutral wet room. I love the modern finishes in the wooden flooring, simple faucet and the simple serenity of this space. I would love to take a tranquil bath in this wet room with all that natural warm light bouncing off my skin.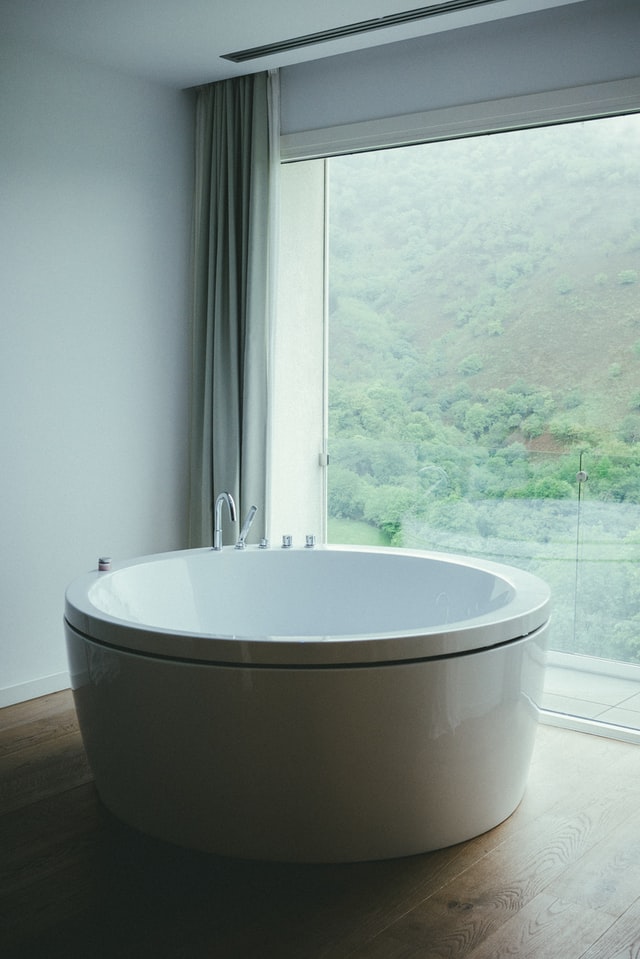 2. Terrazzo tiles
These amazing terrazzo tiles make this space seem like it's never-ending. With feature tiles like this, pare back all other elements of your wet room. Along with a statement tub, all you really need is a little chair to hold towels and décor!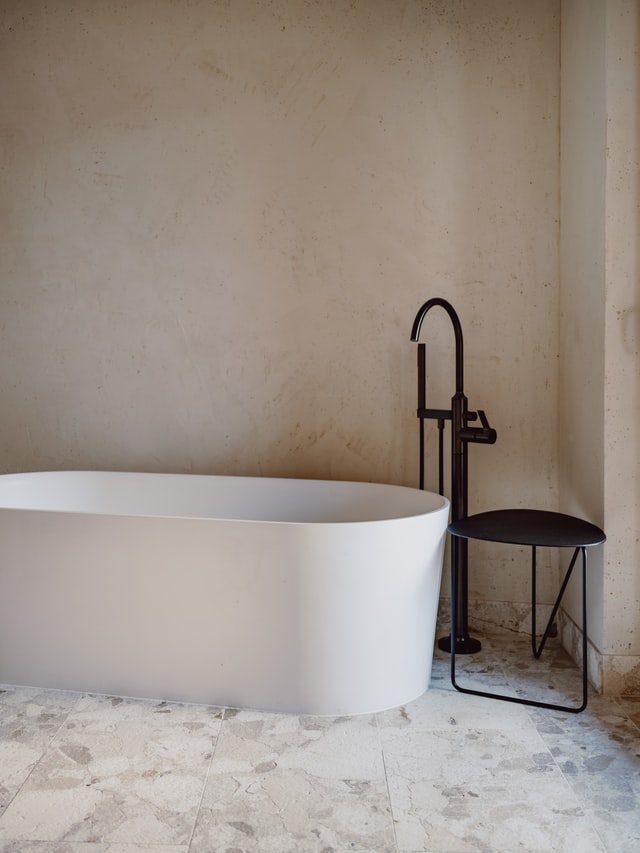 3. Bold marble wet room bathroom
Some like it bold, and if that's you then a marble wet room design will be sure to leave a lasting impression on your guests. I love how the grey veining in the marble matches with the dark grey tiling in the flooring.
Need to install a shower head for your new bathroom? Reach out to a showerhead installer today.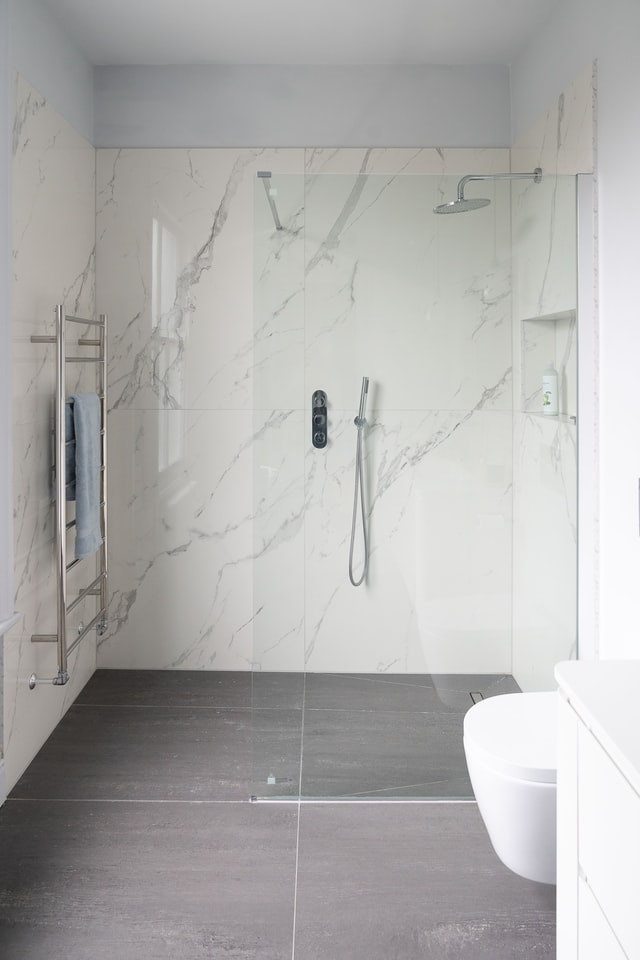 4. Wooden wet room bathroom
Opting for wooden features for your wet room will give the space a sauna-like feel which brings warmth and tranquility. Timber adds so much texture and softens the room, and there are so many different ways you can do add timber. Check out these wooden bathroom ideas for a bit of inspo!
5. Black accents
This neutral grey wet room is framed perfectly with sleek black hardware and fittings to complement the twin black sinks. The black elements punctuate all the grey expanses, while the focus is allowed to fall on the freestanding tub.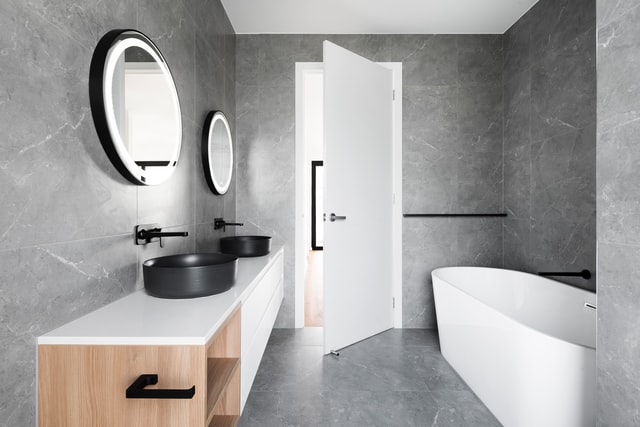 6. Thriving greenery
Not only does adding greenery into your wet room look good and freshen up the space but it's also great for your plants. Your plants will in fact thrive in a steamy wet room as you can see by the trailing greenery that's growing wild up and down these walls. Want to see more, you know you do… here are a few of our favourite bathroom plants.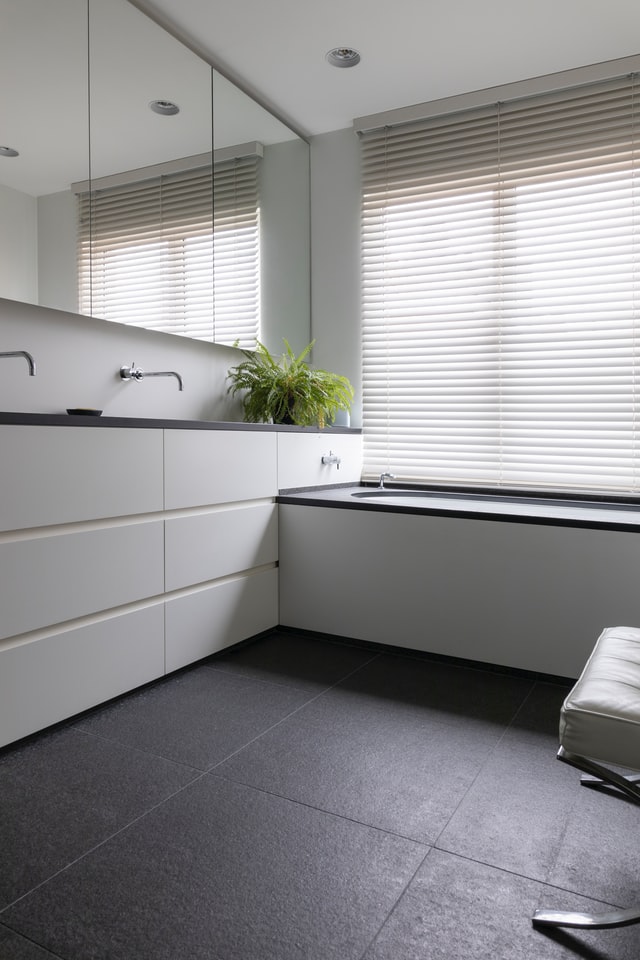 7. Feminine touches
Wet rooms can tend to be masculine spaces, with their typical expanses of tile and stone. But you can bring in feminine touches to your wet room too. It might be the femininity of a pink towel, pink shower products or a pretty flowe arrangement that add a girly element to an otherwise masculine toned bathroom with dark hardware or tiling.
8. White on white wet room
White not only brings so much calm and serenity into a space but it will also make an area look super crisp and clean. How super clean and bright is this white on white bathroom?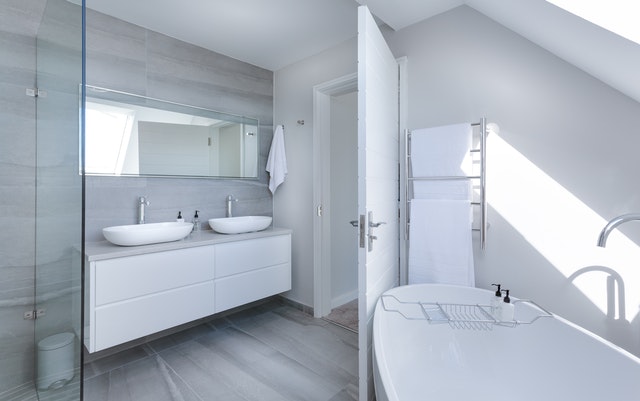 9. Add a large mirror
Adding a large full length mirror to your space will not only be helpful for getting ready in the morning, but it will make your wet room seem a lot bigger than it is.
10. Tile variations
This trendy little space is filled with so many cleverly thought out design elements. The all-encompassing marble wall tile create an enveloping sense of continuity while the floor tile both complements and contrasts the marble. Don't be afraid to consider a combination of tiles. Talk to your bathroom tiler about ways you can utilise different design variations to bring a bit of creativity to your bathroom!
11. Blue, light and airy
For Hampton's style home, you might like to add a blue tiled wet room. Blue bathroom tiles can bring so much light and airiness to a bathroom space and add loads of coastal vibes. Keep the tile going throughout the shower and bath spaces and simply place a glass screen in between.
12. Clean and white
Here is another beautiful white bathroom that looks so clean and inviting. Even without windows in this wet room, the light really bounces off the shiny surfaces of the tile which makes the space look so bright and airy. The addition of the wooden stool and some colourful textiles brings warmth and a cosy touch to this space.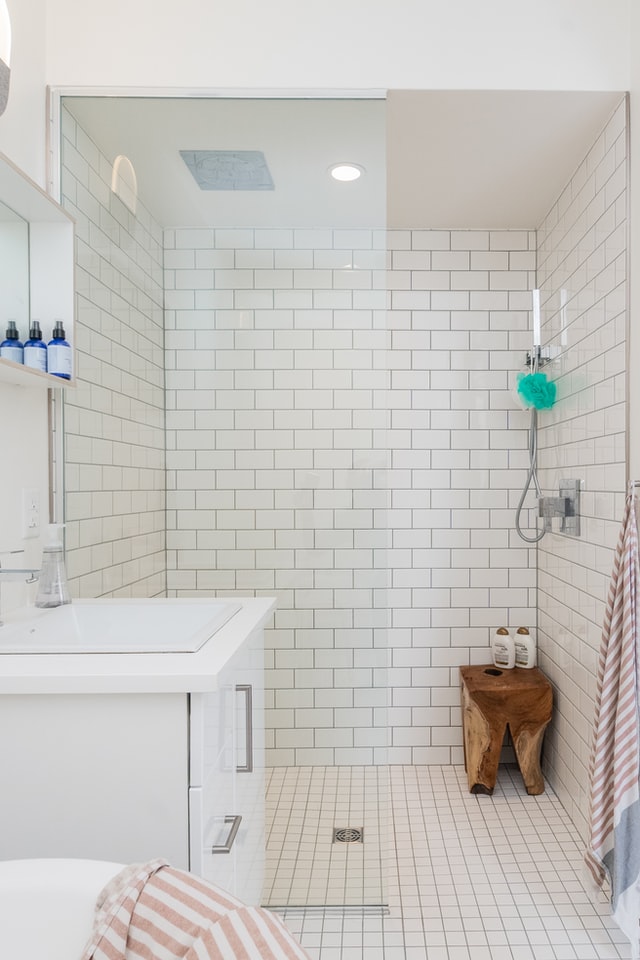 13. Brass details
Glam up your wet room with brass fittings, in the tapware, lighting or even in a plant pot. Contrast with woven rattan elements and you'll have a bathroom look that's bang on trend.
14. Monochrome finishes
If you want to seamlessly connect the various areas of your wet room using the same tiling across the entirety of the flooring, this will do the trick! The dark flooring perfectly matches the dark cabinetry and window frame. Meanwhile the crisp white tub stands out, and matches the white tiled shower wall.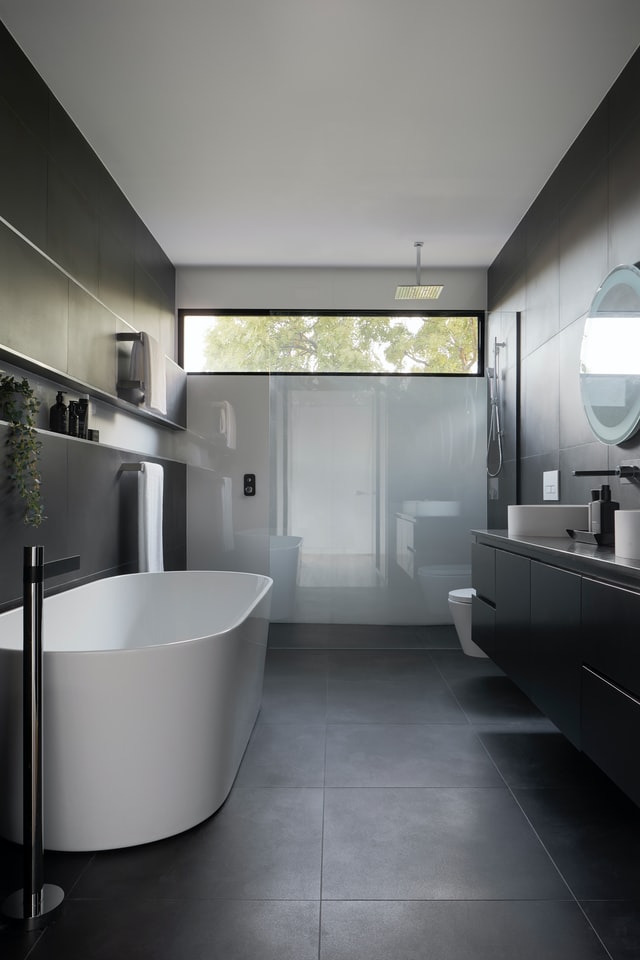 15. Stunning skylight
How cool is the ceiling in this wet room? I absolutely love the skylight roof which is a significant feature in this space. The square skylight opens the space up to the outside and brings in so much natural light. The rest of the bathroom is kept very simple with a warm neutral colour palette.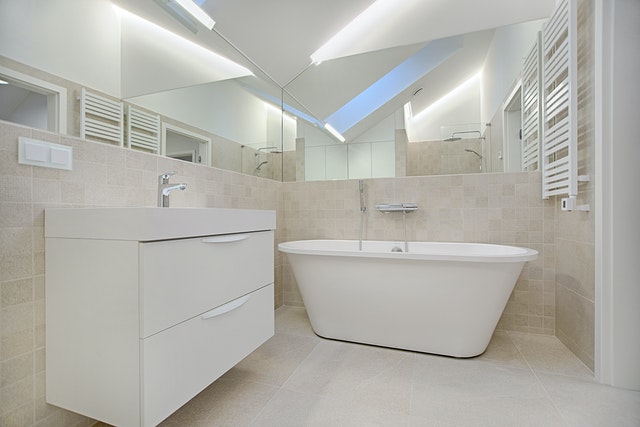 16. Herringbone tiling
Add interest to a plain wet room with herringbone tiles. If you continue them from the walls to the floor this can cleverly join the bath area with the shower area, making the entire space appear larger. There are so many different colours of herringbone styles and also different ways you can lay them. See these bathroom tile ideas for more inspo.
17. Elegantly divine
How stunning is this elegant wet room? I absolutely love the bold marble tiling that has been used in the wet room area of the bathroom which makes this space seem like it is two rooms in one. Plus, the gold features of the shower, including the towel rack, really gives another level of opulence and elegance to this bathroom.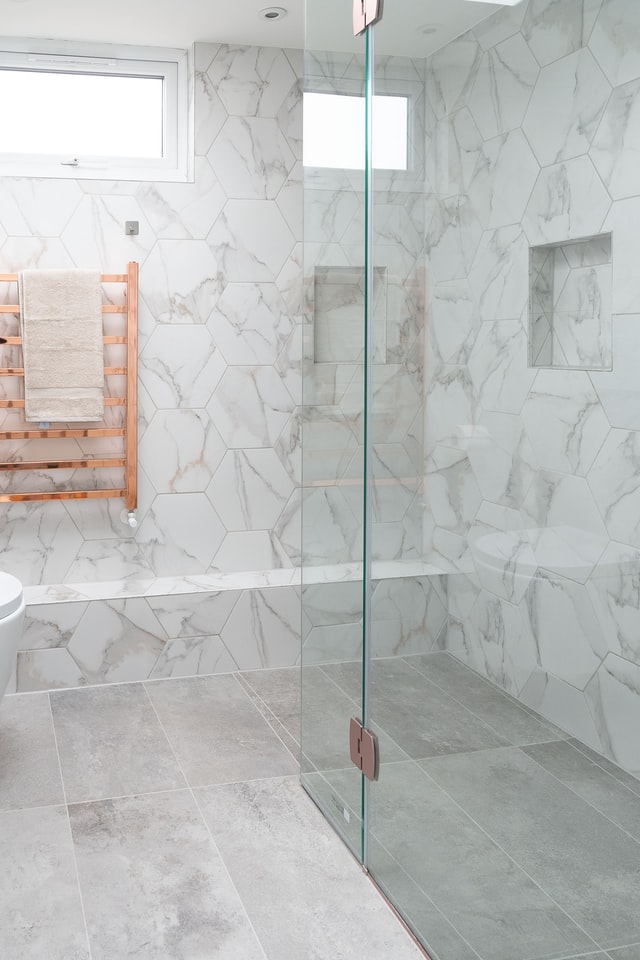 18. Long and narrow wet room
If you have a long and narrow bathroom space, strategic placement of the wet space at the end of the room will make the most of this. Your eyes will be drawn to your bathtub which can be placed centrally in your wet room. Create  the perfect master bathroom to unwind in while sipping a glass of champagne in the tub after a long day in the office!
19. Concrete chic
This wet room is highly contemporary and the elements all come together cohesively thanks to all the concrete. I love the slimline sink and the subtle mirror light.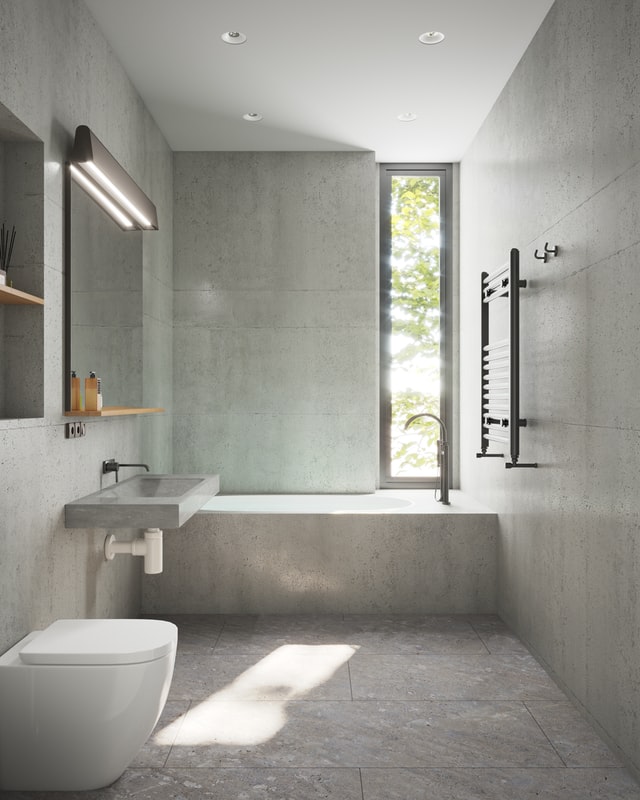 20. Wrap around tiling
Wrap-around tiling can be artistic and creative, as well as being so practical in a wet room. It would feel as if you were looking at a piece of art everytime you lay back in this tub after a long day at work. Particularly if you choose a mesmerising, sparkling tile like this one!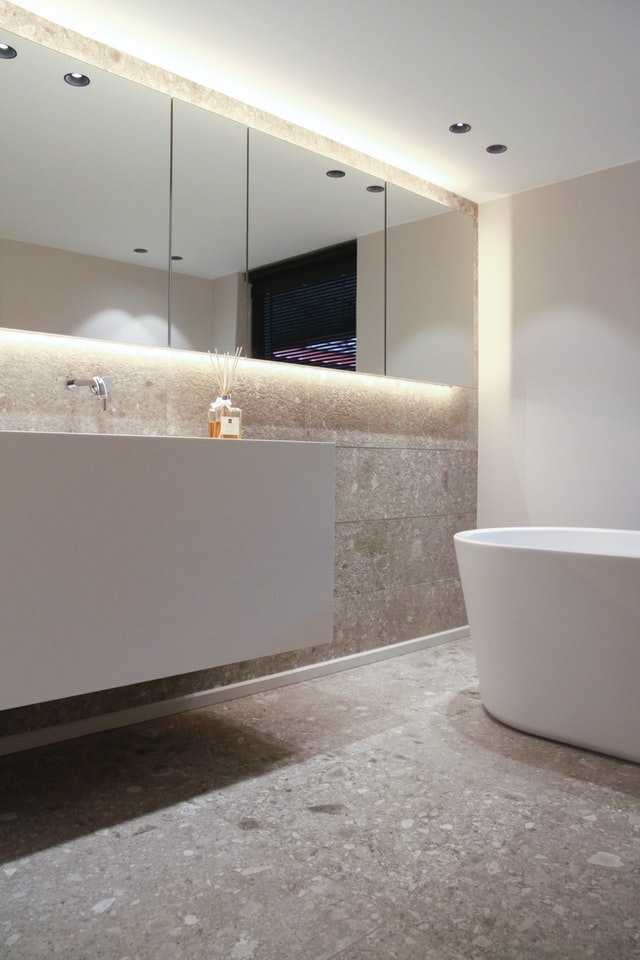 21. Chequer print
This one is for all my quirky and creative people: a chequer print tiled wet room. It really takes the classic black and white bathroom to the next level. Creative tiling is pretty much all you need to make a bathroom look interesting and quirky. Then just add a simple white bath to break up the pattern.
22. Gold tones
Finally, here's one more wet room featuring unusual tile. I love the patterns that cover the side wall and shower floor. And I like the overall warm gold tones of this space.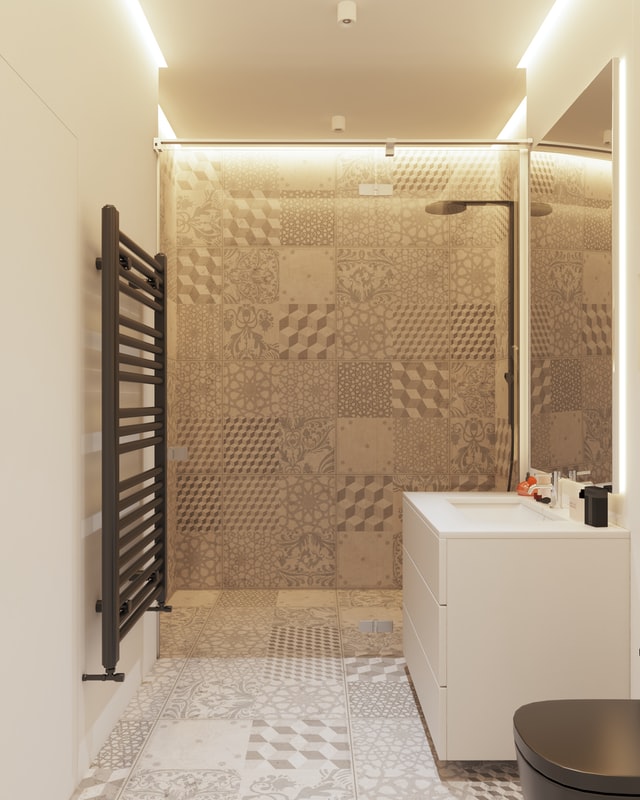 So there you have it, 20+ wet room bathroom designs that will be sure to add the "wow" factor to your next bathroom renovation! I'm inspired by all of the bathroom designs that incorporate greenery – I love the colour this adds to the space. What about you? Which designs did you like the best? Comment and let me know.