Blue in interior design is a colour that never goes out of fashion, merely changes its style. But with the Hamptons style a current staple, adding blue makes a space look trendy, nautical and reminiscent of the ocean – all of the things we love.
Blue is widely known as the colour of calm and relaxation and there are so many different shades and combinations with different colours such as teal, aqua, pastel blue and navy. So to find the right blue, let's take a look at these blue bathroom ideas for your home.
1. Mermaid ombre tiles
When I think of blue, I think of the ocean. And when I think of the ocean, I think fish, dolphins and, in a fantastical sense, mermaids. These scale-like tiles are reminiscent of fish scales or a mermaids tail and I love the intention of bringing the ocean inside and to your bath and shower.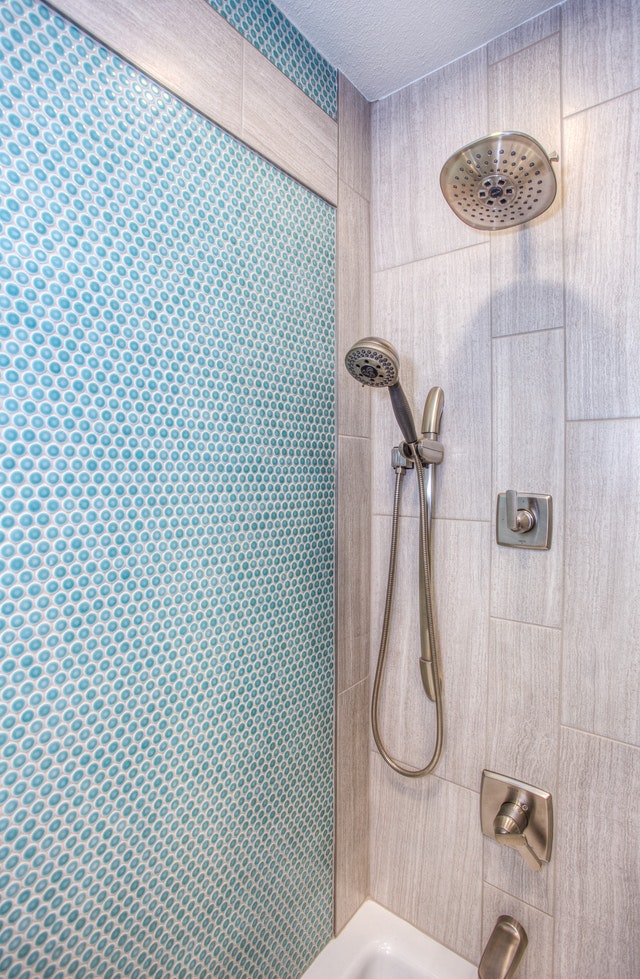 2. Creative mosaics
Another way you can use blue tiles to deliver a pop of colour into a space is through the bathroom flooring. Even if your bathroom is mostly white, you can make the floor the feature. For instance, square tiles inspired by mosaics. The white details in the tile design can be balanced with a white bathtub, tiled walls, windows, towel and white decor.
3. Navy cabinetry
Another great way to bring blue into your bathroom is through using a bold colour in your cabinetry which creates a statement. This could be DIY project with a few coats of navy and adding some new hardware with the gold handles.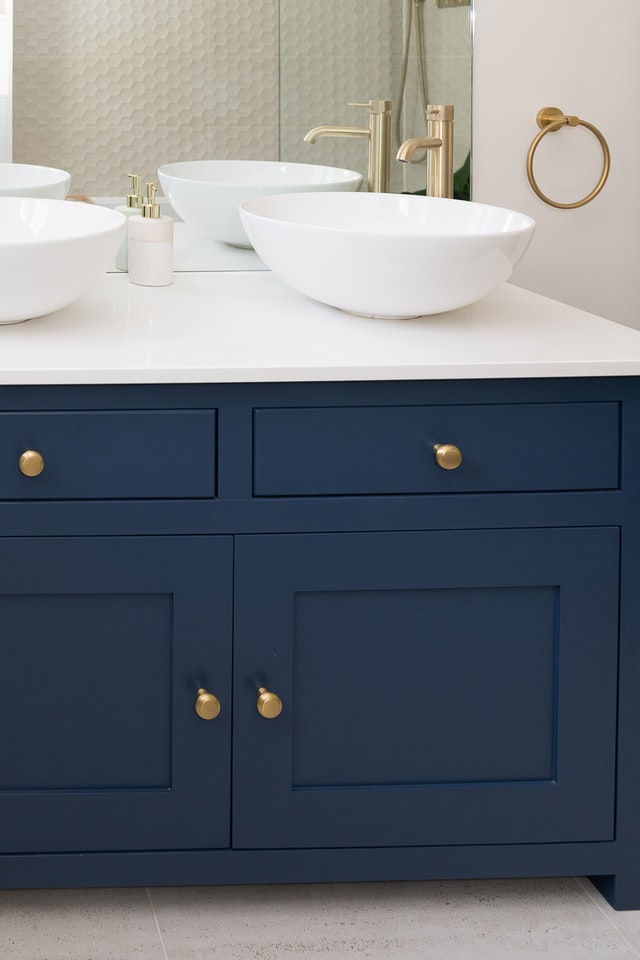 4. Blue paint and tile combination
Instead of completing the wall with just paint or all tiles (which can be expensive), this small bathroom uses both. In turn, this creates interest and maximises the space by including a splashback section that protects the walls and is easy to clean and wipe down.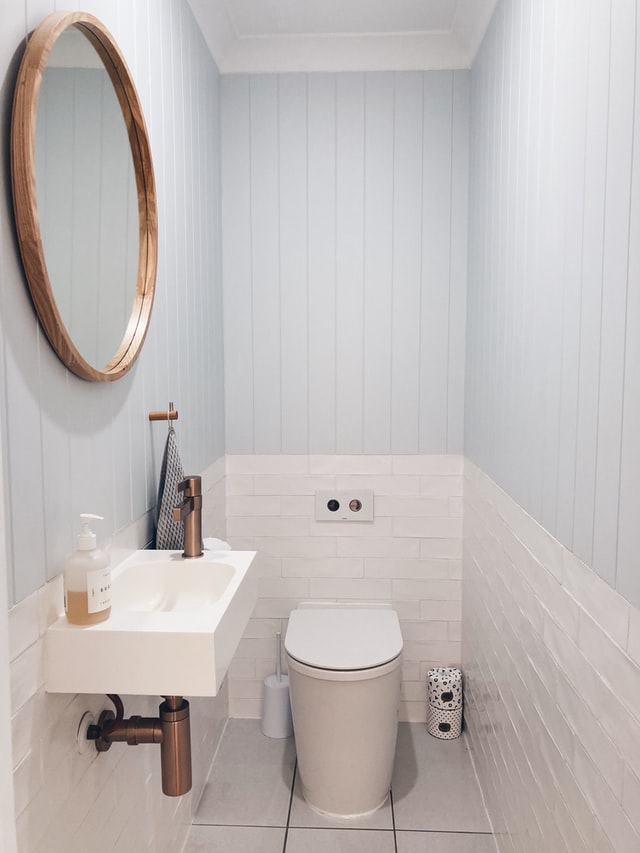 5. Tiled bathtub
Tiles can be used in a narrow bathroom to elongate the room by continuing down the wall and over the bathtub. And, varying colours means you can use a variety of complementary colours in the decor.
6. Lobster love
Wallpaper is a quick and cute way to inject some fun into your bathroom. For instance, we spied a wallpaper made up of white lobsters with a navy background that is sure to wow your guests with its nautical theme and innovative execution. But if you love wallpaper, please do yourself a favour by looking at these fantastic bathroom wallpaper ideas.
7. Blue front, white top
A muted navy cabinet is the perfect choice for a neutral bathroom. Pair with beige paint walls, white and grey speckled tiles, silver metallic finishes, white accents and a  blue vase. A dark blue cabinet brings the entire bathroom together.
8. Shower feature tiles
A gorgeous tiled wall really elevates any room of a house and a feature wall in a bathroom is no exception. By adding feature tiles in the shower and teaming it with a clear shower screen, this truly sets the bathroom apart.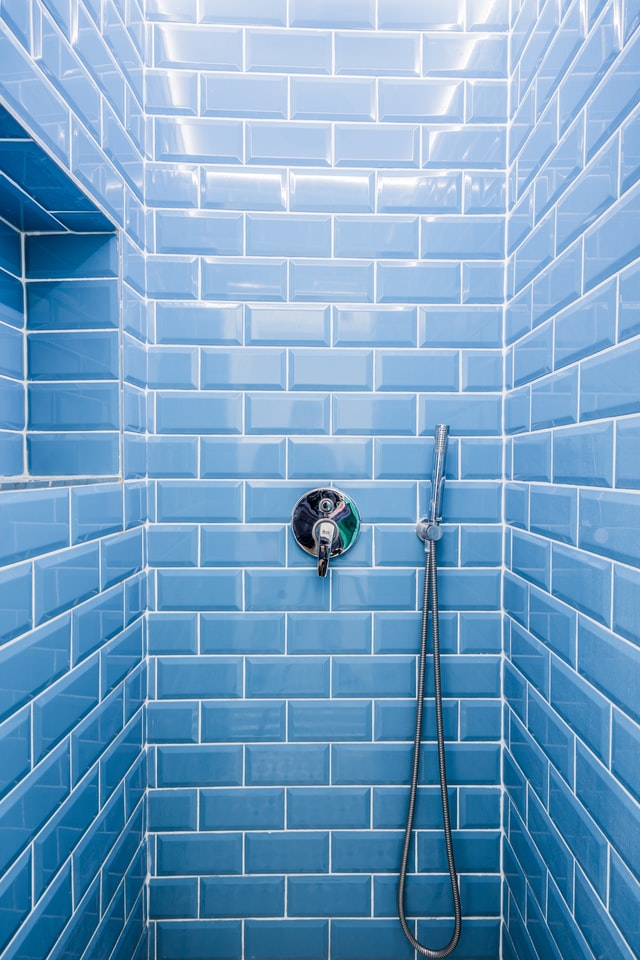 9. A feminine touch
I know, floral wallpaper could totally just remind you of your grandmother's house. But if it's executed well, it can be really stunning. Instead of small and multiple floral patterns, try going for larger flowers in a limited colour palette to bring some blue and white into your bathroom. If the wallpaper is paired with newer and more modern details, such as a mirror and sink with clean lines, this will contrast perfectly with the floral pattern.
10. Fit for royalty
If you have a large space to work with, painting the ceilings and walls the same colour gives a cave-like effect that makes your bathroom feel like your very own oasis. And why not make it a regal bathroom fit for royalty? Just add a large chandelier, ornate mirror and marble bathtub.
11. Kids bathroom
Adding a pastel blue is a sweet way to entice your little darlings into the bathroom more often. It might be a simple, light blue shower curtain with a fun print on it, or a blue doormat. While these features are temporary, you can make your blue bathroom more permanent with navy cabinetry that complements the other design choices in the room.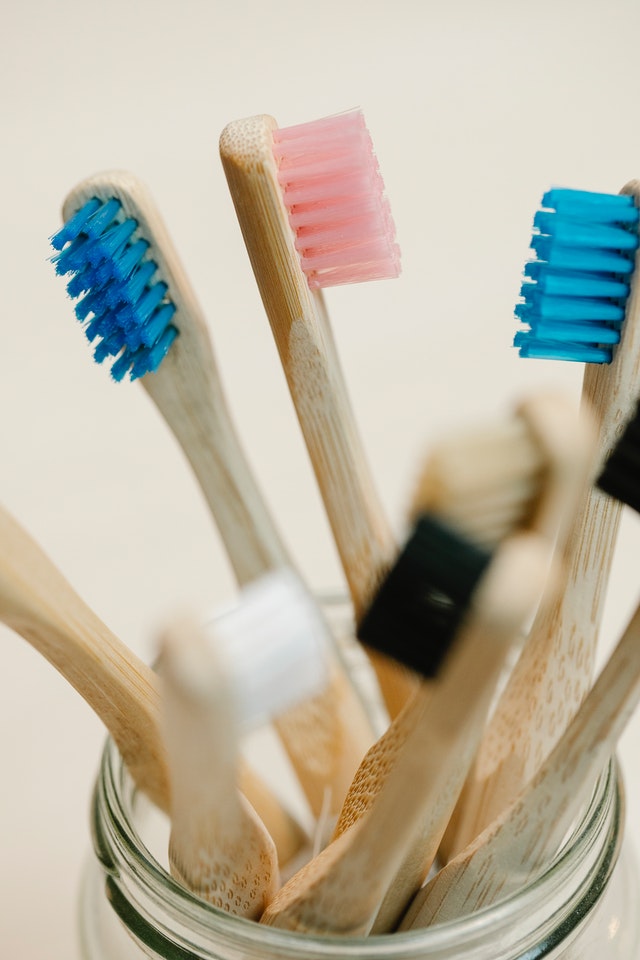 12. Statement wallpaper
A statement wallpaper can be super whimsical, inviting and can bring a bathroom together. I love a quirky design which looks as if it is right out of a fairytale. With the right decor and bathroom fixtures, a statement wallpaper becomes something memorable.
13. Blue and white tiling
Continue your blue and white tiling from the main area of the bathroom, where the vanity and sink is, into the shower room. The same tiles can be used on the walls in each section of the bathroom as well. This creates a beautiful cohesiveness and makes the bathroom feel as if it is bigger and never-ending.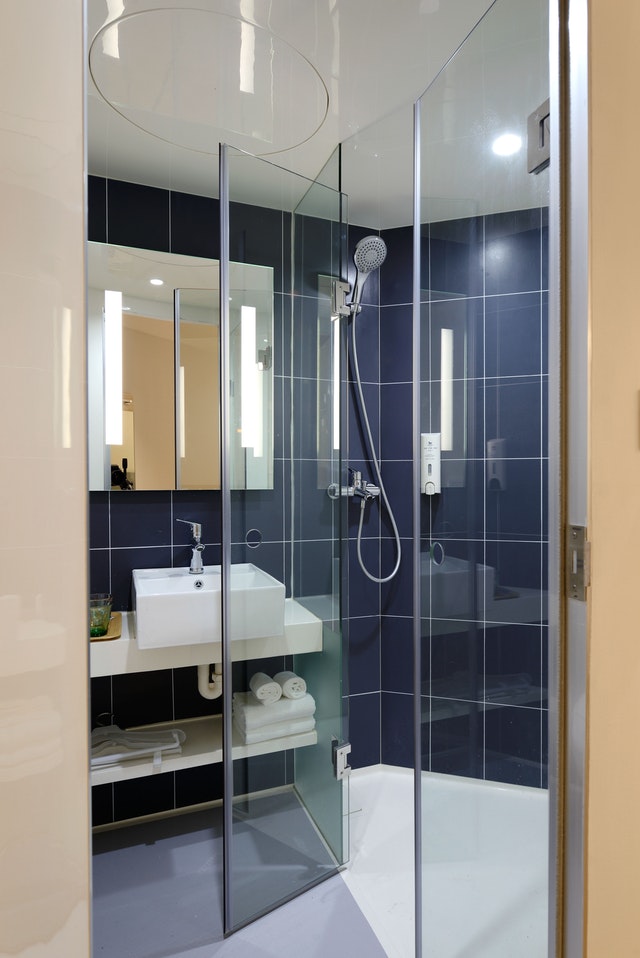 14. Regal blue
The shiny, glazed tile trend looks magnificent when done well. Due to the shiny and reflected nature of the tile, this reminds me of being in a pool or being underwater as it almost gives a 'wet look'. Regal blue tiling in conjunction with the simple bathroom elements really makes an elegant impression.
15. Textural contrast
When using the same or similar colour, mixing and matching textures, shapes and patterns is the best way to go to ensure contrast. You could even use a 3D brick look tile for the bottom half of a wall with a contrasting textured effect up the top.
16. Baby blue bathroom
If a more subtle and soft look is what you're after, try using a lighter and more 'baby' shade of blue, like this pastel baby blue half wall. This gives the bathroom a really calming and relaxing feel.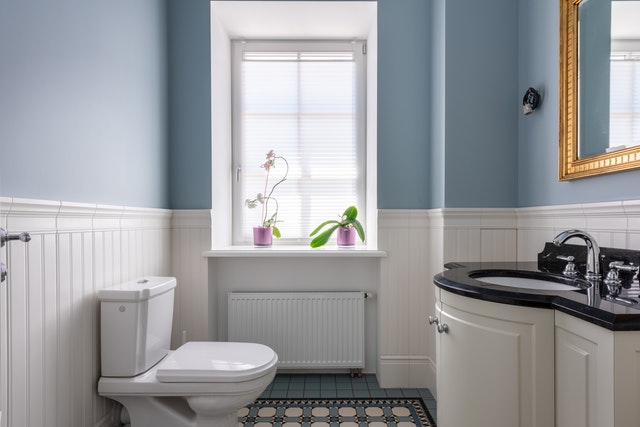 17. Tile design variation
Using tile in a bathroom is definitely something that we have seen done many times, but what about varying the design of your tiles? For instance you might go with a sleek and shiny blue tile for the walls and a beautiful blue and white floral pattern using hexagon tiles for the floor. Varying your tile design can create interest and provides something a little different than your usual plain tile.
18. Oversize tiles
Tiles come in varying sizes and there's currently a trend towards bold, oversized tile forms. These look amazing as a feature in your bathroom. Navy tiles teamed with white grout is a beautiful and effective way to bring blue and white into your bathroom.
19. Quirky patterns
Quirkily mixing and match pattern play can be a really great method of bringing your bathroom to life in a unique way. It may be through adding muted blue patterned wallpaper, and a light blue patterned lamp shade. Or it may be the addition of intricate blue and white encaustic tile.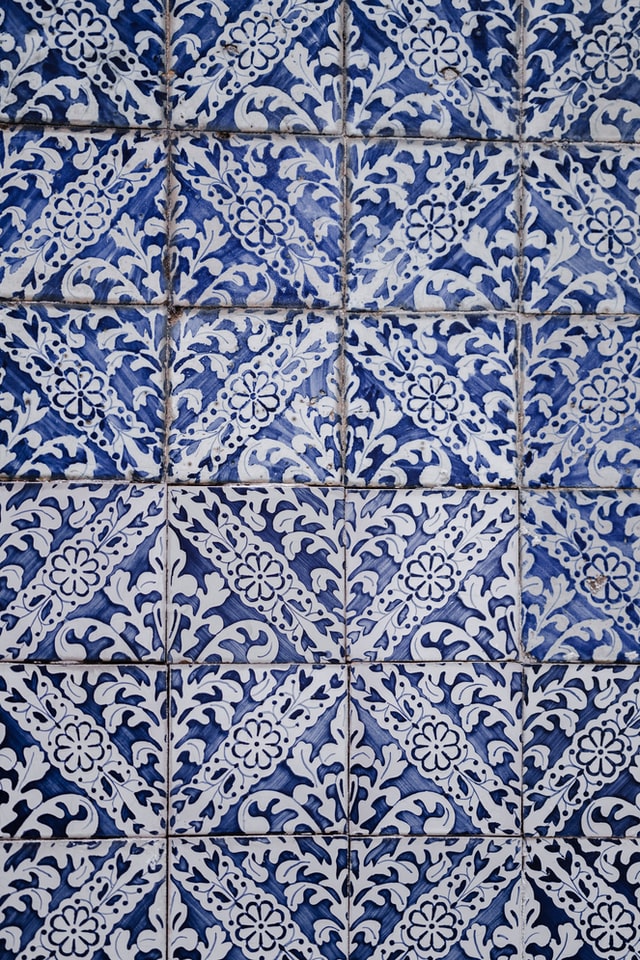 20. Urban style
You can achieve a fresh, contemporary bathroom by using light wood, white or gold fixtures and clean lines. You really can't go wrong with this soft, saturated shade of cornflower blue!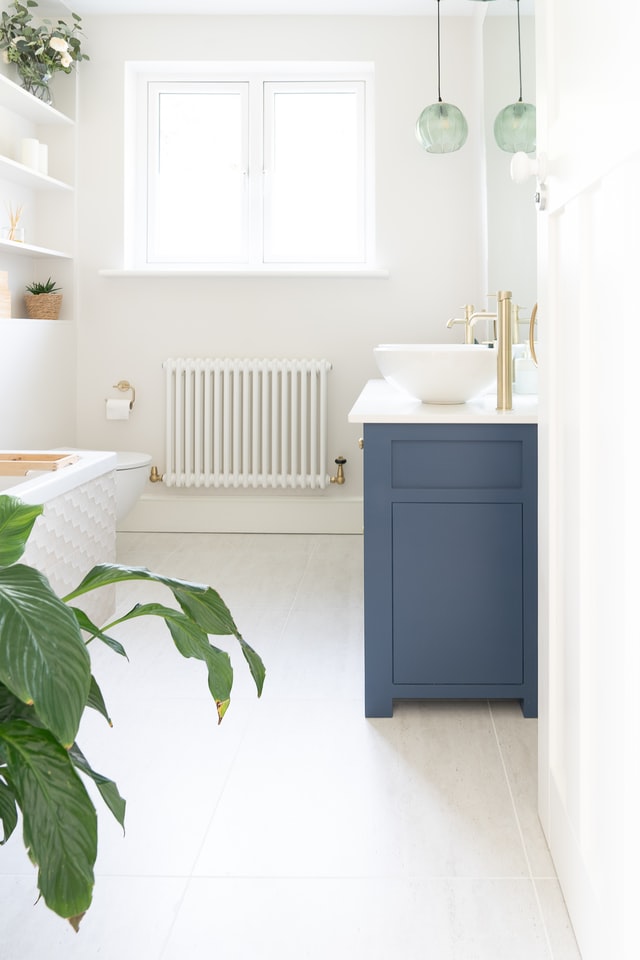 21. Neutral tones
You don't necessarily have to always go big and bold to achieve the blue and white trend. By simply using neutral tones, you can ensure your bathroom always looks timeless. Plus, the blue chosen for the tiling in your bathroom should ideally be a neutral-toned blue. White and natural wood in the furniture will complement this subtle blue.
22. Blue feature wall
Here's another feature wall that adds the perfect amount of blue into a bathroom. A wall treatment is a great way to add interest, texture and pattern to a plain space. How pretty is this teal blue?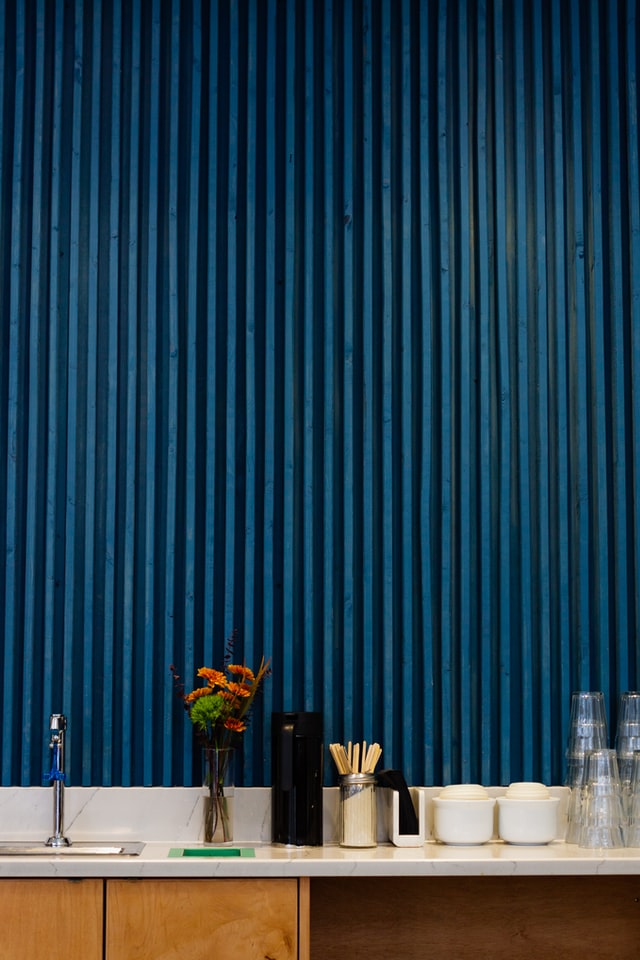 23. Japanese ink painting vibes
Have you ever considered having a mural painted in your bathroom? It's an easy way to incorporate blue. And if you love deep inky blues, consider the designs of Japanese inspired ink painting murals, with their relaxing vibes of a zen garden on a perfect Spring day. To recreate the look, opt for dark metallic finishes that are extremely minimalistic and zero fuss so that all eyes can be on your beautiful mural.
24. Basic blue
Going back to basics and simply adding a blue splashback behind your vanity is a super easy update. Why not go for a stunning blue marble basin, paired with black metal details. Don't forget to add a plant to offset the deep blue and brings life and greenery into the space.
25. Blue basin
A cobalt blue, concrete floating basin seriously looks like a work of art and is giving me Pop Art/Andy Warhol vibes with the bold statement. A mirror framed in the same shade of blue successfully brings this space together in perfectly harmony!
26. Stepping into the ocean
When I think of blue and white, I imagine the sea and all things nautical and you can definitely get that sense when stepping into this Jack and Jill bathroom. And this shade of blue goes so well with marble!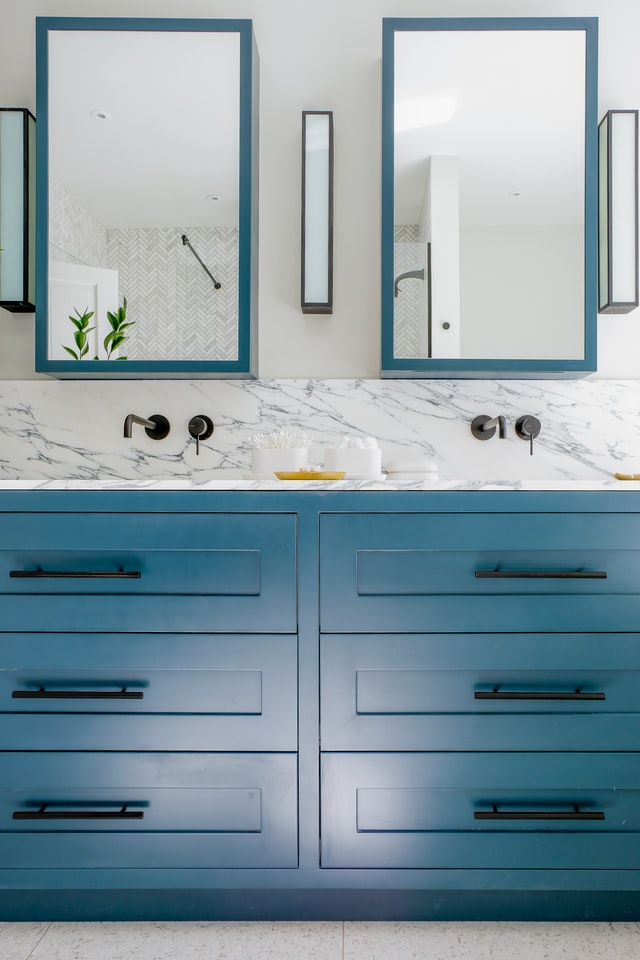 So as you see, if you're wanting to undertake a major bathroom renovation or are just in the market to add a splash of paint, there are many different ways you can implement hues of blue in your space. How will you be using blue to make your bathroom feel like the ocean side abode of your dreams?