Is black the new white? After all, having a deep shade or dark coloured bathroom has certainly become a popular alternative to the all-white or light neutral bathroom.
Evoking richness and luxury, dark bathrooms have a gutsy, bold aesthetic and make a strong style statement. It creates a mysterious moody vibe and lends an atmospheric, emotional feel to your bathroom. Although it may not be for everyone because there is still plenty of functional light that can be added or incorporate natural light.  Here's how to design the perfect dark bathroom:
Begin with choosing the right dark colours for your paint and/or tile from a broody colour palette of almost-blacks, rich browns, muted greys and inky blues.
Incorporate darker-toned natural stones (marbles, basalts, granites) or raw concrete.
Add a liberal dose of moody, textural surface finishes and metals to create an intricate monochromatic palette that is dynamic and visually exciting.
Experiment with darker vanities, sinks or bathtubs, as darker statement pieces tend to appear smoother and more sensual than white ones.
But having said that, don't overdo it either. Unless you are deliberately going for an all-black bathroom look, choose one key dark colour and work your other surface textures and colours around it as complements. Because the real trick to a successful dark bathroom is mastering reflection, light and so-called lustre balance (essentially, that's the contrast between shiny and matte elements).
Below, are my favourite dark bathrooms which are seductive, memorable and moody. So don't stay in the dark about the dark bathroom trend—here's everything you need to know to make it work!
1. Pair dark walls with light timber
Keep it simple. Start with your key feature colour and mix in complementary shades but avoid overcrowding your palette. Add in timber or timber veneer as a surface finish for warmth, tonal qualities and an organic touch. Here, the charcoal wall colour is repeated in the concrete statement tub and the dark grey tapware and is mixed with ash and blonde tones in the timber.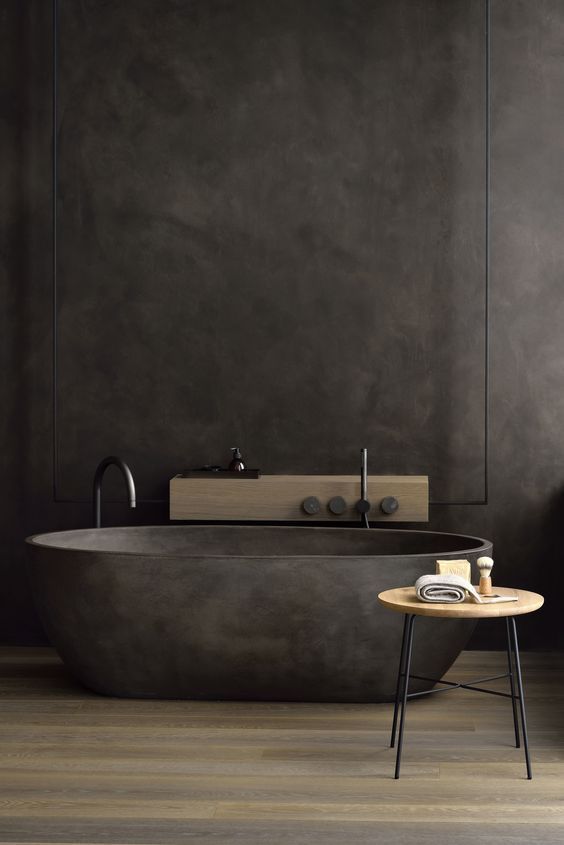 To go through your rendering and waterproofing needs, get an expert rendering and resurfacing professional to answer all your questions and give your bathroom a refresh.
2. Add texture
This lovely tone-on-tone dark bathroom uses texture beautifully, from the miniature tiles creating a textured wall, to the mix of materials including concrete basin and vanity and brushed nickel tapware and mirror frame. This bathroom also demonstrates how you can use striking forms and shapes to create visual interest in a monochrome space.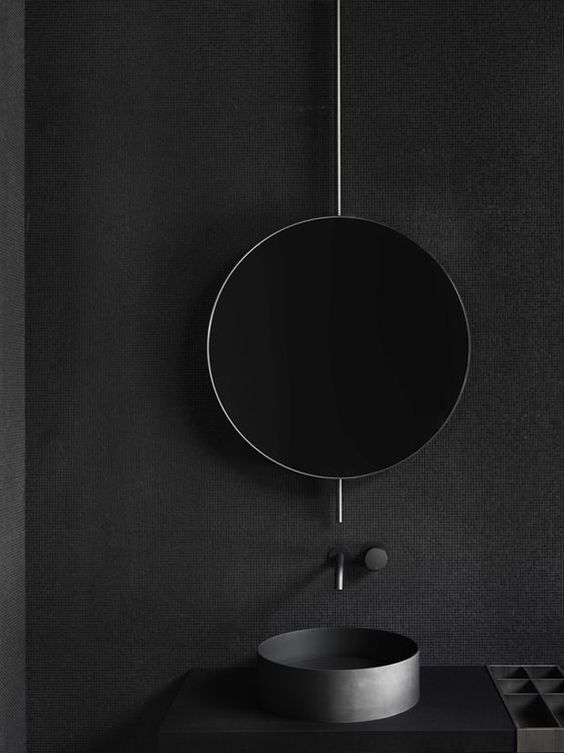 3.  Incorporate timbers
Timber helps to relieve large expanses of dark colour in the bathroom, adding warmth and a sense of a connection to nature. In this gorgeous Scandi flavoured bathroom, timber is the real hero, with the lighter-toned floor and ceiling timber balancing the heaviness of the darker wood. A concrete and wood vanity with twin freestanding basins add a contemporary feel.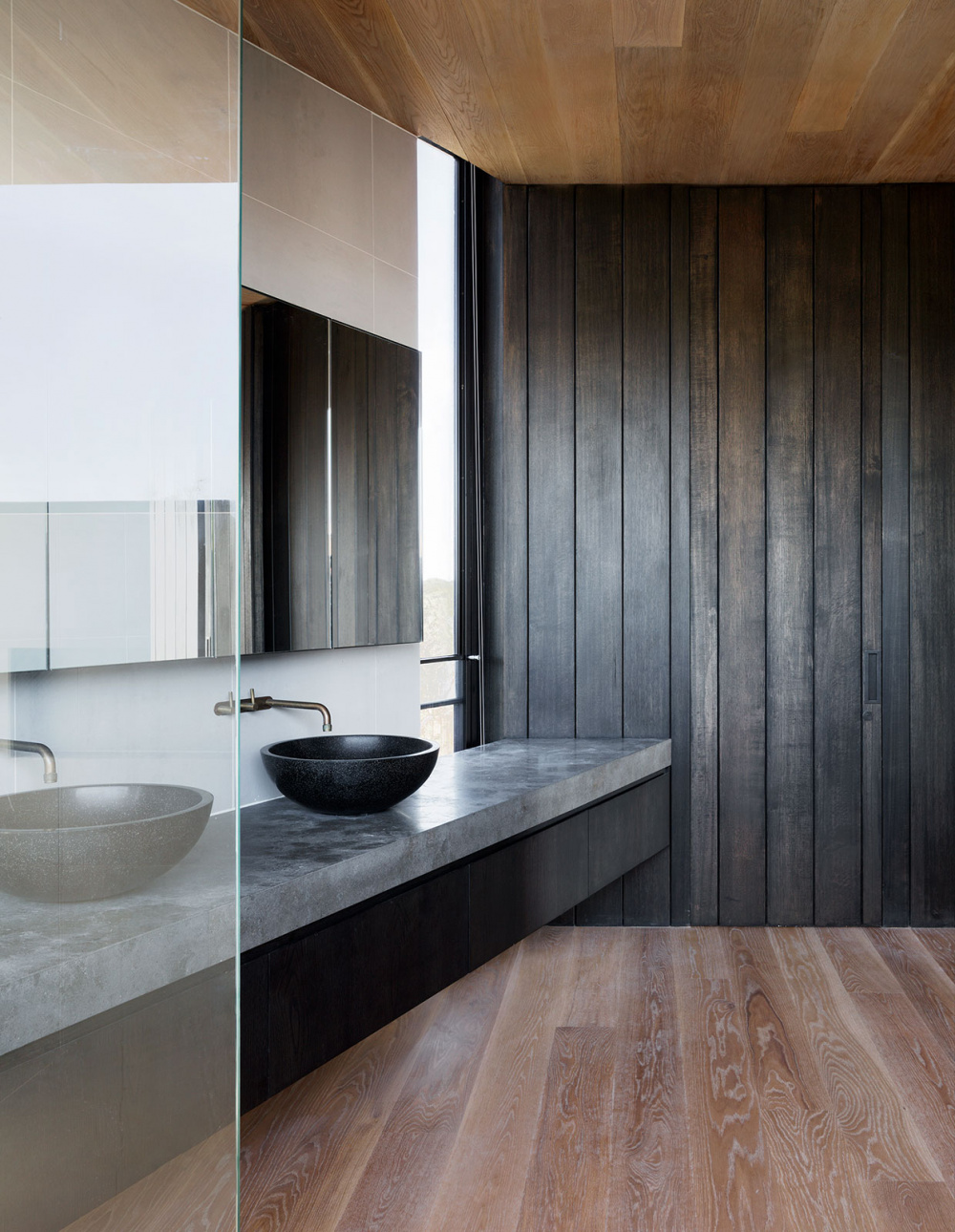 4. Embrace industrial darkness
Monochrome dark bathrooms very much suit the industrial aesthetic. Dial-up the industrial flavour by exposing your pipes as has been done in this dark bathroom. I just love the factory-like effect this brassware and all the piping creates.
Adding lighter, brighter toned fittings and fixtures will lift a sombre, dark charcoal bathroom — apart from warm brass, copper or polished chrome also work well.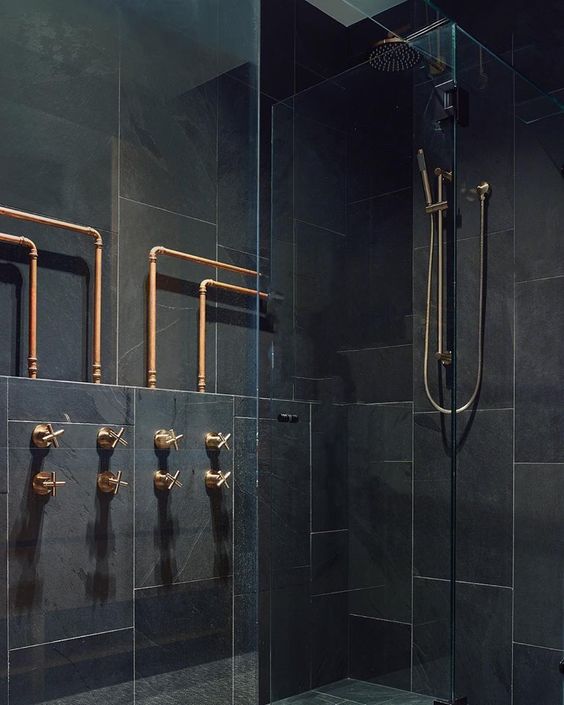 5. Tones and you
When thinking about the level of darkness you want to achieve, consider the overall colour palette of the rest of your home. Although you can certainly define your dark bathroom as a unique space, you may not want it to stick out like a sore thumb either! Once you've decided on your colour palette, it is a simple enough paint job to transform your walls though you may prefer to have an expert bathroom painter to help.
The design rule of thumb is that if you've chosen to go with dark walls, your other surfaces should showcase another slightly different tone to add character and visual interest. But here's an exception to the rule. This bathroom layers the same smooth grey on the walls, floor, vanity and accessories, using just the shape and form of the objects in the space to generate texture.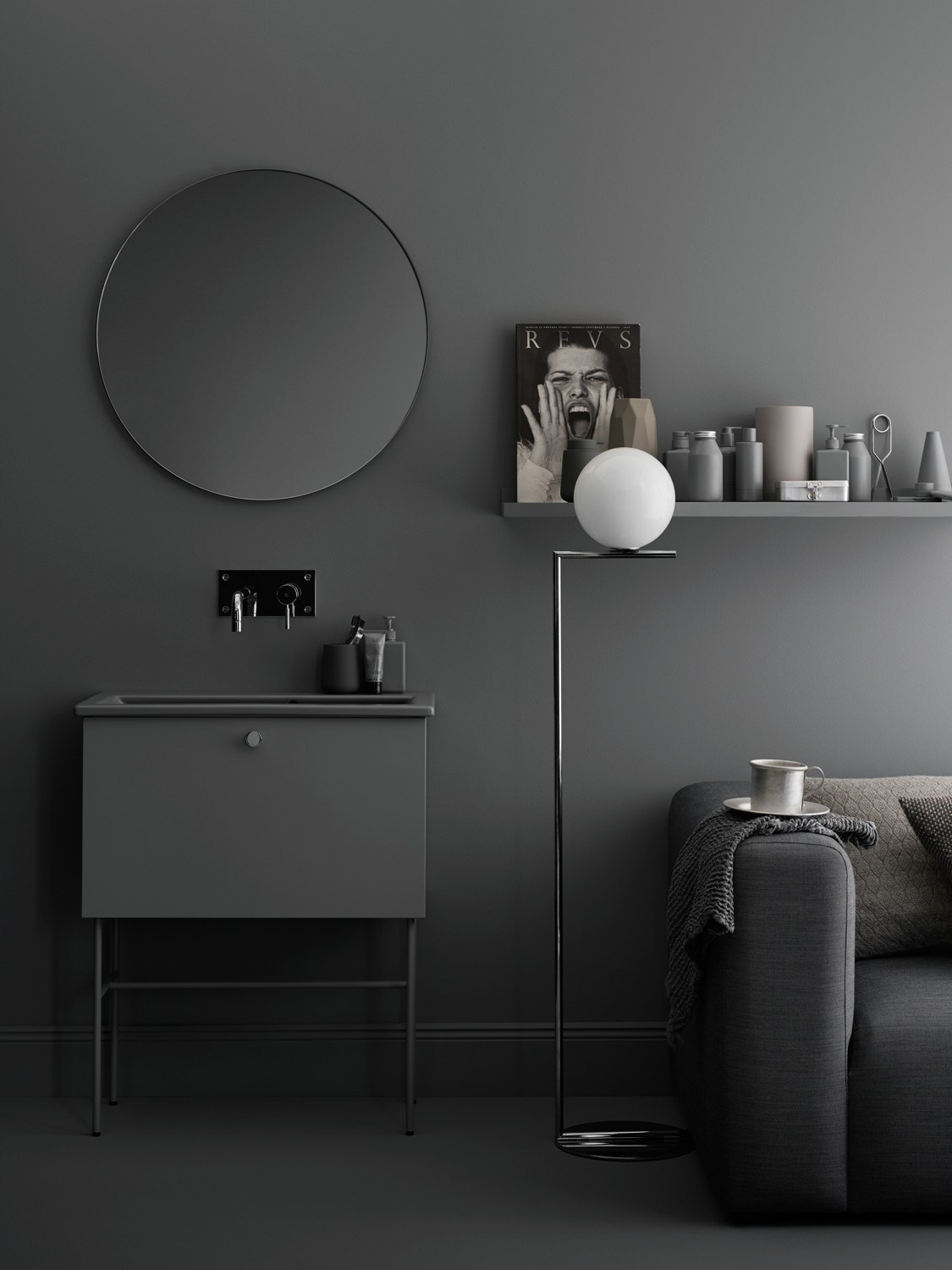 6. Dark accents
Even if you don't want to darken your walls or floors, you can embrace the dark bathroom aesthetic by choosing dark or black statement vanities and basins. Instead of generic, functional white sanitaryware, completely change up the look and explore the possibilities of darker and coloured pieces. Allow statement pieces to speak for themselves and keep the rest of the space simple and restrained.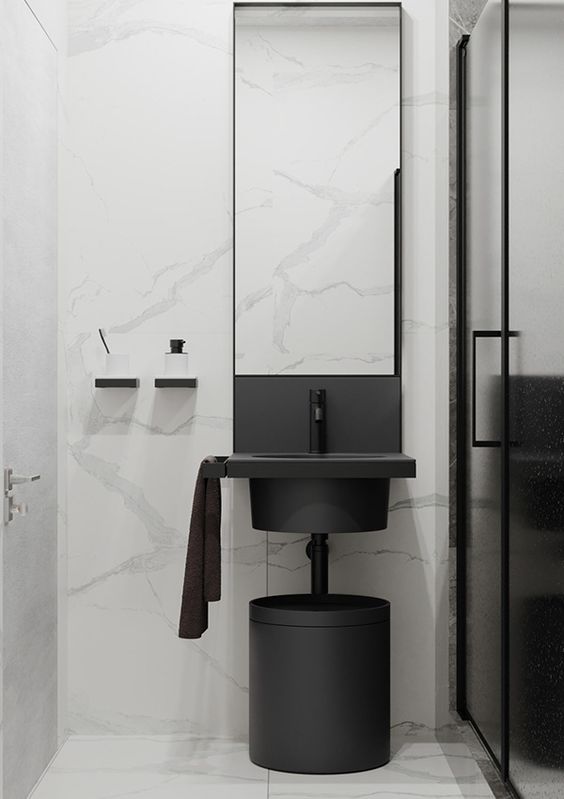 Bespoke and unique mirrors need to be carefully wall-mounted so that no tiles are broken, vanity mirror installers will be able to help with all your face-level storage needs.
7. Lustre balance
Keep lustre balance in mind when designing your dark bathroom. When working with dark colours in a space, it's important to contrast them or balance them with the light and reflectivity of high lustre elements. For example, dark walls contrasted with glistening metallic fittings (tapware, showerheads, shower frames) or dark glossy porcelain or ceramic tiles contrasted with matte surfaces.
Here, a traditional bathroom aesthetic mixing stone grey subway tile, classic marble and chrome.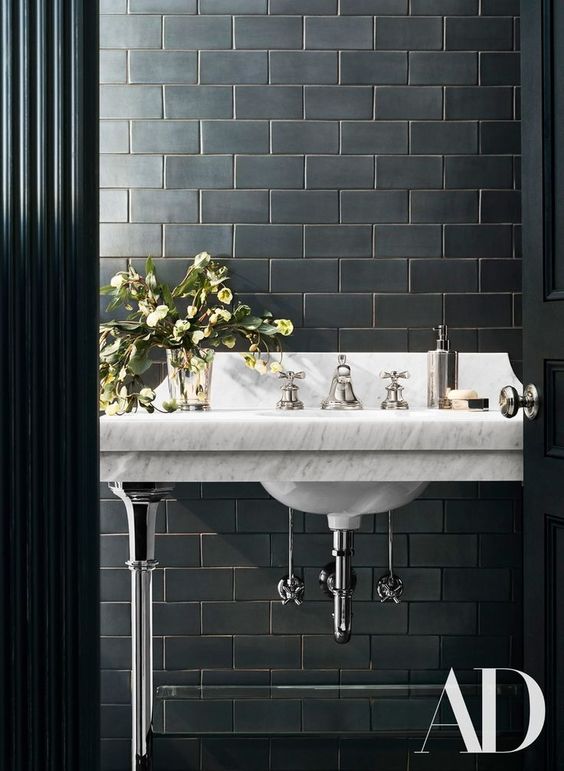 8. Make use of mirrors
In a dark space, mirrors amplify the light and give the room more size. The larger the mirror, the greater the effect, so go for bold, oversized mirrors in unusual shapes. Aside from reflecting brightness, mirrors add also depth to the room. Below, an ultra-modern, futuristic bathroom with a striking backlit statement wall mirror.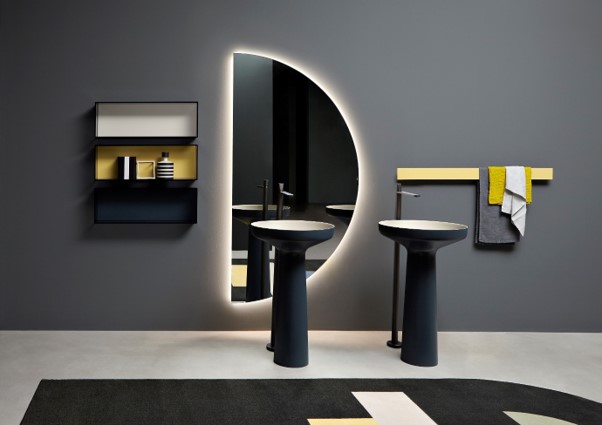 9. Reclaimed stained dark timber walls
Add an urban edge to a farmhouse bathroom by bringing in darker tones. Choose reclaimed wood, stained in a soothing coal-black, for a rustic effect. Natural wood always provides warmth and texture but salvaged, distressed wood, in particular, has plenty of character. The strong contrast between black and white in this bathroom is broken up by the marble countertop and the champagne fixtures and mirror frames, while three wall sconces provide abundant task lighting.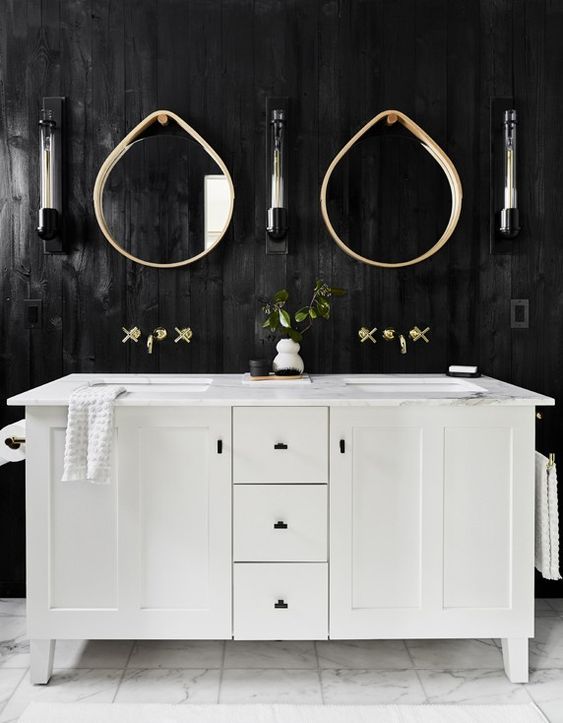 10. Use contrast
Dark bathrooms really benefit from a dramatic contrast between the dark surfaces and other colours and materials. Just a few highlights of complementary or contrasting colours are needed, whether you keep your fixtures or sanitaryware white for contrast against dark walls, or simply add paler, interesting accessories.
Here, a minimalist modern bathroom features a high-contrast statement sink on a stunning floating timber vanity. A matte dark wall colour like this absorbs light, so ensure you add light whether through mirrors, lighting or high-contrast accents.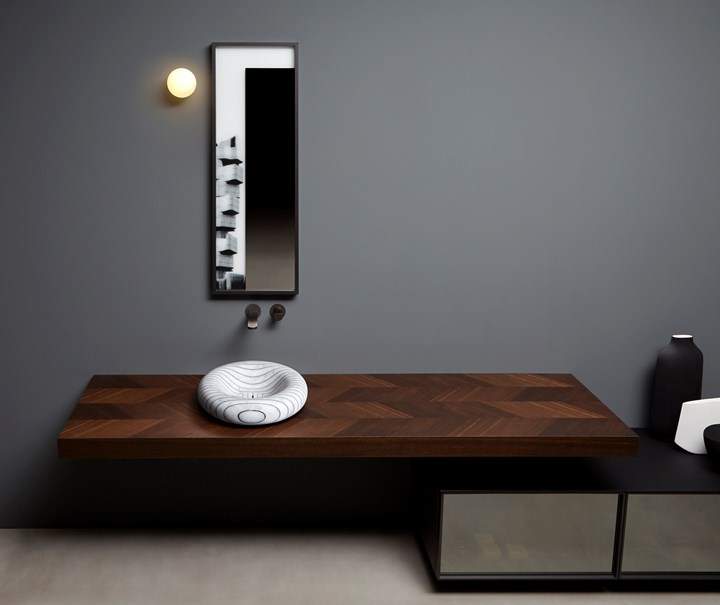 11. Dark tile bathroom
Bring pattern into a dark bathroom with tile work for extra contrast and movement. As your walls take up the most visual space in your bathroom, the colour and pattern of your tile act as a backdrop for everything else. If you decide to go with darker toned tile, think about keeping some white for contrast. And if you'd like some help with a tiling task, you can find a local bathroom tiler.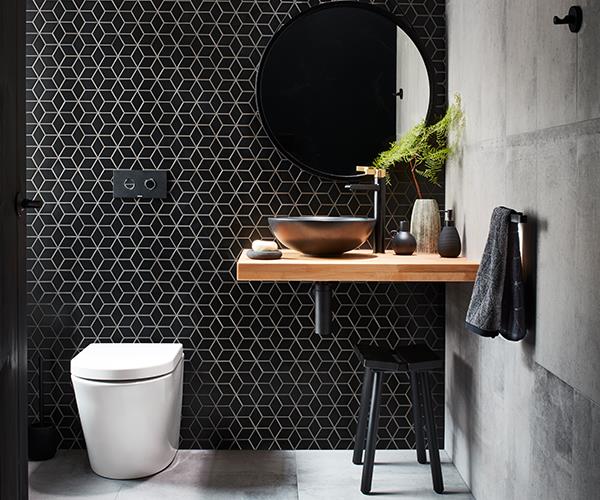 12. Gloss it over
Using materials with a high sheen will ensure all available light is bounced around a light-absorbing dark bathroom. Highly-reflective, glimmering surfaces and fittings–whether metal, glass or other polished materials–will maximise the reflectivity in the space.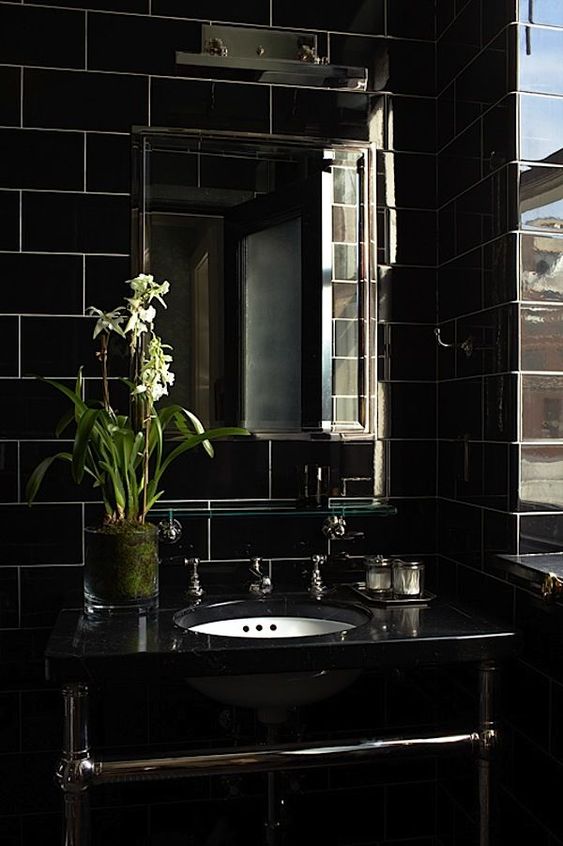 13. Backlit mirror
Illuminate dark wall tile with a backlit mirror to ensure you have sufficient lighting to carry out self-care tasks. This modern rustic bathroom features beautiful charcoal wall tile, brightened up by the white grout. I love the mix of modern materials with the raw bespoke vanity.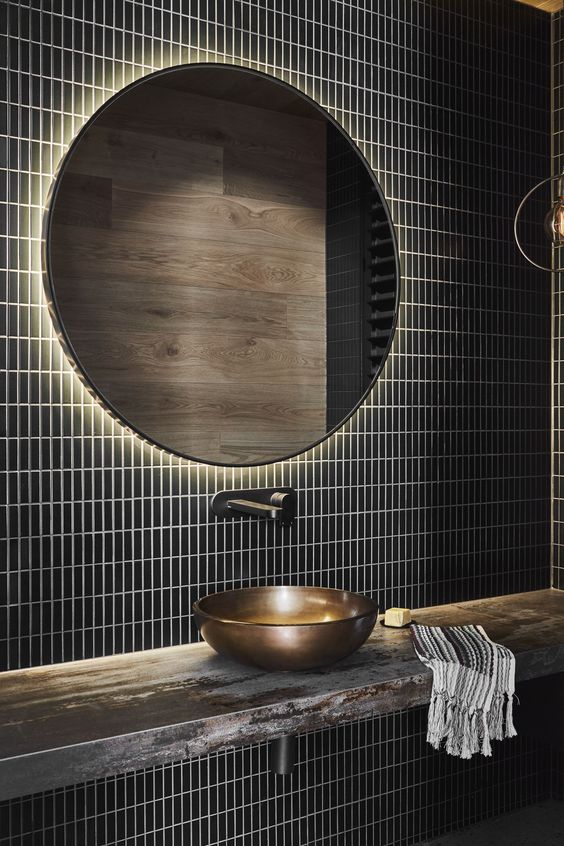 For more ideas on unique vanities, you might like to take a look at our article on bathroom vanity ideas, or you can find a local bathroom cabinet maker to work with.
14. Mix materials
Moody, darker walls create a cosy, cocooning vibe as you can see in this dappled grey-toned bathroom. Mixing different surface materials (concrete, metals, wood) helps break up the overall greyness.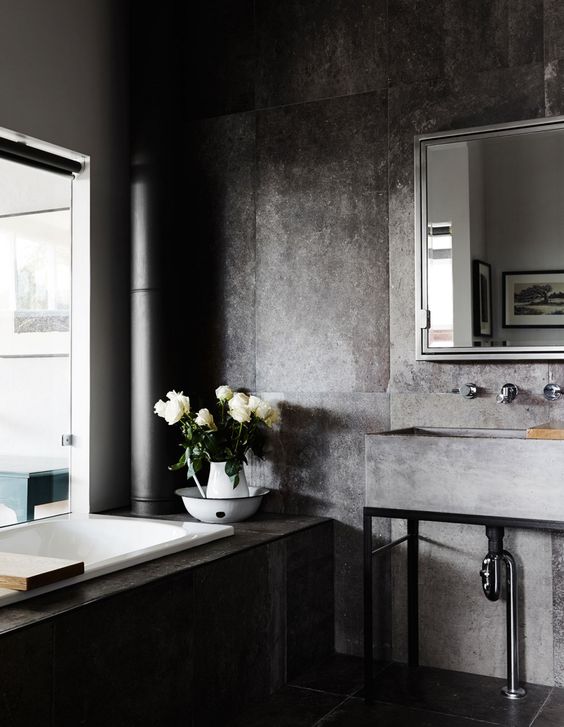 15. Use tiles for texture and pattern
Beautiful deep grey hexagonal tile brings in plenty of texture to this luxe minimalist bathroom while a long niche further breaks up the solid wall colour and creates a sense of depth. And how about this hand-mottled concrete statement tub?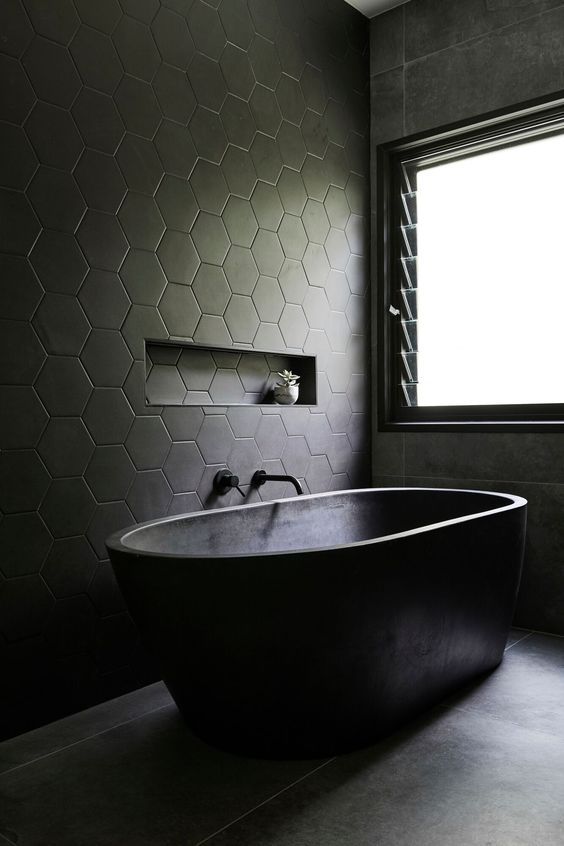 Need more tile ideas? Check out our article on bathroom tile ideas.
16. Add dark accents
Two different shades of marble come together beautifully in this small bathroom, united by contemporary black accents on each side. Adding black tapware and fittings (and a contrasting black toilet as well) modernises the classic look of marble. Note, how a wall-hung toilet helps keep the space streamlined and hides ugly cisterns.
17. Dark wall treatments
Apart from painting your walls a darker colour, you can also introduce darker colours with wall treatments like panelling and wainscoting. With a nod to retro styling, this dark bathroom shows just how much texture is created through the use of wall treatments.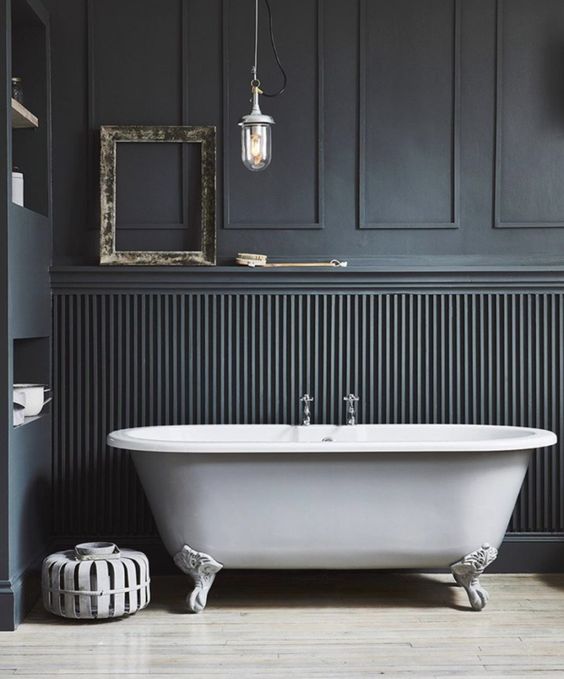 18. Dusty teal green dark bathroom
Modern bathroom designers like Swedish brand Swoon have ventured into bathroom furniture and fittings made in a range of saturated, vivid darker hues. I love this gorgeous green ceramic basin perched on its streamlined vanity!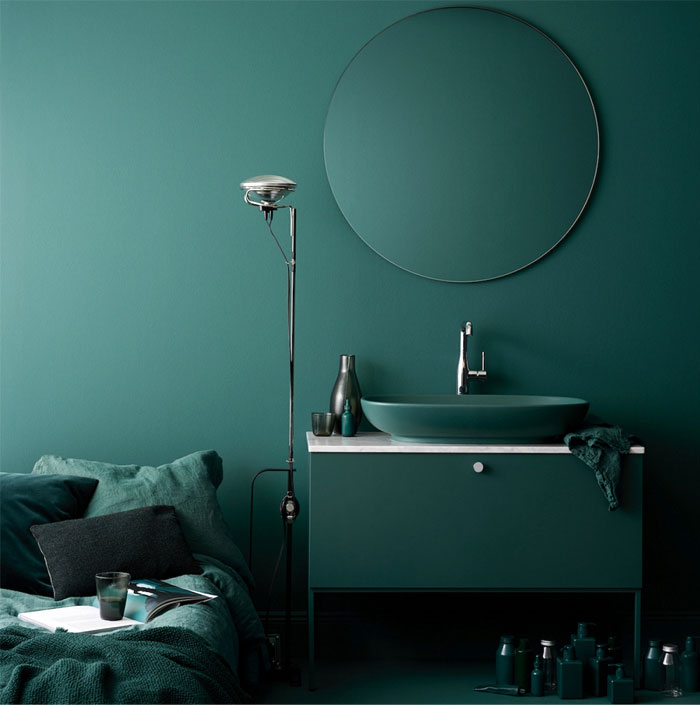 19. Raw greys
Concrete has a naturally moody colour so it works beautifully as a material to use in a dark bathroom. In this rustic bathroom, despite how much concrete is used, there is enough tonal variation to create texture and avoid flatness. As a blank canvas, the raw grey of concrete is the perfect backdrop for everchanging colour pops you can add through accessories and bath products.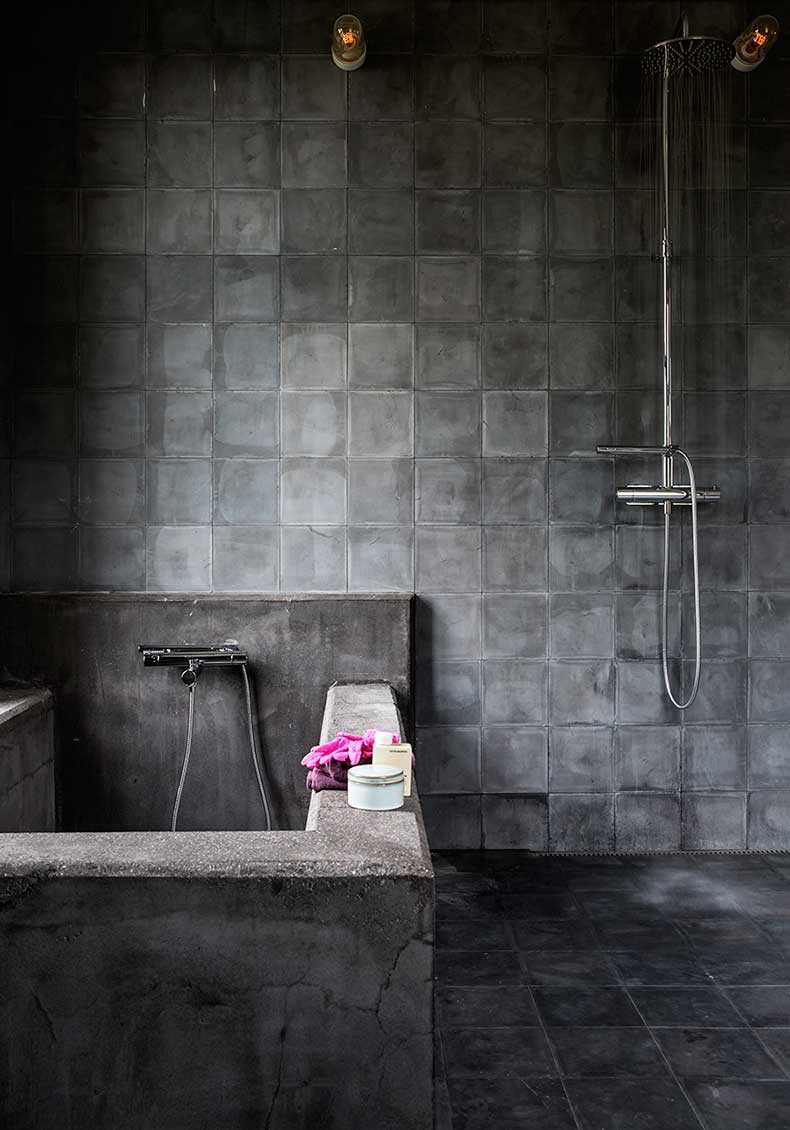 20. Add a chandelier
Moody walls suit moody lighting, and a chandelier is a naturally atmospheric statement piece, adding mystery, character and sophistication. For loads, more ideas on creating the perfect ambient light in your dark bathroom, see also our article on bathroom lighting ideas.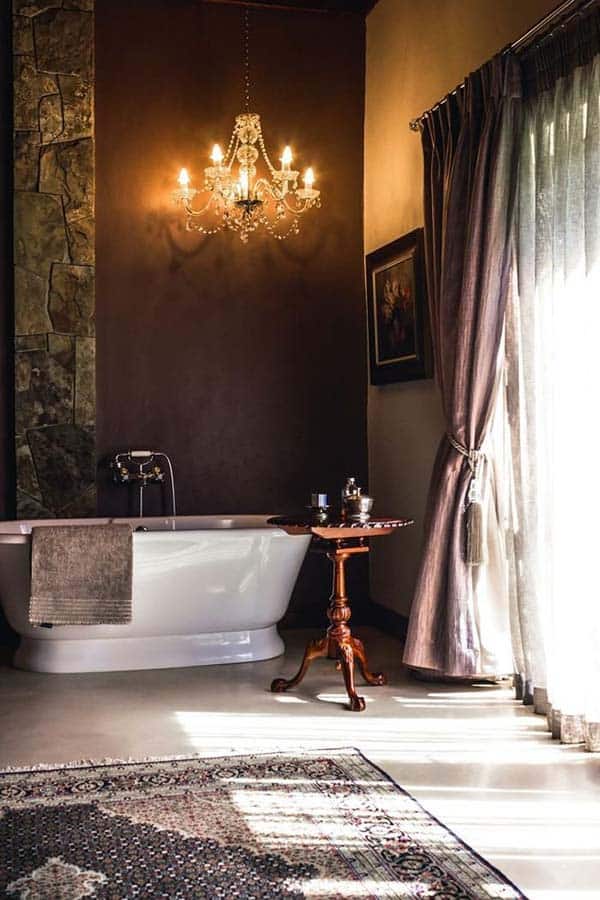 21. Consider dark wallpaper
Go darker with an opulent, luxe-looking wallpaper as an alternative to painting your bathroom walls. You could also team it with tile, panelling or half-wainscoting as seen here. Add an iconic statement piece like an enamel clawfoot tub, which you can even have repainted in a colour that complements your wallpaper.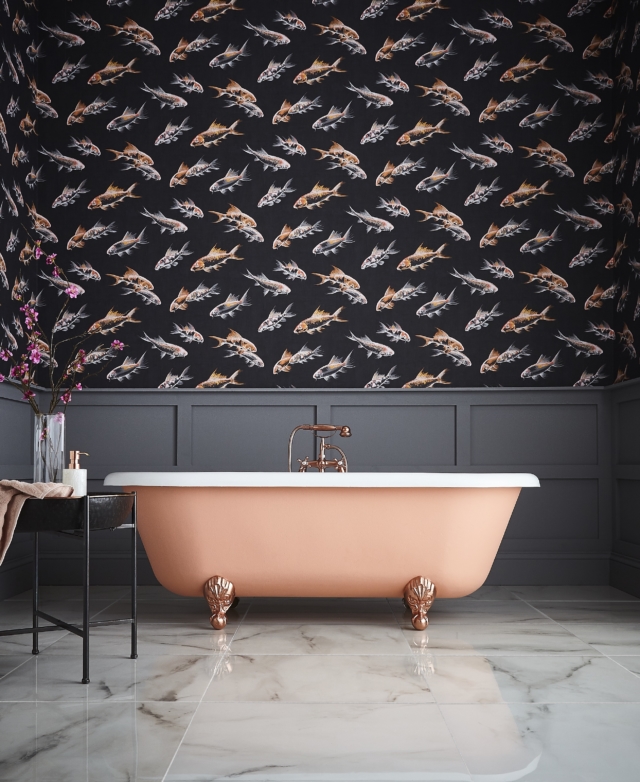 22. Dark broody powder room
To stop dark colours from appearing flat, introduce texture, for example in the form of textured tiles that create subtle visual interest and a sense of dynamic movement. The high gloss 3D tiles also work to reflect natural light as much as possible in this small, darker space.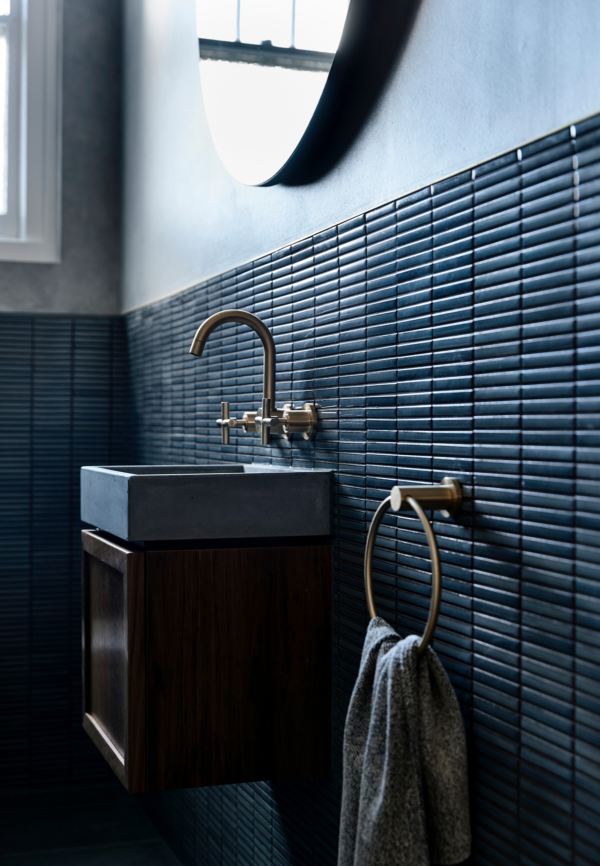 23. Dark penny mosaic with statement lights
Statement pendant lights deliver a golden glow against this floor-to-ceiling penny mosaic feature wall. Bringing light down from the ceiling has a dramatic effect and lifts a fairly standard bathroom space into something that's a little extra. Keep the bathroom suite simple and restrained—choosing white sanitaryware will add contrast while also brightening things up.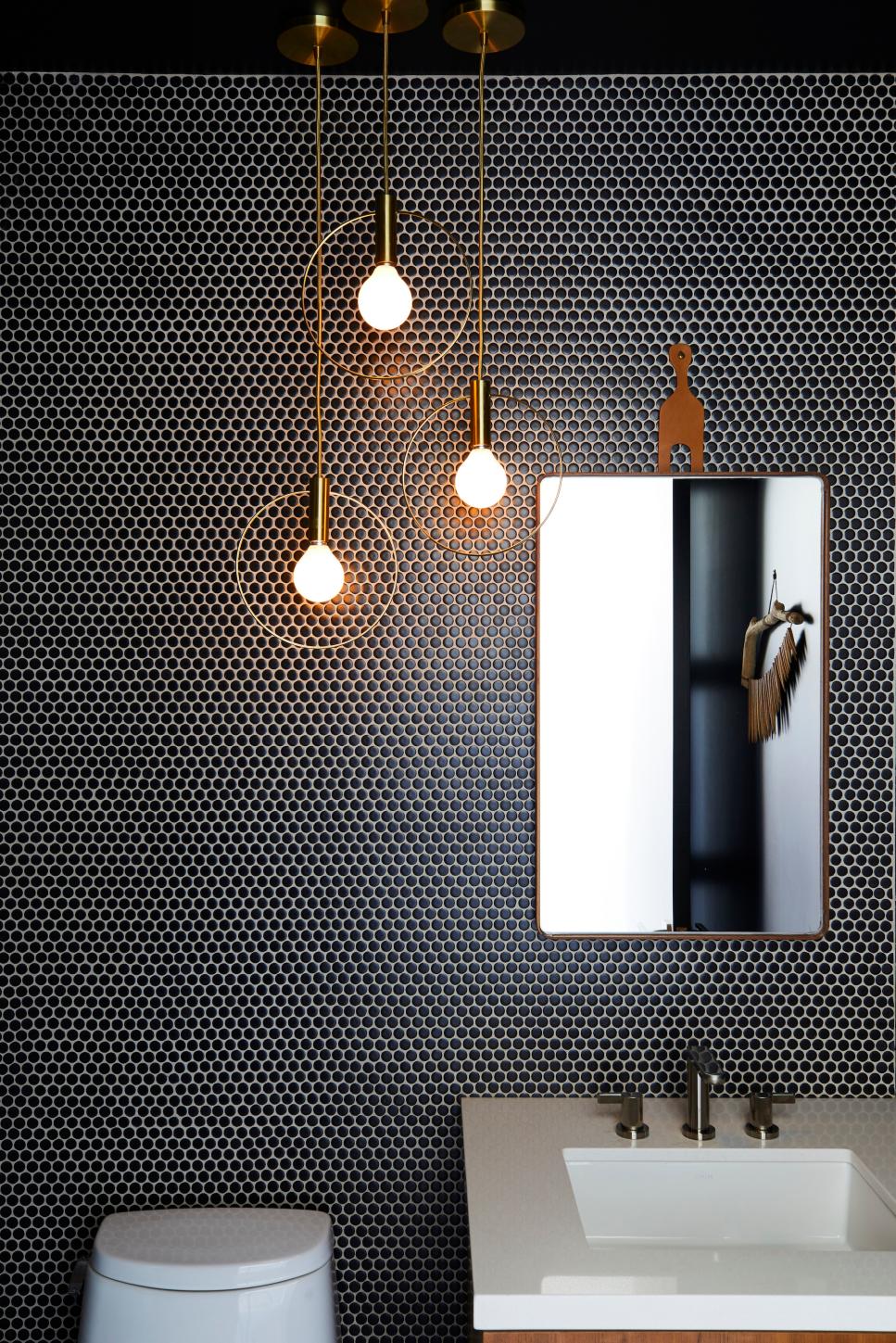 24. Use surfaces to play with light
Catching the light and bouncing it around the room, glossy tile is an easy way to enhance reflectivity and brighten a dark bathroom. Shiny surfaces let light move around a room and typically make a space feel bigger—so take advantage of the high shine materials that will create this effect. This vertically-stacked teal tile is gorgeous against the dark grey freestanding countertop basin, creating the feel of a designer hotel bathroom.
25. Dark neutral walls + colour accents
Walls are the backdrop for other colours to pop off, so complement your darker walls with a secondary, accent colour you love. Here, large format grey tiles are juxtaposed with pretty pink glossy tile, while the contemporary black tapware also looks beautiful against a white freestanding basin.
With the addition of a terrazzo benchtop and custom oak vanity, all the elements come together delivering a modern bathroom that feels bright despite its dark walls.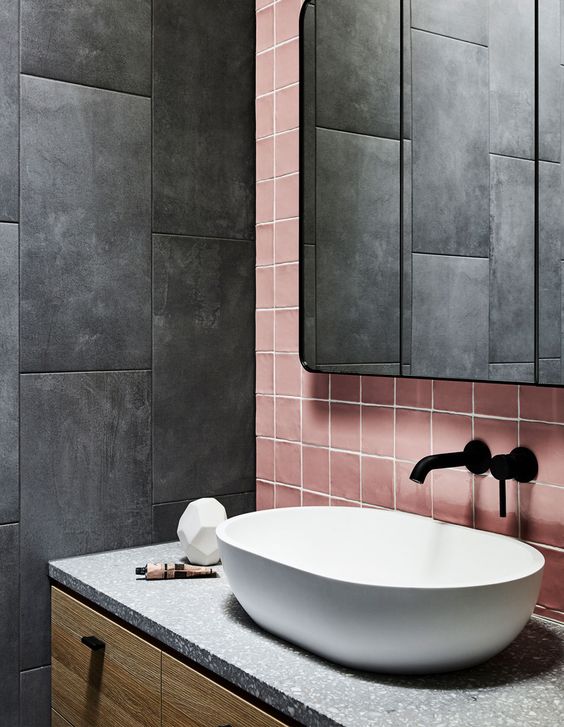 26. Dark but light
Combine dark walls with paler floors and light-coloured accessories for contrast and interest. Lighter colours will really pop against the dark walls, so choose feature accessories and accents you want to shine a spotlight on. For example, in the contemporary bathroom below, the statement vanity, wall lights and accent chair are light enough to contrast strongly with the dark walls.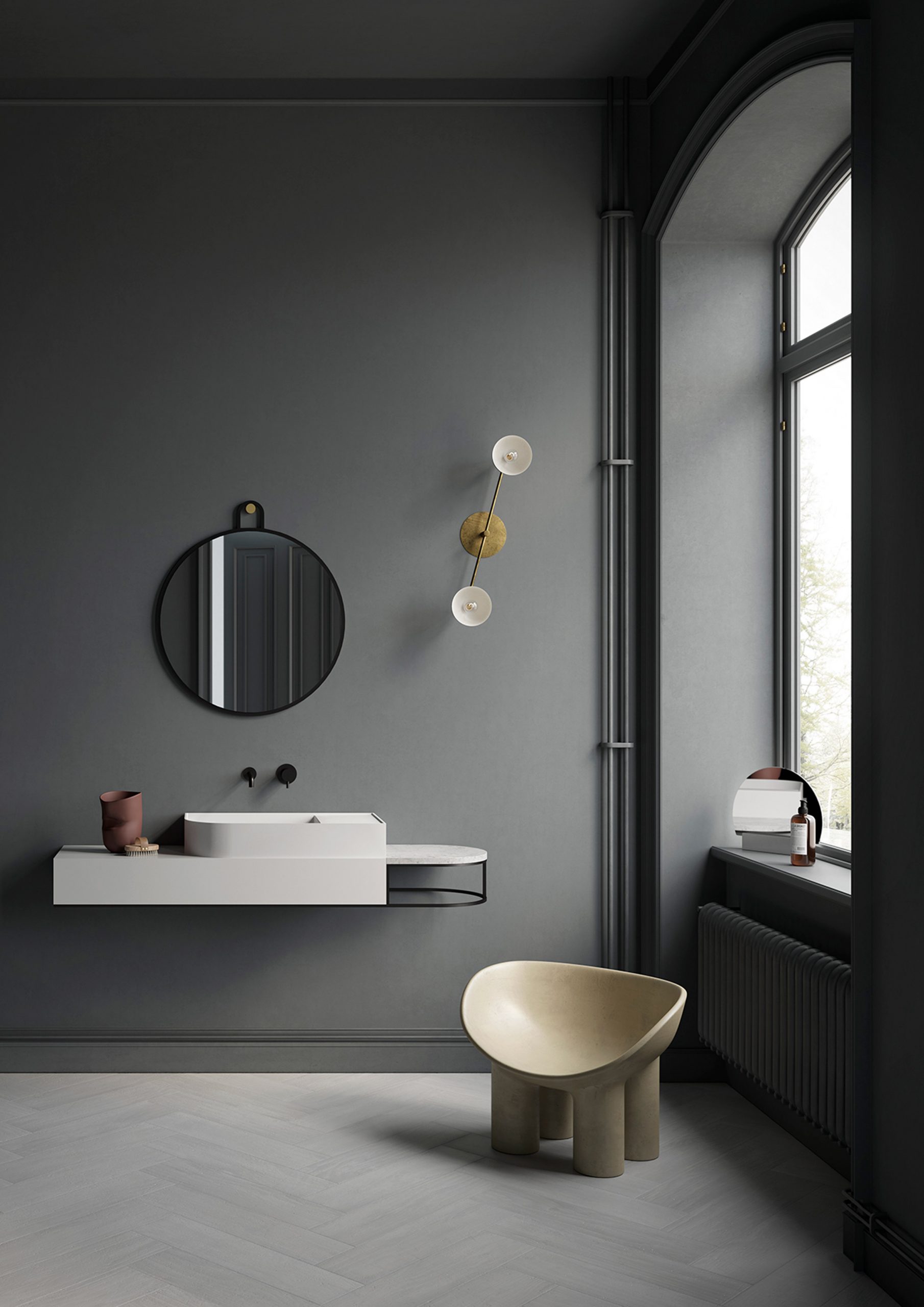 27. Add light with glitter grout
Increase the reflectivity in your darker bathroom by using a glitter grout with your tile. The sparkling particles will shimmer in the light and bounce reflected light off metal fixtures.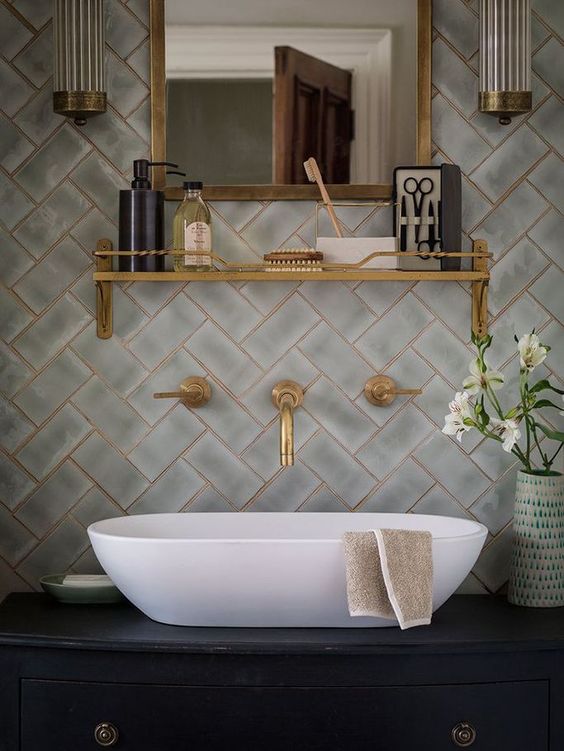 Making over your bathroom? Find an expert in bathroom waterproofing to work out any waterproofing issues you may need to deal with.
28. Texture for depth
In a dark bathroom, the texture becomes especially important in order to create shadows within the dark and avoid bland flatness. A deep blue vanity by innovative contemporary designers Swoon uses a hexagonal surface design to add pattern and texture to the monochromatic space.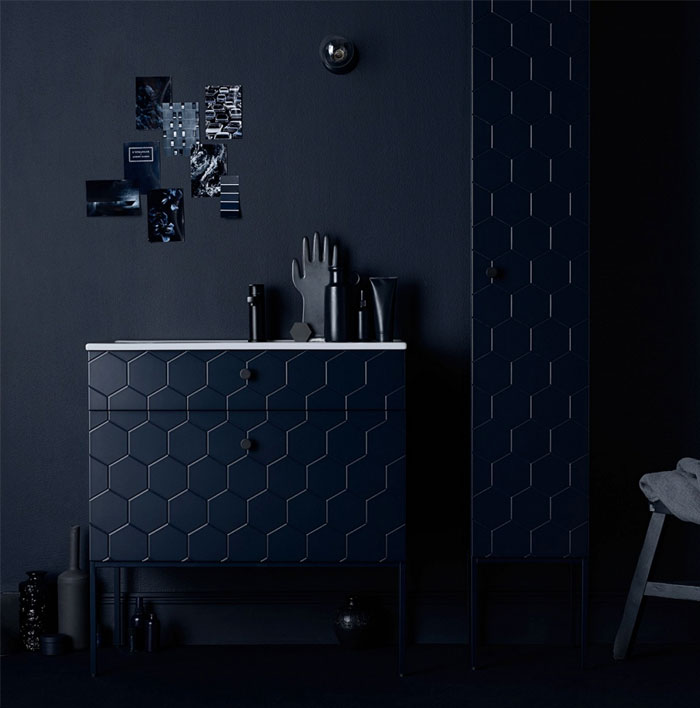 29. Bluestone
If you love flamboyant colour, an Argentinian "Azul Cielo" blue marble shower like this one will surely appeal—even if it may not suit the reno budget (hey, I can dream, right?). The sky blue tones work beautifully with the golden-toned tapware and showerhead.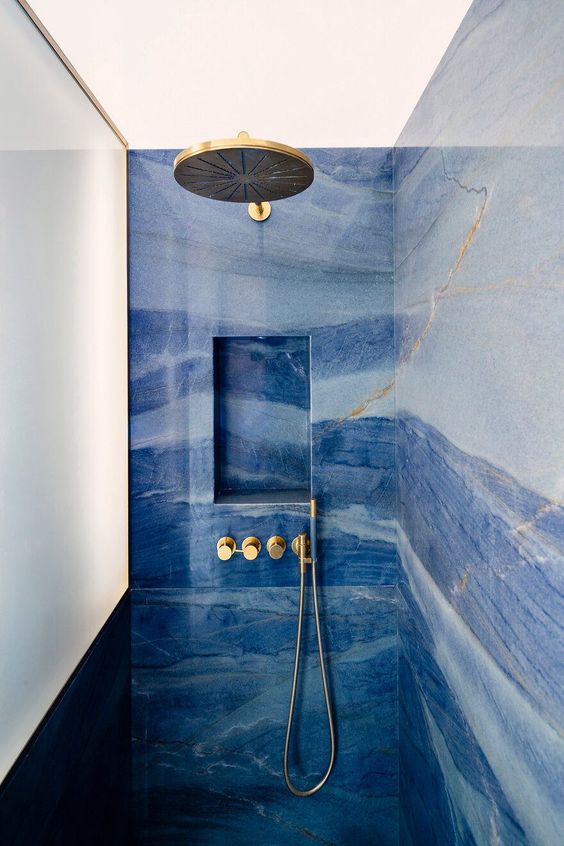 30. Soft charcoal large format tile
Whether you go with paint or tile, darker walls and floors really make a white bathtub stand out. Here, hardwearing large format stone tiles unify the walls, floor and ceiling, allowing the focus to fall on the bathware and accessories, while hints of black add definition and style.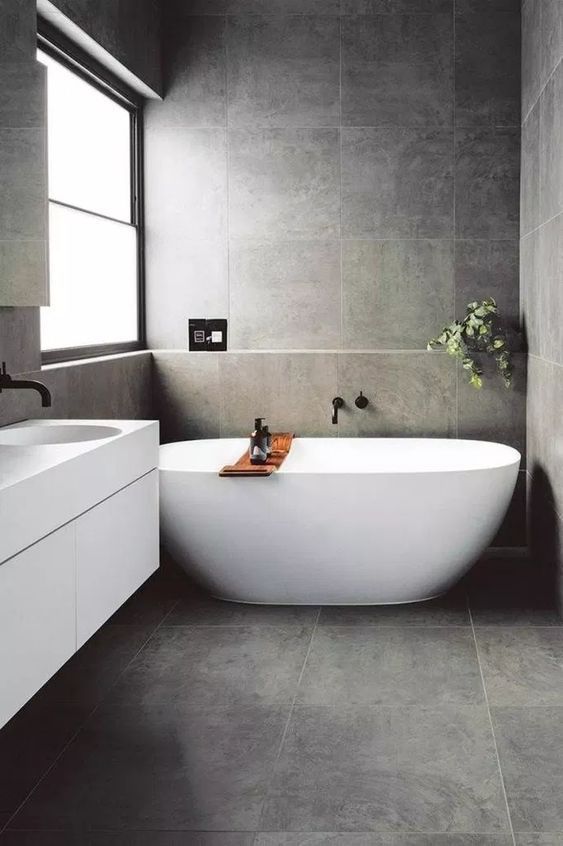 31. Dark blue with white
Here, a traditional bathroom gets an update with an application of dark navy paint to the wall panelling. I love how the panelling doesn't go all the way to the ceiling, instead leaving room for a row of framed pictures on one side and a window ledge for plants on the other.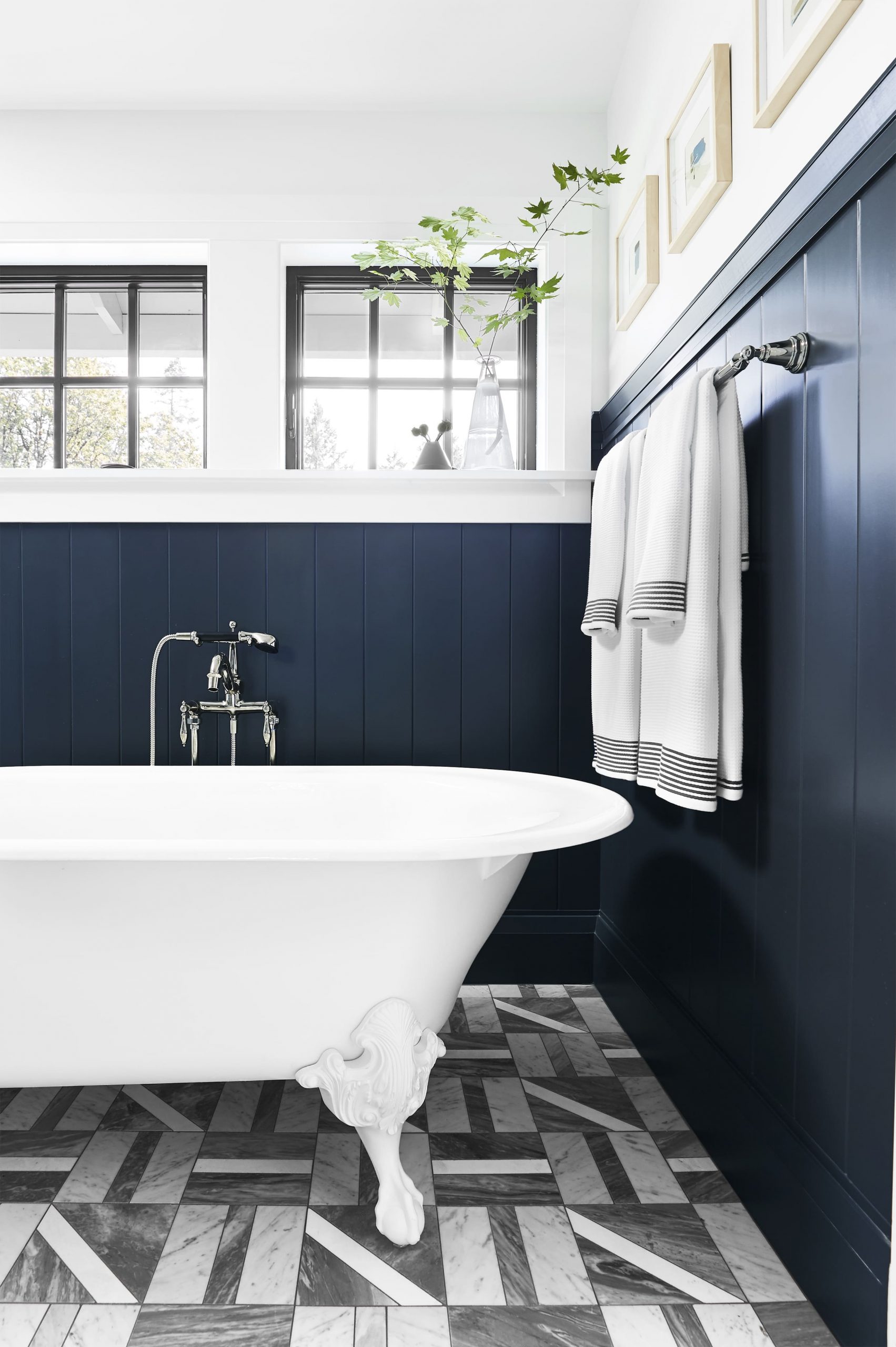 32. Go with the darkness
It's usually preferable to avoid creating flatness by using too much of one colour. Instead, achieve more visually interesting tonal variation through the use of a thoughtful colour palette and a range of surface materials.
Having said that, sometimes you may want to make a feature of a solid block of darkness. This mesmerising minimalist black bathroom is the perfect example of the impact you can create. And if you go with black as your dark colour, choose an off-black which has a little softness to it.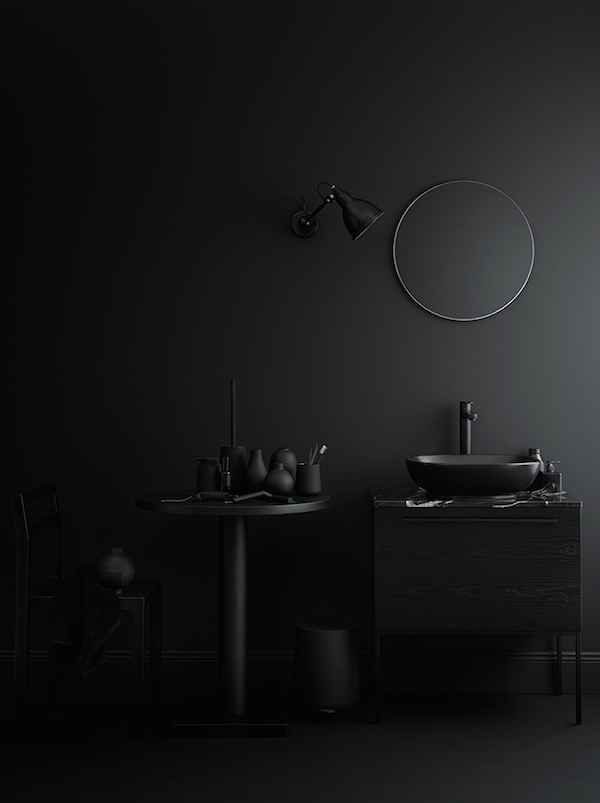 33. Go green
Practical, easy-clean floor-to-ceiling tile in a gorgeous glossy green is the highlight of this dark bathroom. The moss green beautifully complements the golden tapware and the dark grey herringbone floor tiles. The clawfoot tub has been painted a tone-friendly matte bottle green to match.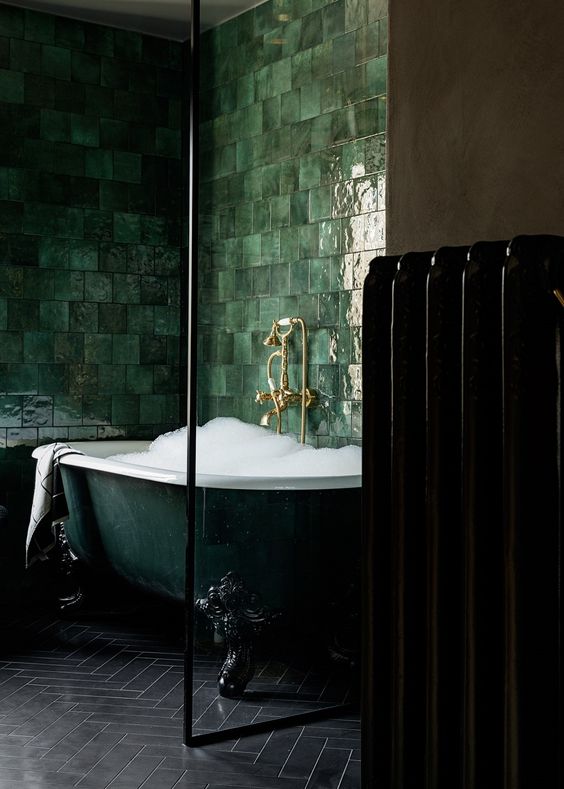 34. Compare and contrast
When using a darker colour scheme, the contrast becomes especially important to break up the uniformity of the darkness. Little highlighting details in white or another neutral add pops of light and lessen any gloominess.
A crisp white ceiling contrasts well with the black subway wall tile and terrazzo flooring. Then a statement pendant light also adds vibrancy to this bathroom.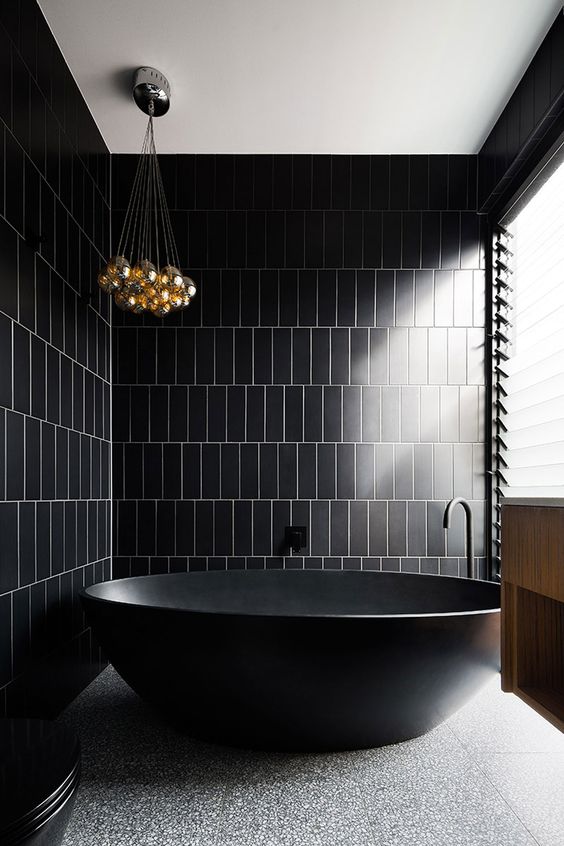 35. Rise and shine
Since darker colours absorb light, if you go with dark or black bathroom tile, choose gloss rather than matte. Shiny surfaces reflect the available light and create more depth and dynamism. Gorgeous glossy square tiles enhance this modern bathroom, contrasting beautifully with the concrete sink.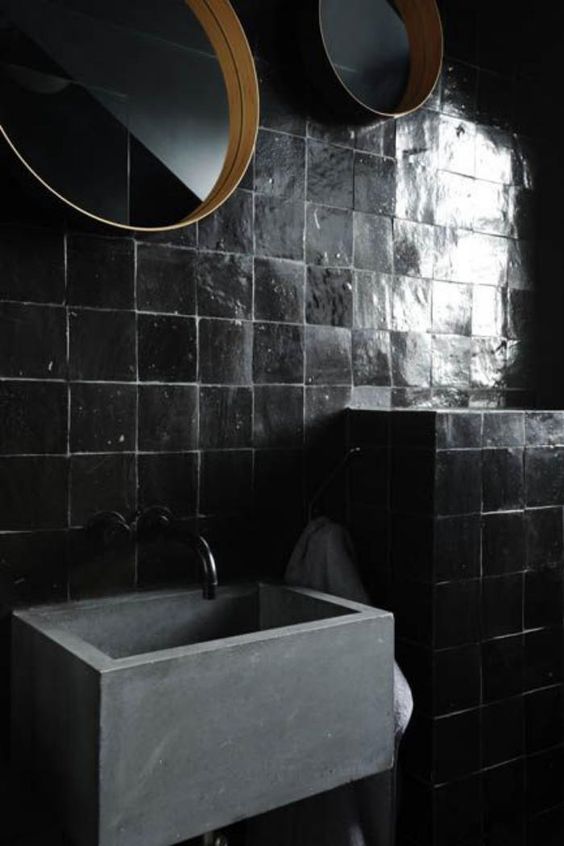 36. Art Deco dark bathroom
Strategic placement of dark green and white geometric tiles amplifies the Art Deco aesthetic of this bathroom, along with the brass fittings. Here's some more inspiration if you love Art Deco style bathrooms.
37. Skylights
If you have the chance to add skylights to your bathroom, it's a wonderful way to add enough light to equalise darker wall colours. I love the tiny square tile used in this shower/bath, it creates a harmonious plaid pattern in the space. When you have a feature tile like this in your bathroom, make sure it looks it always looks its best, find out how much it will cost to have a professional clean your tile and grout.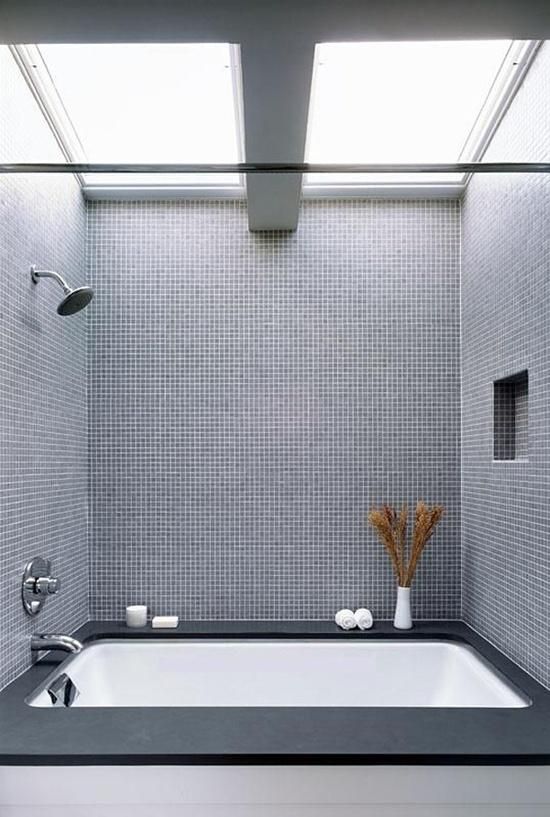 38. Make the tub the focal point
A dark bathroom often looks best with a minimalist, uncluttered aesthetic so the eye does not have to work too hard focusing on so many objects and elements. Since dark colours recede into the background more, they are the perfect backdrop for a strong statement piece like this gorgeous attention-seeking tub.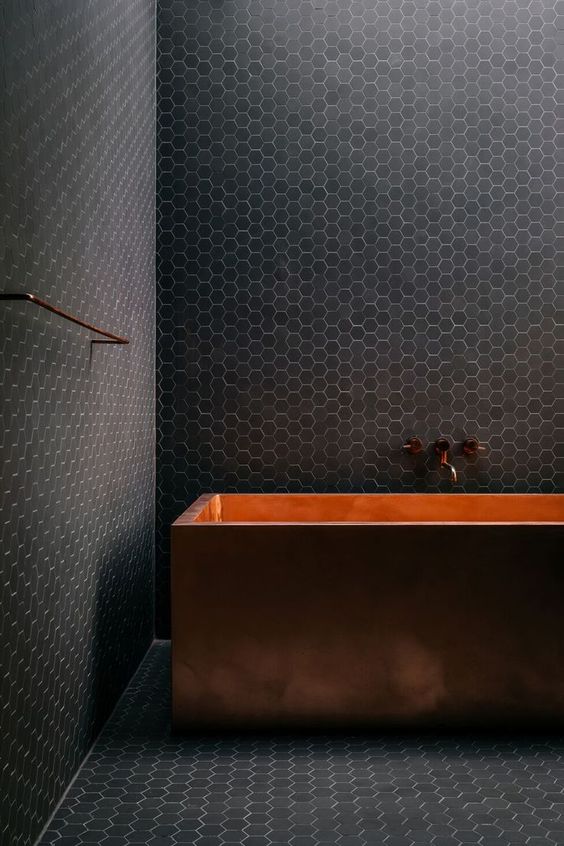 Worried about the longevity of a dark bathroom? It's not necessary to commit to the style long-term if you aren't sure you'll always love it. It's easy enough to paint walls darker or adds dark colour pops through the accessories, while you can always keep your options open by sticking with white sanitaryware—it will provide contrast as well as enable you to switch back to a lighter coloured bathroom with ease.
So there you are over 35 ideas for creating a chic dark bathroom. Which of these stunning moody bathrooms is your favourite? Let me know in the comments below.
For loads more ideas on bathroom décor, you might like to also check out our article with a comprehensive selection of bathroom ideas.
Hero image sourced from: TLC Interiors