Gone are the days when you'd just put up one of those multiple lights with the centre heat light in the middle of the ceiling and be done with it.  Now, choosing bathroom lighting can actually feel a bit overwhelming thanks to the sheer amount of options on offer. But if you follow some simple guidelines, you'll soon be putting the fun into functionality, with bathroom light fixtures and fittings that really make a splash – here are my favourite bathroom lighting ideas for your next spruce up.
A little bit about bathroom lighting
Bathroom lighting experts like to talk about using the "three layers of light" to create a mix of lighting fixtures. Having multiple light sources enhances a bathroom to prevent it from looking too generic. Different zones of the space have different functions, so a variety of lighting choices is needed for the vanity, tub and shower areas.
For example, to create a soothing ambience in the tub area, you'll want to avoid overhead fixtures in favour of wall sconces. And your lighting at the vanity is super important to get right. It has to give you the flattering, shadowless illumination you need to attend to your makeup or shaving and tooth care needs.
Bathroom lighting design
Ambient lighting (general or mood lighting) can be thought of as "filler" light, distributing light evenly through the room.
Task lighting is functional, practical and necessary for daily grooming and beauty tasks. It's usually found illuminating areas needing extra visibility (so around the mirror and vanity).
Accent lighting (feature lighting) draws attention to special décor features but may also work as task lighting. Statement lights, which add personality and atmosphere, are a form of accent lighting.
So how you do you layer the light and create the perfect mix of bathroom lighting fixtures?
Creating a lighting plan
Start by creating a good lighting plan. First, you'll need to assess your needs. For example, think about:
When do you use the bathroom most?
What for?
How much natural light is there?
What's the ambience you want to create?
Are there any features you want to highlight?
What's the style or look you're going for?
What's your bathroom's ceiling height and its scale?
Then, mark up a floorplan with the location of fixtures and fittings, windows and doors, light switches and pulls and so on.  Work with your electrician to find workable solutions and discuss all the details, like the type of bulb or its colour or temperature. Remember they do this professionally and can be a great source of information.
Meanwhile, check out our collection of gorgeous bathrooms featuring stunning bathroom lights. From bathroom pendant lighting to sconces to chandeliers—we've got them covered.
Natural bathroom lighting ideas
When it comes to bathroom lighting, start with the natural light that you have flowing through. Make sure you really maximise it as a source of ambient light as much as you can. Then supplement it with your other layers of lighting.
1. Bounce around the light
An all-white look is good for maximising light because white is fantastic at reflecting light. It can, therefore, make small spaces seem much larger, so it's a perfect colour choice for those with tiny bathrooms. This narrow bathroom in a renovated heritage workers' cottage has a feature original-timber ceiling and streamlined accent lighting for ambient light and night-time.
White + wood is a classic combo in modern bathrooms, and I'll show you some more stunning white bathrooms below.
2. Sunbathe
This haven of Zen takes advantage of sunlight to create a hypnotising pattern on the charcoal marble wall.  In addition, recessed black lights and a large statement light overhead add fill-in, ambient light. The end result is a clean minimalist look.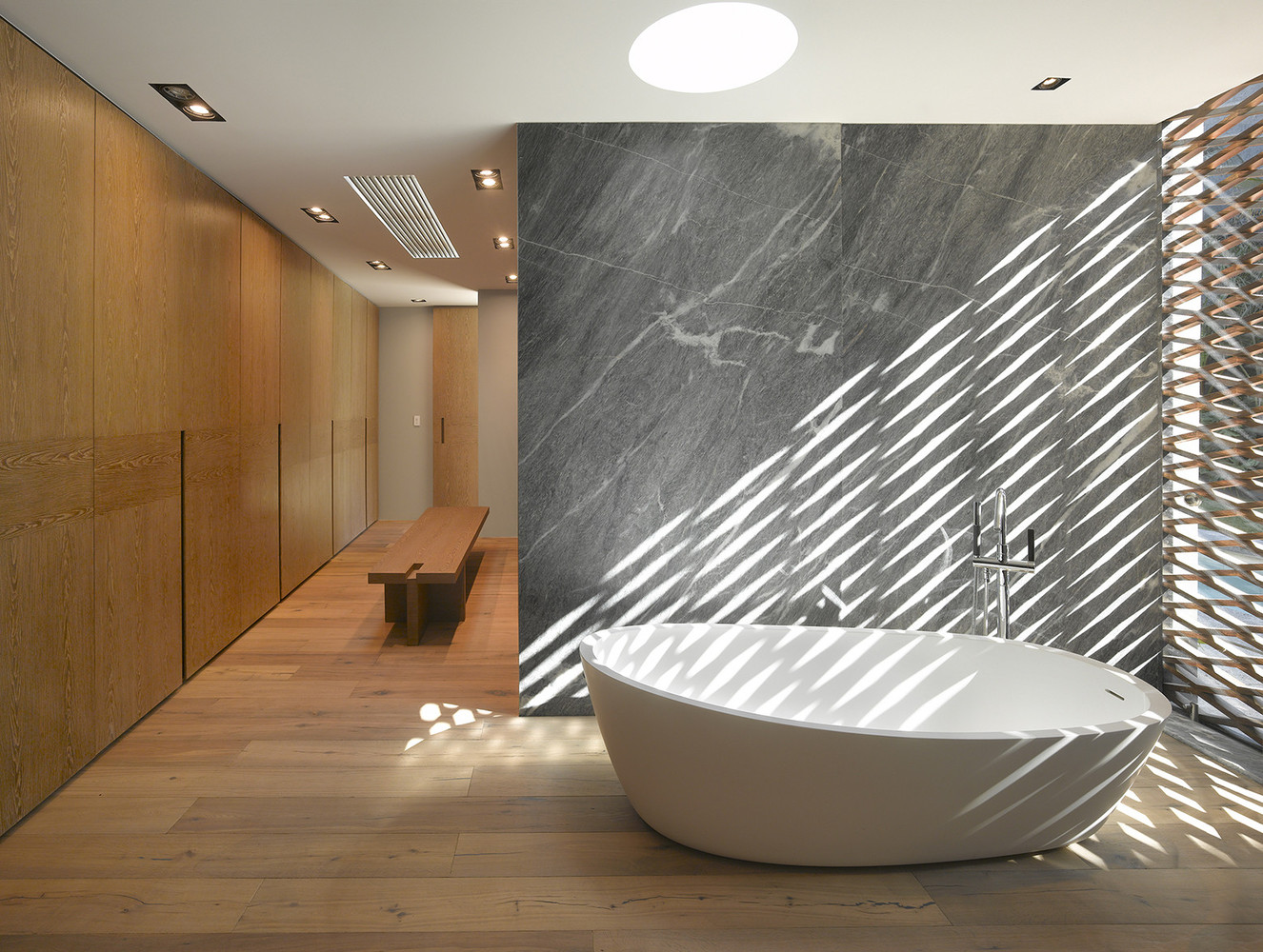 3. Heads-up
If you're renovating, you should consider installing a skylight if you can. Skylights let a lot of light in, without causing too much glare or shadow. They can definitely be affordable, so take a look around. This bathroom's skylight creates waterfalls of sunlight in the tub area while warming up a spot on the rug for you to stand (or meditate) afterwards. I reckon the only thing missing here is a little greenery, such as some native foliage.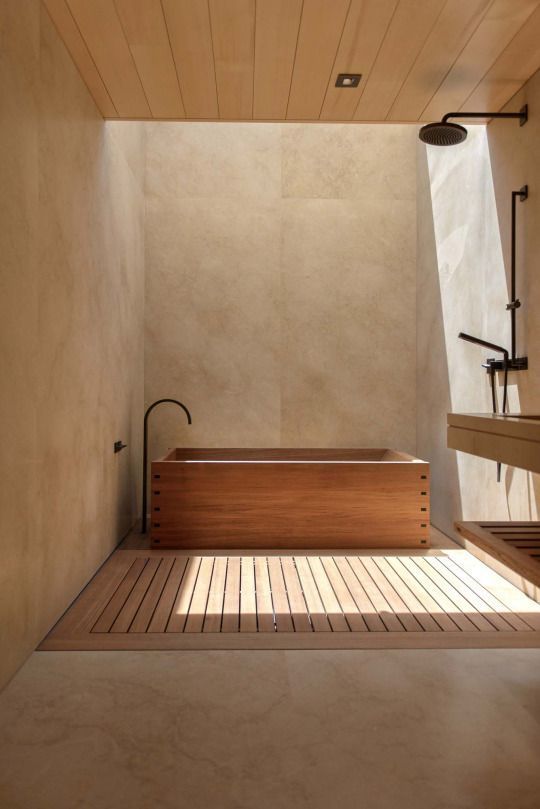 4. Let all the light in
This house kept its original waterfall windows for floods of lovely natural light. If you have windows like this, go ahead and leave them as naked as your blissfully bathing self.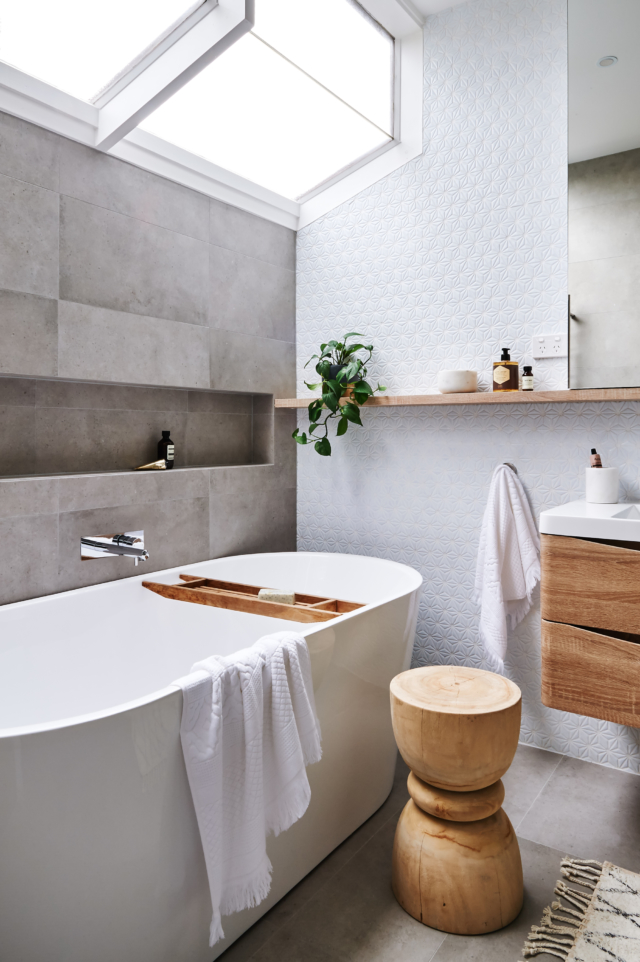 5. Go Boho with candles
Before I turn to my favourite choices for beautifully illuminating a white bathroom, I'll leave you with one last energy-efficient option: candlelight.
Collect gorgeous vessels to fill with candles for the classic candle-lit bath. The subtle illumination of candlelight creates soothing ambience and sets a relaxed, romantic tone. You could also add recessed (cove) lights to even out the ambient light.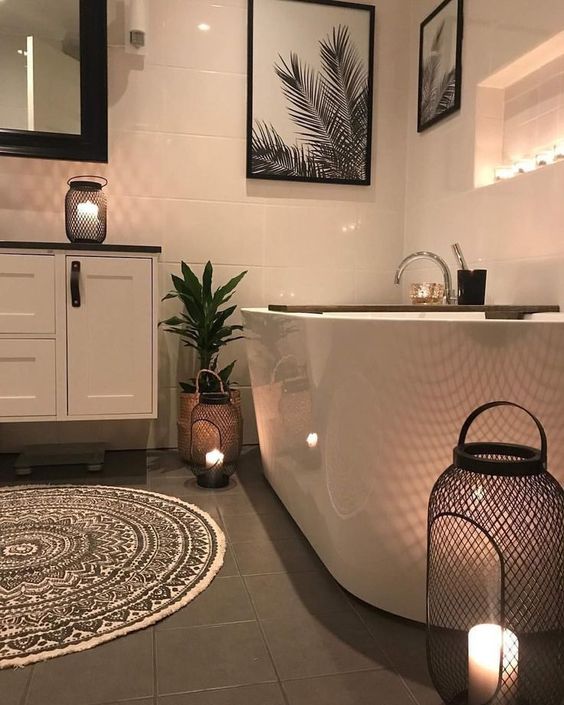 6. Accent white with lustrous pendants
Turning to white bathrooms of all kinds and some of the lighting styles that work well with white, let's start with this serenely minimalist white bathroom. It's saved from too much blinding starkness by the brass pendant lights and tapware.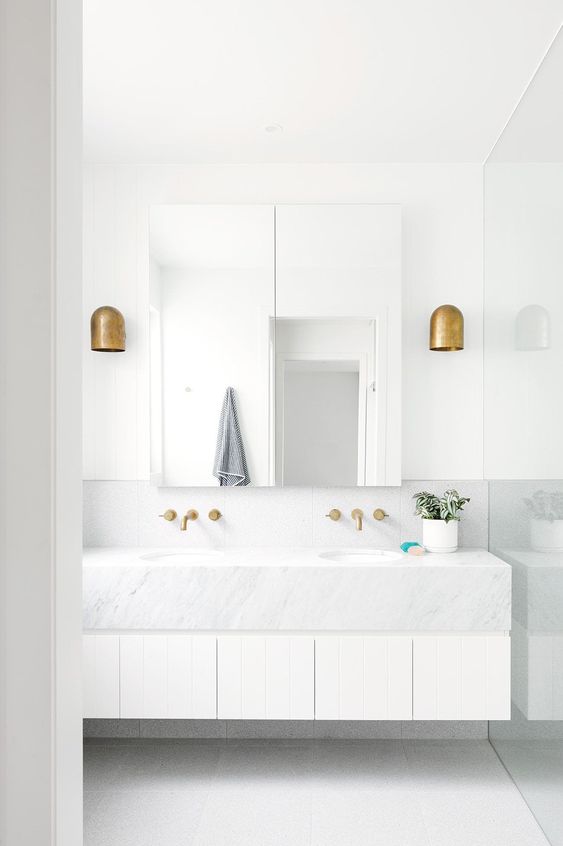 7. Transparent pendants
This white and timber bathroom has lovely black accents through it, from the rug upwards. I like how, instead of having black shades, the pair of pendants above the mirror have low-profile transparent shades. Cute shared sink, too.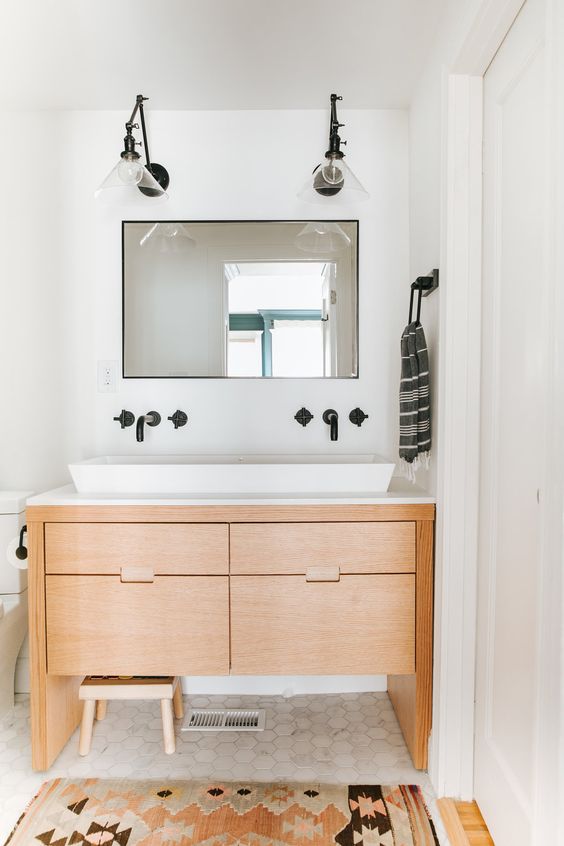 8. White on white
Another predominantly white bathroom with black and timber accents, this time featuring an unusual, white statement pendant. I love how the smooth subway tile contrasts with the terrazzo flooring if you want to see some more tiling options here are another 50 bathroom tile ideas.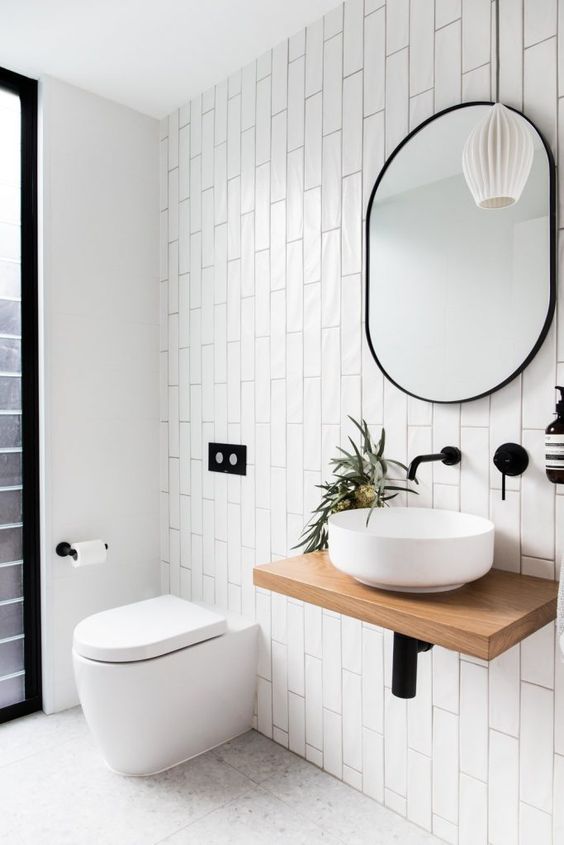 9. Horizontal light bar
Installing a long, slim light bar on the ceiling and down the sides of a wall-to-wall mirror adds to the clean, linear look of this minimalist all-white bathroom.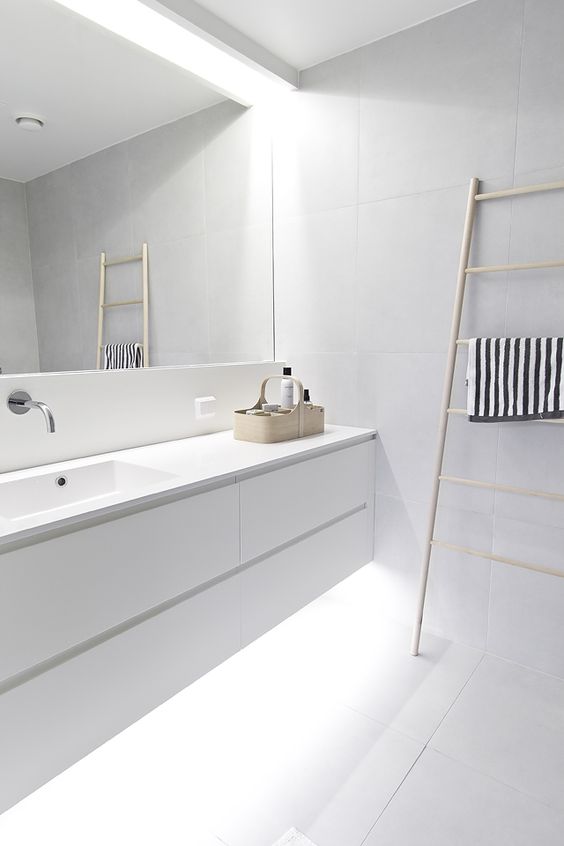 10. Add brass fittings for warmth
A contemporary bathroom is made to feel more grown-up by the touches of brass in the twin mini pendants. As well as injecting a bit of elegance into a plain room, glamorous gilt light fixtures really warm up spaces that feature a lot of stone.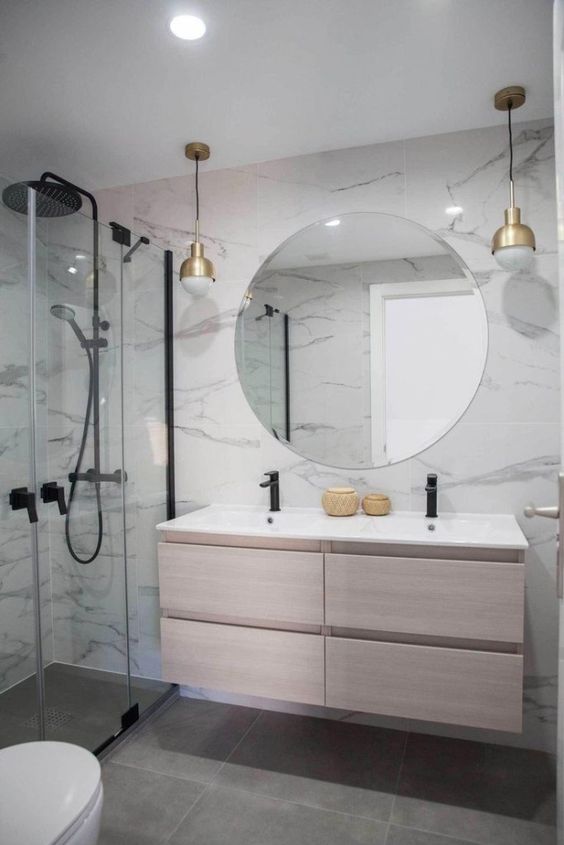 11. Add personal touches
Warm-up and personalise an austere all-white tiled bathroom with natural materials. In this DIY effort, baskets pendants stimulate a coastal vibe.
Lighting a dark bathroom
White bathrooms definitely look clean and inviting and I can understand their everlasting appeal.
But there's been a big move towards exploring dark to black bathroom palettes in recent years. And I'm predicting the trend isn't going to run out of steam anytime soon.
Why? Because as you'll see below, a dark palette can feel very soothing and its "masculinity" often appeals. If you light it the right way, this look can work. Check out these examples of very dark bathrooms and how they're lit.
12. White lights, dark walls
Interior designers suggest you choose one stunning piece – vanity, basin, tub – to be a focal point of your bathroom and pare everything else back. This has been done to perfection in this minimalist modern bathroom.
All that matte black stone looks divine against the smooth, curved form of the tub. The wall of natural light and a small white statement light, also help create a harmonious, yin/yang effect.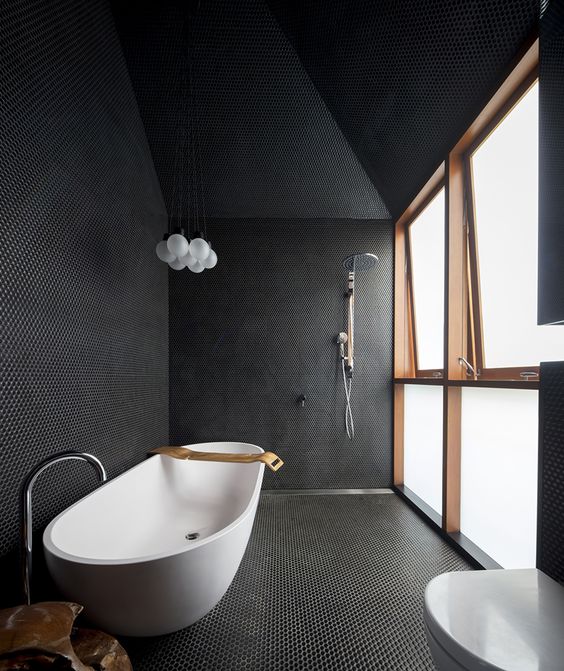 13. Rugged black and grey
If you like a very dark bathroom, keep it from looking like a dungeon by introducing a range of textures and tones, including some lighter ones. And, obviously, bring in lots of light, both natural and artificial. Here, matte black tapware punctuates marble and tile for a Spartan aesthetic, softened by a glass statement pendant.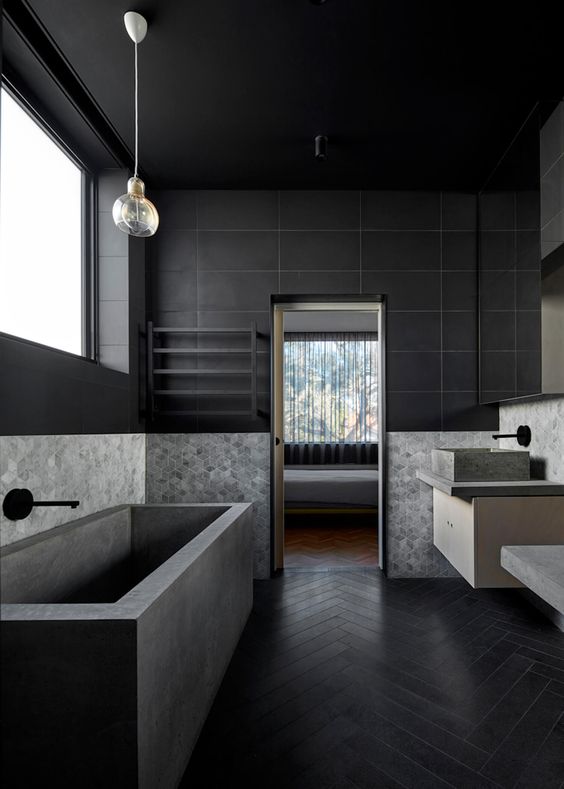 14. Lighten up with downlights
If you are going for a minimalist look and love the idea of dark walls, consider having a lighter coloured roof, to avoid an overly cavernous feeling. Recessed downlights in the ceiling will keep things perfectly illuminated.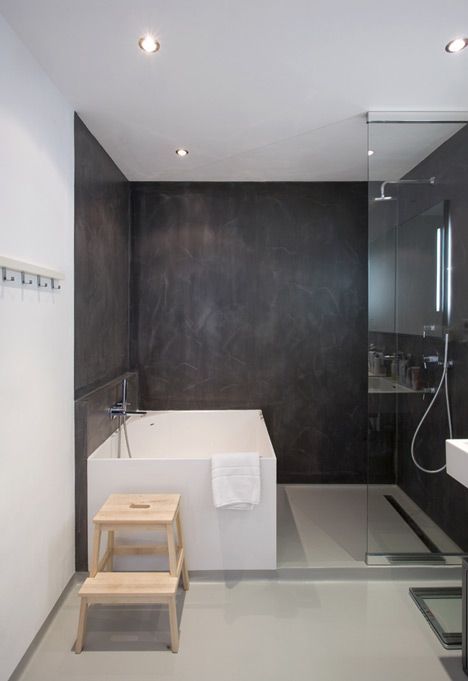 15. Backlit ceiling
This modern black bathroom features contemporary vertical panelling, concealed bar downlights and backlit vanity mirrors. The diffuse warm ambient light from above provides enough illumination and lifts the heaviness of the colour scheme and the stone. What a stunner of a tub!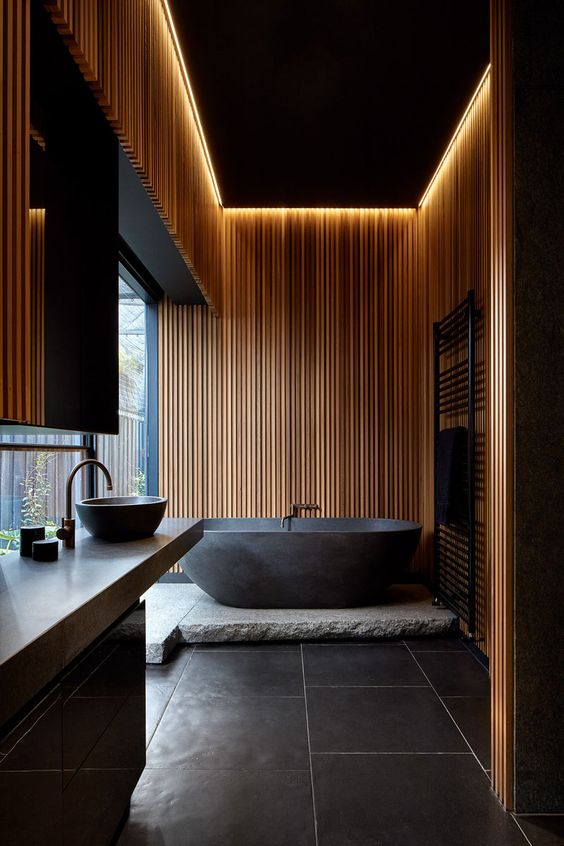 If you have a modern house design, this is a good bit of inspo for your mood board.
16. Know when to underdo it
Here's a gorgeous bathroom that takes full advantage of its natural light, requiring only minimal, understated task lighting. The sunlight creates gorgeous sparkling reflections on the handmade, random black and grey tiles, with the warmth echoed by metal finishes and amplified by modest vanity sconces. The simple, calming colour scheme allows the unusual charcoal stone tub to take centre stage. It's unclear from the image what the night-time lighting situation is, but maybe it's intended as a day spa!
Love this tile look? Installing these tonal tiles is best left to the professional tilers for a flawless look.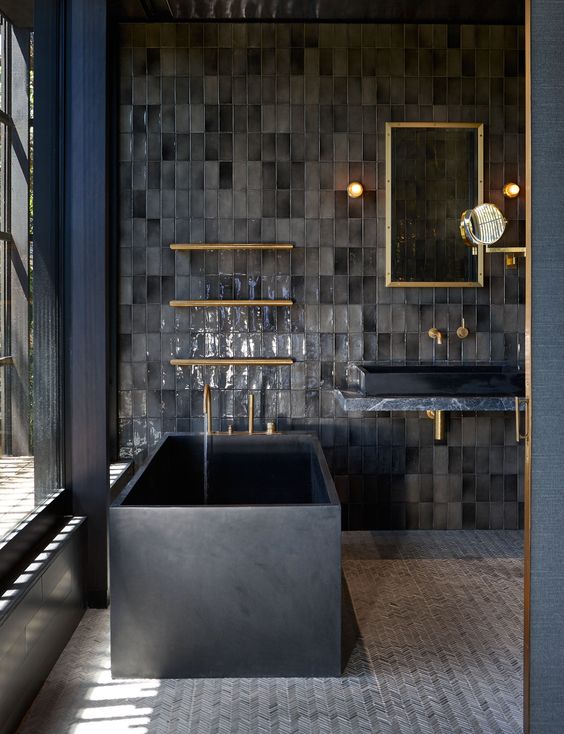 Lighting colourful bathrooms
Had enough of the dark side? Let's move on to some colour-saturated bathrooms below and how they've used light sources to great effect.
17. Pink bathroom
This feminine bathroom features gorgeous baby-pink tiling highlighting the vanity area. Soft grey-toned marble and timber accents are paired with brass accents in the mirror frame and glass statement lights. Small white spotlights act like accent lights on the walls. What a dreamy and romantic space.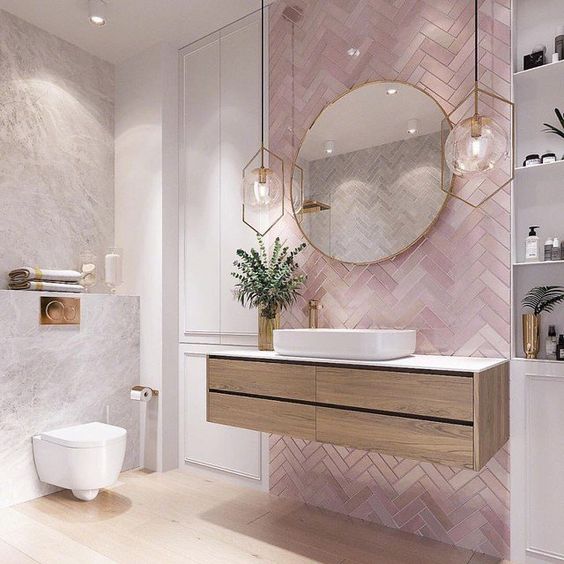 If you're looking for more colourful options, here's the full collection of all types of bathroom ideas in the one spot.
18. Champagne hardware
What a gorgeous muted shade of teal on the walls of this bathroom. It's a match made in heaven with that brushed teal floor tile and plants add life and connect well with the timber. Meanwhile, the vanity is illuminated by frosted glass spheres finished in a champagne-tone metal.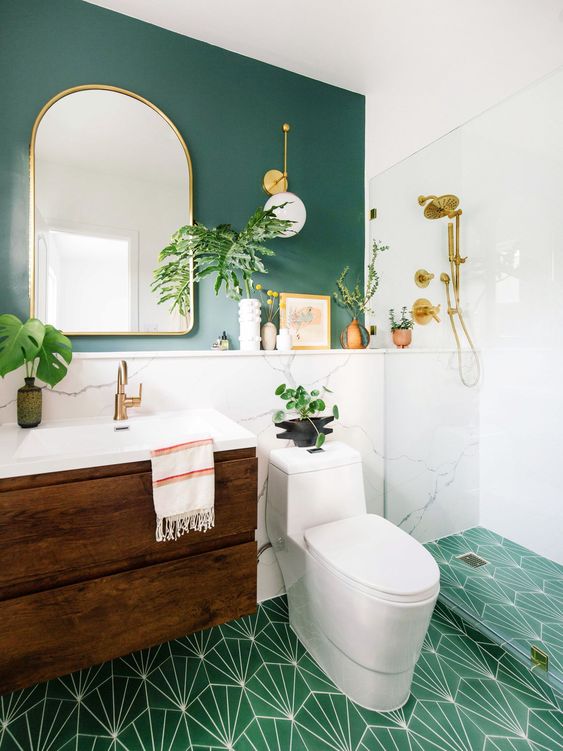 19. Faux timber lights
A minimalist, coastal flavoured bathroom keeps the light fixtures in tone with the timber cabinetry. In the mirror's reflection, you can just make out that there seems to be plentiful natural light flooding the room as well.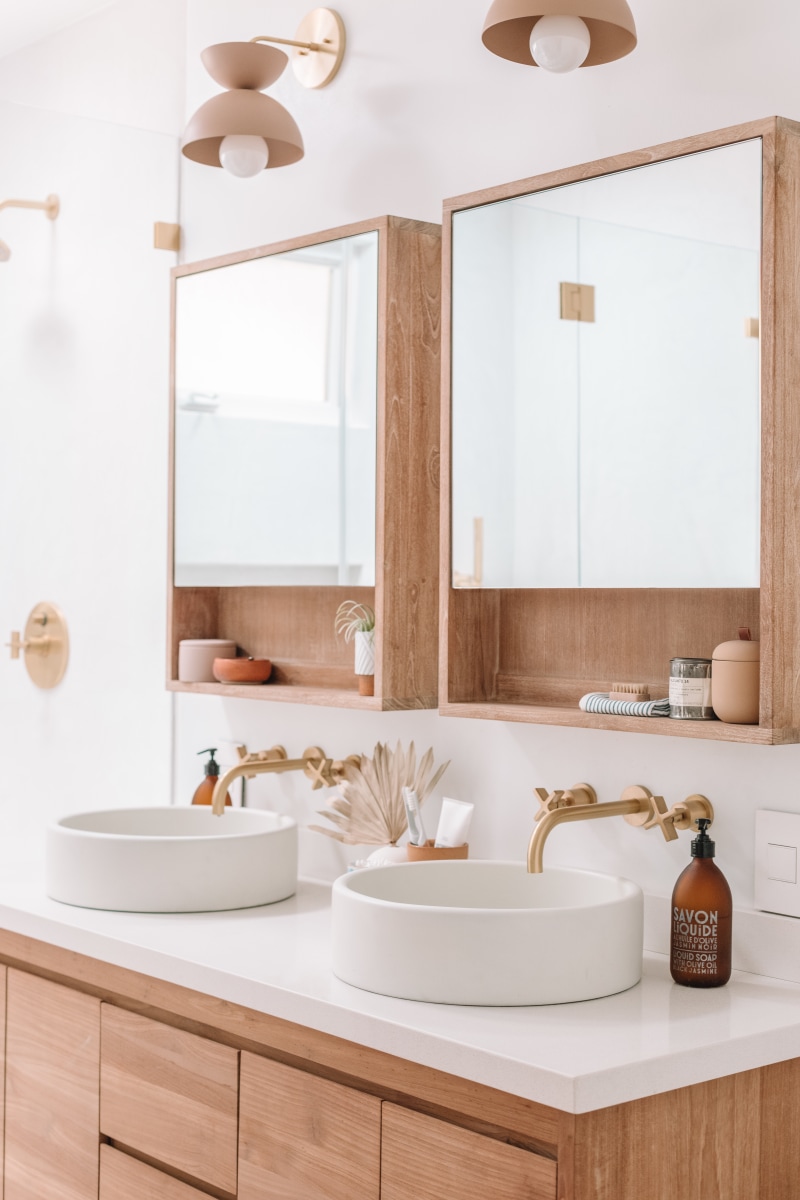 20. Light it up
Keep the focus on a feature ceiling by choosing understated, preferably recessed central light fittings, such as in this violet-roofed bathroom. Painting a ceiling can be a real pain in the neck, and there's no shame in Ceiling painting is already a neck-breaking activity as it is, never mind making it the feature of a bathroom. So don't be shy about getting some help with your bathroom painting.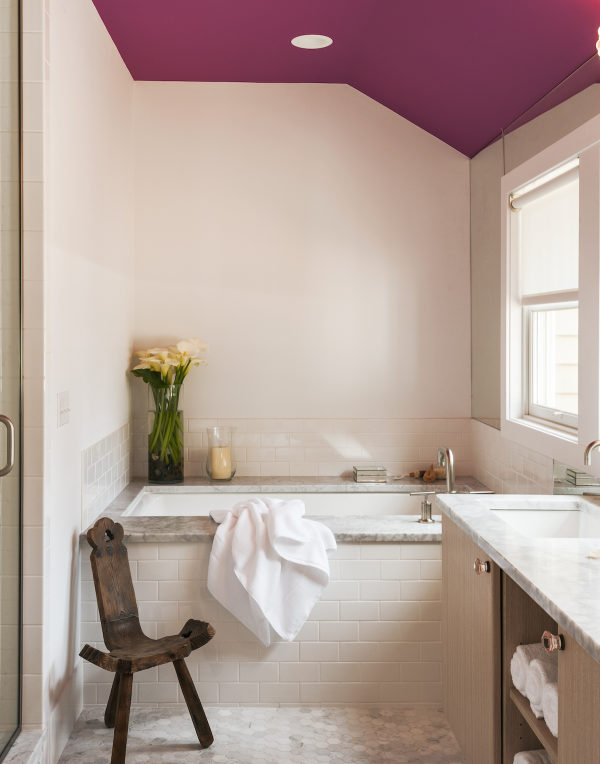 21. Make a statement
One of the most important bathroom lighting ideas is to include a statement or feature light A bathroom tiled or wallpapered like this has plenty of texture to provide the perfect backdrop for beautiful architectural ceiling light.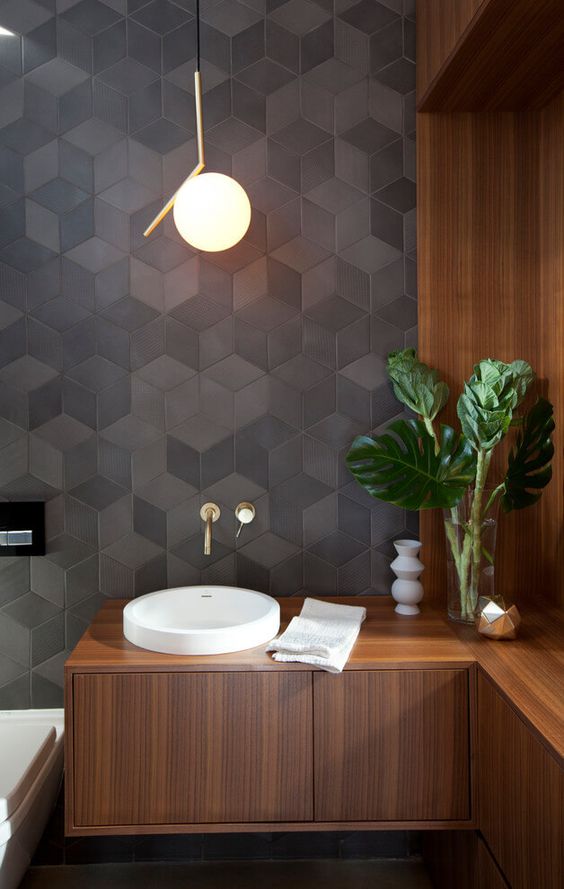 The vanity above and below are two of the most unique ones I've seen teamed with eye-catching lighting design. But if it's vanities you're after, here is a collection of some of the best bathroom vanity ideas out there.
22. Here's looking at you, kid
Pink marble, candy pink walls and a row of frosted white bulbs? It's not to everyone's taste, of course. But this powder room has a distinct vintage cinema vibe going on.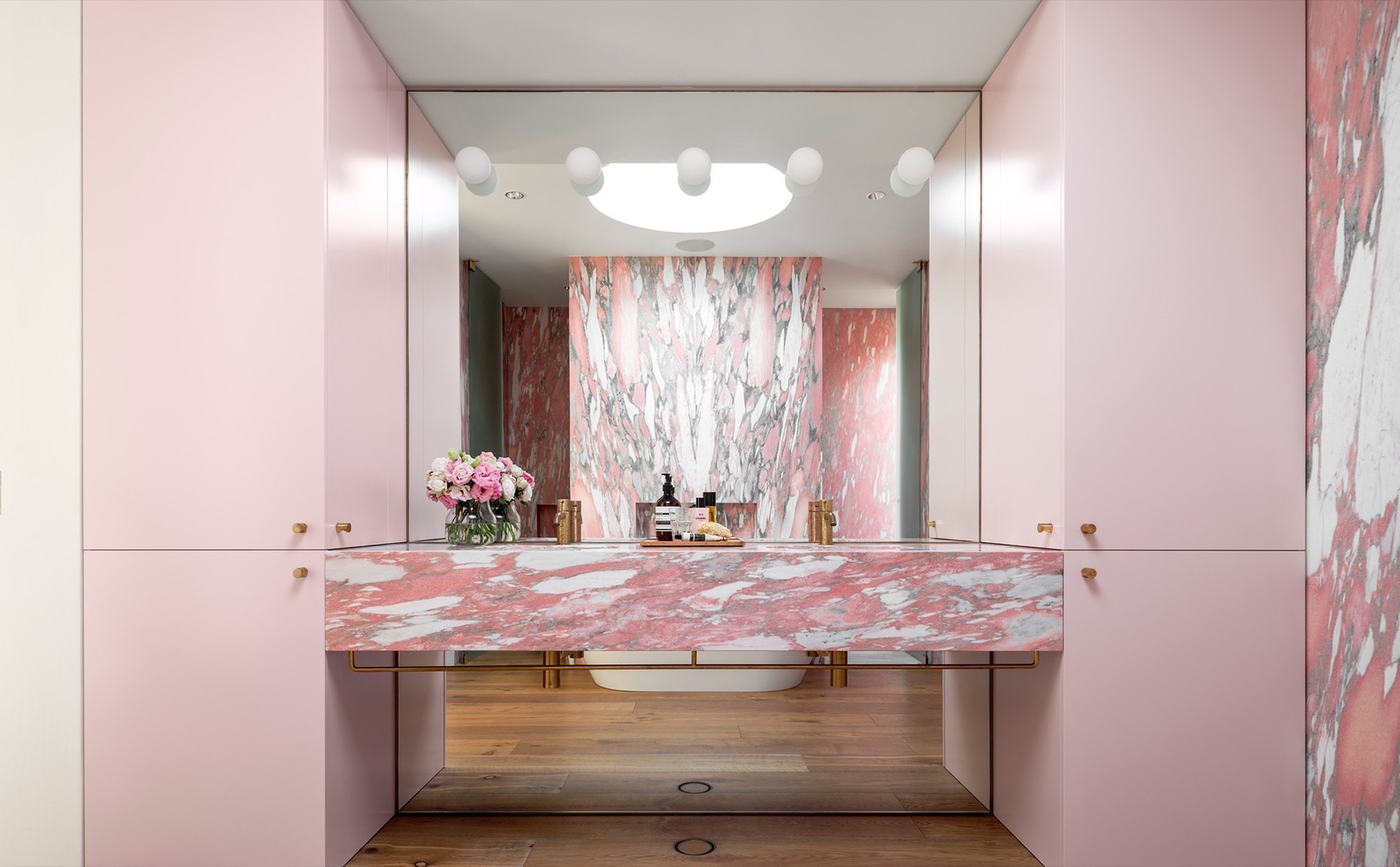 23. Go retro
Give a nostalgic nod to a brightly tiled bathroom by adding a quirky, vintage plastic light fixture.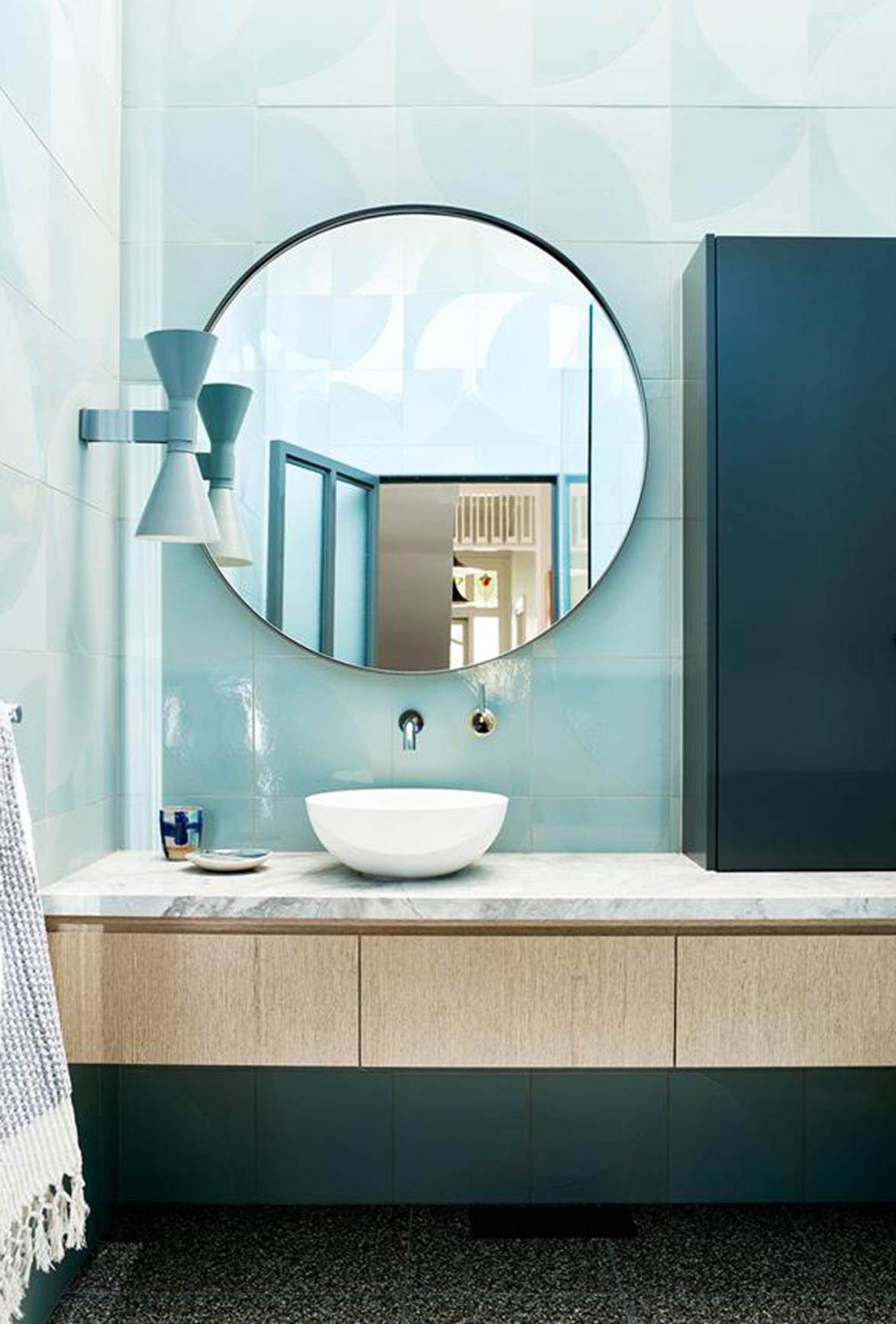 24. Use lights to go industrial
A mid-century style appropriated and repopularised by 1980s romcoms and all their stunning "apartments in the meatpacking district of New York", industrial-style interior design is still going strong well into the new millennium. Here's a lovely style that would suit lots of homes.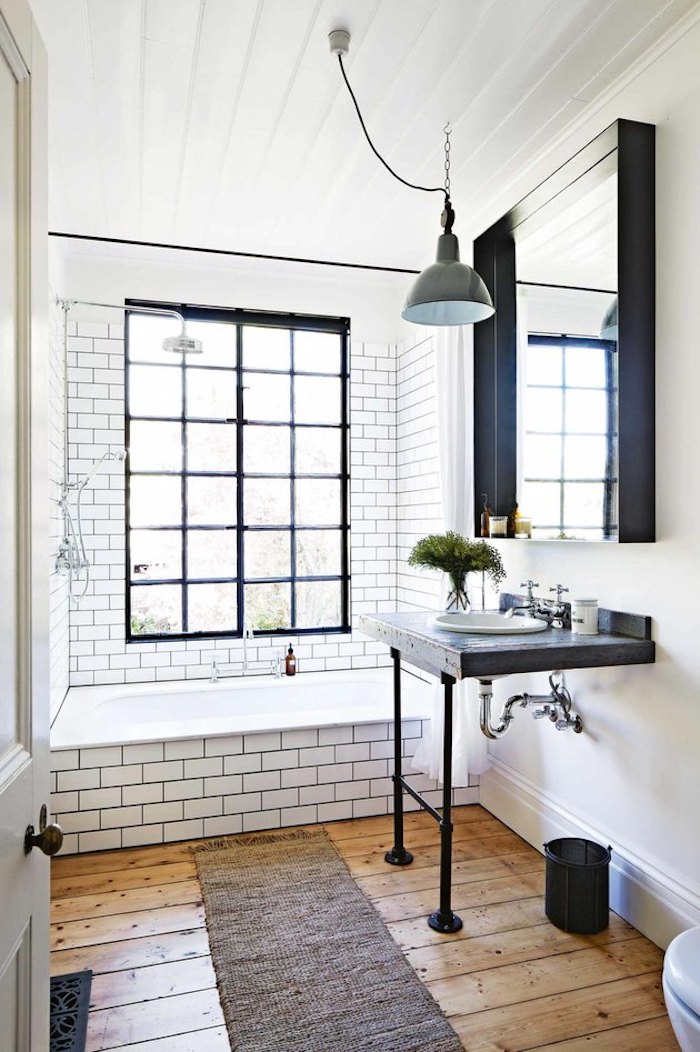 Pendants, bulbs or sconces?
25. Stand out with a black metal pendant
The industrial vibe of this bathroom's subway tile is reinforced by the black metal mini pendant, as well as the touches of timber. Light is amplified by the glossy white subway tile.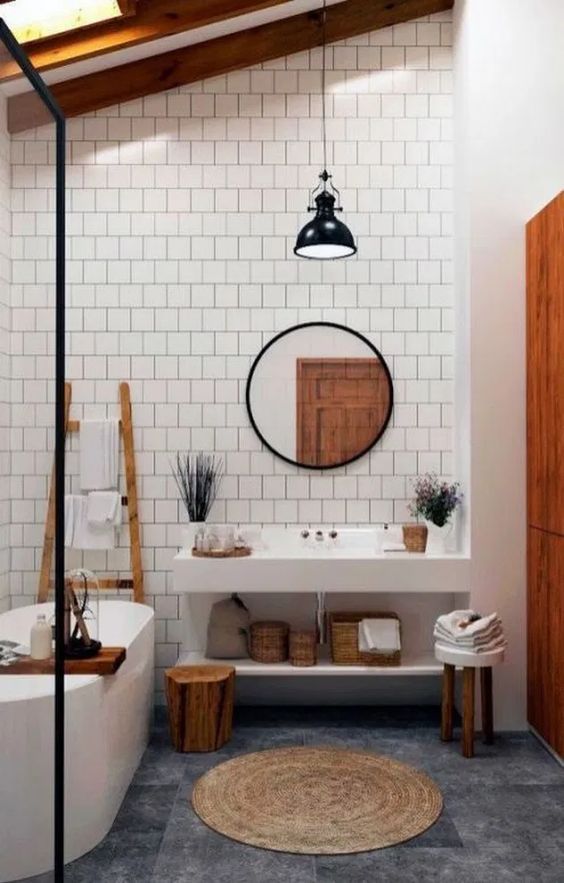 26. Black tile and dangling pendants
Below, hanging glass pendants contribute to the clean lines of this mid-century modern influenced bathroom. Light is bounced around the space by an adjoining bright-white wall and a mirror cabinet.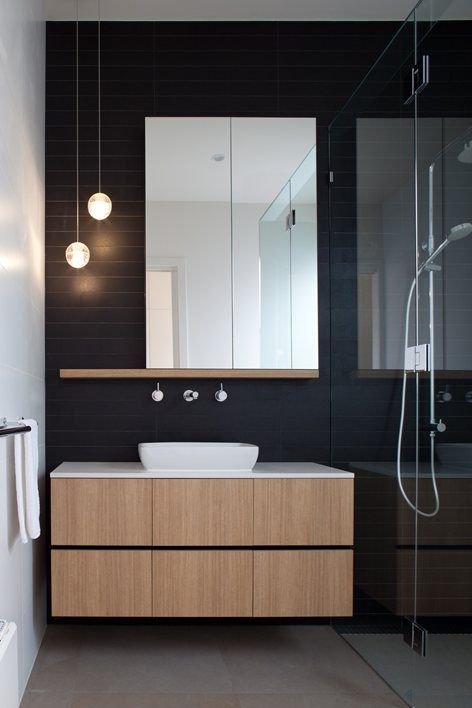 27. Hang Scandi-style light bulbs
Apart from sconces and pendant with shades, you could also go for the exposed bulb look. Revealed bulb fittings make good duty lights while creating a gentle, unobtrusive ambience. In this timber and white kitchen, the classic bulb has the necessary simple rawness to pull off a Scandi aesthetic.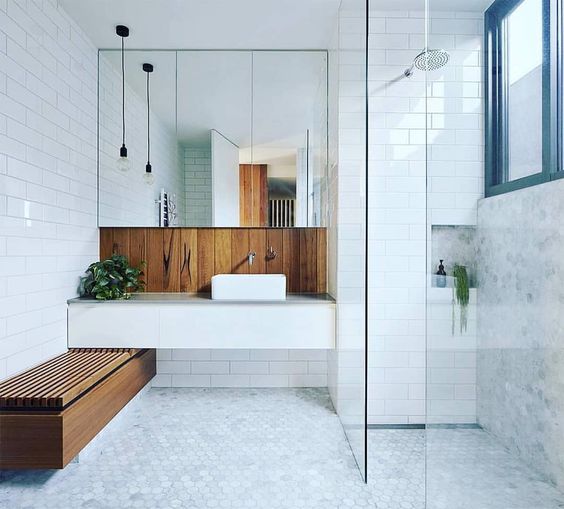 28. Group pendants
Multiply the impact of a glass pendant light by hanging a cluster of the lamps above the vanity. Here, the fitting has an almost chandelier effect and is quirky enough to go with the somewhat kitsch hand towel holders.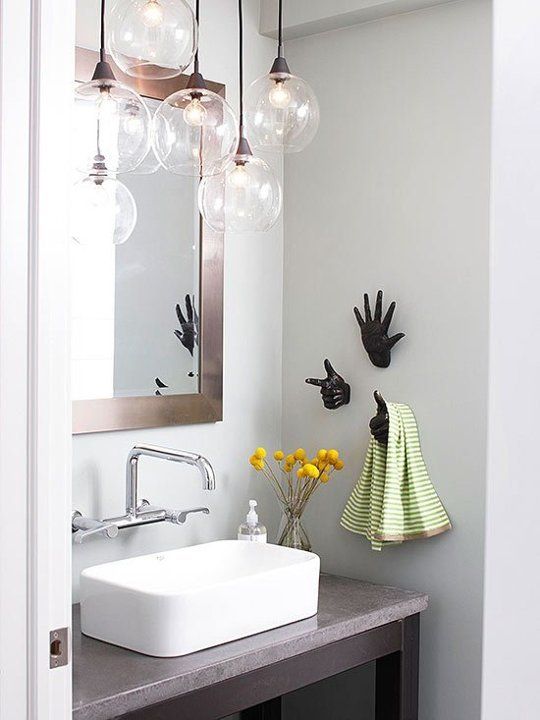 29. Add sconces for task lighting
A pair of vintage sconces either side of the mirror offers the best lighting for intricate beauty tasks, as well as having a decorative effect. You can add a lot of personality with a pair of vintage sconces. Here, classic Parisian glamour of yesteryear is evoked with an ornate antique mirror and antique sconces either side. Add fresh flowers, play a little Edith Piaf, et voila!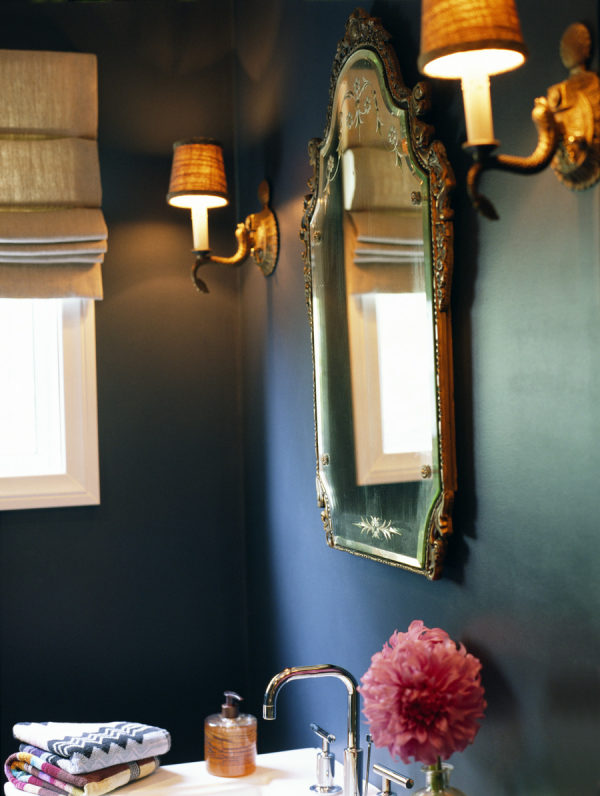 30. More sweet sconces
Here's another romantic, feminine powder room setup, with a couple of delicate side-mounted sconces softly illuminating the vanity.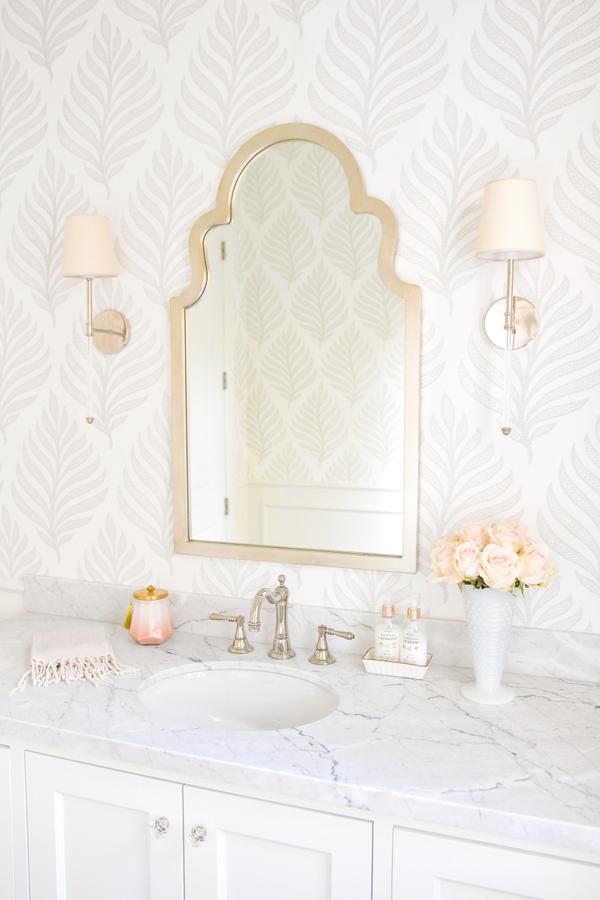 31. Minimalist sconces
Sconces don't have to be beside your mirror. Here, a pair of black and white ones have been mounted above it. Their light is gently diffused enough not to cause nasty shadows on your face.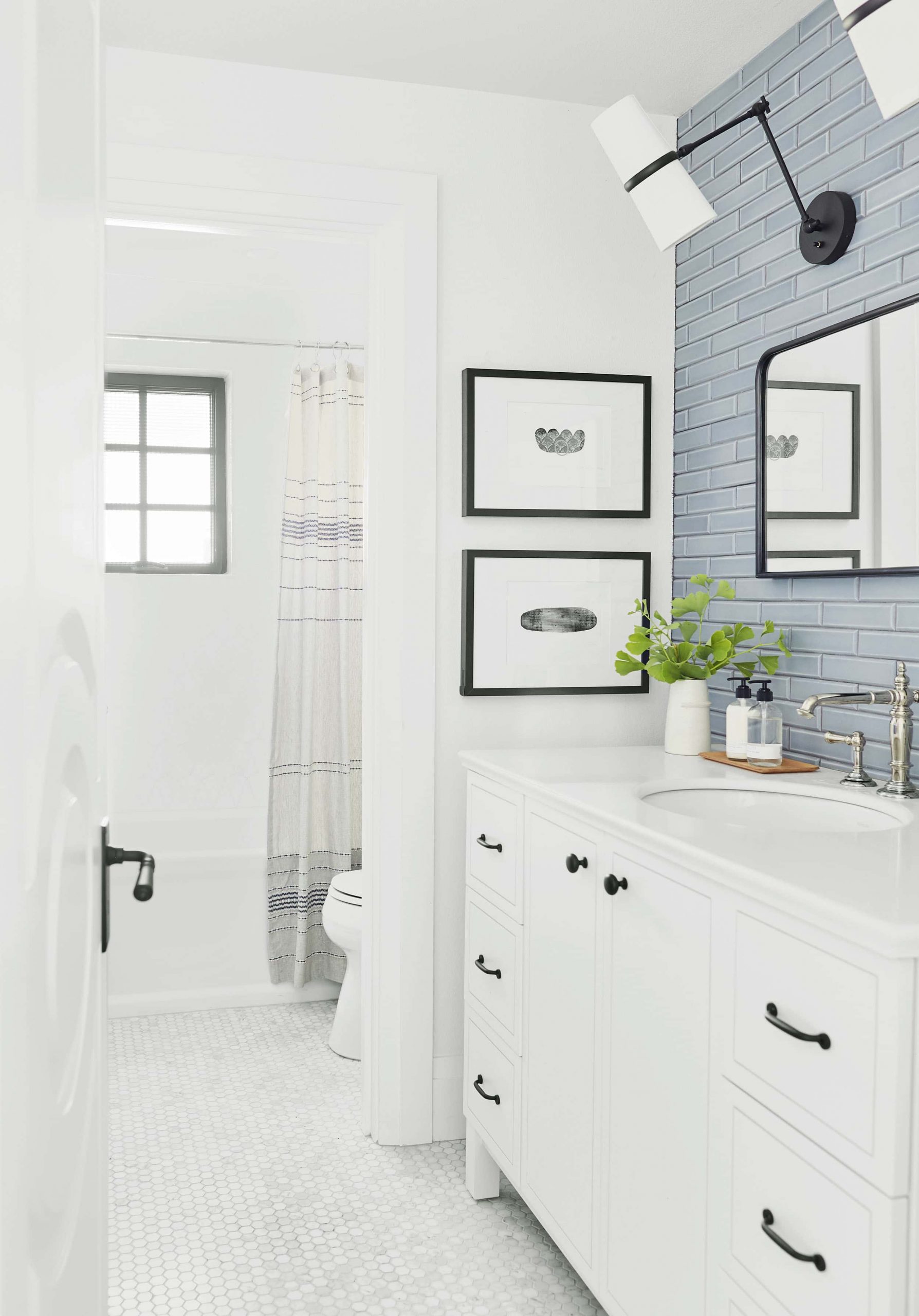 Some extra inspo
32. Cove dwellers
You could try cove lighting, where lights are embedded in recessed cabinets or ledges. This kind of lighting generates a good amount of ambient light but it can also act as accent lighting to highlight curated objects.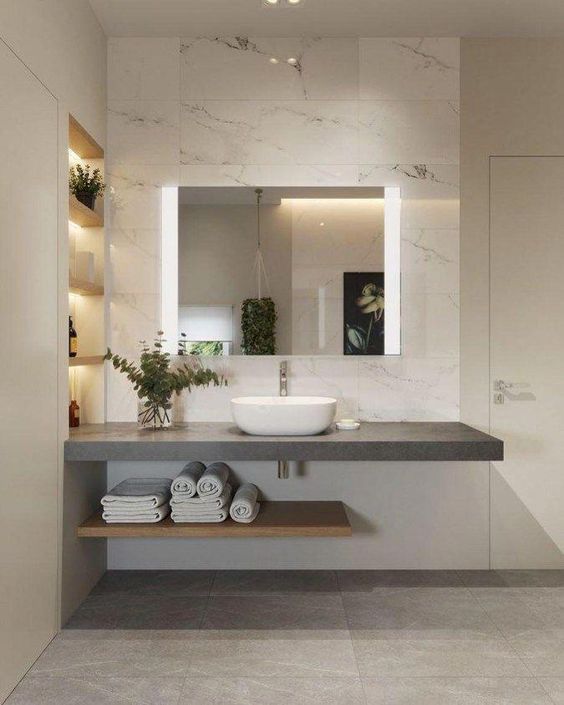 33. Well-spotted
Another option is to install spotlight-style downlights. These are good for general ambient lighting, offering a comfy level of brightness. Just avoid having them directly at the vanity or mirror because of the shadows they create. Having said that, they can make great task lighting. Here, they provide strong, directed light for the toilet and shower areas. I love the timber panelled shower.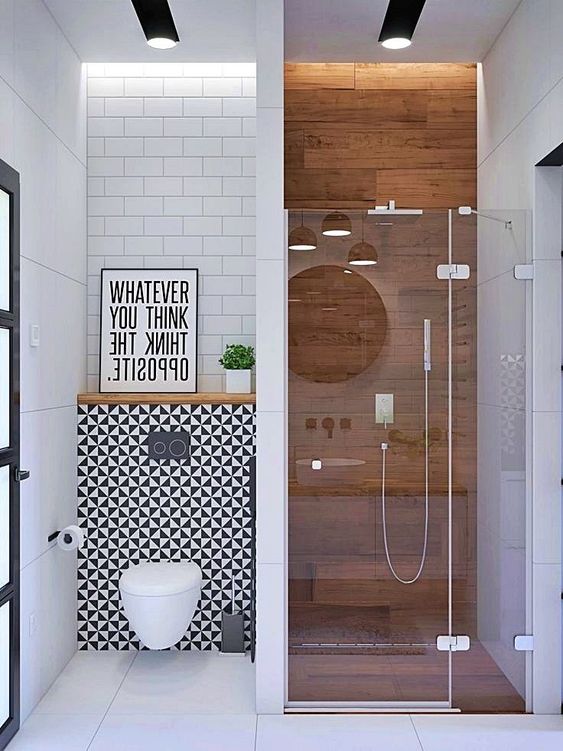 34. Don't be afraid to overdo it
Add some wow with a statement light. You can't go past a chandelier. They add some fun and whimsy to your bathroom and can make you feel like royalty. What's not to love? Best for bathrooms with decently high ceilings, although typically oversized they're surprisingly inefficient at producing ambient light. As such, remember to layer up your light sources til you have the right amount of illumination.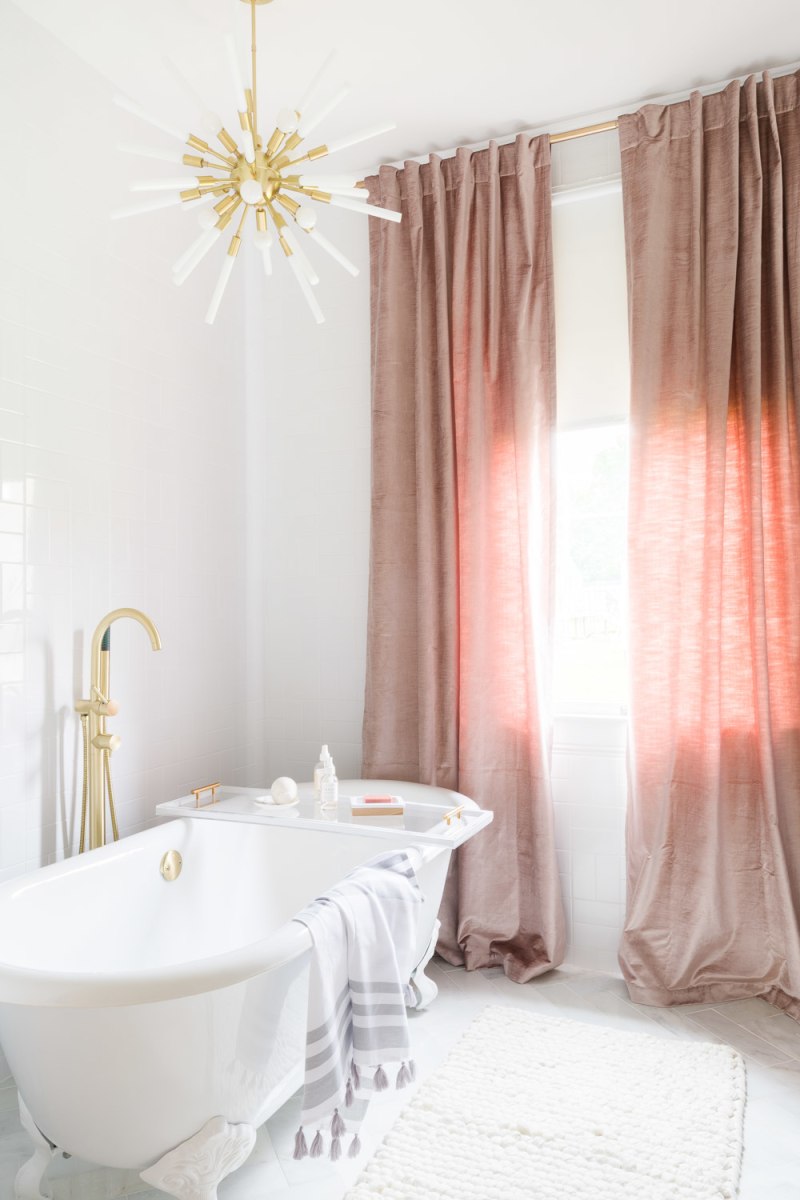 35. Create drama with a historical vibe
Well, if you're going to drop the cash on a freestanding antique marble tub, you may as well go full Medici with an enormous 18th-century painting and a vintage Italian crystal chandelier (there must be some on Gumtree now and then, surely?!).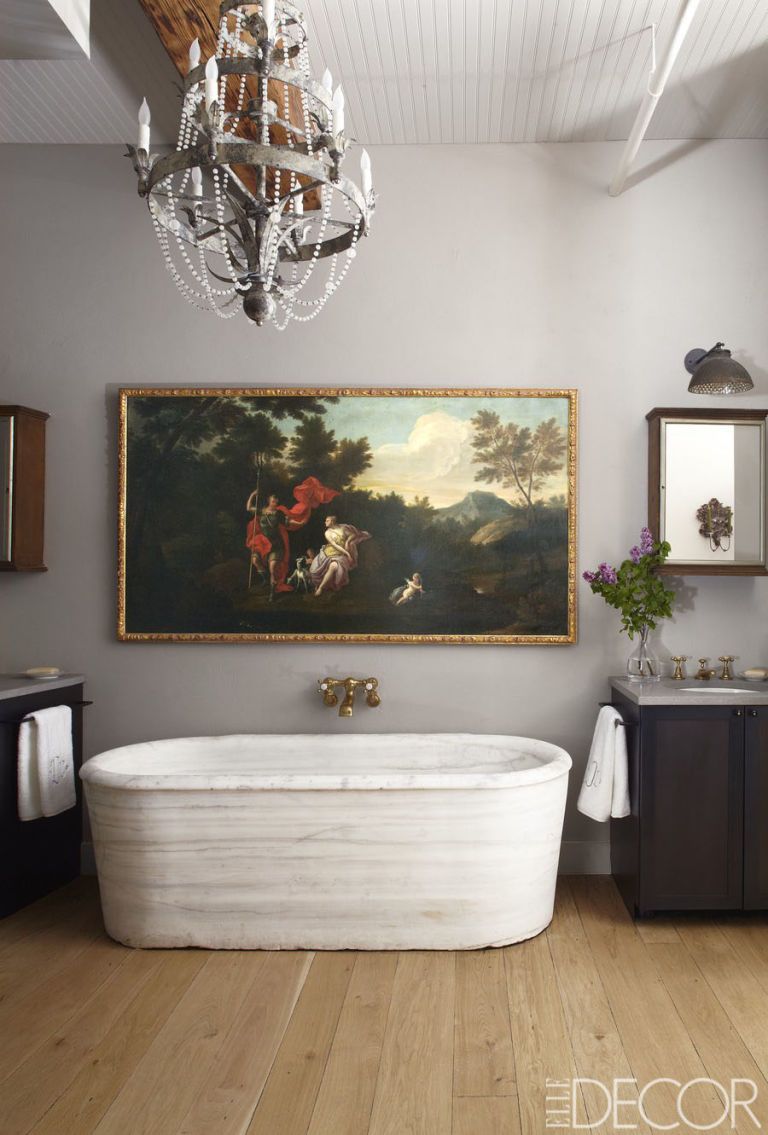 Meanwhile, back in reality – if you salvage an old bath you might need help with some bath resurfacing it.
Bathroom lighting trends in 2020
36. Be bold with brass
The brass revival is continuing in 2020. It's one of those rich materials which has an instant sense of luxury about it. It pairs well with classic materials like marble while suggesting a vintage industrial aesthetic. In this bathroom, satin-brushed brass taps complement understated brass wall sconces above the mirrors.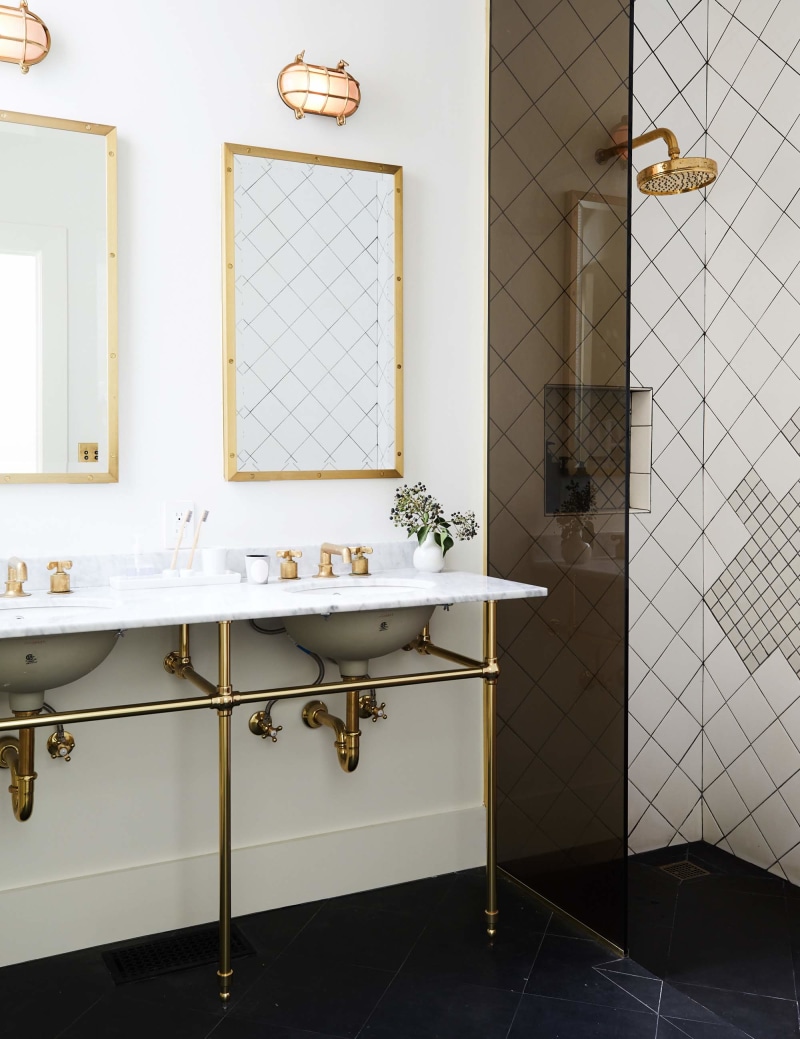 37. Mix brass + Scandi
For a simple everyday luxe, mix brushed metal sconces in a gold-tone and match to the mirror frame. This looks clean and inviting but also a little bit fancy when complemented by a warm timber cabinet.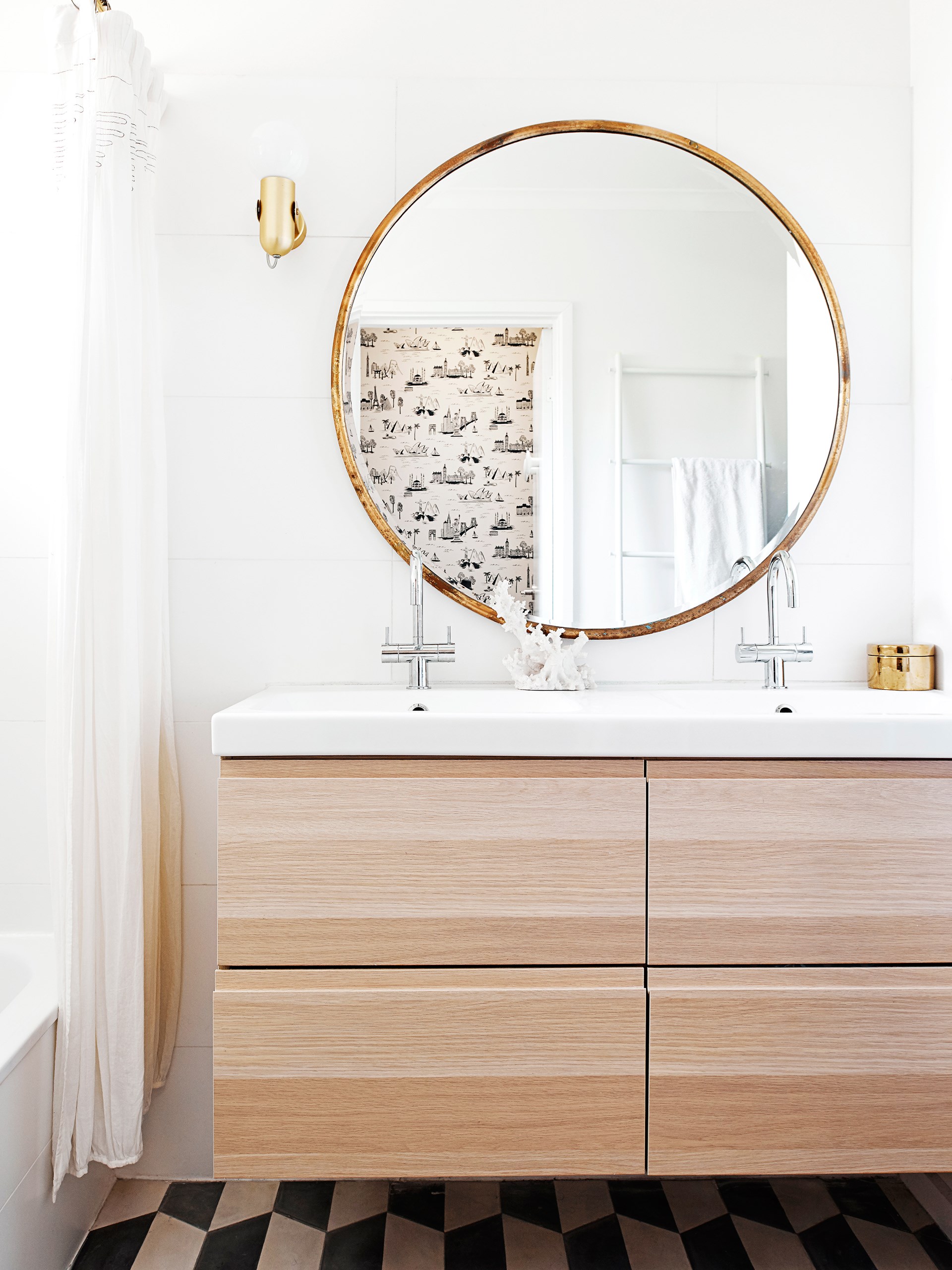 38. Copper tubes
A vaguely industrial tone to this simple Scandi bathroom thanks to the asymmetric copper tube lighting. Rustic timber and wicker, with a grey geo tile feature wall, lift the space from blah to star.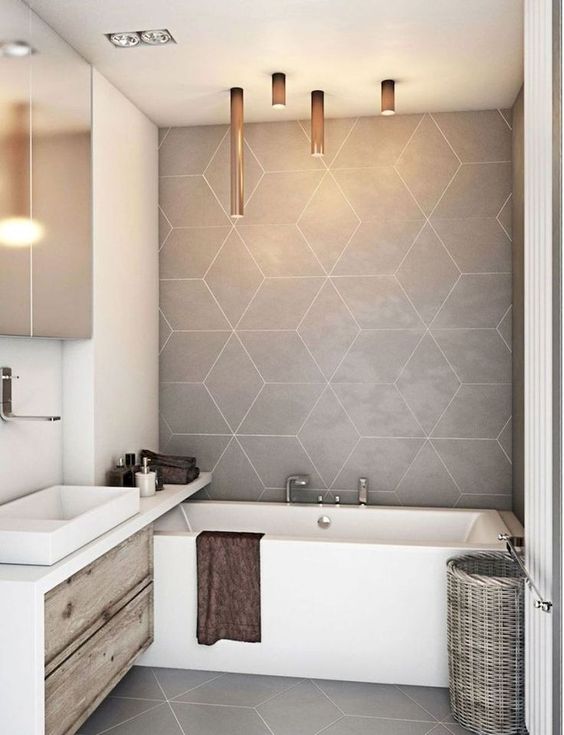 39. Embrace glass
Large glass exposed bulbs command attention in this otherwise minimalist bathroom. The statement bulbs help break up the repetition of the tile pattern and stop it from being monotonous.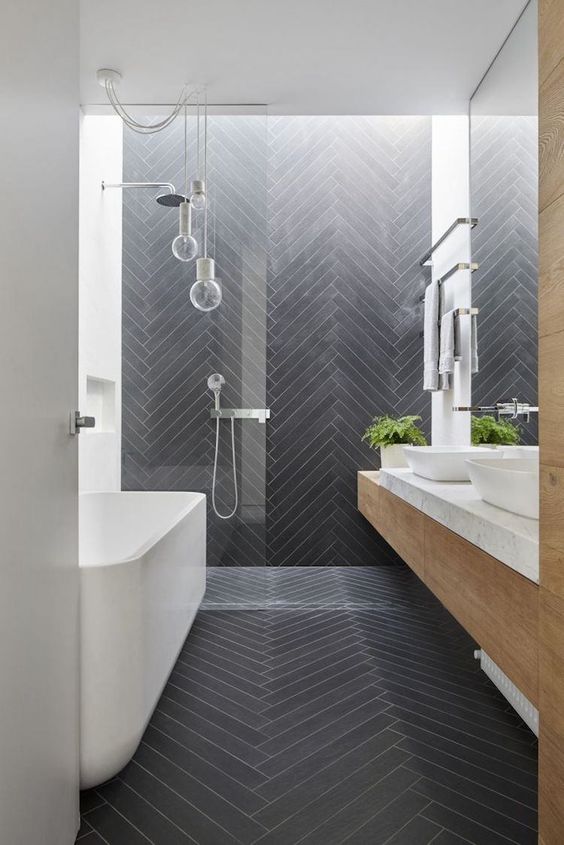 40. Silver statement light
Don't be afraid to experiment with your shades.  This large, brushed silver, industrial-style pendant gives this vanity area plenty of personality, its retro styling reflected in the vintage cabinet.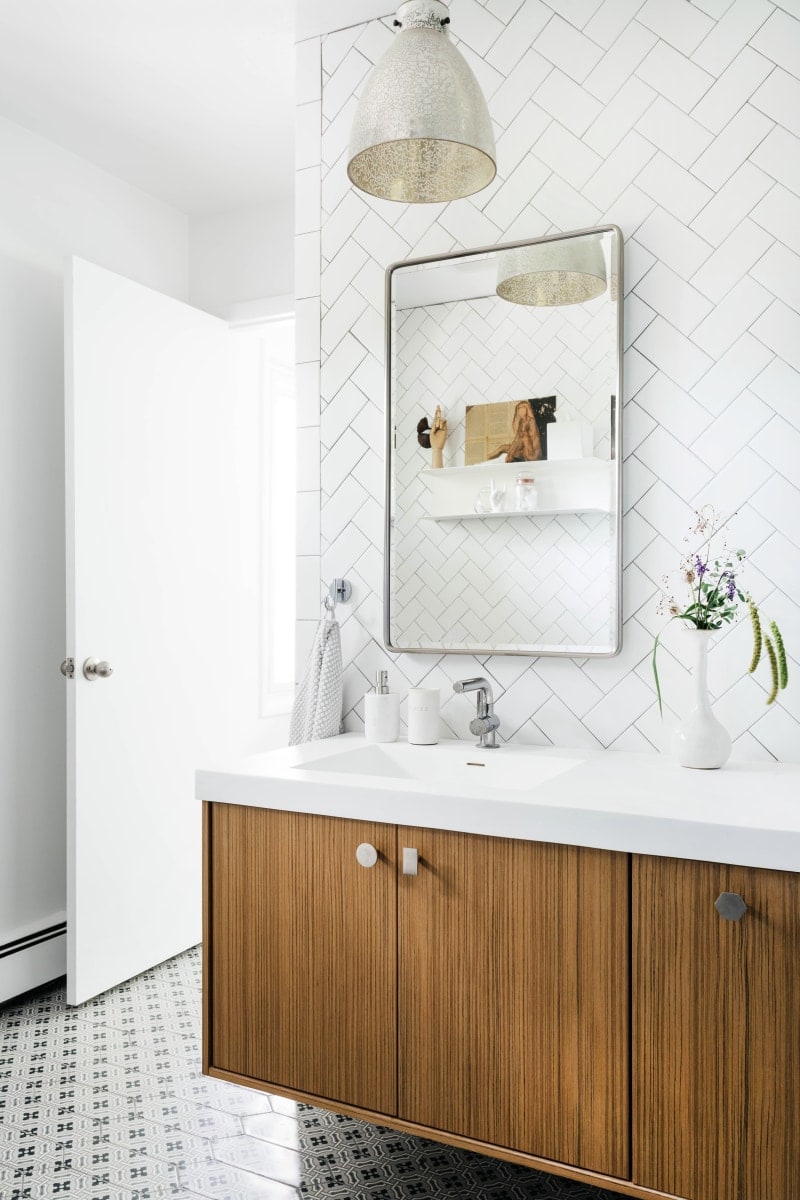 41. Go for bespoke
Finally, go beyond these bathroom lighting ideas and get exactly what you want by working with a lighting professional. Together you can create a custom lighting systems within your constraints and the boundaries of your imagination. As well as online searching for someone in your area to take your bathroom lighting ideas to, try asking your electrician for a recommendation.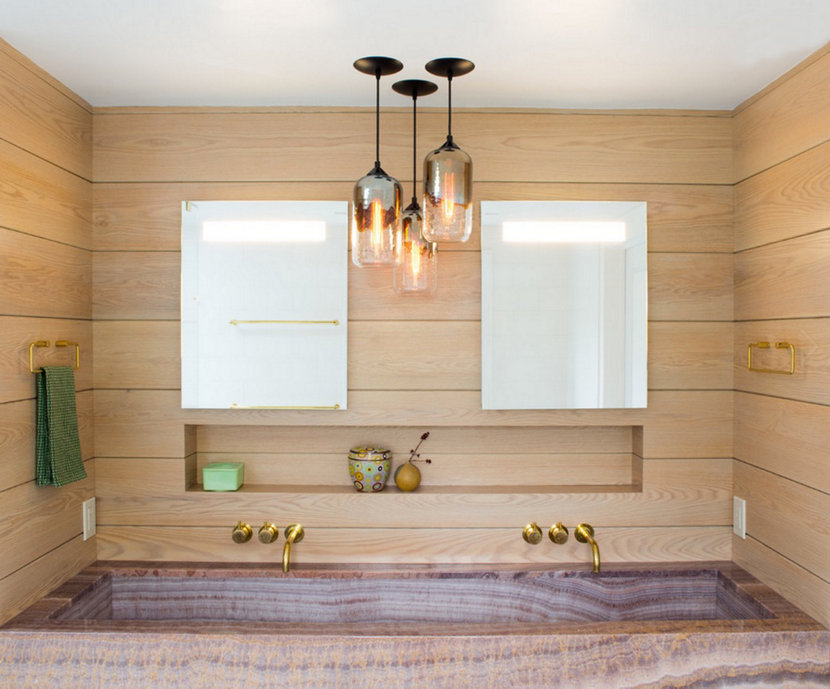 All in all, our trawl of bathroom lighting ideas proves there's clearly a ton of choices available for you to consider when it comes to upgrading your bathroom lighting, whether you're renting, renovating or building.
I know which of these abundantly stylish bathrooms appeal to me, but over to you — which bathroom lighting ideas align most with your taste?  Let me know in the comments below!
My bathroom needs work, how much will it cost?
If these bathroom lighting ideas have inspired you and you are thinking of updating your bathroom, you might like to have a go at estimating how much your dream bathroom rejuvenation will cost. Our price guides can help. For example, see:
If you're planning to remodel your whole bathroom, you're probably also thinking about things like bathroom flooring, waterproofing and ceiling fan installation.
Need more inspo first? Try our recent blogs covering modern house designs and general bathroom design ideas.