A couple of years ago, the international association of colour design professionals, Color Marketing Group (CMG), announced four key colours it was forecasting to emerge in global markets in 2020. Now that we've arrived in the future, have the predictions actually come to pass? It certainly seems like it when it comes to bathroom color schemes.
It's a bit of a chicken and egg question though, isn't it? Forecasters predict colour directions two years into the future. Then, designers, manufacturers and retailers get busy, and soon enough, the predicted colours are appearing everywhere.  Are colour forecasting groups generating trends or just reporting on the trends that are organically arising??
But anyway, here are the colour trends that CMG decided would be huge this year. Given proprietary names, they are defined as:
"Electrum" – a green influenced gold metallic;
"Ver-de-verdad" – a lush, forest green;
"Seed of life" – a warm, neutral beige; and
"Feel real" – a pinky, earthy brown.
Why these colours? According to Sandy Sampson, CMG's vice president of public relations and communications:
"Each of our four key colours is influenced by nature, climate change and a desire for sustainability," she says. "Consumers are aware that they are in control of changing their perspectives to better their world. These colours emotionally and tactilely touch us. We are shifting to live in the moment, be real and be proactive with awareness and knowledge."
And you thought forest was just a lovely shade of green.
CMG isn't the only colour forecaster. For instance, I'm sure you've heard of the Pantone Color Institute, another very well-known global colour forecaster. Their "Color of the Year" for 2020 is Classic Blue. And their prediction regarding interior design colour trends? We're going to see this blue among others in a predominantly coastal colour palette. So, I'm going to take a quick look at how this colour trend is being expressed in bathrooms as well.
But enough theory, let's take a look at over 45 examples of bathroom color schemes predicted to make us swoon this year and hopefully give you some inspo for your bathroom remodel!
Gold
The use of gold metallic, especially one a greenish element and a chameleon-like hue-shifting effect, is said to symbolise "the complexity of the future". It also creates a sense of everyday opulence and luxury.
1. Metallic mosaic tile
Although the use of mosaic tile goes back thousands of years, modern technologies have enabled manufacturers to create all kinds of jewel stone and precious metal effects in an economical and sustainable way. Add iridescent reflective gold mosaic tiles to your bathroom for a touch of majesty—no mining necessary.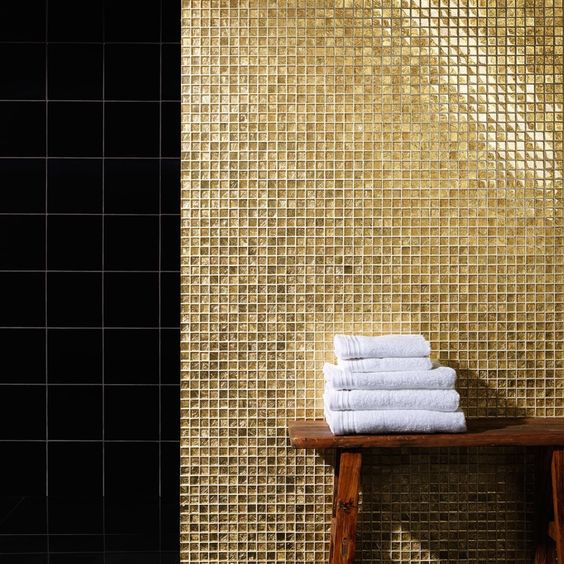 2. Subtle gold-toned touches
White is a classic colour for a bathroom, always fresh and clean, though it's important not to choose a blinding white. Decorators often choose warm whites with no yellow undertones for walls, saving the high gloss super-whites for doors and trims. Here, simple white tile is enhanced by warm metals in the taps and the shower niche border.
3. Gold feature backsplash
How about a floor-to-ceiling metallic gold bathtub backsplash like this one created from antique gold-tinted mirrors?  Bathing by candlelight would be a mesmerising experience here.
4. Grey terrazzo and gold
A perfect example of how well the addition of gold-toned metals warms up a concrete bathroom that could otherwise lapse into resembling Cell Block H. No matter how much you love cement, no one wants their bathroom to look like the local public amenities. So if you're going for the bold, contemporary effect of polished concrete, make sure you inject some luxe elements like this gold tapware, or modernise it with a terrazzo floor.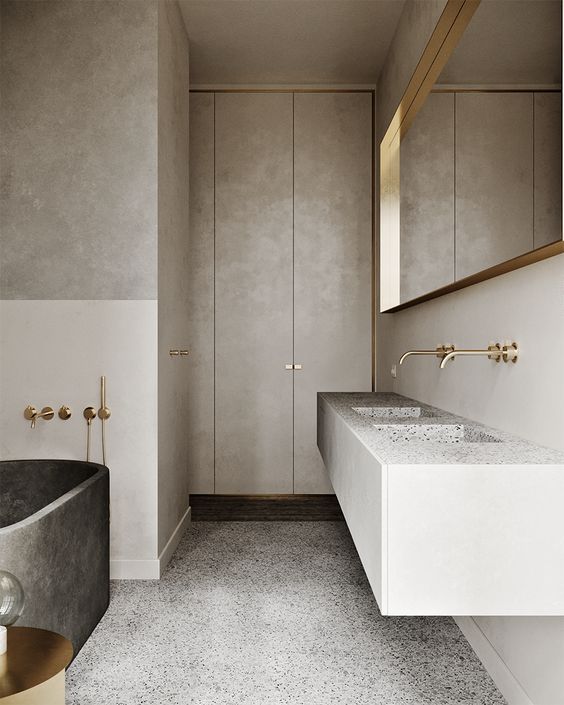 5. Charcoal and gold
This is another view of the bathroom above, just to get a really good look at that gorgeous charcoal tub and how beautifully it's accented with gold tapware and a little gold table (though the mum in me does fret a little about the electrocution risk of having a mains connected lamp sitting right beside your tub!).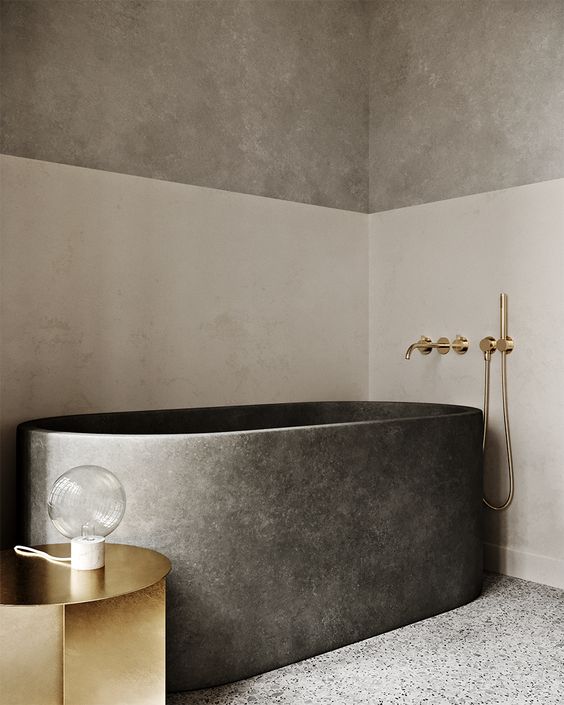 6. Gold bars
Sophisticated and classy, a gold herringbone tile like this one creates instant five-star hotel vibes.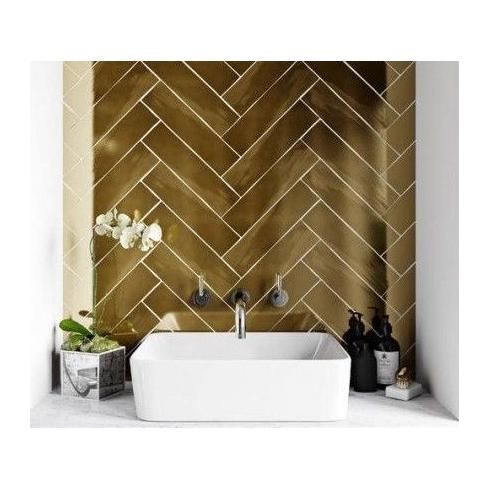 Top tip: for a perfect tiling job, maybe avoid the DIY and hire a local tiling expert instead.
Lush forest green
Greens are expressive and calming colours that offer a direct connection to nature. The forest green predicted to be popular is balanced with yellow and toned with black. The forecasters describe it as representing journeys into the healing primeval forest.
7. Green basin
You don't have to go all out and paint your whole bathroom green. Introduce a touch of forest with a gorgeous new sink, like this porcelain washbasin with its handprinted pattern in indigo blues and forest green (aptly named "Ocean Flower" by the makers).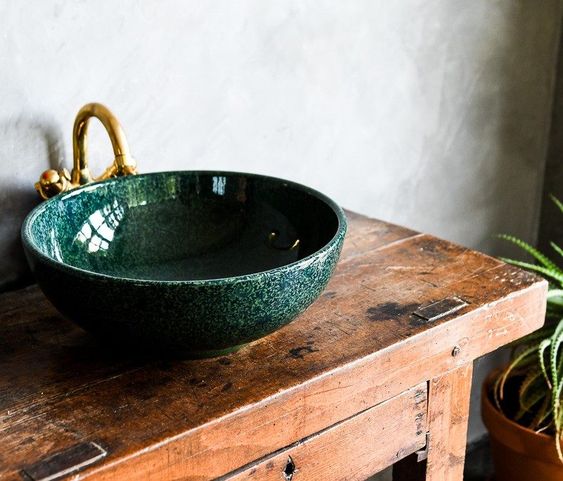 With a timber vanity, always make sure you keep waterproofing needs in mind—you can hire an expert in bathroom waterproofing if you need help.
8. Forest with gold and timber
This modern bathroom manages to combine several current trends at once. It boasts forest green subway tile walls juxtaposed with hexagons on the floor, for plenty of texture. There's warm brass tapware as well as on-trend lighter timber tones, a circular mirror and a statement light fitting that complements the tapware.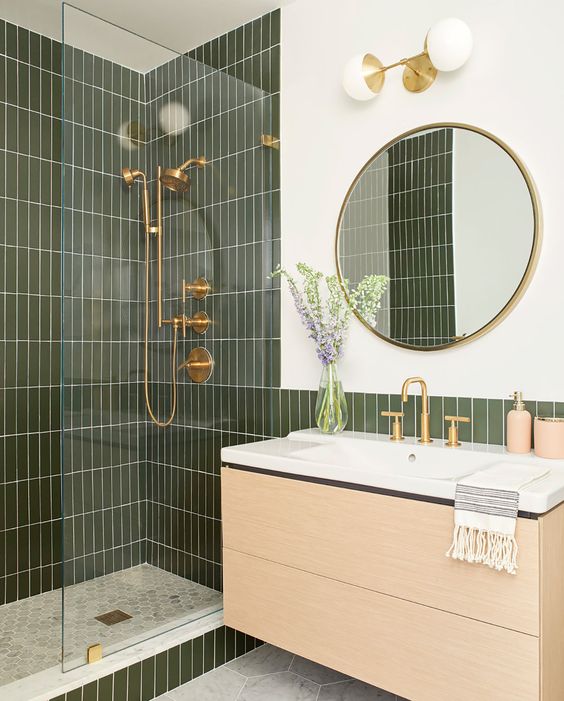 9. Sea-green herringbone tile
If you're not over herringbone, it's still a great way to highlight tiles with tonal variation. This creates even more texture and visual interest.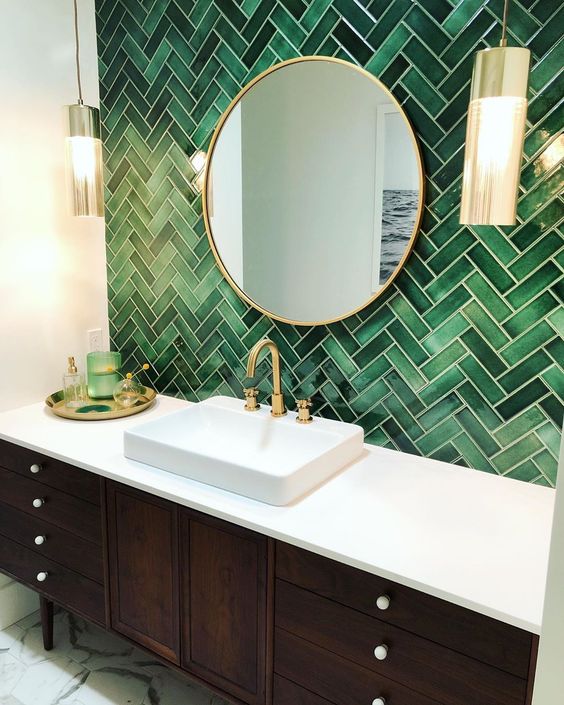 10. Green tile, copper bath
This eccentric setup is within a hotel in Amsterdam which offers guests accommodation in "curiously exceptional spaces". With a copper bath and a bathroom fireplace, it definitely has a lot of atmosphere! But will you check out those stunning tiles!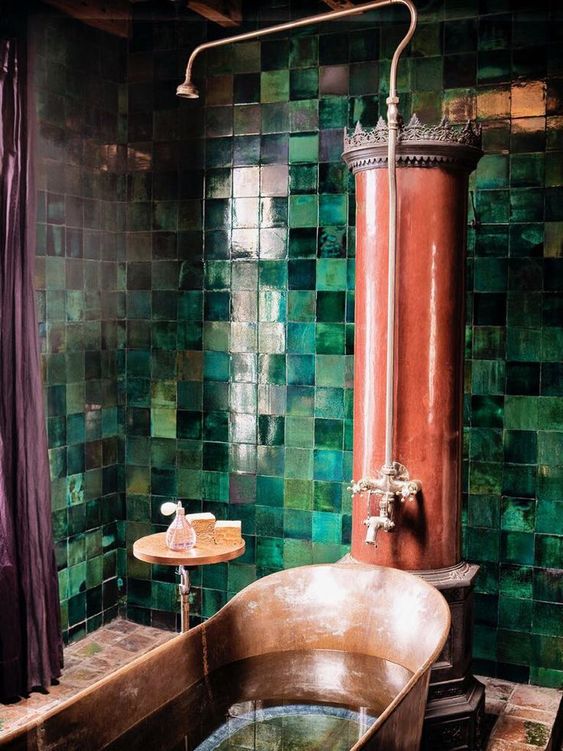 11. Grass-green tile
To me, this modern look is basically a formula:  black framed round mirror + statement light + unusual twin sinks + floating timber vanity + textured tile. But even bathrooms boasting this style can appear unique and original through the clever use of colour. Here a gorgeous grass green tile is contrasted with baby pink sinks and plenty of grey.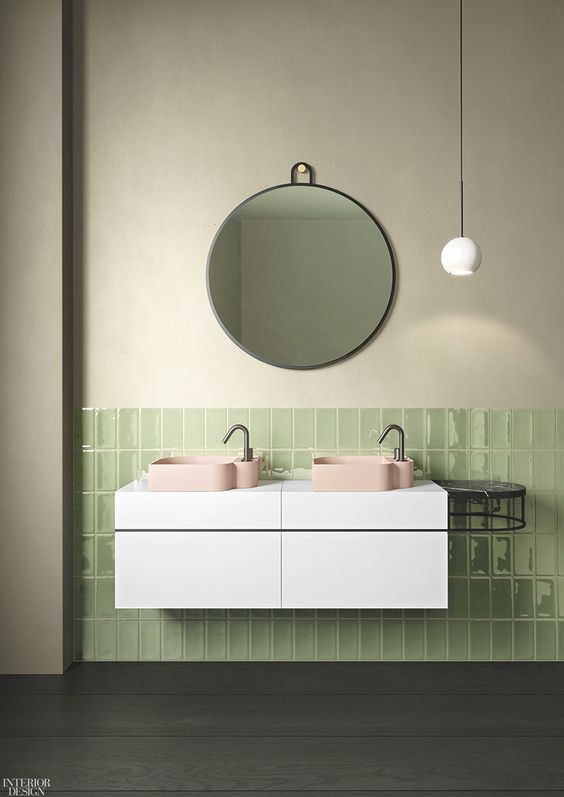 12. Cloudy green suede
Rather than paint the walls a solid block colour, choose an unusual wall painting technique to add dynamic texture and depth to a plain coloured wall. Consider techniques like sponging or Strié, the French name for the streaking technique that creates a linen-look effect. Or, consider a colour wash, as has been done here.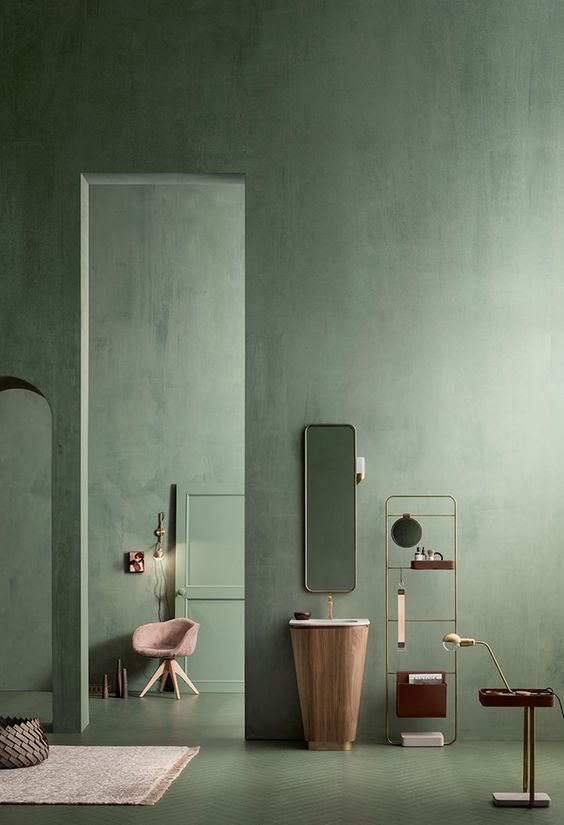 13. Mint subway tile
An ever-popular modern bathroom look, classic rectangular subway tile isn't going anywhere in a hurry.  I love this serene shade of green, especially with the black accents in the shower and tapware. And the addition of a trailing pot plant, a cute vintage print opposite the mirror and some accessories in a lovely tactile natural material like rattan, stop this plain modern bathroom from being boring.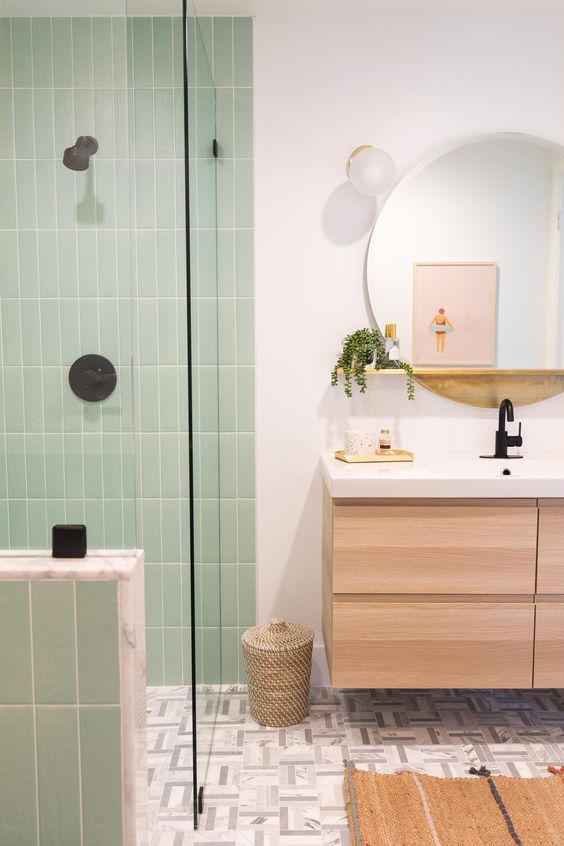 14. Emerald hexagonal tiles
With a tile like this, it's ALL about the colour.  OK, and the texture. The hexagons satisfy our need for a pattern, while the tonal variations of the shimmering tile create depth and texture.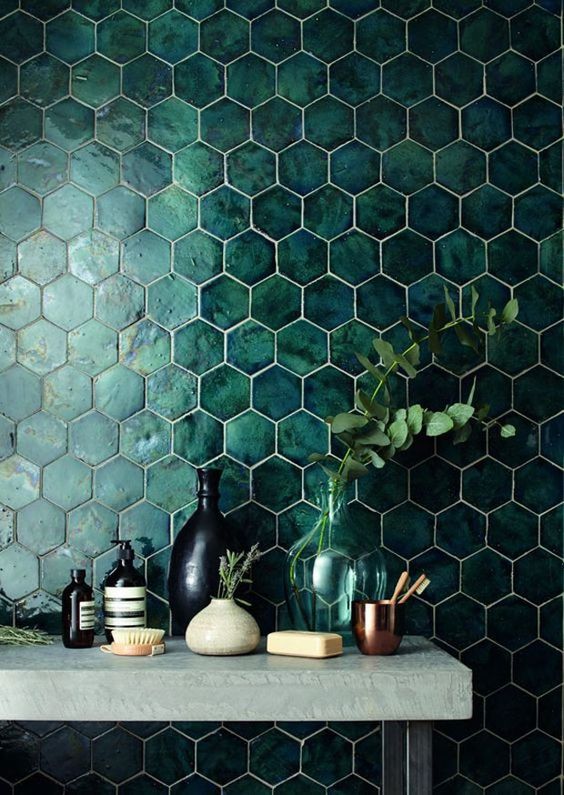 Warm, natural beige
The versatility of neutrals like beige means they will really always be popular. The colour forecasters are framing the use of warm beige as a nod to the origin of life, returning to our roots, countering the busyness of daily life and finding simplicity and calm. Warm beige is also an important part of the Australian coastal decor style, amongst many beautiful Australian nature colours.
15. Natural palettes
Choose warm neutrals (like beige, tan, chamois or pale oak) and add natural stone like marble, allowing the neutrals to pick up the marble vein. Mix in pale timbers, greenery in natural planters, and organic fibres in your accessories. And keep it all simple and uncluttered for the ultimate in serenity.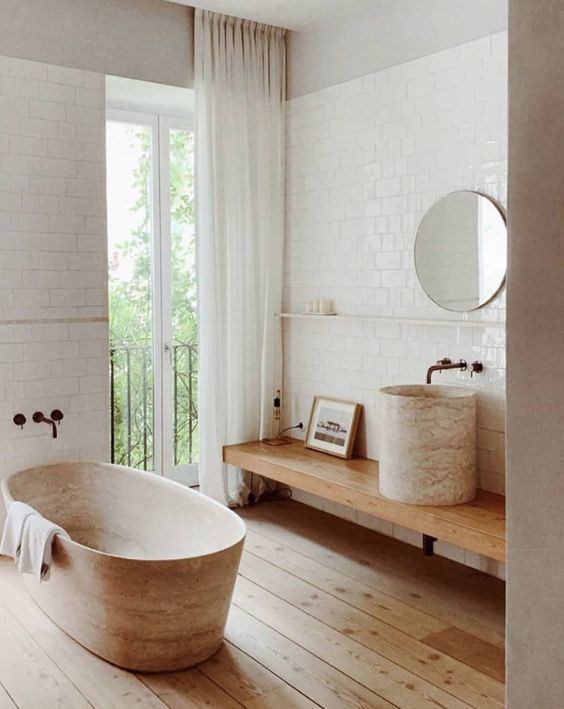 16. Grey and natural
Light grey is a lovely crisp neutral that goes well with natural tones. It also pairs really well with marble and other bathroom stones. Here, very pale grey flagstone pavers mix with clean white subway tiles, a pale grey clawfoot tub, and a few bursts of natural colour in the accessories on the ledge.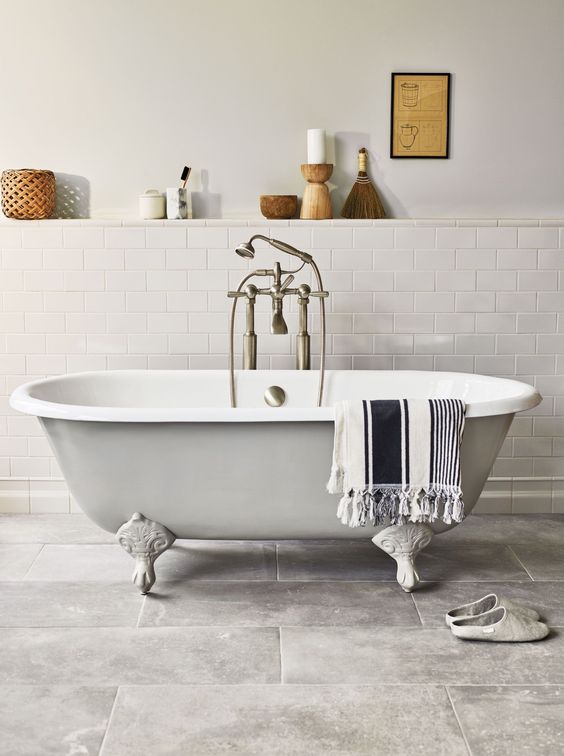 Does your bathtub command centre stage, like this one? Make sure it's looking tiptop by having a tradie come and look at a bath resurface.
17. Nature colours
Experts recommend starting with your stone and letting that inform your colour palette. Another tip is to source your natural stone from a local area. This bathroom features plenty of gorgeous natural stone, modernised by the pink hexagon floor tiles. I love the owner's French gold taps and unusual sink as well.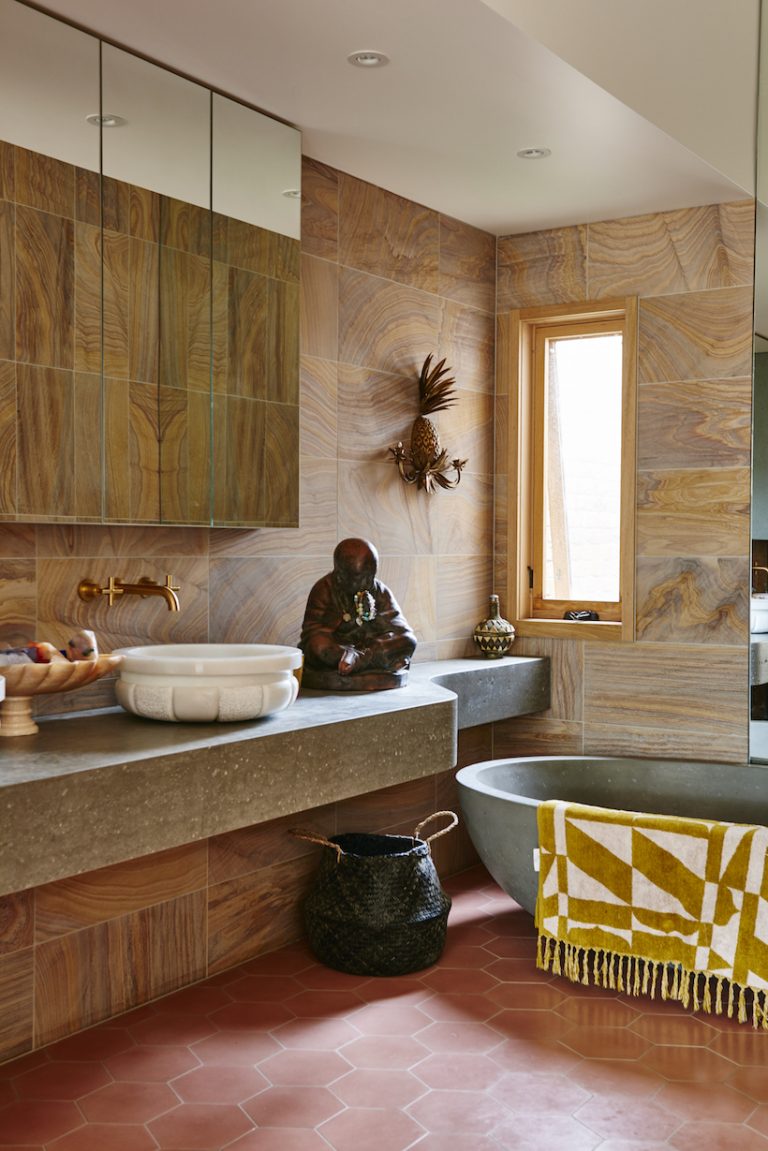 Earthy pink
The fourth predicted colour trend involves a variety of shades of pinkish terracottas and pastel roses in matte or satin finishes, which the forecasters describe as "an earth-inspired brown that's visually engaging and activates the senses for scent and touch" and "a colour for life's journeys and experiences".
18. Earthy pink walls
In this bathroom, an ordered colour palette has been developed based on the floor tile.  The vanity, light fittings and tapware are all the same shade of charcoal seen in the tile, while the walls have been perfectly matched to the pale terracotta shade. I love the sink (is it brushed chrome or concrete?) and the way the plant life has added freeform to the otherwise neat linear, geometry of the decor.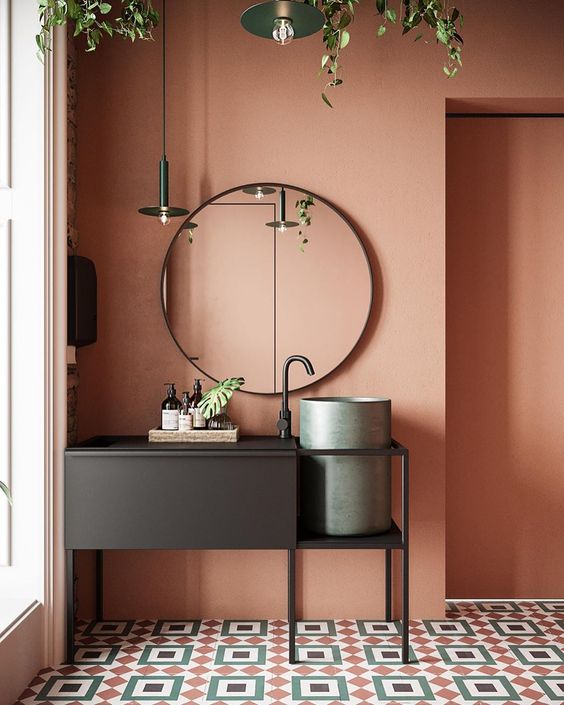 If you are thinking of changing the paint in your bathroom, you can always DIY, but for a truly professional job, you can't go past hiring a specialist local bathroom painter.
19. Pink, grey and coloured marble
A soft shade of aubergine makes a statement in square subway tile, especially when paired with a concrete sink, brass tapware and that gorgeous coloured marble vanity topper.  Narrow reed glass in the shower door adds still more texture and visual interest.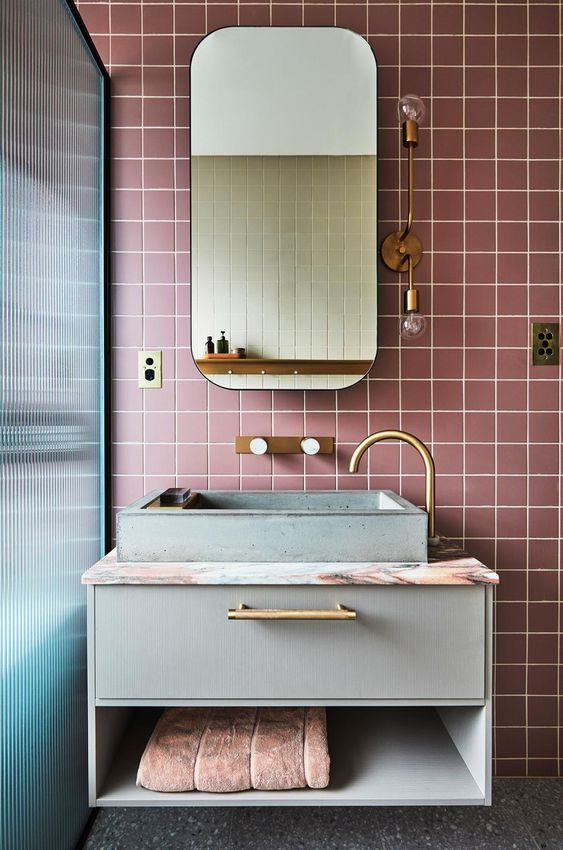 20. Peach, dove grey and sage
A two-tone bathroom background in soft pastels which allow the gorgeous green vanity to soak up the attention. I love the balance of the warm paint colour with the cool tile colour below. Black and white zigzagging floor tiles create a little drama amongst all the peaceful, soothing elements here.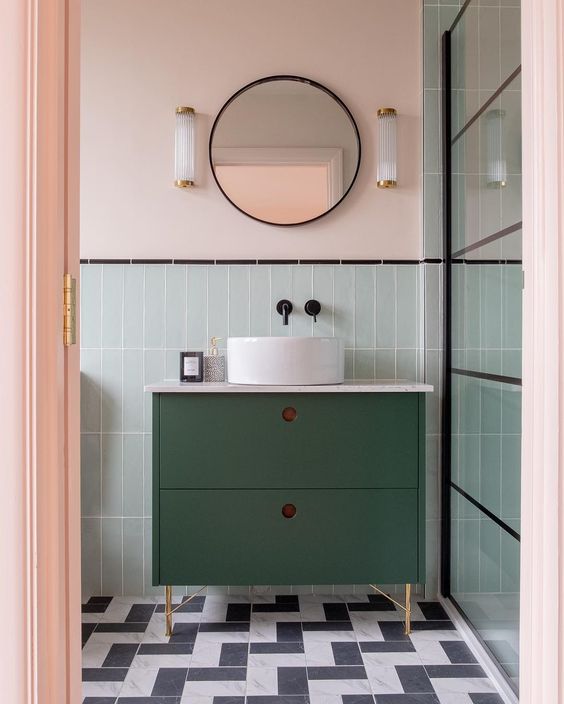 21. Earthy pink, pale blue and terrazzo
Another striking contemporary bathroom using colour in interesting ways. We've got large scale terrazzo in natural tones on the walls, a pretty pastel baby blue vanity, salmon pink sinks and brass tapware and mirror frames. The oval mirrors make a nice change from the ubiquitous circular ones.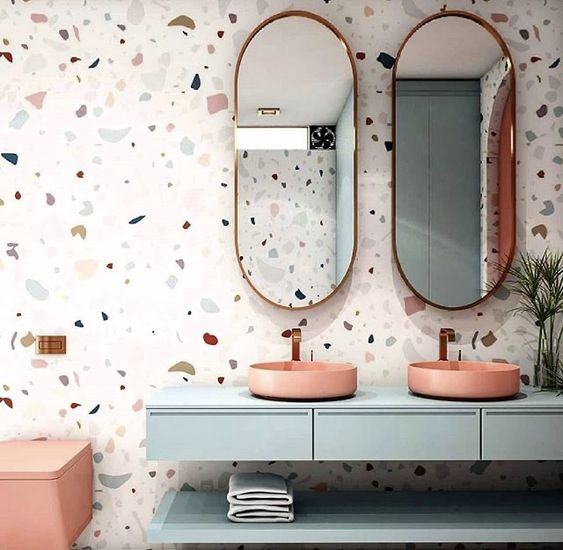 22. Pink tile floor
Gorgeous pink tiling here providing a whole lot of texture to a basic, flat white bathroom. I'm also loving the brass showerhead, the bevelled mirror and the lush fern for a pop of green.
23. Pink panelling
Dusky pink tones in the textured panelling make this feature wall a focal point. I really like the asymmetry of this bathroom, which adds visual interest to this confined space.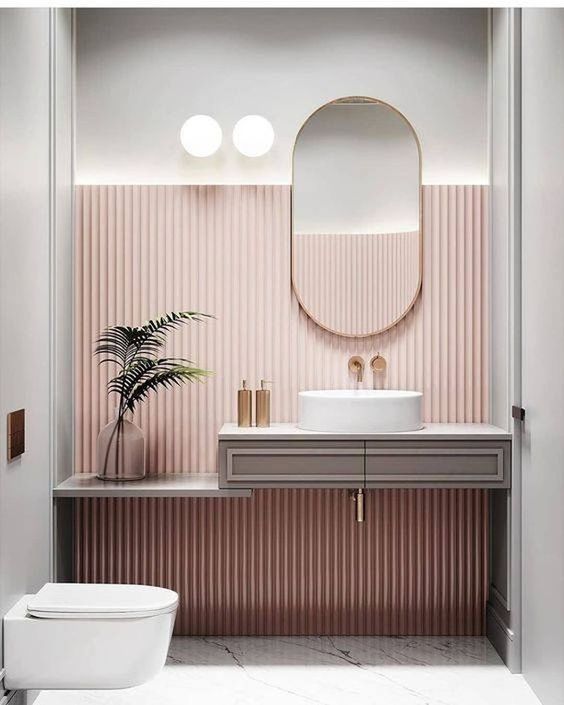 24. Mosaic pink mirror tile
You make me feel like dancing… There's nothing like a bit of shimmer and sparkle to make going to the loo a little more interesting, is there? With a mirror opposite, you can watch yourself twinkle while you tinkle (sorry, I couldn't resist LOL).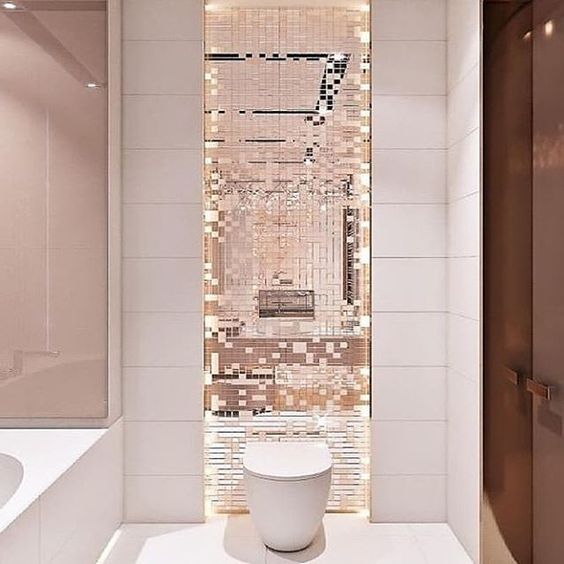 Mauves
These are not strictly earthy pinks, but I love the use of mauve in bathrooms so I'm sneaking in a couple of pretty purple bathrooms, just because. Having said that, colours like amethyst, violet, lilac and lavender are absolutely still 'nature colours', so we can just slot them into that category, can't we?
25. Lavender square subway tiles
It may not be an "it" colour for 2020, but it's definitely an "it" shape for this year—square subway tile has been gradually gaining in popularity over its rectangular cousin. Choose a soft, gentle shade of purple like this mauve and mix it with plenty of white for a romantic, clean aesthetic.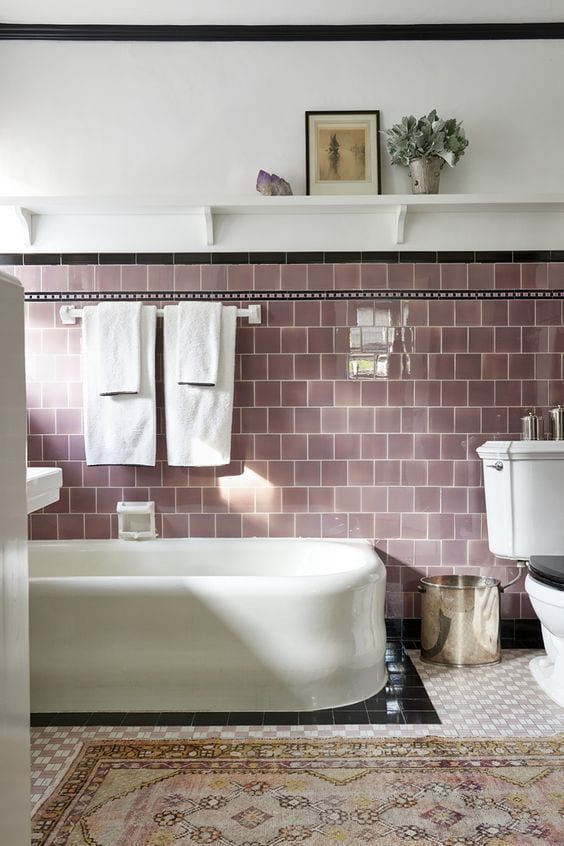 Love floating vanities? Find a local bathroom cabinet-maker to transform your bathroom dreams to reality.
Coastal blues
Water colours in a bathroom? Groundbreaking. But seriously, the colours of the sea are predicted to make a serious impact this year. As I mentioned, Pantone declared 2020 the year of "Classic Blue" so expect to see blues playing a strong role in interiors. Pantone has also contextualised its Color of the Year into a layered, coastal-inspired palette, which incorporates other beachy colours like sand, seaweed or driftwood browns as well (sound familiar, CMG?).
If you want to incorporate a blue into your bathroom colour scheme, you're not at all limited to "Classic Blue"! Other highly saturated blues like dark navy or stone blue work really well in bathrooms. Pair them with marble or white, and add warm metal tones in fixtures and accessories.
26. Blue subway tiles
White grout is a classic with coloured subway tile, creating a lot of lovely order and clean lines. Mix it with intricately patterned Moroccan tile on the floor and hang some Turkish towels nearby—simple yet striking.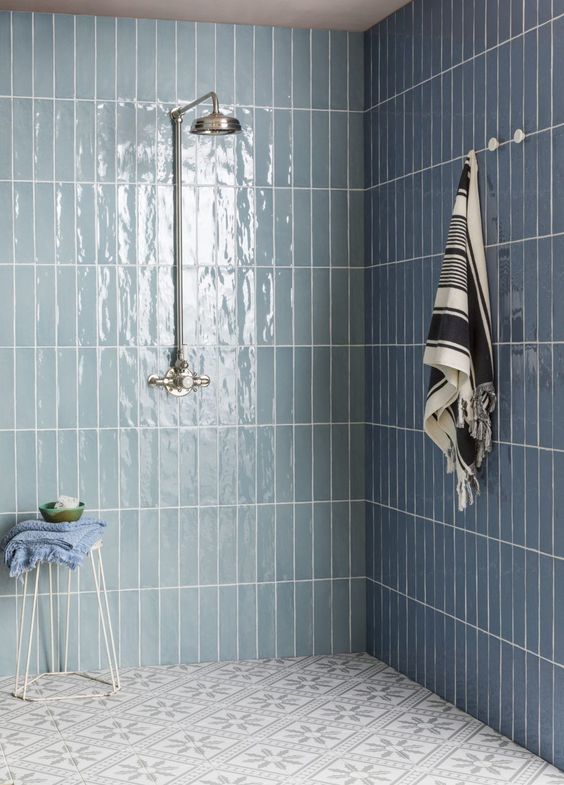 When tiles are the hero of your bathroom, it needs to be spotless. Find out how much it costs to hire someone to do your tile and grout cleaning for you.
27. Pale blue and terrazzo
Mixing black accents with pale blue subway tile stops the pastel colour from looking too youthful. And the texture provided by the soft pale grey terrazzo adds lovely depth. Building in a narrow ledge behind the vanity is a great idea to add storage space too.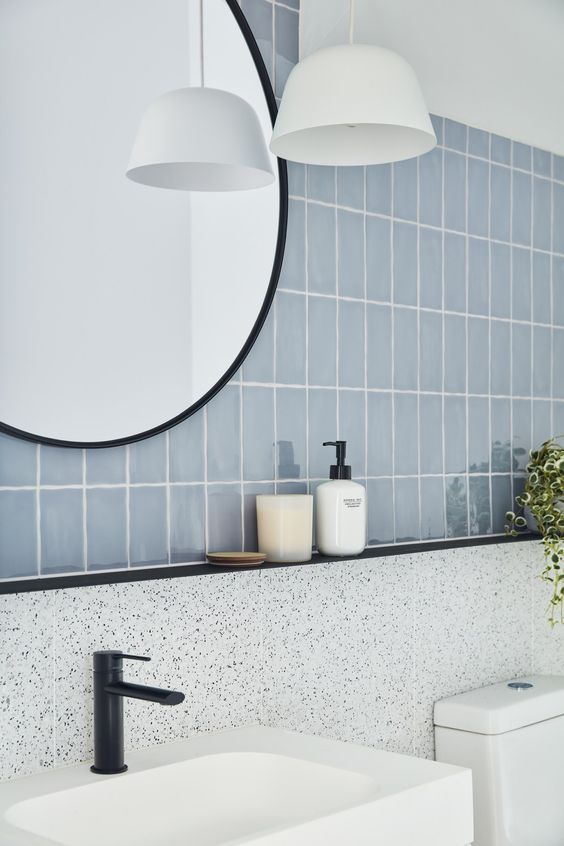 28. Large format blue tiles
According to those in the know, large format tiles are taking off in 2020 as people explore their options beyond subway or mosaic style designs. Here, the large square shape is repeated in the shapes of the vanity drawers and the basket below. Once again, a pastel sky blue shade is all grown up thanks to black and timber accents and contemporary features like a freestanding sink. I love the lighting design here—gorgeous, natural statement pendants as well as neat task lighting at the mirror.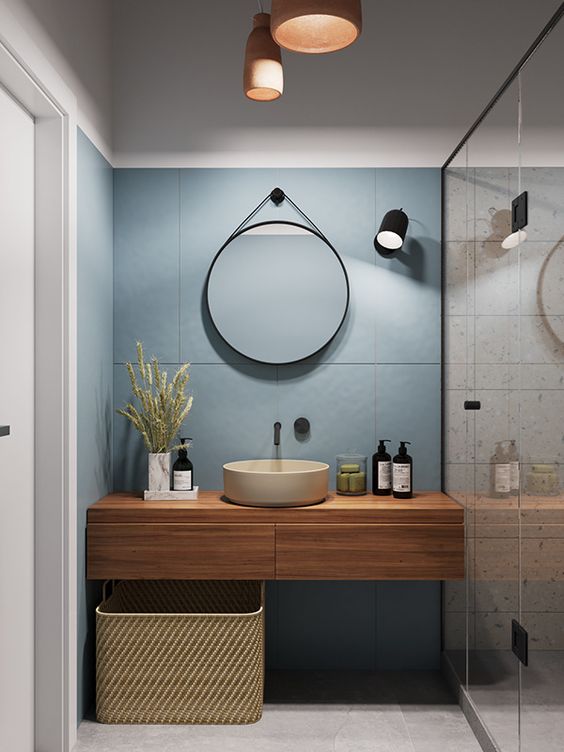 29. Sky blue
A beachside house at Bronte evokes the spirit of summer with this powdery sky blue feature wall. The black basin mixer adds some visual punch.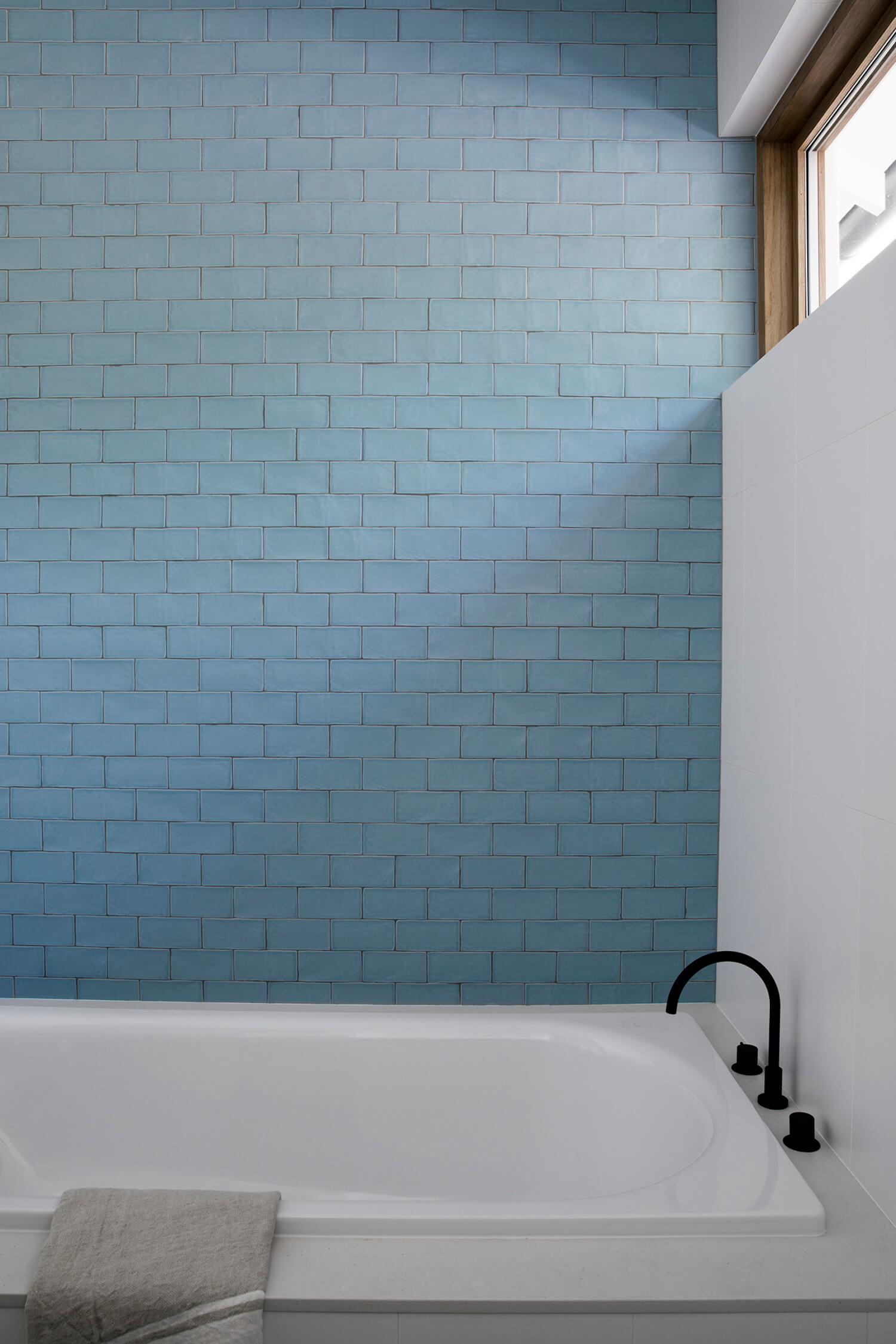 30. Aqua tile floor
I can't decide what's prettier here–the fish scale wall tile or the aqua and white encaustic floor tile?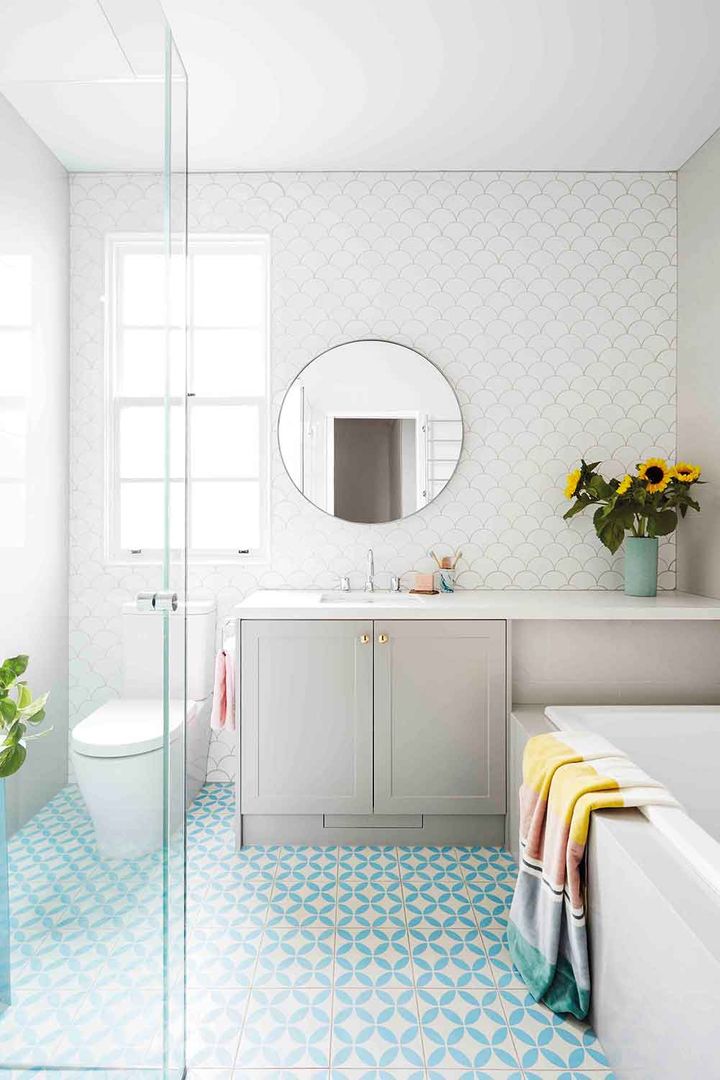 31. Indigo blue
This sophisticated grey-blue storm colour pairs really well with the dark timber and the white pops of contrast. The result is a classic flavour with a modern spin thanks to the freestanding sink, herringbone tile and statement wall sconces.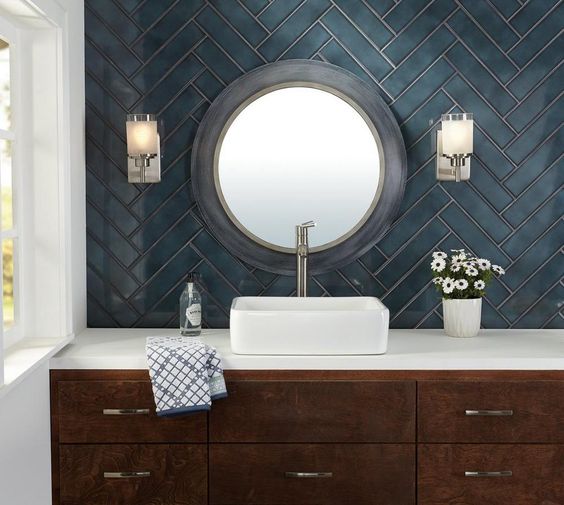 32. Peacock-blue fish scales
I think this one speaks for itself…(insert heart-eyes emoji)!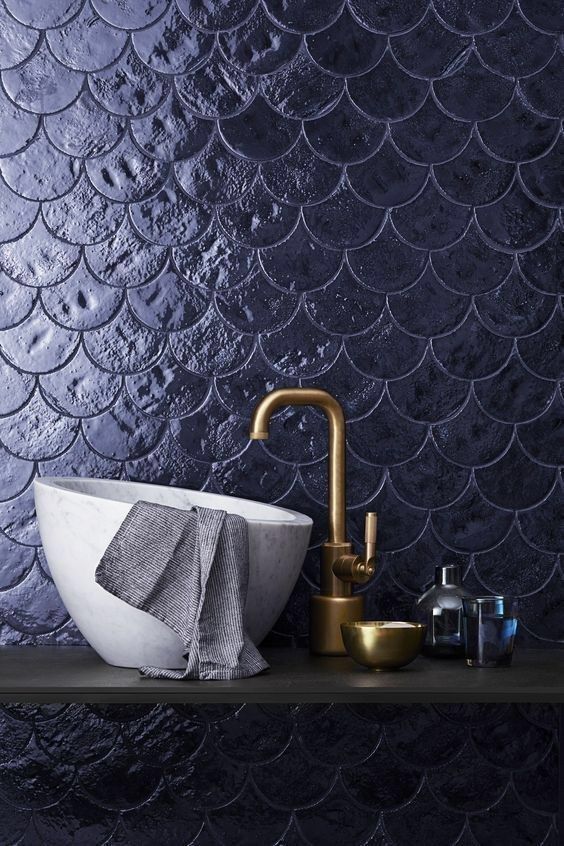 33. Navy and faded charcoal
This mid–grey is a match made in heaven with the antique navy of the tile. Greys like this are typically complementary to all skin tones so are perfect to use near mirrors in the bathroom. The darker charcoal faucet adds a touch of modern flair.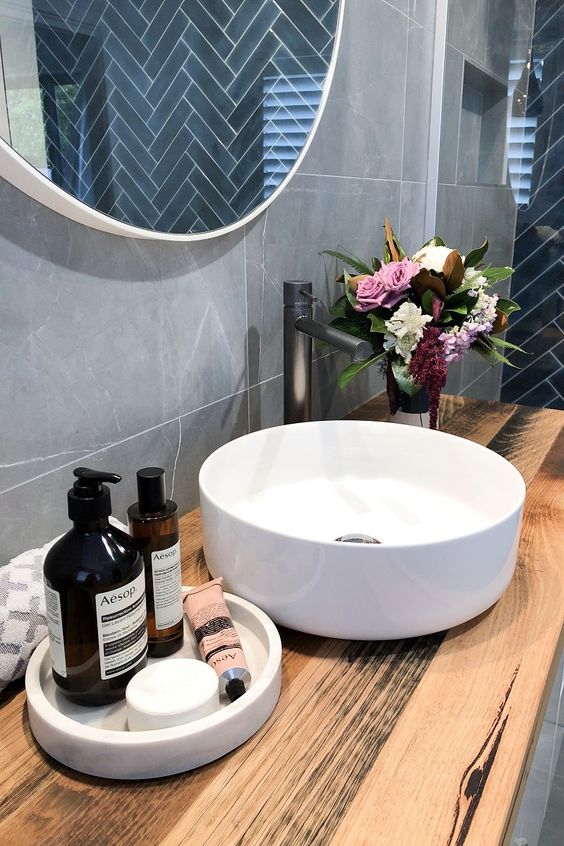 34. Blue mosaic tiles
A sophisticated and moody ocean blue with a shimmer of metallic brings this shower to life.
35. Dark hexagon tile
A soft charcoal grey hexagonal tile adds texture to this modern bathroom.
Remodelling your bath and shower? You'll also be thinking about getting someone to take care of the exhaust fan installation.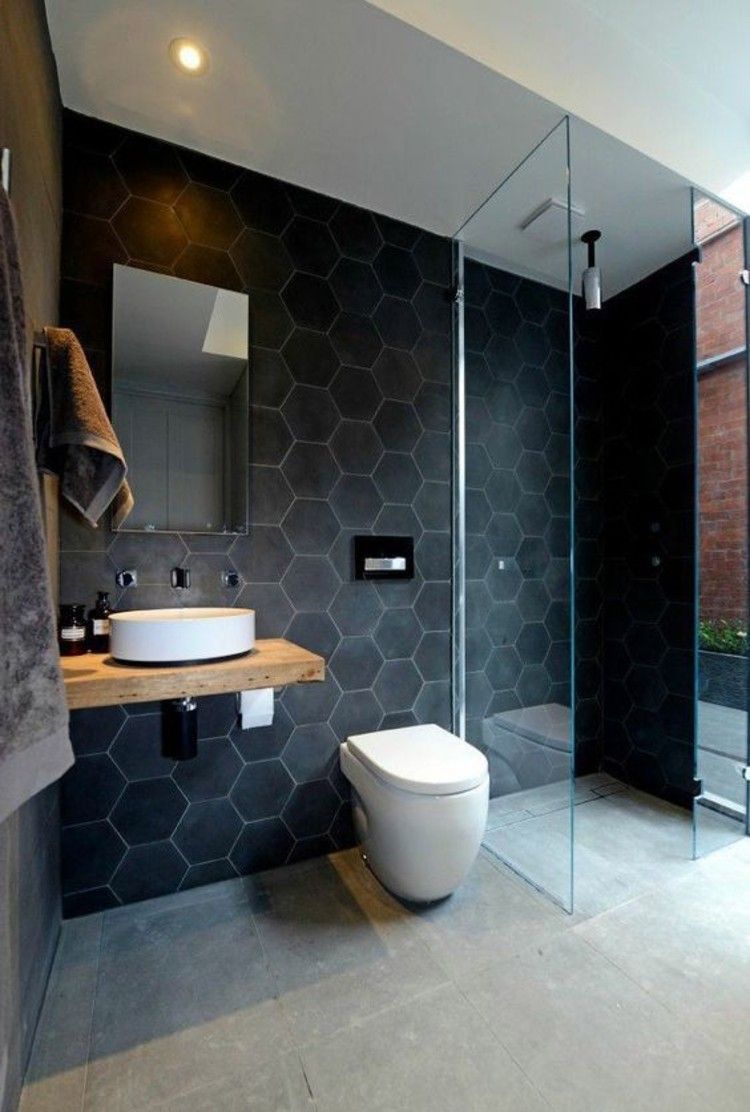 Mellow yellows
Some of the bathrooms I came across that were bursting with yellows would probably cross over into the category of warm beiges and other naturals: think sun-drenched ochre, honey, dandelion, straw and flaxen hues. Others were more traditional, bright canary yellows, typically mixed with plenty of white. Although yellow isn't currently trending, it's a perennial favourite and perfect for creating your bathroom happy place. So I'm including a few examples of yellow bathroom schemes while I'm here.
36. Yellow ochre and black accents
Love yellow? Why not tile your shower in a vibrant shade instead of plain white. This narrow-tiled modern shower benefits from black fixtures and the black shower frame providing definition and drama.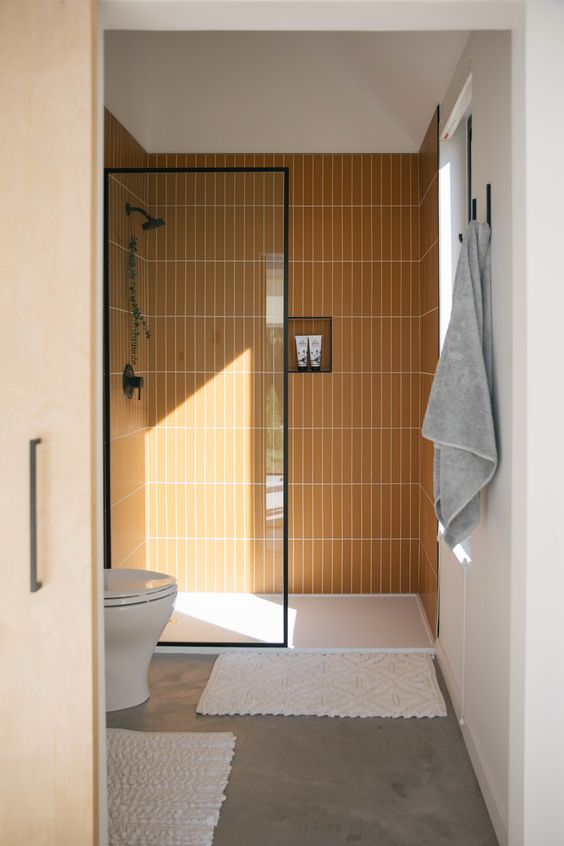 37. Yellow Moroccan tile
Our love affair with Moroccan patterned tiles just grows by the year. This sweet bathroom nook combines clean white with mustard-coloured encaustic tiles that adorn the floor as well as the wall opposite the mirror. I love the way the timber counter bisects the space, balancing the floor tile with the vision of the wall tile in the mirror.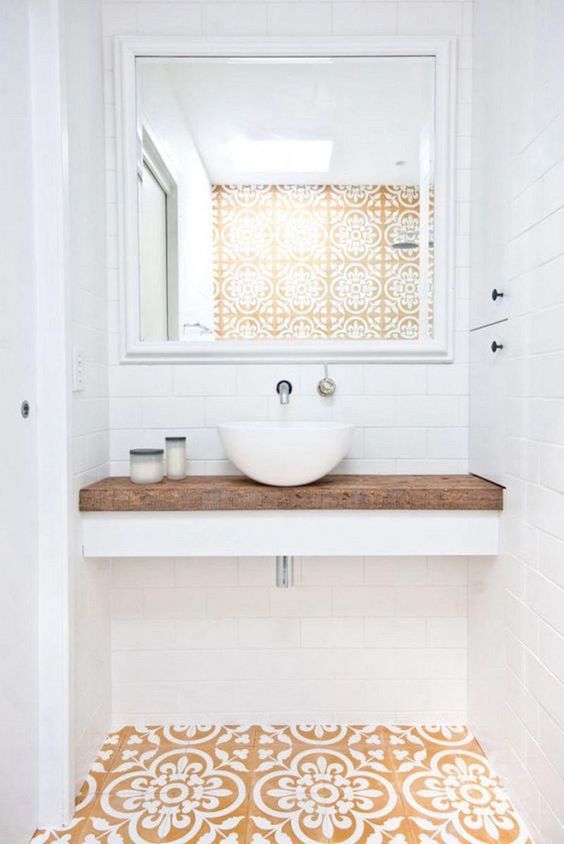 38. Yellow and white
Here's an example of a bright sunny yellow bathroom mixed with bright white, plenty of timber and natural materials, and a statement-making tiled floor.
39. Yellow and terrazzo
Well, I would never have imagined a pink ceiling working with sunshine yellow subway tiles, but it does. The intensely saturated yellow is also perfectly complemented by this gorgeous porcelain terrazzo floor tile. You know, the terrazzo here, which contains a mix of grey, bone and taupe toned chippings, actually fits well into CMG's 'warm beige' bathroom color trend…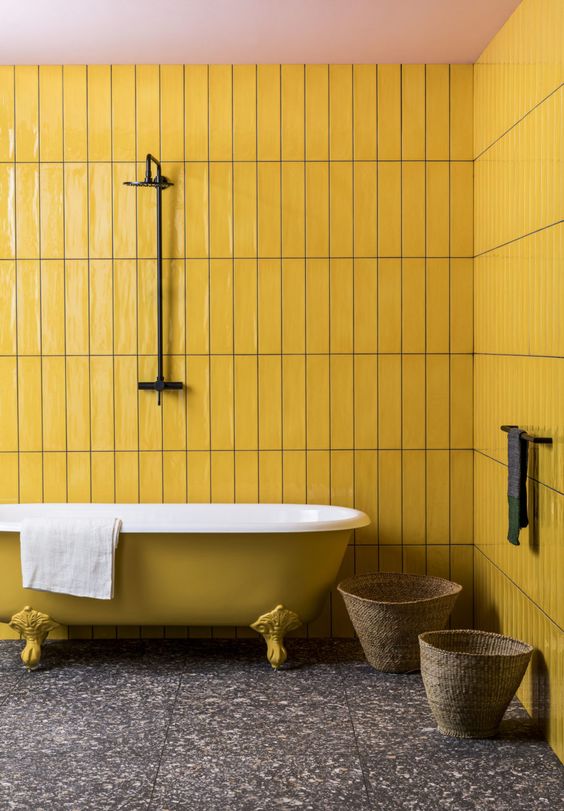 Unusual bathroom color combinations
And now for something a little different. Mix up your favourite colours for a truly unique bathroom look!
40. Sunshine and lilac
Rustic yet modern, this bespoke concrete sink really sings when paired with gold-toned tapware and a dreamy, pale lilac-grey ridged tile. I also love the cute mini sconces, so harmonious in a soft oatmeal neutral.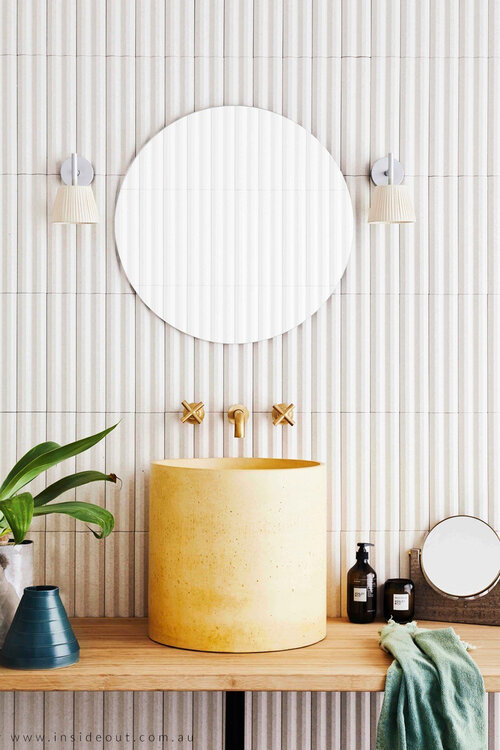 41. Candy apple
"Pink and green should never be seen, without something in between" goes the saying. So if you're keen on a colour combo like this one in Diane Keaton's New York apartment, add a touch of gold in the palette. Here, forest herringbone subway tile together with a marble-topped vanity, pale pink walls and a pink ceramic sink results in a playful yet Old School glam aesthetic.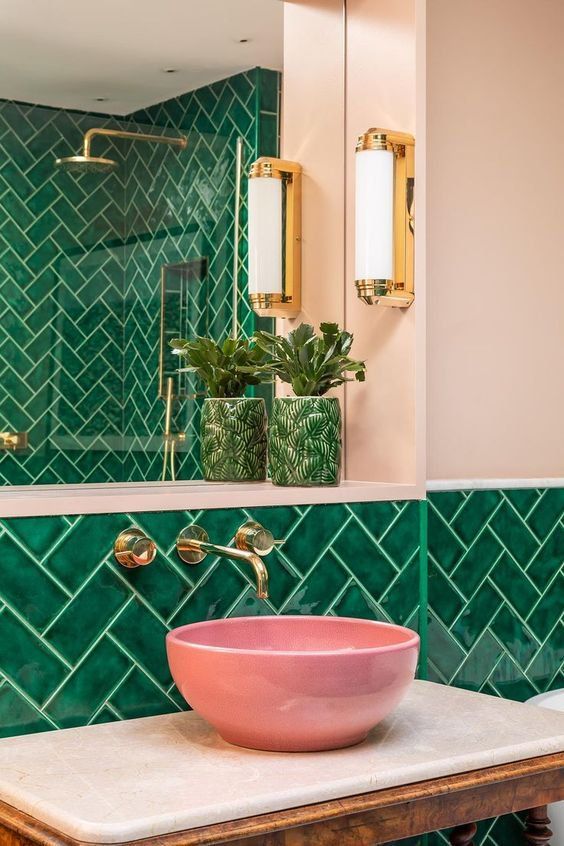 42. Teal and coral
This teal green and coral pink bathroom color scheme is quirky yet calming, and the pops of white keep it modern. I love how they've perfectly matched the beadboard paint colour with the wallpaper.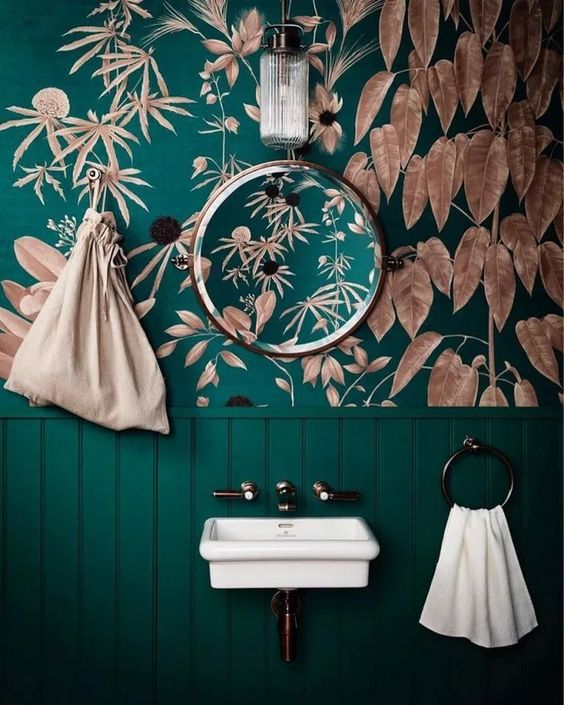 43. Seaweed, salmon and black
This muted pastel green and baby pink bathroom may not be to everyone's taste, but it does successfully evoke tranquillity and it's unusual enough to make a statement based on colour alone. I really like the vintage style pendant lamp, and how they've combined two different kinds of tile.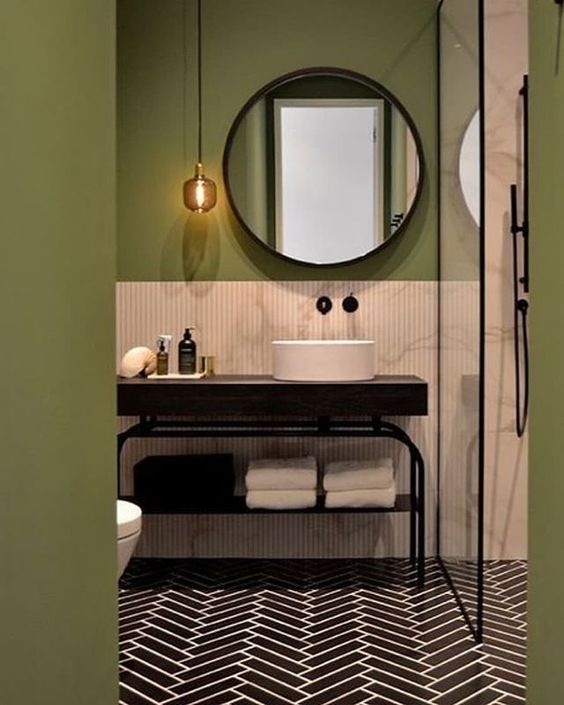 44. Burnt ochre with classic blue
Once again the classic modern style – round mirror, statement light, black accent, interesting freestanding sink and unusual tile – is lifted out of the ordinary using an original colour scheme. A pale terracotta sink, a touch of classic blue under the vanity tying in with the blue paint in the doorway, and this soft, calm shade of apricot in a large format tile.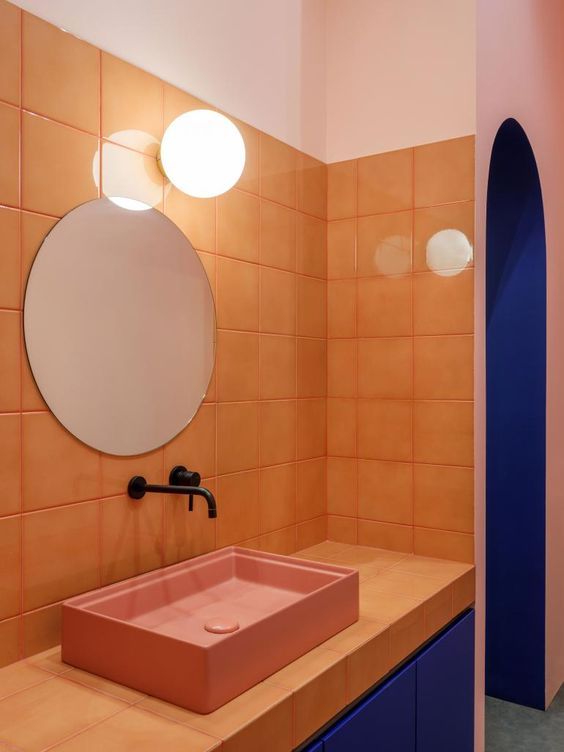 45. Enchantment under the sea
I'll finish up with my personal favourite of the day. I adore this shade of Aegean blue and the rippling effect caused by the textured tiles—using this bathroom would make me feel like a mermaid! The ocean hue looks stunning in contrast with the upper white tile and the checkerboard floor tiles.
Mixing metals (chrome in the lighting, gold tones in the mirror, tapware and accessories) adds excitement, while the modern fairy floss pink freestanding sink effortlessly melds with the dark brown antique vanity.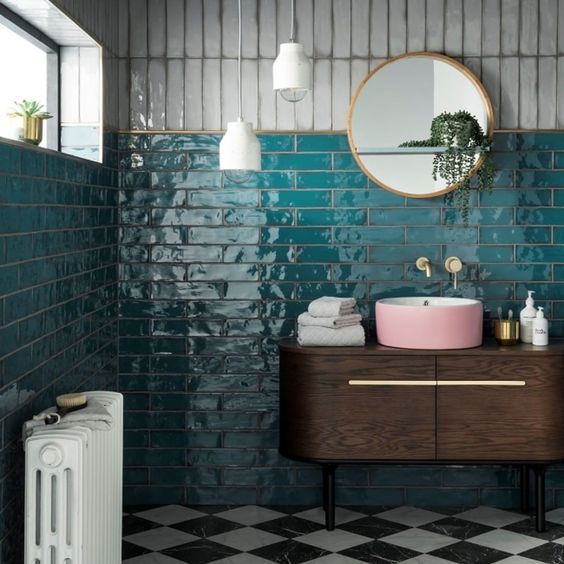 So, there's my spin on how bathrooms are confidently embracing the newest bathroom color schemes. Which is your favourite? Make sure you let me know in the comments!
Have you had enough tile yet? If not, make sure you also check out our blog on bathroom tile ideas and also our blog on other bathroom decorating ideas.
Also, if you're thinking of renovating your bathroom but are worried about the potential costs of plumbing services, get a handle on prices using our price guides for plumbing and tap/faucet installation.