There are so many choices to make when you're planning a bathroom renovation. Will you have both a shower and a bathtub? Will the shower be over the bath or in its own area? What style of shower screen is best? Do you even want a screen or should you create a wet room? What kind of showerhead do you want? What about the drain? When it comes to bathroom shower ideas, the list goes on. But I've got all the ideas here to help you make the right decision.
I've gathered up a selection of chic and stylish bathroom shower ideas for you to draw some inspiration from when planning your dream shower space. Whether it's beautiful stonework or tiling, chic modern or patinaed vintage fixtures, you can create a little slice of self-care luxury no matter how much room you have to work with.
A word of warning though, with a shower space this inviting you'll want to linger a little longer. Better watch that water bill!
1. Tiles with style
Bask in opulence under a gold-toned rainfall showerhead while endlessly admiring your gorgeous, multi-hued shower tiles. These handmade, textured Portuguese hexagonal tiles are finished with gold grout for added luxe. And if you're a tile lover like me, you can find plenty more bathroom tile ideas that will make you drool.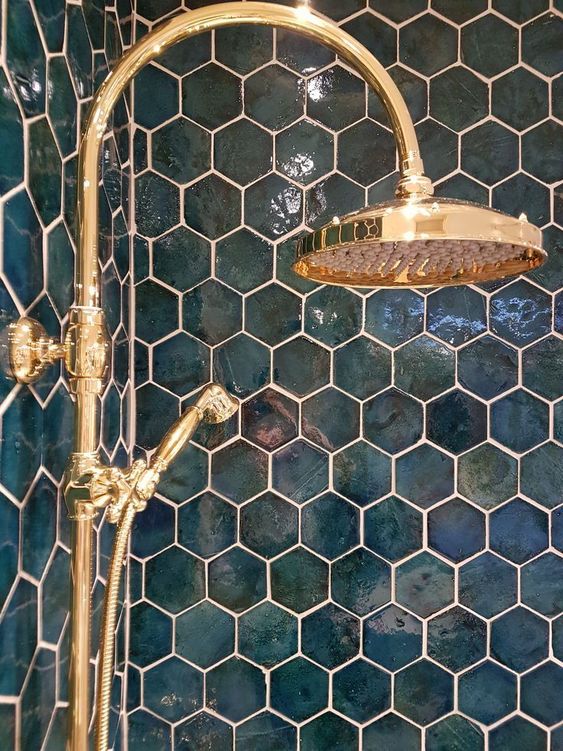 Source: Selber Machen Deko
2. Black hardware
An easy update for your shower is to replace tired-looking fixtures with new, striking matte black ones. They look amazing contrasting with bathroom whites and will instantly modernise your bathroom space. As a little finishing touch you can even add a coordinating black drain cover.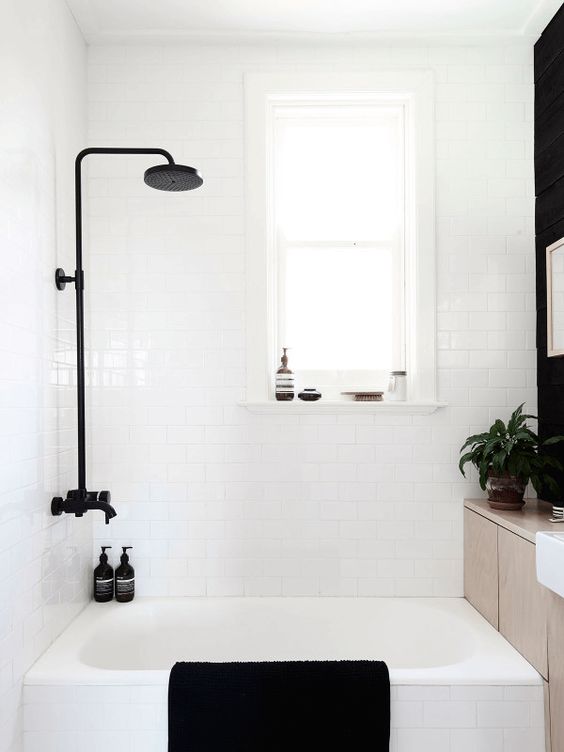 Already wanting a new tapware installed? Get your shower head installation done by a professional.
3. Zellige tile and a brass rainfall showerhead
Another stunning shower featuring dark charcoal zellige tile set off by metallic grout. Tiling, especially with zellige, may seem like an easy DIY given the rough-hewn look. But tiling a shower is actually trickier than tiling other areas of your bathroom. That's because shower water has to stay away from your subflooring so as not to cause moisture damage underneath.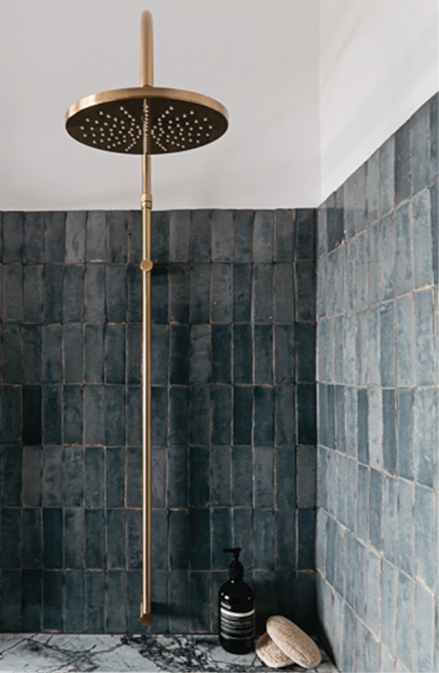 An expert tiler will first add a layer of protection in the form of a waterproofing membrane—so have a chat with a local bathroom tiler who knows their stuff.
4. Tap into white
For something a little different, mix up your shower fixtures. Vintage gold-toned showerheads here are paired with modern white tap fittings which blend into the penny mosaic shower walls for a sleek, uninterrupted look.
A custom wood shower pan gives it an outdoorsy deck feeling, and the trailing shower plant visually repeats the organic accent of the impressive statement potplant in the background.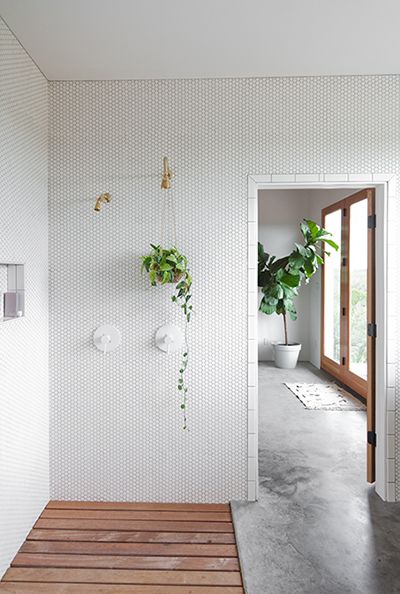 5. Minimalist with mosaic
Use colour to set the mood, make a bold statement and clearly define your shower space. Ocean colours are ever popular for bathrooms and here's a gorgeous example – this shower's sparkling mosaic of aquamarine glass tile actually features hints of magenta up close as well.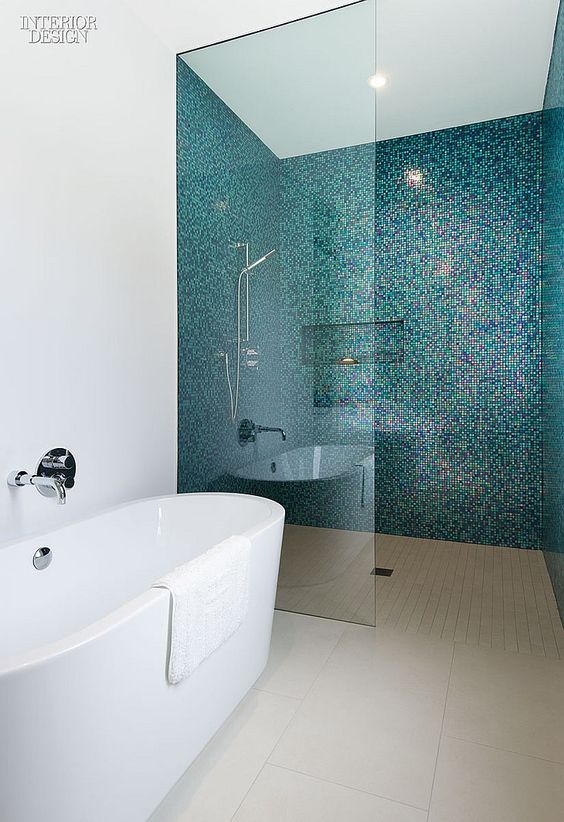 6. Japanese-style tiny tub in shower
A corridor-shaped shower enclosure is brimming with utility, incorporating a double niche for shower products, a rainfall showerhead, and a deep mini tub for sitting and soaking. I love the black-accented semi-frameless screen, black screen handles, and the black fixtures for both shower and tub.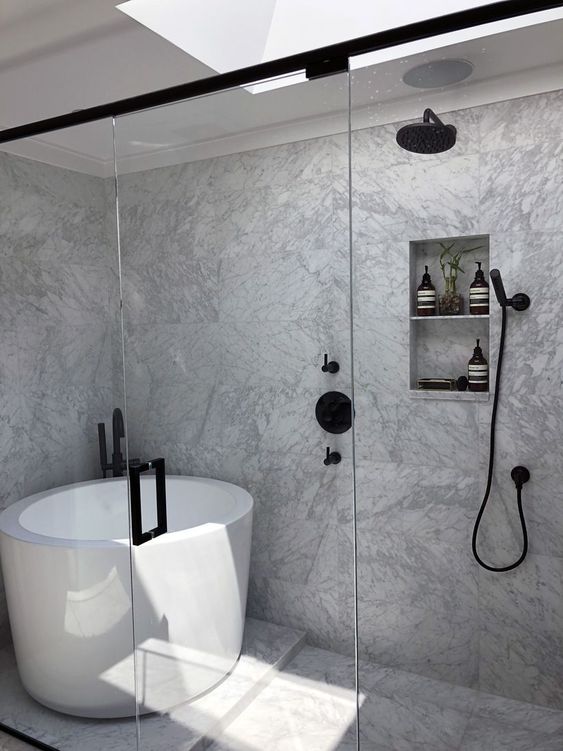 7. Coloured statement screen
Influential architecture and design website Dezeen describes this bathroom as being in the "Brutalist" style – no doubt mainly thanks to its raw concrete tiling and bronze towel rack/storage ledge. But the statement feature here is the dichroic glass shower screen which "casts the cubicle behind in shifting shades of green, coral-orange and aqua-blue". Definitely, one that stands out from the crowd.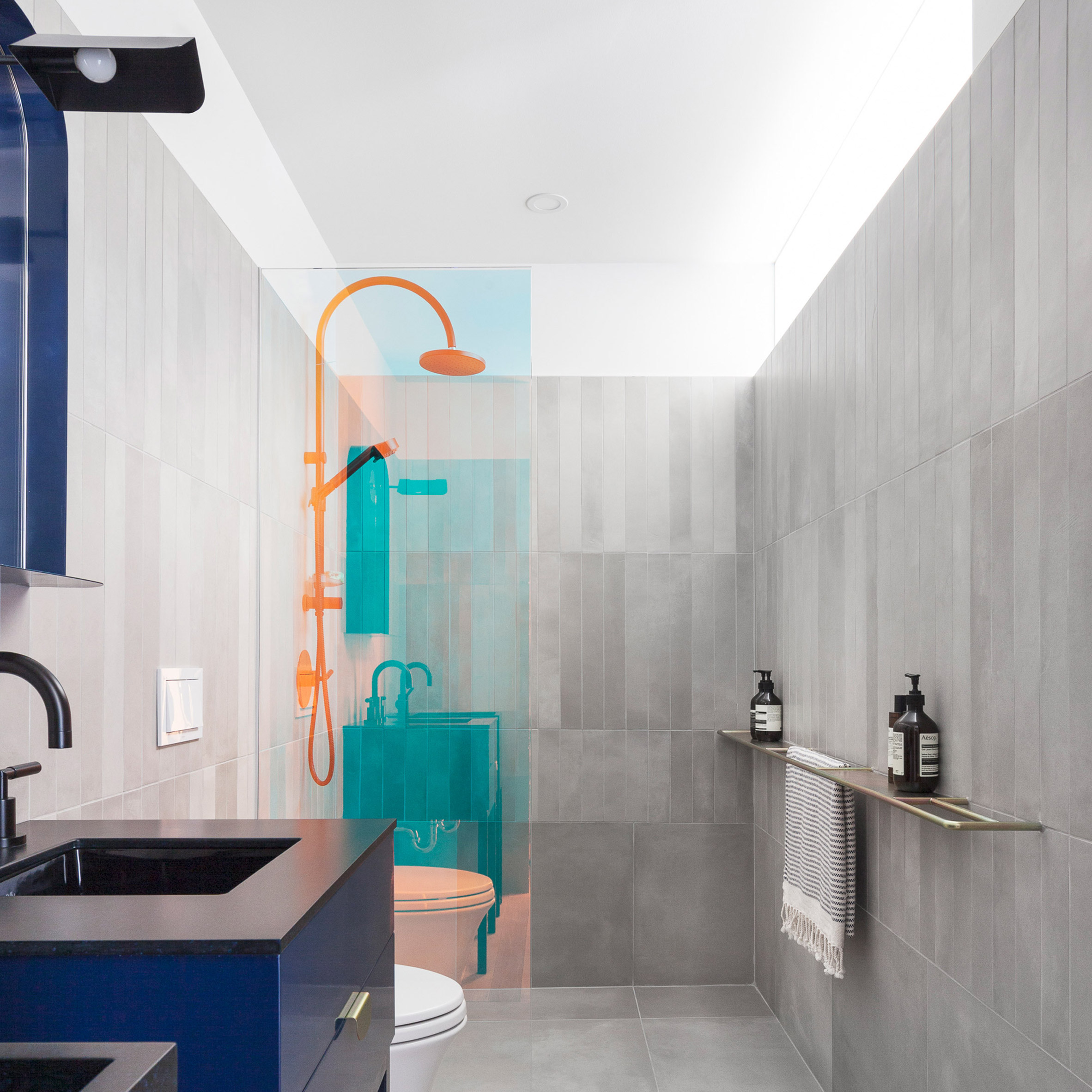 8. Barely there screens
Frameless shower screens are currently in vogue, as people embrace the airiness and lightness that the bare glass imparts. The frameless screen here also allows the focus to remain on the copious soft grey marble tile. I love the organic touches a plant, a little timber stool add warmth and life to what could otherwise be a drab space.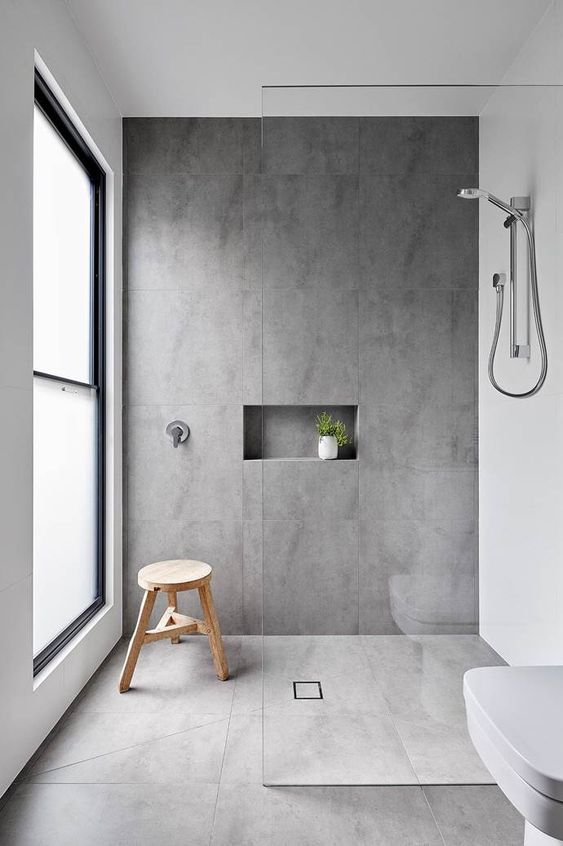 Getting these screens in is tricky business and that's why there are professional shower screen installers who have all the right equipment and know-how.
9. Beachy Boho
Life's a beach with a beautiful Boho bathroom that evokes blinding white sands and parched driftwood. There's a vintage vibe thanks to the patterned concrete tiles on the floor, adding dramatic contrast to all the bright white, but the overall effect is still modern, clean and minimalist.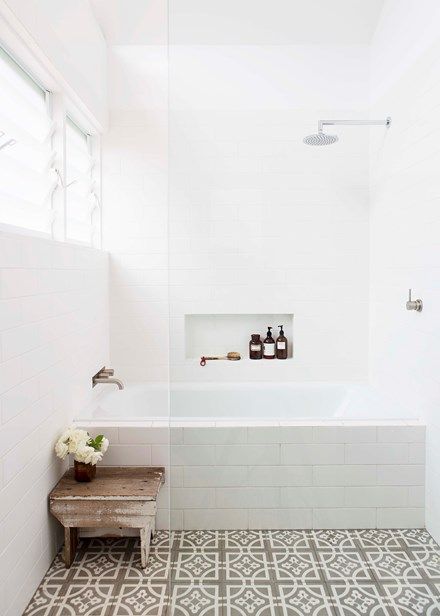 Wanna make Boho work in the rest of the house? Here are some great Bohemian living room ideas.
10. Slab marble double shower dream
There's no denying that marble bathrooms are forever sleek and classy. This minimalist double shower boasts a frameless screen so nothing obstructs your view of the gorgeous stone. Marble lovers also swear by the ease of cleaning, as there's no grout or tile texture for dirt to get embedded in. This is the perfect master bathroom idea!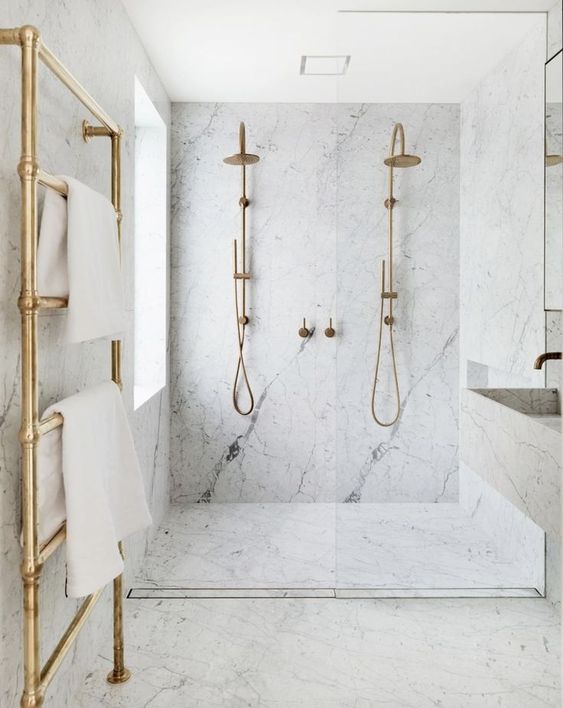 11. Create storage space with a niche or ledge
Adding a storage shelf increases the utility of your shower space. Whether it's a small niche or a long linear ledge, a shower shelf is a brilliant use of otherwise dead space – and in this case, multi-use.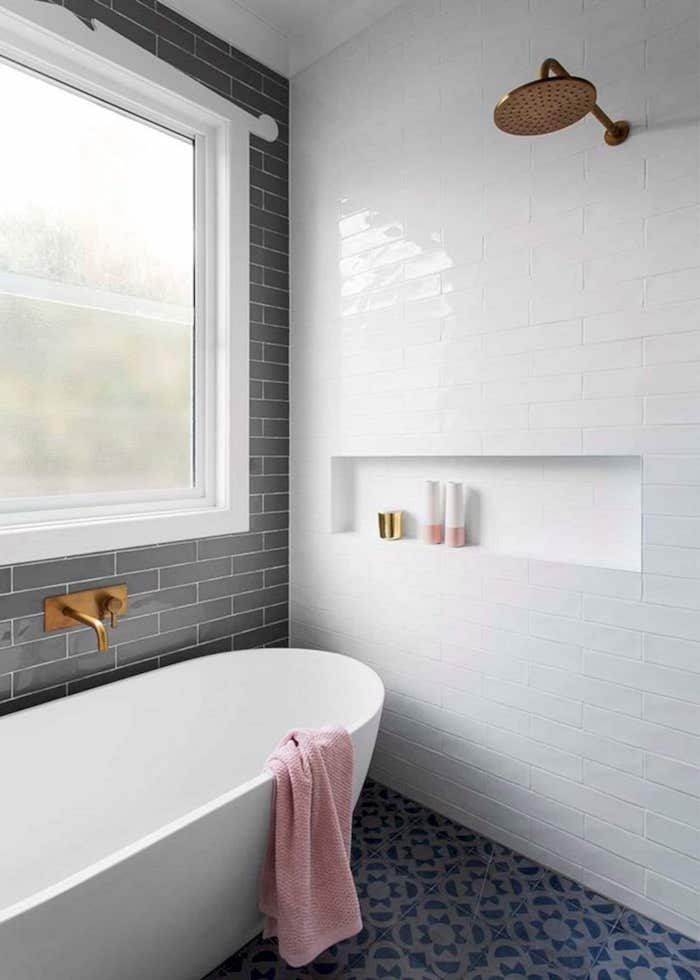 12. Put yourself in the frame
Steel-framed Crittall style shower screens have become popular as they offer a strong but slim profile that clearly defines the shower space without being too chunky. It's a great way to bring in a little industrial vibe and some modern black accents, whether you frame clear or frosted glass as has been done in this chic monochrome bathroom.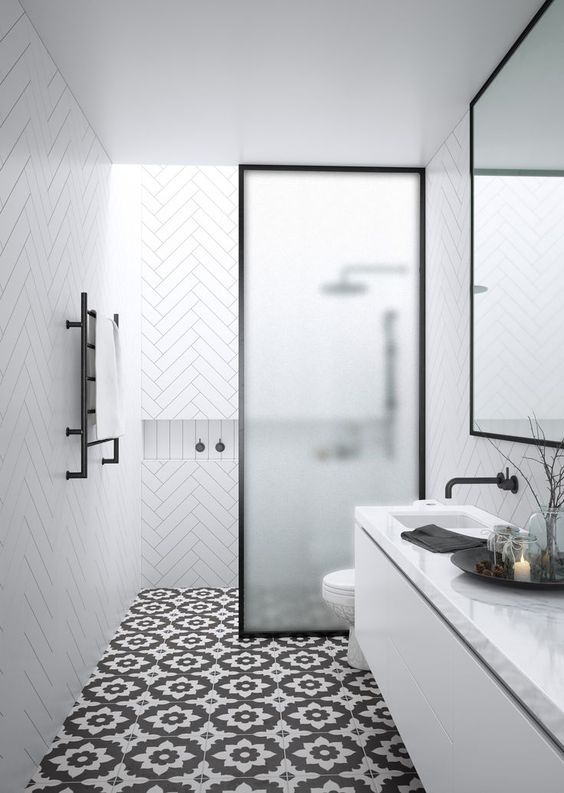 13. Encaustic tiles
This bathroom shower space stays light and airy through the use of lots of white, whitewashed timber and pared-down fixtures. Nice use of mixed metals here too. But the star of the show is the patterned encaustic tile, contrasting with the plain glossy white subway tiles above, and the powder grey tones of the floor tile.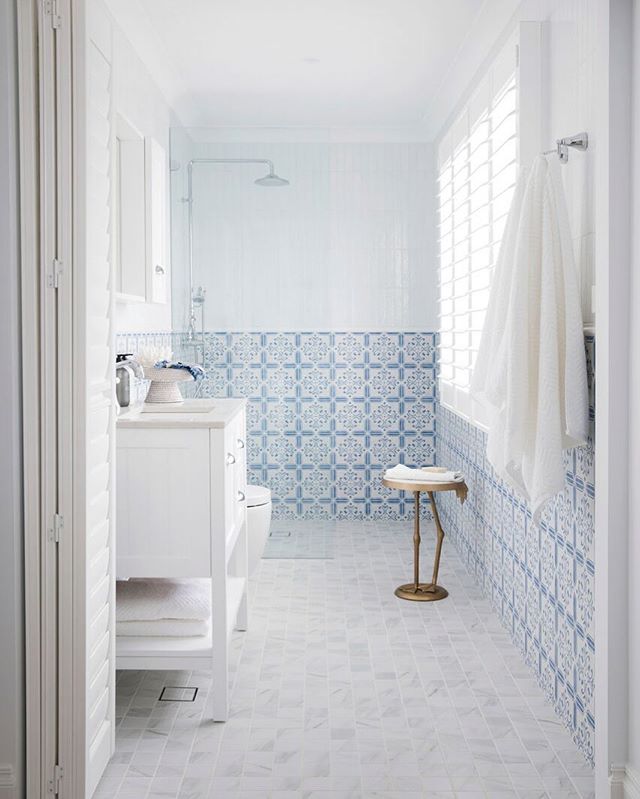 Love this? Then you'll love these other bathroom tile ideas too.
14. Build in a bench
Are you sitting comfortably? Then let's get clean! Having a built-in shower seat or bench together with a low niche to hold your personal care products gives you the option of resting your weary legs at the end of a long day.
Shower benches are the perfect relaxing alternative if you don't have the space for a tub, just make sure you have your handset on a riser rail to ensure you don't need to move a muscle. This gorgeous marble shower stall looks even more deluxe thanks to the gold bathroom fixtures.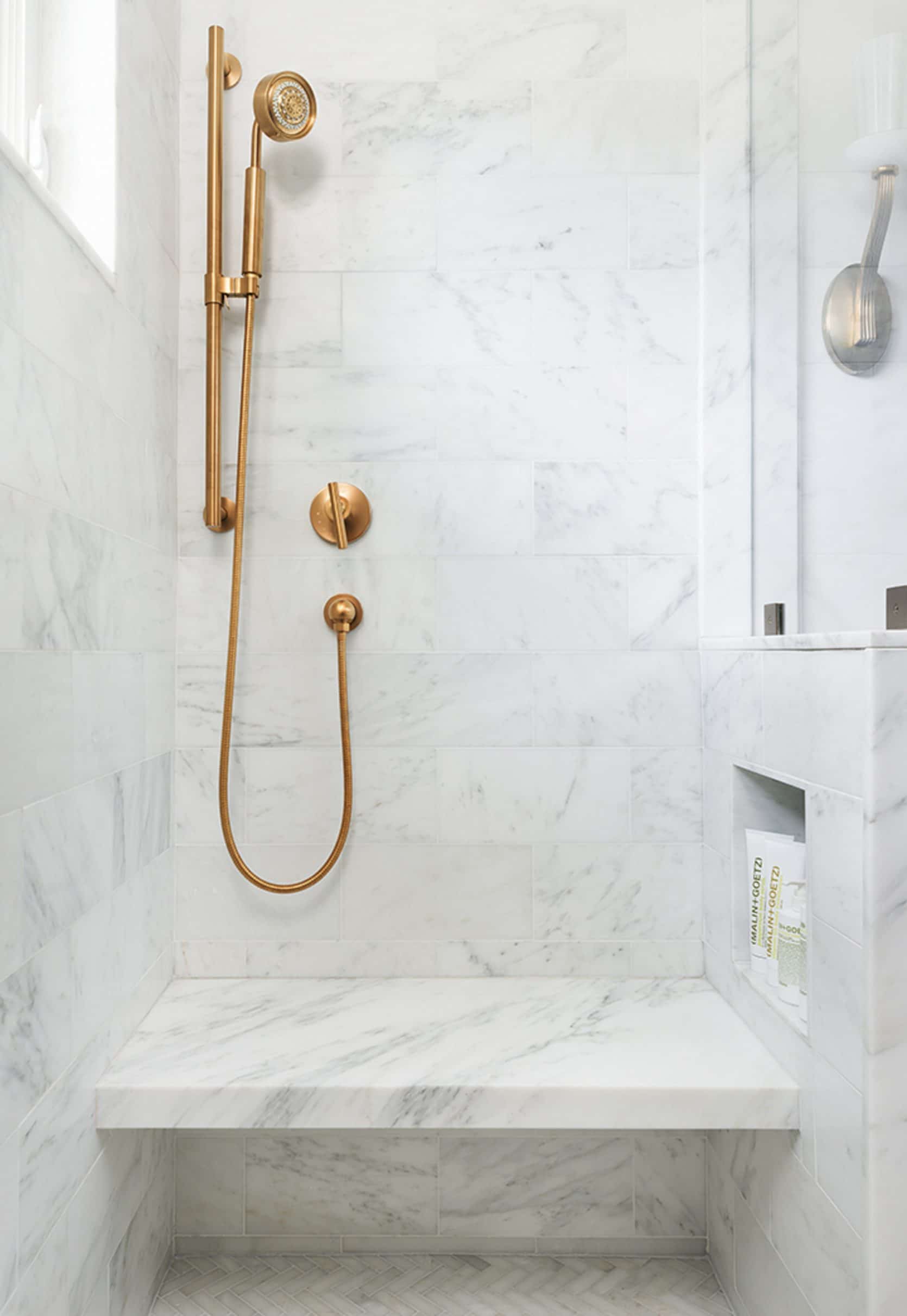 15. Walk-in shower with tub
It's surprising how much fits into this space, really. Ceiling mounted and wall mounted rainfall showerheads, a freestanding tub with a floor-mounted tap, even a ledge to hold a vase of flowers.
I really like the unusual effect created by tiling up the ceiling as well as the floor and walls. Gorgeous tonally-varied grey fish scales stop it from appearing too heavy, as a block-coloured tile would. And how about that waterfall of natural light cascading from above?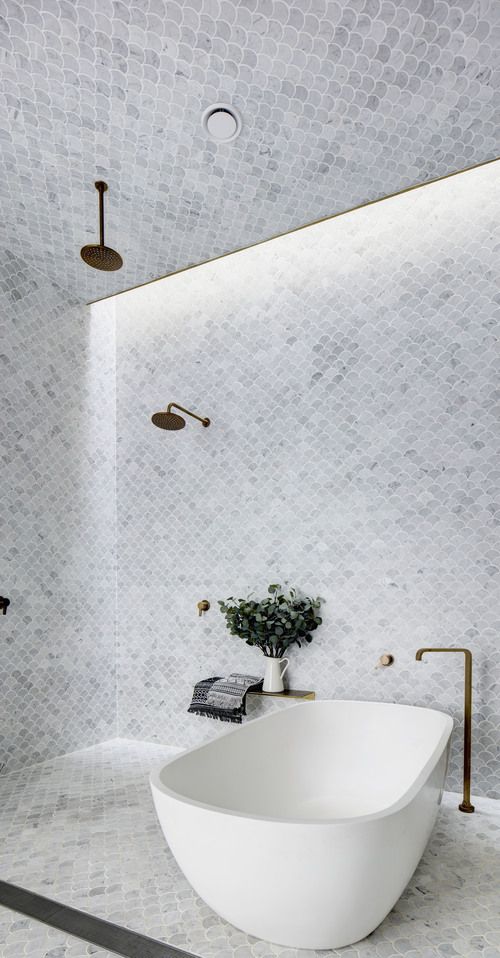 Painting a ceiling is difficult enough, but tiling a ceiling… Find a bathroom tiler who would be happy to help with this venture.
16. The on-trend dark green tile
Some say green is the new white for bathrooms. This luxuriously spacious double shower features mossy green vertically stacked subway tile, with the natural colour enhanced by the wooden shower floor. A lot of thought has been given to functionality, with double niches, a bench seat and a wraparound mirror. The frameless shower screen keeps things airy and prevents this darker bathroom from feeling claustrophobic.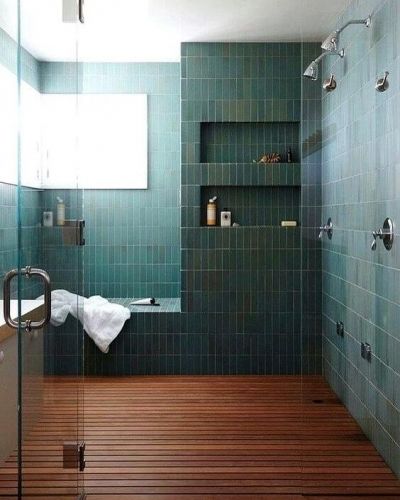 17. Mixing patterns
A visually unobtrusive classic chrome shower handset allows the stone and encaustic tiles to take centre stage here. It's quite unusual to see the side of a bathtub tiled but that's another option you could consider if this look appeals to you. Speak to an expert who specialises in bath resurfacing to discuss your tub spruce-up options.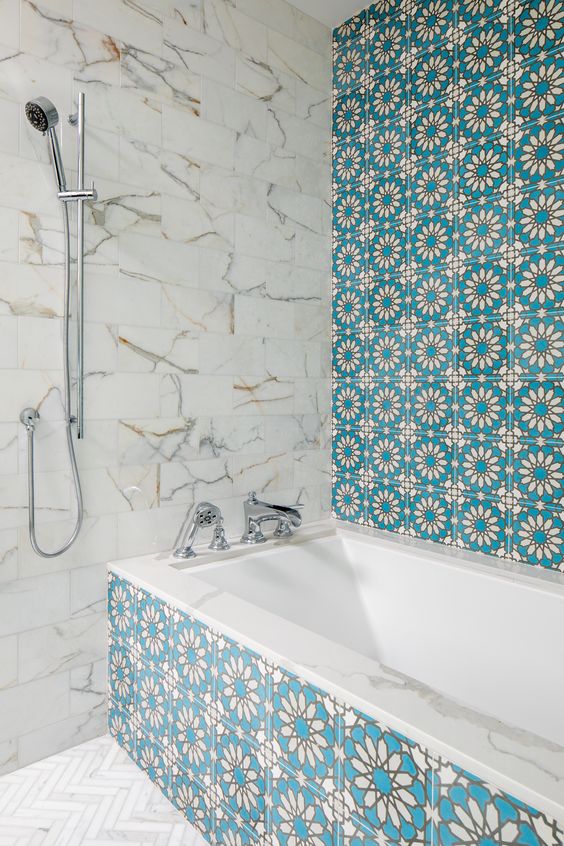 18. Shower greenery
"Green bathrooms" are now a big thing, thanks to the many health benefits that plants offer when you bring them indoors. Not to mention the pleasing visual appeal of gorgeous plant life in a bathroom!
You can add a little or a lot, even inside your shower, because there are many different bathroom plants which are very well suited to the humidity and bright lights of the typical bathroom space.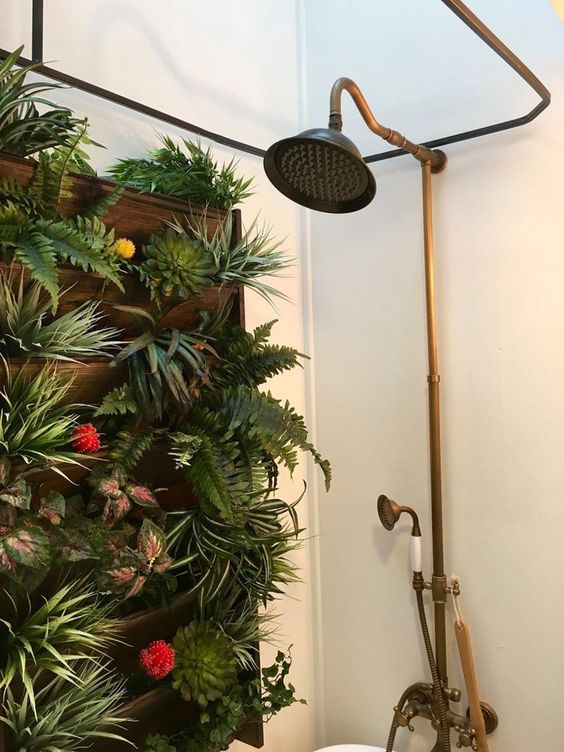 19. Mixed patterns
Add visual interest by laying tile in contrasting patterns, such as this mix of subway tile on the walls plus hexagonal marble tile in the shower niche and floor tile. The peacock-blue painted cupboards and vanity add even more contrast. If you want a hand with painting your bathroom cabinets or walls, contact a local bathroom painting specialist.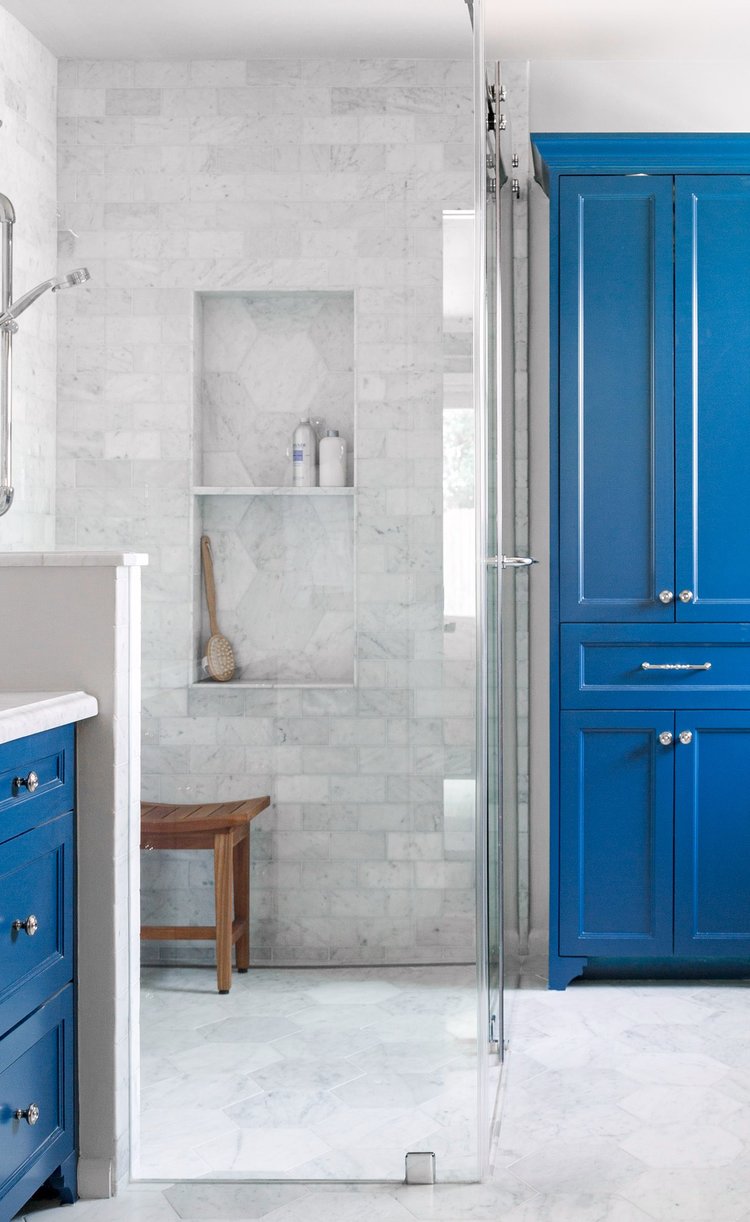 20. Mid-century style
Give your bathroom a classic, timeless appeal with a custom-built vanity in a mid-century style. Then modernise the look with subway tile and a frameless shower screen. The screen features copper fittings and handles which complement the copper accents in the mirror, wall sconces and vanity pulls. The piéce de resistance? A stunning black and white geometric patterned floor tile.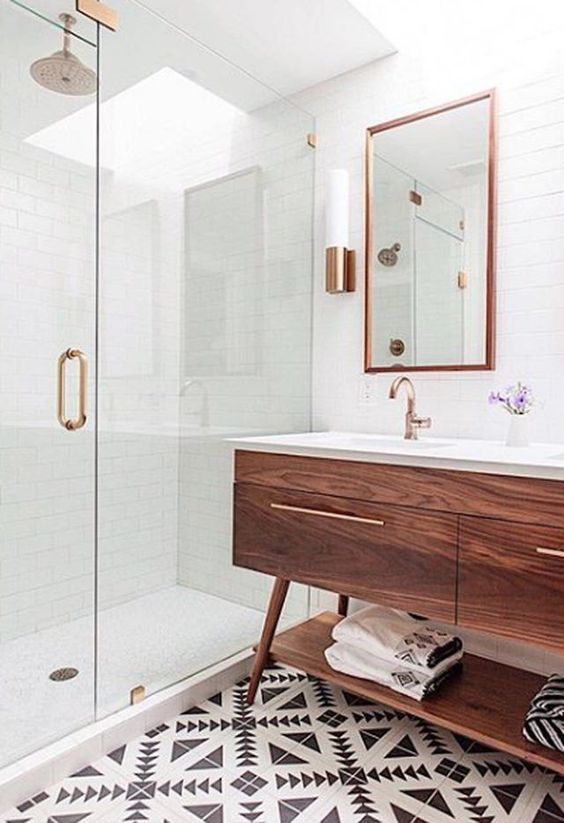 21. Window-style partial screen
This is another Crittall style framed screen which demonstrates the defined-outline aesthetic that is popular in modern bathrooms. The black-edged, clean industrial lines work beautifully with subway tile and the partial size defines the shower area in this shower-over-tub space.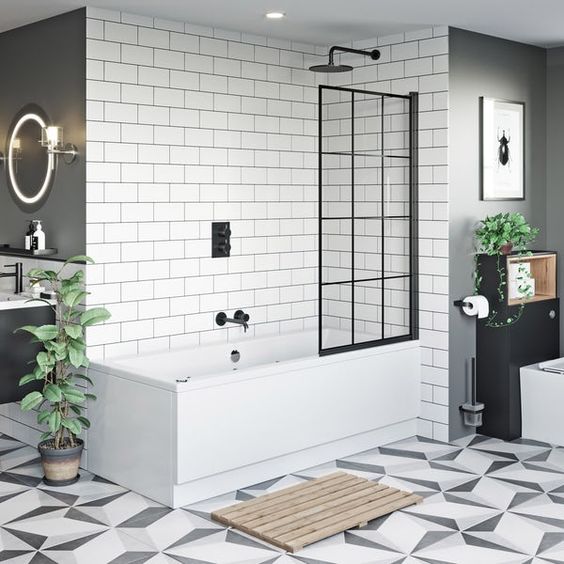 22. Glam it up
It's a little bit fancy… This bathroom has a lot going on, from the floor tile to the wallpaper to the statement lamp. The shower and tub spaces are divided by a Crittall style partition frame with frosted glass for privacy. The frame also incorporates some Art Deco elements for an injection of elegance and sophistication. I love the drama of the double doors opening into the bathroom.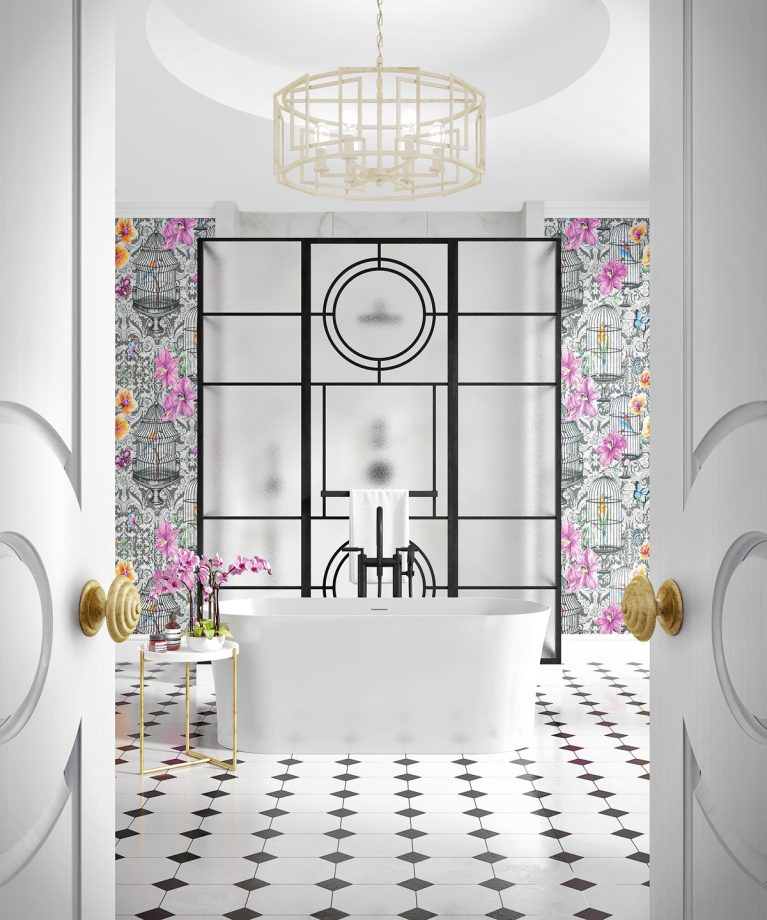 If this light has caught your eye, here are some other beautiful bathroom lighting ideas. Oh, and how could I forget about this wallpaper… I've actually put together an article solely about bathroom wallpaper ideas for you to drool over.
23. A double dose of colour
Colour blocking with vibrant contrasting colours is an eye-catching way to use tile in your shower. This shower in the Firehouse Hotel in Los Angeles uses a mix of white and lilac zellige tile together with chrome fixtures. I love the unusual polygonal rainfall showerhead.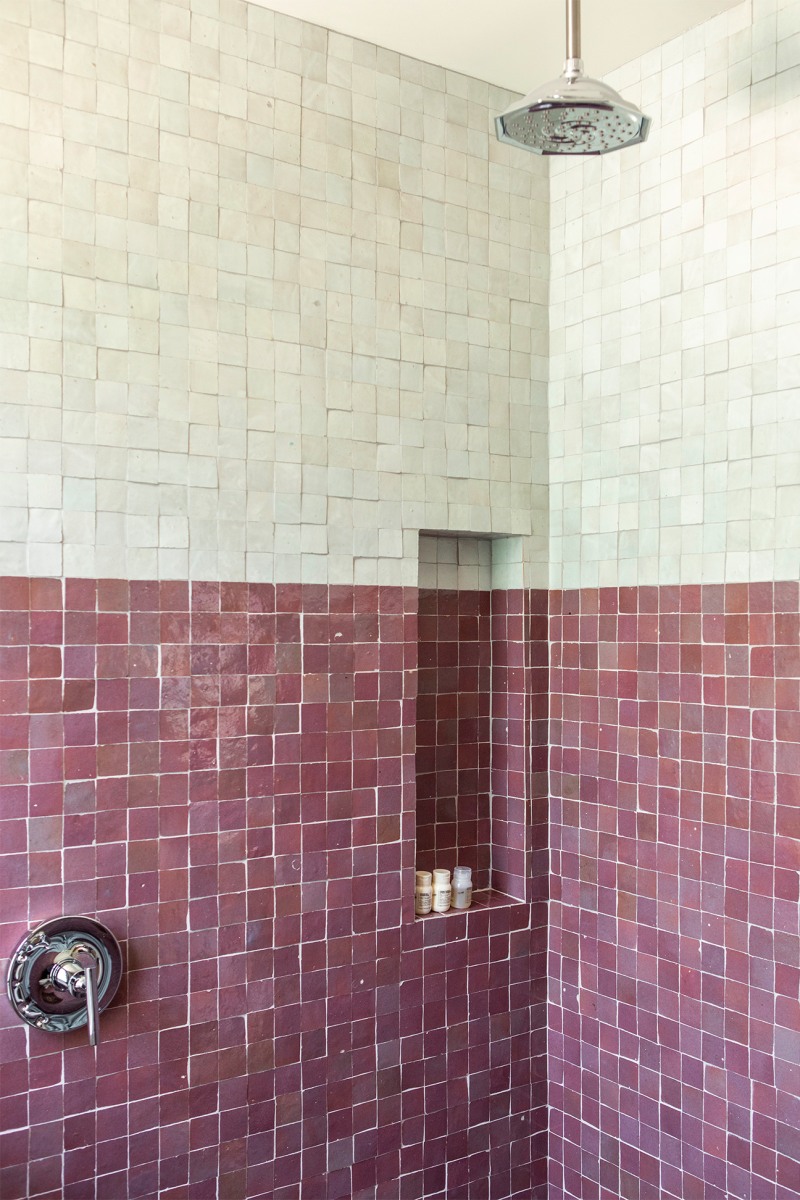 24. Opt for an arched frame
Something a little different than a boxy shower screen frame is an arched one. This pink tiled shower has a soft femininity that is enhanced by the rounded shape of the screen and contrasts with the straight lines in the unusual linear floor tile arrangement. The warmth of the tile is reinforced by the warm tones of the fixtures and towel rails.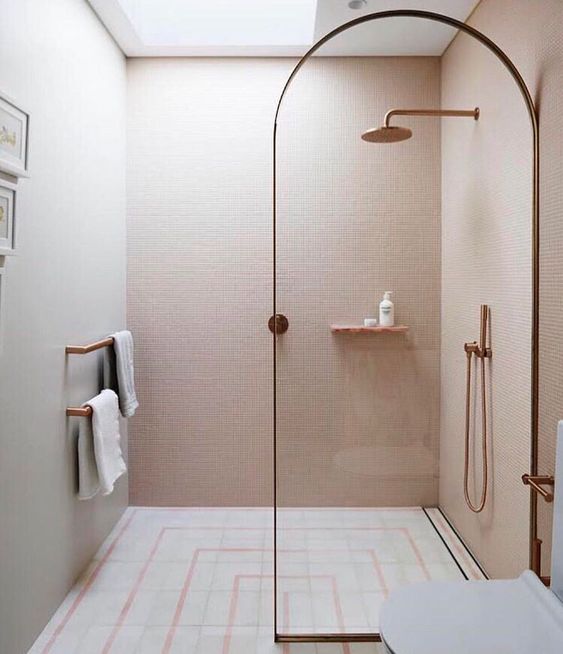 25. Stacked charcoal tile
A simple, pared-down colour palette is given oomph by using a mix of tiles in two different shades and shapes: narrow rectangular tile stacked for the shower walls and lighter tiny square tiles for the shower floor. The grey tones are enhanced by the chrome shower fixtures, while the tiles were also given a reactive glaze to give them more texture.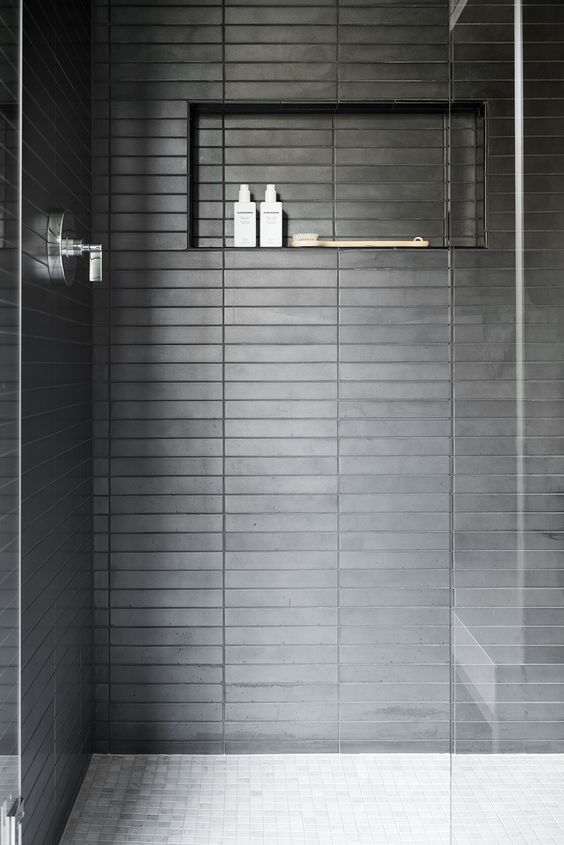 26. Charcoal tile with black accents
Laying tile in a herringbone pattern adds dynamism and livens up a shower space. This neutral grey shower also benefits from modern black accents including the chic niche trim. For your shower to look its best, make sure your tile and grout are super clean. Find out how much tile and grout cleaning costs to have a professional handle that task for you.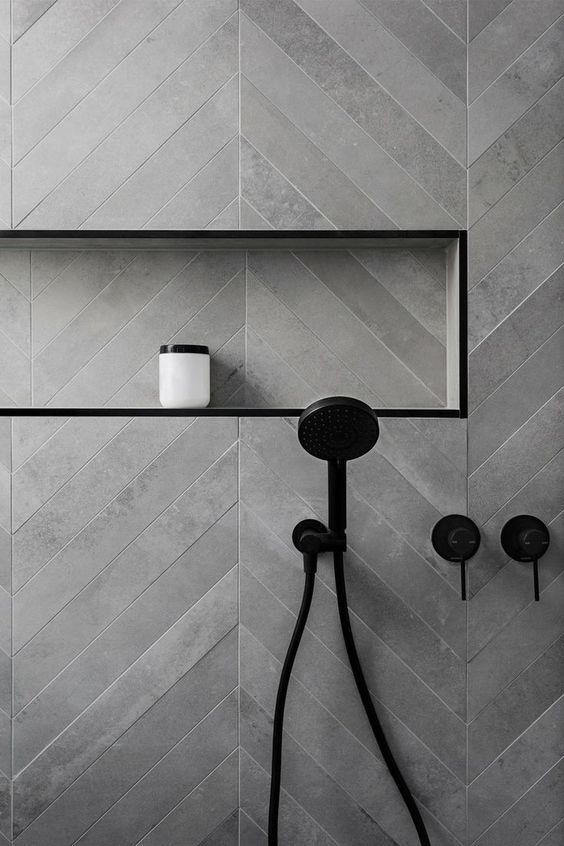 27. Fish scale tile shower
Another bright, ocean-hued tiled shower, this time in a classic mermaid or fish scale tile with white grout. When it comes to bathroom shower ideas, tiling your shower is a great way to add colour, pattern and interest in a confined space without it taking over and overwhelming the whole bathroom.
28. Terrazzo bathroom shower
Very popular in contemporary bathrooms right now is the use of terrazzo, whether in the form of tiles and slabs or poured into place (after all it's a mix of cement and chips of stone or synthetic materials). Many people love the speckled look of terrazzo, and it comes in an abundance of colours and styles so you're sure to find one to suit your bathroom décor.
Renovating your shower? Don't forget the all-important exhaust fan!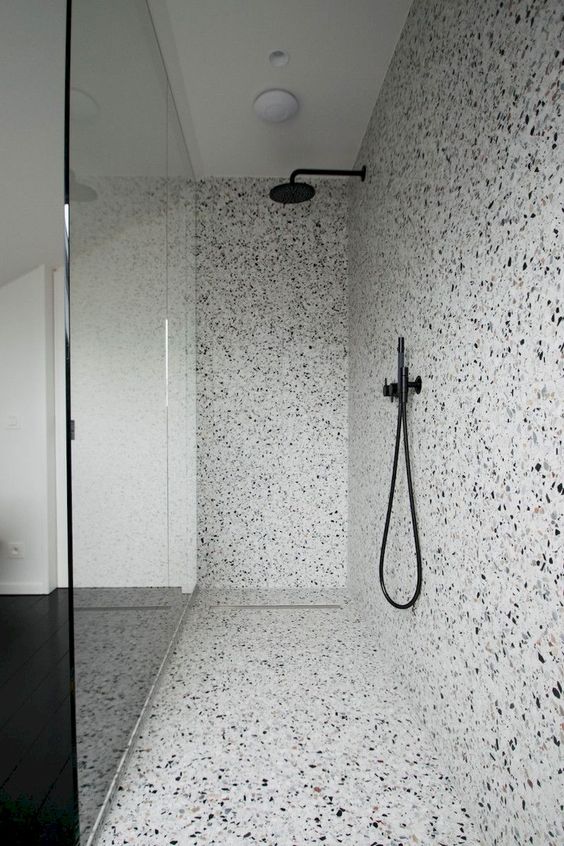 29. Layer materials
Mix classic materials like white subway tile, marble and brass to achieve depth and texture. I like how this shallow shower niche is designed to house the fixtures as well as provide a handy spot for your shower products. A black steel Crittall style shower screen completes the classic urban look here.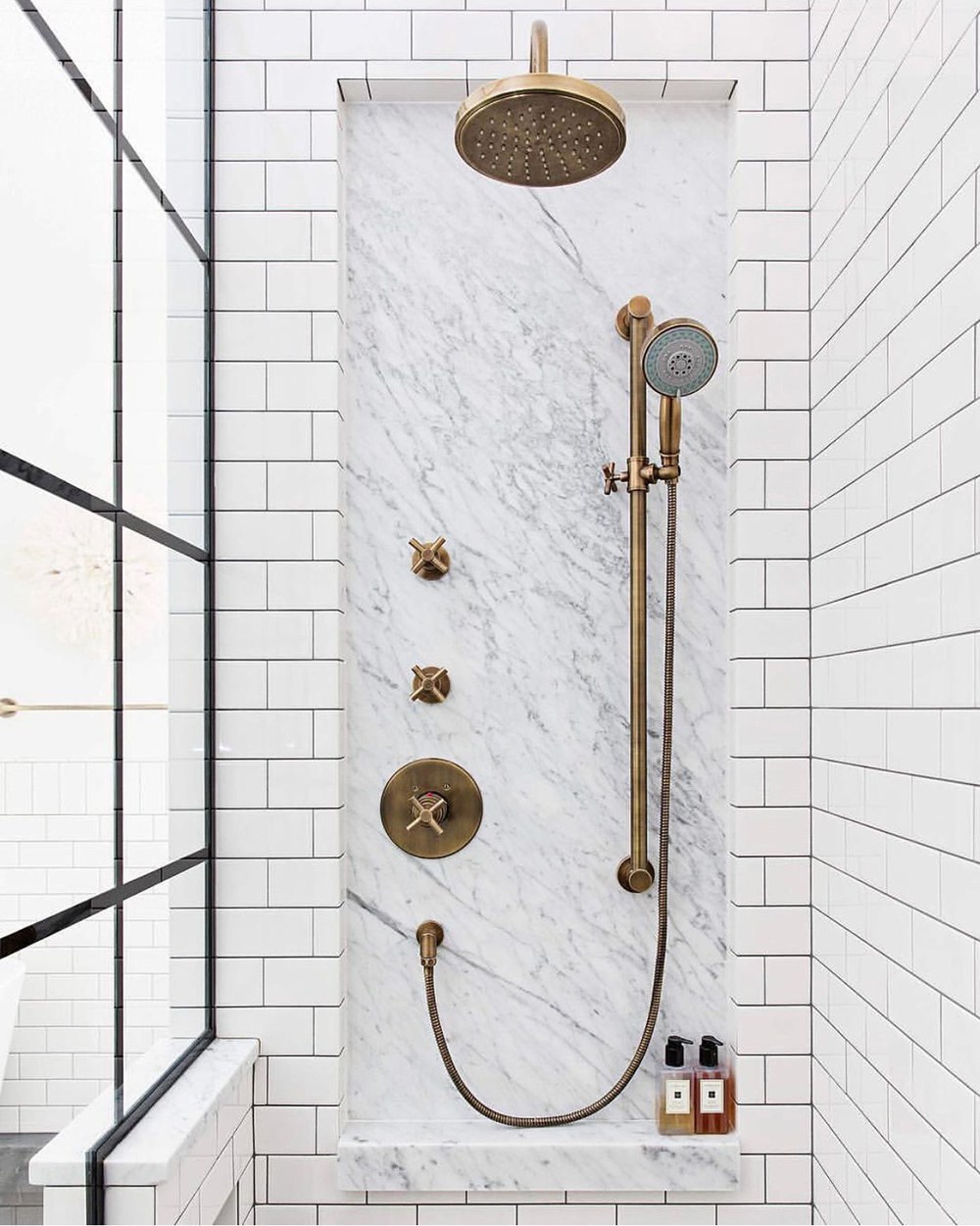 30. Snuggle a tub into the shower space
A tiny shower space can still fit a tub! It may not be a full-size tub, but it will still give you the best of both worlds. A niche increases functionality while the light colours visually enlarge the space. The eye is drawn to the zebra-like patterned cement floor tile, which creates the effect of the tub almost levitating in the space!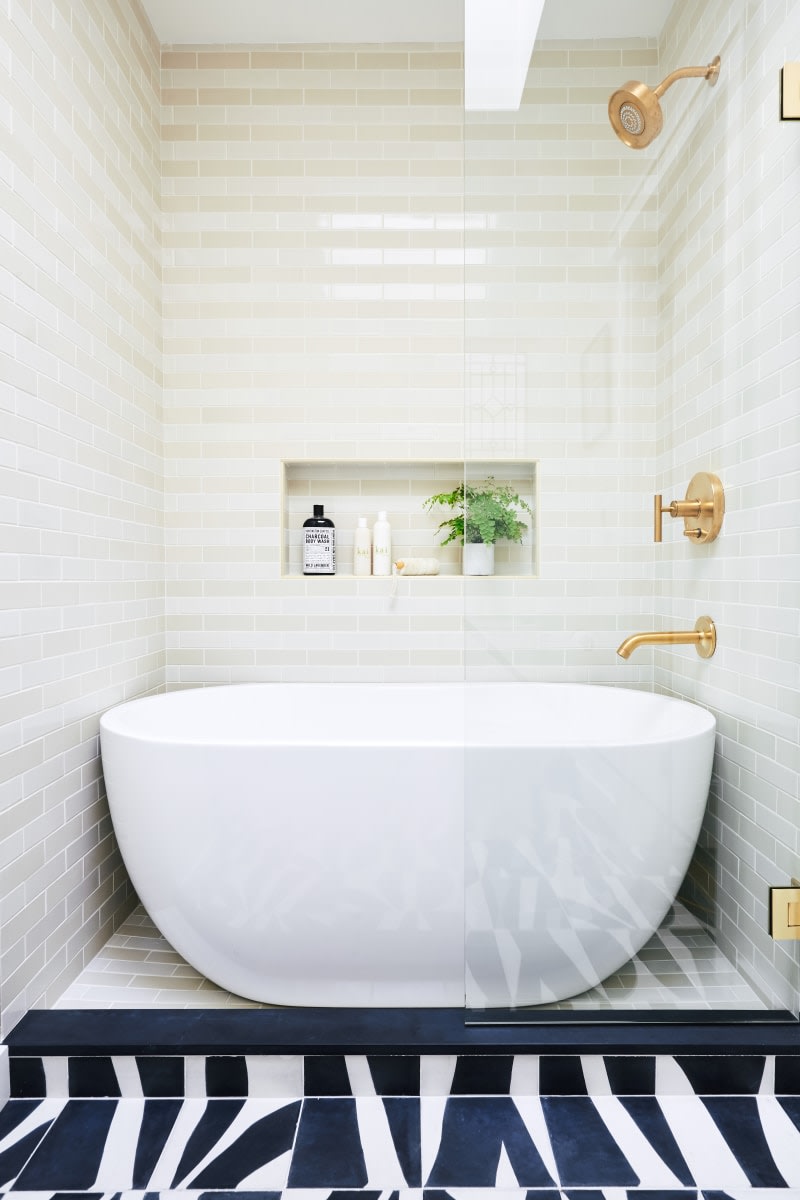 31. Add a dramatic shower curtain
An alternative to a fixed shower screen is, of course, the good old shower curtain. But you don't have to be limited by what's available in the homewares stores. I love how the owner of this narrow monochrome bathroom has created a unique shower curtain out of a massive sheet of black sailcloth attached to the oval rail with chrome hooks.
The black pendant light and black oil heater complement the curtain, while the floods of natural light make the metallic accent wall tile glimmer.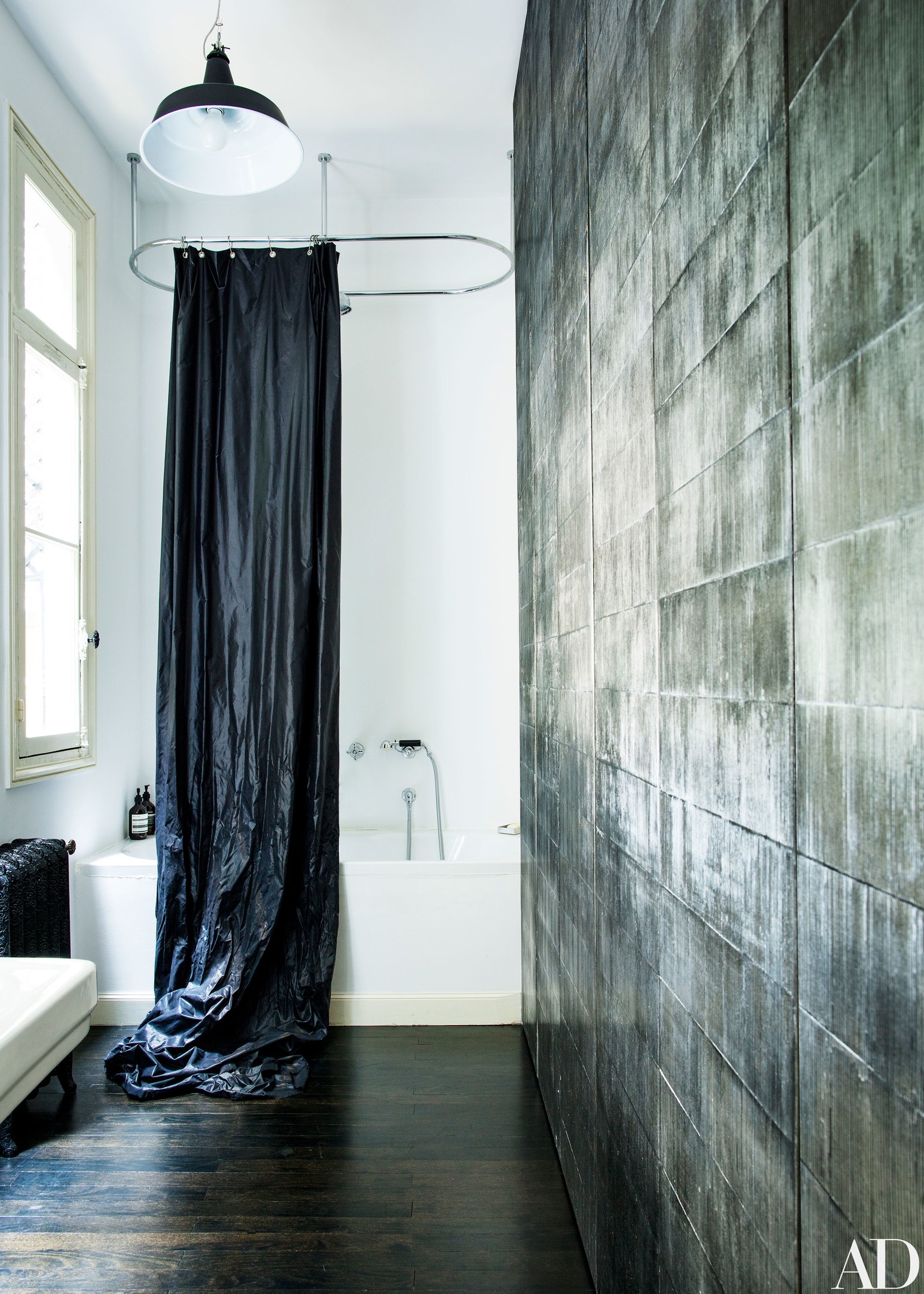 32. Deluxe delight
Three showerheads are better than one, right? Luxuriate under the central rainfall showerhead that graces this unusual domed ceiling or share a shower with a loved one under the wall-mounted double showers. Apart from creating visually-pleasing symmetry, double showers add value to your home.
So if you're doing a bathroom remodel, put double showers on your list. I love the aged brass fixtures, marriage of penny tile and subway tile, and of course the classic white freestanding tub nestled into the space. When you layer up the textures like this, you can stick to a very simple neutral palette to create a spa-like aesthetic.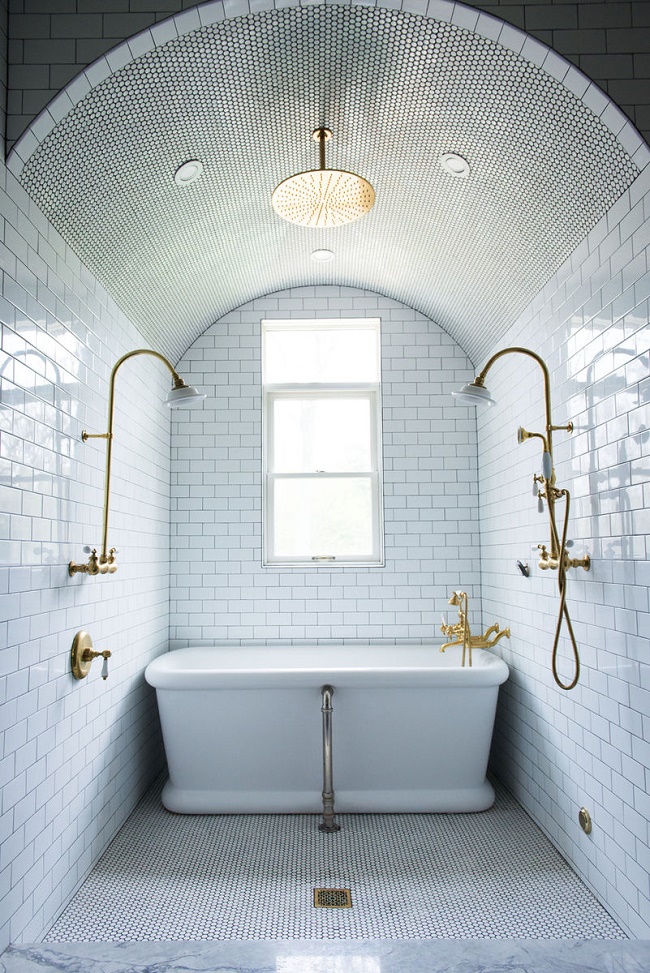 33. Drains that reign
Drains are available in all kinds of finishes and shapes. But if you're going for a sleek, streamlined, minimalist shower design, you'll want to choose a shower drain that seamlessly blends into the décor. You might like the look of an infinity drain, where the water seems to magically run off the edges, or a practically-invisible wall drain together with a gently sloping shower floor. In this ultra-minimalist shower though, the flush shower tray drain becomes a focal point.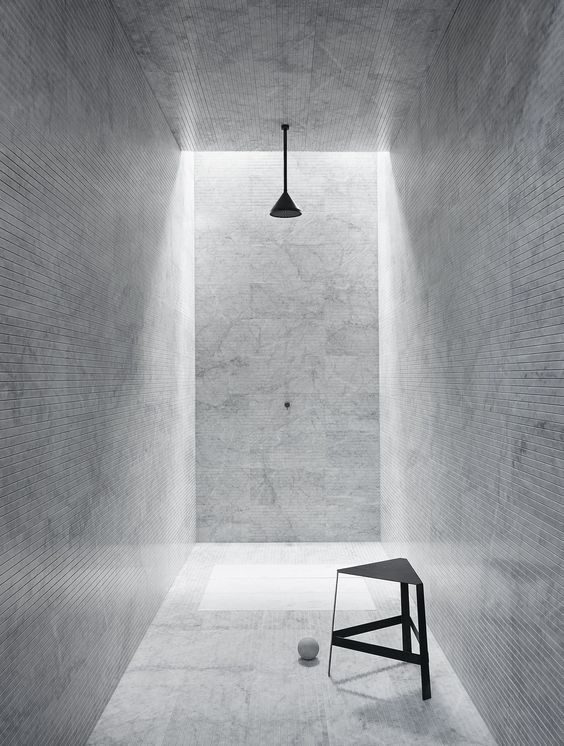 Love modern style decor? You might like to also view these modern house designs.
34. Cement bathroom shower idea
A palette of light and dark greys as well as pops of white works beautifully with the chrome shower fixtures in this narrow shower space. The large-format charcoal wall tile avoids looking gloomy thanks to the addition of rows of white downlights on either side, while the patterned cement tiles add texture and character.
35. Make it a wet room
Gaining in popularity for bathroom shower ideas is the wet room or doorless shower/bath. Designed to allow water into every corner, the wet room is a waterproofed bathroom with a shower and tub with no barrier.
No need to worry about the kids getting your whole bathroom floor wet (a pet hate of mine). But you might want to hang your bathrobe out of reach of the shower spray. Apart from excellent bathroom waterproofing, you need to consider how slippery the floor might become and factor that into your flooring plan. Let the sky in with a huge glass ceiling like in this rather grand bathroom. I also like the "bathers' pavilion" vibes of the wooden bench.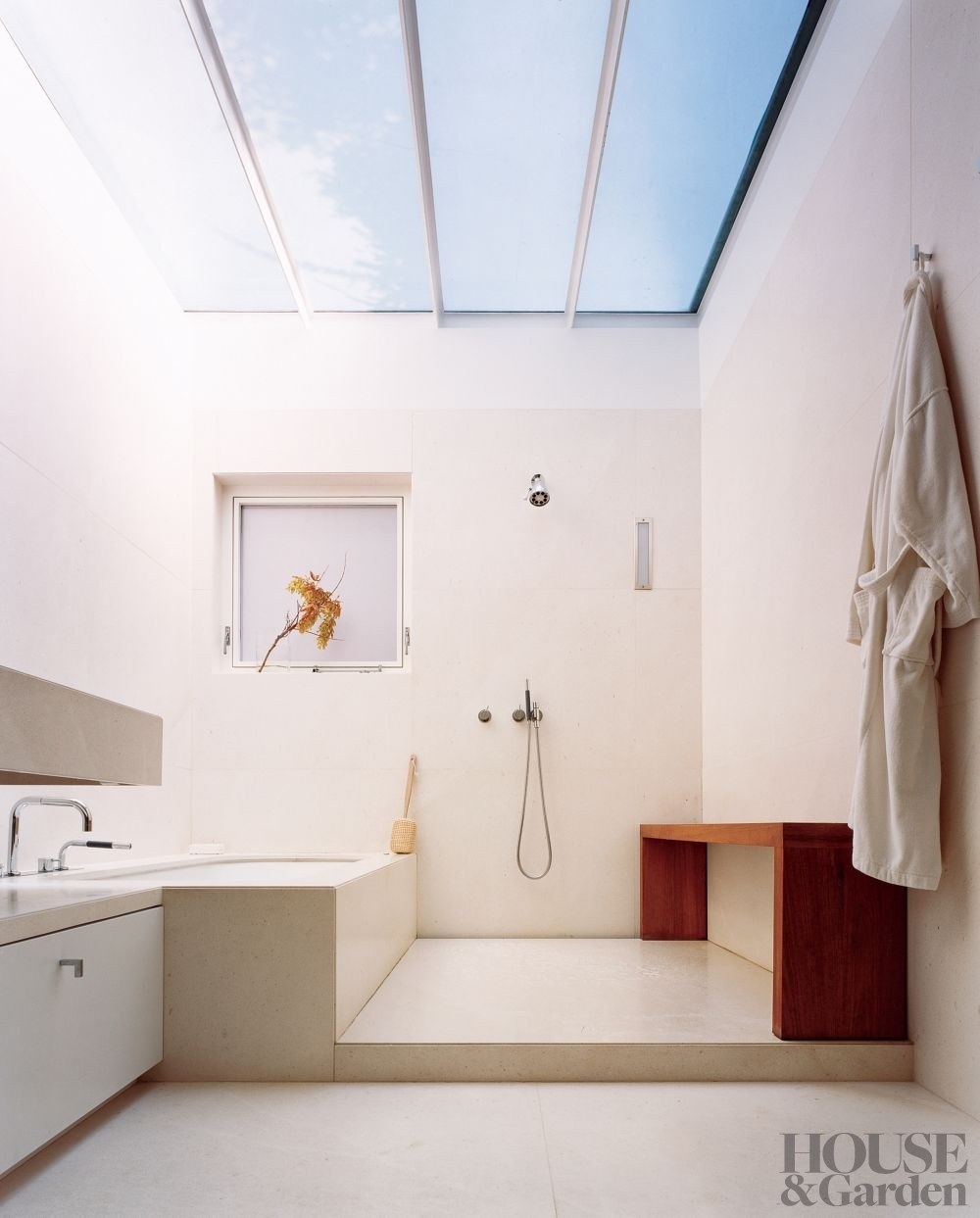 36. Go for gold
I love a simple minimalist luxe shower like this one. White subway tile with white grout on one shower wall keeps things classic and contrasts nicely with the wall of bevelled mini square tiles that create an interesting 3D effect. Once again, a large gold rainfall showerhead gives you a satisfying drenching while conveying instant glam.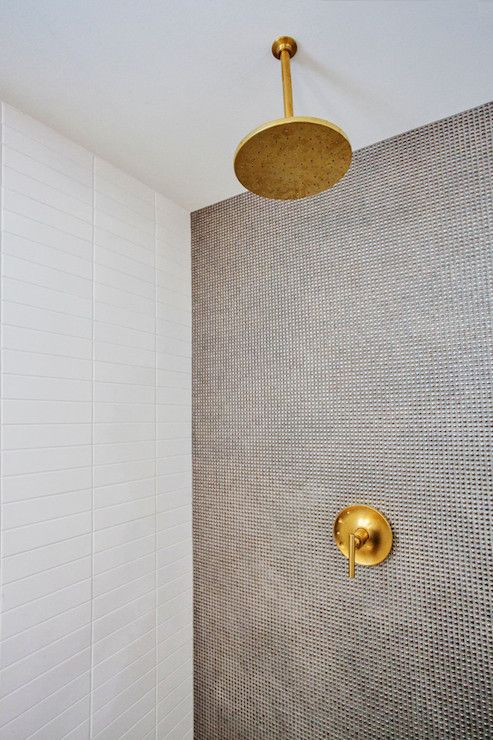 37. Simplistic charm
I'll finish up with my personal favourite – the art studio bathroom of former Kawaiian Lion head honcho Dee Tang. In keeping with the rest of her home and studio's aesthetic, there's heaps of natural light and whitewashing, plenty of vintage features and a distinct love of pattern (omg, look at that floor tile!).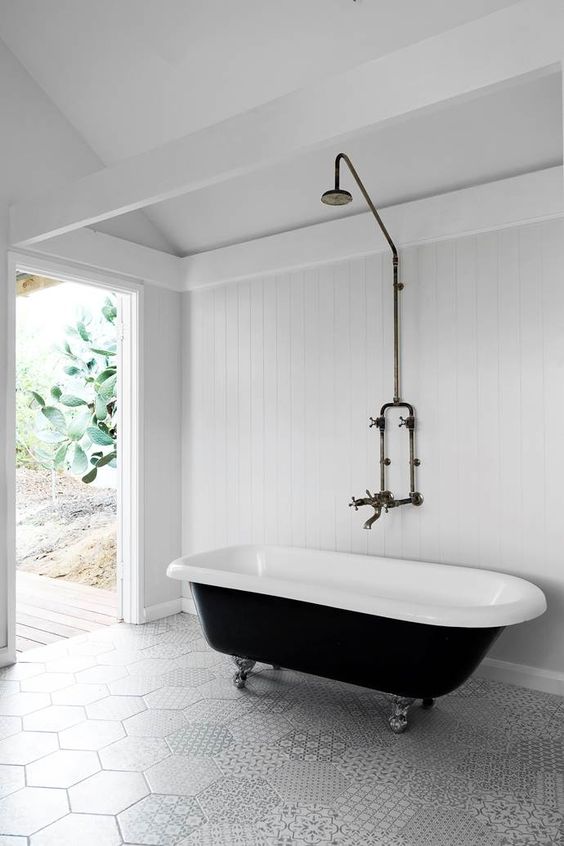 And there you have it – my pick of gorgeous bathroom shower ideas for inspo when it comes to designing your dream shower space. Which was your favourite? Let me know in the comments below!
Want more bathroom shower ideas for your bathroom renovation? Take a look at our in-depth article on bathroom ideas. And our useful price guides will give you an idea of how much a plumber costs, or more specifically, how much it costs for mixer/faucet installation.