The rustic decorating style is a true mainstay of interior design but, as with so many classic styles today it has been reimagined and a new, fusion style of modern rustic has emerged as a strong new contender in the style stakes. Taking the best elements of traditional rustic "rough diamond" décor and mixing it with chic contemporary elements and amenities, the modern rustic bathroom is a warm, welcoming and unpretentiously gorgeous space.
Traditionally, rustic style is achieved with the introduction of abundant organic elements and influences from nature into the home. It's all about the generous use of natural materials and their sensual, contrasting textures—rough stone, warm wood, soft wool and linen, the weather-beaten patina of an old wooden bench. And in keeping with the natural theme, rustic décor features a colour palette of warm, earthy neutrals.
Another feature of authentic rustic style is to draw attention to any architectural and sculptural elements of the home. Whether you can expose stone walls or original slate floors, highlight dramatic timber beams or a network of pipes, make the most of any such so-called "honest details" in your home.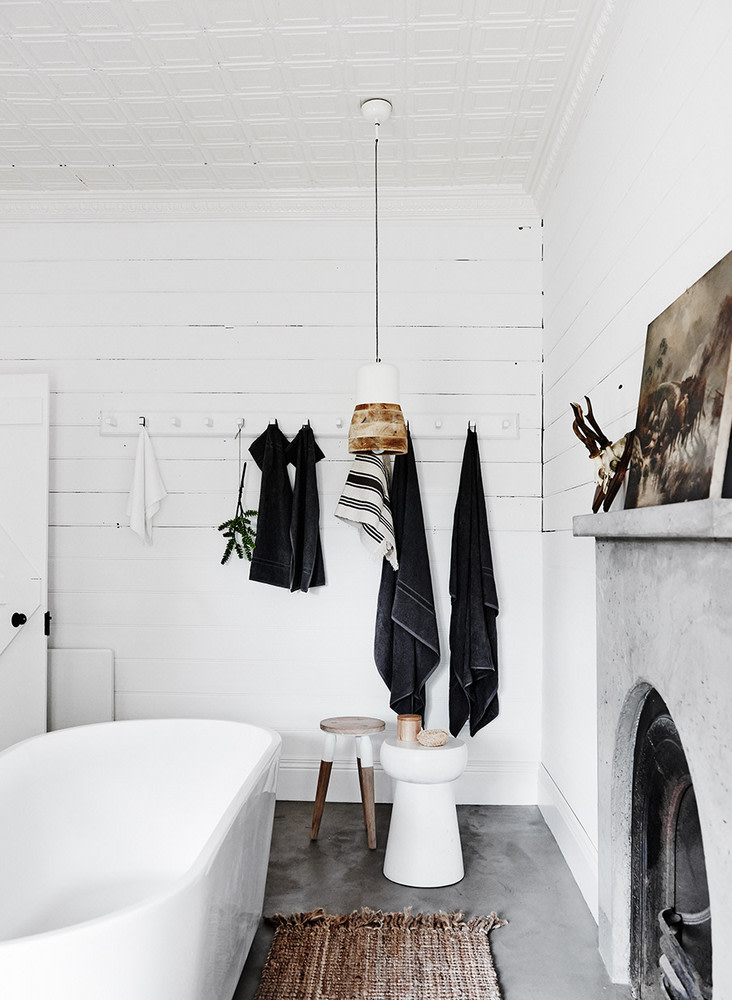 Compared to traditional country rustic style, modern rustic is much more pared-back, minimal and scrupulously edited. All objects are thoughtfully curated, preferencing handmade, artisanal furniture and accessories. Influences from other cultures and eras are embraced.  In particular, inspiration is drawn from the twelfth-century Japanese lifestyle philosophy wabi-sabi. This belief system focuses on the imperfect beauty of life, craftsmanship and spaces. It shares the same textural aesthetic with rustic décor, with a deep respect for artisans and craftspeople and an appreciation of simple, pure, natural beauty.
And there you have the modern rustic style; traditional country touches combined with clean, streamlined contemporary elements (such as a freestanding tub or modern finishes and fittings). The result? A wonderful balance of chic modernity and cosy authenticity.
Here I'm going to share more than 40 examples of modern rustic bathrooms that hit the mark.
1. Country rustic bathroom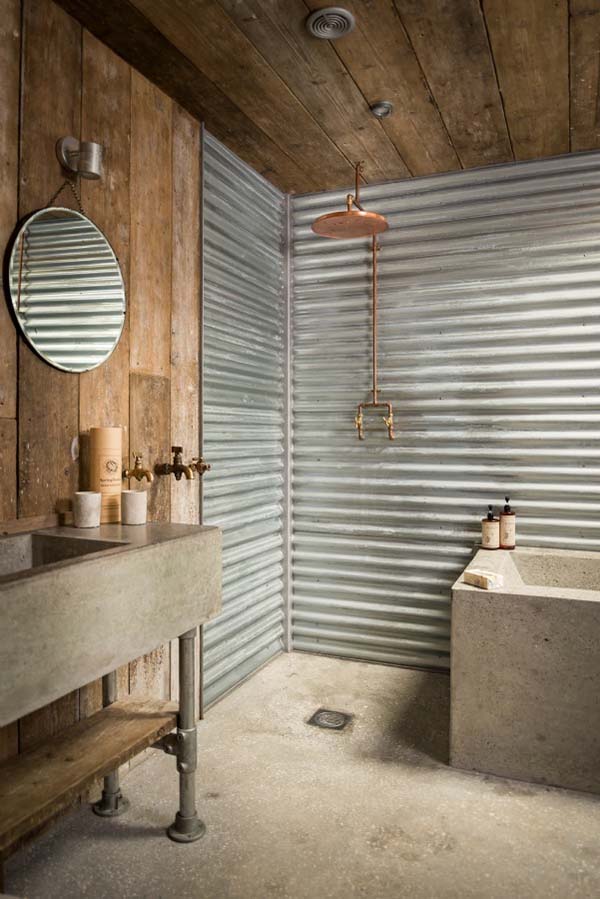 The key materials of the rustic style are those that come from an organic source:  plenty of timber (especially reclaimed and distressed), natural stone and natural fabric. Using highly textured rustic materials in contemporary statement sinks, vanities and tubs is another distinct feature of the modern rustic style. The corrugated iron also adds a touch of country flavour to this bathroom.
2. Organic shapes
Modern rustic bathrooms tend to eschew hard edges and lines in favour of softer, rounded, natural shapes and forms instead. The beautiful contemporary ovoid, curved freestanding tubs are perfect for creating a gentle, cocooning effect.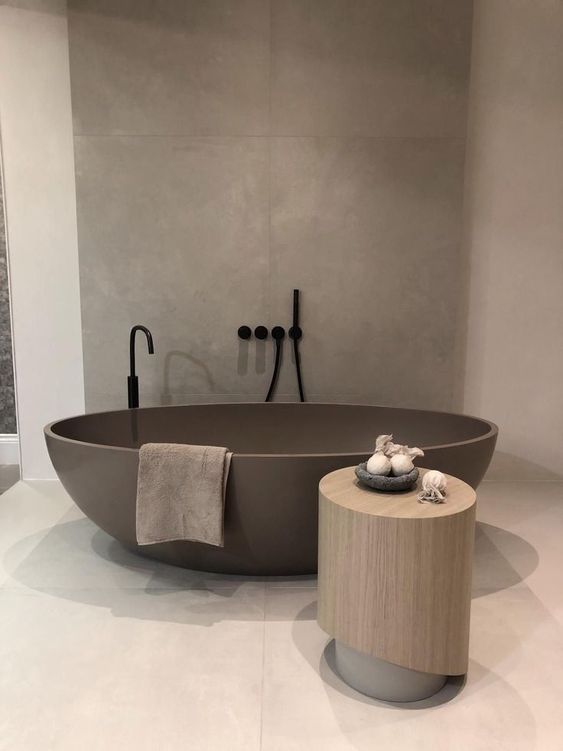 Love the beauty of modern design? Here are lots more contemporary bathroom ideas.
3. Architectural features
If you are building or renovating and have the chance to expose any architectural features, grab it! Wooden floorboards, stone walls or exposed beams all spell instant rustic charm and can become the focal point for your space. Leave timbers raw or go for off-white or earthy tones with some bathroom painting.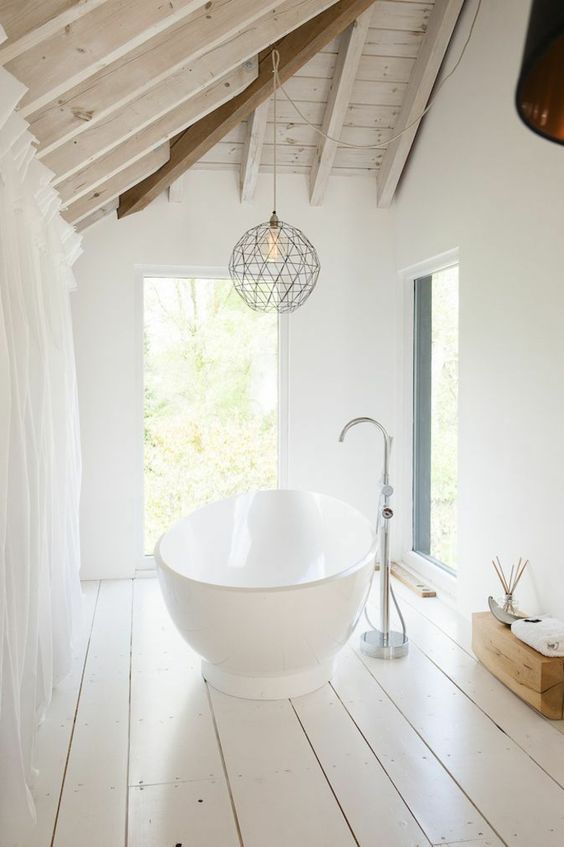 4. Earthy tones
The modern rustic colour scheme is guided by the neutral tones of natural materials with a warm, earthy palette of beige, rust, chocolate brown, orange and charcoal, finished either chalky or matte. Choose warm paint tones and warm light globes rather than cool ones.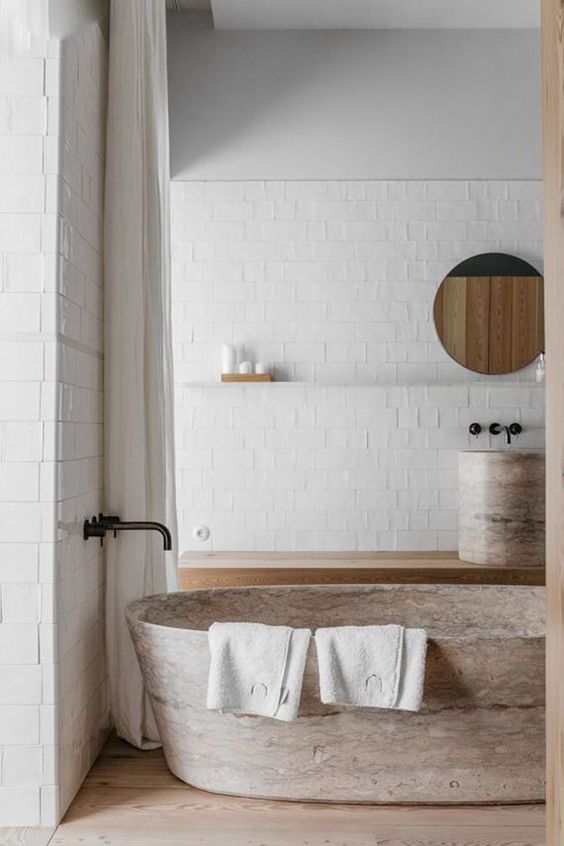 5. Chunky furniture
Key furniture pieces for a modern rustic bathroom are the vanity or cabinets, and here, the rule of thumb is the rougher and chunkier, the better. Knotty woods or those with a prominent grain are often favoured.
Furniture might be a beautifully-designed bespoke timber vanity or a stunning statement vintage piece to contrast with contemporary elements. Usually, simple, minimal tapware and hardware works best rather than something too fussy.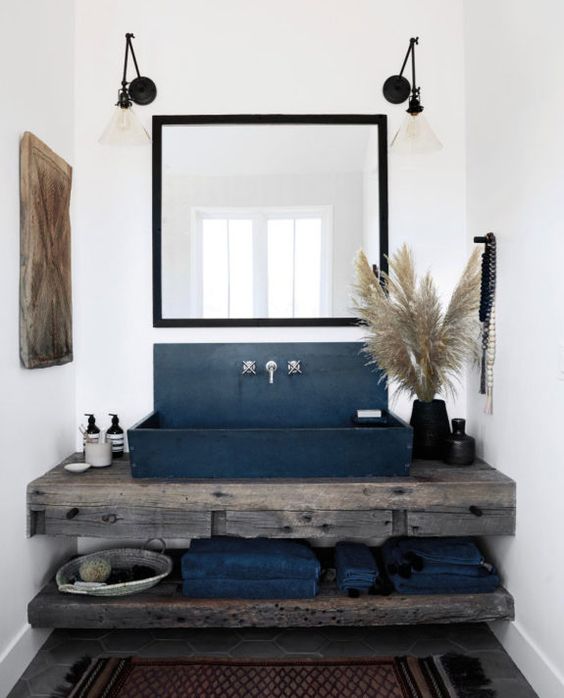 To recreate something like this it will take an expert bathroom cabinet maker.
6. Textile rich
Textiles are absolutely central to the modern rustic bathroom style. A gentle array of tactile, natural fabrics like wool, cotton, linen and velvet provides a much-needed softness to counteract all the strong earthiness of the raw materials and create textural harmony.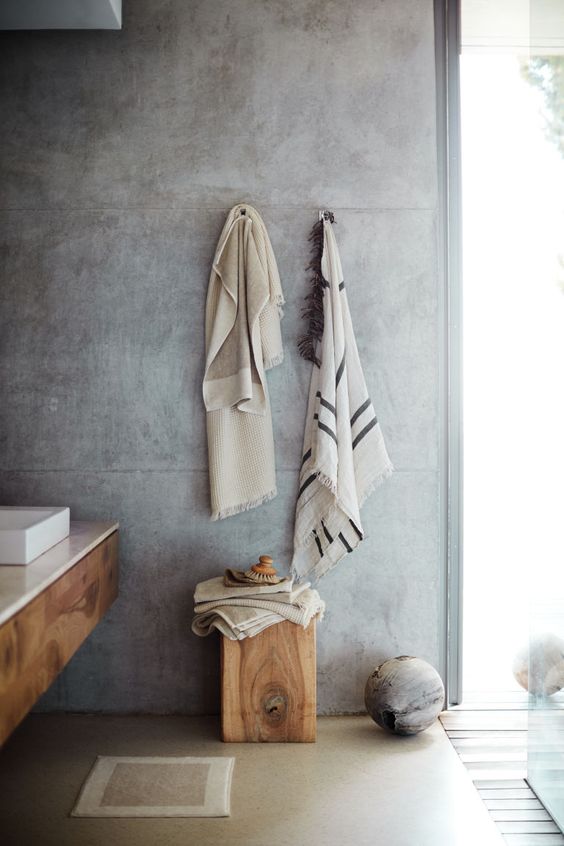 Source: Pinterest
7. Large windows
Take advantage of any big bathroom windows you may be lucky enough to have. Contemporary bathrooms are full of light, and traditionally rustic homes strive for connection with nature and the outdoors. With that kind of parentage, it's only to be expected that the modern rustic décor style also aims for an abundance of natural light.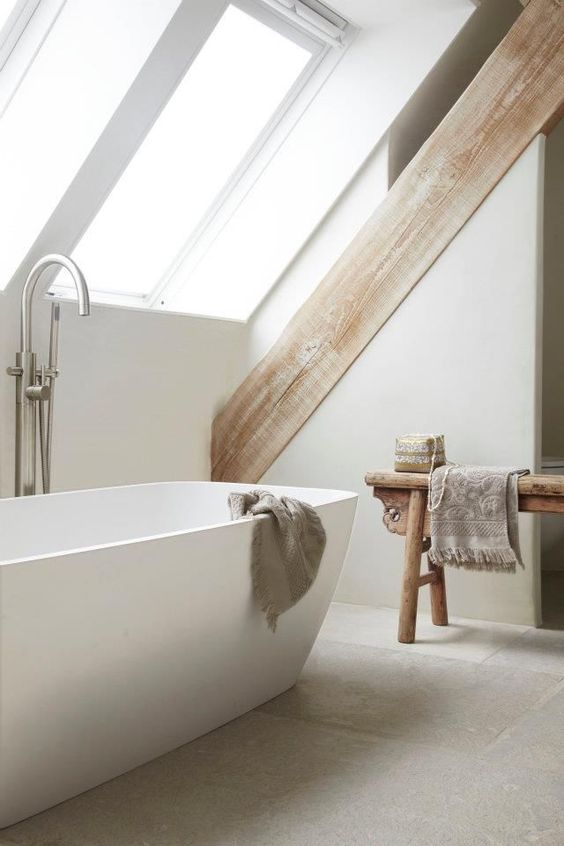 8. Rustic ceiling
Earthy raw vibes in this rustic bathroom thanks very much to the combination of natural timber beams, concrete bathtub and rattan accessories. I love the teardrop-shaped pendant lamp, adding another organic form to the space and creating gorgeous patterns on the walls.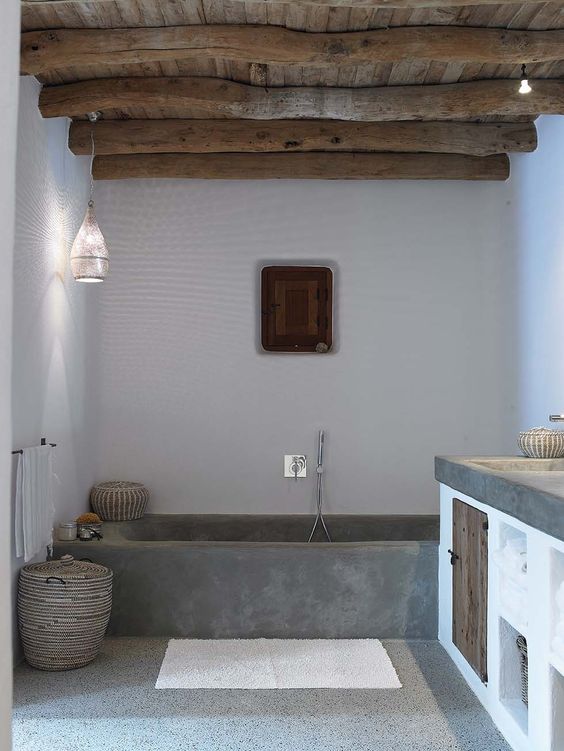 9. Large rustic vanity
Choose large furniture pieces made from reclaimed or distressed wood that feature a strong, homely appeal. Here, a very raw and basic rustic vanity made of three slabs of wood is the perfect backdrop for a delicate white sink, while the attention is drawn to the mirror by the unusual rustic wooden frame.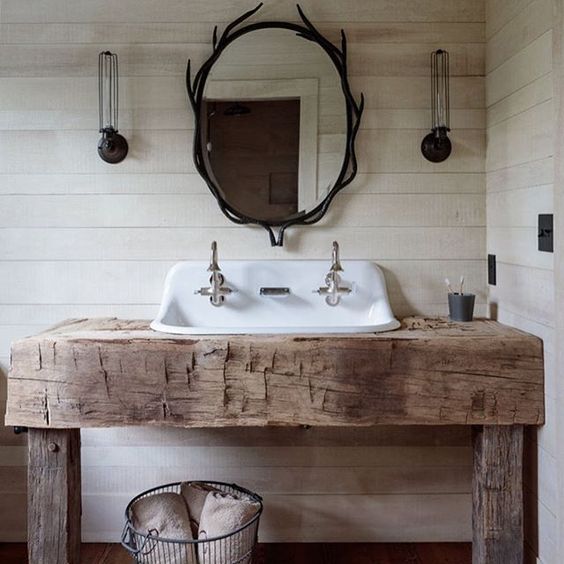 For more bathroom vanity ideas across a variety of styles, make sure you take a look at our recent article featuring bathroom vanities.
10. Timber stool
No rustic bathroom is complete without a simple Japanese-style or vintage wooden stool or small bench. They're aesthetically pleasing in their imperfect little organic shapes, especially against contemporary bathroom materials like glass or metals. And of course, they're also useful for displaying a few small objects or textiles.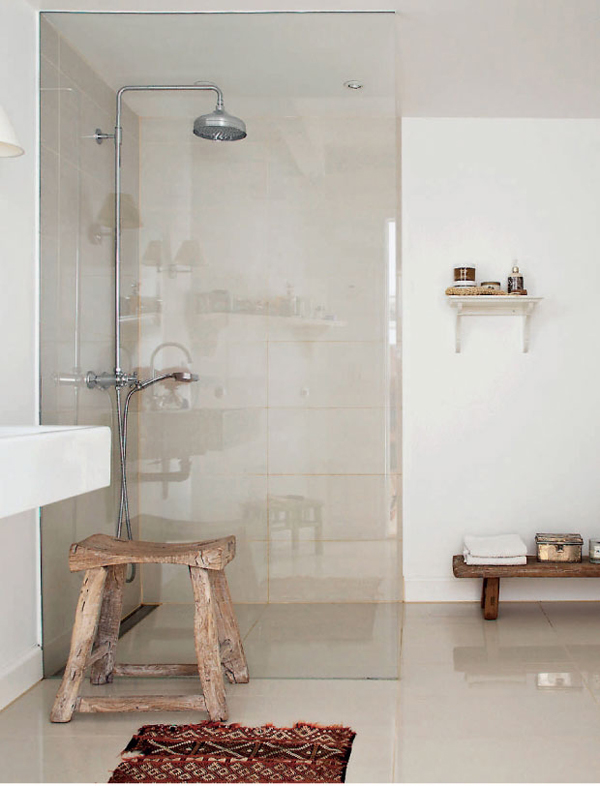 Source: Décor Demon Blog
11. Rustic shower log
An even more rustic alternative to a little wooden stool is to use a log butt as a shower stool. Protect with marine grade varnish and you have a simple yet effective instant rustic element.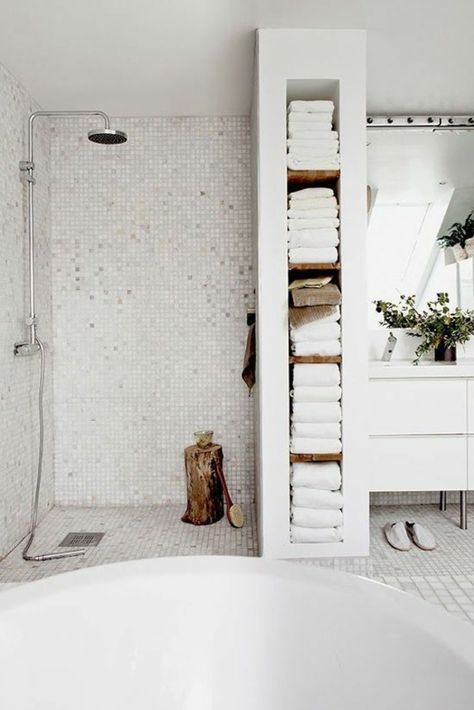 Get the right help with showerhead installation. You might also need help with exhaust fan installation.
12. Rustic pendant lamp
An easy way to incorporate more natural textiles into your contemporary bathroom to create a modern rustic vibe is to add pendant lamps in organic materials. Oversized wicker or rattan lampshades will create flickering ambient light and inject plenty of warmth into the space.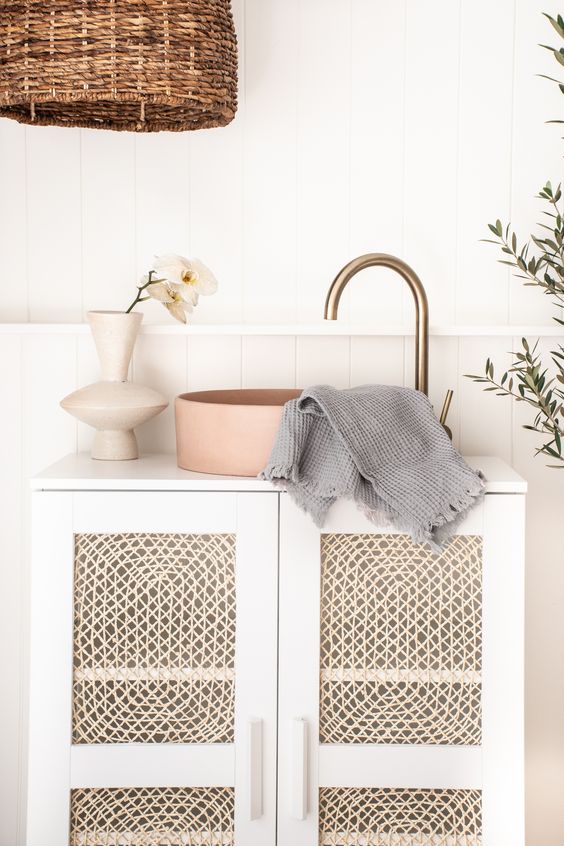 There's so much more that you can do with lighting though, so make sure you take a look at these other bathroom lighting ideas too.
13. Industrial rustic
If rustic appeals but you want to move away from country styles, industrial rustic style might be for you. This style celebrates "old meets new", blending rustic elements from the natural world with rustic elements from the urban, industrial world, such as metal finishes or raw concrete vanities.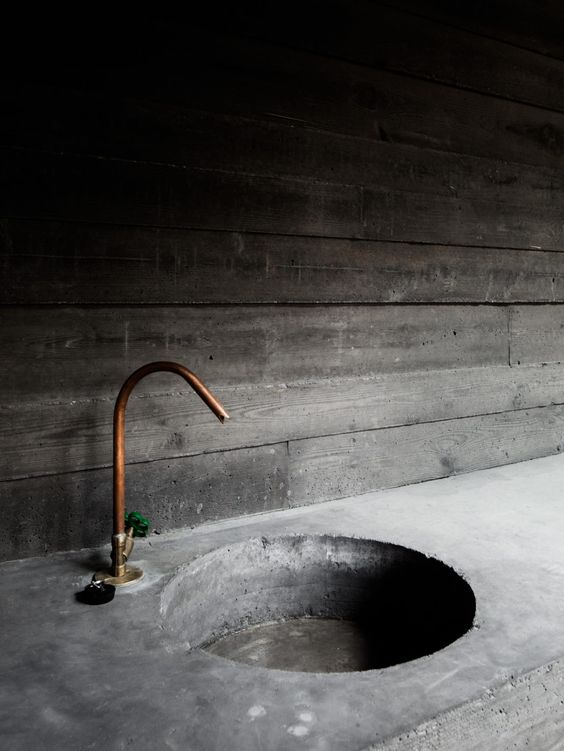 14. Keep it simple
A lovely simple rustic bathroom set up here, with a very basic wooden vanity comfortably bearing a farmhouse sink. A timber mirror frame, some woven baskets and a little bit of glam thanks to the tiny candelabra sconces.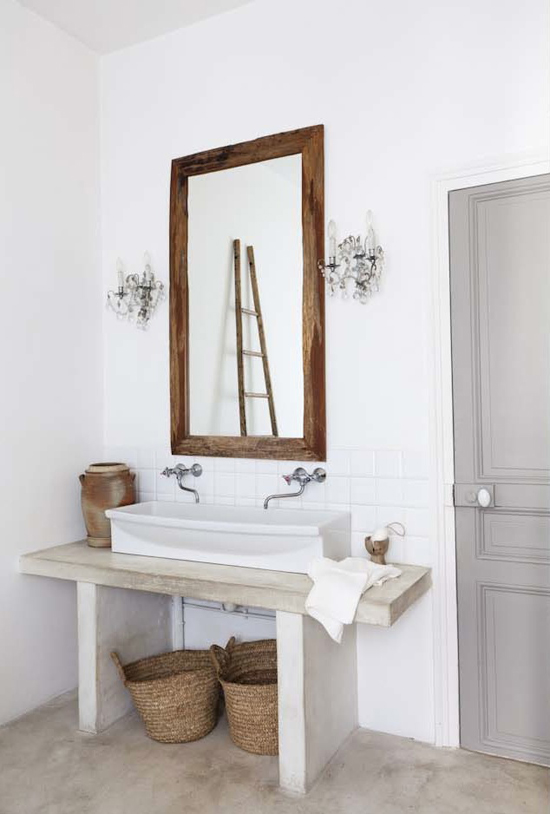 15. Whitewashed timber
Lots of natural light and whitewashed timber walls gives this bathroom a beachy, natural feel. The black metal and transparent glass sconces add a modern touch while the warm-toned tapware and mirror frame adds sophistication.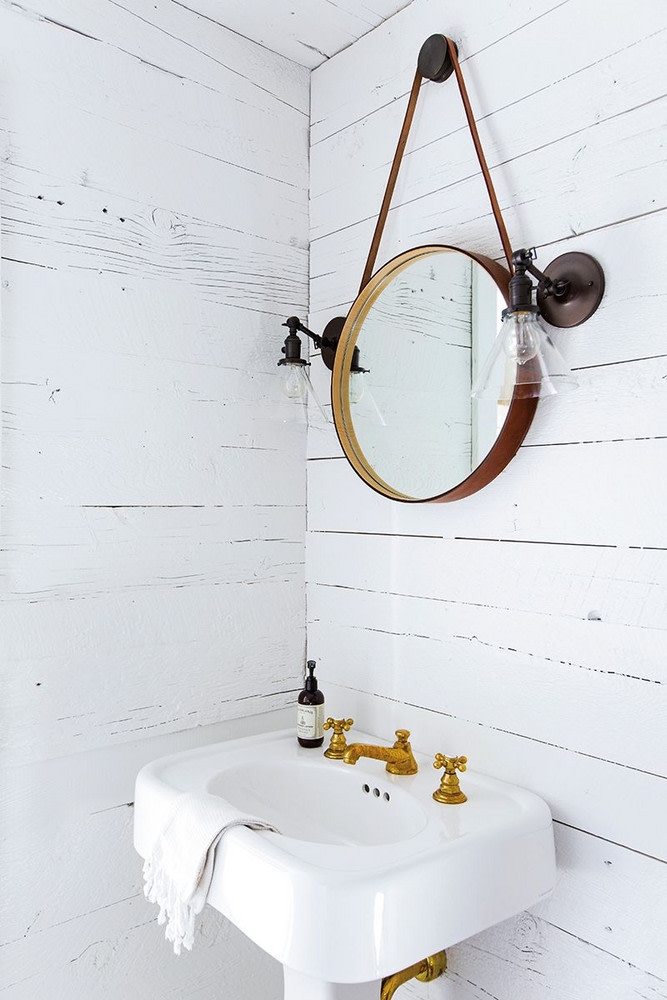 16. Timber walls with cement sink
A chic contemporary cement sink contrasts with natural timber wall panelling in this gently rustic bathroom. Old balances with new: the little vintage wooden chair draped with a tangerine knitted blanket balances out against the modern black tapware and fittings.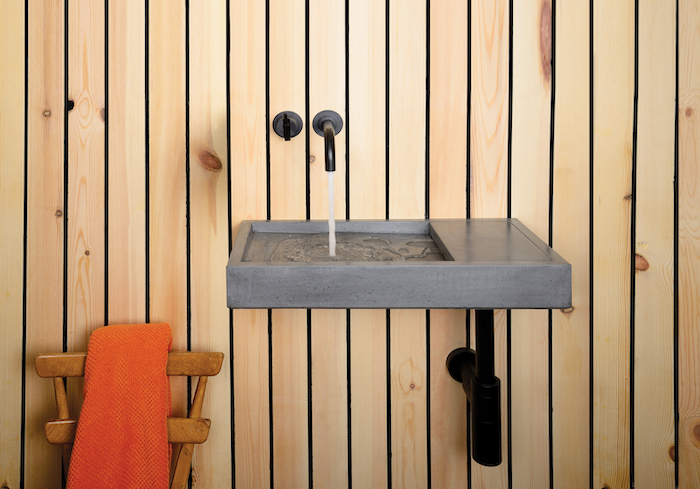 17.  Barrel tub
Make your bath-time a grape experience…in this half wine barrel bathtub. It's perfect for the countryside.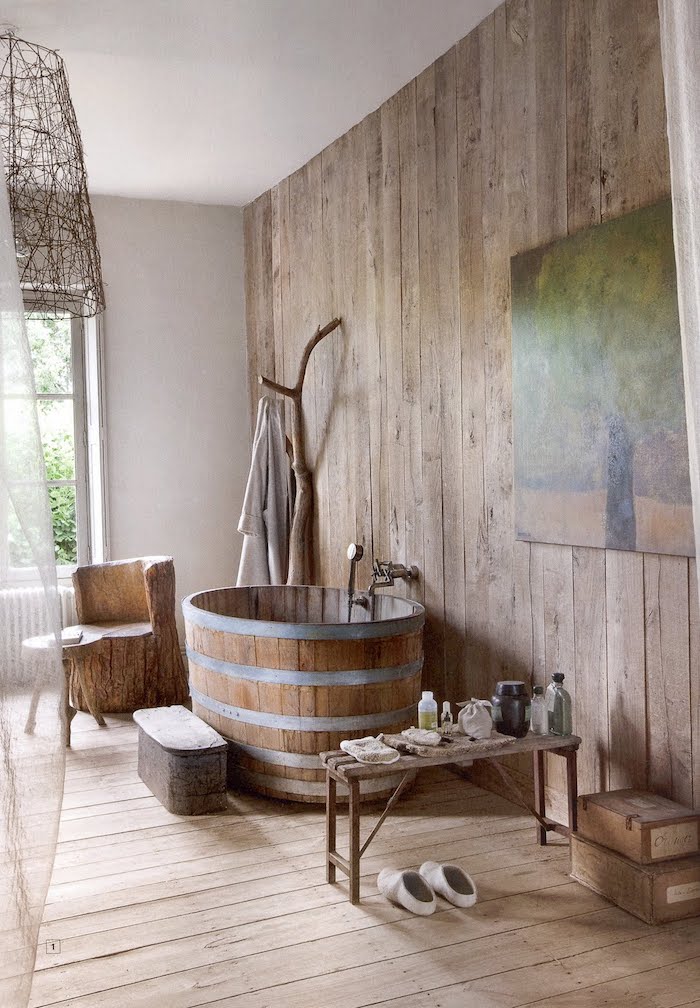 Source: homebnc
Need help with creating a timber floor for your bathroom that can handle moisture? Find an expert to help you with your bathroom flooring.
18. Stone sink
A key element of the rustic bathroom is the inclusion of a vessel sink made of either metal or stone. Here, a stone sink contrasts with timber vanity and shelf. Some tassel-fringed Turkish towels add a cultural flavour and some subtle colour and pattern.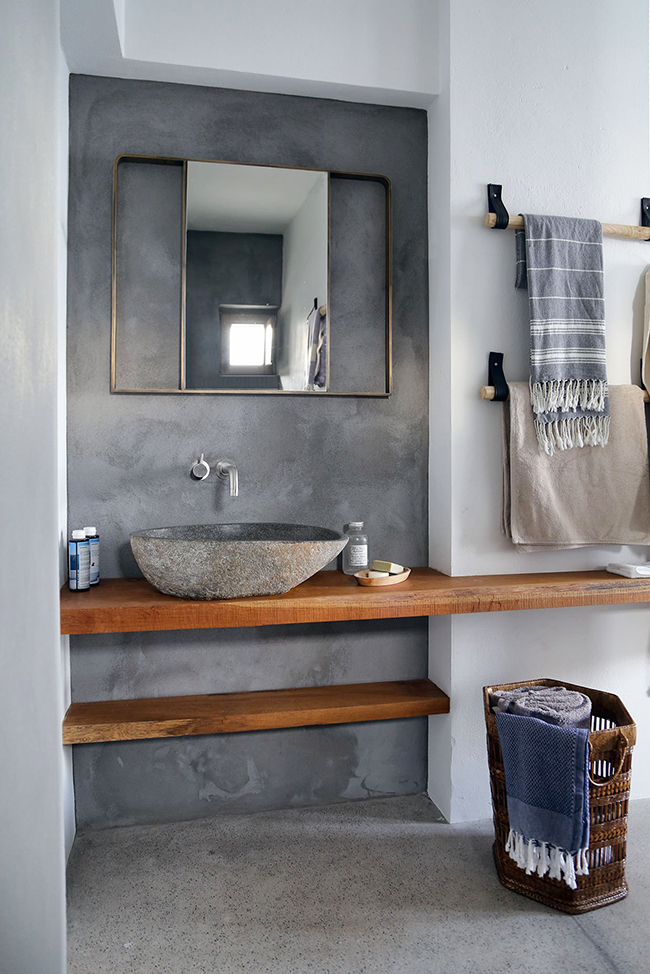 19. Rustic sink
A charming little powder room featuring a mix of rustic materials and textures. The highlight here is the unusual natural stone sink with its contrasting French gold tapware.
And might I just add that the wall sconces here absolutely make the room!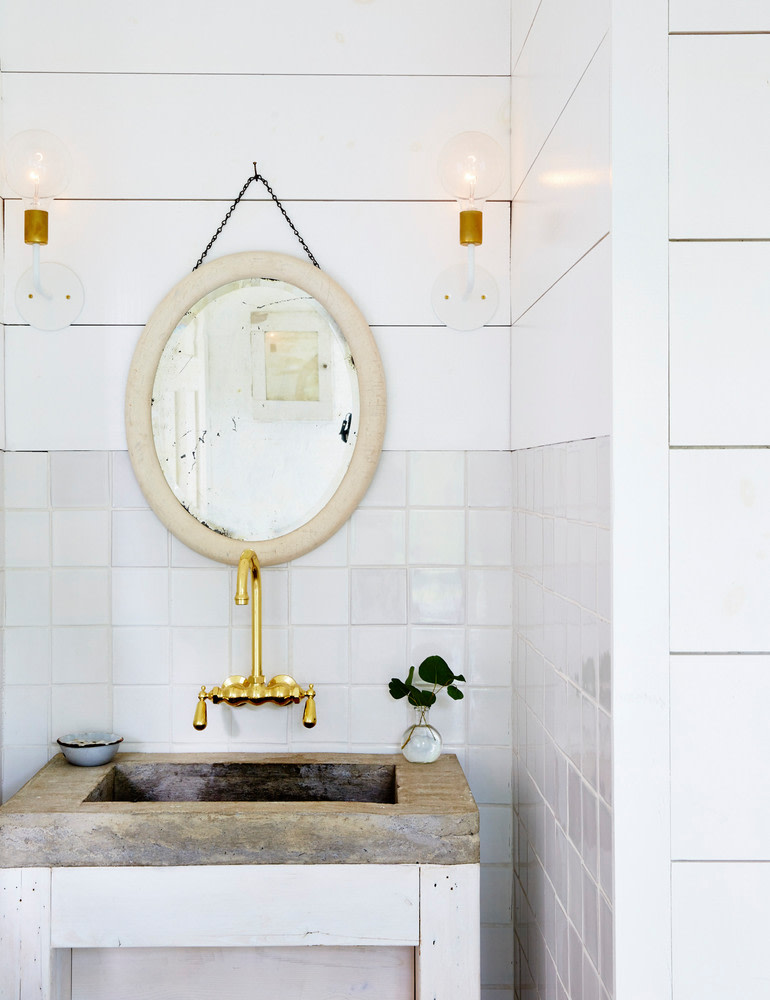 20. Vintage ladder
The quintessential rustic bathroom element? An old wooden ladder repurposed as a towel rack. It's functional, taking up all that wasted wall space, and immediately sets the tone. In this modern bathroom, you can see how the addition of just these few basic wooden elements automatically injects the space with rustic character.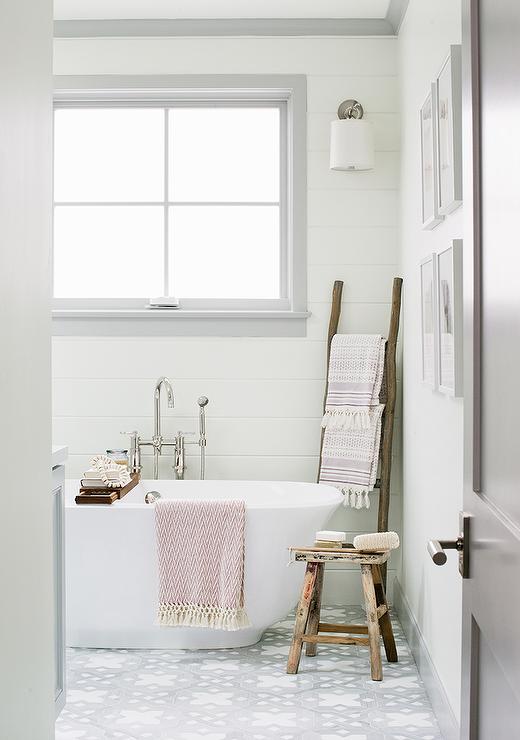 21. Baskets
One of the easiest ways to add a rustic touch is to store towels and toiletries neatly away in wicker, seagrass or hessian baskets under the vanity.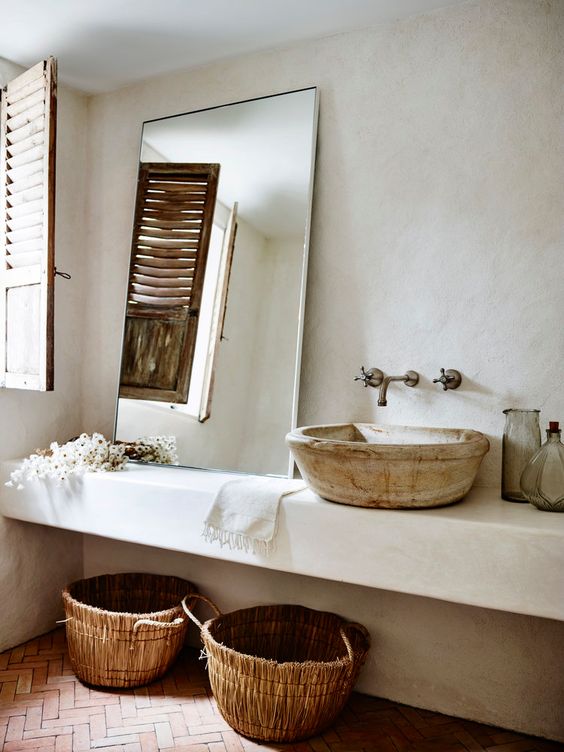 22. Mirror made of branches
Another simple little way to add rustic charm to your bathroom is to add a rustic wooden mirror frame, turning the mirror into an artwork. How about a truly unique mirror frame made from twigs and branches like this one?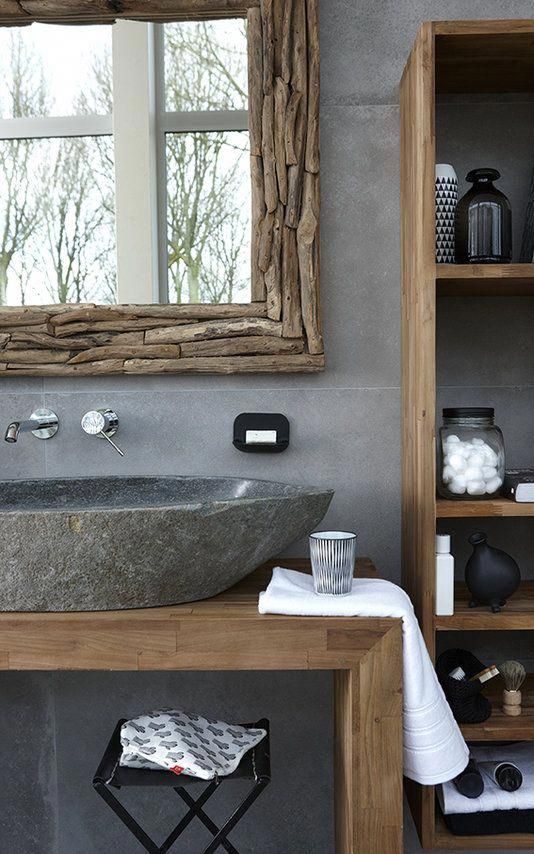 23. Mix antique and modern metals
The quickest way to bring in a rustic flavour to your contemporary bathroom is to swap out one modern piece of furniture for a vintage one. Below, a contemporary, white and chrome bathroom gets instant charisma thanks to the vintage touch of the antique mirrors. Their distressed and battered nature is what gives them their rustic charm.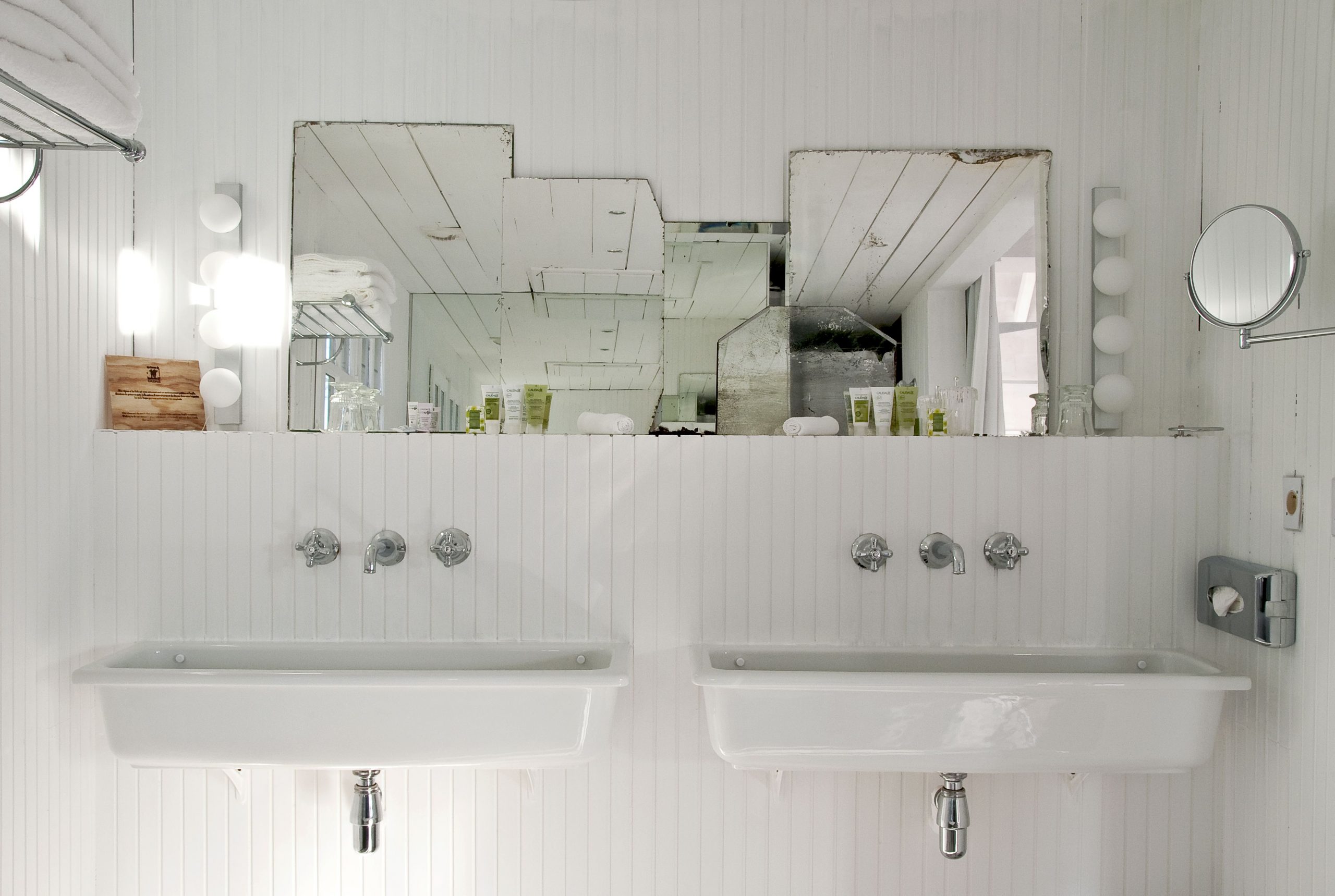 Love vintage style? You might also like to check out our article on Art Deco style bathrooms.
24. Add a cowhide rug
If you have a modern bathroom, turn it into a rustic modern one by adding an old, standalone clawfoot bathtub. Give the space country flavour with faux animal hides for rugs, and some quirky industrial flavour with a distressed metal letter and some hanging Edison bulbs.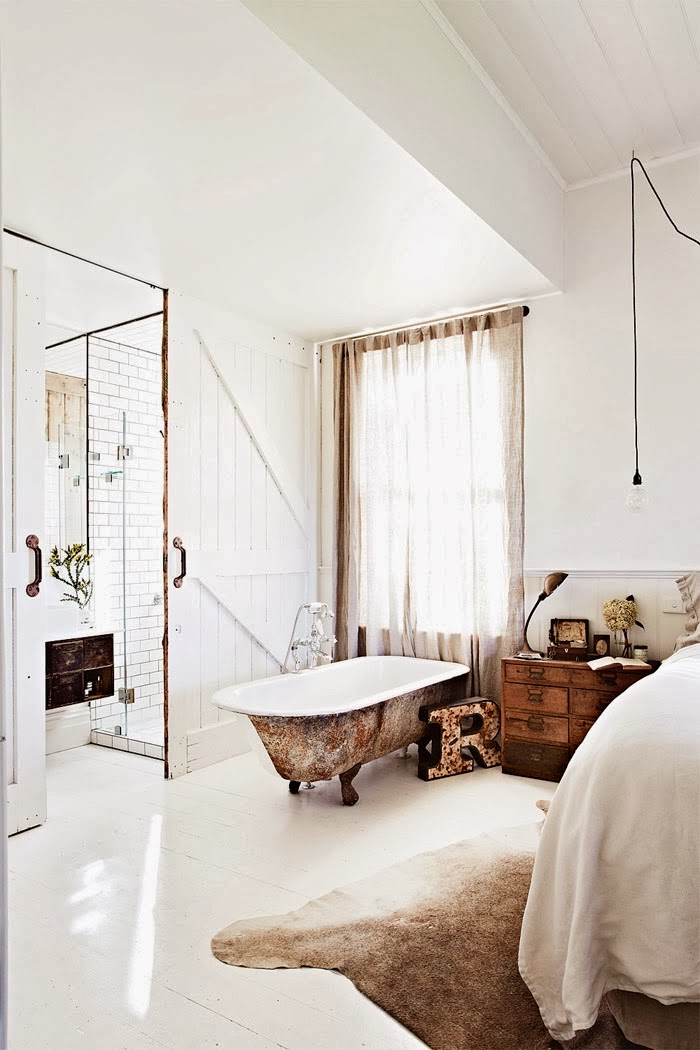 25. Branch out
A sophisticated contemporary bathroom that has used a single wooden branch to introduce a rustic natural element and provide some contrast to the high-gloss silver tub.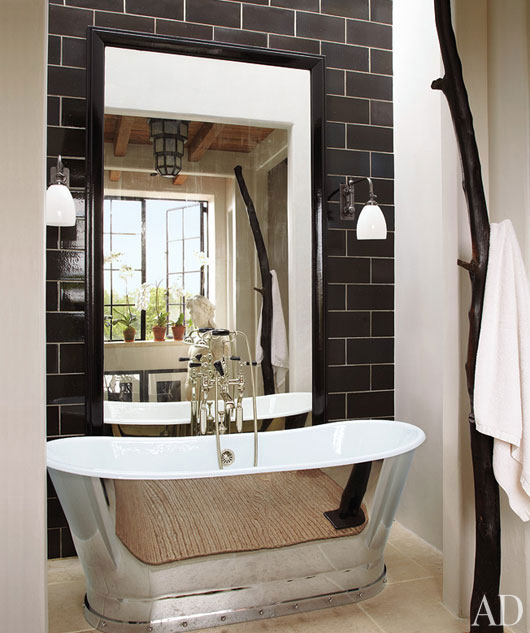 26. Metal barrel tub
Bring the barn inside with a stainless steel barrel bathtub. The tub is the focal point of this small space, and the surrounding décor is subtle and minimalist. For plumbing help with installing barrel tubs, find a local plumber.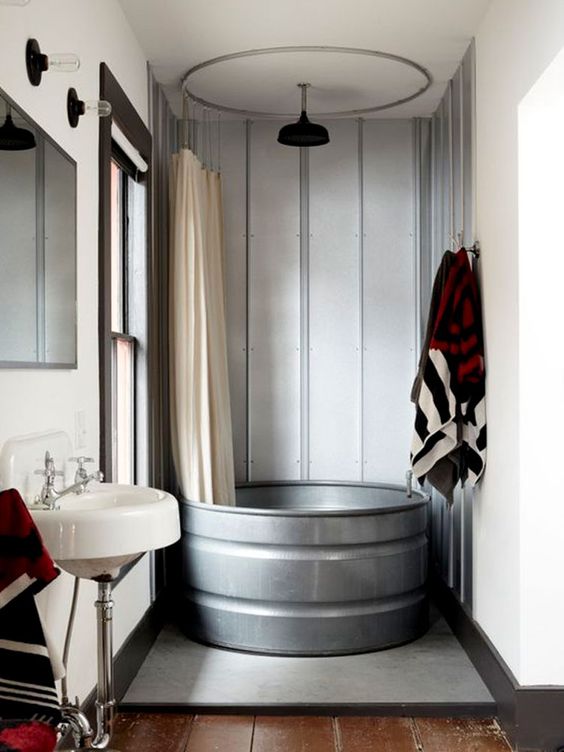 27. Vintage marble sink
Bathrooms with a modern rustic character tend to be pared-back and quite minimalist. Showcase your statement rustic elements but don't go overboard. As you can see in this simple rustic bathroom, less is definitely more.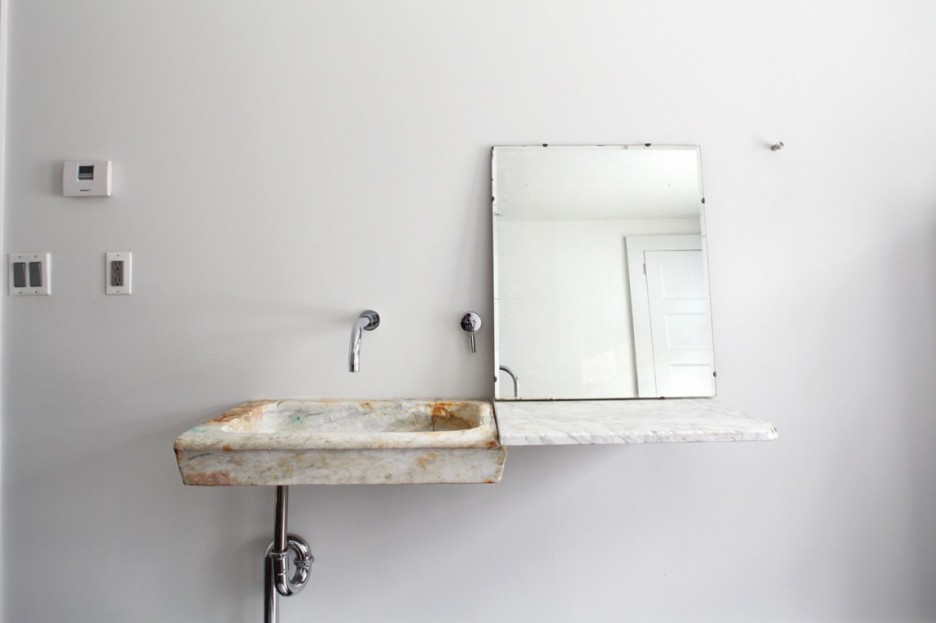 28. Raw timber vanity with black tapware
This rustic vanity countertop demonstrates how wood grain and raw imperfections are considered things of beauty in the modern rustic style.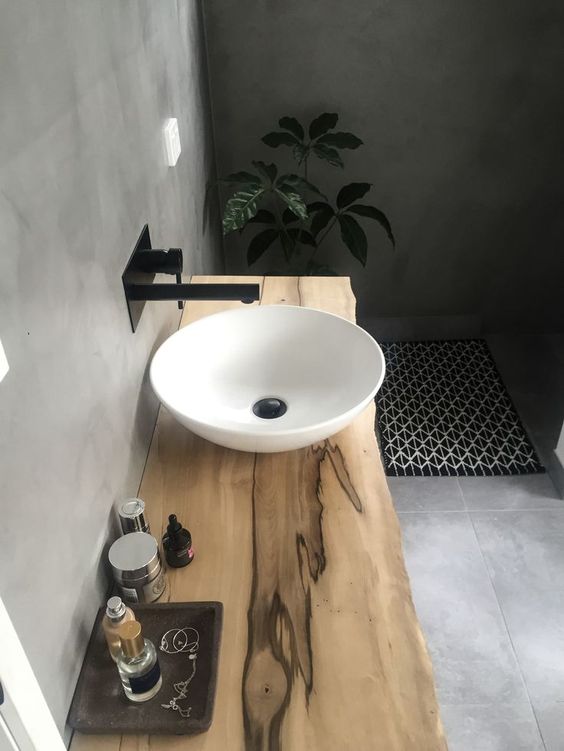 29. Timber wall trim
There's a lot of rustic elements going on in this bathroom, and I reckon it could probably be pared back. There's exposed ceiling rafters, the knotty wooden ladder as a towel rack, a stone vanity with a woven basket beneath, ceramic sink, vintage style wall sconces, and a timber wall trim. All in a tiny space. Phew! Still, the harmonious neutral colour scheme manages to tie it all together somehow.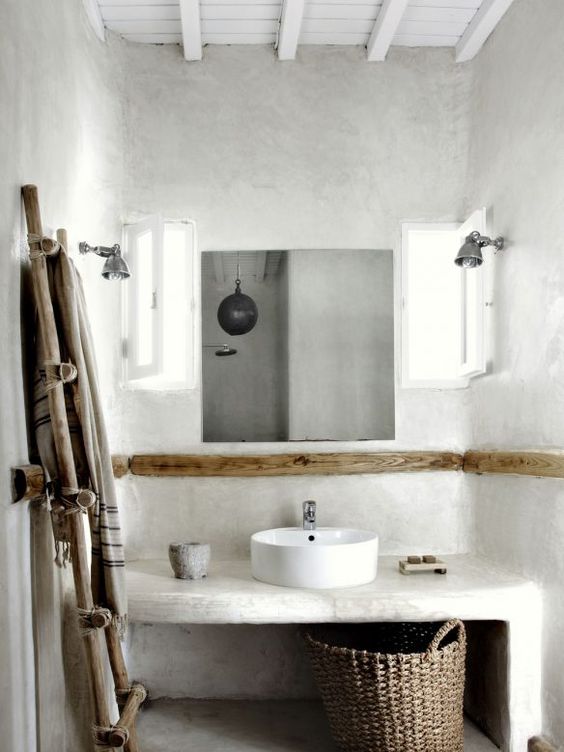 30. Neo rustic
This sophisticated contemporary bathroom is all about texture. Despite only including a few actual objects (tub, tables, sculpture and light), the layered textures are so rich that the space seems dynamic and dramatic.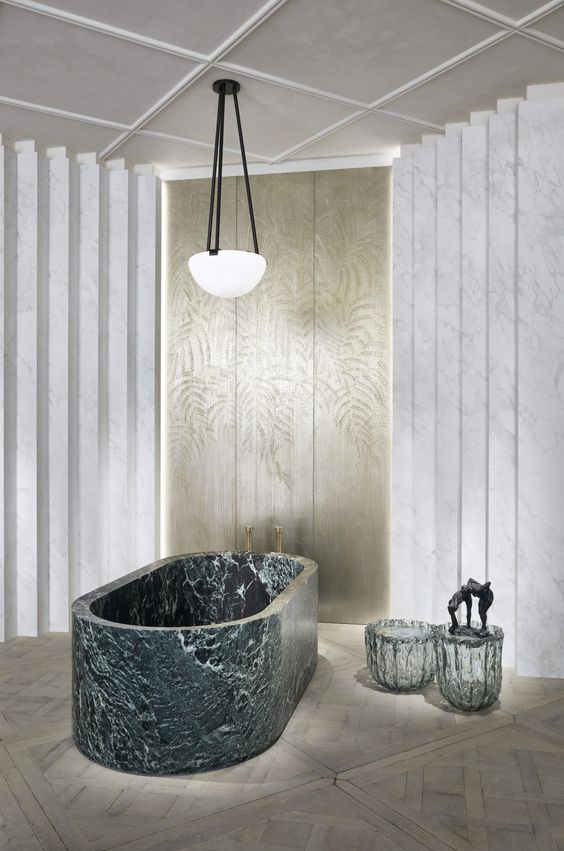 This would look perfect in a modern home. If you want to see how it would work, see our collection of modern house designs.
31. Wabi-sabi style rustic
Here's an example of a rustic bathroom set up in true wabi-sabi style. The shapes and forms are unfinished, unpredictable and appear as if melded to the natural world, and some artisanal textile elements have been added for visual interest.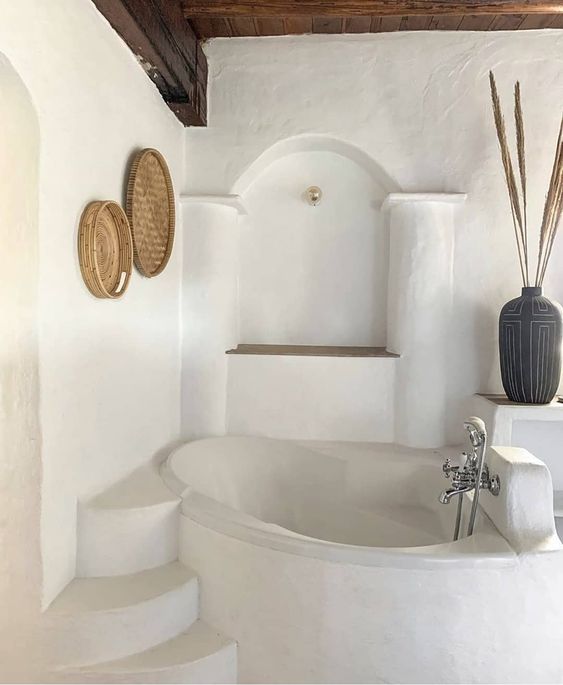 32. Ceramics and tiles
Ceramics and tiles are further earthy, rustic elements you can incorporate into your bathroom, providing rich bursts of colour and pattern. Whether ceramics are styled up as a collection (as is common in wabi-sabi style interiors) or are a solo statement piece, look for playful shapes, dipped glazes, lots of fine detail and intricate craftsmanship.
Below, a rustic tile splashback adds country charm to a plain wall, it's traditional rustic meets modern with the combination of vintage faucets and a contemporary freestanding sink.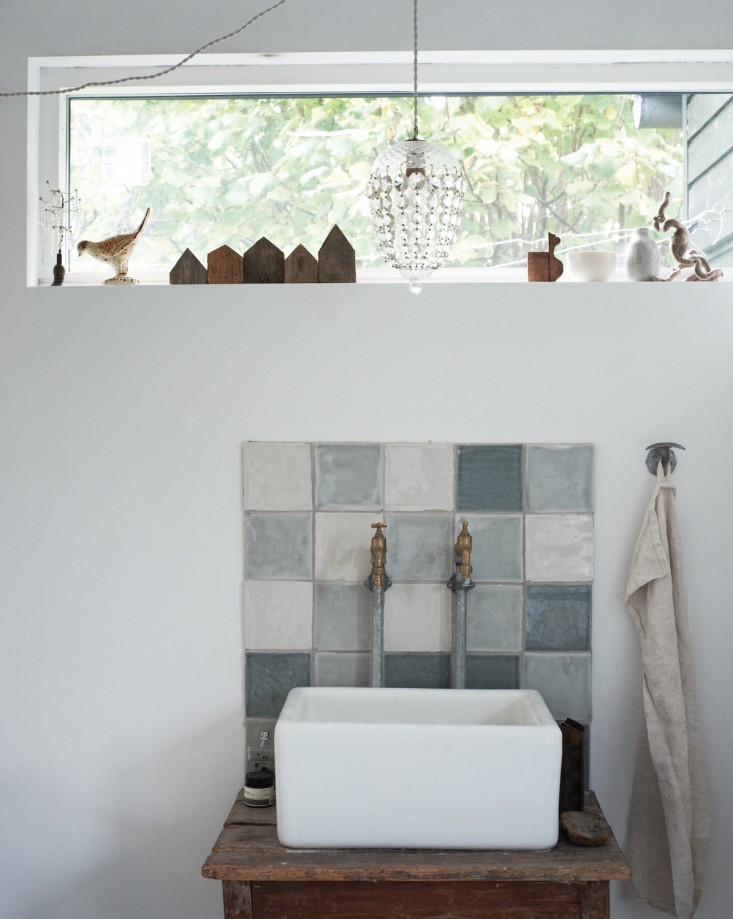 If you'd like to see more tile designs, we've put together a comprehensive list of the best bathroom tile ideas. You can also find a local expert tiler to discuss your ideas with if you're not too sure what to go with.
33. Modern with stone
This modern rustic bathroom features plenty of natural stone, softened with wicker and rattan hampers and baskets and fluffy cotton towels. I love the potplant acting as a little colour burst in the monotone room.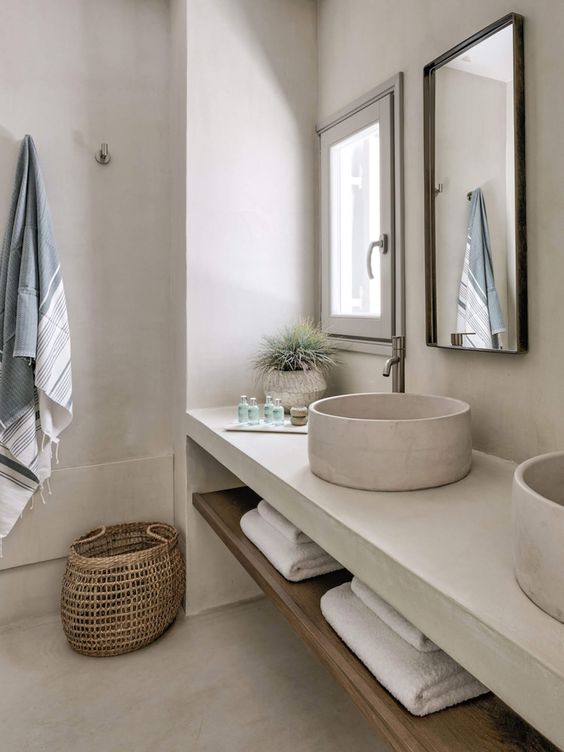 34. Scandi rustic
Here, a twisted, tortured slab of timber has been crafted into a vanity complete with towel rail underneath. The unusual vanity becomes the focal point of the bathroom and the rest of the décor is understated and subtle. Natural-coloured walls and floors, neutral textiles and a little plant life and the result is a soothing, Scandi style rustic bathroom.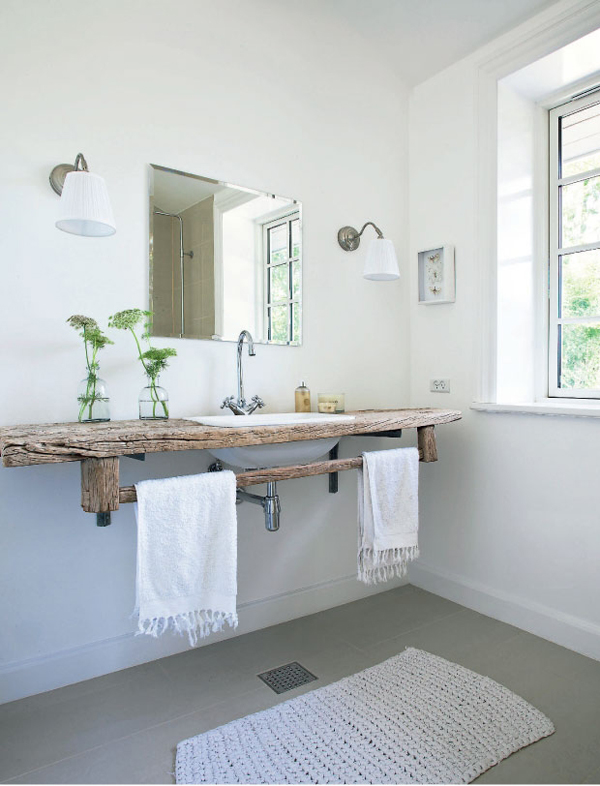 35. Artisanal textiles
Choose gorgeous materials from the natural world for accessories, such as chunky knits and woven textiles. Think textural contrast and creating an overall sensual, tactile experience.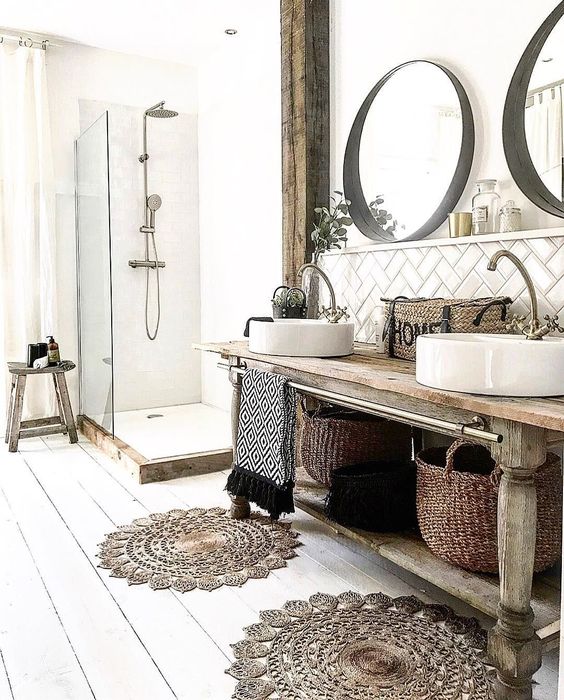 36. Muted colours
Although the rustic bathroom usually has a soft, light, natural colour palette of warm whites, ochres and beiges, it's also possible to create a darker rustic bathroom. Choose a similarly muted, softened colour palette in sophisticated darker neutral tones including charcoals and chocolate browns. Whether you go light or dark, stick to a few, key colours to achieve harmony.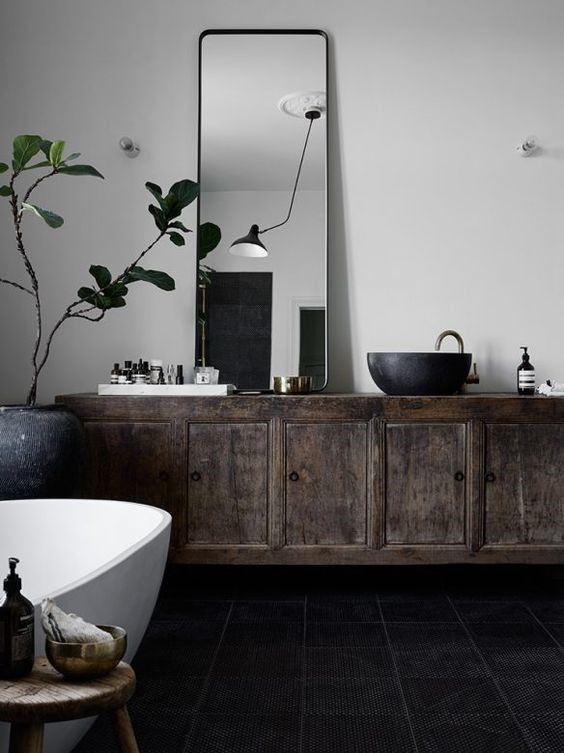 37. Navy rustic bathroom
A dark rustic bathroom doesn't have to be grey or black… why not a lovely navy.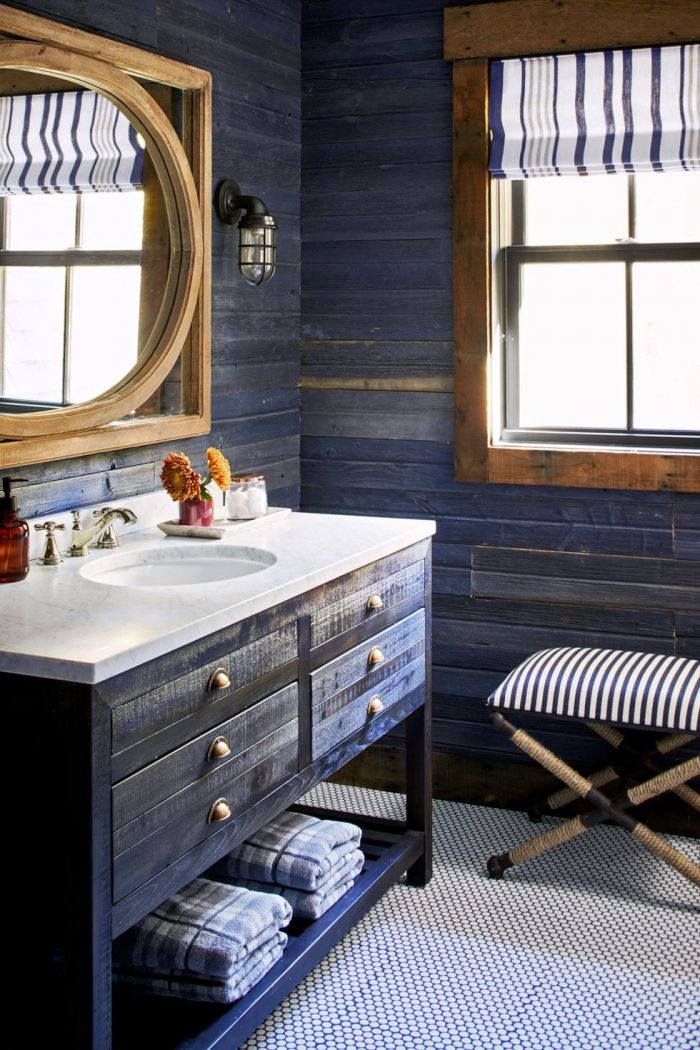 If the blue tickles your fancy, here are 35 more blue bathroom ideas that you might fancy.
38. Black tub
This darker bathroom has an industrial rustic flavour thanks to all the timber, stone and metal. I love the steel and glass vanity, Mid-Century style side table and floor lamp.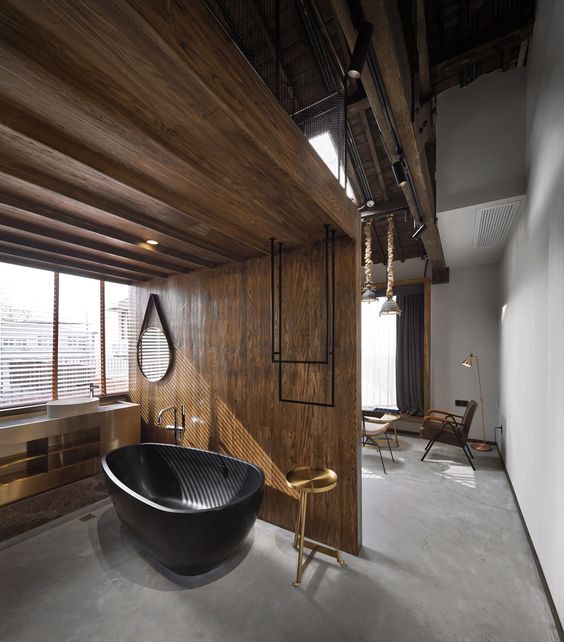 39. Extreme rustic
At an extreme end of the rustic scale is this eco-friendly straw bale house. You can't get much more rustic than this. Modern tapware and an adjustable handset bring this bathroom out of the Stone Age.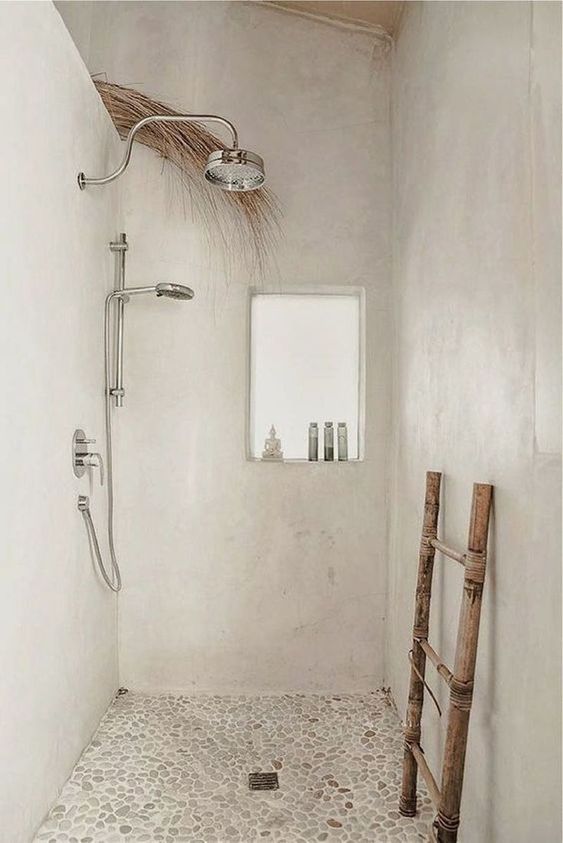 40. More extreme rustic
Another rustic bathroom, which is unusual in its highly organic style., features a large natural rock set into the wall as a sink. The runoff creates a mini waterfall effect and drains into the rock border.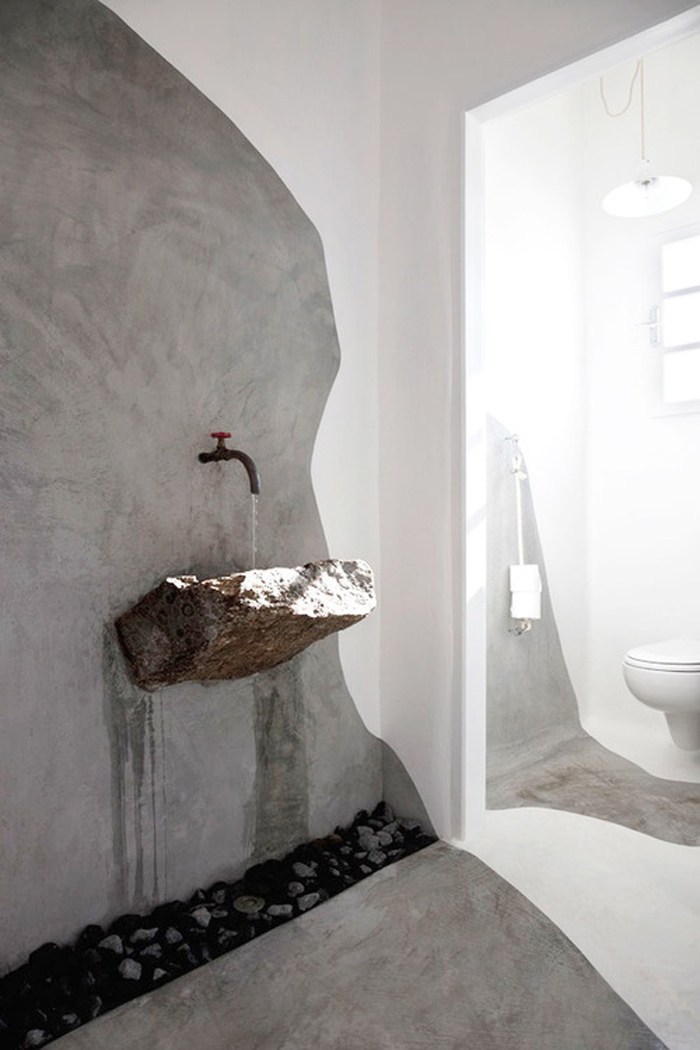 Need a tap installed? Get an idea of likely costs with our faucet and mixer installation price guide.
41. Rustic outdoor bath
Last but not least, how about a leisurely soak in this calm rustic space? Featuring a deep, vintage tin bath and rainfall shower, a dark stained timber screening wall beside a whitewashed one, and a white stone courtyard. All kinds of Zen. I'm there!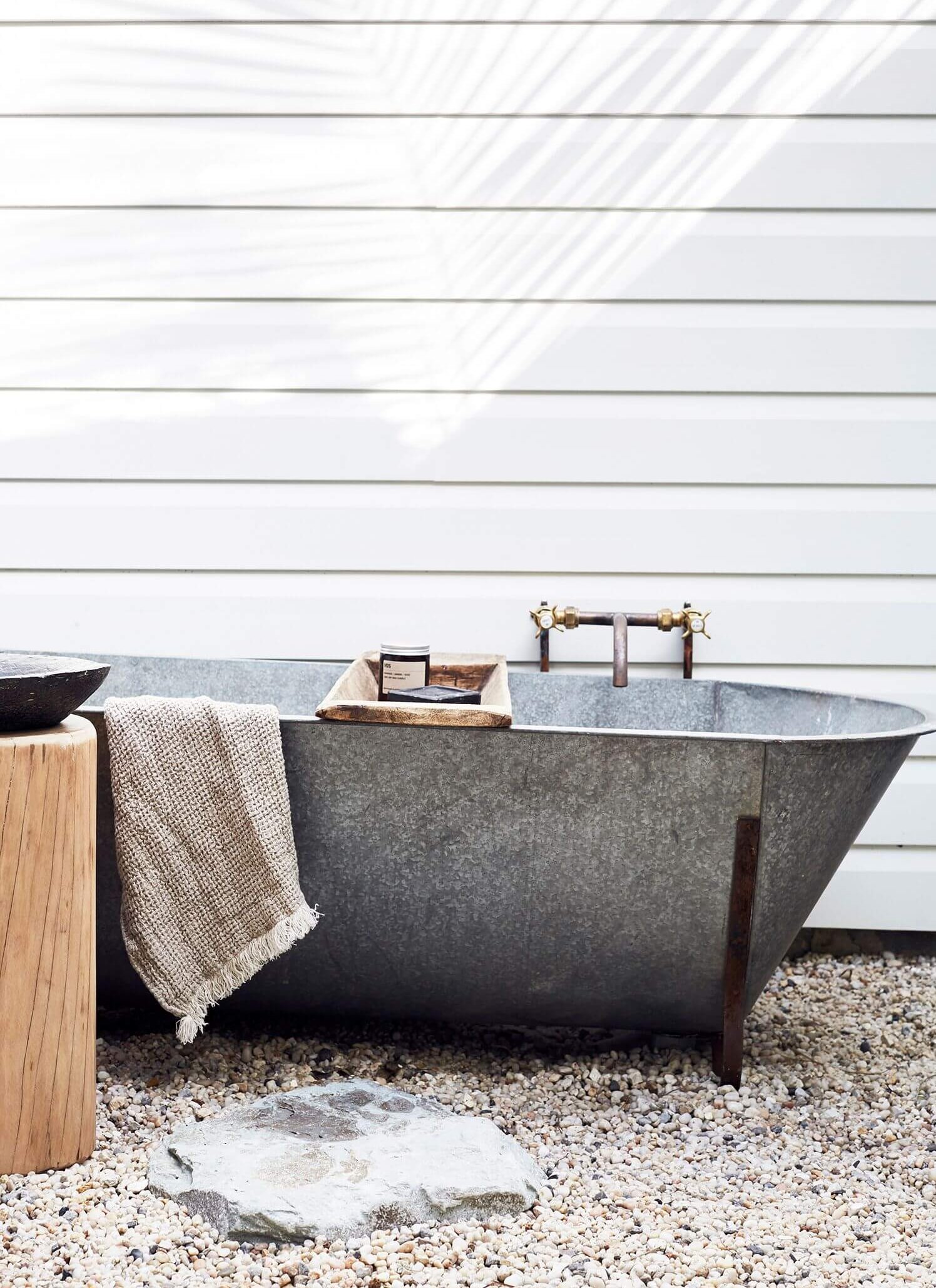 You'll often see the terms "rustic" and "farmhouse" used interchangeably on the internet. As a country-style of décor, rustic does share a lot of similarities with farmhouse style, but the rustic style is typically simpler and more raw-looking, while farmhouse styles are more complex and boast more delicacy and finesse.
Now it's over to you—what do you think of this particular decorating style? Can you see the modern rustic bathroom style working for you? Let me know in the comments below!
Still, gathering ideas for your bathroom renovation? Check out lots more bathroom ideas.