While the all-white bathroom will never date, there's been an emerging trend towards bolder, more colourful bathrooms. As well as creating bathrooms that are a sanctuary for relaxation, people are keen to design a statement-making space that captures attention and tells a story about the owner's taste and personality. And to achieve this, bathroom wallpaper is becoming a really popular decorating option.
Wallpaper enables you to easily and inexpensively introduce colour, texture and character into your bathroom. It's super easy to apply and modern wallpapers are also designed to be easily removed, with this relative impermanence meaning you can afford to experiment with more daring designs.
New wallpaper collections are released by designers all the time, so there's never any shortage of styles to suit any aesthetic or budget. But especially popular right now paper with bold colours, oversized patterns, pretty floral and nature designs, intricate geometric designs, and shimmering metallic finishes.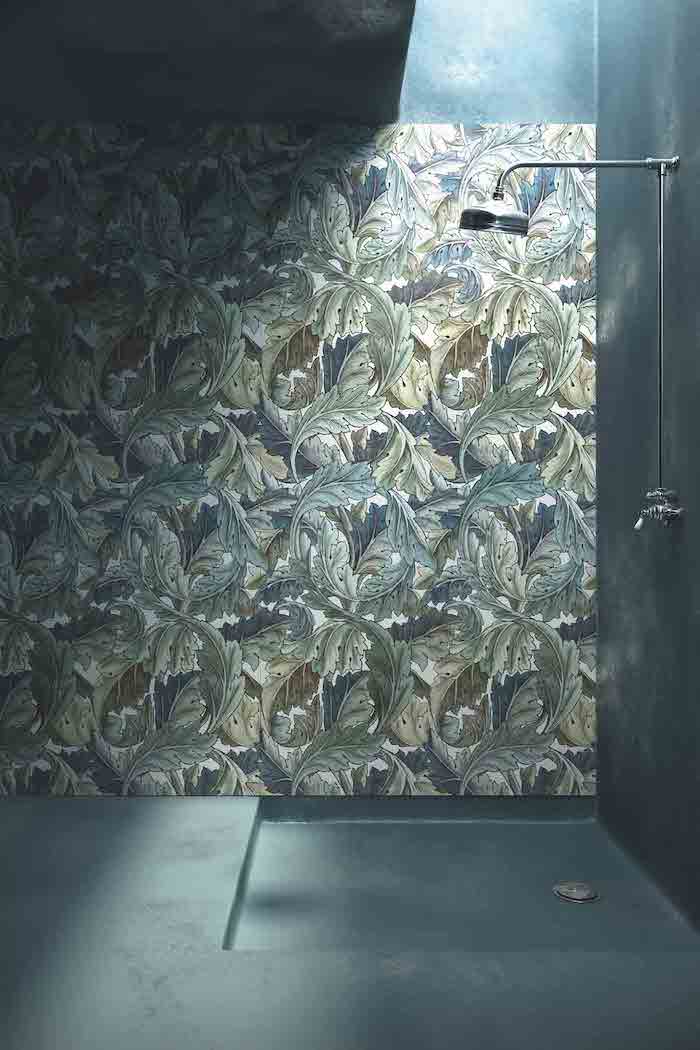 Can you use wallpaper in a bathroom?
Yes, absolutely! Wallpaper technology has come a long way and the vinyl on offer now are extremely durable and well-suited even to bathrooms.
But here are some tips for ensuring wallpaper will work in your bathroom:
Make sure you have a well-ventilated bathroom with a good bathroom fan to stop steam from seeping into the wallpaper. Fans are often an afterthought but you actually need the right one for the size of the room, so get a professional to help with your bathroom extractor fan installation.
Get humidity safe wallpaper and use a mould-proof wallpaper primer on the wall before you apply the paper.
Use only splash-proof, wipeable wallpapers near the sink and tub.
Choose solid vinyl, fabric-backed vinyl or paper-backed vinyl wallpapers which are typically scrubbable and strippable (that is, designed for easy removal) and are very resistant to moisture and humidity.
For pasted papers, use mould-proof wallpaper paste. Use extra paste under areas near a shower.
Coat your wallpaper in clear, acrylic decorator's varnish which protects, seals and boosts resistance to moisture, heat and staining.
Consider only wallpapering the top half of your bathroom or toilet and installing tiling on the lower half or in areas prone to splashing.
If you're still nervous about using wallpaper in a bathroom, go for wallpaper in your small toilet or powder room instead as there will be no steam to affect the wallpaper.
You can also speak to a local expert in bathroom waterproofing about your specific needs.
Now that we've got the technicalities out of the way, let's take a look at some beautiful, inspiring bathrooms featuring wallpaper.
1. Black and white botanical
Botanical and nature-themed wallpapers are making an appearance in many stylish modern bathrooms today. You don't need to go all out with bright floral or garden colours though—there are plenty of botanical prints in neutral tones available to seamlessly blend in with neutral bathroom design.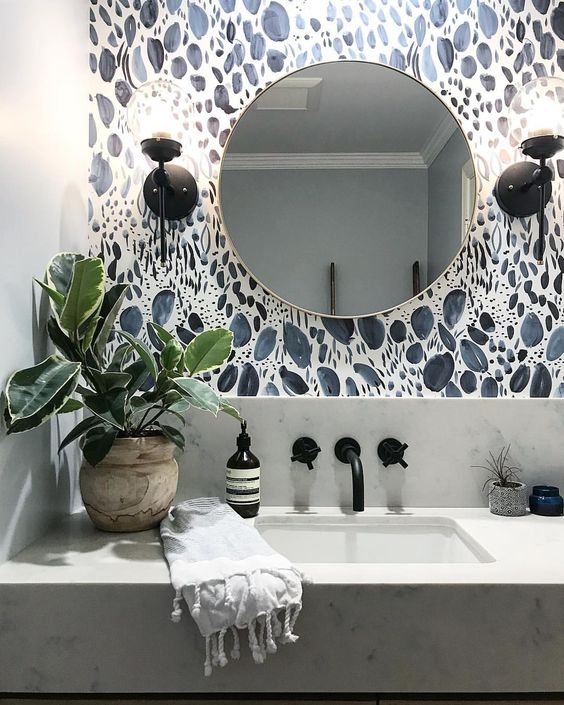 2. Birds
Your choice of wallpaper should make you smile every time you see it. These sweet birds on a pale mint background would do the trick for me!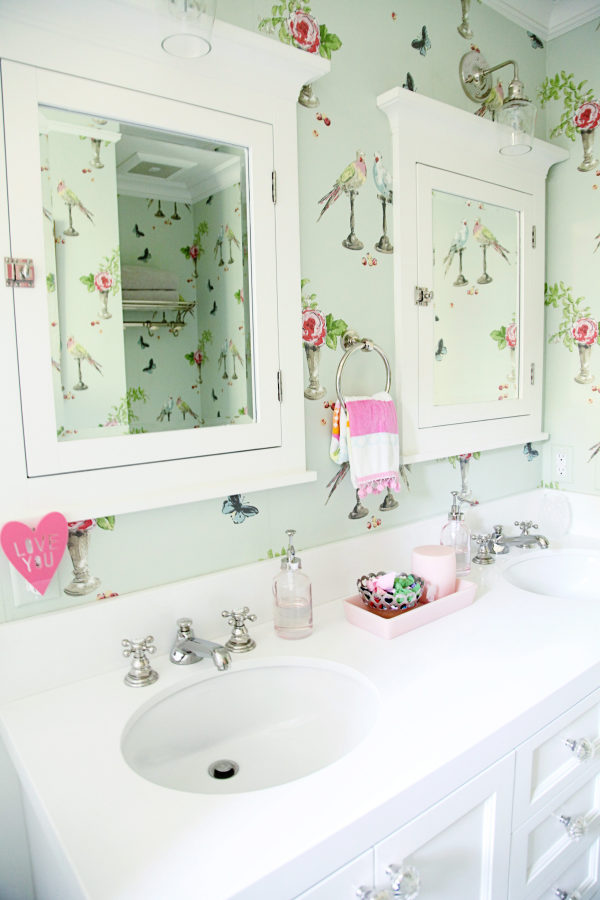 3. Black and white accent wall
You can cover your entire bathroom or just an accent wall as a focal point. If you choose to wallpaper up a feature wall, pick a wall where people's attention is naturally focused when they enter the room.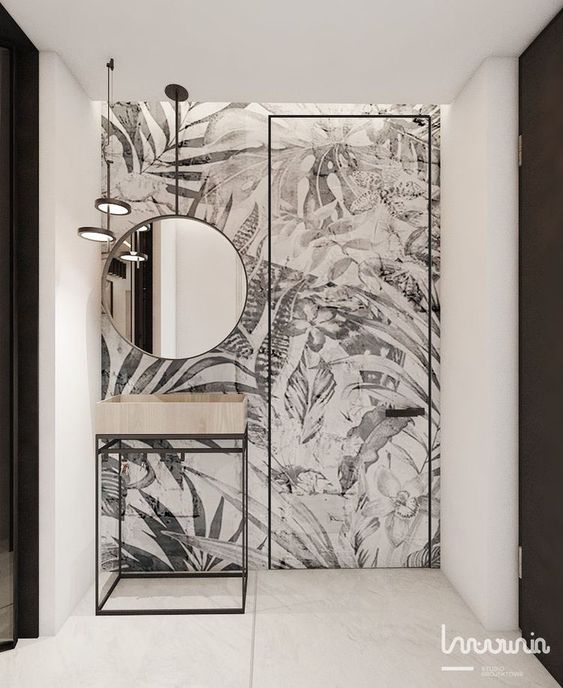 4. Candy pink floral
Love colour? Go for a bold wallpaper like this bright pink jungle flora and fauna (can you make out the tiny monkeys?). Keep the rest of the bathroom white to balance out the shock of colour – white subway tiles halfway up the wall prevent this print from becoming overwhelming.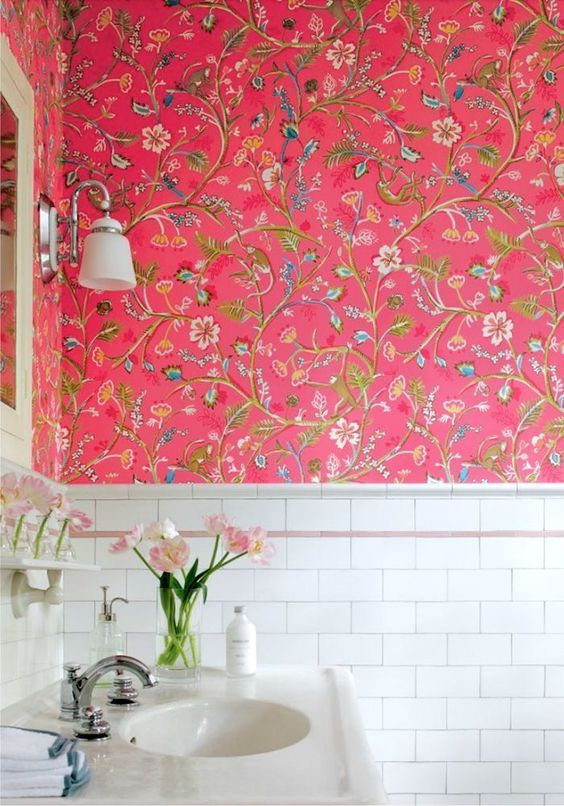 Make sure your white tile looks pristine—find out how much it costs to hire someone to help clean your tile and grout.
5. Terrazzo effect
One of the benefits of wallpaper is that you can mimic high-end materials for much less cost. If you love luxe materials like marble, granite, glass mosaic or terrazzo, but lack the budget—you can always go faux with bathroom wallpaper.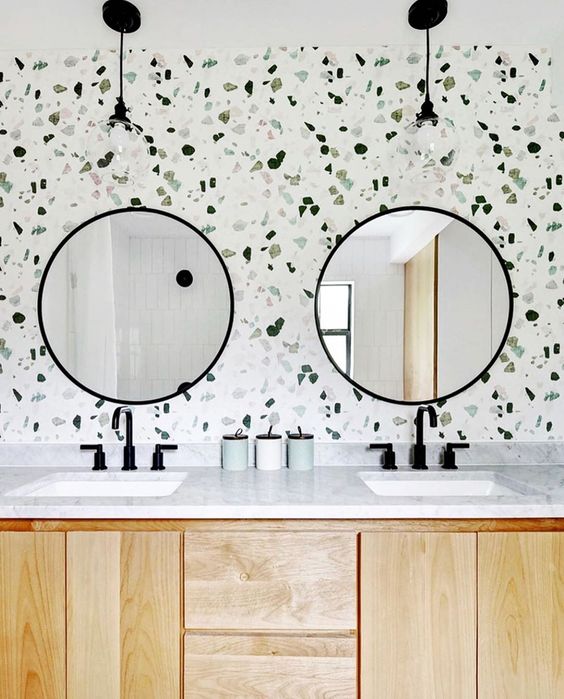 6. Green enchanted garden
A striking, floral wallpaper has oodles of personality and charm. Florals are a classic choice for wallpaper prints, and they come in a huge variety of motifs so there's something for every taste.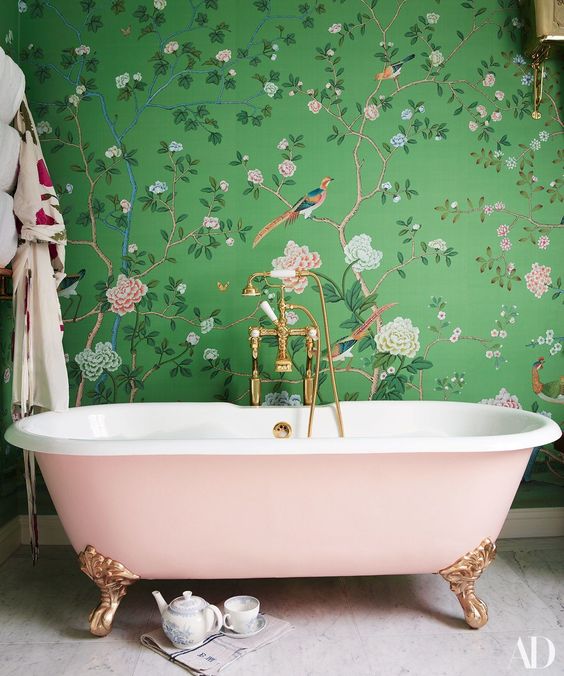 7. Oversized florals
Should you go for an oversized pattern or something with a small pattern? Designers have a rule of thumb, which is that you need to be able to repeat a pattern 3 or 4 times to be able to truly appreciate it. For this reason, patterns are best with a repeat of 12 inches or less.
Be especially careful with large scale patterns in tiny rooms as it can look odd if there isn't enough room to repeat the entire pattern. Having said that, there is definitely a trend towards large scale, dramatic patterns and they can certainly pack a visual punch, as you can see here. And hey, rules are meant to be broken, right?
8. Gold geo
Designers suggest wallpapering a tiny powder room so that it resembles a "jewel box". Usually a windowless room, you can transform it with wallpaper that has a reflective, metallic design, so choose a paper with a shimmer, sheen or glitter effect to catch the light. Wallpapering the ceiling can enhance the "jewel box" effect too.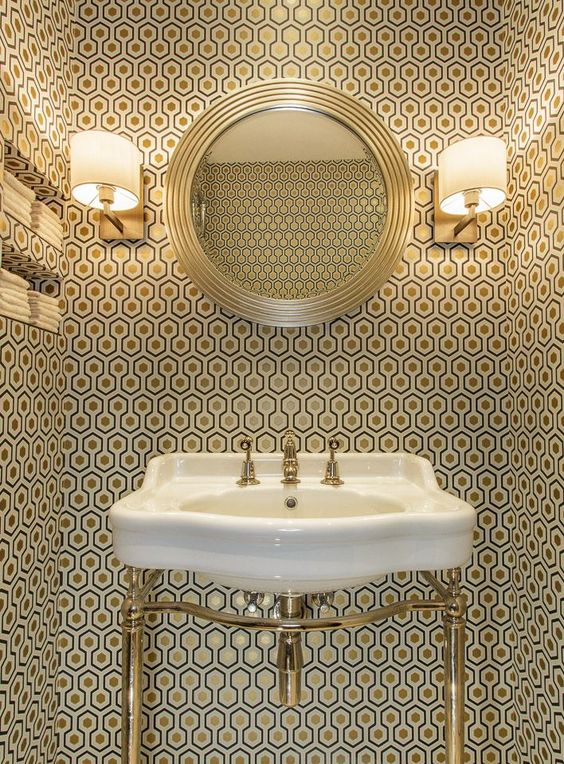 9. Large florals with lots of white
A floral design on a white background always feels fresh and bright. I love the unusual mirror frame here and the use of plenty of white in the rest of the décor.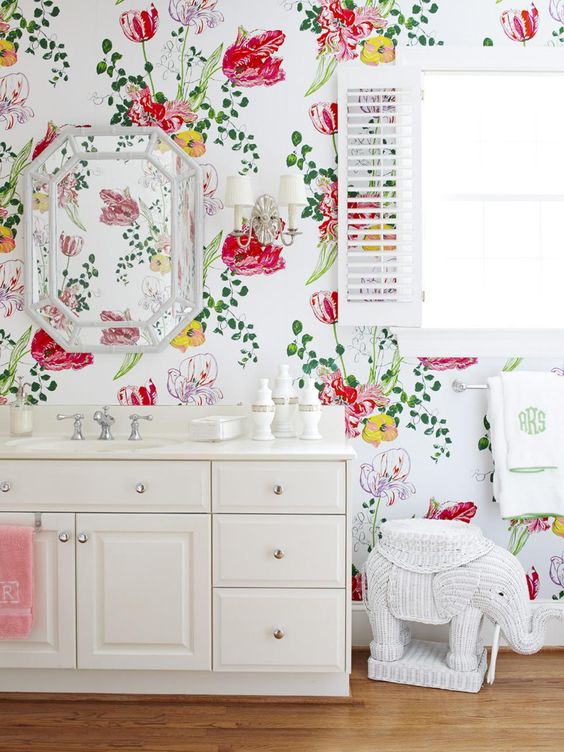 10. Black and white floral powder room
A powder room should be loved too and by using the same wallpaper in the main bathroom and powder room, you're showing the rooms are connected even if they aren't in the same space.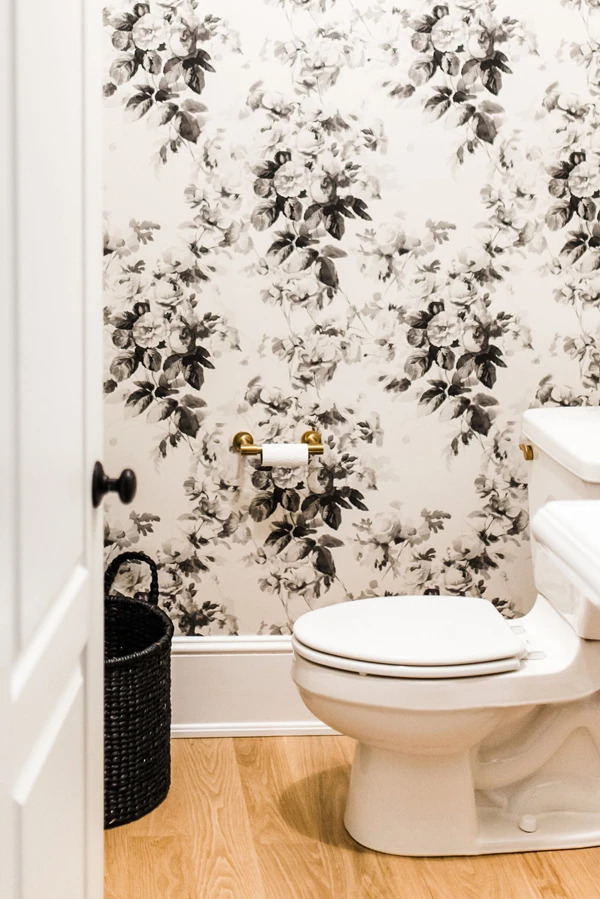 11. Black and white abstract
Bold, abstract patterns work well to add dynamic visual interest while not being as distracting as prints that feature characters or distinct images.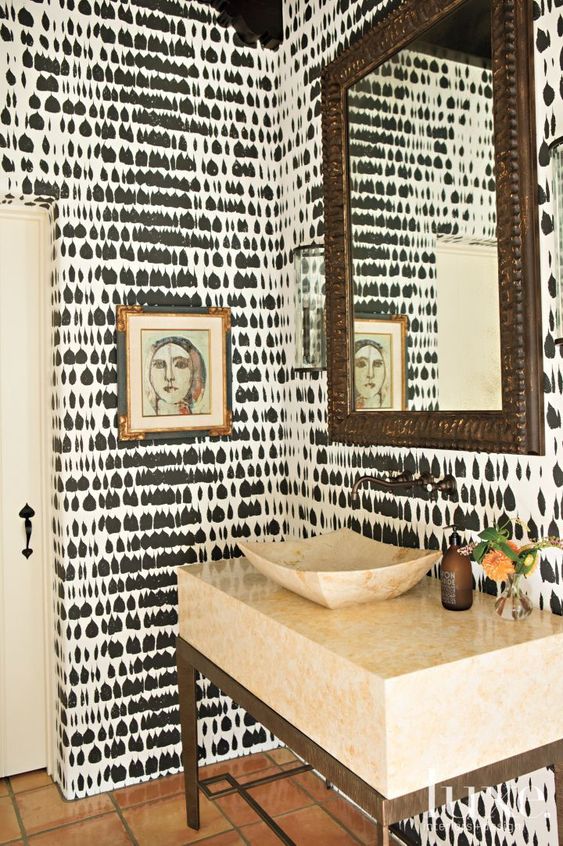 12. Just a peek of paper
You don't need to wallpaper your entire bathroom – even just a small area can have an impact. Place your bathroom mirrors strategically to highlight your view.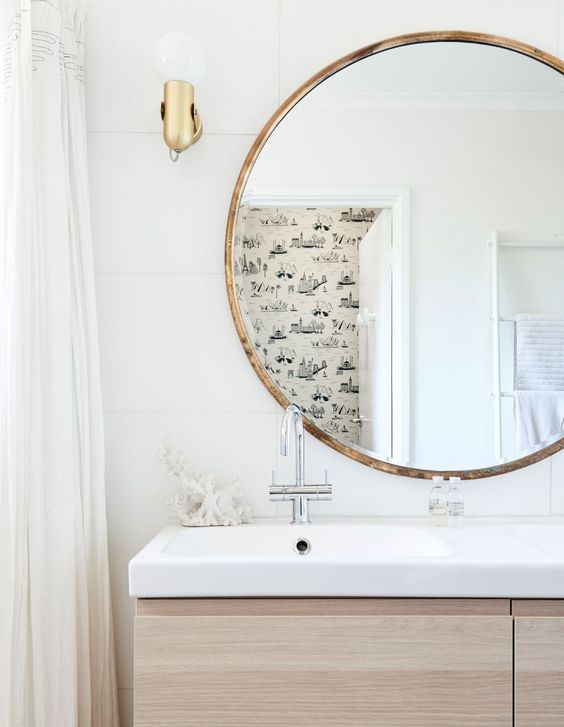 13. White flowers on blue background
A white floral design on a solid blue background creates a cosy effect here. Florals can have a tendency to appear strongly feminine but this design manages to achieve a more unisex effect through the unfussy scale and neutral colour.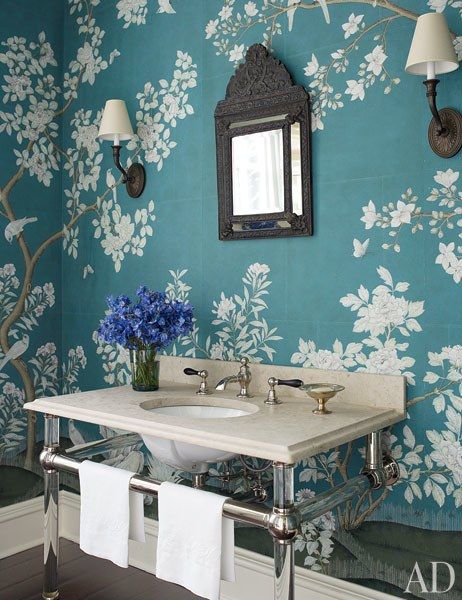 14. Large green leaves
A large scale tropical leaf print has become something of a new classic. Calming and yet at the same time dramatic, these wallpaper designs seem to transport you to a jungle watering hole.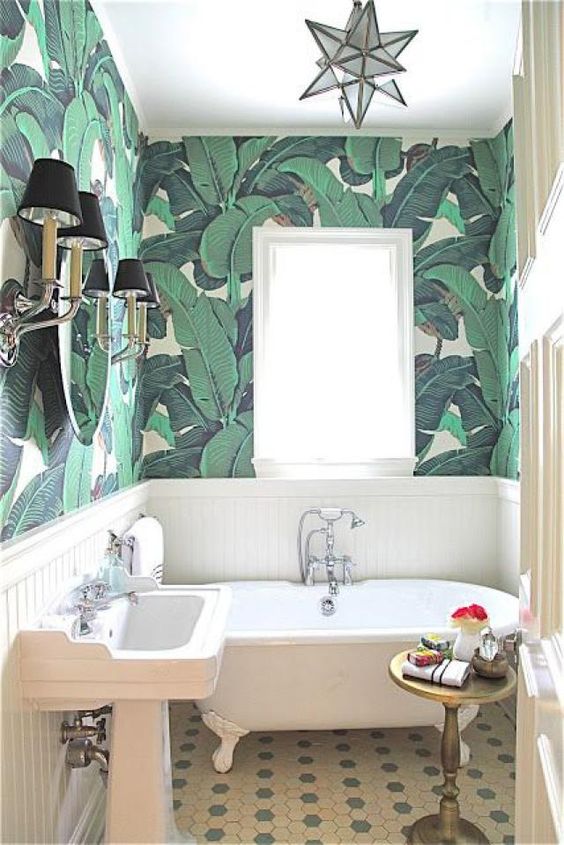 15. Blue Animalia feature
Here's another example of a bold animal pattern with tons of personality. The half tile keeps the space looking clean while the organic accessories provide softness to balance out the drama of the bold colour and print.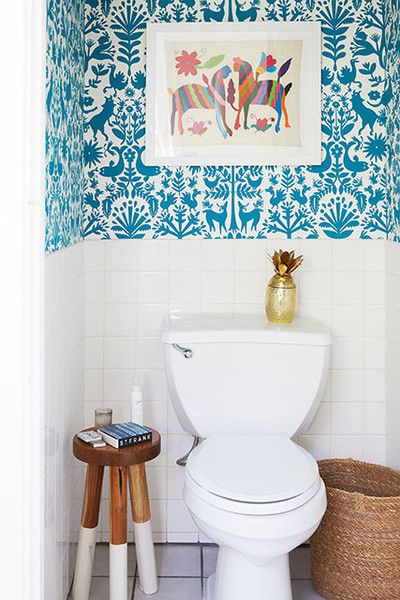 16. Tile and paper
This bathroom features gentle green fronds on a pastel pink background, with the nature theme reinforced by indoor plants and sunny gold accents. I love the unusual teal cabinet! If you love bespoke cabinets like this, you can find a bathroom cabinet maker to help you achieve the original look you desire.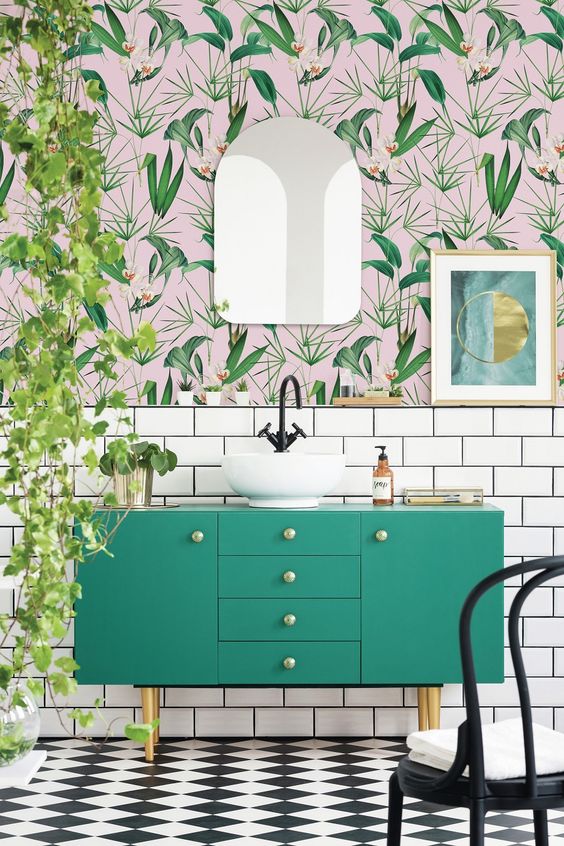 17. Half wallpaper, half panelling
An alternative to half tile/half wallpaper is to install panelling or wainscoting on the lower half of your powder room. Choosing a strong pattern for a small room adds depth as well as helping make the walls recede.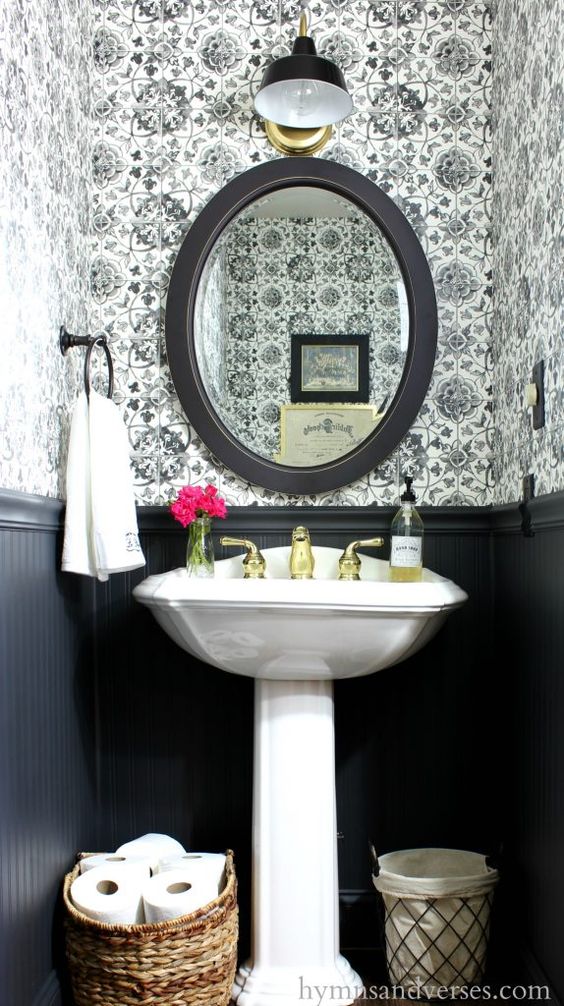 18. Wild birds and trees
Bring in a touch of paradise and liven up an otherwise plain wall with a vibrant print above the vanity, such as this one. With a busy, invigorating print like this one, keep the rest of the bathroom simple and add plenty of white.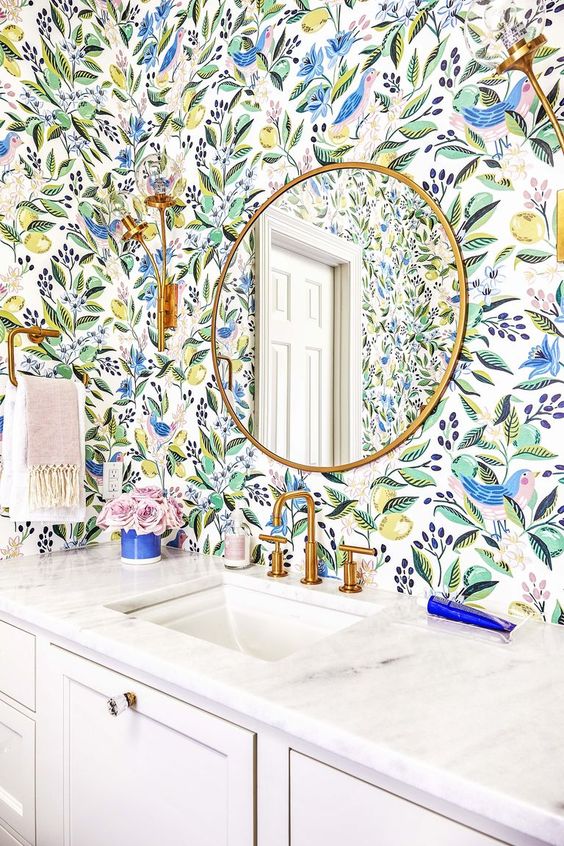 19. Art deco
Wallpaper doesn't have to be bold and colourful, though. There are plenty of subtle, understated wallpapers on the market that provide texture and satisfy our desire for a pattern. This fish-scale print has an art deco flavour and gently picks up the vein of the marble counter. And I love how the half-mirror frame complements the fish-scale aesthetic.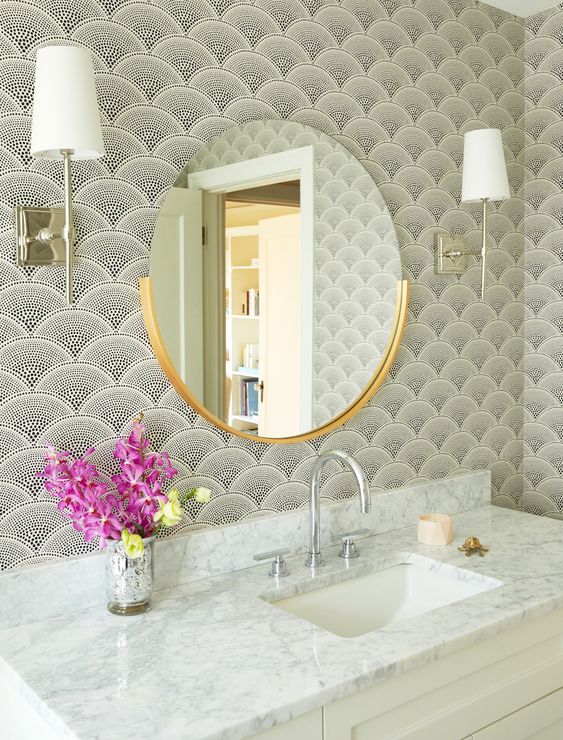 If you're looking for some more art deco inspiration, check out these art deco bathroom ideas.
20. Gold palms on blue background
Gold palms on a peacock blue background give off tropical resort vibes here. The gold accents in the tapware and the statement wall sconces complement the wallpaper, while the simple white vanity allows the paper to remain the centre of attention.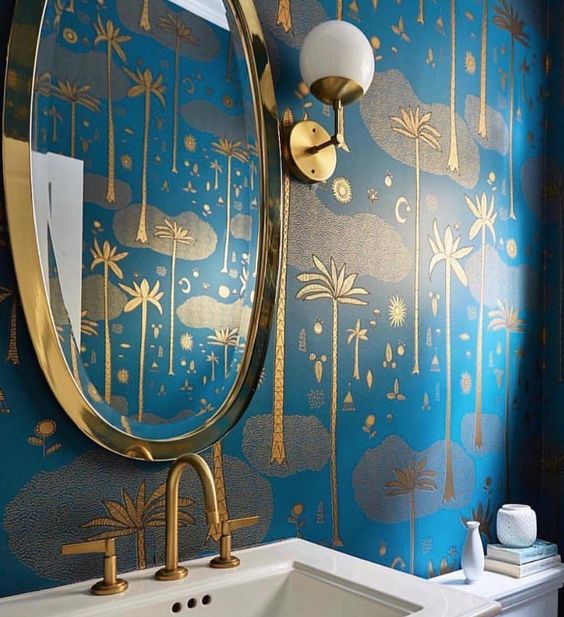 21. Grid
This neat and tidy geo grid pattern wallpaper injects a dose of pattern into a boring and small space. The highly linear quality of the geo design contrasts nicely with the organic forms and rounded shapes elsewhere in the décor.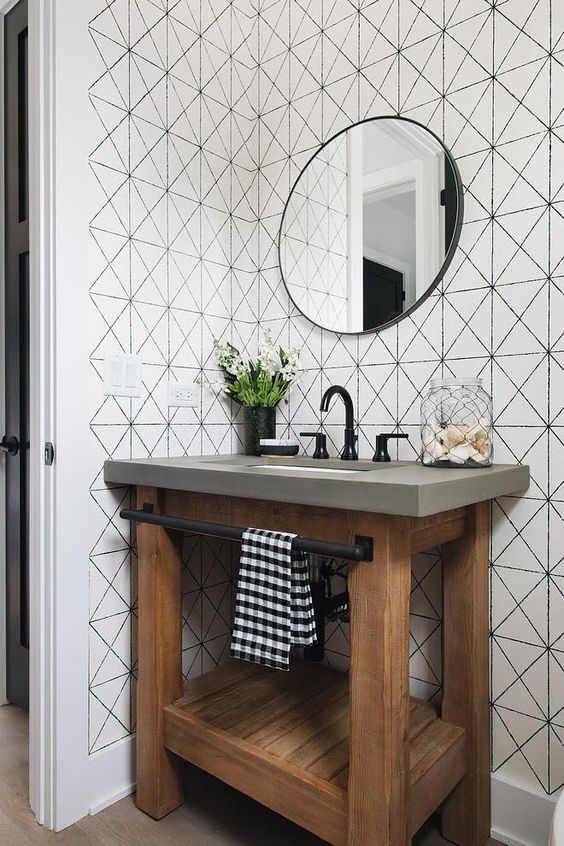 22. Large black floral coastal look
You might prefer to go with something a little more classic that you won't tire of in a hurry, such as the simple black and white roses print featuring in this coastal style bathroom.
23. Stylised grey flowers
If you prefer a bold pattern like these graphic monochrome flowers, make sure that textures elsewhere in the bathroom are kept to a minimum. Here, simple black and white accents and brass fittings keep things harmonious.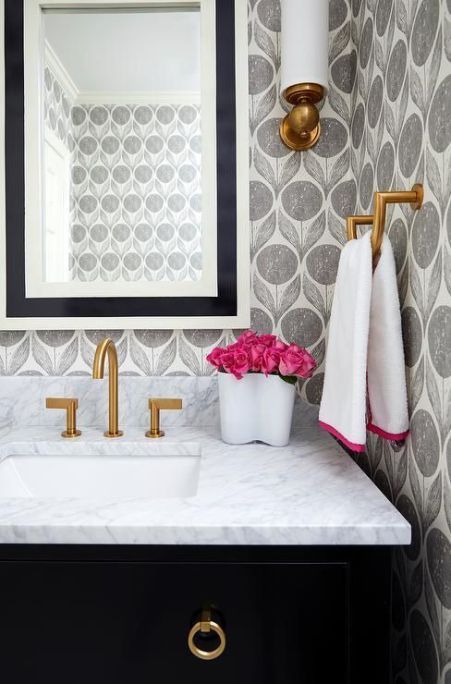 24. Blue geo
Colourful geometric patterns are very popular going into the new decade. This powder room has a lot of charm with its intricate geo pattern. The little framed print provides the eye with some relief from the repetitive pattern as well as adding fun.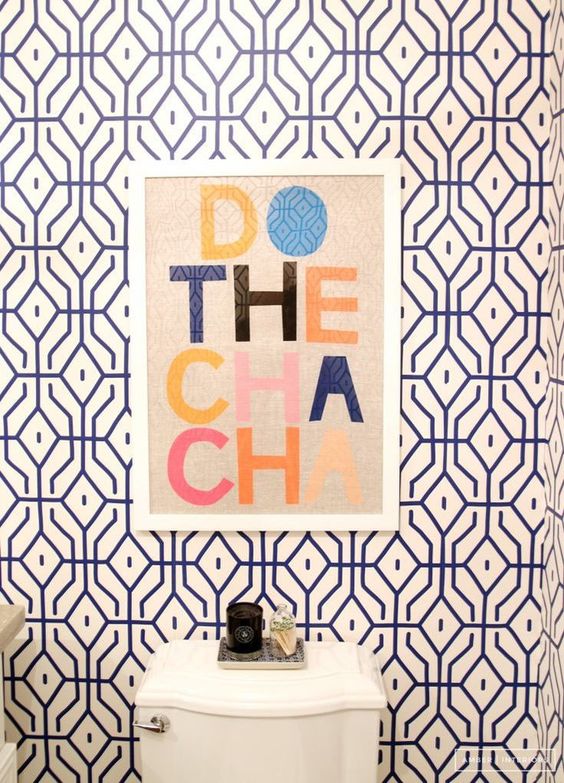 25. Teal blue faux tile
Geo papers create a modern, fresh feel.  This faux tile is in a gorgeous bold teal, which works perfectly with the white subway tile and brass light fittings and mirror frame.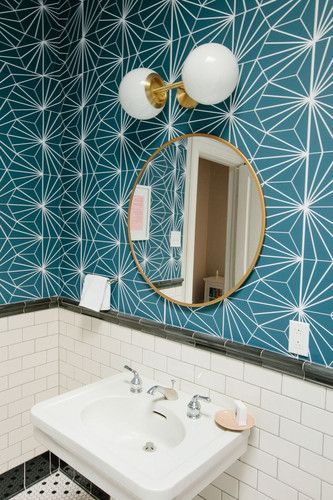 Need help with your subway tiling? Find an expert bathroom tiler. And if you want to explore tiling options beyond subway, make sure you check out this article on bathroom tile ideas.
26. Blue cactus and daisies
Amplify the drama of your bathroom with gorgeous blooms printed on beautiful backgrounds, like these daisies and cactuses here.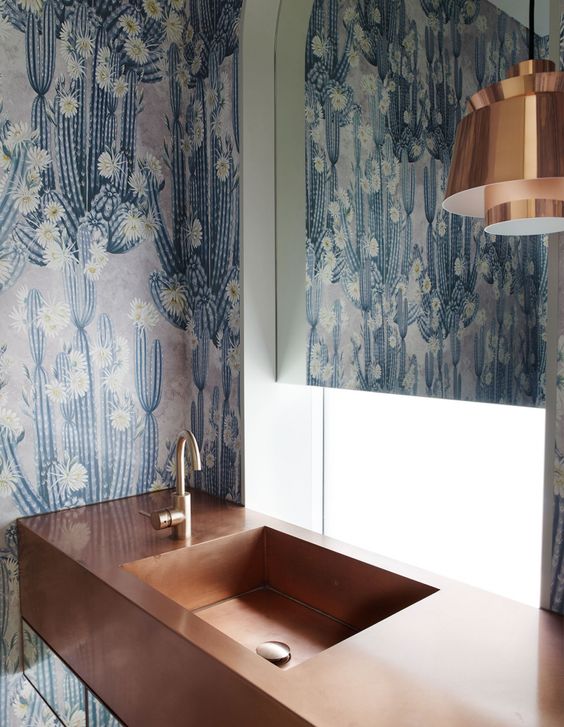 27. White dapple on black
Soft dappled black and white wallpaper adds texture and sophistication to this bathroom while also picking up the monochrome of the vanity and the picture on the wall.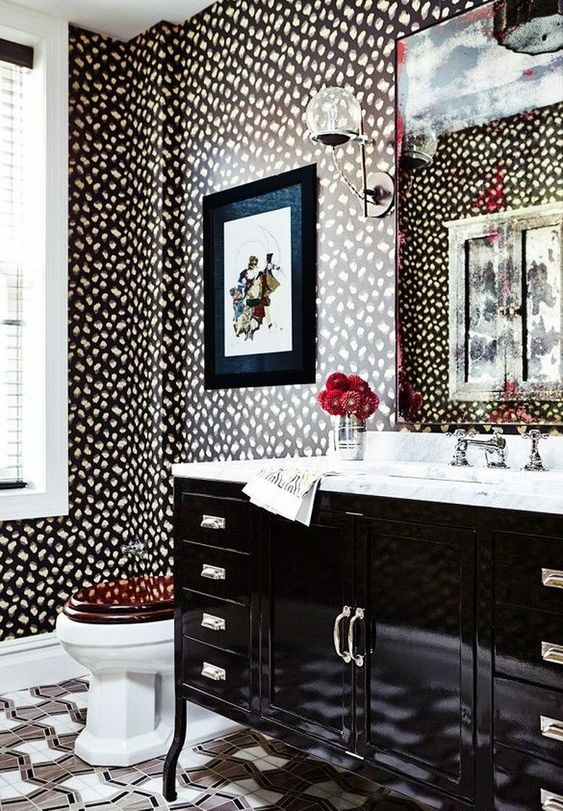 28. Pine-appeal
More tropical vibes with this pineapple print. Sure, it's not for everyone, but it's definitely cute and colourful and livens up this plain white powder room.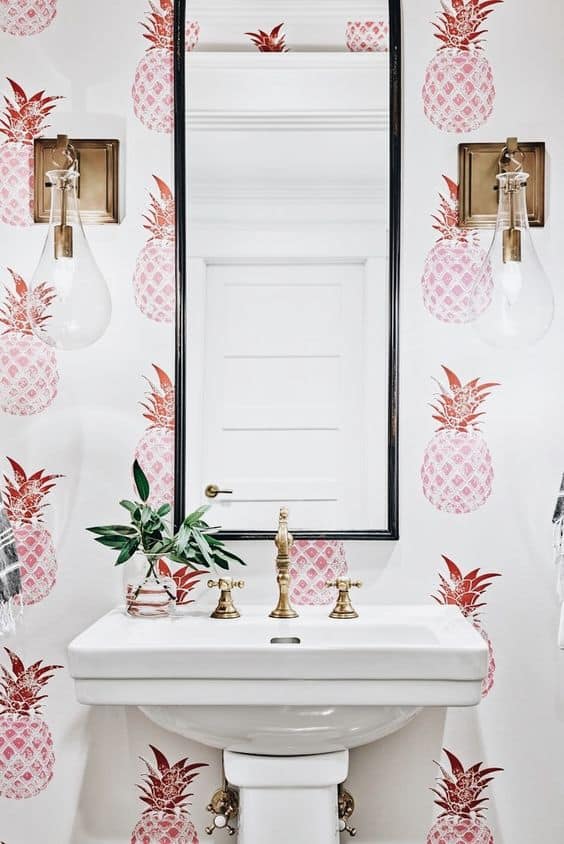 29. Bamboo Broadhurst
The avant garde designs of legendary Australian wallpaper designer Florence Broadhurst were famed for their bright geometrics and oversized nature-themes. Her wonderful archive of designs has now been reworked with digital technology and made available through the company, Materialised. Here, a bamboo print which offers a nature motif that adds plenty of excitement to this teal and timber bathroom.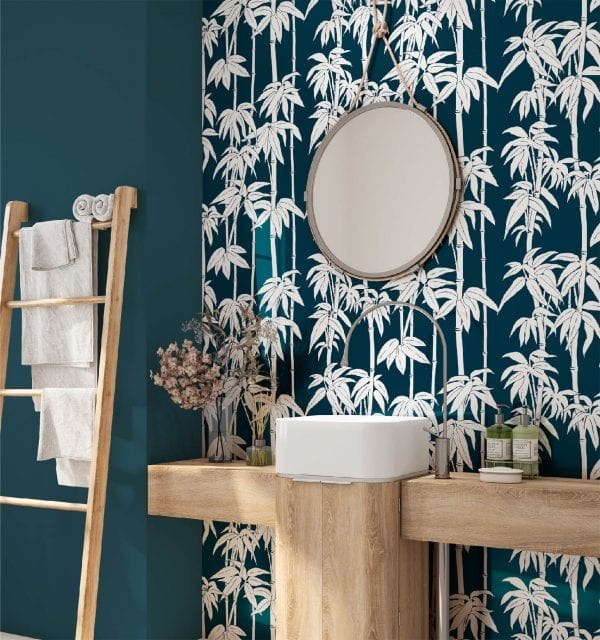 30. Abstract optical
If you prefer neutral patterns to wild, bold prints, choose a simple op-art inspired abstract such as this subtle design. The wallpaper has a "trompe l'oeil" effect, whereby the optical illusion creates a three-dimensional quality, adding depth.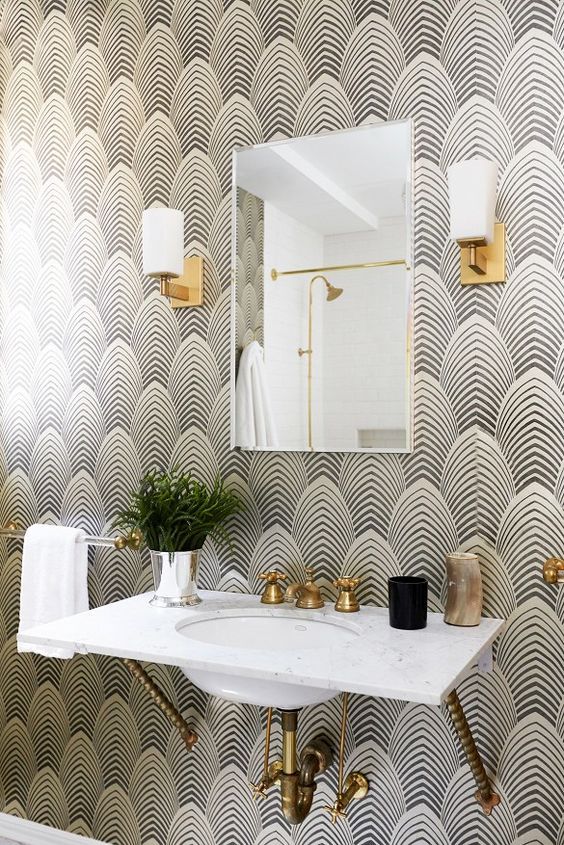 31. Mosaic
Another example of faux tile, here emulating the look of encaustic tile. I love the intricacy of this design and the vintage effect that the wallpaper evokes, while at the same time managing to appear modern.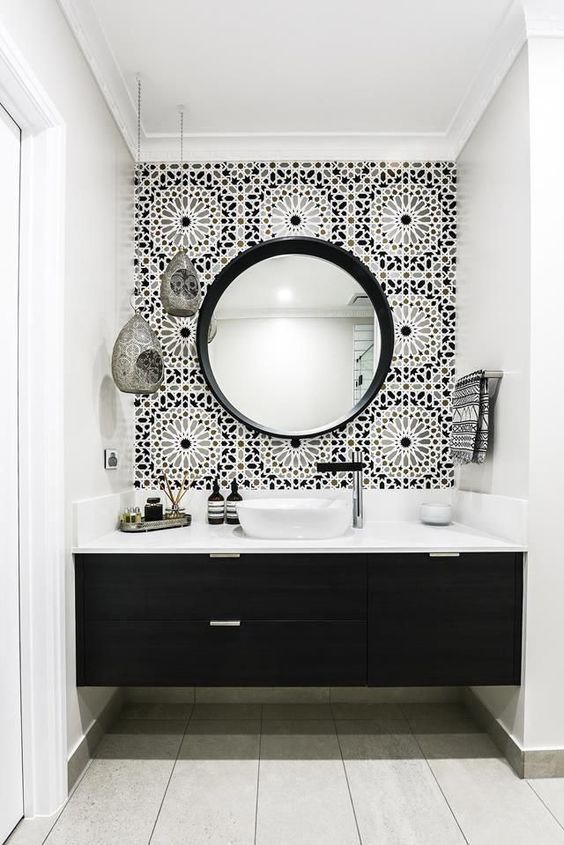 32. Geo and white
Large scale, gold metallic geo print completely changes the atmosphere of this basic white bathroom. I love the accent provided by the gold tapware and the lightness achieved by the unframed shower screen.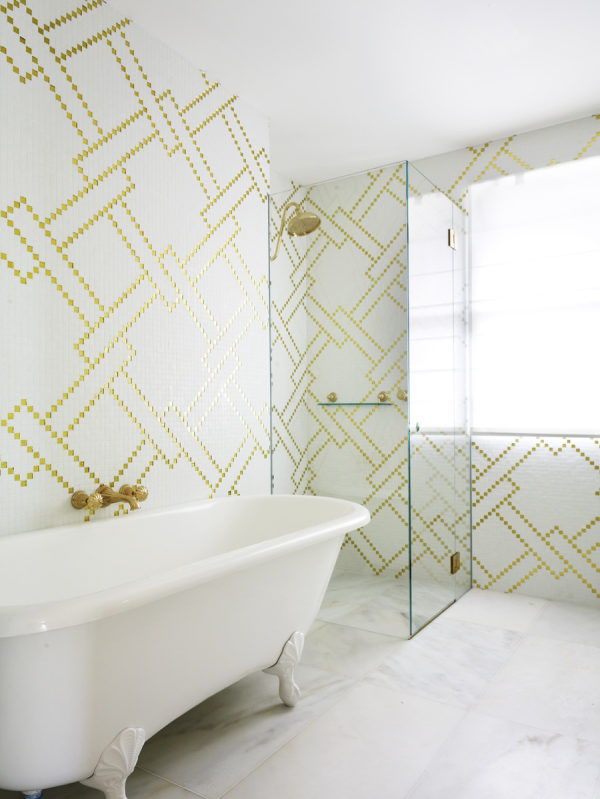 Want your bathtub to look its absolute best? Find someone who specialises in bath resurfacing.
33. Grey geo faux tile
Structured, symmetrical geo prints like this soft charcoal hexagon faux tile make a bathroom appear instantly modern. Whether you go for a geo pattern involving polygons, squares, triangles, or grids, the print will provide a lovely contrast to any natural rounded shapes or organic materials in the décor.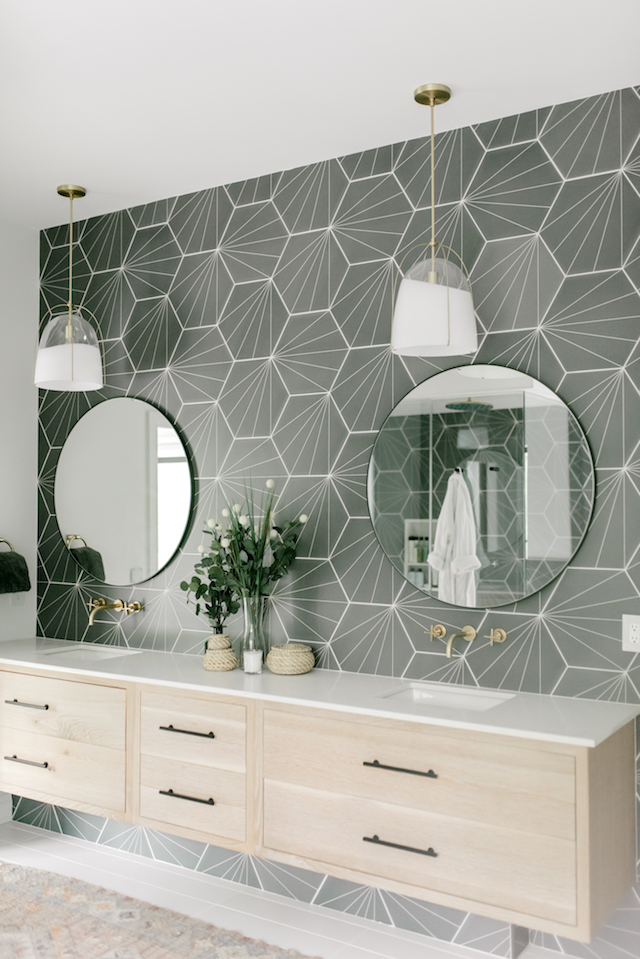 34. Yellow floral
A traditional, pretty floral print which suits a farmhouse aesthetic well. And what a gorgeous buttercup yellow, enhanced by the gold accents.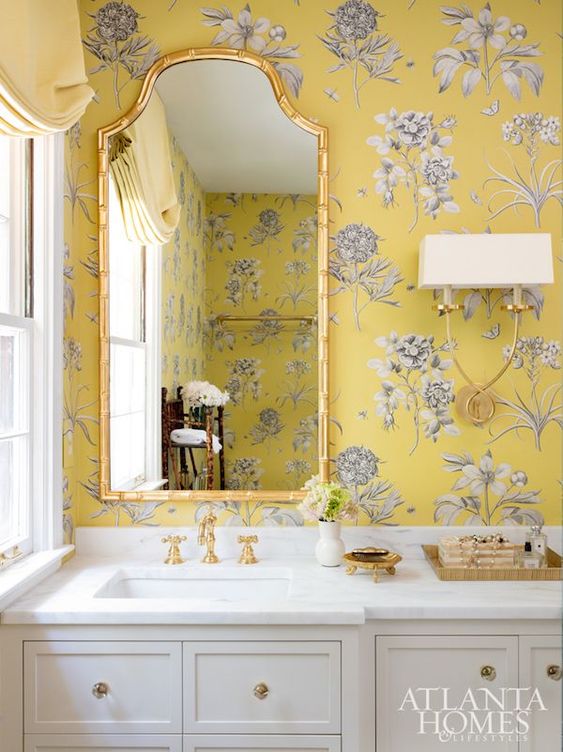 35. Blue linen
Wallpaper doesn't have to be patterned—you can choose from a huge range of simple, plain designs. The advantage over paint is that your wallpaper will provide more visual interest and texture. Here, a soft linen look wallpaper has taken over the entire bathroom with a beautifully calming effect.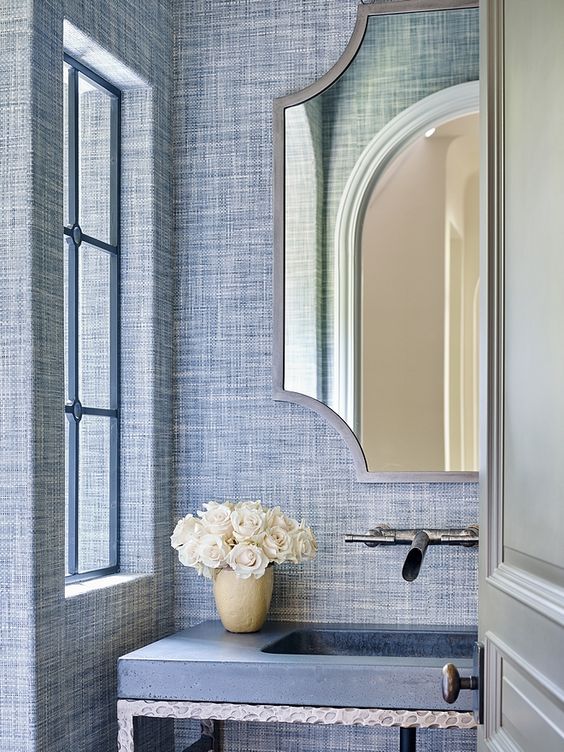 36. Stormy
Lie back and gaze at this expressive, abstract wallpaper reminiscent of storm clouds. Wallpapering the ceiling works here because of the half-wall of white panelling, keeping the "clouds" in the "sky".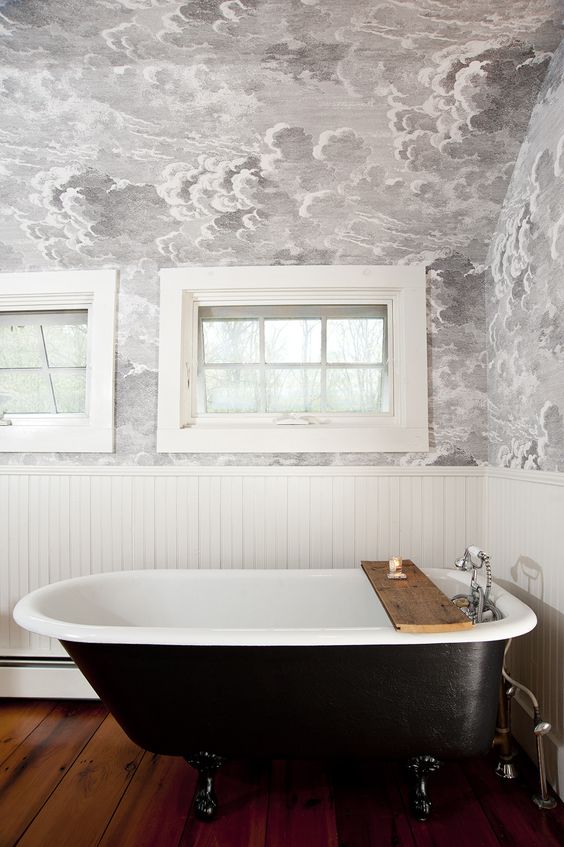 37. Doodles
This wallpaper is definitely unique and makes a statement (though that statement might be, did someone let the toddlers loose with the crayons?). Still, if you're looking for something that would be entertaining for guests when they use your bathroom, this Pictionary-inspired paper might be it…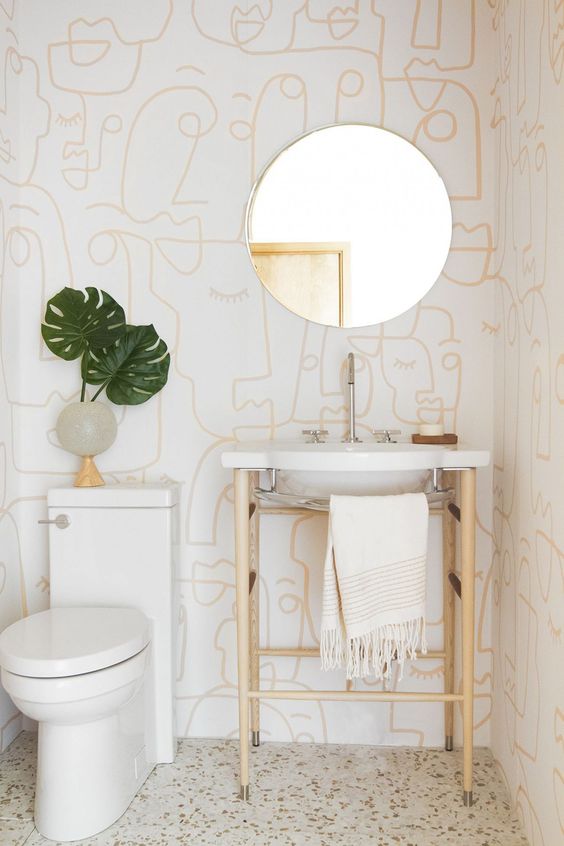 38. Quirky trees
Another wallpaper that has loads of character and will definitely not result in a cookie-cutter bathroom. I love the colours and the whimsy.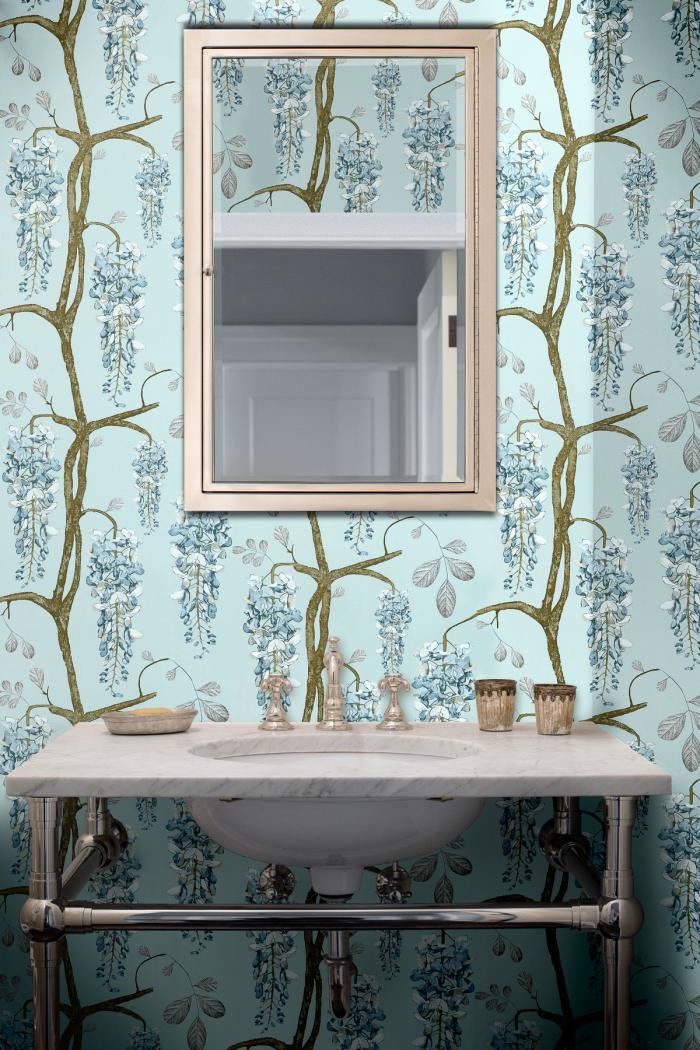 39. Orange fish print
I love this unusual tangerine-toned fish wallpaper. It's so fun and quirky. I'm not sure if it would last the test of time though. When you have a bold print wallpaper such as this, allow it to make the statement and keep the rest of the décor minimal, as has been done here with a simple pedestal sink and neat, streamlined sconces.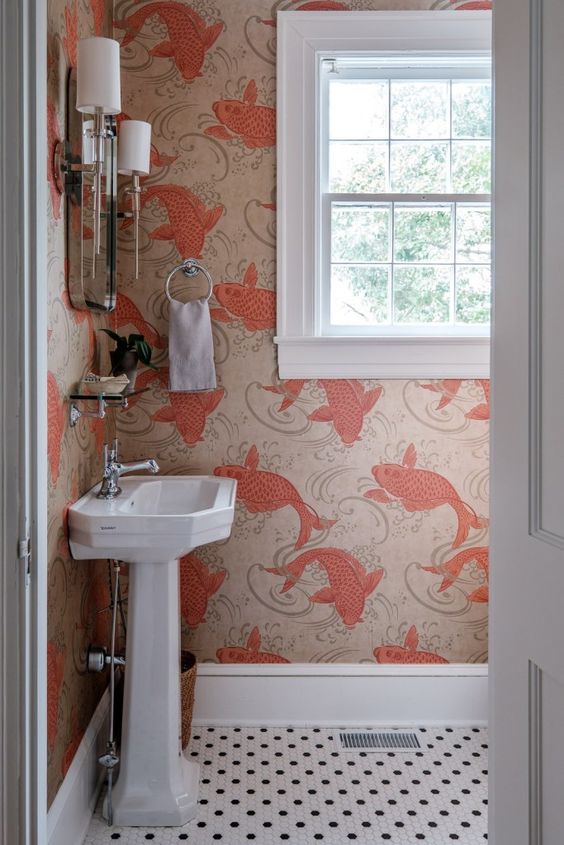 40. Plaid
Plaid comes in a huge variety of colours and check sizes—here, a small scale neutral adds a masculine touch to this traditional bathroom.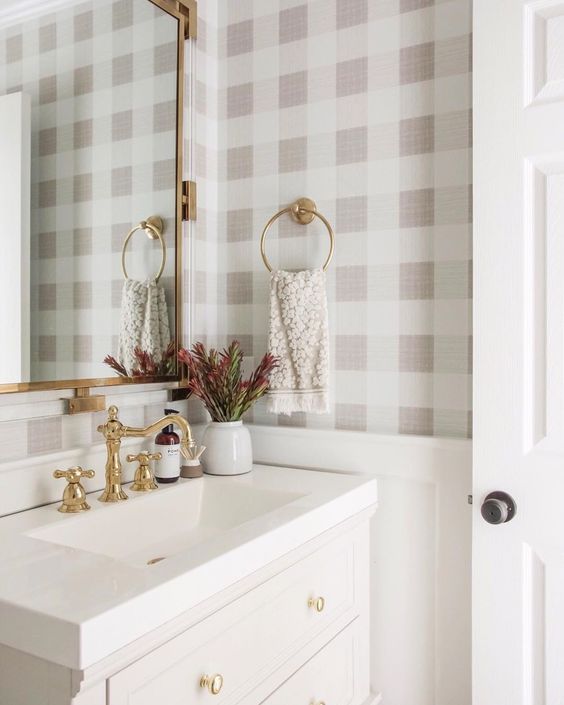 41. Nature calls
Another example of the lush tropical leaf trend providing a classic design for the accent wall of a powder room. It gives the effect of stepping out into the garden.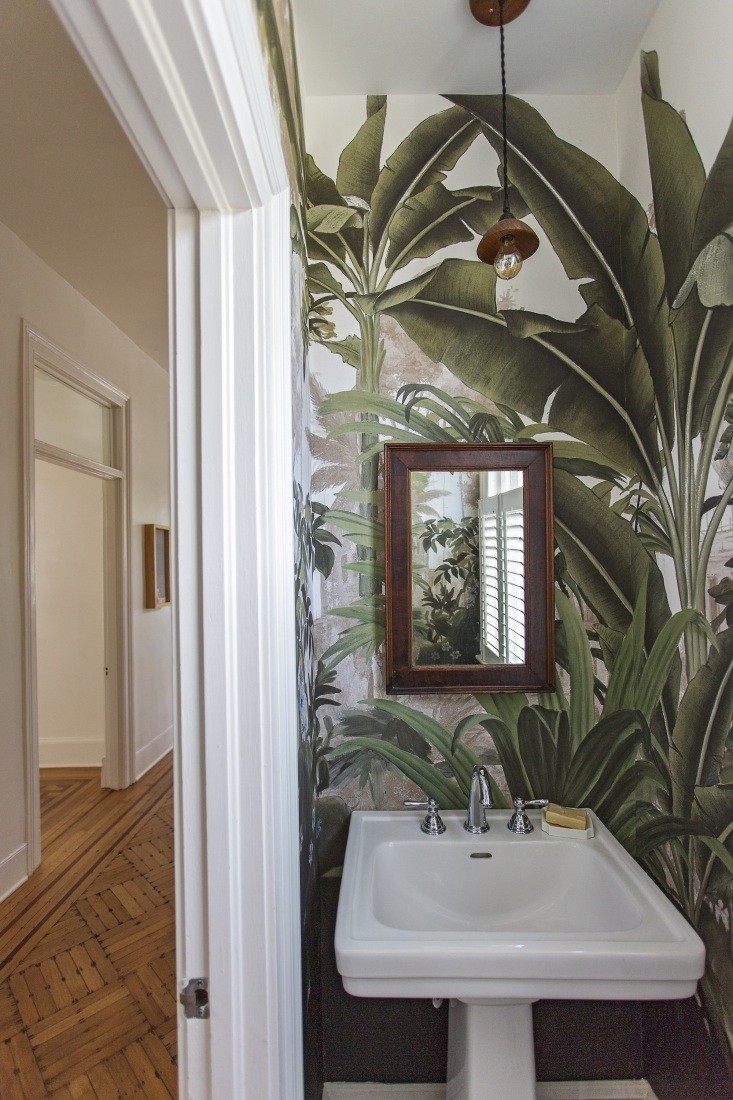 42. Pretty and feminine
Edwardian flower designs are ever popular to add beauty and femininity to a powder room. Add a gorgeous bunch of flowers in a vase on the vanity and voila—Parisian chic literally on tap.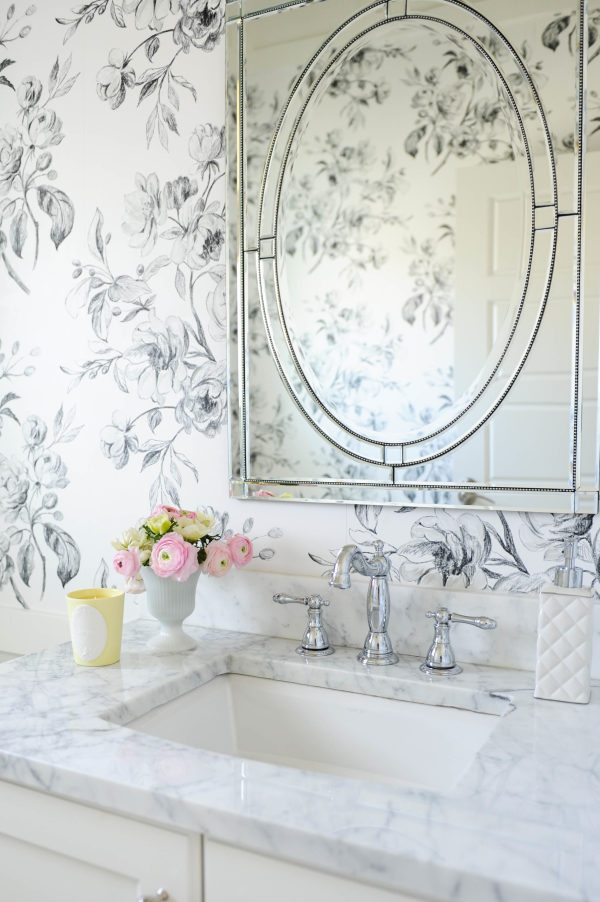 43. Whimsical
Finally, what do you think of this quirky wallpaper design featuring a bird's eye view of stylised swimmers in a pool? The colours are definitely uplifting and joyous and it has charm, but I think this would work best in a kids' or teenager's bathroom.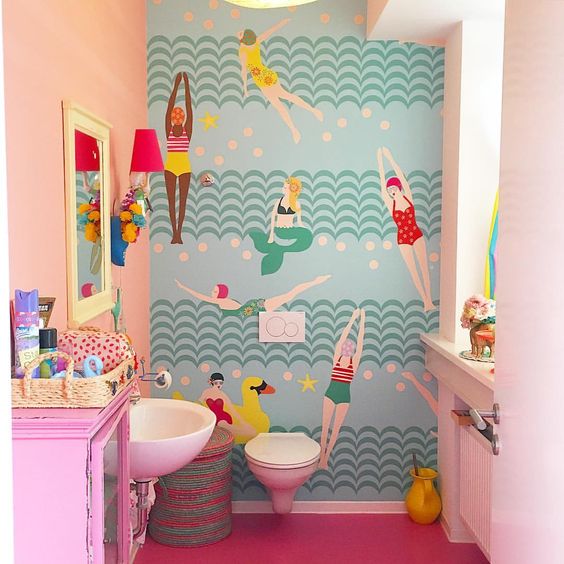 So now it's over to you—let me know in the comments if any of these bathroom wallpaper styles and designs resonate with you! And can you see yourself installing wallpaper in your bathroom in your next bathroom renovation, or are you not quite sold on the idea just yet?
By the way, if you're renovating your bathroom and need to get some ballpark figures on costs, you might like to take a look at our price guides on how much a plumber costs and faucet mixer installation cost.