When you're renovating your home, it can be easy to look through the lens of the latest modern design trends. But what about the classic like mid-century and art deco bathroom design? Well, these are easy to revive with a modern twist with decorative highlights added to your bathroom. So, if you want to create a unique bathroom, it's well worth taking a look at design styles from other eras to draw fresh inspiration.
For a brief history update, art deco originated in France in the 1920s just after World War I, bringing about a refreshing change from the eclectic and revivalist styles that came before it. At its heart, art deco design represented modernism in fashion. And on the home styling front, art deco products included unique luxury items as well as mass-produced homewares, that used fine craftsmanship and exquisite materials. During the height of the 1920s, art deco style epitomised wealth, sophistication, glamour, and faith in social and technological progress.
In today's day and age, art deco style is so much broader and it can be fused with modern house design elements to create a dynamic interior that incorporates a hint of glamour – giving you all of the feelings of yesteryear without looking dated. So, are you looking to bring the glamour of the roaring '20s to your new bathroom?
1. Traditional vanity
Take your bathroom design back in time with a traditional vanity. Once you've installed this, consider the other elements that will make your bathroom feel art deco – think a classic mirror, large soaking tub, marble basket and weave bathroom flooring.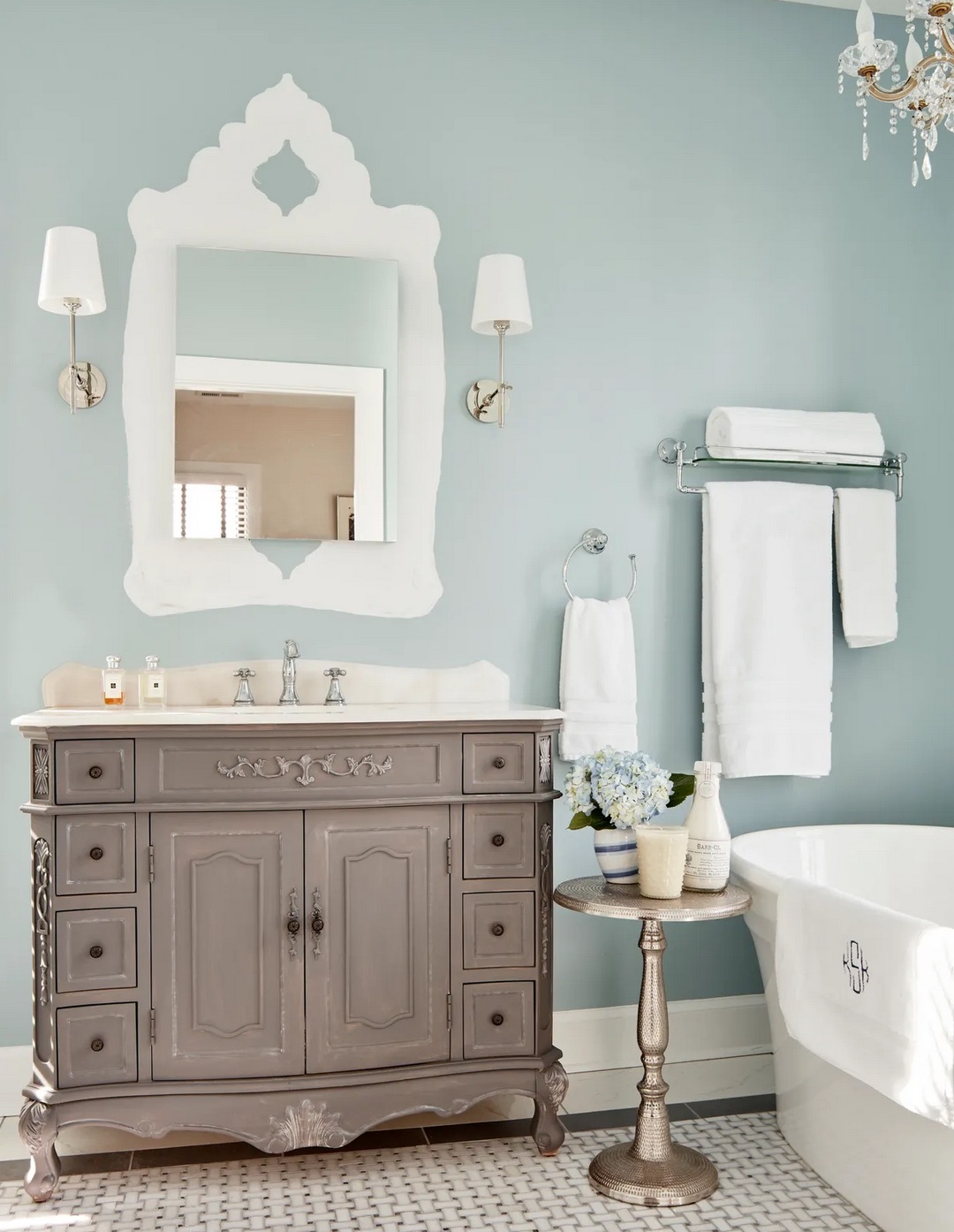 2. Two-piece toilet
While a two-piece toilet isn't something you see often, it's the perfect art deco addition to this space. And to compliment it, this room incorporates grey walls, porcelain floors, black-and-white tiles, a console sink, and multi-coloured flooring. I love how intentionally adding key pieces can inject so much character into such a small space!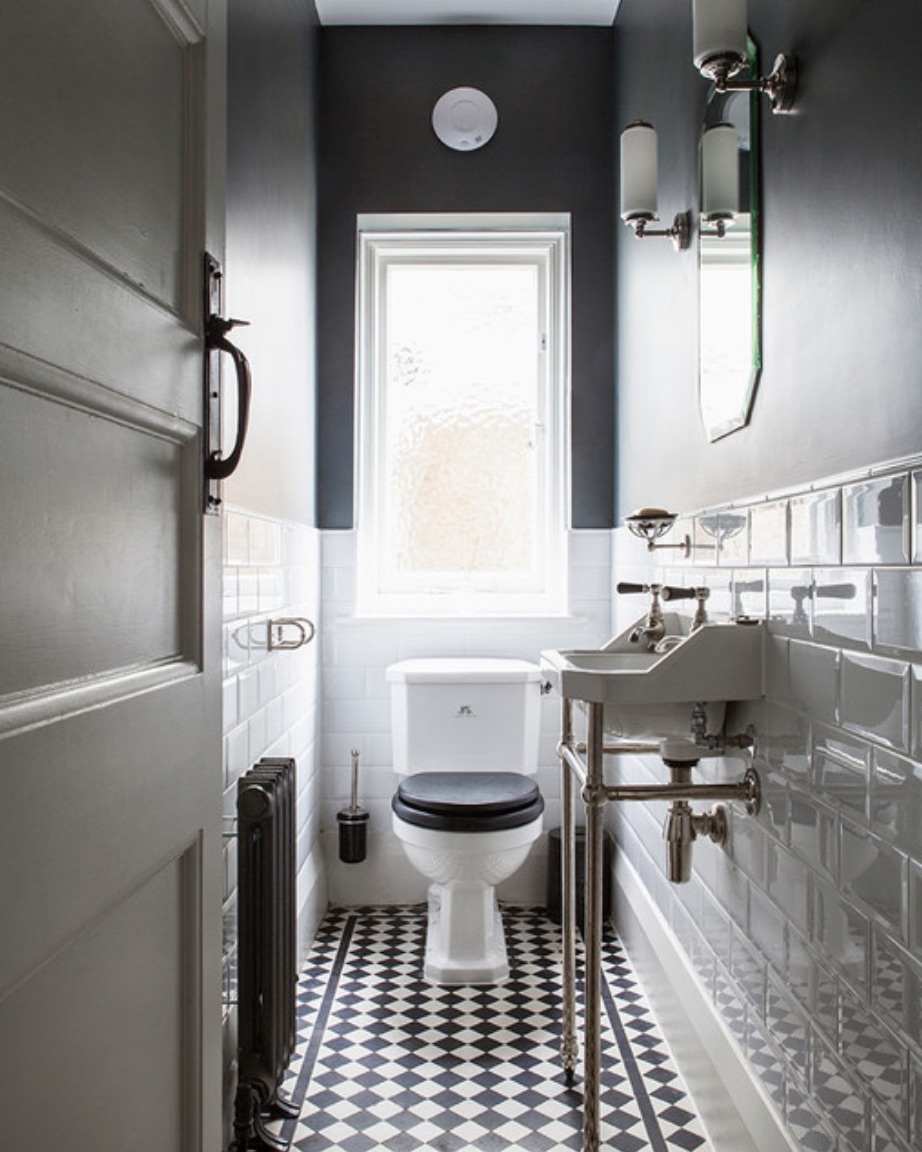 3. Retro bathroom mirror
While a mirror is a practical necessity in every bathroom, there's no reason why you can't make it fabulous. And you don't just have to go for a simple round or rectangular mirror – there are so many great options on the market! The most obvious place to look is at homeware stores, but you can also scour your secondhand shops too. And spice things up a bit by considering something fun like this geometric retro mirror!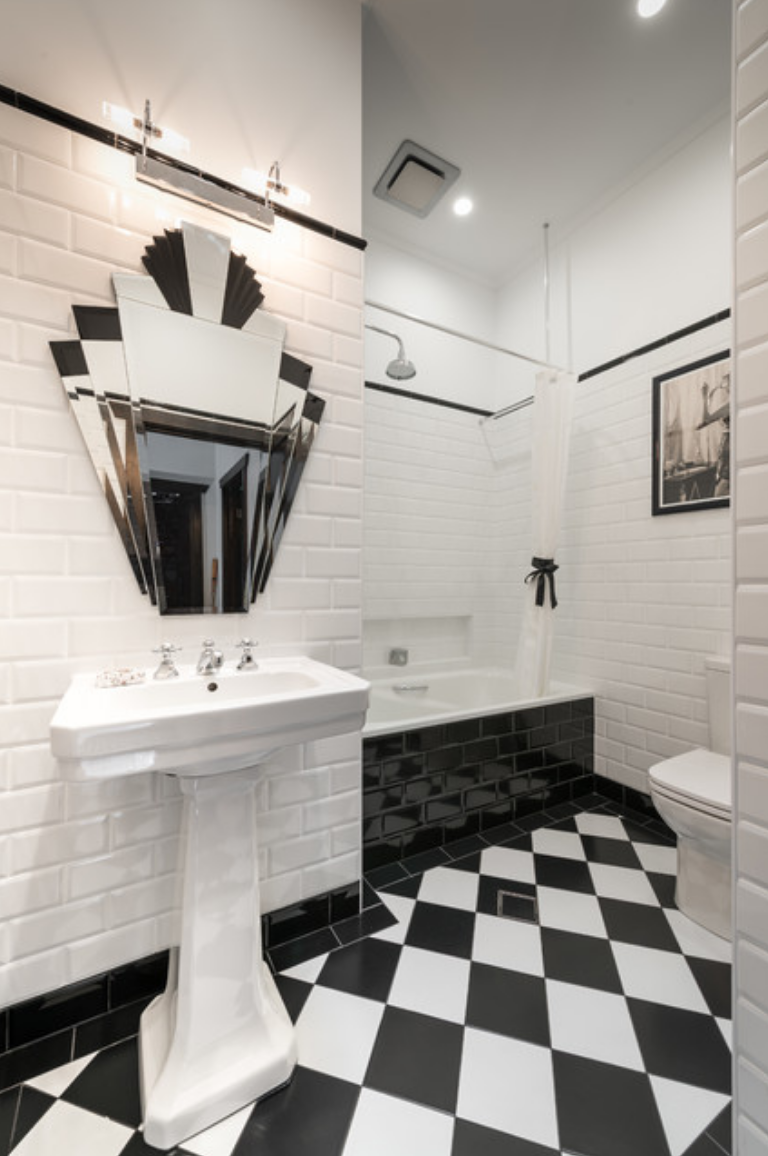 4. Victorian art deco bathroom
This bathroom corner is ornate in design with a traditional and geometric look. And the Victorian tile looks great paired with the distressed wooden walls, which creates a natural divide in the room and gives the illusion of more height! This is a great option for sprucing up your existing country style bathroom.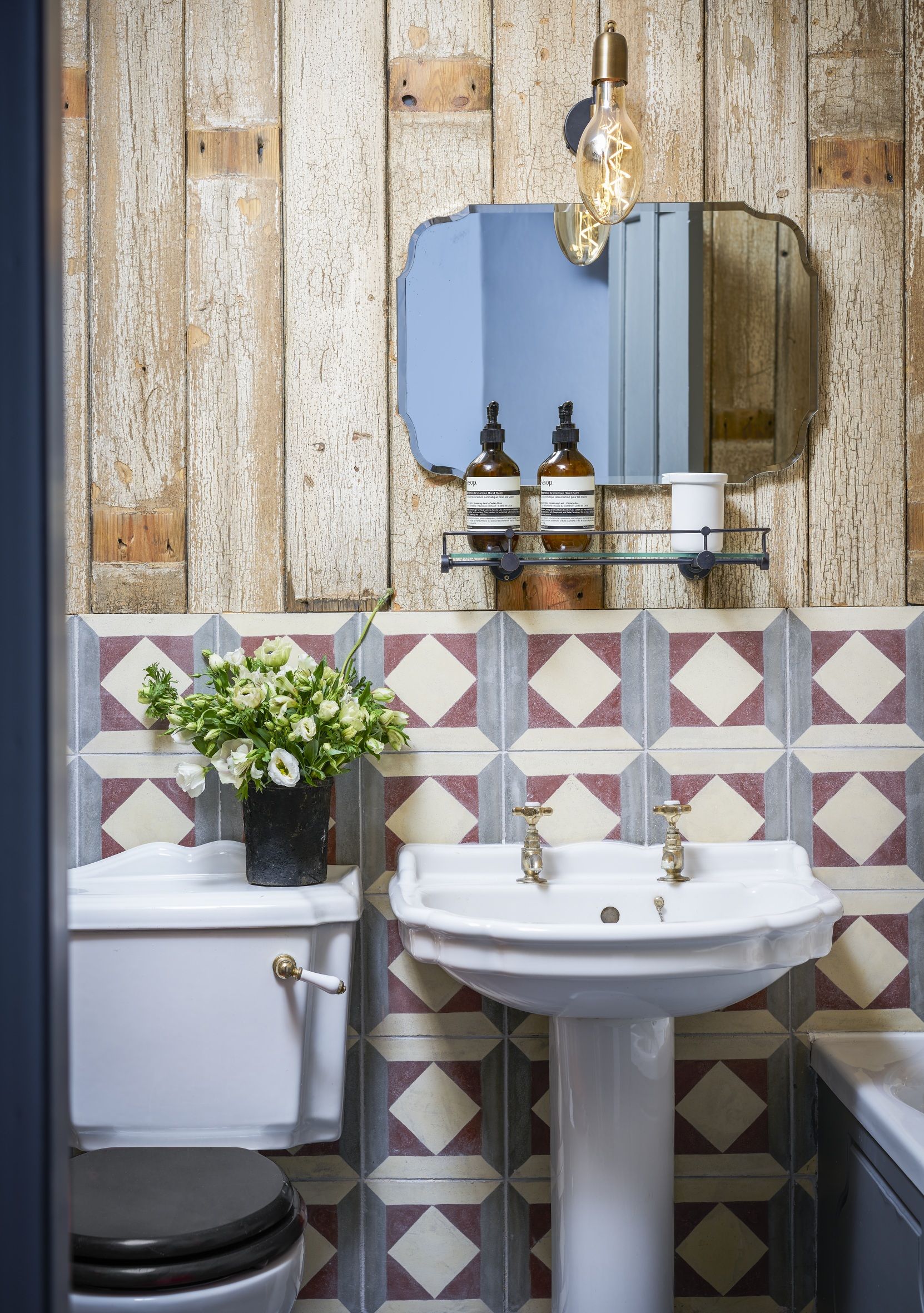 5. Create symmetry
One of the major hallmarks of art deco design is its symmetrical style. And I think we can all agree that there's nothing more soothing in design than a little bit of symmetry! This forms the perfect foundation for the rest of the space. And if you can squeeze a double vanity with dual basins, mirrors and lighting, then you'll create a beautiful finish.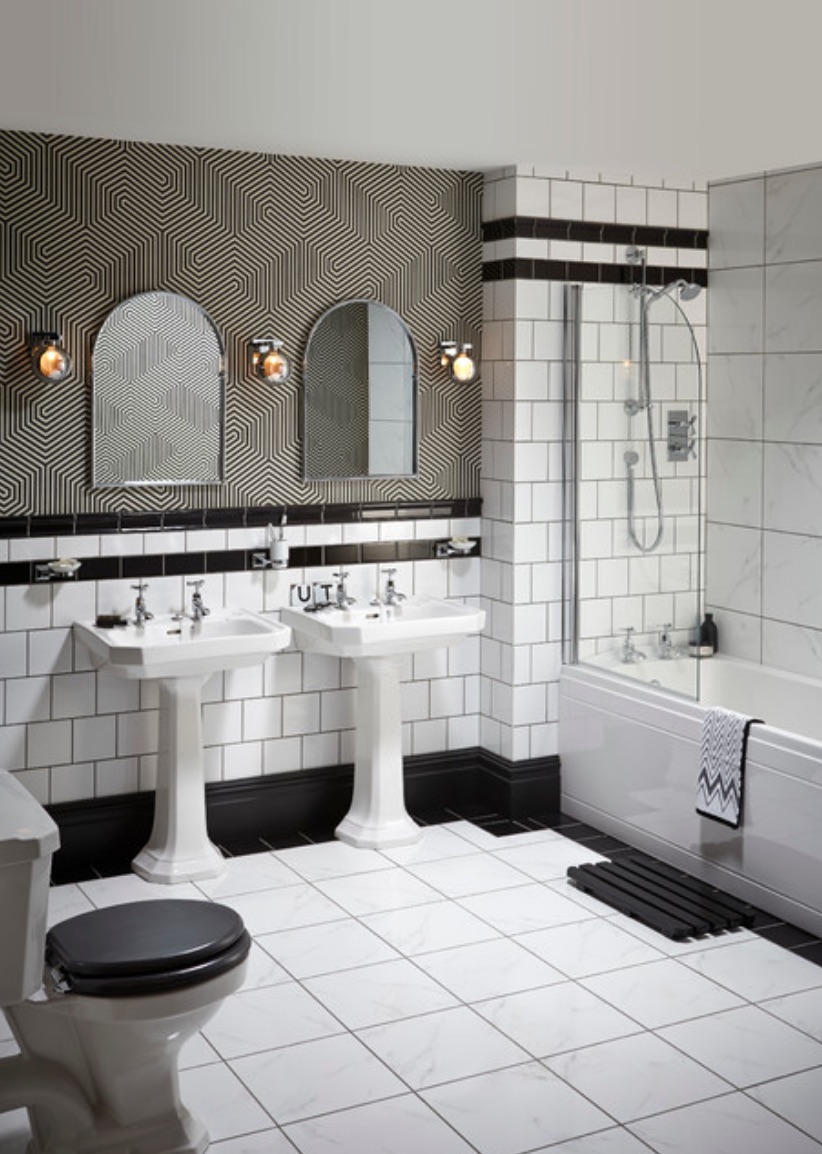 6. Vintage lighting
I love some gorgeous lighting, and this one takes the cake for me! It's the perfect blend of old and new, and it's a great statement piece that draws the eye. The round tub is more of a modern addition, but I love how it's balanced with classic white and black art deco design and a gold ornate mirror.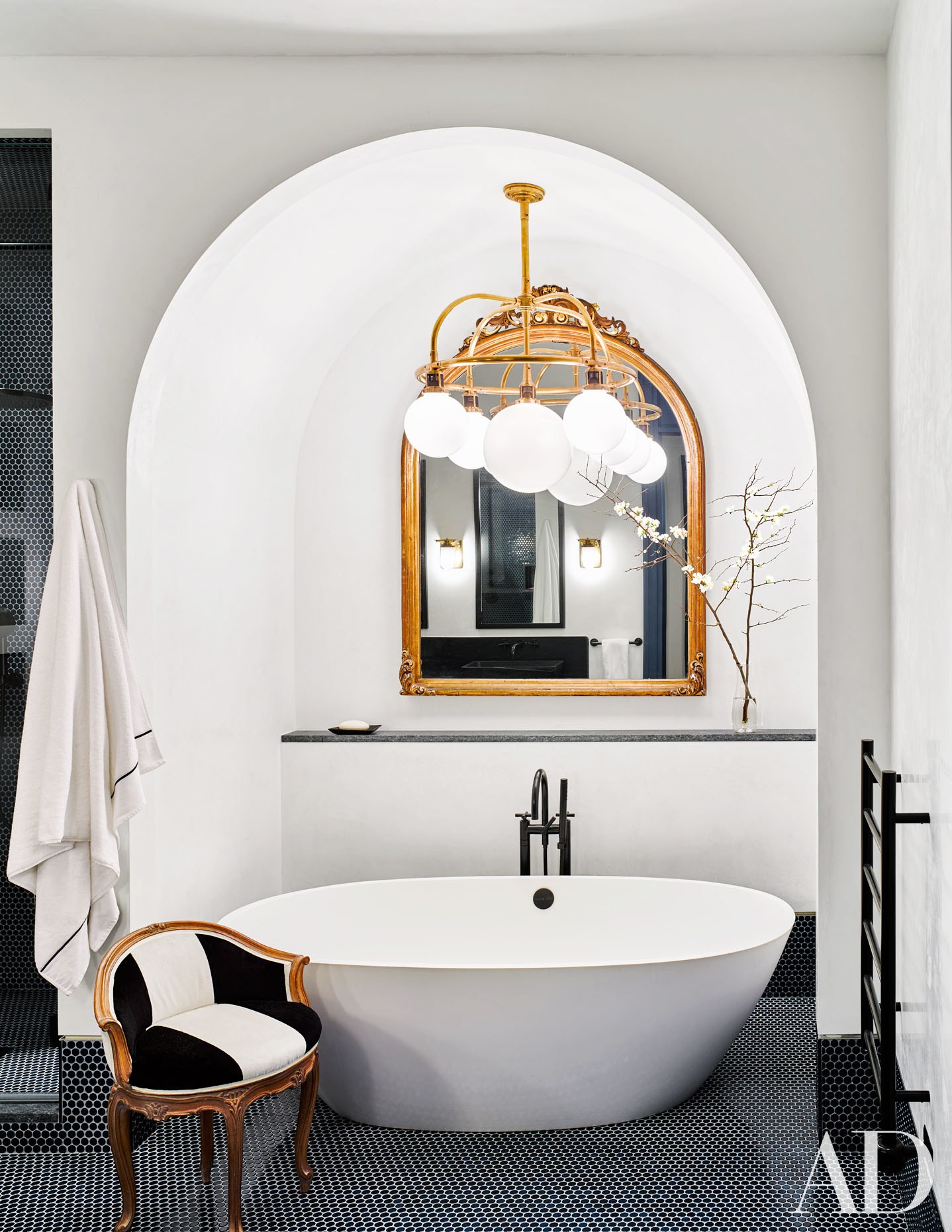 7. Patterned tiles
Take your flooring to the next level with interesting black-and-white tiles. What I love about these ones is they aren't the classic subway tiles. Instead, they're a mix of different patterns and shapes, which adds a layer of intrigue to this simple bathroom. But no matter what your style and taste, there are plenty of bathroom tile ideas to choose from. Be bold and go for something that speaks to your character – it's so important to create a space that you truly love!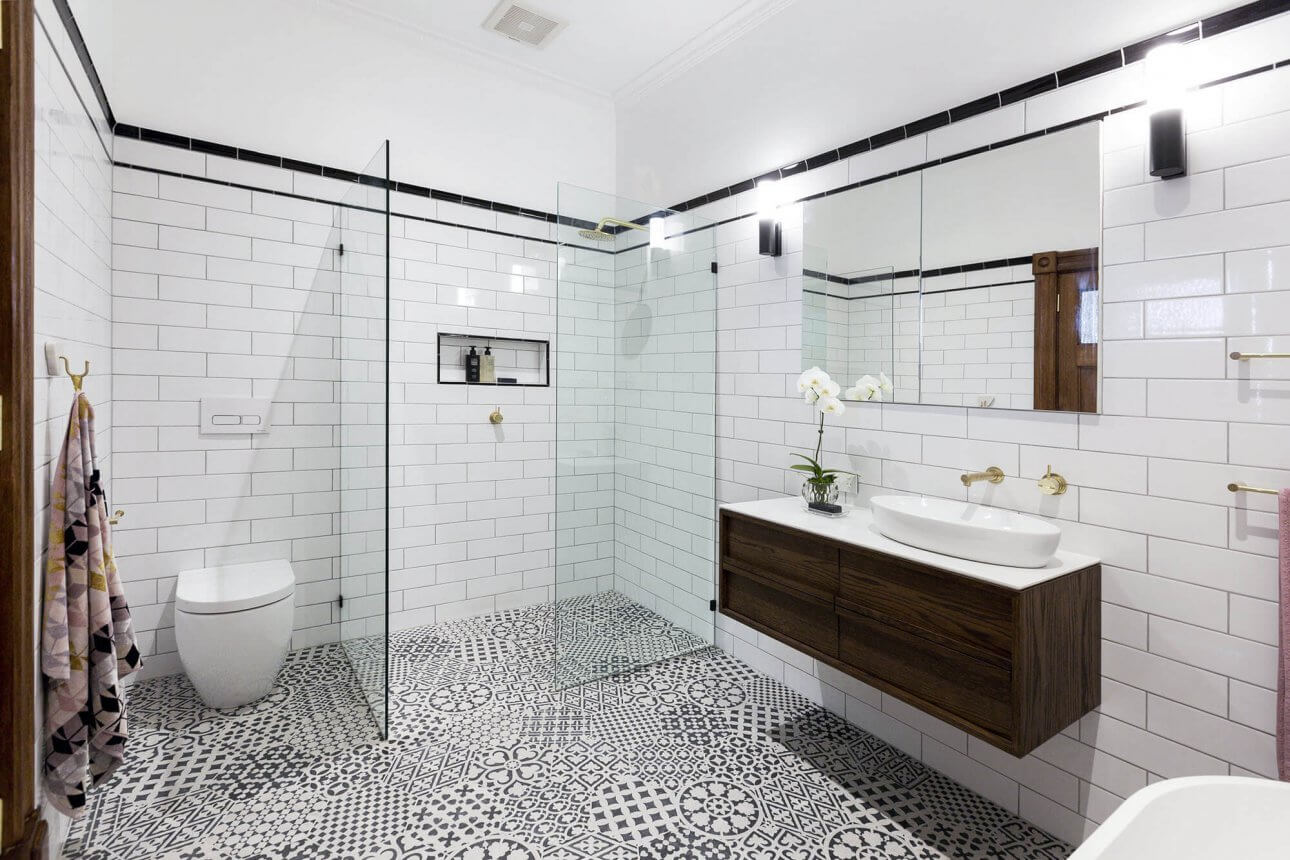 8. Modern classic
If you can't decide between turning back the clock on your design and keeping things in the 21st century, then draw inspiration from this bathroom design. It has elements of art deco style (see the lights above the mirror, the picture frame on the wall, the hardware and the wallpaper) combined with fresh white moulded bathroom cabinetry and a straight-cut rectangular mirror. This is a space that will never date!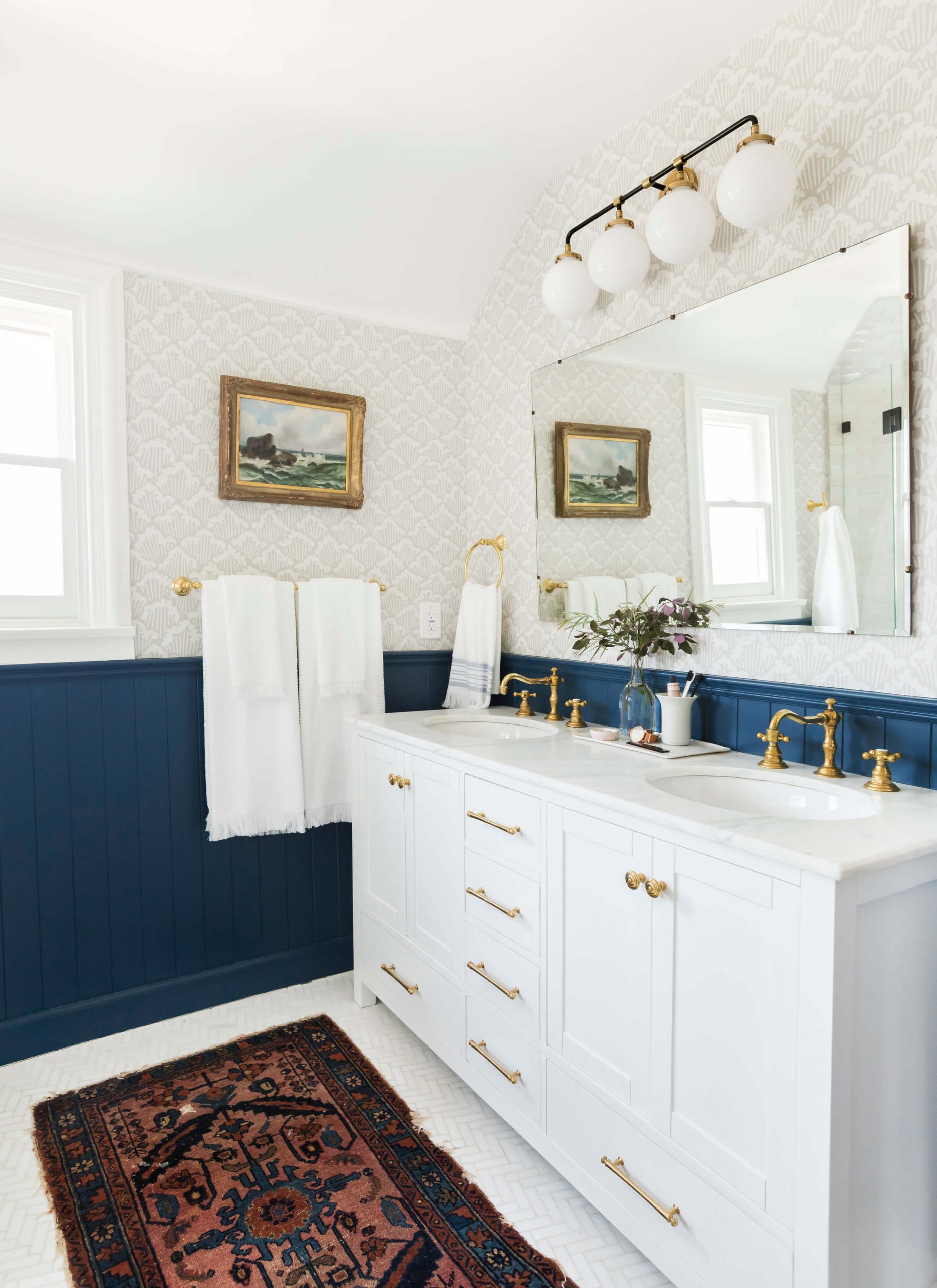 9. Parisian vintage
If you want to keep things truly authentic and stick to the heart of art deco design, then you should create a Parisian style bathroom. To make this truly French, you should incorporate a claw foot bathtub, classic pedestal sinks, checkered tiled bathroom flooring, ornate lighting and intricate decor.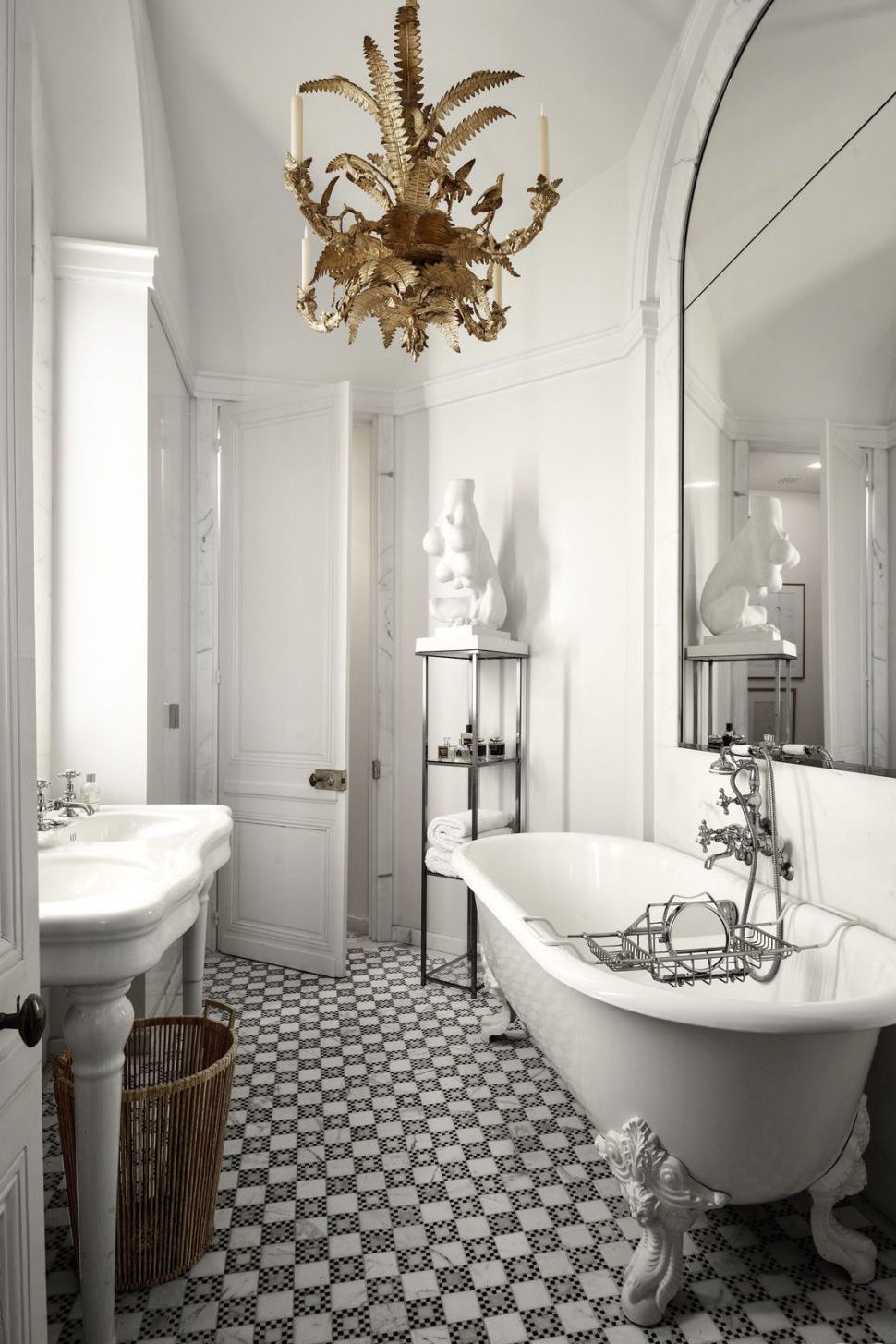 10. Art deco twist on modern bathroom
Keep things mostly modern with a slight twist on art deco style. To recreate this design for yourself, use simple white subway tiles with white grout, install a thick piece of marble as a benchtop and add an old-school mirror, like this vintage one!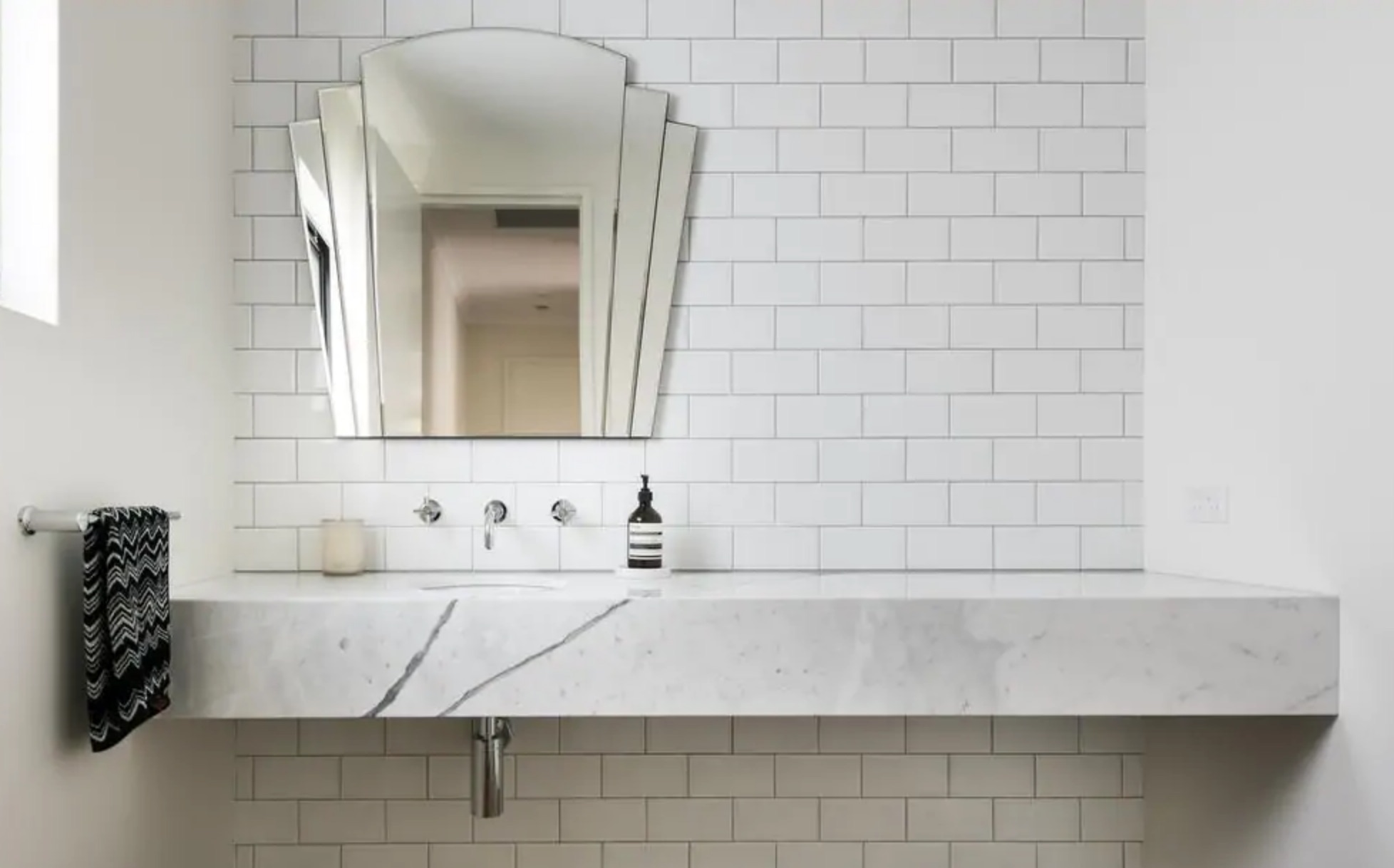 11. Ornate mirror
You guys know that I'm a huge fan of fancy mirrors, and this one is pretty special! I love the detailing on the edging – it really makes it stand out as a feature piece in this art deco bathroom. Plus, the blue-green pieces add a fun pop of colour to this mostly black and white space.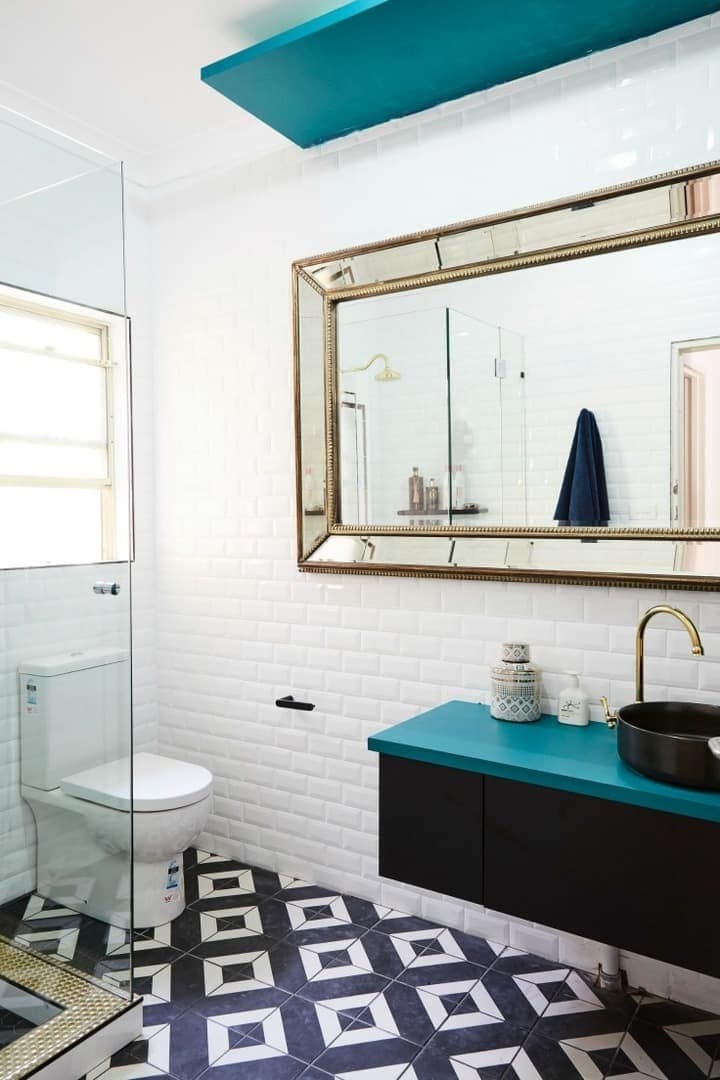 12. Heavy brass
If you don't want to completely overhaul your bathroom, you can still change it up by making a few small changes. The most simple one you can make is to swap out your old vanity hardware for some fresh new handles. I love this heavy brass option for both tapware and handles, and it's really popular right now. You could also go for gold, silver or a rustic brass.
And you can't go past a clean-cut marble countertop. Swap out your old benchtop for a pre-cut piece of marble with lots of veining. It'll be the finishing touch on your vanity!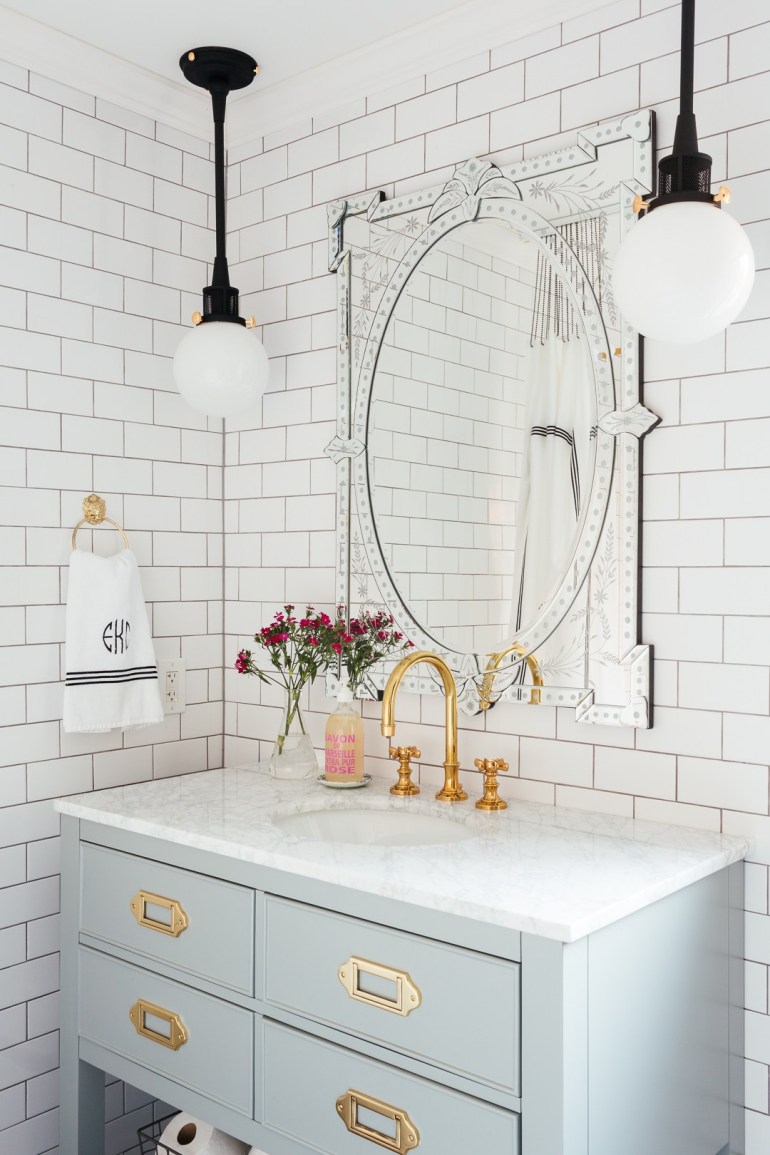 13. Black bathroom tiles
Sure, black can be a bore – but this bathroom is anything but boring. Slick shiny black wall tiles will take your design to the next level while allowing light to bounce around the space. And this can be offset with black and white mosaic floor tiles. These round and geometric shapes tiles add so much personality to this space! And the silver hardware around the sink finishes the design off by adding a classic touch.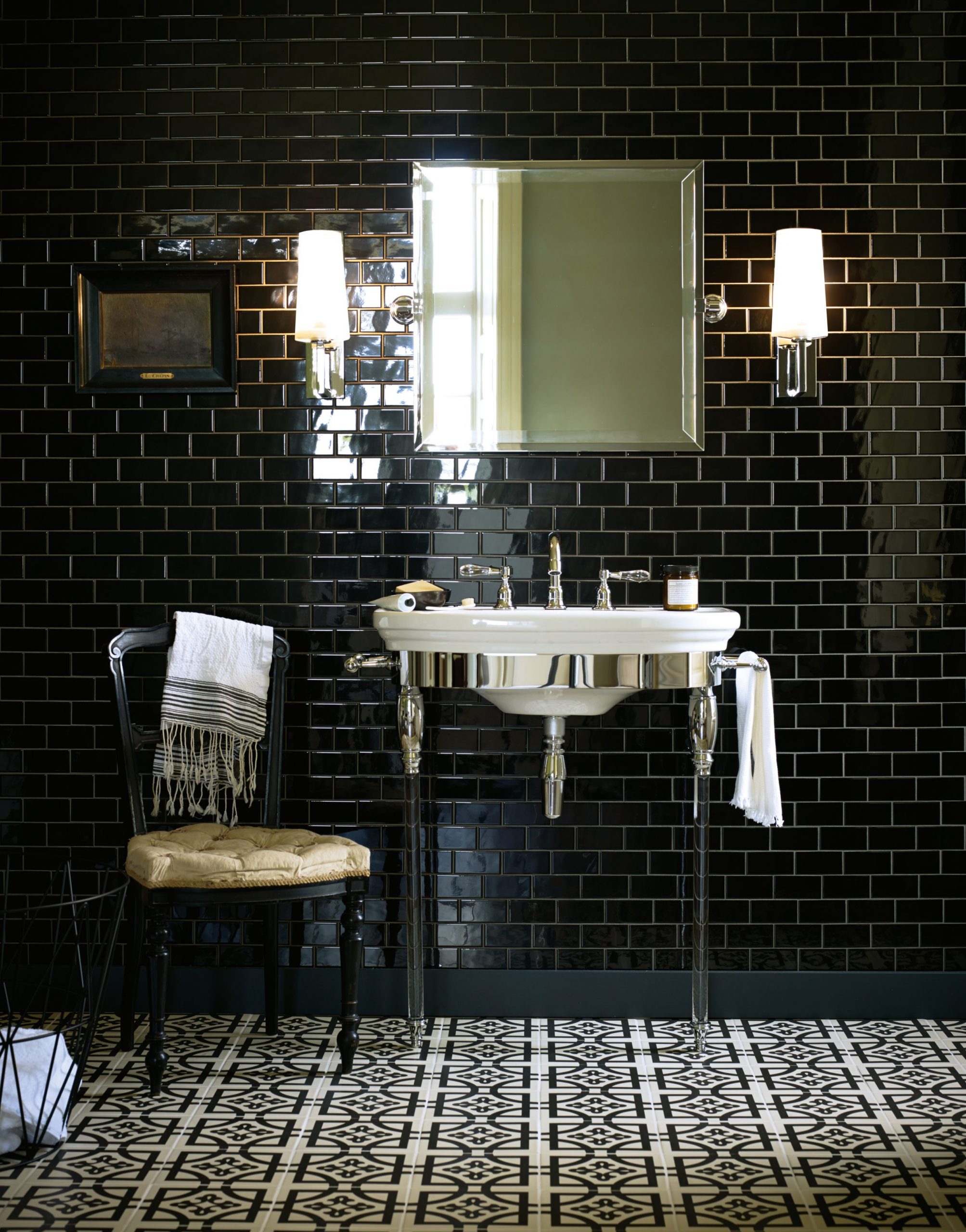 14. Penny round mosaic tiles
If you've decided you want to create a modern art deco space in your modern house, then you need to consider every little detail, not just the furniture. The design begins from the ground up – where you choose your flooring. Of course, there are the usual simple white tiles. But if you want to do something different – then you should have a look at mosaic tiles. I really love this penny round mosaic tiles – they set the tone for this space. From there, you can build the bathroom up with your vanity (I love this moulded one), hardware, countertop and sinks, mirrors, lighting and decor.
Remember to always choose elements that speak to your personality and make it shine.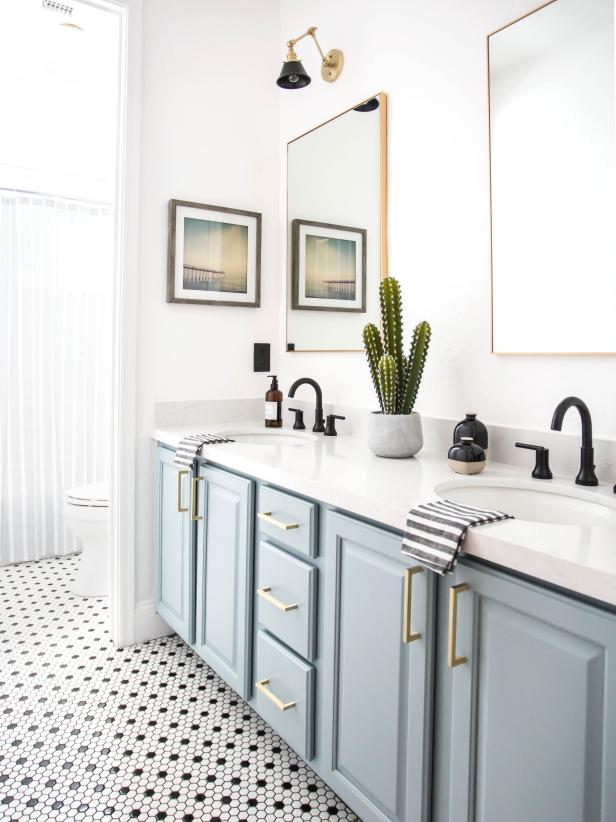 15. Double-wall design
There are so many options out there when it comes to bathroom design and if you're anything like me, then you probably find it hard to land on one style. But the good news is that you don't have to stick to one thing. You can go all out and embrace your multi-passionate side by incorporating two designs.
This bathroom is a great example of this. It uses soft blue paint etched with a white floral print on top and then incorporates classic rectangular white tiles on the bottom. Plus, I love the black strip edging that's been sandwiched underneath the top row of white tiles – it adds extra detail and interest!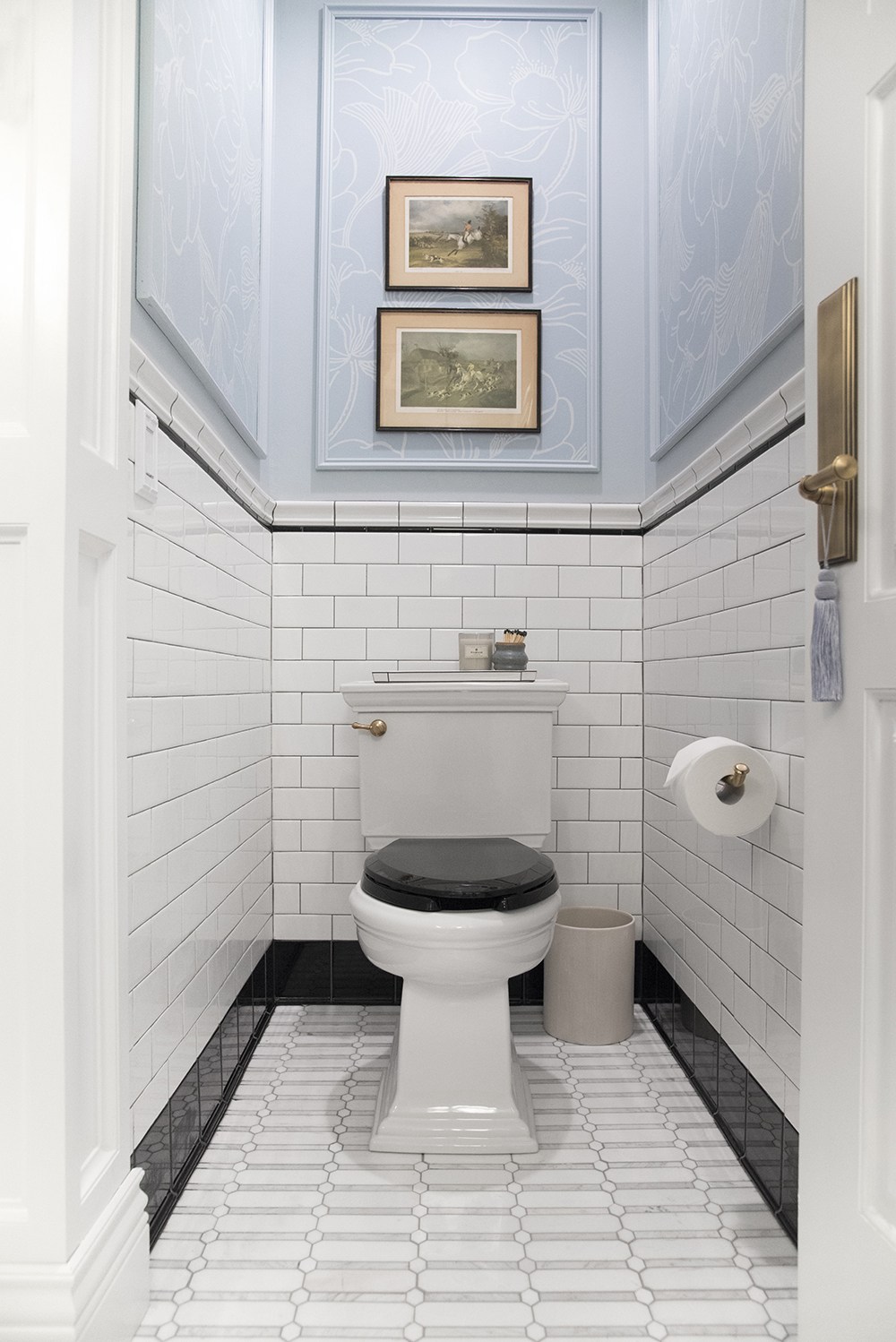 16. Make it different
While black and white is a mainstay of art deco design, it doesn't mean you need to make your walls like everyone else's. Take this scalloped wallpaper, for example. The fine lines create interest while remaining elegant in this sophisticated modern art deco bathroom.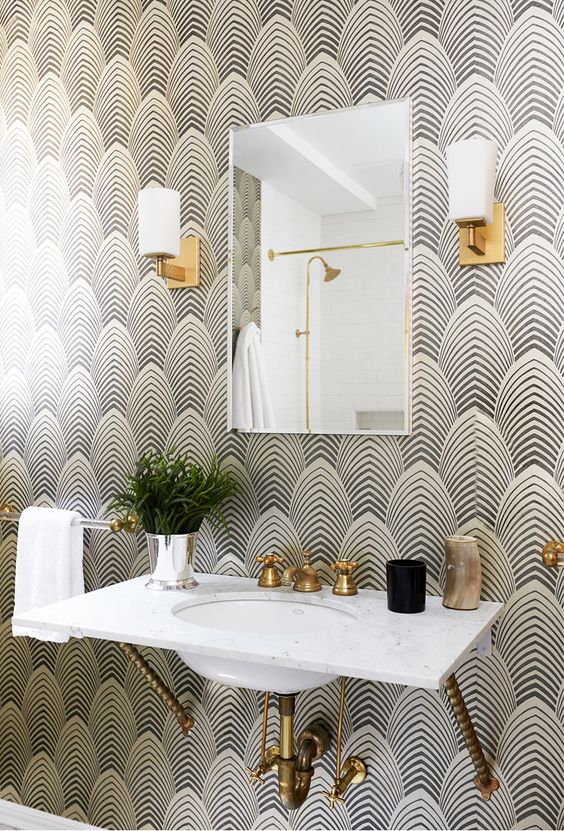 17. Vintage wallpaper
If you want to create something that will make a statement as your guests walk through the doors of your new bathroom, then plaster your walls with a fancy wallpaper! I love how quirky and different this one is. This just proves that your bathroom can be a place to inject your personality.
So as you plan your bathroom renovation, think of ways to make it yours. Some key areas to consider are your walls, lighting, mirror and decor.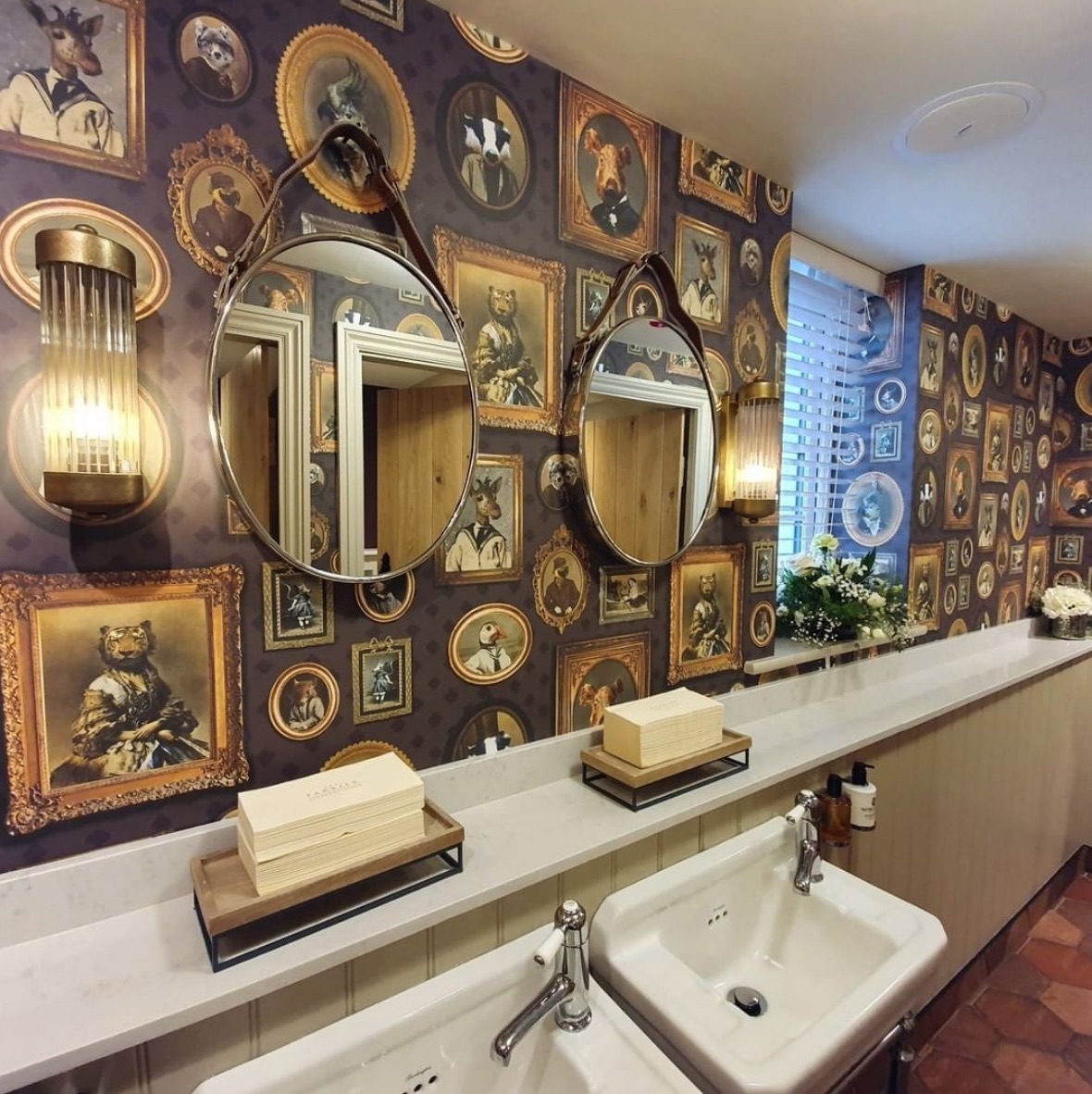 18. Pastel art deco bathroom
A little bit of pastel can go a long way in making your small bathroom look fresh and pretty. Contrary to popular belief, it doesn't have to be overly feminine either. You can incorporate pastels by adding in a tea towel, vase, flowers or any other small piece of decor. Remember, when creating your new art deco bathroom, it's the details that will really make it shine!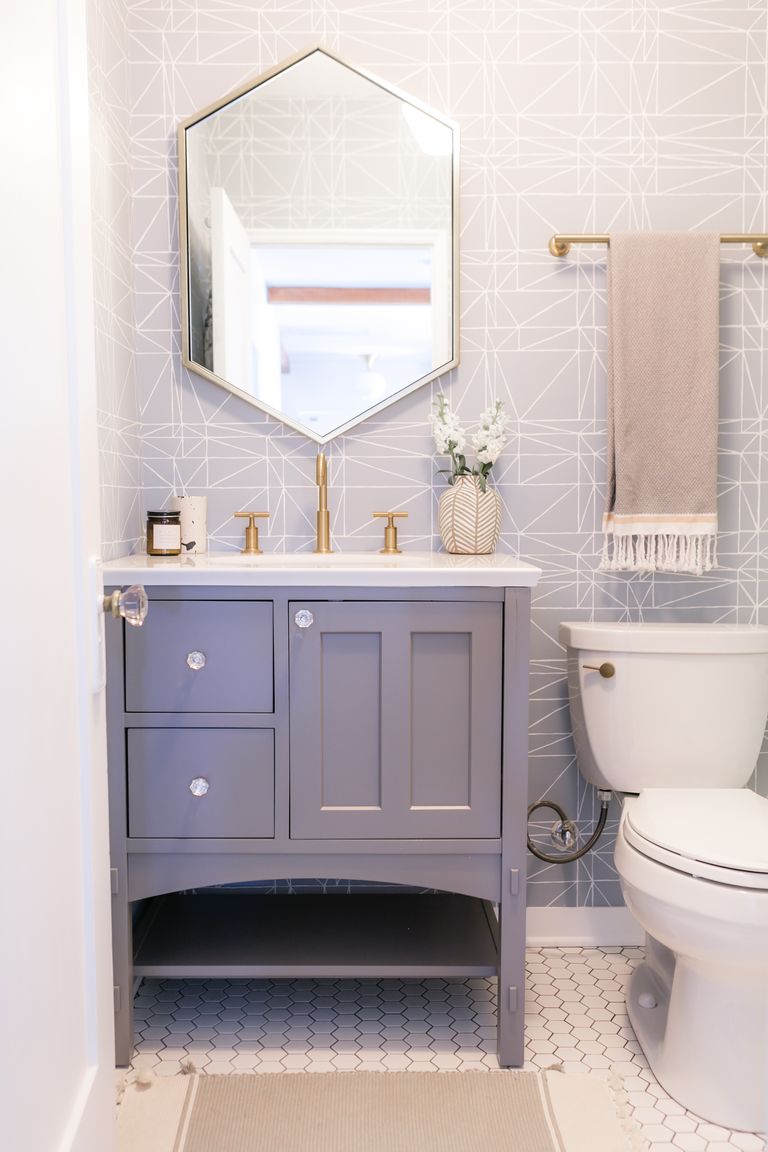 19. Mixed materials
Modern bathrooms don't have to be black and white to embody art deco glamour. You can incorporate a mix of elements, including brass, pops of pink, fun prints, rustic bricks and natural greenery to create an inspiring, contemporary space.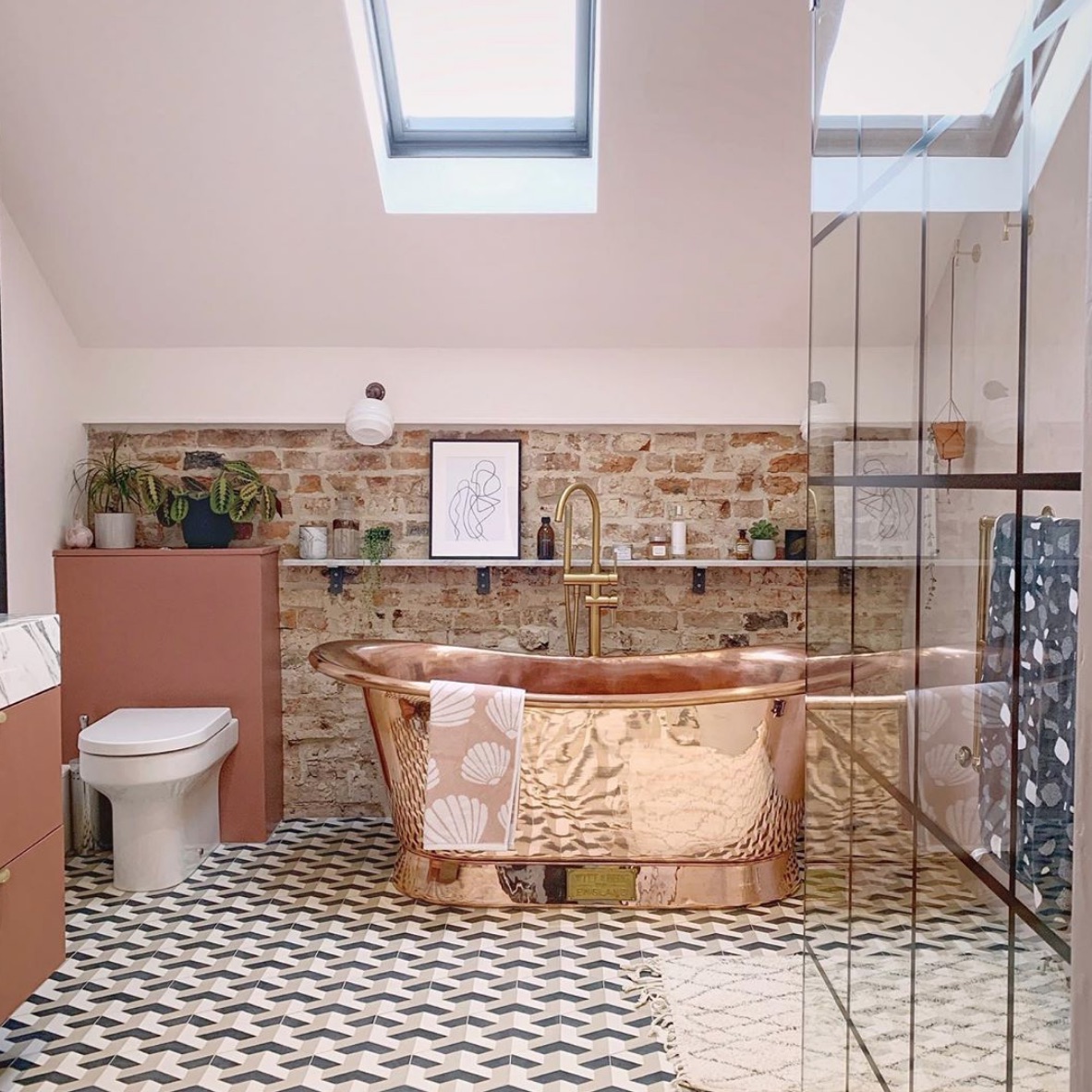 20. Earthy, art deco
This design is a big, bold, and beautifully glammy oasis featuring striking statement tile, a super-sleek floating vanity, faux hardwood floor tile, lots of funky art, and all the modern amenities a homeowner could ever need. It's all in the details, people.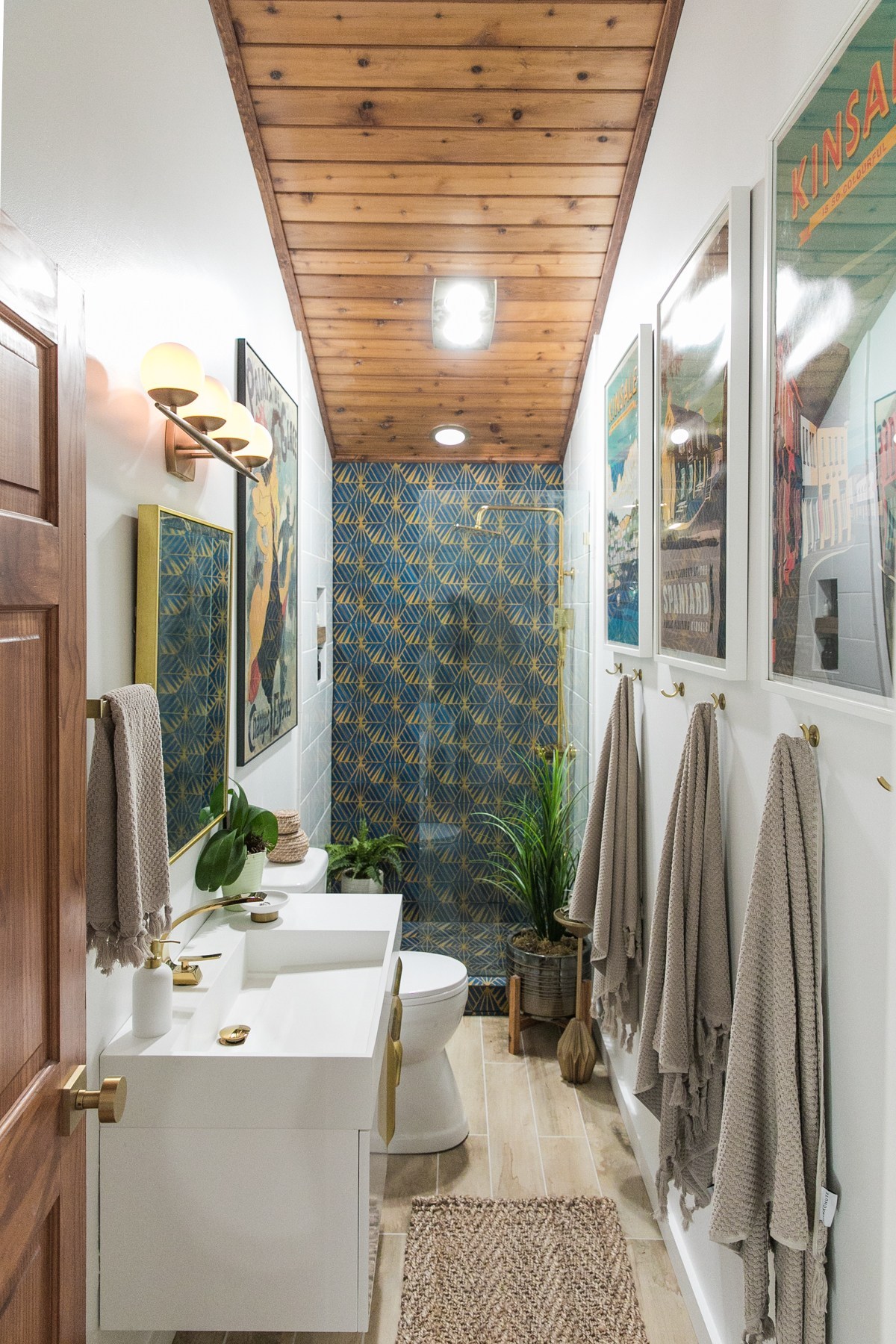 21. Contrasting colours
Art deco colours are traditionally bold and driven by contrast in colour schemes of silver, black, chrome, yellow, red, cream, green, and beige. And when it comes to solid colours, black-brown and tan are the go-to. This design embraces this style with black, dark grey and brown contrasted with pink geometric tiles. So, when you're designing your art deco bathroom, consider how you can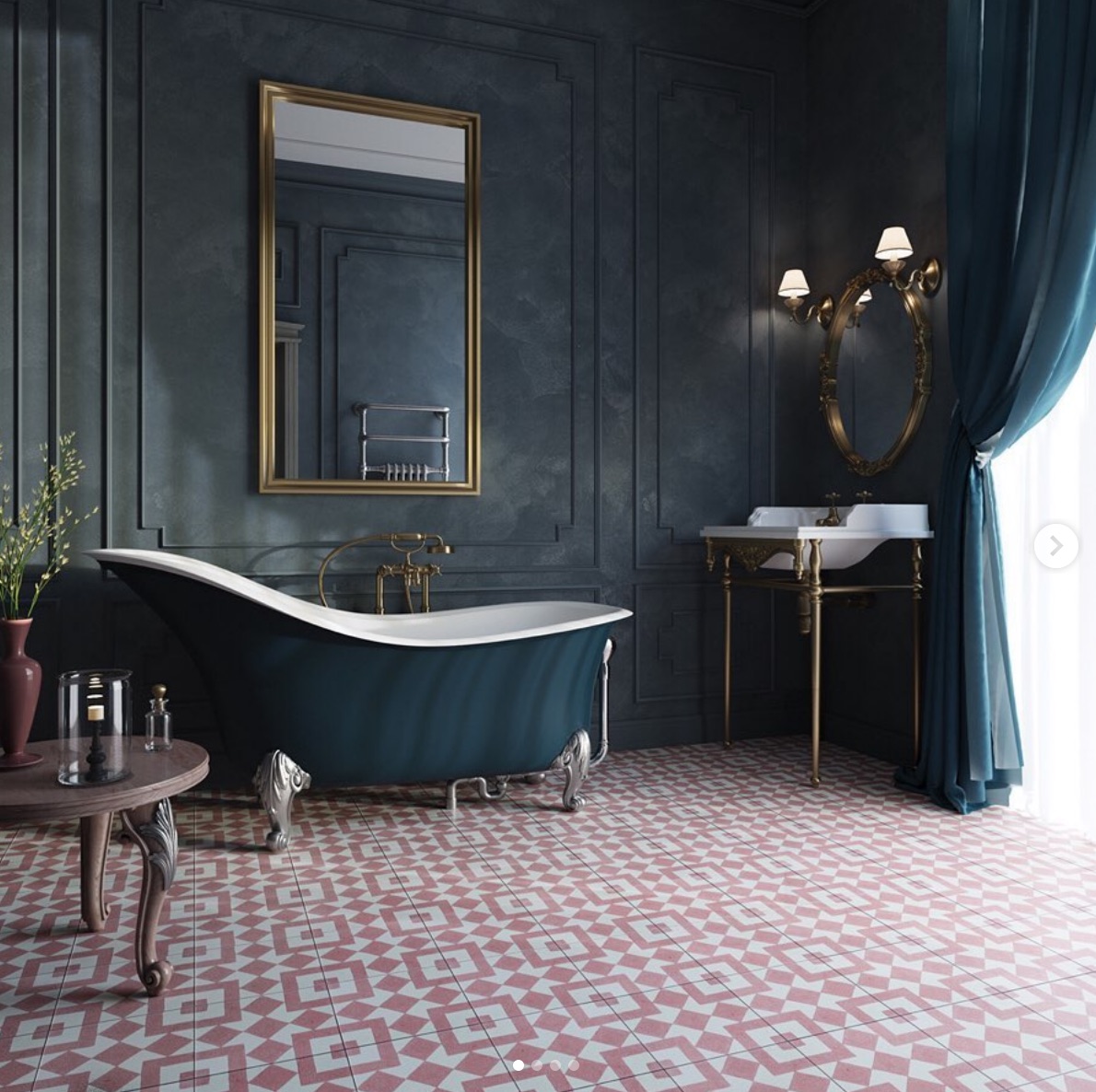 22. Ornate mirror
A really simple way to art deco-iffy your bathroom is to hang a traditional style mirror like this one. This won't require as much effort as overhauling your entire bathroom design. And, if you look hard enough, you might be able to find a classic mirror in a secondhand store for a bargain!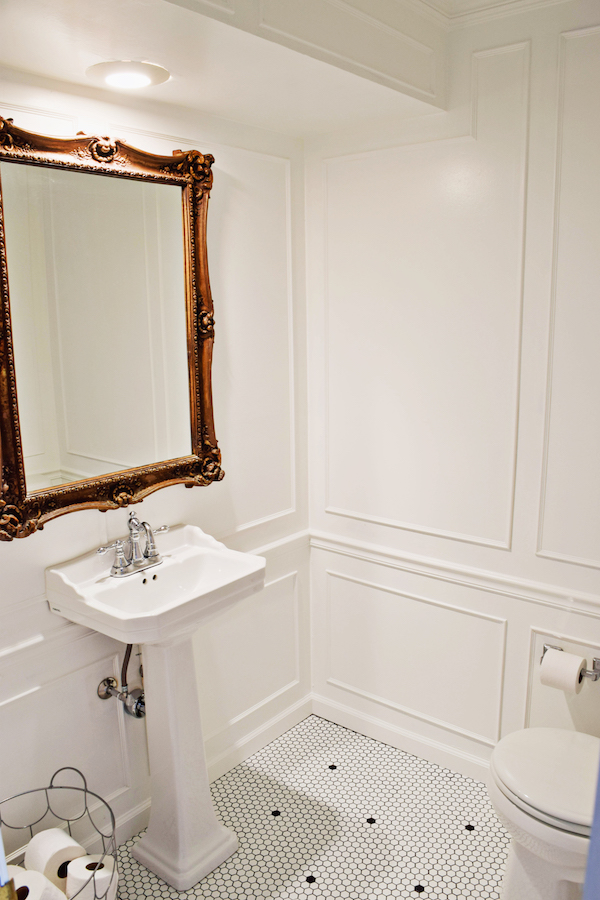 23. Black paint
If you want to create a bathroom that's totally luxe, then you should consider a lick of black paint. It's amazing how a coat of paint can completely transform a room – and that's exactly what has happened in this space. And the addition of the vase full of native flowers adds a much-needed natural touch!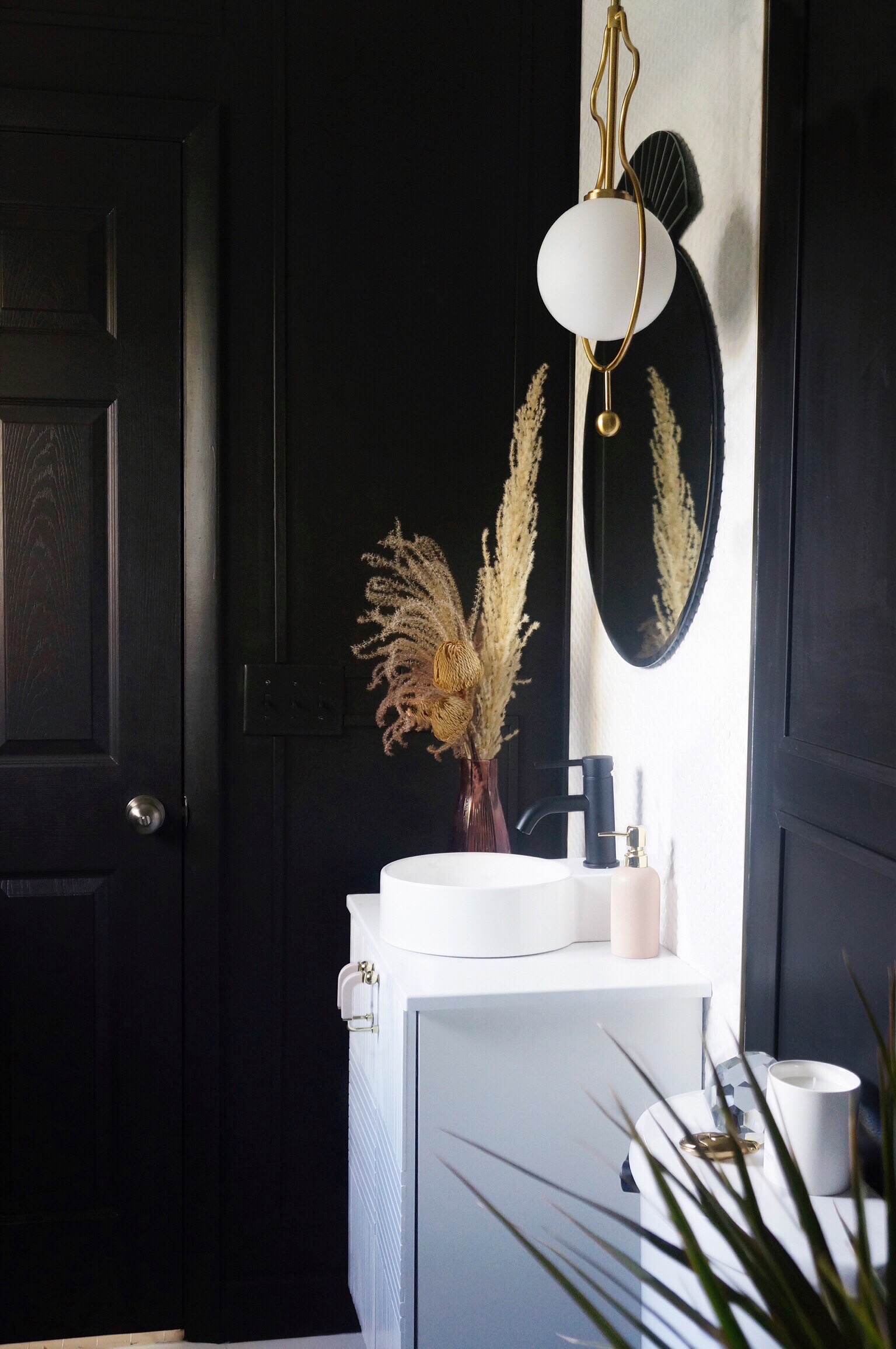 Get some help to transform the colour with some bathroom painting help.
24. Black on black
This bathroom is dark, moody and bold. But in the midst of the black paint and black-and-white tiles, the quirky prints above the toilet add life and fun into this small space. So, if you want to go to the dark side, do it boldly!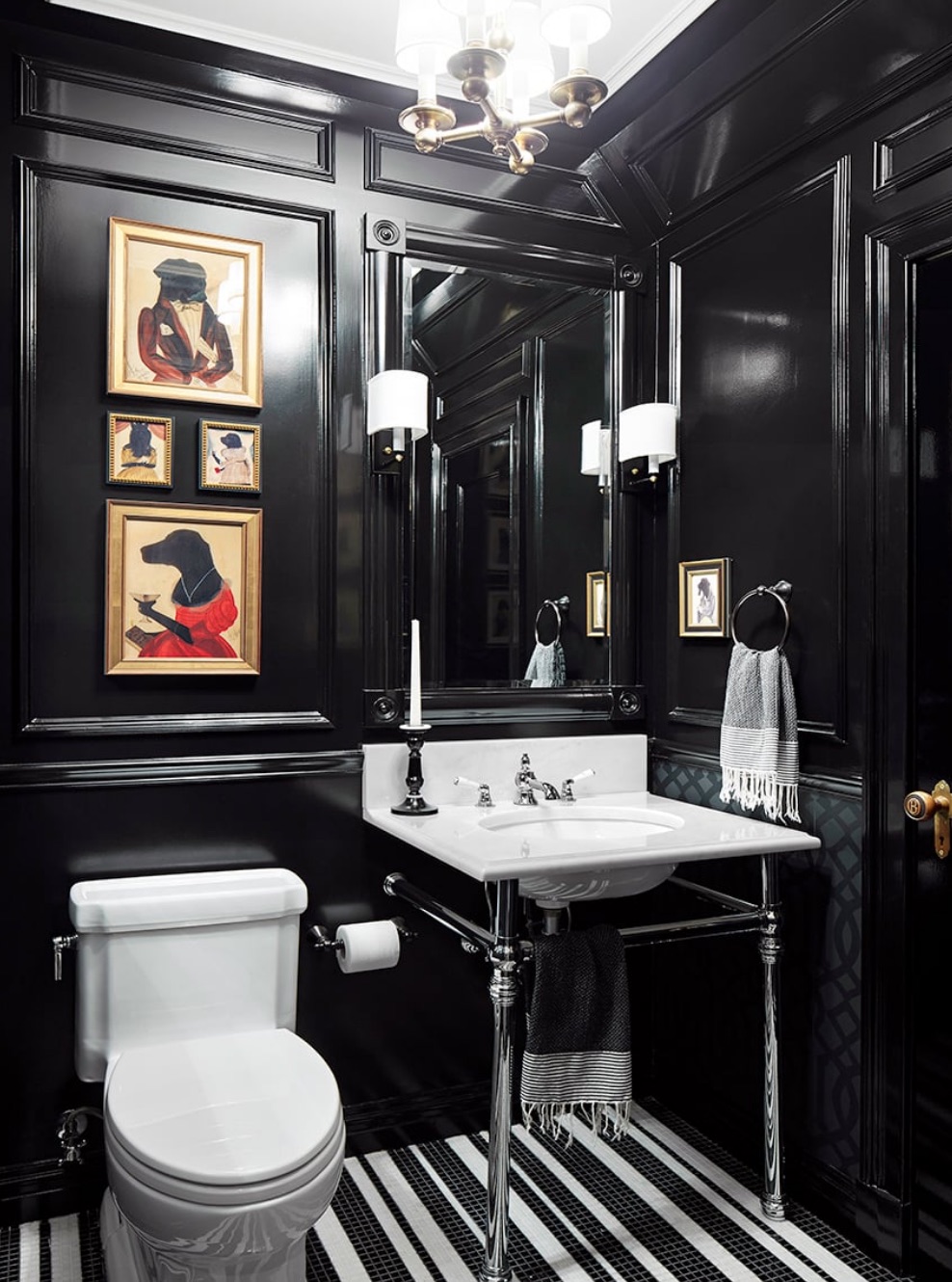 25. Clawfoot bath
I love a good soaking tub. There's something nothing like enjoying a relaxing bath at the end of a long day at work, right? Adding a good dose of classical opulence and vintage aesthetics, a clawfoot bathtub can instantly transform your bathroom. Combined with shiny silver tapware, a piece like this will take your bathroom from modern design to vintage chic.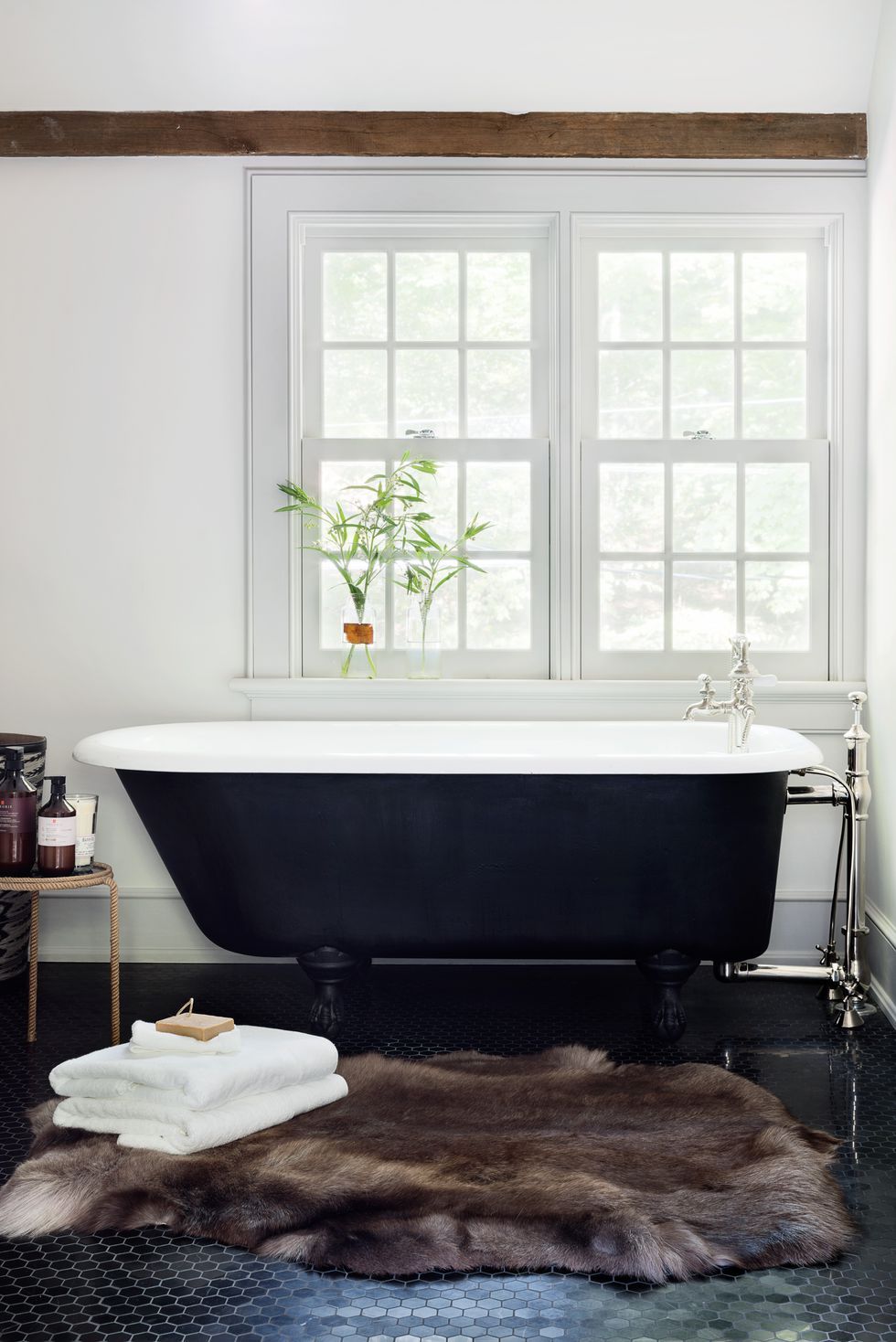 26. Forest wallpaper
This design uses a bold white and black forest wallpaper, and I think it's just gorgeous. Paired with the hanging prints, this makes for a vintage feel in this retro bathroom. And the touches of blue with the cups and flowers help brighten up the room.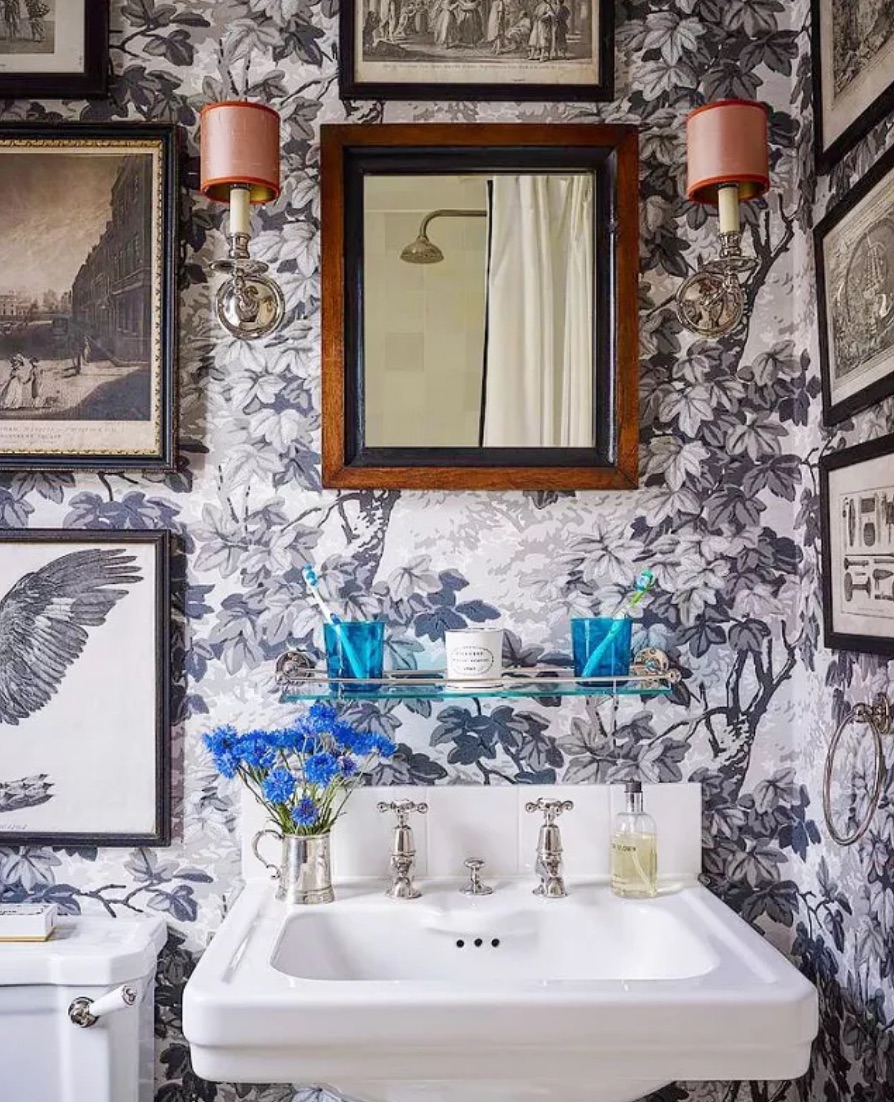 27. Bright lime green
Go to the wild side (and I mean, really wild) with this out there fluro lime green wallpaper. Nothing screams retro more than a mix match of colours and patterns, and that's exactly what this print is! Combine it with plenty of white to balance out the green. And voila – you've got a unique retro space.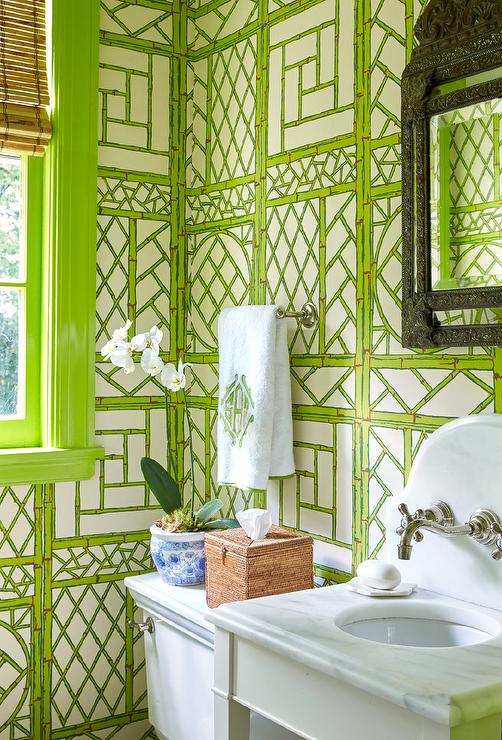 28. Pop of green
There's so much going on in this bathroom, so it's hard to know where to begin! But let's look at the obvious. The thing that stands out to me the most is the pod of three white-and-black lights on gold fixtures that hang in the middle of the ceiling. This ties in nicely with the geometric flooring and the white vanity on the right. But then, there's an element of surprise – and it's the lovely green! This adds a fresh natural feel to the room, which would feel very cool if it were left bare. Overall, the design elements come together for a fun and funky space!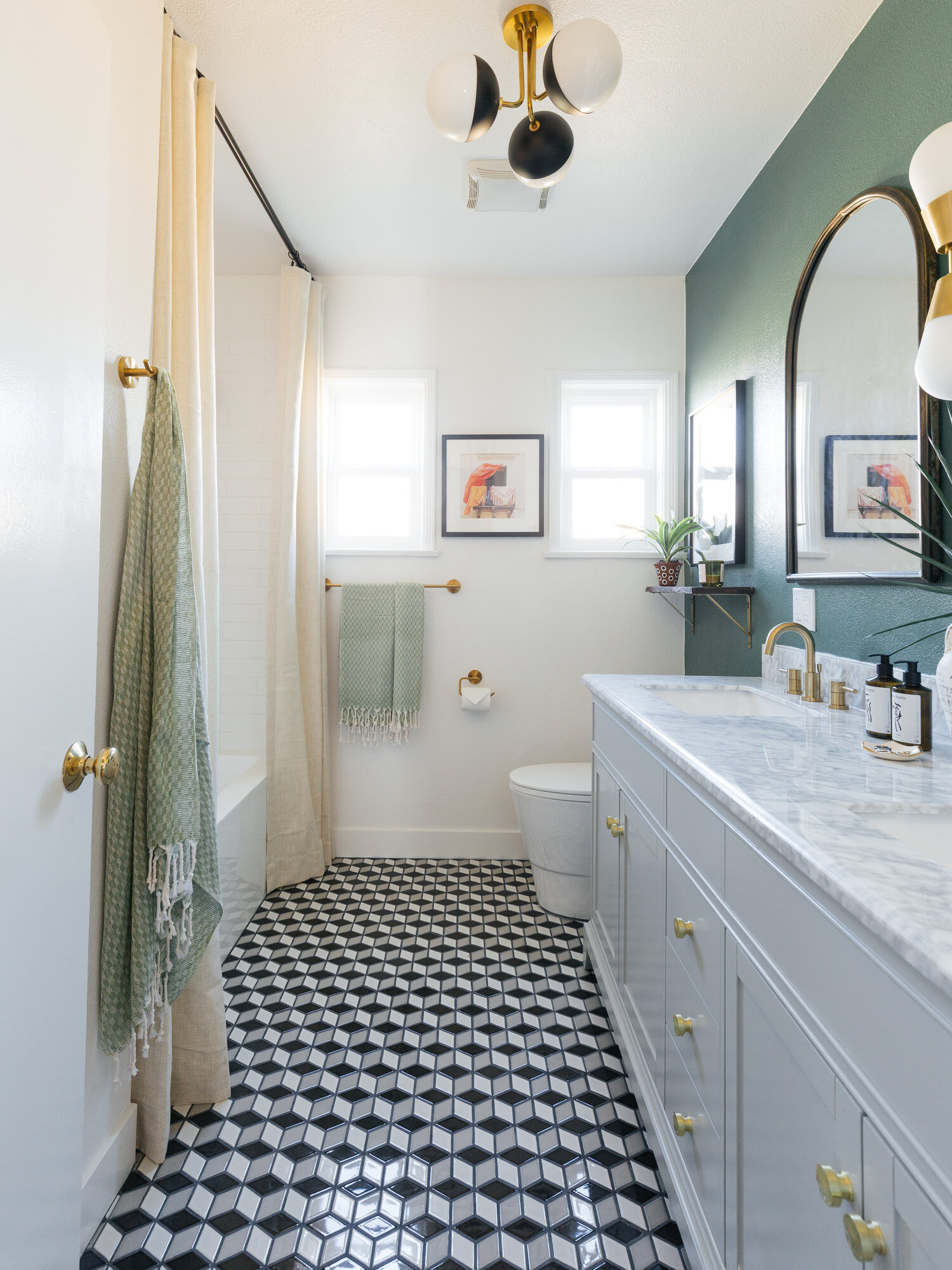 29. Classic pedestal sinks
Rewind 100 years or so by installing classic pedestal sinks, like these. I love the double sink and double mirror/cabinet look. And it's sure to give your bathroom the art deco style you desire. Plus, the tiles are another great option for injecting a traditional feel!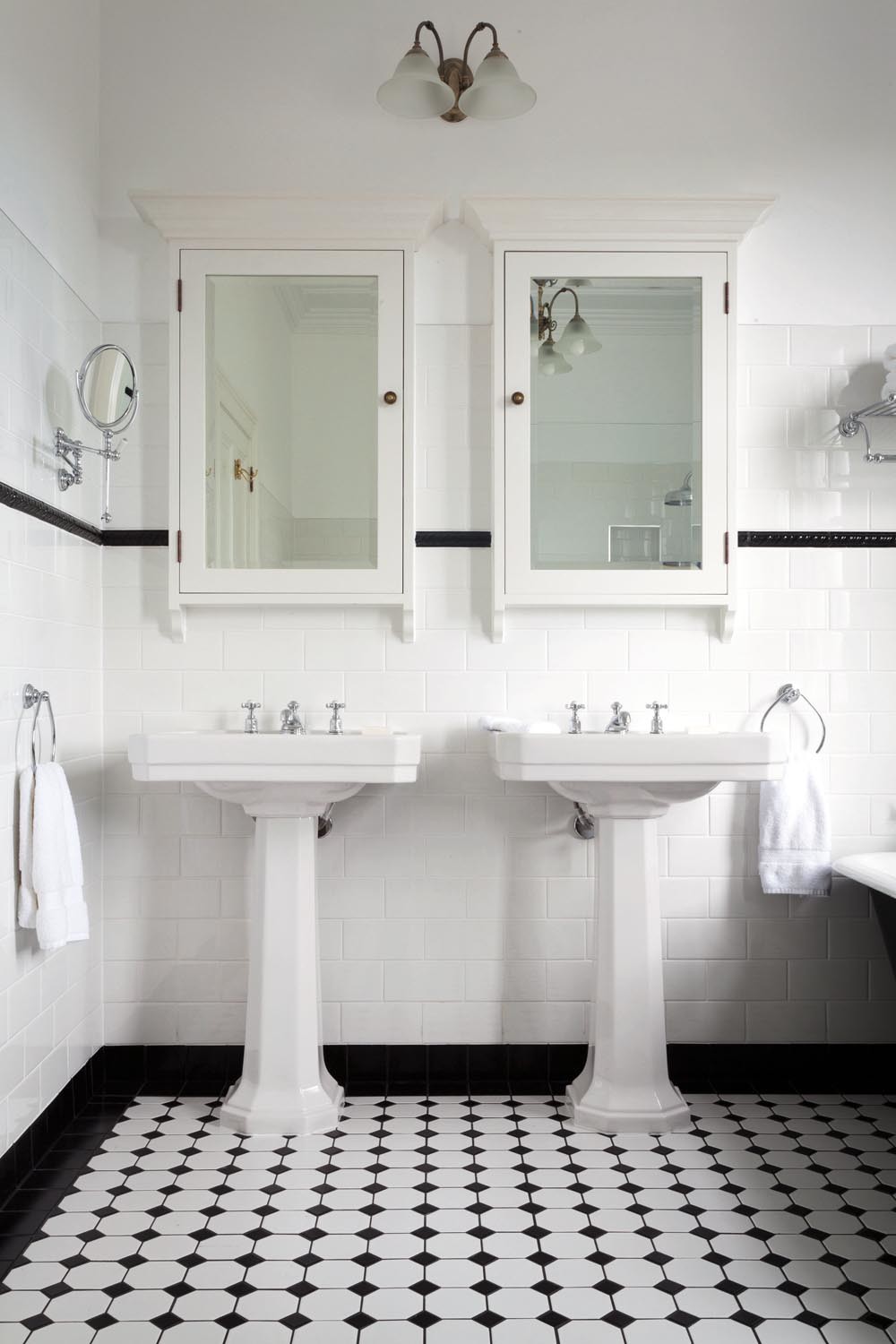 30. Decorative flooring
If you're not afraid to make a statement with your floors, then consider geometric tiles! These beauties will look good with almost anything but they really shine with simple black and white furniture. I love how such a simple addition, like these tiles, can make such a huge difference to your bathroom's overall look.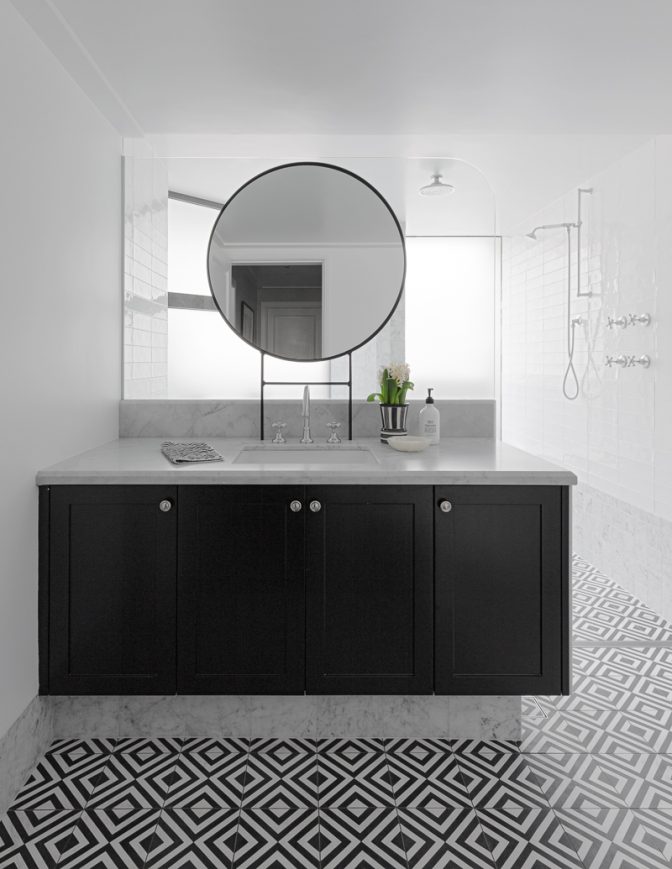 There you have it, 30+ art deco ideas that you can use for your next bathroom renovation. Before you go, I'd love to hear from you. Which idea stood out to you the most? Was it the floral wallpaper or the geometric black-and-white tiles? Or maybe it was the bright green bathroom or country-style space? Or maybe it was the decorative tiles or statement lighting? Comment and tell me. Plus, if you have any other brilliant art deco bathroom ideas, share them too!