One of the biggest mistakes people make when they're designing their bathroom is that they mess up the vanity. They either make it too small for a large space, too large for a tiny space or forget to incorporate enough storage to hold essential items. And so this is why I've pulled together some of the best bathroom vanity ideas for any size bathroom in the one spot.
The bathroom vanity ideas below will suit every style and taste, not to mention being beautiful and functional. You'll find contemporary, minimalist, classic, Hamptons, country, and mid-century modern styles – plus so much more. So let's get inspired for your next bathroom renovation.
1. Rose gold tapware
While brass, gold and silver are the favoured choices for tapware, you may not realise that rose gold is an option too. And I think it looks beautiful in this bathroom – it really stands out against the cream coloured tiles and the baby pink vanity.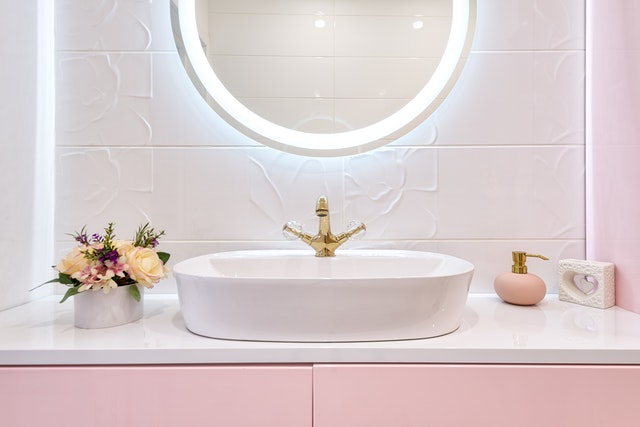 2. Minimalist stunner
Minimalists rejoice! This bathroom is the option for you if you like to keep things simple – and I mean really simple. It strips things back to just the essentials and all in a sophisticated neutral colour palette – grey, white and timber!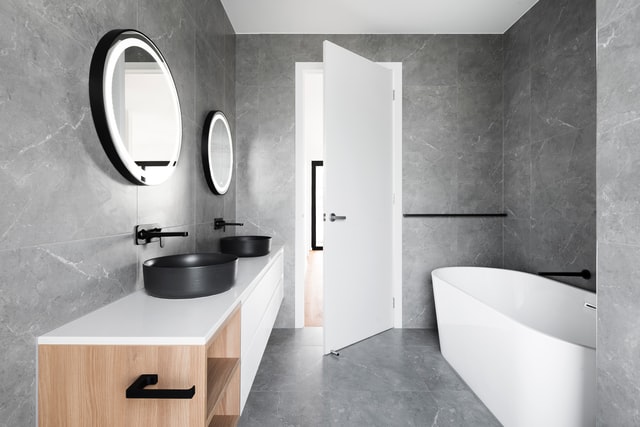 3. Floating vanity
I'm sure you've been in a bathroom where the vanity is just way too large for the space. But that's not the case with this design, despite the length of the vanity. The floating style means that the vanity is not too obtrusive in this space. Instead, it serves its purpose and looks good while it does it! And the timber stands out perfectly against the all-white background.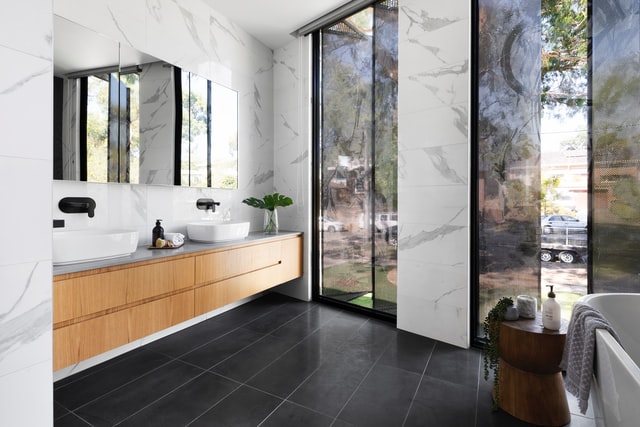 4. Light green and salmon
If you love something a little different, then this is the choice for you. The mix of peach vanity and sea green wall tiles, freshened up with doses of white, makes for a quirky and original bathroom aesthetic. Just add a classic pendant light!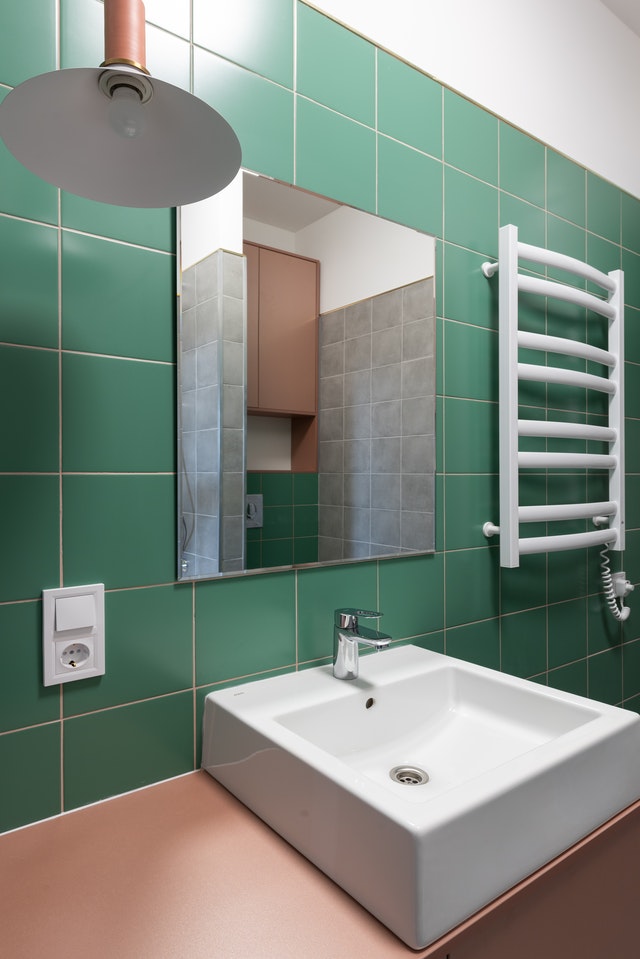 5. Mid-Century Modern
If you love Mid-Century Modern style, then you can bring in those Mad Men flavours by installing a timber vanity—preferably a repurposed old wood cabinet in the classic Mid-Century Modern style. Look for darker timbers to recreate the look, then dress up your space with statement black lights and tapware.
6. Small space
Got a small space? Don't worry, so many of us do. The good news is that you don't have to have a huge bathroom to make it functional. A small space can serve you well, as long as you use it right. The tip here is not to overcrowd your vanity. Take the vanity in this narrow bathroom as inspiration. It has a small simple black caddy in the middle for soap bottles and hand towels. This allows it to serve a purpose while not cluttering the bathroom.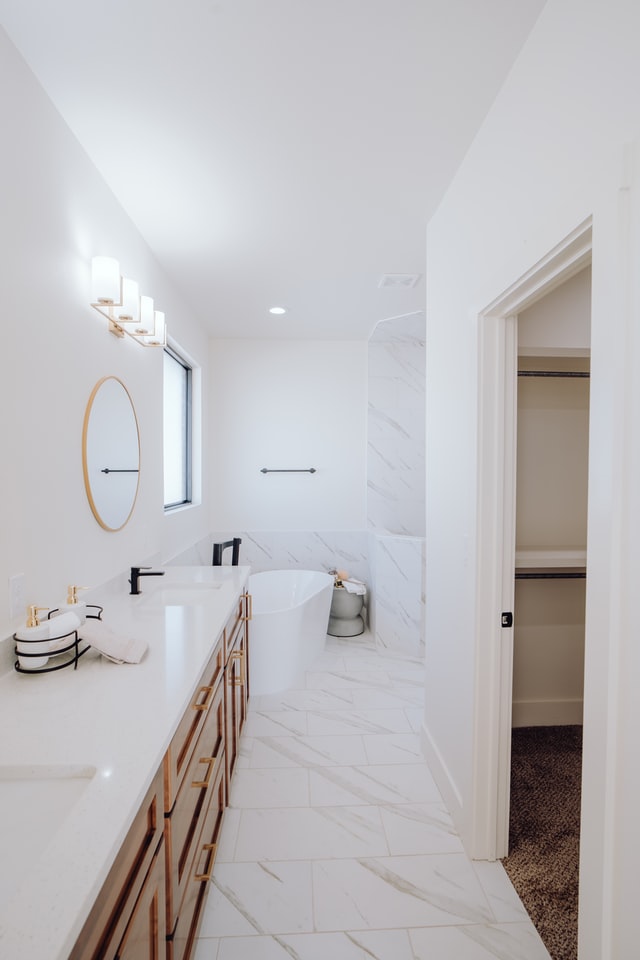 7. Scalloped splashback
If you're looking for a way to fancy up the wall behind your bathroom vanity, then you can't go past a gorgeous tiled splashback. Try a unique scalloped design and cover the entire wall for a dramatic effect.
Find a bathroom tiler to help!
8. Glorious blue
This space is so much fun, and that's all because of the colour! So if you have a large bathroom, then why not install a blue double vanity like this one. And while you're at it, don't forget your bathroom flooring. There are so many fun options for funky tiles.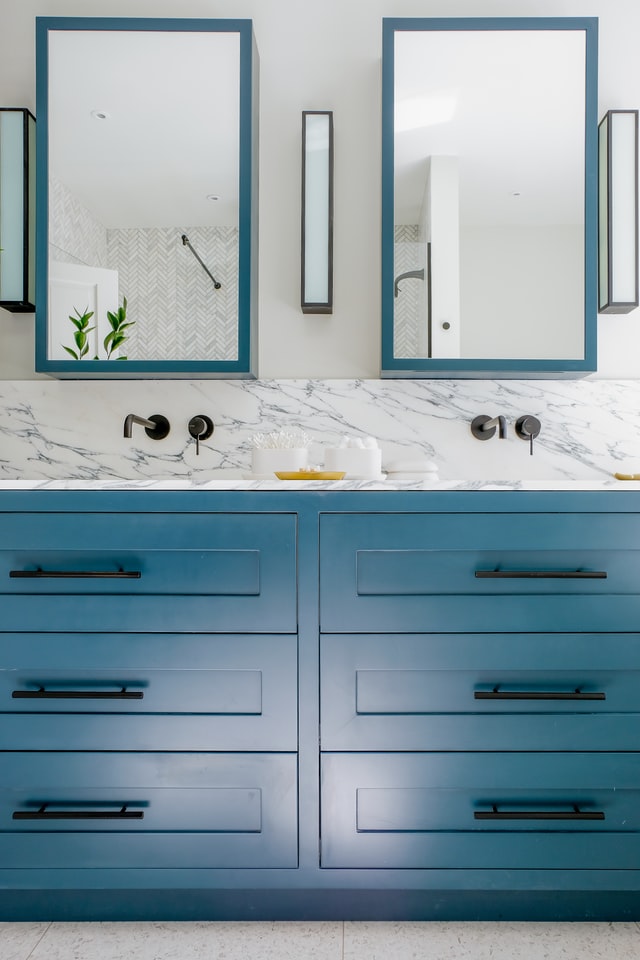 9. Italian marble
Nothing screams luxury more than marble. And this bathroom uses it so well. It has marble for the benchtop and the walls! With this much dark marble in the mix, I like the addition of a fresh white sink and pendant light.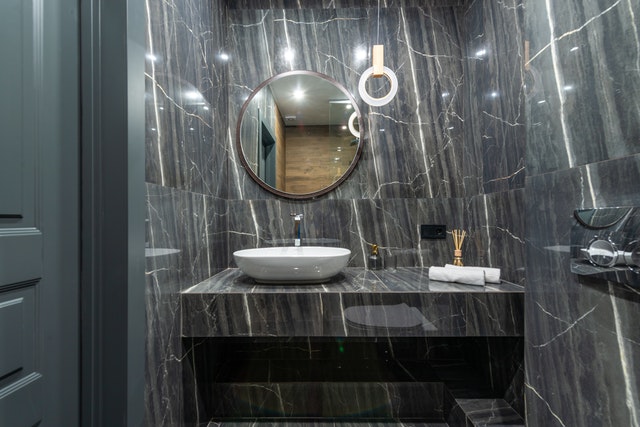 10. Ceramic sink
Make your bathroom stand out by installing a statement sink—they come in almost all the colours of the rainbow nowadays. It's the perfect option to fancy up a simple white space. And it'll be sure to impress your guests!
11. Timber tones
I love the simplicity of this bathroom vanity. The timber brings warmth and a honey colour to this simple space. This vanity looks so practical too, with those four deep drawers.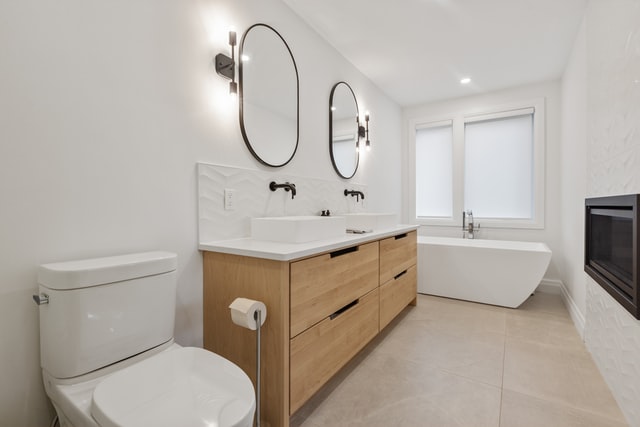 12. Small corners
Need a great space-saving vanity for a tiny bathroom? Wedge it right in a corner and optimise storage space with a cupboard beneath the sink as well as a cupboard to the side of it.
13. Concrete
This bathroom is filled with all shades of grey – none of which are boring! In fact, the different textures and styles really help to bring this space together nicely. If you want to make your bathroom a little more upmarket, bring in contemporary concrete like this. The vanity is simble slab of concrete making it appear weightless and minimal.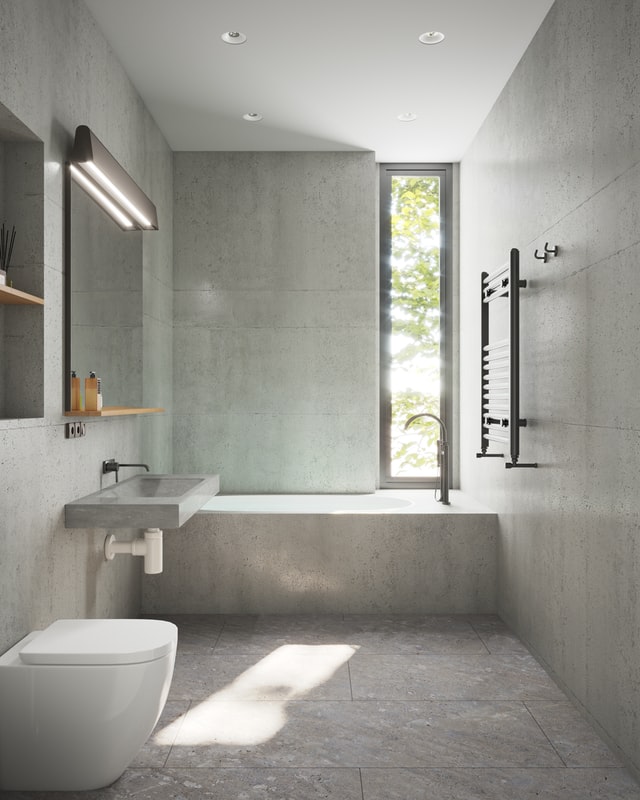 14. Black and white bathroom vanity
You can't go wrong with this colour combination – it's classic and it'll never go out of style. You might try vanity cupboards that are a slick black timber and go for a clean white countertop. This would work perfectly with the ceramic white sink and black tapware.
15. Shades of blue
Have you ever seen a blue vanity like this? I kind of love it! It works because the rest of the bathroom is monochrome, so the blue really pops. So much functional storage space in such a tiny unit too.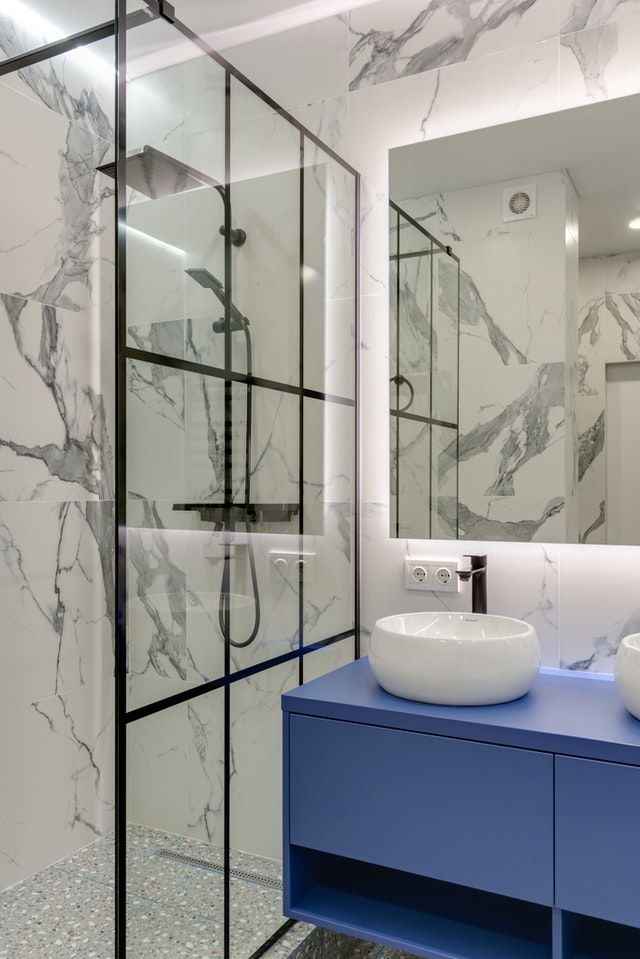 16. Refined gold bathroom vanity
This bathroom design takes me back in time, and I'm here for it! There are a few combinations I love more than marble and gold. And this vanity strikes the perfect balance between the two. The ornate design, exposed plumbing and gorgeous double-sided lights all make for a character-filled space.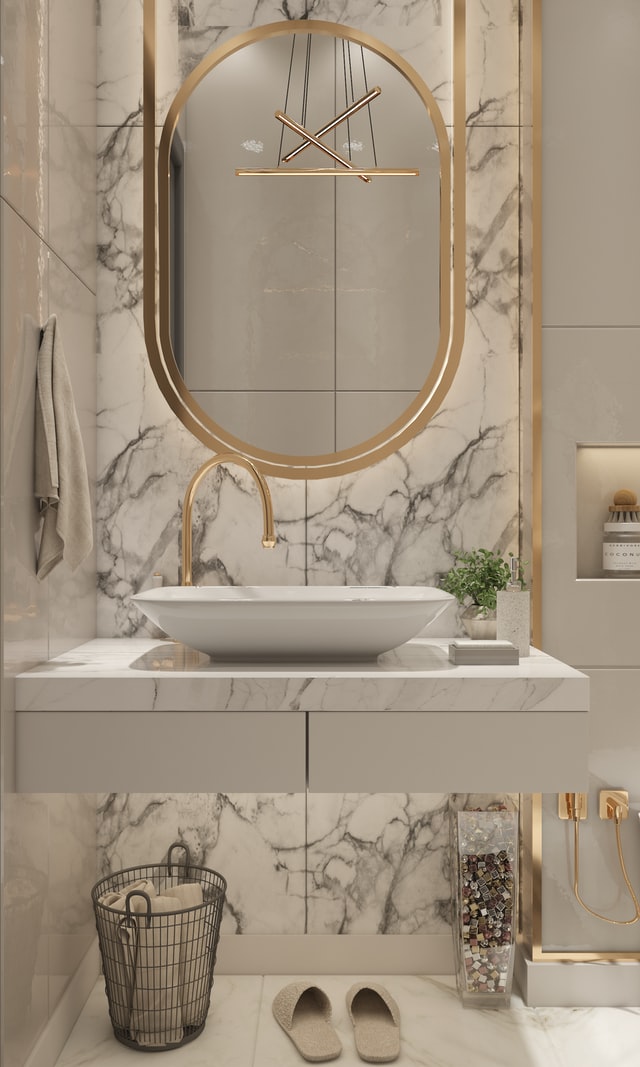 17. Brass accents
What is it about brass that makes it completely transform a space? I can't get over it, and I hope it's a design style that stays for good! If you're a fan of brass, like me, then consider installing beautiful large brass mirrors and tapware in your bathroom. It'll make all the difference when it comes to your vanity!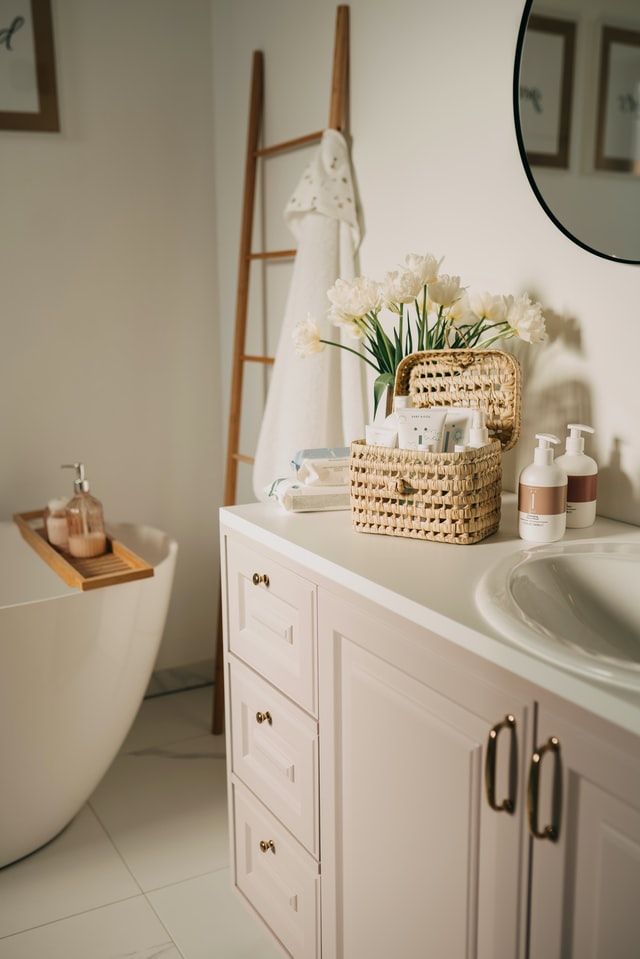 18. Pedestal sink
Want to go back to basics? A pedestal sink is the most simple sink you can find. It's a perfect option for the minimalist, because it doesn't come to the clutter of expansive countertop space or lower storage. Instead, it keeps things stripped back by placing the emphasis on the essentials – water and the basin.
19. Classic bathroom vanity
This vanity is simple and understated and the perfect size for this small bathroom. While the space has some contemporary elements, the classic style of tapware brings in classic undertones of yesteryear for an overall design that balances the old with the new.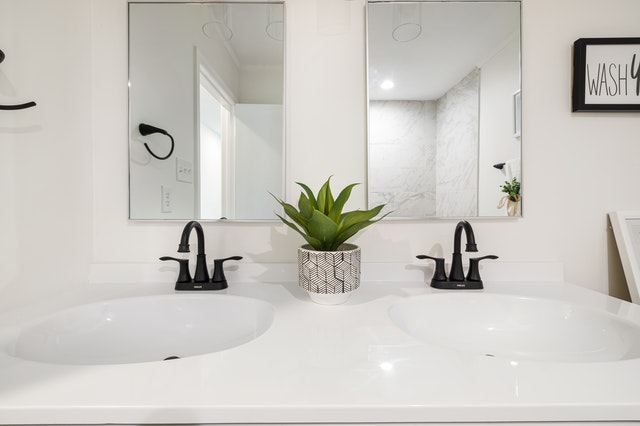 20. Retro style
A slim-legged vanity stand is ideal for a small bathroom and also oozes retro flavours. The minimal shape of this vanity style means all the focus can be on other elements in the bathroom, like the amazing zellige tiles.
Here are some more bathroom tile ideas.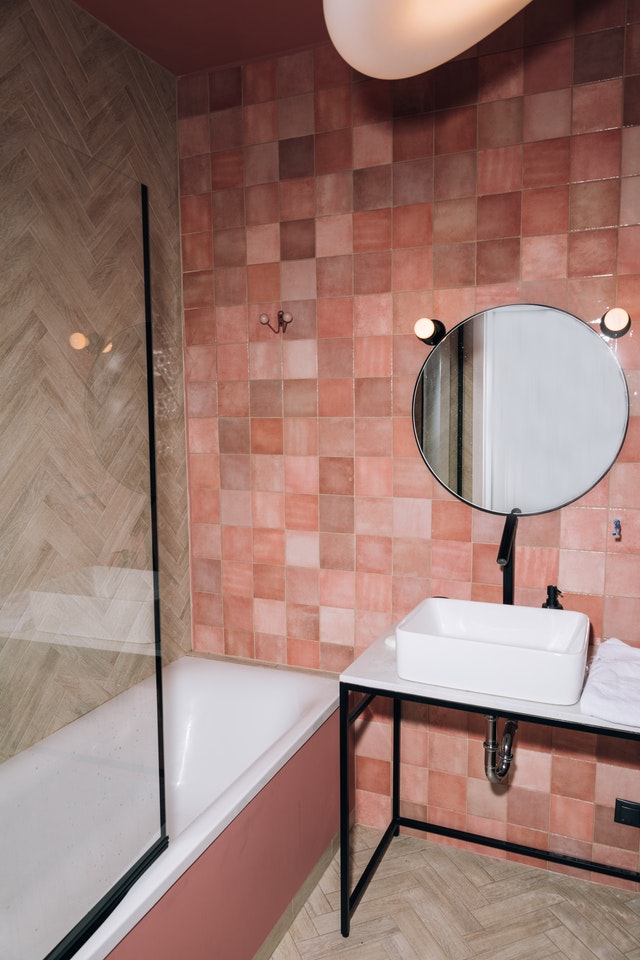 21. Statement sink
If style is more of a priority than storage, then why not install a dramatic cylindrical sink. Opt for a simple design that creates interest yet doesn't overpower the rest of the space!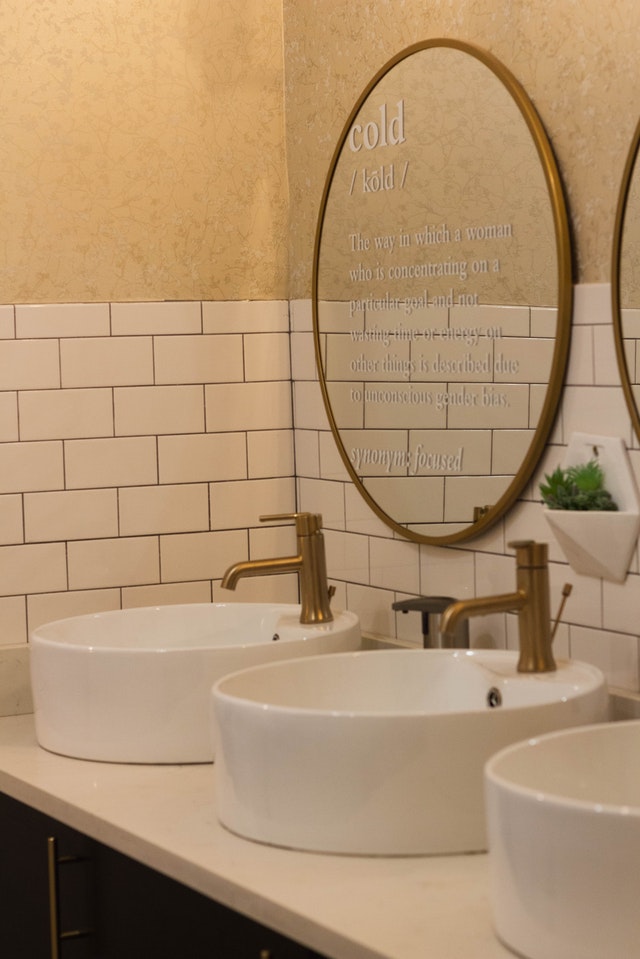 22. Wedged between cabinets
If you have a small space and storage is your priority, why not squeeze your sink in between your cabinets? This is a simple way to maximise storage space, so can tuck everything away neatly while letting your statement sink and tapware shine.
23. Floating shelf
Instead of the usual cupboard-style vanity that most bathrooms have, this one incorporates a simple floating shelf. This is a great space saver for a small bathroom. A single shelf can be used to hold the essentials – soap, toothpaste and toothbrushes.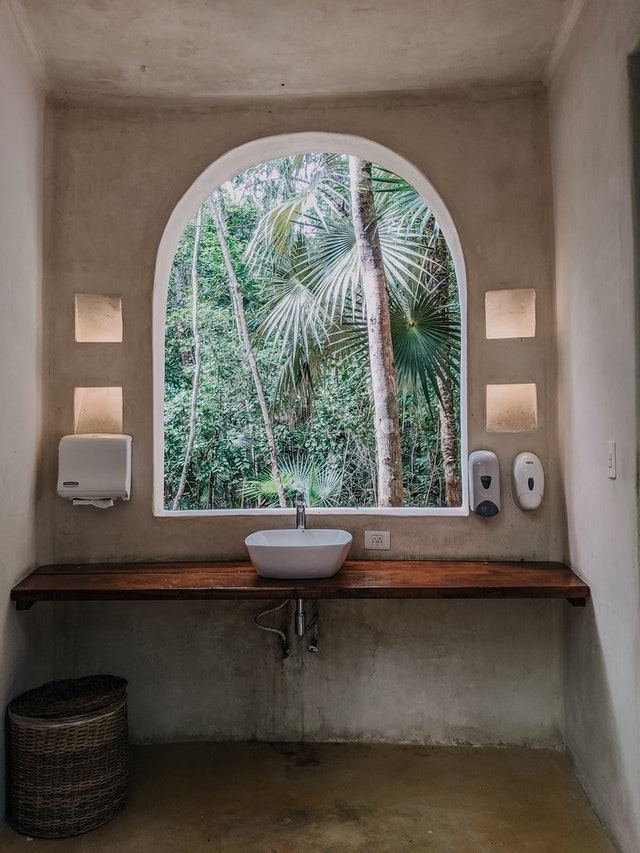 24. Contrasting colours
Here's another double vanity, which I love! The bottom keeps things simple with white sink, cupboards and drawers. But on top, the black-framed mirrors add a different flavour!
If you're looking for something a little more custom in your bathroom vanity, you might need to get a bathroom cabinet maker who will specialise in these types of builds.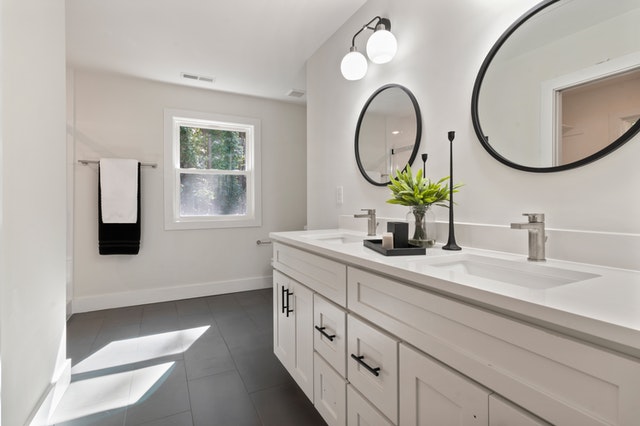 25. High-end glamour
Finally, to create a truly drool-worthy bathroom vanity, aim to feature the luxurious finishes that you would find in a premium house. That might mean a double vanity (so ultra-practical, especially when you've got two or more people sharing the space). It might mean a slab of standout marble for a vanity. And then, gold hardware will bring it all together for a beautiful finish.
There you have it, 25+ bathroom vanity ideas. I've covered everything from large glamorous setups to small, space-saving vanities to modern sleek spaces and relaxed country style bathrooms.
I'd love to hear what your favourite design was, so comment and share! And if you have any more brilliant bathroom ideas for how to create a standout  vanity, share them with me too.