One of the biggest mistakes people make when they're designing their bathroom is that they mess up the vanity. They either make it too small for a large space, too large for a tiny space or forget to incorporate enough storage to hold essential items. And so this is while I've pulled together some of the best bathroom vanity ideas for any size bathroom in the one spot.
These bathroom vanity ideas below will suit every style and taste, not to mention beautiful and functional. You'll find contemporary, minimalist, classic, Hamptons, country, and mid-century modern styles – plus so much more. So let's get inspired for your next bathroom renovation.
1. Contemporary meets art deco
Want to bring a little old school to your bathroom with a retro twist? Check out this design – mirrors on mirrors! If you're on a budget and don't want to lash out to buy something new, why not hunt around your local thrift store.
You'll be sure to find something you can hang on the wall and what makes this perfect is that the mirrors don't have to match! In fact, that's kind of the whole point. So have fun by choosing mismatching mirrors and decor.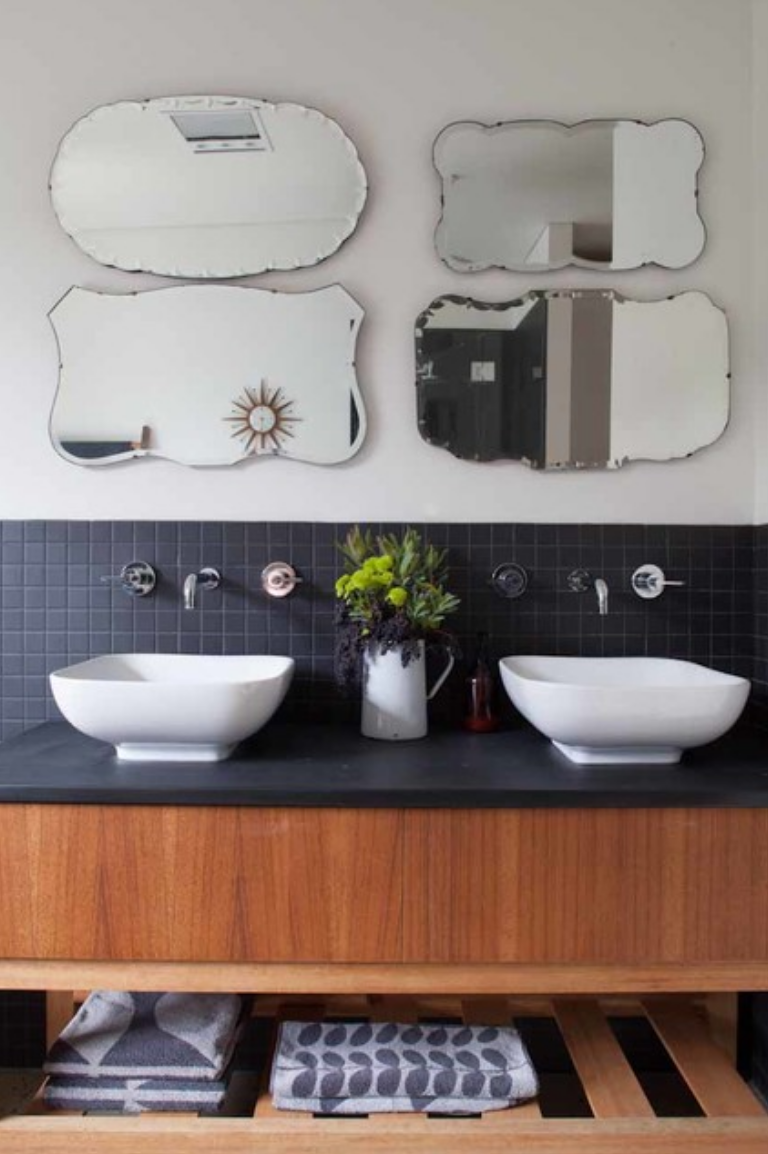 2. Timber tones
I love the simplicity of this bathroom vanity. The timber brings warmth and a honey colour to this simple space. And I love the huge circular mirror – it's a real statement piece that tops it all off.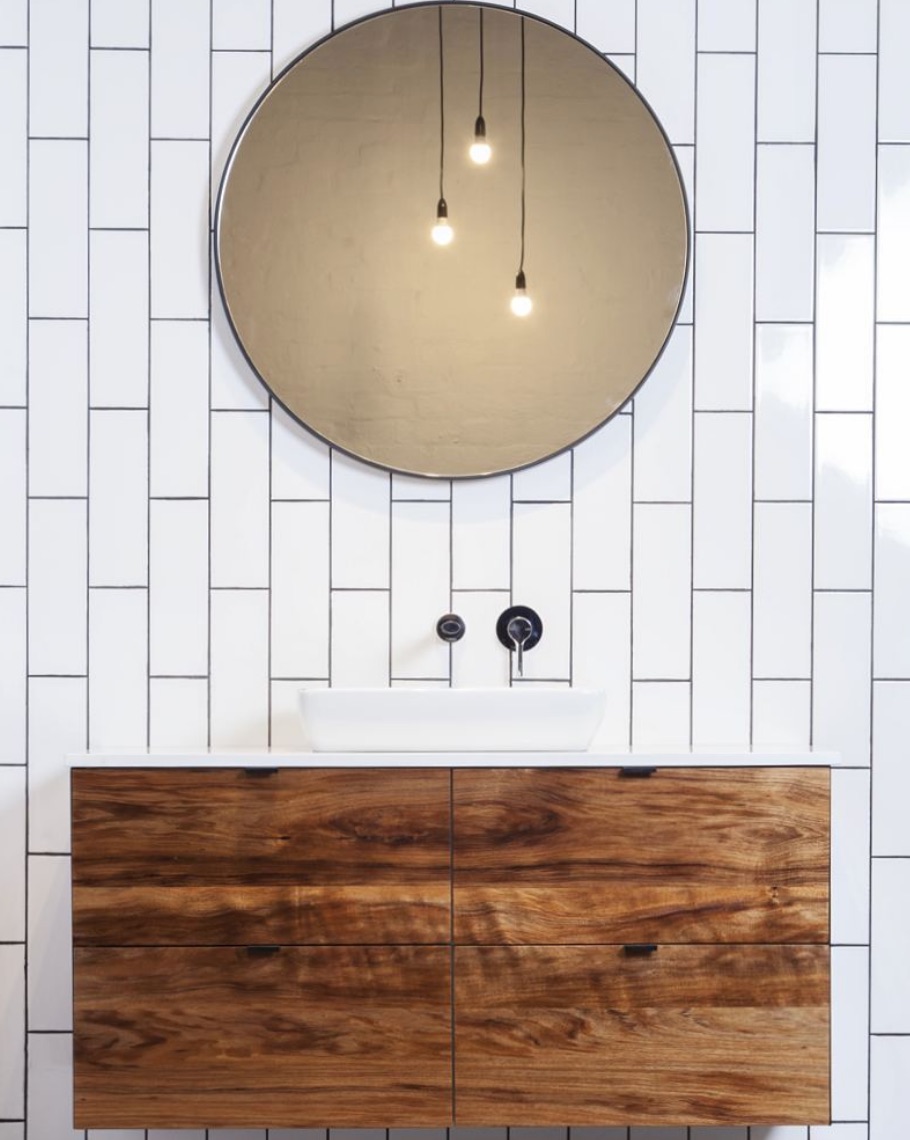 3. Small space
Got a small space? Don't worry, so many of us do. The good news is that you don't have to have a huge bathroom to make it functional. A small space can serve you well, as long as you use it right. The tip here is not to overcrowd your vanity. Take the vanity in this picture as inspiration. It has a small simple gold tray with a couple of little items on it. This allows it to serve a purpose while not cluttering the bathroom.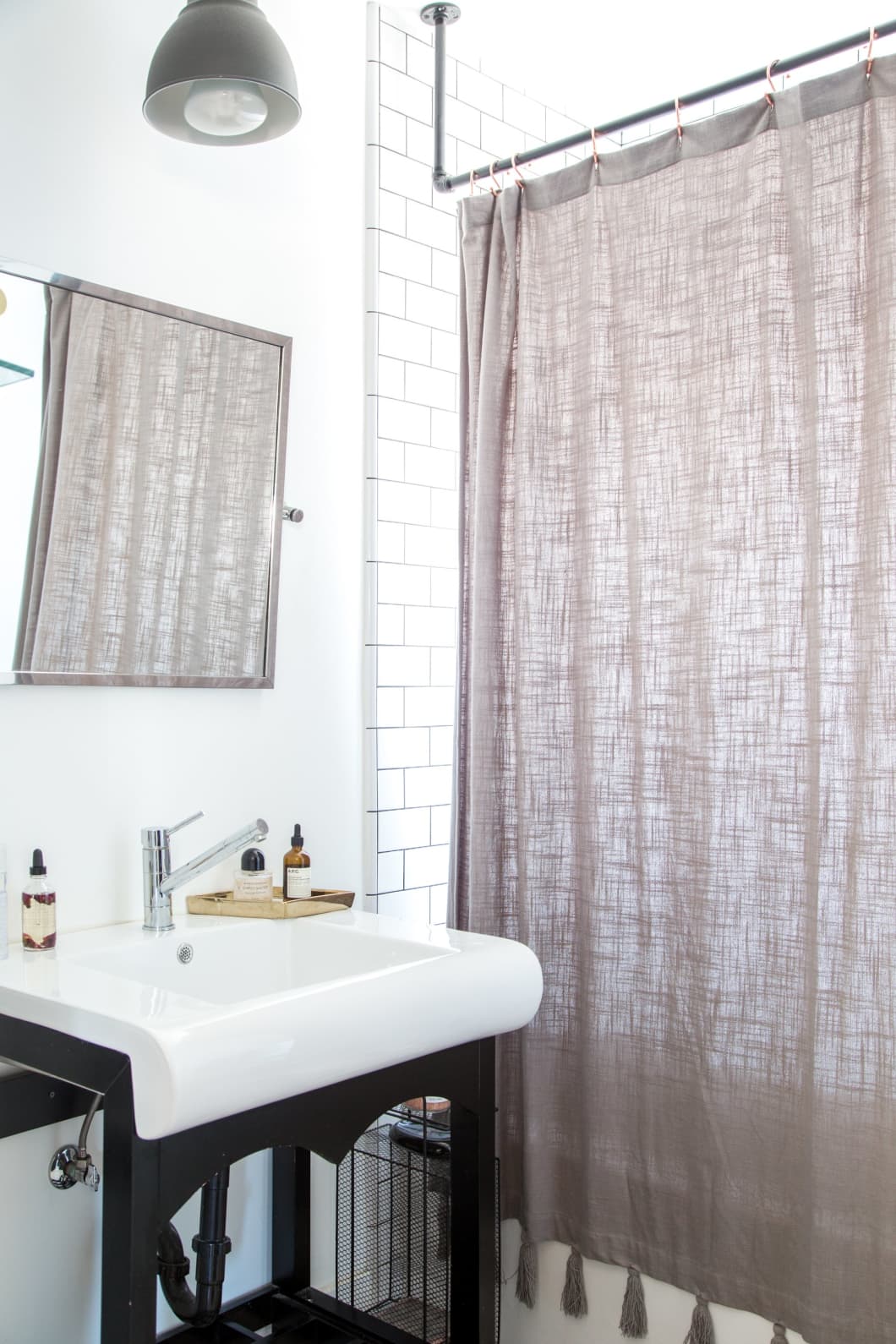 4. Brass accents
What is it about brass that makes it completely transform a space? I can't get over it, and I hope it's a design style that stays for good! If you're a fan of brass, like me, then consider installing beautiful large brass mirrors and tapware in your bathroom. It'll make all the difference when it comes to your vanity!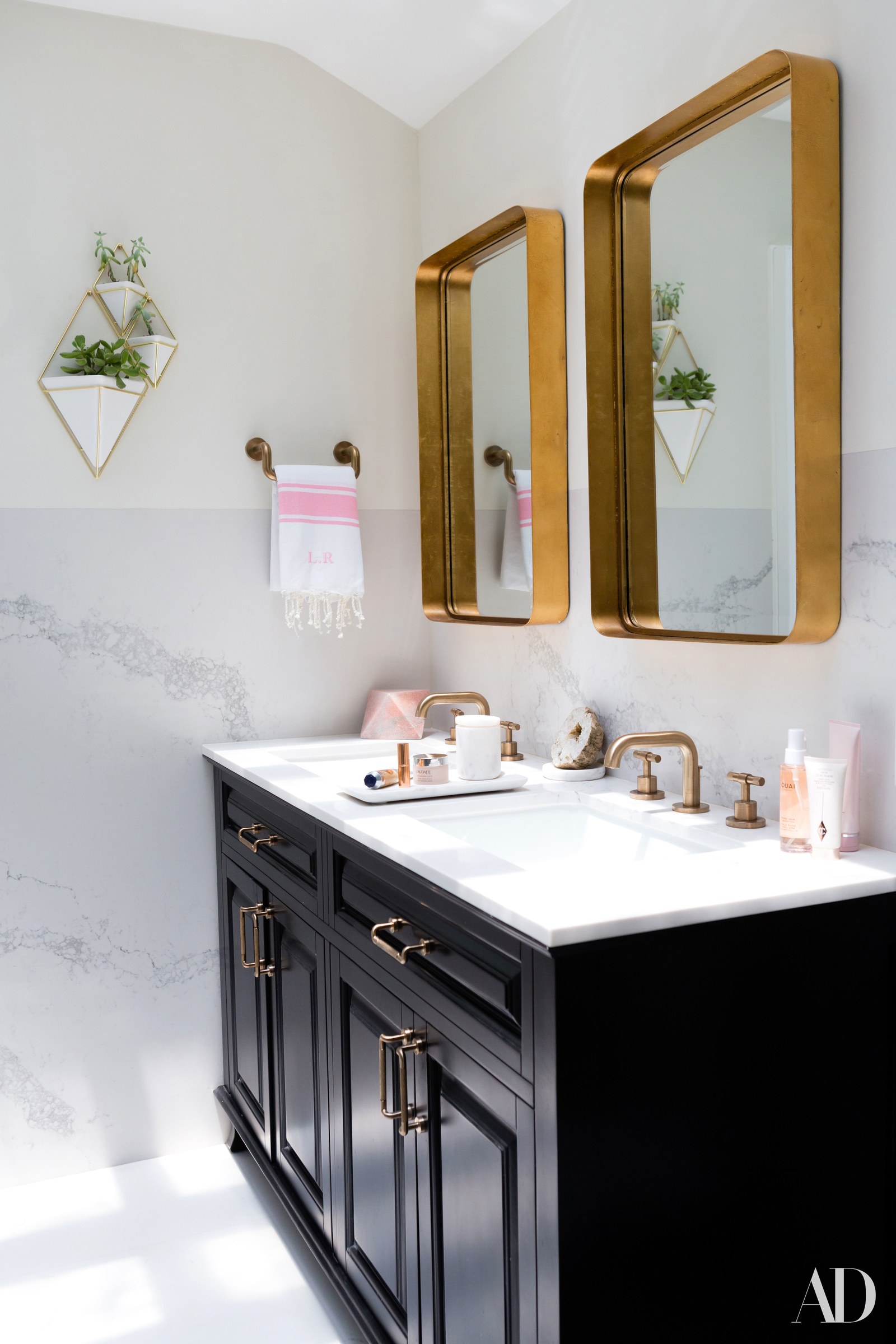 5. Minimalist mirror
Minimalists rejoice! This bathroom is the option for you if you like to keep things simple – and I mean really simple. It strips things back to just the essentials and all in a sophisticated neutral colour palette – grey, white and timber!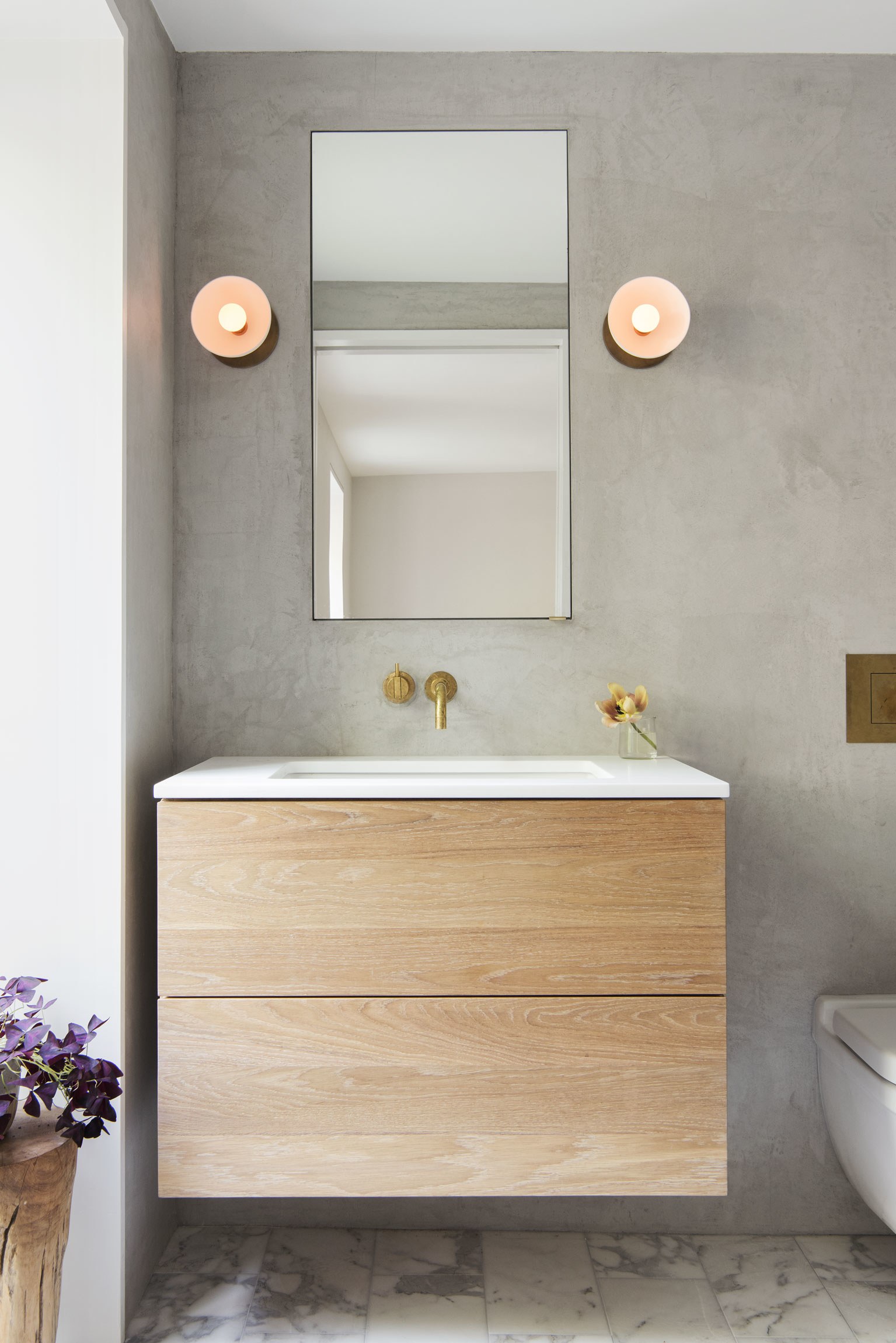 6. Floating shelf
Instead of the usual cupboard-style vanity that most bathrooms have, this one incorporates a simple floating shelf. This is a great space saver for a small bathroom. A single shelf can be used to hold the essentials – soap, toothpaste and toothbrushes.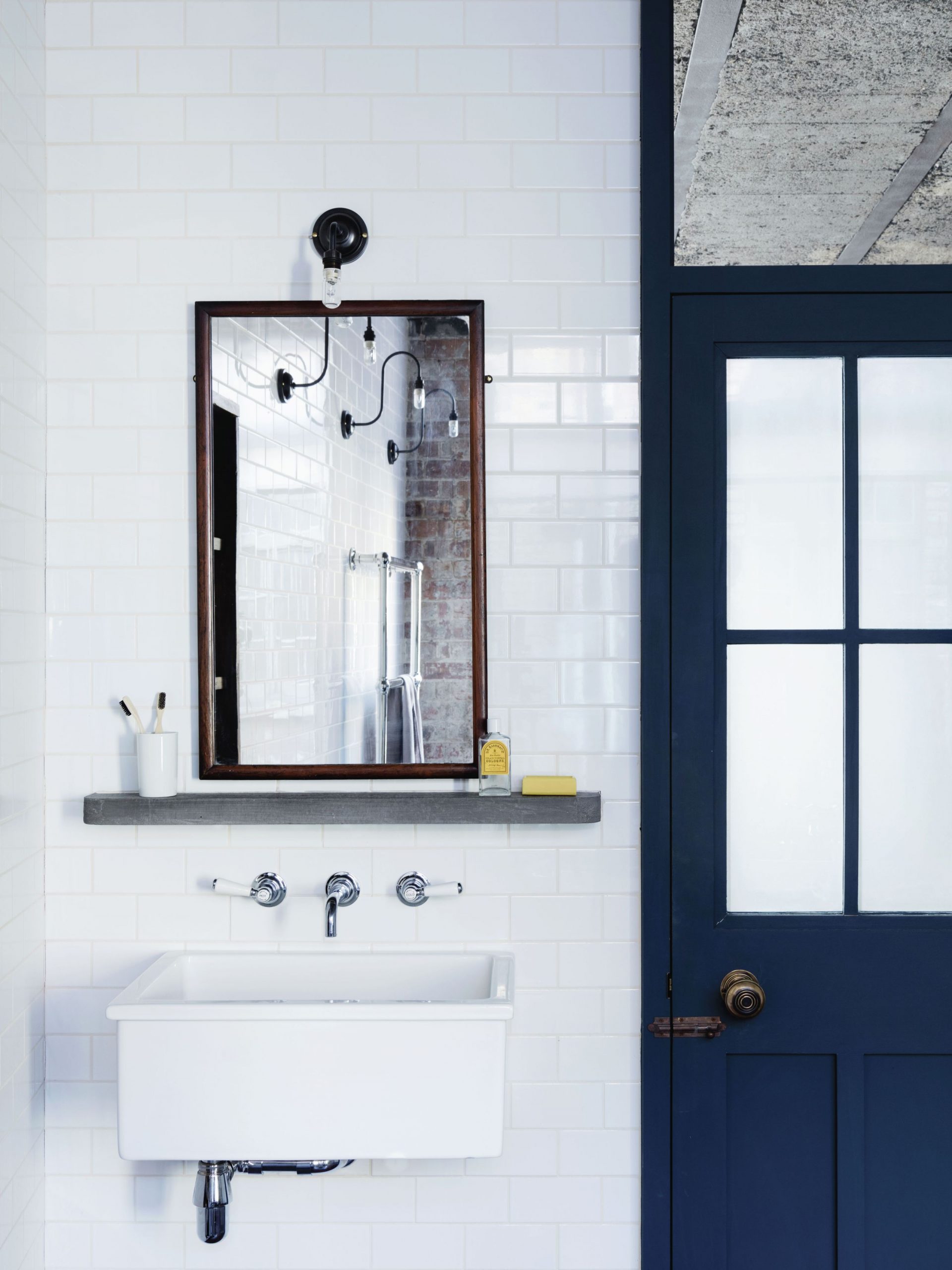 7. Contrasting colours
Here's another double vanity, which I love! The bottom keeps things simple with white cupboards and drawers. But on top, the mirrors add a different flavour! They're timber and black – the perfect contrasting mix of colours. And they just happen to compliment the brass hardware on the cabinets and black tapware in the sinks.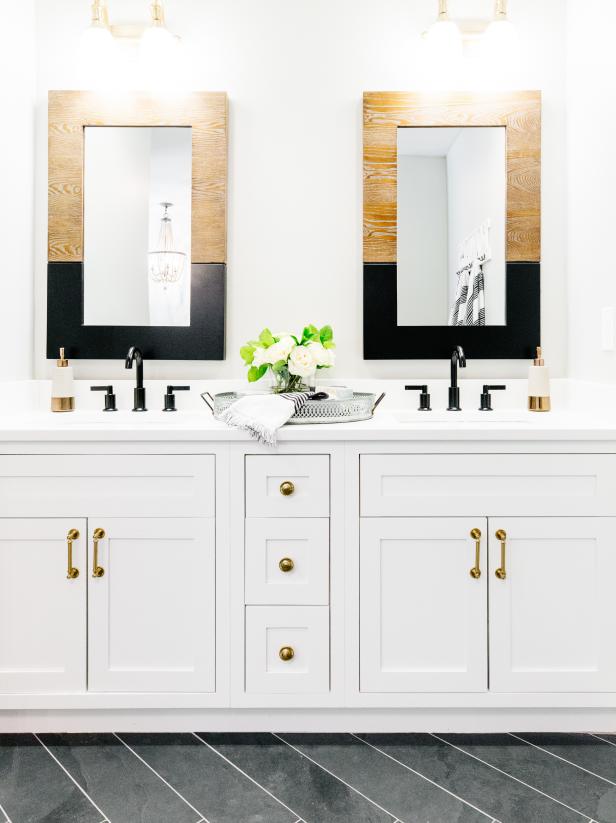 If you're looking for something a little more custom, you might need to get a bathroom cabinet maker who will specialise in these types of builds.
8. Rose gold tapware
While brass, gold and silver are the favoured choices for tapware, you may not realise that rose gold is also an option too. And I think it looks beautiful in this bathroom – it really stands out against the dark cement wall on the back and the dark timber of the cabinetry.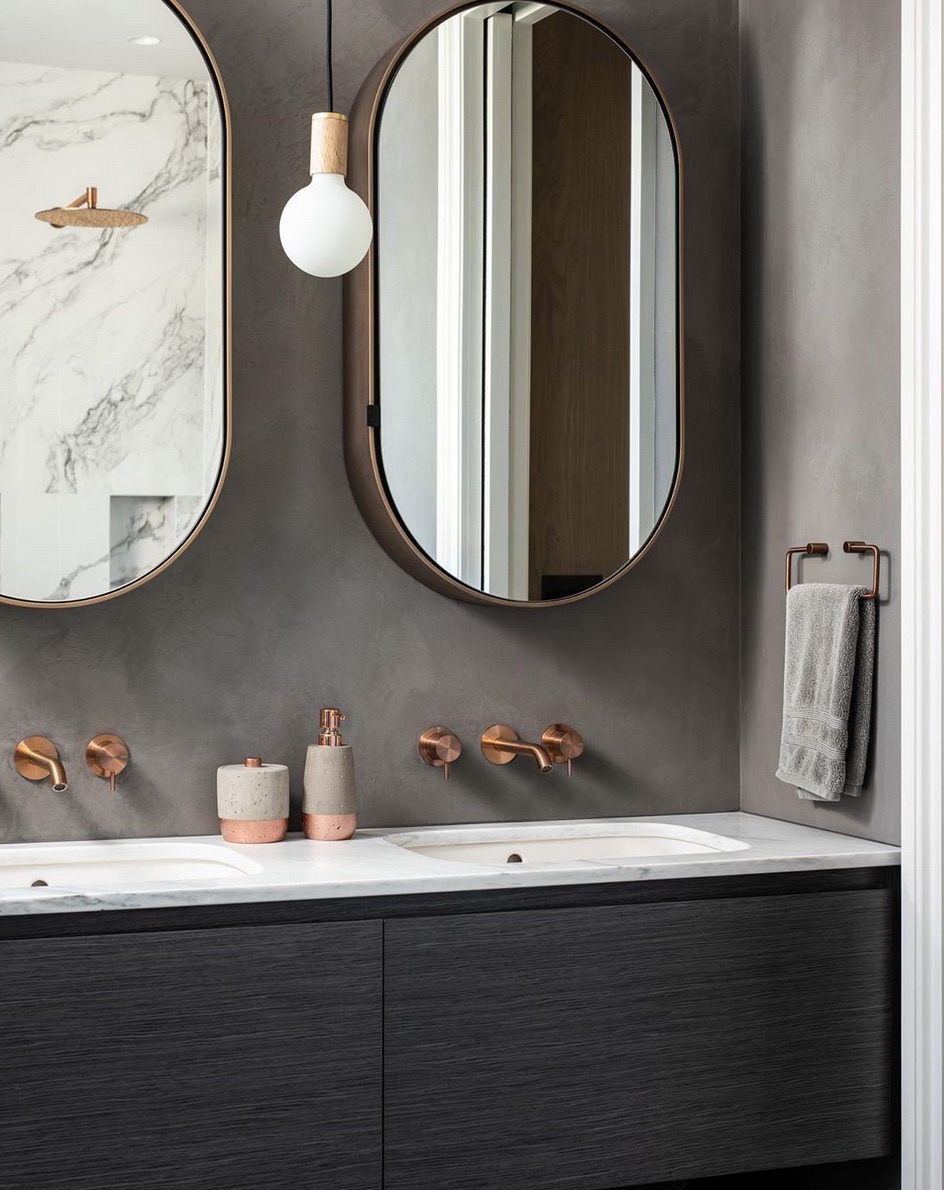 9. Floating vanity
I'm sure you've been in a bathroom where the vanity is just way too large for the space. But that's not the case with this design. The floating style means that the vanity is not too obtrusive in this space. Instead, it serves its purpose and looks good while it does it! And the timber stands out perfectly against the all-white background.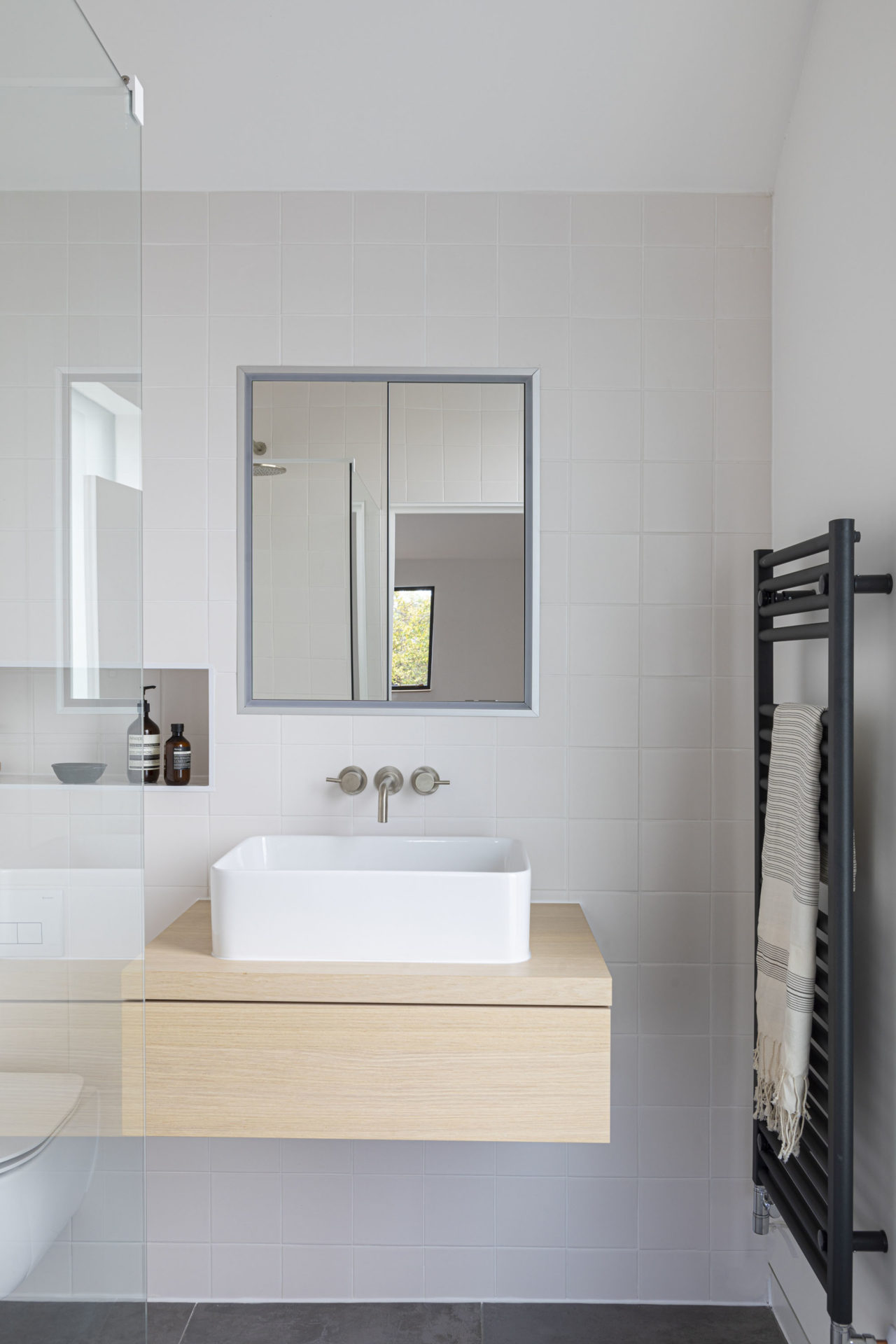 10. Dark timber
This bathroom vanity is an elegant choice in this small space. It would make the perfect addition to a home in the mountains or rainforest. The natural tones of the timber cabinetry and light blue tiles make this a tranquil space.
This is such an unusual combination and I really love it. Here are some more bathroom tile ideas.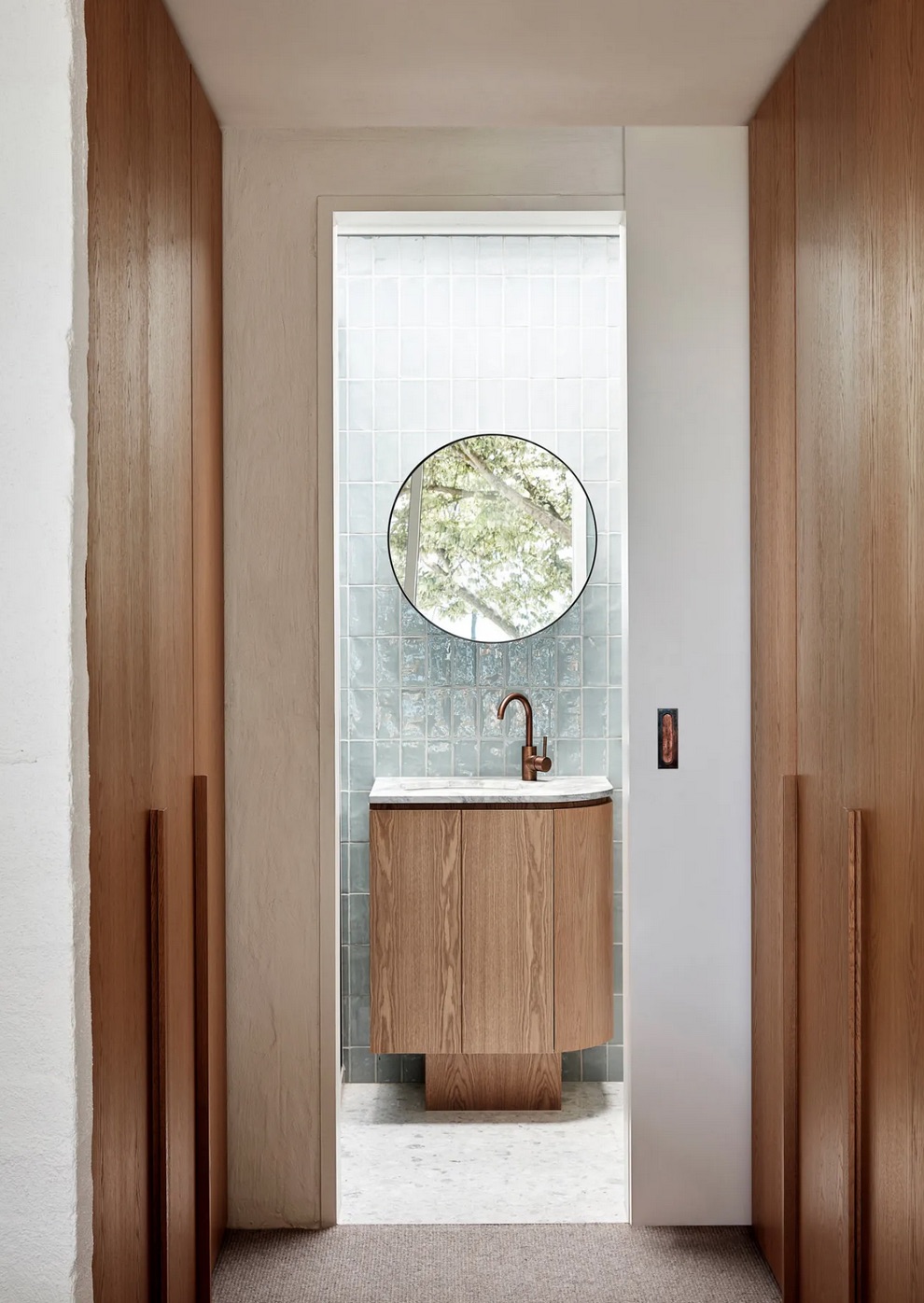 11. Italian marble
Nothing screams luxury more than marble. And this bathroom uses it so well. It has marble for the benchtop and the walls! And I love how the three-part mirror bounces the marble around the space, making it appear larger than it really is.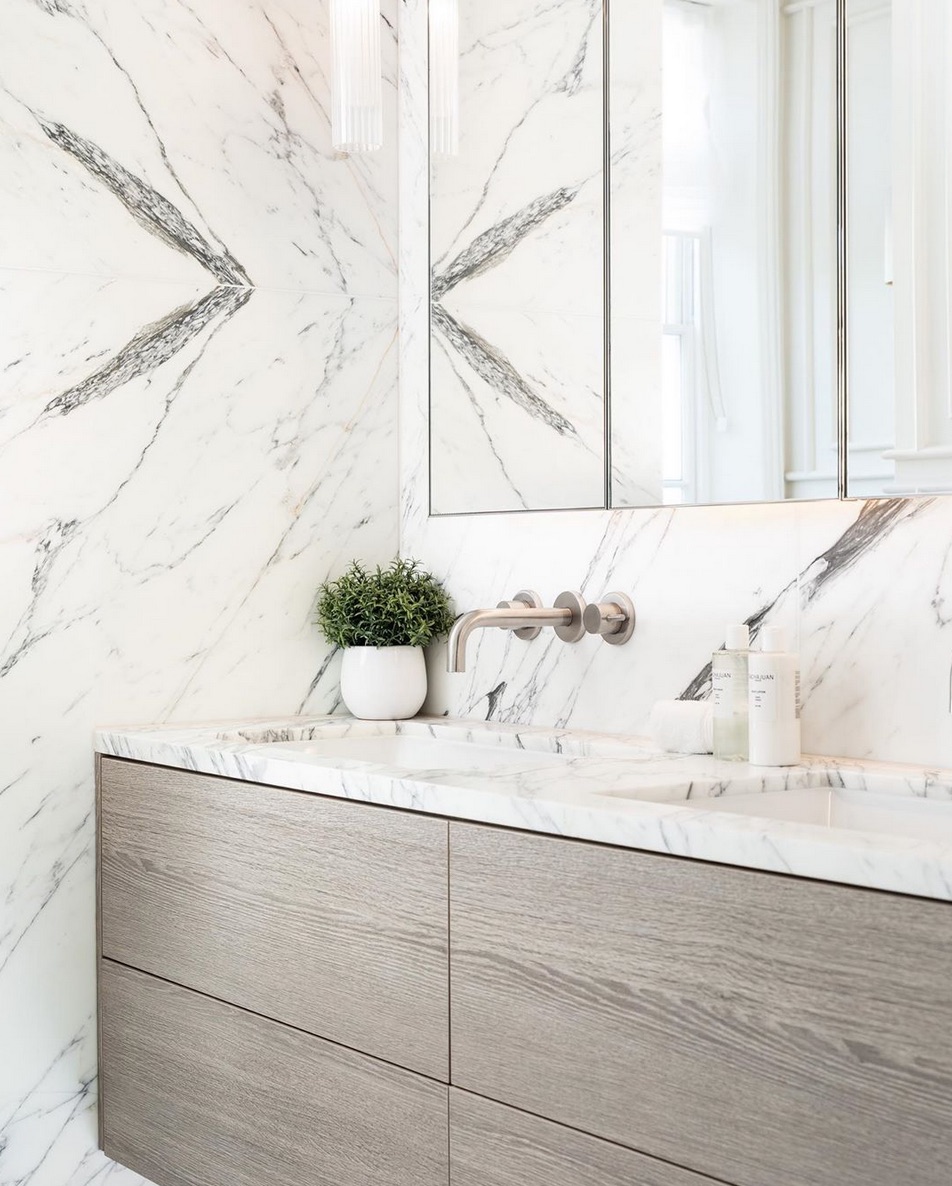 12. Loft vanity
How cute is this little bathroom? If you look at the slanting of the roof on the right, you'll see that it's actually a part of a loft. I think this is such a clever use of space. The vanity is small yet effective, and it allows for surface space for placing any essential bathroom items.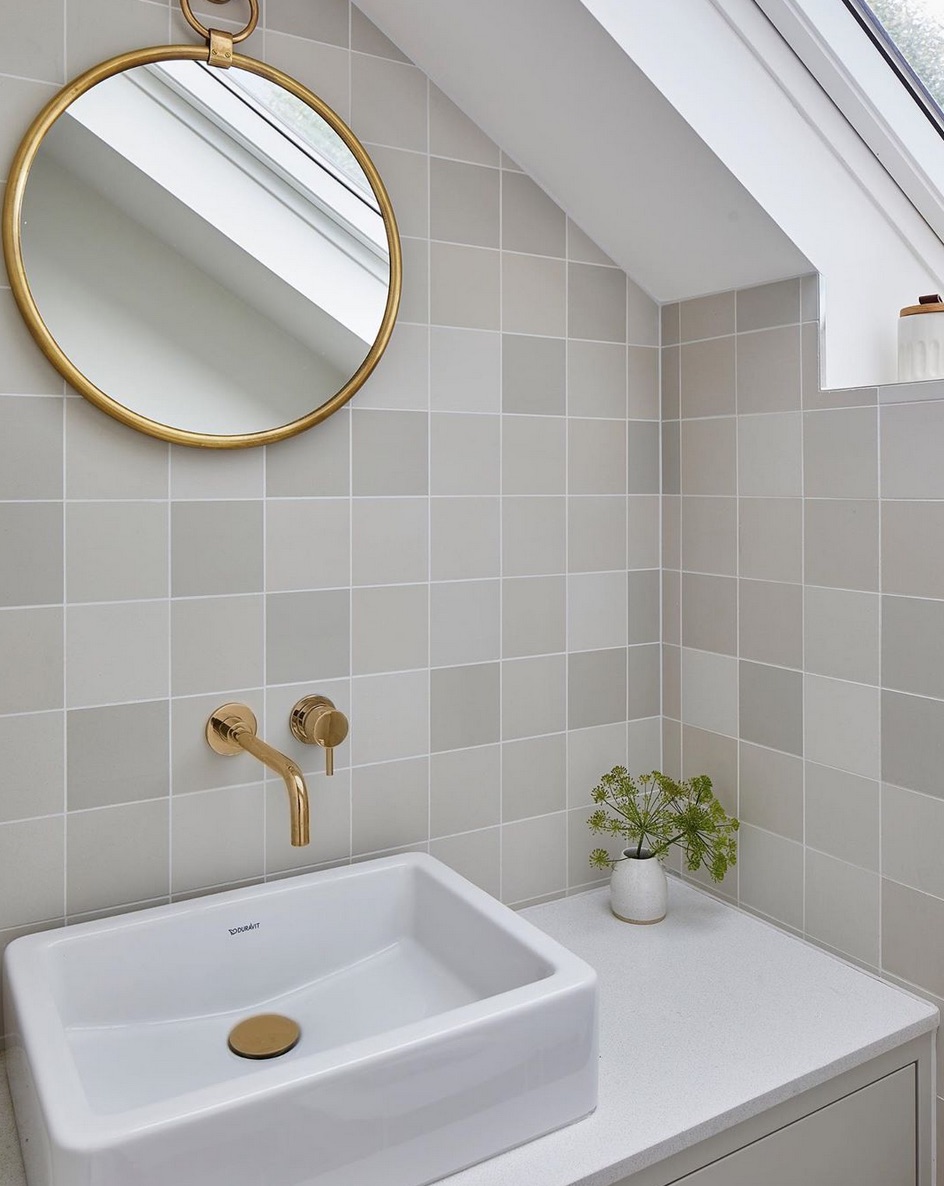 13. Hexagon mosaic tiles
A welcome new addition for, this gorgeous, subtle green honed marble hexagon mosaic tile is an exciting and more unusual marble floor or wall tile option.
And with floor to ceiling tiles like this, you'll want your bathroom tiler on speed dial for this room.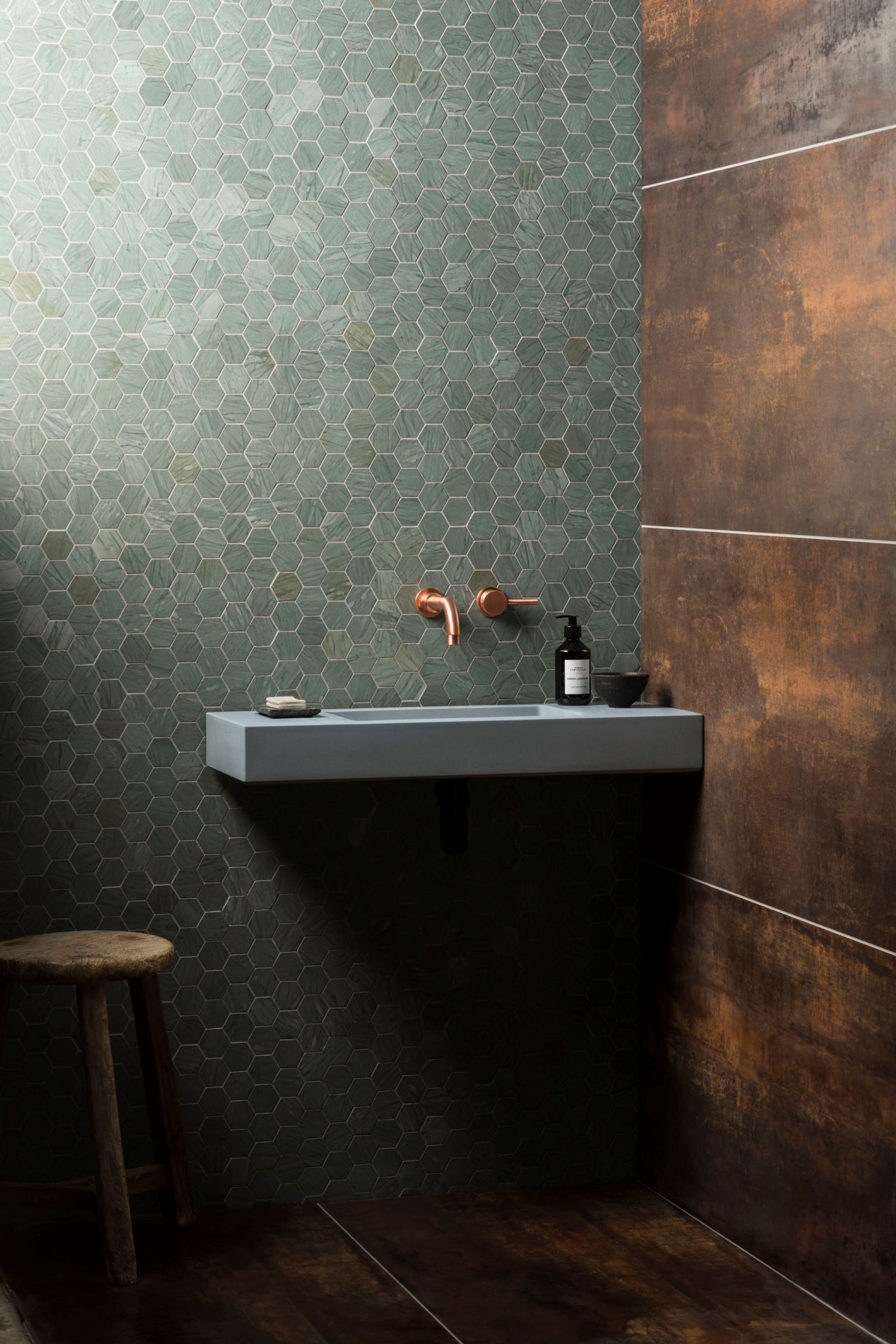 14. Shades of blue
Have you ever seen a matching blue sink and toilet like this? I've never seen anything like this before, and I kind of love it! It works because the rest of the bathroom is in neutral colours of white, timber and gold. This makes the blue really pop!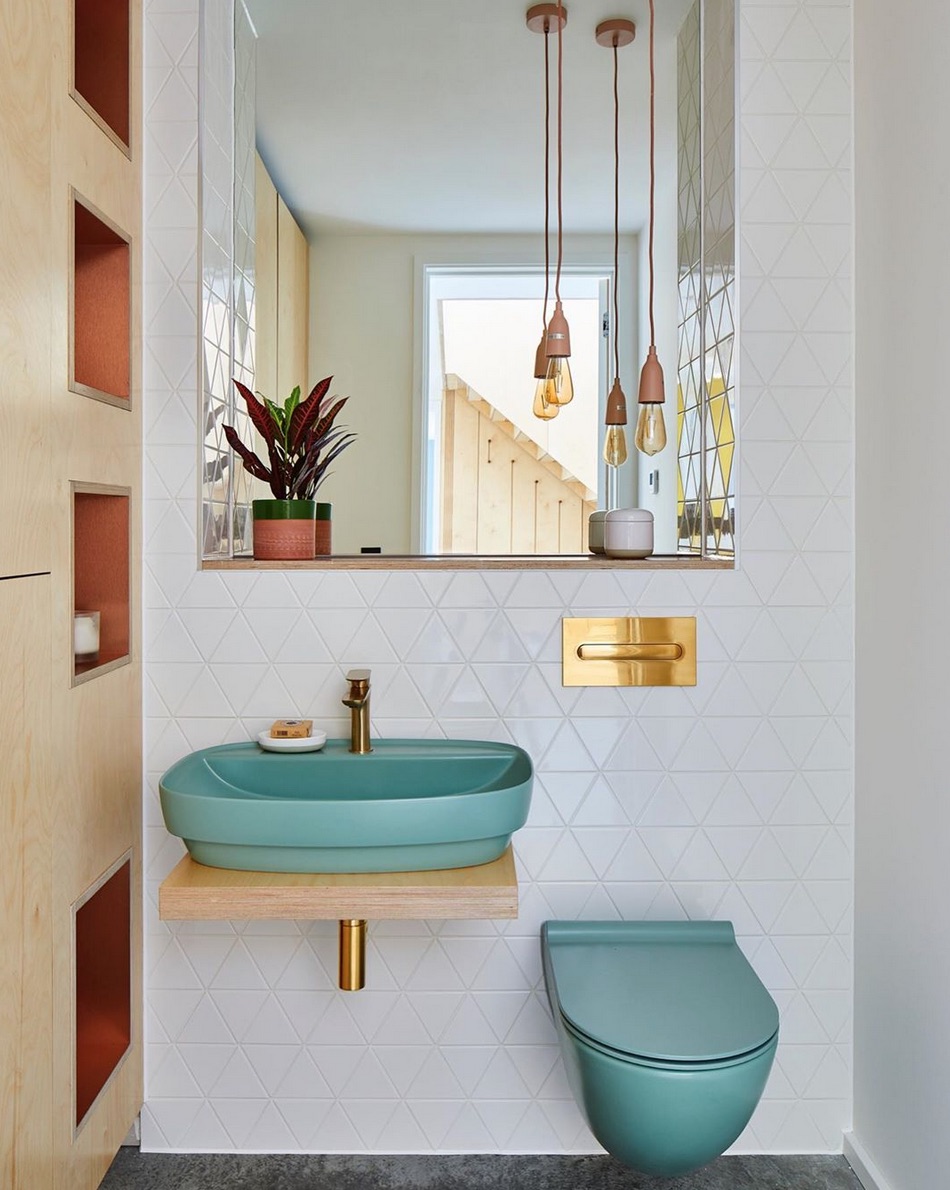 15. Statement sink
If style is more of a priority than storage, then why not install a cylindrical sink like this one. I love this simplicity of this design. It creates interest yet doesn't overpower the rest of the space!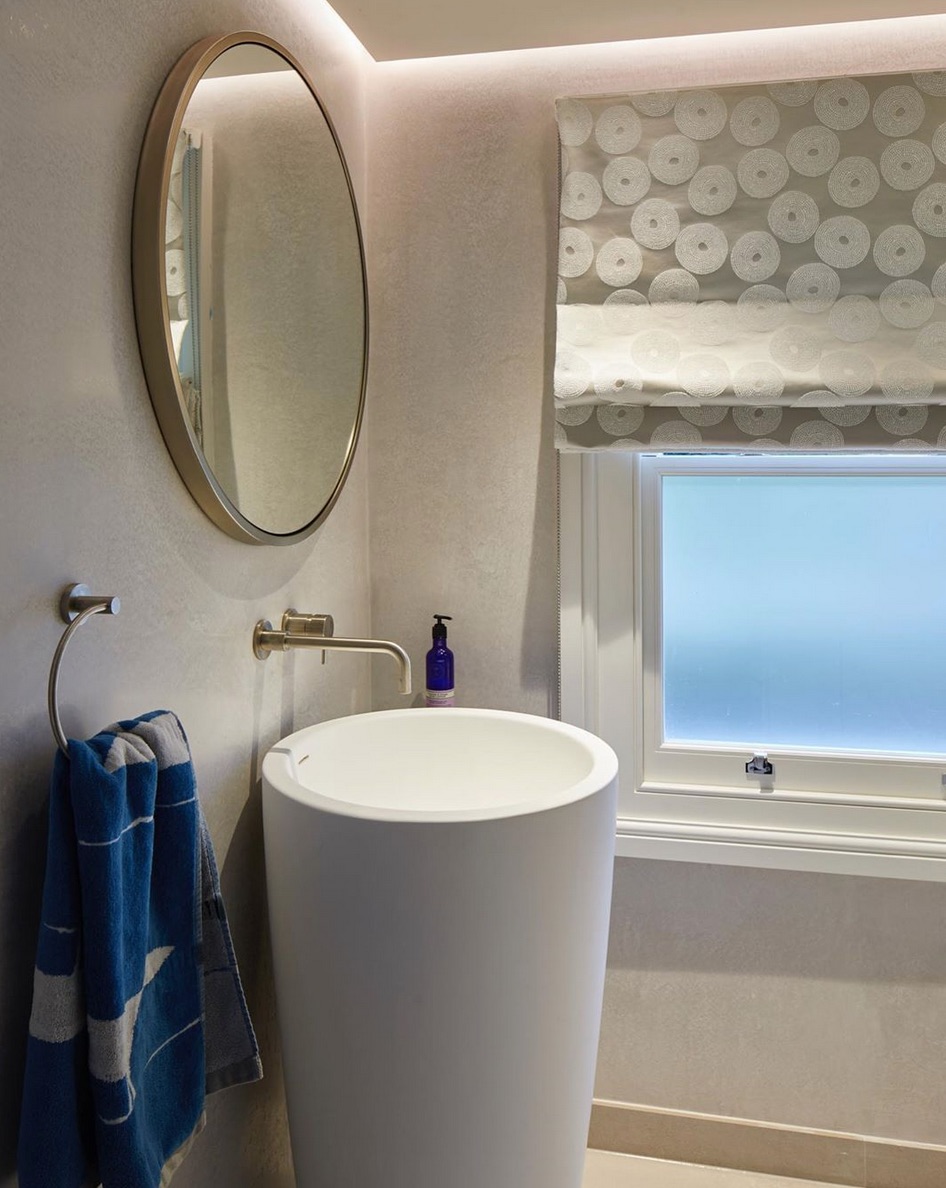 16. Combine the old with the new
How cute is this little bathroom vanity? This is the perfect example of what it looks like to combine something old with something new and fresh. First, there's the traditional gold and white sink, and then there's the large round mirror. And to top it off, there are beautiful modern round lights!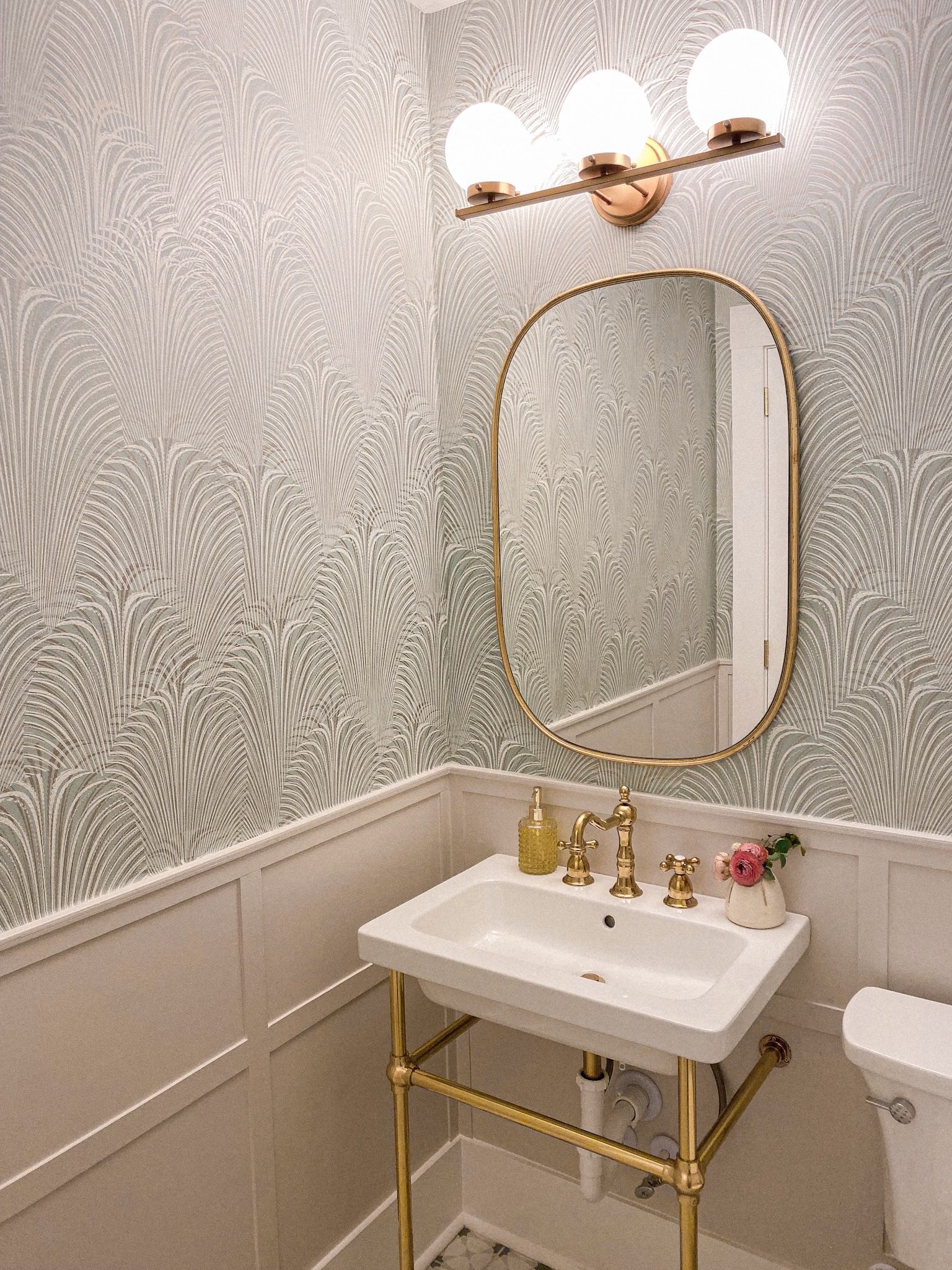 17. Glorious blue
This space is so much fun, and that's all because of the colour! So if you have a large bathroom, then why not install a blue double vanity like this one. And while you're at it, don't forget your bathroom flooring. There are so many fun options for funky tiles. These blue, green and white ones pack a punch, infusing personality into your space.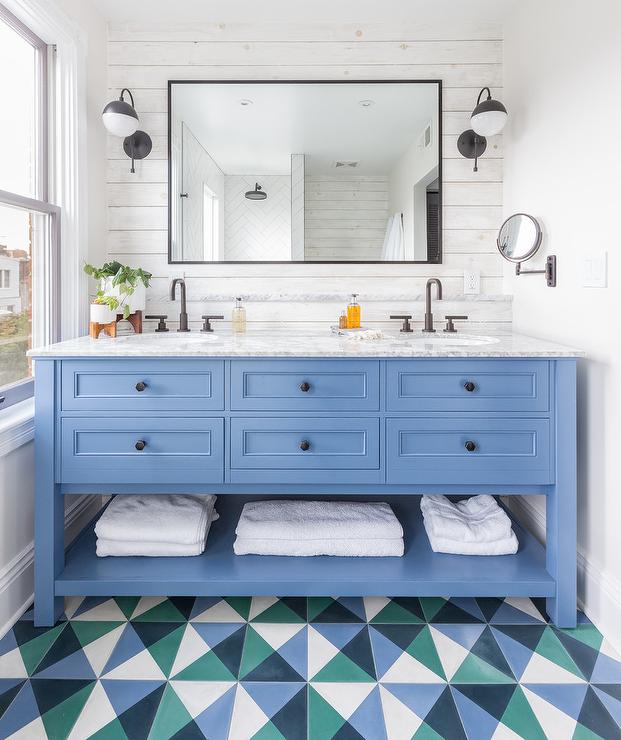 18. Light green
If you're a committed neutral lover, but you want to try something a little bit different, then this is the choice for you. The soft blue-green is colourful enough to bring some joy, but it doesn't stray too far from the classic neutrals, so you won't get tired of it quickly. The clean lines, simple shapes and traditional touches of this vanity make this bathroom a classic space that will last the test of time!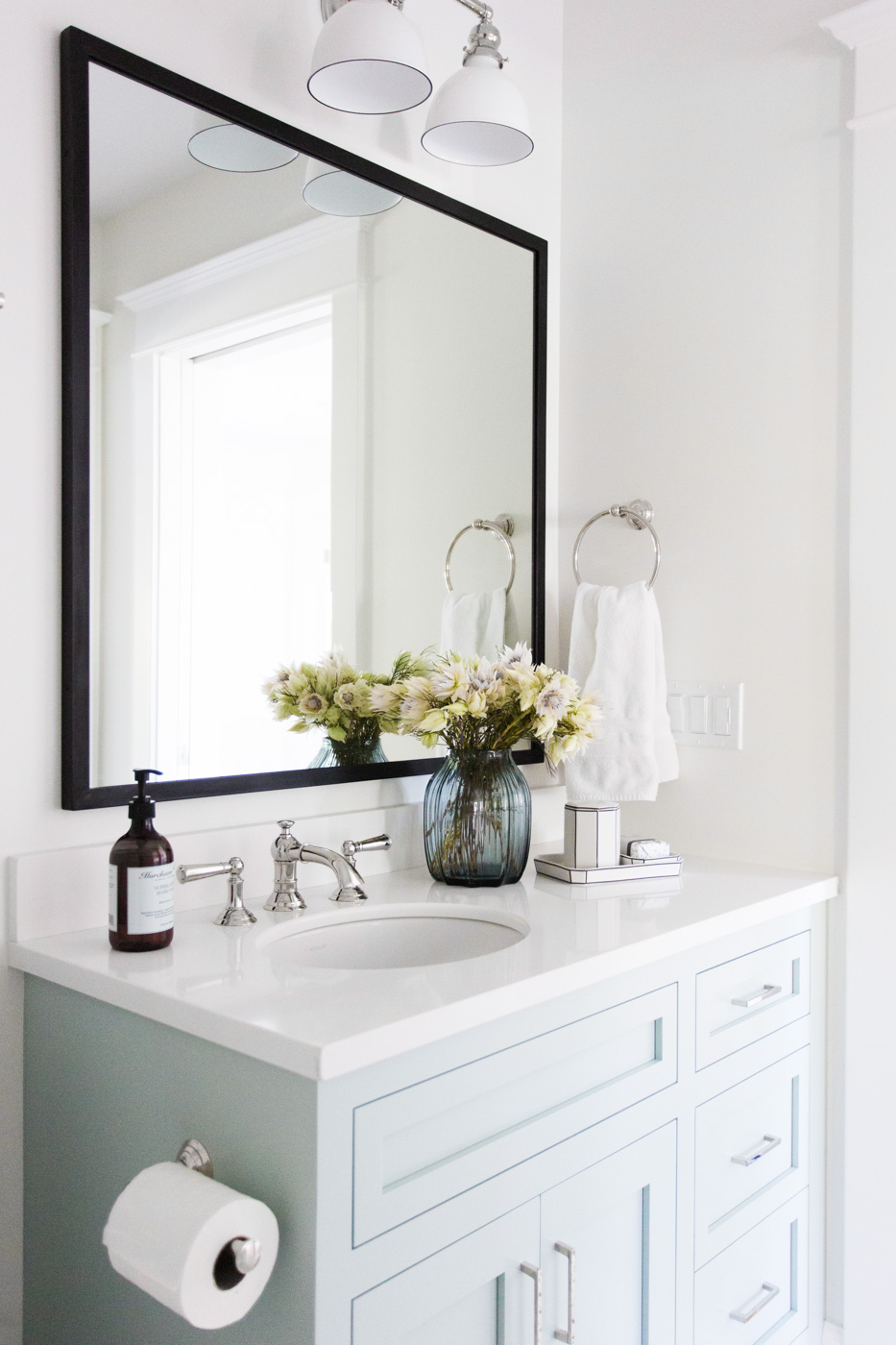 19. Ceramic sink
Make your bathroom stand out by installing a statement sink, like this blue-white ceramic one. This is the perfect option to fancy up a simple white space. And it'll be sure to impress your guests!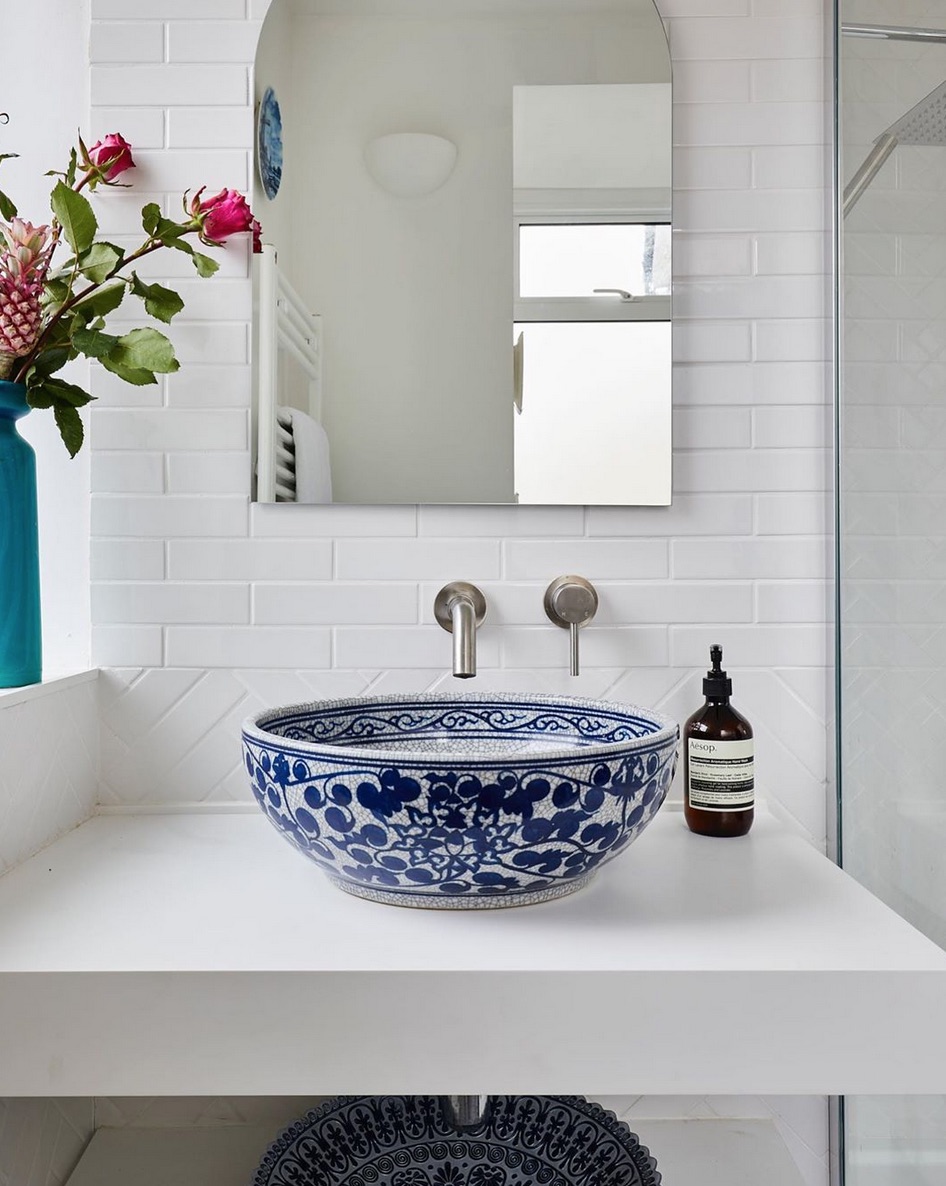 20. Pedestal sink
A pedestal sink is the most simple sink you can find. It's a perfect option for the minimalist, because it doesn't come to the clutter of expansive countertop space or lower storage. Instead, it keeps things stripped back by placing the emphasis on the essentials – water and the basin.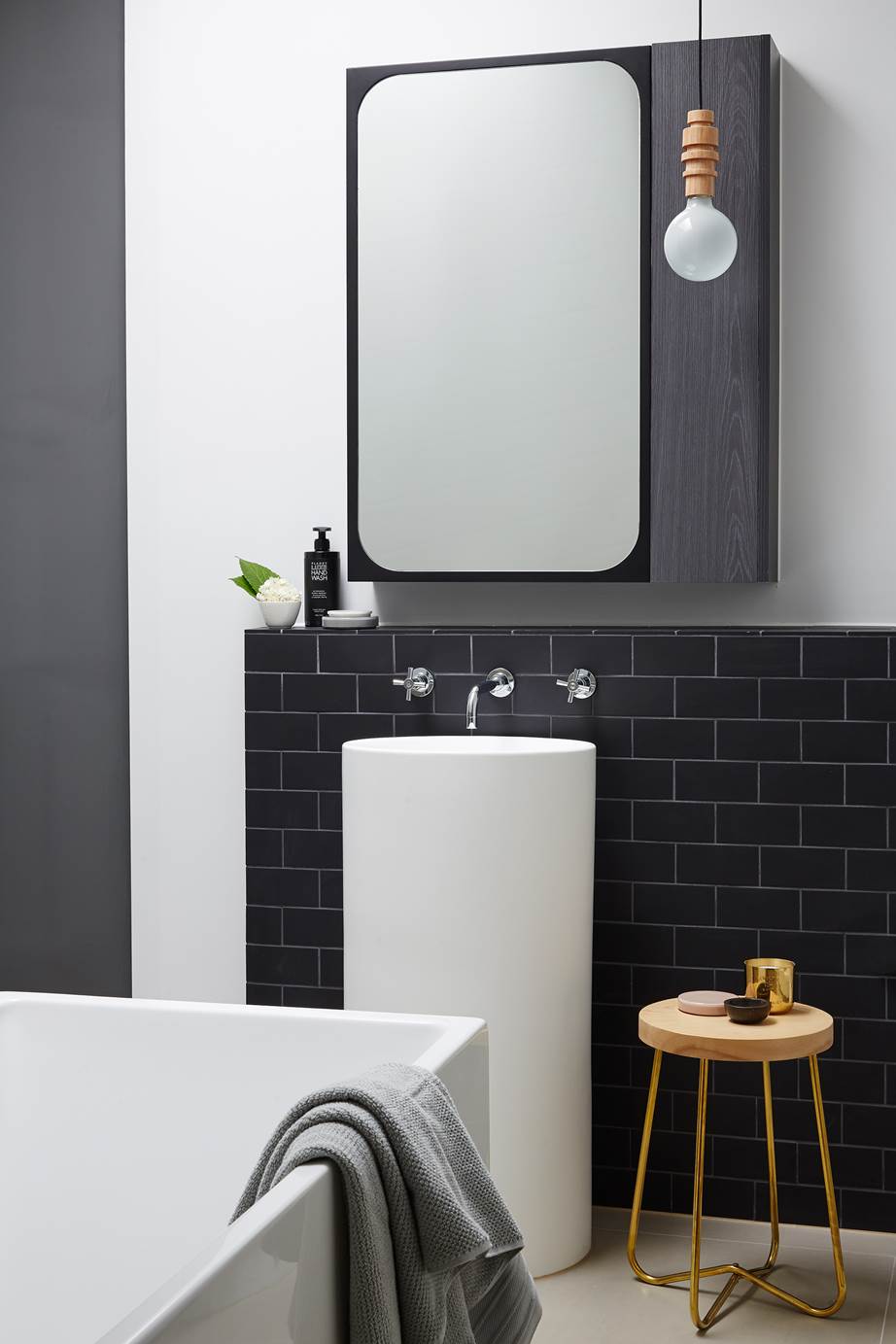 21. Black and white
You can't go wrong with this colour combination – it's classic and it'll never go out of style. In this design, the vanity cupboards are a slick black timber and the countertop is a clean white. This works perfectly with the ceramic white sink and black tapware. Oh, and I adore the hanging light – it proves that fancy lighting isn't just for the living room!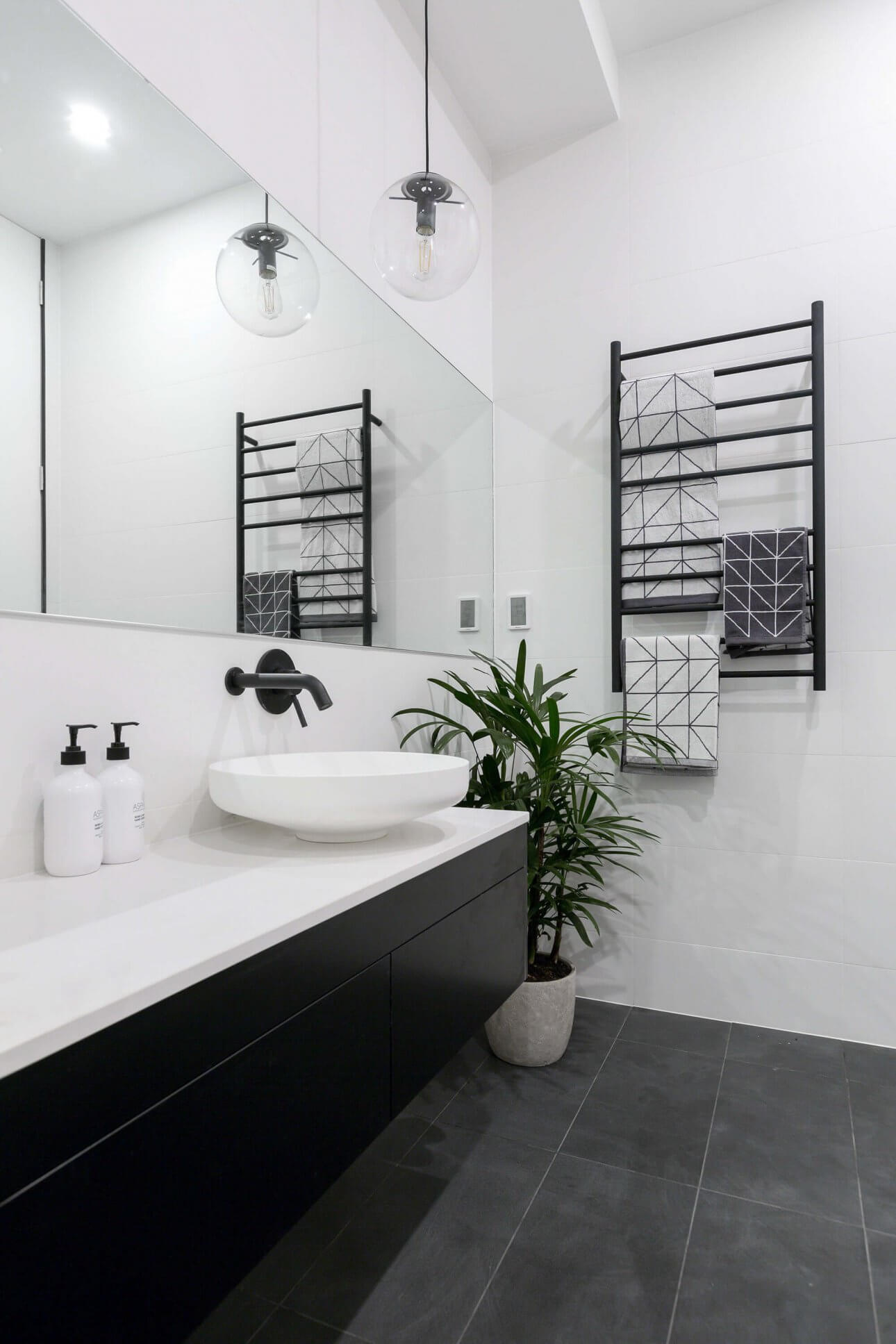 22. Old school brass
Take your modern bathroom to the dark side with old brass fittings. This is a minimal bathroom that has a lot of character. And do you know what gives it that character? The textured render on the walls, the traditional hardware and the beautiful spider plant, which gives the space life!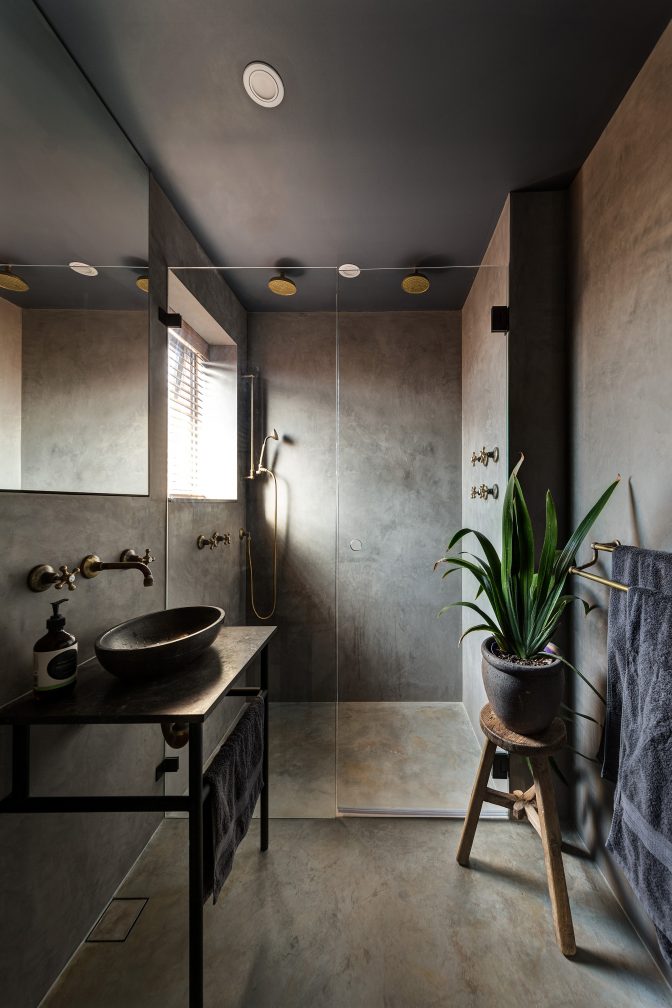 23. Floating  bathroom vanity
Here's another floating vanity, which is a great choice for a small powder room. It's also one way to make an architectural statement. I like how the vanity incorporates different design elements and materials – from a dark timber drawer to a white ceramic sink and a marble piece that juts out the side for extra bench space. Plus, the tapware is pretty cool too!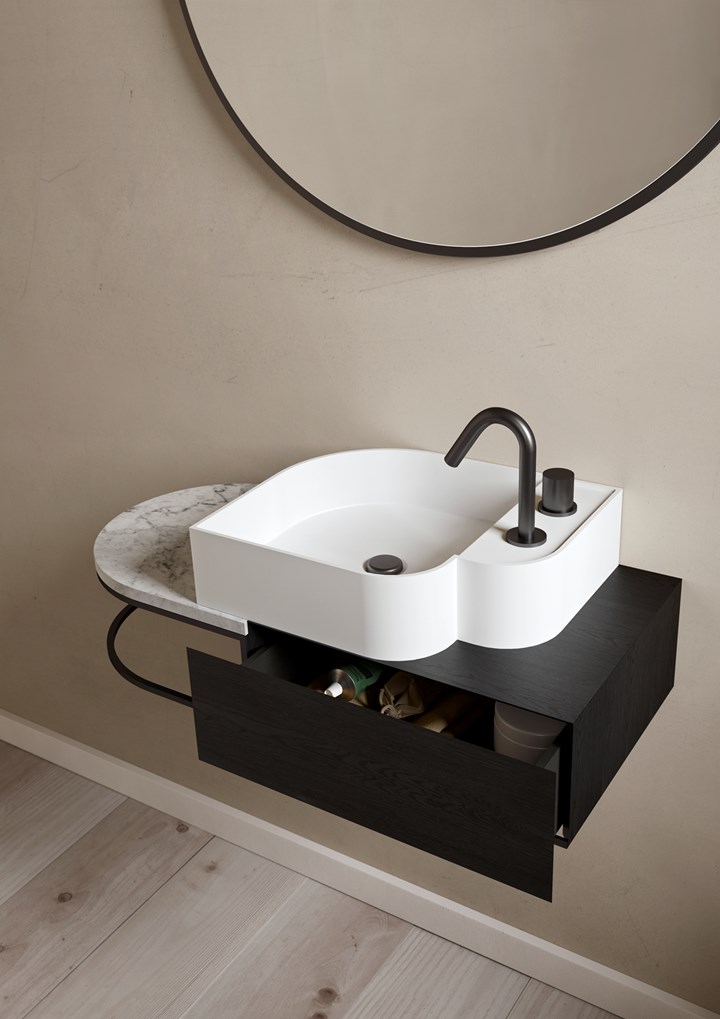 24. Two-toned pedestal basin
This vanity looks like it's straight out of a hotel bathroom. I love the contrast between the white sink and black stand – it makes for an intriguing piece that draws the eyes. Now, if you look carefully, you'll see that clever storage has been installed to the left of the tapware. The design includes two containers to hold bathroom necessities, proving that you can have design and practicality all in one.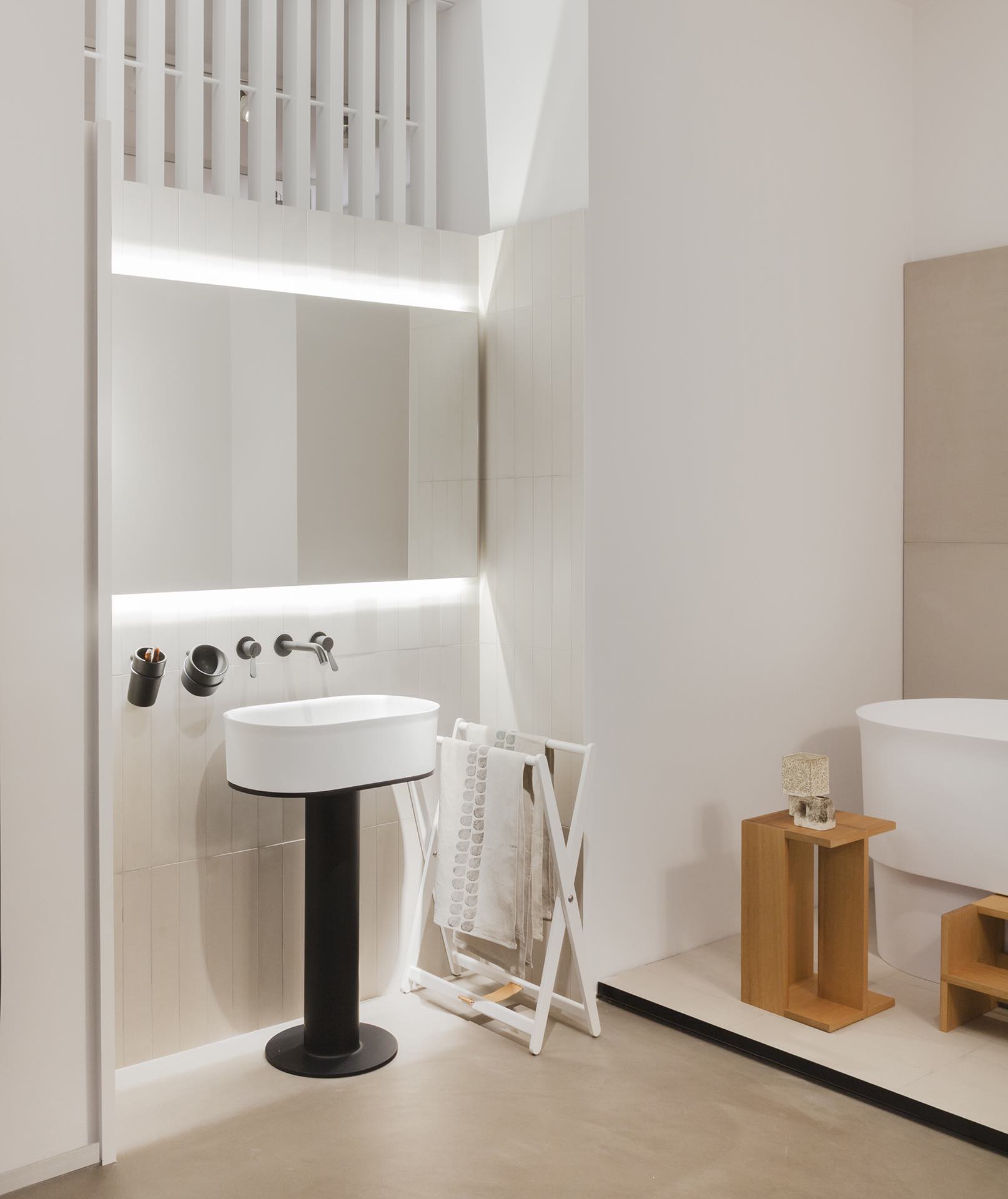 25. Small corners
This is a great space-saving vanity that's wedged right in a corner and it optimises storage space with a cupboard beneath the sink as well as a cupboard to the left of it.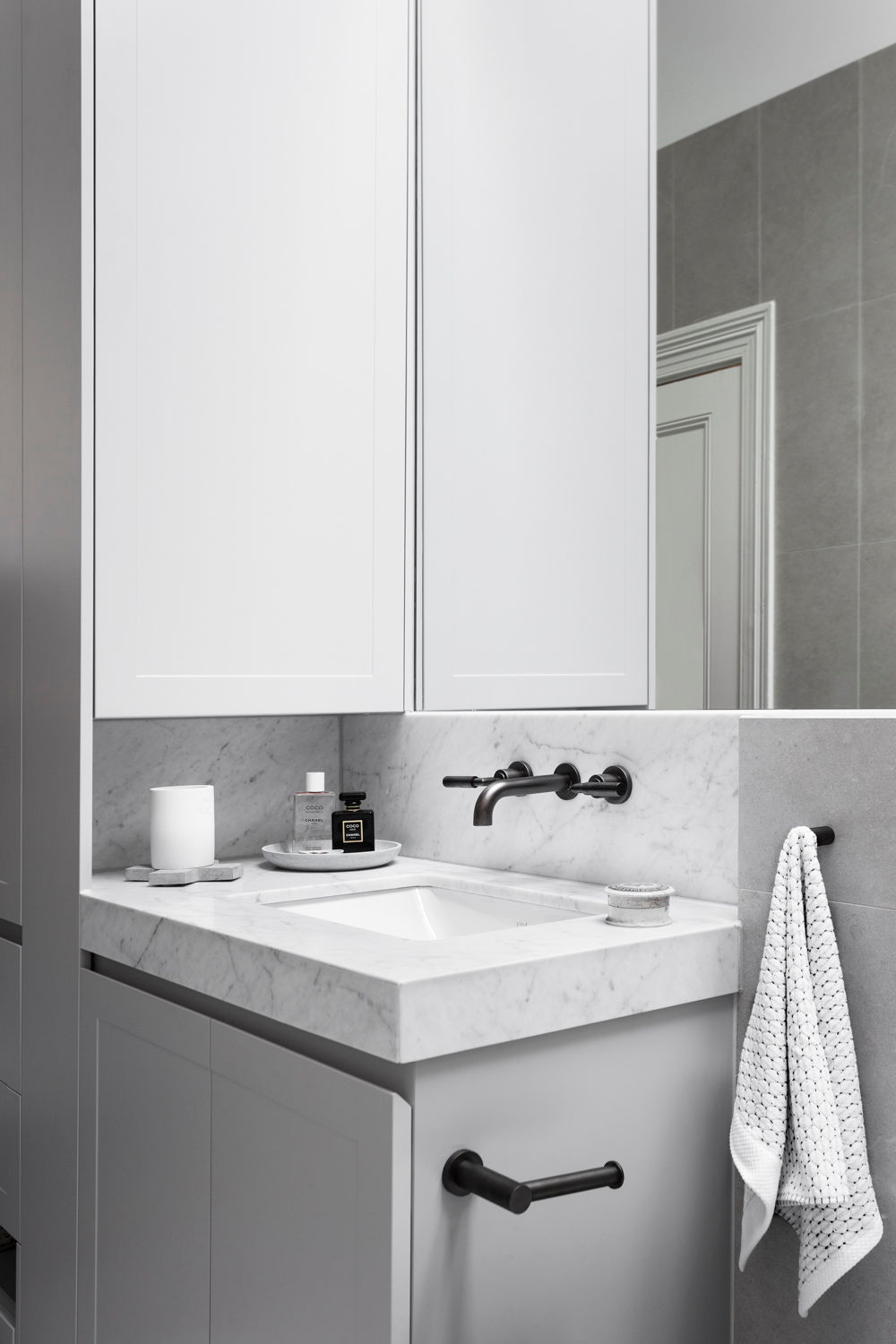 26. Classic bathroom vanity
This vanity is simple and understated and the perfect size for this small bathroom. While the space has some contemporary elements, the vanity itself is anything but modern. It brings in classic undertones of yesteryear for an overall design that balances the old with the new.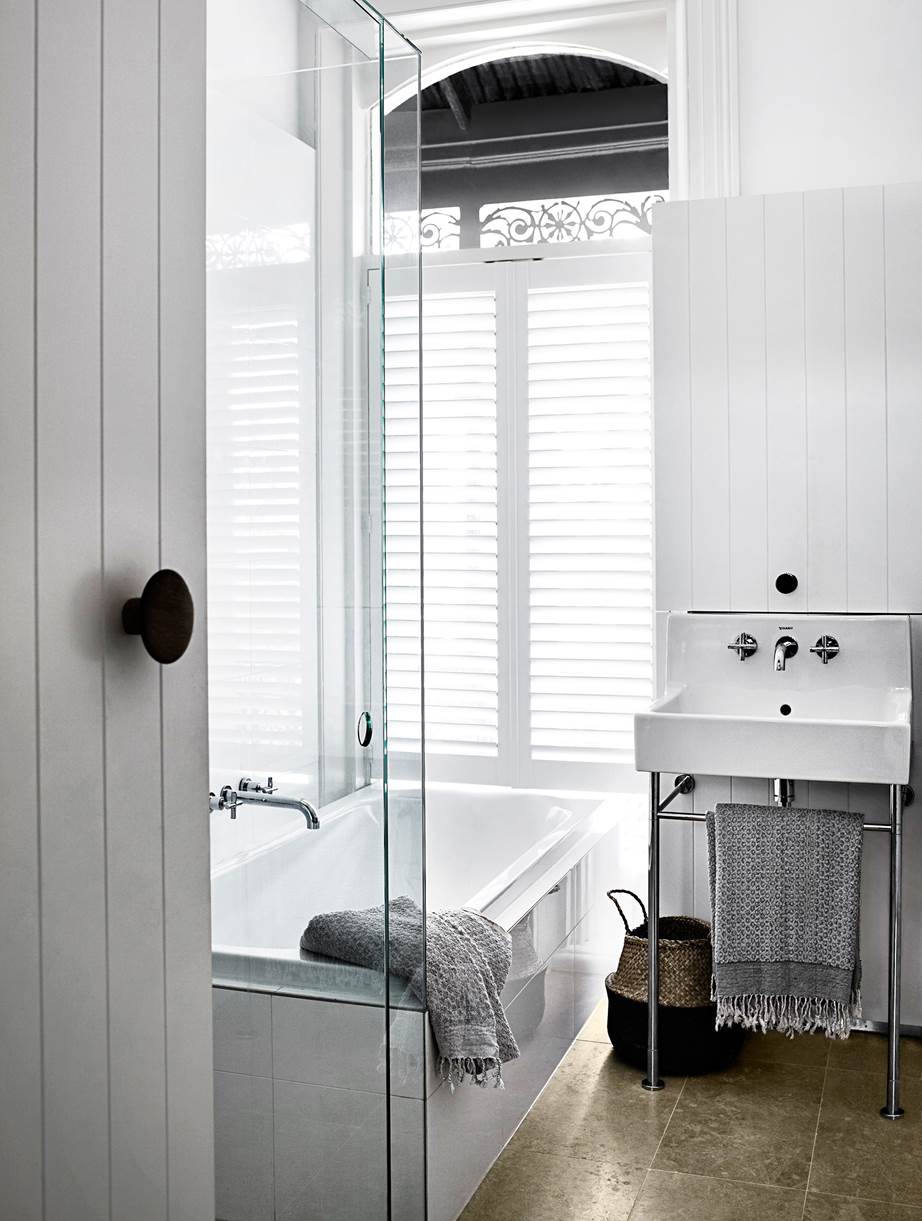 27. Scalloped splashback
If you're looking for a way to fancy up the wall behind your bathroom vanity, then you can't go past a gorgeous tiled splashback. And this scalloped design is totally unique! I love how it covers the entire wall for a dramatic effect.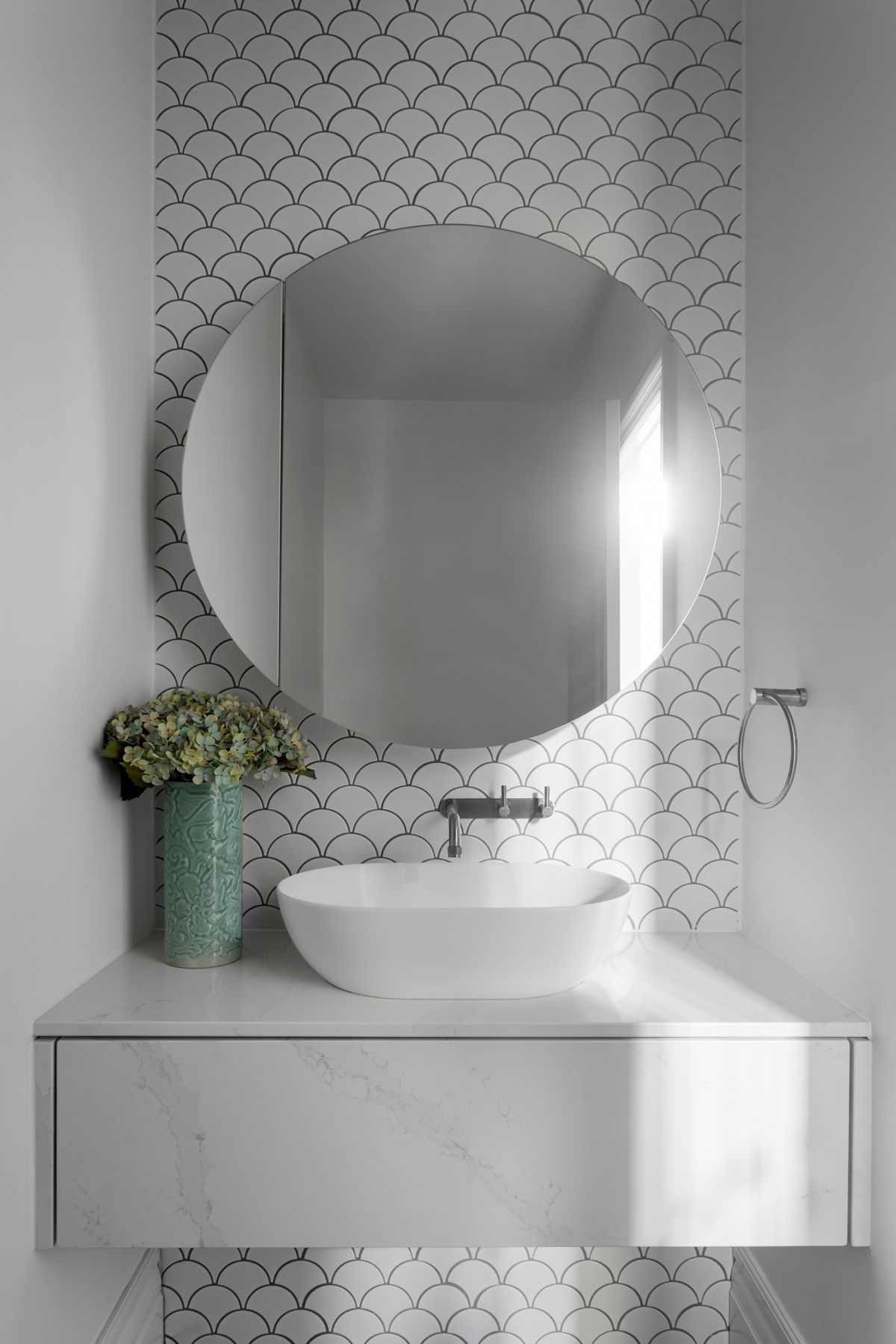 28. Modern lines
I've covered a lot of modern vanities in this post, but I think this one is the cream of the crop. Why? Because it has so much to it!
While the colours are simple neutrals black, white and marble – there's so much going on. The vanity itself is infused with detail from the moulded timber cabinets and drawers to the large piece of stone on top, it's a statement piece in and of itself.
And the rest of the design elements compliment it perfectly. The dark wooden timber flooring sets a beautiful foundation, the shiny white tiled walls add to the detail and the cabinet mirror bounces light around the room, making it appear much larger than it is.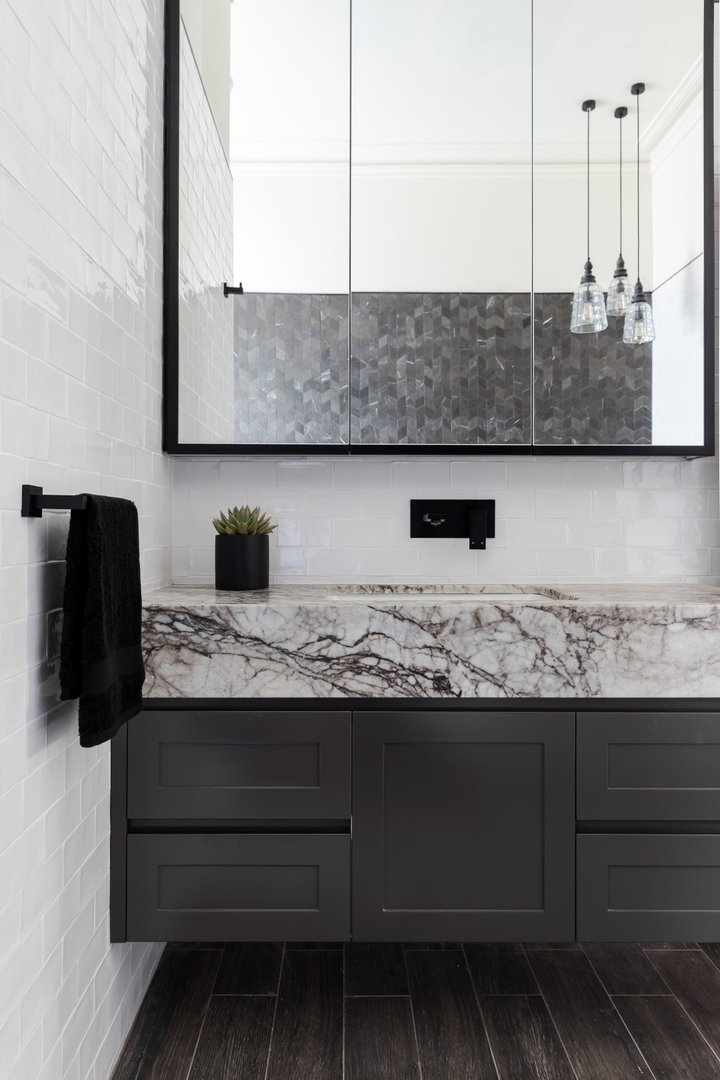 29. Refined gold bathroom vanity
This bathroom design takes me back in time, and I'm here for it! There are a few combinations I love more than marble and gold. And this vanity strikes the perfect balance between the two. The ornate design, exposed plumbing and gorgeous double-sided lights all make for a character-filled space.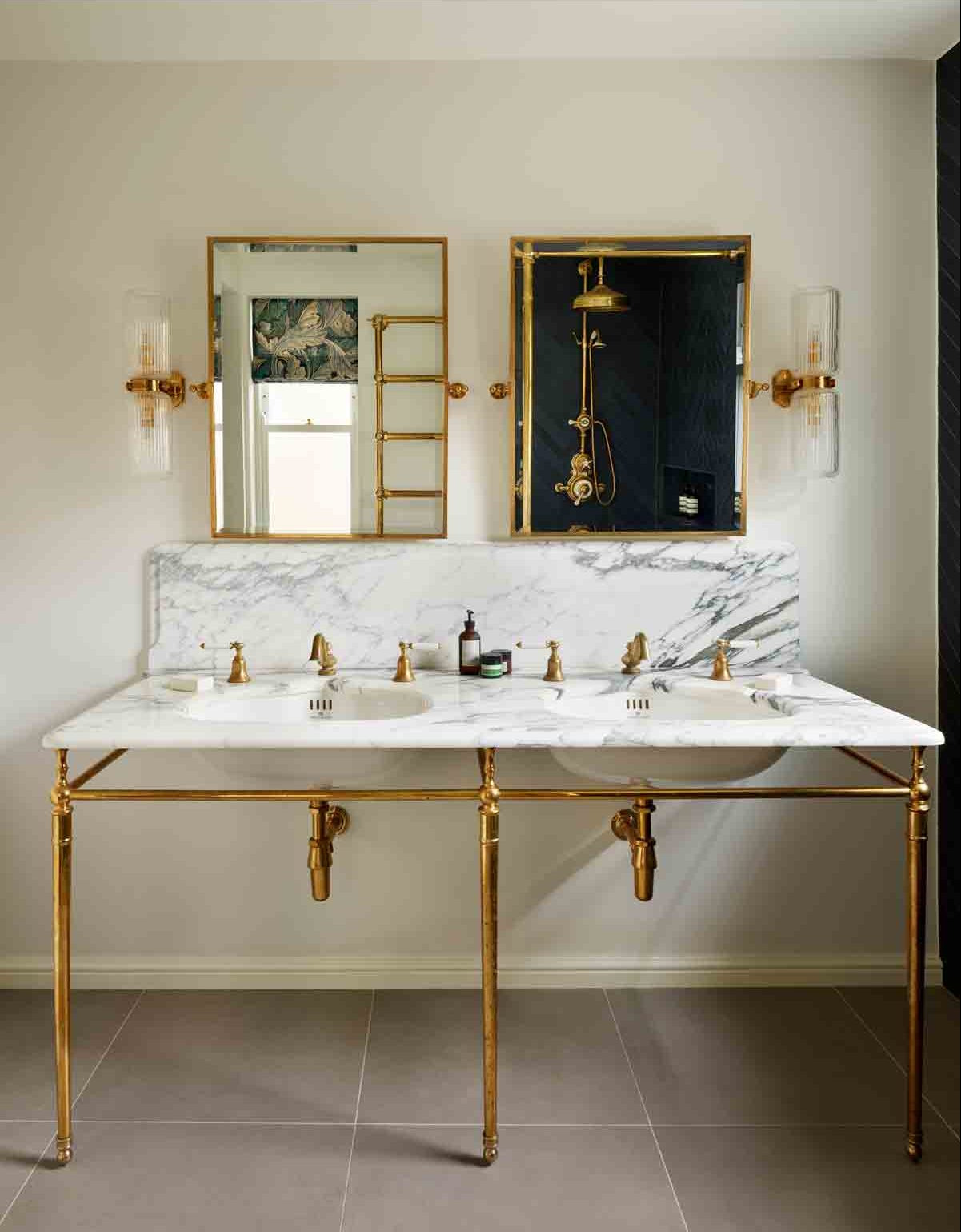 30. Double pink vanity
This design is so different, and that's why I love it! The soft pink tiles bring a pop of colour into an otherwise simple white space. And everything is doubled – from the vanities to the mirrors to the hanging lights. This makes for a gorgeous space that's both visually attractive and practical! Whoever said bathroom design is boring or too girly, is wrong.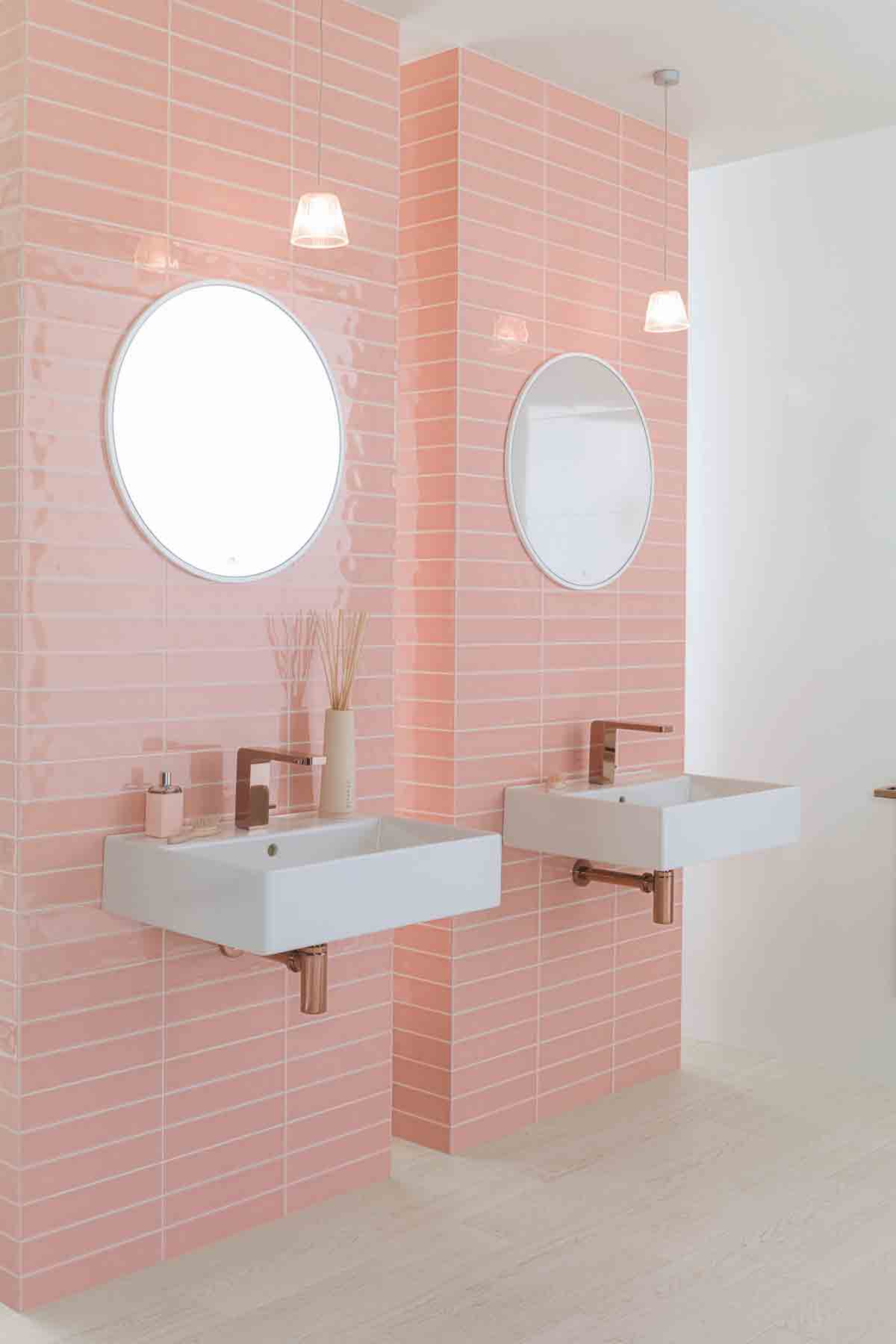 31. Pink glamour
And to add to the collection here's another pink vanity. If you want to recreate a bathroom design like this one, there are a few things you'll need to consider.
Firstly, think about your vanity – what colour will create the atmosphere you desire? Pink will make your space bright and joyful, whereas black will make it moody and sophisticated.
Secondly, consider the benchtop – a marble counter will make your design more luxurious, whereas plain white or timber will dress it down.
Thirdly, consider your hardware – choosing gold will make your space more glamorous, whereas black will make it more modern and sleek.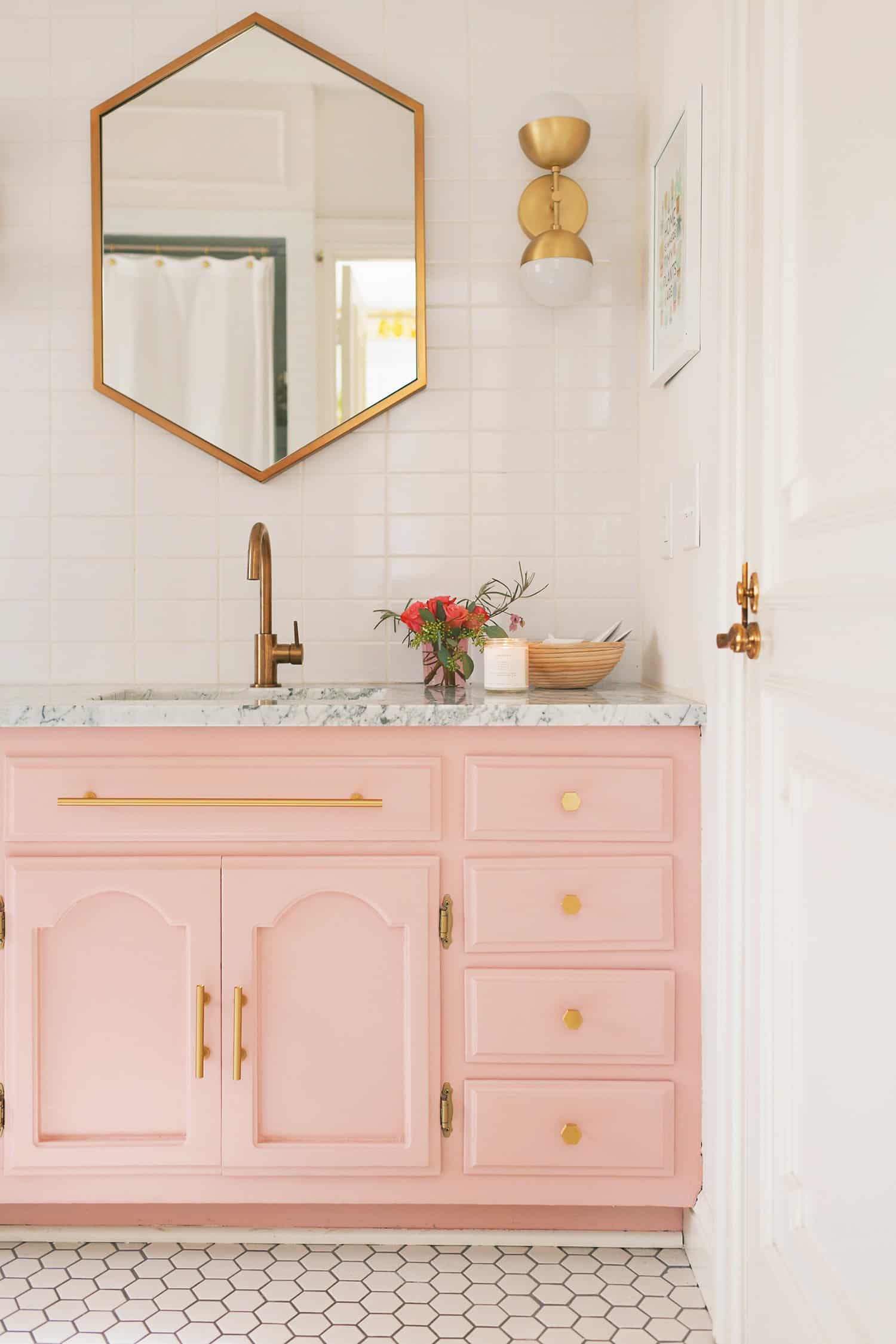 32. Grey bathroom vanity
This bathroom is filled with all shades of grey – none of which are boring! In fact, the different textures and styles really help to bring this space together nicely. If you want to make your bathroom a little more upmarket, use moulded cabinetry, like the timber doors here. Then you just need to think about how you can bring different materials together. For example, the black geometric mirror matches seamlessly with the overhanging light and black tapware.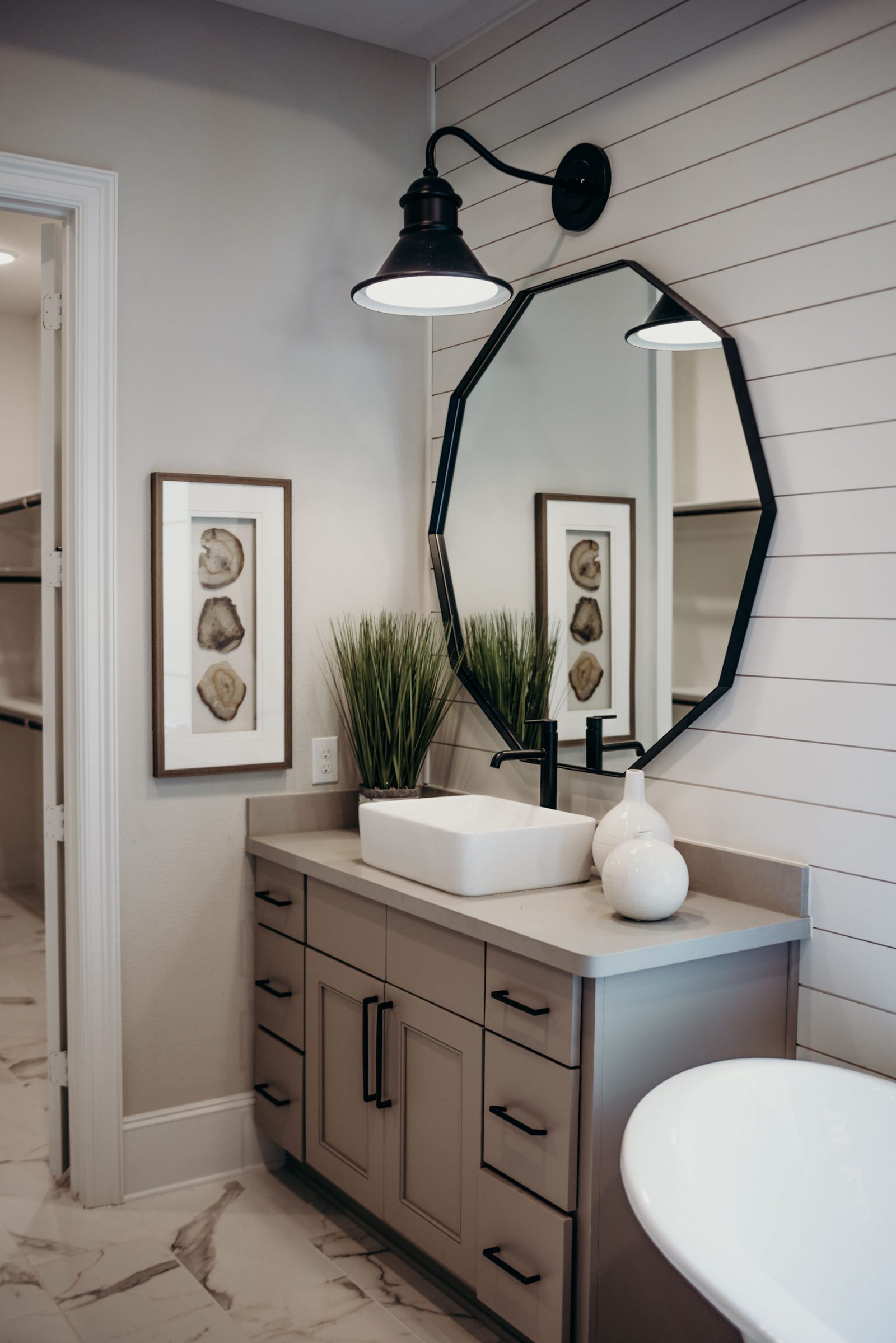 33. Mid-century modern
If this isn't mid-century modern style, then I don't know what is. If you want to recreate this look for yourself, install a timber vanity like this one. You can find something brand new or repurpose old wood cabinetry. After this, simply dress up the space with statement black lights and funky patterns.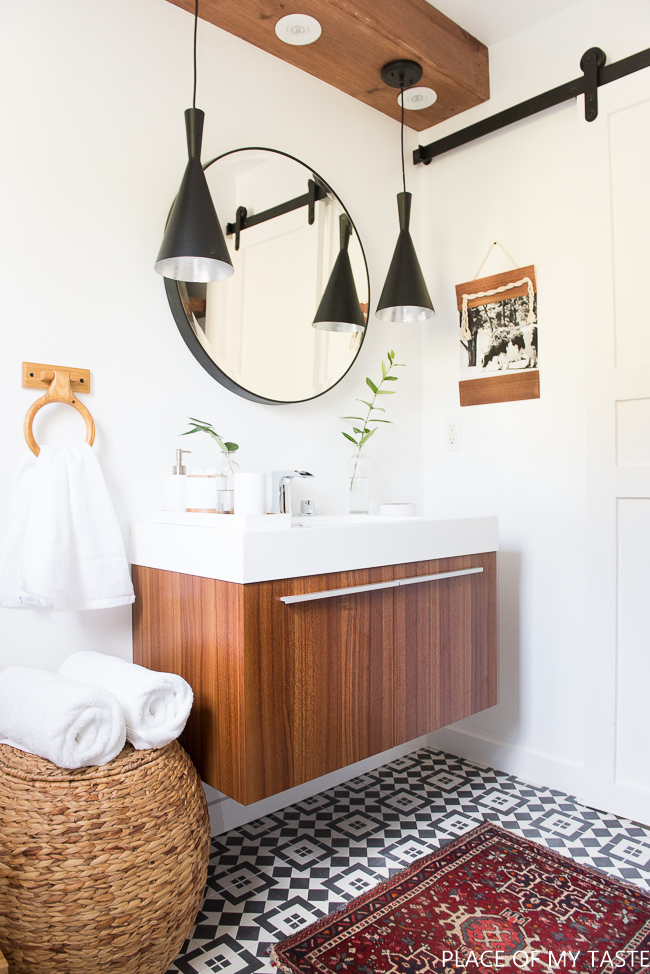 34. Wedged between cabinets
If you have a small space and storage is your priority, why not squeeze your sink in between your cabinets? This is a simple way to maximise storage space, so can tuck everything away neatly while letting your marble sink and black tapware shine.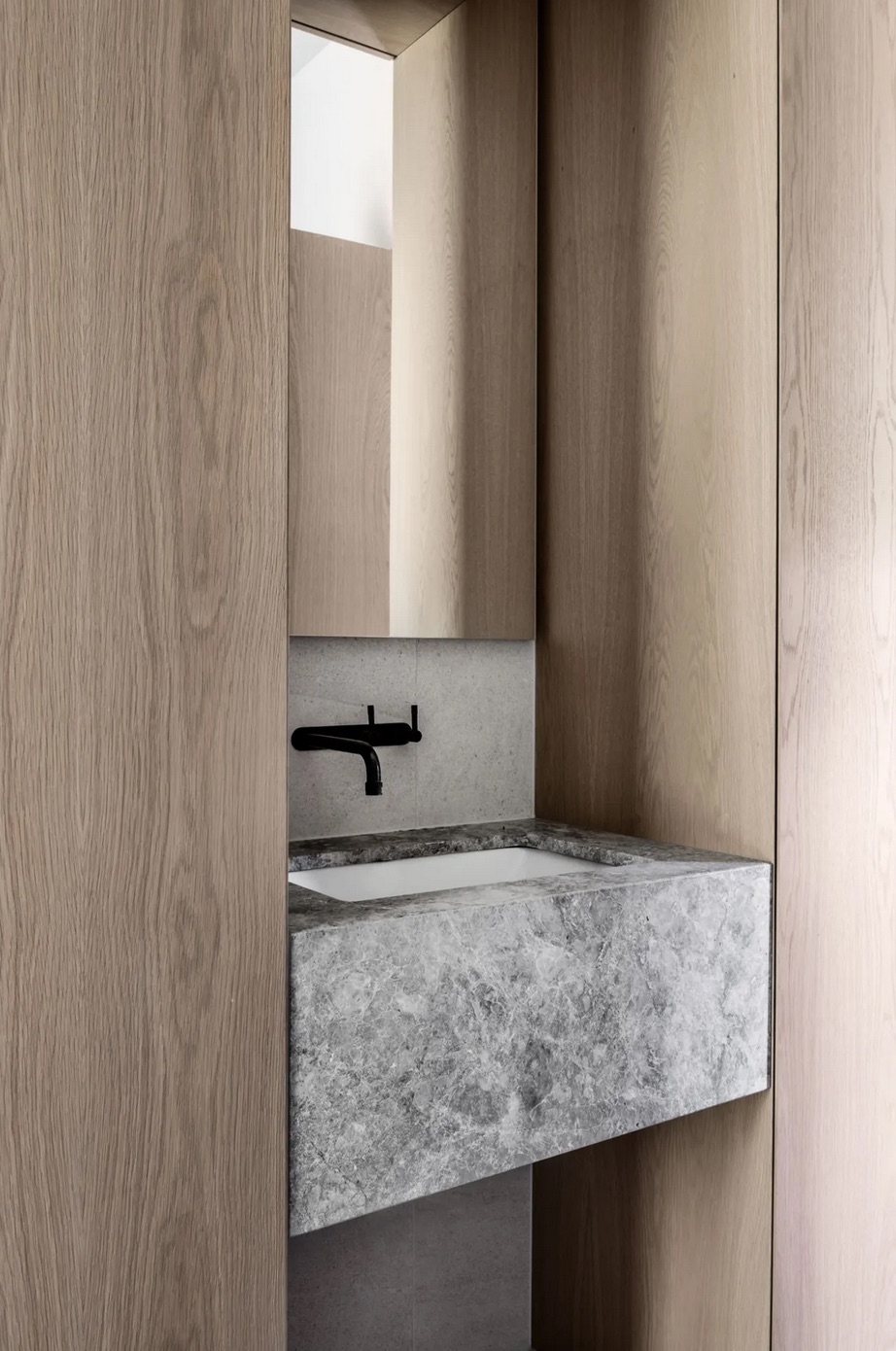 35. High-end glamour
This vanity is drool-worthy. It contains all of the luxurious finishes that you would find in a premium house. Firstly, it's a double vanity – and that's ultra-practical, especially when you've got two or more people sharing the space. Secondly, the marble is a standout, making this space look and feel effortlessly premium. And lastly, the gold hardware brings it all together for a beautiful finish.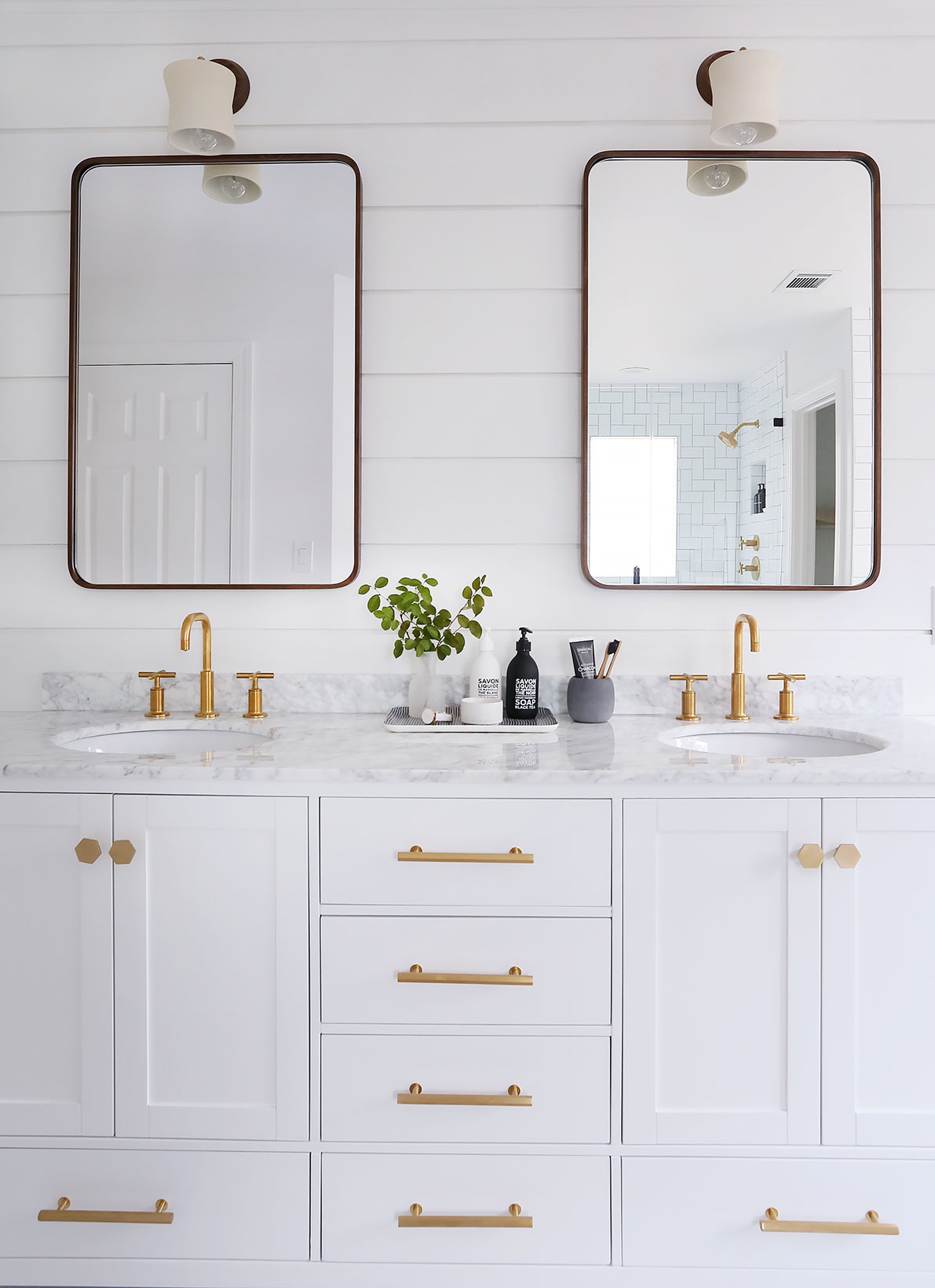 There you have it – 35+ bathroom vanity ideas. I've covered everything from large glamorous setups to small, space-saving vanities to modern sleek spaces and relaxed country style bathrooms.
I'd love to hear what your favourite design was, so comment and share! And if you have any more brilliant bathroom ideas for how to create a standout  vanity, share them with me too.