I'm a believer that tiles are something that you absolutely invest in and not everyone would agree with me (including my husband) but bear with me here. If you put faucets and towel rails aside for the moment, it really is the tiles that make the biggest initial impact when you walk into a bathroom.
So not only should you look up plenty of bathroom tile ideas to make sure you get the room of your dreams, but you should also get your tiles professionally installed by professional bathroom tilers to help make your reno go smoothly.
For our renovation, I've searched high and low for tile inspiration for our bathroom which is not only small but also awkwardly shaped with a sloping roof. From different floor tile designs to wallpaper, I've looked at it all and wanted to share my ultimate collection of bathroom tile ideas.
Before we dive into the pretty pictures though (or scroll ahead if that's all you're here for), let's quickly run through what's important when looking at bathroom tile designs.
Here are types of bathroom tile material
Did you know there are different types of tiles? It's ok, it wasn't the first thought in my head when I started looking but it's something you should definitely be aware of so that you know the pros and cons of each.
1. Porcelain tiles
These are on the expensive side but porcelain tiles are more durable than other clay tiles like ceramic tiles, therefore, less likely to chip and are better suited to heavy usage areas such as bathroom floors. Another big plus about porcelain is that there is a lot of design flexibility as well, so they can come in a range of colours, finishes, sizes and styles. Your options are endless.
2. Marble tiles
Is there anything more timeless or stunning than marble? The answer is absolutely not! After all, who hasn't heard of the beauty of Calacatta marble. However, it's not the best choice when it comes to durability or your hip pocket. This is due to being a very soft stone (although if the source is closer to Italy or Greece = better the quality) that means it's absorbent therefore not the best for floors and wet areas.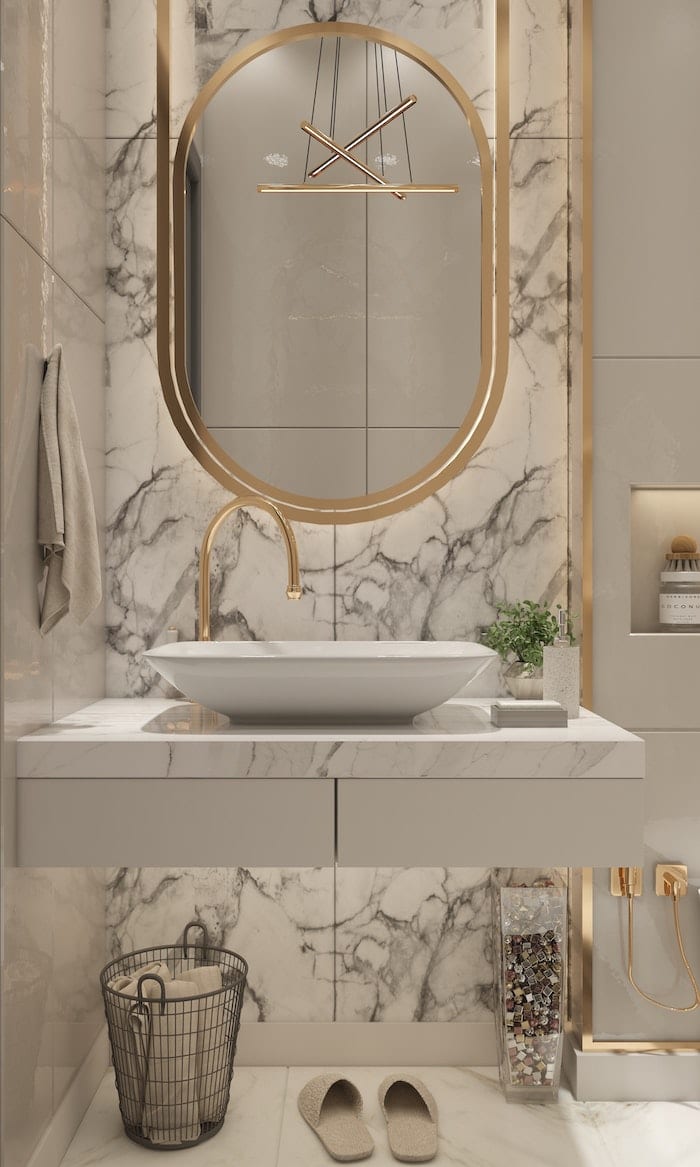 For example, if you dye your hair, the dye could stain the marble, which is not ideal at all! Or even worse, as marble has an iron content, it can rust itself and discolour. So save the marble flooring beautiful look for a less humid environment.
3. Ceramic tiles
These are made from the same material as porcelain but they are less finely ground, which means they aren't as durable.  But you can seal them correctly and it becomes a lot more durable.
4. Limestone tiles
For limestone to be used in a bathroom they need to be sealed extremely well as they are quite porous. If you want a soft natural look, you can't do much better than limestone flooring.
5. Slate tiles
Perfect for a high traffic zone, slate is nearly impossible to scratch or chip. As a natural stone, it's quite costly but it won't date from a design point of view and won't need to be maintained too regularly. It's a really great choice for a bathroom if you're happy to use it.
6. Vinyl
It's a lower-cost alternative and very practical, meaning it's super easy to clean and that they won't crack (perfect of kid areas of the house). The cost of installing is also significantly less than porcelain or ceramics but it just doesn't have the beautiful finish like tiles have, so maybe skip on the vinyl flooring for your bathroom.
Ok, now for the pretty pictures… Let's start with tile shape
I love that you can get tiles in all different shapes and sizes these days. It has allowed bathroom design to break out of being a cookie cutter standard room and push the design boundaries.
7. Hexagon tiles
One of the first alternative shapes on the market was the hexagon tile. Nowadays you'll see them everywhere and in all shapes and sizes. They look particularly great with beautiful bold colours.
8. Subway tiles
They've been around for a little bit after a resurgence nearly a decade ago, but subway tiles are still going strong as new colours come out and different tiling techniques, such as herringbone and stacked, are used.
The options with subway tiles are endless, it just depends on the look you're going for. For example, if you're going for a more understated look then a classic white tile with white grout is what you should look at. Alternatively, a colour subway tile will really make a lasting impression if that's what you're going for.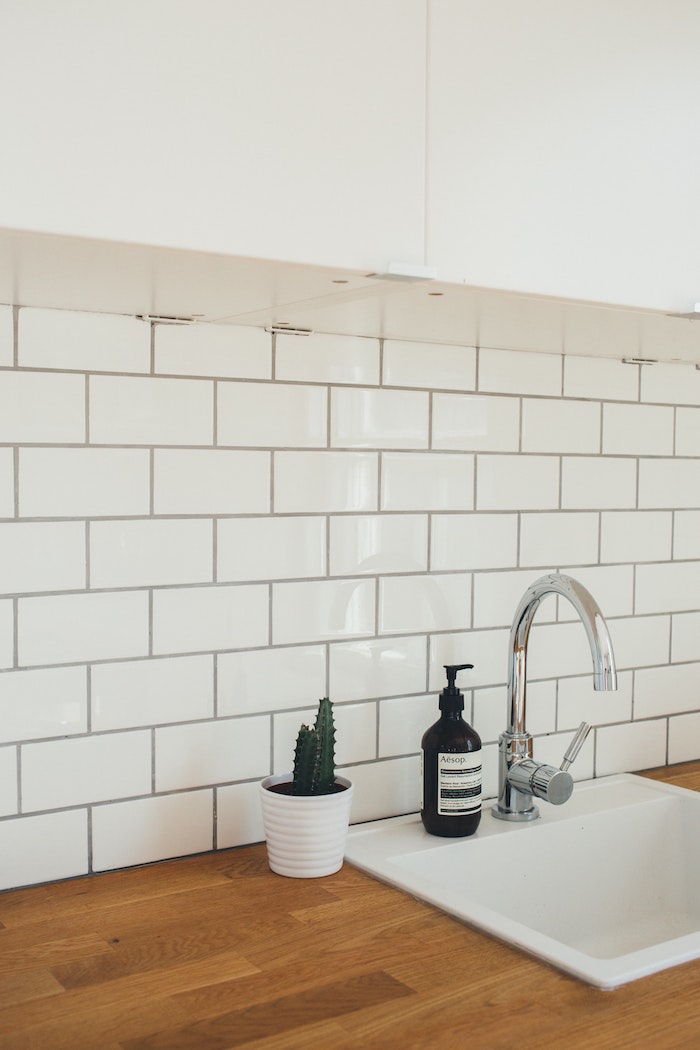 But did you know there are roughly nine different ways to lay subway tiles? And that's not including all of the variations by mixing different types of tiles.
Subway tile patterns:
Herringbone
Basic brick
Stacked (horizontal) bond
Crosshatch/ basketweave
Running bond
Combination running bond/ crosshatch
Vertical stacked
Straight herringbone
Spanish bond
9. Mosaic tiles
Mosaics are one of the more versatile tiles that can work with just about any bathroom design. You can get them in many different colours and even different finishes – matte or gloss. Just take a look at this blue bathroom – what an eye-catcher!
I've got some more examples of mosaics if you keep scrolling.
10. Penny round tiles
Penny tiles are adorable and with the smart use of colour, they can be incorporated into your bathroom for the ultimate feature wall look. They might not be the easiest to clean with all of the grout in-between… But if that doesn't phase you, then they are well worth it.
11. Tiny tiles
Aptly named tiny tiles (by me), these little guys deserve their own shout out for being so small but making a huge impact because of the way different grout colours to help them to stand out.
12. Square tiles
Squares are the new subway bathroom tiles. They look fabulous whether you mix and match colours, use an ombre colour scheme, or just one block colour like you can see in the black square tile below.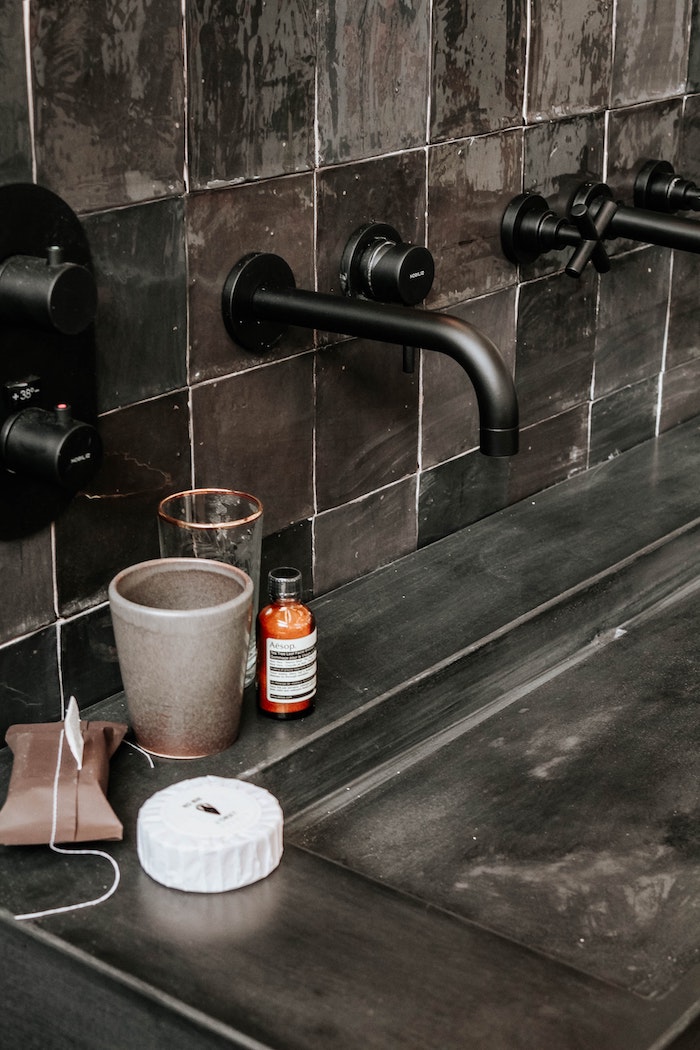 Even if you want to stick with a classic white bathroom, there's still a way that you can spice it up with a lick of bright paint. By using colour as a contrast, it means you can simply update the paint colour if you ever want to tone it down a little… You might just need a few coats 🙂
13. Fish scale tiles
I think this is my favourite! I love it in white, I love it in colour and if possible, I love it even more when there are multi-colour fish scale tiles used. This look transports you back to your Morrocan holiday when used in colour and you could just lie in the bath and get lost in your thoughts as you admire these beautiful tiles.
14. Triangle tiles
Now, this is one that I wasn't expecting to find but apparently, there are triangle tiles out there and people are using them, as you can see in this beautiful image which uses a bottle green colour triangle tile.
15. Diamond tiles
Could a diamond shape be the next subway tile? Who knows! But in the words lyrics of Rihanna let's give this gorgeous shape a bit of time to shine bright like a diamond.
16. Leaf tile
This is odd but also beautiful in its own unique way. The unusual shape of this tile makes a feature wall pop and if your home was a space that was embracing a natural style, this tile would help you achieve your design goals.
17. Basket-weave tiles
I haven't come across a lot of this style in my research, but the impact with the shadows against this basket-weave tile is something that caught my eye straight away. With a singular colour application, like white, it really let's a simple white tile to make a big statement.
18. Mixing up the styles
Who says you can't mix penny rounds and subways or squares with rectangles. I love the design flexibility that you can have with tiles and it really allows you to make your house (or bathroom in this case) quite bespoke. It won't be everyone's cup of tea… but as long as you love it, who cares right?!
Bathroom tile patterns and styles
19. Textured tiles
These tiles are very much the 'new kid on the block' and it's changing the tile game at the moment. With its 3D effect, it adds a new dimension to bathrooms and taking what used to be a simple space to a whole other level.
I think textured tiles will keep evolving but a few great examples that I love are the linen inspired for a tranquil feel and the geometric styles for a modern look.
20. Floral tiles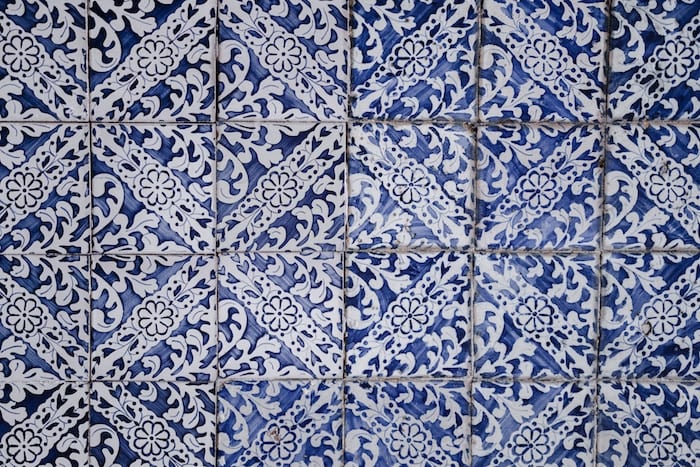 Floral tiles aren't all roses and daisies as you can see from the above which take you back to embracing a European summer in Portugal. Or perhaps you want more of a vintage feel.
21. Marble tiles
For a timeless bathroom look no further than marble, it has been a staple in home design for decades and continues to be reinvented as time goes by, so it will always be in style. Whether you use marble as floor tiles or on the wall instead, you can't really go wrong here other than just double-checking what the tile is made out of so that it has the durability you need.
22. Herringbone tiles
Herringbone has been around for a little while and whilst its classic application is for wooden floors, today you'll see it adopted into a lot of bathrooms. From traditional rectangle subway tiles to thinner rectangles (as you see below), you're able to really make it your own with whatever colour and size combination you try.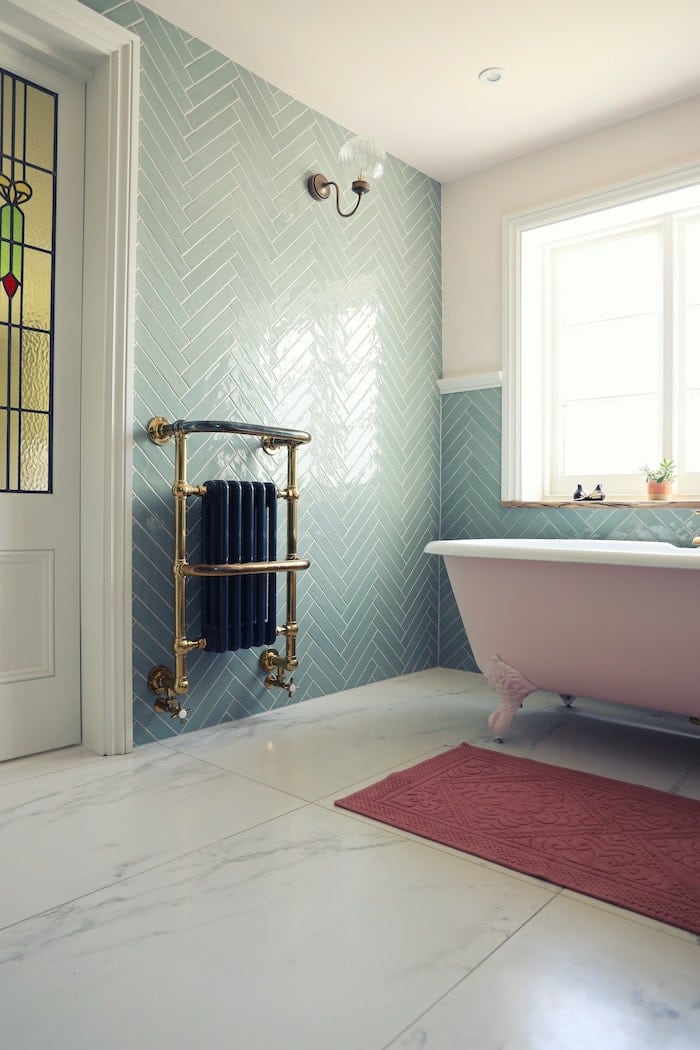 23. Geometric patterns
You can have a strong or subtle look depending on whether you choose to pick similar or contrasting colours. The patterns and combinations are available in any style, so if geometric tiles are something that you want to explore, you're able to get very creative with these tiles.
24. Uneven tiles
Gone are the days of crisp white and clean lines in bathrooms. Adding life (through colour and plants) and designing your bathroom to look inviting and lived-in is trending at the moment. This is why we're seeing a lot of this gorgeous uneven tile look. It also makes it appear that every tile has been individually laid therefore giving the room quite an understated glam vibe too.
My top pick is when a white tile colour is used which creates a shadow effect, but I think we'll start to see this in other variations soon enough which will be great to see.
Bathroom tile colour ideas
25. All white bathroom
Nothing screams crystal clean like an all-white bathroom. Not only is a white bathroom the epitome of cleanliness (which is why so many bathrooms are white) but in a small bathroom, a lot of white is very important so that space looks bigger and also so that it bounces around as much natural light as possible.
Sure you can use big white tiles but if you still what that design flair, I adore these smaller white square tiles. It's your perfect nordic sanctuary.
26. Block colour tiles
Pick a colour any colour and it will look great. From the brights of canary yellow to the subtle pastel pinks and greens, the options are endless and lots of fun. Incorporating (and committing to) a colour into your bathroom tile means you're all about making a statement and embrace being an individual.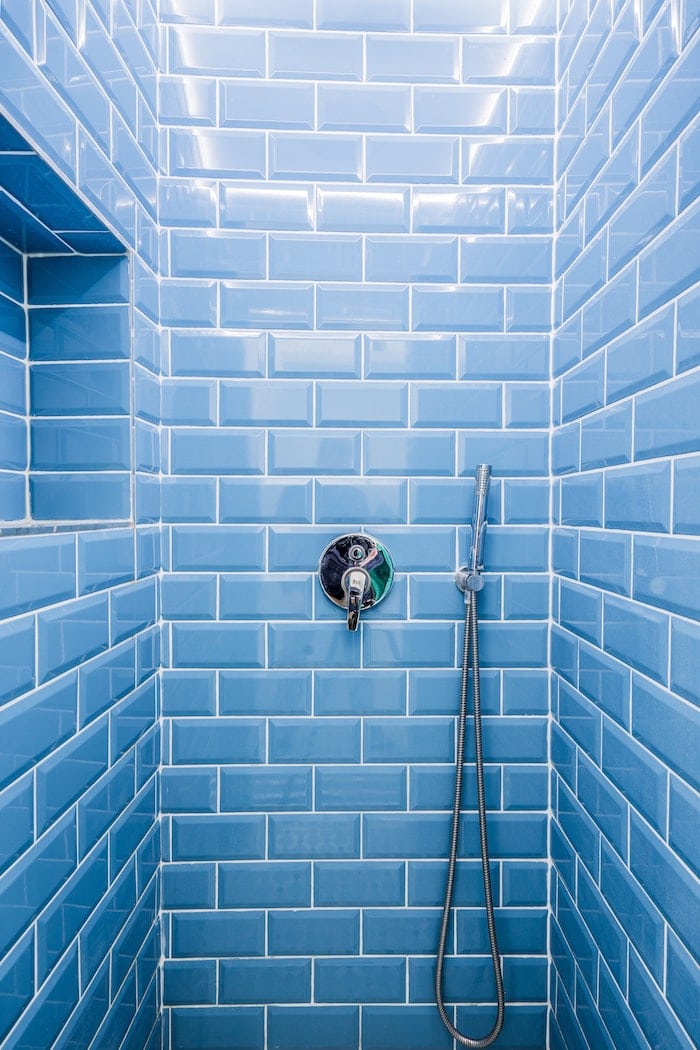 27. Ombre tile designs
Where can't ombre styling be used? It's not for everyone but gosh it sure does look pretty. When using an ombre technique you can either use one colour for a more subtle tone change or use a few different colours to make it more obvious. Both ombre tile styles are beautiful!
28. Pastel tiles
Pick a colour, any colour and you can use it in a pastel tone in your bathroom for a calm, and not to mention, gorgeous space. Paired with oak, white and maybe even a little bit of gold metallic tapware to take it up a notch – and you have a bathroom that you won't be able to keep your house guests out of.
29. Bright tiles
If you're wanting a loud bathroom, nothing does that better than bright neon tiles (and lots of them). You could do a single colour throughout the bathroom or perhaps use different colours. Brightly coloured tiles are something that you can have a lot of fun with because you're truly pushing the boundaries.
30. Matte tiles
Traditionally tiles have a shiny/gloss finish but more and more matte tiles are coming into the market and it's a lovely way of adding just that little bit of extra refined style to a bathroom.
31. Terrazzo tiles
Terrazzo came back on the scene a year or so ago and from furniture to tiles, people are embracing this fashionable look everywhere. You can get it in smaller tiles or larger tiles and it can be used from the flooring to the walls. It's definitely 'a more is always better' look!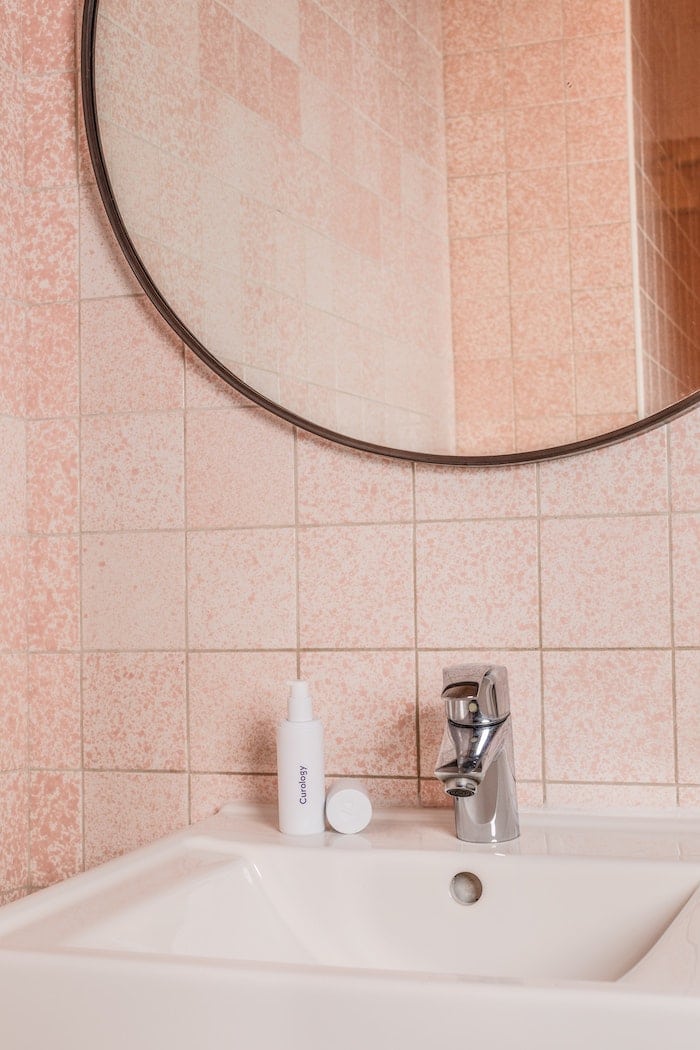 32. Large terrazzo tiles
This large format terrazzo tile is a stand-out and because it's so different (in a good way) from what it is traditionally recognised as terrazzo, it needs its own spot. This tile has everything from a range of colours to a very unique pattern, which you can change around as you lay them so you can make your bathroom one-of-a-kind.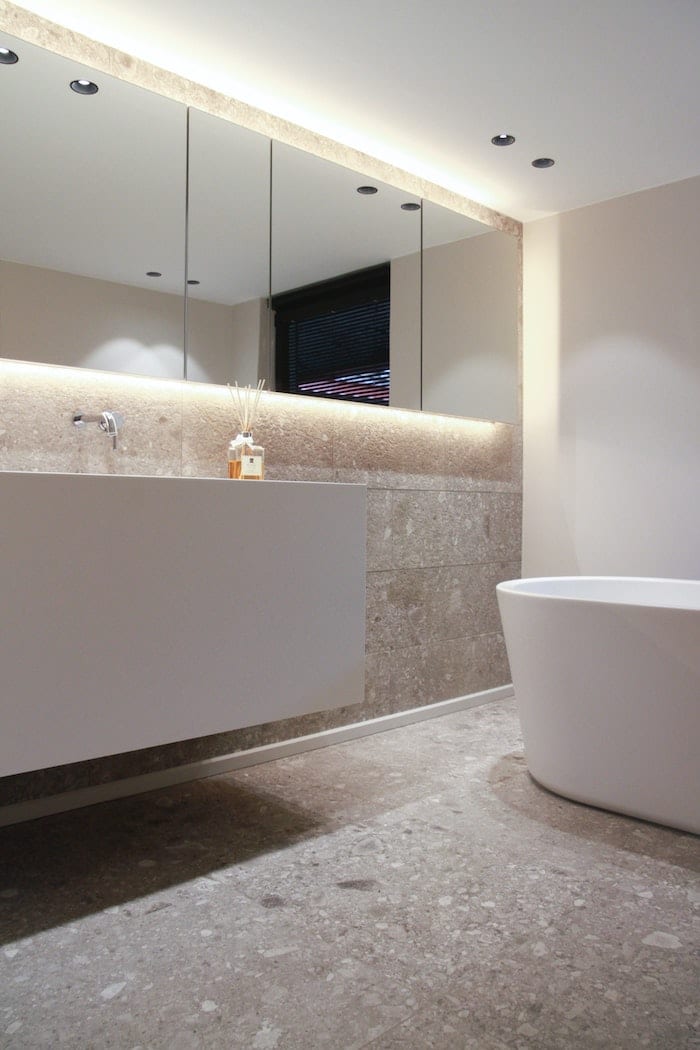 I especially love how the tiles continue so that you have stunning terrazzo flooring as well.
33. Vintage tiles
Whether you have a federation home or an inner-city industrial loft apartment, using vintage tiles with some modern finishes will make sure that your interior design aesthetic remains consistent throughout your home.
You also have the added bonus of a timeless look, which will always look fabulous.
34. Natural stone tiles
As the saying goes, sometimes less is more. So if you're going for an understated natural look, you can't beat a beautiful stone tile. Quality makes all the difference here, so make sure you do your research and are happy with the finish and the maintenance requirements.
35. Moroccan tiles
The key to capturing the Moroccan look is to use intricate design with bright colours, usually blue, to bring life and vibrancy into a room. But perhaps try to pair it back a little or use as a feature wall, so that it's not too overbearing.
36. Boho tiles
Wanting to bring the relaxed vibes of Byron Bay into your home but don't want to go down the beach-chic path? These bohemian tiles might do the trick for you. It's great to see styles continuously being reinvented to create new bathroom tile ideas for us to be inspired by.
37. Terracotta inspired tiles
If you're looking to introduce a warm earthy tone into your bathroom, terracotta tiles are a lovely way to achieve this design aesthetic. It's like a bit of Tuscany in your own home.
38. Sparkly 'Mermaid' tiles
This would be every little girl's dream bathroom to have sparkly mermaid tiles. It might not be a forever bathroom design but it will work for a few years until they grow out of it.
39. Mosaic pattern tiles
With mosaic tiles, you can pick all of the same colour, a few different ones to soften the space, or even make specific patterns and shapes. This can either make a soft or loud impact, depending on the style that you want to achieve.
40. Black tiles
The colour black in most design applications instantly gives a room a formal tone. Projecting inner-city hotel vibes, the black tiles especially pop when paired with light grout and matching black tapware. You can then add a bit of life with some greenery and warmth with towels and candles.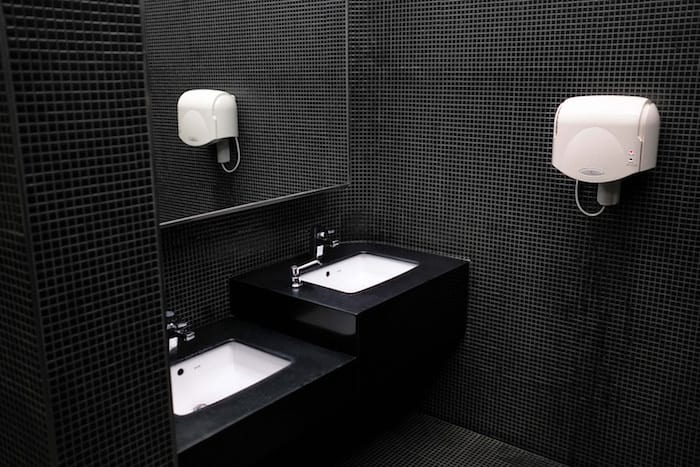 41. Pink tiles
Who wouldn't want a pink bathroom? These days you can make a pink room incorporate masculine edge as well as a girly design. Just depends on who is using the space.
So from pastel to neon and all the shades in-between, pink is in!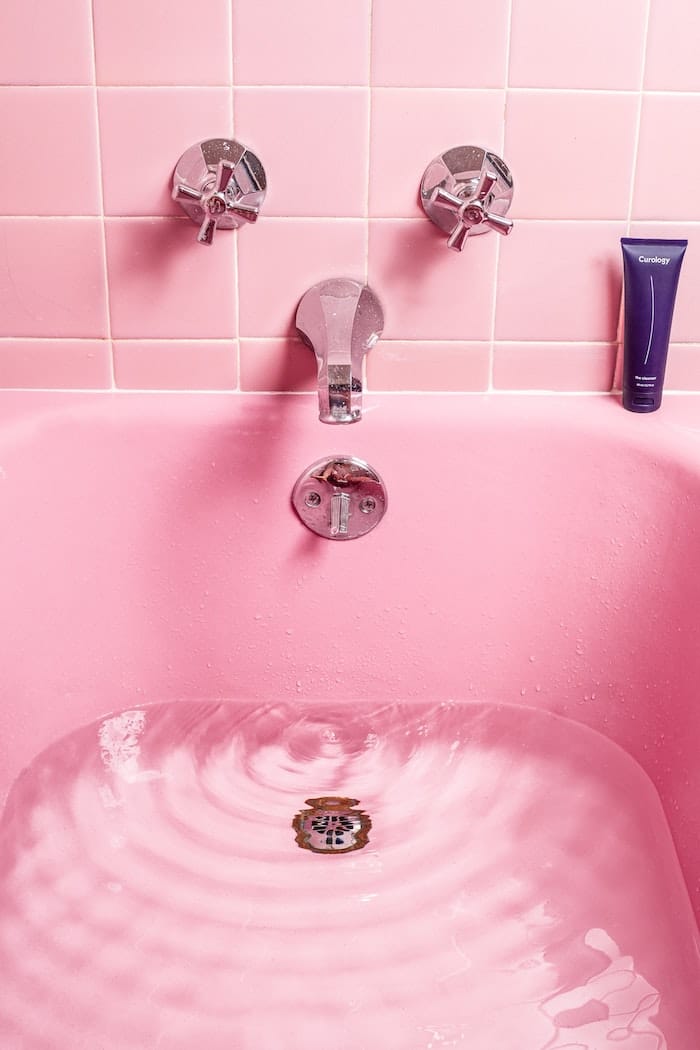 42. Yellow tiles
If you have a bathroom detailed with bright yellow tiles, the shower won't be the only thing that wakes you up in the morning. It could be the gloomiest wintery day outside, but with a happy bathroom like this, you'll always have a smile on your face as you head out the door to take on the world.
43. Monochrome bathroom design
Something that will always look good is the classic combination of black and white. It's the true timeless colour combination but it's easy to make it stand out by embracing different types of tiles, faucets and other furnishings.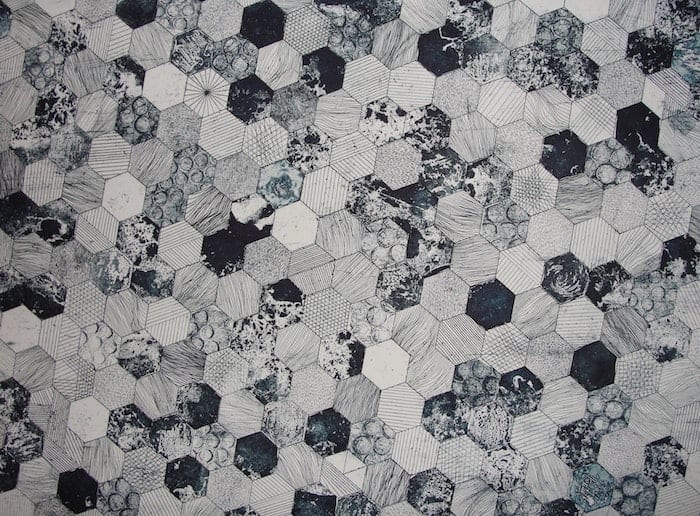 Out-of-the-box  bathroom tile ideas
If you want that wow-factor bathroom, well you've jumped to the right place in this article because you'll love these next few tile ideas.
44. Mirror tiles
It's a way to make a wow and a big WOW at that. Mirror tiles aren't seen a lot, but when they are you won't forget them in a hurry.
So mirror mirror on the wall, who's the fairest one of all?
45. Shower recess tile designs
If you're on a budget, a recess in the shower to store your shampoo and soaps is the perfect space to change it up a little. The herringbone design along with the traditional rectangle tile adds just that little bit of extra something to the space.
46. Concrete tiles
Polished concrete has had its time in the kitchen and now it's time to bring the concrete into the bathroom! It gives your bathroom an instant weathered (but lovely) look and best yet, it hides the dirt very well. Parents rejoice!
47. Geometric bathroom floor tiles
Floors are the new walls… I think. It's different and it's great to see people stepping away from the traditional grey and white and being a little more adventurous with design.
48. Green bathroom floor tiles
I particularly LOVE (yes all caps!) the vintage ones. Go big or go home I say!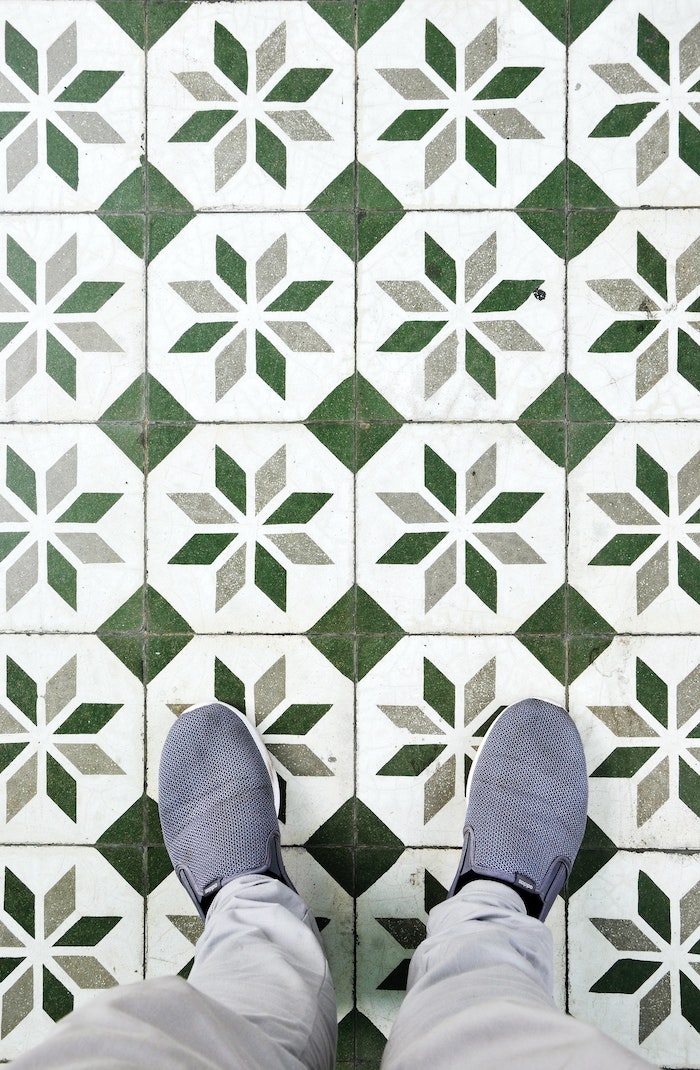 49. Metallic tiles
When I was looking for something a little different with bathroom tile ideas, I stumbled across this combination of marble and gold tiles and loved it. Using an accent tile to break up the main tile is the way to add your own flair to traditional tile design.
Tile alternatives
When you have tiles laid in your home you must use a professional bathroom tiler so that the job gets done right but unfortunately, this means it's also very expensive. So there are some things that you can do to cut the costs, for instance, use wallpaper or paint walls instead.
50. Bathroom wallpaper
Wallpaper is currently having a moment. Say goodbye to the nana-ish designs and a big hello to the modern beautiful prints that range from large scale artworks and beautiful florals to plain textured fabrics which speak for themselves.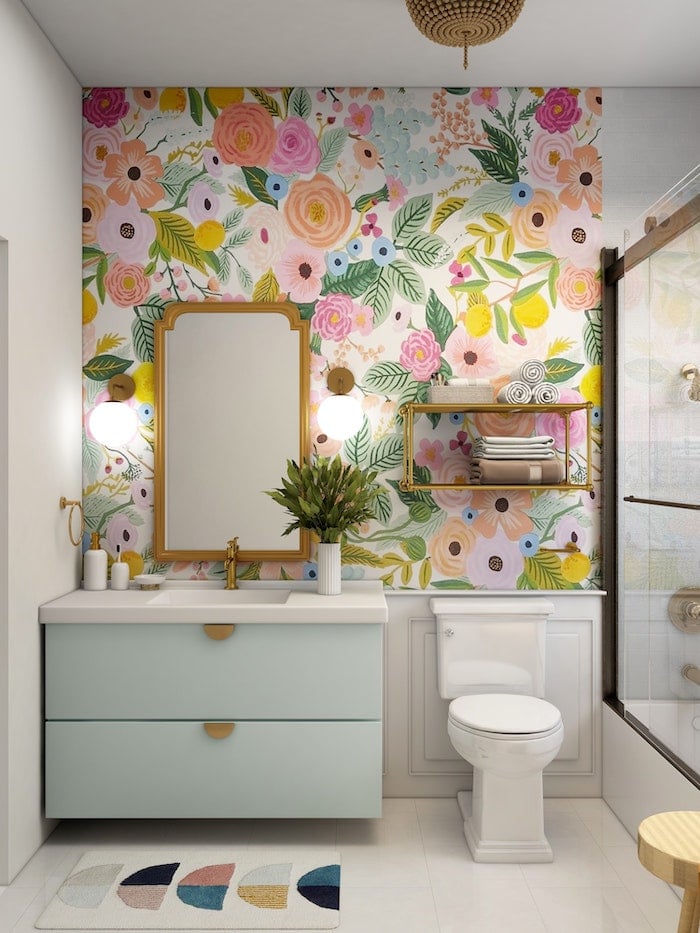 51. Wooden tiles/ flooring
Nordic is one of those styles that will work anywhere around the world and in any climate. Timber and white are the two base components to start with so that you're maximising the light bouncing around the room. But don't worry I'm not going to suggest laminate in the bathroom, timber flooring in bathrooms has come a long way since then!
It's a lovely modern touch when using timber it to make it look like the wet area of the bathroom flows seamlessly into the dry space, or to elongate the room and have the flooring continue to run up the wall.
52. Panelled walls
Nothing screams beach vibes louder than floor to ceiling panelled walls. You can make it Hamptons style bathroom or even boho chic, whilst it's not a tile it's still a lovely way to make your bathroom your own space.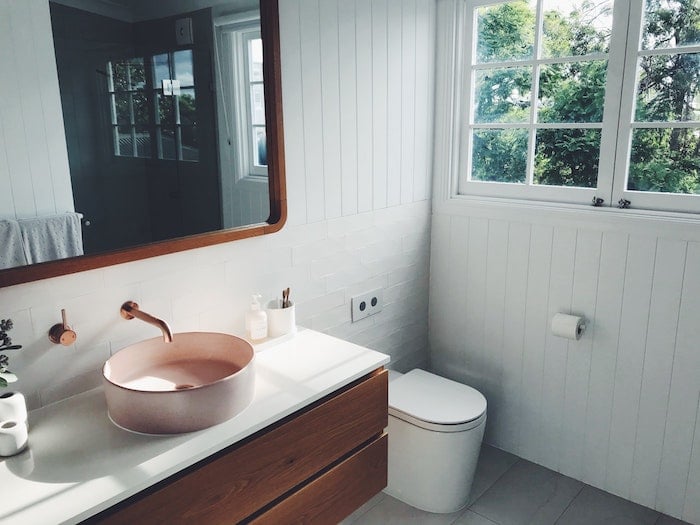 53. Half wall panelling
Another use of panelling in a bathroom is to use it on the bottom half of a wall. All you need to do is make sure that it is water-resistant and you're good to go.
And so there you have it, 50+ beautiful bathroom tile ideas to inspire you on your next renovation project. Looking for some more inspiration? Here are over 99 bathroom ideas to help.
Are you about to renovate your bathroom? Find a professional near you to help with the:
If you want to share any of your bathroom renovation ideas, please comment below.