There's no denying that white homes bring so much peace and calm to your space. It's extremely well known that incorporating white in your bathrooms instantly makes it appear larger than it really is, making it a great bathroom renovation trick before listing for sale. Plus, it's a classic choice that will always be in fashion. And for those of you who don't like a completely white bathroom, you can always add other textures and details to bring character and colour to your space.To save you hunting around the internet for ideas, we've done the research for you… So, what are you waiting for? Check out these # white bathrooms for some inspiration!
1. Modern white bathroom
What a beautiful, breezy bathroom. The white tiling, walls, ceiling and cabinetry go beautifully with the contemporary white bathtub. And I love the woven rug bringing a dose of warmth and comfort to the space. I also love the simple addition of lush green bathroom plants to add freshness and life to your basic white bathroom.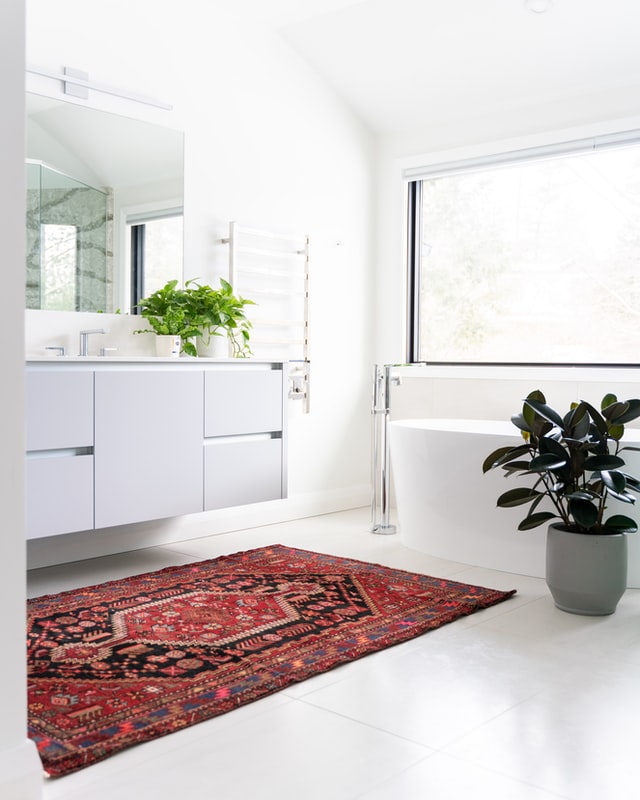 2. White cabinetry
Classic white cabinetry is always a good idea – especially if you already have white walls and other decor items to complement them. You might like to go for cabinetry with white cupboards and drawers, but with a tabletop with a wooden finish. This works well as having a white countertop can look dirty quickly and the wood element will also give a space a dividing texture between all the white elements.
3. Modern coastal white bathroom
I could just imagine this bathroom sitting pretty in a coastal cottage by the sea. The shiny off-white tiles on the walls are the perfect option for a splashback finish, and they'd be really easy to clean. Plus, the light cream bath tiling goes perfectly with the white accents of the bathroom as well as the timber details and brushed brass fixtures.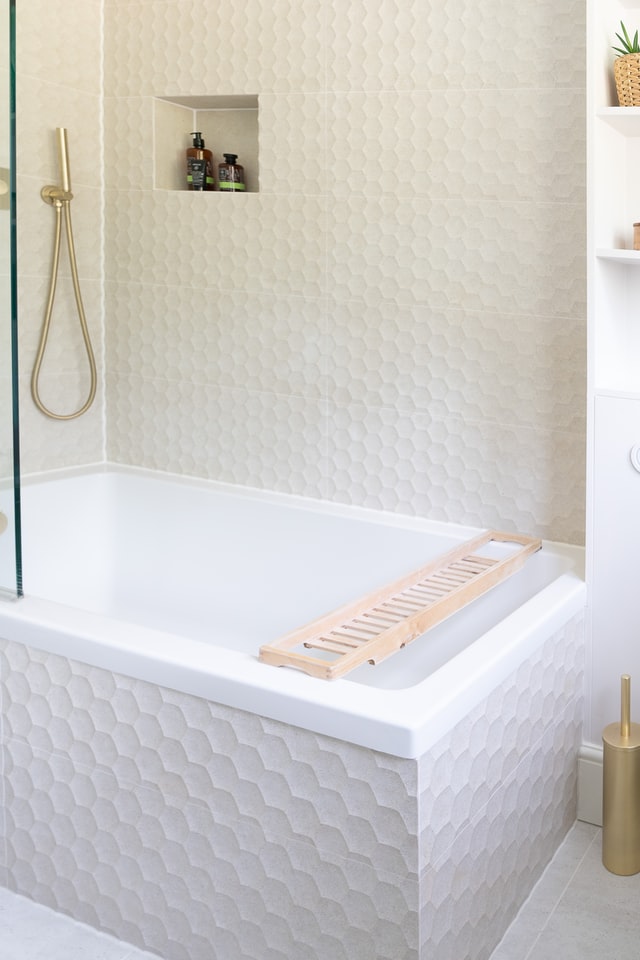 4. Bright and basic
A white basic theme in a small space can make all the difference to the overall appearance of your bathroom. You can make your white finishes appear more interesting through using different shaped tiles on the walls and the floors. Or, opting for smaller tiles on the floor and larger on the walls in the shower space ensures a lovely contrast too.
5. Beautiful simplicity
This bathroom is simple and minimal, yet strikingly beautiful. The large white bathtub looks so inviting and the double-size sink is so practical. Plus, the addition of chrome fixtures adds interest to this contemporary bathroom.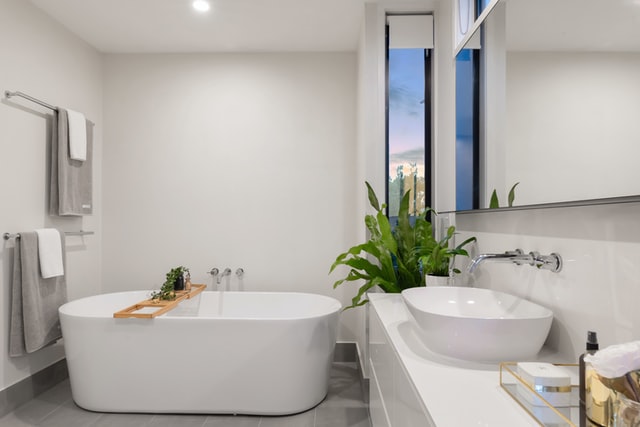 6. Small white bathroom
When working with a small space for a bathroom, using mostly white will always make it look bigger. The white vanity has maximised the storage area with the large drawers. And the round mirror reflects the rest of the bathroom without bringing attention to the toilet.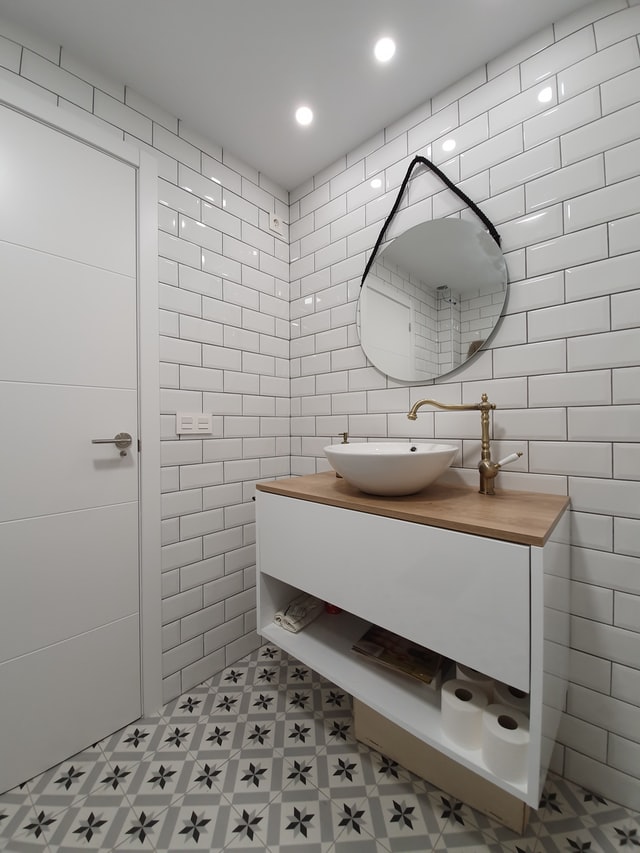 7. Warm additions
If an all-white bathroom isn't really your thing, adding some other finishes such as wood will bring warmth and colour into your space. For instance I love a wood finish cabinetry when it's perfectly paired with a round mirror, gold fixtures and a vintage rug.
Want a unique vanity in your space? Contact a cabinet maker to find out your options.
8. Clawfoot tub
Here is an amazing vintage style rolltop bath with opulent claw feet, adding lots of interest to a simple white bathroom. You could enhance the vintage details of this bathroom with details such as a freestanding tap fixture and a marble-topped side table for bath décor.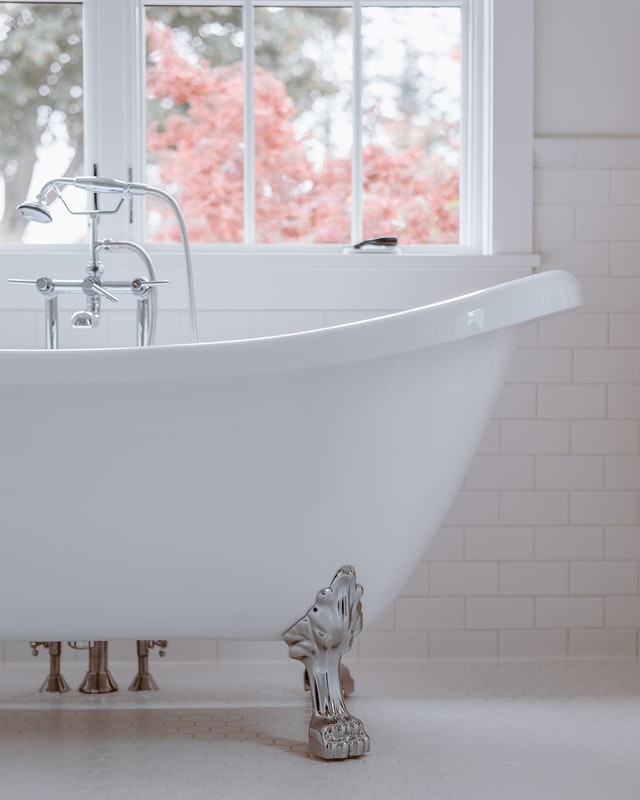 9. Futuristic whites
The curves in this very futuristic bathroom blend well with each other, from the arched mirror to the curve designs in the floor tiling. I love the quirky addition of the vintage wooden chair and the oversized banana leaf plant, giving this space lots of character.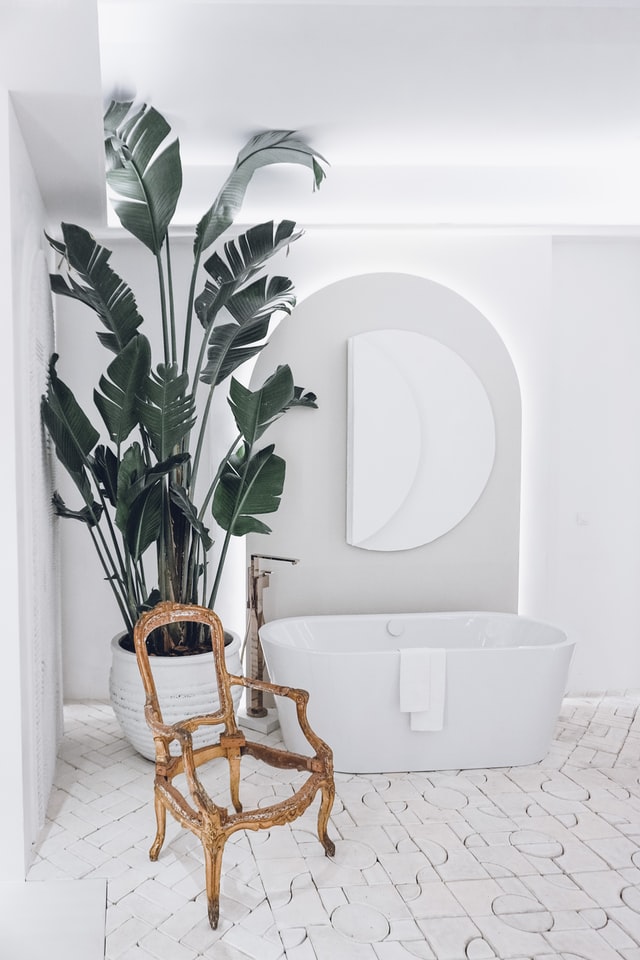 10. Black and white
Black and white is classic and never goes out of style. Having black trimmings in a white bathroom really makes the features stand out. And you can introduce monochrome elements in the flooring too, with an interesting black and white tile pattern.
11. All things white and gold
How luxuriously stunning is this classic bathroom? Plain white cabinetry is glammed up with a marble countertop and the vintage style gold bathroom fixtures are an elegant touch.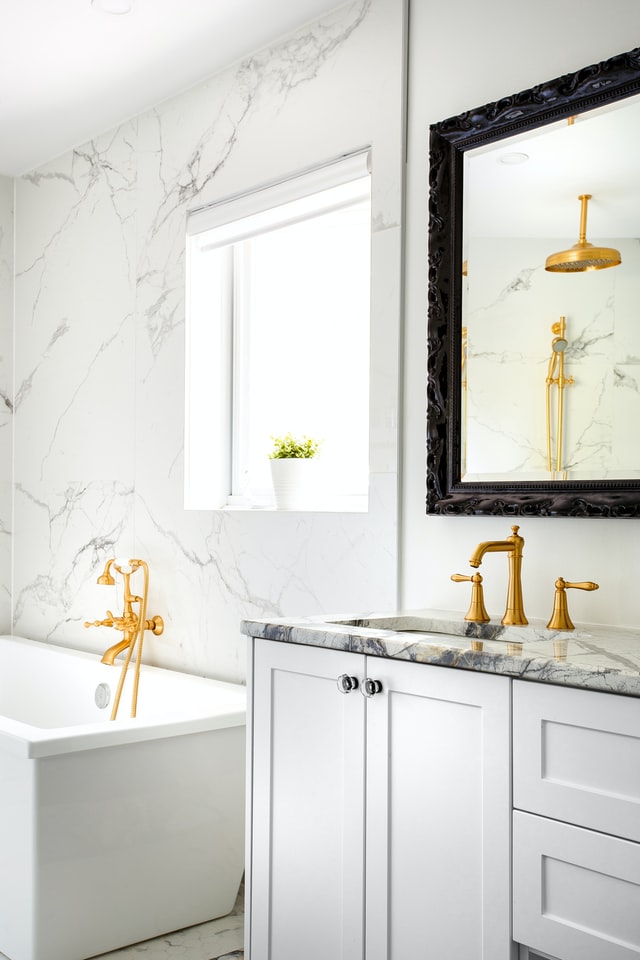 12. Crisp and clean
A barn door is such a welcoming touch to a crisp and clean bathroom. You could even match your cupboard doors to the barn doors to tie the whole thing together. Barn doors are a classic farmhouse bathroom idea!
13. Thoughtful touches
We see so many rectangular and square mirrors, so adding a round mirror to your bathroom will automatically give it a freshen up. Here, the modern mirror contrasts well with the classic marble tile and the contemporary sink and tap. And even if you have a mostly white bathroom, you can still add a pop of colour like this bottle green mini vanity.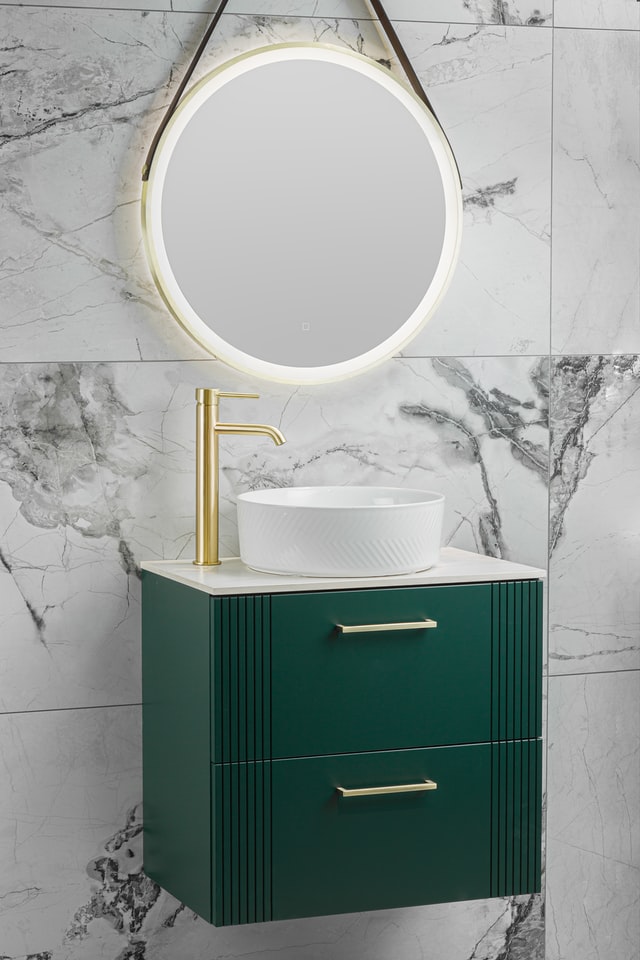 14. Backlit quartz
Without direct access to a window, a space can look and feel a little dull but backlit quartz really brightens up the space and brings some much needed light into the area. A fixture such as this would work really well if it had different dimmer options as you could do your makeup on a brighter setting and dim it down in the evening for a more relaxing atmosphere.
15. Gold details
A splash of gold to an all white bathroom gives it a very posh and classy look. I love opulent gold tiles in the shower area and a gold hanging pendant light over the basin area. The addition of a wooden stool in the shower gives a perfect spot to sit and adds a grounding element to this a gold and white statement bathroom.
16. Bath with a view
This bathtub looks oh so serene sitting next to that wide window. I can just imagine relaxing in this tub after a long day whilst looking over that magnificent view of trees in the background. I love the ovoid shape of this bathtub that gives it an interesting look–it definitely doesn't look like just a regular tub.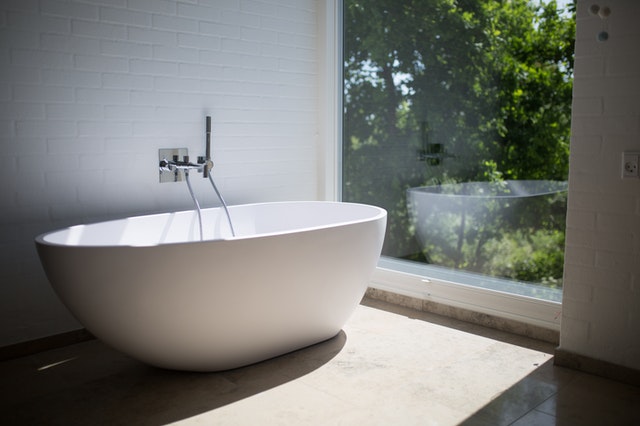 17. Stylish monochrome
This monochromatic bathroom is a stylish solution for a smaller space. The black details are carried through in details like the graphic shower curtain, but you could also add more of a monochrome touch by using black grout with your white tile!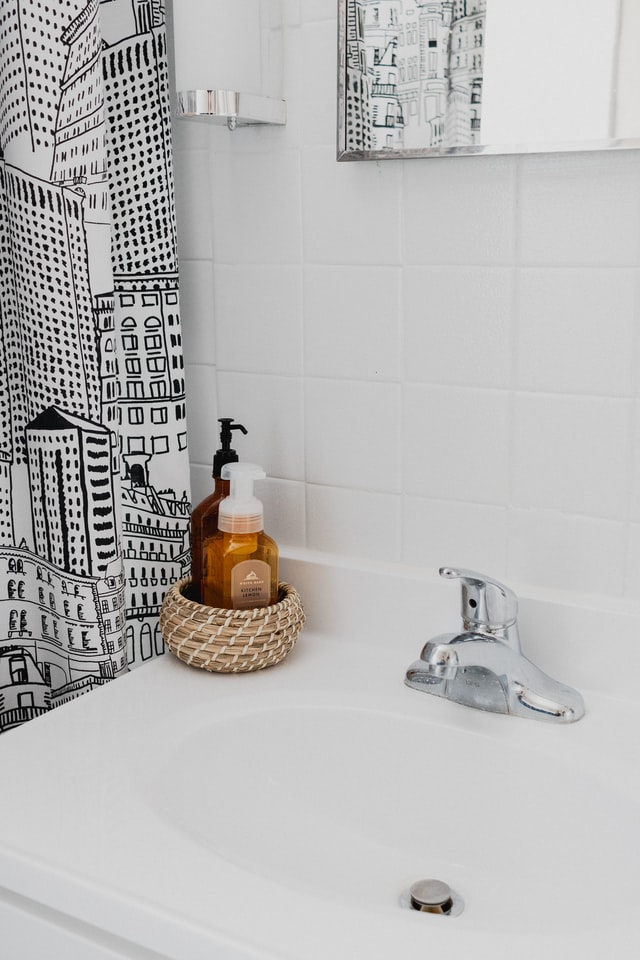 Here are more ideas for beautiful black and white bathrooms.
18. Herringbone feature
A herringbone feature wall provides a lovely backdrop to a standard white bathtub. And if you have exciting tile, or even a fabulous light fitting, then keep other elements functional and simple so they don't detract from your features.
19. Bright, white and clean
All white with classic subway tile certainly makes this bathroom look bright, white and clean. I love the option of having a fixed rainfall showerhead or a handheld one on a riser. And the clear shower screen gives the room overall flow and airiness.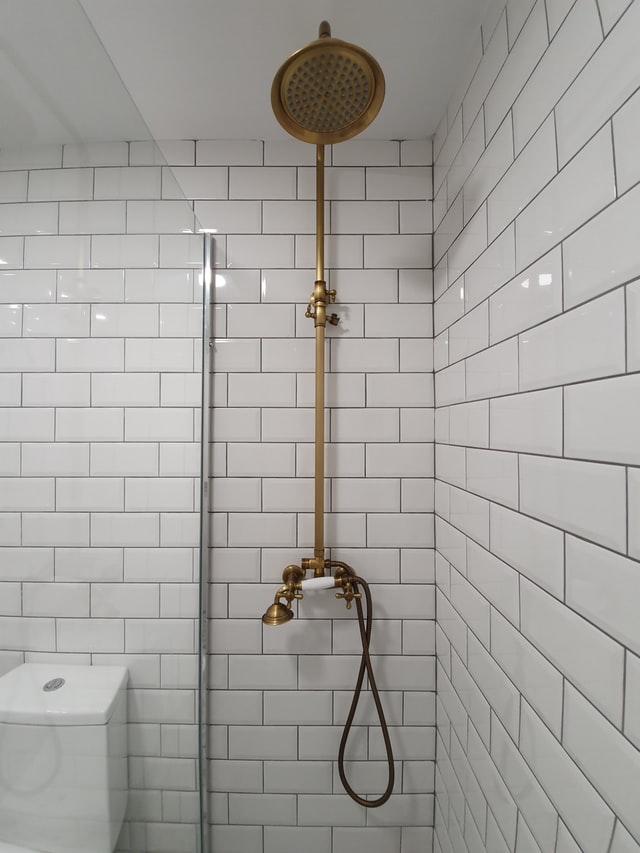 20. Vintage rug runner
A gorgeous floor rug adds colour and a cosy feel to any white bathroom. Pick up the rug colours in Turkish towels and other woven bathroom décor. Add a cute wooden stool, gold fittings for drawers and taps and you have a chic and characterful space.
21. Marble walls and floors
Love marble in a white bathroom? Opt for a pale veined white stone and keep all your other elements pared back. This double sized shower has all the mod cons, including a very handy wall niche!
22. Off-whites
I love how an off white tile has been used in this space which matches up with the bathtub cladding. The soft muted beige tones go well with the white cabinetry and walls. I like the addition of open shelving to hold your bathroom décor. Speak to a cabinet maker if you're needing a custom cabinet to fit in a space like this!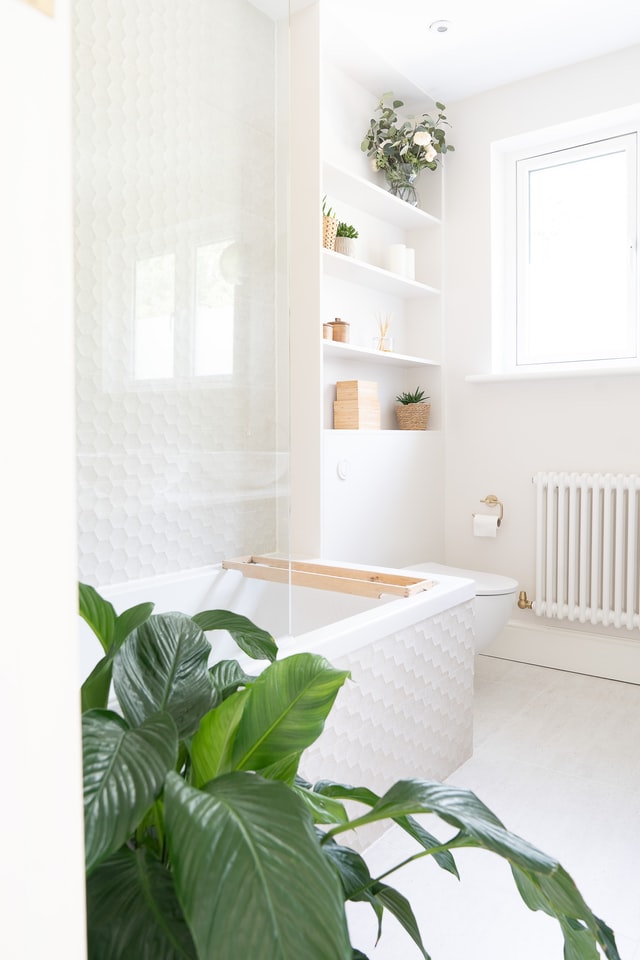 23. All the essentials
Here's a simple classic white family bathroom. The extensive tiling ensures everything is easy to clean, while the black and white tiling adds a touch of character.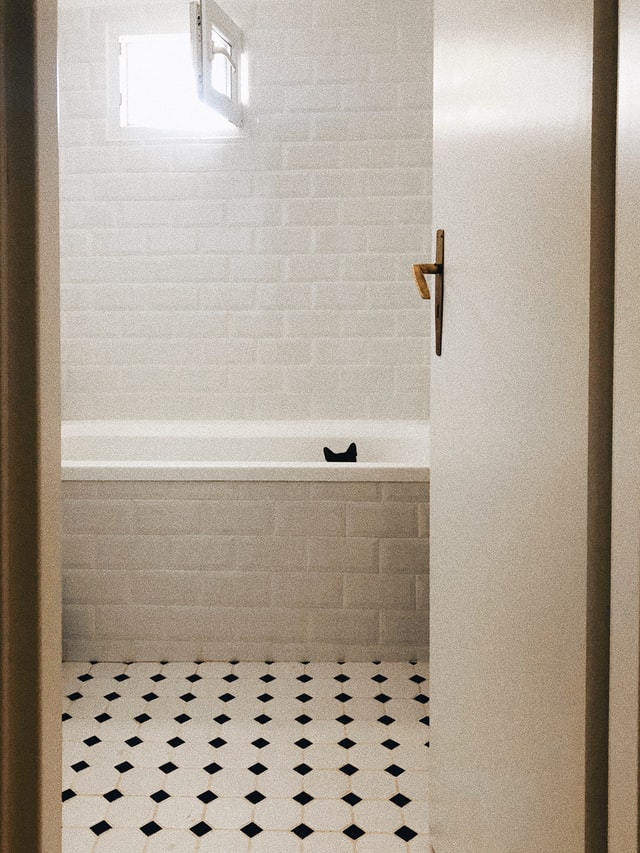 24. Tile variations
Don't be afraid to use different tiles to create division between different areas. For instance the tiles in your shower recess might be a white brick-like formation whilst the floor tiles are small squares with grey tones. It's OK to bend the rules, as long as the overall effect is still pleasing to the eye!
25. A place to soak
A beautiful big white bathtub really stands out as the centrepiece in a pristine white Hamptons bathroom. With all white floors and walls, add contrast with a dark wooden towel rack ladder and a wooden tree trunk stool to give this style of bathroom a real lift.
26. Architectural detail
The sleek classy look of this bathroom gives the feeling of calm and pristine cleanliness. The fabulous freestanding tub is the standout feature here and it's put on perfect display against the black window and black blinds.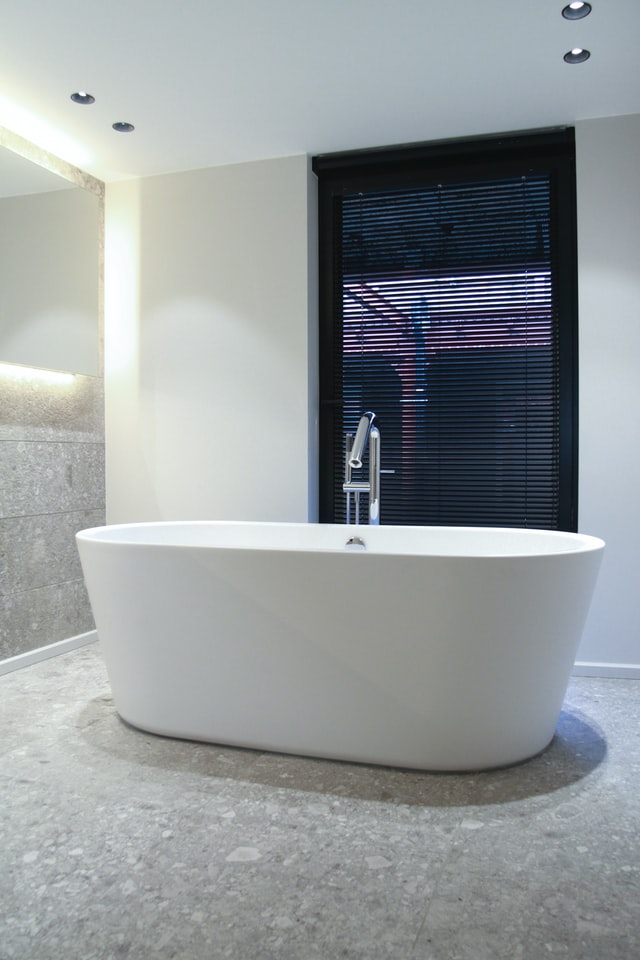 27. Add flowers
Finally, dried flowers are very on-trend right now, so adding them to your decor will immediately lift any space from plain to chic. You could go for the brown tones of something like pampas or colourful natives. Or just go for a tiny bunch of simple blooms from your garden!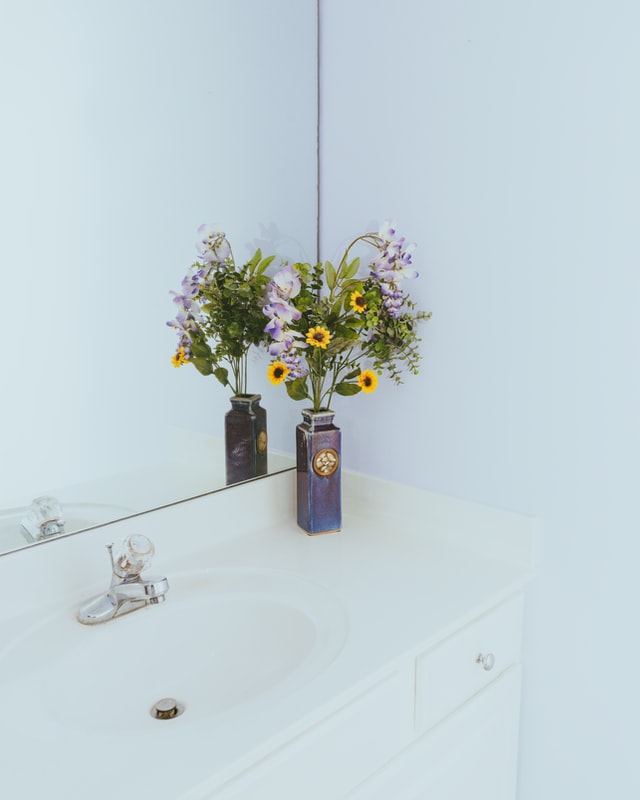 Looking for other ways to pretty up your space? Check out these bathroom decor ideas.
So there we have it – 25+ fabulously clean and crisp white bathrooms ideas! I especially love the bathrooms with the large windows that let lots of light in… and I love an amazing clawfoot tub! Which bathroom was your favourite? Comment below and tell me which styles you're going to incorporate into your space!