The Hamptons is an oceanside area on eastern Long Island's South Fork in the United States where New Yorkers typically holiday to get away from the hustle and bustle of the city. With a unique location, it has developed its own style with influences from the lavish homesteads which feature a combination of coastal and beachy vibes with a farmhouse and French provincial twist.
The Hamptons design style has become largely popular worldwide with its laid back, light, bright and airy feel that is still as luxurious as it is cosy. So as well as featuring in kitchens and bedrooms, you'll often find a lot stunning Hamptons bathroom ideas, which we've collected just for you!
Hamptons colours
The typical colours that we see in Hamptons designs are pops of nautical colours like greens, yellow, blue and white. And often there are a lot of neutrals which is what makes this design style so timeless.
Hamptons furniture
The Hamptons is all about comfort and relaxation, so when purchasing items for your Hamptons inspired abode, it's best to go for comfortable, yet luxe pieces that will stay beautiful in years to come. In a bathroom, large bathtubs are definitely a must so that you can melt away into the afternoon after a long day relaxing at the beach.
Take a look at these beautiful Hamptons style bathrooms that will make you feel all the vacay vibes.
1. Blue hues
I love the depth of colour in this large-format tile feature wall. And an abundance of drawers means you can keep things put away so this bathroom would never be cluttered with products. The white paintwork and countertop as well as the dual wall sconces ensure this Hamptons style bathroom is crisp and clean looking.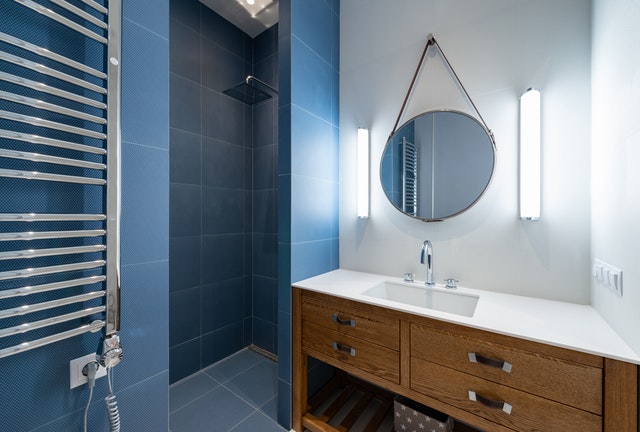 2. Natural light
The French style high windows in this beautiful bathroom give off so much natural light. If you have a window like to feature, you're well on your way to a Hamptons style bathroom! Just add a soft ocean green hue to the walls and plenty of sandy neutrals in the décor.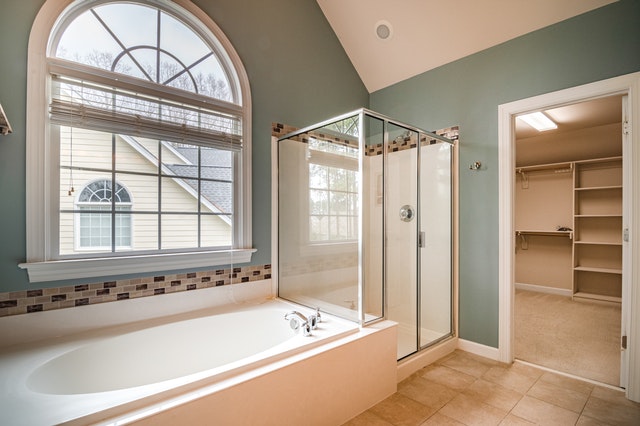 3. Comfort and calm
This tiny bathroom is so compact but the plentiful drawers and cupboards give lots of storage space. The pale blue and white check curtain adds that Hamptons feel while the dark grey flooring makes a lovely and practical base.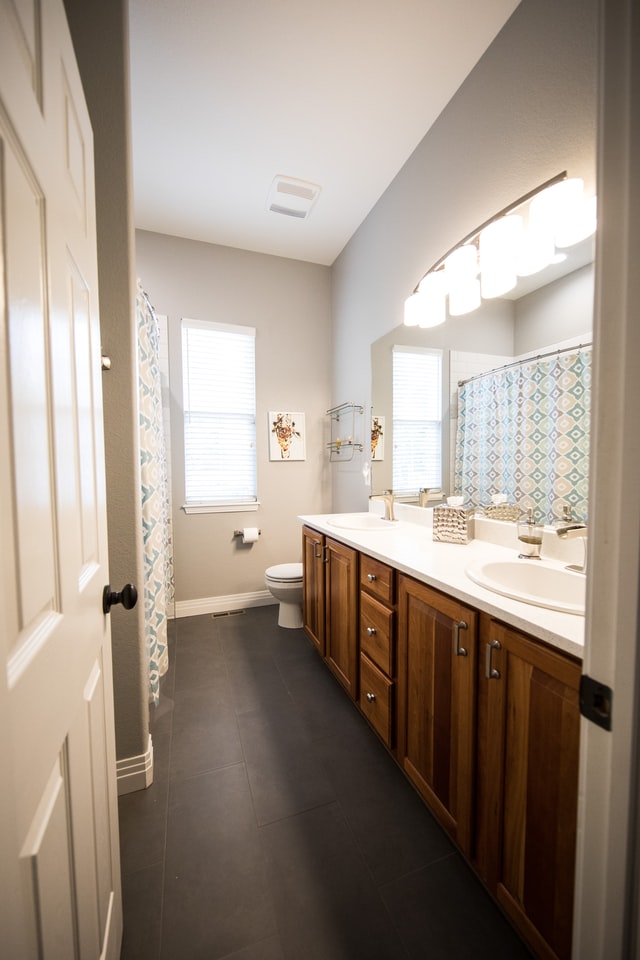 4. Blue and white divine
When bringing the Hamptons style into your home, you can't go wrong with a flash of blue, such as in your vanity. Complement a coloured vanity with the same tone for your mirror frame, and set it off against a pale white and grey backsplash, and you've got the definition of Hamptons luxe comfort.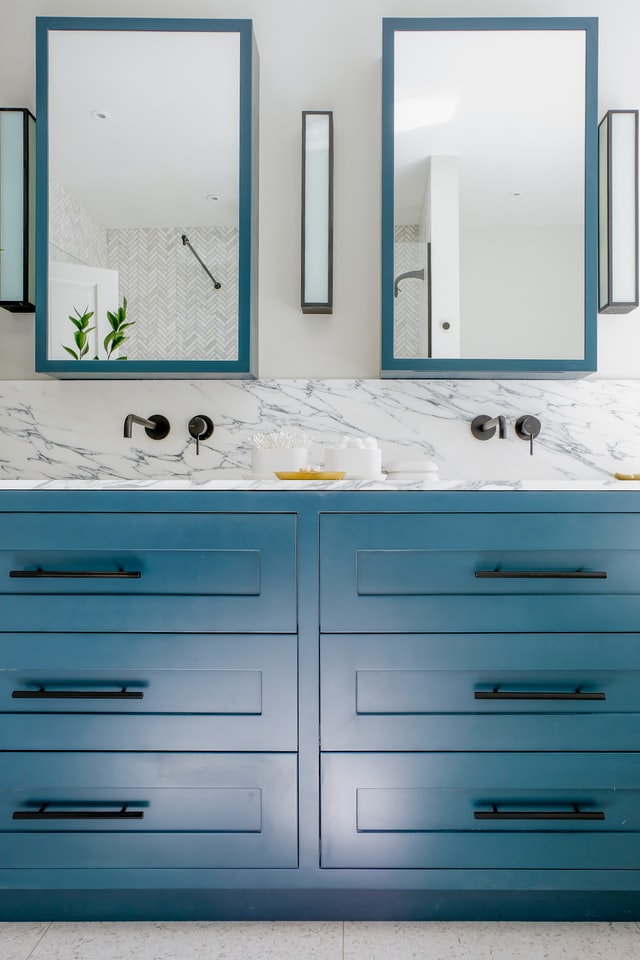 5. Sheer luxury
Imagine being a guest in a beautiful Hamptons home and walking into this luxurious bathroom. The 'wow' factor here is that magnificent high ceiling with the stunning chandelier. Meanwhile the bath is set into its own little secluded alcove. And the sheer curtains add a sense of mystery and romance.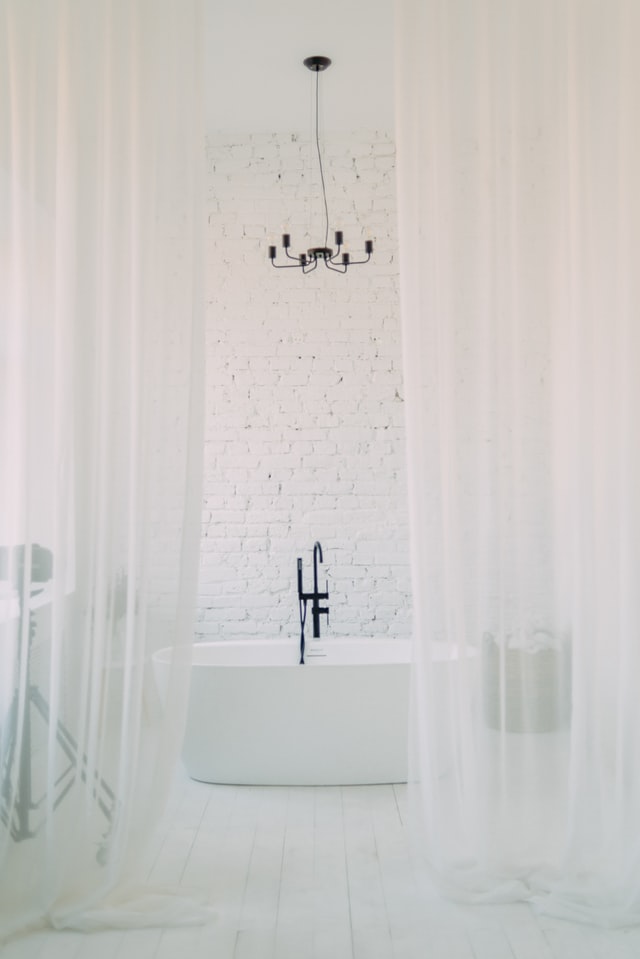 6. Cottage flavours
The whitewashed wall panelling in this Hamptons style bathroom add texture and give this space its coastal cottage bathroom flavours. The timber frame around the mirror complements the white-topped timber vanity. This is a beautiful simple master bathroom idea for a Hamptons house and this modern Hamptons look actually reminds me of some of the fabulous farmhouse bathrooms that we've collated.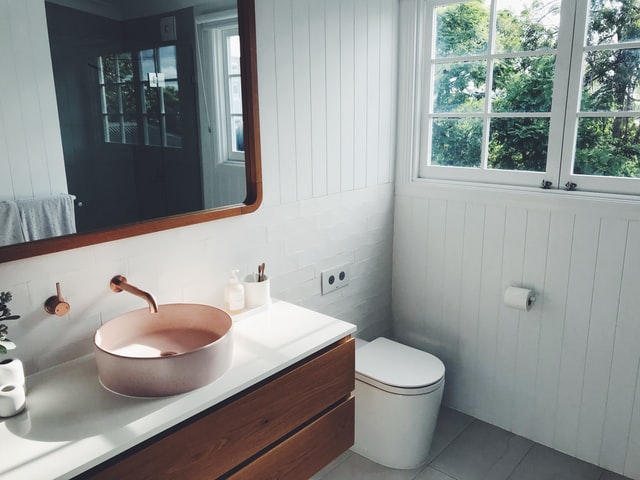 7. White on white
I never get tired of white on white. It's clean, classy and timeless. The silver fittings are sleek and modern which go perfectly with the white towels that look soft and fluffy. I'd add nothing more than a white vase filled with fresh yellow flowers.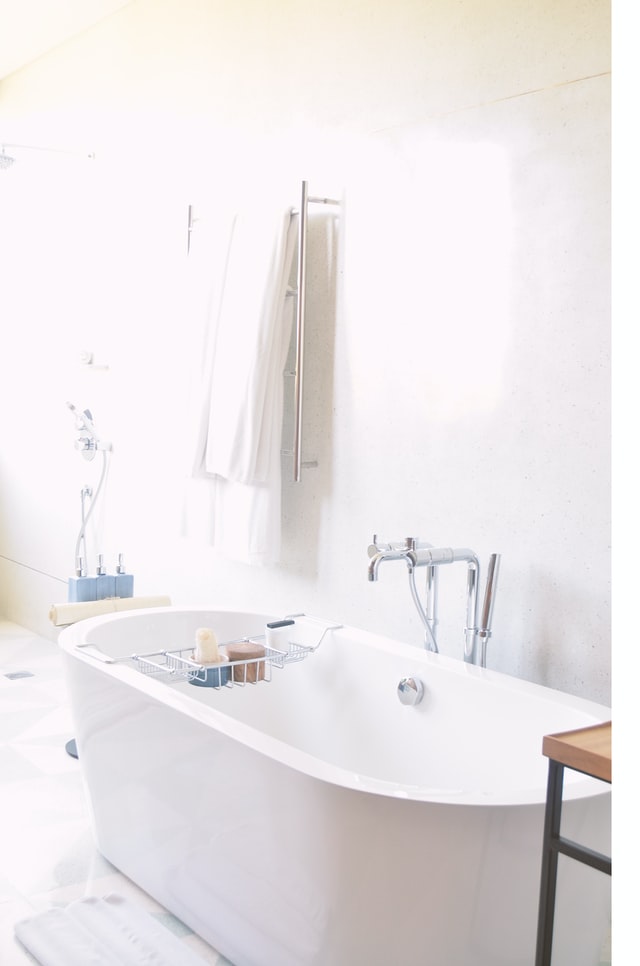 8. Bringing the outside in
Bringing in an enormous pot plant into a room immediately makes you feel closer to nature. There are plenty of plants that will thrive in a humid environment, and we've made it easier by rounding up the best bathroom plants.
9. Floating vanity
A floating vanity makes the most of a small space without looking overcrowded. Keeping the colour scheme light also gives the illusion of a larger area. Rounded mirrors also give a softer feel to an otherwise angular vanity.
Want to see some other vanities? Here are plenty more bathroom vanity ideas.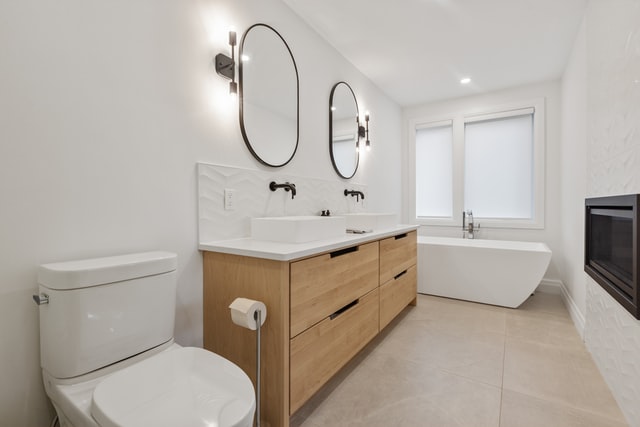 10. Magnificent mosaics
Add beautiful mosaic tile in blue and white tones to your bathroom wall for a Hamptons vibe. They'll set off your mirror and your grouting can match your tapware perfectly if you like.
For more wonderful tiles inspo, here are all of our favourite bathroom tile ideas.
11. Hamptons luxe
I love that feeling when you walk into a bathroom and you feel like you have walked into a day spa. Just the luxuriousness of the fittings and the grandeur of a stunning light hanging from the centre of the ceiling can give your bathroom a feeling of exquisite taste and elegance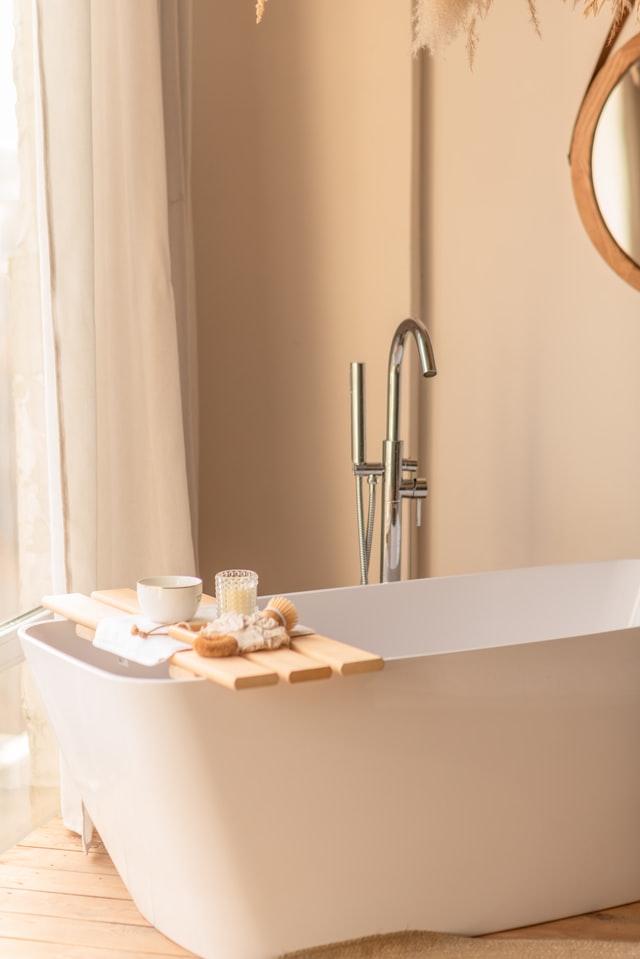 12. Statement cabinetry
If all white is not your thing, make a statement with a bold colour through your cabinetry. You can subtly bring in your choice of colour by tones in your basin, bench and floor tiles. Matching the floor mat and to the hand towel will always bring the vibe your space together.
13. Quirky mix and match
Don't be afraid to mix your timbers. Here, I love the contrast between the black vanity, white sink and oversized large mirror. The timber frame of the mirror perfectly matches the timber in the white freestanding cabinet. I love the black trim of the blinds which ties back in with the vanity.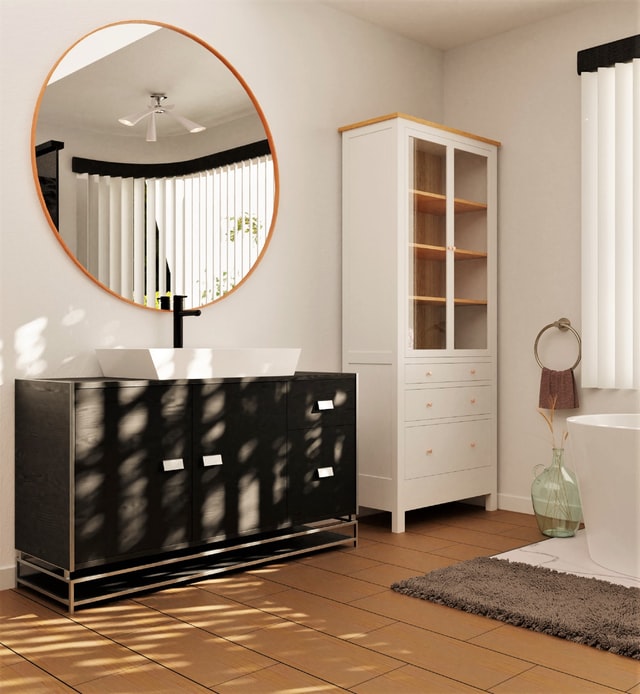 14. Luxe towel setup
Rolling towels instead of folding them and putting them into a cute country basket saves cupboard space as well as adding another homely feature to the bathroom.
15. Brass accents
For a stunningly bold bathroom, opt for deep grey cupboards and drawers against a white countertop and add brass! Brass handles also really set off the look of black and white floor tile.
16. Trendy meets practical
There is nothing classier than black and white, especially on a bathroom floor. This gorgeous, simple black and white tiled bathroom floor certainly lifts the otherwise plain space. This bathroom is simple but functional and reminds me of a seaside holiday home.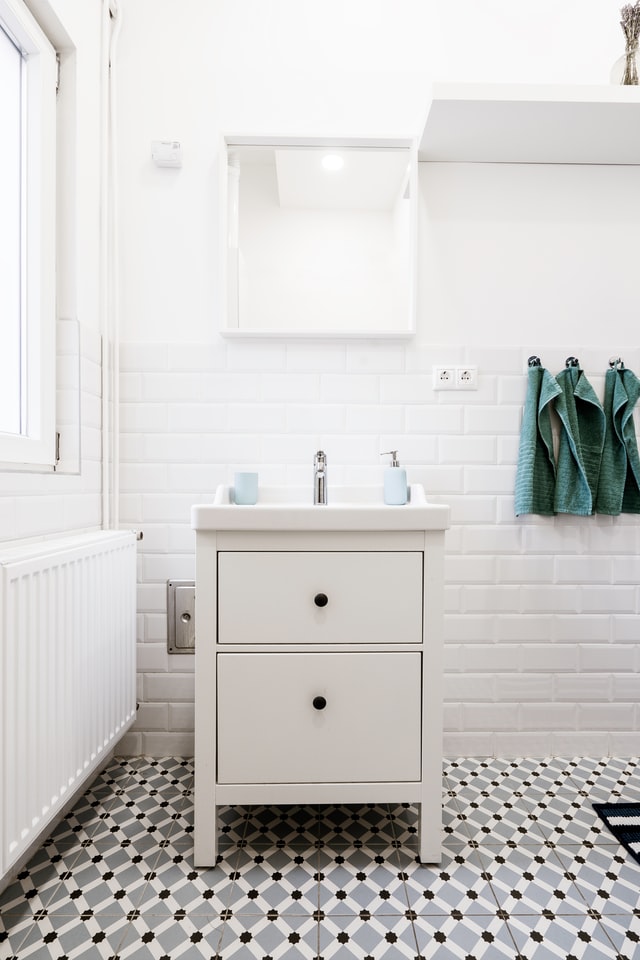 17. Exposed beams
High exposed beams in a white bathroom give permission for shades of brown to be incorporated, such as in mirror frames, stools and even your light fitting. You can also add soft wood-look flooring in keeping with the theme, as well as an earthy-toned floor rug which is warm and inviting.
18. Space for everyone
What a fabulous bathroom which will work for the whole family. The clear screen on the shower is almost invisible and there's plenty of space at the vanity with dual sinks and a huge mirror.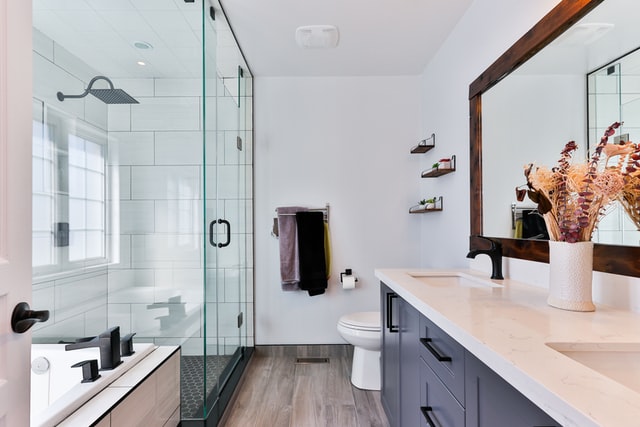 19. Marble all around
I love the fabulous marble in this small Hamptons style bathroom. The marble makes this bathroom look highly contemporary and luxe. Style up your Hamptons bathroom with fresh foliage, natural wooden nail brushes and some luxurious hand wash in a pretty bottle.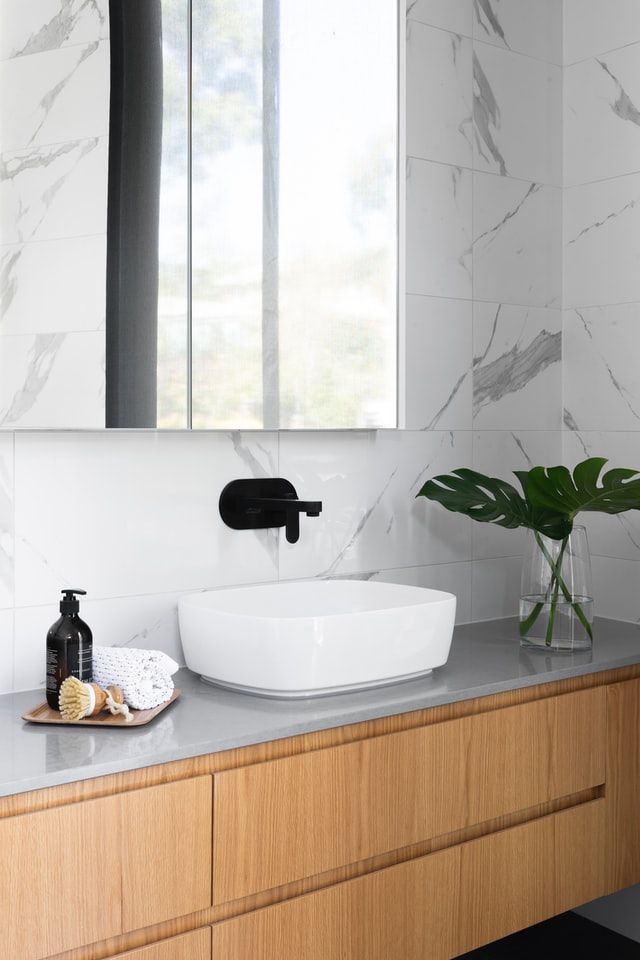 20. Double door elegance
Gorgeous wooden double doors are a welcoming entrance to any bathroom. Even when closed, these doors can still let in some natural light with their typically window-framed glass tops.
If you're going to get double doors in your house, lining them up perfectly is essential so make sure you find a professional to help with the door installation.
21. Wooden finishes
Whenever I see a bathroom with two sinks, I think of two busy people getting ready together but not getting in each other's way. The mirrors give the design balance and the silver fittings work equally well against the white of the wall and the wooden finish on the drawers and pale tiles on the floor.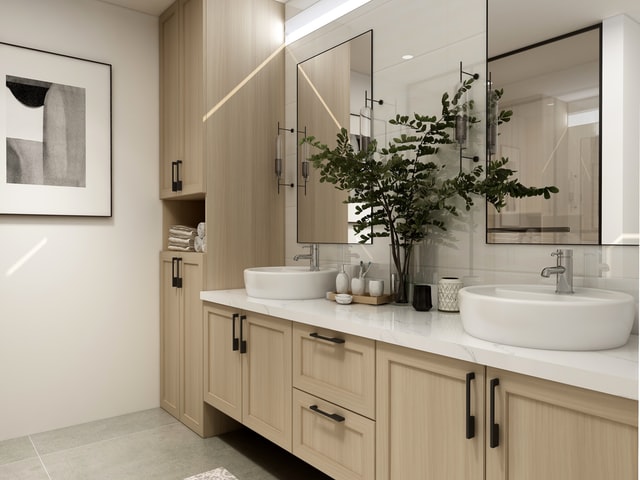 There you have it, 20+ Hamptons style bathrooms for your next bathroom renovation. I'm definitely drawn to the bathrooms with the bathtubs that are positioned next to the huge windows that look out onto the gardens and ocean. If you can't quite get yourself to the actual Hamptons, why not bring the Hamptons to you?!