The world of bathroom design is constantly in flux, with new products and new methods regularly being introduced. Thankfully, since nobody really wants to be endlessly renovating their bathroom, bathroom decor trends tend to build up steam over a number of years. So rest assured that what was "in" last year will not suddenly be "out" this year. Sure, new ideas may be added to the mood board, but nobody expects you to rip out all your tile or upgrade the tapware every year.
And many of the bathroom decor ideas I've spotted lately suggest that certain trends will actually have healthy longevity—they may even be instant classics. Such as our fascination with coloured and patterned bathroom tile! It seems we can't get enough of it and it doesn't look like going out of style any time soon.
So what are some of the most popular decorating ideas I've come across while on my hunt to track down the best bathroom looks? I've definitely noticed some strong common tendencies out there towards certain colours, methods, materials and finishes. In fact, you'll continue to see a lot of the following:
Unexpected materials used in unexpected ways
Luxe minimalism
Injecting strong visual interest with statement vanities, tubs or showers
Freestanding and floating everything—sinks, vanities, tubs
Focusing on texture, including wall treatments like tile and wallpaper
Being pattern-forward, especially towards terrazzo
Other wall treatments, like wainscoting or beadboarding
Creating organic and sustainable vignettes to satisfy the pursuit of nature
Warmth in fixtures, and
Black accents are still going strong.
No doubt there's more, but let's start by taking a closer look at each of my key bathroom decor trends above.
Using unexpected materials in unexpected ways
There's nothing that makes a bathroom look more modern than the use of a bold, raw, textured material like cement or natural stone–especially when it's used in an unusual way. You get instant visual interest, strong textural impact and the rest of the bathroom doesn't need much in the way of accessorising.
The popularity of cement statement sinks and tubs and other concrete accents in bathrooms continues unabated in 2022. Let's take a look at a few examples of how it's being used in unusual ways.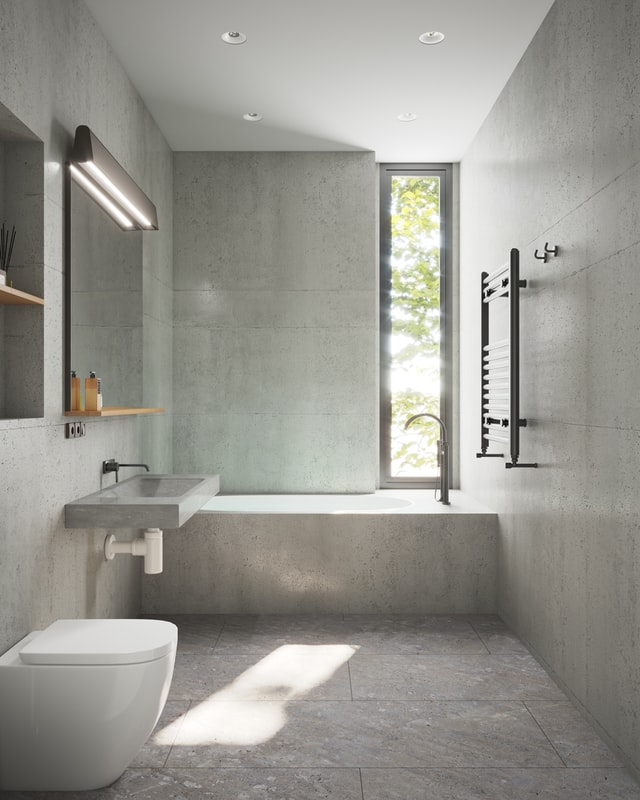 1. Coloured concrete bespoke sinks
While grey is ever-popular, concrete can be any colour. Some manufacturers are making bespoke sinks and tubs in almost any colour you can imagine.
2. Mix it with natural materials
Despite being a manmade material, concrete works very well with natural materials like timber and natural stone tile.
3. Concrete tub
A concrete sink and tub beautifully with a bathroom boasting lots of timber, crisp white walls and dark flagstone paver flooring.
4. Cement vanity
These have been cropping up everywhere, as people opt for this affordable, customisable, low maintenance, and very strong material for their vanities. If you are looking for a rustic, industrial, minimalist and sophisticated vanity then a concrete one will appeal.
5. Textured-surface concrete sink
While people apparently love the classic rough pale grey of concrete, some are going a step further to choose statement sinks or tubs with textural patterned qualities.
6. Concrete backsplash
When incorporating concrete, one good tip I've come across is to juxtapose its raw, unrefined aesthetic with lustrous, smooth, warm finishes and fixtures. For example, brass and concrete are a match made in heaven.
Luxe minimalism
This term is being used to describe how bathrooms are being transformed into spa-like mini-retreats in a quest to create the perfect fantasy pamper space, a haven of dreamy introspection and rejuvenation. Again, enter the freestanding white tub, give it a five-star finish with gorgeous tapware, and embed it in a simple, calming colour scheme. Think boutique hotel crossed with an Australian coastal style.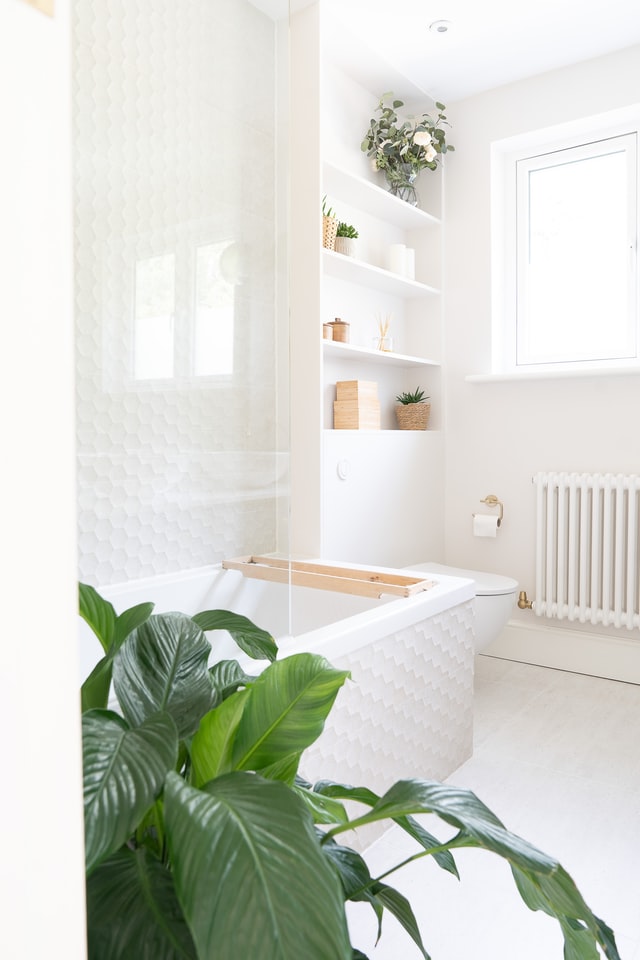 7. Stunning lighting
Bathroom lighting is seriously on the radar now, with people eager to add statement lights like chandeliers and plenty of practical task lights. Generally, people are highly focused on the ambience they are creating with their lighting.
8. Exciting tile
Beautiful mosaic tile creates visual interest but the tiles don't need to be loud, even subtle calming tones can still make an impact.
9. A statement shower
Tiling up a feature wall in the shower is a simple yet stunning way to modernise your bathroom. Don't forget to go for a luxe rainfall showered.
Also, if there isn't a window that you can easily open, don't forget to think about your exhaust fan installation.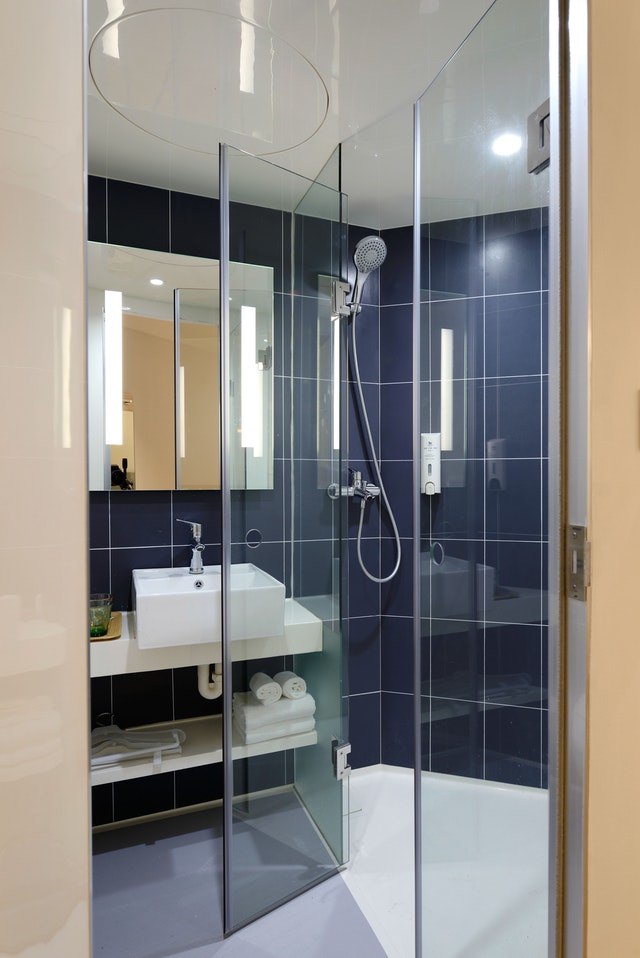 Creating strong visual interest
No matter what your bathroom decor style, it seems that creating a focal point with a statement vanity, tub or shower is more and more popular. Whether it's an unusual tub shape, or a new tub material (such as volcanic limestone), people are paring back their decor and choosing more basic palettes to let their statement feature do all the talking.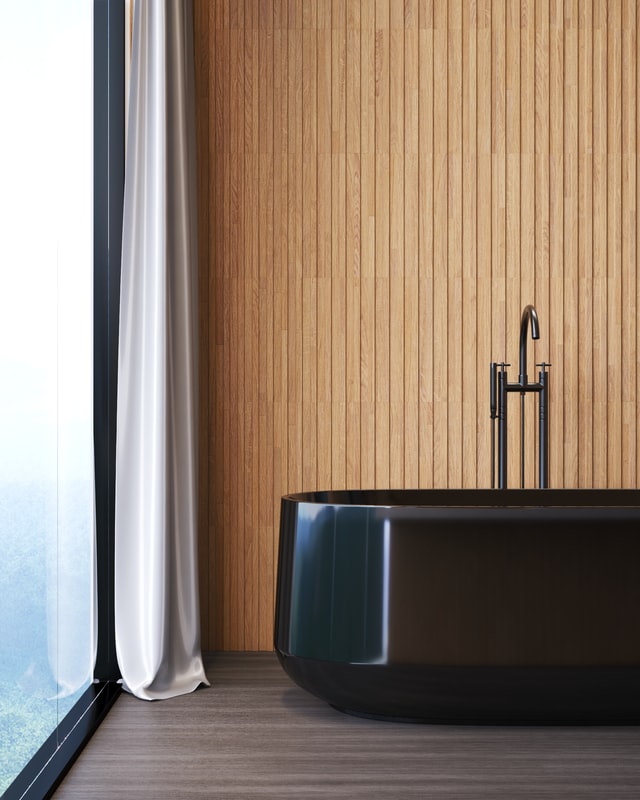 10. Matte black tub
A moody, stylish alternative to the white freestanding statement tub is a black one! And if you are looking to design a black and white bathroom, a black bathtub is perfect for you.
Freestanding and floating everything
Floating sinks and vanities are everywhere and the more unusual the shape, the better.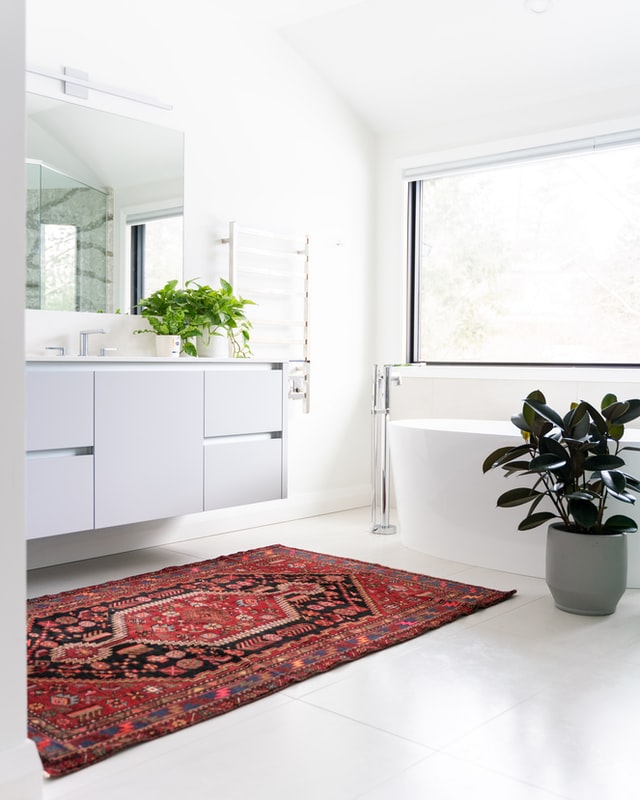 11. Freestanding tub
If the look of a freestanding tub appeals to you but the idea of cleaning behind them is off-putting, track down a D-shaped piece which will be flush with at least one wall.
12. Floating sink
Having a floating sink is great space saver and the perfect way to create a more airy feeling in your bathroom. The sink seems to stay put as if by magic, and the extra floor room gives the impression of more space.
13. No pulls or handles
Opting to forego cabinet pulls or handles helps maintain the streamlined effect that a floating vanity provides.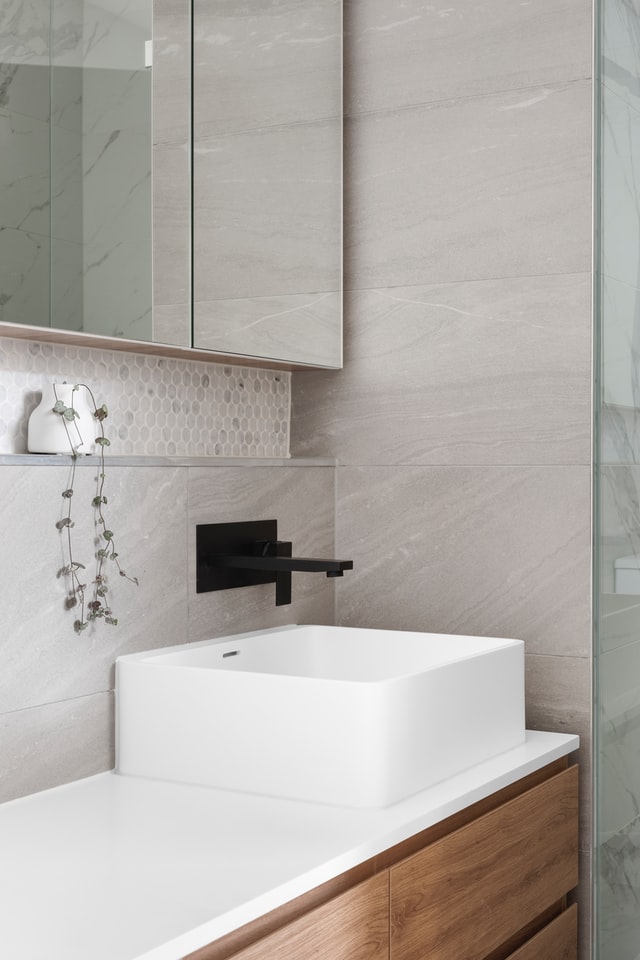 Attractive floating vanities are the perfect way to add storage without looking too utilitarian. Love floating timber vanity designs? Find a local bathroom cabinet maker to discuss creating your own.
Incorporating texture
A sustained love of texture is prompting the rise of wall treatments like tile, wallpaper or wainscoting. First let's take a look at tiles. Phew, where to start? There are just so many varieties to choose from. Although we have a comprehensive round-up of current bathroom tile ideas, I couldn't help including a few new favourites here as well. High gloss, deeply saturated, full of personality—I just adore tile!  Soft neutrals, muted pastels and nature colours remain popular. But there are certainly those who can pull off bold, jewel colours as well.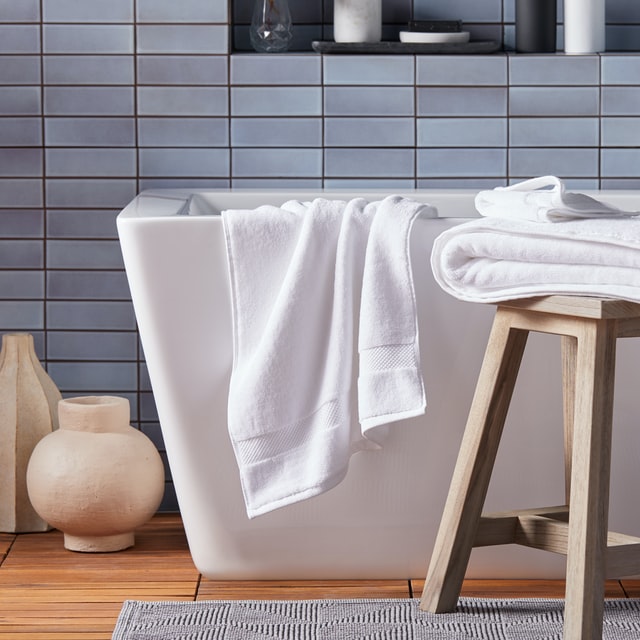 13. Diagonal white subway tile
White subway tile is a classic, of course. But you can add visual interest by stacking it diagonally.
14. Charcoal tile
Stacked charcoal subway tile with subtle colour variances creates a gorgeous texture for your bathroom and grey is such a wonderfully versatile contemporary neutral.
15. Hipper to be square
An alternative to rectangular subway tile, square subway tile is a fresh take. It's looks beautiful with contrasting grout.
16. Pastel tile trend
One of the colour trends predicted to stay strong is the love for pastel. Perfect for creating a dreamy little bathroom.
17. Dramatic colours
While on the one hand, there's a trend to a muted colour palette (soft pinks, seagreens, dusty blues), on the other hand there's also a push towards intense, highly saturated colours, even an intensely black tiled bathroom.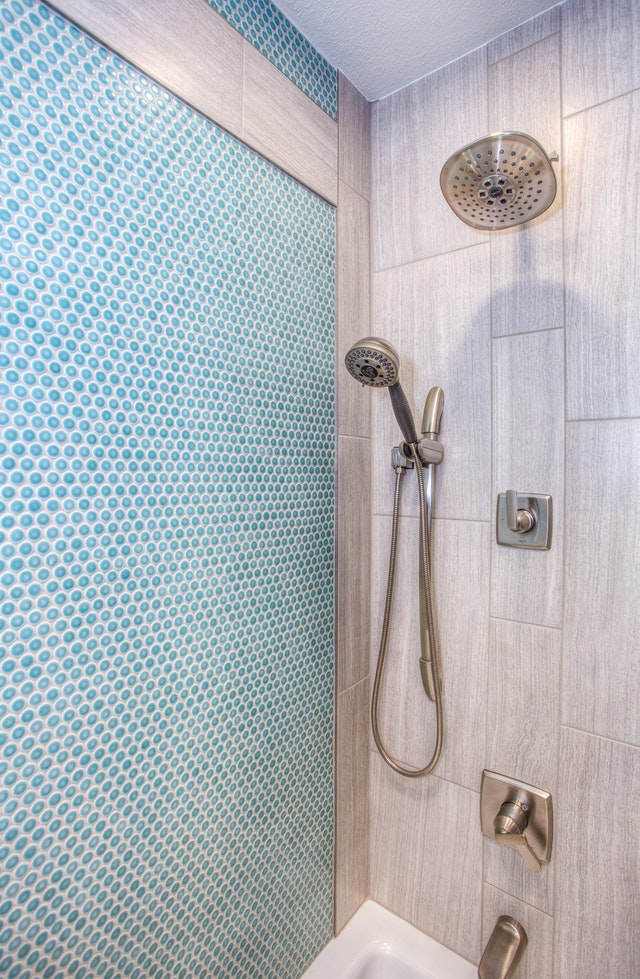 18. Consider zellige
Both subway and zellige are glossy ceramic tiles that are fired and glazed, but whereas subway tile was born in New York City in 1904, zellige tile was actually born all the way back in 10th century Morocco. Subway tiles are more preferred for their neat, clean lines, whereas perfectly-imperfect zellige tiles are prized for their organic vibe, colour variations and warm earthiness.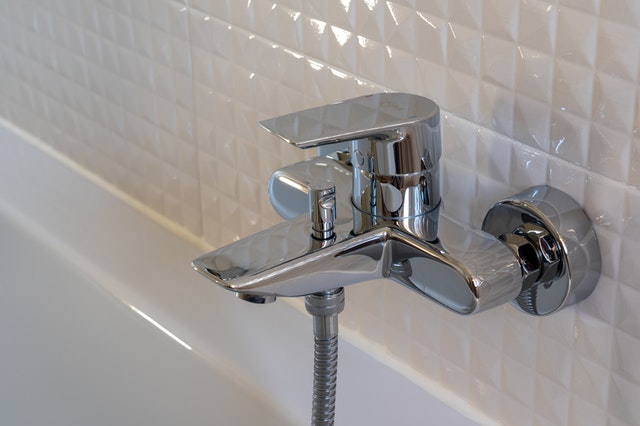 19. Get it done right
With so many gorgeous colourful tiling options, how on earth to choose?! But when you do, you can easily get someone to make sure your tiles are perfectly laid. And over time, make the most of your bathroom tile by hiring someone who specialises in cleaning tiles and grout.
Being pattern-forward
It's plain to see: we're all obsessed with a pattern. Whether it's graphic, orderly geo shapes, or exuberant, wild terrazzo, introduce pattern into your bathroom for visual interest and texture.
20. Terrazzo bathroom decor ideas
Terrazzo has been popular in bathroom décor for some years. It's a composite material that is made of chips of marble, quartz, granite, glass or other materials and mixed with resin and cement. Many bathroom designers are currently experimenting with pattern and colour of terrazzo, including using new resins with organic materials like peppercorns or Himalayan rock salt!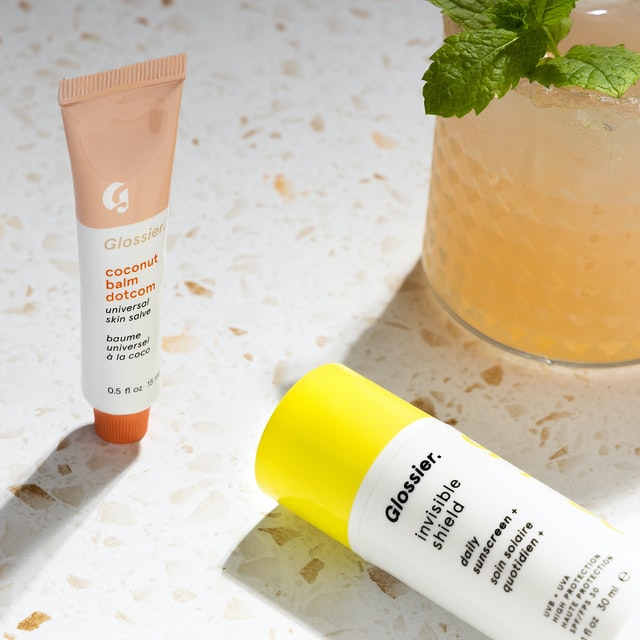 21. Black confetti terrazzo
Sparkly and dynamic, terrazzo adds lots of excitement to a bathroom space. Style it with black fittings, a concrete sink and warm tapware.
22. Terrazzo counter
You can buy terrazzo in tiles or slabs. Slabs can make a wonderful statement vanity—such as one big slab of pewter-coloured granite chip concrete terrazzo.
23. Patterned Moroccan concrete tile
Hand-cut mosaic Moroccan tiles, bursting with colour and pattern, remain popular as ever. Feature stunning patterned Moroccan tiles in a beautiful colour like turquoise to jazz up an otherwise all-white bathroom.
24. Tiled flooring
Patterned floors are not for everyone. But personally I love how a vintage tile vibe makes a plain white bathroom just that little bit more mysterious and unique. Add a Boho touch with vintage tiles, hinting at a love of travel and other cultures.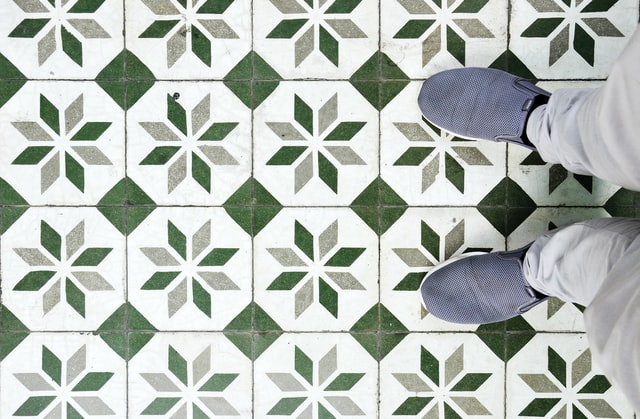 25. Don't forget to take inspo from kitchen tiles
Don't forget to consider options beyond the allocated bathroom choices in wall treatments—why not see what you can steal from kitchen design? For instance a gorgeous teal herringbone design spied in a kitchen setting might be just perfect for your bathroom instead.
When you've picked the tile for you, there's a bathroom flooring expert ready to help.
Wall treatments like wainscoting and beadboarding
There's been a resurgence of interest in the use of wainscoting and beadboarding to add character to bathroom walls. Wainscoting is typically made from large inset panels, while beadboarding is a type of wainscoting and is made from thin, wooden planks vertically arranged. While the panelling has a traditional flavour, these days they are popping up in bathrooms ranging from Hamptons coastal to French country to modern.
Why is it so popular? Well, this is such an easy and inexpensive way to add colour and personality. And it's so versatile. You can go up to the mid-wall or all the way up to the ceiling, and modernise it by painting it any colour or mixing it with wallpaper or tile.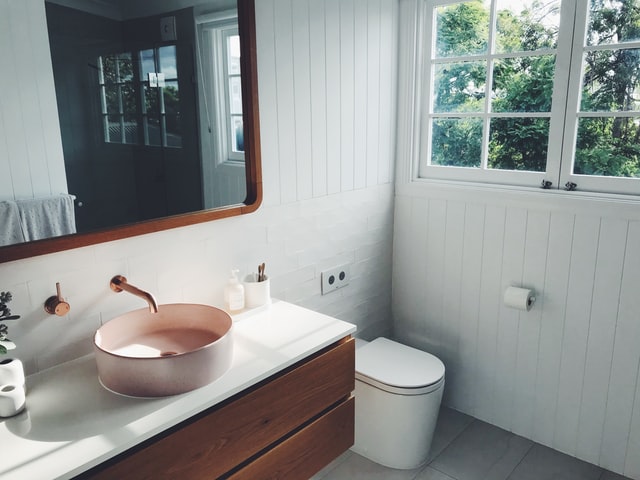 26. Hamptons beadboarding
The classic addition to a Hamptons style bathroom, beadboarding in white or a soft shade of blue will add flair to any room.
27. Traditional wainscoting and a claw foot tub
Evoking traditional elegance, wainscoting is often very effectively paired with a clawfoot antique-style bathtub.
28. Wainscoting with copper
Honestly, virtually 'anything goes' in bathroom design lately. There's no right or wrong, so go ahead and pair the traditional vibes of half-wall wainscoting with a contemporary tonal colour scheme and an ultra-modern metallic statement tub if that's what floats your boat!
If you would like a hand with painting your wainscoting, beadboard or bathroom walls, find an expert to help with your bathroom painting.
Creating organic and sustainable vignettes
Have you heard of "biophilia"? It's a concept that refers to our modern-day pursuit of a connection with nature and is linked to the rise of the health and wellness culture. It describes our need for immersion in nature and when translated to design, it stimulates a desire for sustainability in design solutions. But rather than just being a hippy-style return to embracing nature, today's biophilia covers the so-called "engineered environment", where nature is enhanced by technology, and there's a preoccupation with our primal needs, circadian rhythms and stimulating all the senses.
OK, but what does all this serious eco-love mean in real terms? Aim to achieve revitalisation through organic elements like air-purifying live plants, layers of timber and eco-friendly, natural soft materials. Then, allow science to become one with nature by adding in smart technology (for lights, sounds, temperature, etc.) to manipulate your sensory experience.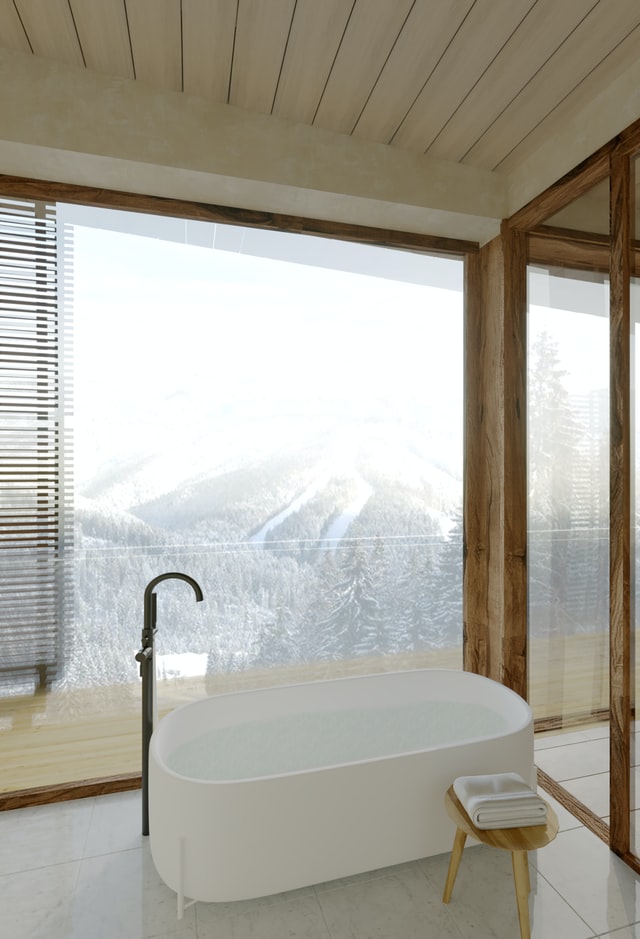 29. Hand-crafted artisanal elements
Look for unique, one-off and artisanal bathroom furniture. You might also like to incorporate recycled or reclaimed timber furniture. Then add plenty of natural decorative elements like hand-carved wooden bowls or woven hessian baskets, as well as organic, hemp linen or handknitted throws.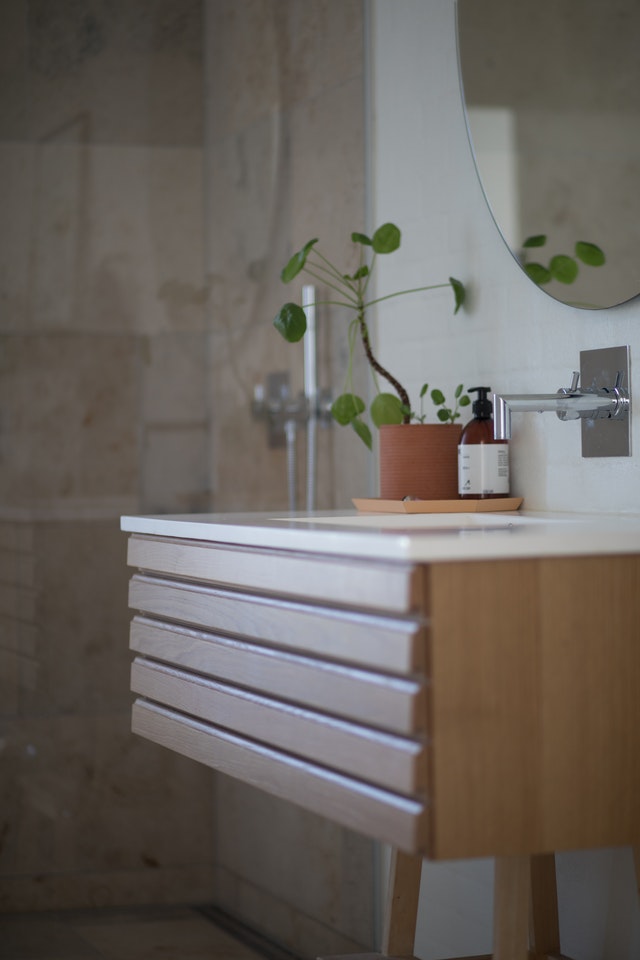 30. Natural colours
You'll find a lot of organic, natural tones in modern eco-loving bathrooms. Think earthy colours like forest greens and teals, sunny yellow, rosepetal, khaki, ocean seafoam, grey-blue violet, indigo, flickering gold.
Warmth in fixtures
So brass is sticking around, which is great because we really can't have our tapware losing its sheen after just a year or two! Instead of moving onto the next shiny new thing, bathware designers have managed to refresh the brass aesthetic by creating a wider range of simple silhouettes and unusual shapes. But as well as brass, other warm coloured metals like copper are looking the goods too.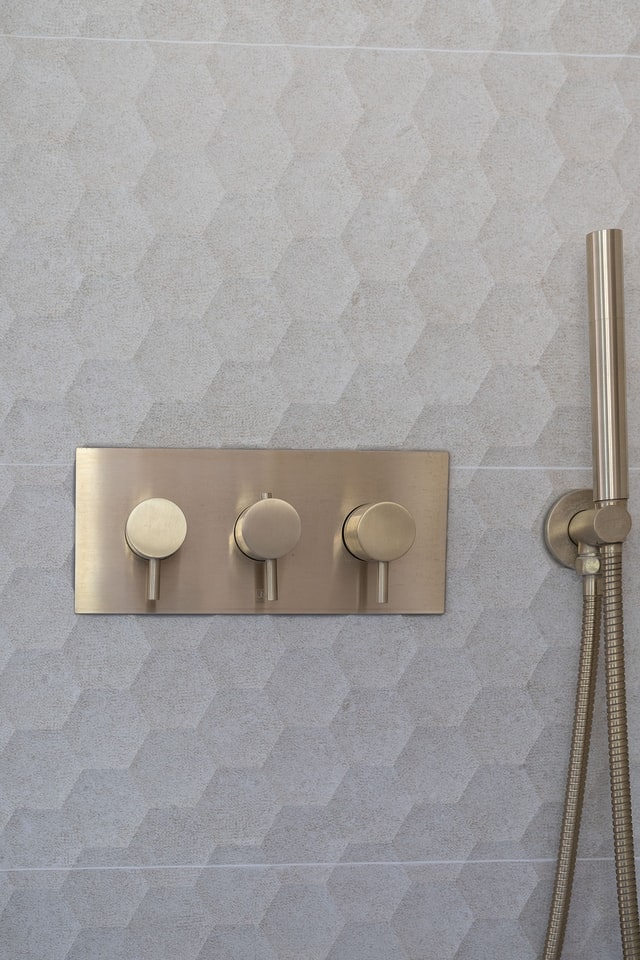 31. Concrete and brass
Mixing materials is de rigeur for a modern bathroom. So consider mixing concrete elements with timber and tile, then warming everything up with brushed brass tapware.
32. Mixed metallics
Even if you have something like silvery zellige tile and chrome tapware, these days it's perfectly acceptable to mix metals. So you might, for example, add a gold-toned mirror frame to the mix.
33. Marble and warm fixtures
A generous expanse of white Carrara marble looks beautiful highlighted by warm-toned tapware, showerhead and slimline mirror frame.
Black steel accents
The slim black steel profile isn't going anywhere either! You'll continue to see black accents modernising all kinds of bathrooms in all kinds of ways. Think mirrors framed in black, black matte tapware, black accessories.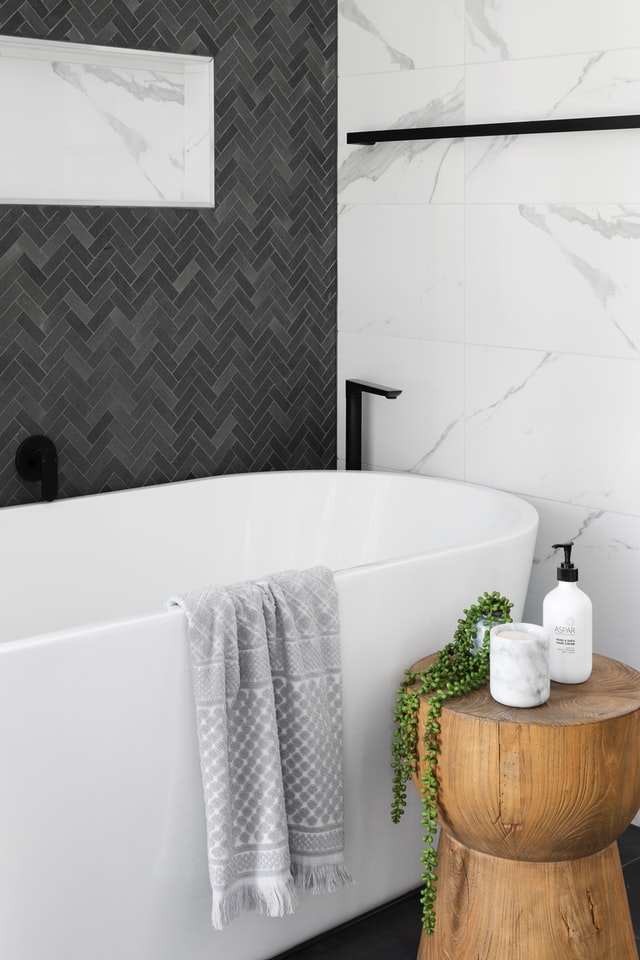 34. Black faucets in a white bathroom
Black fixtures add a necessary touch of definition to an otherwise plain, minimalist white and timber bathroom.
So there's my take on the bathroom decor themes you'll continue to see gaining momentum this year. But have I missed something important? Have you spotted any distinct trends during your own ventures into bathroom decor ideas? And have any of the above ideas inspired your bathroom renovation plans?! Drop me a comment below. I'd love to hear your opinion!
And if you enjoyed this blog which featured a lot of modern bathrooms, you may also like to read our article on modern house designs. If you're looking for more complete redesigns, you might also like to take a look at these bathroom ideas.