Choosing a house design is a big decision because it will shape how you live in your home. Modern house designs need to include so many different areas, such as multi-use spaces, open-plan living, smaller house ideas, multi-story houses and maybe even underground solutions. So regardless of whether you're going for something worthy of being on Grand Designs (one of the best architecture tv shows) or just to buy off the plan, there's a lot to think about.
When it comes to style design, there are so many beautiful styles on the market right now – from green and sustainable, to barn and farmhouse, to modern concrete, to white and bright, and so much more. With so many options, it can be pretty overwhelming to know where to begin.
To help you get started on your home project, I've compiled 40 modern house design ideas, including everything from floor plans, tiny cottages, entry-level family homes and more. Are you ready? Dive in!
Modern house floor plans
When you start the design process of your house, you need to make sure you include your must-haves but also make sure that you're being true to yourself and ruling out things that you don't need.
1. Central living three-bedroom plans
There's nothing that says the heart of the home more than a central living area with bedrooms coming off in all directions. Complete with a garage, multiple bathrooms, walk-in-robes and an outdoor terrace – this seems like a dreamy house!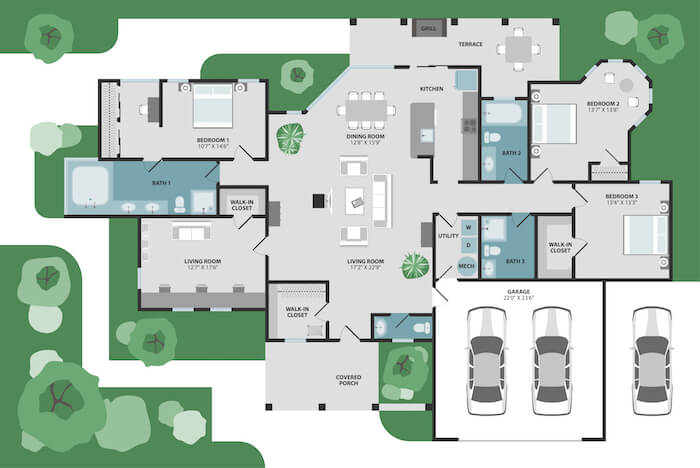 2. A multi-level three-bedroom home
For the inner-city living, multiple floors are so common and you'd be surprised if you came across a single floor house. This example floor plan has all the bedrooms compacted together and communal areas, plus a garage, on the bottom floor.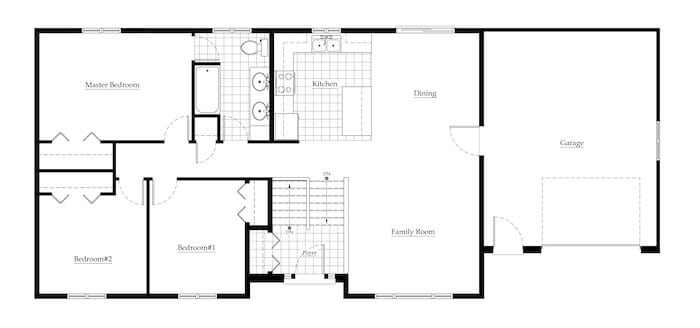 3. A one-bedroom apartment
With a one-bedroom apartment, you may (or may not) be lucky to play with a little bit of space to have defined areas. I really like how this floor plan has a breakfast bar but also a dining table if you were to have a few friends around.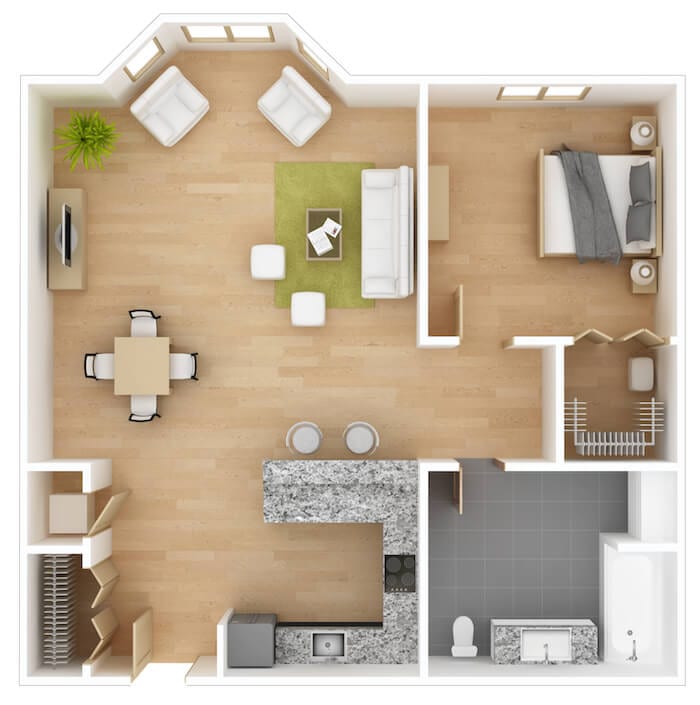 Now, what about style…
4. Contemporary family home
If you have a large family and want a contemporary home to suit your style, this is the perfect house for you. Complete with large windows overlooking a gorgeous blue pool – it's a kids (and adults) paradise!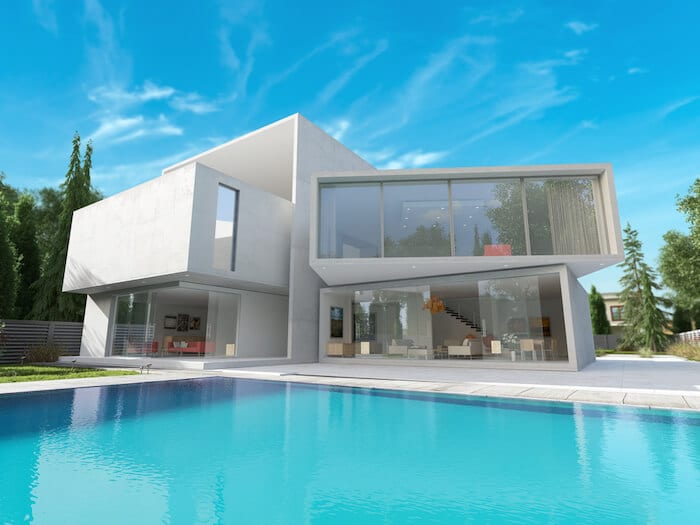 5. Dual townhouse
If you're after a mid-sized home, look no further than this contemporary two-storey grey townhouse with a gable roof, a metal roof and mixed siding.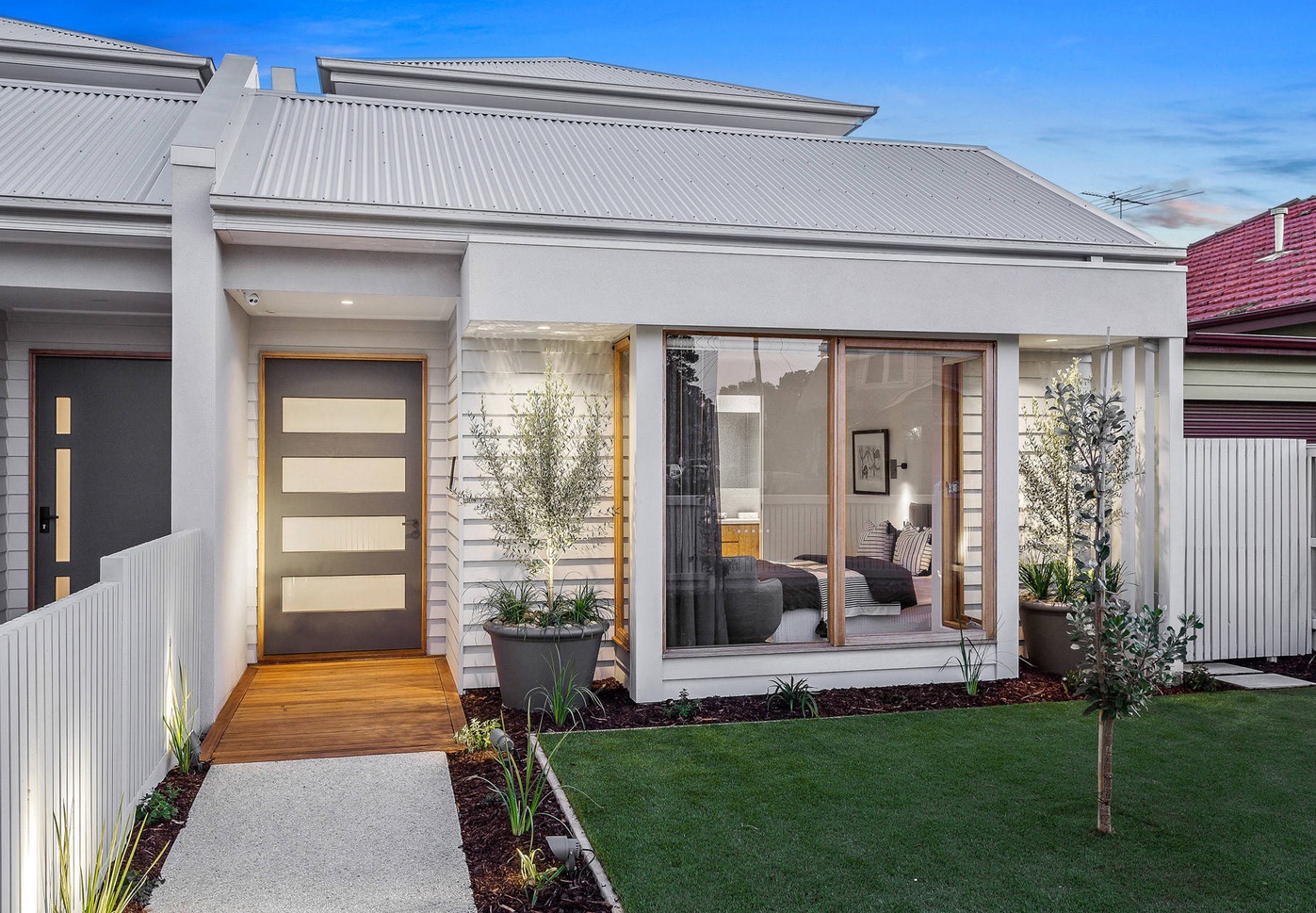 6. Barn-style home
With 1,878 square feet, this beautiful white timber plan offers three bedrooms and open living spaces. The best part: the kitchen has a huge island, which creates a central gathering spot for snacking, socialising and enjoying time with family and friends. Another bonus: extra space in the garage!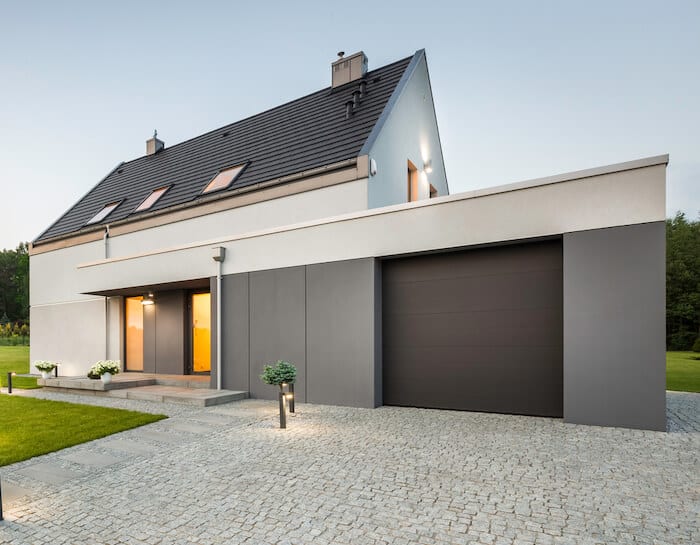 7. Palm Springs modern house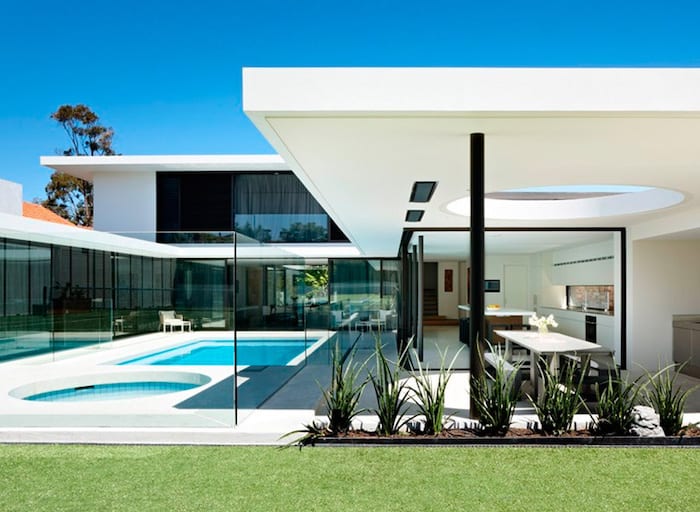 8. Modern suburban cottage
Cottages in clusters of tree-lined streets are a dime a dozen and highly sought after. Their petiteness can be adorable but sometimes they are frankly just too small for today's living. But that's why I've included this lovely house that has had a modern addition added, so you can keep the historical cottage but make it work for your family.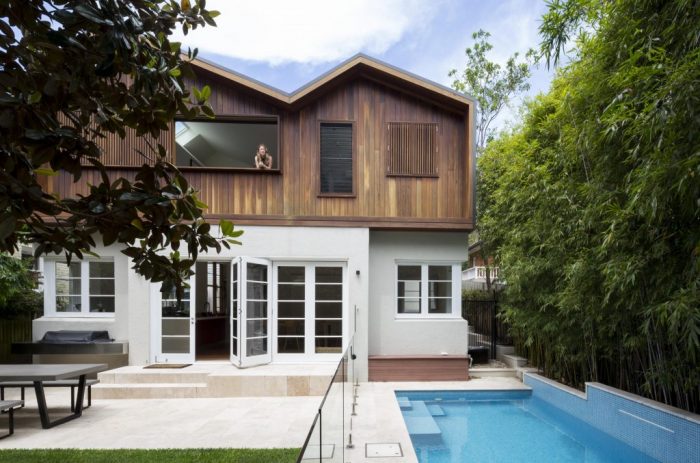 9. Modern farmhouse
To update your farmhouse, look at replacing (or in this case, repainting) all of the natural timbers to a crisp light white. This will instantly modernise your country manor.
You can also look to replace window treatments, add skylights throughout, fit bi-fold doors and install modern fixtures throughout. It will really make the statement, everything old is new again, ring true.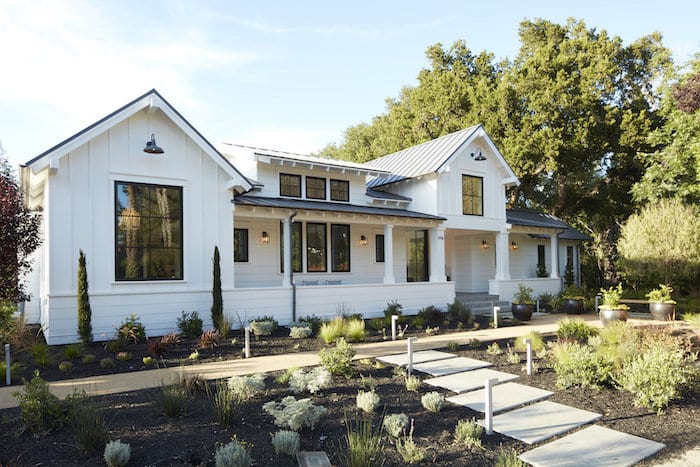 10. Modern Mediterranean house
Classic Mediterranean architecture and design means terracotta, exposed wooden beams and bright colours used throughout in terms of styling, wall colours and most importantly tiles. But it's a look that can date quite easily, so what if you could modernise it by using lots of white, and concentrate colour with pops of it in one item, instead of large scale colour schemes… Well here's what it could look like.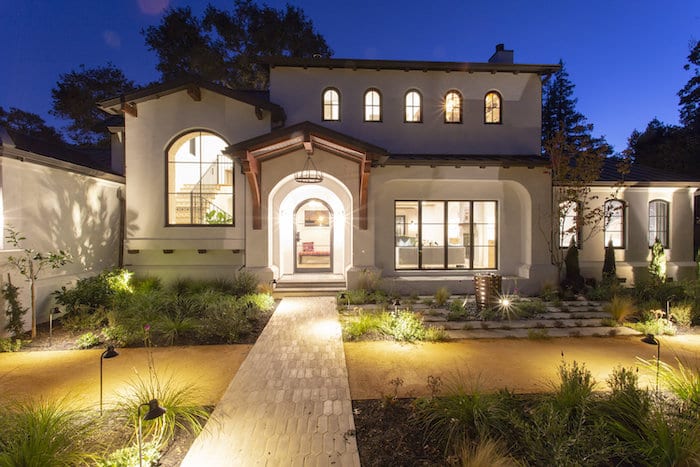 11. Understated cottage
Don't be fooled by the simple, yet stunning blue-grey front of this home; the interior is full of luxurious features, including a vaulted ceiling in the combined great room, kitchen, and dining area. You can't see it in this picture, but the house has a walk-out lower level that makes it ideal for a sloped lot. The master bedroom, fitted with an ensuite, is located on the main level, while bedrooms two and three can be found downstairs separated by an additional bathroom and laundry room.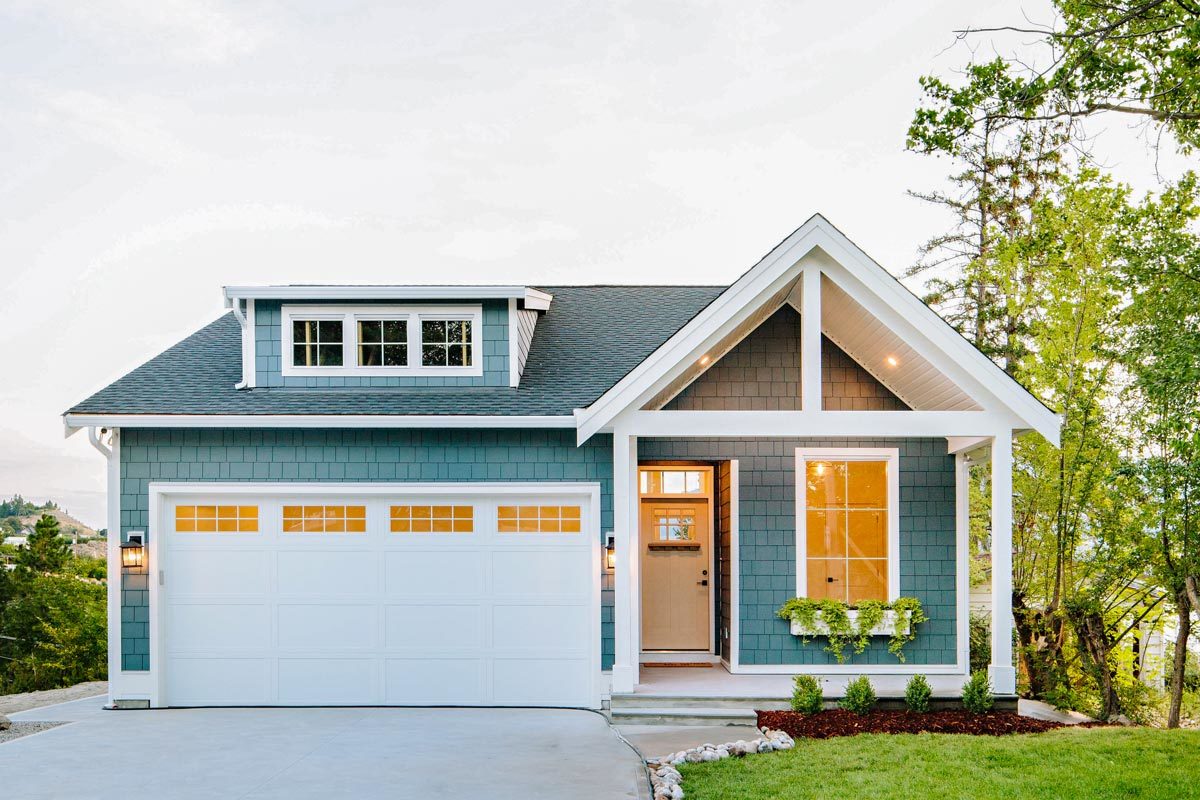 12. Mix old with the new
When building your home, you don't have to start from scratch. This corner block combines an old, brick structure with a new modular design that looks stunning from the street.  The simple, geometric addition stands independently from the brick, working in nicely with the original design. A glass link corridor defines the two architectural styles and even allows for the inclusion of a walk-in pantry.
Bright and light internal spaces lie behind the home's shiny black exterior. Open plan kitchen, living and dining areas effortlessly flow out into the garden and pool area. And the design makes the most of the view, with the city's skyline framed perfectly through the windows upstairs.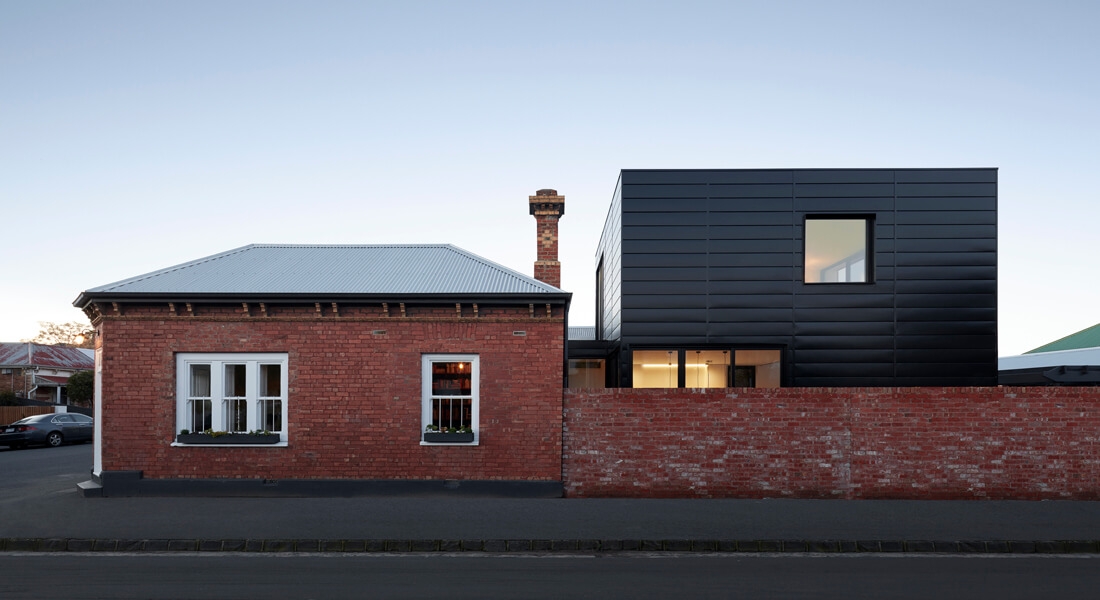 If you love these designs and inspired to make some changes of your own. It's worth speaking to a residential architect to make sure you get the right advice for your home.
Modern house design features
13. Elevated ceiling heights
Natural light is one of the most requested items in a new build. This is a lovely addition that you could include in your renovation to make your living space seem a lot larger and really appeal to the open plan living requirements.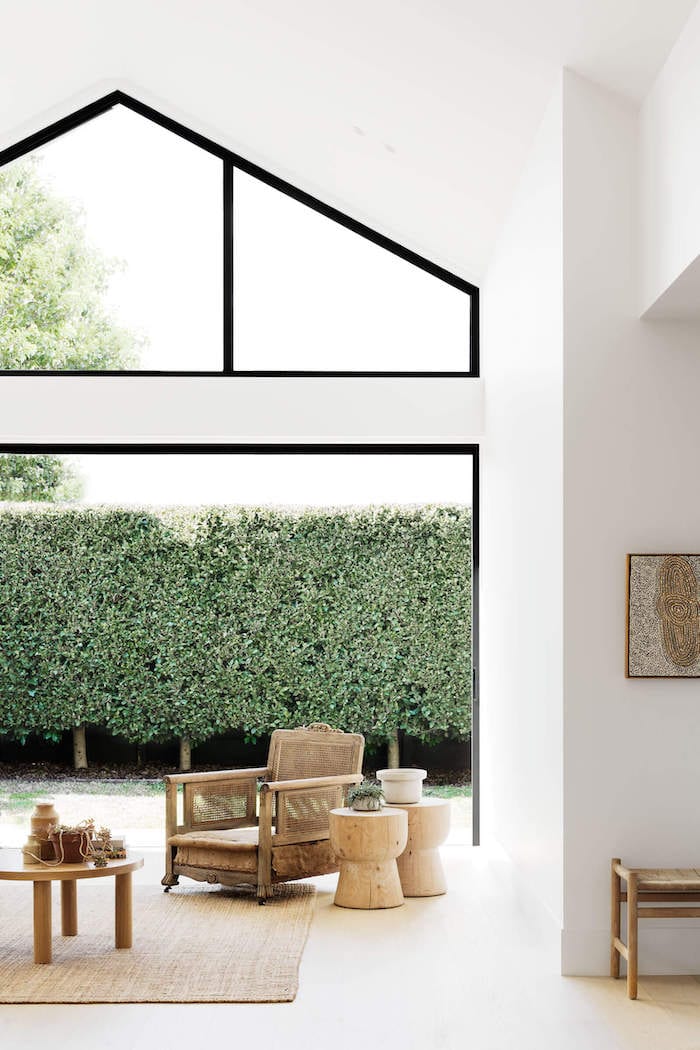 14. Waterfall idea
Look if you're going all out, go all out with this waterfall that falls down into your stunning pool.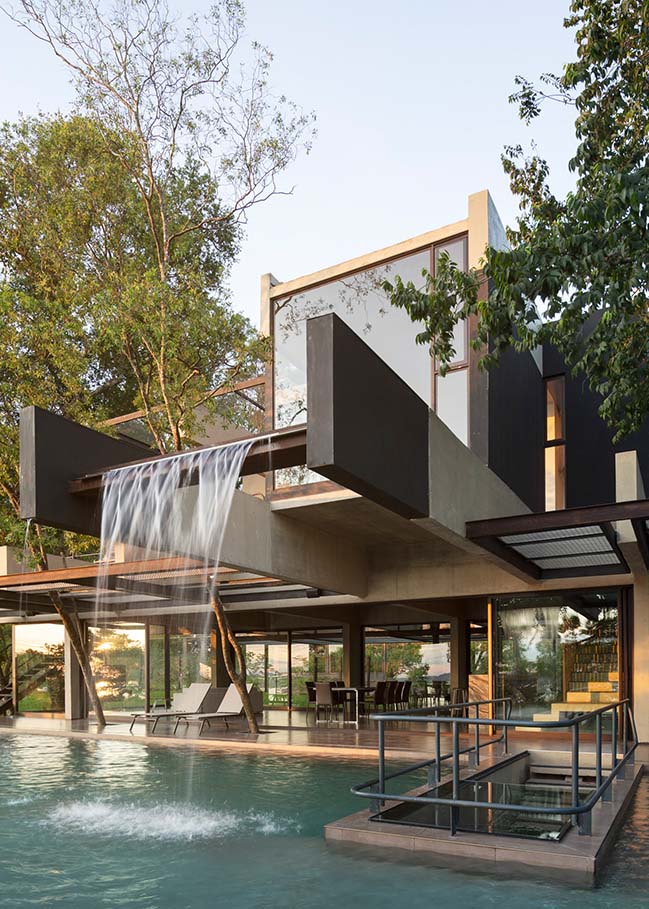 15. Curved wall
Curves are back baby! And I'm talking about in architecture and interior design. I've seen them in bathrooms, hallways and here is a lovely living room space that uses a horizontal rather than a vertically curved wall.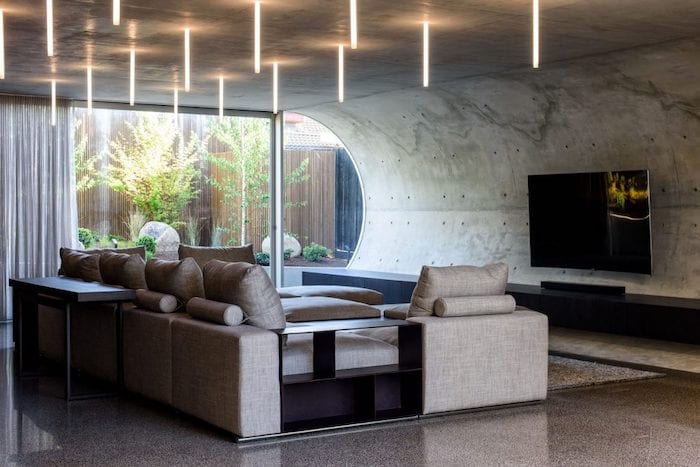 16. Light and airy
When it comes to space, floor-to-ceiling windows or curtains make any room appear larger. High ceilings also make it appear significantly roomier.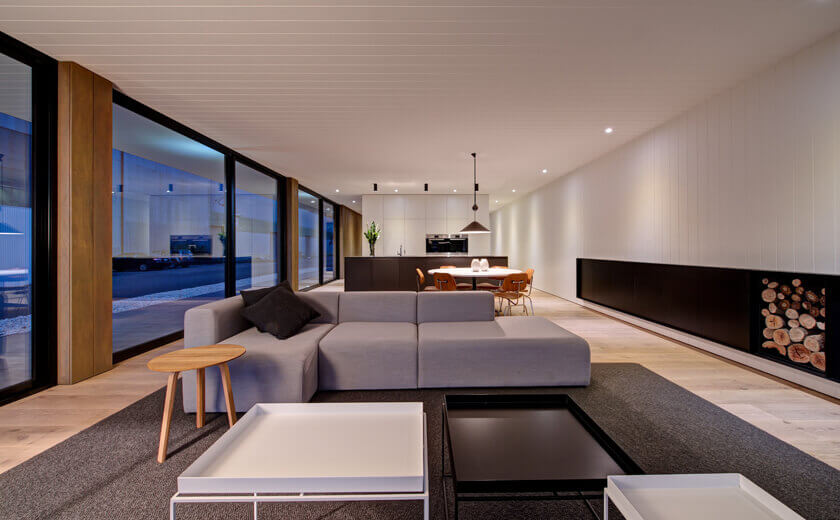 Environmentally friendly house designs
17. Green living house
If you're wanting to limit your environmental impact (and also save money on your electricity bills) look no further than putting solar panels on your roof. It doesn't have to look 'ugly' but if incorporated to the overall design at the start of the planning phase, it can look quite remarkable.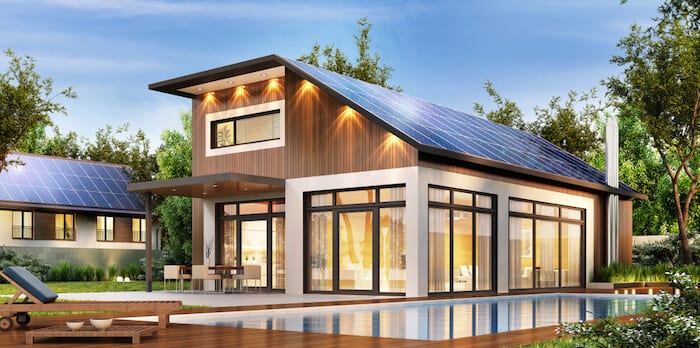 18. Go green – on the roof!
Green roofs are being used as a key element in sustainable housing. Besides being great for the environment and your home's overall sustainability, they also add value to the visual appearance of your house. Make the most of the space by adding your favourite flowers, herbs or vegetables. And if you like to bask in the sun, add an outdoor dining table and chairs.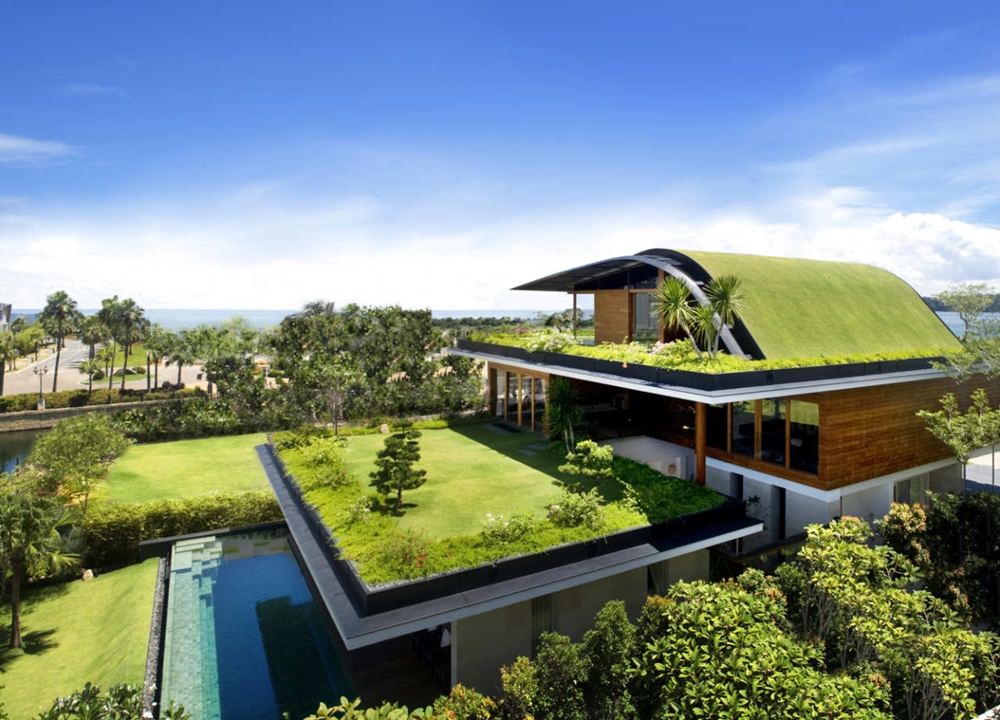 Modern house design materials
19. Contemporary concrete house
This two-storey grey house is as modern as they get. It has a stunning slick design with expansive wide windows that allow plenty of natural light inside. The front of the home features a simple landscaped area with gravel and greenery.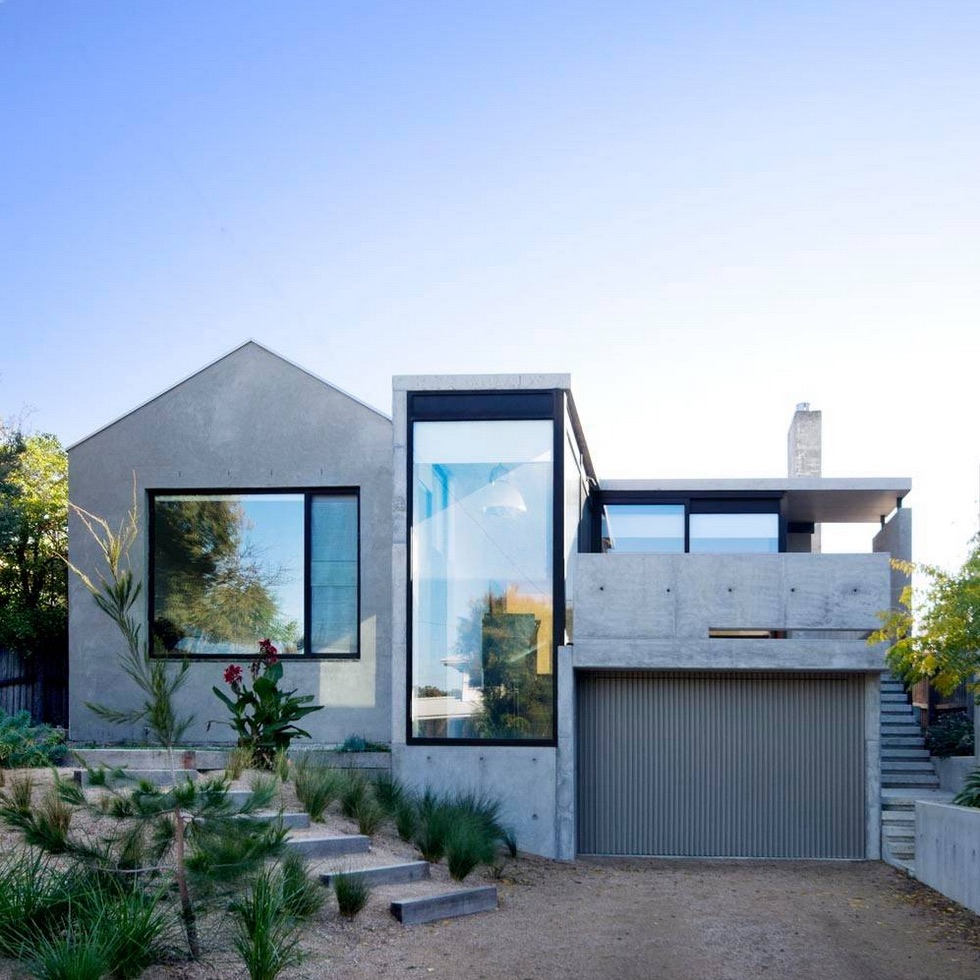 20. Wooden facade
This design shows exactly how to use wooden facade cladding to make your home modern and fresh. Modern houses usually have slick concrete walls, but the combination of timber, glass and metal makes this home warm and welcoming.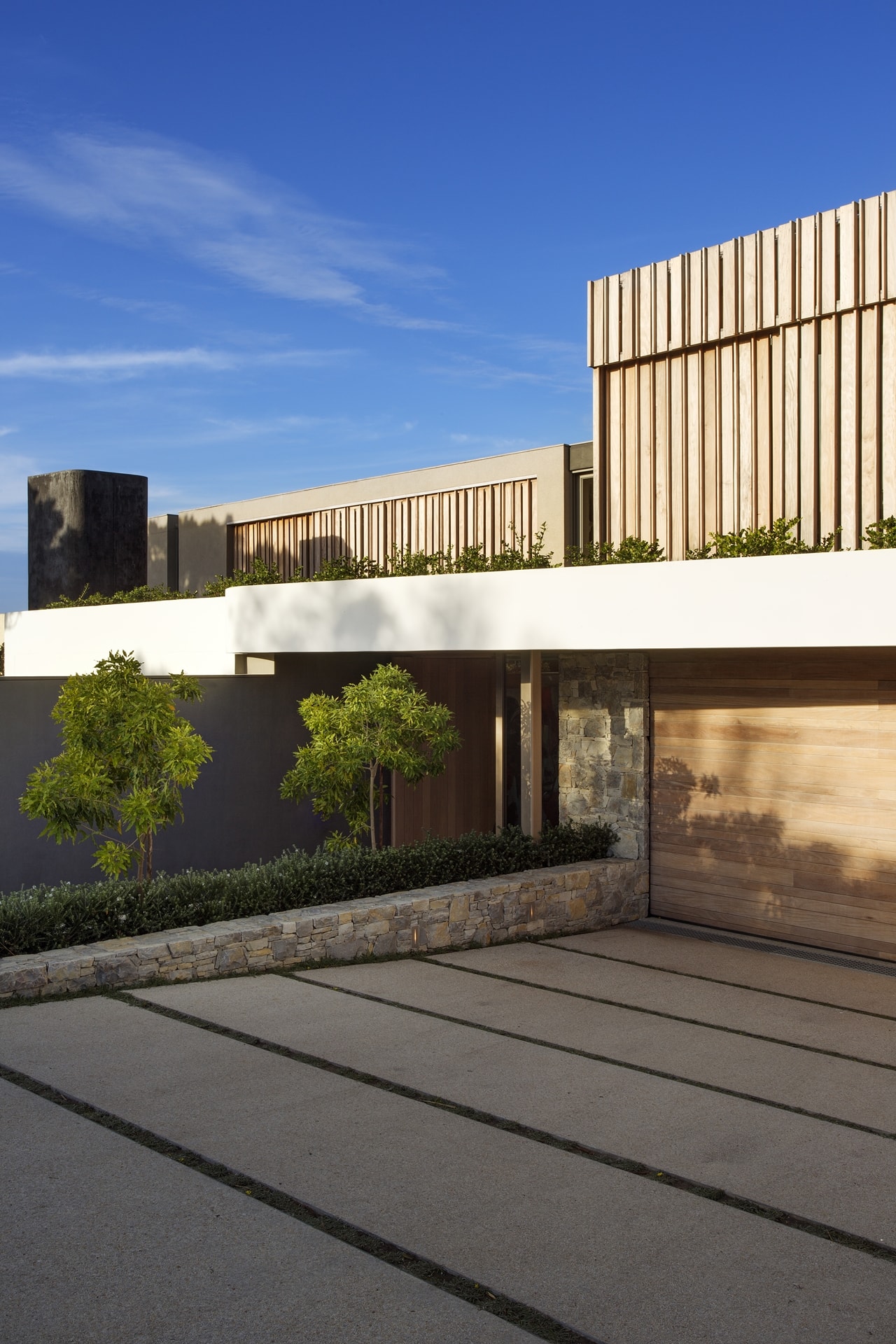 21. Clean black lines
This design maintains the home's original period character on the facade while using minimalist fittings and furnishings inside to bring the design into the 21st century. The home is centred around the backyard, and natural light fills the space with skylights and glass sliding doors.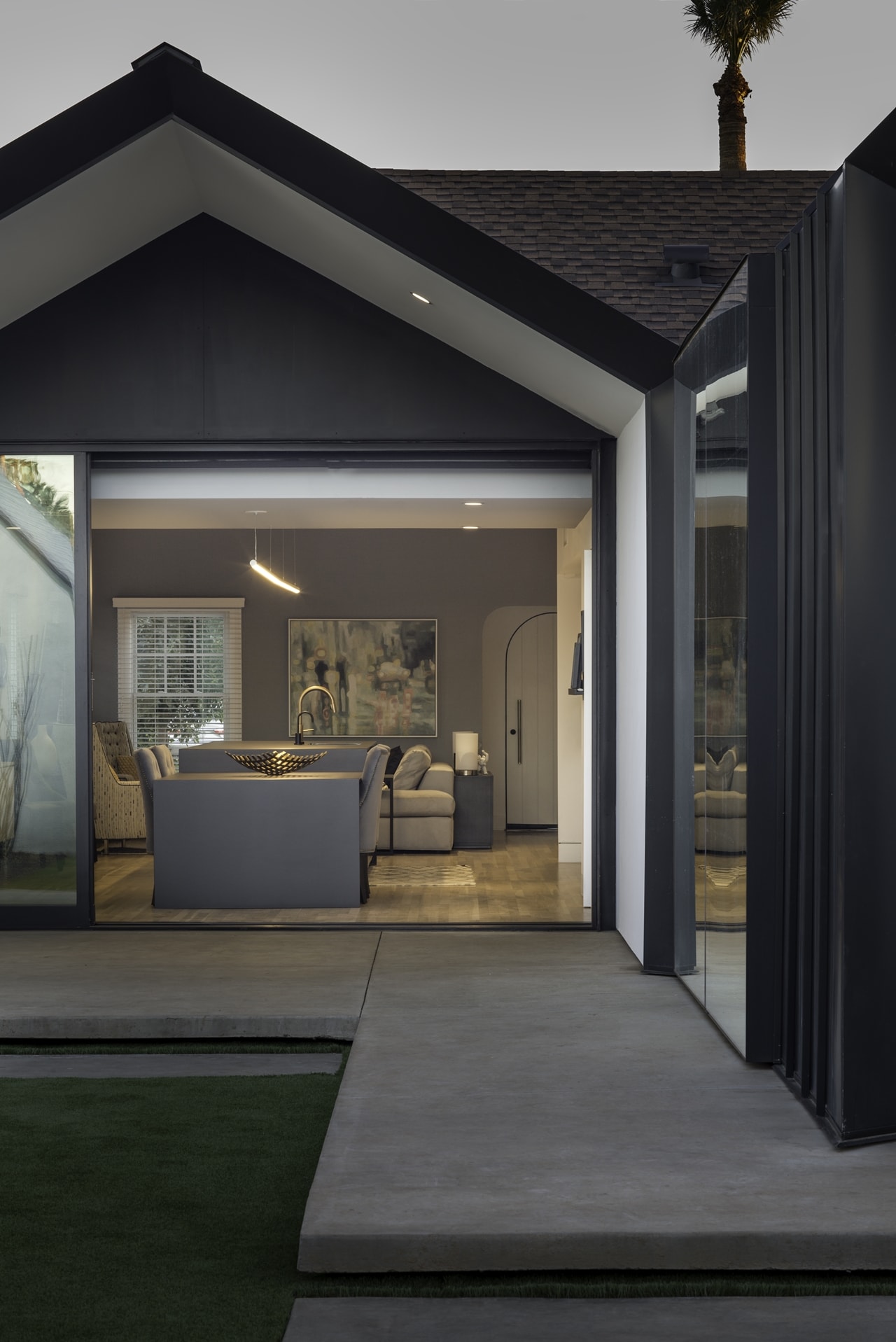 22. Brick modern house design
Who says red brick houses are only a thing of the past? Here's a stunning modern adaptation on the red brick exterior, which when paired with the black turns it into a lovely industrial/modern design.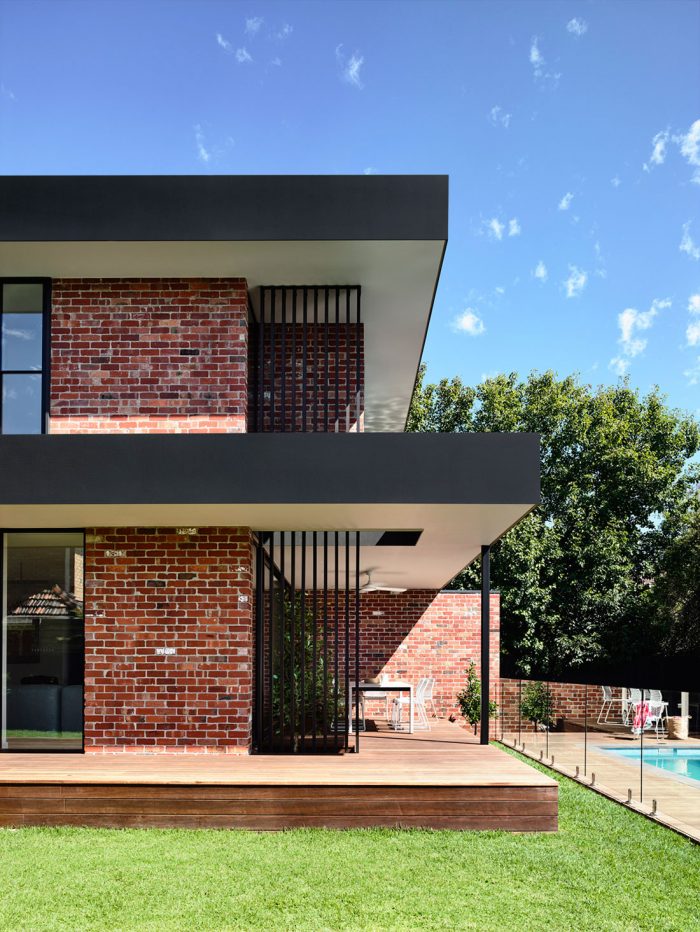 23. Wood and stone modern house
This three-bedroom two-bathroom dark modern home would be your very own peaceful oasis in the forest. Imagine cool evenings by the fire and lazy afternoons in the garden with a glass of wine in hand. Are you ready to move in?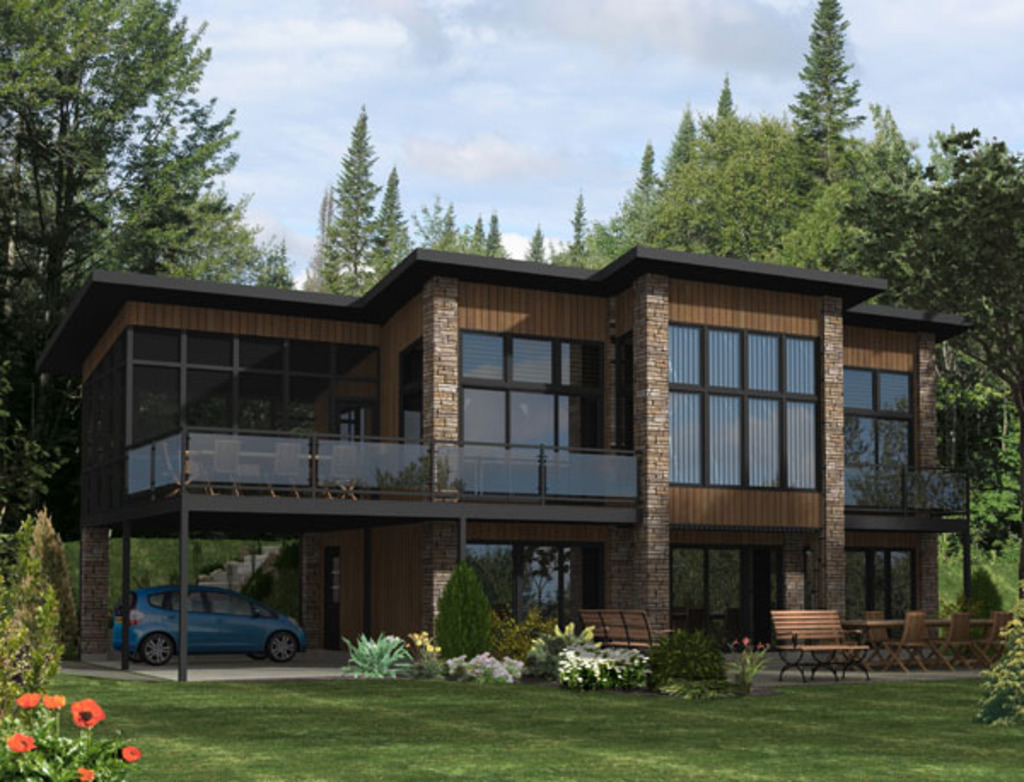 Box-shaped modern house design
24. Make a bold statement
Take some inspiration from this home and maximise your land by building up! This modern open-plan home features three bedrooms, a bathroom and an ensuite in a railroad layout. A study and viewing platform occupies the top of the tower module and offers spectacular views of the city and surrounds.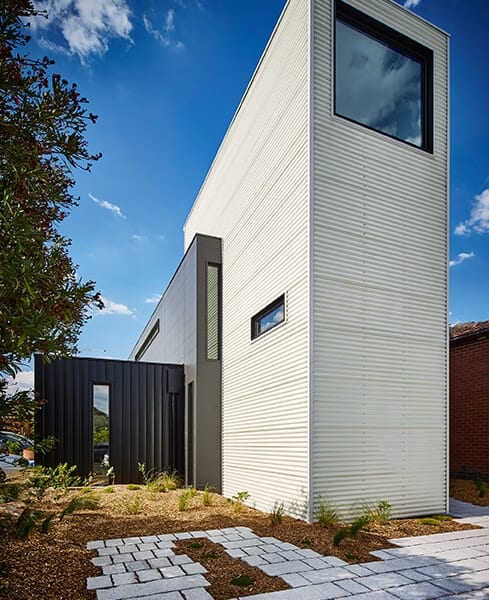 25. Boutique country escape
This off-the-grid cabin provides all the amenities you could need for living, including a master bedroom, bathroom and modest open kitchen, living and dining areas.
26. Minimalist tranquil retreat
This Victorian-era house originally had closed-off, compartmentalised rooms and an added extension with very little light, ventilation or outdoor connection. It has been completely transformed into a light-filled, airy space with open areas. Large, full-height glazing ensures living and dining areas spill outside to the courtyard and pool. The space provides a quiet oasis from the busy street beyond its walls.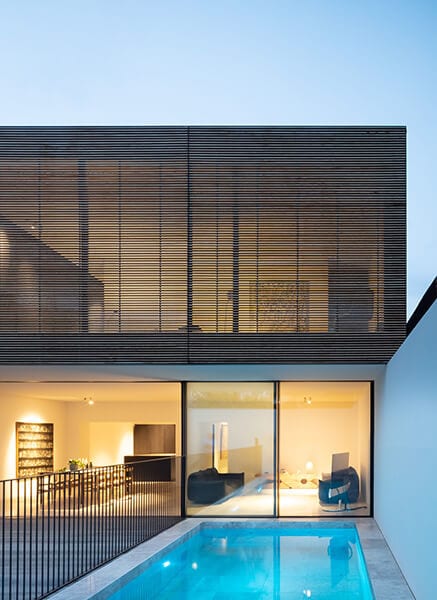 27. Light, light and more light
When considering your house build, never underestimate the power of natural light. Bright, airy spaces that allow for plenty of natural light can significantly lift your mood. The overall design of your home is the first thing you should think about when it comes to energy efficiency and all-round comfort.
You should position your house to make the most of your climate zone. Think about the location of the sun in the morning, afternoon and evening. Plan the positioning and size of your windows so that they provide the right amount of shade. Don't miss this step, because it will ultimately determine how comfortable you will feel and will even impact the amount of money you save in heating and cooling bills.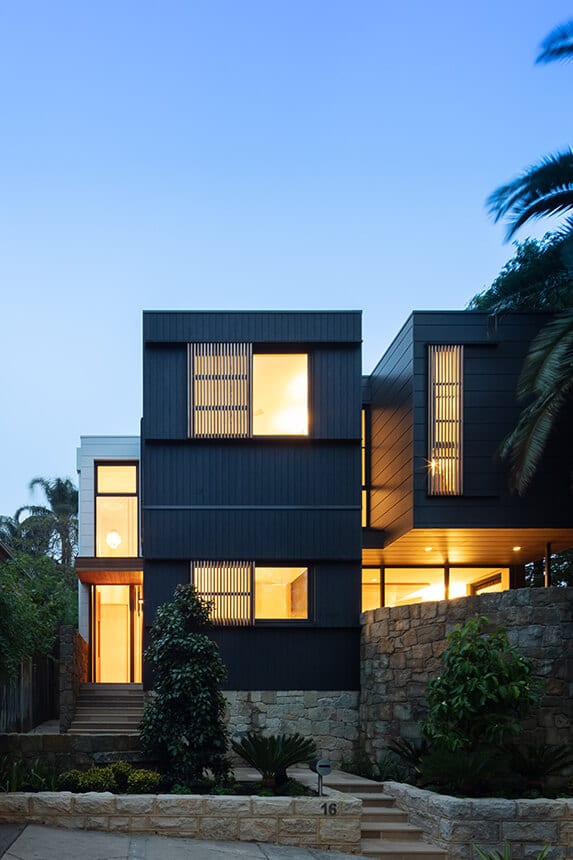 28. White and bright
This modern flat-roof design is the perfect family home. The clean white colours and manicured front yard make this house a minimalist's dream.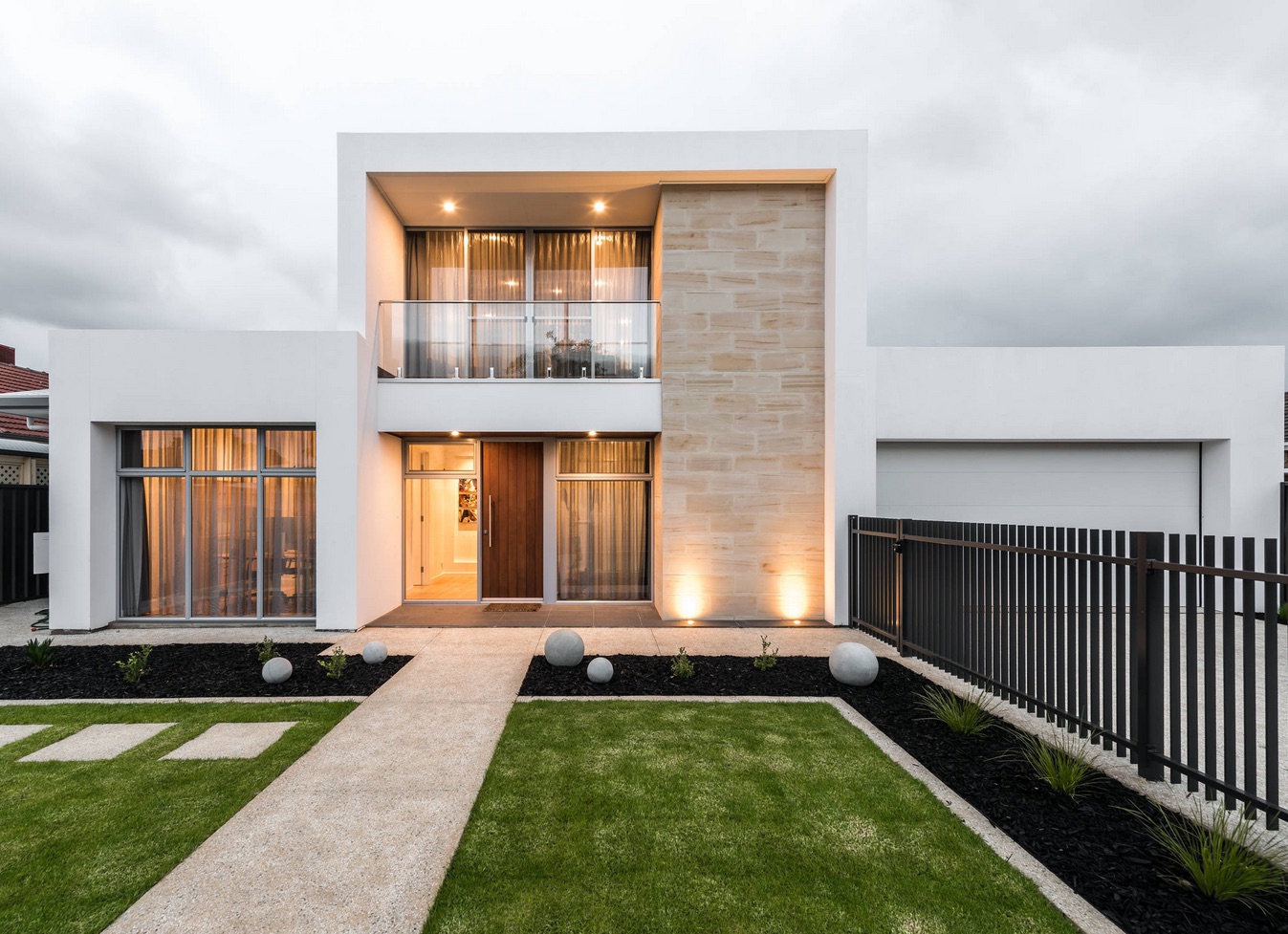 29. Compact and minimal
If you're the kind of person who prefers neat and small over expansive and grand, then you're going to love this design. This simple two-storey home strikes the perfect balance between visually appealing and practical. Small house design based on minimalism and a less-is-more approach can do wonders – a de-cluttered space equals a de-cluttered mind!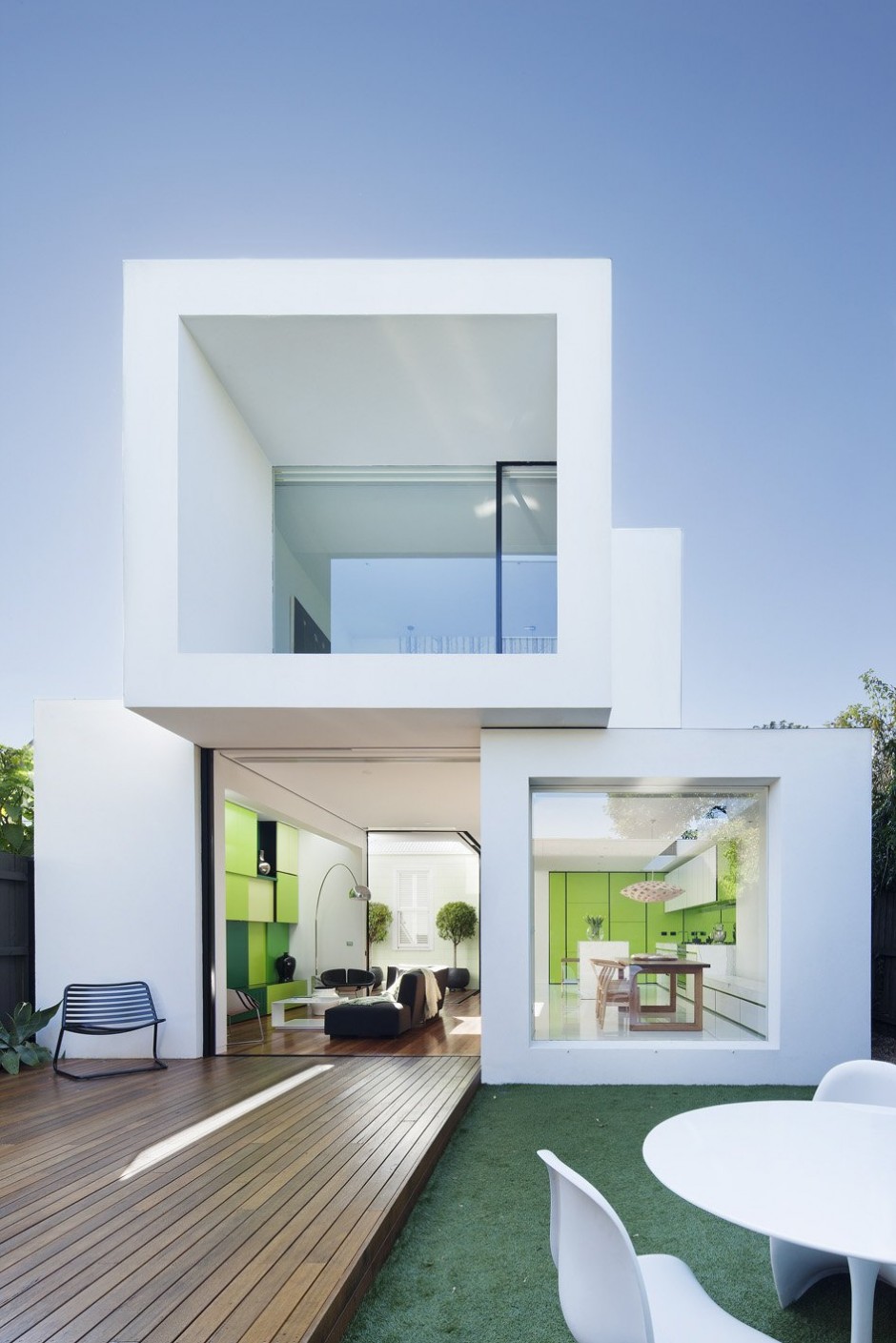 30. Open house design
These days, people are more interested in building bigger homes with higher walls to stay private and tucked away from their neighbours. However, this house counters this approach by opening up the design to the outdoors. You may be surprised to learn that this home is actually half the size of its neighbours, but its glass walls and integration with the garden make it feel so much larger than it is. The result is a highly livable, inviting, and light-filled house!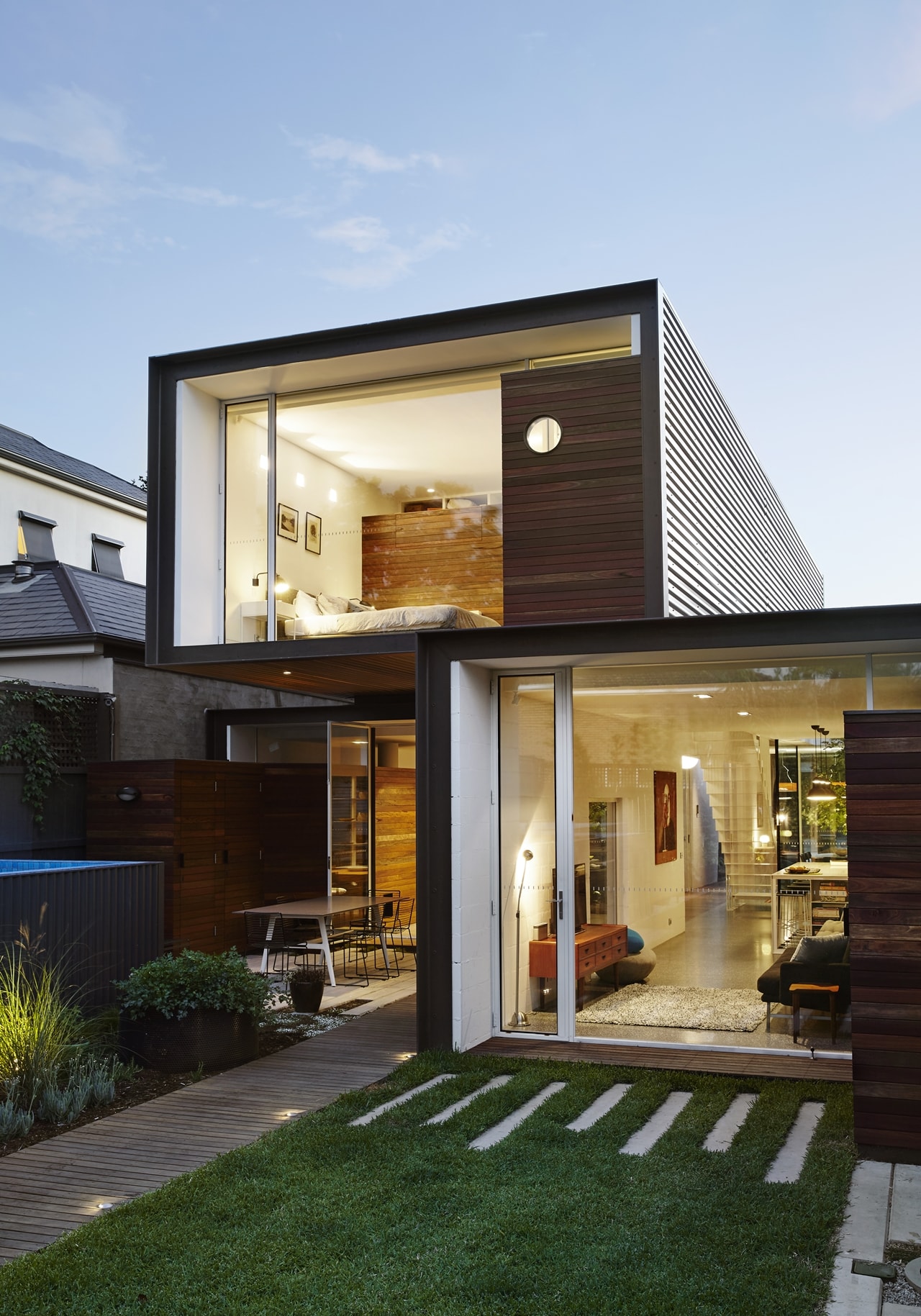 31. Hillside home
It may seem complicated to plan and build a house on a hillside, but the breathtaking views and unique elements are sure to be worth the effort. This home includes a split-level design, modern exterior, glass walls and copper screens, an expansive pool, timber stairs, an open-concept kitchen and so much more.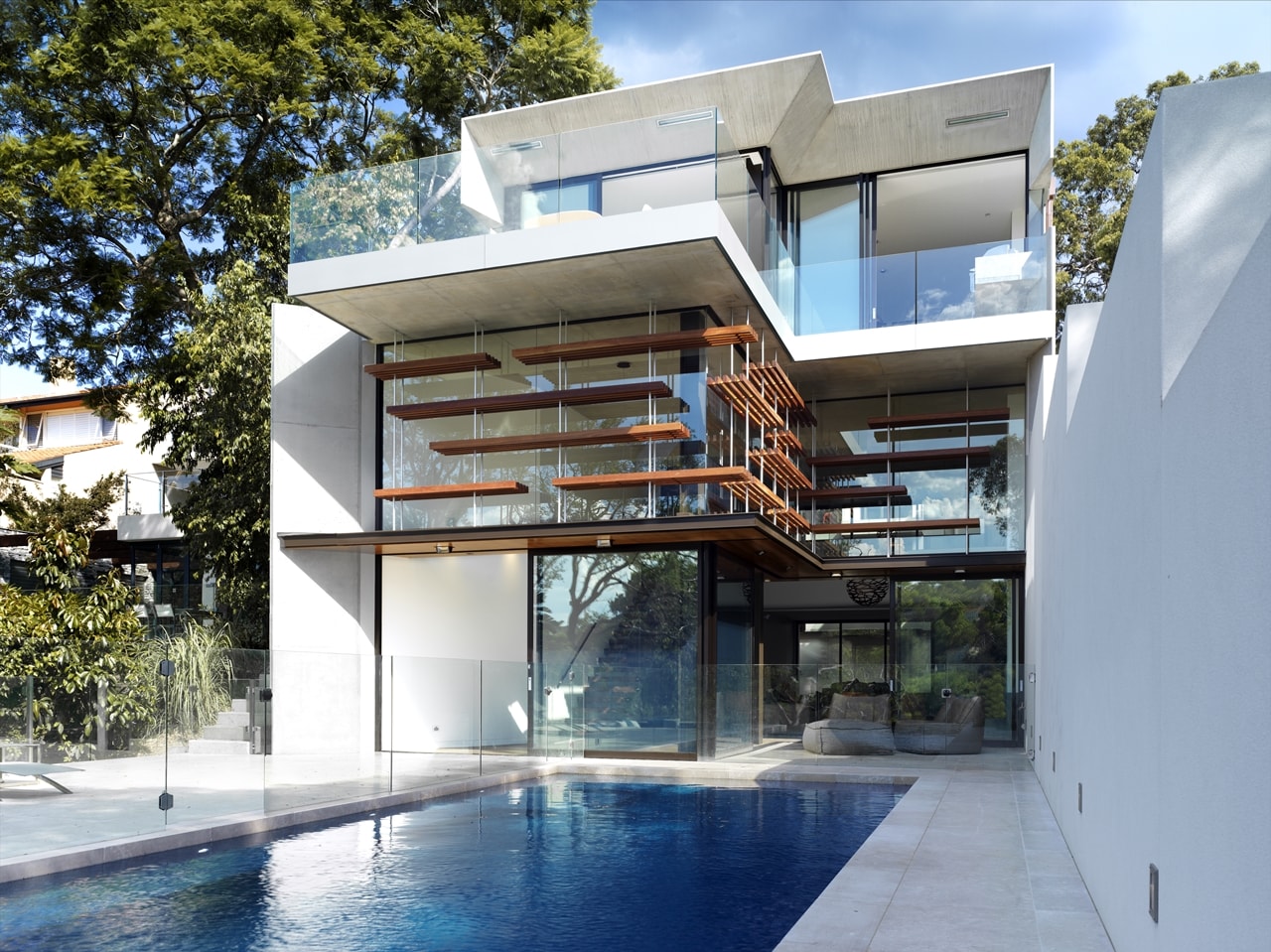 Out-of-the-box house designs
32. The tent house
Love glamping? Then you'll love to be in your own personal glamping inspired tent house. Designed to mix in with the surrounding forest environment, this four-bedroom home is larger than it seems with ample living space and stunning views from every room.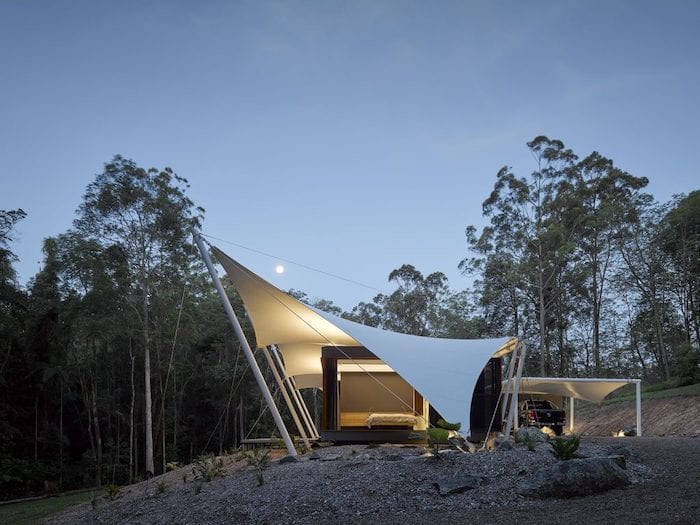 33. Lakeside luxury
When choosing a new home, it's important to think about the view. And what better place to live than by a lake? The water provides a lovely peaceful oasis for this large family home.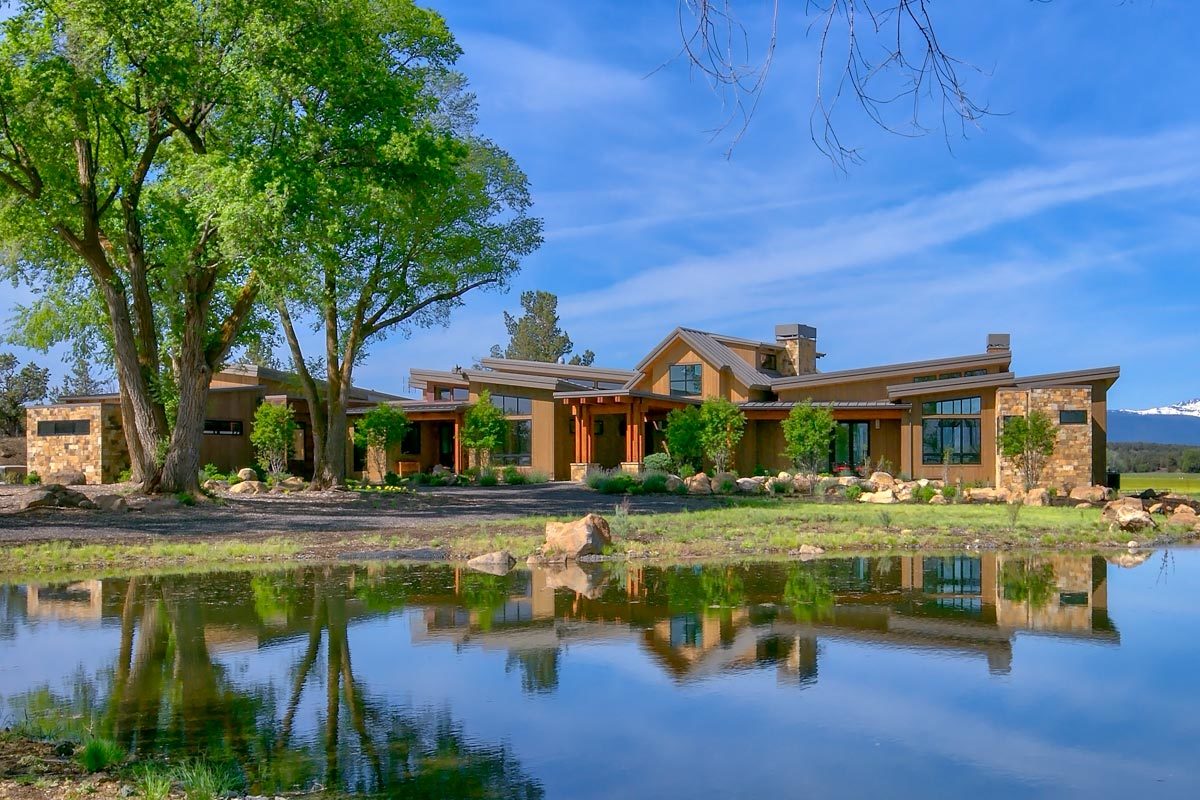 34. Compact beach house
The two-bedroom, 1,200-square-foot modern fisherman's cottage has a shingled exterior with an asymmetrical hip roof. Window walls wrap the beach-facing facade, creating the feeling of being on a boat. A square skylight means the mezzanine loft receives plenty of sun.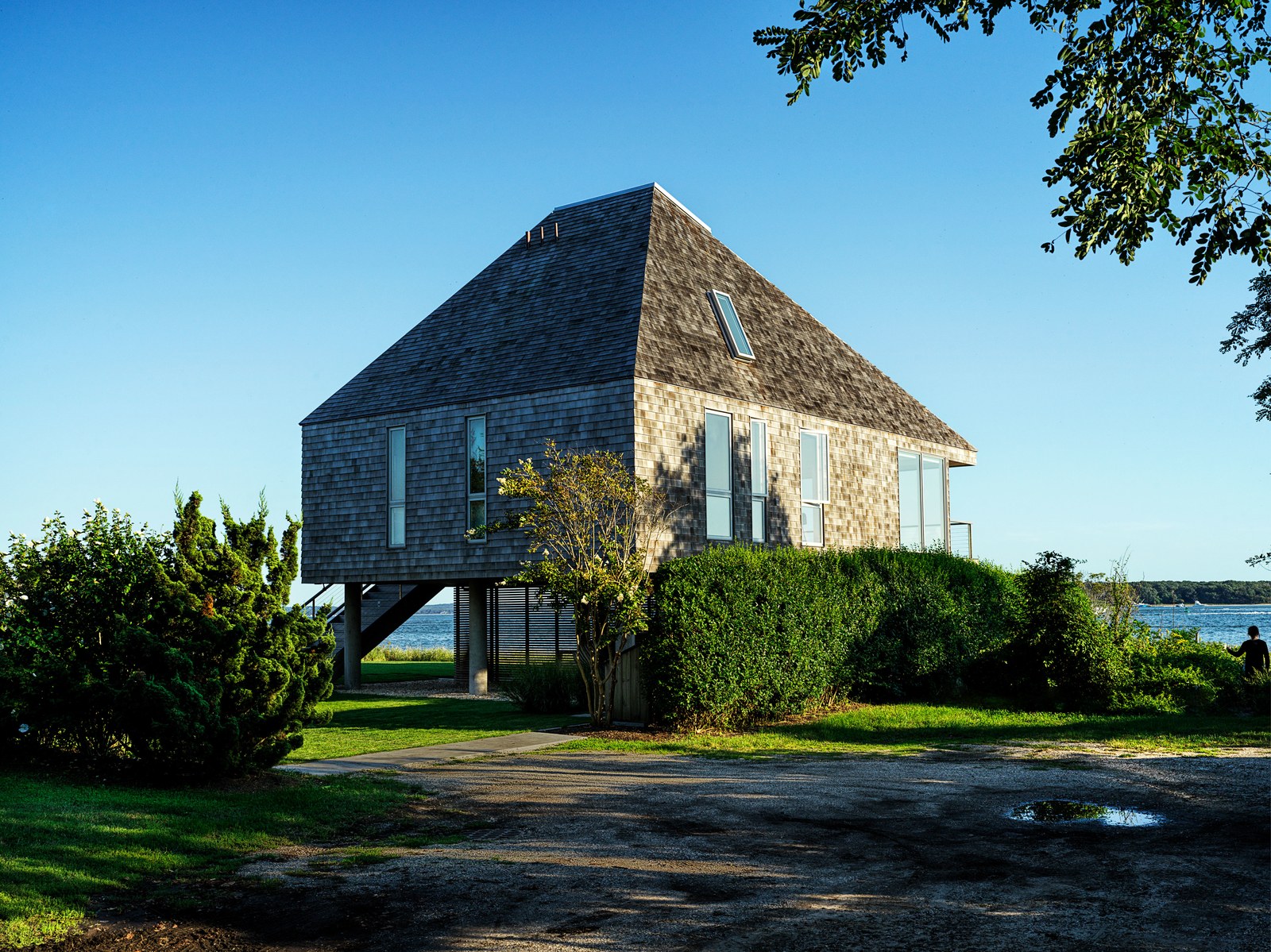 35. Geodesic dome house
The design possibilities for a house like this are almost endless. The open floor plan means you can insert or remove walls almost anywhere, because a dome home doesn't need any interior framing. This home is a blank canvas with plenty of possibilities!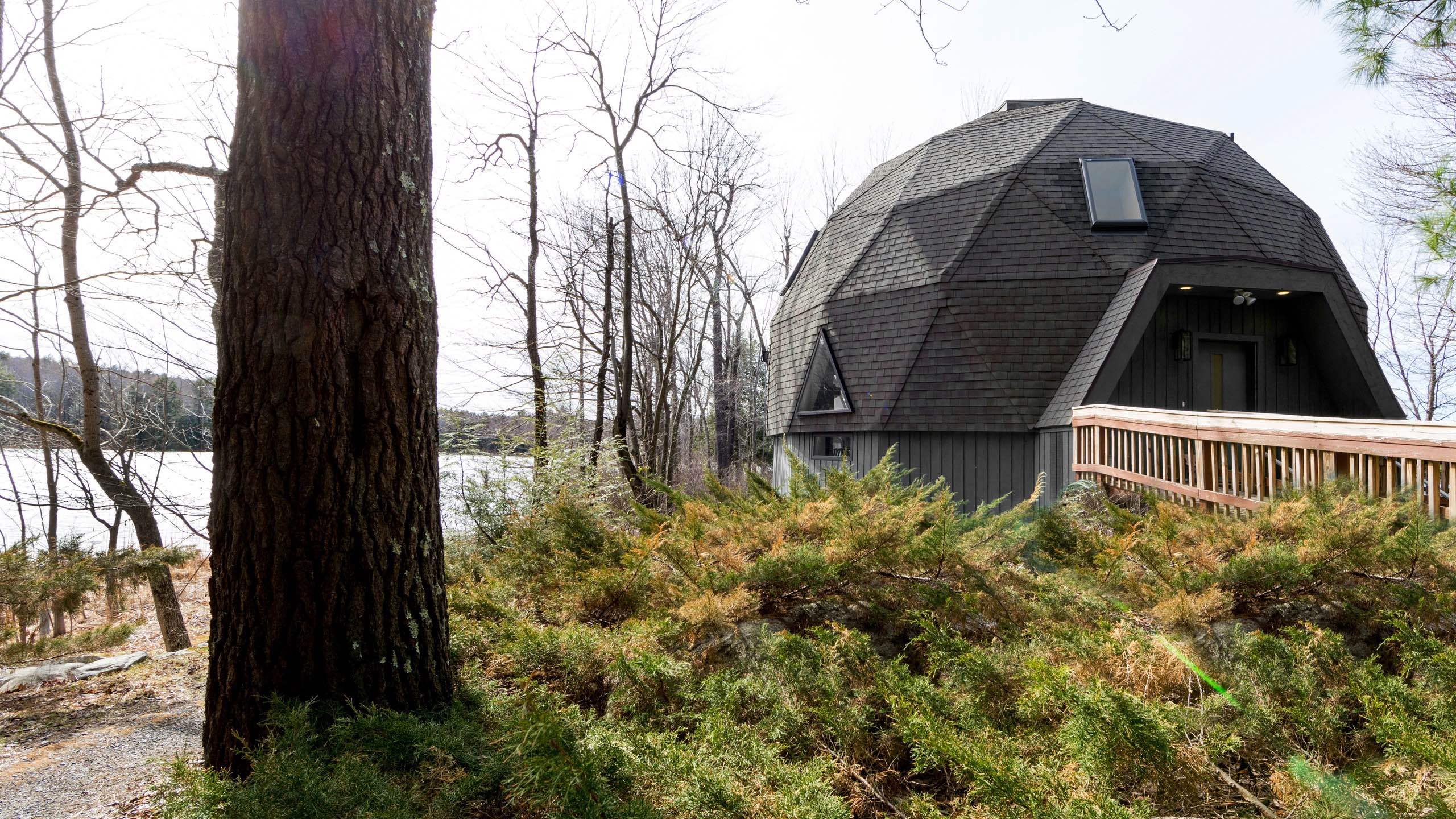 36. Abstract modern designed home
This one has a little bit of everything, multiple materials, curved edges, straight edges, lots of natural light and an art/ sculptural detail. It's a lot but it's actually not over the top when you see it.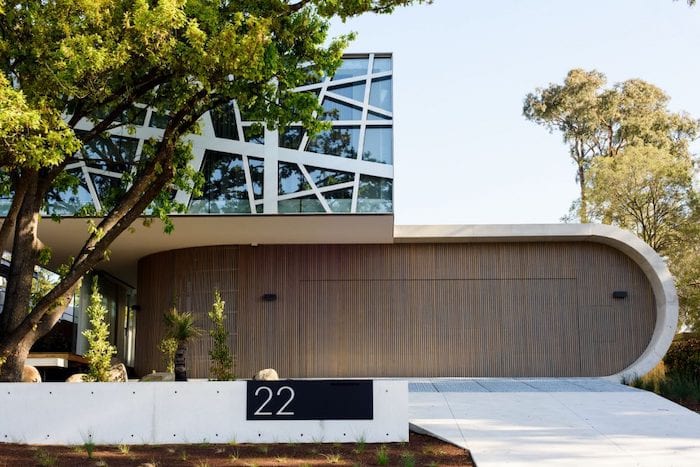 37. Modular house
This modular house occupies an exposed coastal site, so it had to be built to withstand extreme weather conditions. The home is designed with two contrasting materials – pacific teak timber and zinc. The materials will continue to change as the weather and provide warmth in the wild coastal setting. Timber wraps around the entry and garage to form an enclosed courtyard housing a pool – a space that provides a haven from the wind. The main house, clad in zinc, stretches across the site and follows the shape of the surrounding land.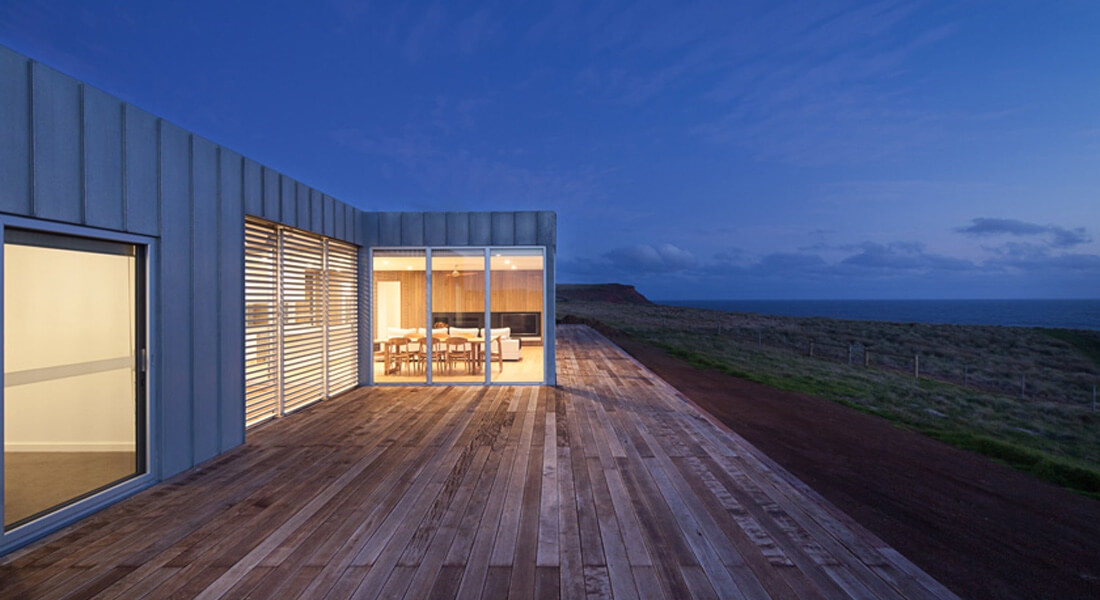 38. Discreet two-bedroom getaway
Escape to the bush with this quaint vacation home. This prefabricated house is made up of two modules with covered decking between and a pergola at the front. The charcoal corrugated exterior combined with floor-to-ceiling charcoal joinery in the kitchen, black oak flooring throughout and a wood fireplace, strikes the perfect balance of light and dark which is consistent with the home's natural surroundings.
The first part of the house features a spacious bedroom, bathroom, laundry and open plan kitchen, while the smaller module acts as a studio offering an additional bedroom and bathroom for guests. It's the perfect place to get away from the hustle and bustle of the city and relax in nature for the weekend.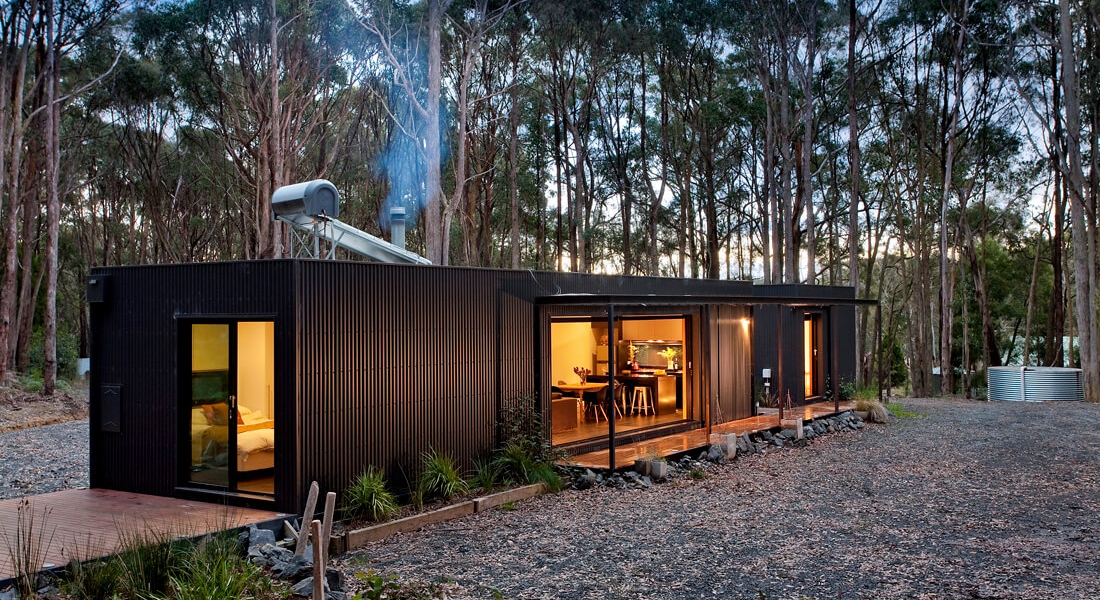 39. Add a mural
If you're wanting a wow-factor on the outside of your house, why not add a mural by a local artist. It doesn't have to be extravagant but something to add a pop of colour.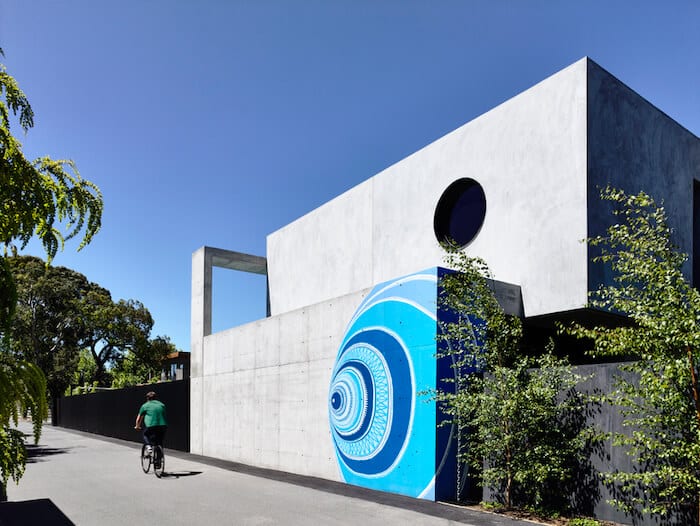 40. Rustic retreat
Just because something is rustic, doesn't mean that it can't also be modern. As you can see here this beautiful timber and barn style house makes for quite a stunning house.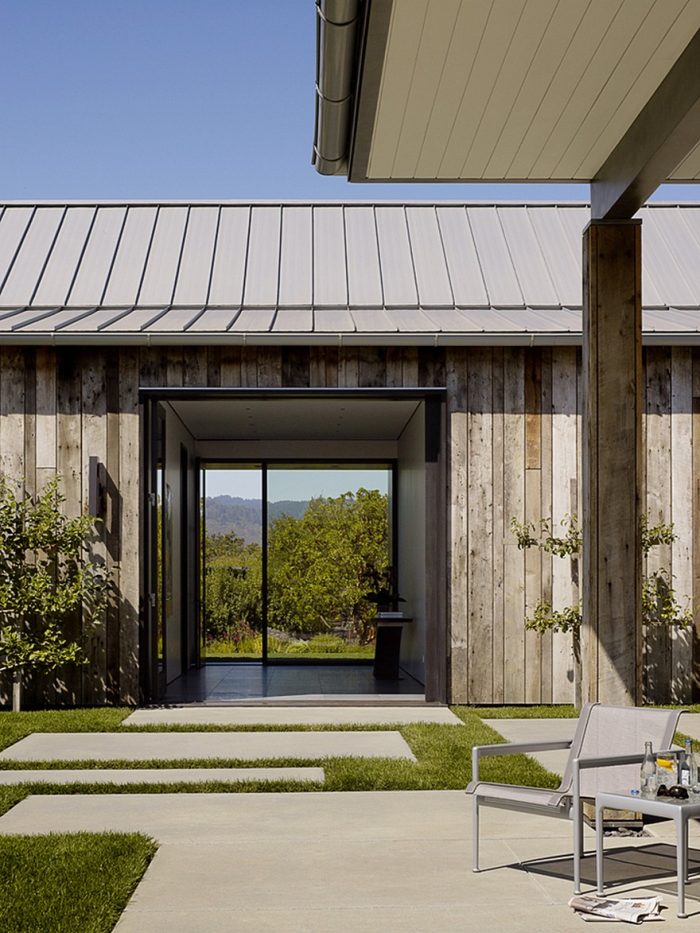 41. Contemporary getaway
This modern vacation home has living spaces on the upper floor, as well as plenty of covered parking and storage below. The exterior features beautiful stacked stone, cable railings, and commercial-style windows and door units. There's no shortage of storage and relaxation space in this home, with 110 sq. ft. on the parking level and 177 sq. ft. of balcony on the main level. It also includes energy-saving features such as spray-foam roof insulation, internal foam wall insulation, an on-demand water heater, and high-efficiency air conditioning.