Having a modern bathroom that is on-trend and stylish while timeless and practical should be the goal when it comes to bathroom renovation. Modern design can be whatever you want it to be. But today, the most on-trend elements include neutral colours, geometric shapes, touches of black, gold and brass and a little bit of decor without too much fuss.
And when it comes to surfaces, thinking anything natural, such as marble, wood and stone – all of which will bring a timeless and modern approach to your bathroom. Plus, you can create added interest by including patterns and colours with creative tiling.
Get inspired for your next bathroom renovation with these ## modern bathroom ideas and designs.
1. White plus greens
A freestanding white bathtub will always make a bathroom look modern and on trend. The indoor plants give this bathroom a natural touch. Indoor plants thrive in a bathroom with the steam from a hot bath or shower.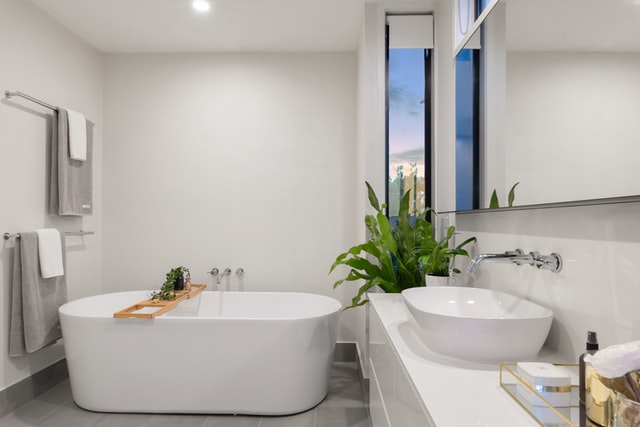 2. Black tub
Who says bathtubs have to be white? This gorgeous black bath tub looks like it is made of stone and bathing in it would make you feel like you were sitting on a beautifully smooth rock pool with crystal clear water. The wood panelling and timber look flooring add to the sense of luxury of this modern bathroom.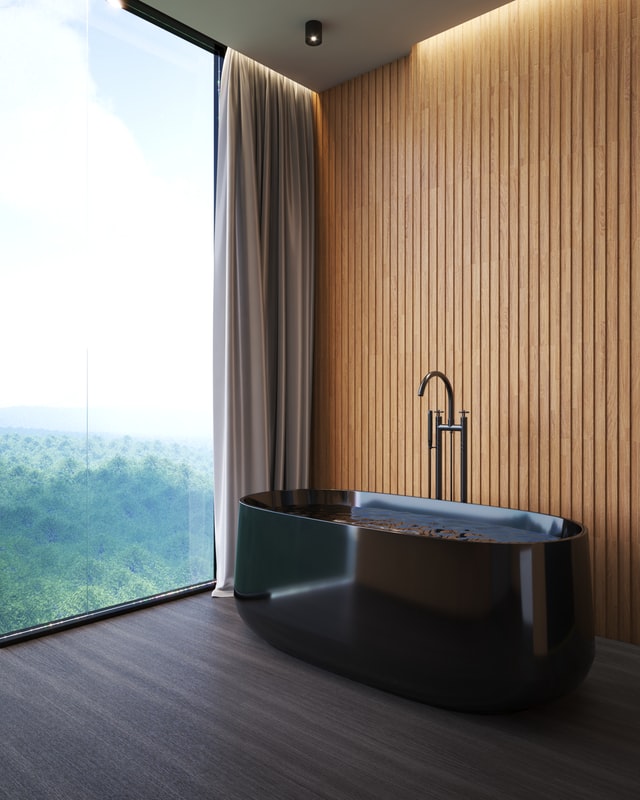 3. Long vanity
If you have the space, why not have the largest vanity possible. This will provide plenty of room to spread out and enjoy your own space, while allowing you to be close to your partner in the bathroom. It's especially great if you have a long but narrow bathroom like this. The high ceiling lends itself perfectly to the very stylish wall sconces as well as subtle downlights that give this renovated modern bathroom a lot of ambience.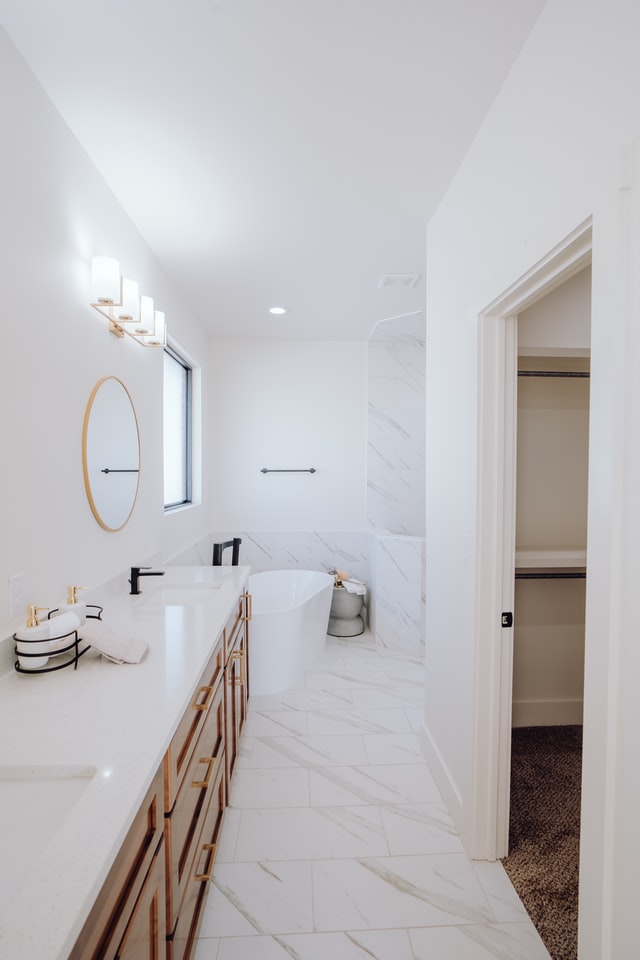 4. A place to sit
A place to sit or a place to throw your towel and clothes is a cool feature for any modern bathroom. It gives you somewhere to hang out while leisurely getting ready for the day ahead or relaxing after the day is finished.
5. Concrete all round
This bathroom is the ultimate modern design with clean bold surfaces and an industrial look. The speckled terrazzo concrete feel in the floor and wall tiles is practical and long lasting. The white and grey vanity with black tap fittings is minimal and classy. All this stunning concrete bathroom needs is a pot plant to bring a warm natural feel to this.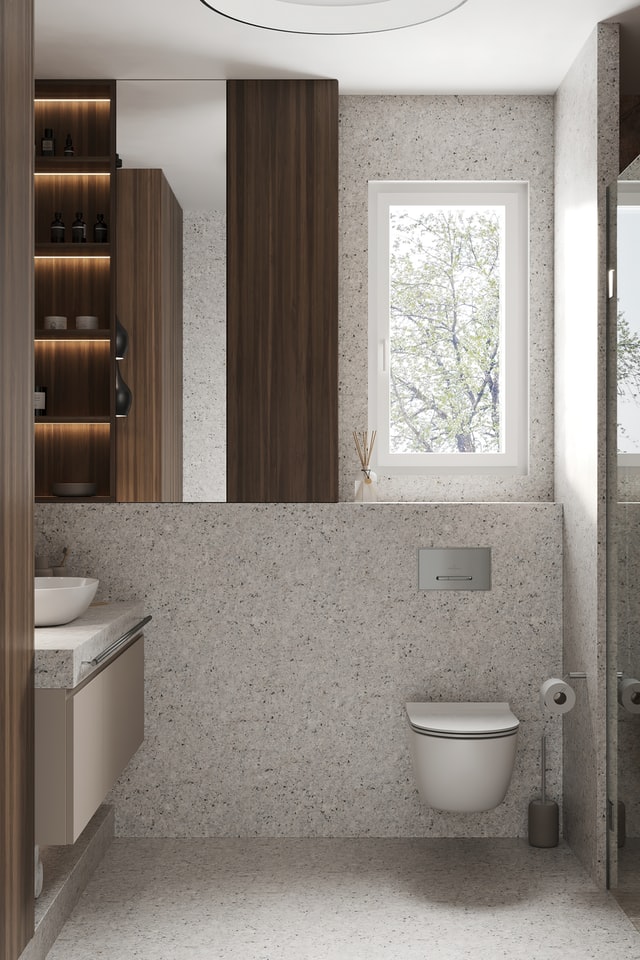 6. Marble touches
Modern bathrooms love marble. Whether it's a beautiful marble bench top, marble flowing through to walls and floors or the a simple marble basin in a neat vanity.
7. Barn doors
This type of door is perfect for a modern farmhouse bathroom. Pair your fabulous freestanding white bathtub with a gorgeous vanity with little timber barn doors. It provides the perfect cosy vintage touch.
8. Straight lines
Nothing says modern more than straight lines when it comes to walls, furniture and edges of a room, and this contemporary bathroom showcases this perfectly. It's all angles and sharp neat lines, ideal for those who love a streamlined look.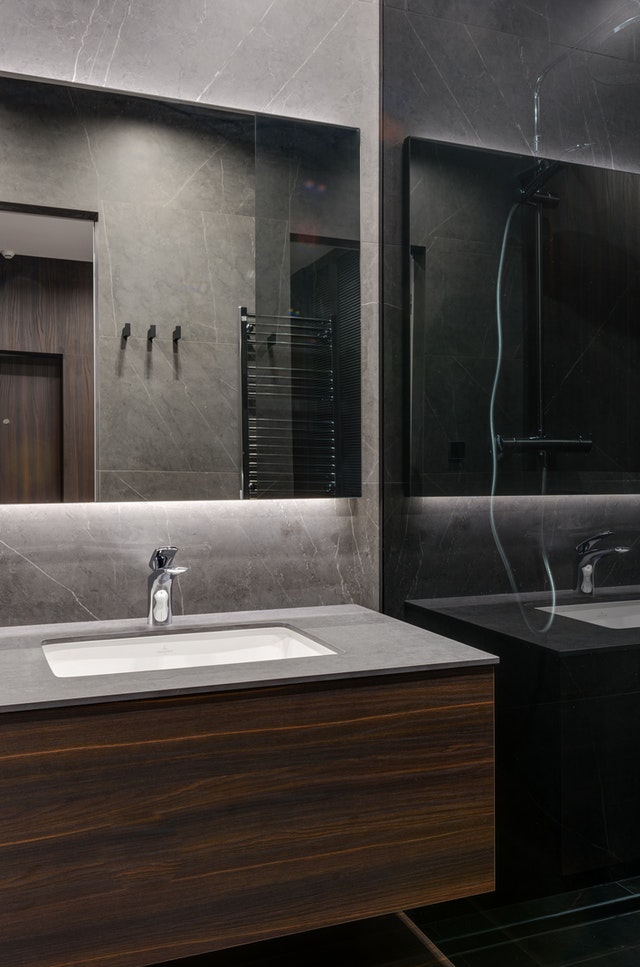 9. Pattern on pattern
Opting for a dark patterned tile of the floor can help disguise a little bit of dirt and make your modern bathroom floor quite easy to keep looking clean. You can contrast it with white herringbone tile on the walls or floors. I love when the floor tile continues into the shower and you have a practical wetroom space.
10. Exposed brick
Sometimes when renovating an old room, you can incorporate an old wall to add a feature and keep some of the old charm. An exposed brick feature wall can really set off modern bathroom styling, like round mirrors. It gives the whole look a modern twist with a cottage feel.
11. Pink perfection
Who says modern bathrooms have to be white? This cheeky pink bathroom looks so cute with its white basin on the pink vanity. A brass tap is the perfect finish against the soft pink and whites, and an illuminated mirror adds some glam.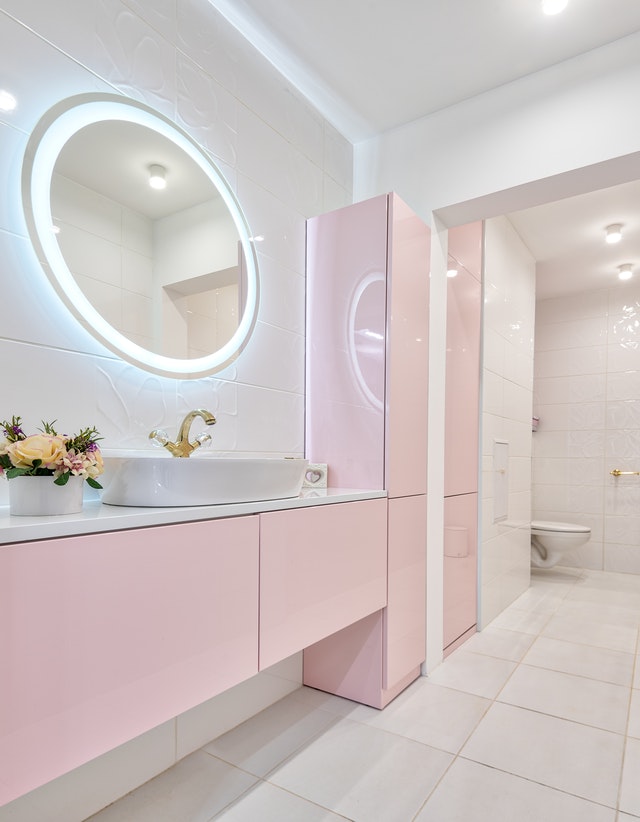 12. Clever little nooks
If I was designing a brand new bathroom, I think this little recessed nook is the most clever and practical addition to a modern bathroom. Not only is it a handy spot to keep your bathroom products, it also breaks up a wall adding interest and dimension.
13. Oval mirror
You see a lot of round mirrors in modern bathrooms these days, but an oval mirror is sleek and gives a longer body view. Or you might like to explore other shapes, such as pretty arches. A hexagonal mirror is also quite a different and unique shape from the commonly shaped mirrors of round or rectangle used in most bathrooms.
14. Double vanity
Double vanities are always a fabulous idea if two people are sharing a bathroom. You never have to wait for the basin, or indeed push and shove if you are in a hurry to clean your teeth before rushing out the door.  Liking the double vanity idea but want to see it in a variety of styles? We've got that covered with these Jack and Jill bathroom designs.
15. Mermaid luxe
When I was a little girl, I always wanted to grow up to be a mermaid. But what is the adult reality? Pretend to be a mermaid in the privacy of your own bathroom! You could go for classic fish scale tile or a pretty hex, like this.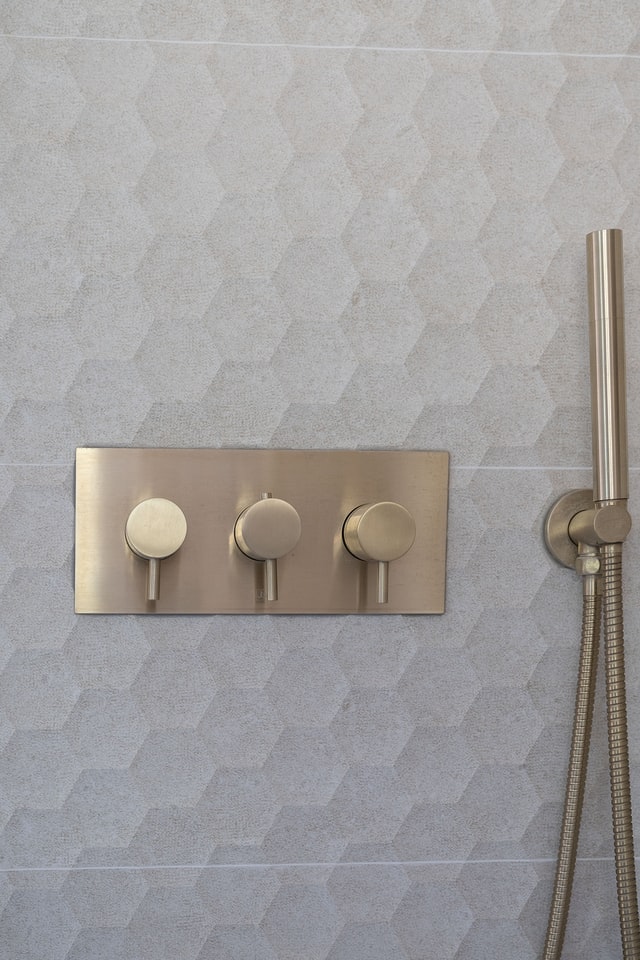 16. Shapes and textures
Give your modern bathroom a classy look with a clever use of shapes and textures. For instance it may be dark on one side and light on the other, brought together by a perfectly round mirror and other different shapes of colours and rectangles of varying heights in the benches and shelves.
17. Luxury living
There's nothing like a view. If I was enjoying a bubble bath in this magnificent freestanding white bathtub, I would certainly have a glass of very expensive French champagne in my hand.  When it comes to design elements, the subtle tones of the marble floor tiles and walls provide the perfect subtle backdrop for this stunning view. If you have any kind of view from your bathroom, it's a good idea to build in generous storage to keep bathroom accessories out of sight.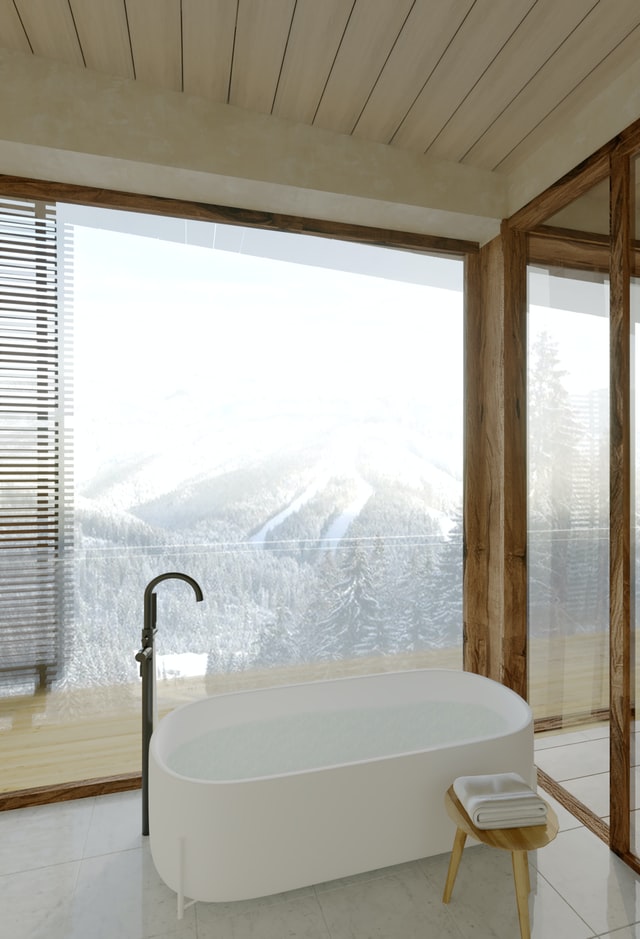 18. Feature door
So many modern bathrooms are black and white but you can give your bathroom added charm with a painted feature door which adds a pop of colour as does the greenery in the plants. A dusky pink creates calm and softness against the busy graphic monochrome effect that many modern bathrooms have.
19. Modern lighting
When lighting a dark bathroom, clever light fittings will ensure you light the corners and edges whilst a ceiling light will focus light over your task space at the basin. For example below you have round illuminated mirrors as well as dual pendants for the twin basins. A round shape gives the illusion of infinity and never ending which is always pleasing to the eye.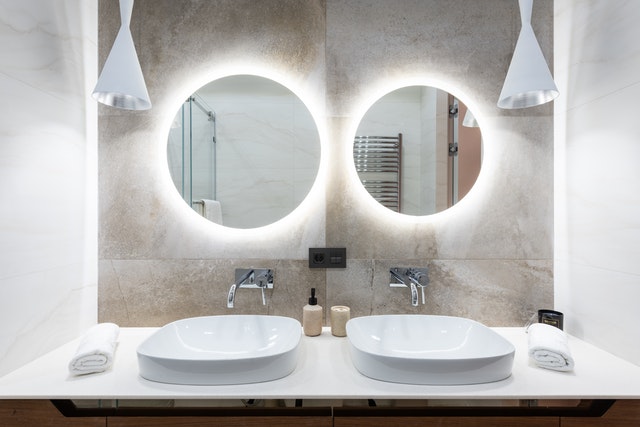 20. Wooden cabinetry
Bringing a warm wood look into the bathroom gives it a warm, cosy vibe. I love the natural look of wood grain through rustic timber cabinetry. Add a pretty tile wall behind the mirror for an interesting design and to give your cute wooden bathroom space a lot of quirkiness.
21. Warmth and comfort
If you love warmth in a bathroom, notice it is achieved by using wood tones, warm brass or champagne tap fittings and beautiful hanging pendant lights. A pottery vase filled with a spare of dried leaves can easily contribute to the cosy feeling of comfort, as does a thick towelling bathrobe on a hook.
22. Nude bathroom
Nude and white is a safe and timeless choice for any room in the house. It always looks classy and tasteful. If you have an all-white bathroom, bring this colour scheme to life with warm tapware in a modern shape, like this.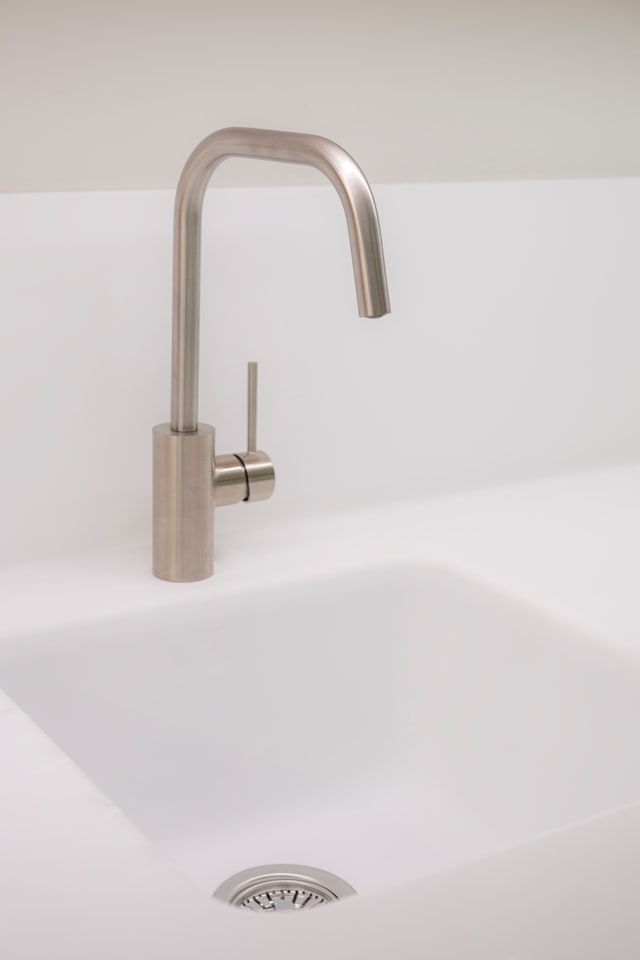 23. Cosy touches
You can use an antique looking buffet cabinet as a vanity and add a floating white basin with a big white bathtub to bring a lot of character to a modern bathroom.
24. Two-toned modern bathroom
This deep green is a masculine but modern shade which when used with the white creates a futuristic two-toned bathroom. And how cool are these slim metallic pendant lights that are reminiscent of a drop of water?
For some more stunning lights, check out these cool bathroom lighting ideas for your next bathroom renovation.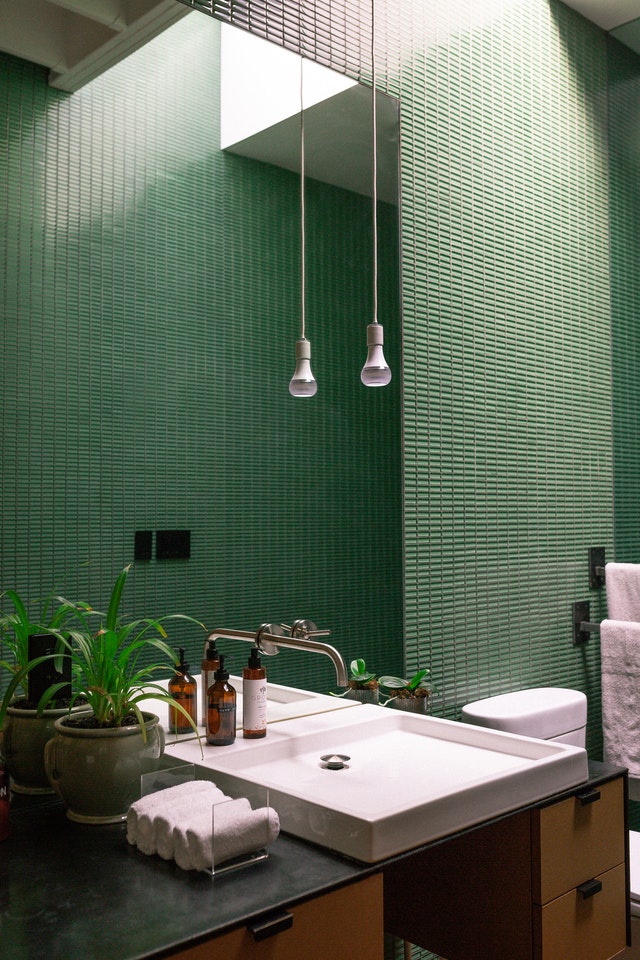 25. Modern blues
You can spruce up an older style bathroom simply by adding a fresh coat of paint – why not go for blue paint for those modern Hamptons vibes. I also love the addition of a sleek, clean vanity with white twin basins. And the quirky hanging light shades add so much personality to a space.
26. Black on black
Nothing screams classy like black on black for an ultra modern and masculine bathroom. You can however cleverly sneak in a little white to lighten the heaviness of black vanity cupboards. Try adding white in the basins, a small table or some gorgeous white orchid which are so on-trend at the moment.
27. Neutral modern
Not often do you see wooden type cabinetry and drawers under a vanity, but this neutral look gives this bathroom a real earthy feel. Adding timber to a mostly grey and black modern bathroom will give it a much needed dose of warmth.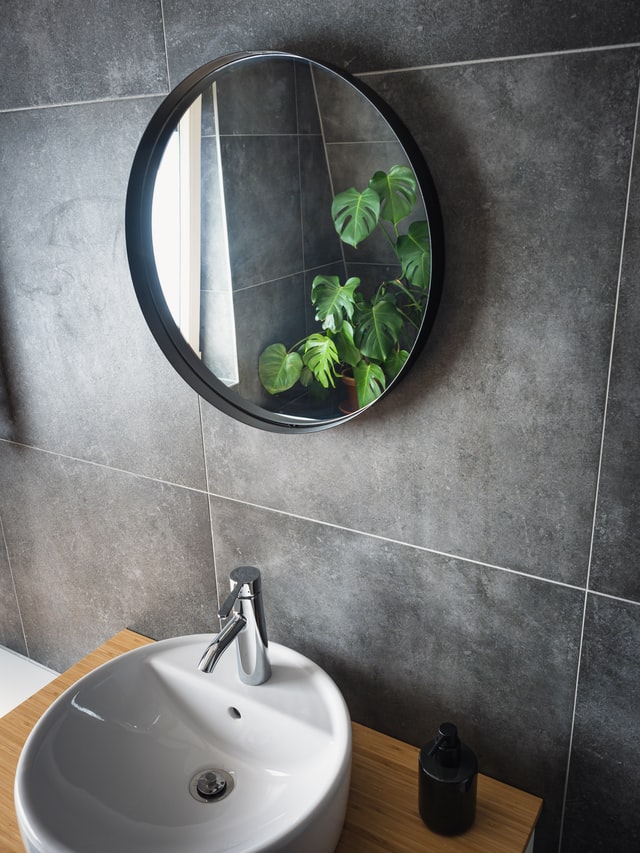 28. White on white
You can never go wrong when you choose an almost all white bathroom. There can always be variations of white between the wall colour and the floor colour, as long as you always stick to all cool-white or all warm-white. Then all you need is a pop of colour from some lush bathroom plants and a Moroccan rug for interest.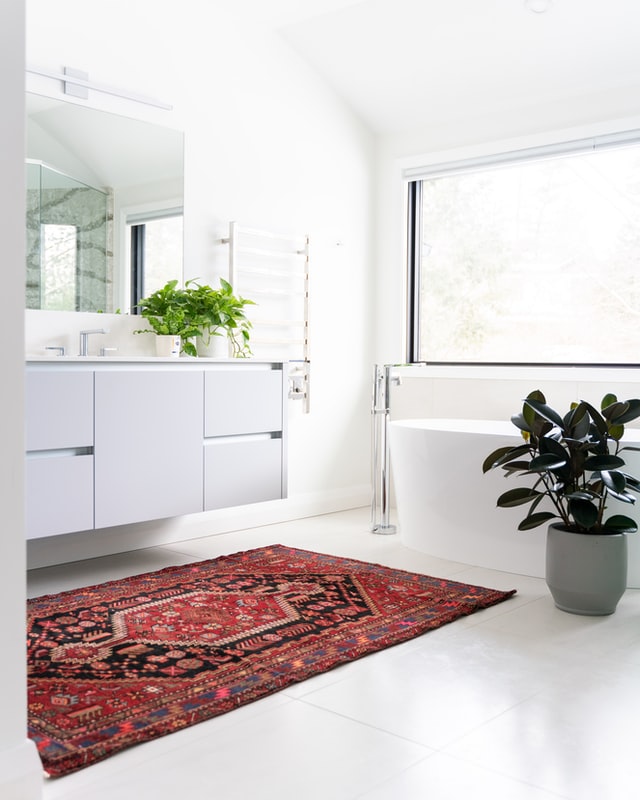 29. Grey
The floor and walls in this very modern bathroom look stunning in grey. The recessed shelf in the wall is handy for housing bathroom products. And I love the simple rainfall shower head and the black tap fittings in the shower recess. The best thing about grey bathrooms is that you can style with almost any bathroom decor and towels to give it a much needed refresh.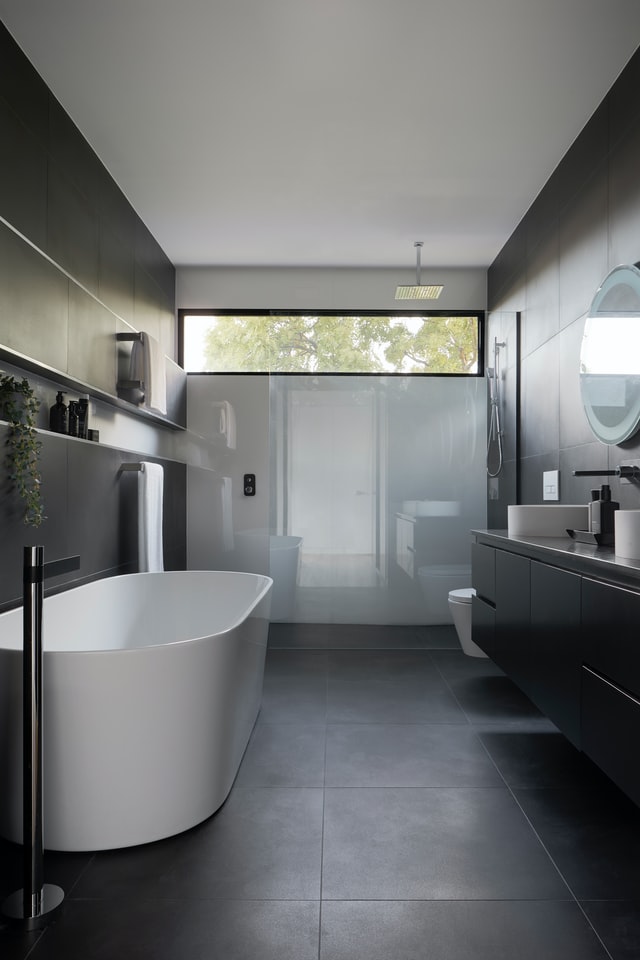 30. Clean lines
Make your bathroom ultra modern with a lot of straight, clean, minimal lines. White, grey and black always look good together and I love how these three tones together provide wonderful contrast. For example, pairing a clear shower screen with the black windowed lines adds a dramatic feature to your bathroom, and it can also be matched nicely with a black framed mirror, tap fittings and towel rail.
31. Black, white and wooden
This look is simple yet classic. The black lines around the mirror and the shower are neat and you can never go wrong with a simple square grey tile on a bathroom wall.
Here are some more amazing bathroom tile ideas that will give you more inspiration.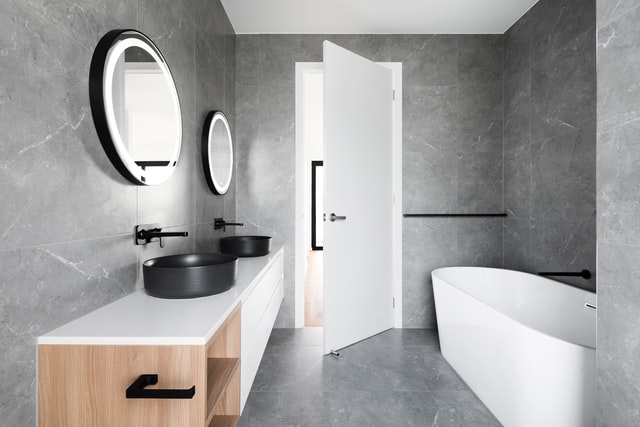 So, there we have it – 30+ modern bathroom ideas and designs to elevate your next bathroom renovation. My personal favourites are the mermaid tiles or other quirky tiling as well as Japanese style bathrooms that have a luxurious indoor outdoor feel. What were your favourites? I'd love to hear in the comments!