Studio apartments are no longer a trade-off of 'space for city'.  Photography is a wonderful source of interior design inspiration for a studio apartment.  Here's some visual inspiration to lust over.

Source: Brit + Co
Industrial studio apartment inspiration
Exposed brick, concrete, pipes, tiles, or any kind of material that is structural or functional is begging you to do it justice with the industrial look.  Complement this style when furnishing your apartment by going for neutral colours, wooden pieces, exposed light bulbs and wiring. Add a high ceiling, and you've got a lofty, industrial style studio.

Source: homedit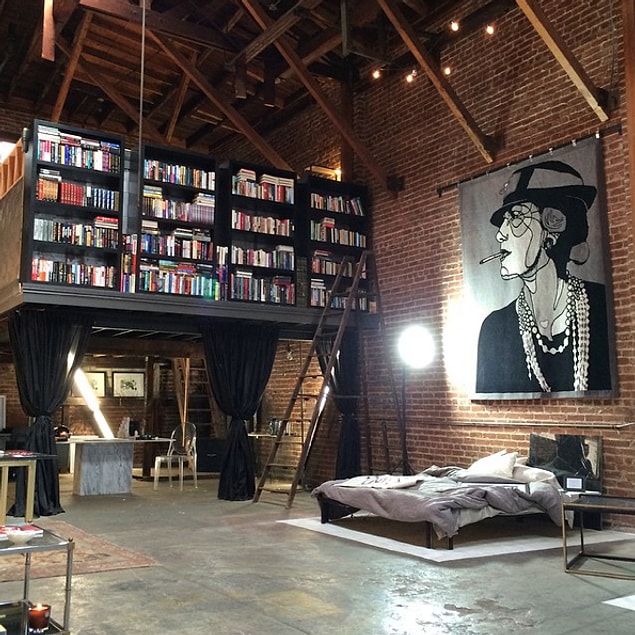 Source: onedio
Minimalism
Minimalism makes perfect sense if you have a studio apartment you'd like to decorate without making it less spacious.  Achieve minimalism by focussing on essential furniture items.  You can create an 'accent' of style with the addition of small 'personality pieces.  Even when experimenting with minimalism, you can style your apartment to a theme or design that exposes character.

Source: ULTRALINX

Source: ULTRALINX
NYC chic
Enviable NYC style is within reach!  These studio apartments sprinkled with funky homewares and bright hues are functional and inspiring.  They convey the 'Manhattan vibe' without the 'Manhattan price tag'.  Living in a chic, cooridinated space like this will put a spring in your step.

Source: homedit

Source: Brit + Co
Cosy and comfortable
Personalising your space with creature comforts will make it feel cosy. Decorative trinkets, sentimental items, inspirational art and the use of soft, neutral colours and textures will bring warmth to your studio apartment. Make 'cosy and comfortable' your number one goal.

Source: Brit + Co
Source: LABLSTUDIO
Intelligent use of space
Your studio apartment doesn't have to be a case of 'eat where you sleep; sleep where you eat'. Clever organisation, the inventive use of furnishings and maybe even a little DIY will make you feel at home, with room to move.

Source: homedit
If you don't have room for a cupboard, use racking and shelving to create storage on the walls, or in this case, above the bed.  If you're not confident in installing shelving on your own, get some help from an Airtasker Handyman.

Source: homed
Do you want to create a semi-private escape to the bedroom, but have heaps of cookbooks that can't live in a box?  Why not install a bookshelf as a room divider?  Furniture retailers like IKEA have plenty of designs, and Airtasker have plenty of IKEA flatpack assembly gurus available to help you out.

Source: Brit + Co
Now this is interesting!  Create privacy with a 'bed cube' (on rollers, no less).

Source: Est Living
This idea is 'clever' and 'cosy and comfortable'!  Construct a reading nook by the window, on top of a horizontal bookshelf.  If you don't have a built in bookshelf, there's nothing stopping you from purchasing your own and doing a bit of DIY to make a safe and sturdy base.  Top with a comfortable mattress, a few cushions and a throw.  (Again, if you need help, hit up an Airtasker Handyman).
Modern European glass bedrooms
Using bold colours or unexpected materials is an exceptional way to modernise your studio apartment. European glass is a luxurious, modern feature when used to partition off a 'bedroom'.
Source: HusmanHagberg
Source: Brit + Co
Do you love these studio apartment design ideas?  If you've got some more lust-worthy visual inspiration that you'd like to share, please copy a link in to the comment box below.