When designing a bathroom, you want to ensure that you utilise contemporary design features that will still be beautiful and luxurious in years to come, especially if you are going to be living in the space yourself. It's important to create a bathroom that is not only contemporary, modern and timeless but one that is both functional and practical.
Colours
Your choice of colour palette can play a big part in the timelessness of your design. To ensure your bathroom is always in fashion, use mostly whites and neutrals. But if you simply cannot go without using some sort of colour, a surface that can be easily changed with paint is a great place to get creative, such as your walls or cabinets.
Storage
To provide functionality and practicality, it is useful to have an effective storage design solution put in place whether it's storage within your cabinets, floating shelves or through the use of handy woven baskets.
Natural finishes
And the great thing is that natural finishes such as wood, stone and marble (which are totally in right now), will always be timeless and make your space feel contemporary.
1. Oval mirrors
We've all seen square and rectangular mirrors, but what about trying something a little different by having the addition of oval mirrors in your bathroom? I just love the overall look of the double vanity with the coinciding oval mirrors which creates beautiful symmetry. And this look is so simple and effortless whilst achieving an on-trend and elegant look.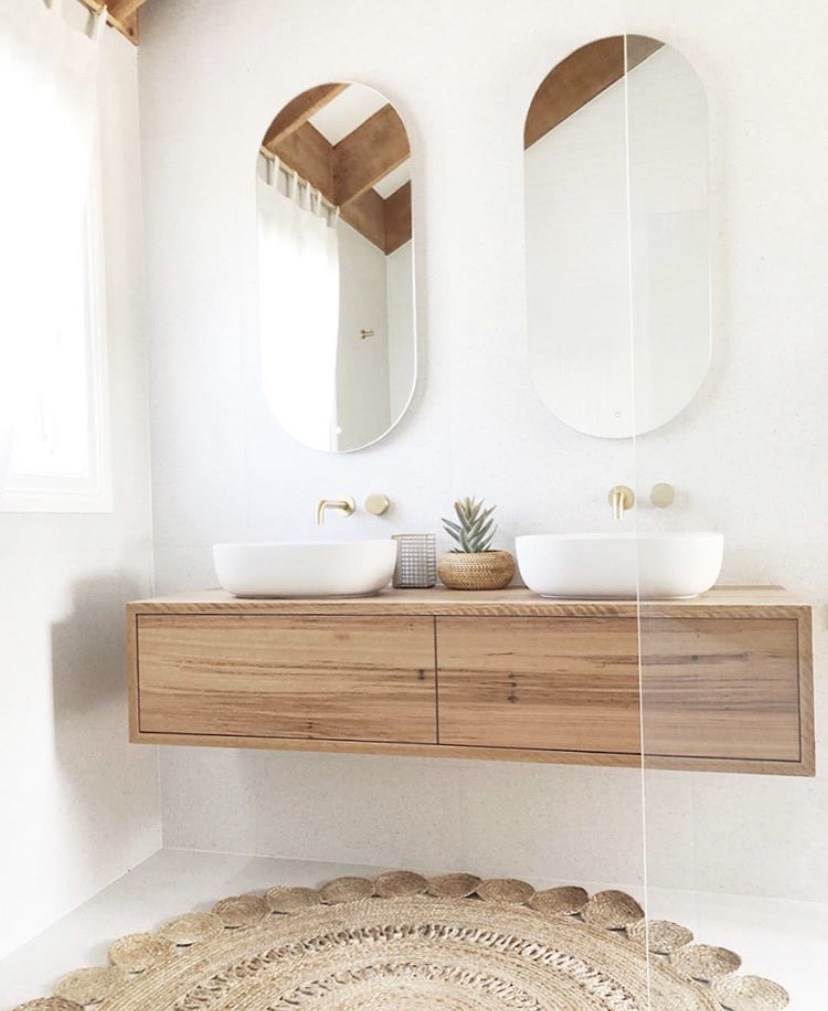 Here are some other dreamy master bathroom ideas if you love this boho-inspired ensuite.
2. Easy to reach towels
Bring those luxe hotel vibes into your home with the addition of built-in towel shelves to your cabinets – they'll look oh-so-snug in their very own little nook. Plus, having beautifully designed bathroom cabinetry can really make a world of difference to the overall look and convenience of your bathroom. I really love how minimal this is, whilst using the perfectly folded towels as a feature for the bathroom.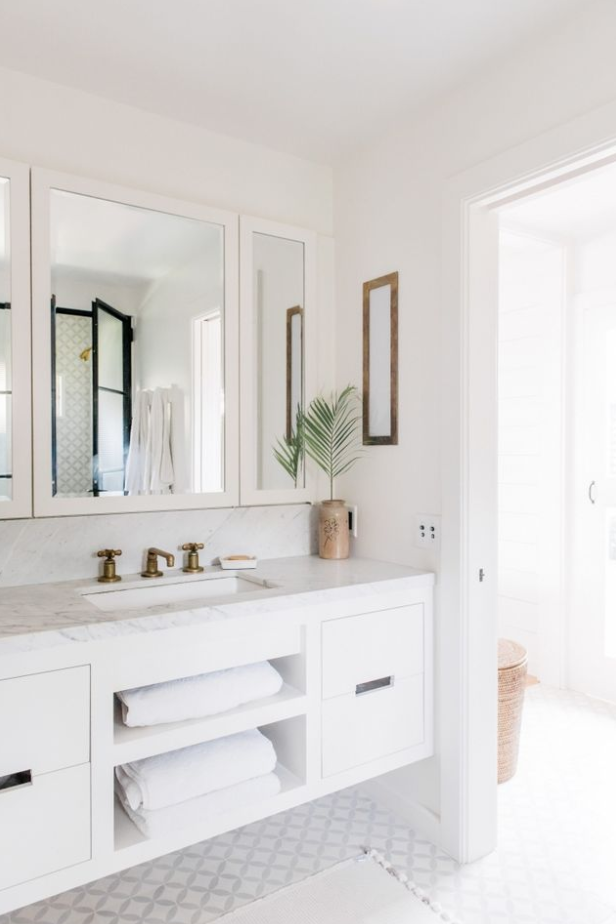 3. Large terrazzo flooring
I love the contrast of the simple, white bathroom with the creativity of the colourful terrazzo bathroom flooring – this is something that will have your guests exclaiming "wow!" Taking on-trend colours like blush, mustard and navy really give the bathroom a contemporary feel, which is complemented by the neutral colours and natural finishes.
You should also note that this is larger terrazzo, rather than the smaller styles that you often see in other finishes. That's what makes this super contemporary!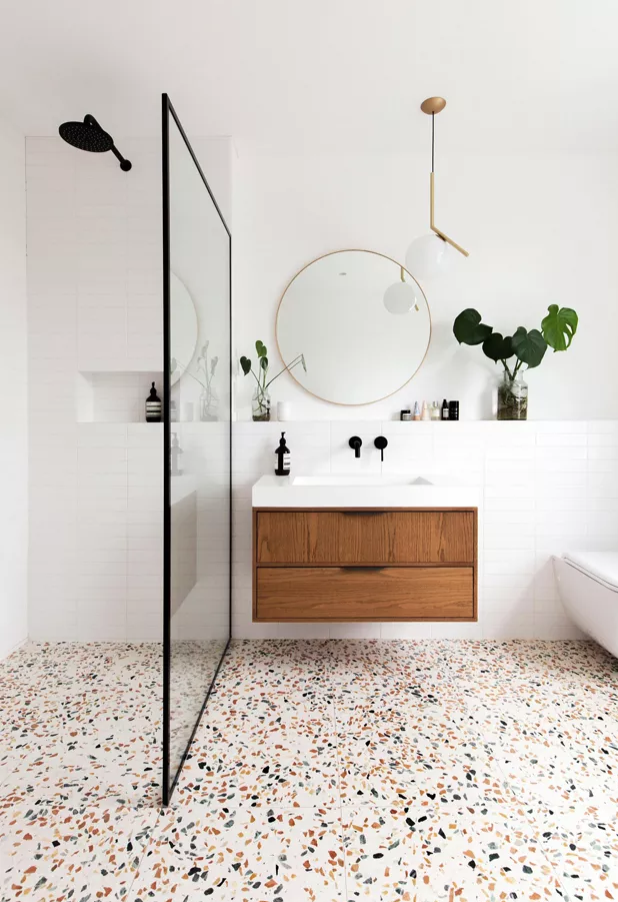 4. Hanging eucalyptus
A super simple way to unleash some creativity and bring some natural elements into your shower is to tie some eucalyptus leaves to your shower head. This is an easy and contemporary design solution that not only looks beautiful but once the warm water and steam hit those eucalyptus leaves the aroma will permeate through your shower and create the most beautiful atmosphere! You can achieve this look by taking a quick trip to the florist.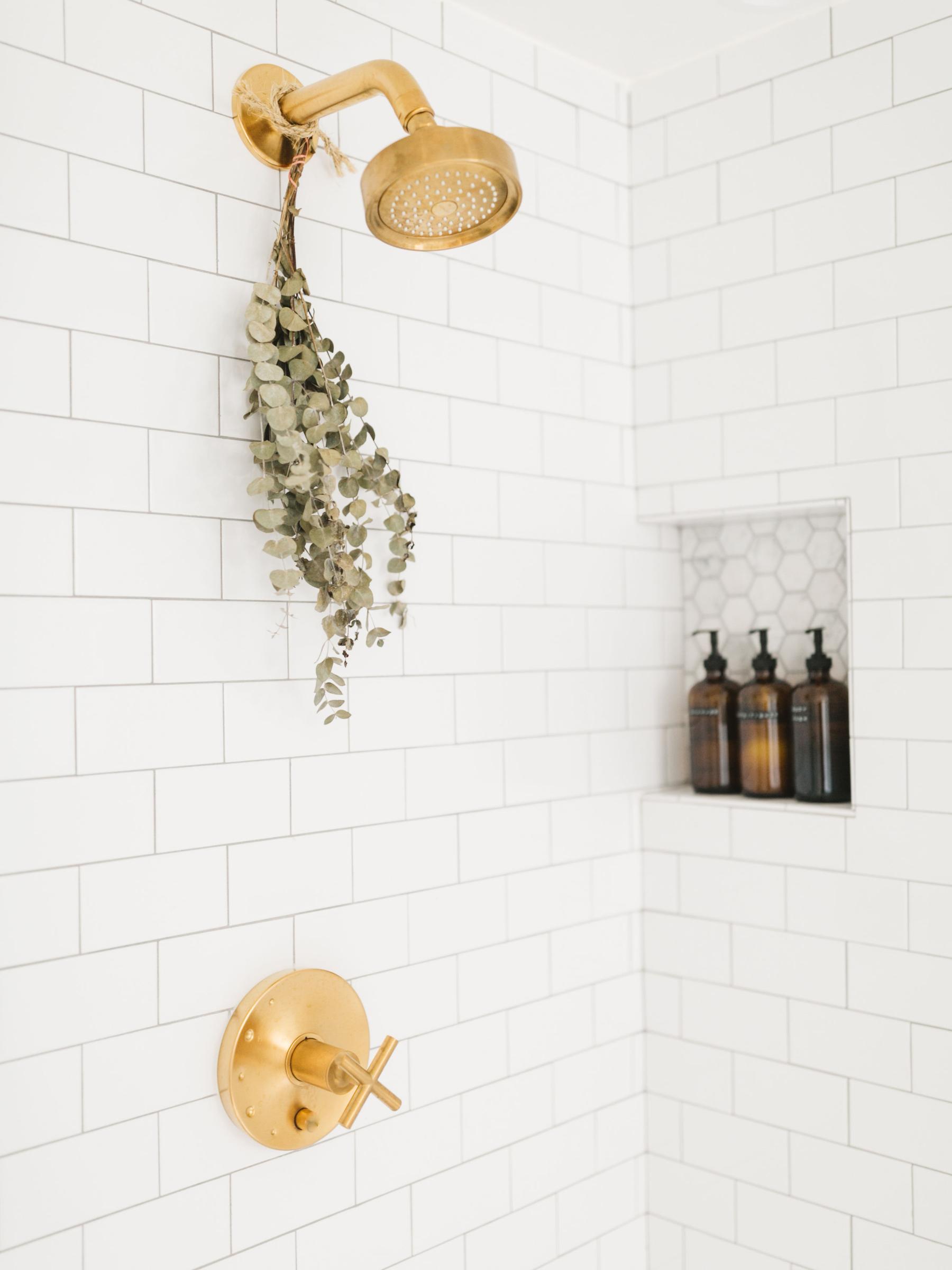 5. Ornate mirrors
Oh wow, I am just such a sucker for ornate mirrors and these babies definitely take the cake for some of the most stunning ones I've seen! I love the golden brassy trim that compliments the neutral colour tones of the overall bathroom aesthetic.
And matching your handles, knobs and metal finishes to your mirrors creates a cohesive feeling within your bathroom that ensures the whole design story works perfectly together. This is a drool-worthy bathroom!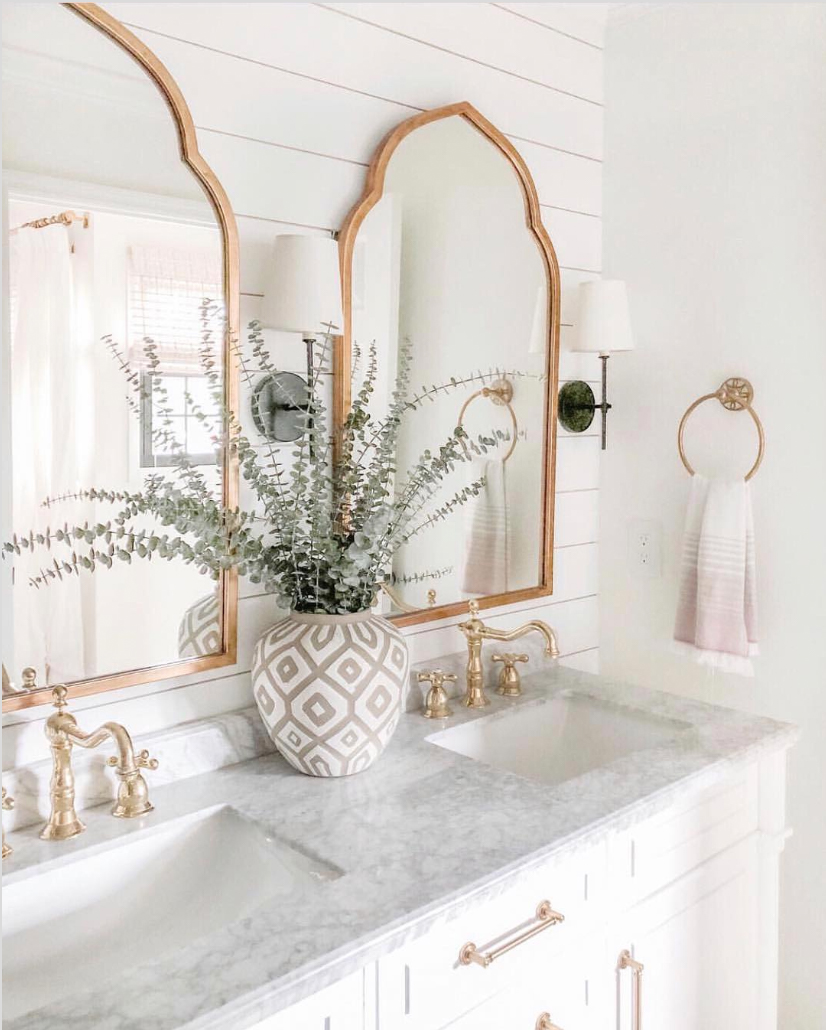 6. Marbled mermaid walls
Fish scale tiles or (as I like to call them) mermaid tiles are a trend that I'm absolutely here for and bathroom walls are the perfect place to work this trend to your advantage. As well as the pool and ocean, the bathroom is another place where you can channel your inner mermaid or merman and making your walls reminiscent of the ocean can really bring an extra level of zen to your bathroom routine.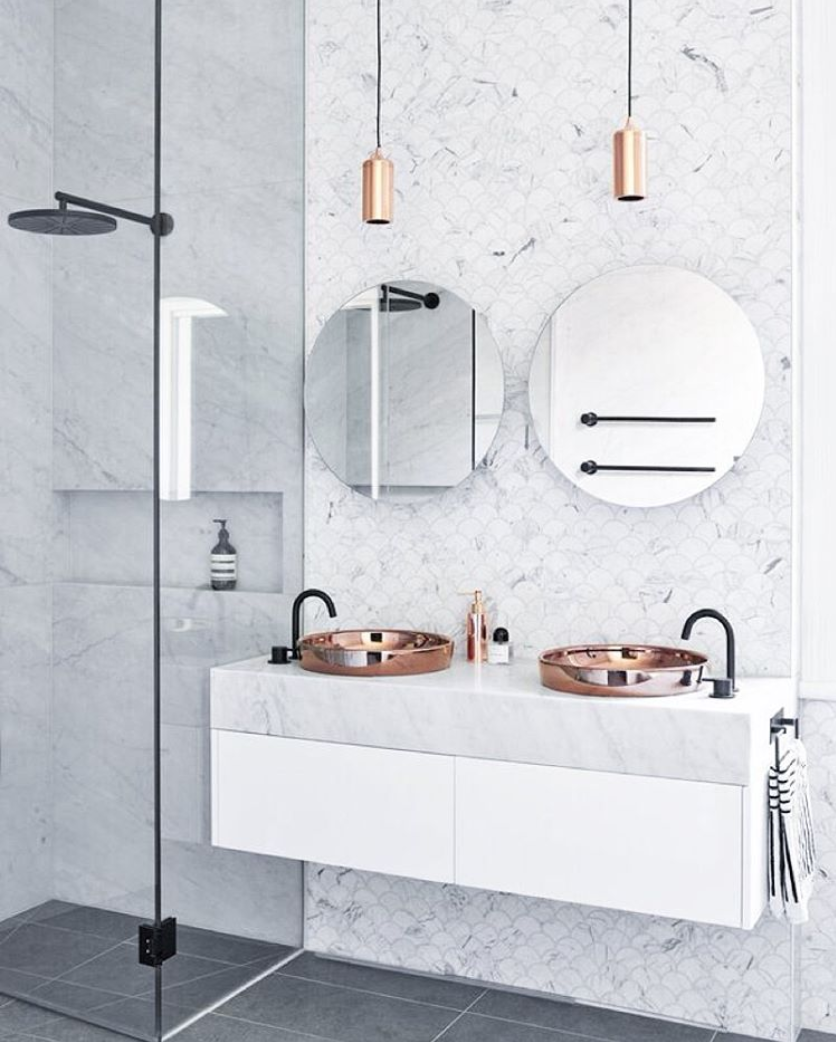 If you want to see some other eye-catching mermaid tiles you have to check out these bathroom tile ideas and also these bathroom shower ideas.
7. A dreamy skylight
If I ever get the opportunity to build my dream home, I'll definitely have skylights installed wherever possible. One of the many benefits to having a skylight is that you don't need to have the lights turned on as often. I also love that you can make the most of the natural light beaming into your home as well as having that indoor-outdoor vibe that makes it feel like you are living on a tropical island at all times.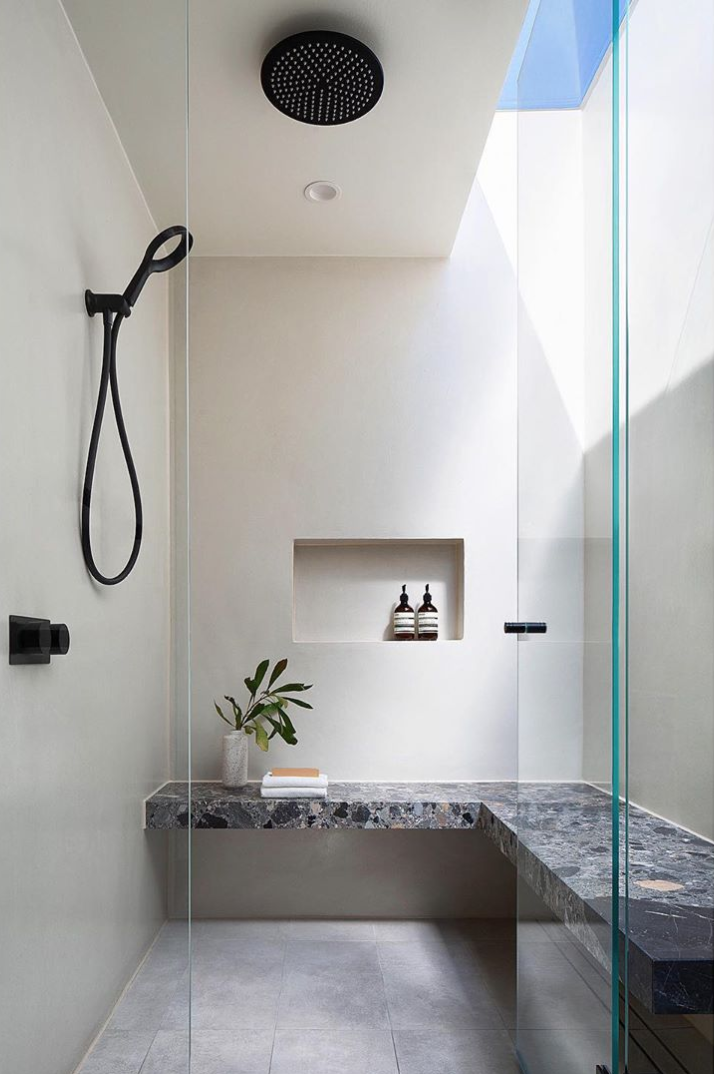 8. Bringing the outside in
OK, it's not a secret that my current (and forever) obsession is indoor plants. I have them all over my house but have never actually thought of putting them in my bathroom… Until now.  Putting plants in your bathroom is the perfect way to bring the outside in, plus most plants will even thrive off the steam from your shower.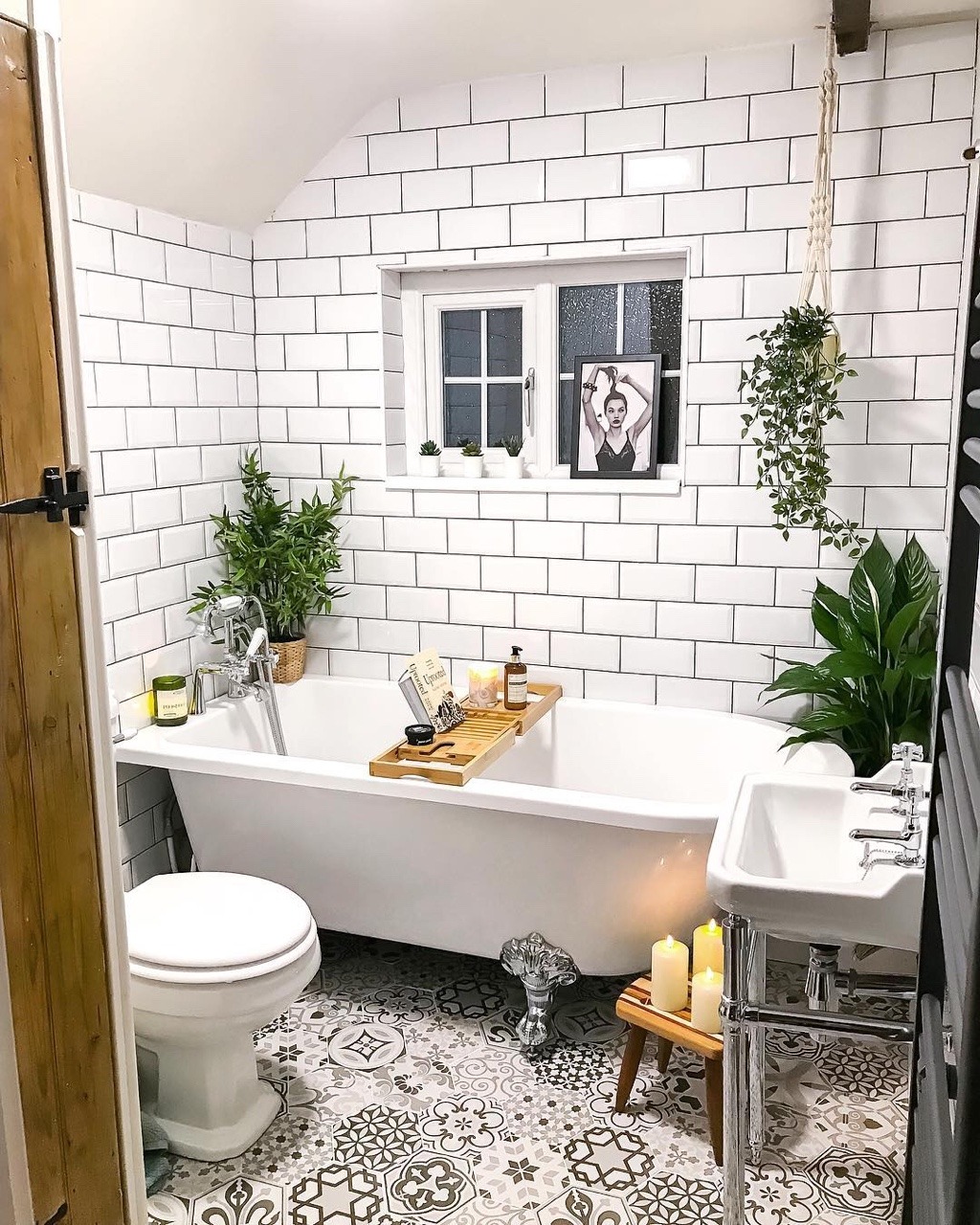 Actually it's such a great idea that we've dedicated an entire article to bathroom plant ideas and also other indoor plants for your home.
9. Matching natural details
Having matching details can really bring your bathroom together beautifully. I love the addition of the little stool in the corner of the shower which doubles as a shelf for all your shower essentials which seems to be made in the same natural wood as the bathroom cabinet and surface.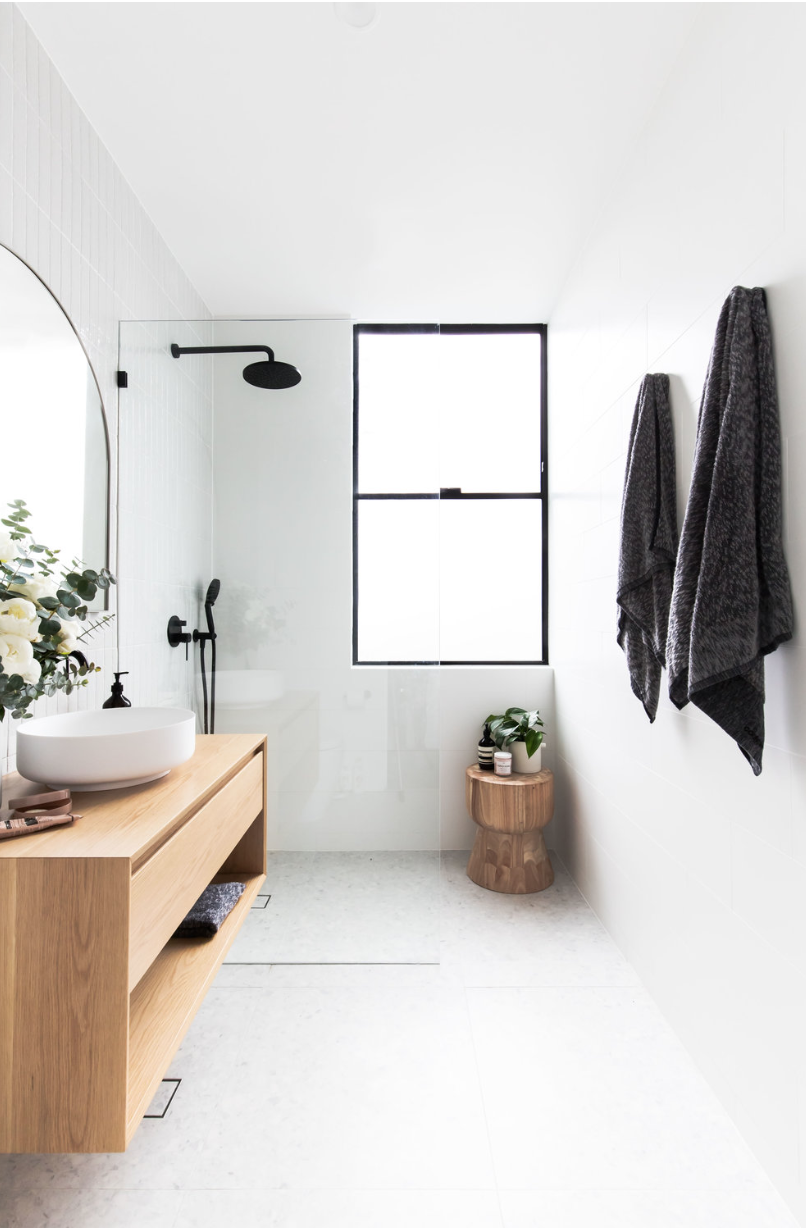 10. Ring light goals
If your bathroom doesn't have much natural light, the addition of a ring light mirror installation will be perfect for your beauty and bathroom routines. You can create this look by installing an actual ring light to the wall or by utilising a round mirror and adding bright white LED lights to the circumference. Either way, getting an electrician to install correctly is something you should do to ensure your safety.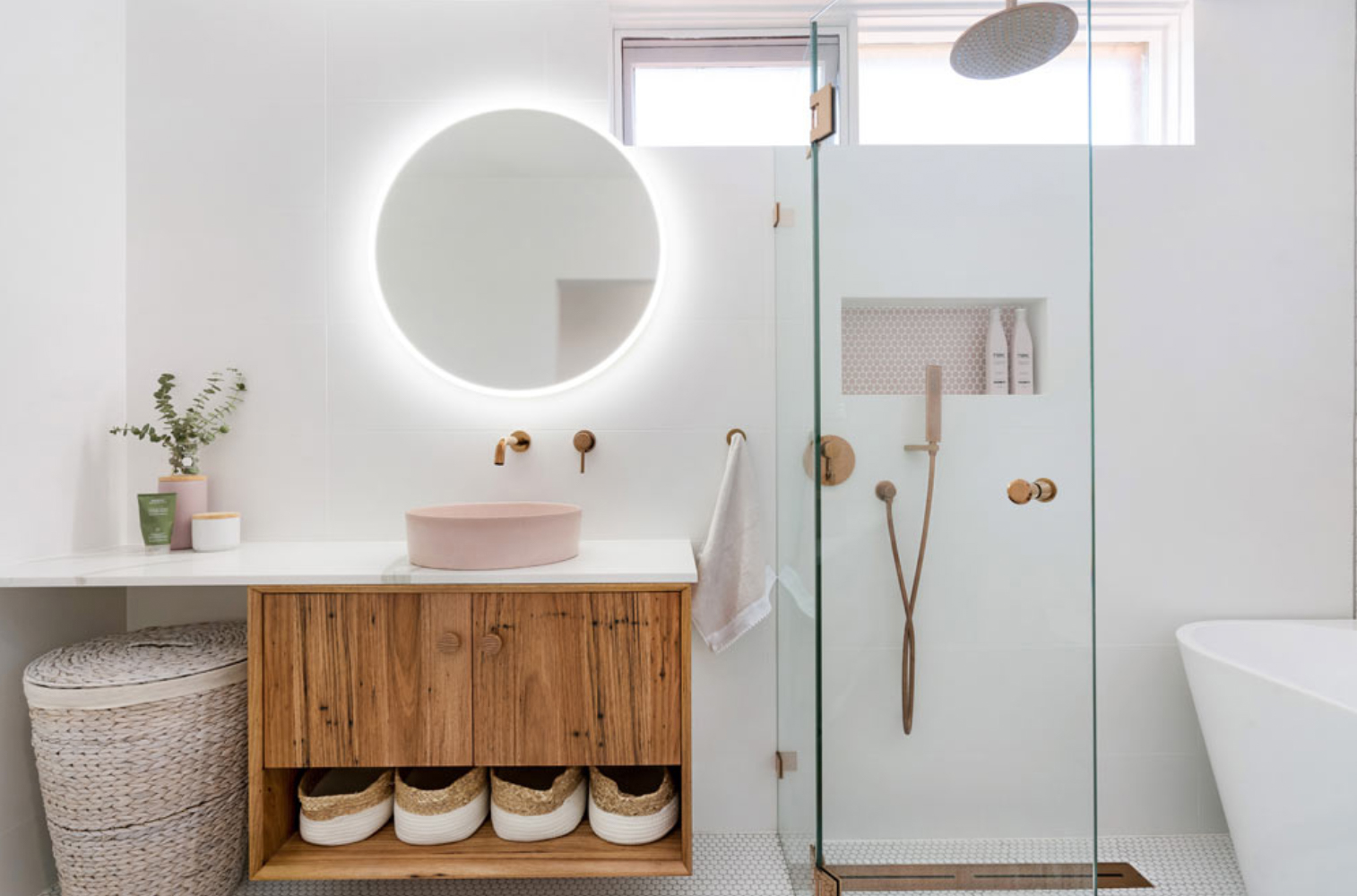 11. Your own personal salon
How beautiful is this design! Imagine having your very own vanity that looks like it could be straight out of the most luxurious of salons. The pink marble top, the swivel chair and a basin with gold detailing… What more could you want? Perhaps an in-house masseuse to come and rub your shoulders… Well one can dream!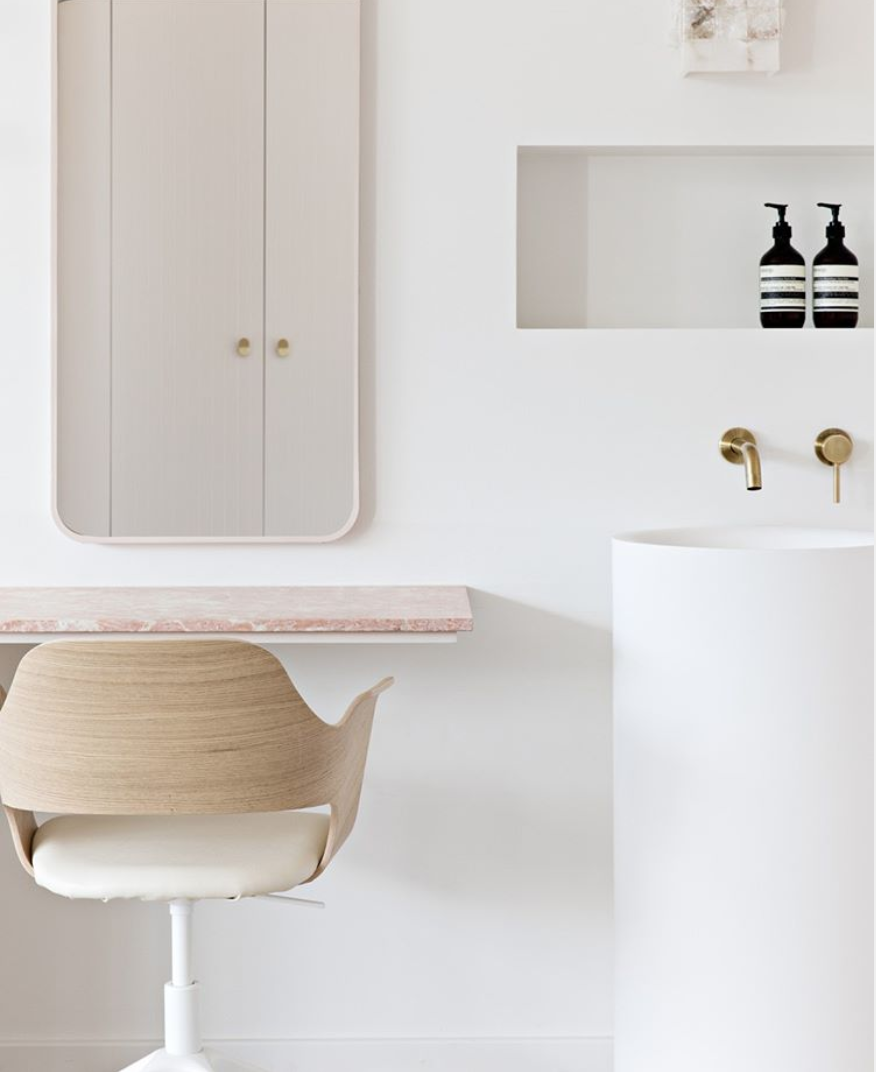 12. Floating cabinetry
I love how symmetrically satisfying this design is – each side literally looks like a mirror image of itself which works well with the slick floating cabinetry. There are endless possibilities for the vacant space under the cabinetry to which you could leave it completely bare or utilise this space for a small bin, rattan storage baskets or your favourite slippers!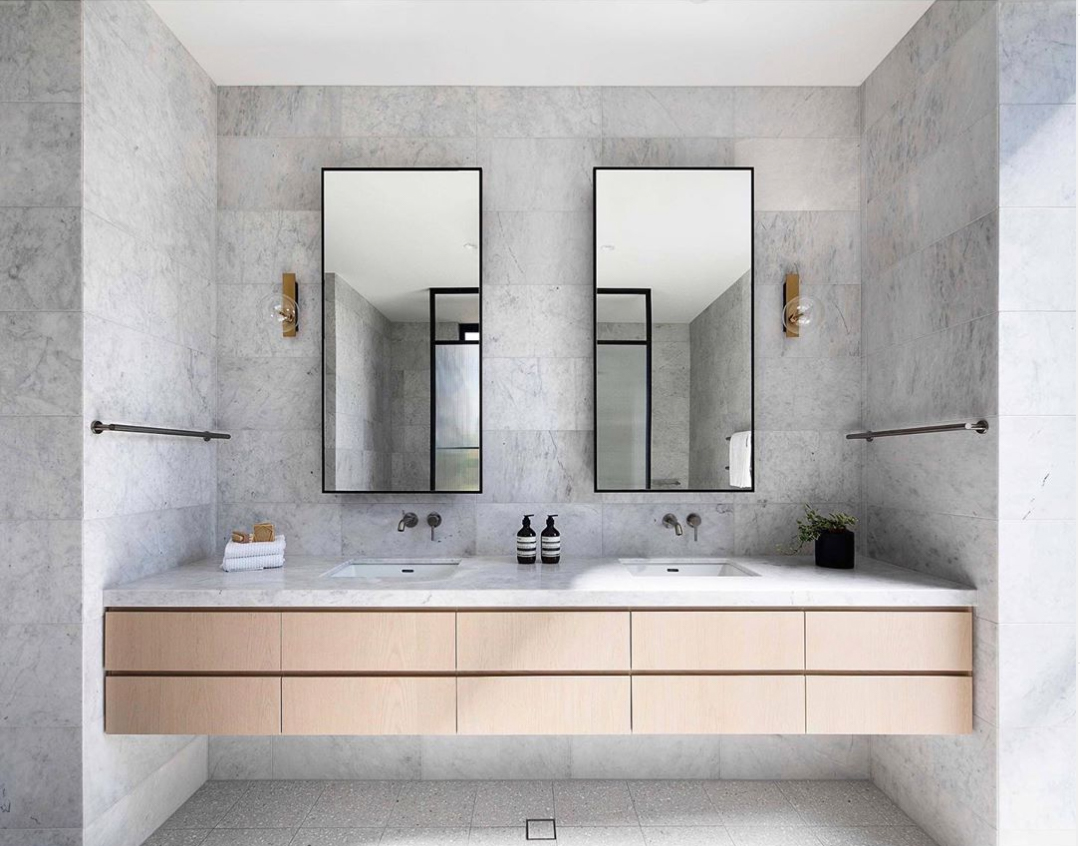 13. Bold pattern
Don't be afraid to make a bold statement in your bathroom with the addition of bright, patterned tiling which will bring fun to your space. And the best way to go is to match the tones to your existing fixtures just like this bathroom with the warm natural wooden surfaces which go beautifully with the mustard tones in the patterned tiles.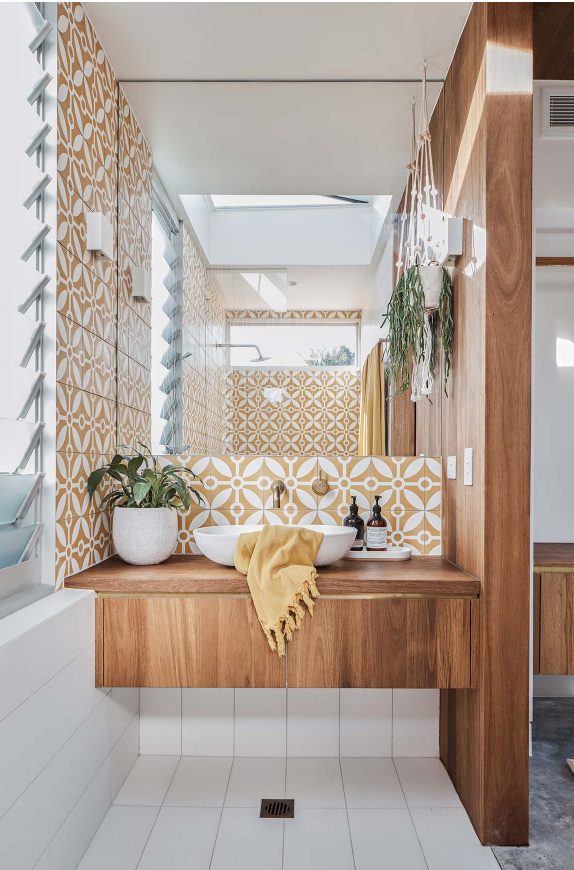 14. Blushing beautiful
A clever contemporary design solution would be to choose one colour tone that you absolutely love and just rolling with it. The blush tones of the tiled walls, countertop and bathroom accessories are perfectly paired with the rose gold tones of the metal finishes.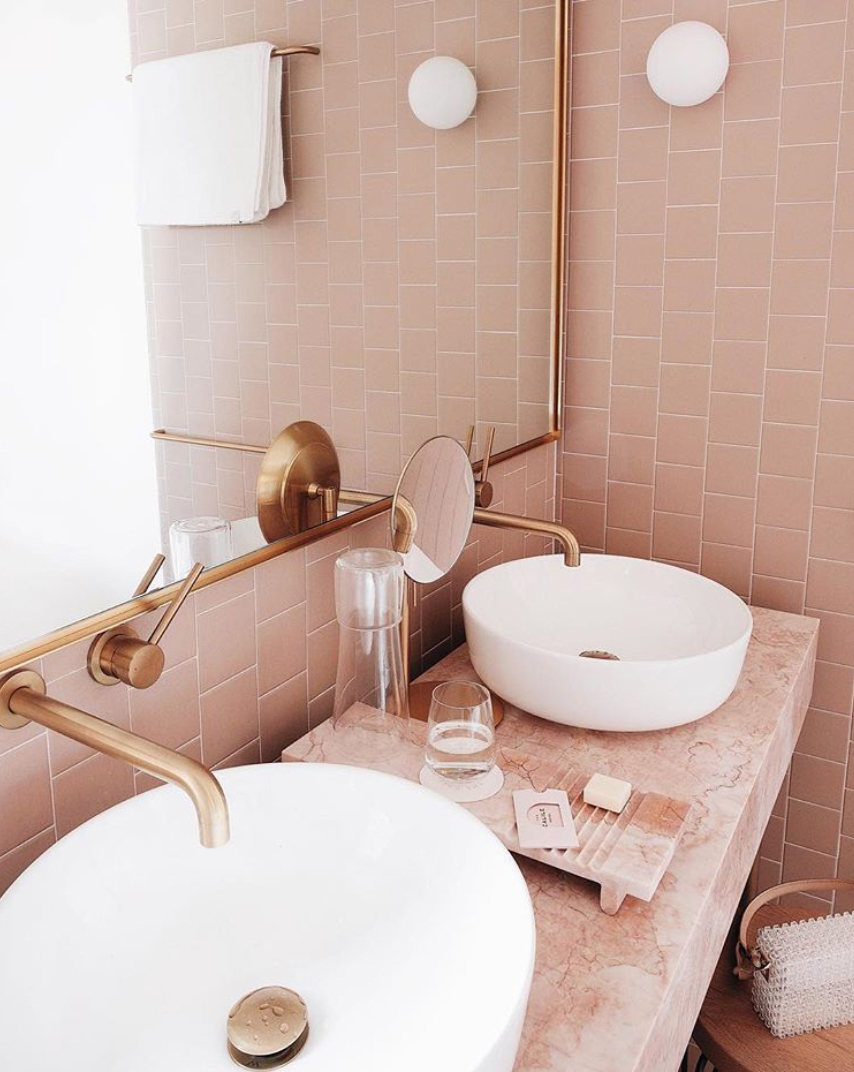 15. Urban vibes
This design is simplicity in all its grandeur and glory. A floor-to-ceiling slabbed wall not only serves as an effective divider for a bathroom, but it also offers a way to frame your bath and make it a feature of your space.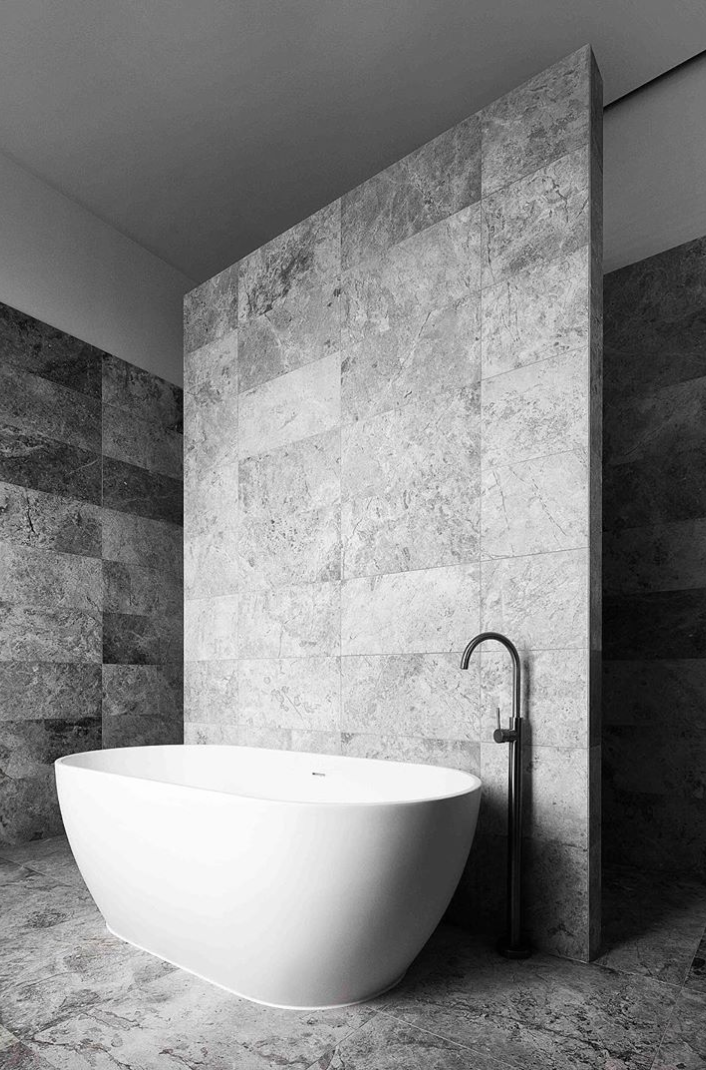 16. Mirrored storage
When you are limited in space, it is so important to include design solutions that can be for multiple uses. And mirrored storage works great in a smaller space as they double up as shelving units which you can use as storage. And this allows for a tidier space, keeping all your products off the bench and out of the way!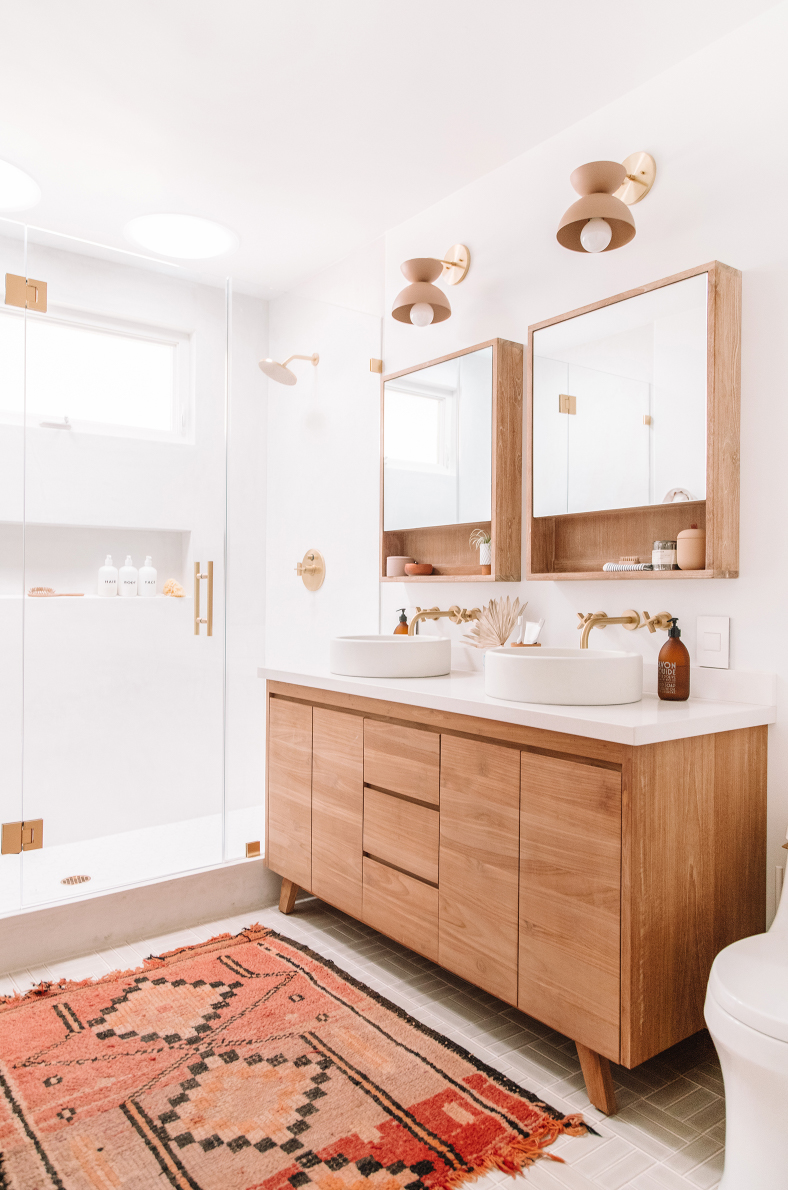 17. Shower and bath 2-in-1
I just love the way this bathroom has been designed with the clear screen separating the vanity and wet area. Plus, the convenience of having the shower and bath in one area means that the rest of your bathroom won't get wet when you are using the shower or bath. Genius!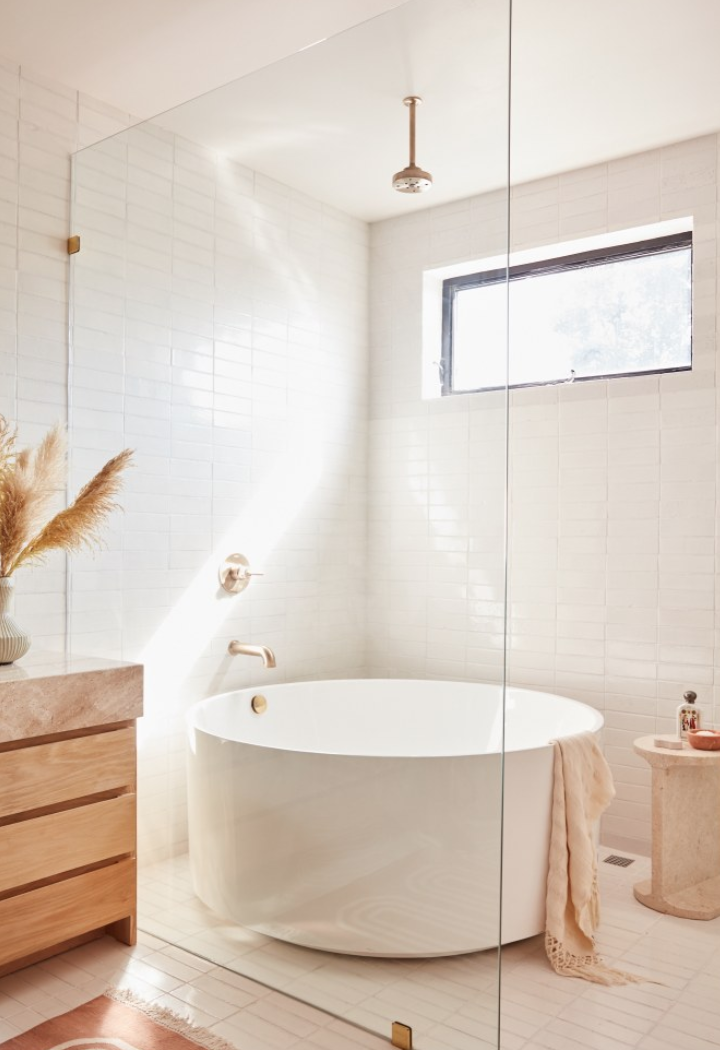 18. Mixing tiles
The varying textures within the different tiles create an interesting design to an otherwise simple and minimalistic bathroom. Using the same colour palette ensures an ever so subtle texture detail that is contemporary and modern, yet will still be on-trend for years to come. Plus, the different shapes in the white brick tile with the herringbone grey marle work perfectly together.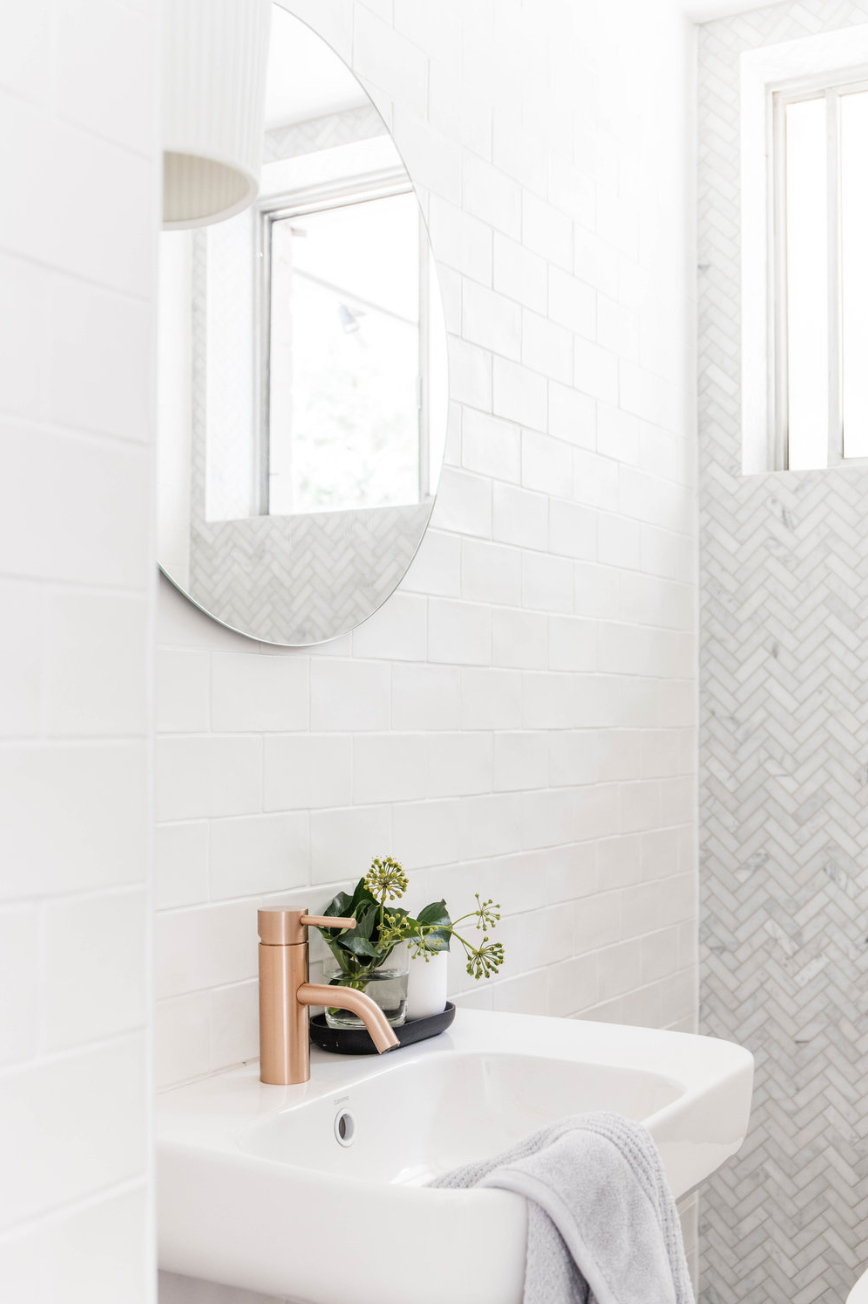 19. Stand-alone bath
A stand-alone bath is so divinely luxe that this bathroom set up would even turn me into a bath person! I like how this bath has been purposely placed next to a wall but you could even experiment with placing your bath into the middle of the room to really achieve that luxurious stand-alone feels.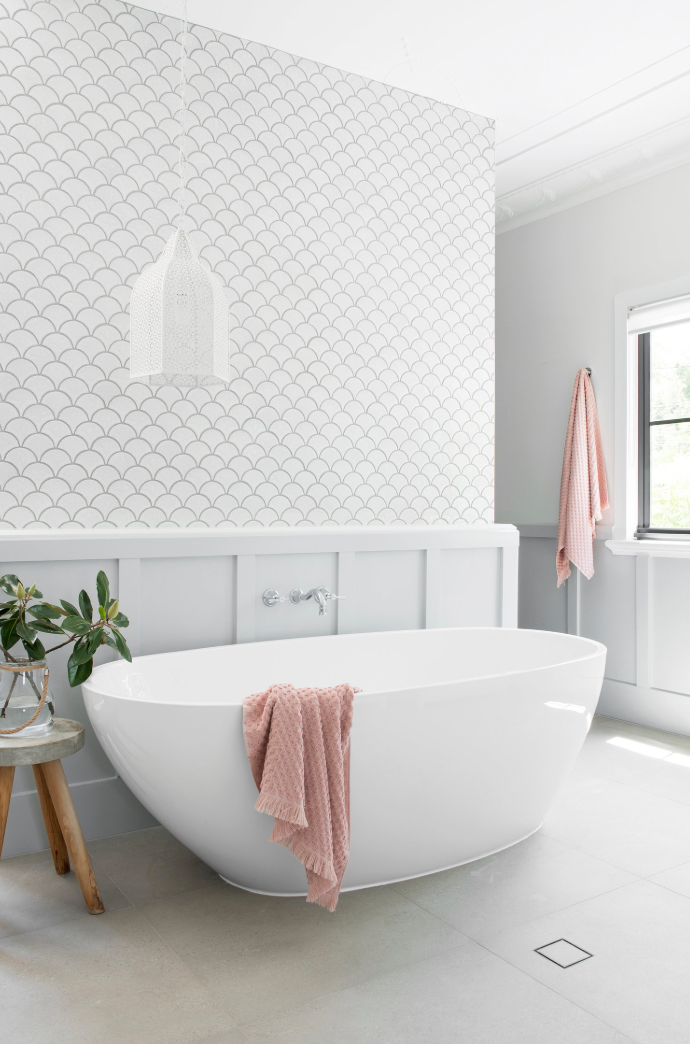 20. Open to the outdoors
The absolute dream would be to have a bath that has sliding doors that open right out to your own private rainforest. Am I right?! And this is another space that would definitely turn me into a bath person and I can already imagine spending a long time in a space this calming.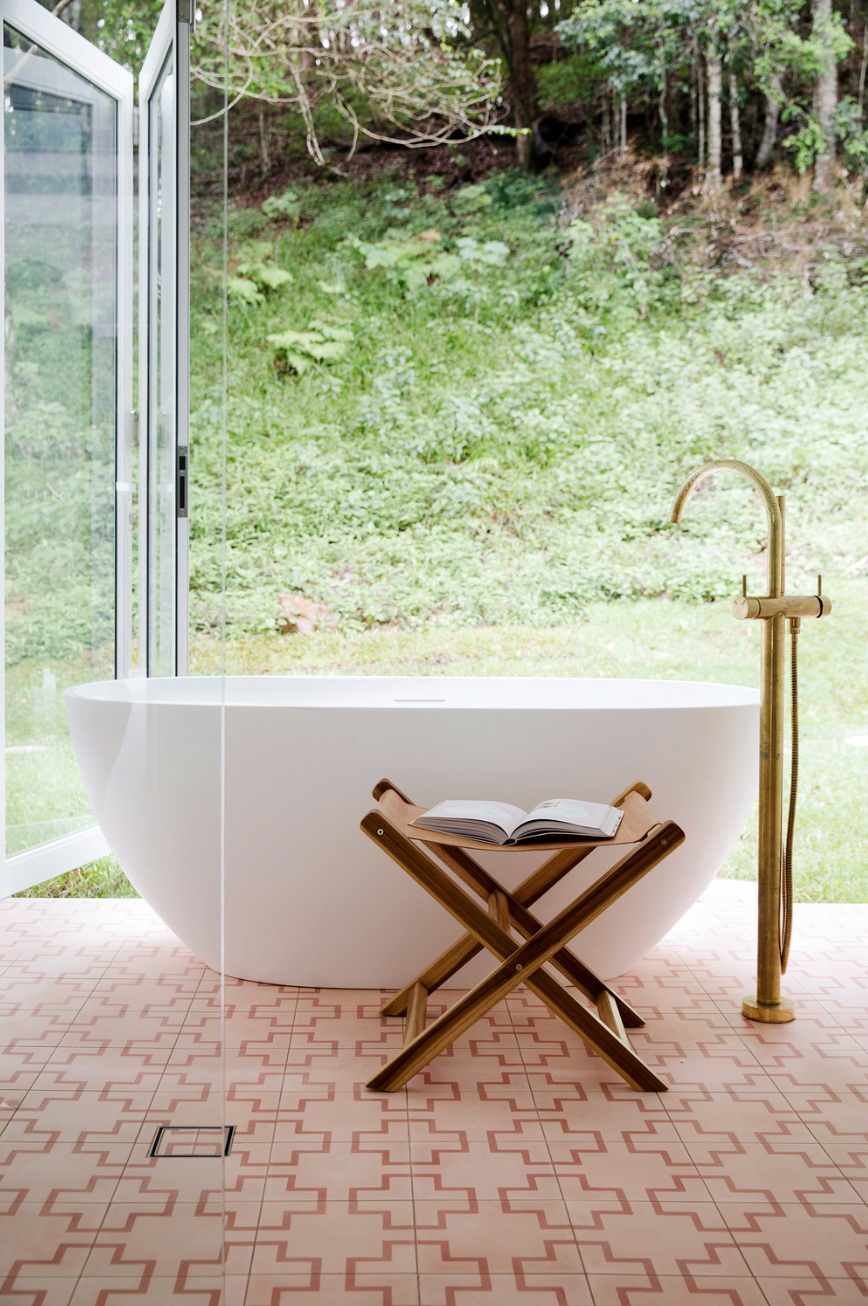 21. Honeycomb dreams
I really do love when I see tiling that isn't your usual shape, colour or texture and this hexagonal tile makes no exception. For some reason, hexagons always remind me of honeycomb and bees so I love that this design has been incorporated in this bathroom. And varied tiles create texture and shape that help elevate any bland space that needs a lift.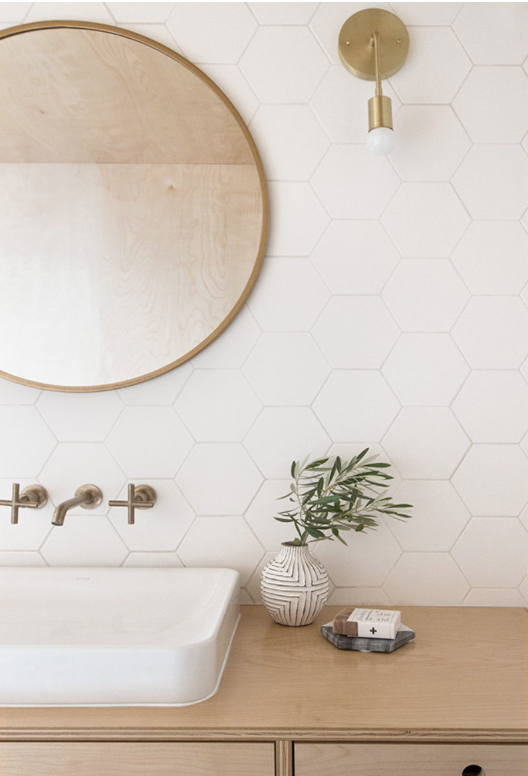 22. Coloured basins
Coloured basins are an effective way to bring a permanent pop of colour into any bathroom. And these pink basins have been paired back with gold metallic finishes, white, wood and stone surfaces and a light pink feature wall.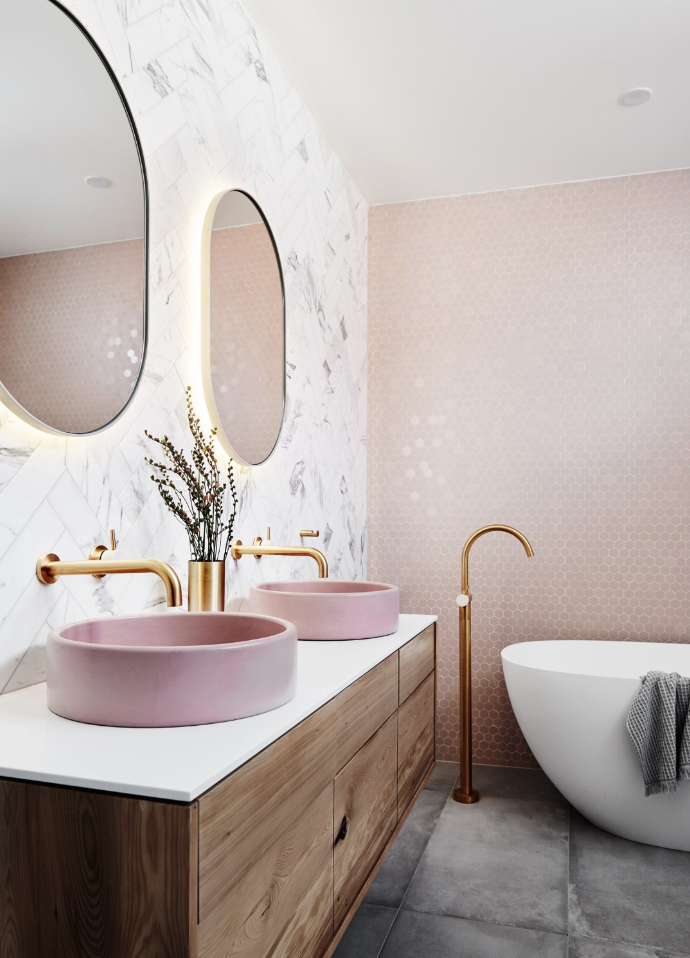 23. Black details
One of the best ways of creating a cohesive space is through choosing a colour palette and sticking with it. And the black detailed trims on this bathroom have been carefully and thoughtfully designed in a way that the bathroom has been brought together perfectly and is aesthetically appealing to look at.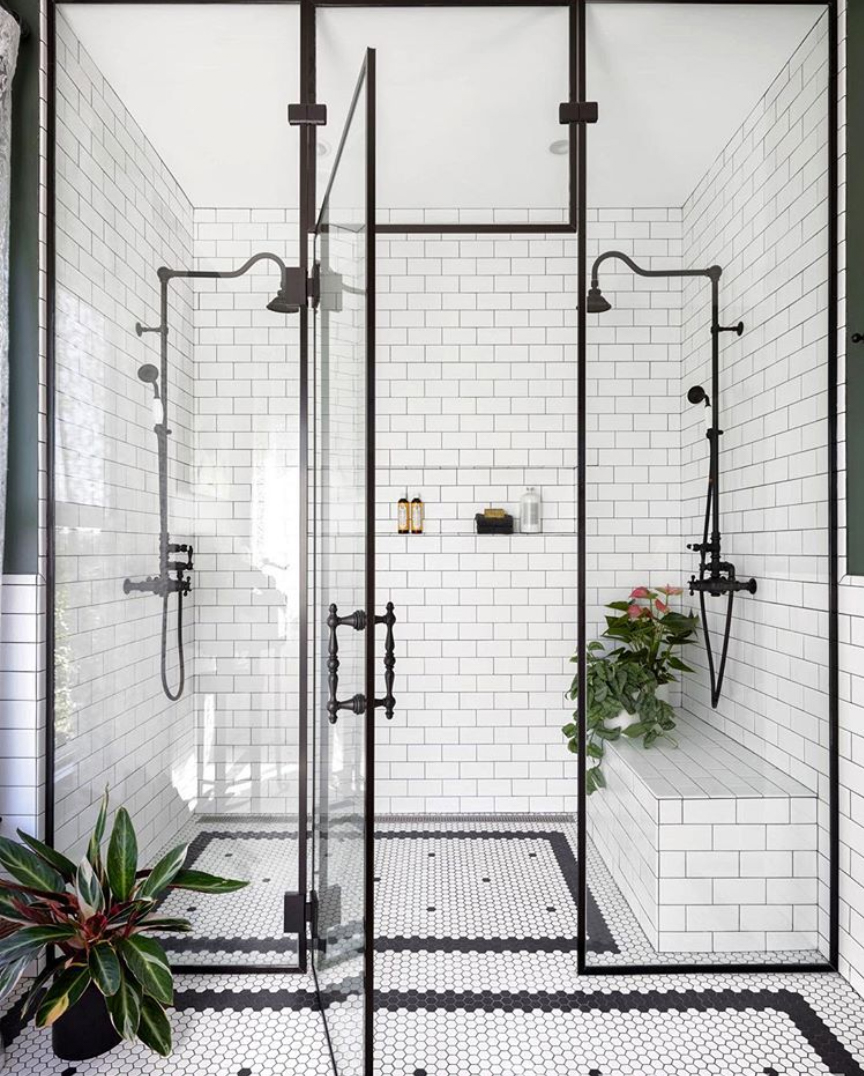 24. Extravagant shower curtains
Now, we've all seen the typical shower curtains which usually seem tired and daggy, but what about making the most of a beautiful high ceiling and adding a shower curtain instalment, making it a feature of your bathroom? I love how opulent and extravagant this bathroom looks with the brass finishes and long white curtains that gently touch the tiles.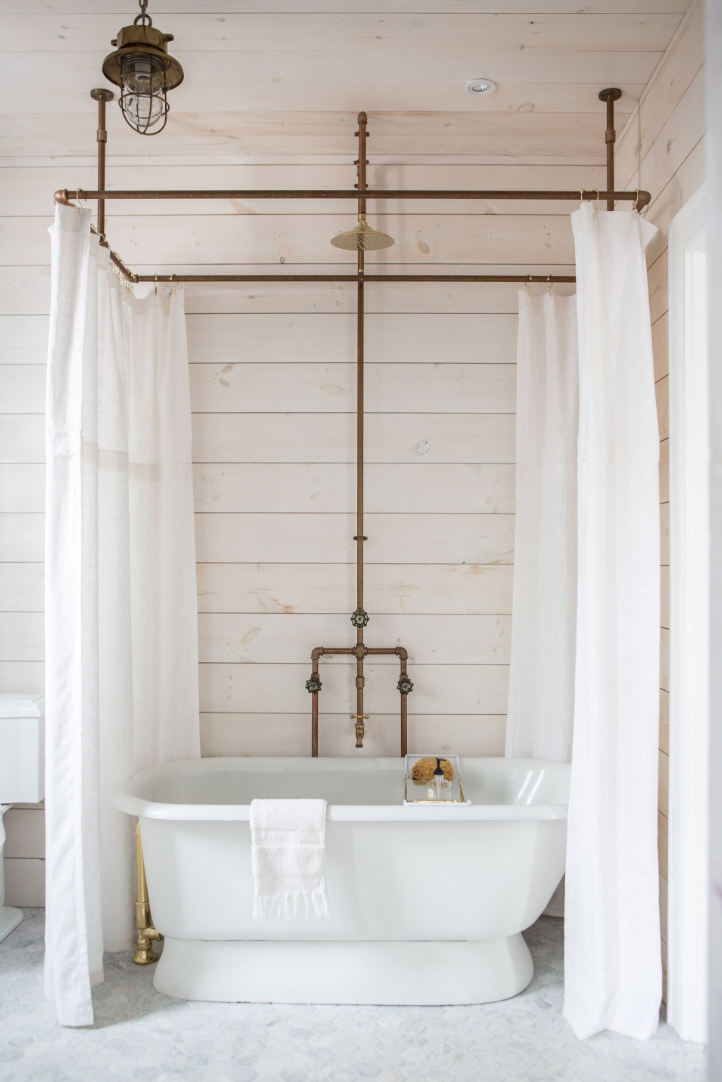 25. Stone surfaces
By making the stone tiles wrap around from the ground up, this merges the areas together which creates an open bathroom that is spacious and welcoming. And the stone surfaces also bring a naturalistic element into the bathroom that is neutral, yet still eye-catching.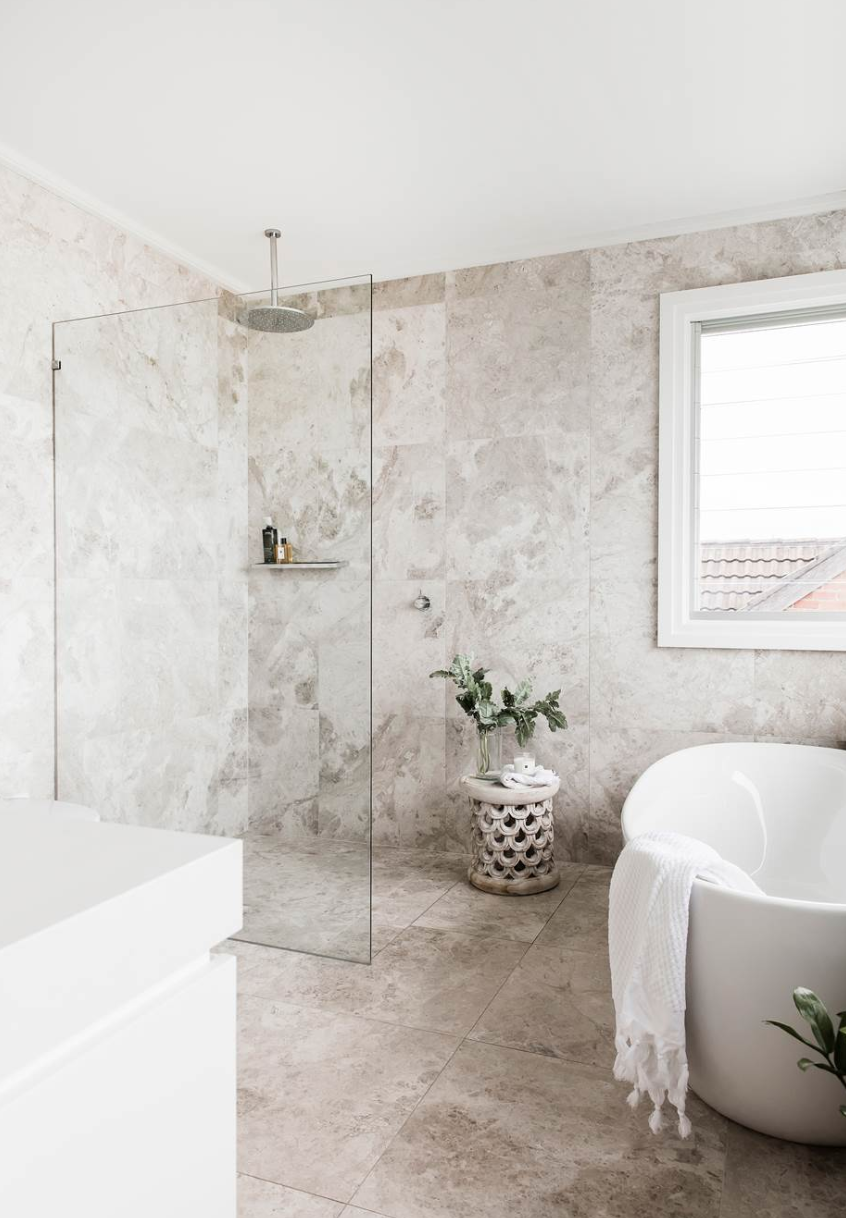 26. Brass finishes
With the addition of the brass finishes to the showerheads and faucets, this bathroom is one to take note of! Plus, brass finishes add an on-trend regal approach that works really nicely against the white tiling within the shower room.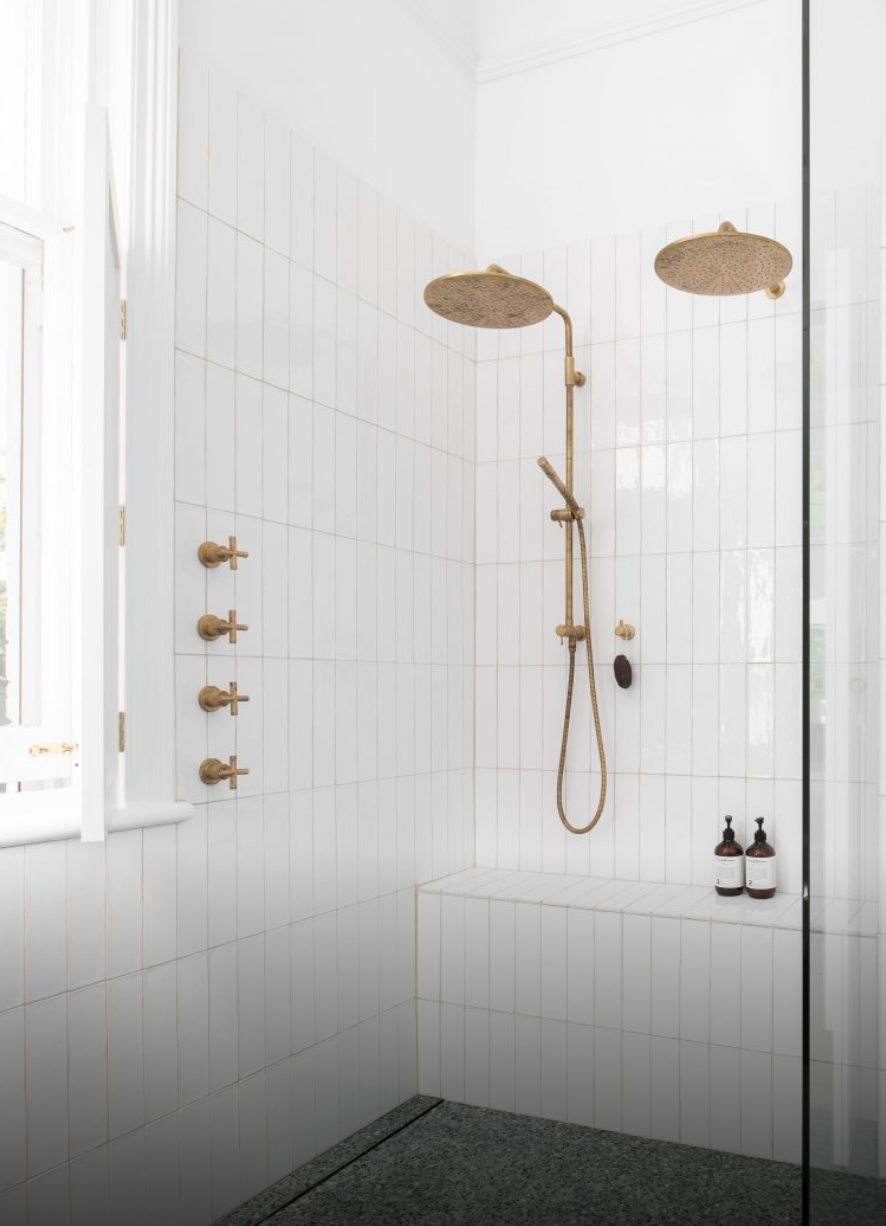 27. Varying textiles
This bathroom has quite a lot going on, but all the varying textiles really work together. From the intriguing window design, white herringbone textured tile and clean beige tile on the walls to the hexagonal floor tiling, beige cabinets and white bathtub, everything has been thought out and given its place in the design story.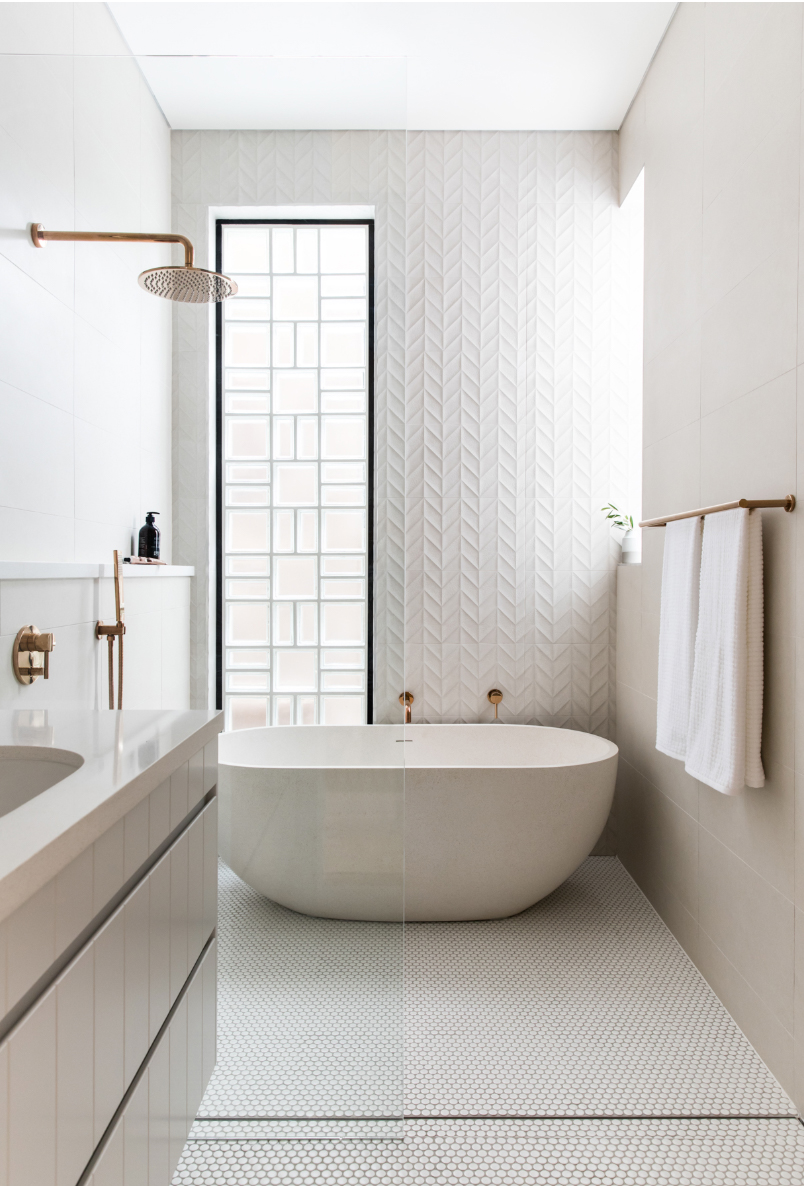 28. Statement cabinetry
Make a statement by using a bold pop of colour on your bathroom vanity or cabinetry. I love the use of teal in this bathroom that really gives life to the overall space. As colours go in and out of fashion, you could keep changing this up by just sanding down the unit and painting your new colour on!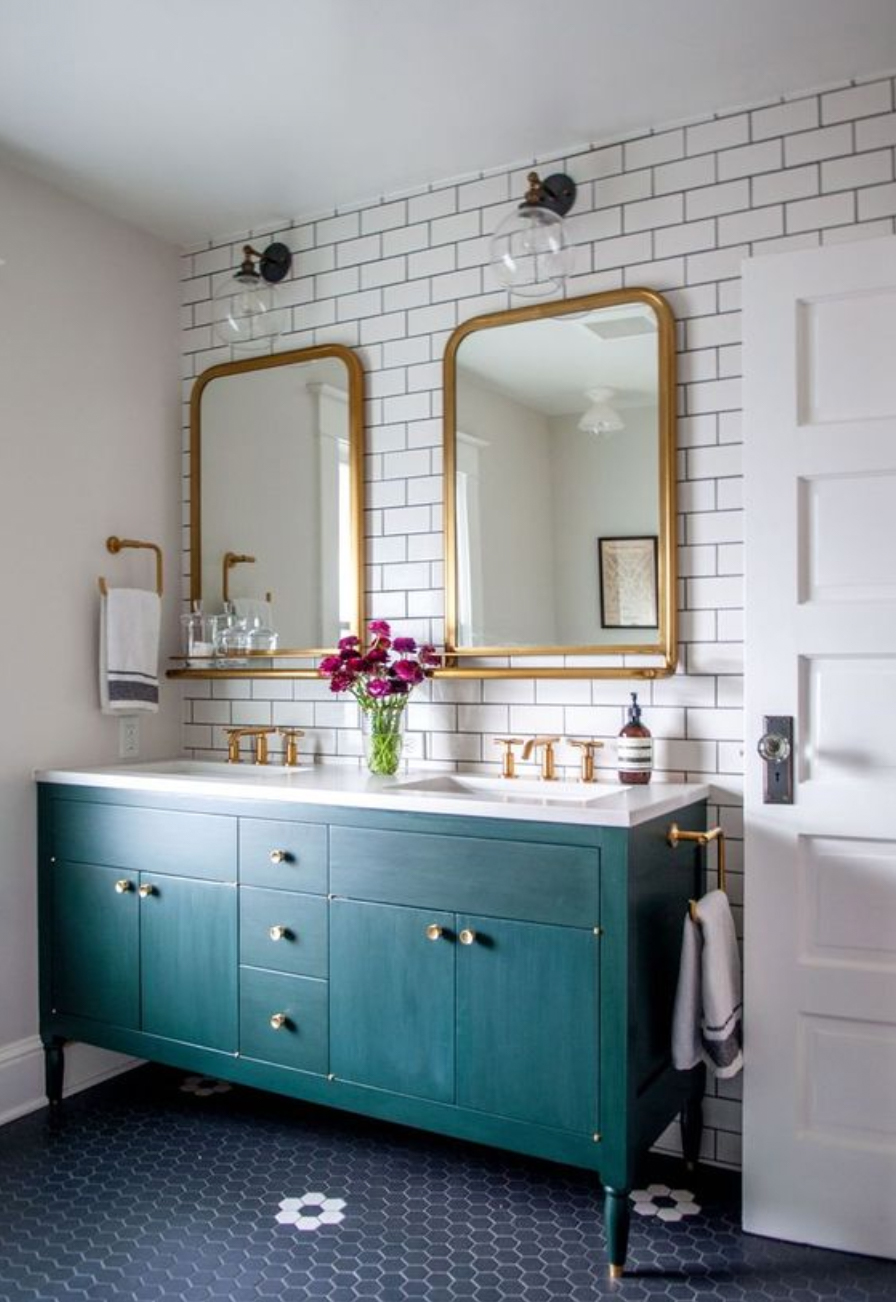 29. Back to basics
There's nothing quite like going back to basics with white, wood and gold and calling it a day. And this bathroom has been executed beautifully with the simple white bath, hexagonal tiled floors, white brick walls, gold metallic finishes, a floating wooden shelf and thoughtful decor such as a cute little potted indoor plant.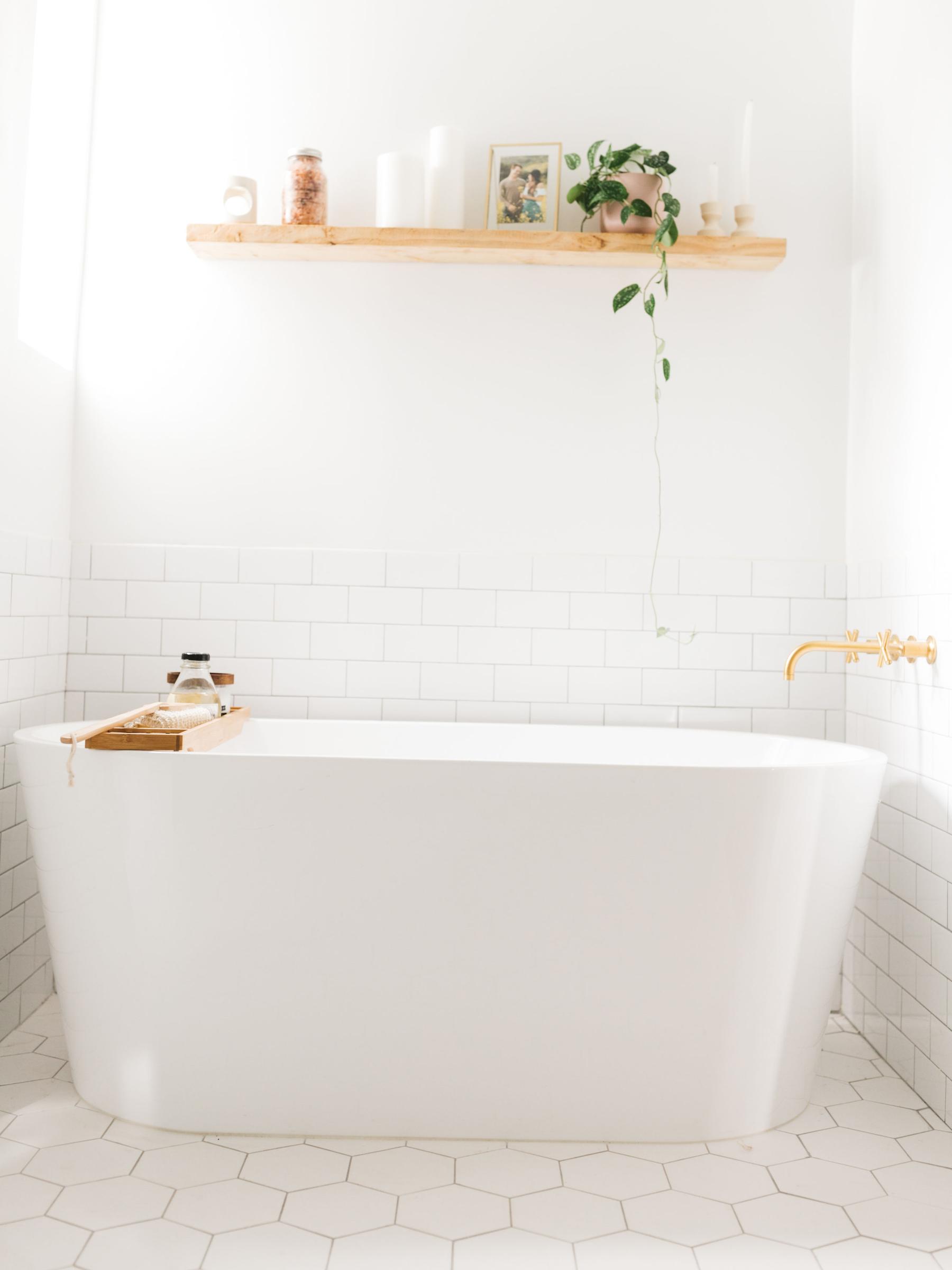 30. Arched mirror
Now, there are so many differently shaped mirrors these days that can really transform your space. Arches and rounded shapes are very on-trend at the moment, so utilising this trend will automatically give your bathroom a stylish appeal that looks straight off of Pinterest or out of a magazine!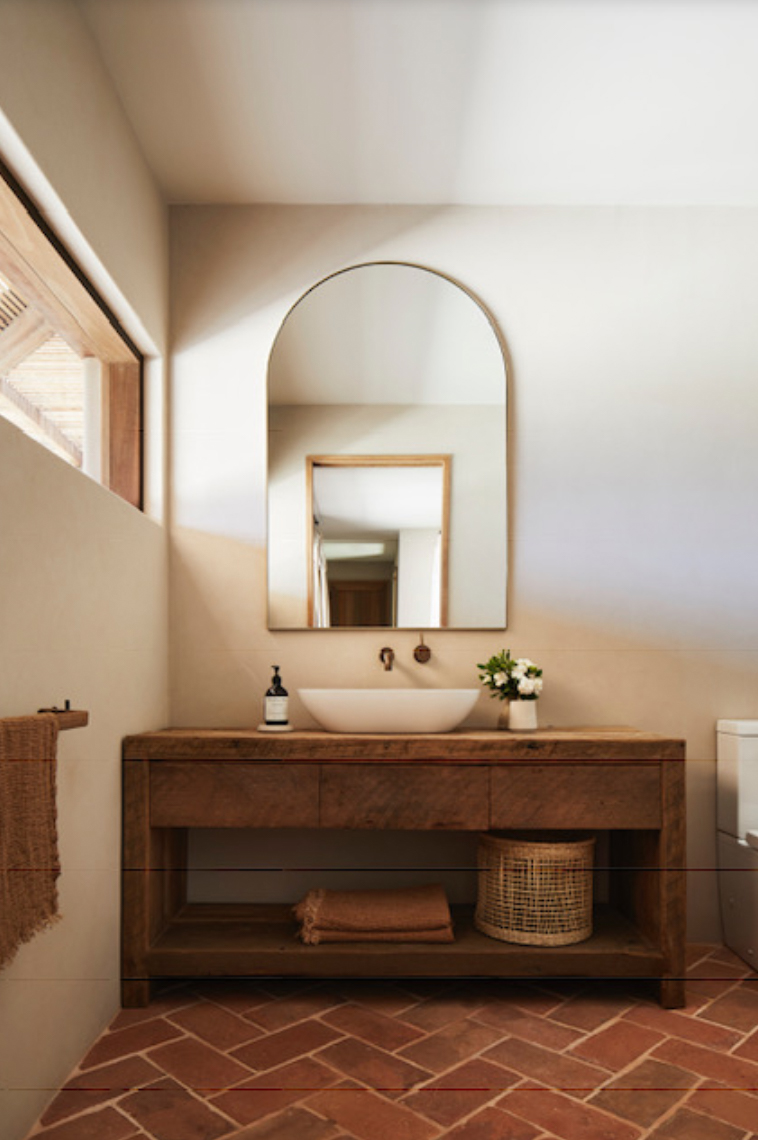 31. Hanging macrame towel rack
Macrame and roped details are all the rage right now and we always need somewhere to hang our towels. So by thinking outside the box and coming up with a hanging macrame towel rack like this is genius! And all you'll need are some ceiling hooks, rope and a rod or some driftwood to act as the rack!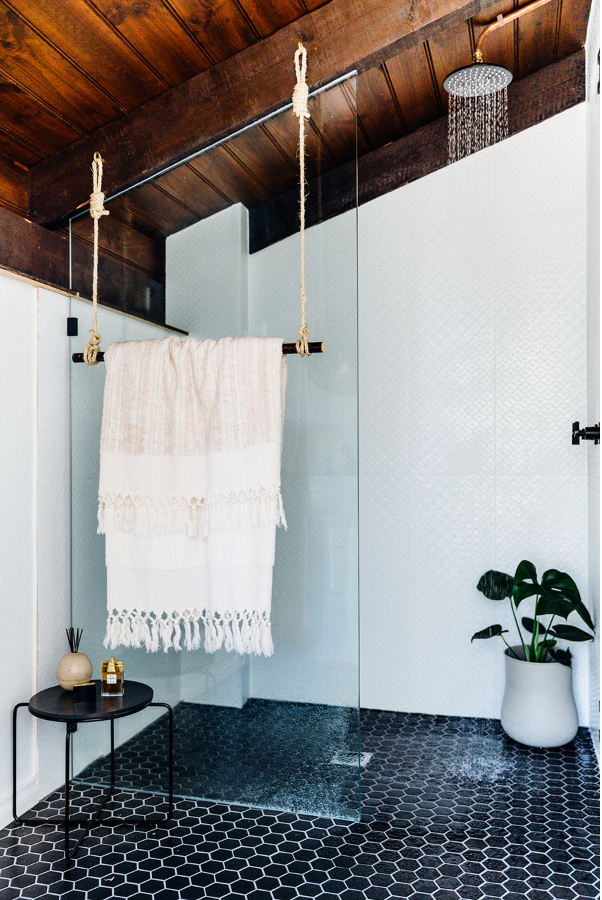 32. Moroccan style flooring details
What about adding a statement floor to your bathroom? This Moroccan style tiling pattern works really nicely as it features a neutral colour palette and is a classic pattern that will stay in fashion for years to come. And the other details like the countertop, mirror and baskets all pair nicely together with the tiling details.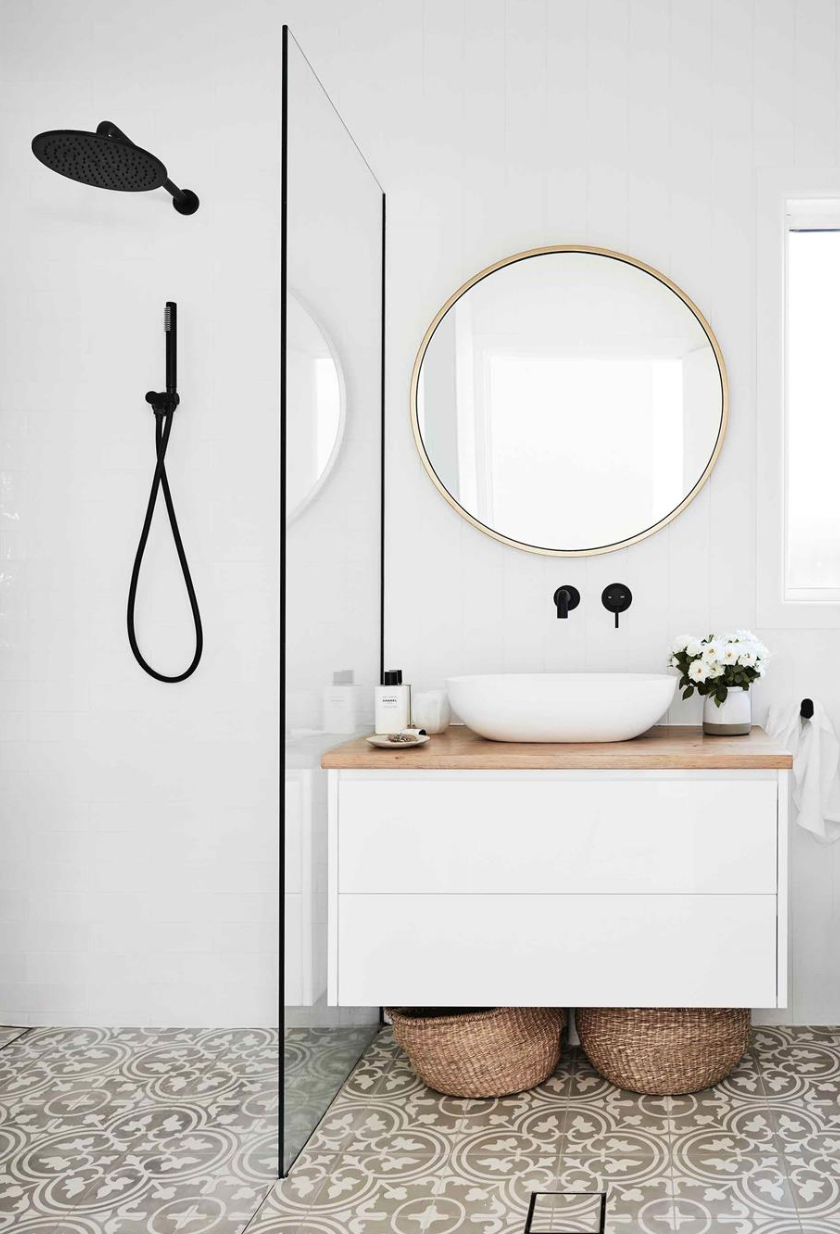 33. Statement rugs
Most of us would have bath mats in our bathrooms but have you ever thought of adding a statement rug to catch the drips? And this otherwise simplistic bathroom is brought to life with the addition of the purple and blue vintage style rug which makes the overall feel of the bathroom more warm and welcoming.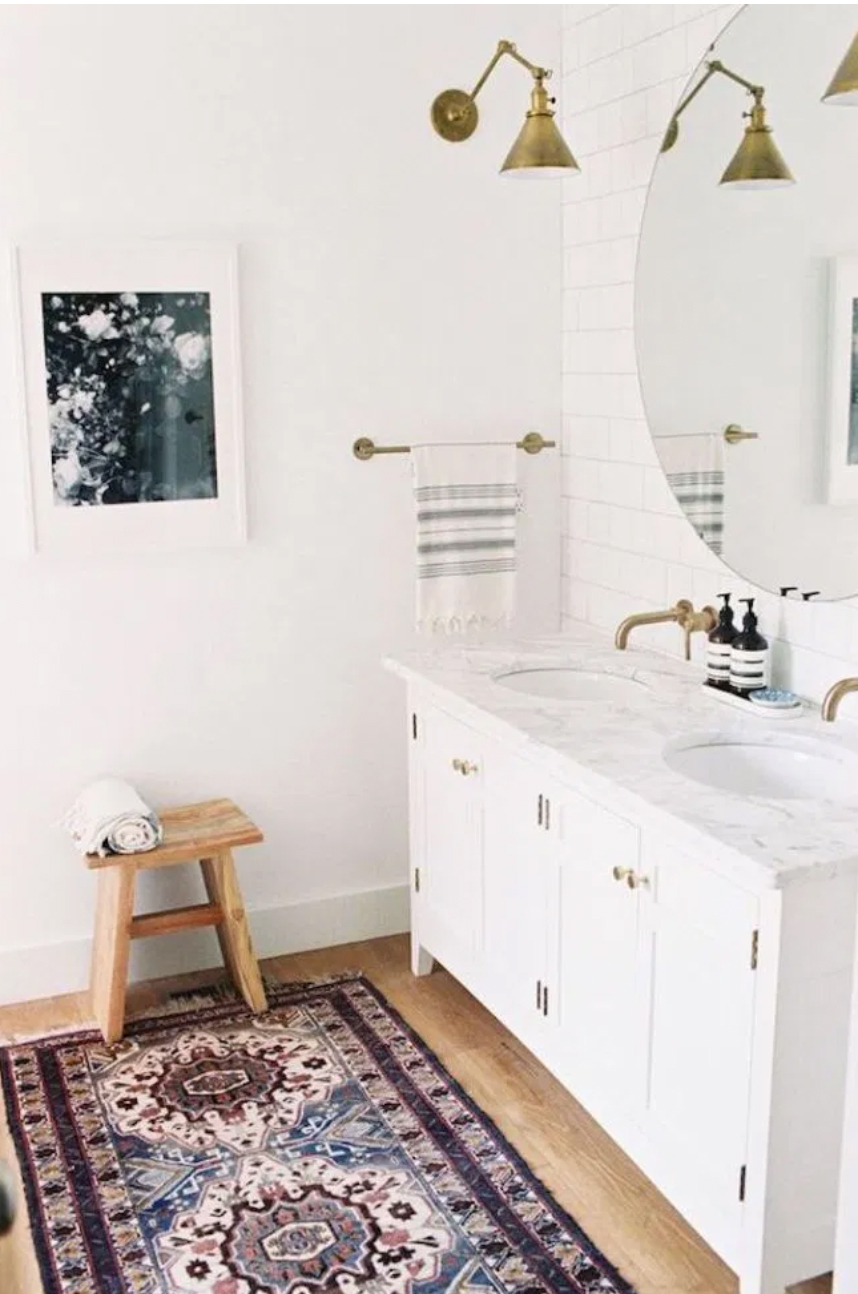 34. Dark details
If I'm being honest with you, I'm so used to seeing bright white bathrooms… Now, don't get me wrong, a white bathroom is my favourite. But what about playing with some darker colours and bringing warmth into your bathroom?
The planked wooden walls remind me of the type that you would see in a sauna so I automatically think of warmth when looking at this bathroom. Also, the dark pots, black sink and dark brown vase really go well with the overall theme of the bathroom.
35. Rattan additions
Something that I'm completely obsessed with at the moment is all things rattan. You can make the most of this trend by changing up your lampshade to a rattan one. Plus, add details such as tassels and towels that are in the same colour palette!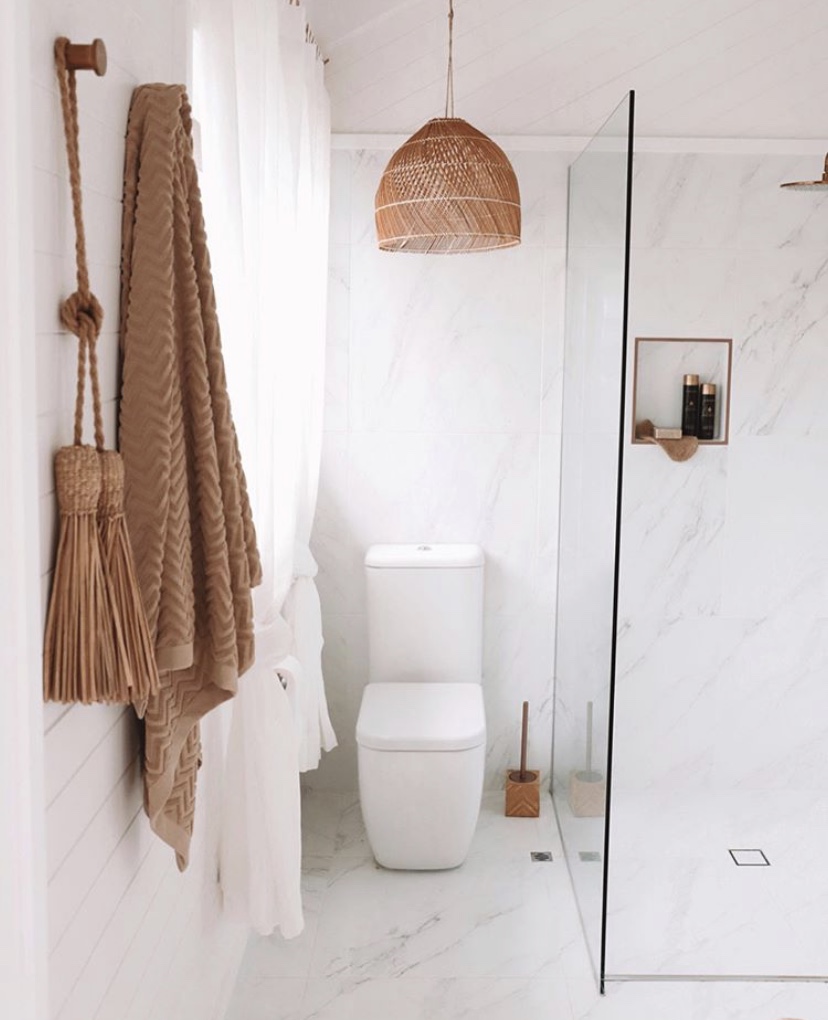 So there we have it, 35 contemporary bathroom ideas for your next bathroom renovation. My personal favourites are those spectacular ornate mirrors, skylight roofing and indoor/outdoor living. What stood out to you? What sorts of contemporary design solutions would you put in your dream bathroom? Comment and tell me.