Live your greenest life by filling your bathroom with plants! Not only do they beautify this often sterile-looking space, adding life and personality, but they have a whole host of health benefits to offer including adding fresh oxygen, removing toxins in the air, boosting your mood and reducing stress. Gee, what's not to love?
Bathroom plants are such a simple and affordable way to update your bathroom, whether it's a single trailing plant on the windowsill or a full green plant wall.
In thinking about the best plants for bathrooms, consider species that thrive in a humid, warm environment—and there are many to choose from. You will need plants that enjoy indirect light, can handle varying temperatures, are virtually impossible to kill and are low maintenance (I mean, who needs another bathroom chore?).
And of course, go for those plants that look lush and create a sense of serenity for those all-important spa vibes.
Here's my top list of the best plants for bathrooms:
Sansevieria
Pothos
Peace Lily
Spider plants
Heart-leaf Philodendron
Monstera
Staghorn ferns
Boston ferns
Aloe Vera
Bamboo
Calathea
Airplants
Orchids
Azaleas
Succulents and cacti
But there are plenty of options for plants that are perfect for bathrooms, and these are just a starting point. Your best bet is to speak to the experts at your local nursery or gardening centre, as they'll know exactly what to recommend and they'll have the healthiest specimens for you to buy.
Meanwhile, be inspired by our collection of more than 35 beautiful bathrooms featuring plants…
1. Allow your plants to do the decorating
Pare back the bathroom décor and focus on the plants. This bathroom is simple and minimalist but its stunning verdant outdoor aspect is captured and repeated by the placement of just one small potted Sansevieria (snakeplant) on the vanity.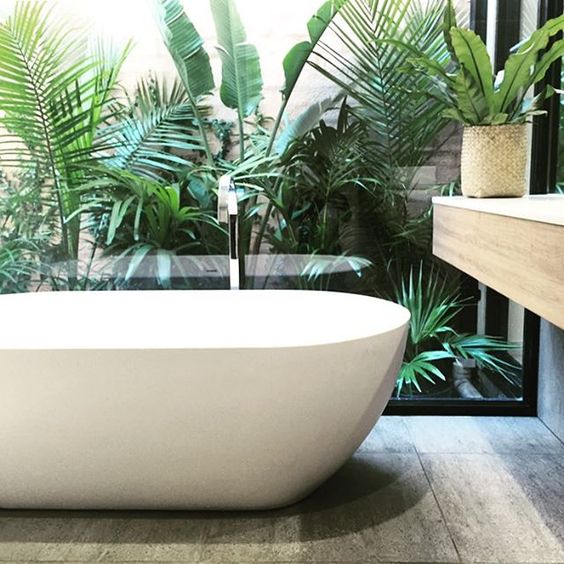 2. Have a feature plant
Enhance your bathroom by using materials inspired by nature as well as by adding a feature plant. Pick a strongly architectural plant such as the Rubber Leaf Plant, which is enjoyed for its glossy, dark green foliage that contrasts well with bathroom whites.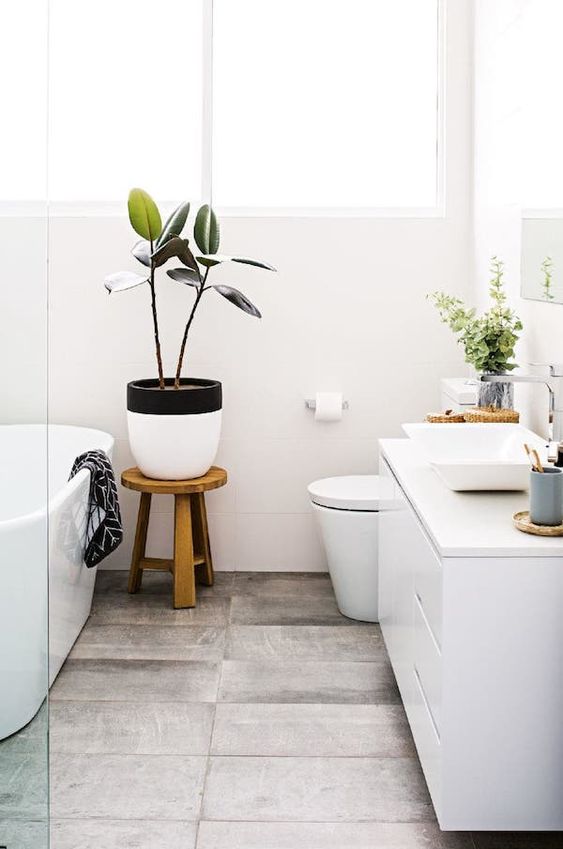 3. Use your corners
The corners of your bathtub are ideal for placing little potted plants. Make sure you choose a plant that doesn't mind low light if your tub corner isn't in a well-lit position. Your tub plant should also love humidity and water as it will get the odd spray. Plants like Pothos or Sansevieria (snakeplants) work especially well—and they're great beginner indoor plants.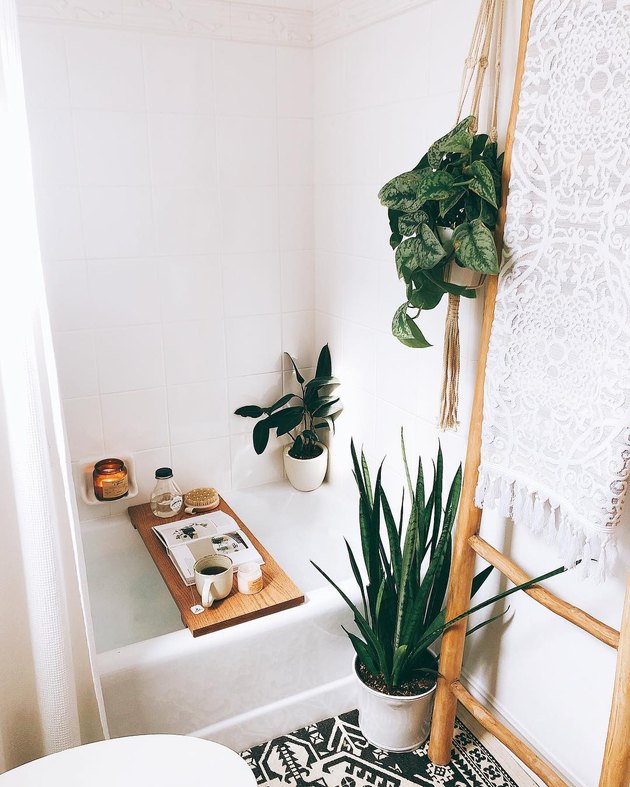 4. Add a touch of colour
Every bathroom should really have something organic in it—even just a tiny little burst. Here, a gorgeous modern bathroom with some serious tiling going on gets an injection of greenery in the form of a tiny succulent perched on a log stool. In fact, your greenery doesn't even have to be "green"—succulents come in many hues. This one looks more like a blue-toned Echeveria or Sempervivum and the shade goes perfectly with this blue-grey toned bathroom.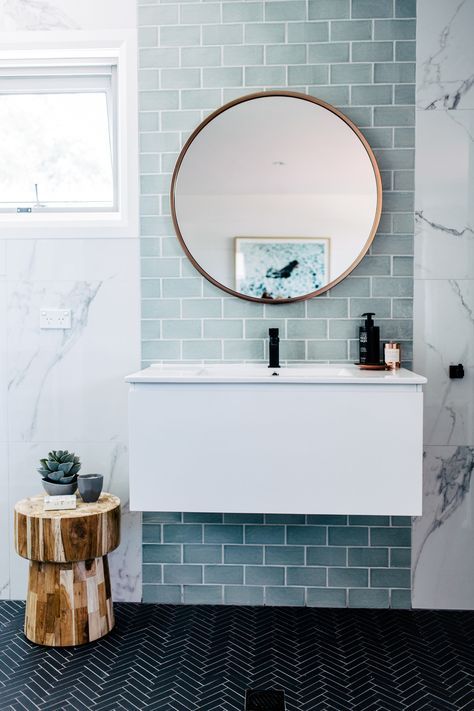 Love tiles? Check out more bathroom tiling ideas and hire an expert tiler when you're ready.
5. Fill up a neglected space
Do you have any "dead space" or unused floor space that doesn't seem to fit anything? Fill it with an oversized floor plant such as a rampant fern, and now you have an instant focal point.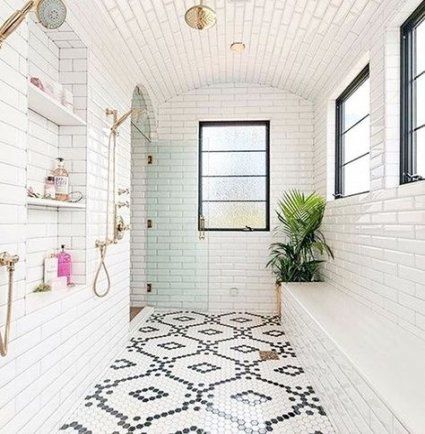 What a gorgeous floor, too. For more flooring options, why not talk to a flooring expert?
6. Hang baskets from the ceiling
Rather than use up valuable floor space, make use of the ceiling to hang baskets of plants, whether upright kinds or trailing plants.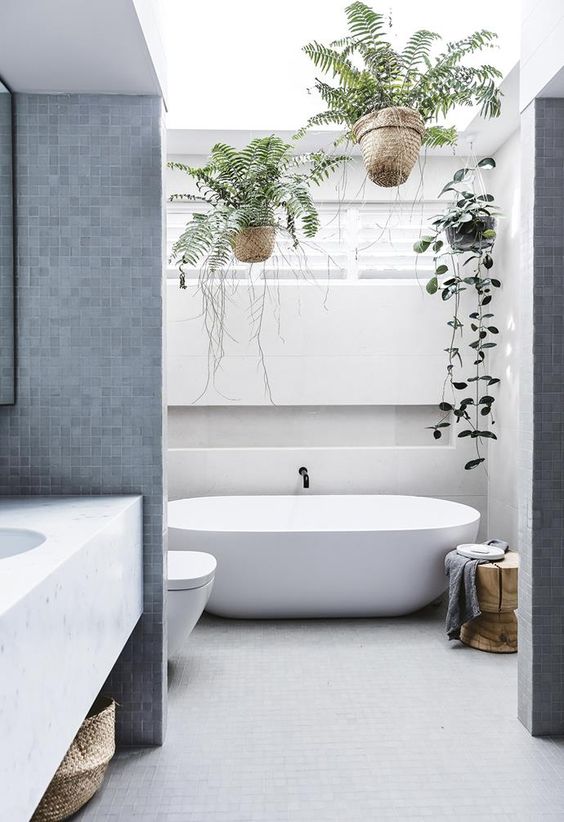 7. Add lots of leafy greens
Surround your bathtub with greenery, whether hanging or placed in planters along with the tub or windowsill. Here, a Pothos (Devil's Ivy) plant is hanging above the bathtub while a Parlor palm adorns the window. These two plants love medium light and need minimal watering.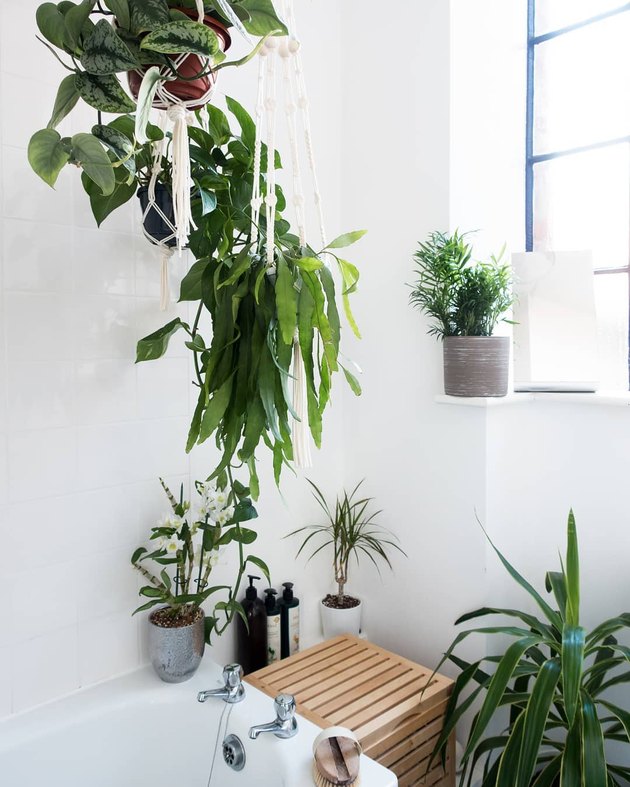 8. One plant makes all the difference
Just look at the impact that a single sculptural plant makes in the corner of the bathtub in this small bathroom. It completely changes the vibe and provides that all-important connection to nature.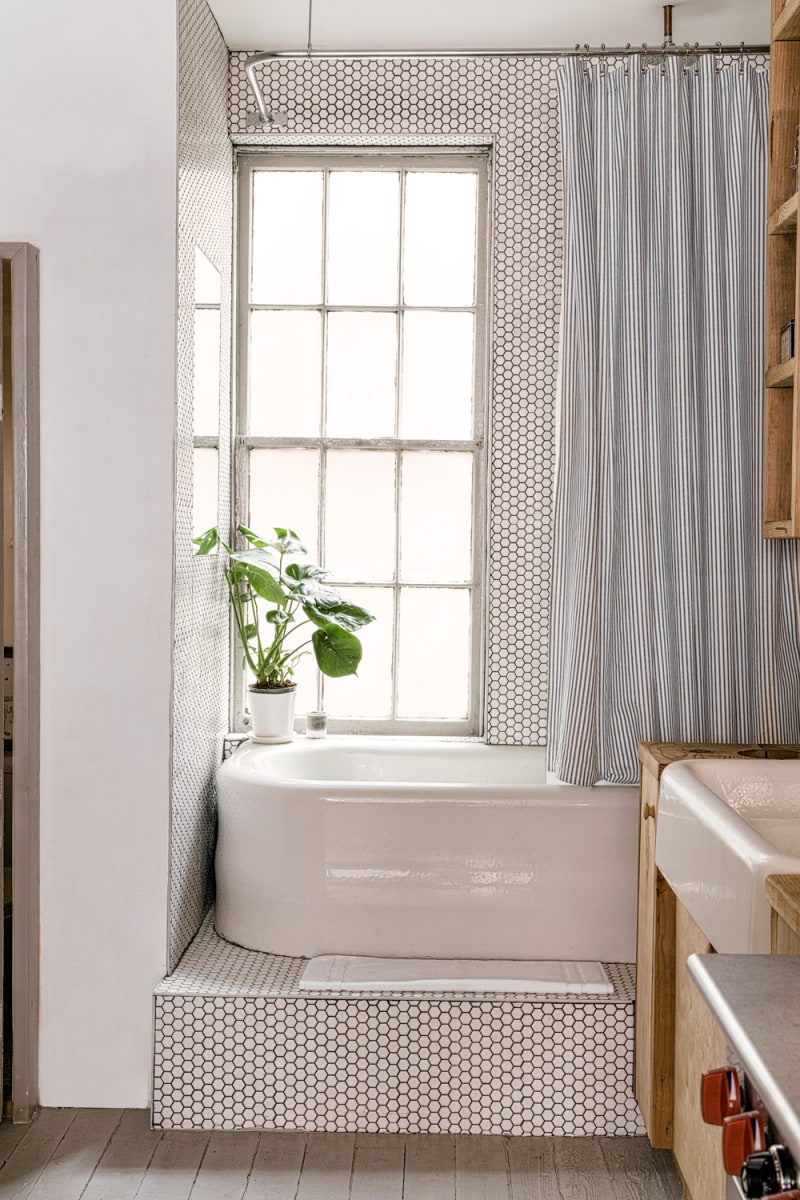 9. Mix greenery into a colour scheme
Although I love an all-white bathroom, it can lapse into looking clinical if you're not careful. But plants–and a stunning marigold antique tub like this one—bring colour in and avoid that overly hospital-white feeling.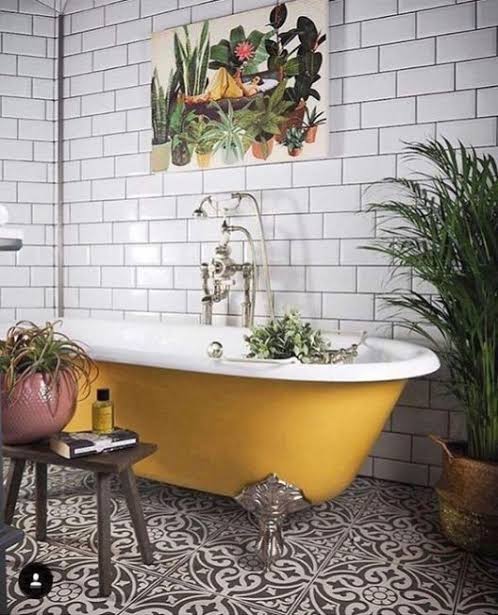 10. Use plants as visual tricks
As you can see in the bathroom below, the eye is immediately drawn to the pair of Philodendrons hanging above the toilet and away from the cistern itself. Diverting attention from the 'uglier' aspects of your bathroom is a job that bathroom plants do exceptionally well!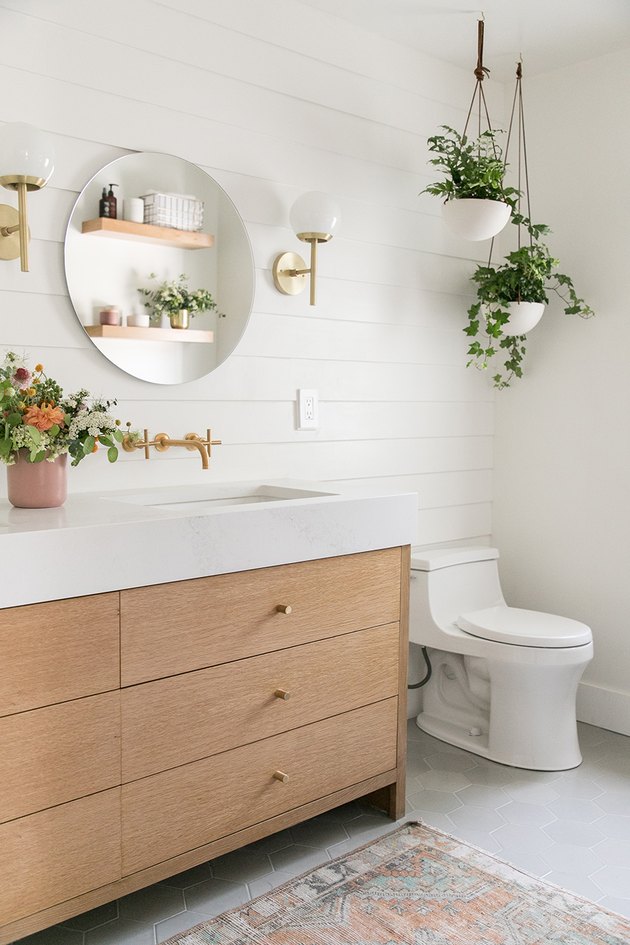 11. Create a living plant wall
You can create wall art from plants by constructing a plant wall. These can be a bit high maintenance but are worth it for the effect. Just make sure to choose plants that stay green all year long!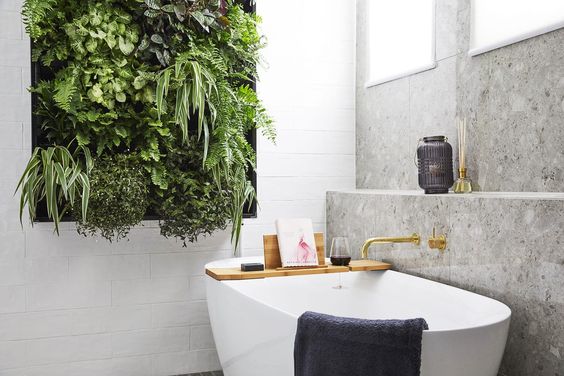 12. Embrace trailing plants
Trailing plants are so popular in bathrooms thanks to how they combine function and aesthetic impact. As well as looking beautiful cascading gently over the edges of hanging baskets, their form provides texture and softens up any hard edges of your bathroom. I also love all the exposed piping here!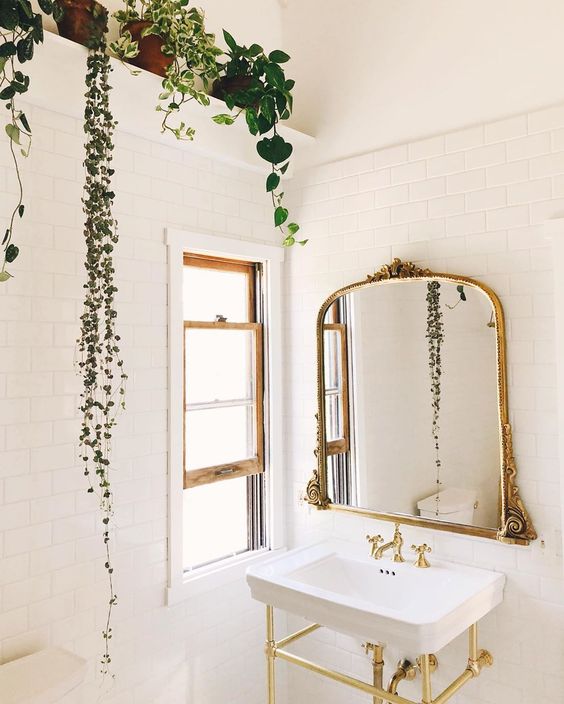 If you need some help with your plumbing, you can get an idea of how much a plumber costs, and find professional plumber nearby.
13. Take advantage of sunny windows
If you have a big, sunny window like this Boho bathroom here, you'll be able to add a lot of greenery. Most plants prefer bright indirect to direct light, so your choices are simply greater when your space has access to sunlight.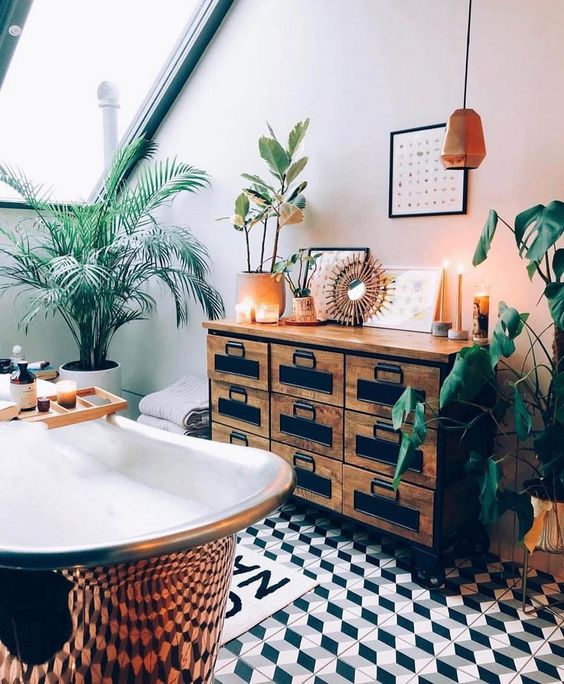 14. Choose dramatic single plants
We all love the Fiddle Leaf Fig but consider as an alternative to the Monstera plant.  It makes just as much impact but is a little less common than the good old Fiddle Leaf Fig. Look out for the rarer Variegated Monstera whose white and green foliage provides even more interest.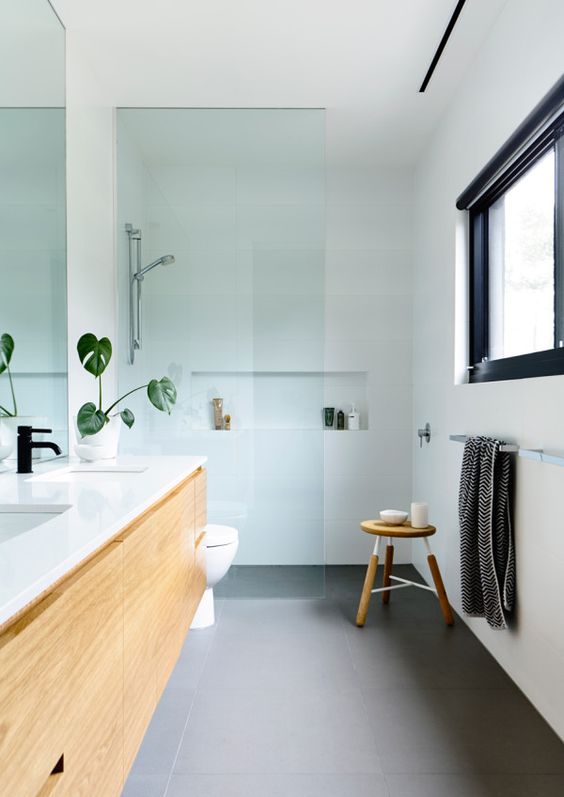 15. Have a tree view
This home was designed to incorporate greenery all throughout the house, including in this tiny courtyard adjoining the master bathroom. I love how the architects describe their intended effect: "One must continually move through and experience the garden." Talk about connecting the indoors with the outdoors.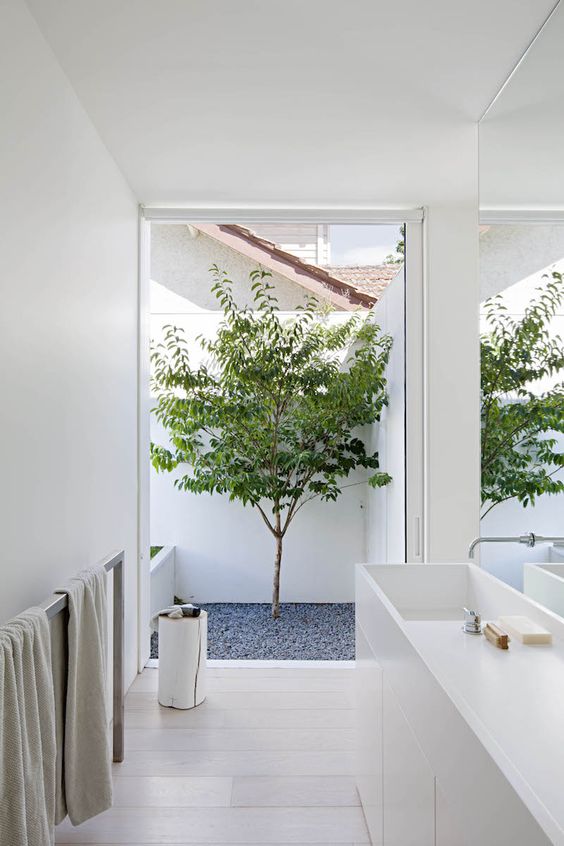 16. Invite plants into your shower
The stark straight lines of this modern bathroom are tempered by the soft, rounded shapes created by these in-shower plants. The result is a more serene space for you to shower. Just as with other placements of bathroom plants, having plants in the shower area improves the air quality, helps eliminate bacteria and absorbs excess moisture in the air.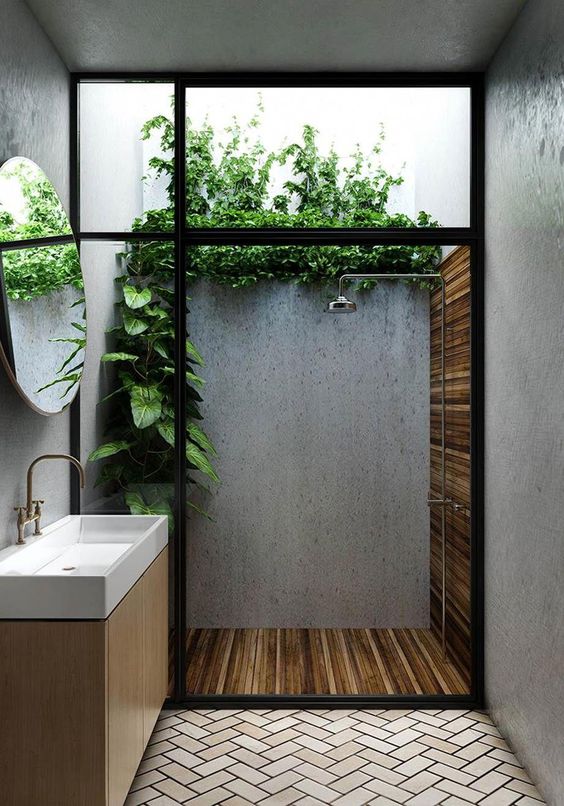 17. Decorate your windowsill
If you have a windowsill that's flooded with sunlight, line up a bunch of sun-loving indoor plants on it. Sansevieria (snakeplants) and Chinese Money trees will reward you by thriving here.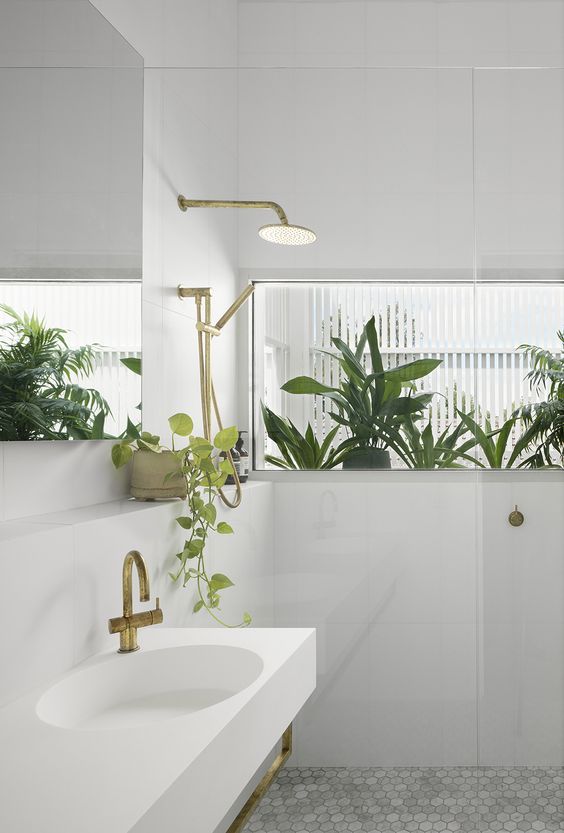 18. Have plants at a variety of heights
If you are incorporating several plants, create more visual interest by placing them at different heights rather than all at the same level. Place plants on the vanity, the floor and add in a plant on a little wooden stool.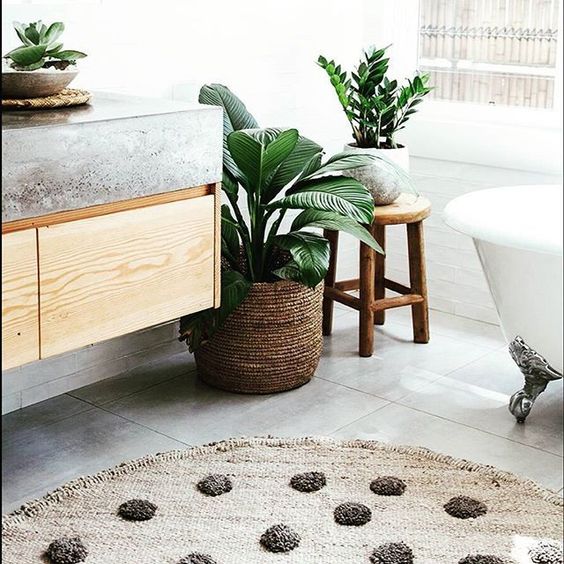 19. Make use of mirrors
When placing your bathroom plants, take advantage of how a bathroom mirror's reflection can double up the amount of greenery you see. Here, a tall, slim Variegated Schefflera (umbrella) plant is the perfect shape for a narrow bathroom.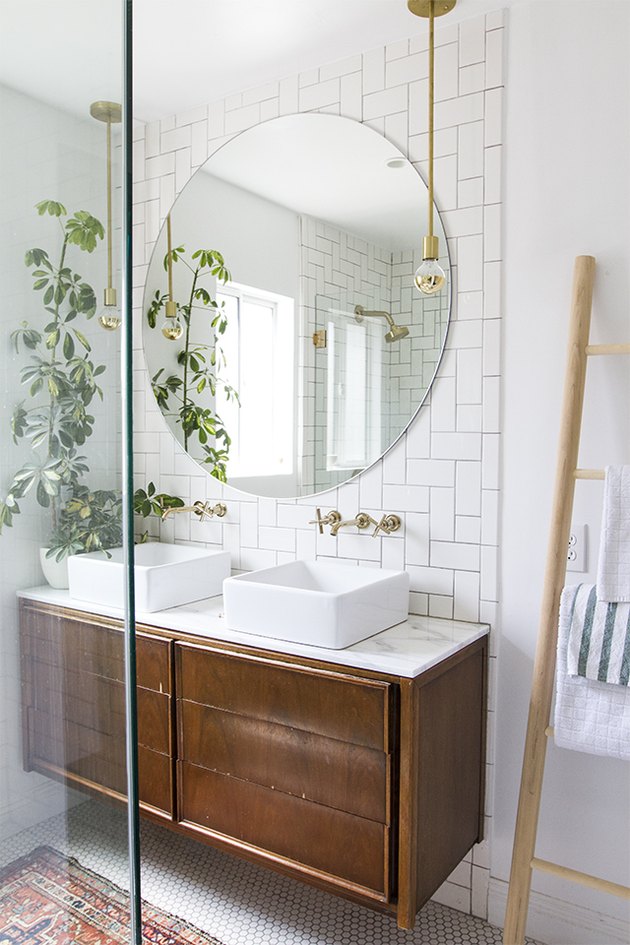 20. Have a plant wall shelf
You can also create a simple plant wall by filling open shelving, which is great if you lack floor space. This white shelving looks stunning thanks to the use of white planter pots to create unity despite the wide variety of plants incorporated.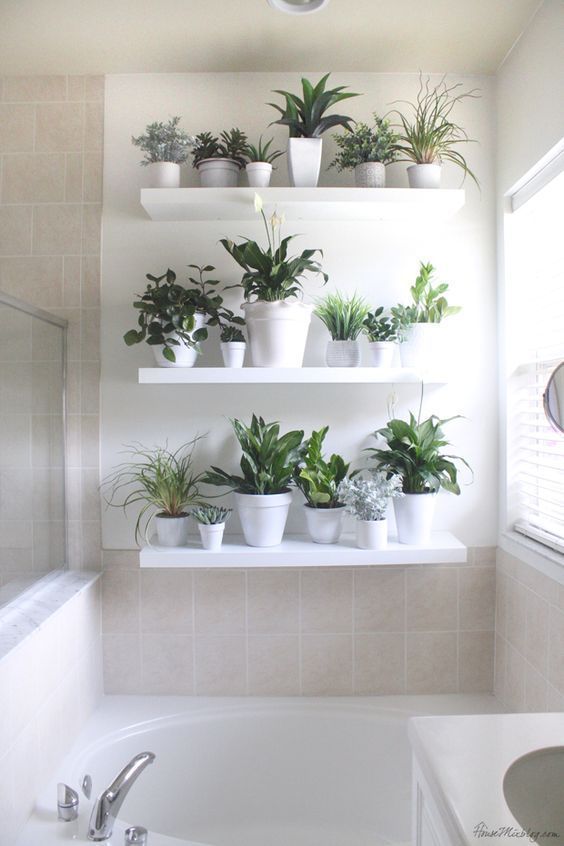 21. Go with a botanical theme
If you love the look of plants in the bathroom, you might like to continue the fresh theme with a botanical or floral print shower curtain.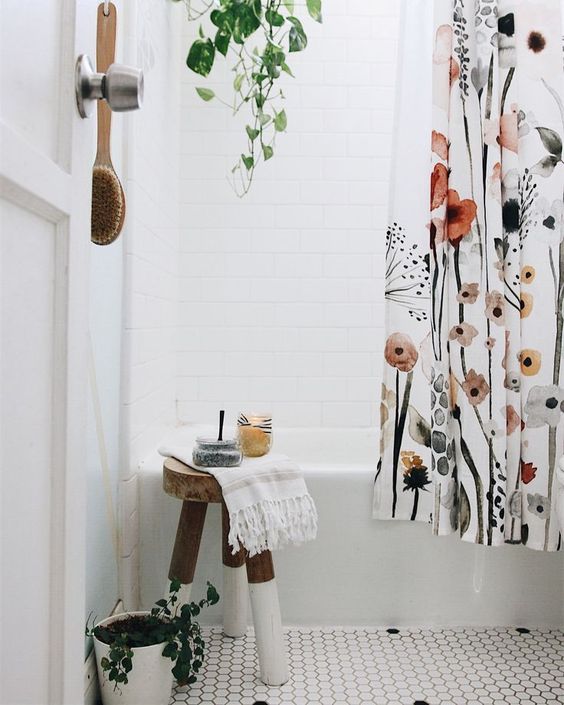 22. Have a statement fern
A simple, minimal modern bathroom comes alive with a huge fern. Popular ferns include the low maintenance Boston fern and Sword fern.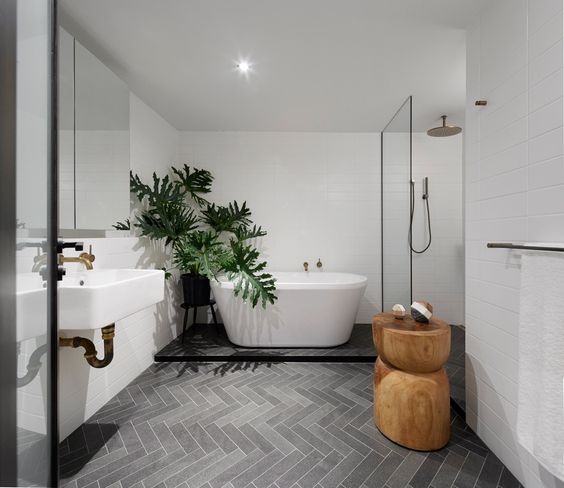 23. Mount a staghorn
If you're looking for a bold feature plant, look no further than a staghorn fern. Mounted on the bathroom wall these look striking while they work their air-purifying magic.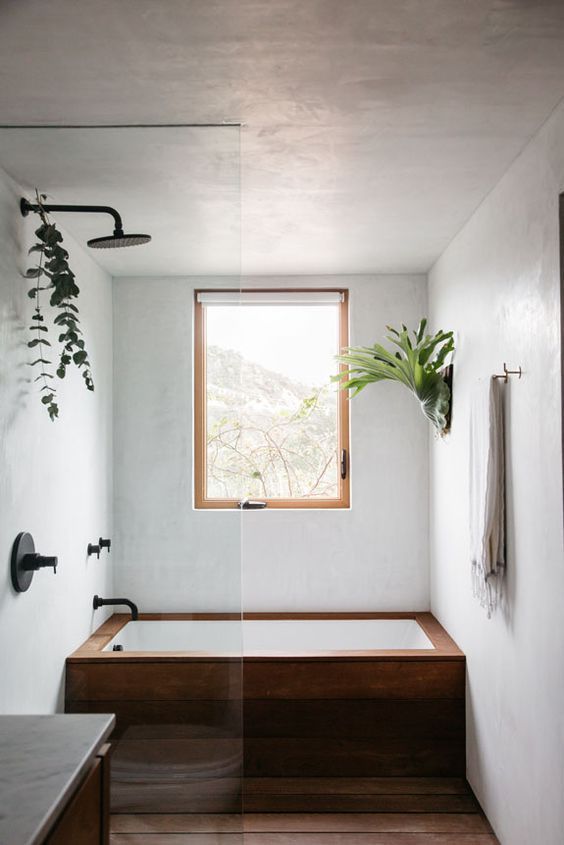 24. Mount several staghorns for serious impact
One staghorn looks impressive, but what about a group of them? Not for the shrinking violet–staghorns are one of those full-on decorative plants that have no subtlety about them at all.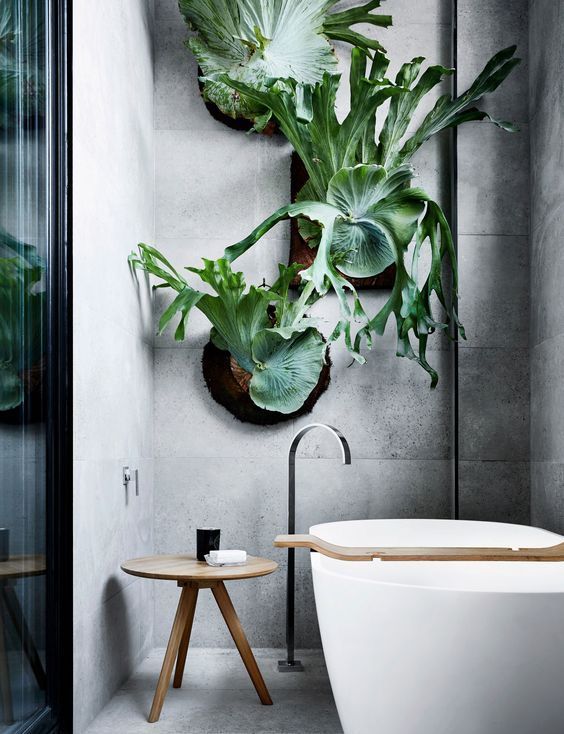 25. Keep function in mind
Your bathroom serves many practical purposes, and you should keep this in mind when planning your plants. You need to be able to carry out self-care tasks without a plant interfering, no matter how good it looks. This means you may prefer to limit your greenery to something unobtrusive, such as this delicate trailing plant in a stylish black hanging planter.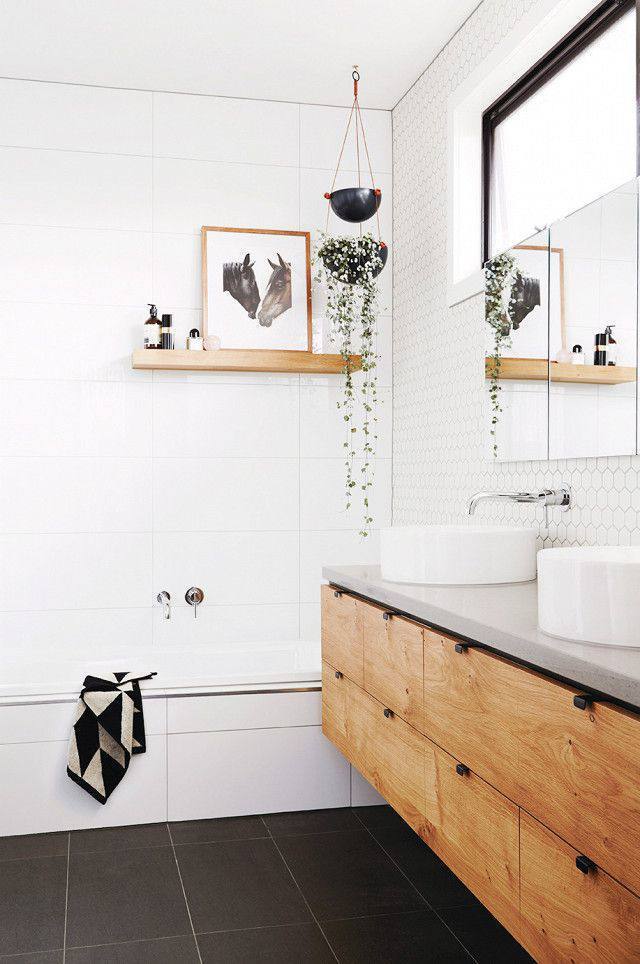 26. Think outside the box
If you are keen on a lush plant feature but don't have a lot of room, consider alternatives to shelving or corners of the bathtub. Instead display your plants in a fun, unusual way, such as this DIY hanging shelf constructed from a ladder hung by ropes. Not only does it make a great plant display, but it will give you something pleasing to look at while you're soaking.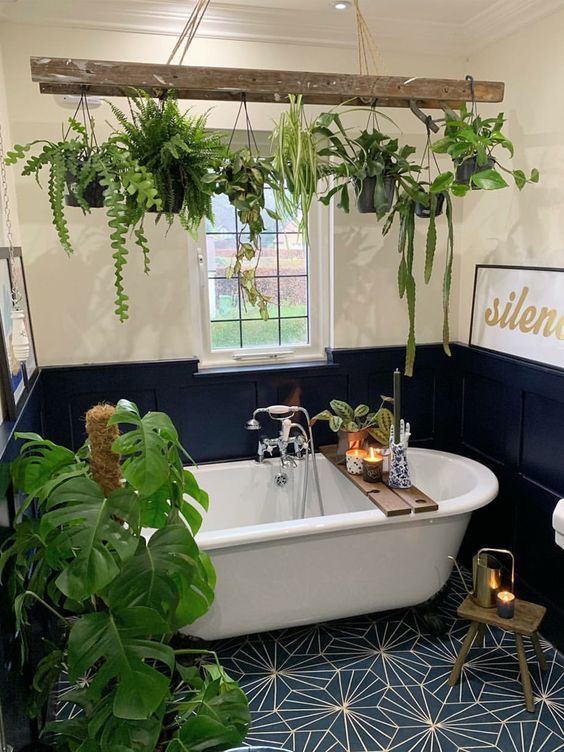 27. Fill recessed shelves with plants
A recessed wall shelf is a perfect spot to place plants without creating a sense of clutter. A single plant in this timber panelled bathroom makes a huge difference to the overall atmosphere. If you have a timber bathroom, you'll need to watch the bathroom waterproofing.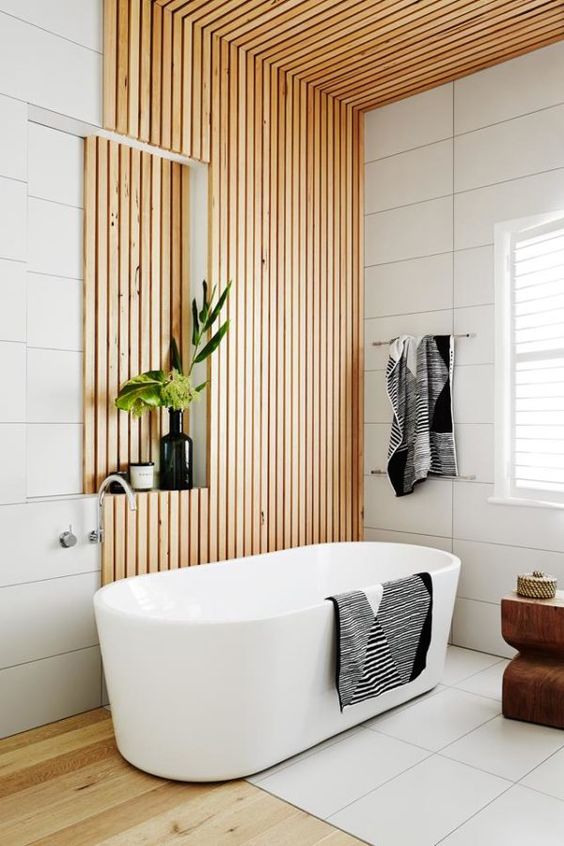 28. Go overboard
Love the jungle look? Then, by all means, make your bathroom a little extra by grouping a lot of large, leafy plants together. It's bold, it makes a strong statement – and if you squint your eyes while you're in the tub, you'll be transported to a rainforest watering hole.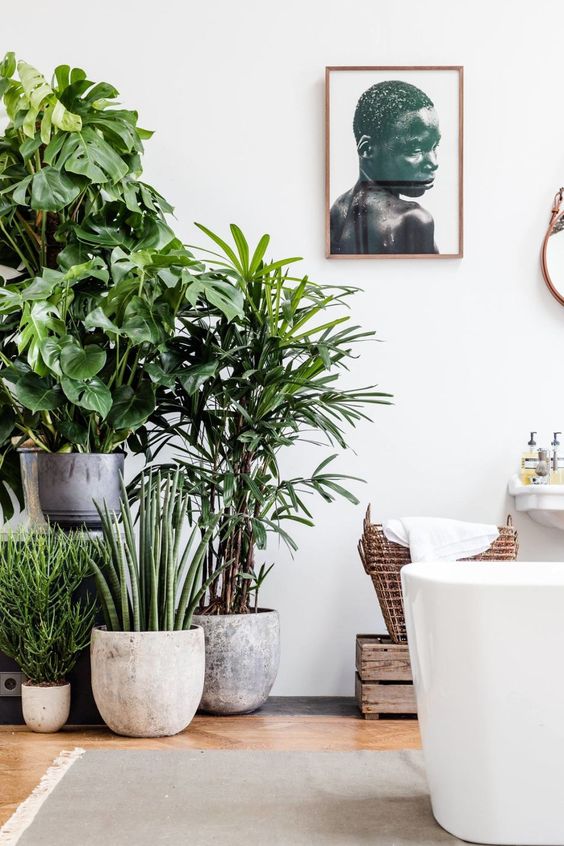 29. Or exercise subtlety and restraint
But you don't need a huge number of plants to get the benefit of bathroom greenery. Even just a single trailing plant creating a waterfall effect over the tub will have an impact, as you can see in this minimalist bathroom. With a minimalist bathroom like this, there's a lot of visual focus on the tub, so make sure it's in perfect condition – you may need to think about bath resurfacing.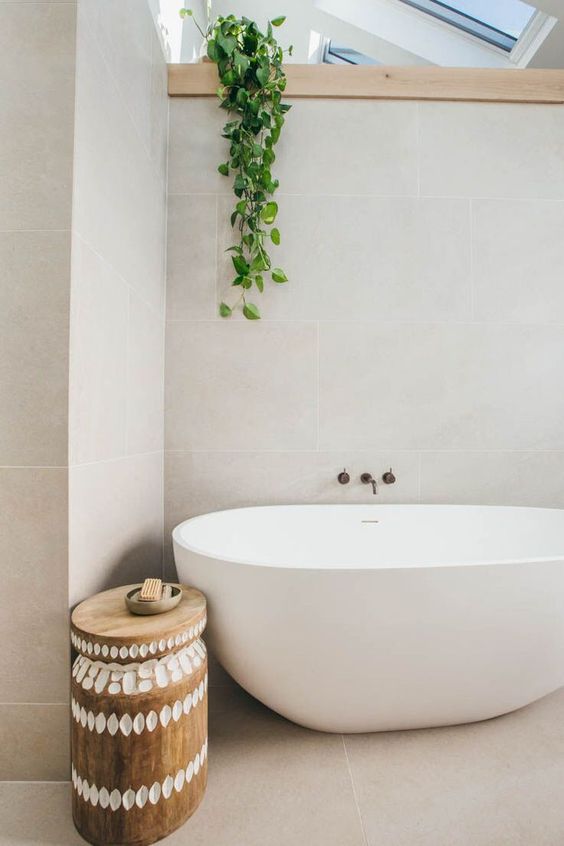 30. Use bathroom plants for Boho vibes
An eclectic assortment of pretty potted plants easily evokes Boho style. Apart from the aesthetic effect, having plants in your bathroom will make your bath-time even more relaxing. Want to spruce up your tiling? Know how much tile and grout cleaning costs.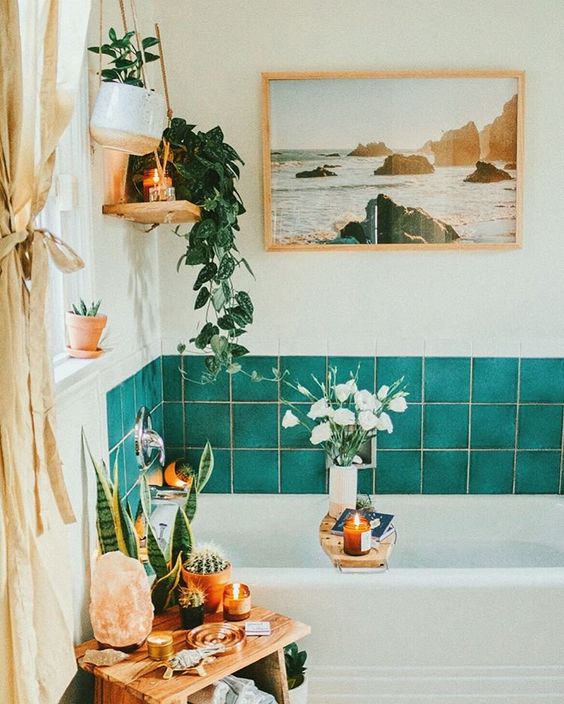 31. Juxtapose contrasting plants
Mix different kinds of indoor plants to create contrast and balance. For example some plants are more spiky looking, while others have soft rounded forms. Here, a linear, serrated Mediterranean palm sits beside a Chinese Money Tree plant with sweet round leaves.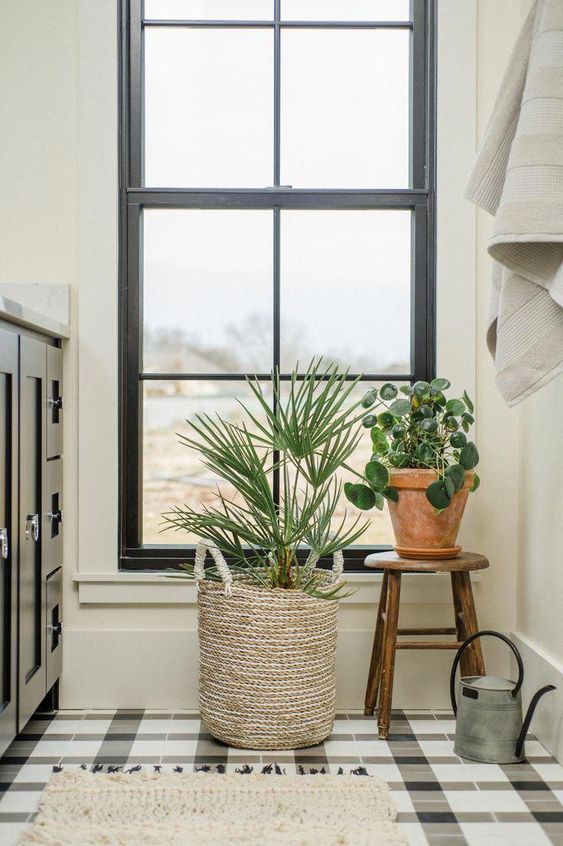 32. Use plants as accents
Even just one or two plants can dramatically upgrade a bathroom, providing a pop of green to act as an accent to a plain bathroom.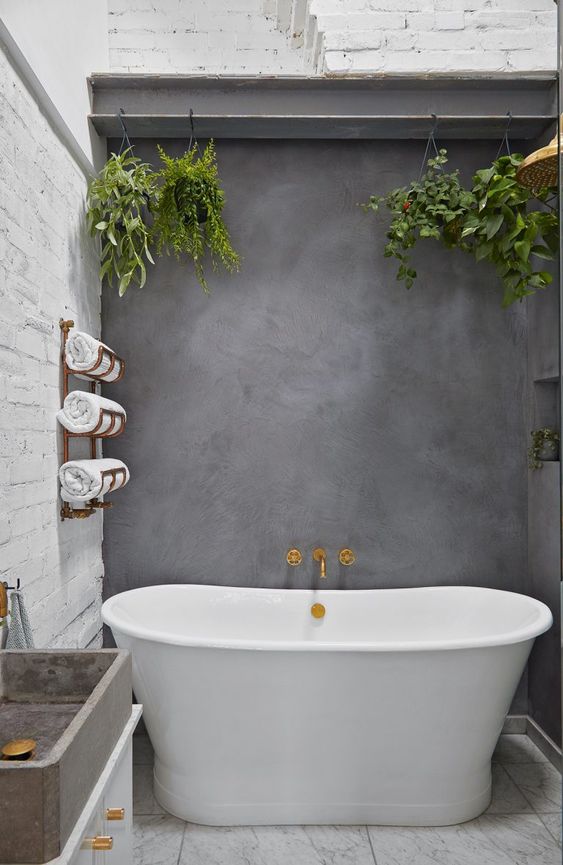 Love this modern bathroom style? Check out more modern house design inspo here.
33. Gather baskets
Planters in natural, organic materials, such as cane baskets, look gorgeous with bathroom plants. Place a plastic tray under your plant's container in the bottom of your basket, so you won't have to remove the plant to water it.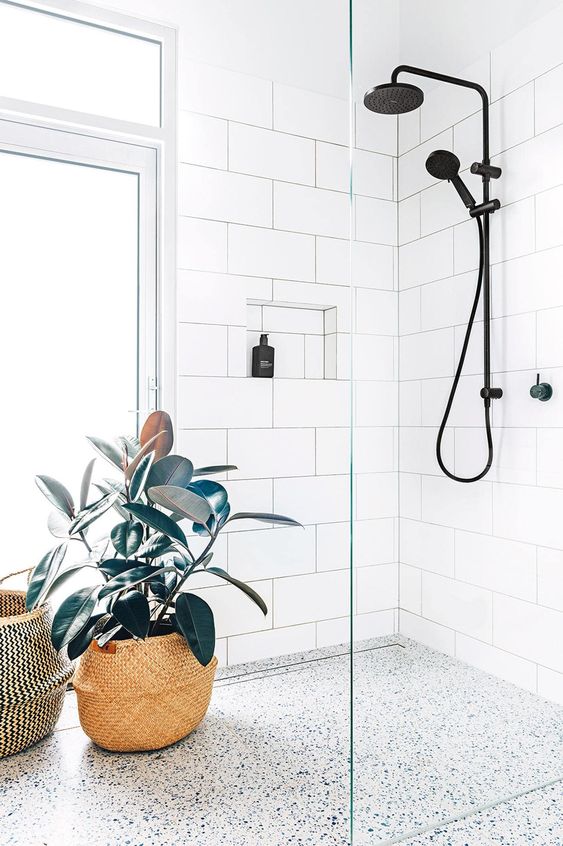 34. Create some bathtime zen
Add hanging plants from the ceiling to resemble organic chandeliers. How stunning do these Spider plants and ferns look in contrast with the white subway tile?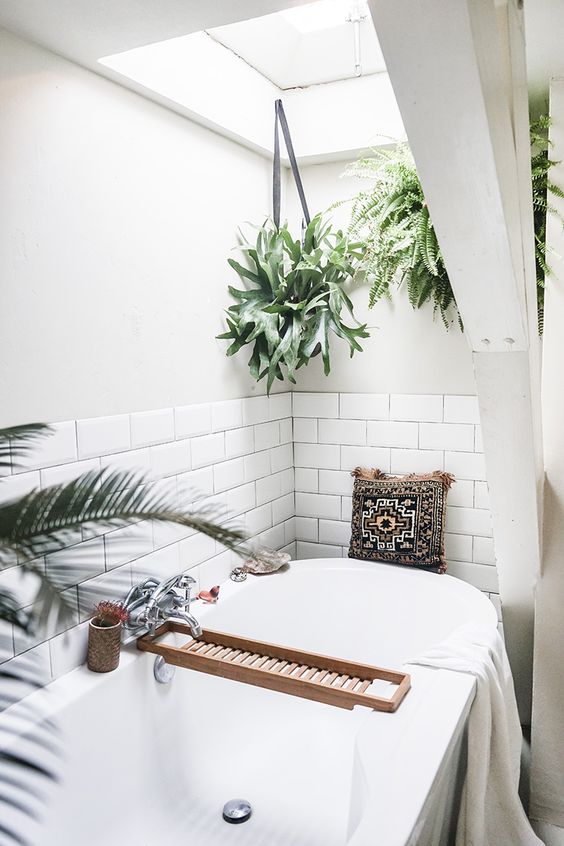 35. Enjoy air-purification from succulents
Add some succulents and cacti to your green bathroom mix and take advantage of their superior air-purifying abilities. They're typically easy care and love bright light, so place them on your windowsill.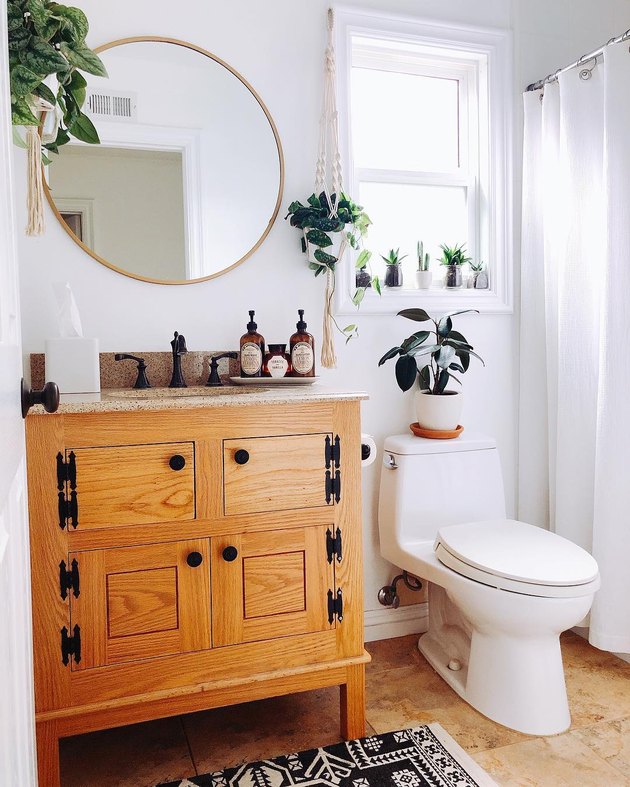 36. Bring green into an all-black bathroom
Although many of the bathrooms I've chosen to feature for this blog represent the classic white bathroom aesthetic, plants also look wonderful in black or dark toned bathrooms. If you're thinking of switching up the colour of your bathroom walls, find a painting expert nearby.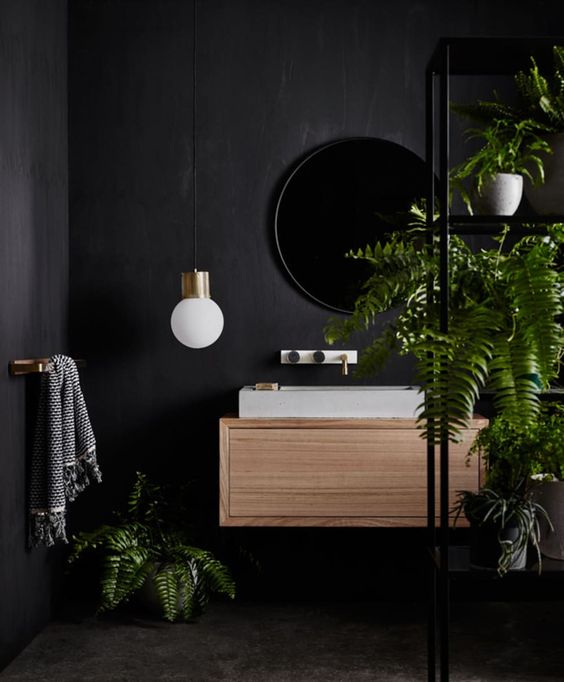 37. Arrange plant cuttings in vases
Last but not least, an alternative to keeping potted plants in the bathroom is to pop oversized leaf cuttings into vases. Here, some Xanadu philodendrons cuttings create drama and texture, but you can really use any plant cuttings that appeal to you.
A tip from interior gardening designers is to snip a little eucalyptus as its soothing aroma and antimicrobial properties are released by the humidity of the shower.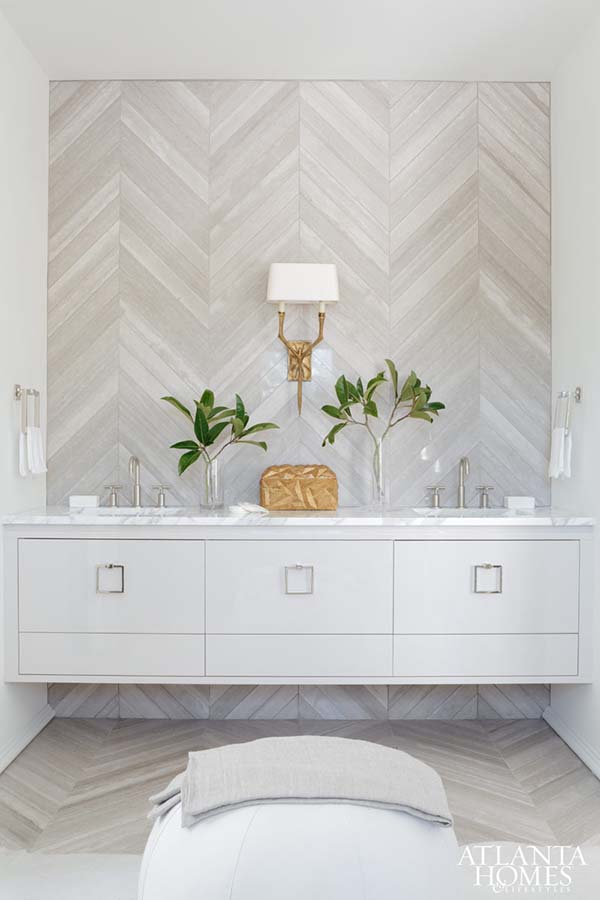 We hope you've enjoyed our selection of green bathrooms—which plants are your favourites? Let us know in a comment below!
Also, we haven't forgotten about the other rooms in the house. Here's our beautiful guide to the best indoor plants.