Having a well organised and aesthetically pleasing environment can definitely improve your productivity. And with the recent increase in people working from home, it's more important than ever to create an office space that makes you feel motivated to check off your to-do list.
I believe that creating a stylish home office starts with choosing a theme and taking inspiration from that theme. And a modern design is the perfect place to start! No matter what your style is, there are so many different modern design features that can be incorporated into your space to improve it.
Clean lines: Modern style is all about clean lines and a very straightforward, no fuss approach which is pretty easy to achieve for even the most novice interior stylists.
Limited colour palette: A limited colour palette helps to keep everything looking calming rather than chaotic. Choose your favourite colour, then a couple of secondary colours to complement it.
Well made furnishings: Spending a little more on your furnishings is a much better idea in the long run as they will last a lot longer than something cheap which will probably fall apart in a years time. Quality over quantity, always!
Check out these 40+ modern home office ideas to take some inspiration from!
1. Charcoal grey
If you love the look of black interiors but don't want to go quite that dark then charcoal grey is a great alternative. Charcoal grey is softer than black and helps to create dimension in a space without being too dark and dismal.
I love all the dark features of this office space which have been perfectly illuminated by interesting lighting. Plus how gorgeous is that canvas print leaning up against the wall!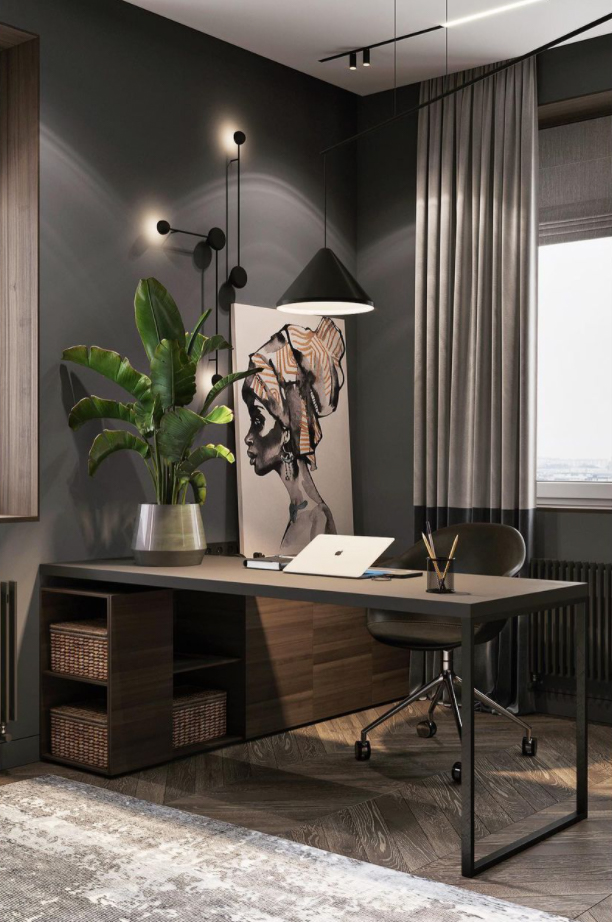 2. Bohemian paradise
This space is beautifully bohemian with touches of modernity. I love the modern furnishings with the sleek black desk and simple seating. And the bohemian touches include the macrame wall hanging, the awesome peace framed print and all the beautiful little indoor plants dotted around which certainly add freshness and calm to any space. A bohemian paradise.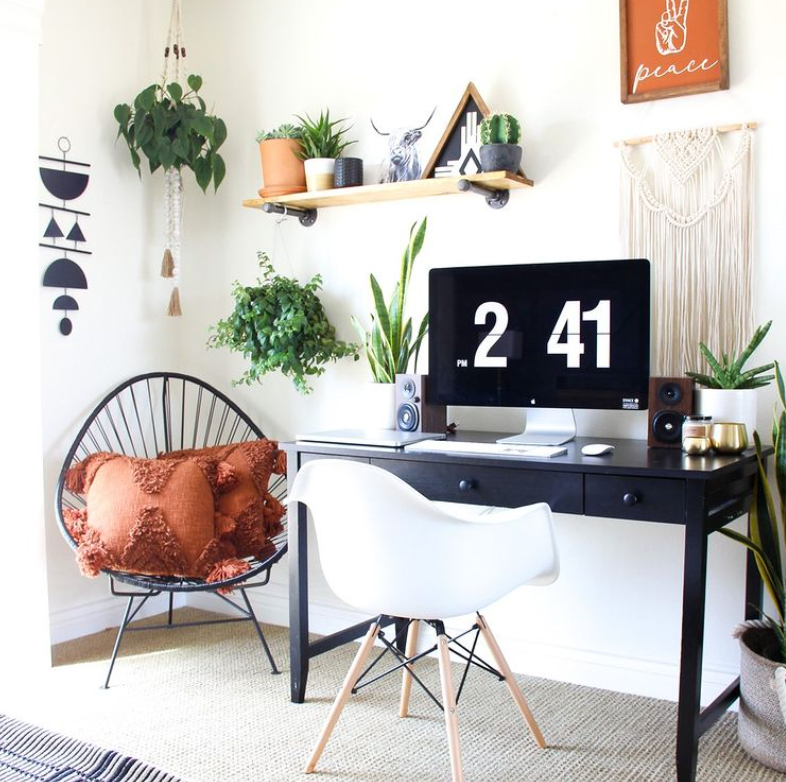 3. Ocean vibes
Here's a stunningly simple modern office that would be super easy to achieve for most. I love the simple desk with the built-in drawers as well as the additional chest of drawers to the side which match perfectly with the desk. And this space is giving me major ocean vibes with the gorgeous framed print of whales by the desk as well as the other travel prints on the wall-mounted shelf. Plus the screensaver on the computer is literally water!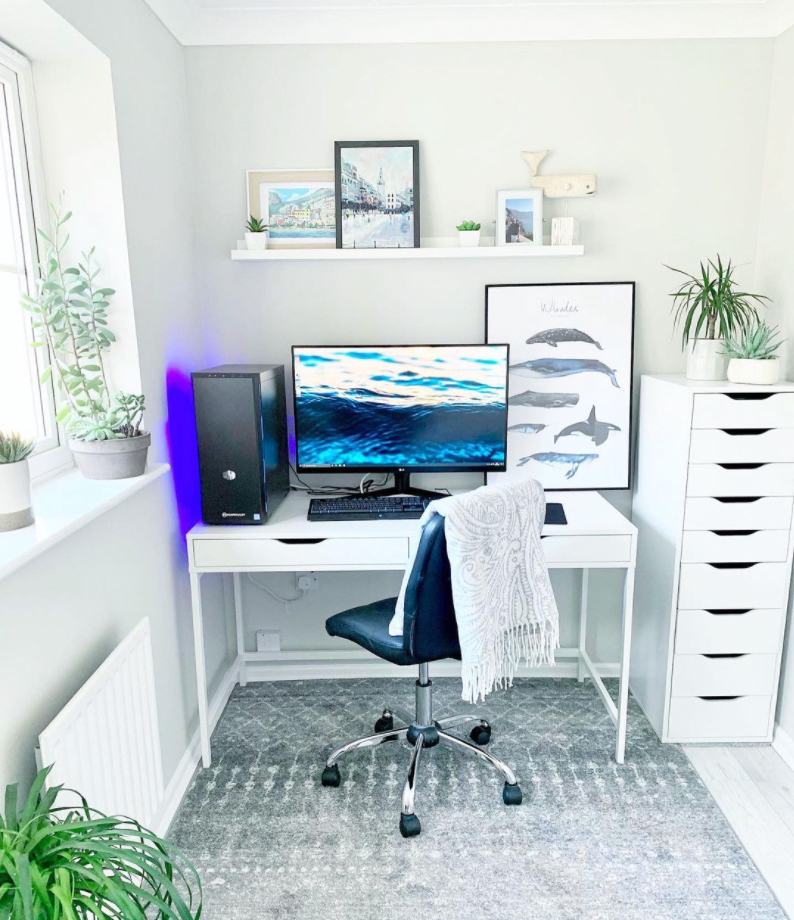 4. Oversized feature
If you want to create a focal point in your modern office, then adding something like a bold print on the wall will do the trick. I love the oversized '&' sign that really demands your attention. Also, the oversized lamp angled over the top of the workspace is another oversized feature that really captures your gaze. The good news with adding an oversized feature for the focal point of the room means that the onlooker won't immediately look at your cluttered desk (if it's cluttered at the time).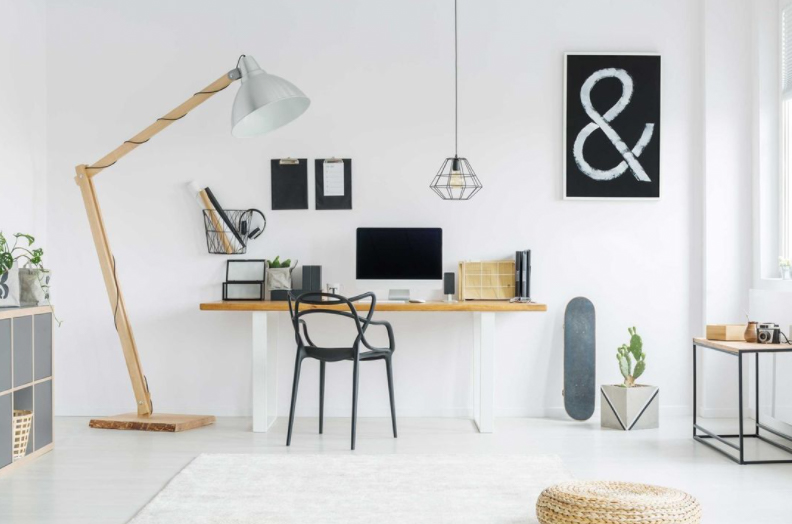 5. Gallery wall
When in doubt, install a gallery wall! The beauty of gallery walls is that they can look however you like which means that a gallery wall will work with any style of space. I love the modern prints on the wall in this office which bring so much character and interest to the space. And the furnishings have been kept nice and simple so that the gallery wall is the focal point. Just add some beautiful indoor plants around and voila!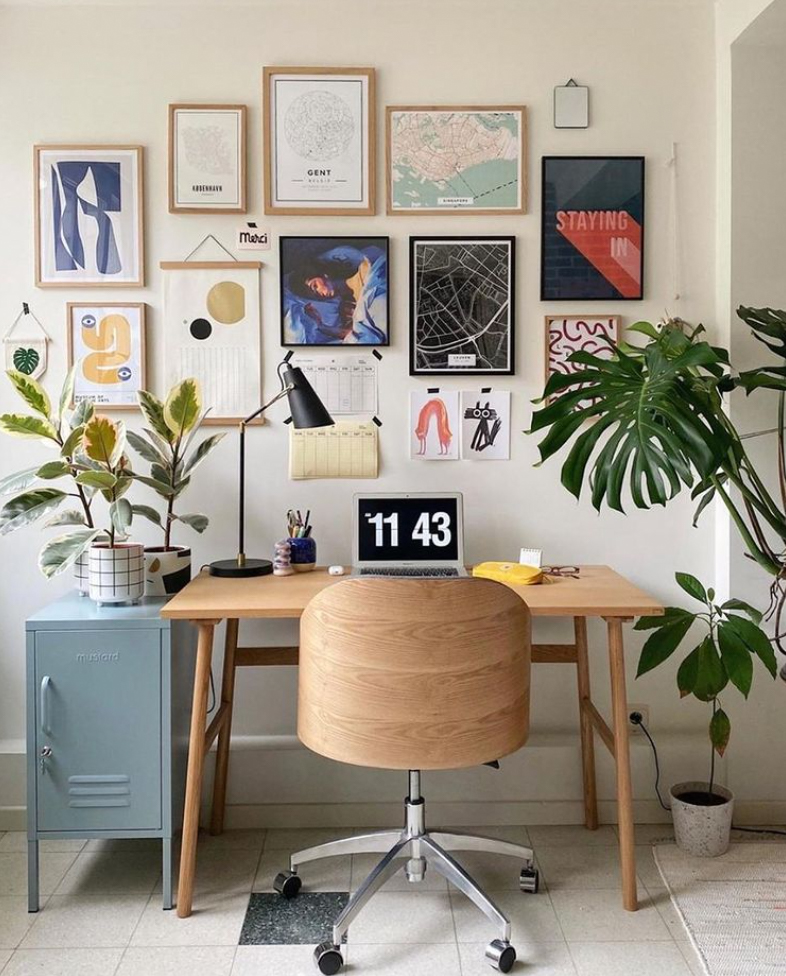 Get help creating your own gallery wall with some picture hanging help.
6. LED strip lights
How cool is this effect! I love the LED strip lights on the wall which are such an awesome modern feature of this room. Not only do they look like a work of art, but they also work so well to provide a glow of light to the office area. And I love the addition of the black and white books on the shelf which really help to tie the colour scheme of this modern office altogether.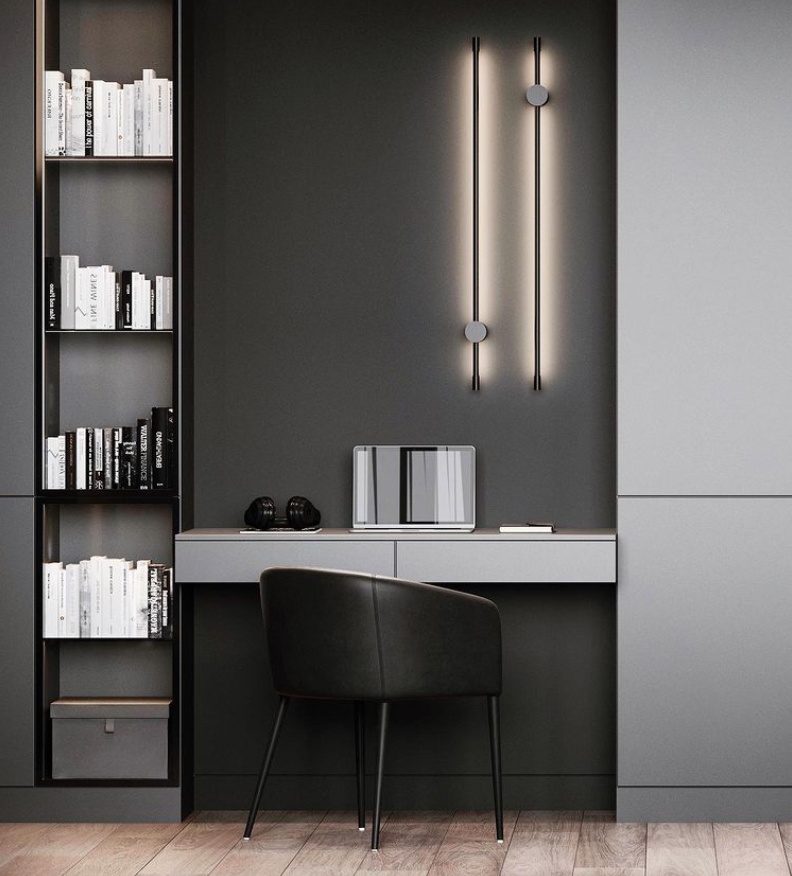 7. Navy cabinetry in home office
Navy cabinetry is really such a beautiful choice. If you're a little afraid to go dark with your furnishings, then navy is a great in-between colour that gives you that dark look without looking too dark. Plus the nice soft cream couch really helps to lighten up the space. And you can never go wrong with using gold handles against navy surfaces.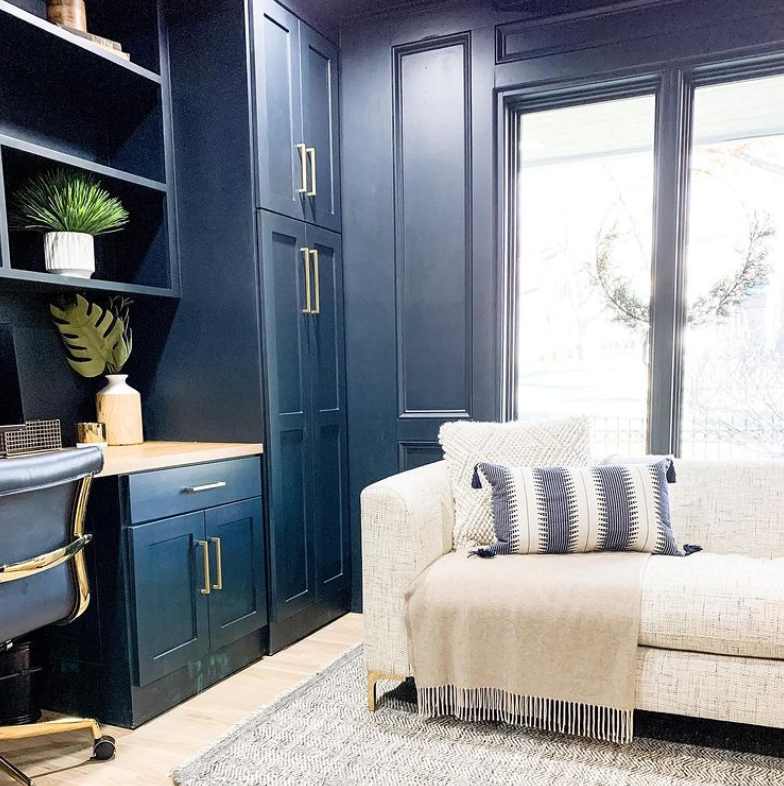 8. Black feature wall
Feature walls are a great way of adding some depth to a room. And this ultra-black feature wall is extremely modern and gives an awesome effect. Plus I love that the wall-mounted shelving and sleek black computer are also really dark black which helps to tie everything in together really well. And the dark wood of the desk really works with all the dark and modern vibes of this office space.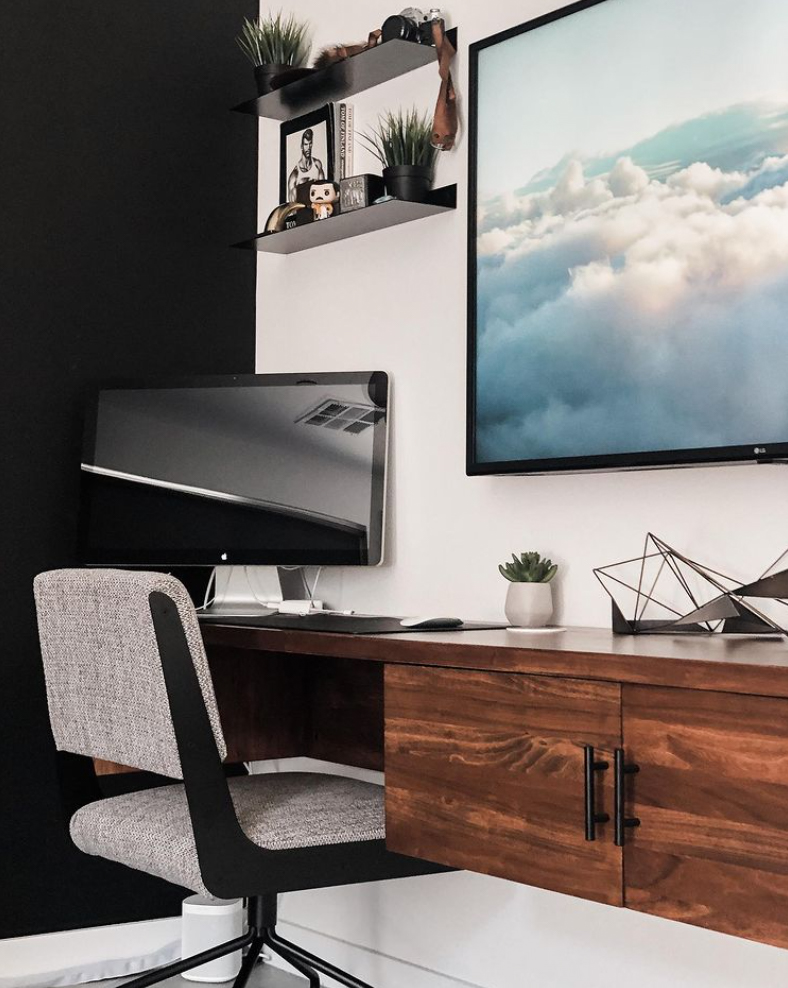 9. Home office with two desks
How lovely is this shared office space! I love that there is enough room to have the desks a little further away from each other so both of the occupants have their own space. And how special to have a beautiful fireplace going whilst getting some work down. The navy cabinetry in this space works so beautifully and I love the colour combination with the tan.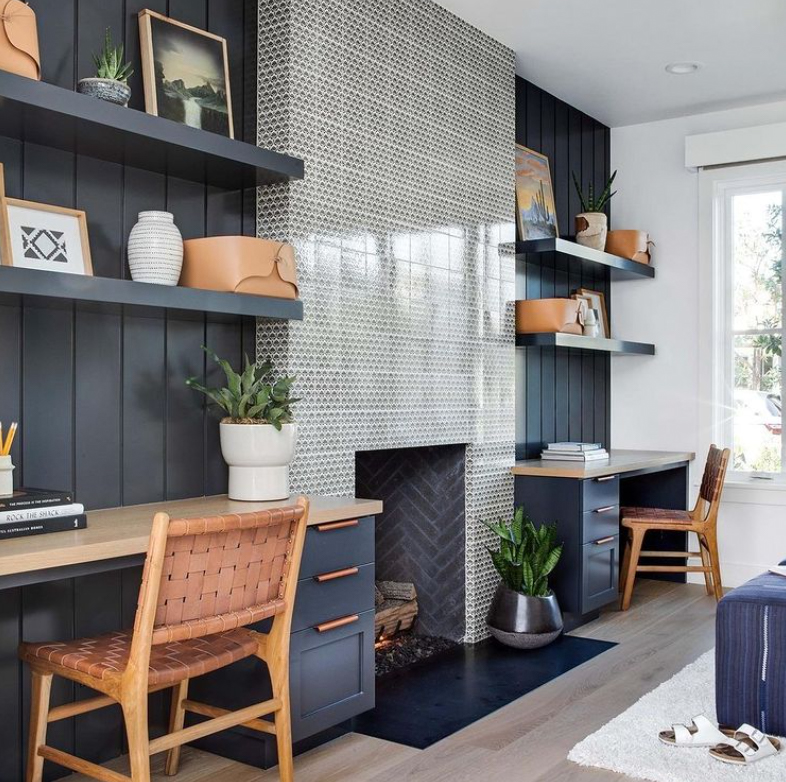 10. Glam home office
If budget is not a question, an ultra-glam modern home office is the way to go. This is such a stunning room that you'll never want to spill your morning coffee – but even if you do there's always steam cleaning experts nearby to help!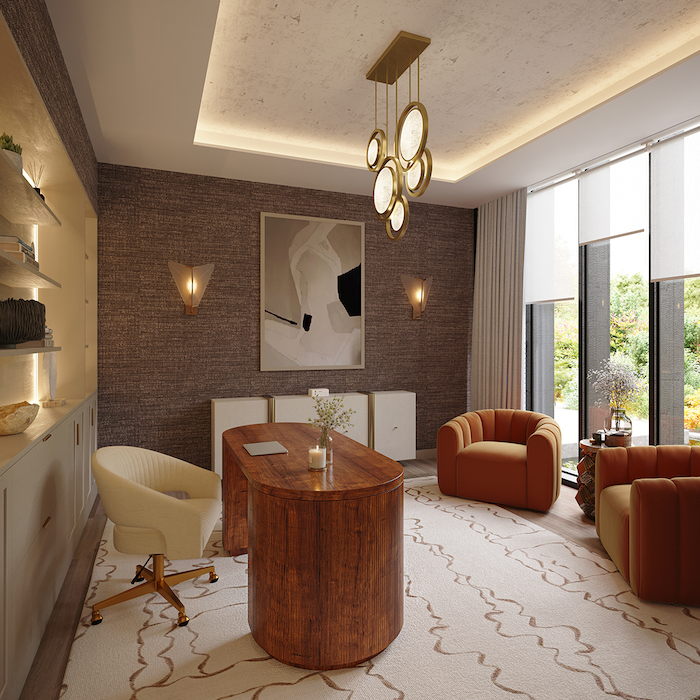 11. Minimalist haven
If you love minimalist design, then this home office would definitely be a haven for you: a minimalist haven. Minimalist design works really well with modern design as they are both typically designed by clean lines and minimal colour schemes. I love this grey office space which looks so modern, classic and chic.
The addition of the shelf is great for displaying and having easy access to items whereas the couch is the perfect spot to have your afternoon nap after a hard day of work.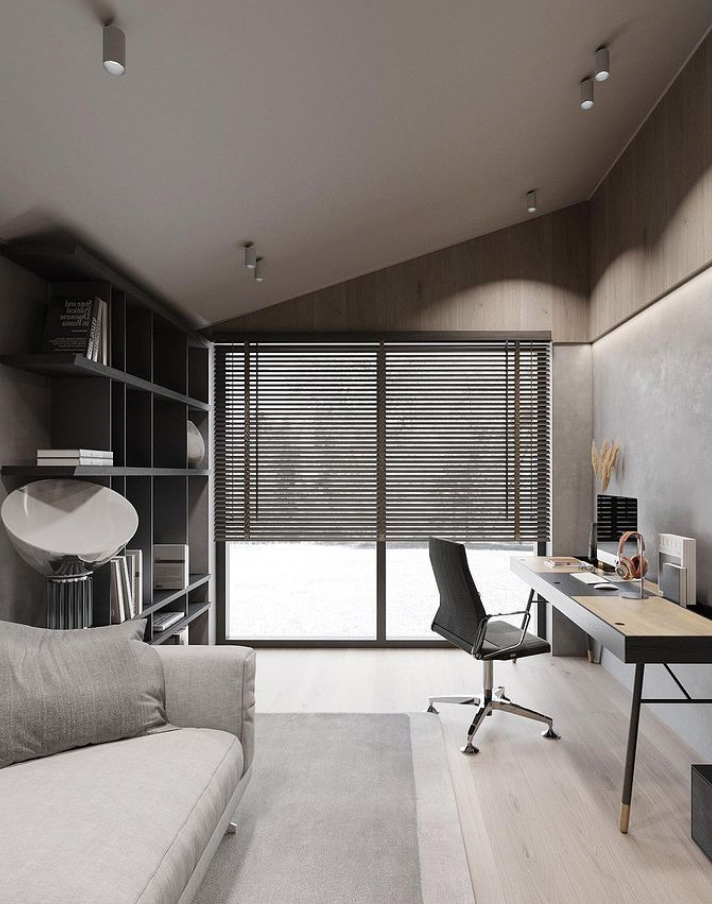 12. Curved desk
This one's for you if you want something a little different than a regular desk. This curved desk works so well if you work well having a large workspace to spread out. You can work on your laptop in one area whilst your books and papers are displayed ready to use on the other side. This desk is made up of two identical rectangular tables and a curved connecting piece in the middle.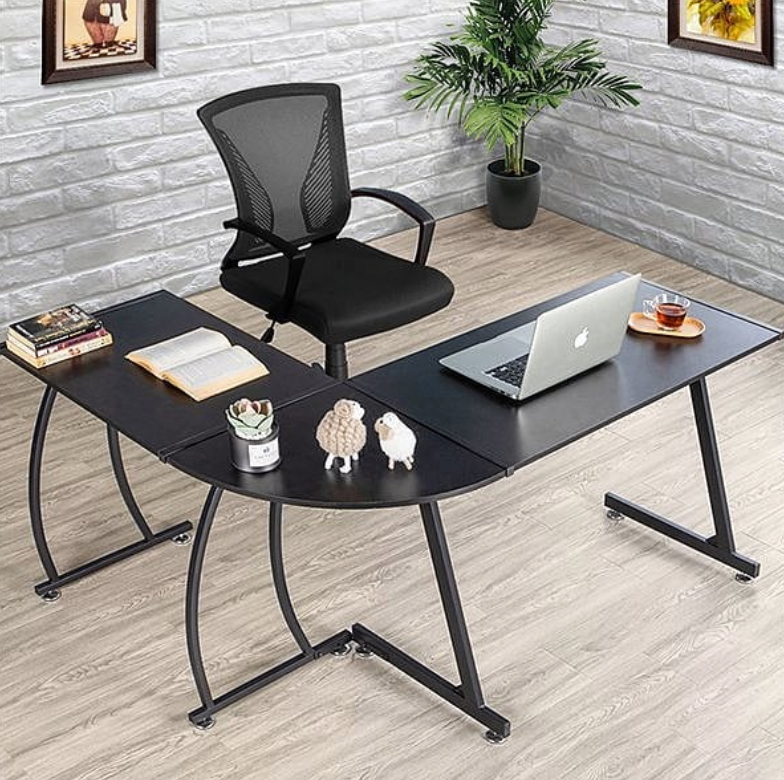 13. Abstract design
If you're going for modern design, don't be afraid to add some patterns! I love the abstract design of this bright turquoise office chair which looks like the same print that has been used in the bottom left artwork on the wall. And then all the other prints are complementary to that. This space has been kept nice and modern with the modern wooden desk and clean lines.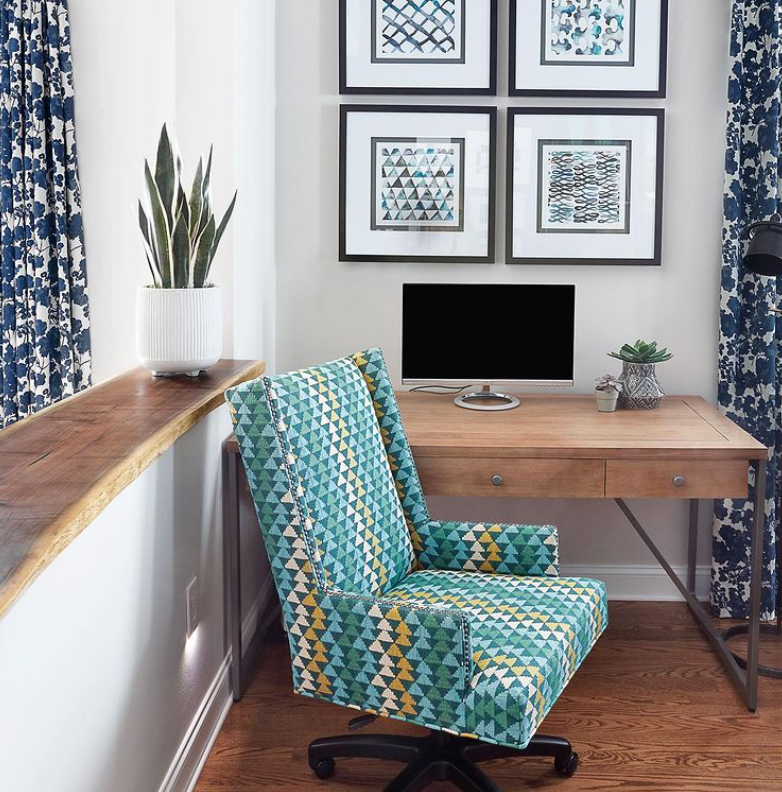 14. Clean lines and simple style
This minimal modern office space looks so neat and organised with its clean lines and simple style. I love the simple white cabinetry which doubles as a desk and storage. And I love that the wall-mounted shelving matches perfectly with the width of the material used for the desk which creates a very seamless look.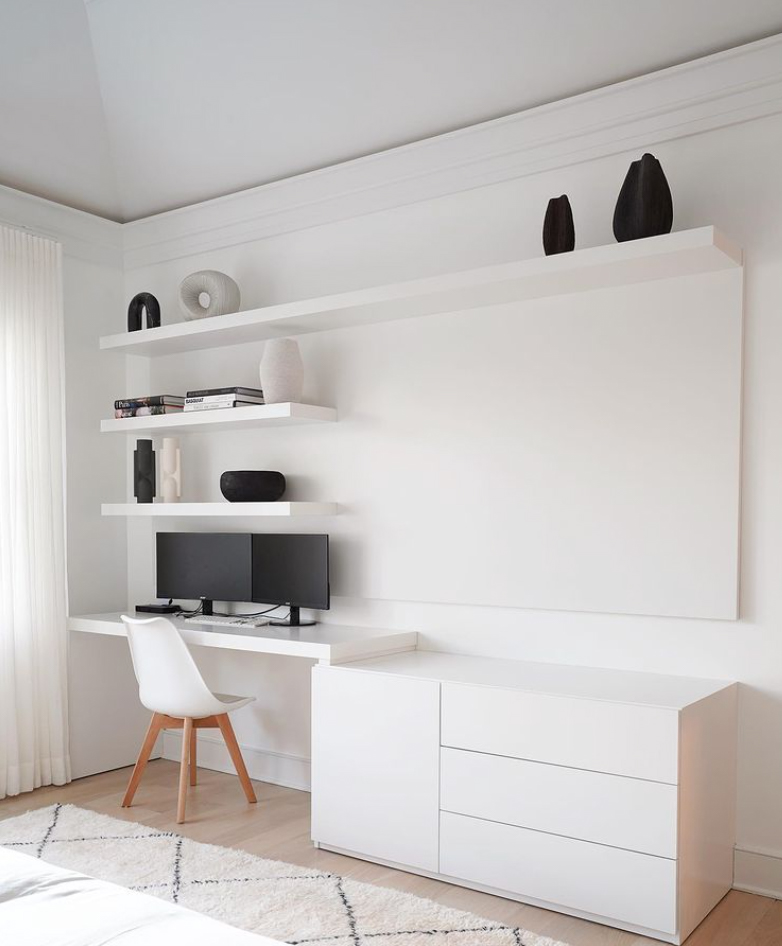 15. Wrap around desk
If you have a whole room to work with, then a wrap-around desk is a great idea! I love this modern office space that almost looks sunken in due to the outside area being higher than the workspace. The wall stops in just the right area so that glare is minimized on your devices, yet you can still enjoy peering outside. What a great space for multiple people to get work done in.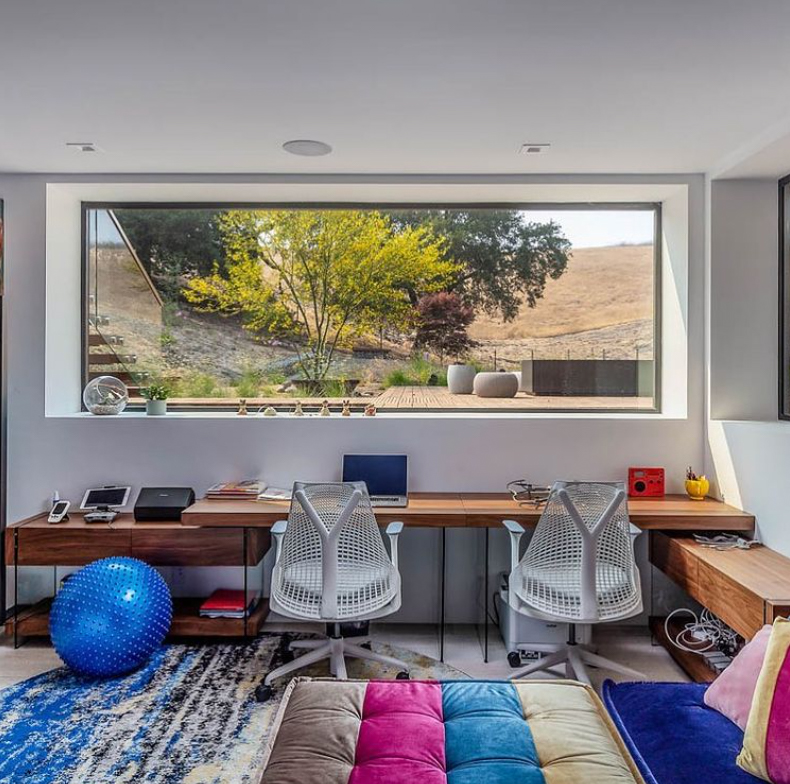 16. The ultimate setup
If you are a gamer or streamer (or both) then I'm sure you'd be swooning over this setup. The slightly curved computer provides an almost 180-degree view which is awesome when you have a lot of things on the go at once. And I love the wooden storage piece on the desk which works so well to store all your most necessary and most used items. What an awesome space.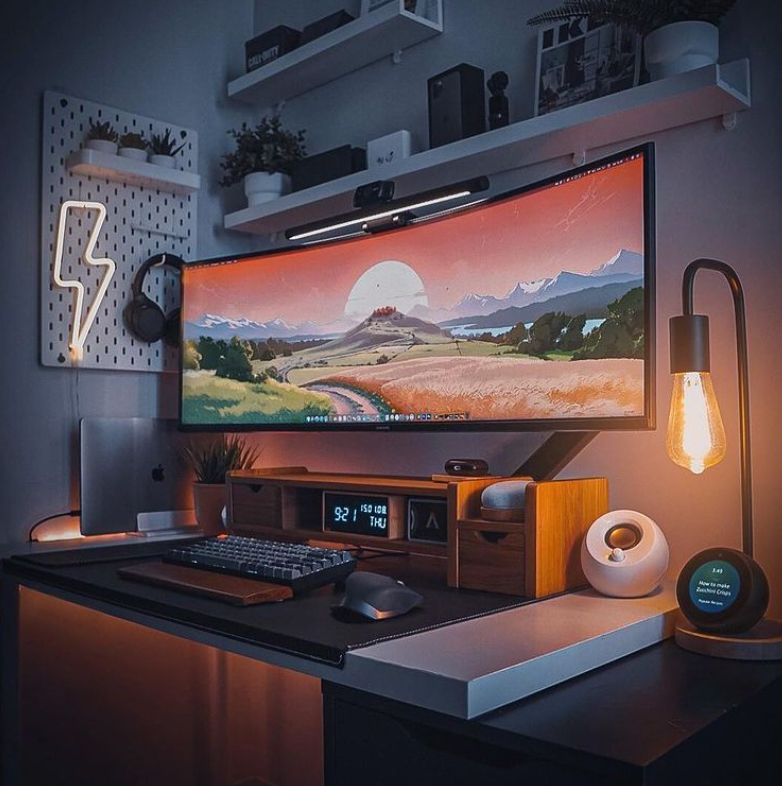 17. Indoor plants
Indoor plants are always a welcomed addition in any room. They not only add a pop of greenery, but plants can help with the air quality in your home, making it purer. Plus they just look gorgeous and so happy!
I love the small potted plant which has been placed on the corner of the modern desk as well as the large palm which looks like it is reaching out to all the beautiful natural sunlight coming through the windows.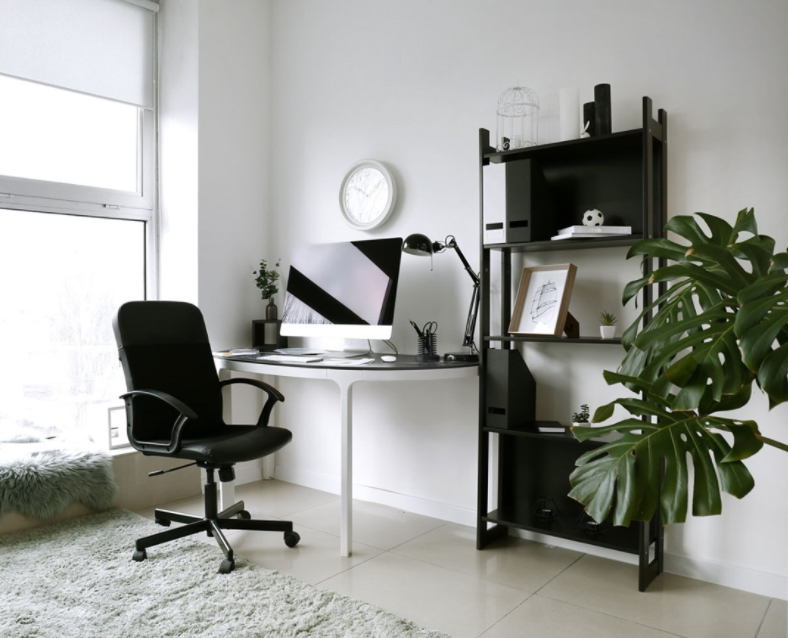 18. By the fireplace
If you live in a cold area, then I'm sure that adding a fireplace into your home office would be an absolute dream. And I absolutely love the way this fireplace has been seamlessly built into this space. It really looks like it was made for this home office with the grey colour scheme and modern clean lines. Love!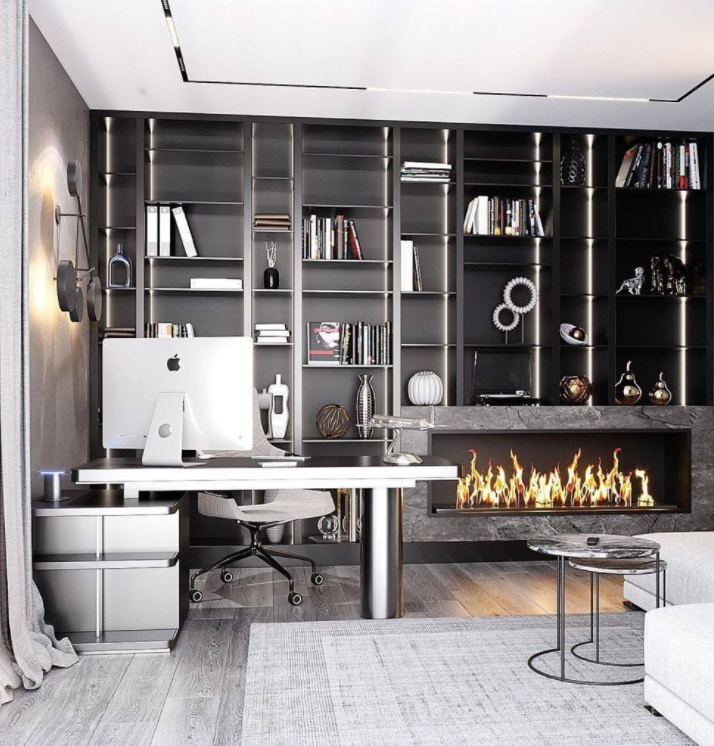 19. Window bench
If you often have little ones coming into your office or just like to have somewhere comfortable to sit, then a window bench is a great idea! I love how the window in this room spans across the entirety of the wall which provides such a stunning view to the outside. And I'd love to put my feet up and relax on the window bench with a nice book at the end of a busy workday.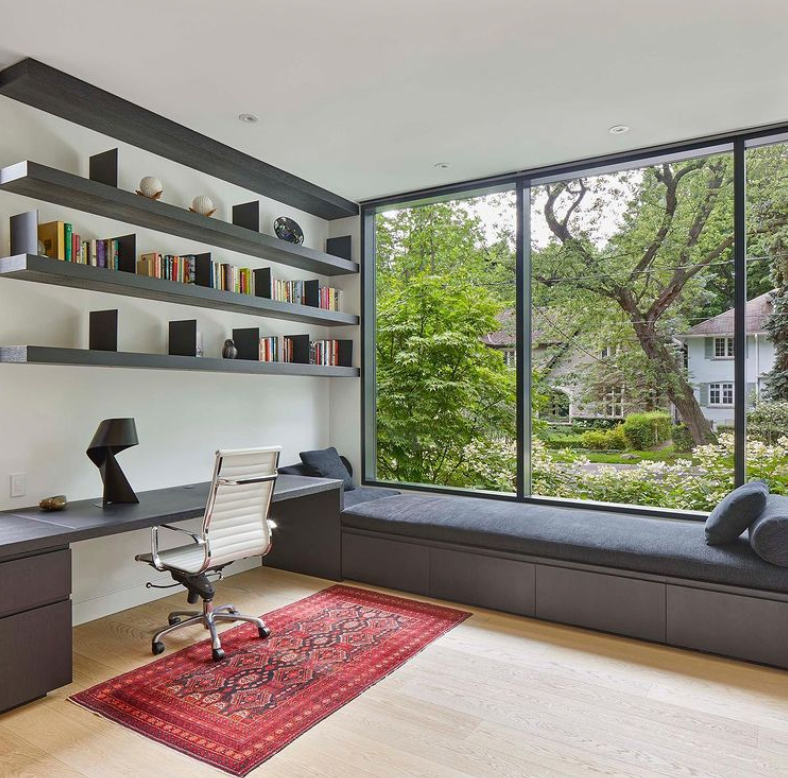 20. Light and airy
It's no secret that I love a light and airy space, and this modern office is certainly no exception. I love the simple wooden desk with built-in storage for your most-used items. And the rustic chair looks lovely however adding a cushion on the chair would make a world of difference, especially during days where you are working long hours. And I just can't ignore that stunning macrame wall hanging which is the most beautiful feature!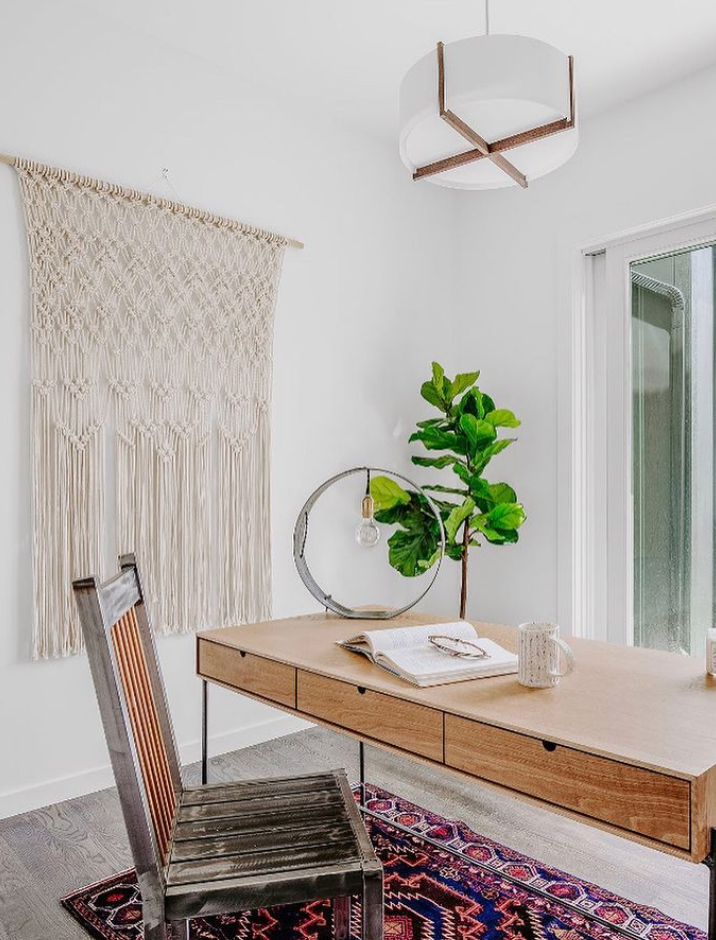 21. Caught you peeking
If you are someone who can easily enter a procrastination station, then adding a cheeky little reminder to keep focused might work. The beady little eyes on the wall look like they are staring me down! They could even be a sign of encouragement for when you are really getting stuff done. No matter what cheering on you need for the day, the peeking eyes will always be there by your side.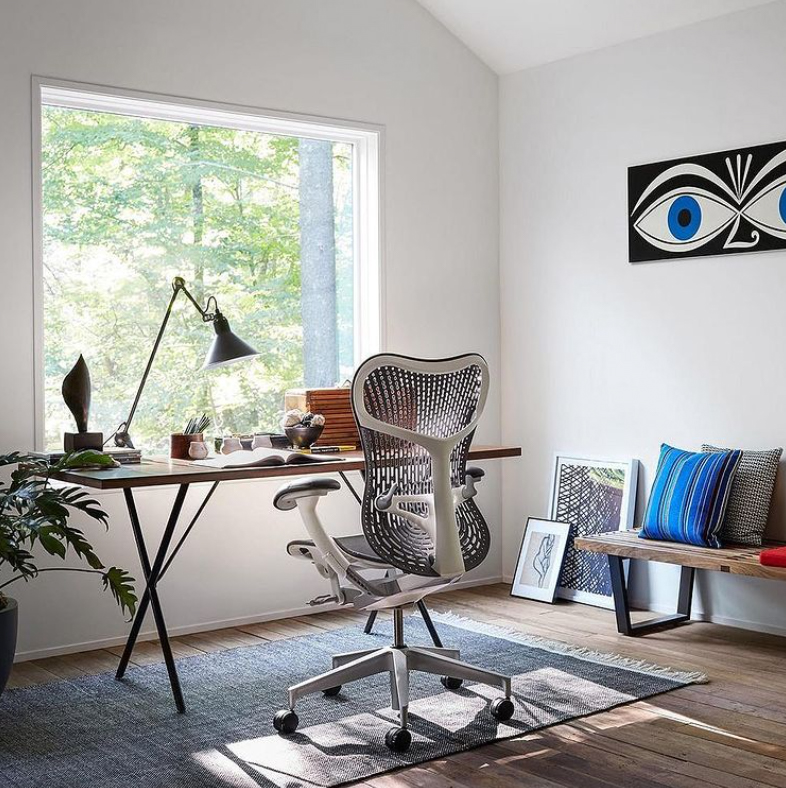 22. Wood on wood
This modern home office proves that you can never have too many wooden textures. I love the wood on wood look. The wood on the desk has been perfectly matched to the wooden cabinetry in the room. In fact, they even look like they have been created from the same tree.
What a classy, modern and timeless space. See how to incorporate wood in more of your spaces with these wooden bathroom ideas and timber kitchen ideas.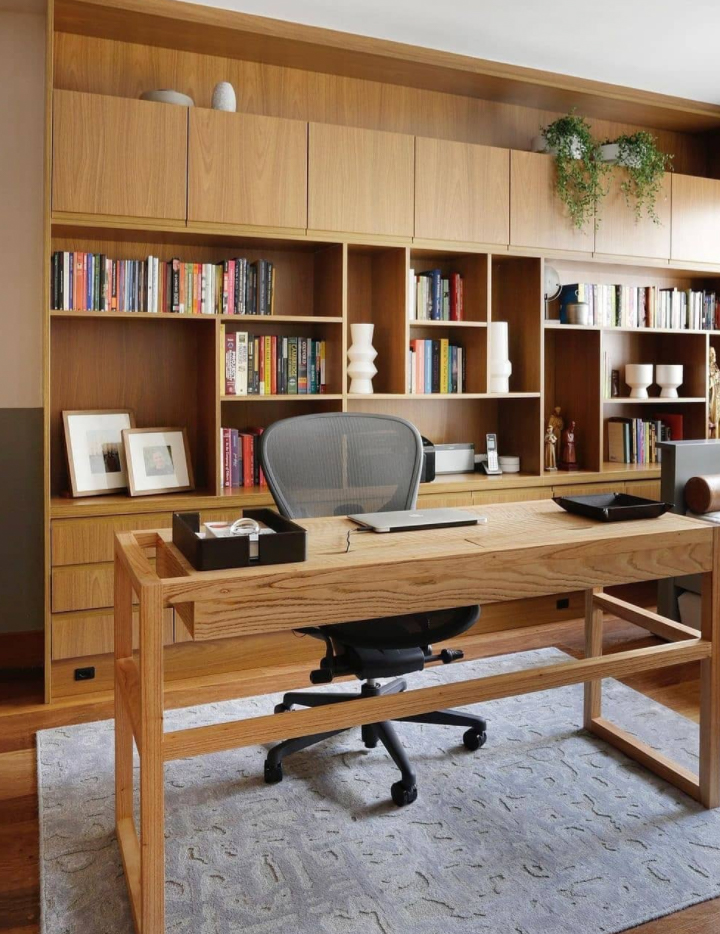 23. Collaboration space
If you have multiple people working in your home office, then a collaboration space is a great idea. I love the sleek white table in the middle of this room that would be the perfect meeting place for everyone to roll their chairs up to. And then once you're done, everyone can roll on back to their own workspace. Just add a cool light pendant above the middle of the table to be able to light up any important documents and meeting notes.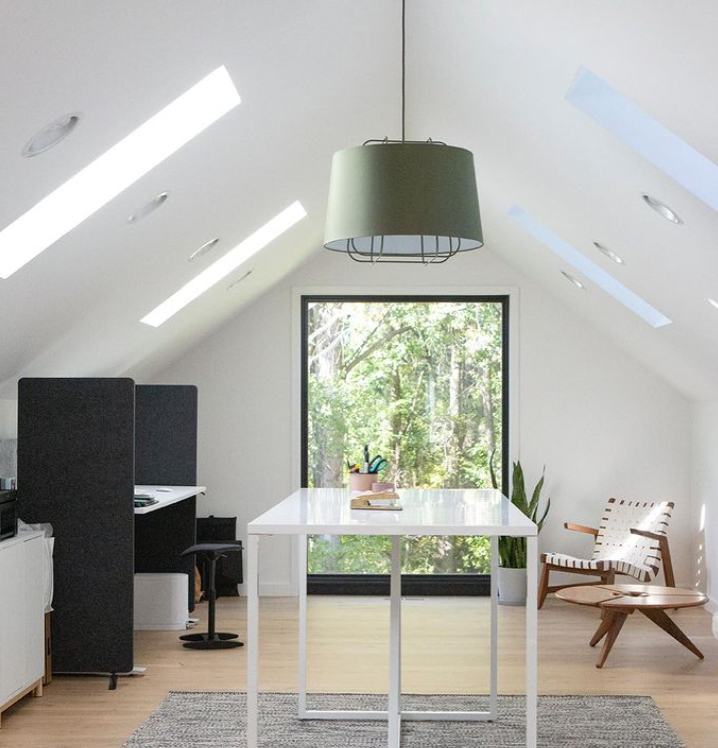 24. Desk in the middle
Desks are so often placed facing walls, but what about putting your desk in the middle of the room?! This arrangement really gives me major CEO vibes. And I absolutely love the shelving to the left of the room that looks gorgeously modern with the industrial style brass rods. What an awesome space.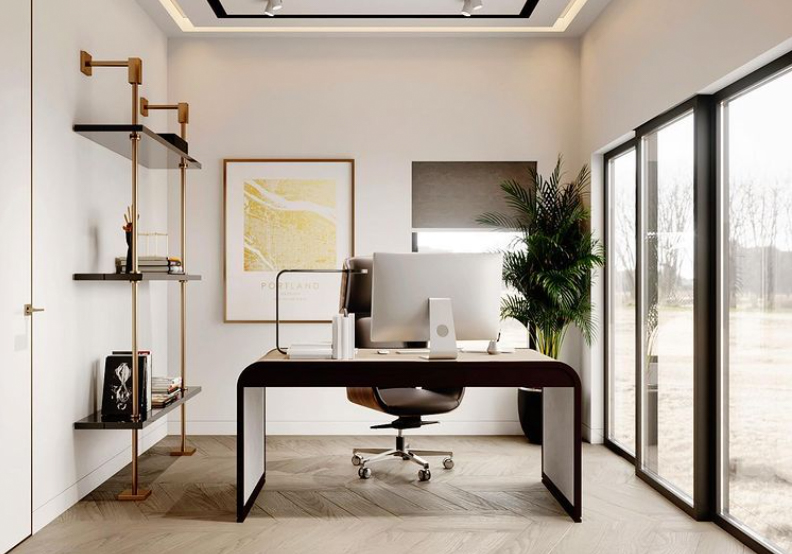 25. Meeting room
How cool is this meeting room? This long desk is a great one for being able to present lots of different collateral and have it displayed all over the table. This space would also work really well as a co-working space with someone on one side and the other person on the other side. I also love the black cabinetry and shelving with all the colourful books displayed on it which gives a very modern look.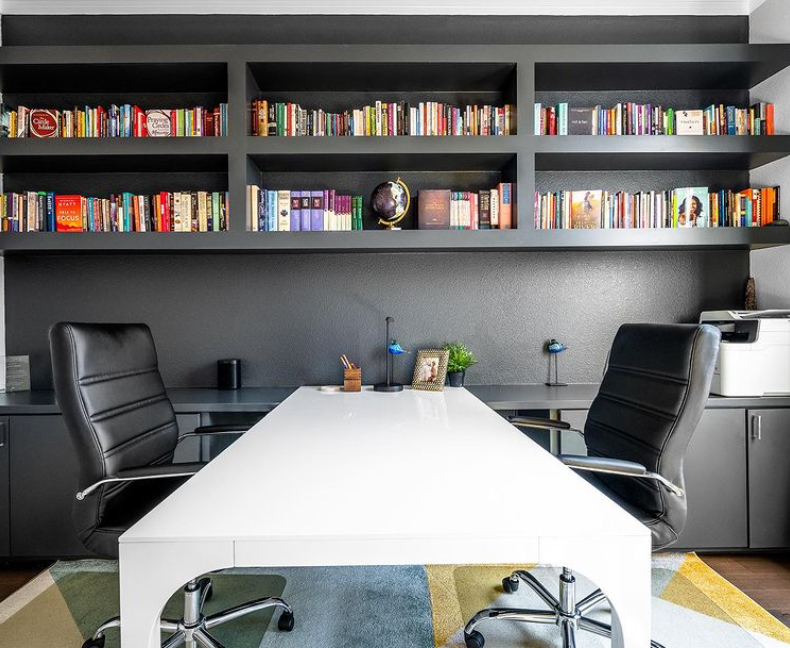 26. Abstract wall
If you're a bit quirky and love to stand out from the pack, then this abstract wall design is something you should definitely try. I love how the shapes are so random and it looks like someone has just gotten a paintbrush with black paint on it and painted a random abstract shape to their heart's desire. Never be afraid to step out of your comfort zone and try something a little different when it comes to interiors!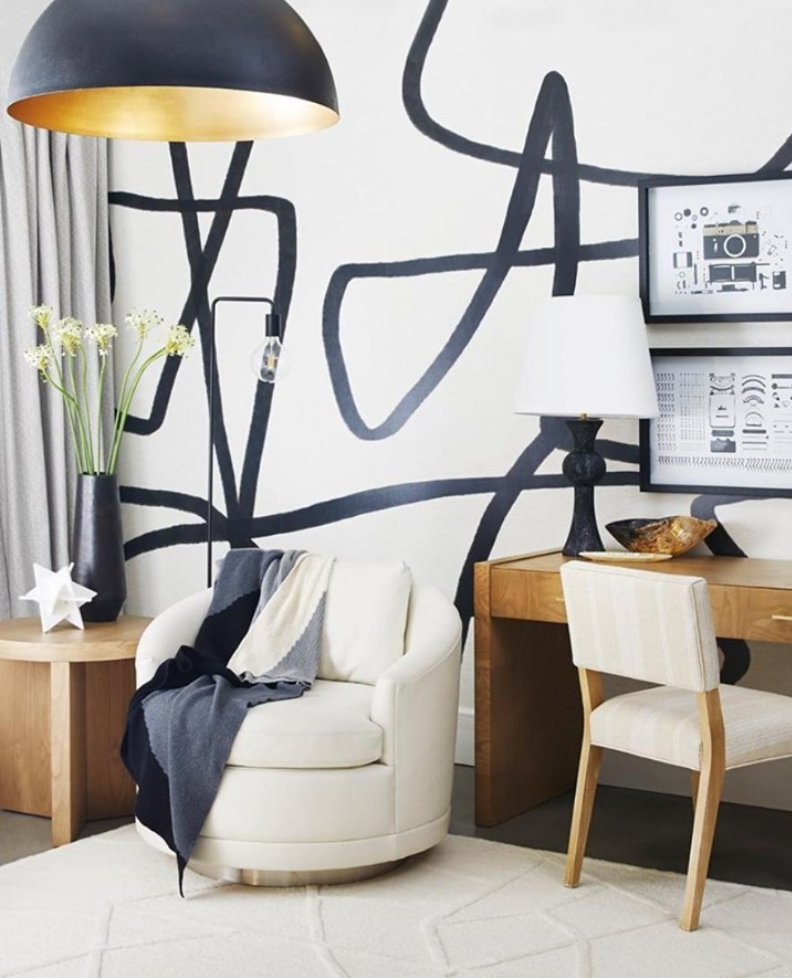 27. Movie theatre
I absolutely love a multi-use space! And this modern office space meets movie theatre is so awesome! I love the long black wall mounted desk which spans across the wall as well as the green paint on the wall to define where the office area starts and ends. The hanging downlights are also a great way to define the area of the office. And due to the movie being projected on the wall, during the day this space would just seem like a home office. Until……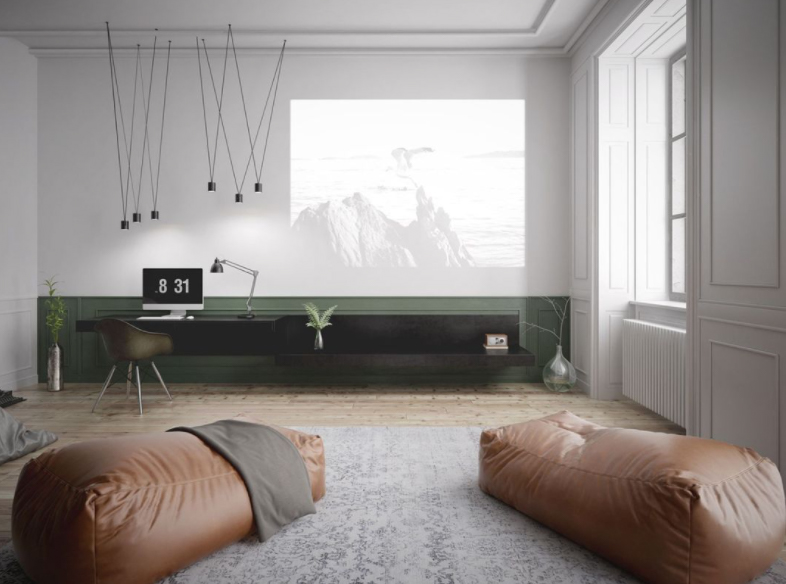 28. Classic meets modern
This home office is the epitome of classic meets modern. Well, modern is classic… And classic is modern. I love the entrance with the glass windows and black panelling which create a beautifully framed entrance for this modern space. The area is very symmetrical and the lines are crisp and clean which make this space feel seamless and oh so inviting.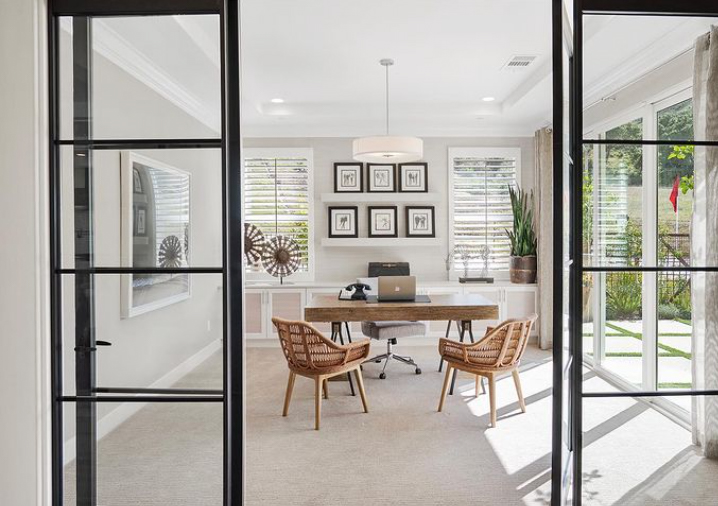 29. Navy and white home office
Here is some more gorgeous navy cabinetry. I love how the cabinetry spans across the whole wall which means there is so much storage space in this home office. Plus it looks beautiful with all the decor pieces displayed. Win-win. And I love the addition of the white comfortable chairs which help to lighten up the space as well as the stunning bunch of sunflowers on the desk which add a welcomed pop of colour.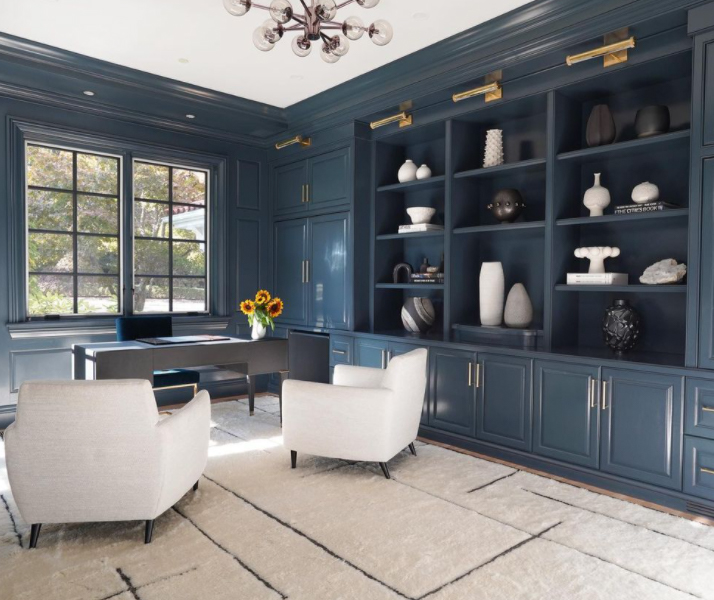 30. Gold accents
Oh, I absolutely love this stunning space! It looks very luxe and Parisian indeed. I love the white and light grey finishes through the desk, computer, table lamp, curtains and walls. And the gold accents in the candlesticks, trim around the bin and chair legs are the perfect metallic accent to make everything feel and look luxurious.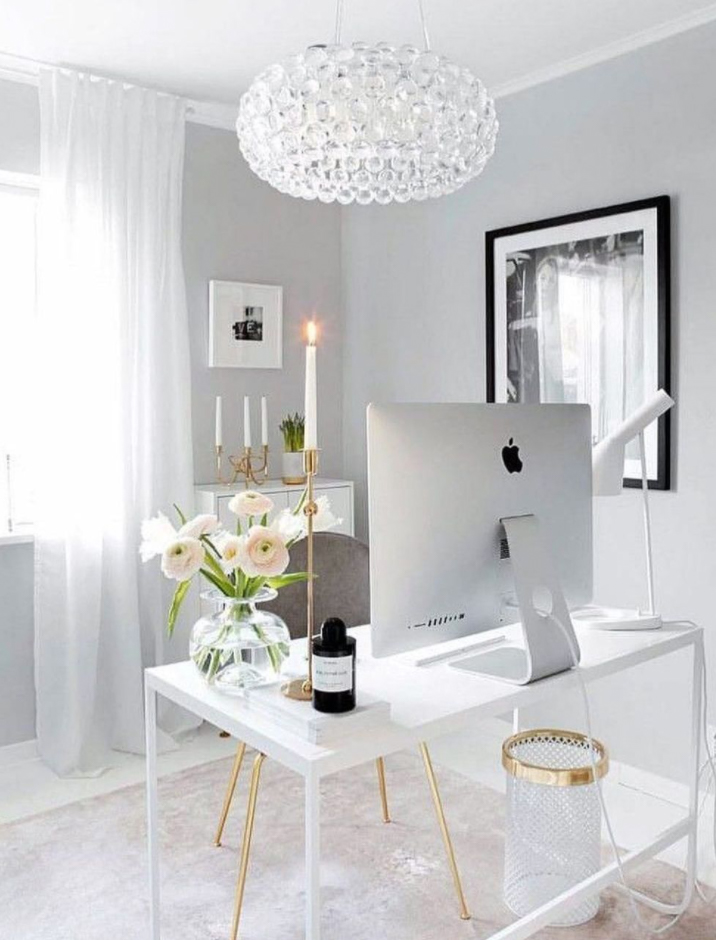 31. Creamy coastal
This is the perfect example of how another interior design style can be seamlessly merged with modern style. The furnishings used in this space are pretty simple and modern with the minimal clean lines and neutral colour scheme and then all the coastal accents have been brought in through sweet decor pieces like coral, a stair fish and other beautiful elements that match with the creamy coastal theme. Gorgeous!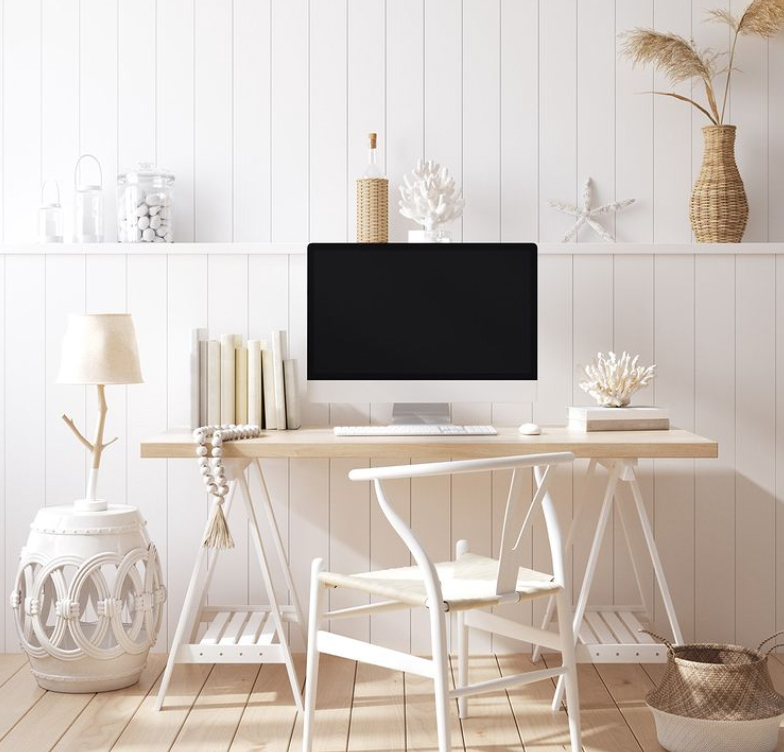 32. Amongst the mountains
Wow, if you have a home office with a view like this then I am soooo jealous! Imagine working amongst the mountains – your view would literally look like a screensaver.
When your view is this good, you certainly wouldn't want to have your back to it so placing your computer in a way that you can still peer outside while you're working is a great idea. I'm sure I would get lots of work done in this space but would have to be careful not to get distracted by that magnificent view.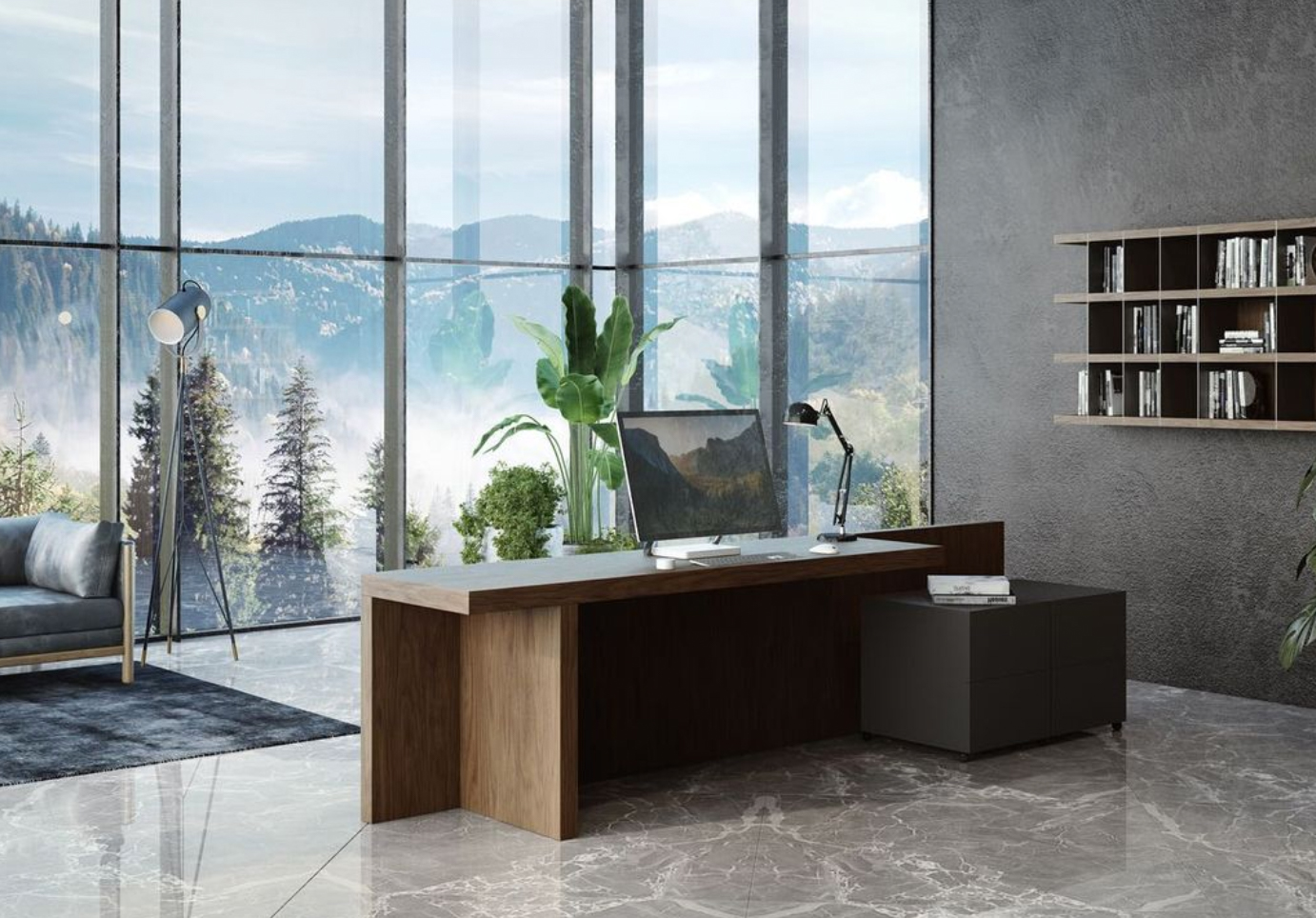 33. Minimal, modern and organised
This office space is minimal, modern and organised. I love the neutral colour palette in this beautiful home office with the colours predominantly being white and light wood as well as the added greenery from the stunning indoor plants. Also if you are one to change up your workspace regularly, having a desk and chair on wheels means that you can move your setup around to suit the mood you are in for that day.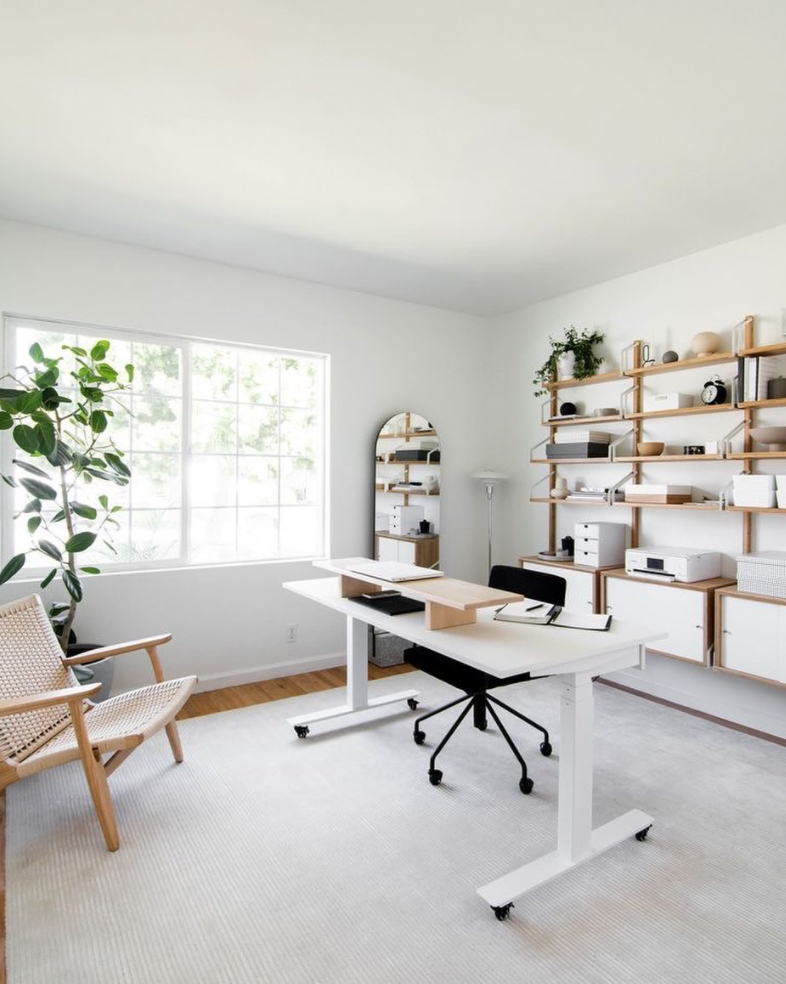 34. Cupboard storage
If you prefer to have everything put away, with only the most necessary items out, then adding storage is a great way to go! I love the large cupboard storage in this modern office space that I'm sure would fit so many things inside! And I love that only the computers have been kept out on display.
35. Artists retreat
This space is truly an awesome artists retreat. I can only imagine the magnificent works of art that are created in this space. I love the prints displayed on the wall as well as all the additional storage around the room. And how cool is the swing hanging from the roof! What a cool and creative space.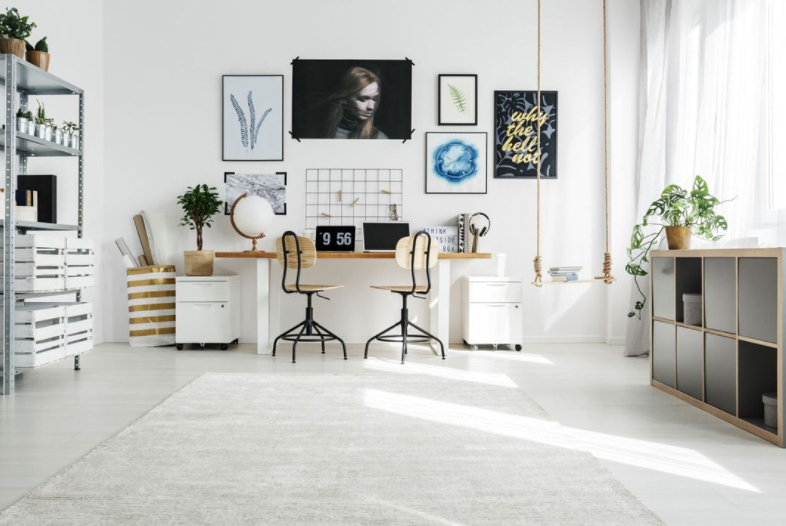 36. Black on black
If there was a main colour for 'modern' then black would definitely take the cake. How awesome is this black on black office space! It's modern, chic, timeless, classy and edgy all in one. I love the little tan storage baskets that work so well to hide away items that aren't within the colour scheme.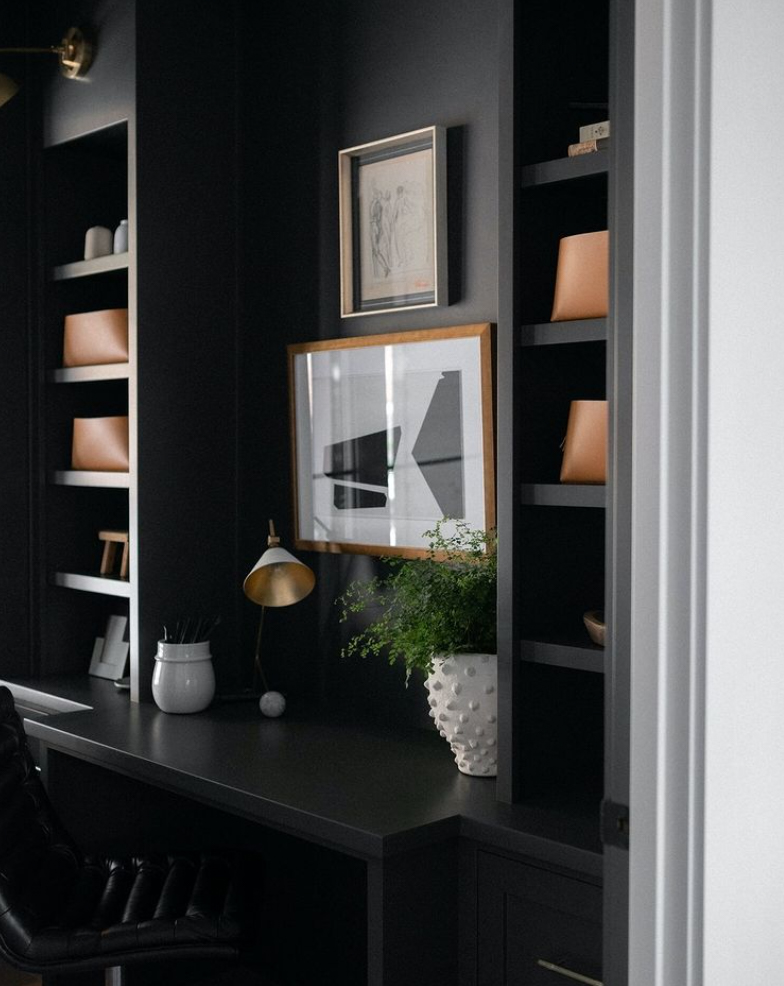 37. Muted neutrals
How sweet is this modern office space with the muted neutral colour scheme? Everything just fits so seamlessly together. When you are trying to obtain a certain colour scheme, a clever hack is to tuck your books around so that the pages of the books are facing out rather than the colourful cover. This space is seriously so elegant and oozes class.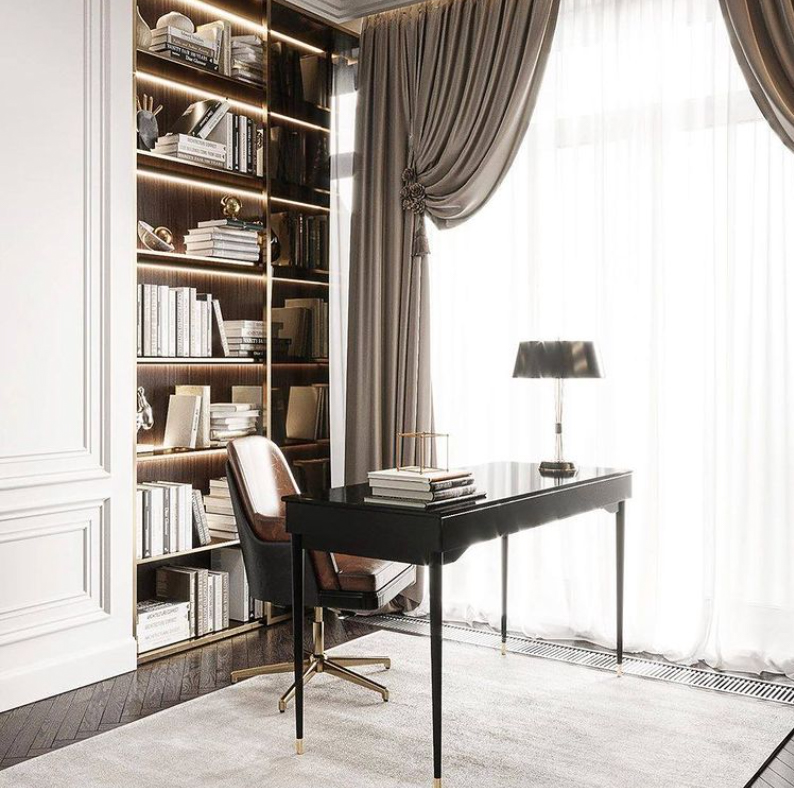 38. Angular desk
Modern design is so often about clean lines which is why this angular desk works so well in the space. It almost looks like a piece of something off of an aircraft or space ship. How awesome! I love how sleek and simple the desk is, yet it still makes an awesome statement. Plus the addition of the black shelving across the entirety of the right wall works so well!
39. Chic and modern
How chic and modern is this home office. I would feel like such a boss working in this space. I love the black area around the window which looks stunning between the white walls with the wall-mounted shelves. And the white chairs are the perfect place for guests or clients to sit while you sit behind your very modern concrete grey desk.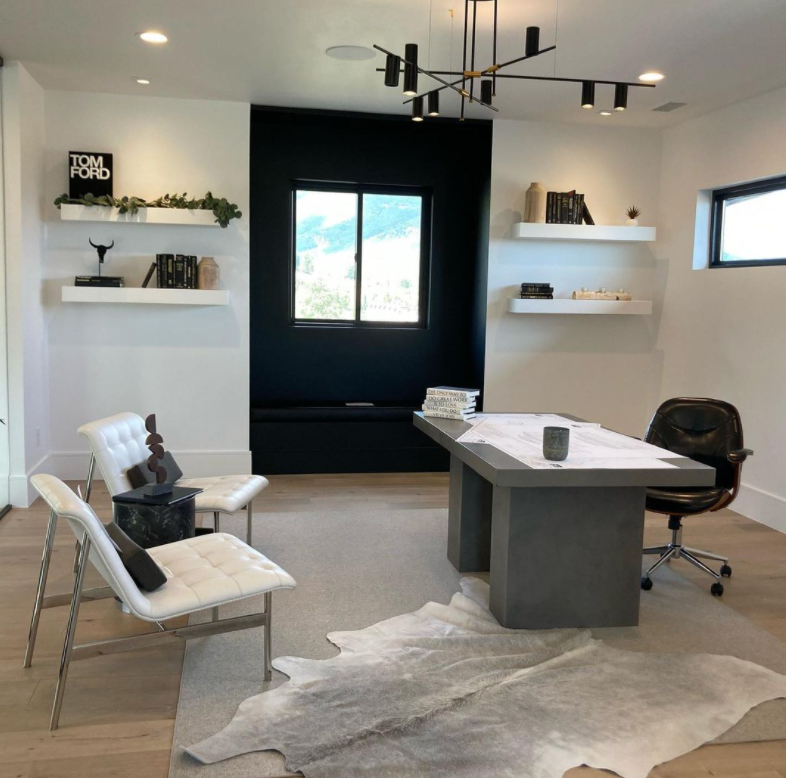 40. Blackboard wall
And last but certainly not least is this awesome blackboard wall. This is the perfect multipurpose feature wall. What a cool idea to be able to write your to-do list on your wall every day! Plus how awesome is the desk that is hanging from the ceiling by chains? Industrial, modern and oozing with 'cool'!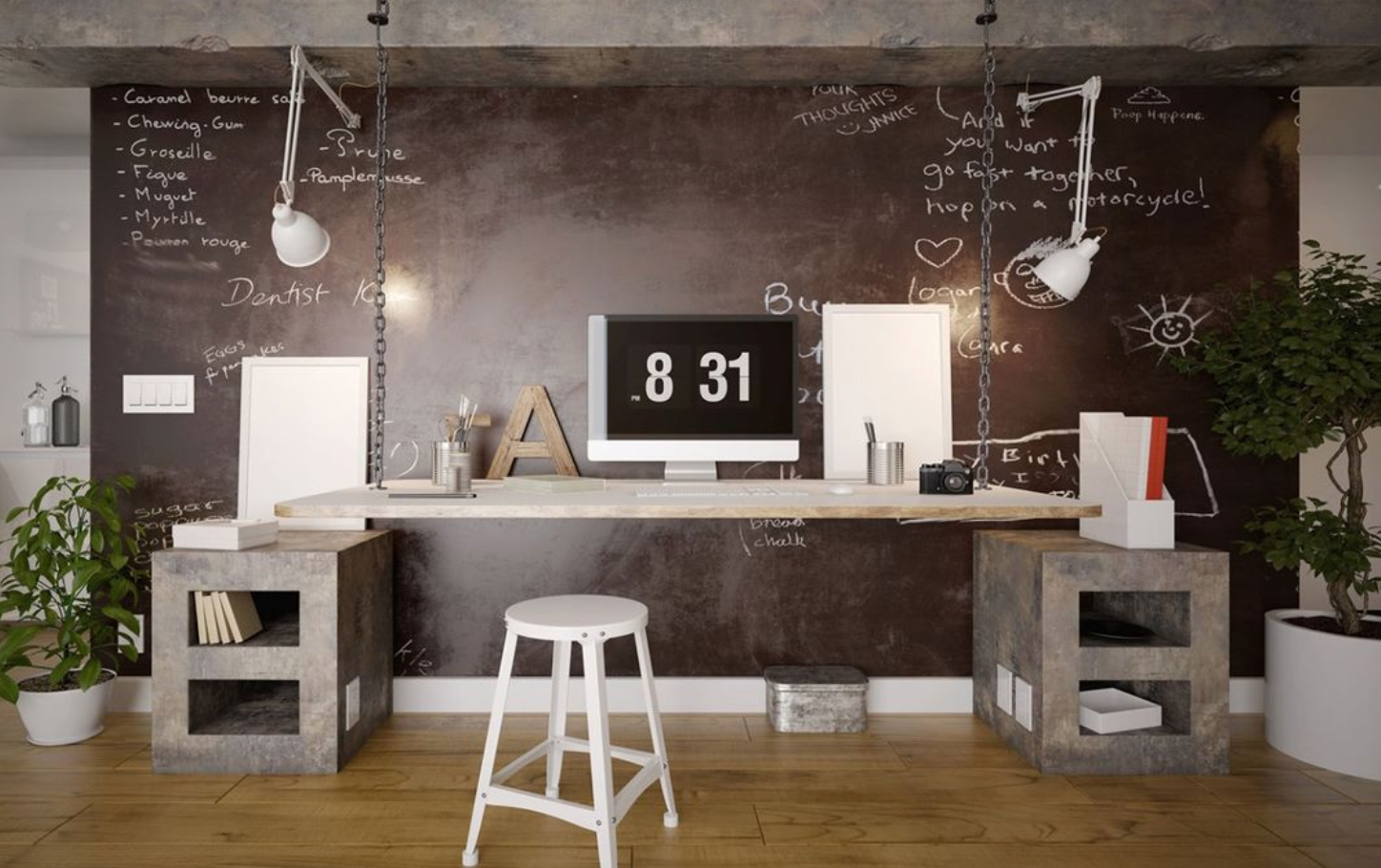 Well, there we have 40+ modern home office ideas! I absolutely love the collaborative spaces with the large desks to spread out onto as well as the offices that have a distinctive colour scheme which really helps to keep everything cohesive. What were your favourites? Let me know what ideas you'll be trying in the comments!