Who would have thought the humble home office would experience such a major rise in its status!? But since the pandemic, the home office is no longer a luxury extra room used for home/life admin purposes. It's now an integral part of many people's lives. And many of us have been searching for home office ideas ever since, in a quest to create the perfect workspace.
Maybe you have an entire room available to dedicate to your ideal home office? Or perhaps you only have a tiny sliver of free space to convert. Rest assured no space is too small when it comes to setting up a dream office sanctuary.
A home office is a space where utility meets aesthetics. But too often the home office is a sterile, boring space. So I've compiled these home office ideas and tips to help you create a stylish and functional workspace. Let's dive in!
Use of space
Start by making a list of the ways you intend to use the space. Home offices often fulfil a range of needs for the whole family. They might need to serve as much more than a dedicated workspace for a single family member. ·It may be a place where you take care of life admin, where the kids do homework, or it may be exclusive as your work zone.
Once you have an idea of the required uses for the space, you can figure out what furniture and storage you'll need. The non-negotiables will be a chair. Desk, lighting and storage. Setting up a shared space? Look into height-adjustable chairs and unique organisational systems for each worker.
Home office ideas – colour schemes
But first let's take a quick look at some inspo for home office colour palettes that work.
1. Monochrome
For a chic, simple home office that means business but is stylish enough to show off even when not in use, opt for a monochrome palette.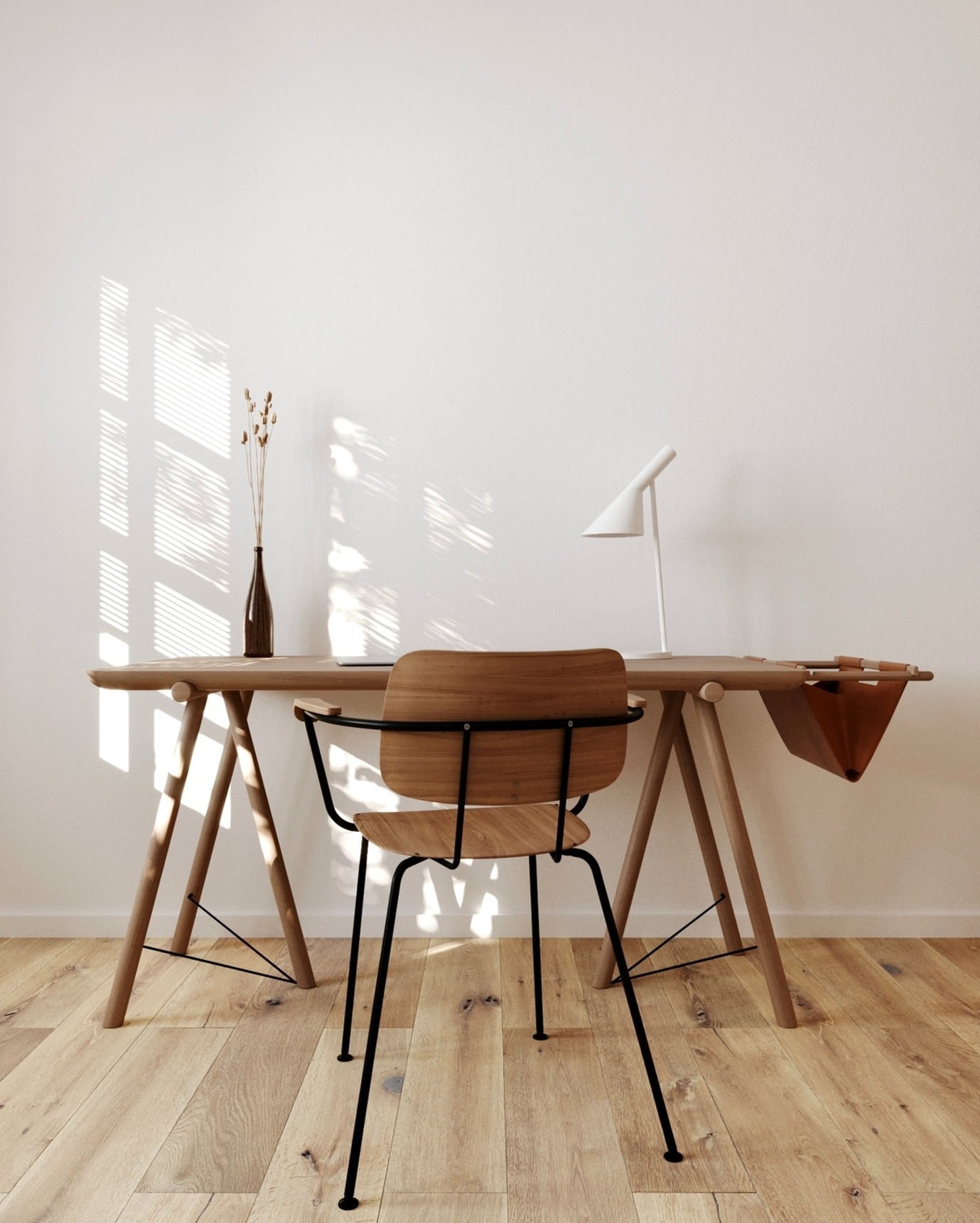 2. Back to black
Black offices have a sexy appeal. Choose charcoal for walls, which is both dramatic and has more depth. With darker colour schemes, though, you really need excellent lighting to prevent eye-strain.
3. Bottle Green
This is a beautiful colour that has both a professional and fresh aesthetic. Team it with whites and some organic decor for a dreamy West-Elm inspired look.
4. Pinks
Pink needs only a light touch to avoid seeming too child-like. Add touches of cream and gold to add maturity to rose quartz. For example, a luxe office chair with gold detailing.
5. Colour pops
What's on-trend may well inspire you, but always go with the colours that speak to you. A colourful work environment is inspiring and fun and can inject energy into your space. Luckily, home offices don't have to be neutral. Hey, you're the office manager and you can pick whatever colour scheme your heart desires.
An all-over office paint job (walls, ceiling, shelving) can help enlarge the space. Or, apply bright colour pops to elements like chairs or filing cabinets. This can invigorate and modernise your space, especially if you choose unconventional colours.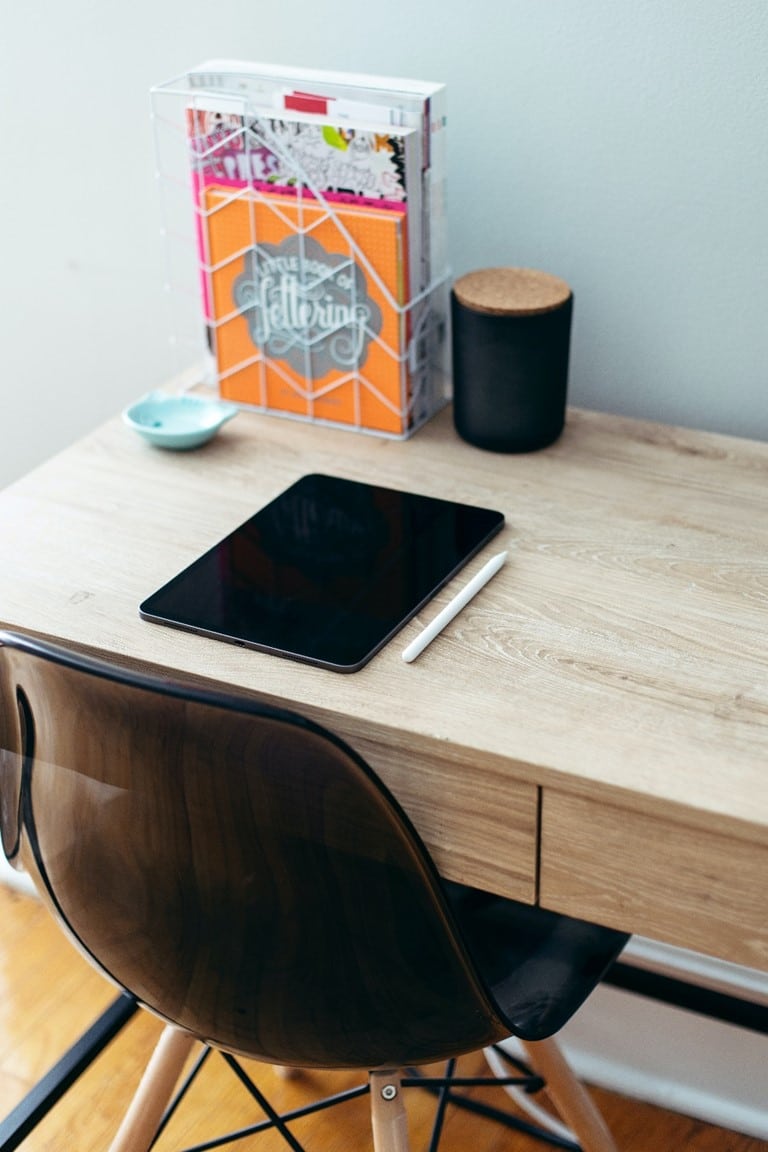 6. Accent walls
The accent or feature wall continues to be popular. Darker accent walls add depth and drama. Lighter and brighter accent walls invigorate without overpowering with colour. Don't fancy a painted feature wall? Consider peel-and-stick wallpaper which you can change when you tire of it.
Home office ideas – styles

Now let's take a look at a few stylistic options.
7. Minimalist
This is a timeless favourite that will never go out of style. It's just so well-suited for the home office. A clutter-free environment always creates a stress-free, calm, productive atmosphere. All you need is a simple, minimalist table and chair, a lamp, neat storage units. Stick to a neutral colour palette, dark or light, and warm it up with a plant or some natural-toned soft furnishings.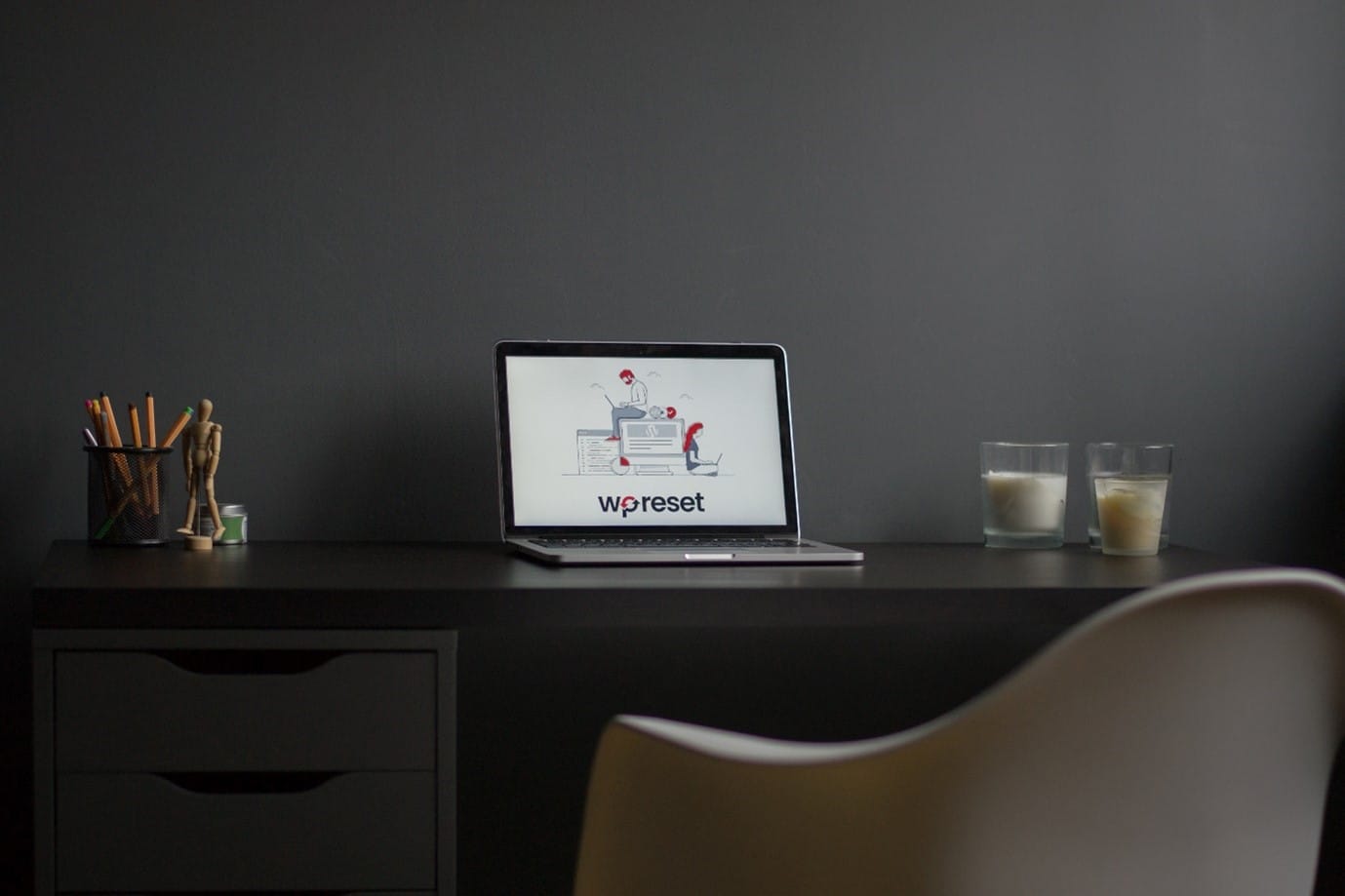 8. Boho chic
At the other end of the spectrum from minimalism lies Boho style, where more is more and everything goes. It isn't hard to establish this look. Decorate your workspace with inspirational global design elements which tell a unique story. Layer in soft furnishings in an array of colours and patterns, et voila.
Love Boho-inspired spaces? Check out these Boho bedrooms and these Bohemian living room ideas.
9. Glam
The most feminine aesthetic, a glam office style fuses classic beauty with practicality. If this is your favourite look, think about adding a feature walls in a dramatic, deep colour. Or, stick to fresh clean white. Add in a glass-topped desk, plush floor rug, gold or brass desk accessories, and touches of white leather and velvet. Chandeliers work particularly well with this style.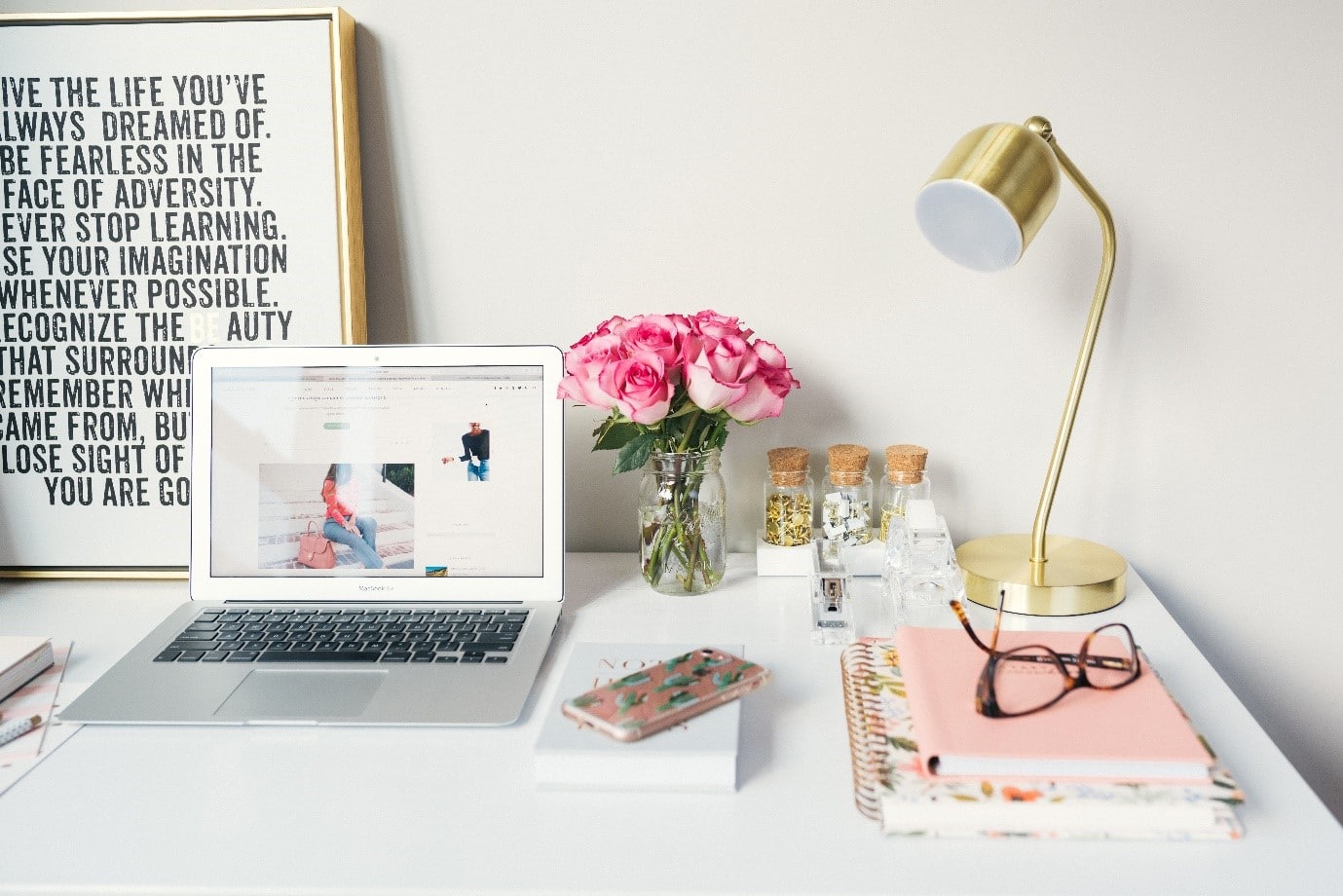 10. Ultra-modern
For a strongly contemporary look, go for sleek lines and zero clutter. A stunning statement glass desk is appropriate, as well as eye-catching modern lighting.
11. Vintage industrial
The industrial style is a perennial favourite, prioritising functional design and hard-wearing metals. If the always-cool industrial look appeals to you, make sure you add vintage elements.
Keen to achieve a vintage industrial look? Source a a Mid-century aluminium desk and a timber swivel stool. Add some distressed metal bookcases and filing cabinets and wire-framed pendant lights. You're in business.
12. Vintage mid-century retro
For a home office with instant elegance and maturity, add vintage furniture, like a stunning Mid-century wooden desk or an antique armoire for storage. The typically darker timbers of this style pair beautifully with copious white decor and punchy black accents.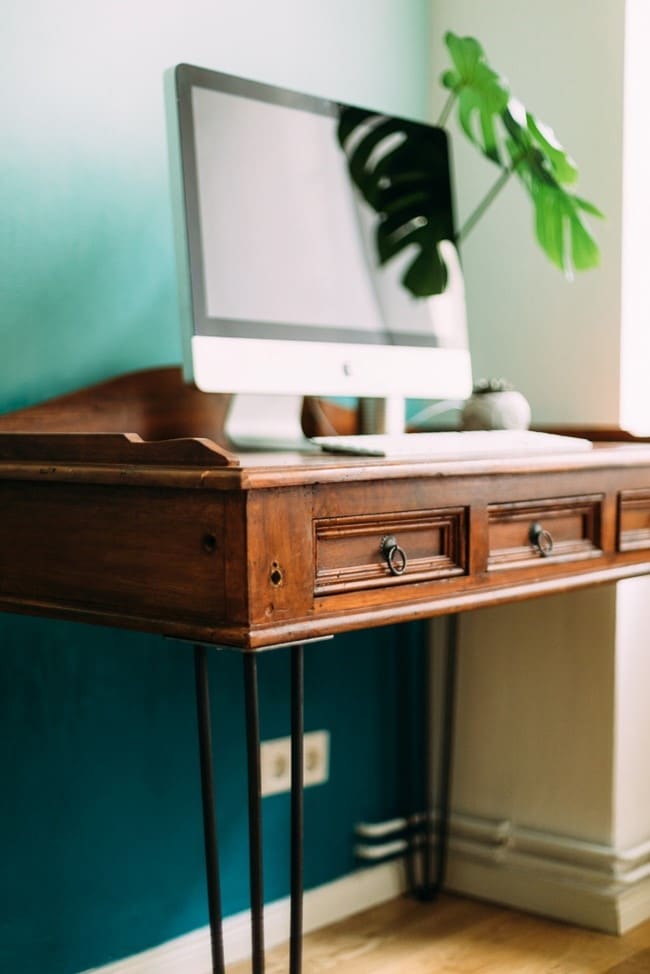 13. Get hygge with it
OK, I know the Danish pronounce it 'hoogah', but that would just spoil my pun. However you say it, creating a welcoming, cosy, warm and intimate space has been globally appropriated and is here to stay. It's a celebration of comfort above all.
When it comes to home office ideas, hygge means extra textiles, candles, natural materials and neutral colours. Hyggify (sorry) your home office with woollen blankets draped over your chair, a tray with a teapot covered in a tea cosy, an aromatherapy diffuser. Simple little elements that will help you enjoy spending as much time in the space as possible.
Home office ideas – the elements

Now let's take a quick look at the nitty-gritty elements of a home office.
14. The seat of power
Possibly the most important piece of office equipment you will buy. Your office chair needs to be high quality and ergonomically designed. It will need to provide optimal lumbar support so that you can work all day in comfort without impacting your health.
If you won't be sitting for prolonged periods, you'll be able to get away with concentrating more on the aesthetics of your chair. Of course, you'll still want to be so comfy that you'll get stuff done when you actually do use it!
15. Desk matters
When deciding on your office desk, you'll need to consider its main function. Does it need to be double-sided so that you can hold meetings over it? Will two people be working side-by-side? Do you need to fill a tricky space with a custom-designed desk? Do you just need something basic but solid?
Whatever its function, you'll want an attractive and sturdy desk with lots of surface space and generous drawers. But it doesn't need to come from Ikea. Pick up an old treasure from an op-shop and repurpose it with pretty paint and fabric and cut a glass top to fit.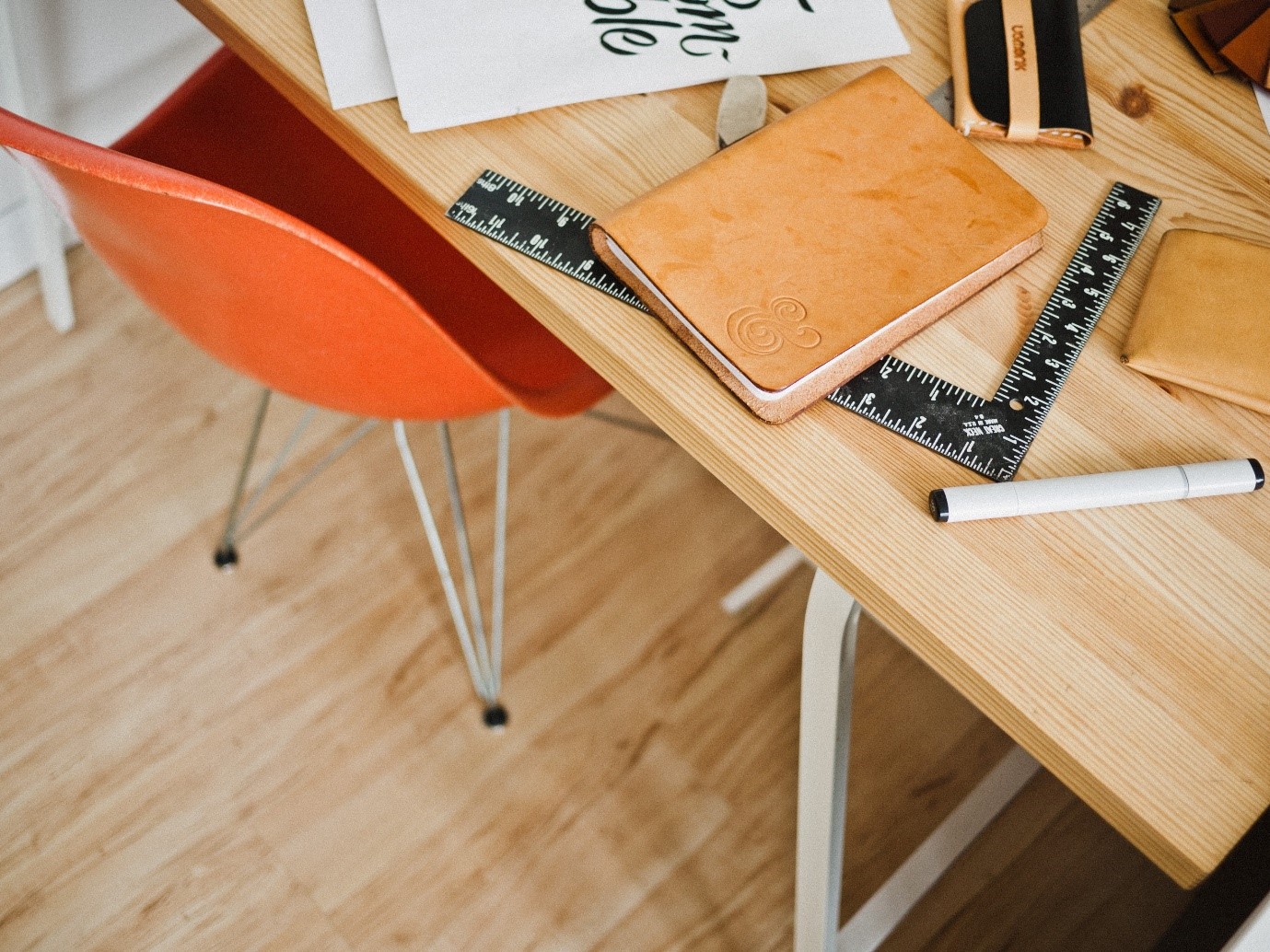 Get some help with your desk assembly,bookcase assembly or if you're getting something new to sit on, chair assembly.
16. Go for a transformative work station
Working while standing provides known health benefits (improved mood and energy, and reduced back pain). It also improves your productivity! Height-adjustable to allow sitting or standing, transformative workstations are becoming more popular.
17. Float your desk

If space is very limited, you can have a desk wall-mounted as well, such as a desk-shelf combo.
18. Make a collab space
Need room for more than one home worker or home learner? Push two desks together and fit out a double filing cabinet system. 
Home office ideas – storage
As we all know, organisation is key to creating a neat, tidy and functional space. By nature, home offices are full of paperwork. Books, stationery, computer cords and accessories – storage is integral to home office design.
There are so many options out there, from bookshelves to floating shelves to cabinets, sideboards and cubbies. Let's take a look…
19. Move up
Firstly, consider how you can maximise your vertical square metres. Space is at a premium for most of us, so it pays to see the height of your wall as an asset when you are decorating your home office. If possible, install cabinets all the way up to the ceiling. You can then rest a ladder against them to optimise this space.
20. Be an open book
You might not be able to utilise your entire vertical space. But large open shelving is a must for most small offices. It also makes a practical and stylish way of maximising office space. Have a grid of shelves installed along a wall to provide storage space for all your office files, books and attractive knickknacks.
Fill shelves with a range of colourful boxes and baskets for storing smaller items. This is both visually appealing and practical and gives the room a nice creative vibe. Painted white, bookshelves open up the space. Or you can paint them in an accent colour where they will offer symmetry and flair.
21. Stick to what you love

Peel-and-stick, removable wallpapers aren't going out of fashion anytime soon. If anything the variety of options available only increases by the day. Choose a mural, abstract pattern or a design which directly references your line of work. Either way, wallpapers are a fun way to instantly transform your space.
If you're not sure what type of wallpaper to get, take a look at these bedroom wallpaper ideas, bathroom wallpaper and even kitchen wallpaper ideas.
22. Whatever floats your shelf
Floating shelving is another appealing, airy-looking way of making use of vertical space. When filling shelves, the rule of thumb is to group like with like. And contain irregular shaped items in baskets or boxes which give them a more uniform, tidy appeal.
23. Customise your filing cabinets
There's no need to buy an expensive brand-new filing cabinet. Grab an old metal filing cabinet for a few dollars off your local Facebook buy-swap-sell page. And give it a lick of paint to suit your décor. You could even paint a side in chalkboard paint for extra functionality.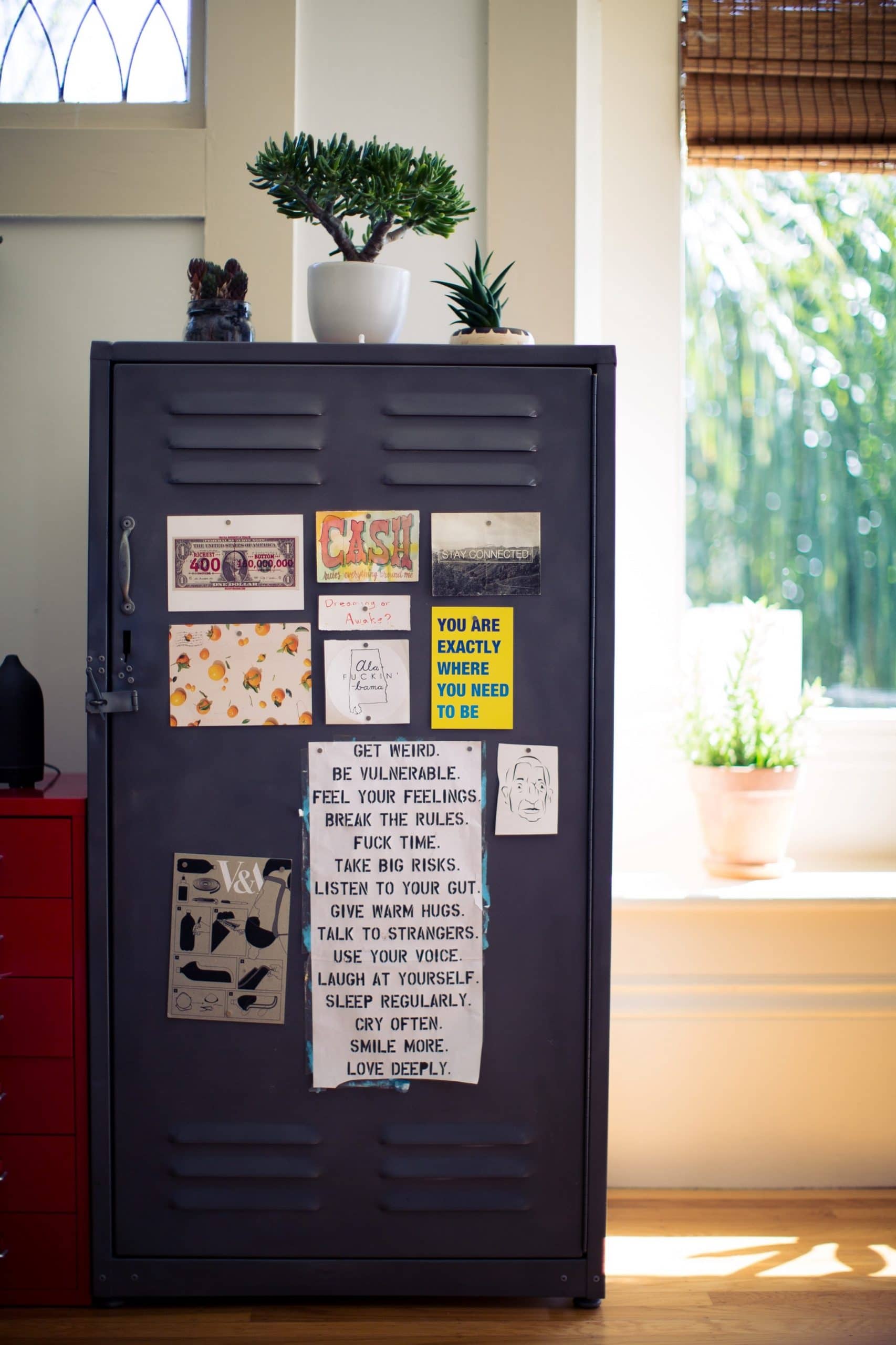 24. Sort it out
Keep your desktop clutter-free with a collection of appealing tubs, baskets, trays and other desk accessories. No more rummaging around in the chaos of a desk drawer. Metallics always look a little luxe so why not have a play with a mix of different metals?
25. Box the docs

Kit your office out with stackable boxes in the colour scheme of your choice. Or use colours to categorise and organise paperwork and filing. It's hip to be square…or rectangular. And oh-so-much neater than having piles of paperwork rustling around your desk.
26. Add plants for tranquillity
Maybe it's a single succulent perched on the corner of your desk or a huge fiddle-leaf tree statement plant. Or, maybe it's simply a vase of gorgeous roses. But plants are a vital element of every home office. Breathing life into the room, they contribute to a sense of calm and connect you to the great outdoors while you're cooped up inside.
Apart from adding colour and often acting as an air purifier, green foliage gives texture to a room, while flowers provide beauty and harmony.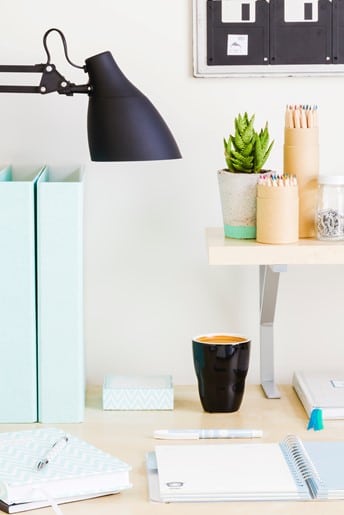 27. Use pegboards to personalise
Pegboards allow you to increase the functionality of the wall space in front of your desk. Hang to-do lists, collate mood board inspirations, and even organise office supplies.
28. Stay on the grid
Wall grids are just as versatile and come in a range of finishes to suit your style, from rose gold to glossy black.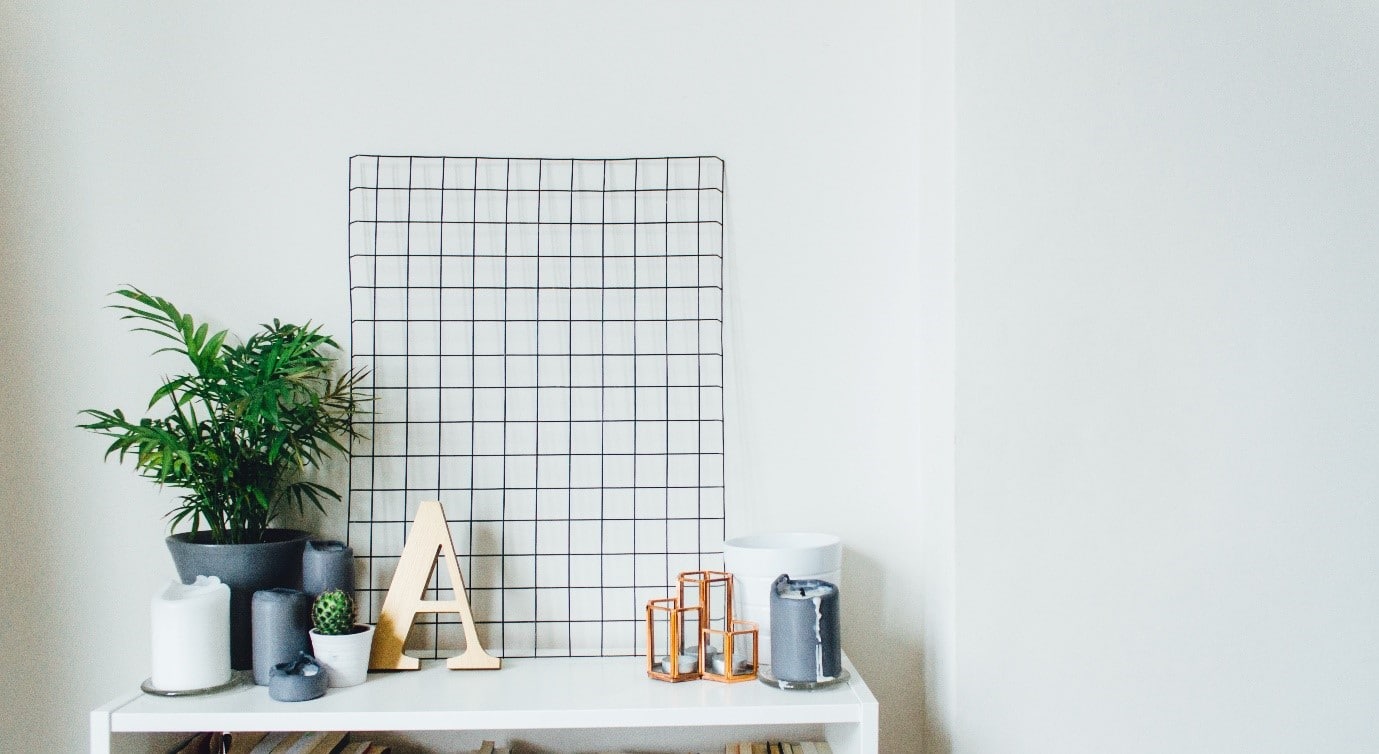 29. Make it business, but also personal

Open shelves and cabinets are equal parts practical and fun. They're a way to express your personality, and enable you to display personal items you cherish or find meaningful. Rather than just being for reading material or office supplies, you can use them to decorate your office with keepsakes and curated collections of items representing your life and style—mementoes, little objets d'art, tiny cactuses, generally anything you find appealing to look at (after all, you're the one who will be looking at them the most!).
The beauty of the home office is that you can create an eclectic, arty environment, mixing colours and patterns that personally appeal. There's absolutely no need to worry about what others think.
Add little vintage elements which give warmth and visual interest. Perhaps a gorgeous antique rug, aged roll-top desk, distressed leather chairs, or a vintage lamp. Haunt the antique stores, church op shops, eBay, Gumtree and Facebook groups. The trick is to pair these pieces with brand-new items as the juxtaposition creates a rich, layered look.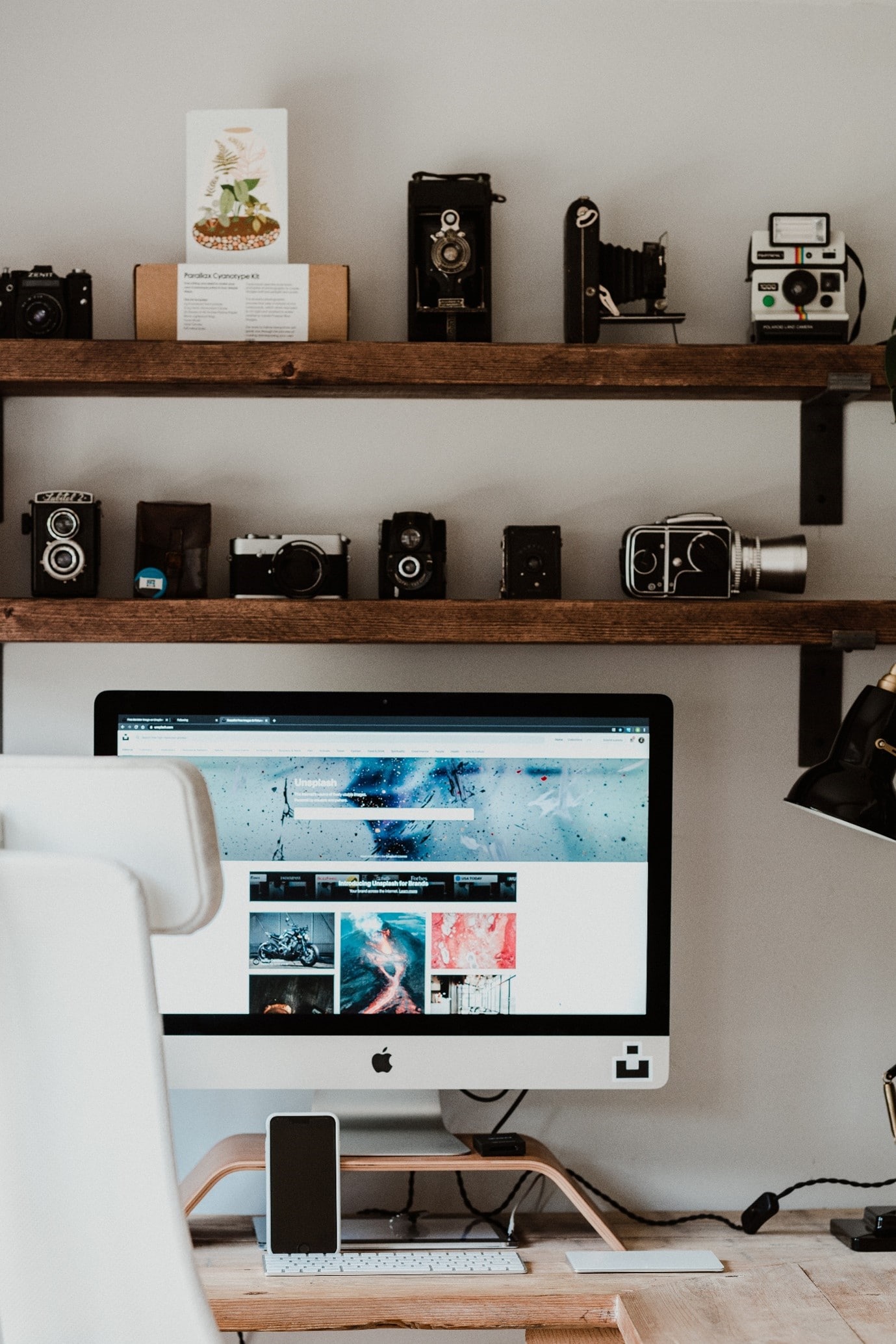 30. Be drawn to art
Fill your home office with gorgeous art that inspires you every time you sit down to work. Whether it's a single piece of oversized art or a framed grouping of artworks, art energises you as well as making a statement. You could have your children's artworks framed for that extra personal touch. Or why not have a local artist paint a replica of your favourite painting?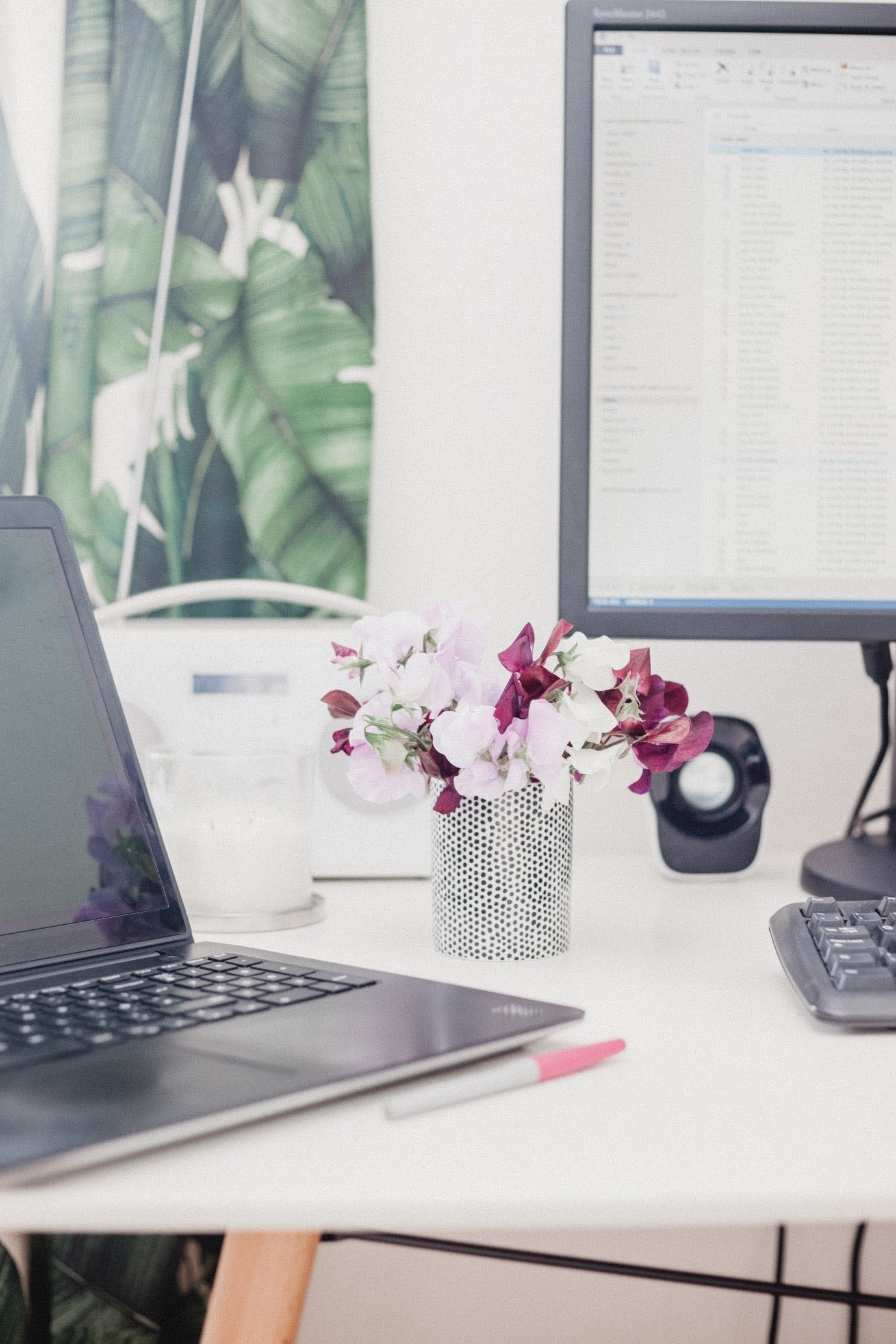 31. Open up a gallery
Style up a gallery wall with prints or photos that you love, and hang them with removable wall strips. Fill your space with stunning imagery. But create a harmonious look by clustering pieces together which share a common element, to avoid the 'dog's breakfast' look.
Need some help making sure they all line-up? Find some help with your picture hanging.
32. String them along
Don't want to commit to permanently-hung framed artwork or photography? String twine across the wall and peg images up as the mood takes you. Vintage wooden pegs look great.
Home office ideas – lighting
Next on the list of home office fundamentals is excellent lighting. Ideally, you'll have as much natural light as possible, supplemented by adjustable task lighting to enable you to work well and avoid eye strain. Aside from its ability to help you focus and keep you alert, lighting, of course, contributes to the ambience of your space.
33. Maximise the natural light
No light fitting, no matter how big and beautiful, can match natural light. It is a real mood lifter and more is always better!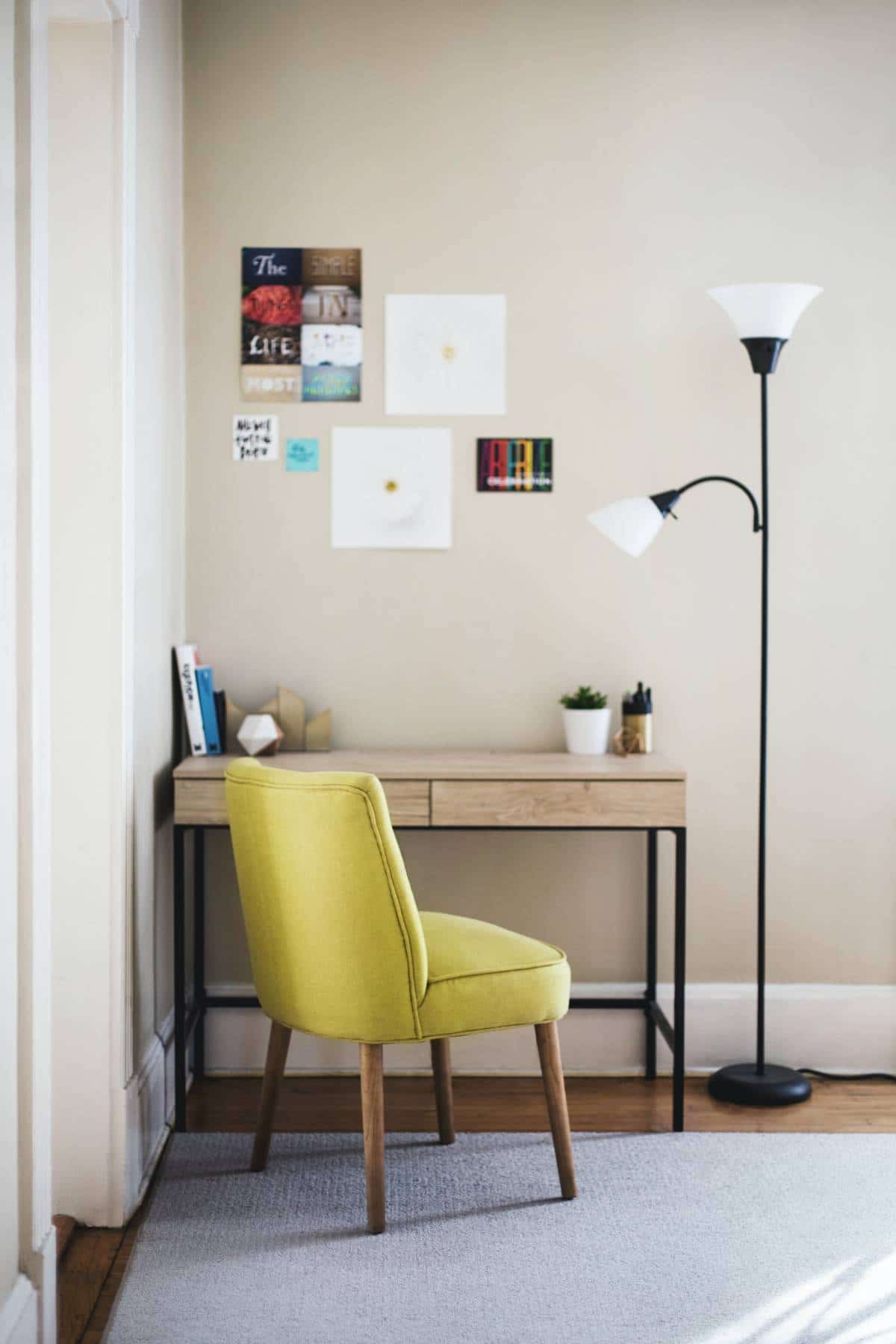 34. Add ceiling and task lighting
Luckily, at home you don't need to put up with sterile fluoro office-tower lighting. Instead you can choose from a multitude of bold options, which you alone find aesthetically pleasing.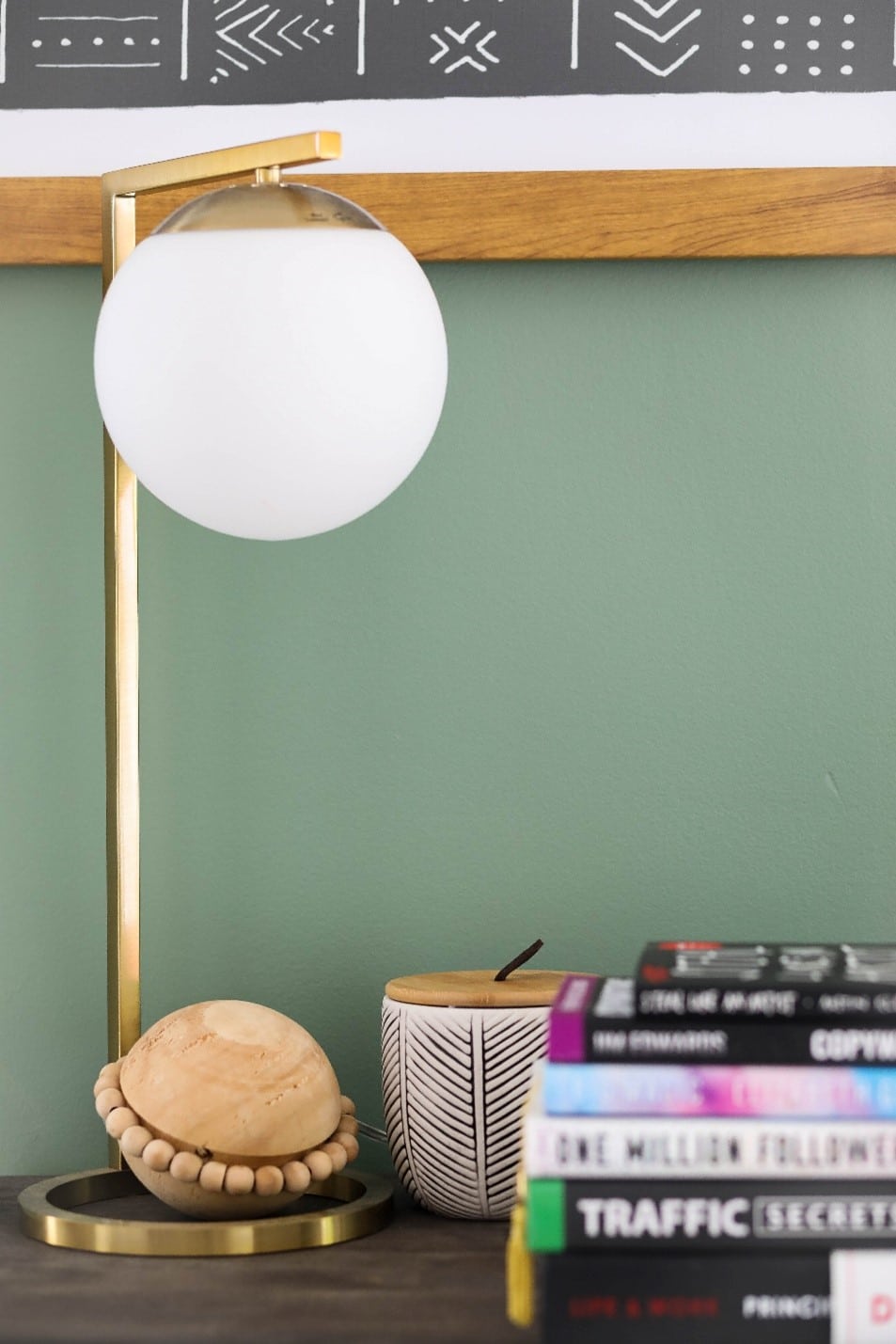 35. Add fairy lights for glam
Consider adding bulb or fairy lights for a little added sparkle.
36. Add a chandelier
Nothing adds glamour and excitement like an extravagant chandelier twinkling above your desk. Once you pick your fave light, get an electrician to hang your pendant light.
Home office ideas – flooring
37. Make it soft and cosy
An area rug ties in all the elements of your office space as well as making it feel cosier and more inviting.
38. Keep things quiet
Rugs bring your floor from drab to fab. They can also add a lot of soundproofing which is really helpful with absorbing sound if you're taking a lot of phone calls.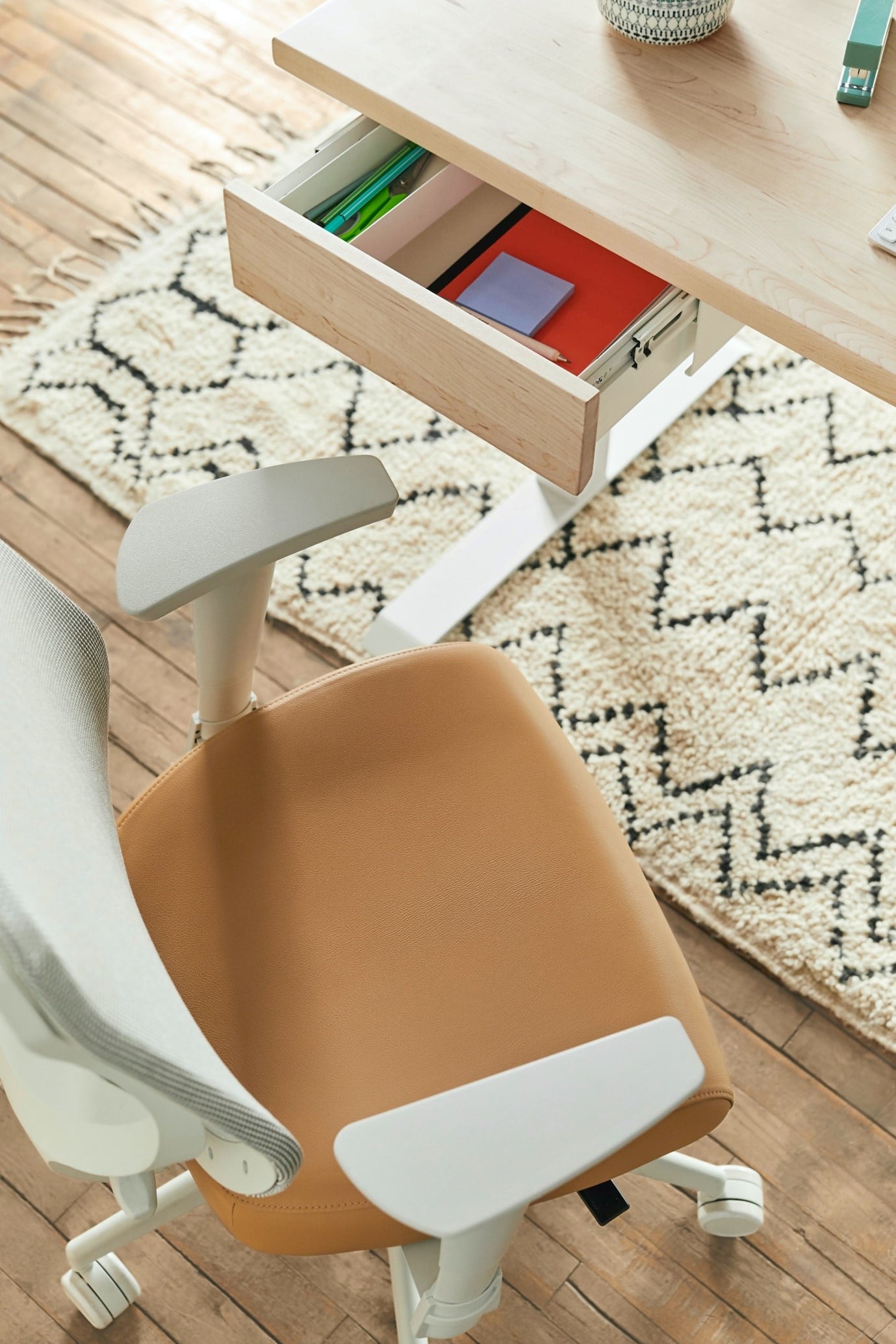 Home office ideas – small home office
39. Nestle out a nook
Don't have a dedicated room or study for your home office? It's easy to create a space where you can concentrate on work, out of even the tiniest bit of spare space, such as under the stairs, or in a narrow recess.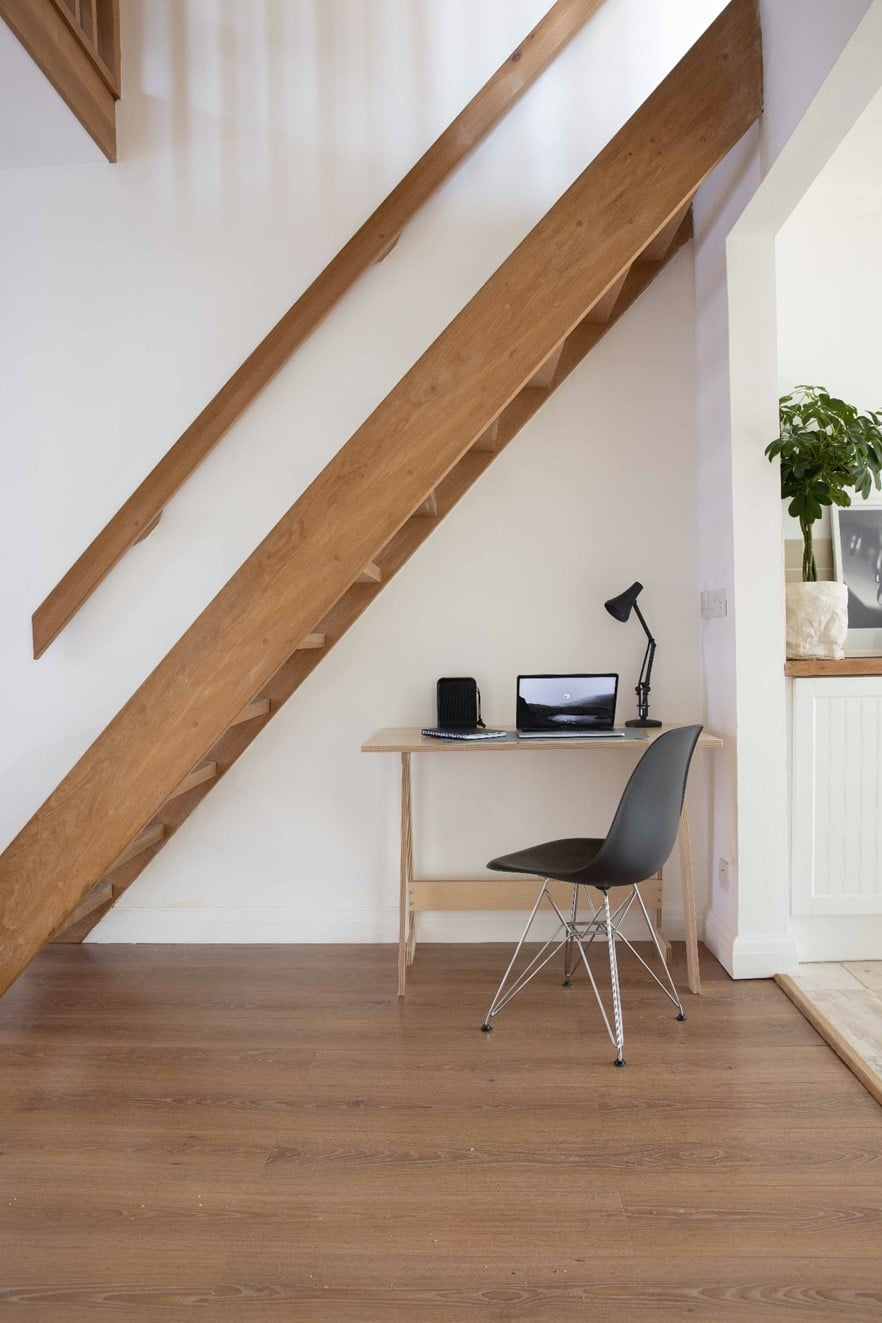 40. Hide it in a closet
Even an emptied-out closet can convert to an office nook, with a narrow desk and shelving above and below it. If you paint the inside a vivid colour and ensure you have adequate lighting, it will feel cosy rather than claustrophobic. As an added bonus, when you finish your work, you can close up the office out of sight for the duration.
Home office ideas – tech tips
Monitor, monitor, on the wall
Desktop computers can be an eyesore and take up a fair amount of desk space, so a wall-mounted monitor make a great streamlined solution. Need help with having your computer monitor affixed to the wall? Hire a handyman who can have it installed in a jiffy, ensuring all the cords and wiring are neatly tucked away as well.
Banish discord

A tangle of cords and cables is always unsightly and can ruin all your efforts to create a streamlined, mess-free home office. So it's important to do what you can to conceal the tech clutter. Use cable ties or command hooks or a range of other solutions available on the market. This will remove the eyesore that tech cords create, and set up wireless charging stations where possible.
For an easy DIY, just cut a hole in the back of an appealing gift-style box, and house your router and other ugly tech items in it, feeding cords out the back. You can also mount a power strip under it or attach one to the back of your desk. Another item of tech that doesn't need to take up valuable desk space is your printer, especially if you don't use it daily. Hide it away with surplus office supplies in storage.
Finally, remember it's a work in progress
Don't feel you have to decorate your home office overnight. It may take some time to complete your look as you gradually incorporate items you love. It's more important just to start with the fundamentals and build from there, focusing on making yourself feel at home in the space. Once you have your essentials figured out (desk, chair, lamp, shelving), you can add things you love as you discover them. Most of all, your home office should bring you joy and motivate you to spend time in it.
I hope you've found these 40+ home office ideas inspiring. If you have any tips or ideas you'd like to contribute, share them in the comments below!