Ah yes, it's my favourite room in my house… said no one ever. But it doesn't have to be so dull and boring when one of these laundry ideas becomes your reality at home. From plenty of floor to ceiling storage options to the perfect solution if you only have enough room for a small laundry nook, let's take a look through over 45 ideas. And who knows, maybe you'll be wanting fold washing and ironing every night.
So let's start off by listing the laundry must-haves:
Ironing board with a long cupboard to put it away in
Laundry hamper
Laundry sink
Washing machine
Dryer
Laundry cabinets and storage
Drying rack
Some added lust-haves are external door access, pot plants, gift wrapping station and dog bath.
I think it's really important to first establish what your renovating boundaries are and of course what your budget is. If you're knocking down rooms (so it's brand-new) that's very different from working with your existing laundry dimensions.
Personally, if I was starting from scratch I would focus around laundry room storage ideas which would incorporate washing and drying machines, a spot for the ironing board, broom and mop and a large laundry sink. Functionality is everything for me, but if it can look fabulous without spending too much, well then that is a win in my book.
So with that being said, here are my favourite laundry room ideas.
Small laundry ideas
1. Use wallpaper
Use paint, tiles, or in this case a really beautiful wallpaper design to add style to your laundry space.
2. Keep it stylish
You might not have a lot of space, but what you do have you should make absolutely fabulous with all the design elements you love. That way you won't care how big or small it is.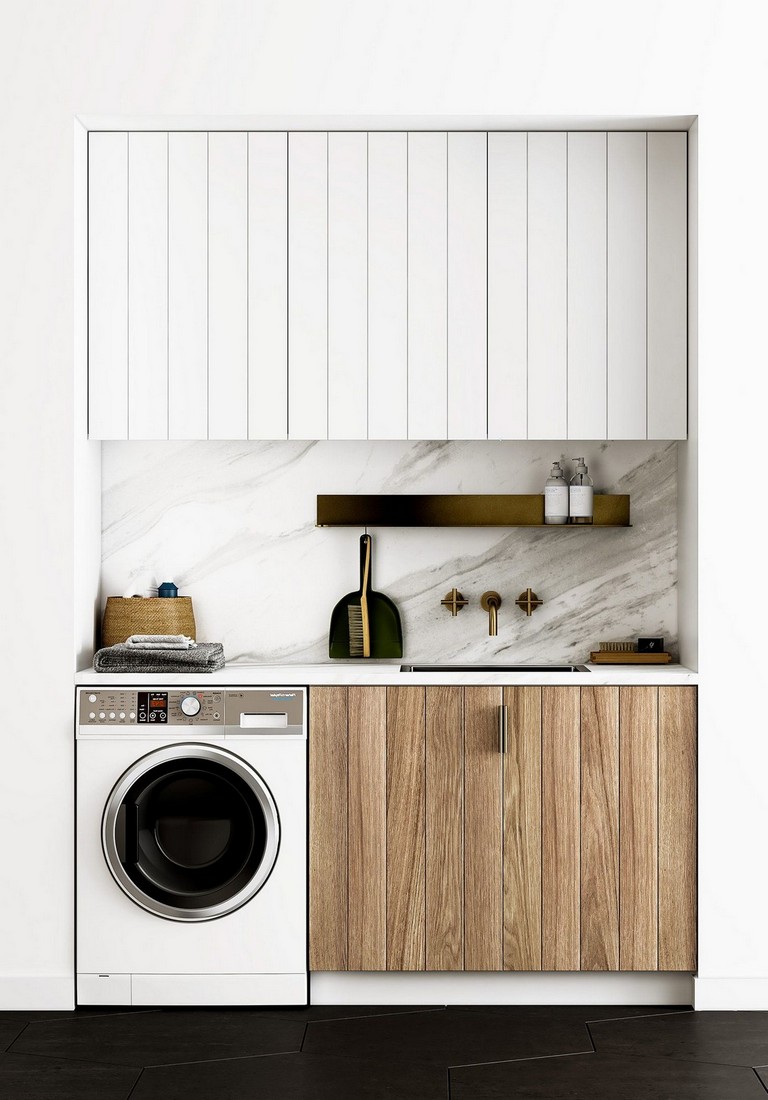 3. Give up some cupboard space
It's a bold thing to do, but if you have some cupboard space that you're willing to let go of, you can put all of your laundry essentials in there.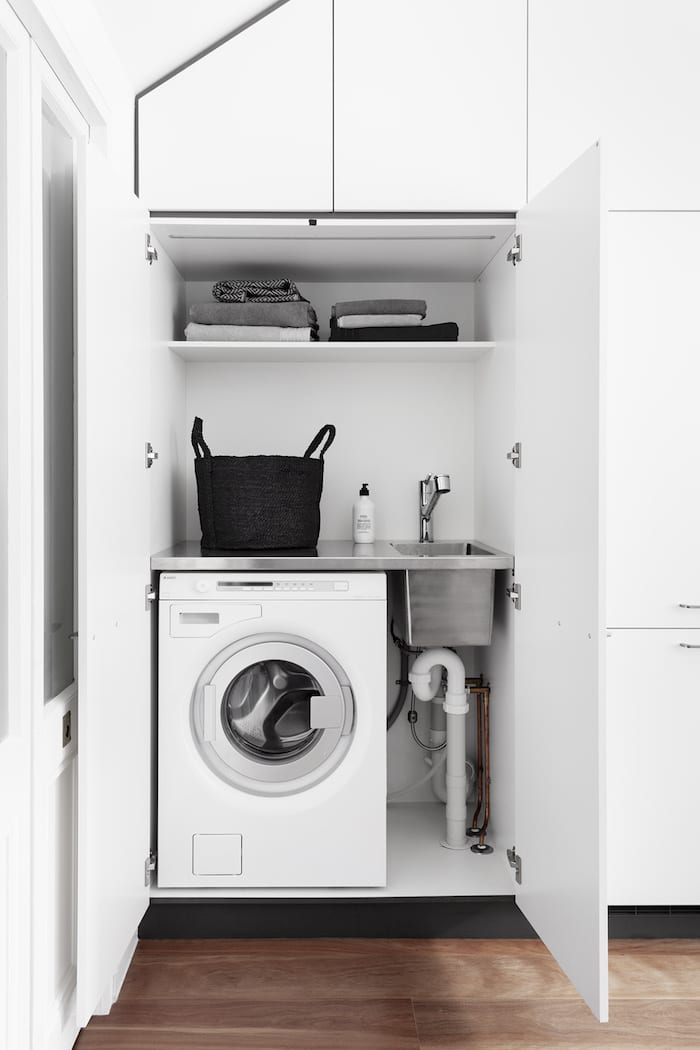 4. Stack 'em
If you need both a dryer and a washing machine in your laundry, get ones that you can stack on top of each other as this will allow you to fit a lot more into your laundry.
5. Use any space
If you've got some empty space at the end of a hallway, that's a spot that could be ideal for a laundry nook. All it takes is a bit of work to hook up the plumbing (so it's essential to hire professional plumbers for that part), and a bit of DIY, then you're all good to go!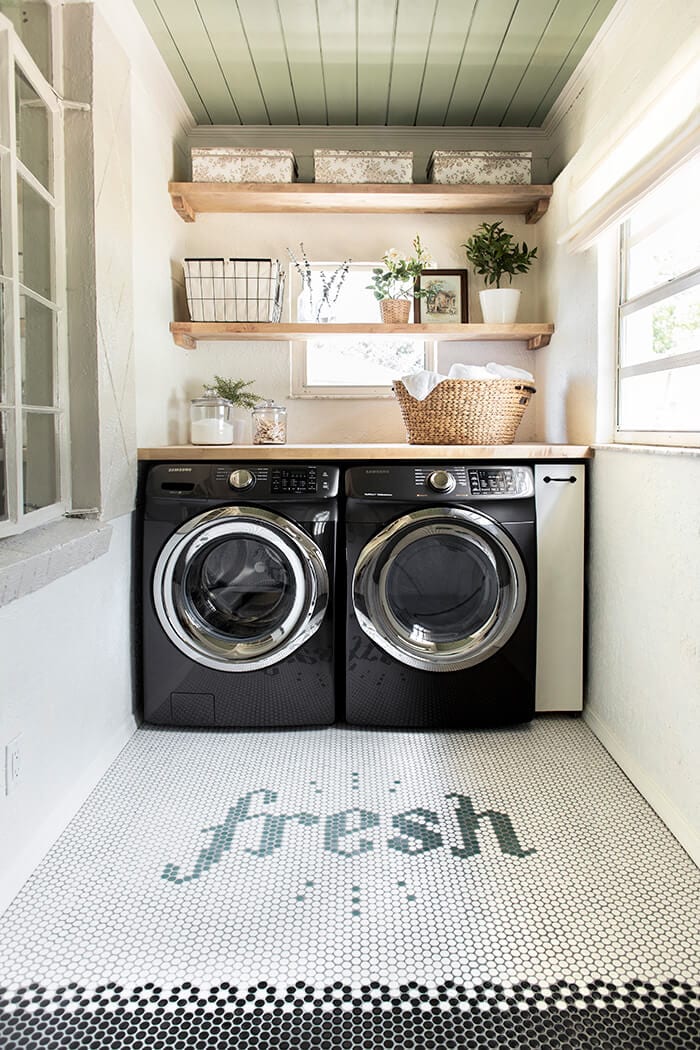 6. Under the kitchen sink
Well, in this case, it's technically the kitchen island table but this is a really nifty idea on how to better utilise a space that would usually be reserved for platters and appliances.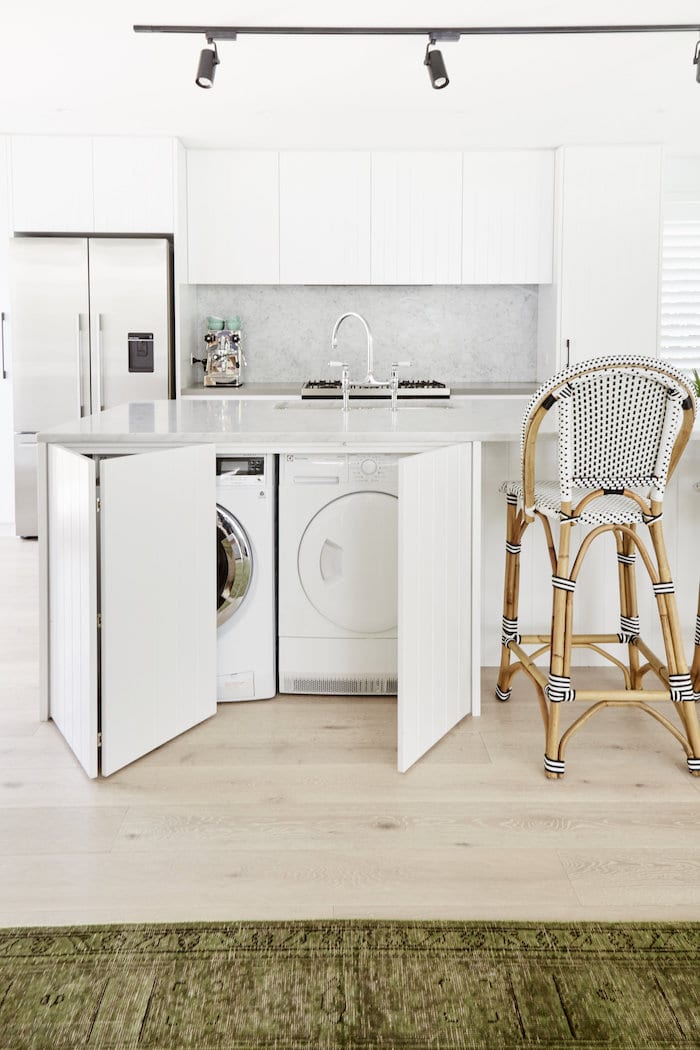 Laundry cabinets
When cabinets will not only act as storage but also hide appliances, it's worth investing in the very best quality in terms of product and craftsmanship. Here are my top laundry ideas when it comes to decking out your laundry with cabinets.
7. Natural wood laundry cabinets
You might be reluctant to use wooden materials in a traditional wet area of the house, but as long as it's properly treated you should be fine. This natural wood finish really emphasizes Scandi interior design.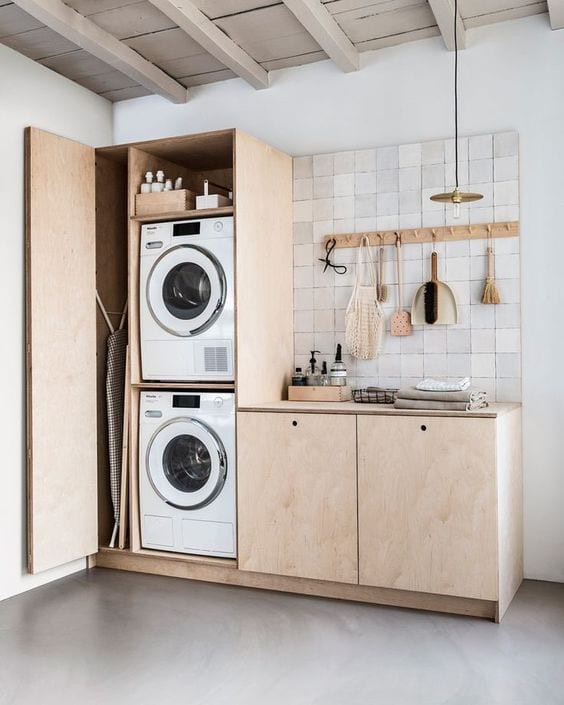 8. White laundry cabinets
Classic white will always be fashionable and work with any design aesthetic that you're trying to achieve throughout your home. If you wanted to update the look, a simple swap of handles will make it seem like a new room.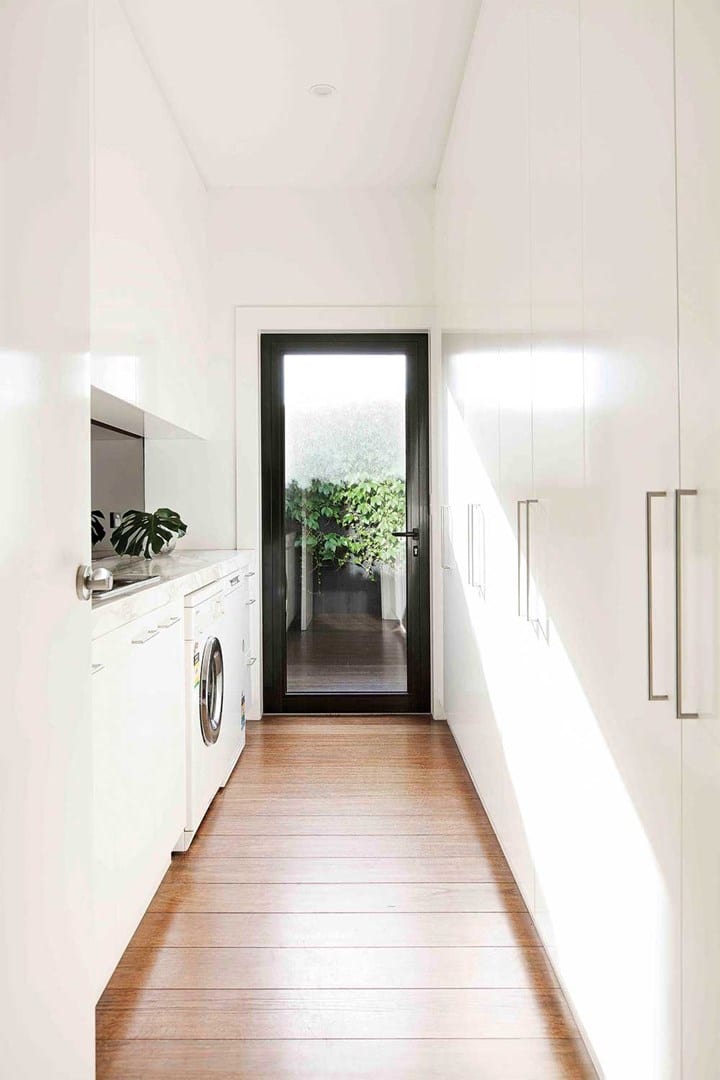 9. Dark laundry cabinets
Add dark cabinetry for a more expensive looking finish to the room.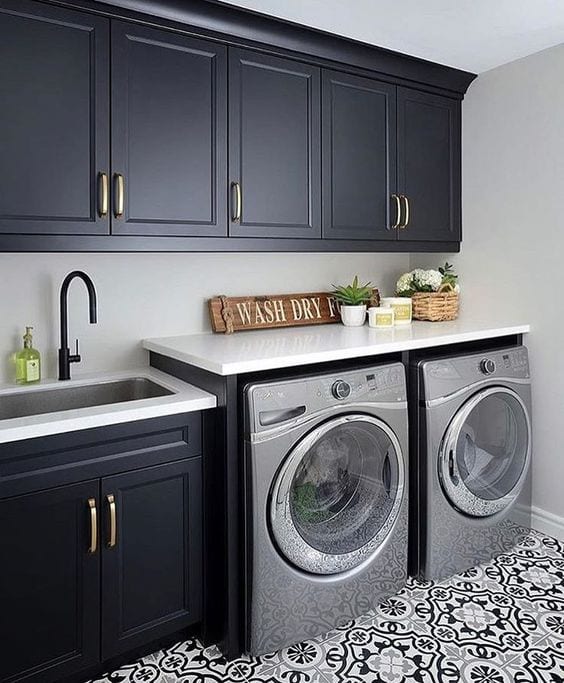 10. Coloured laundry cabinets
If you want something a little different, why not inject a bit of colour into your laundry cabinetry. You will probably not want to go too loud here, so a pastel or a green is a safer option to look at.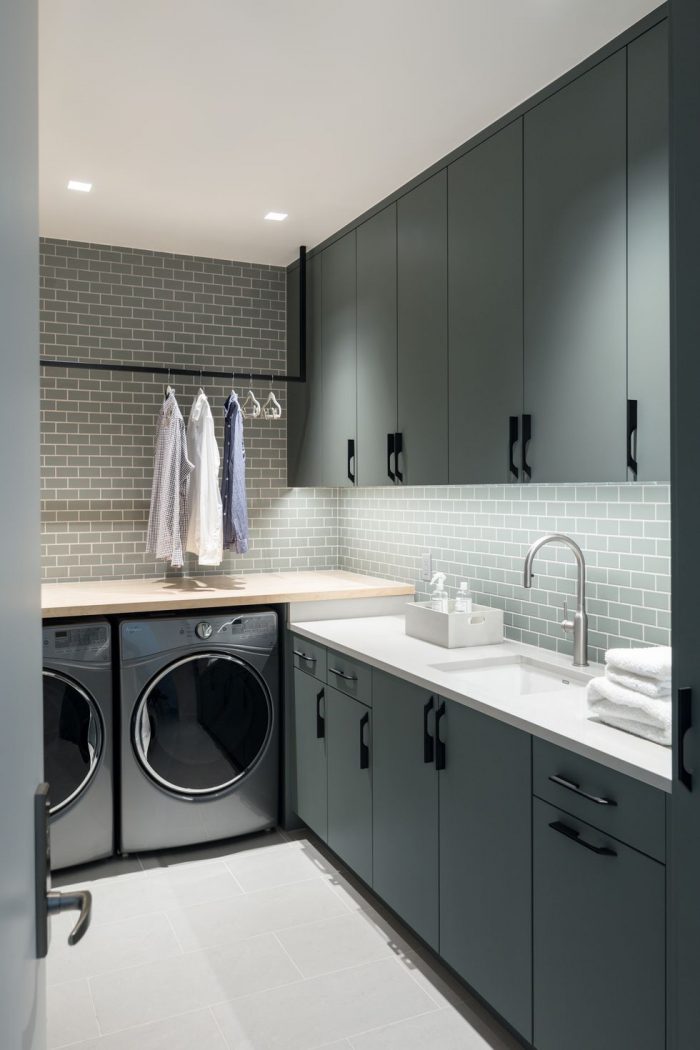 11. Mixed textured cabinets
Shake things up by sticking to the current trend of mixing different textures together and give a bit of life to your laundry.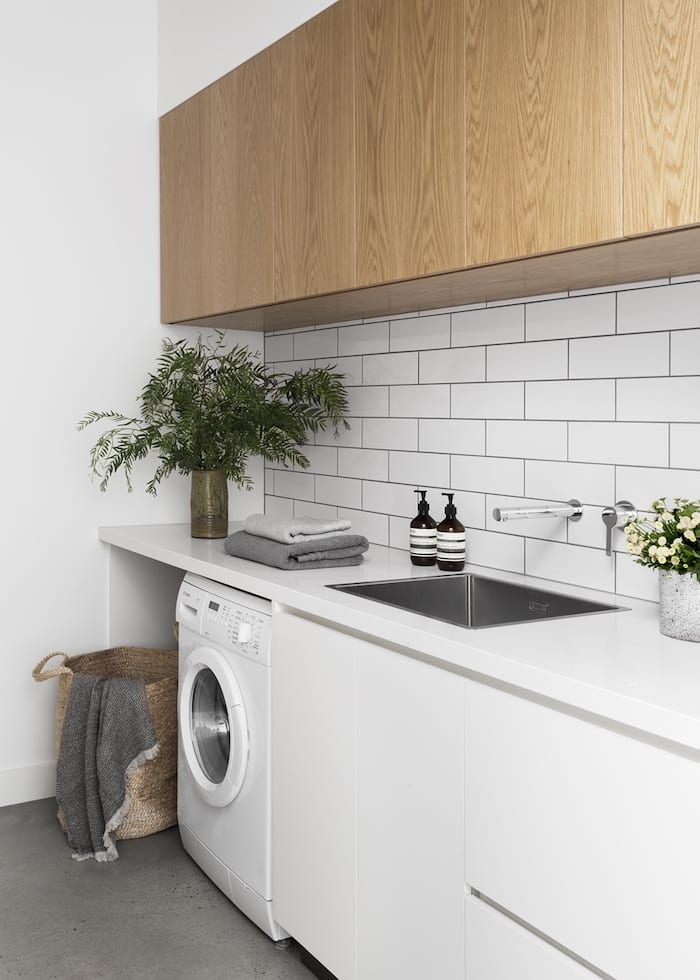 12. Matte-finished laundry cabinets
Matte is back (well it's never really gone away actually) and when used in a darker tone, it adds a bit of inner-city elegance in what could otherwise be a boring space.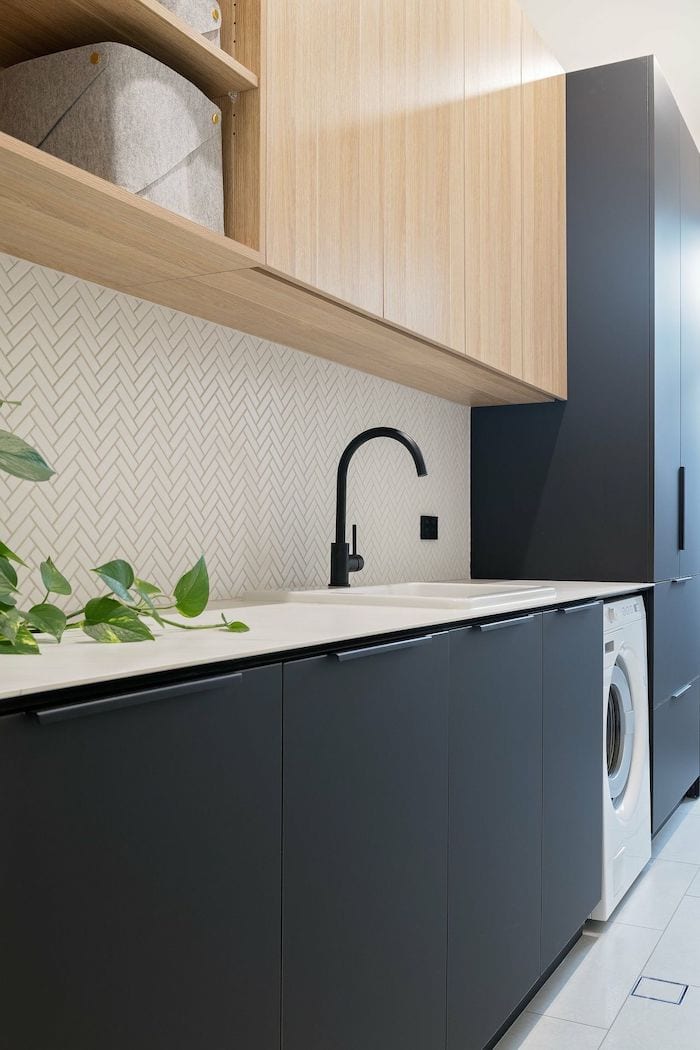 13. Shelves
To give your laundry a sense of spaciousness put up a simple shelf or two, which you can easily style with some great accessories and lighting options.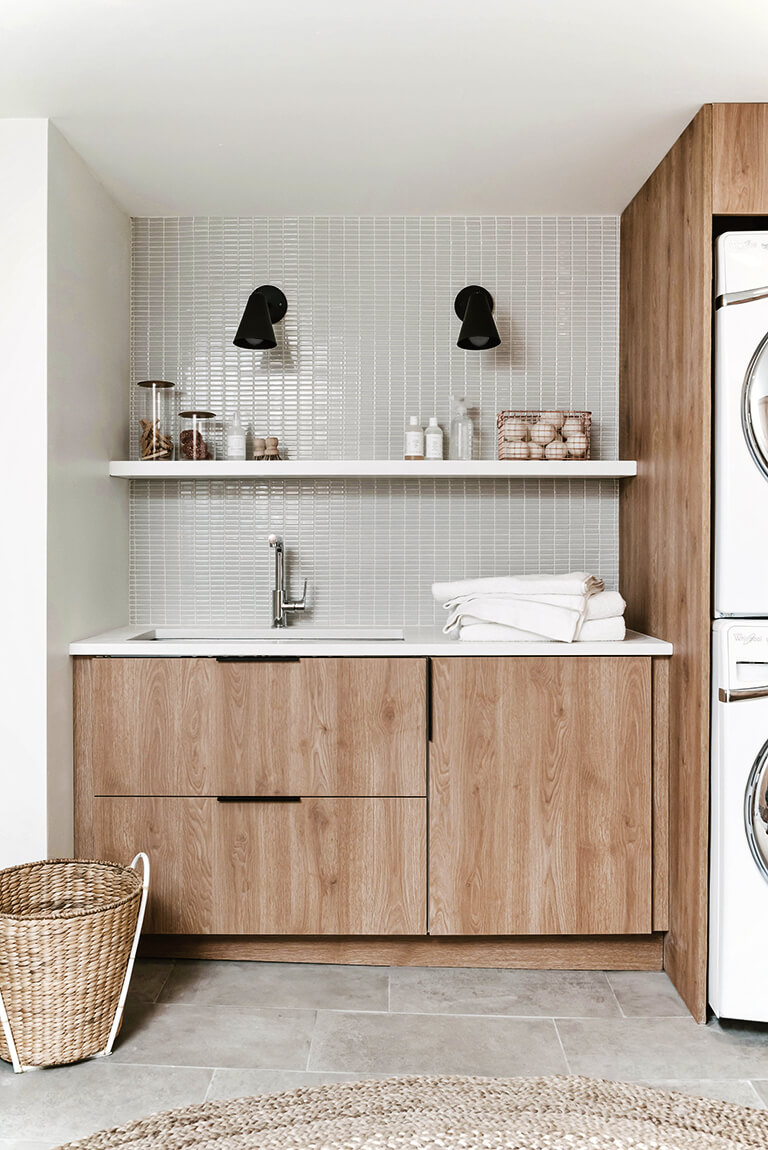 14. Ironing board cabinet
An ironing board that can be quickly stored away in a cupboard is an extra 'special' touch to think about adding to your laundry room.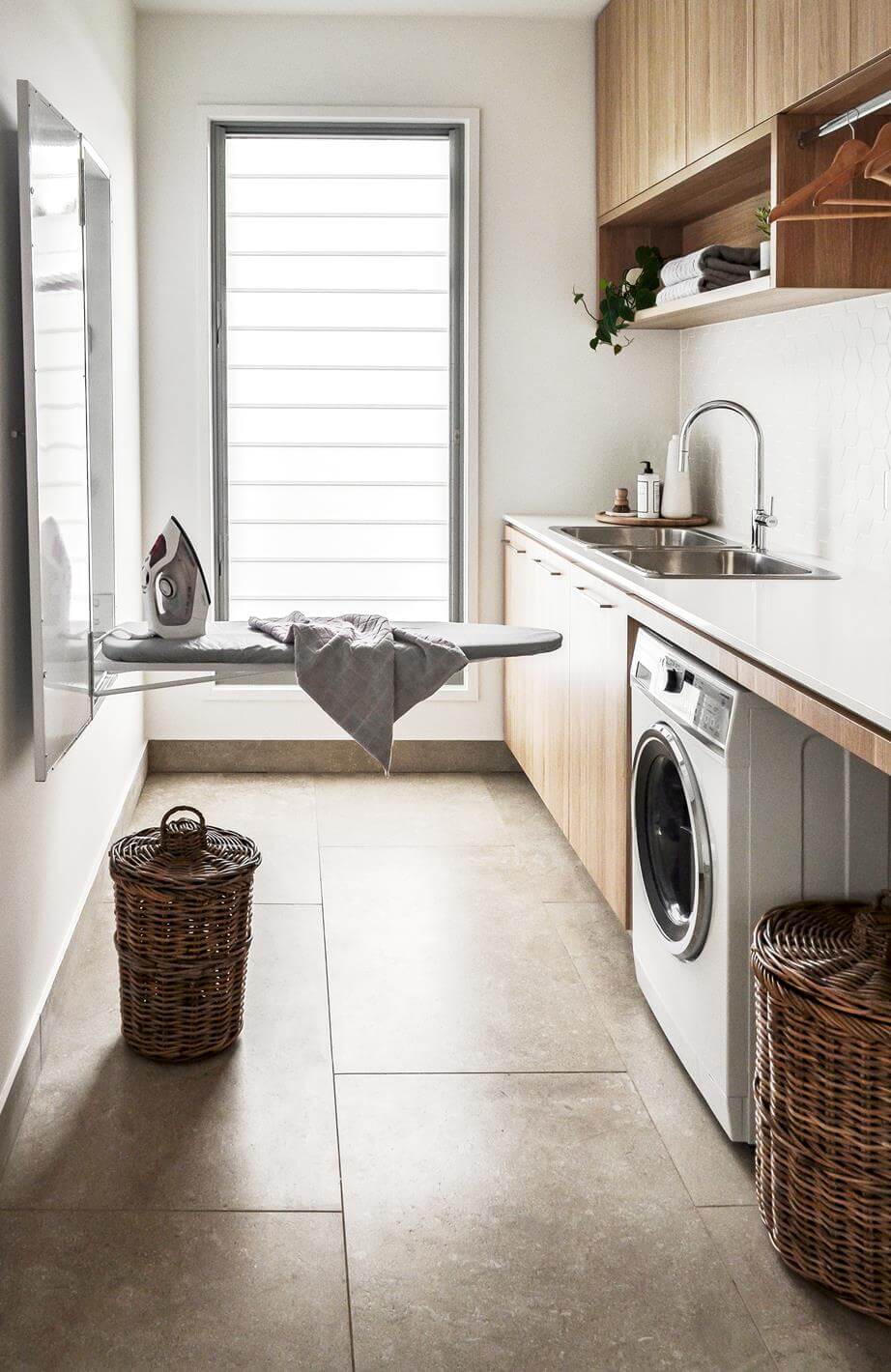 15. Cabinet handles and knobs
If you're on a budget when it comes to your cabinetry, it doesn't mean that you can't splurge on fancy hardware…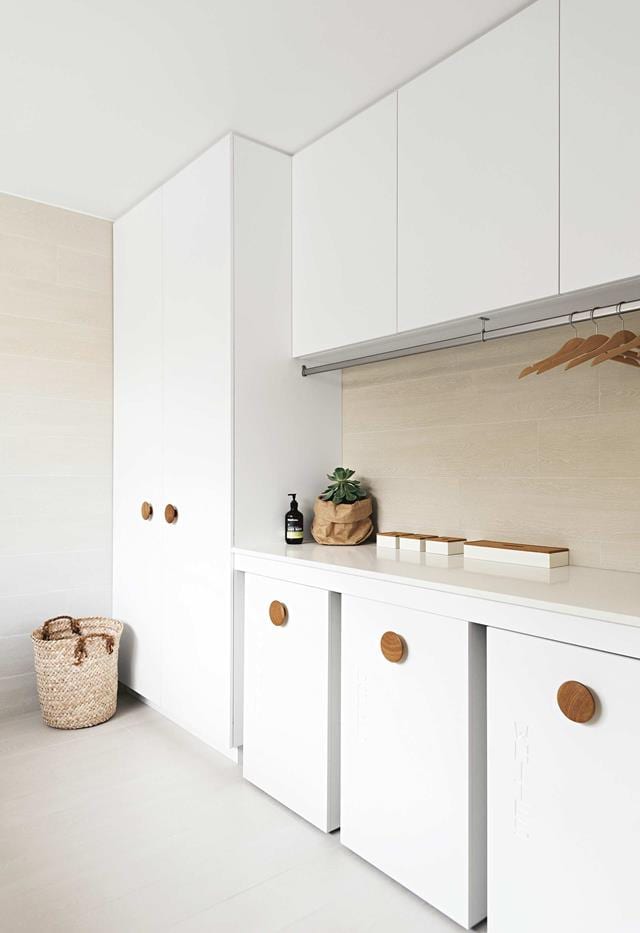 Laundry flooring
16. Patterned tiles
Depending on what you've used in your bathroom, you might want to continue it through to the laundry as well – especially if you've used a patterned tile.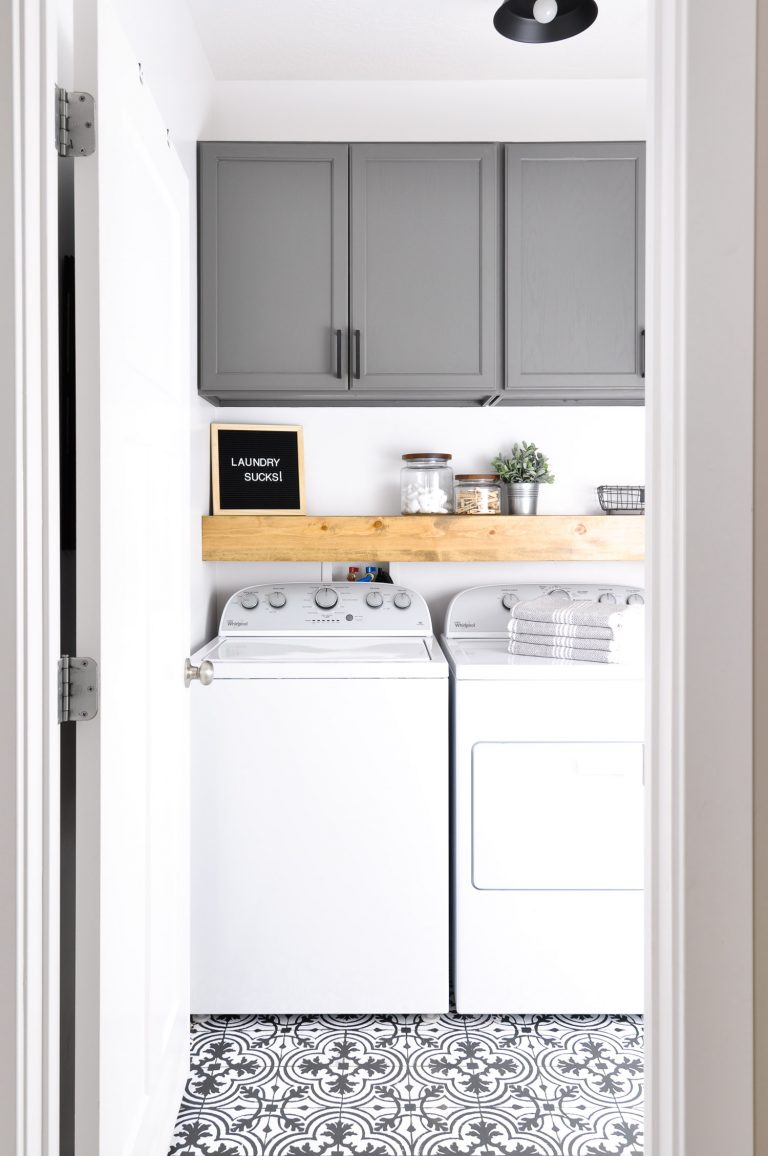 17. Wooden floorboards
If you want something earthy and warm, floorboards are a classic (and suitable) choice for your laundry. Ranging from a darker tone to a whitewash finish, there are all different colours and styles that you can pick and choose between.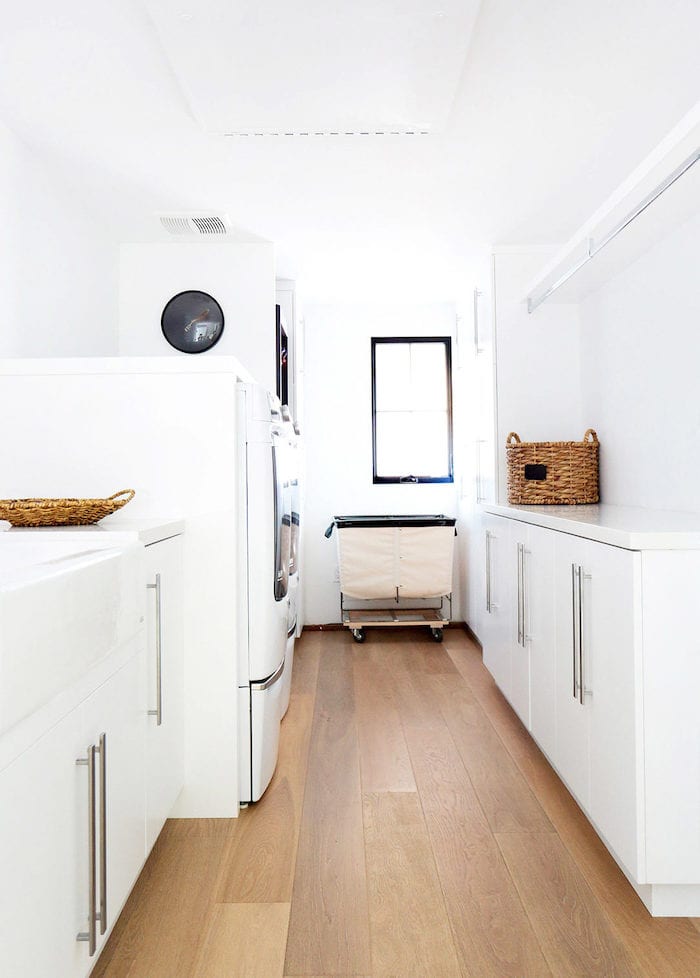 18. Brick floors
It's the perfect pick for your farmhouse laundry, especially if your laundry has an external door.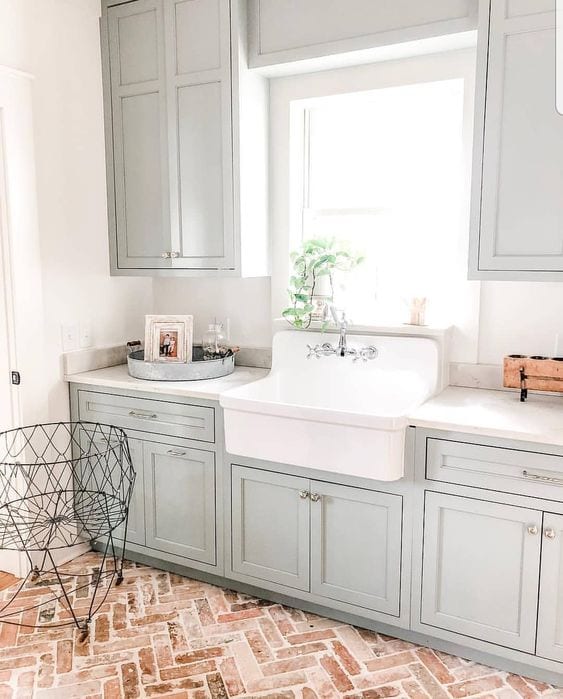 Laundry door and windows
What are simple doors and windows doing in an inspirational article you ask? Well, I'll let the stunning images below speak for themselves.
19. Pretty in pink
Talk about adorable with this pink laundry door. It really turns a boring room into a place that you're happy to be in and perfect for a weekend DIY project after a quick trip down to your local hardware store.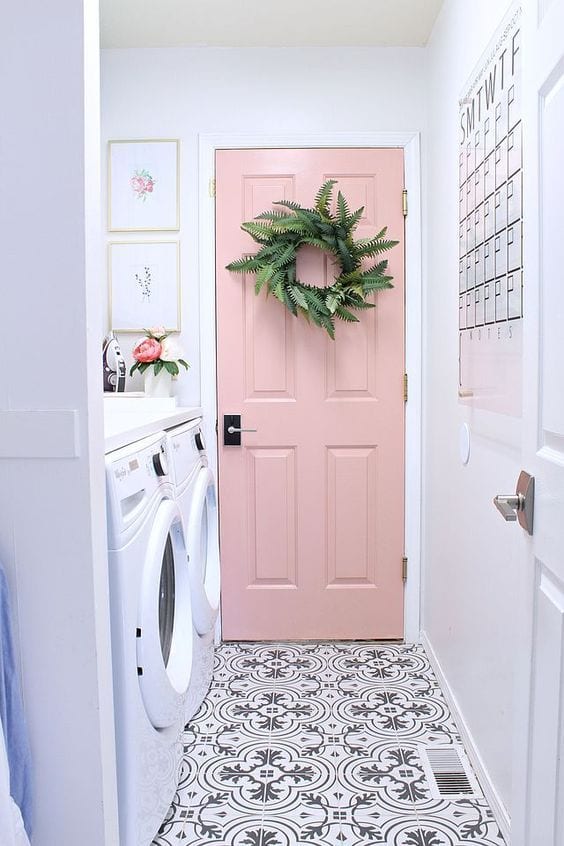 20. Add signage
If it suits your style, add some typography to your door. This is something that you could continue throughout your home if it works for you.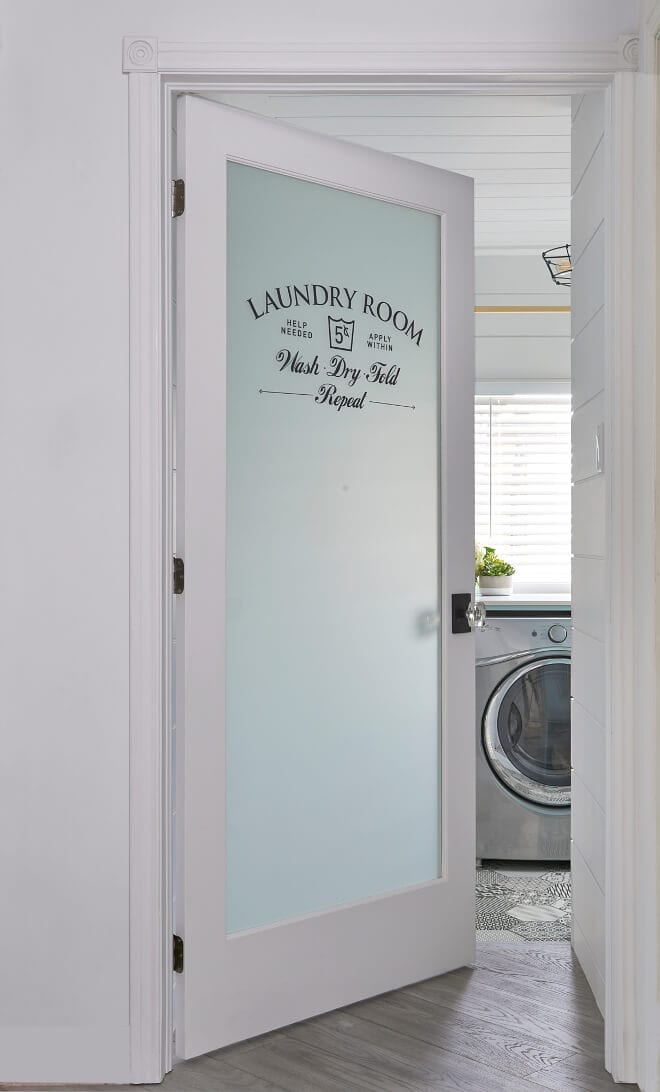 21. Round window
Think outside of the square with a round window which can capture a lovely aspect of your garden. This could be perhaps the next big trend in interior design with different styles of window treatments.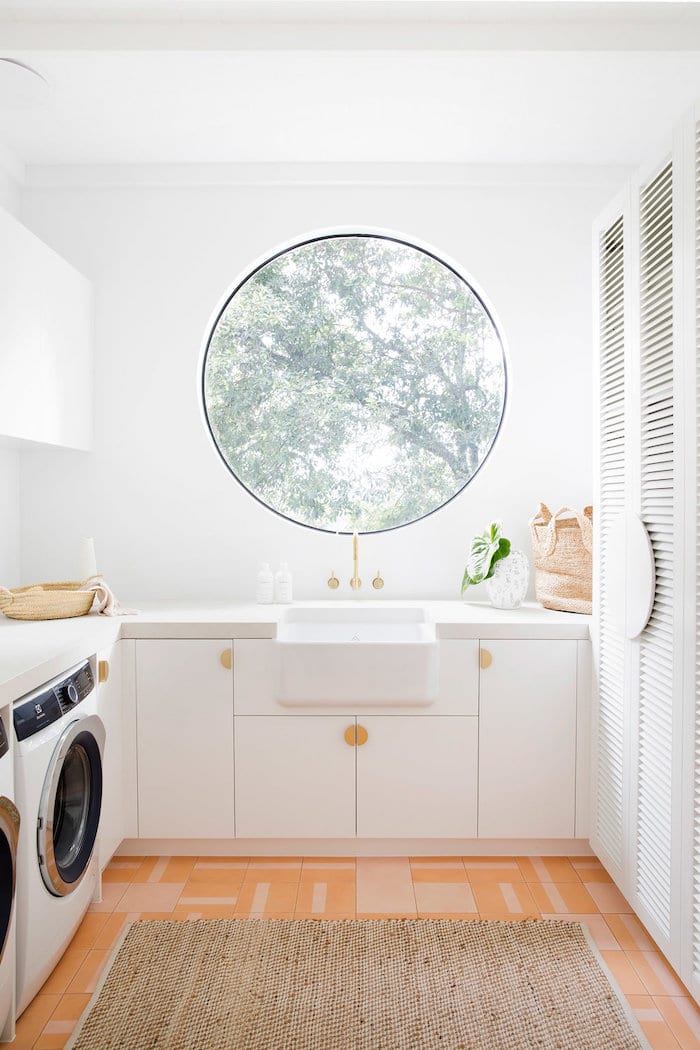 22. Window slats
In a laundry, where it can get quite warm, you need plenty of ventilation so that you don't have a build-up of moisture which may turn into mould.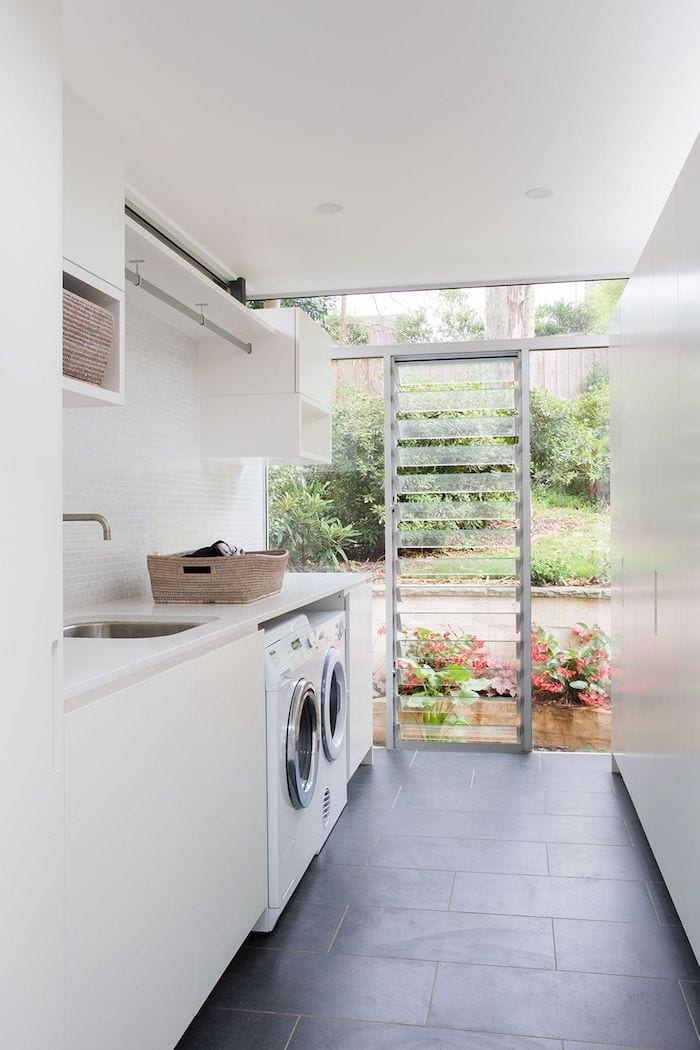 If you do find yourself with an unfortunate mould problem, it's not as easy as just using a bleach-based product which only masks the problem. You'll need these tips on how to rid mould from your home for good.
Multi-purpose room
23. Laundry and mudroom
It makes sense to roll two of the messier rooms in the house into one and keep all the mud and dirty clothes in the same spot.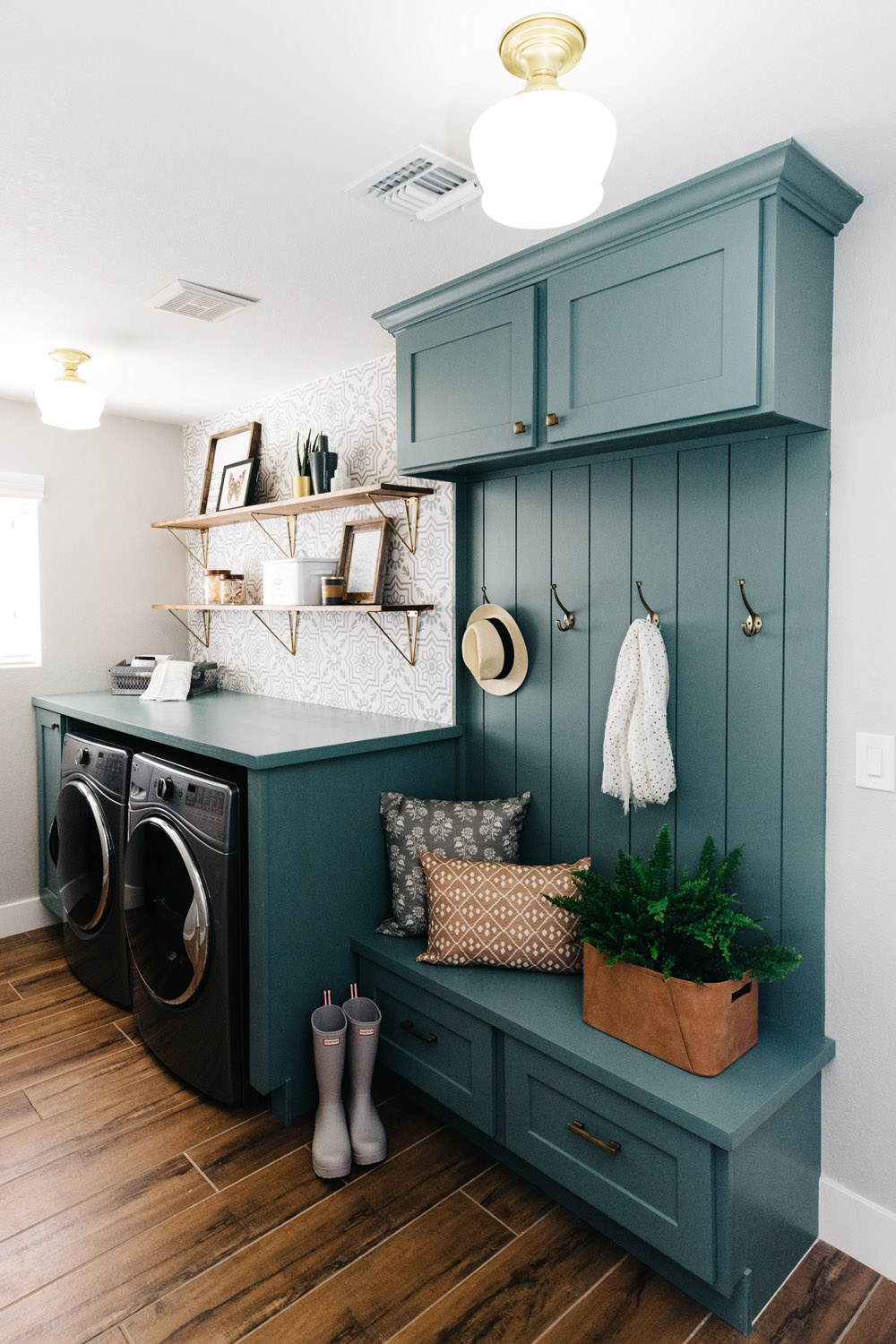 If you're looking for more inspiration for your entryway, I've put together over 50 mudroom ideas to suit any home and any space, large or small.
24. Kitchen and laundry combination
Need a small laundry design? Why not combine it with your kitchen space so that all your plumbing and electrical work can stay in the same spot. All you need to do is consider how it will work with your kitchen cabinetry and the rest is simple. This will help keep your renovation budget on the lower side, which is an added bonus!
Make sure you're being cost-efficient by doing some research to see how much a plumber will cost you.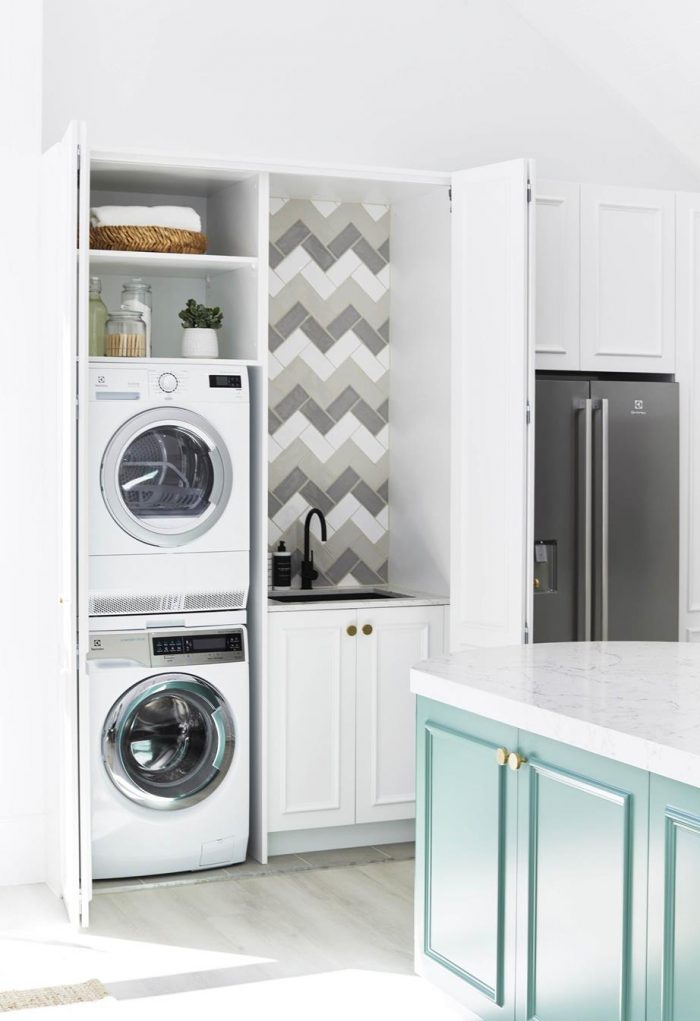 Everyone dreams of that perfect kitchen and the number of decisions that need to be made can be quite overwhelming. So as a starting point it's important to look at as many different types, colours and shapes of kitchens so that you can come up with a good plan for your own. To help you get started, take a look at all of my kitchen ideas that I've carefully curated for my dream kitchen.
25. Laundry and present wrapping
When you're attending a kids birthday party every other weekend, a present wrapping station will always be in heavy use.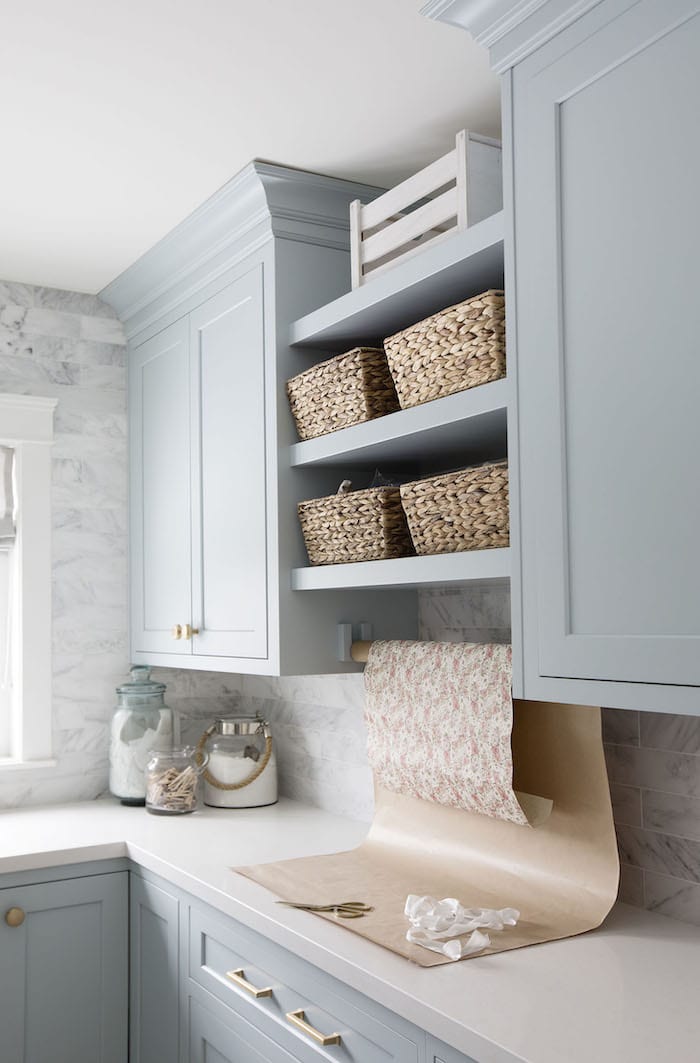 26. Laundry and bathroom
This is another concept that just makes sense when you need to combine rooms. I love the efficiency of just being able to easily chuck in your clothes and towels when you need.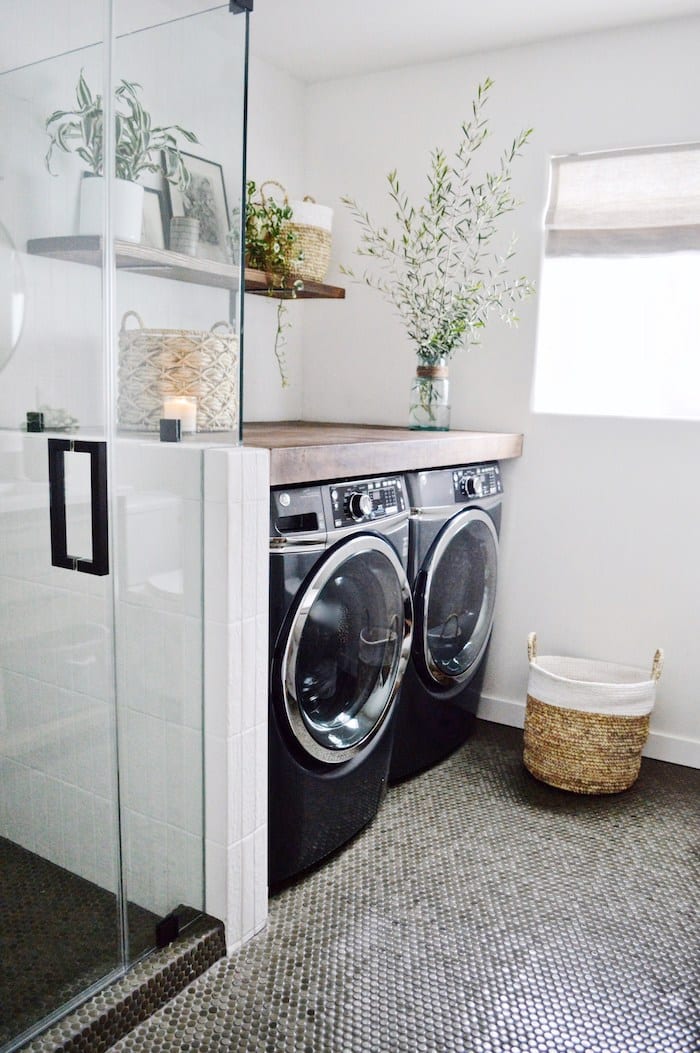 27. Laundry and home office
This is a bit of an odd combination but if you're stretched for space, perhaps you need to combine your home office and laundry into the one spot. With some careful planning and design, there's no reason why this can't work.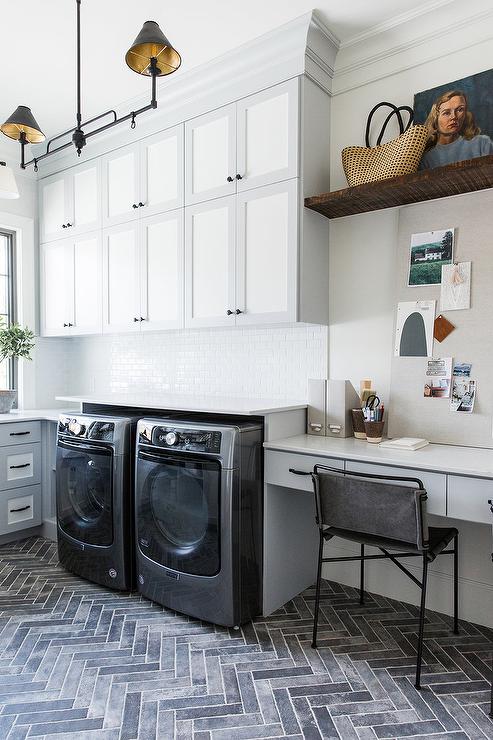 28. Powder room and laundry
If you don't have a separate bathroom from your main bathroom, it's a really good idea to add a toilet to your laundry which can be easily accessed by guests.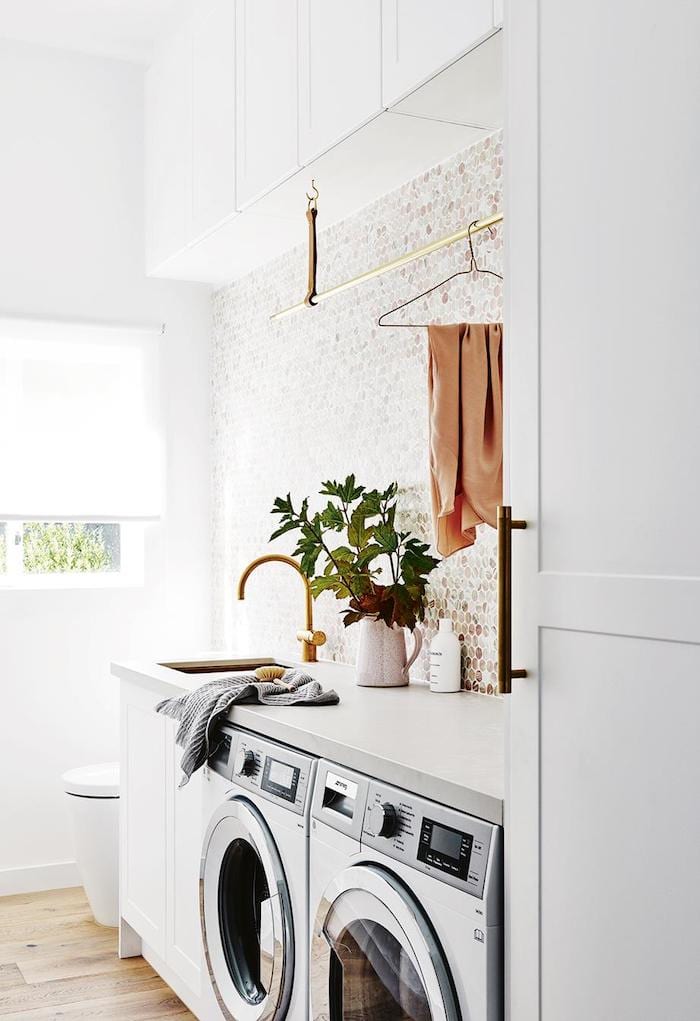 Laundry with a pet zone
If you want all of your dog's items in the one spot, the laundry room is a great place to start. And if planned in the laundry room design process, you'll be able to include some really great features such as a dog bath or perhaps a grooming area.
29. Dog bed
Instead of a cushion on the floor, give your puppy a little house of their own.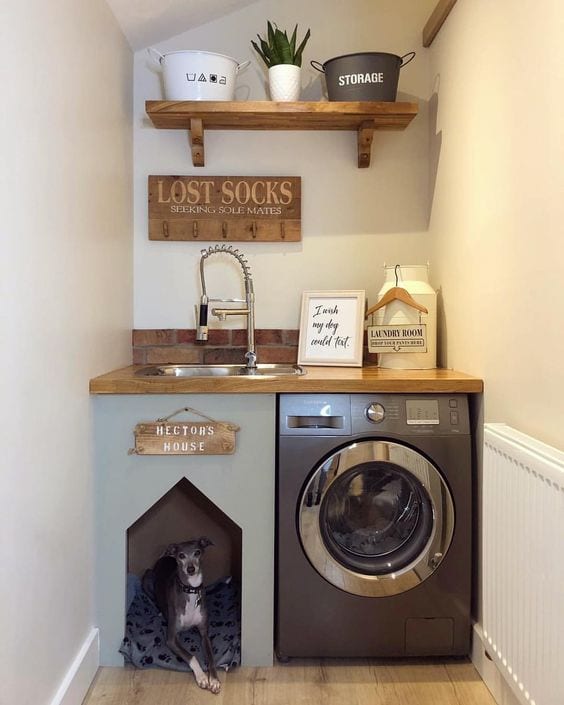 30. Dog bath
If I had a dog, this would probably be one of the top things I would build in my laundry, that being a designated dog bath. This means that all of their fur and dirt is contained to one area.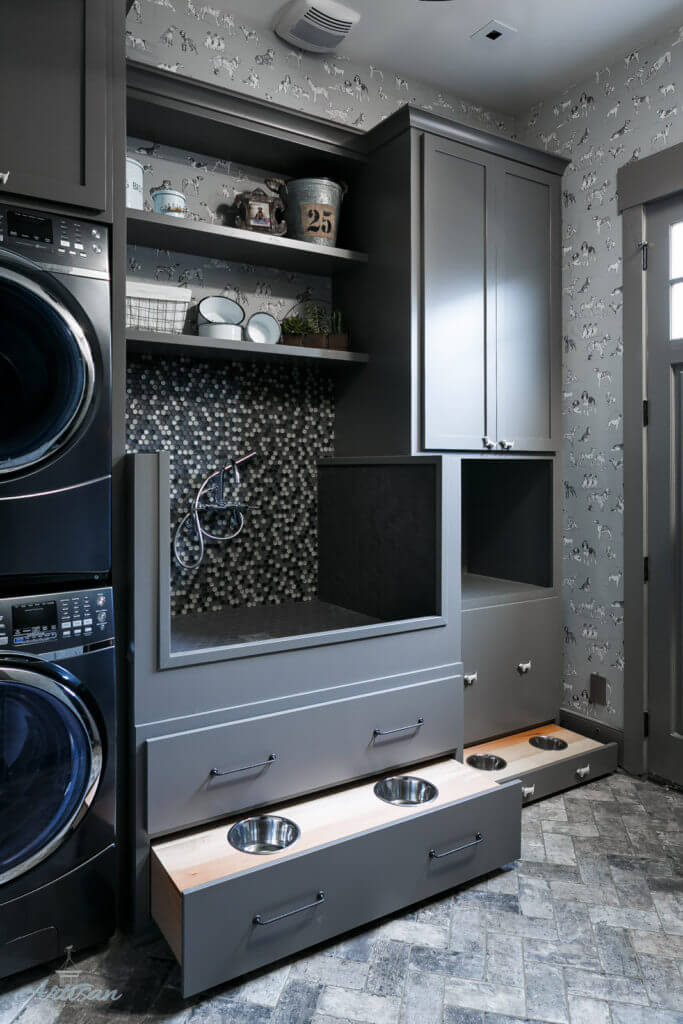 31. Dog feeding station
Imagine your pups having their own little spot to eat every meal – how cute! Although this example is in the kitchen, it would just be as easy to put this in the laundry with a hook up to the plumbing to fill up water bowls.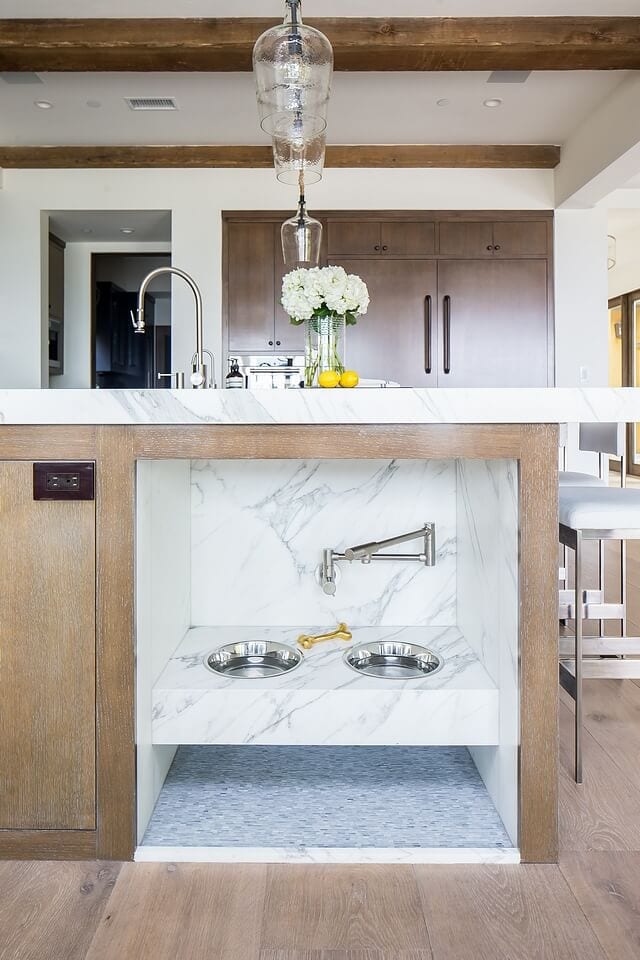 Laundry sink
32. Farmhouse laundry sink
Although this is typically a farmhouse sink, it will work with either industrial, Scandi or vintage design.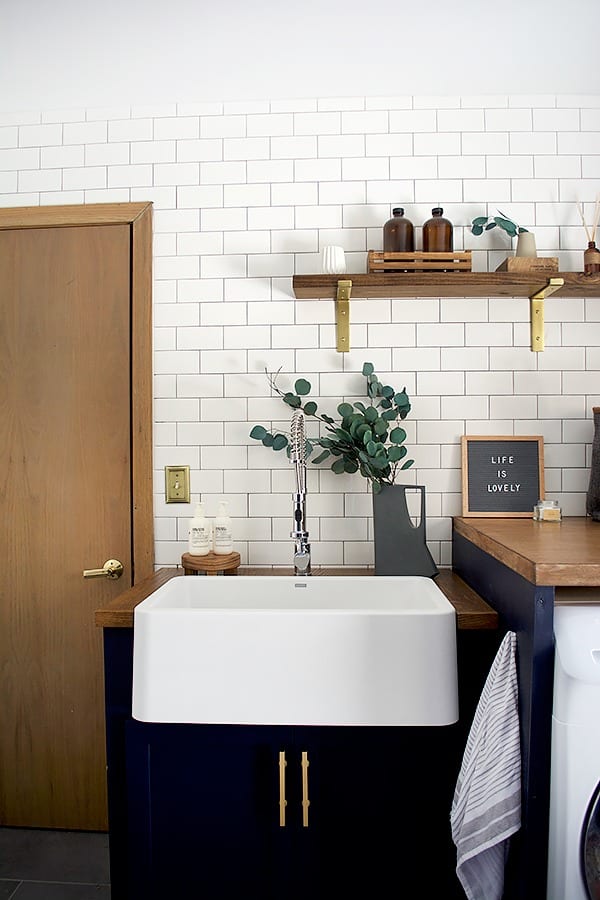 33. Laundry sink with a cover
For the person who wants everything neat and tidy, getting a cover that fits over the sink is an added extra that you can't go without.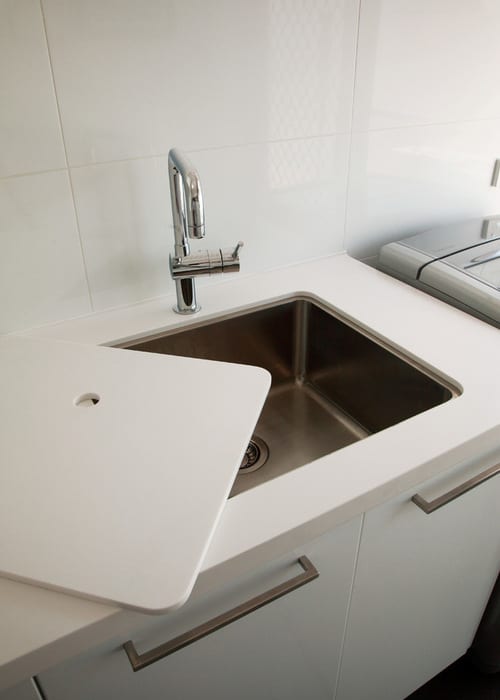 34. Standalone sink
Don't have enough room for a bench in your laundry? Well, you can still have a super cute standalone laundry sink and better still, it's definitely something you can DIY.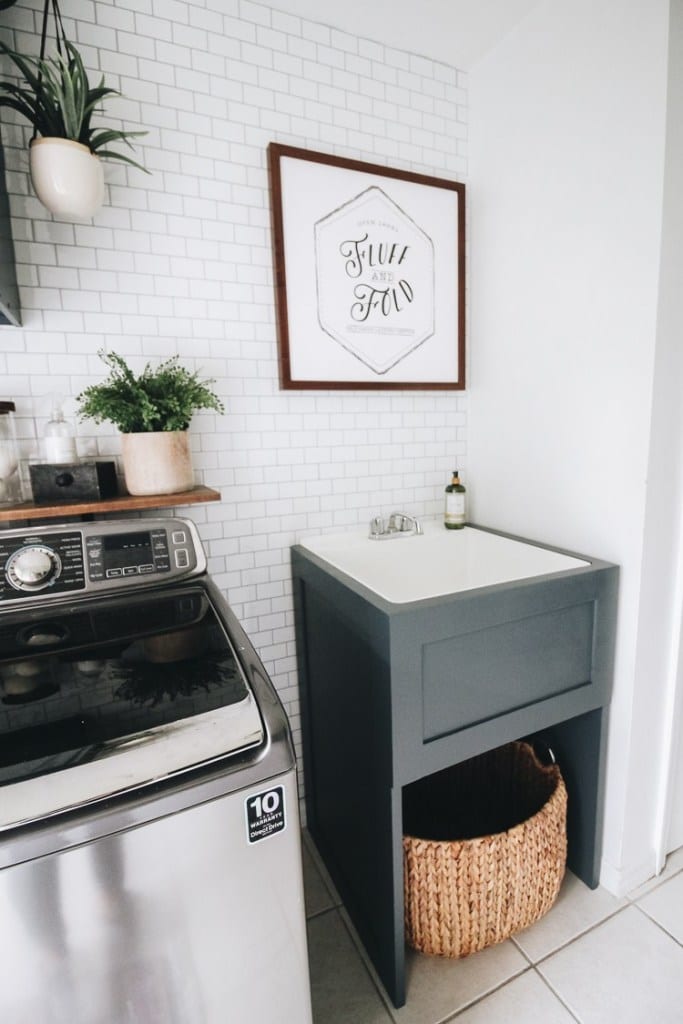 35. Concrete laundry sink
If you're going for a country farm style, you can't look past a concrete trough sink such as the one below.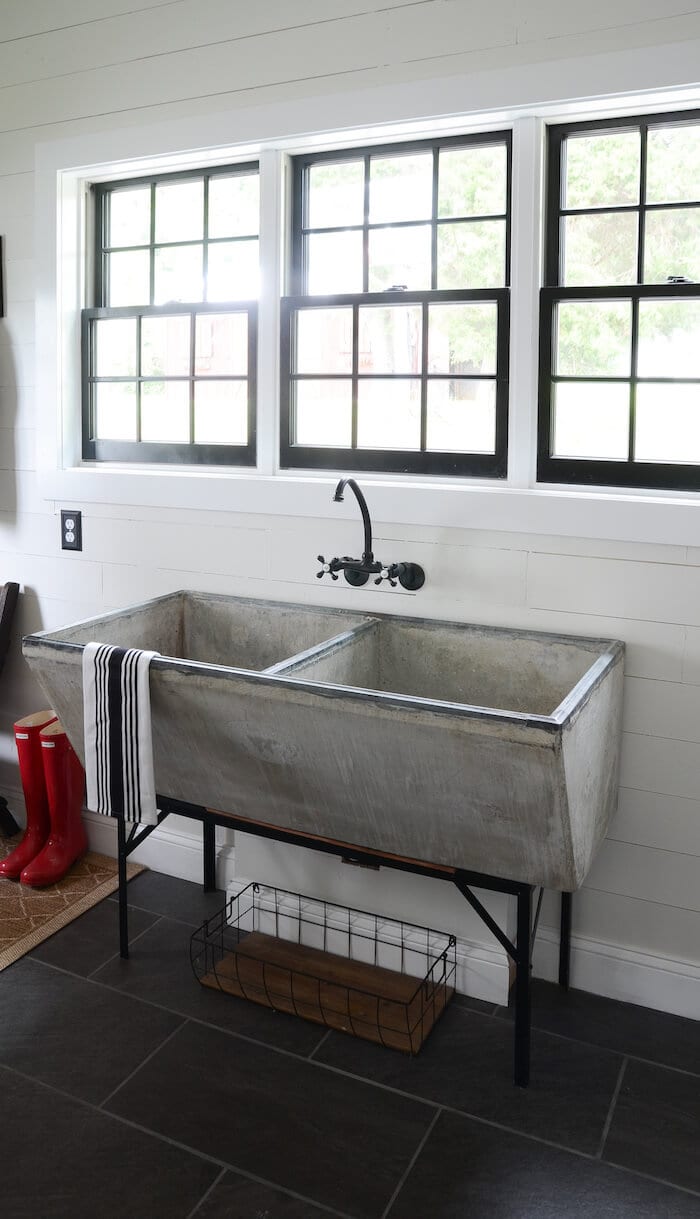 36. Brass laundry sink
Want to go glam? As well as adding a brass sink to your kitchen and bathroom, why not put one in your laundry too. This is one of my favourite laundry ideas.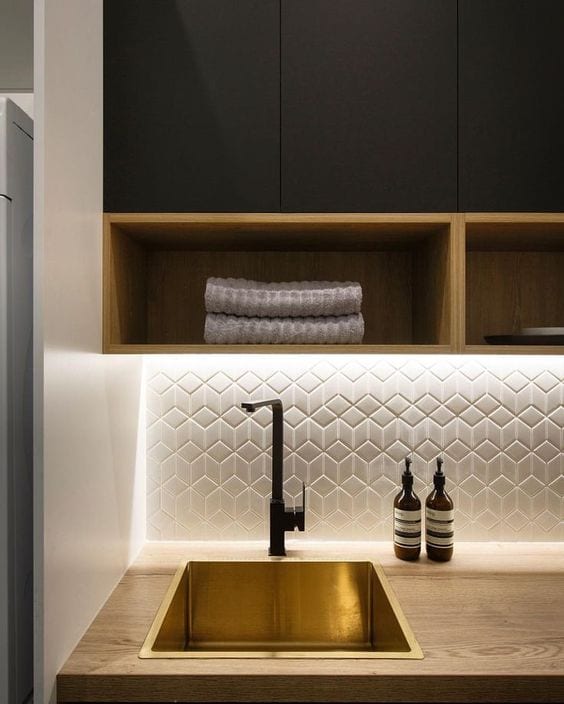 37. Round laundry sink
Looking for something a little different? A round laundry sink will definitely make people stop to think.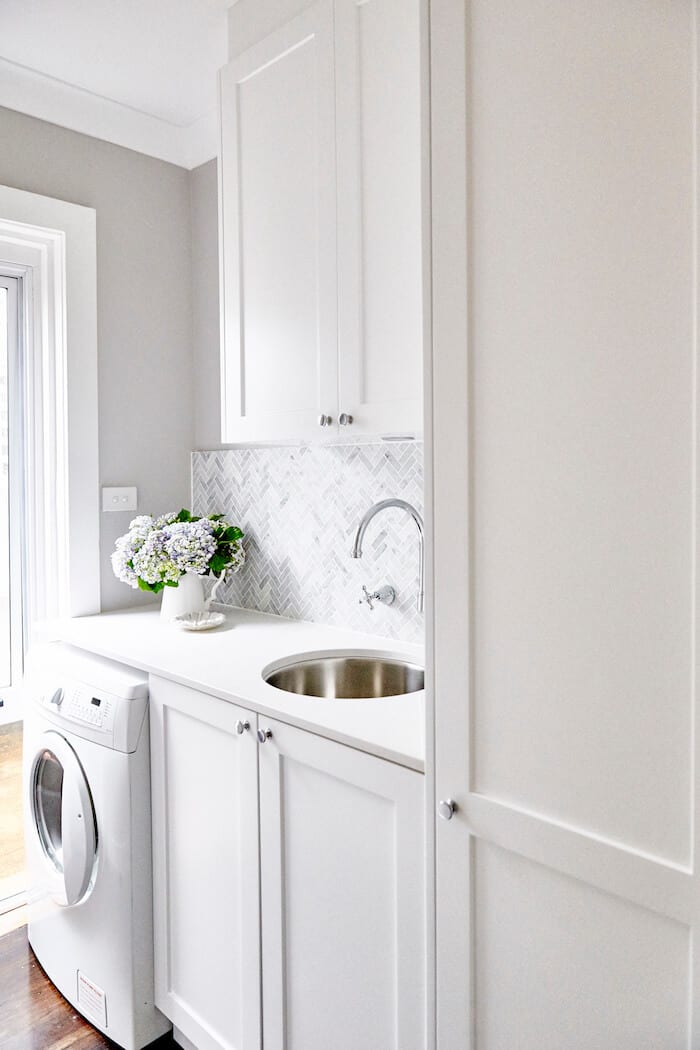 Laundry tiles
If you're looking to keep the laundry consistent with the tiles which feature in your bathroom or water closet, that's a really great economical way to keep your costs down. If your laundry is in your bathroom, you'll definitely be doing this.
But perhaps you either want to pare back on the tile design or take it up a notch if your laundry room is standalone. Here are some options for any laundry design.
38. Subway tiles
These are a classic laundry tile because they can be used in with any style that you're wanting to implement around your home. Or you can also have some fun with subway tiles by picking a different colour or instead of a matching grout, pick a contrasting colour.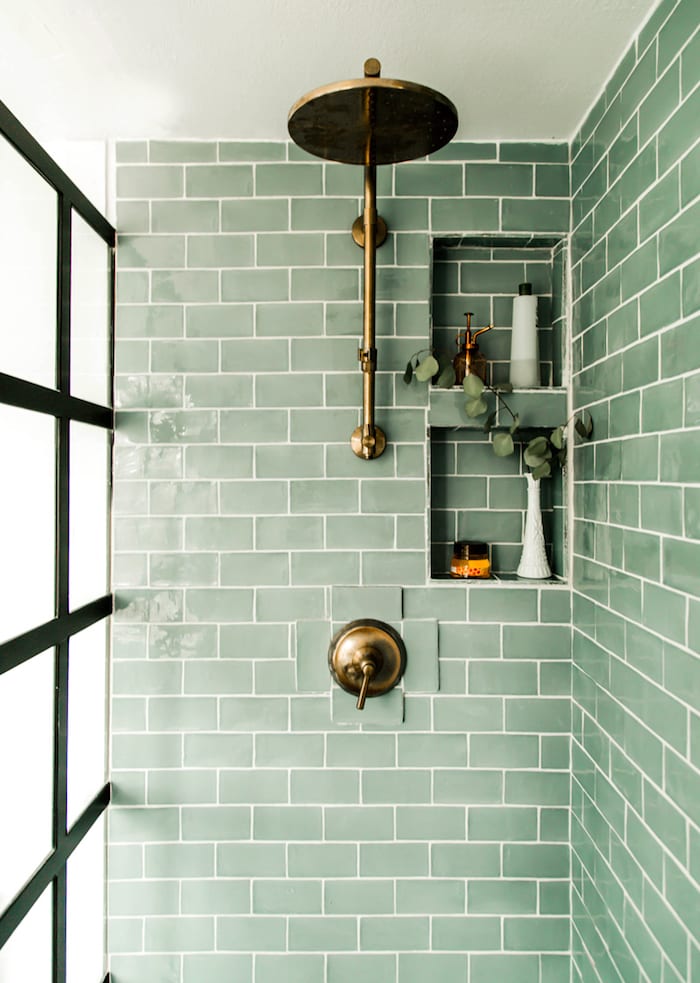 If you go down the path of picking a lighter contrasting colour of the grout, you need to make sure that you stay on top of the cleaning so that it always looks great. As a starting point, here's how much it costs for a tile cleaner.
39. Hexagon tiles
These are the 'new' subway tile and again come in a lot of colour variations. They are a good choice if you want something that catches the eye but doesn't stand out too much.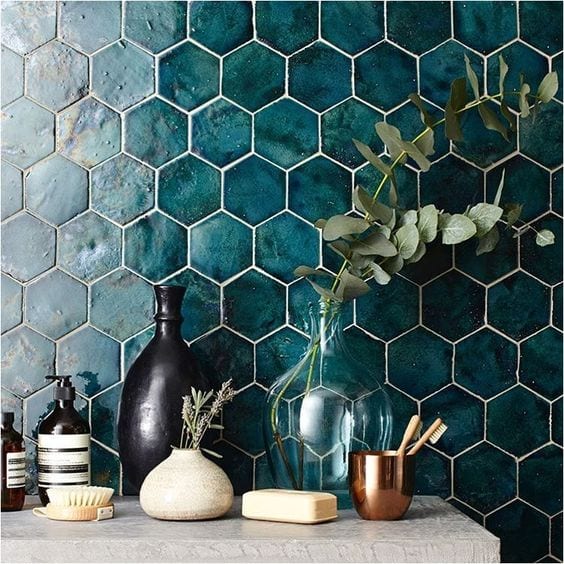 40. Penny round mosaic tiles
Now if you're wanting to make a bit more of a statement, a penny round is a lovely way to do this either in a neutral colour, or full glam mode with a metallic finish. Plus your tilers will love how easy these are to install.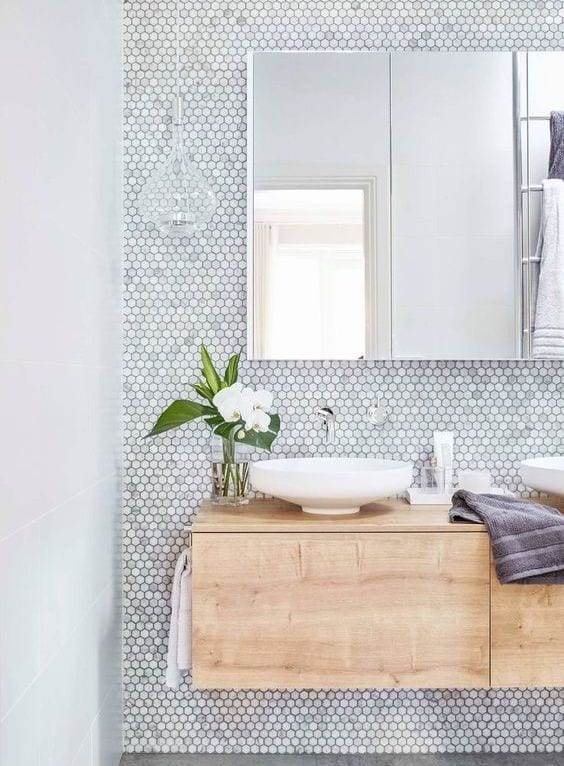 Want a bit more inspiration when it comes to tiles. I've deep-dived into the world of bathroom tile ideas and I'm sure you'll find something there you love.
Laundry accessories
41. Laundry hamper basket
A basket is versatile because it can be used in a bedroom, bathroom or laundry room and helps you to easily carry your laundry to put in the washing machine.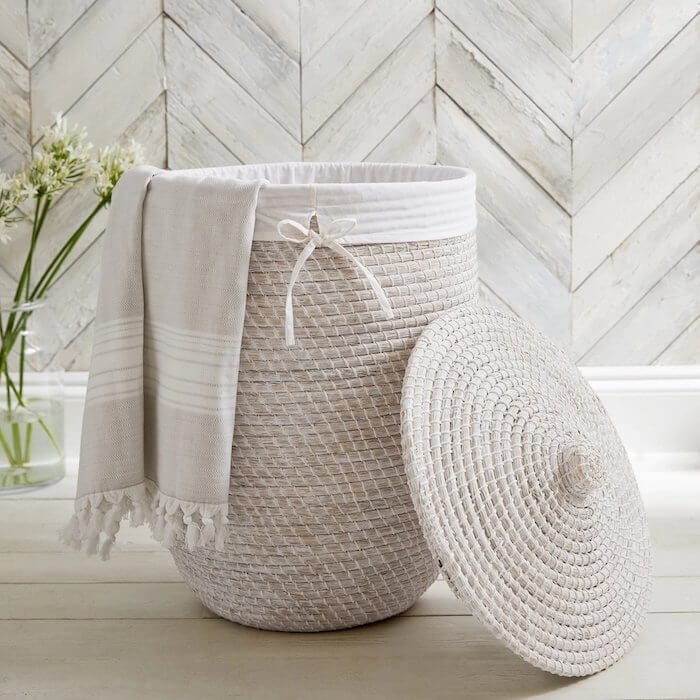 42. Laundry hamper cabinet
If you like to have everything tidied away, then an in-built hamper in your laundry cabinets is what you should go for here. Multiple tubs allow for your white and coloured items to be properly separated so that you don't end up staining your whites!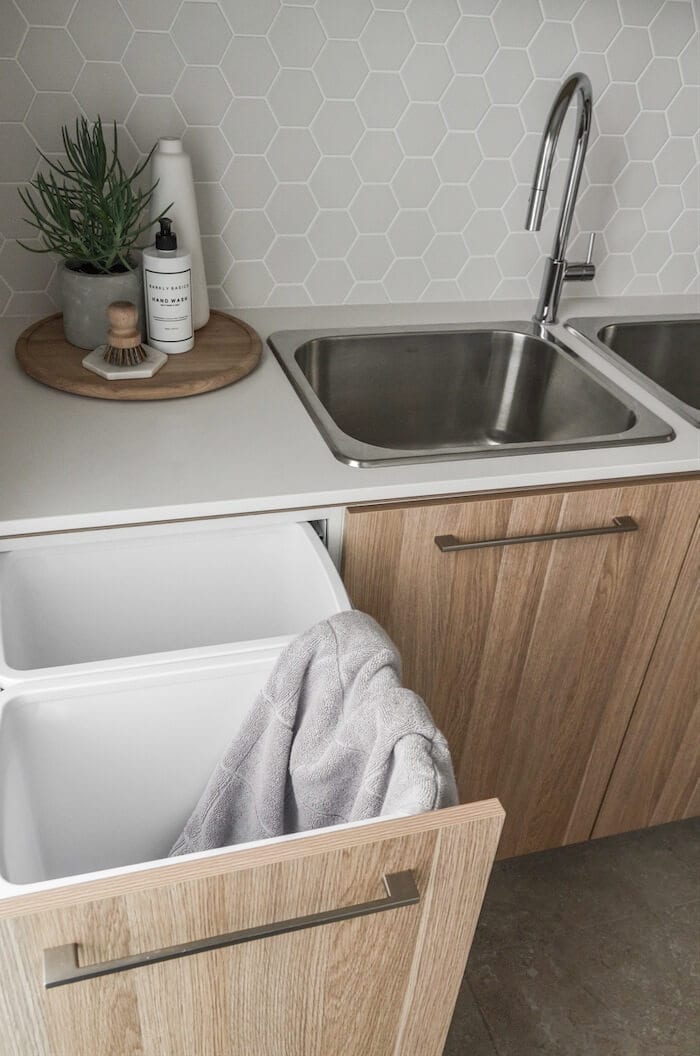 43. Clothes hanging rail
Make sure those freshly ironed shirts stay crease-free with a railing installed to hang them on.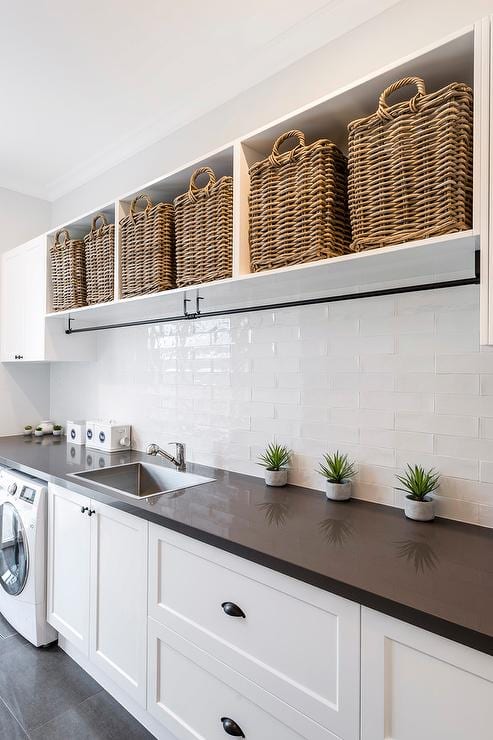 44. Vintage drying rack
Maximise the space in your laundry with a vintage style drying rack for your clothes. You simply unwind the rope and lower or lift when you need to put on/ take off your washing.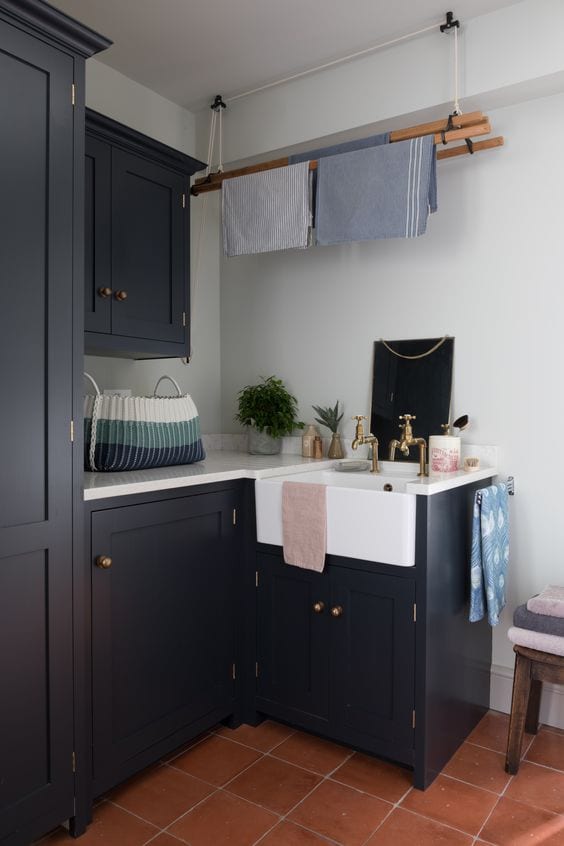 45. Mid-century drying rack
This is a beautiful drying rack idea for your clothes if you love mid-century design.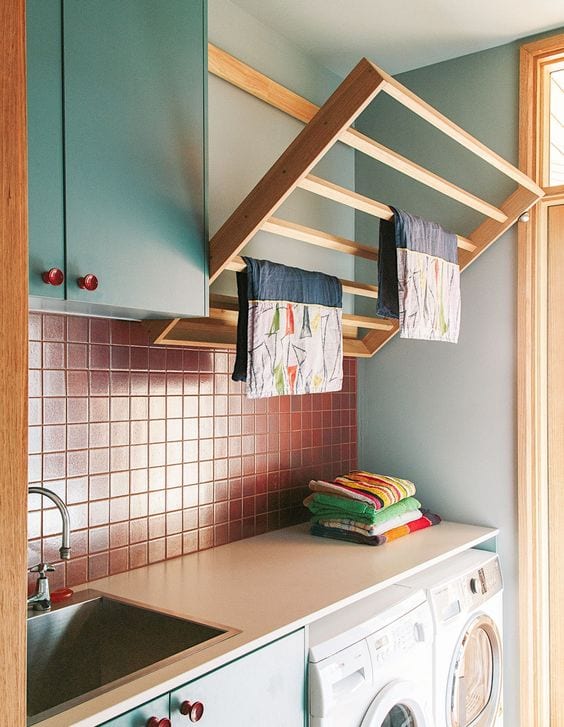 And there you have it, my top 45 laundry ideas that will take a typically boring room and turn it into a beautiful space that's magazine-worthy. If you have any other laundry ideas, please let me know in the comments below.