Whether it's a simple hatstand or a decked out mudroom with custom joinery, there are some great mudroom ideas that you can use no matter how big or small your home is. By keeping your dirt-clogged shoes and sopping wet raincoats by the front door, you'll be surprised by how much cleaner your house will be.
Custom mudroom joinery
This is the ultimate dream when it comes to mudrooms, not just for jackets and shoes but also for anything else that you need packed away. Just think of all of the extra storage!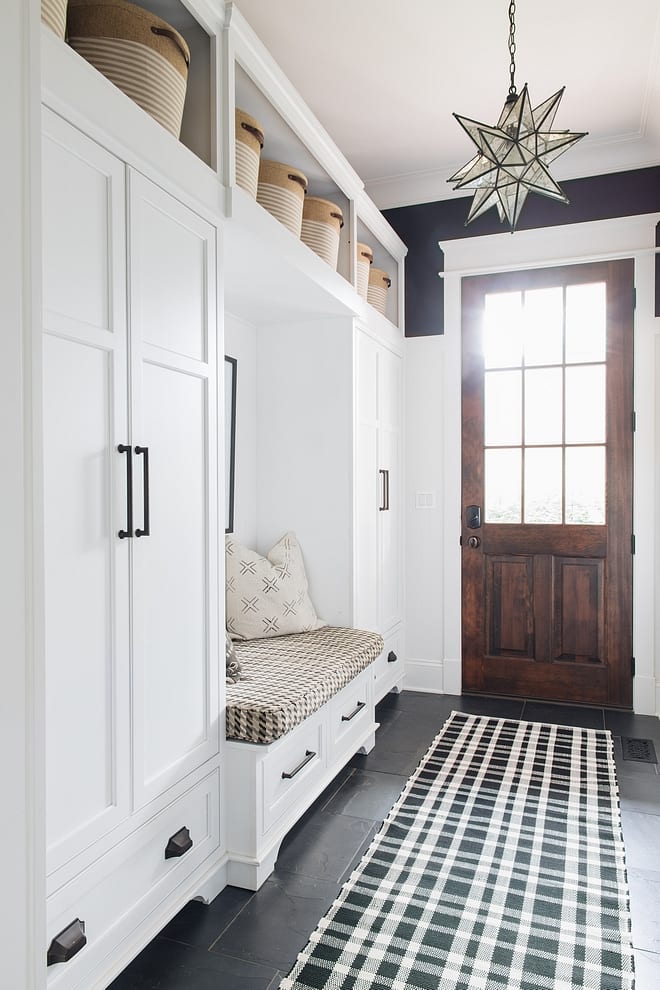 As you're usually working with a confined space, getting a carpenter who is nearby is the best way to kick off your mudroom project.
Mudroom & laundry
If you're looking to combine both your laundry and your mudroom, using similar joinery is a great way to make it a cohesively designed room. I find that if you're short on rooms trying to combine wet areas is a grand idea.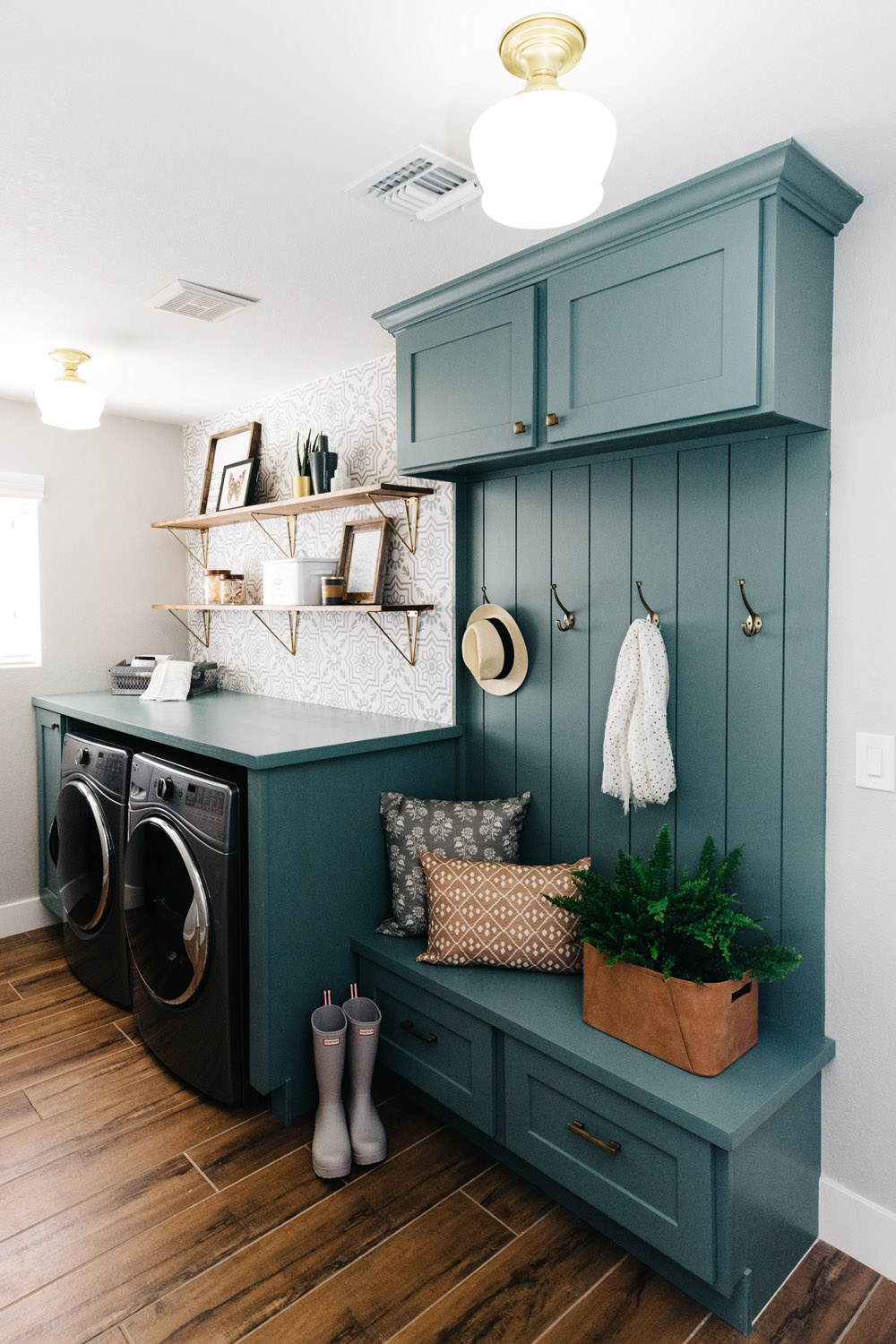 You can also combine your mudroom and bathroom. There are multiple ways you can do this, so make sure you check out all of the bathroom ideas we've put together.
Mudroom & study
Another combined room is to put both the study and mudroom together. It will mean a bit more custom joinery (so a higher cost), but you're definitely maximising the space you have in your home.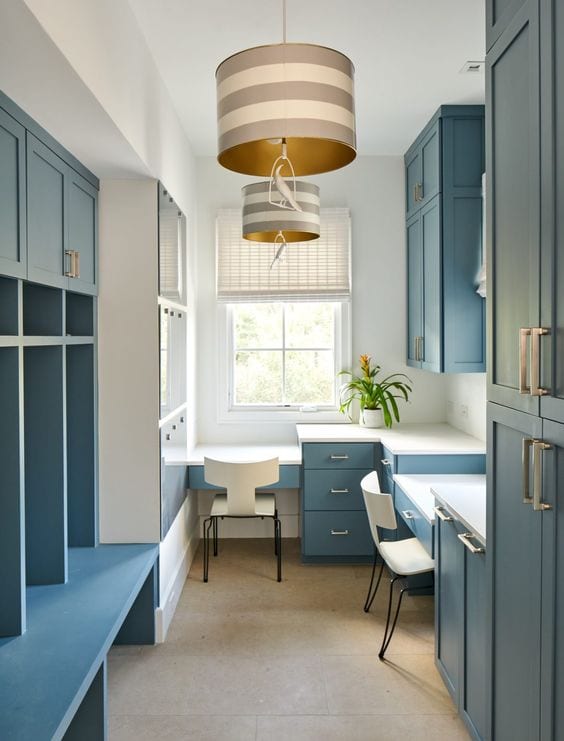 Not sure how much to budget for when it comes to custom joinery? As a starting point, look over our price guide on how much a cabinet maker costs.
Large mudrooms
A separate room in between your backyard and main living areas is perfect if you spend a lot of time gardening and need some space to store your messier items.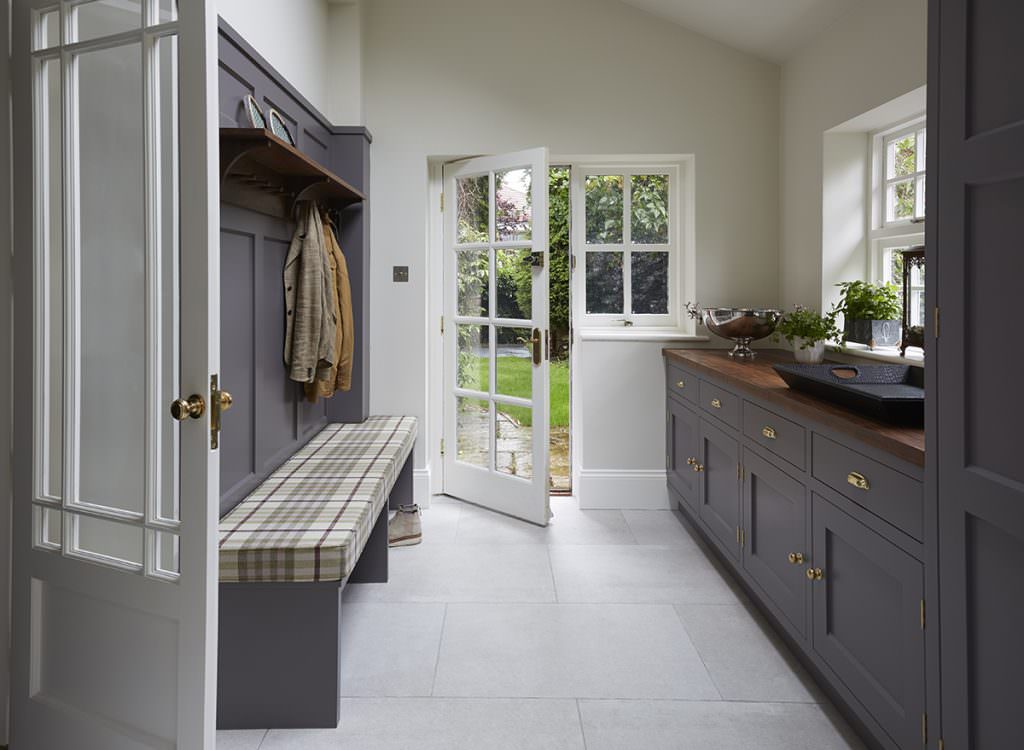 Small mudrooms
If you don't have a lot of space, it doesn't mean that you can't have a functional mudroom. This is one of my favourite mudroom ideas that I've stumbled across.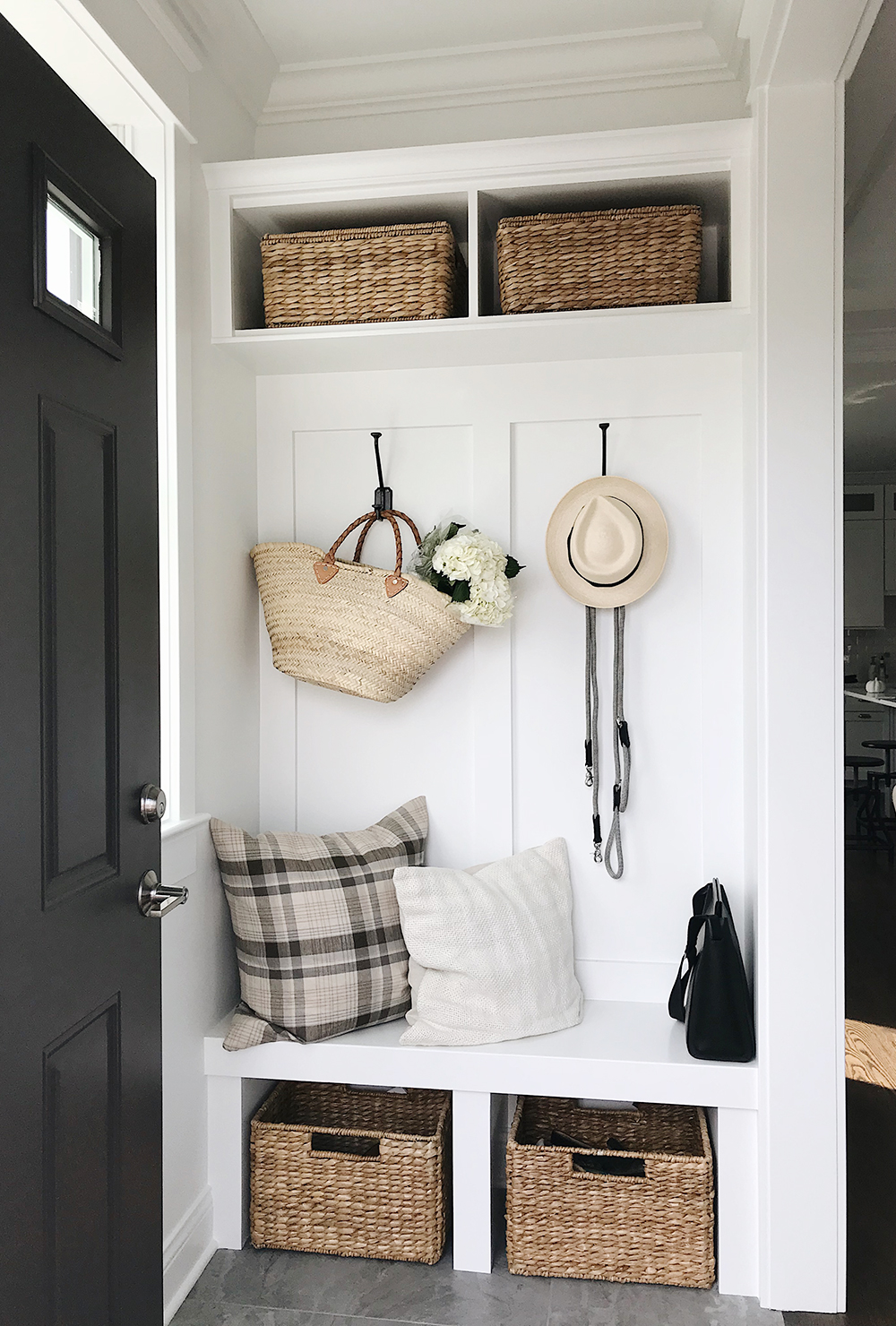 Unusual mudrooms
You don't need to have the 'perfect' four-walled room, you can make a mudroom work in any space no matter the shape. Just see here…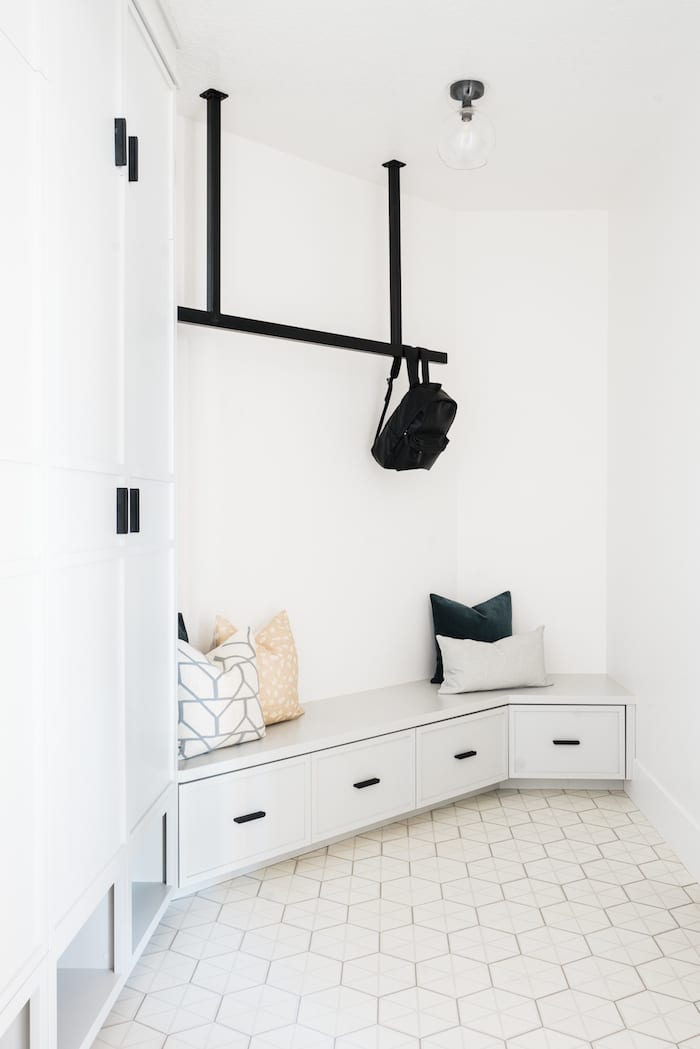 Mudroom bench
Short on space? Perhaps just adding a bench to your entry is the best approach to take. This means it's a spot to leave your shoes, bags and a jacket or two.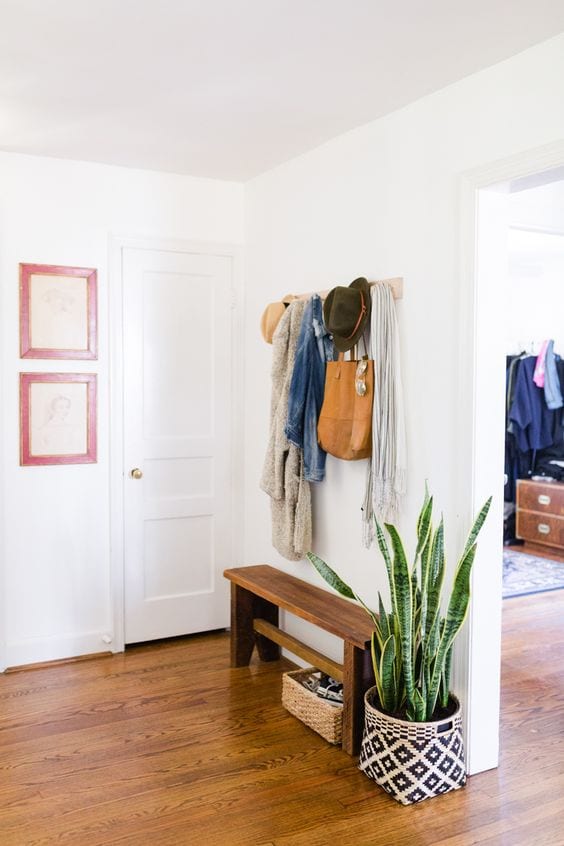 Mudroom shoe rack
Instead of your wardrobe, you could have a bespoke shoe rack added to your mudroom so that you can quickly grab a pair on your way out.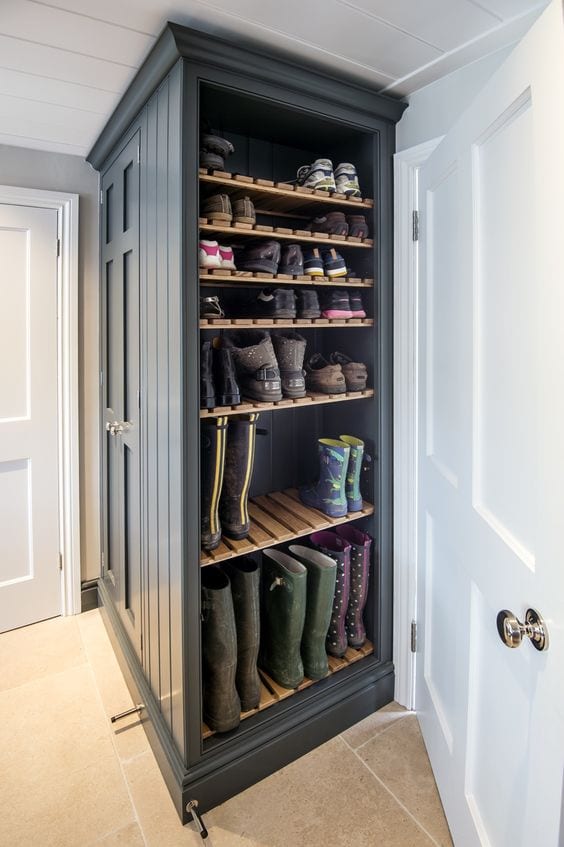 Mudroom basin
Having a spot to wash your hands is not a bad idea when it comes to designing your mudroom. That way no messy hands should make their way onto your furniture.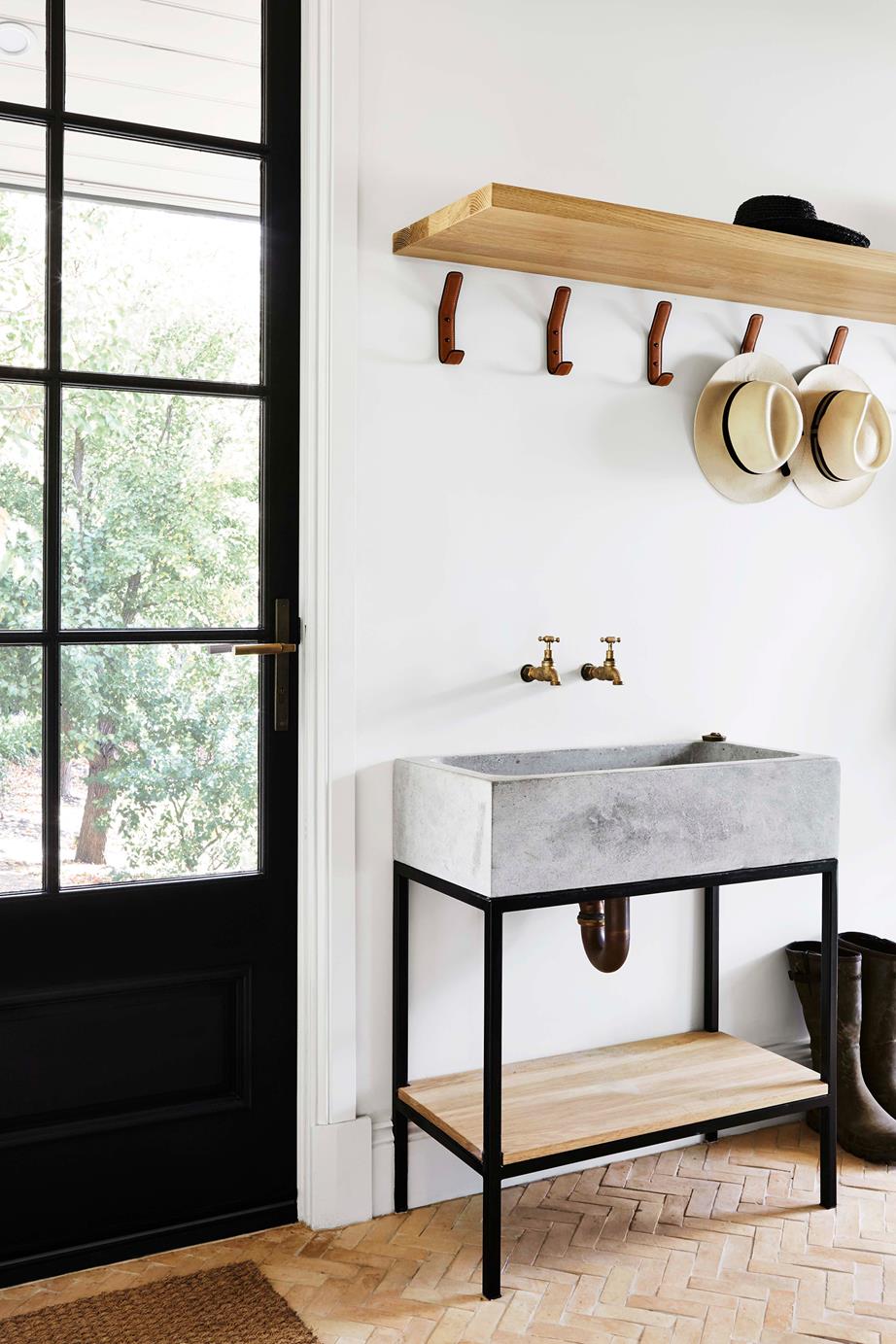 Pet mudroom
There's no shortage of mudroom ideas when it comes to our beloved pets simply because they deserve a special place to clean up too!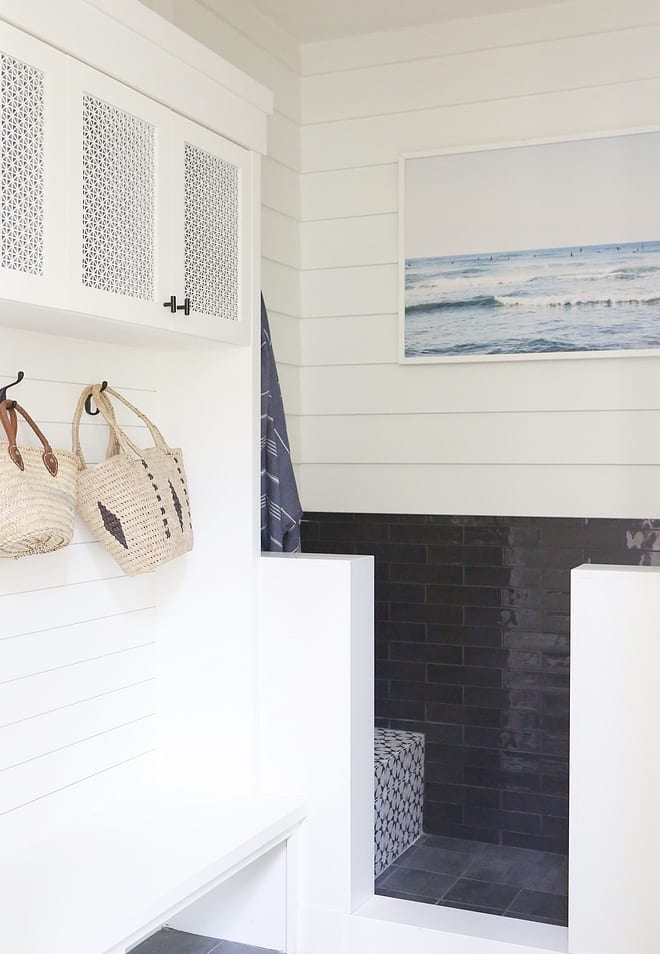 Speaking of dog baths, we've put together the ultimate guide on how to wash your dog, which might contain a tip or two that you've been skipping.
Portable mudroom
If you're renting or just not simply willing to commit to having a designated mudroom, getting something that can be put anywhere is the best mudroom solution for you. This compact version of a mudroom is seriously cute.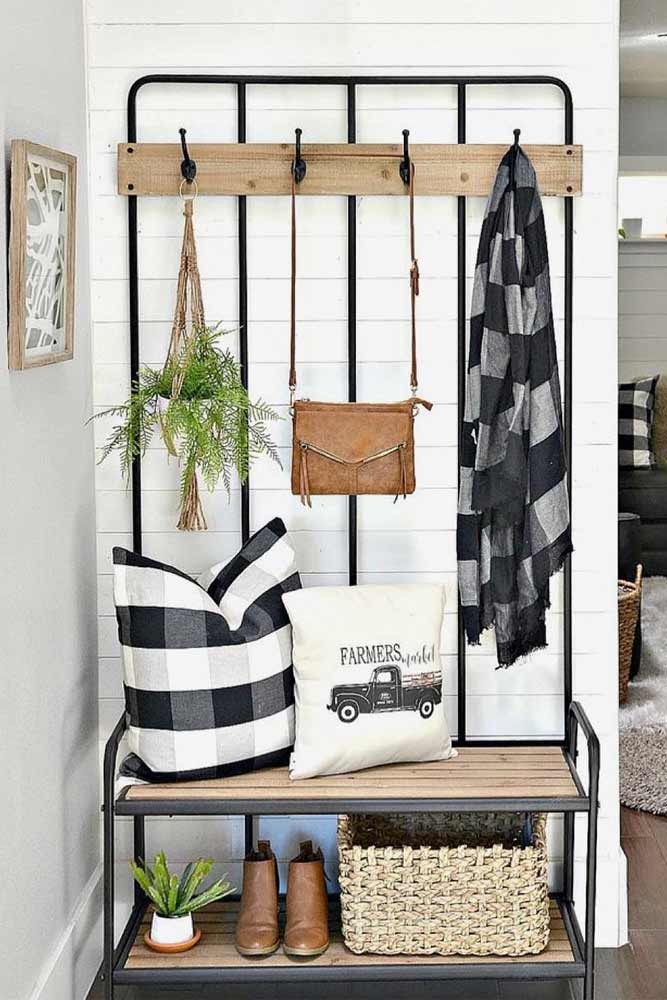 Family mudroom
If you have young kids, you might want to get them in some sort of routine as you leave and come home from school. So to keep everyone organised, you can designate them their own space just for them – it's one of the best mudroom ideas for families.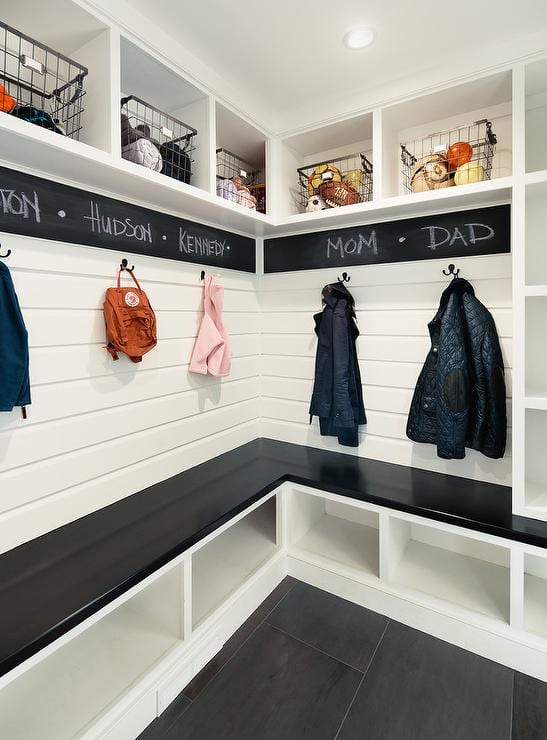 Simply imagine how much more smoothly the morning school run will be!
Built-in bench
When getting your cabinetry made think about leaving a section to be used as a built-in bench. You'll find this super useful when sitting down to put shoes on or resting your grocery shopping on when your hands a full.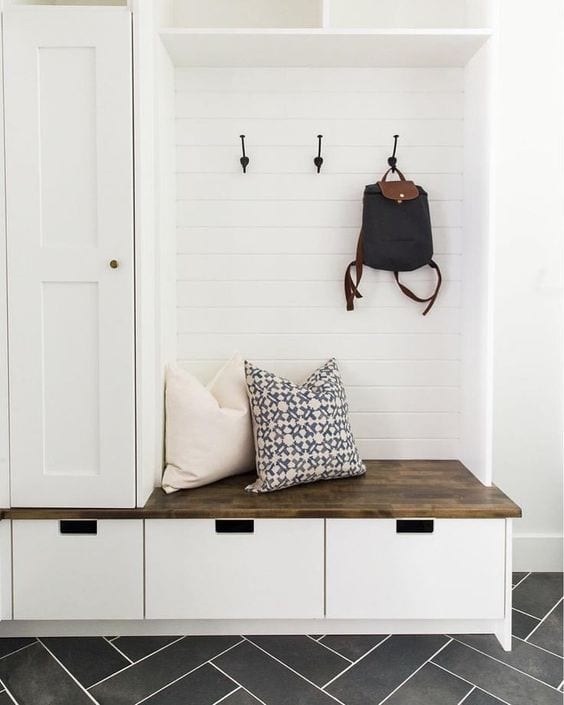 Mudroom nook
This is such a great solution if you're able to knock out some wall space and create a mudroom set back into the wall. It's the best way to keep your hallway clear of any mess.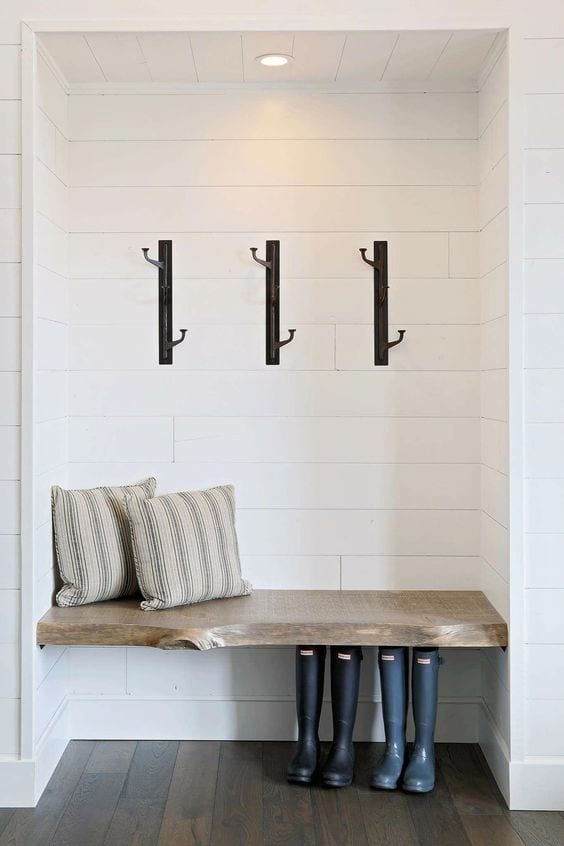 Wall hooks
Don't have space for a bench? Look for some eye-catching wall hooks instead.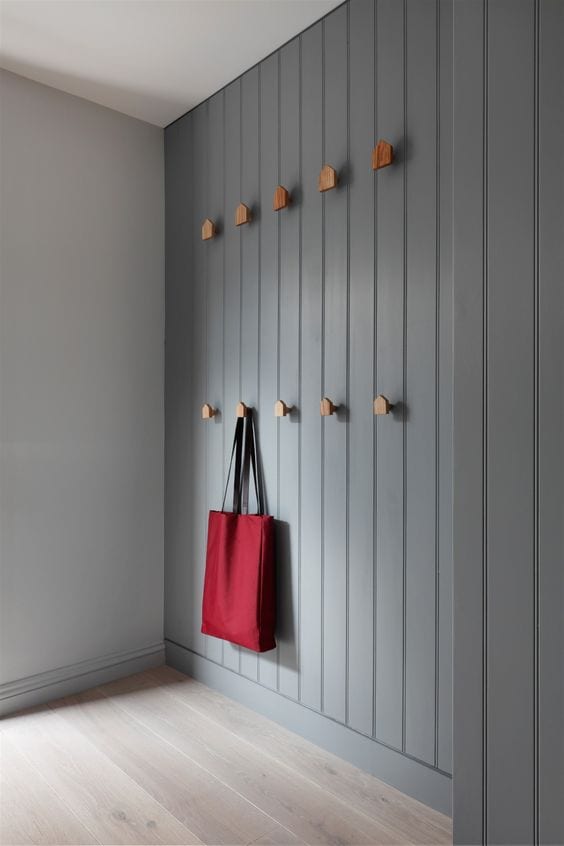 Mudroom flooring
Herringbone (bricks)
In the interior design world, it's known as herringbone but when laid here it looks a little more like bricks, bringing the outside in.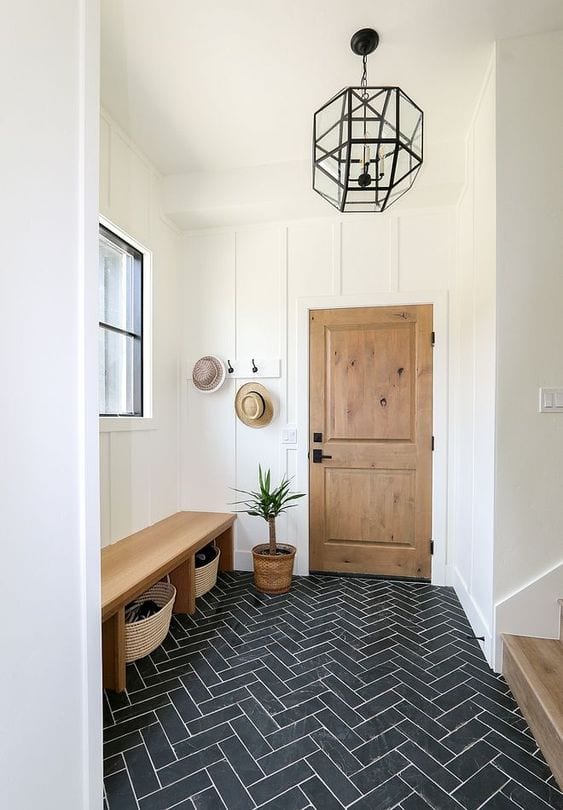 Rugs
Add some warmth in what could otherwise be quite a cold space with a long hallway style rug.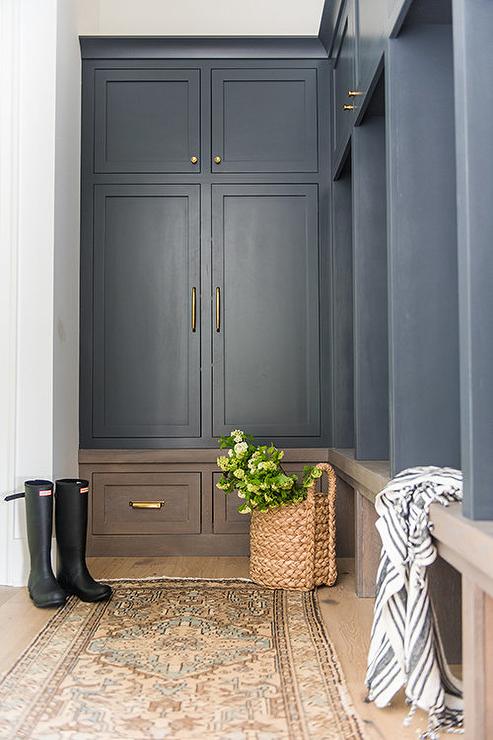 Floor tiles
There's no reason why you can't keep your mudroom interesting with tiles, whether it's hexagon-shaped tiles or a standout geometric pattern, you can have some fun here.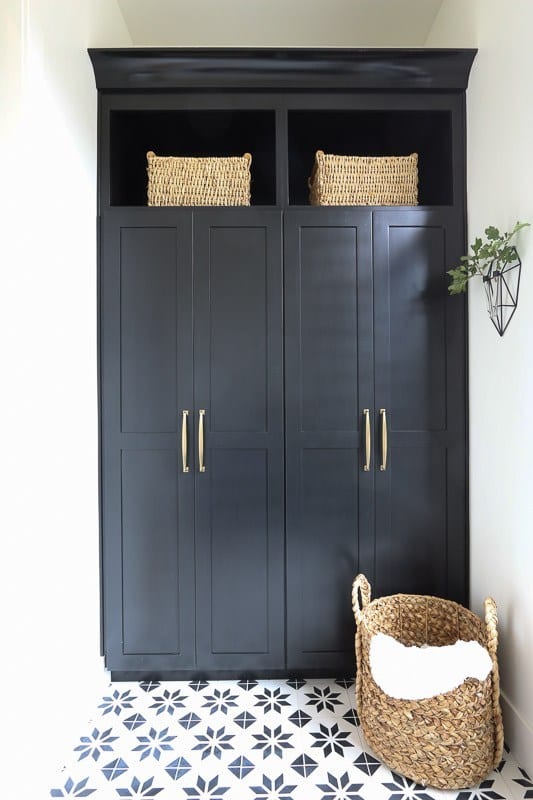 Mudroom styling ideas
So when it comes to colours and general styling of your mudroom, it can be basic or follow the same design aesthetic as your home. Here are some inspiring mudroom ideas as your starting point.
Scandi
If you're following the Scandi style in your home. This simplistic (yet stunning) mudroom will be the design you want to replicate in your home.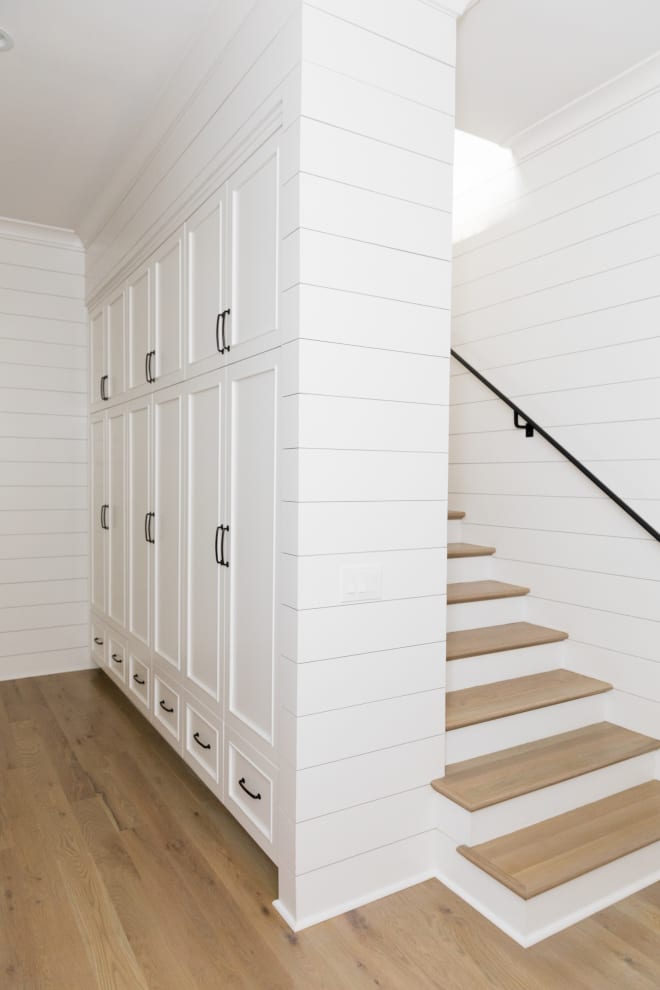 Rustic
Nothing says country louder than a bit of corrugated metal and using it in your mudroom is sure to bring that rustic feel you were looking for.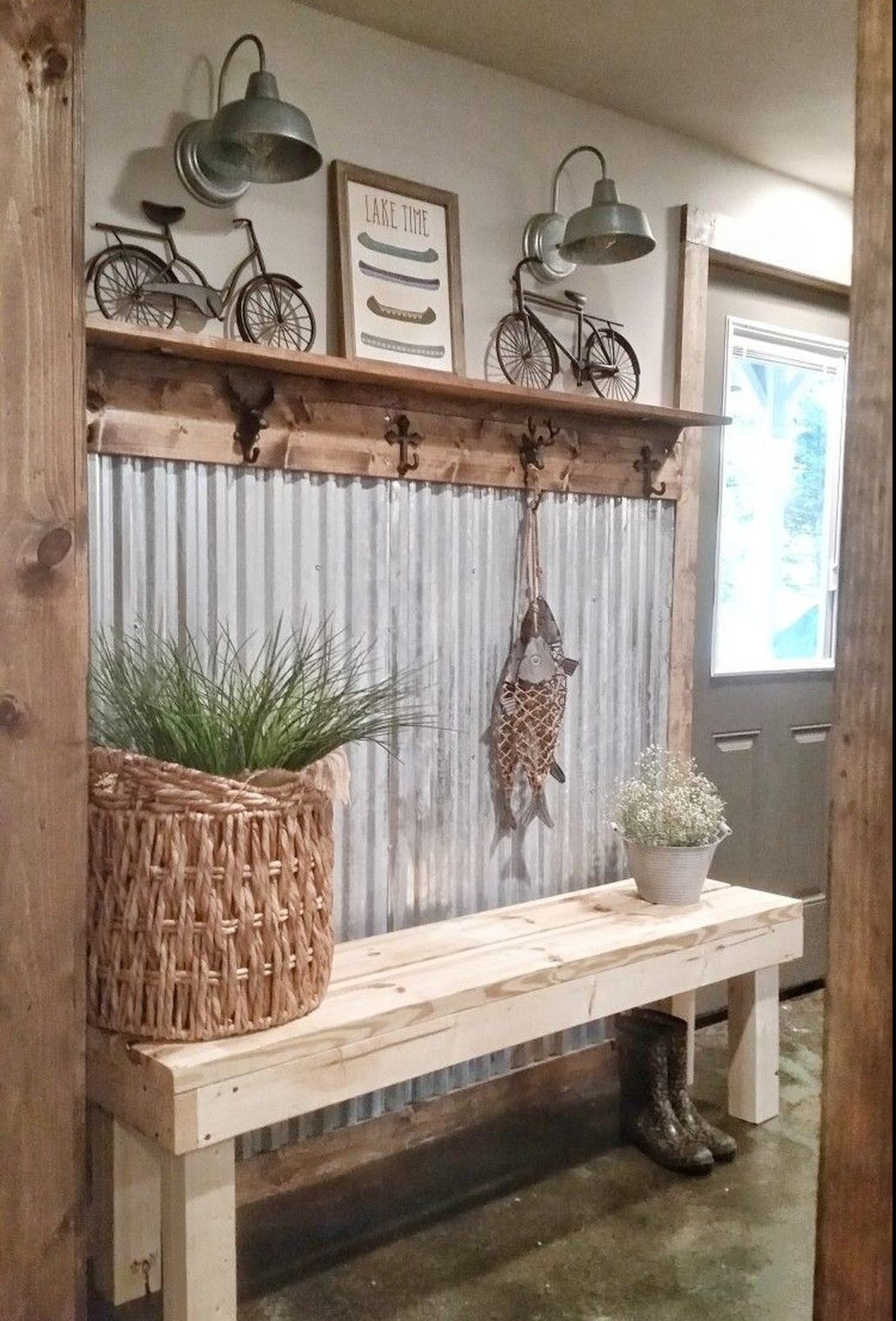 Timeless
If you want something that won't date, sticking with a plain background that can be updated with accessories is a great workable solution for your home.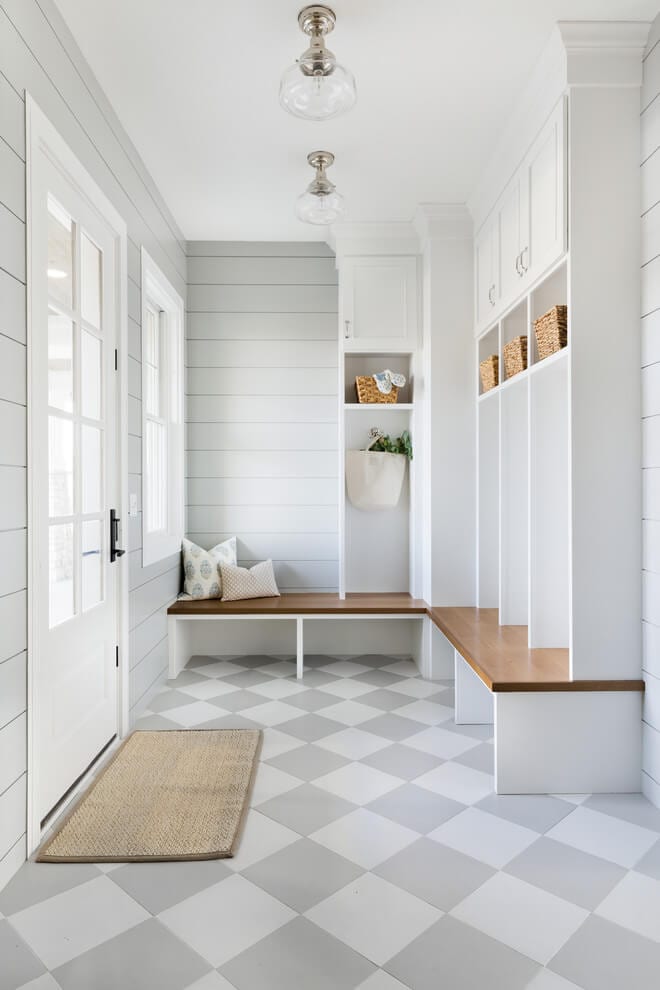 Colourful
Add some flair to your mudroom with a bit of colour to not only make it modern but also super stylish. I've loved these dot hooks for a long time and I've seen them used in hallways, bathrooms and a mudroom should be no exception.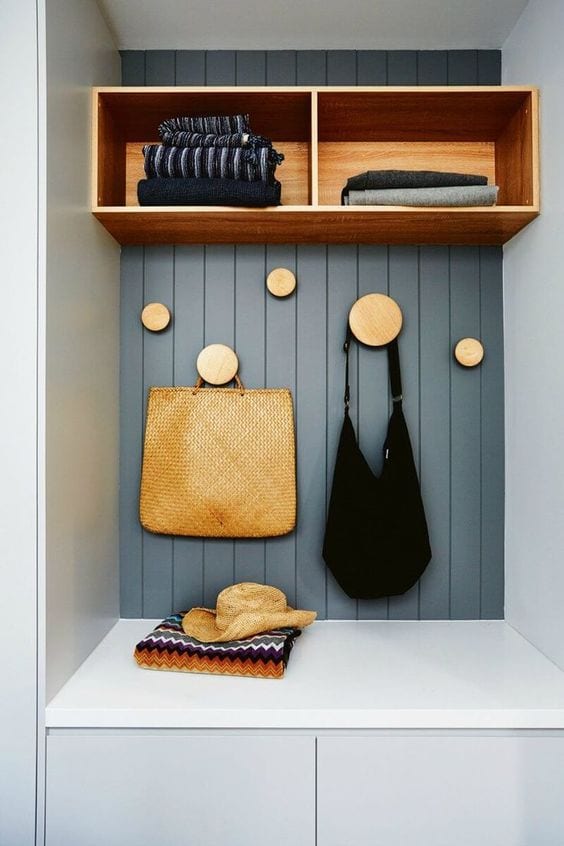 Dark joinery
If you're wanting some more boldness in your design consider going a darker colour, such as black or navy, for the joinery.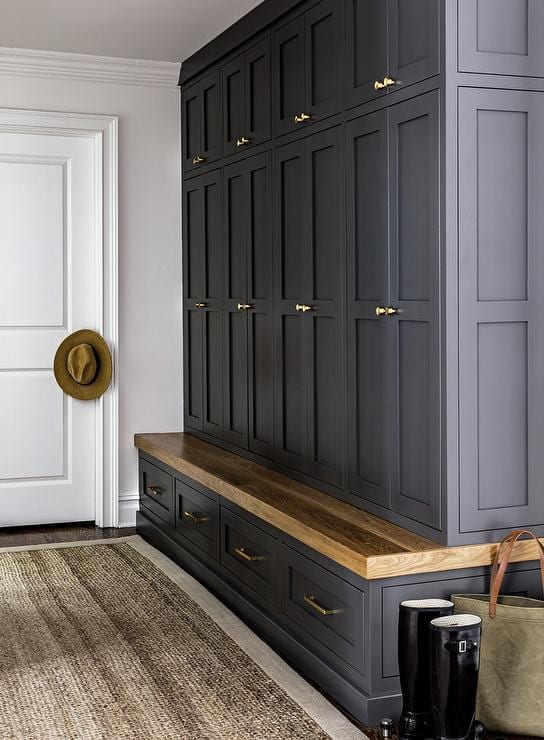 White joinery
The flip side to dark is light and you can't get much lighter than white. But to add some features, think about contrasting doorknobs or changing up the joinery panelling to make it bespoke.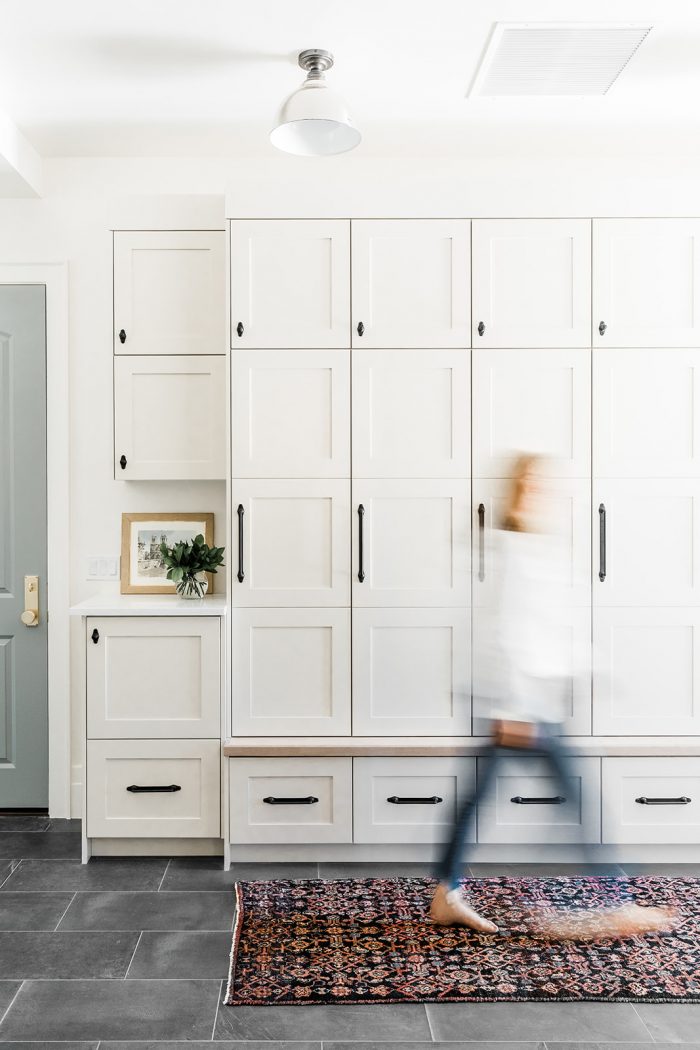 Two-toned paint
Make it your own by using two paint colours to really bring your styling personality out in your mudroom.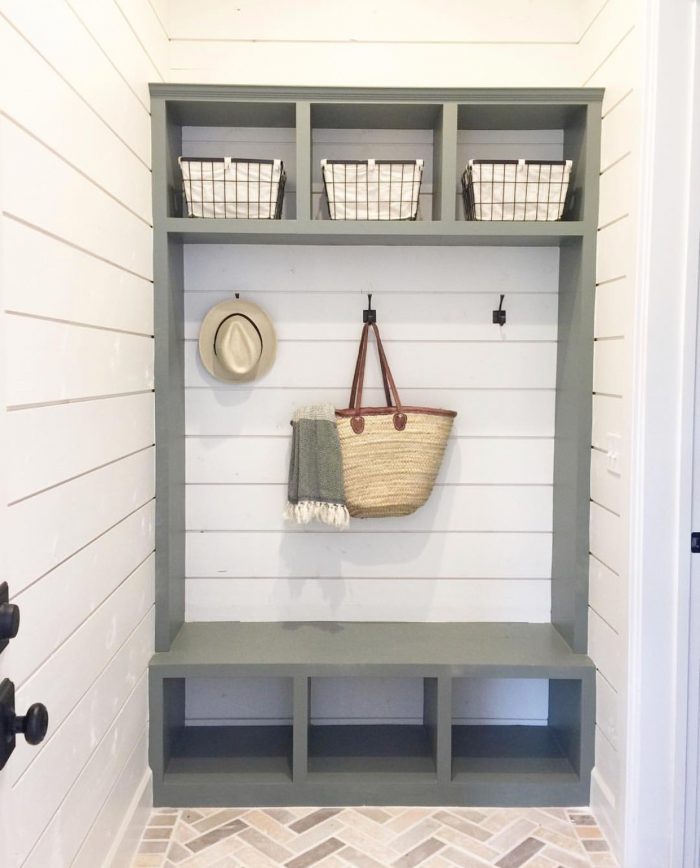 Timber joinery
Keep it classic by using natural timber joinery and brick flooring. It's an understated yet stylish look.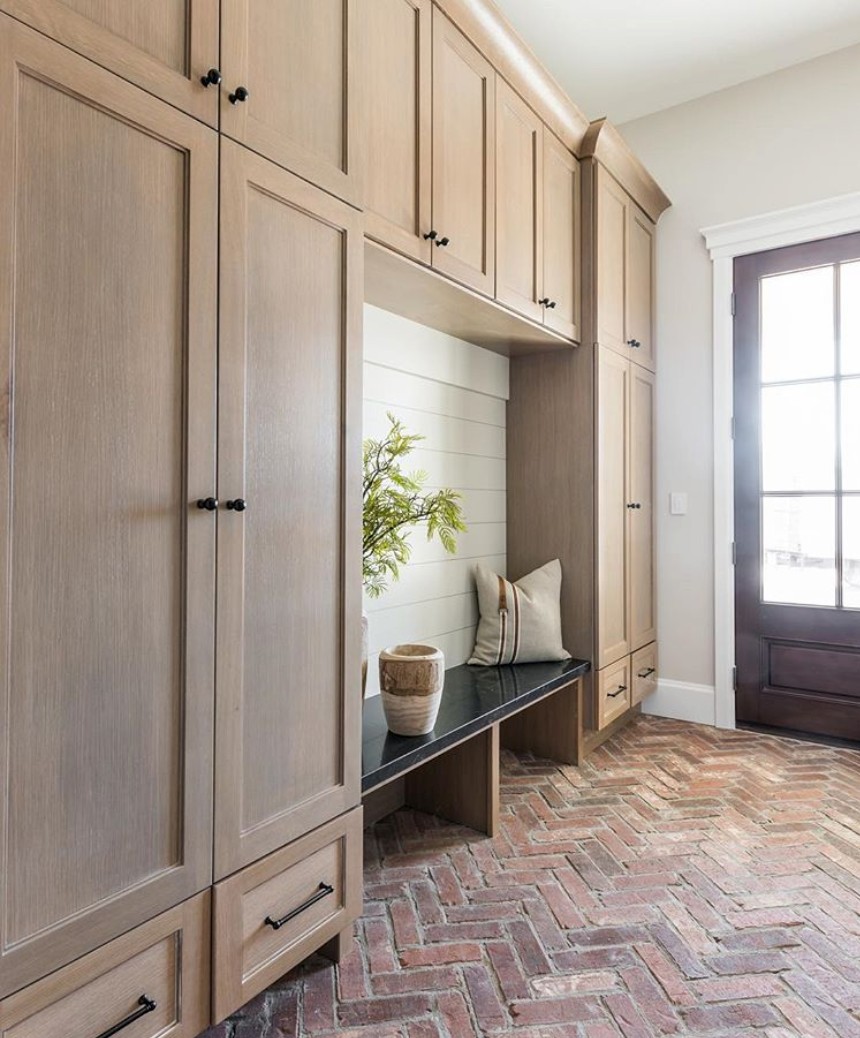 Mudroom wall ideas
Pastel colours
Pastels can work in any room and the mudroom is no exception.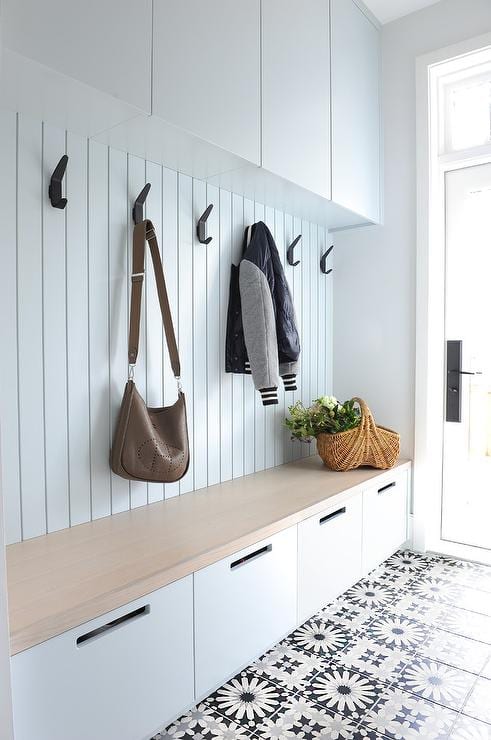 Wallpaper
Looking for something a bit different on your walls? Why not try wallpaper for a unique look. Just remember that wallpaper isn't something to DIY, so look for a wallpaper installer near you to help out.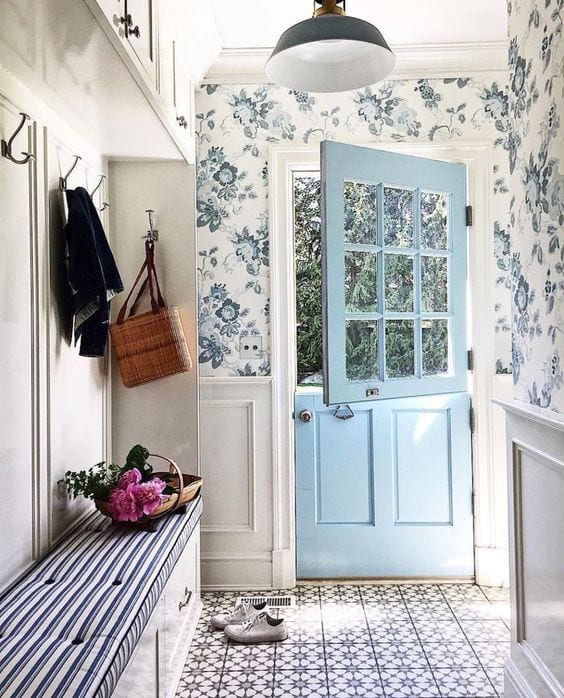 Subway tiles
If you want tiles on your wall, a rectangle subway tile is that something that will stand the test of time.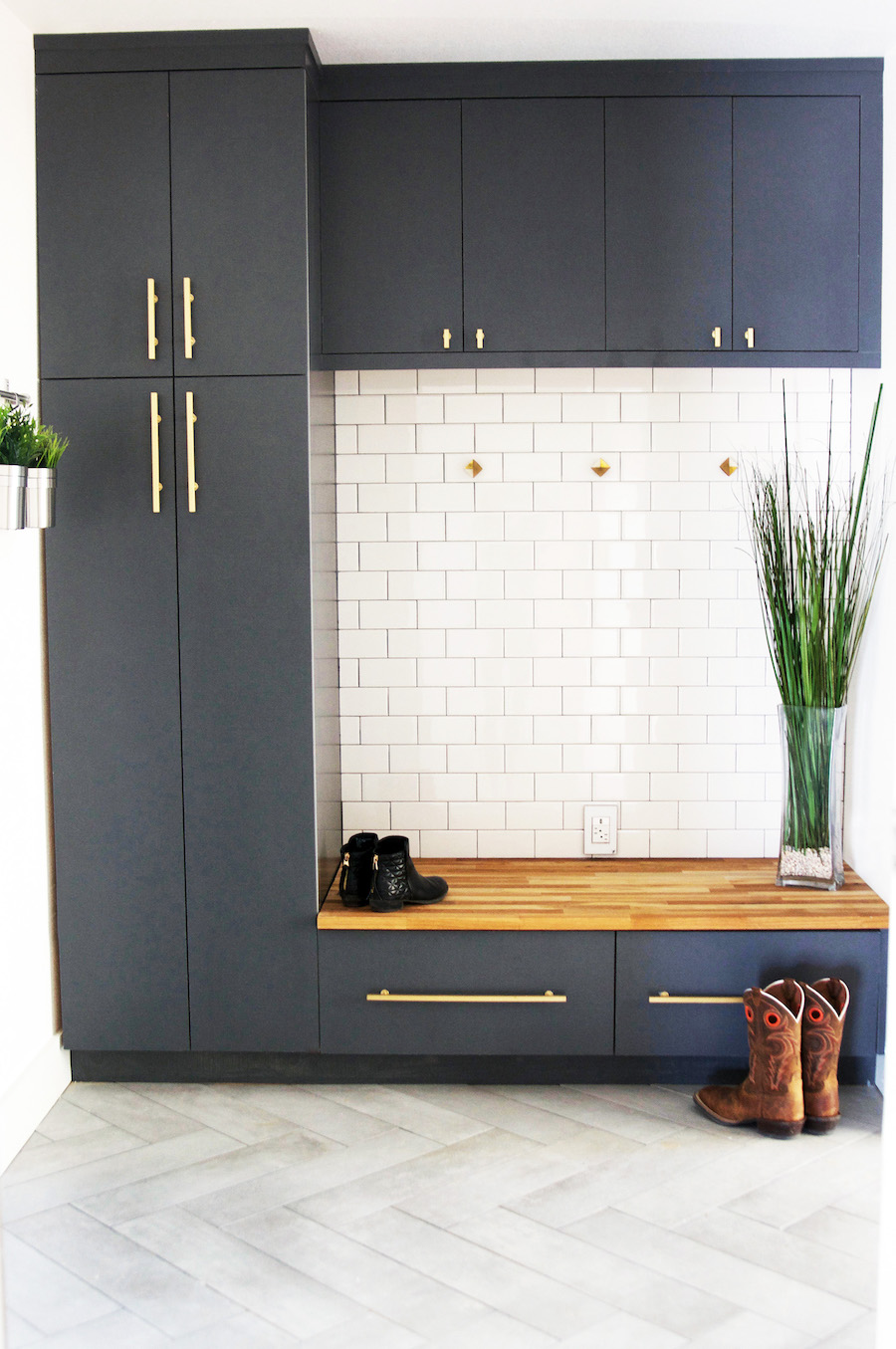 Artwork
Who says you can't hang a piece of glorious art in your mudroom? A stunning piece will add a sense of vibrancy to this room.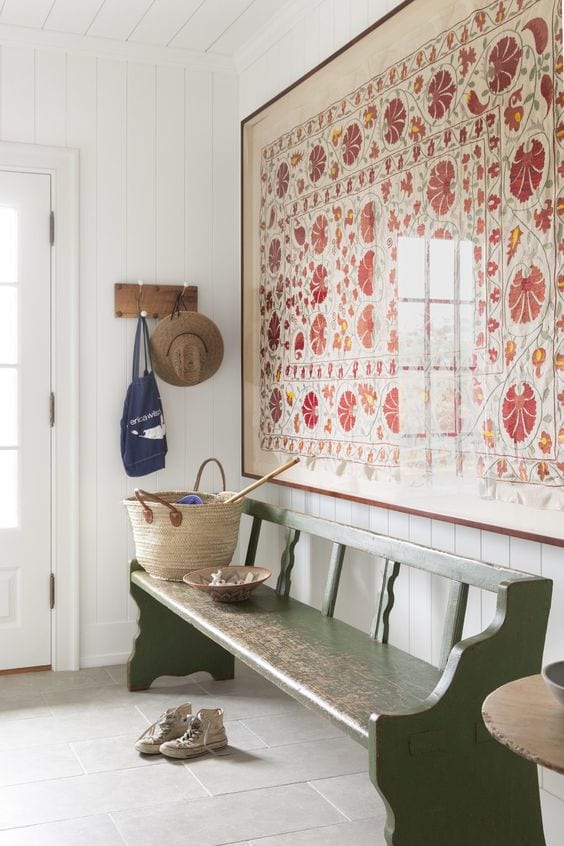 Mudroom lighting ideas
Pendant light
Jazz up your mudroom lighting with a spectacular pendant light. Get an electrician to help put up your statement light.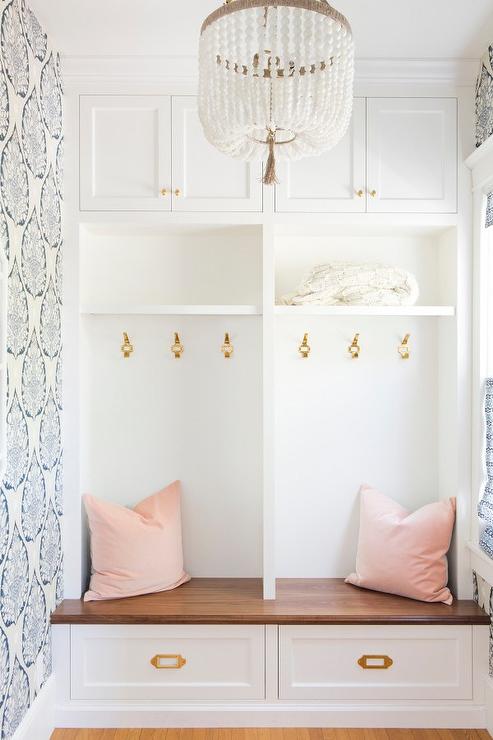 Cabinet lighting
If your budget doesn't have a set limit, you can go all out with your cabinetry and put in some strip lighting. It's a super luxe look!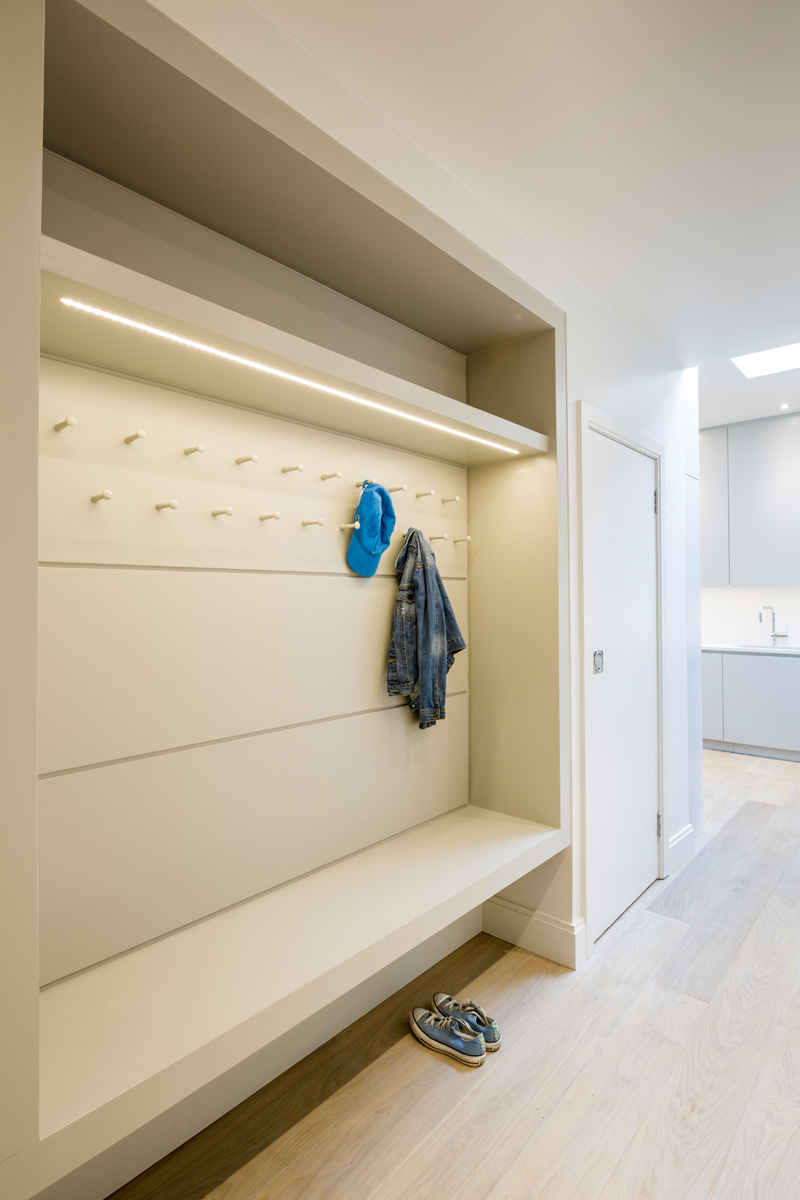 If you have any other mudroom ideas that you'd like us to share, let us know in the comments below.