Looking for privacy fence ideas? Privacy fences have many functions.
Architecturally
, they can be a decoration and improve a home's exterior 'face'. And they may also do a good job of covering up the ugly exterior of your neighbour's house. They can help define your space, and they can help break it up by adding dynamic aesthetic elements. There are so many different privacy fence ideas out there that will beautify your outdoor areas.
It's always
visually
pleasing to view vine-covered trellises or the neat parallel lines of a horizontal fence
.
But their main job, by definition, is to add privacy.
Technically
, a privacy fence is very
similar to
a regular one. But a privacy fence is usually regarded as being somewhat more portable and is usually at least 4 to 6 feet tall.
What to consider when choosing the right privacy fence?
You'll need to consider things like longevity, durability, maintenance and ease of repairs
. And then there's your
overall
style and the limits of your budget.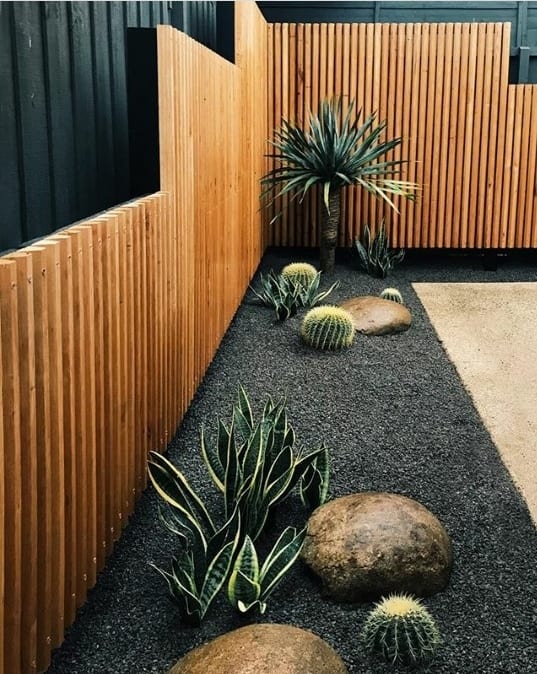 Privacy fence ideas: planning
There are so many options for privacy fencing that it can be hard to know where to begin. When deciding on the perfect solution, ask yourself some basic questions first, such as:
How tall do you want your fence to be?
Do you need full privacy or do you want it to be a little see-through?
Should it be horizontal or vertical?
What privacy fencing materials are suitable – timber, bamboo, metal, vinyl, reclaimed materials, stone?
Will the materials be natural or stained?
What colours will be most effective?
Are there any features of the terrain to take into account, such as sloping land?

What's your budget? Some projects are

naturally

going to cost more than others.

But give some thought to how a better quality privacy fence will actually add value to your home, making it a good investment

.

Can you really DIY or would it be better if you got a hand from a fencing expert?
Privacy fence ideas – Screening plants
1. The green screen
One of the easiest methods of constructing a privacy fence is to use screening plants to create a living wall
.
Go for a row of planters containing ornamental grasses, a mobile vine wall or a beautiful hedgerow
. Either way, plants are a beautiful and simple natural barrier.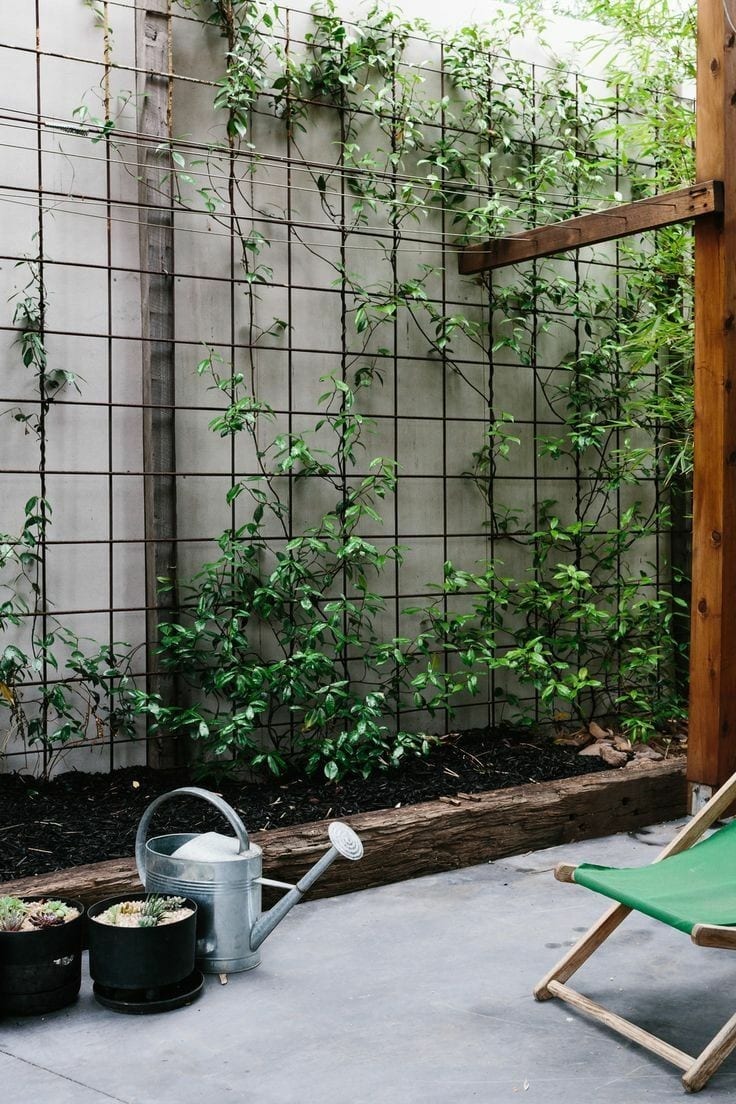 2. Straight from the horse's tail
Some of the most popular plants for privacy screening include horsetail grass grown in planters
.
This plant makes a fantastic architectural statement in the garden, growing between 60cm to 120cm tall
. Ivy, too, is a great natural privacy screen.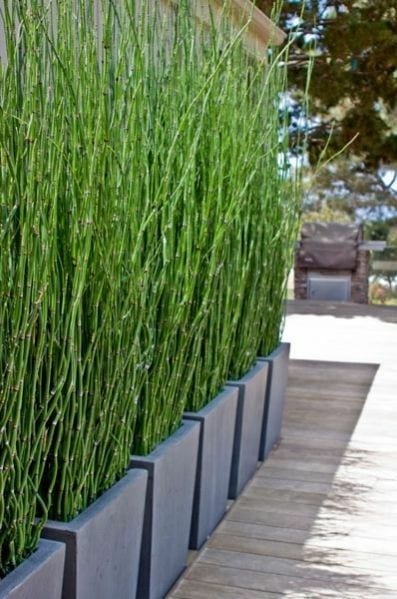 3. Plant magnificent trailing succulents
The beauty of using plants as a privacy fence is that they add so much texture and visual interest. Check out this gorgeous wall.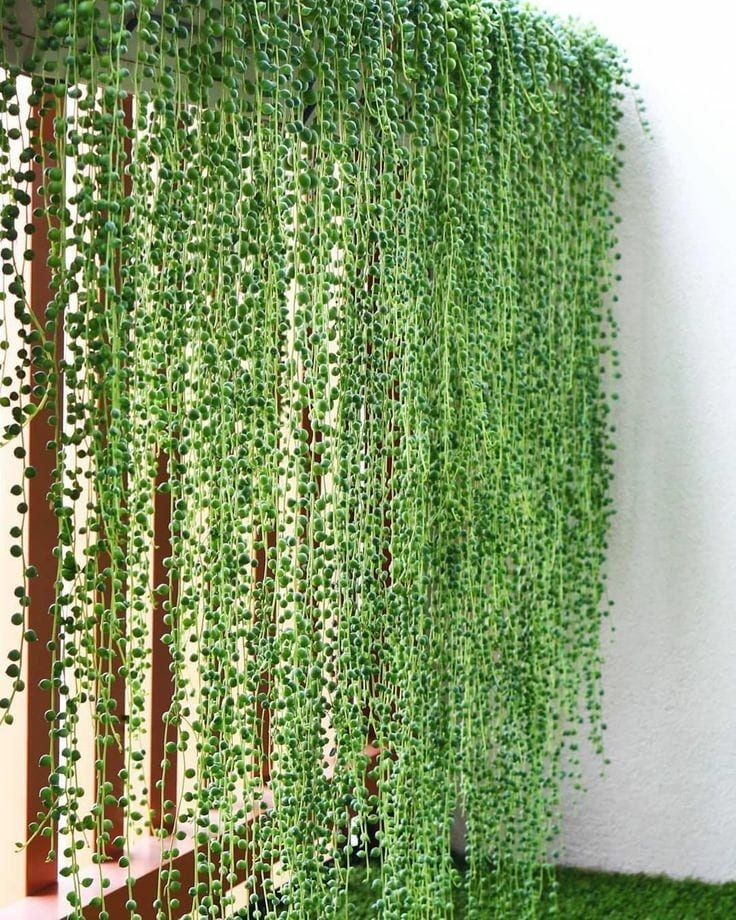 4. Privacy fence ideas with containers
Keeping your plants in containers makes it convenient when you feel like making a change to your garden design.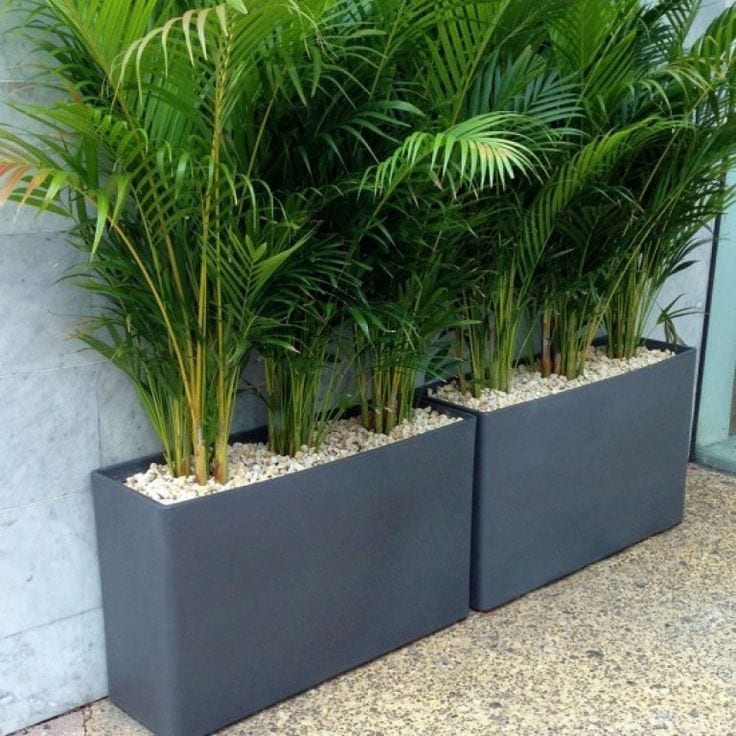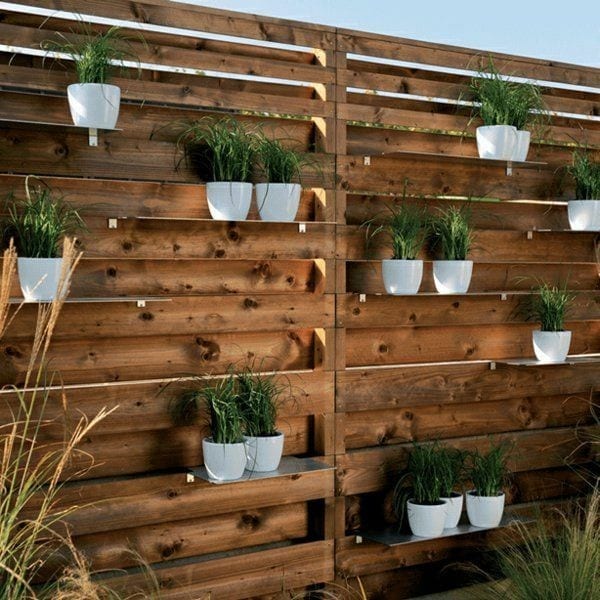 5. Consider a flower wall or a fruit tree wall
You might also consider creating a flower wall or planting an edible wall of fruit trees in planters.
An excellent choice for pleaching and for colour is a bougainvillea tree which has an eye-catching pink flower
.
Just
watch out for the thorns!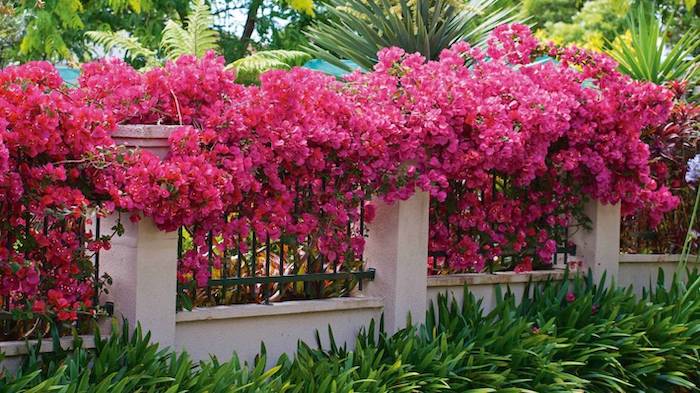 (A tree wall is constructed by 'pleaching' trees, which is essentially tying branches together to create a wall.)
6. Bamboo, that's who
Bamboo screening is one of the easiest DIY solutions for privacy. Buy a roll of bamboo reed fence and attach it to your existing fence or railing. Or buy pre-formed metal fence frames together with bamboo panels to construct yourself.
You could also simply install bamboo poles for an easy, cheap solution.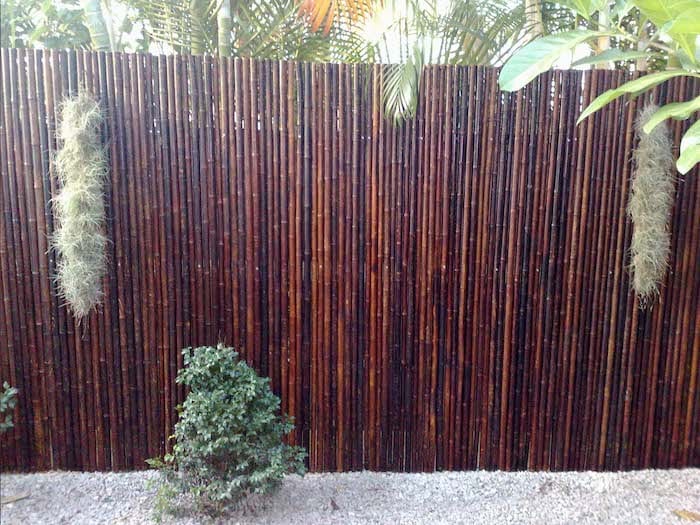 7. Mix it up with colourful foliage
Instead of just using it to hide unsightly things, I love this privacy fence idea of using it as a focal part, adding depth to an otherwise boring space.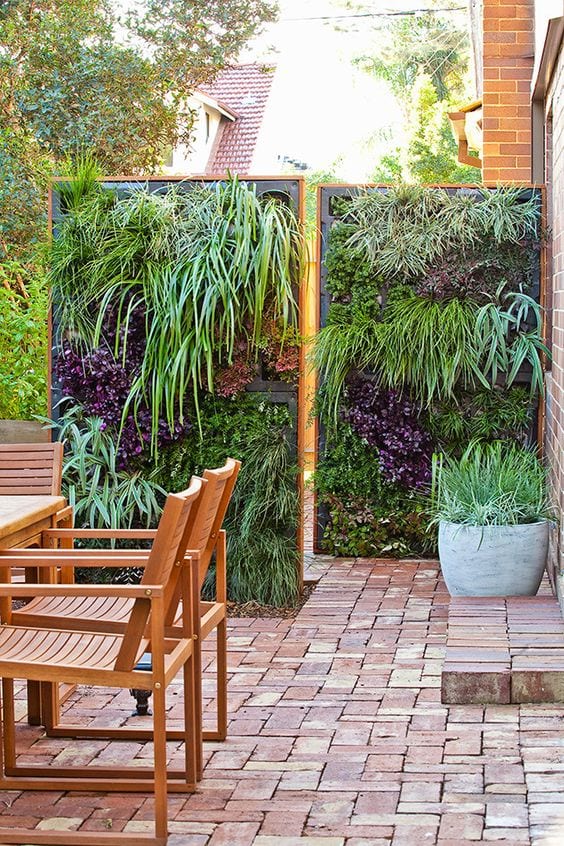 8. Brush it off…
… with some brush privacy fencing. There will be no peering eyes getting into your house with one of these fences.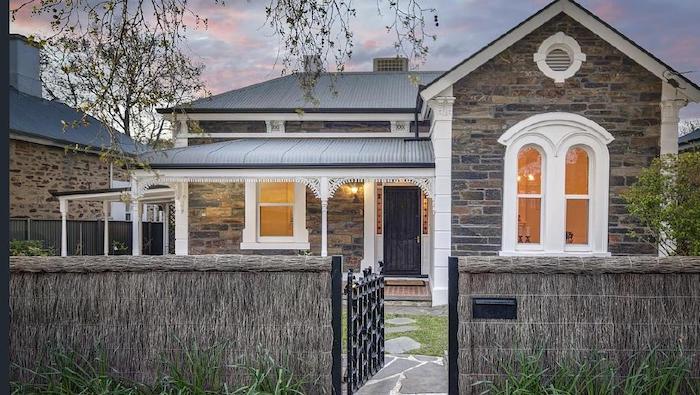 Timber privacy fence ideas
Consider the full range of possible privacy fence materials. Don't limit your thinking to timber slats. You'll find there are many more fencing options in other materials. For example, recycled plastics, vinyl, aluminium, steel, concrete or wrought iron. The latest composite materials are always a good solution, offering low-maintenance and longevity.
You could also consider masonry work.
It may not be the cheapest solution, but consider whether a stonemason might create a gorgeous stone wall for you
.
Modern gabion walls are an option too—a sturdy fence design that has been around since mediaeval times
.
Other options include pre-formed etched metal privacy screens which come in a range of patterns and designs
. Or you can use solid wood rather than planks—for example, white birch trunks look amazing. Finally, consider frosted glass panels, which provide privacy but
obviously
allow light through.
9. Easy chevron wall
You've got herringbone splashback tiles and herringbone timber flooring. Now meet the herringbone privacy wall!
You might think this is an easy DIY idea but take a look at those precise angle cuts, it's definitely one to get some help with if you're not a pro
.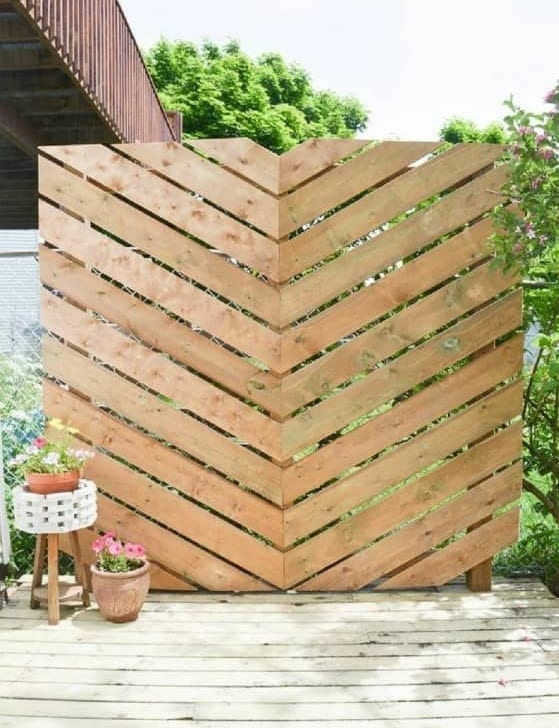 10. Wide horizontal natural planks
This is a much easier DIY project if you want to try this privacy fence idea. All you need to do is take a trip to your local hardware store and then set aside a weekend or two to get it done.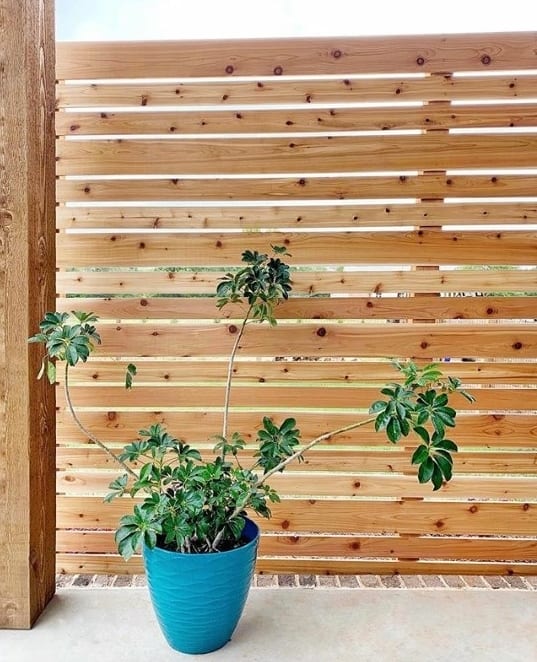 11. Timber vertical panelling
Possibly the most "on-trend" type of fencing at the moment is vertical timber panelling which can either have a gap between or be stacked together. It looks great when treated with a stain or using a few shades of timber to create a more dramatic effect.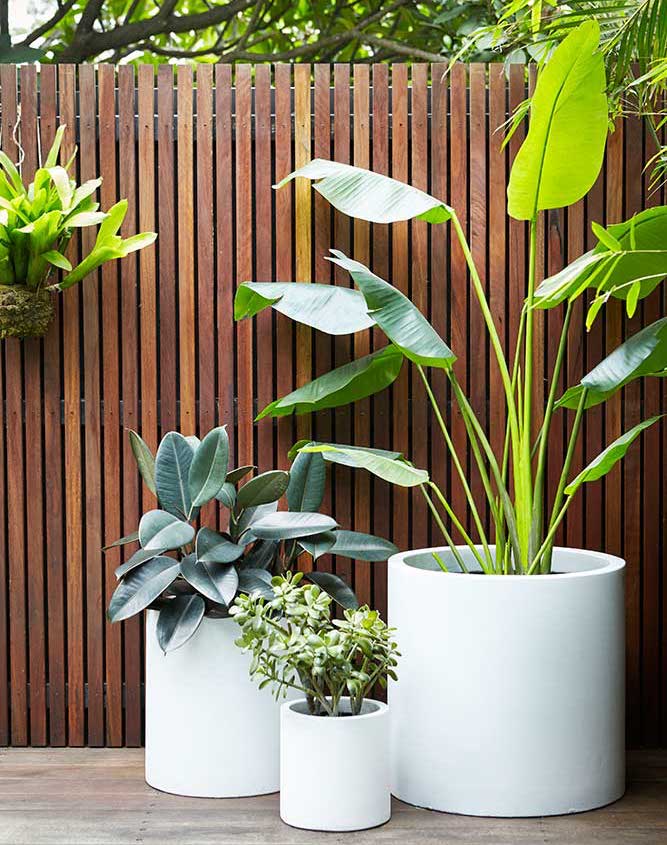 12. Horizontal pine slats
Give your patio an intimate feeling with some horizontal screening. For example, use up pieces of leftover pine from other projects.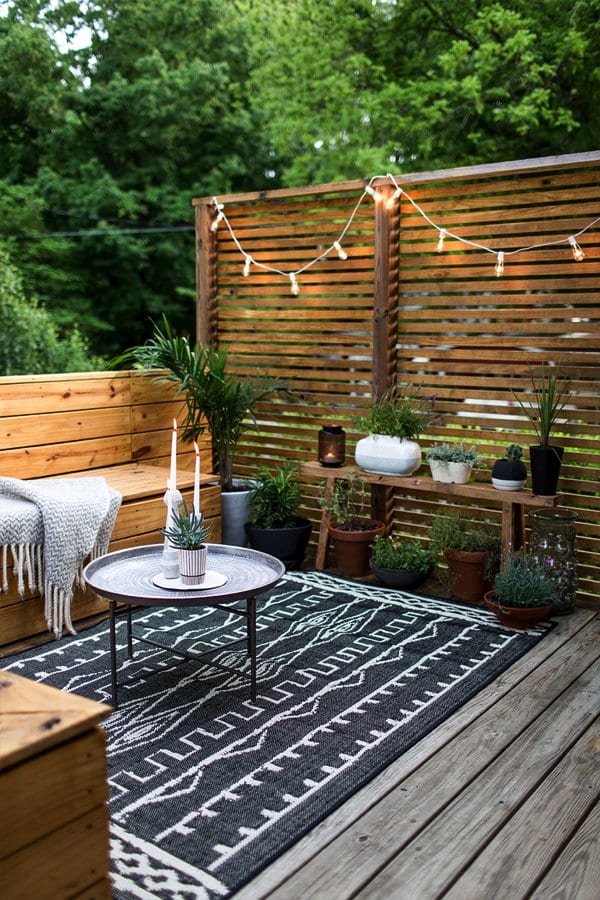 13. Woven privacy fence
More homeowners are constructing privacy fences featuring unusual designs rather than standard planks. This weaved design really stands out for being a little different.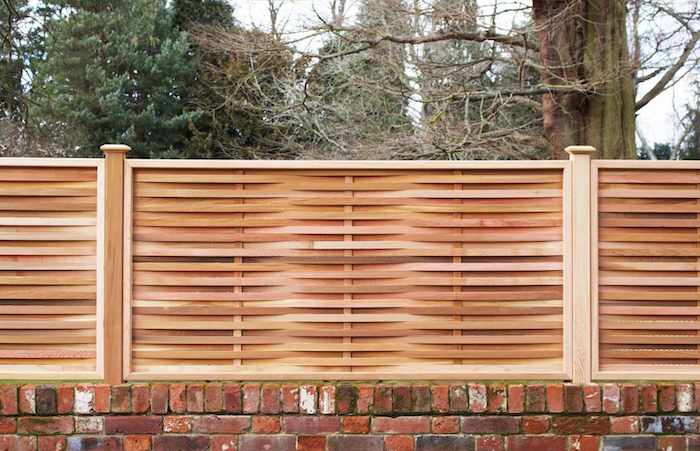 14. Uneven screen designs
Another contemporary trend is towards uneven screen designs, like the one below. It adds interest and dynamism to an otherwise plain fence.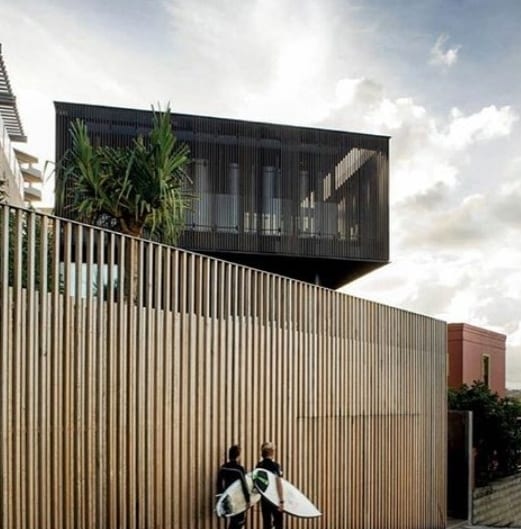 15. Uneven heights
Here's another example of a very rough edged timber privacy fence. This look is perfect for a rustic, native garden setting.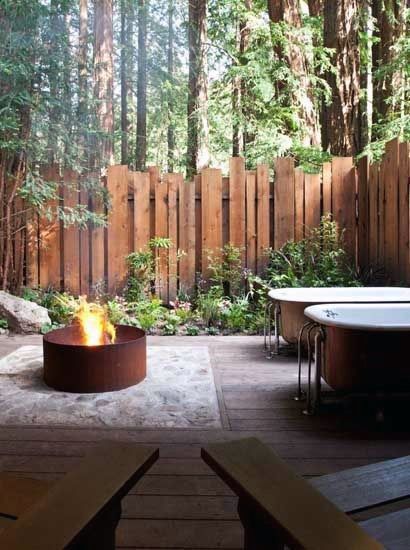 16. Lattice privacy screens
Basic lattice is very affordable from gardening and building supply shops, and you can
easily
spruce it up with a coat of paint
. The beauty of a lattice is that it offers privacy but still allows in lots of light. Fill your lattice with gorgeous greenery, such as jasmine. You might also look at fast-growing vines like trumpet vine. But remember their fast-paced growth means more maintenance will
be needed
.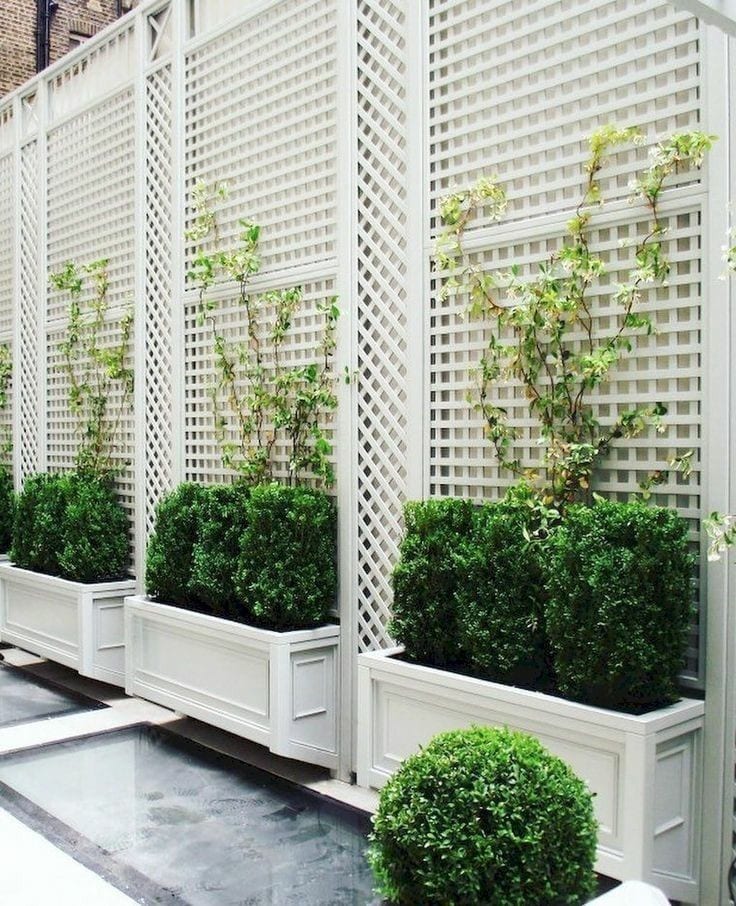 17. Standalone screen
This may not offer too much privacy, but if you made sliding privacy screens, it may allow you to customise your screens at different times of the day
.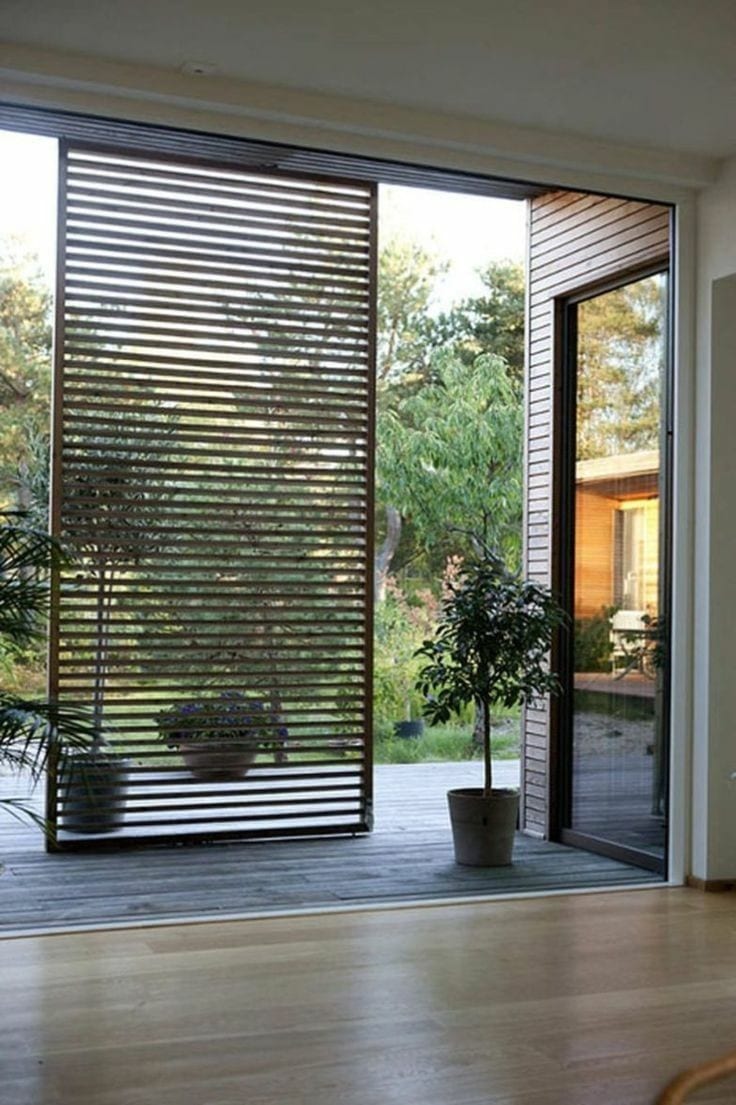 18. Interlinked slats
A dramatic architectural design for the privacy fence at this Mid-Century home in the US. I like the simplicity of this design.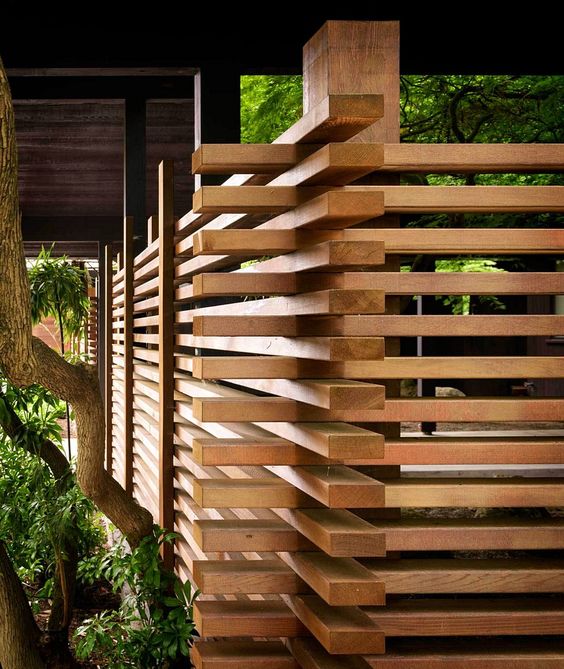 Timber colour privacy fence ideas
If you're going down the timber screening path, there are so many different options (other than
just
orientation) that you can go with
.
So to help with your decision making, I've put a few different timber privacy screen ideas for you to pick and choose between
.
19. Natural privacy screen
Love the natural look? Use a bunch of cedar wood planks to create a simple DIY outdoor privacy fence.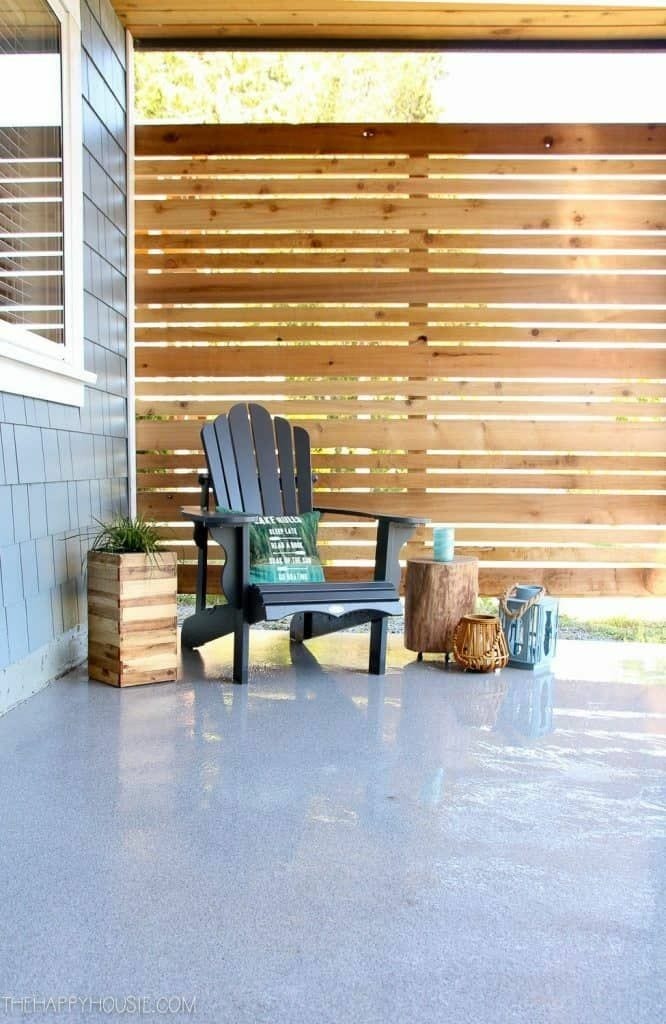 20. All white painted planks
A white framed no-frills privacy screen is beautifully airy and brings those Hampton's vibes to your backyard. It's the easiest way to dress up your backyard.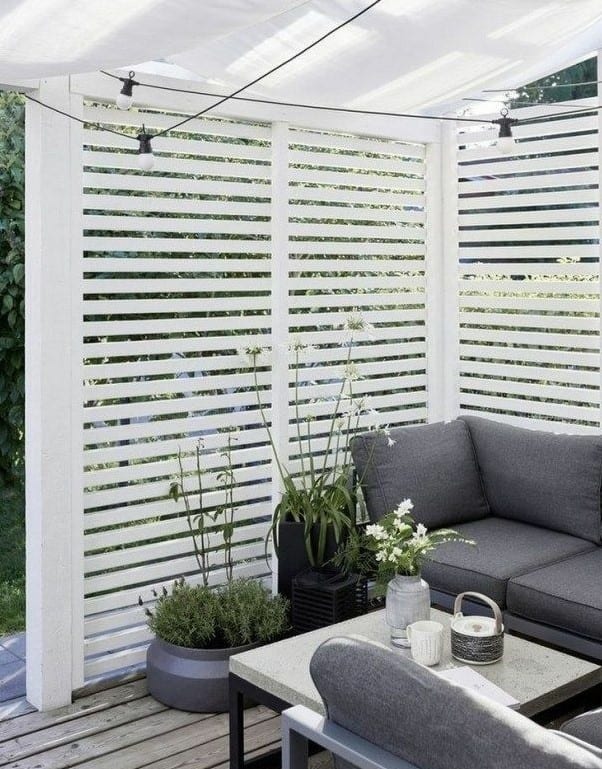 Here's another example where you have a bit more room and can continue the panelling onto the roof.  White timber simply offers class, sophistication and summery style in bundles.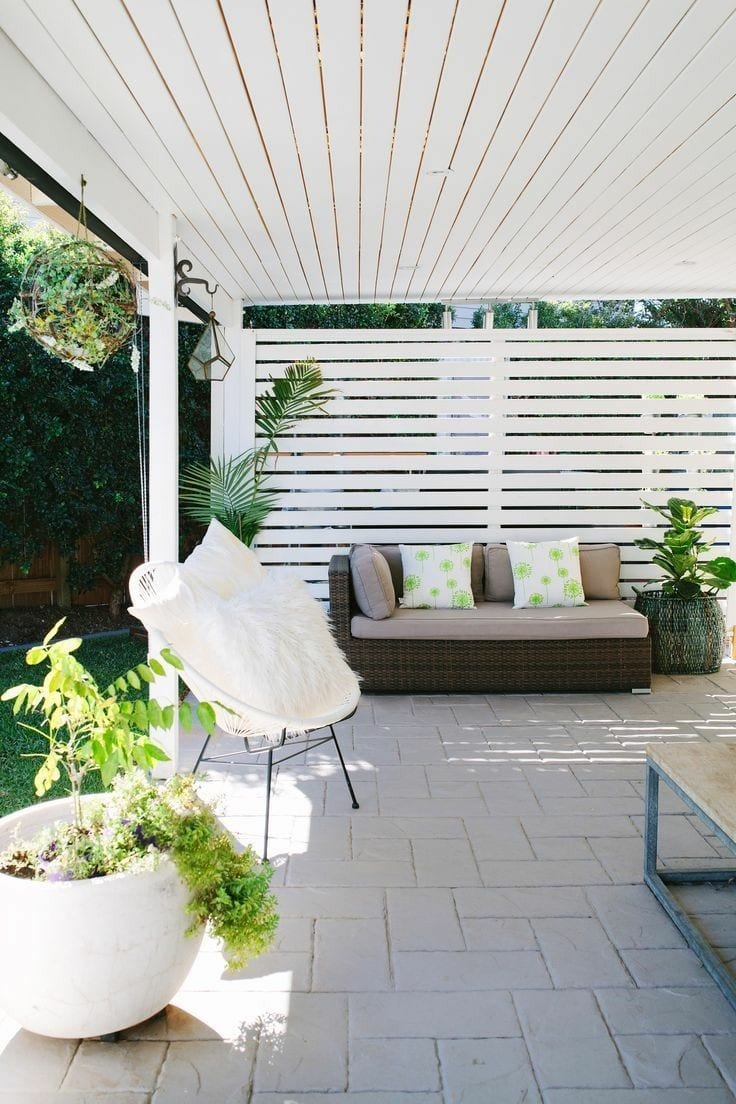 21. Coastal cool white
There's no denying that a white painted timber privacy fence is a charming look, especially suiting modern coastal style dwellings. It looks gorgeous against the white gravel here.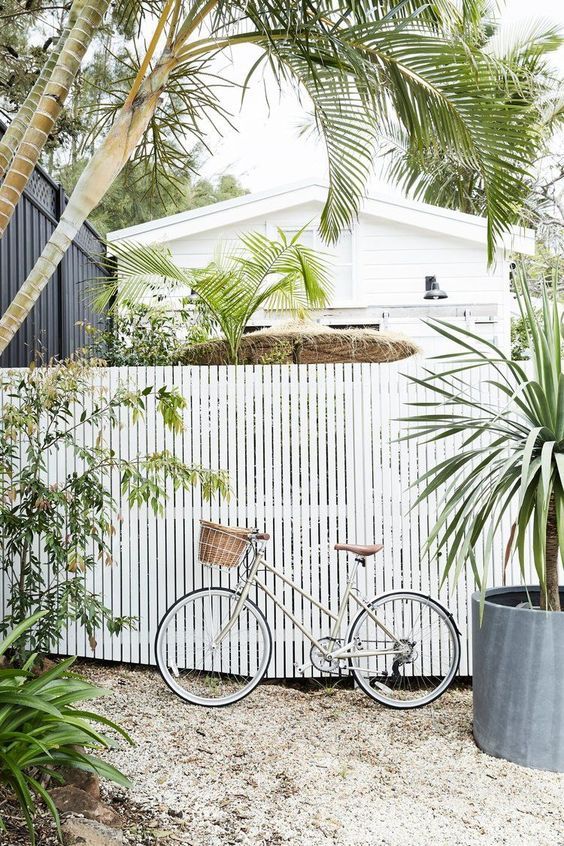 22. White breezeblocks
Nostalgic vibes here with a curved privacy fence constructed from retro breezeblocks at this home in Sorrento. These blocks allow the breeze through (duh!) while creating a pretty pattern and adding 1950s flavours.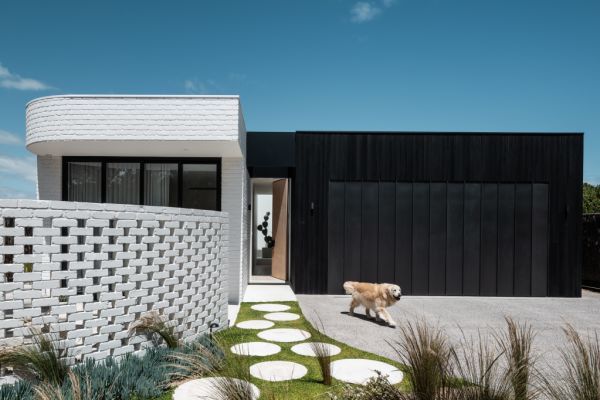 23. Chocolate horizontal planks
You can always find the right wood stain colour to match your house and style, such as this lovely warm chocolate colour.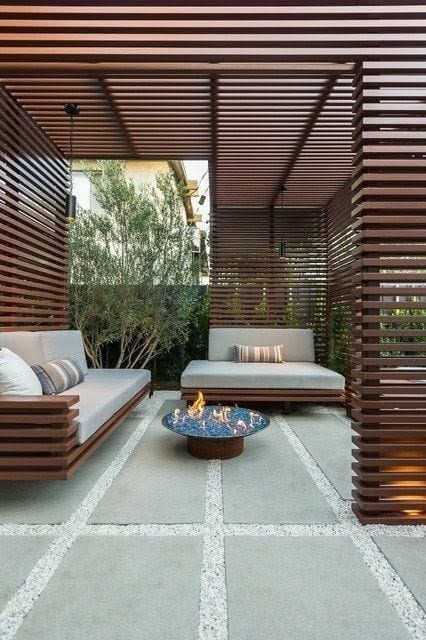 24. Grey horizontal panelling
Or if you're after something a little more muted, perhaps grey is something that will work with your home.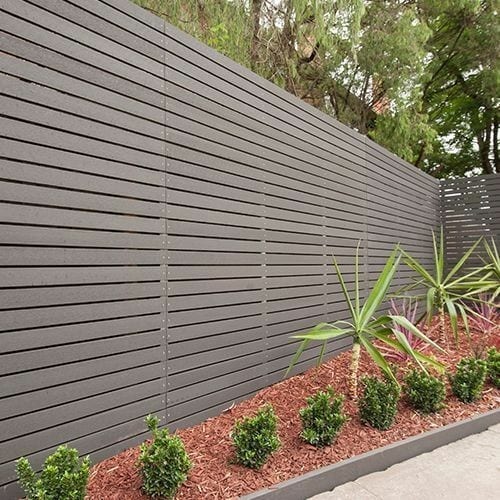 25. Black is the new… black
It's one of the most popular colours in privacy fencing and black is
certainly
enjoying its moment in the spotlight
. Black fencing contrasts
beautifully
with green and gold foliage. And it creates a mesmerising, moody backdrop for your plants.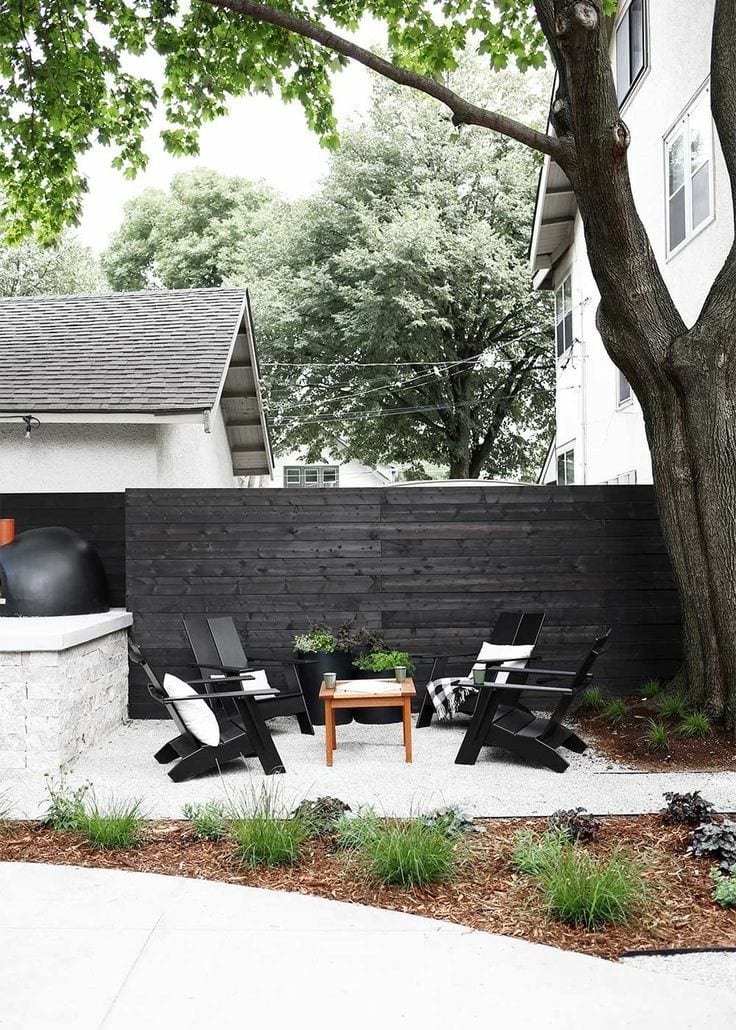 26. Chic black
And one more stylish black timber privacy fence. How good does the black look with the whitewashed decking and natural timber furniture?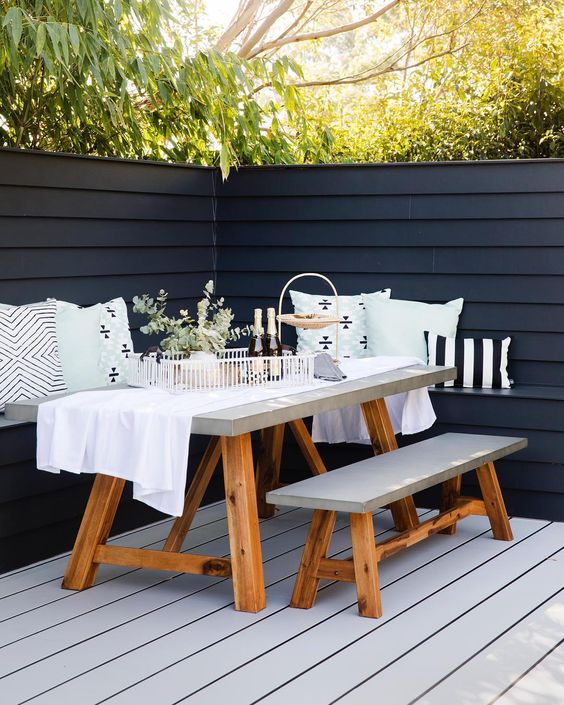 27. Add a gazebo
Simple, but always deluxe in appearance. A gazebo-like this offers plenty of privacy and with its drapes for walls, quickly converts to a pool change room.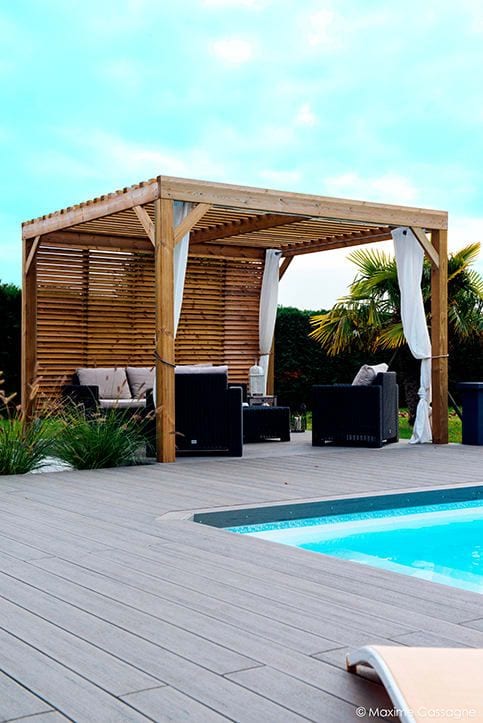 (Source: Homify)
Metal fencing
Worried about dampness or just want something a little more modern? You can get really great quality metal privacy fences which look fabulous.
28. Panel style metal fencing
Contemporary and stylish, thin black metal fencing works just as well as black timber slats do. You can hardly tell the difference!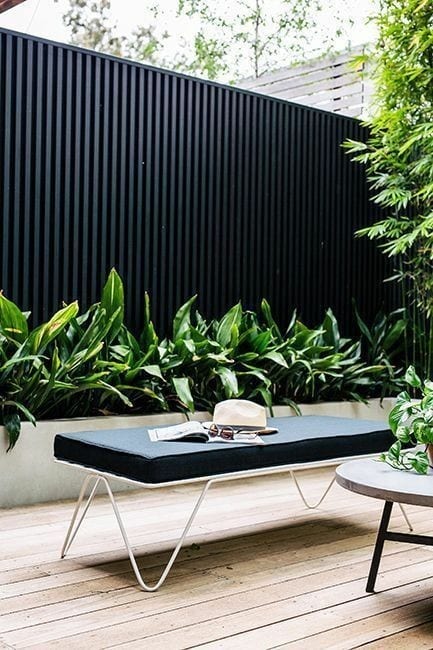 DIY fencing ideas
Are you a bit handy? You can save hundreds or even thousands of dollars if you have a little DIY know-how, a few tools and a bit of skill. For the average DIYer, building a privacy fence won't be that hard, and the best part is, you get to have complete control over the outcome. Check your local building codes and/or homeowners association before beginning construction of your fence. There may be limits on what you can do yourself in terms of fencing. Like all outdoor construction tasks, you'll also need to ensure you have called your local underground utility line before any digging takes place.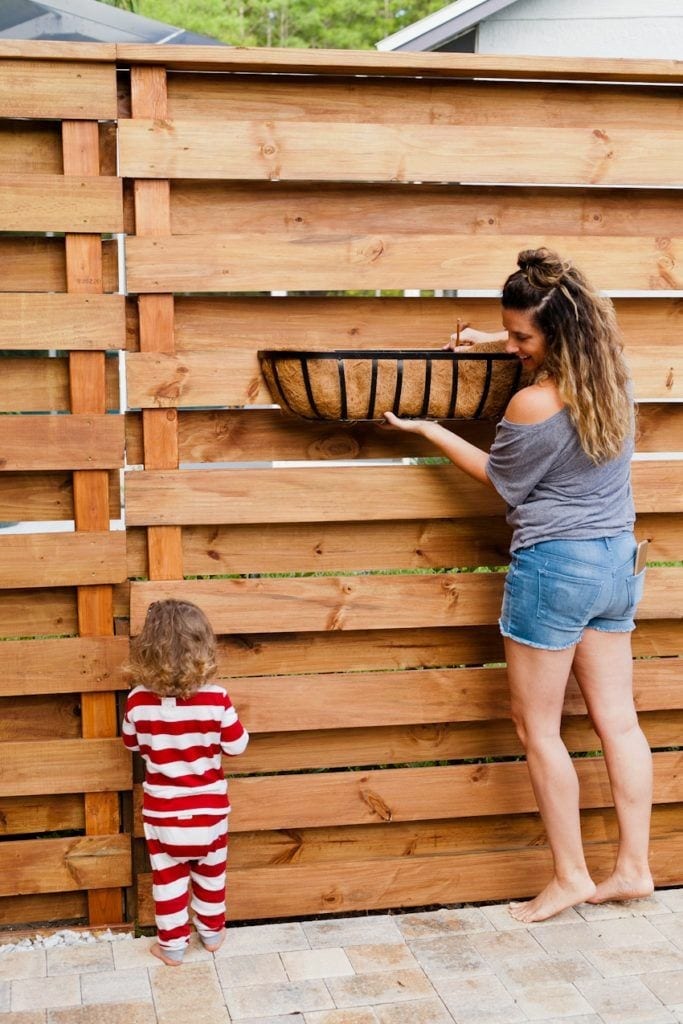 You don't need to pay a large sum to a landscaping company to design your dream garden. You can
easily
make your outdoor spaces private and tranquil on a budget. But
realistically
you can only DIY so much.
If you're thinking of something more complicated than the odd trellis or shrubs in planters, you may want to
hire a builder
to help with construction
.
If you do decide to use a landscaping company, try to choose a company which is starting out as they are likely to be less expensive
.
You will also save money if you buy all your plants yourself, then get someone in to help with the planting,
mulching
and regular lawn care
.
29. Fence kits
You may not want to start completely from scratch, and that's where kits or pre-built panels are especially useful. The uniformity of the materials and the precision cutting means frame kits can appear more professional than other DIY fences. Purchasing a pre-built frame kit still allows you to choose what material you will infill it with. For example, cedar, pine, cypress, bamboo, or a wonderfully exotic kind of wood for a conversation piece.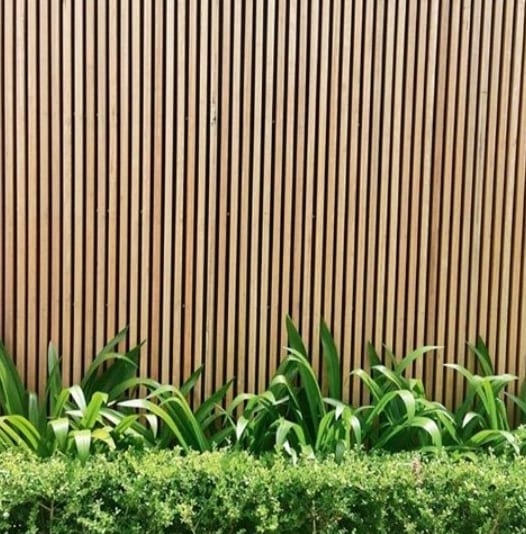 30. Think outside the square
Be creative, break rules and try something different. For a unique DIY privacy fence, you can repurpose pallets, or even old doors and windows.
Either attach pallets or other reclaimed materials to an existing fence or railing with cable ties
. Then extend the fence height by stacking more pallets up. Paint it in your favourite colours or to suit your existing décor.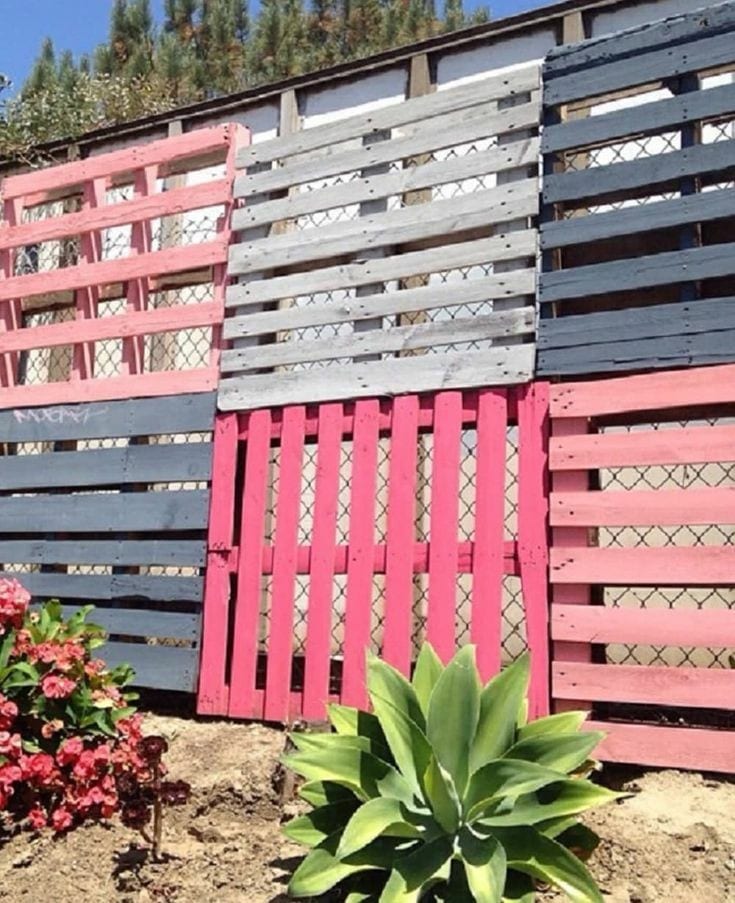 31. Landscaping around fencing
Just
putting up a privacy fence isn't the end of the process though.  Make the most of the space by decorating the area and allow your personality to shine through. Add a modern touch with hanging potted plants from posts or wall planters. Or add landscape lighting either inside or outside the privacy fence.
Other ideas: set out candles, add hooks and hangers for ornaments or tools, add lattice to the top of the fence to train plants up, and use small sections of fences to create partial barriers and different areas within the space
.
Other possibilities include:
Stepping stones,
Gorgeous arrangements of native plants,
Creatively using gravel (for example to create a pathway),
Water features,
Comfy outdoor furniture,
And a patio umbrella.
So have some fun creating your personalised—and now wonderfully private—outdoor sanctuary!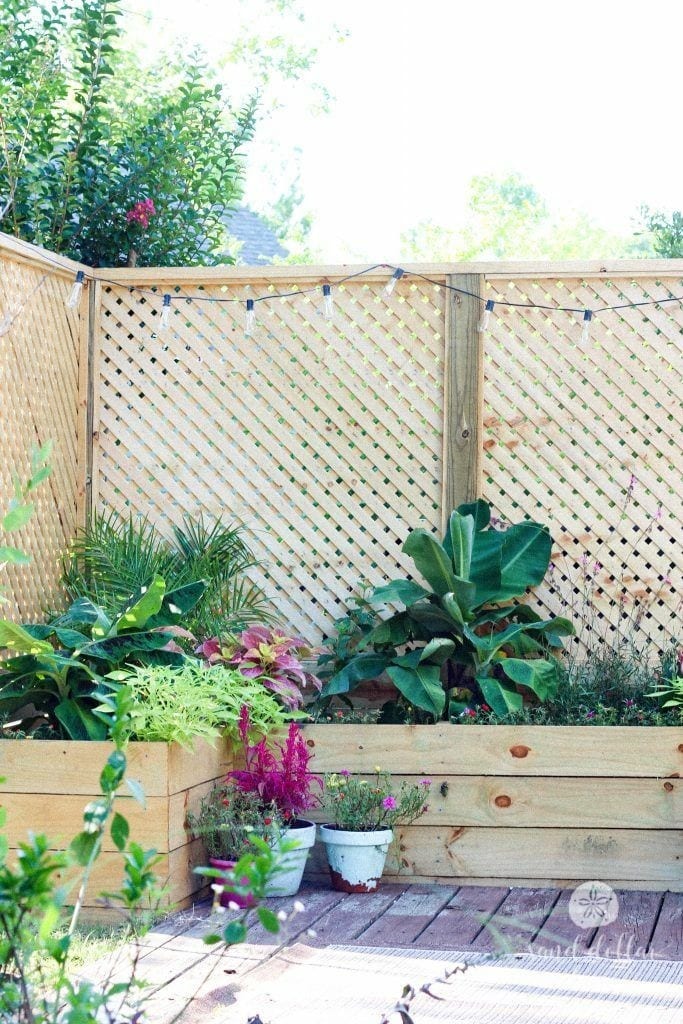 32. Temporary privacy screen ideas
Can't decide yet what style of privacy fence you want to install?
In the meantime,
simply
take some pretty sheets and
easily
create a low cost, temporary privacy screen
.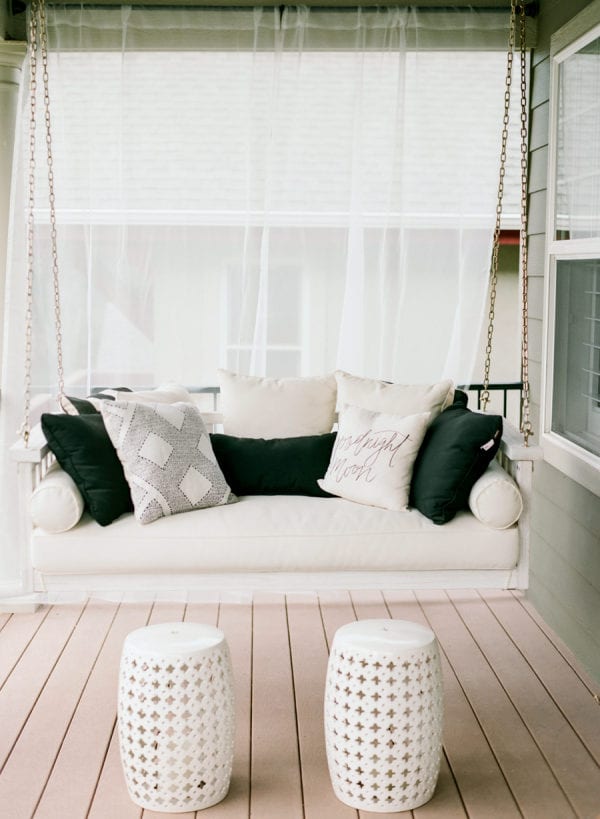 So there you have it – plenty of privacy fence ideas to get you thinking about your ideal fencing solution. Love the idea of DIY hacks but deep down, know you're probably less handy than some? Don't be afraid to call in help from a tradesman to get your privacy fence put up.