The idea of a courtyard garden might conjure visions of a dim, cool, shady place defined by the hard surfaces of its surrounding boundary structures. But while courtyard gardens do have certain key structural hard elements like walls, fences, paving and containers, the space can easily be softened up and turned into the relaxing outdoor sanctuary you've always dreamed of. Here's how to plan your ideal courtyard garden retreat.
As it's usually quite a limited space, it's best to stick to a simple planting palette, selecting just one tree and two or three shrubs and perennial species. You can then add more variety with containers full of annuals and bulbs.
When choosing plants, try to pick those that multi-task. In other words, they should have good form or shape, gorgeous foliage, pretty blooms (preferably scented) and ideally some kind of added functionality such as the ability to screen or provide shade or even to give fruit. On the other hand, consider if a particular plant will reduce the available light too much.
Climbing plants are great choices for planting to mark out boundaries and to grow as screening plants. If you don't already have one, you might also like to include an edible garden–growing herbs and veggies in containers is so easy in a courtyard.
Bear in mind that courtyard gardens are slightly unique in that they usually feature microclimates—for example, some areas will receive full sun all day while others are shady most of the day. You'll need to work out where the sun goes during the day and select your plants with your courtyard's aspect in mind.
So, are you ready to reimagine your courtyard garden as a custom-made outdoor sanctuary, a place that provides comfort, shelter and style? Let's take a look at 35 courtyard gardens that are giving me serious courtyard envy!
1. Courtyard plants as soft furnishings
It helps to think of your plants as another kind of soft furnishing for your space. Their gentle organic texture works in the same way as cushions, throws and curtains do, softening the impact of hard surfaces in a room. Create a living border between your courtyard walls and floors with a low groundcover, or allow trailing plants to cascade over their containers like in the courtyard below. The touches of timber here reinforce the hybrid indoor-outdoor atmosphere, where the urban meets the wild.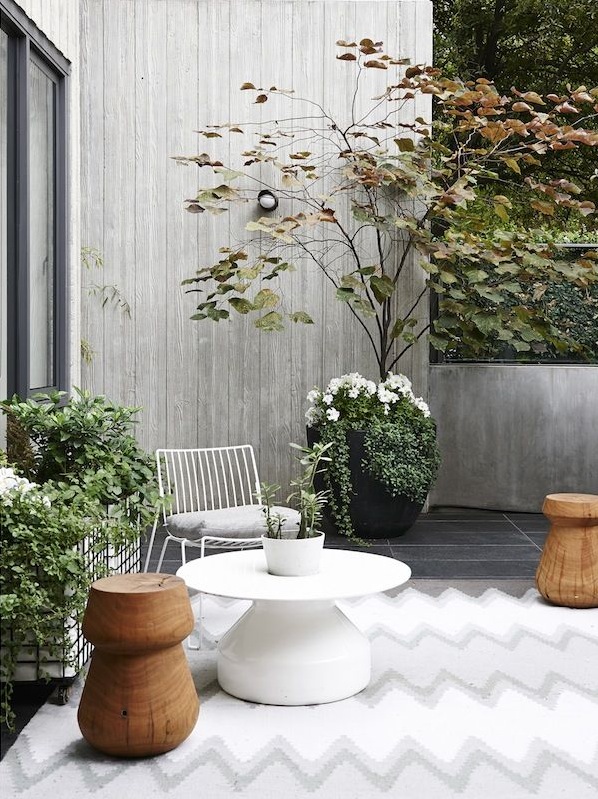 2. Courtyard paving
As courtyards generally contain no grass, your paving choice will go a long way to setting the whole tone for your space. Even something like grouting becomes something to deliberate over—you don't want it looking too dominant, so it's best to go one shade lighter or darker than your stone and have it slightly recessed. You'll be able to take advantage of visual tricks when it comes to your paving—for example, laying pavers lengthwise can heighten the narrowness of a space, while paving in lines across wise will widen the space.
Tip: As always when it comes to design, remember the Golden Three or "rule of thirds"— it's aesthetically pleasing to group things in threes, whether a trio of identical plants for repetition and harmony or three different plants grouped together in similar containers.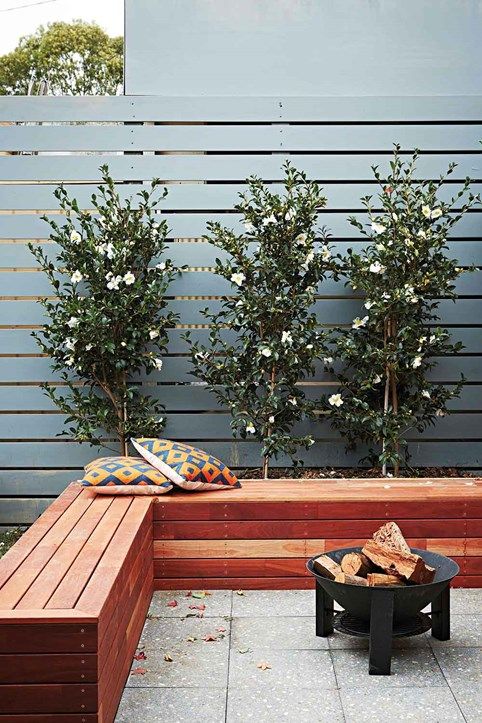 Here are more paving ideas for your backyard.
3. Dark courtyard
While a light-coloured neutral colour palette is often recommended for courtyards because they can be on the shady side, you can also opt for the drama of dark coloured walls. These look particularly striking against a lighter coloured floor.
To avoid a prison block effect, break up the walls with elements like plants and wall hangings so that you're not using a solid block of the same material or colour. Don't forget to consider your landscape lighting needs, especially when going darker.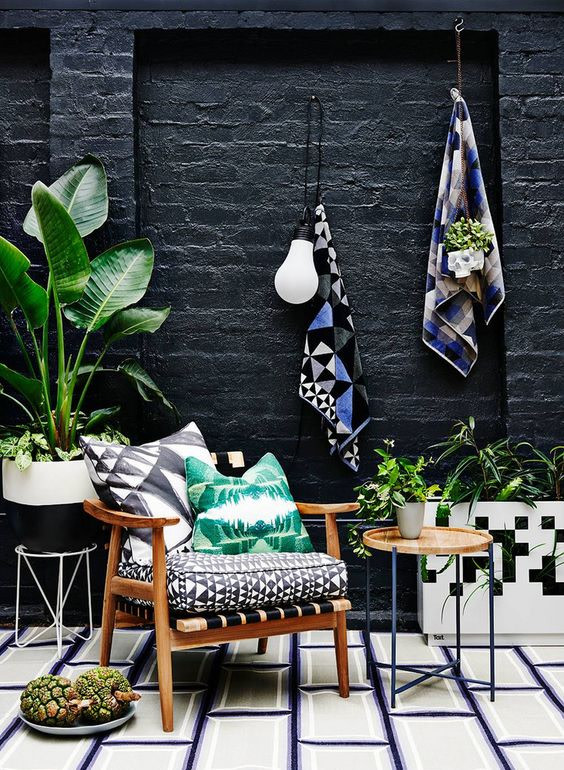 4. Keep it simple
Courtyards are generally small spaces, so you'll achieve a more balanced setting if you limit the number of elements you add. Only include the essentials—here, it's a plunge pool, chic seating and statement palms. The dark grey wall also provides the perfect backdrop to the popping yellow fibreglass chairs.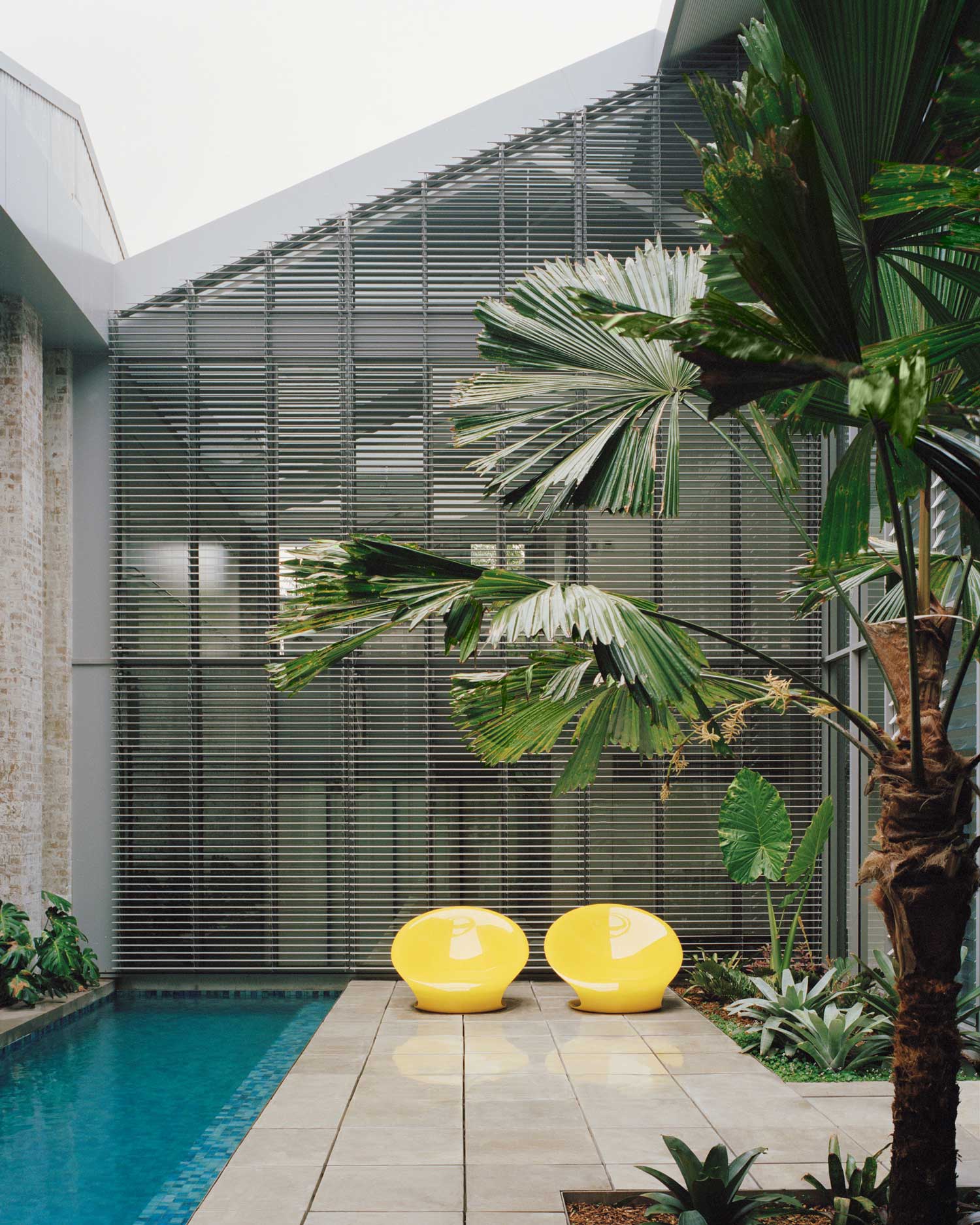 5. Monochrome
Wonderful use of contrast in this monochromatic setting, not just in the colour scheme but also in the use of materials, with the crunchy pebble floor contrasting with the smooth surfaces of the fencing, steel planter boxes and firepit. A beautiful choice of dark plants to complement the containers too.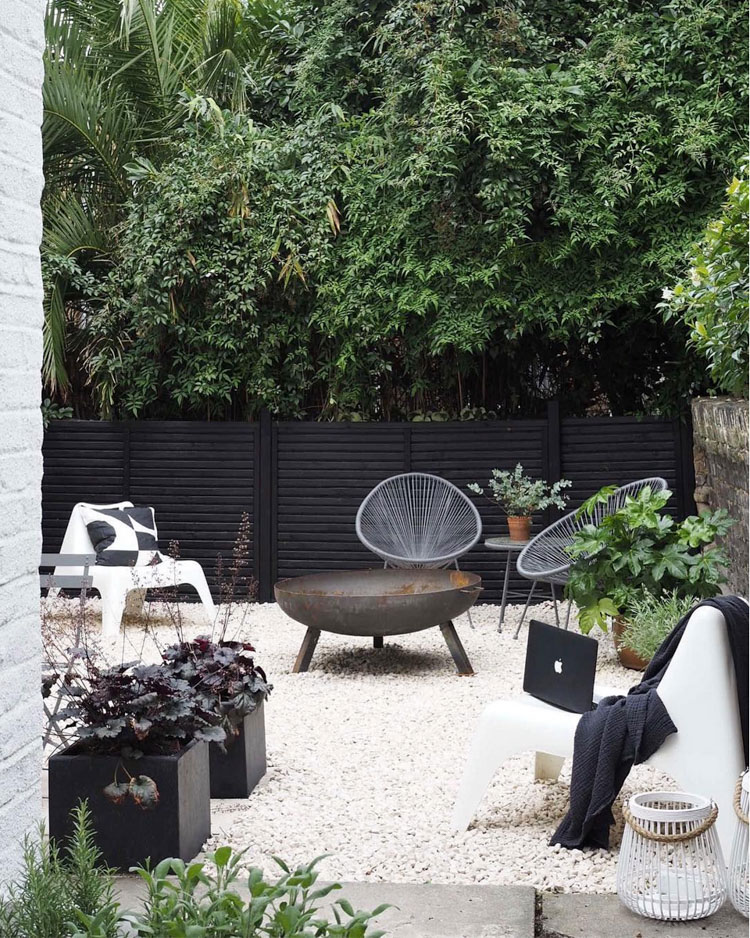 If you love this monochrome look, see how you can add a black and white bathroom to your home as well.
6. Cosy courtyard
Instead of an outdoor dining set, create an inviting atmosphere with comfy sofas and lounge chairs or add cushions to bench seats.  Add a coffee table, rugs, pretty lighting and plenty of rattan décor for a gentle, relaxed feel. Create some privacy with climbing plants to cover walls or an ugly view—the gorgeously scented star jasmine is a popular choice.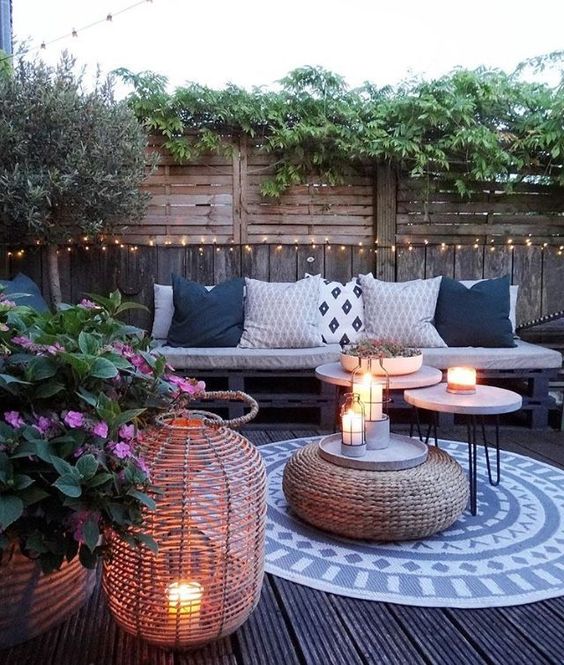 7. Swing low
Even though courtyards are typically open-air, adding some overhead protection is always a good idea to give you some shelter from the sun and elements. There's plenty of choices: high-end automated louvre roofs, retractable awnings, simple outdoor blinds or shade sails, UV-resistant polycarbonate sheeting. The beams can even offer more opportunities for hanging plants or a romantic swing seat like this.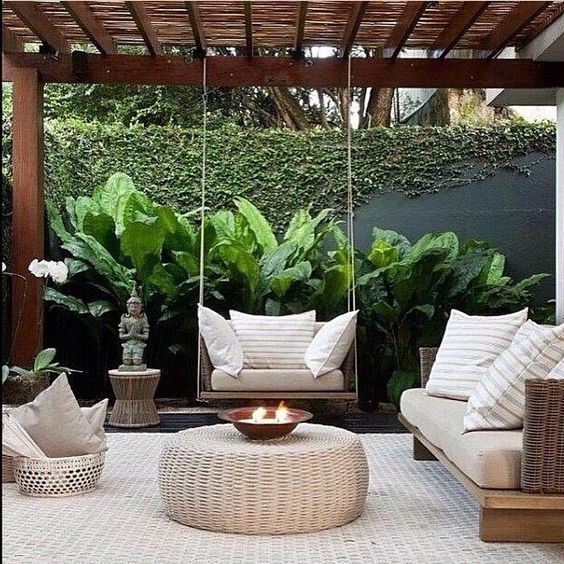 8. Fade to grey
No matter what kind of outdoor furniture you choose, make sure it's supremely comfortable as well as visually appealing. Keeping both the soft furnishings and the plants within the same tonal range as your walls and flooring will ensure your courtyard feels spacious and tidy. In the modern courtyard below, I love how even the plants have a silvery grey glow that works perfectly with the overall greyscale aesthetic.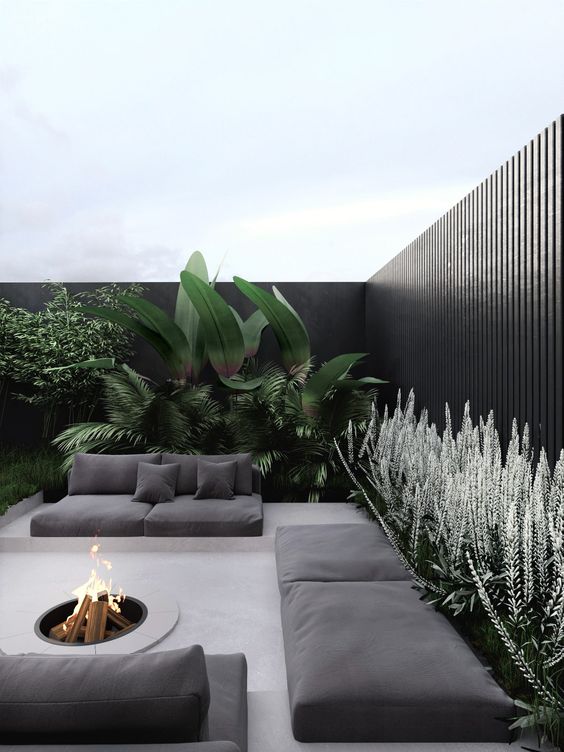 9. Bright pattern and colour
Courtyards aren't the largest of spaces and therefore designers often suggest choosing a light neutral colour scheme. This is because light colours recede and enlarge a space more than dark colours do. However, gardens are often joyously colourful spaces and there's no reason a courtyard garden has to be any different.
Whether you do so through your planting or your soft furnishings, go ahead and create a gorgeously-hued space that really resonates with you.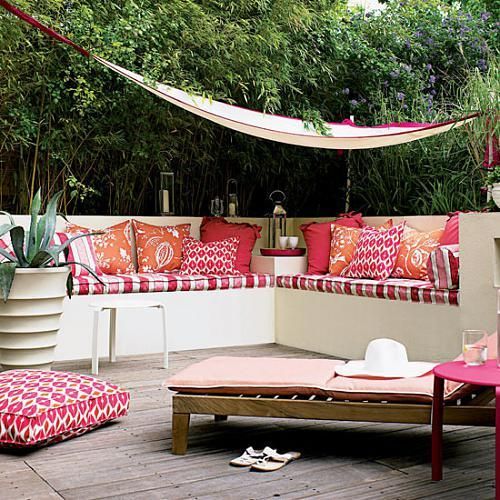 10. Courtyard cocoon
A soft and snuggly outdoor sofa is one thing, but a little pod of your very own to escape to? Now that's what I call outdoor furniture. Similar in style to the popular egg chair, these luxe woven cocoon-like pods are the ultimate in private courtyard seating. OK, so this one may feature in an international resort favoured for weddings, but I have the perfect place for it in my courtyard.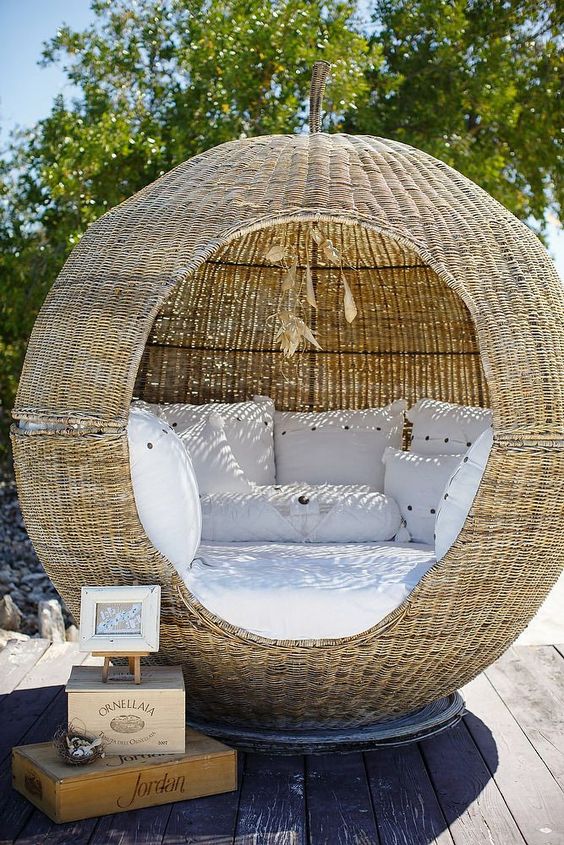 11. Fez the facts
There's something about the laidback Moroccan vibe that is just perfect for courtyard gardens. Put down a vintage rug, a day bed with cushions, perhaps a cane peacock chair, and in the background, group an arrangement of large plants in oversize vessels. The larger the container, the more impressive, but consider plastic faux terracotta and stone pots as they play the part well.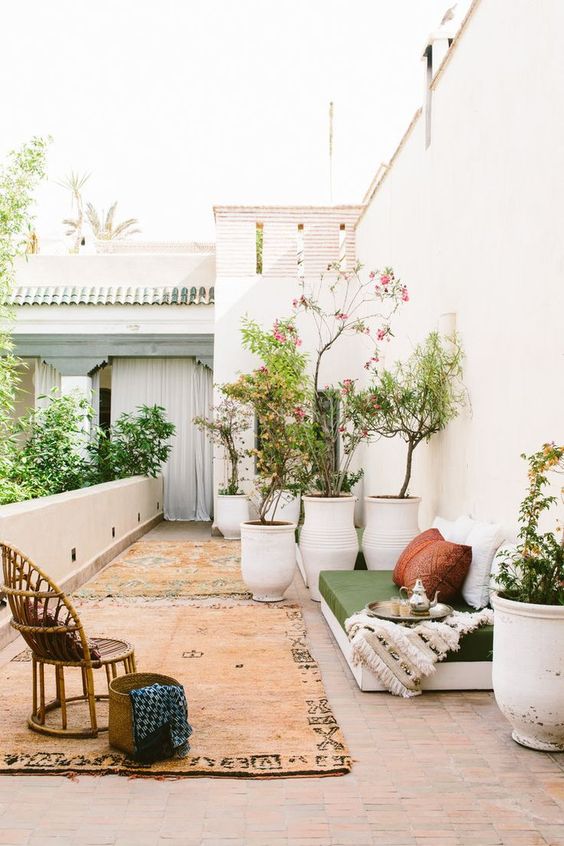 12. Contain your enthusiasm
Containers are much loved in courtyard garden design because they provide order, structure and unity to the space. You can also position them strategically to define the usable space in your courtyard, with stately groups of large plants in corners or at edges or standing guard at entrances.  I love these large, bulbous concrete pots and they make for lovely garden planting!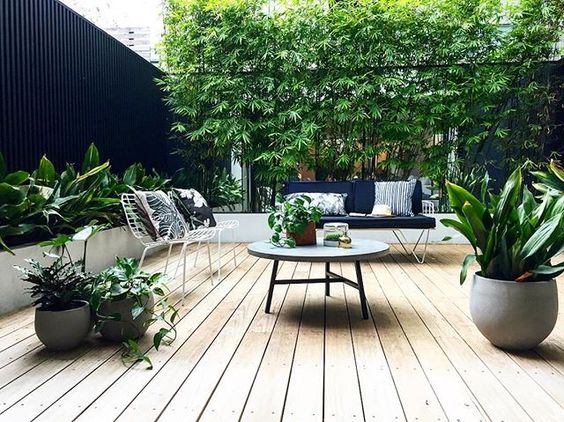 13. Courtyard shade
Courtyards can be shady places, especially when enclosed by towering neighbouring walls. However, there are loads of plants which are very shade tolerant and will still give you a lush green courtyard. For example, many of the succulents and cacti, as well as flowering plants like fuchsia, impatiens and rhododendrons.
Design experts suggest that all courtyards should have a tree, no matter how small it is. That's because it's a vertical element that balances a courtyard's horizontal lines (like the fences, walls and paths). Not only that but it provides shade, colour and hopefully a spot for the birds. If you don't have a lot of room, simply plant a small tree in a pot (for example, tiny flowering cherries, Japanese maples and silver birch all work well).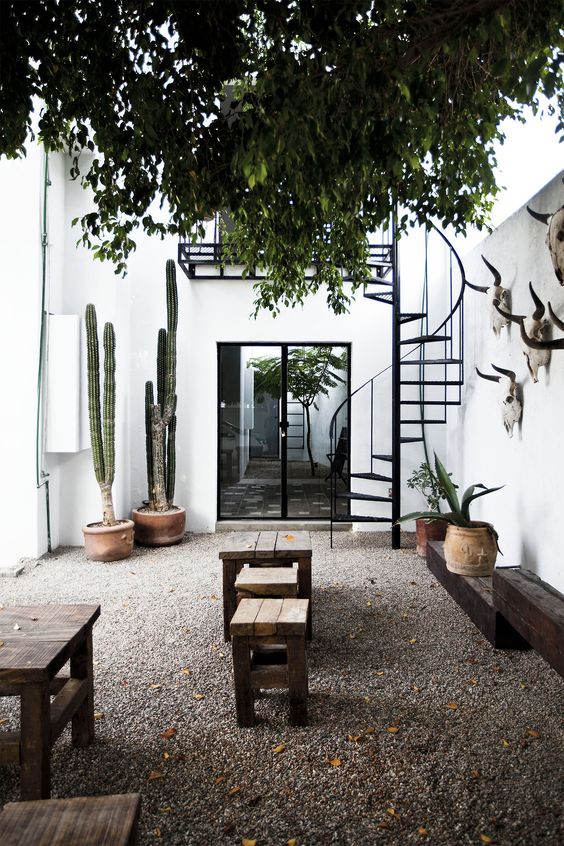 14. Courtyard pool
Enjoy a dip in your very own courtyard pool on those extra hot summer days and night.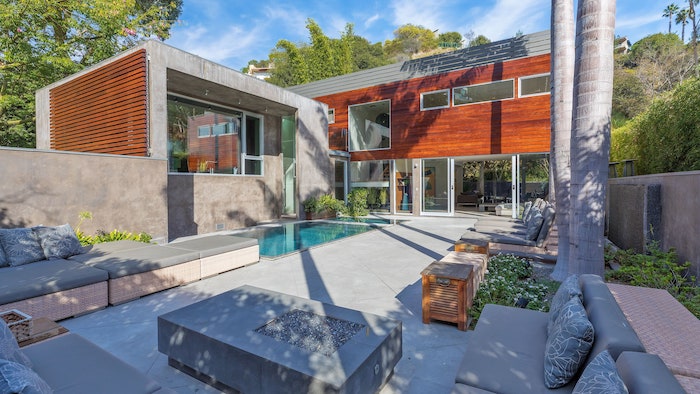 15. Continuity of materials
Simplicity is super important in small spaces. For courtyards, it's best not to use more than two materials in the floor, and to continue the use of your materials in the boundary walls or other structures. For example, timber walls paired with timber decking. Here, a monochrome space featuring black timber walls complementing huge black planters and slim powder-coated steel chairs, with the faded timber decking adding rustic charm.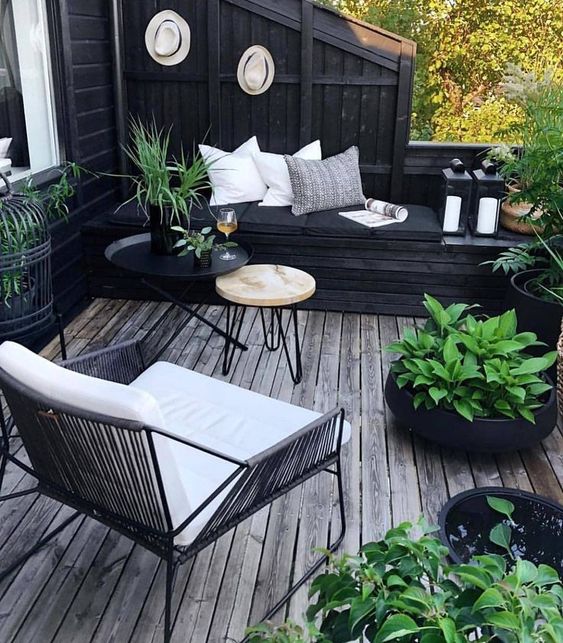 16. Coloured tile
Courtyards and colourful tile are a match made in heaven. Whether you're going bolder than the style of the rest of your home, or whether your whole home is wild with colour and pattern, choosing bright encaustic cement tiles will really bring the wow factor to your courtyard. Here, stylist Emily Henderson's much-loved courtyard featuring loud, happy tiles.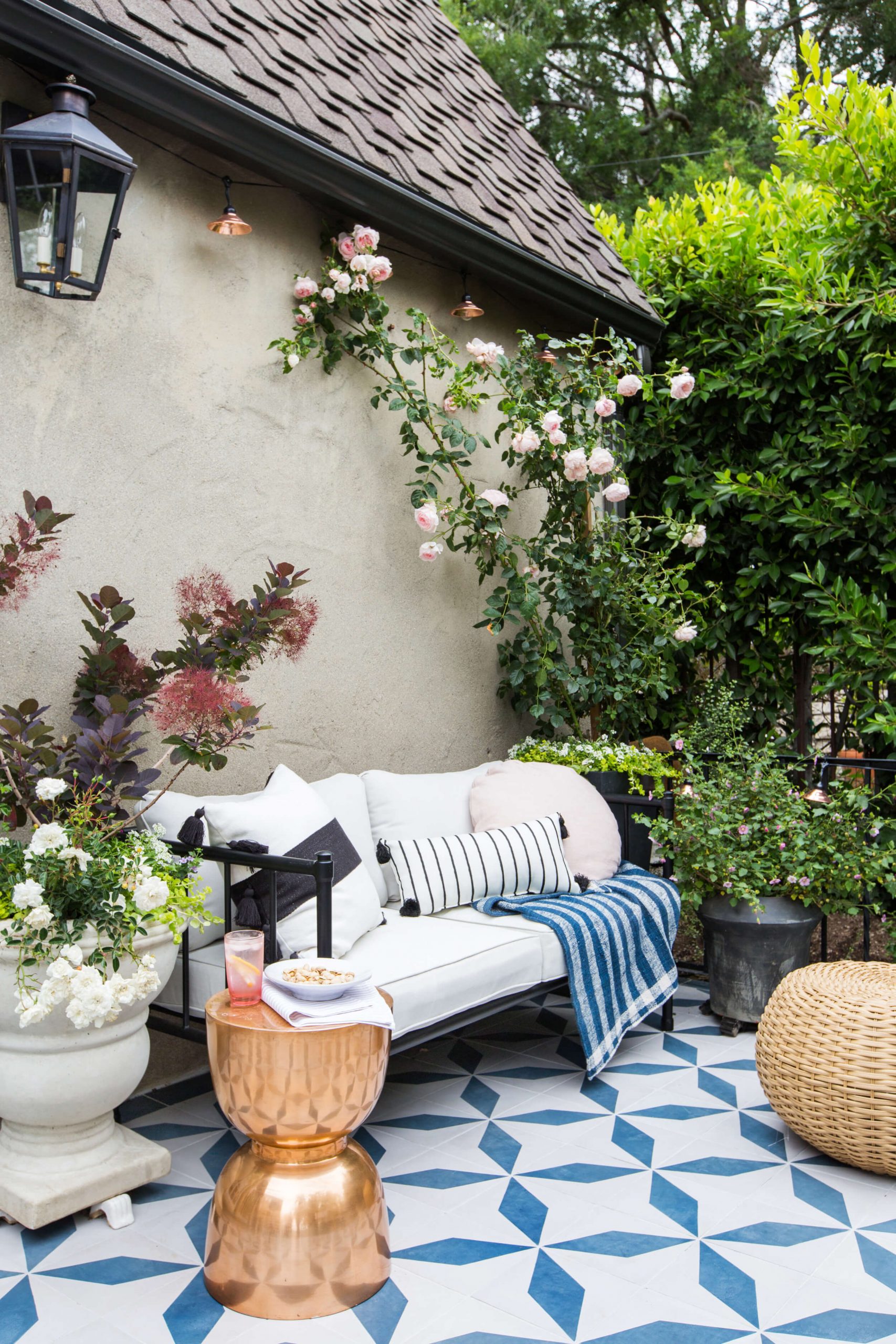 17. Up the wall
With space at a premium in a courtyard, don't forget the square footage on the walls. You could fill it with curated objects and artworks, wall-hung planters as seen here, or you can train climbing plants (such as bougainvillea, native clematis and star jasmine). Or go to the extreme and create a full living green wall, if you have the patience to maintain it.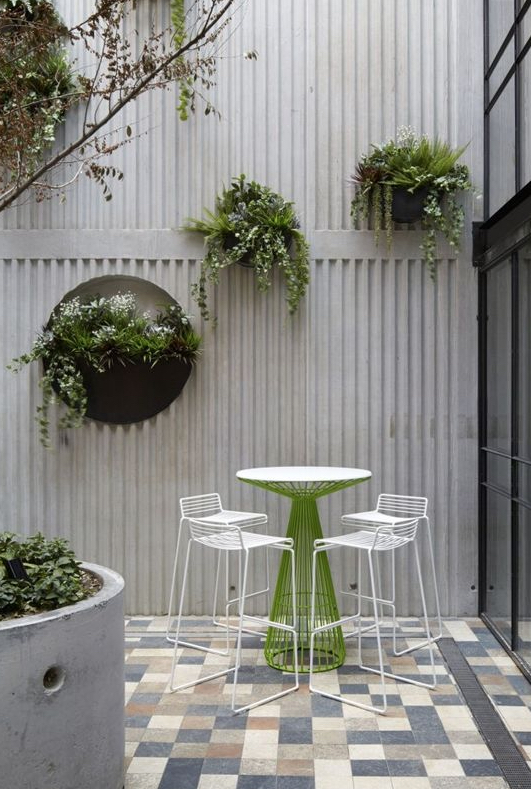 18. Storage is a must
Another thing to consider in a courtyard is your storage needs as you likely won't have a shed handy. Although it's a small space it will still generate clutter (outdoor cushions, games, lanterns and candles, fuel for the fire pit, and so on). You'll probably want to build in some kind of hidden storage to maximise the space you have, for example, bench seats that double as hidden storage lockers are ideal.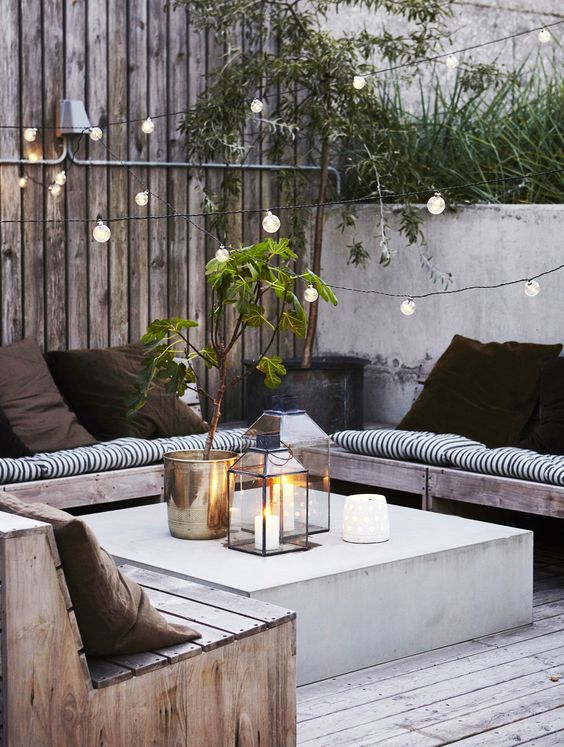 19. Natives
Faded timber, vintage seating and fragrant native plants add up to imbue this tiny narrow courtyard with nostalgic backyard vibes. Keep it simple with only a few statement-making plants.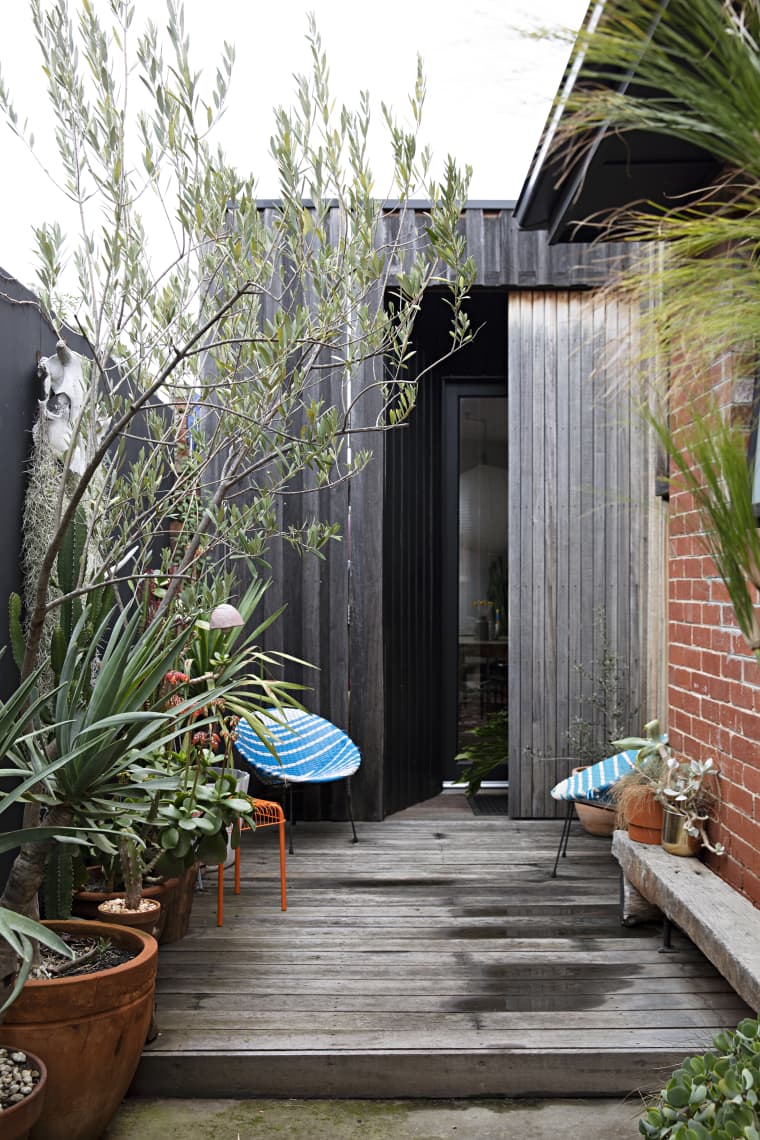 20. Outdoor living room
As long as you have three enclosed sides, you can create a dreamy, breezy outdoor living room in your courtyard. Furnish it as you would furnish an indoor living room, with comfy seating, great lighting, rugs and other decorative elements. Blur the divide between outdoor and indoor with strategically placed pot plants and hanging plants.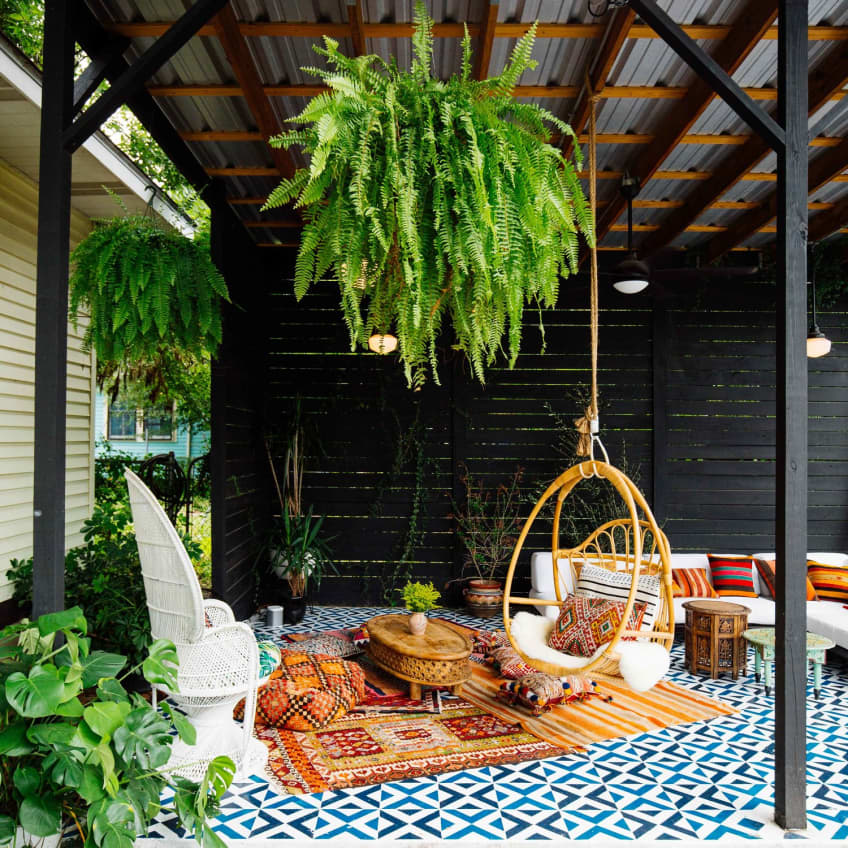 This is a fantastic backyard idea for any home that is looking to add more outdoor living.
21. Monochrome
Plan on having a limited palette of colours, materials and plantings. This will create a much more cohesive look than if you had a mishmash of elements. You can't go wrong with neutrals or a monochrome palette, which always provides a stunning backdrop for vibrantly coloured plant life.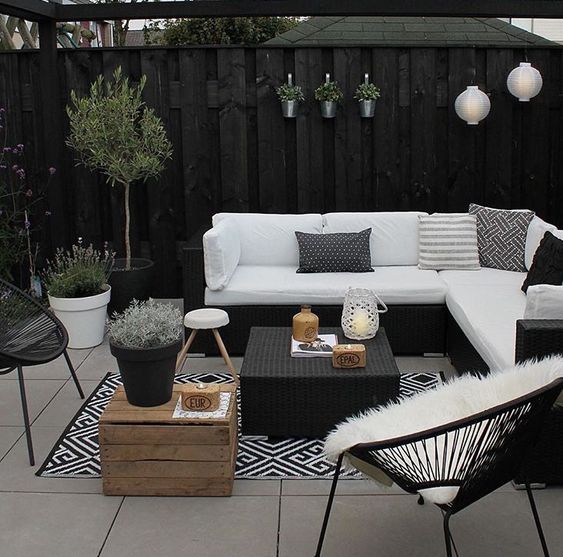 22. Softly in focus
A gently splashing fountain makes a relaxing focal point that you can admire both from inside the house and from the courtyard. Having a focal point in your courtyard is a good idea as it can take away attention from less attractive parts of the space while providing a visual treat. Other than a water feature, you might consider a piece of sculpture, a lavish container, an architectural plant or it can even be something as subtle as wind chimes, as you can see in this modern house design below.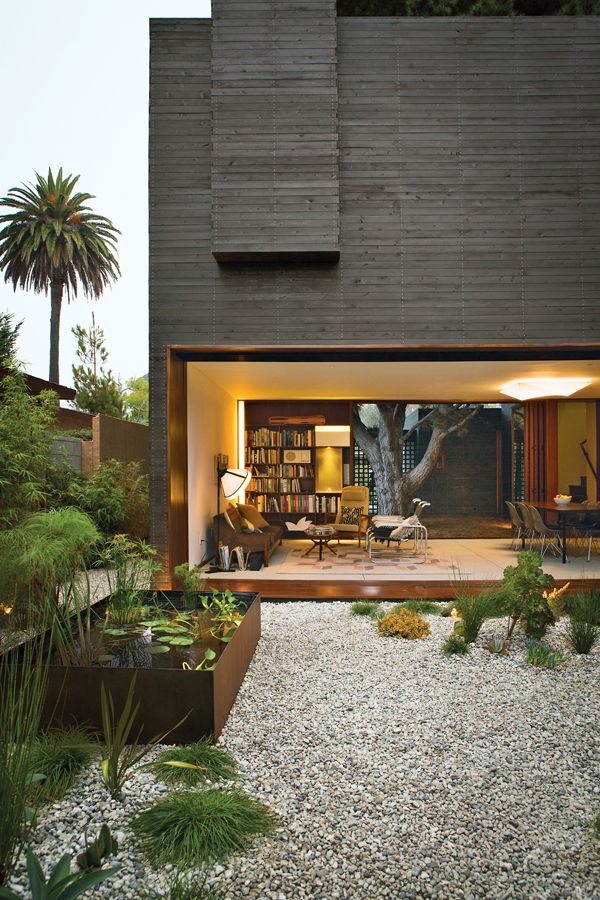 23. Mask the joins
To avoid a shoe-carton effect and sharp lines where walls meet the floor, use plants to soften and mask joins. Add still more rounded lines with a pretty hammock and a row of festoon lights.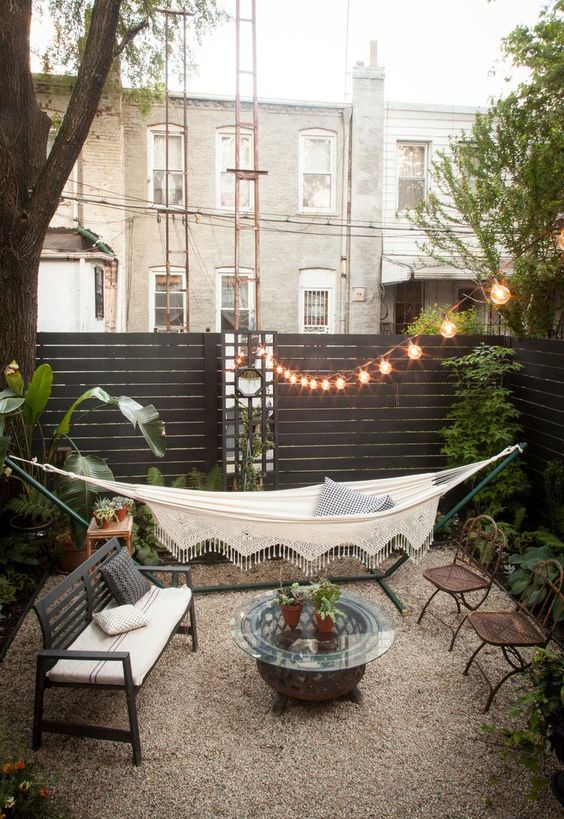 24. Small deck
If you have timber flooring inside, why not connect your interior spaces to your courtyard by installing a small timber deck. This courtyard appears larger thanks to the deck and the paved step giving the illusion of dimensionality.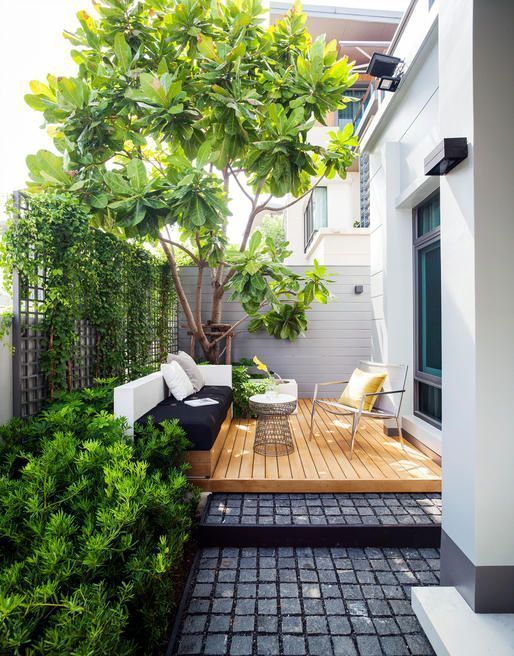 You might also like to check out our article on decking ideas.
25. Amp up the drama
If your courtyard garden is in the front of your home, you'll be wanting to pay special attention to its 'curb appeal'. But if people not only have to view it from the street but walkthrough or past your courtyard to access your house, it becomes even more important to set the right tone. You can easily do that with just a set of dramatic planters containing striking plants.
Tip: Remember the golden rule of three and go for a single oversize pot plus two smaller ones.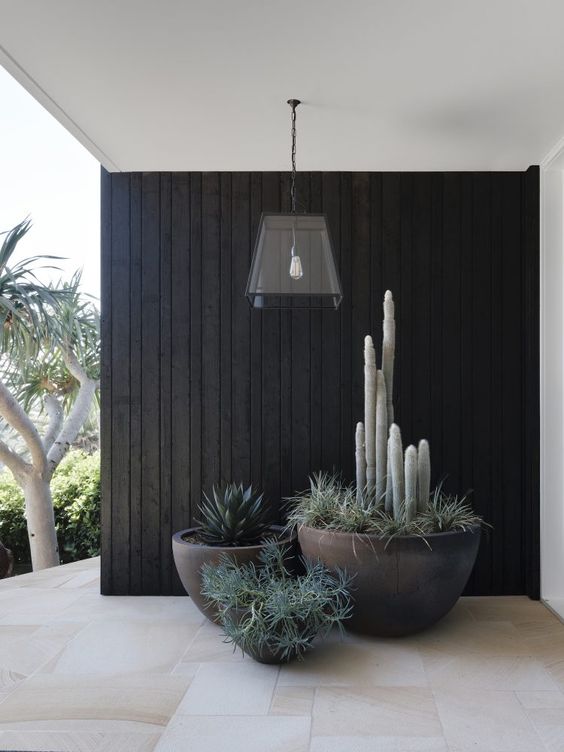 Find loads more front garden ideas for the entrance of your home.
26. Beachy boho
The style of your outdoor space will likely mirror the décor inside your home. If you love a fresh, beachy look, bring out the deckchairs and a surfboard or two. Stick to a simple statement tree and a few container plants and go for pebble flooring to bring the beach home.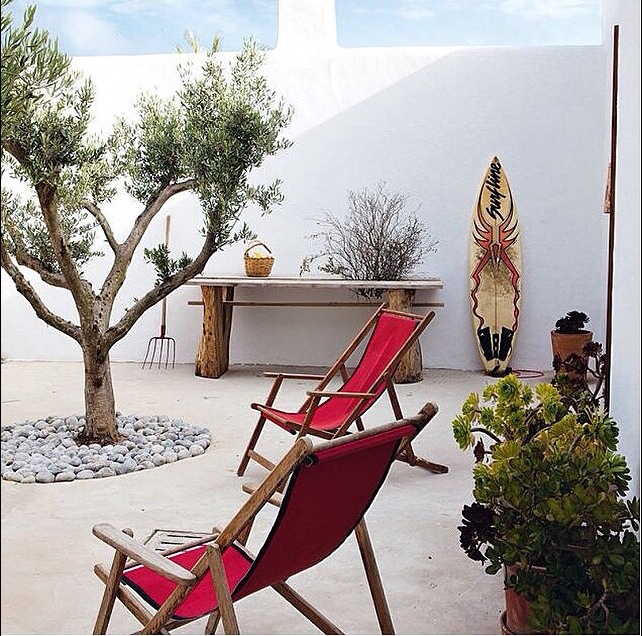 27. Fairy lights in trees
This courtyard belongs to a British restaurant named the Winter Garden, where it sits under glass ceilings, so it's more of an atrium than a courtyard. I like its monochrome palette and the fairy lights strung around trees in planters. Just add your preferred style of seating (here it's green velvet) and it's an easy look to copy.
28. Create a vignette
Instantly civilise an overgrown corner of your courtyard by placing a simple table and chairs out, as in this English artist's garden. It's an easy way to add colour and cheer to your little scene at low cost. Not fond of a wild and woolly look? Get on top of your garden maintenance with some help.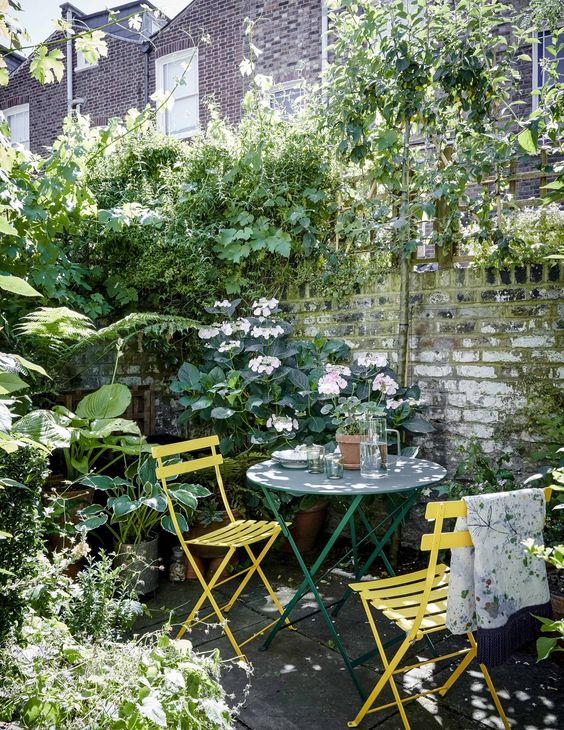 29. Wonder wall
It doesn't take much to inject your courtyard with a little personality. Some gorgeous tiles on the floor, a comfortable place to sit, a few charming plants, some wall décor, and you're good to go (or rather, stay).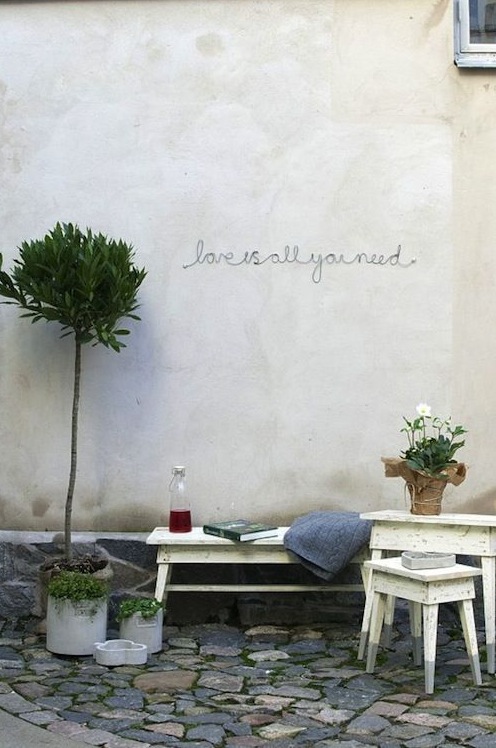 30. Lots of pots
All hemmed in by brick walls? Create a garden in a day with a range of potplants in all different sizes but with a harmonious style—the more pots, the merrier.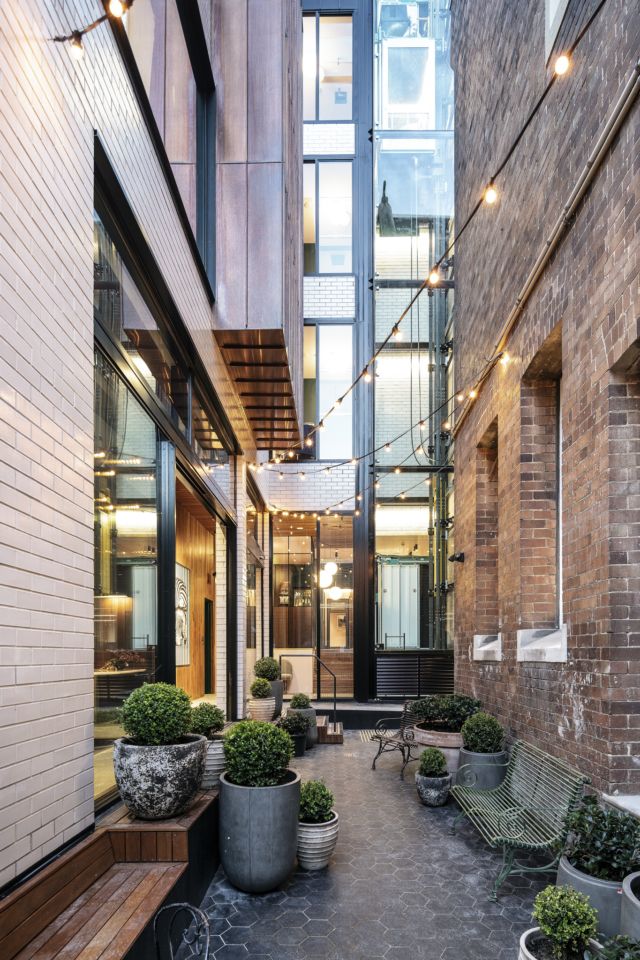 31. Bamboo
To quickly hide a plain wall with greenery and provide privacy, choose a fast-growing, bushy, non-invasive plant like bamboo—it grows very high while keeping a slim profile, so it's a very popular choice as a screening plant. Other species you might consider include camellias, pencil cypress and Portuguese laurel. Why not get some help with hedge planting?
32. Best of both worlds
If you can't decide between grass and paving, why not have both and make it into a statement. It makes it a great multifunctional space.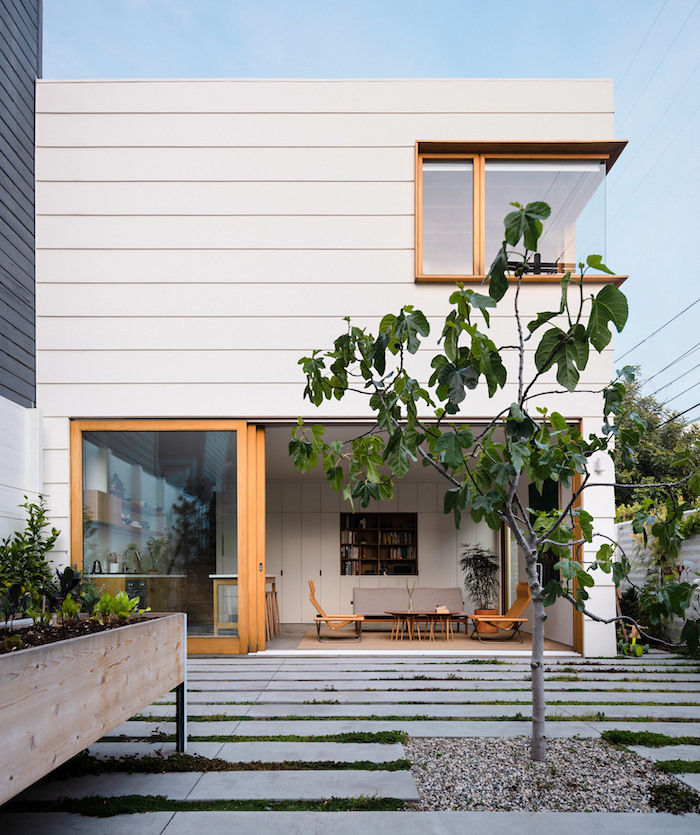 33. Minimalist
Having a simple, uncluttered courtyard garden means maintenance is at a minimum and your space will seem much larger. A basic, chic seating arrangement and that all-important little tree are all you really need. Here, a magnolia tree with a low border of plants creates a park vibe and amplifies the peacefulness created by limestone pavers, cream bricks and a painted wooden shed.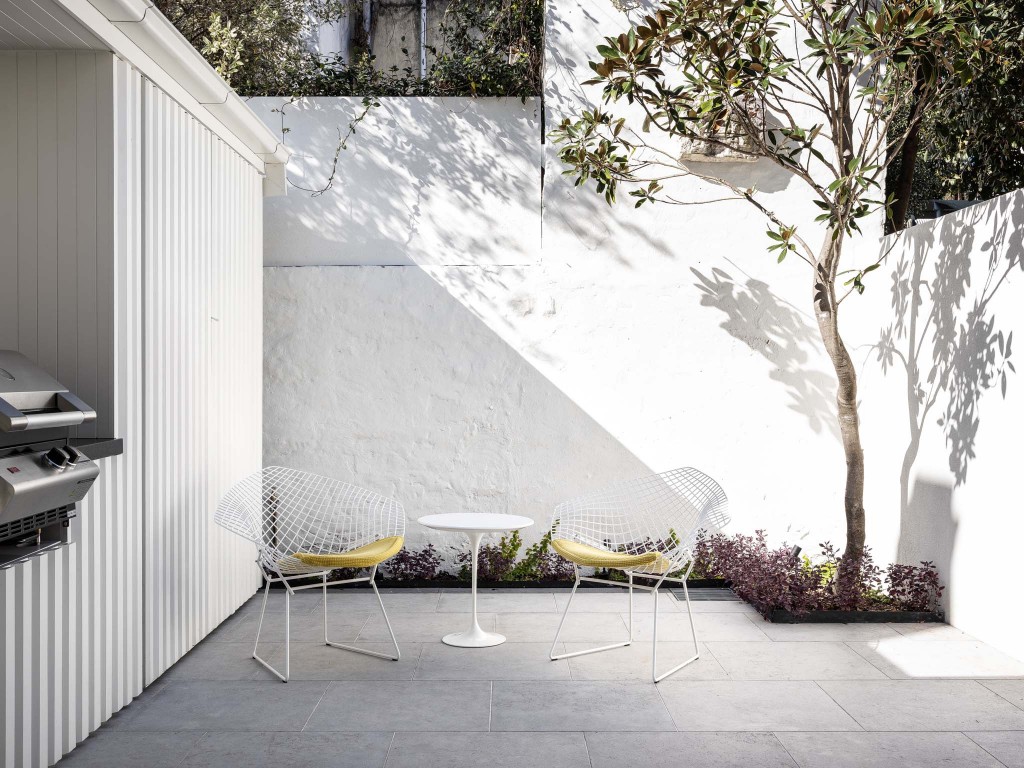 34. Hung up on greenery
Deep in the urban jungle, this former Taiwanese home, now converted into a café, demonstrates how to use vertical courtyard space really well. The hanging ferns balanced by mother-in-law's tongues create a lush frame for the otherwise pretty bare space.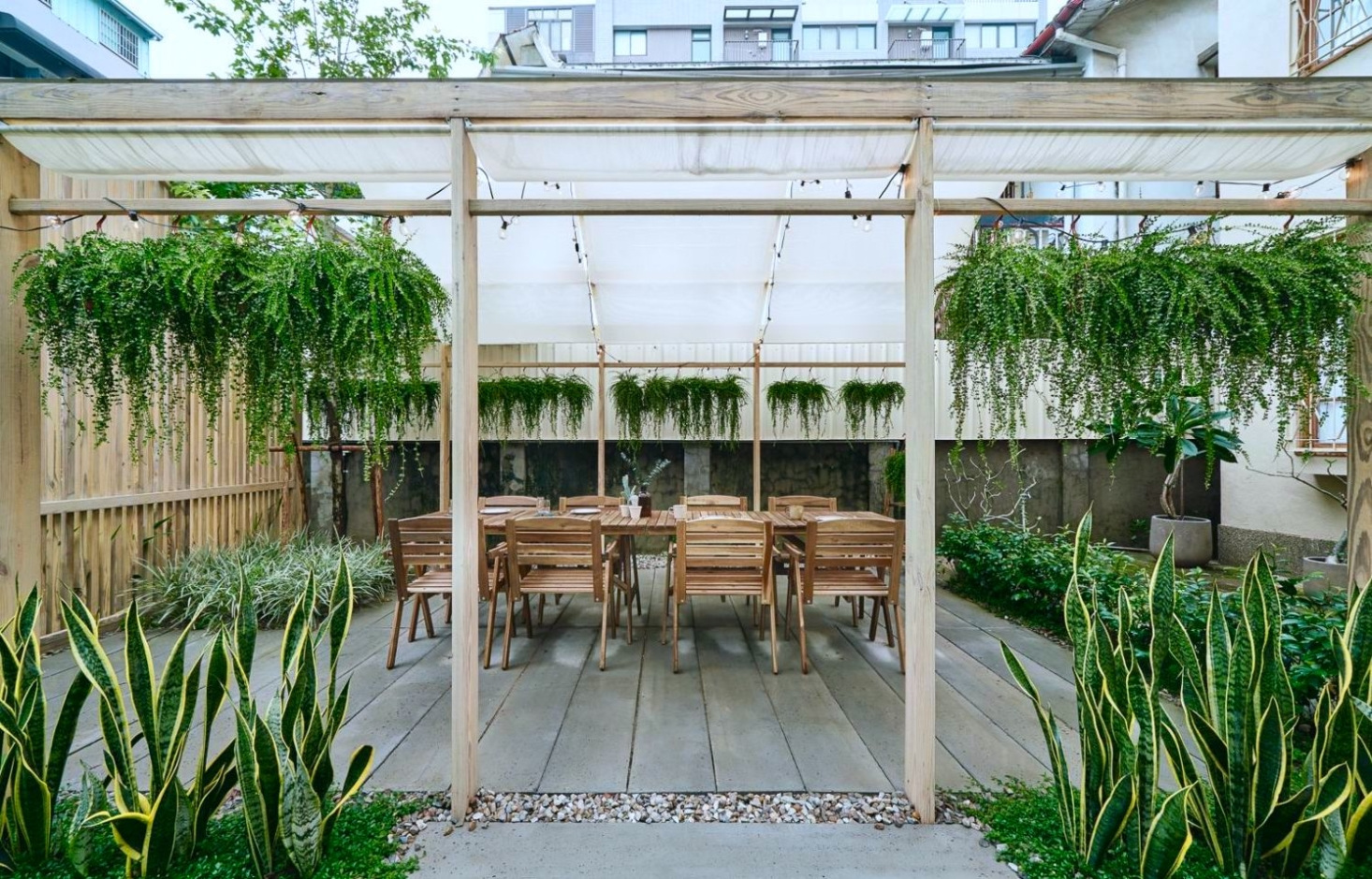 35. Moroccan dreams
Last but definitely not least, here's a courtyard in Marrakech which shows where the love for all things Moroccan in interiors comes from. Like many traditional Moroccan riads—homes with interior courtyards—this one boasts brilliant tiles, extravagant greenery and a little pool.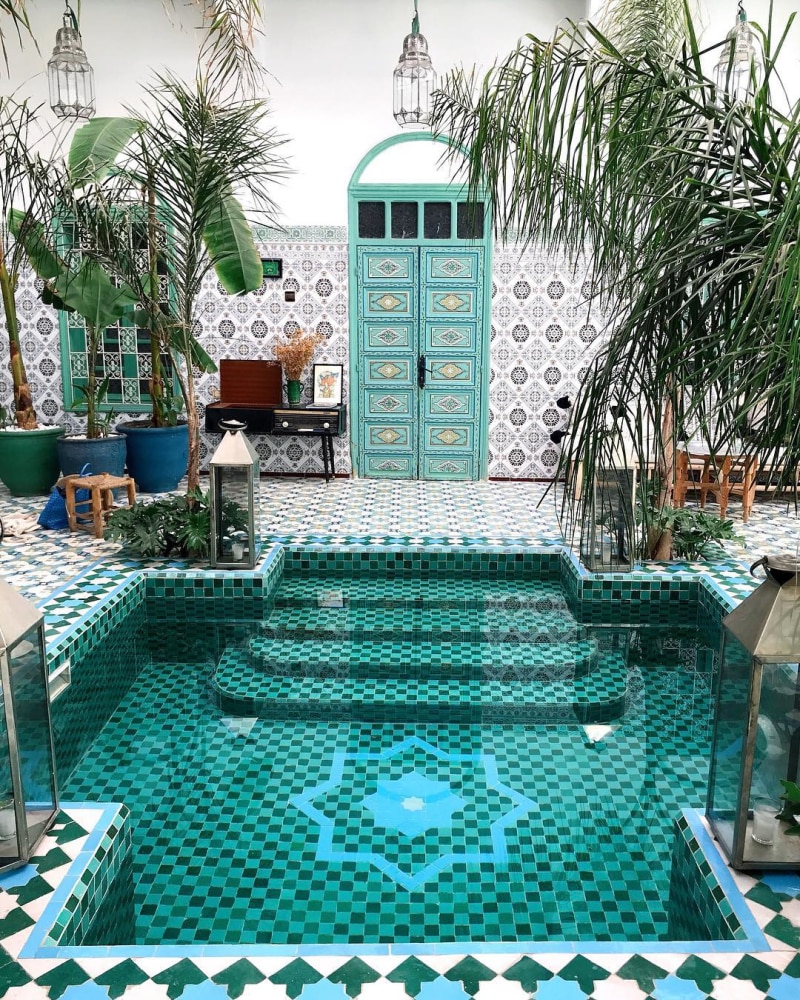 In thinking about your courtyard design, begin with figuring out your exact space details and conditions to work with: size, dimension, shape, existing walls, areas that need to be screened out.  Are you totally revamping the space or just enhancing an area?  Consider the views of the courtyard from the house or street and whether this will influence where you place your features.
What additional things does your little sanctuary need? A firepit, an outdoor kitchen, portable gas heater?  You may also need to plan out pipe placement for an irrigation system—which needs to be done well before planting and paving. Similarly, water features and fountains may need power for a pump and the input of an electrician, as will landscape lighting.
So there you have my pick of 35 courtyard gardens that tick all the boxes. I just love how low-maintenance yet attractive a well-designed courtyard garden is – perfect for the lazy gardener like me. Which is your favourite style of courtyard garden? Let me know in the comments.
Have these courtyards inspired you to give your courtyard garden a makeover? Start with a thorough garden tidy-up so you have a blank canvas to work from—you may also need wood chipping services. And if you need help with the design side of things, you can find a local garden design expert to help you here.