Picture gathering with friends and family around a warm fire on cool nights in your backyard. You can make endless s'mores or drink and be merry until the wee hours of the morning roll in. Fire pits are a fantastic addition to backyards if you're fond of those late-night activities.
Fire pits aren't all that difficult to incorporate into your home. There are many ways to make it happen, from brick, stone, concrete, or portable versions for a clean, fuss-free look. Read on to find the best fire pit ideas fit for your backyard.
Planning and materials
Start by choosing the best location for your project. Find the part of your yard with plenty of room for the pit, allowing extra space for seating.
Decide how you want your fire pit seating area to look. Some people like a fire pit setting that's rustic and natural, while others prefer to go with a more sophisticated modern design. With outdoor furnishings, there are as many selections as fire pit ideas.
1. Fire pit liner
Whether you choose brick, stone, or concrete for your fire pit, you must include a steel liner in the middle. This liner is a tubular piece of metal that fits snugly into the opening of the fire pit. The solid ring keeps the fire pit materials from drying out and crumbling prematurely from the heat of many toasty fires.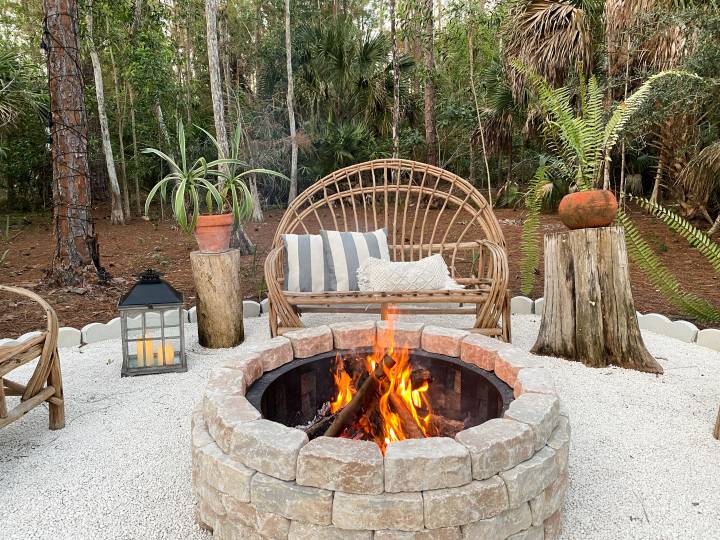 2. Square fire pit
Try a square layout if you want a different design than a circular fire pit. This helps you maximise all corners of available space. You can still work in wraparound seating for the area.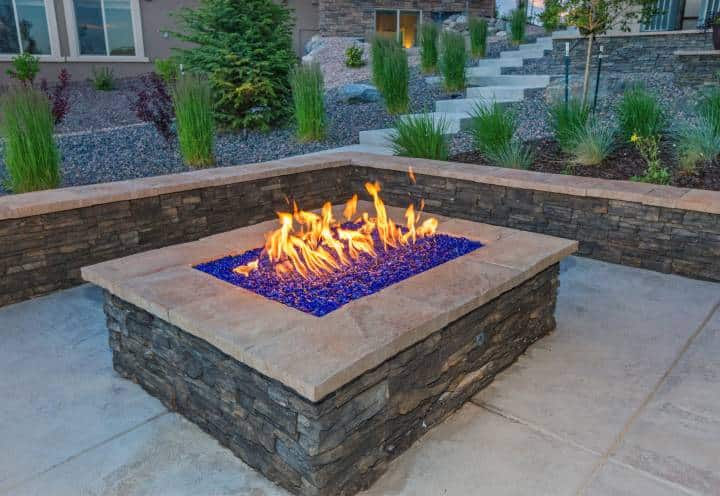 Adding a fire pit to your patio, but not sure what layout to use? Check out our favourite patio ideas for inspiration.
3. Irregular bricks
This fire pit idea includes irregular bricks that create an elegantly natural look. Don't be afraid to dress the area up or down with furniture and decor.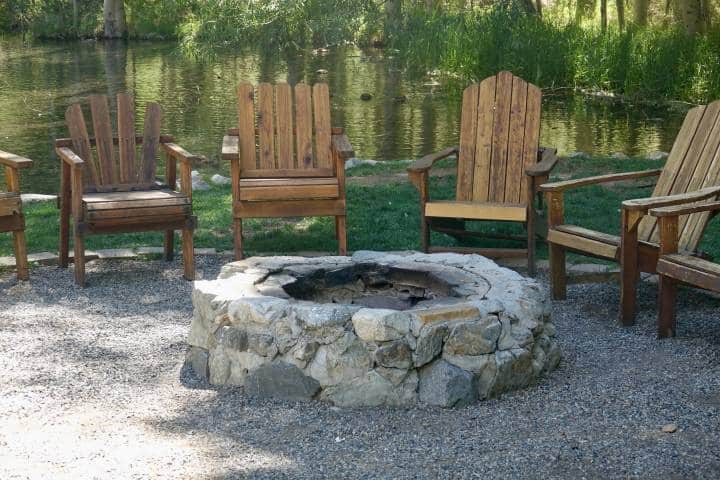 4. Classic brick fire pit
Here's a tried and tested fire pit design, lining up a circle of bricks side-by-side on their ends to create the interior walls. The top ends of the bricks create a sturdy base for adding an outer rim to the fire pit. A steel liner is best to protect the surrounding bricks from drying, cracking, and crumbling.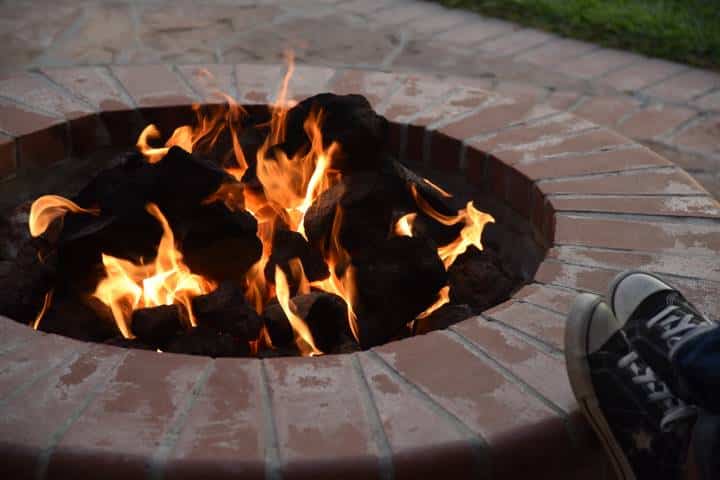 5. Stone fire pit
A rustic fire pit can be put together with flat rocks of various shapes and sizes if you have pieces of the same length and thickness. Use concrete beneath and between the rocks to hold them permanently in place. Do it unobtrusively, and your fire pit will look like a simple ring of stacked rocks.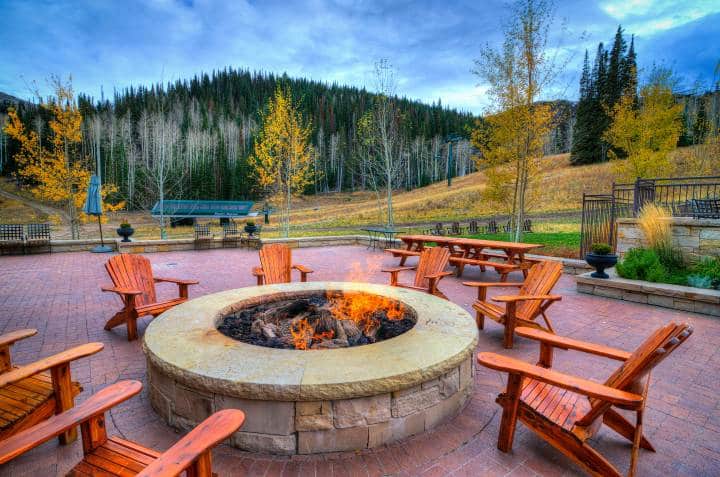 6. Iron fire pit
If you can't have a permanent fire pit in your backyard, there are lots of options for temporary ones. Iron fire pits are often portable and easy to set up.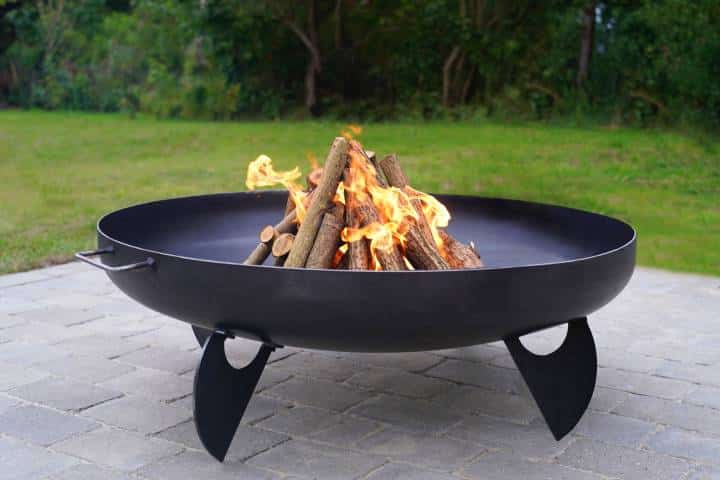 7. Ceramic tile, concrete, and stone
For a more luxurious setting, you can use materials like ceramic tiling with stones in the pit to help control the flames.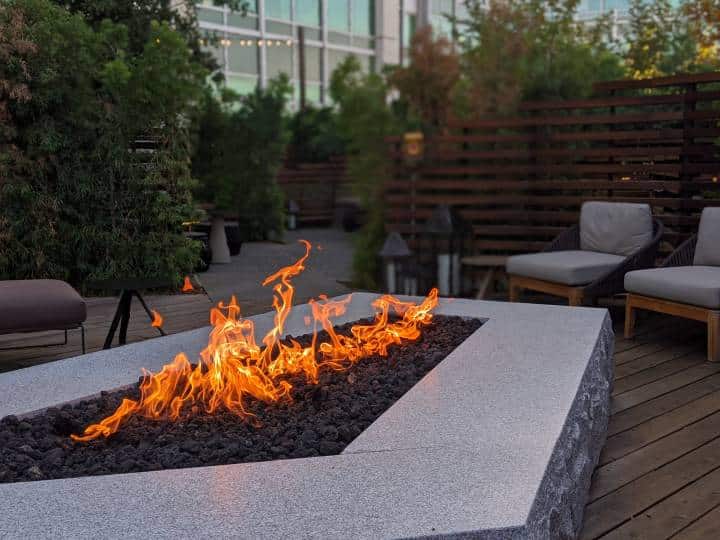 8. Fire pit bowl
Looking for a more unusual design option? There are a variety of fire pit bowls made from different types of heat-resistant material. Elevate the look by matching the fire pit material to your flooring.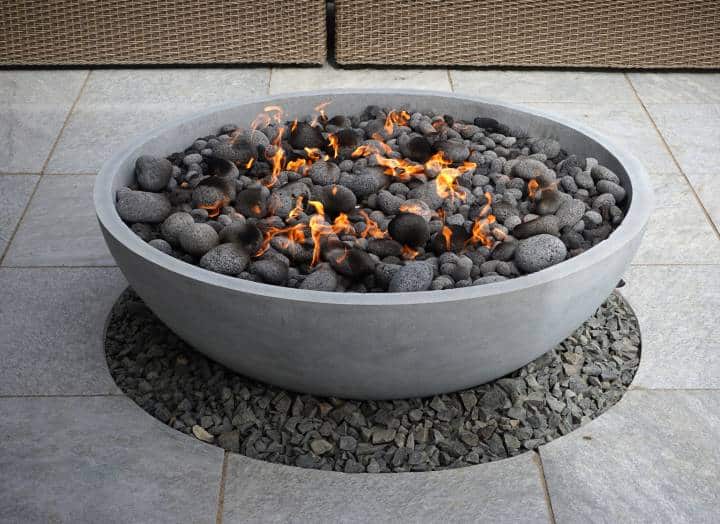 9. Below-ground firepit
Also known as a built-in firepit. You can build the spot into the ground. Ideally, you have a lid for these pits to avoid accidents.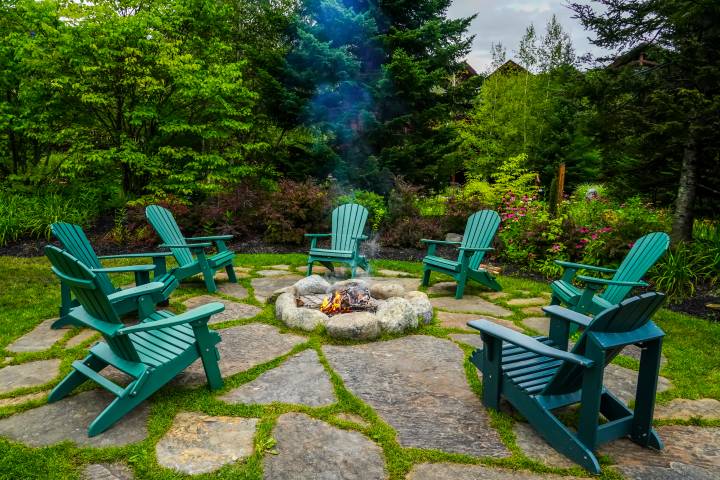 10. Fire pit table
There are a variety of options available these days for fire pit tables. It's an ideal option for al fresco seating where you expect to enjoy conversation over drinks and snacks.
11. Modern fire pit
If you've got more of a modern home, then you'll want a fire pit that fits this aesthetic too. These days, gas-powered fire pit tables eliminate the flying sparks you get with wood fire pits. With the help of professional fireplace installers, you can create sleek, modern designs suited to your taste.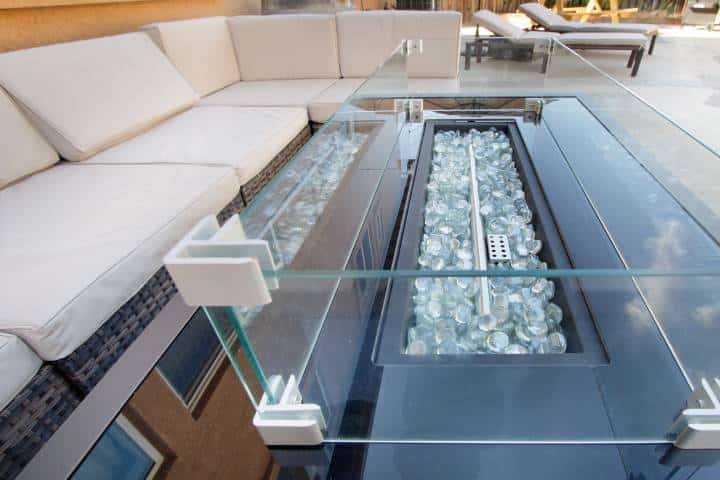 Fire pit lighting
There's no harm in adding lighting around your fire pit. It can help set the mood for the night with its additional glow. There are some options you can play around with for your space.
12. Recessed floor lights
Recessed floor lights are a great option for a seamless design. They stay out of the way when you need to move around. Opting for a soft yellow light in the corners of the space adds a warm, inviting ambience.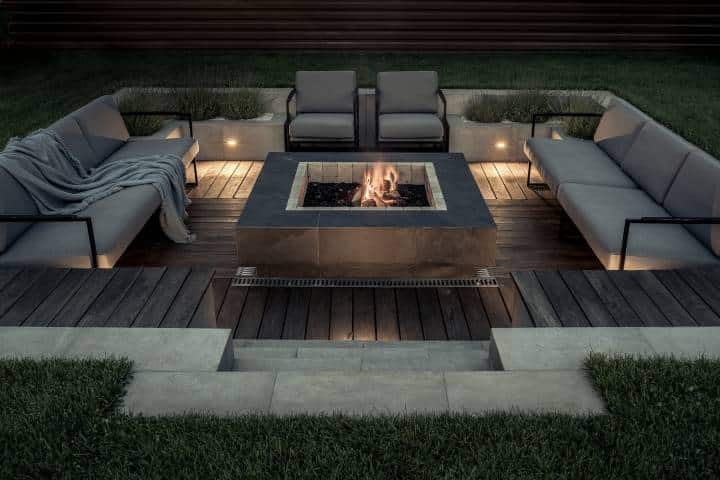 13. Hidden wall lights
Create a cosy campfire vibe with lights under wraparound seating. It's another clever way to hide the fixture while adding enough illumination when it's dark out.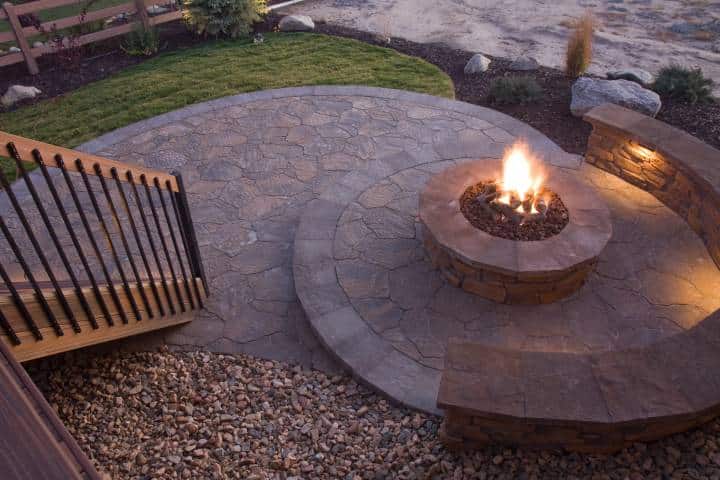 Looking for some more lighting ideas? We've got plenty, plus a whole bunch more backyard ideas for you.
Fire pit seating ideas
Fire pits make for the perfect hangout spot with company on chilly days. Keep it comfortable with seating that works for you — whether you want it built-in and ready anytime or convenient to clean up, there are options for you. 
14. Lounge seating
Get comfy by the fire with an outdoor lounge by the fire pit. Don't be afraid to bring out plush seating. Just make sure the fabric is durable for all kinds of weather.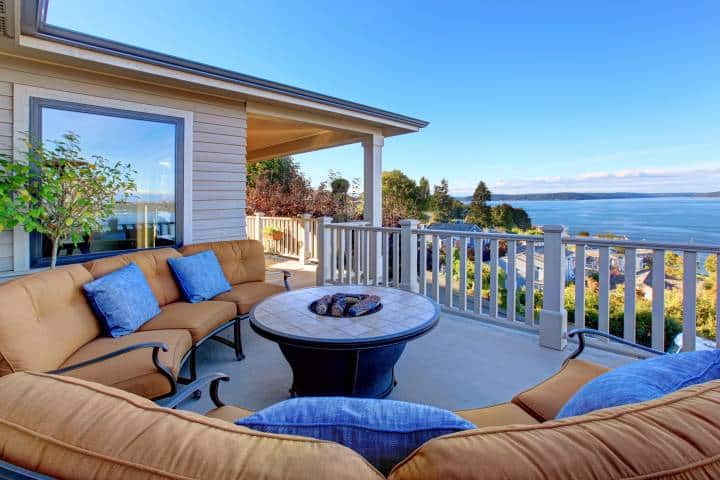 15. Multipurpose seating
Functionality is always a great idea. Add seating that can double as a storage area for wood or coal for the fire pit.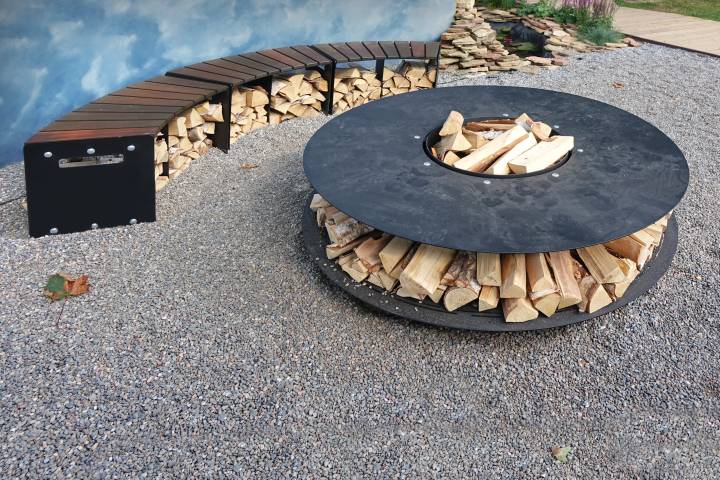 16. Wooden bench seating
For a place to chill out, get a builder to assemble a bench for you.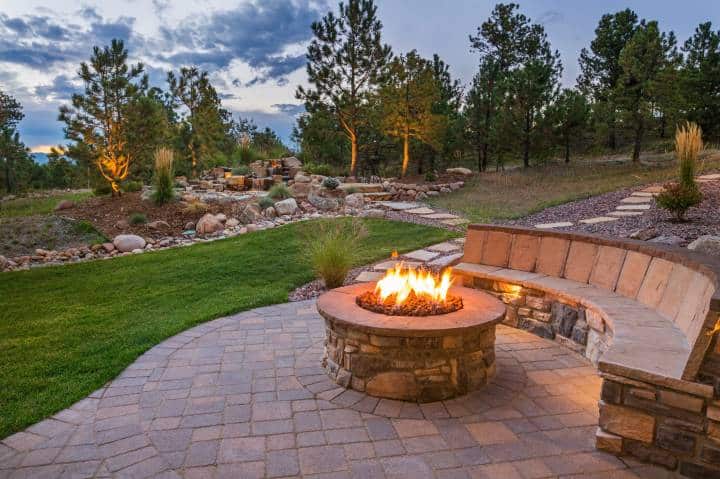 Fire pit flooring
The flooring around your fire pit depends entirely on the style you're going for. Materials can vary greatly if you're more into a natural look or an upscale design.
17. Pebbles or gravel
Pebbles or gravel is a great fire-resistant ground cover. It can sometimes be referred to as pea gravel. To keep the floor clean and free from weeds, you can cover the ground with sand or a plastic barrier before pouring over the gravel.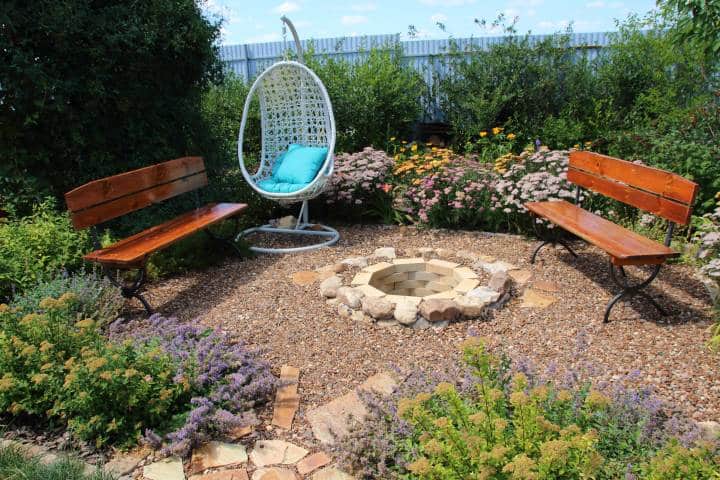 18. Bricks
Bricks provide a non-slippery surface that fire won't be able to damage. You can get creative with how the material is laid out as well. For example, you can create a circular island to house your fire pit and seating for an elegant outdoor lounge.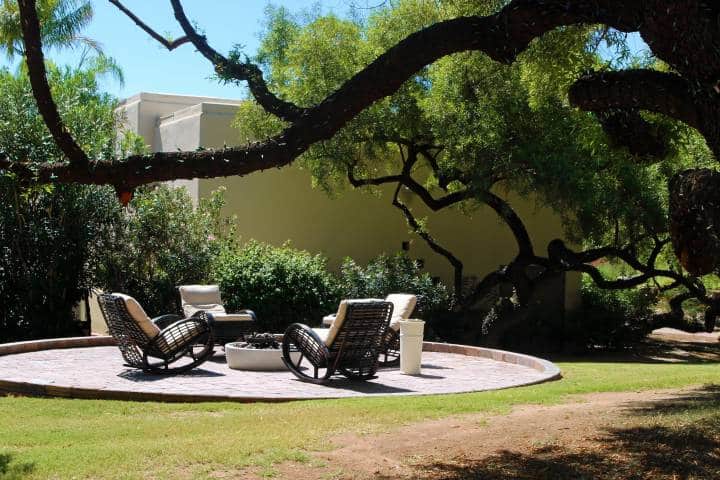 19. Stone
Stone is an excellent natural material to use for flooring around fire pits. They are durable, long-lasting, and don't need extensive cleaning for maintenance.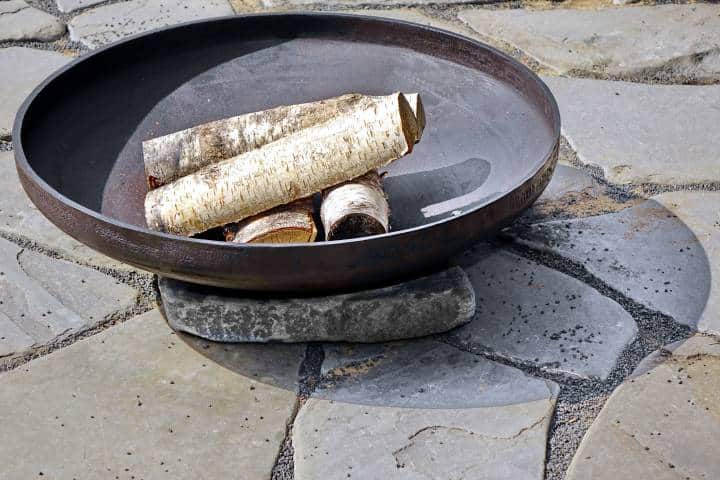 20. Decking
This could be a risky choice, but with the proper application and installation of your fire pit, there's no reason you can't have decking around your fire pit. Often, fire pits on decks are tables with ample room around the open flame to catch stray sparks.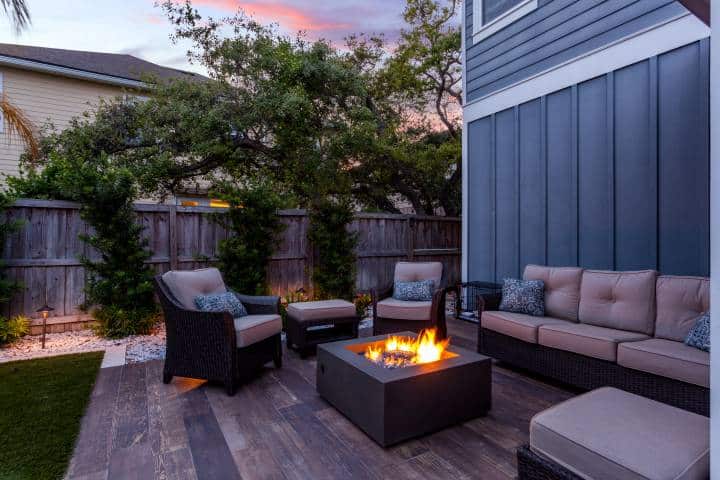 An outdoor fireplace is an excellent addition to your home, especially if you're looking for a refreshing way to unwind on the cooler days of the year. If you're ready to light up a spot in your backyard, you can bring in portable pits or connect with professional fireplace installers near you for a quick and painless process.