It's no secret that we all love to get out and enjoy the great outdoors – be it by the beach, in the rainforest, down at the park, or in our own backyards. So an area in your backyard to enjoy your time outside is just another way to reap the benefits and there are lots of different alfresco ideas that you add to your backyard.
You may think that an alfresco is only a worthwhile investment for those who host big parties and events, but everyone can enjoy the benefits of a lovely outdoor space. Whether you're having a few friends over for an intimate dinner, sitting by the pool with a cup of coffee or simply enjoying the serenity of your backyard with a glass of wine, an alfresco can add to your lifestyle.
Sound good? Well, read on! I've compiled 35 gorgeous alfresco ideas to get the ball rolling – and I just know you're going to love them.
1. Bamboo furniture
If you're all about sustainability, this is the choice for you. Not only does bamboo look beautiful, but it's one of the greenest building materials around. Incorporate bamboo into your alfresco with an outdoor lounge setting and coffee table. Team it with white cushions and greenery for a  natural oasis.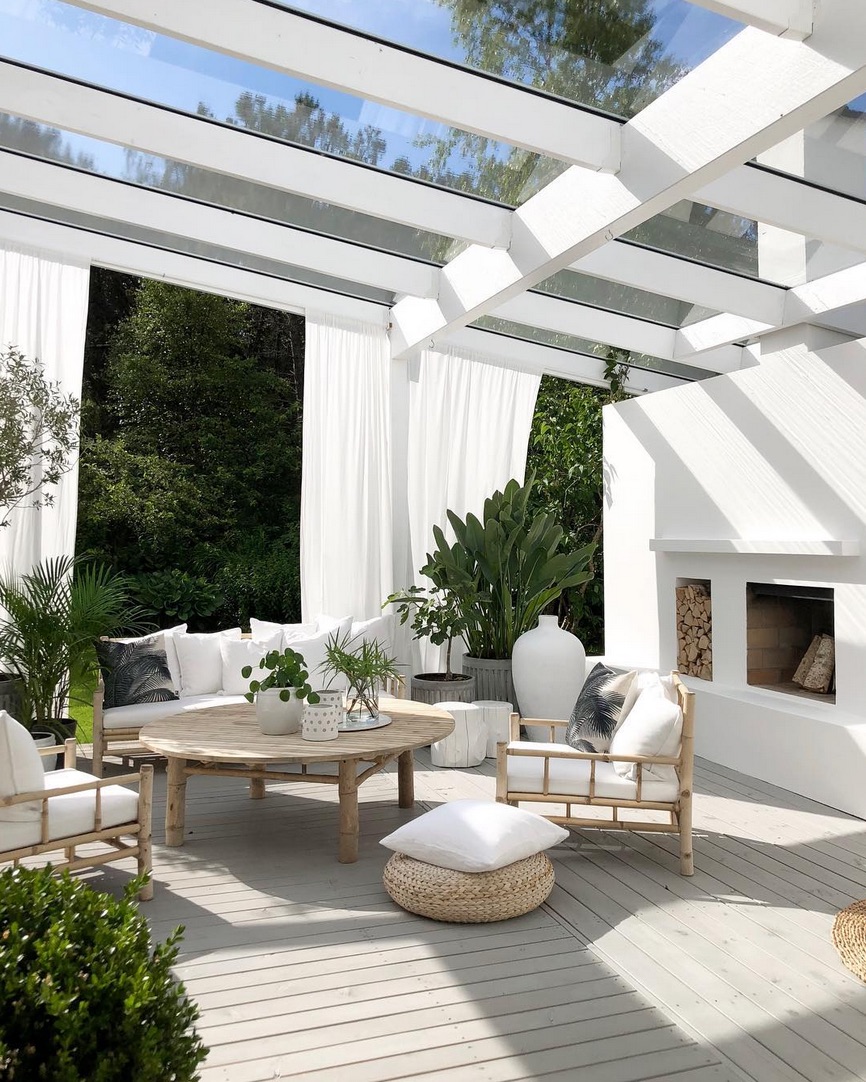 2. Outdoor kitchen
If you love entertaining or even just sitting outside and enjoying the sunshine, you simply must have an outdoor kitchen. You may be surprised that you can make this work even in the smallest of spaces. All you need is an outdoor BBQ, some cupboards to store essential dining items like plates and cutlery and, of course, the old faithful wine fridge. Just you wait until you tell your friends – they'll be hanging out for summer BBQs at your house!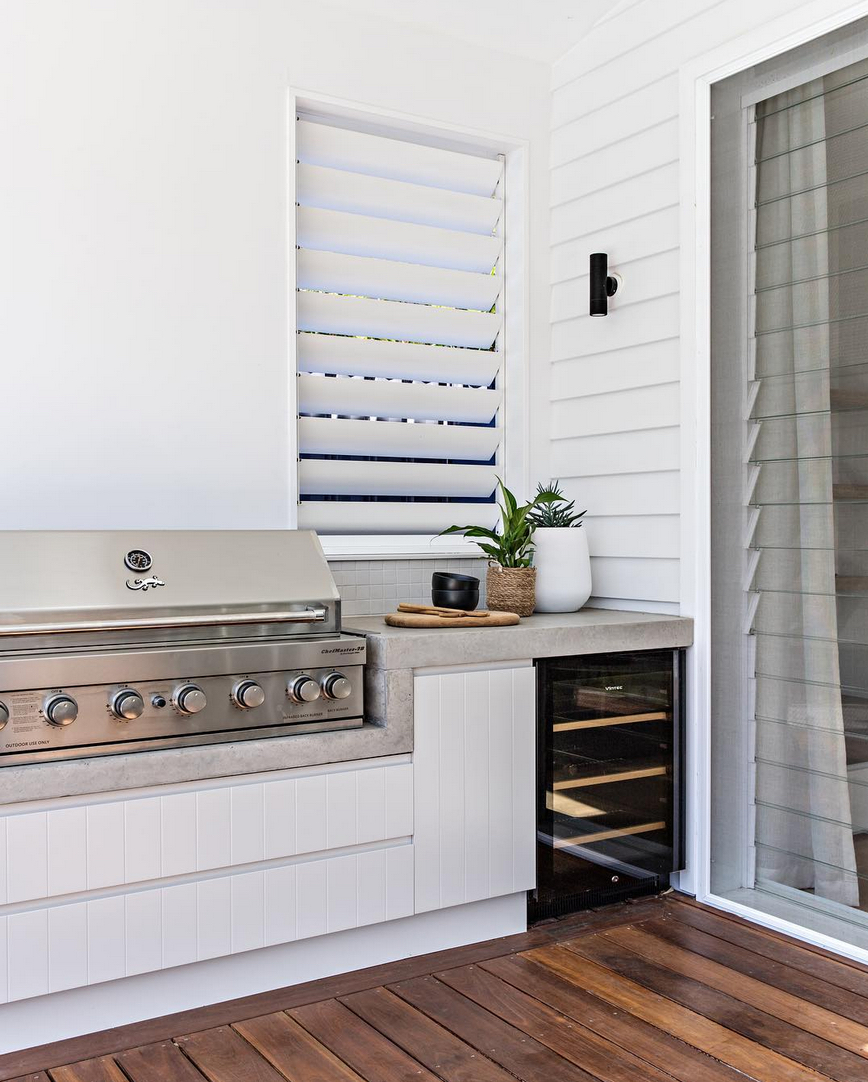 3. Tiles
There are so many options when it comes to outdoor flooring, and cement tiling is definitely a design detail you should consider. Spruce up your porch with a fun mosaic pattern. You can choose something colourful and Moroccan inspired or go with a black and white design for a more sophisticated look.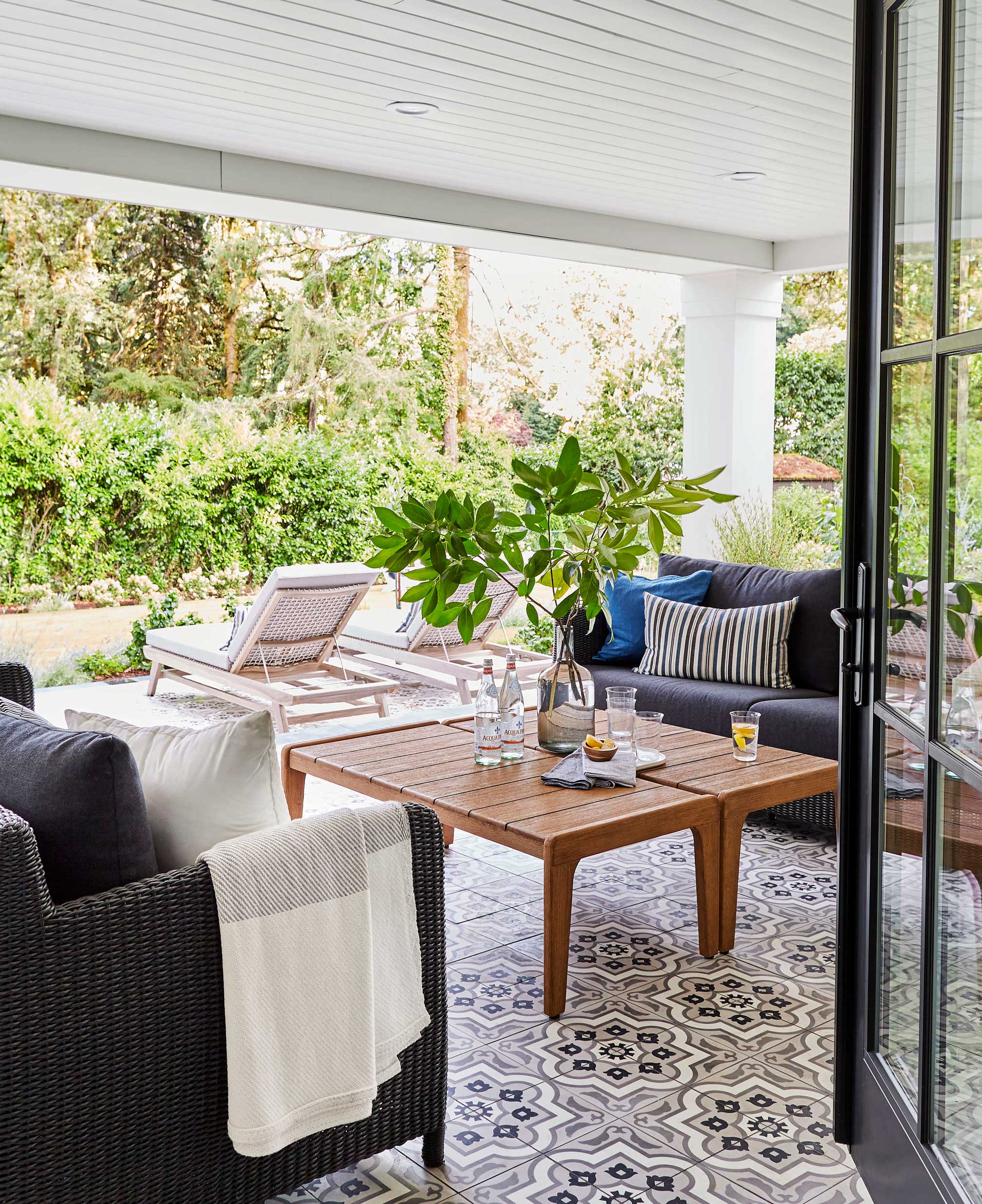 4. Outdoor fireplace
If you live in a cooler climate you may spend a lot of evenings indoors curled up under a blanket. But with an outdoor fireplace, you can still enjoy the natural world while keeping warm and cosy. You can also make the fireplace a dramatic feature in your alfresco area by using contrasting coloured brick from floor to ceiling.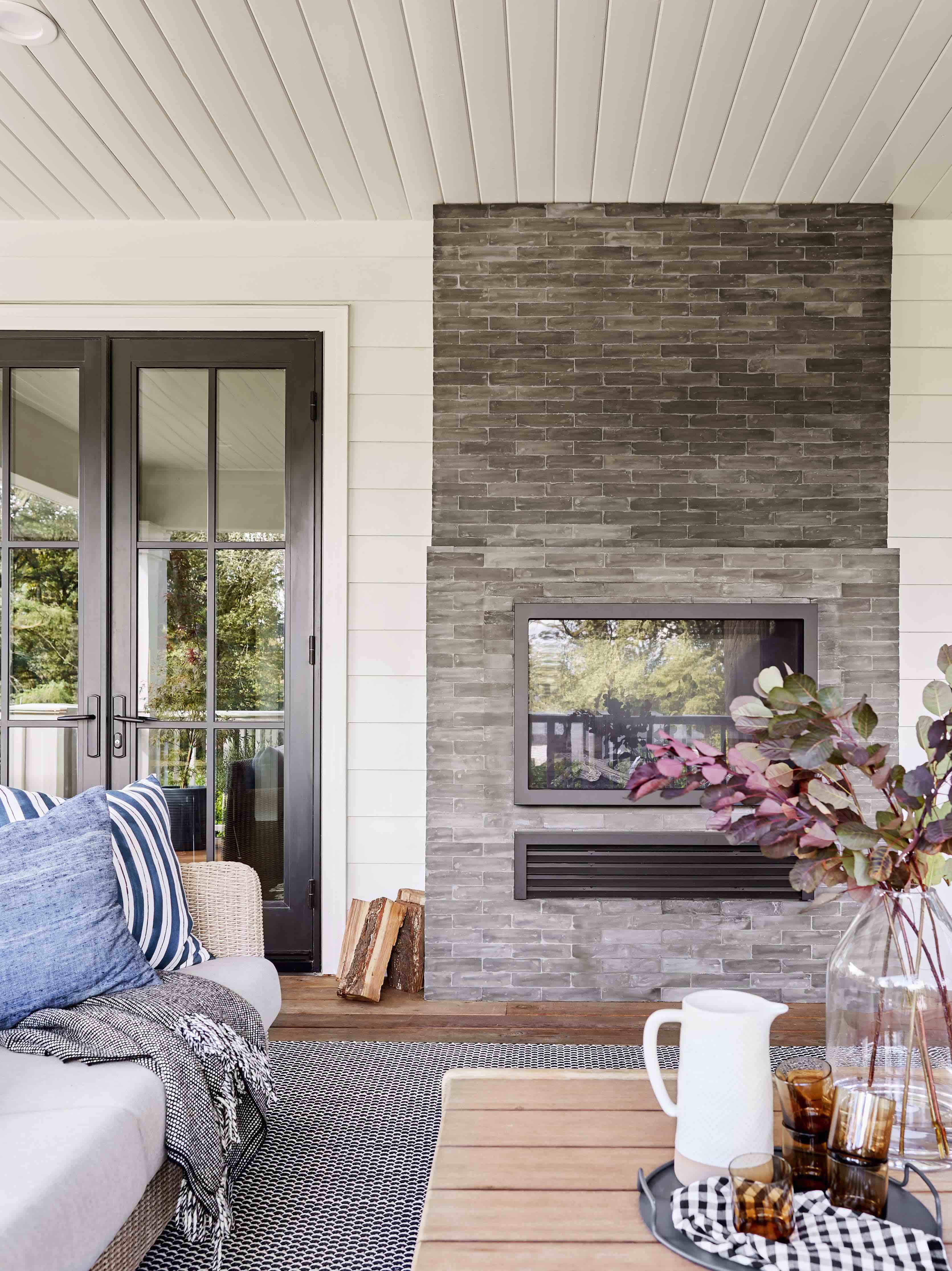 5. Modern black and white
There are a few keys to creating this modern industrial alfresco that's sophisticated yet packs a punch. The furniture is more streamlined (without a lot of ornate detail or extra flourishes), the patterns are more graphic (no florals in sight), the colours are monochrome (no pastels or bright colours) and the finishes are more refined (glass, metal and wood).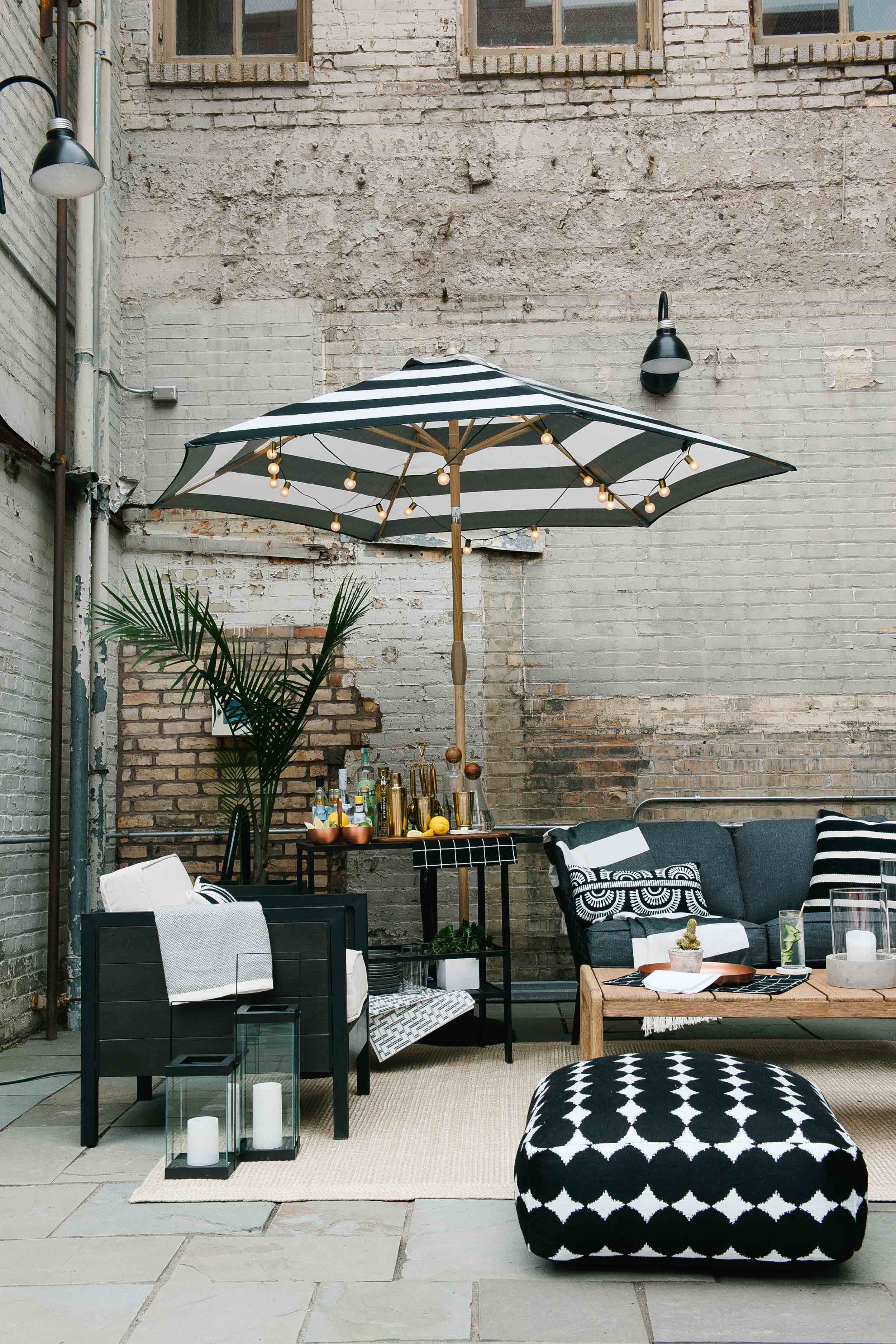 6. Alfresco deck
Make the most of your decking space by creating a peaceful oasis. Include a table setting for evening dinners and create a breakfast bar for you to enjoy your morning coffee. To master this stripped-back minimal look, choose two simple colours – in this case light timber and white.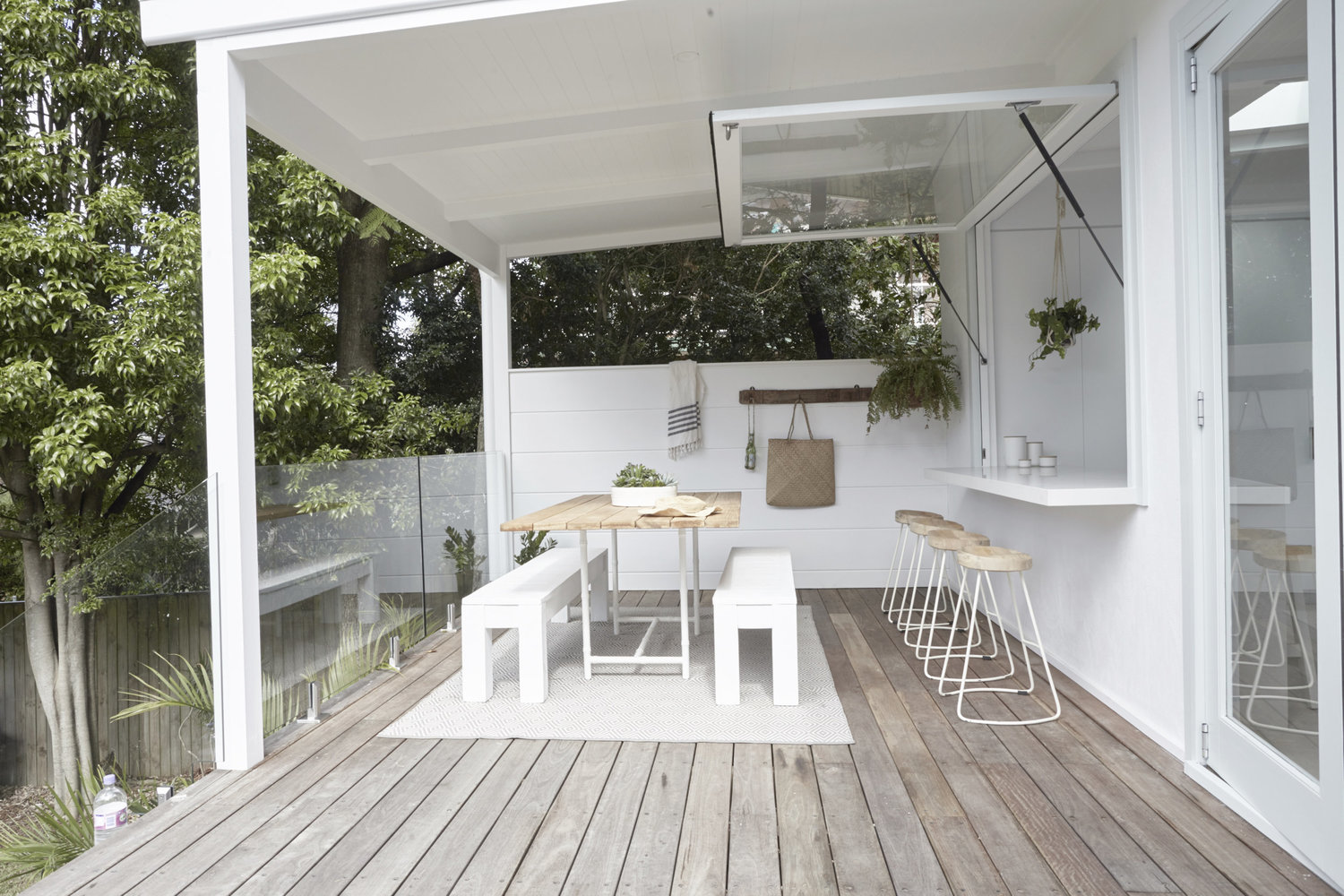 Sure you can DIY your deck, but it's something that is also best left to the professionals so that they can make sure it's installed correctly. If you're not sure where to start, ask for some help from a decking expert local to you.
7. Colours and textures
You don't have to go the minimalist route to create a beautiful space. Play with colours and textures to achieve a warm welcoming area. The trick to ensuring this comes together seamlessly is to choose one item to use as a base. In this case, the outdoor rug sets the tone for the deck. From there, add decor using colours found in the rug, like pops of pink, purple and blue.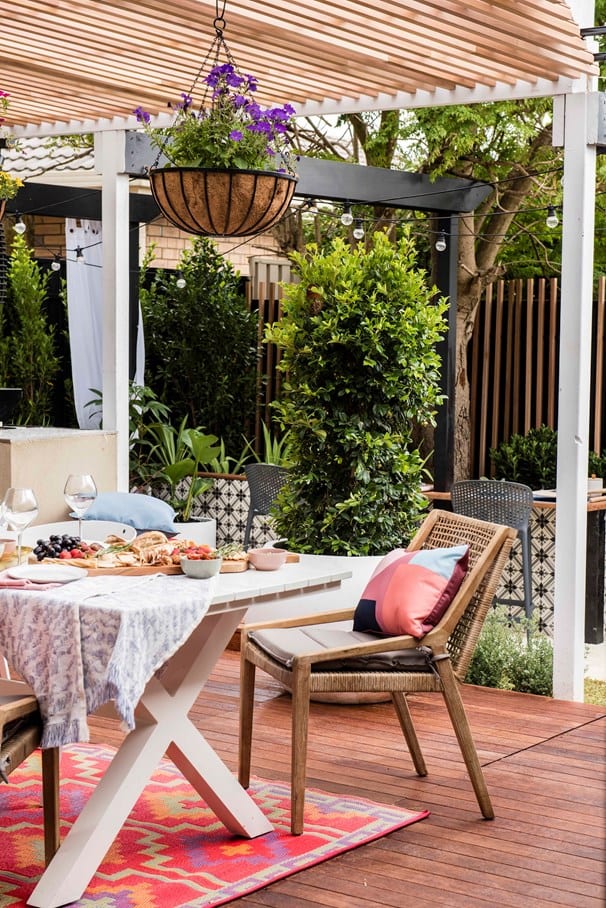 8. Bar fridge
This is a simple addition to your alfresco that can make a huge difference. If you love entertaining, then it can be particularly handy to have your drinks on hand when guests are around. You also won't have to worry about keeping your drinks cool on those hot summer days, as this will keep them at the perfect temperature.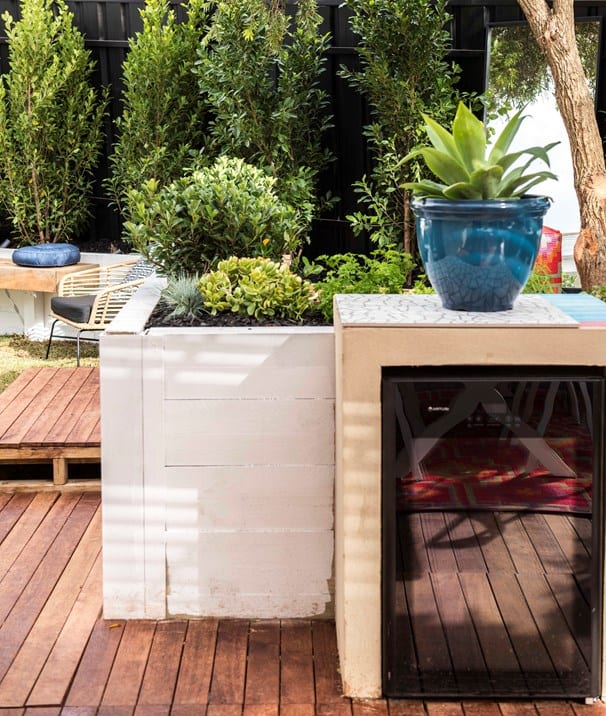 9. Seating area
It's always a little bit awkward when you run out of seats at a party. But with simple bench seating, you can ensure there's a spot for everyone. Incorporate a bench into your existing elevated garden edging or retaining wall and add cushions for a pop of colour (and comfort!).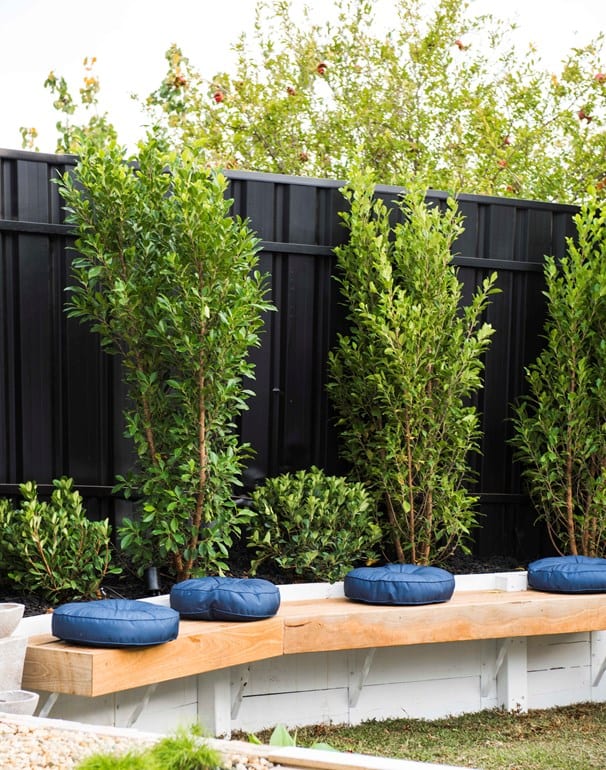 10. Timber decking
You can't go wrong with this classic style. Timber decking looks amazing and it'll last the test of time if it's maintained properly! It's also really easy to style, as it provides a blank slate. Complete this space with timber furniture, black hardware, a large outdoor rug, and strip lighting for atmosphere.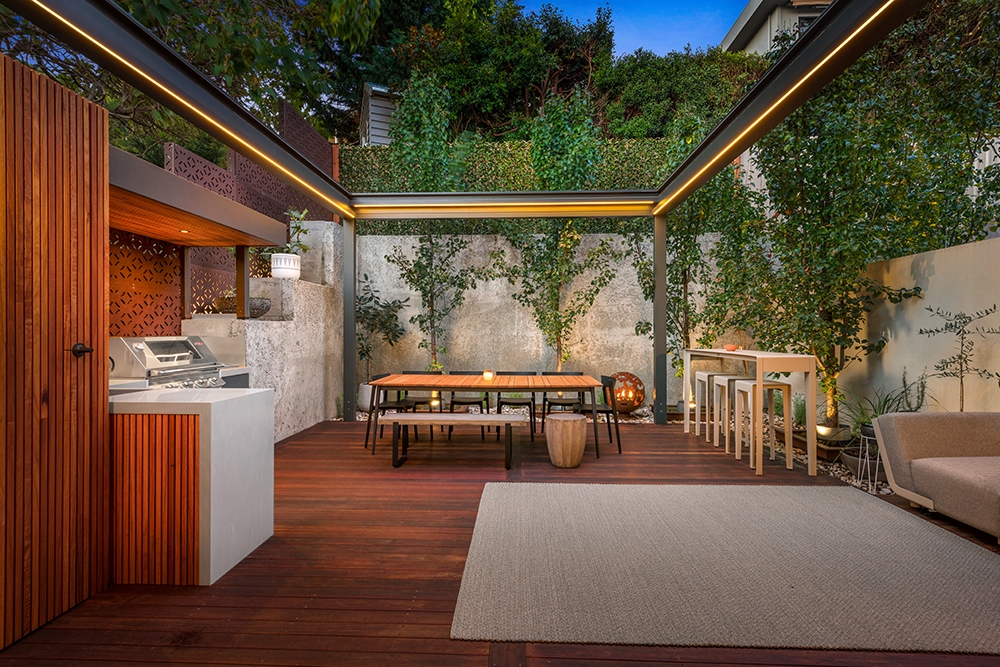 11. An outdoor fan
You'll want to be prepared for the hot summer days by putting up an outdoor fan. It will make your long lunches a lot more enjoyable.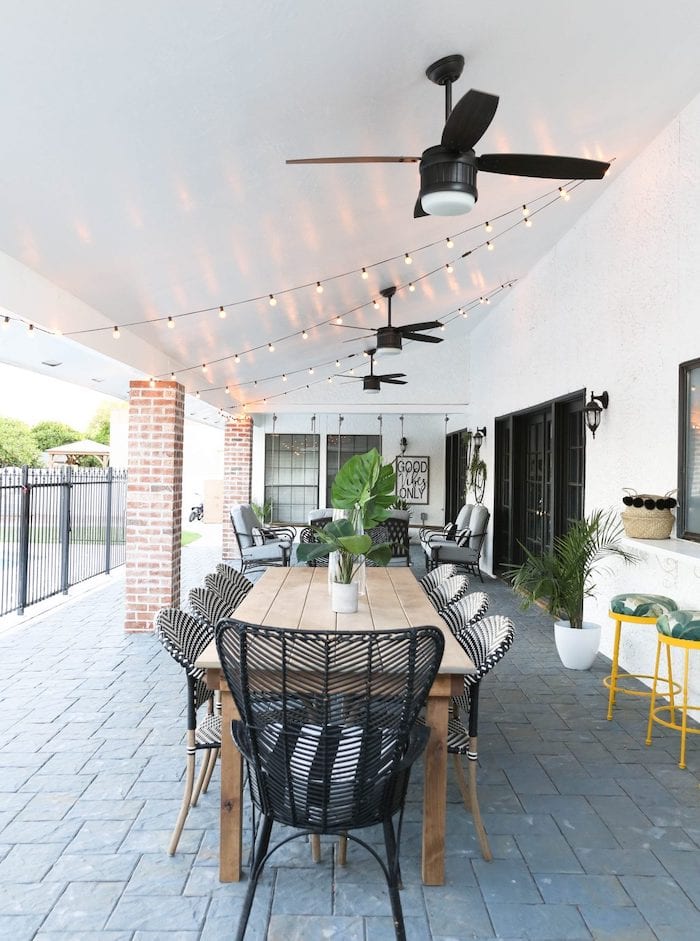 You outdoor fan installation is something that is best left a professional electrician.
12. Blend indoor and outdoor areas
Instead of a very separate indoor and outdoor space, why not make them flow into one big area – after all your outdoor area is just an extension of your interior.
To create a consistent feel, keep your colour scheme the same from outside in. Take this space, for example, which has kept the outdoor area faithful to the indoor theme of grey, white and natural tones.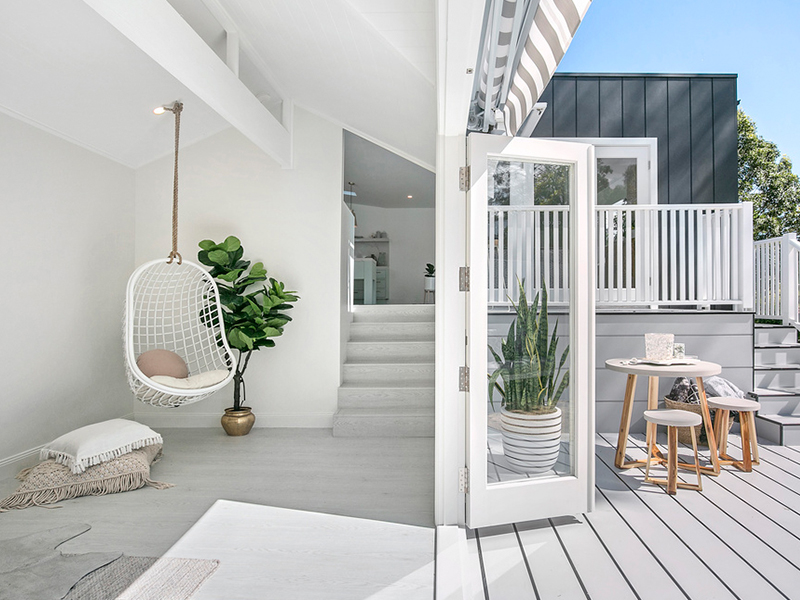 13. Coastal living
If you live by the beach or want to bring the seaside to your inland home, then you can't go past an all-white-and-natural alfresco setting. I love the added touch of the seashell towel holder in the corner and bowl of shells on the table. But be warned – this space will require a bit of upkeep, and you'll have to make sure little hands are clean!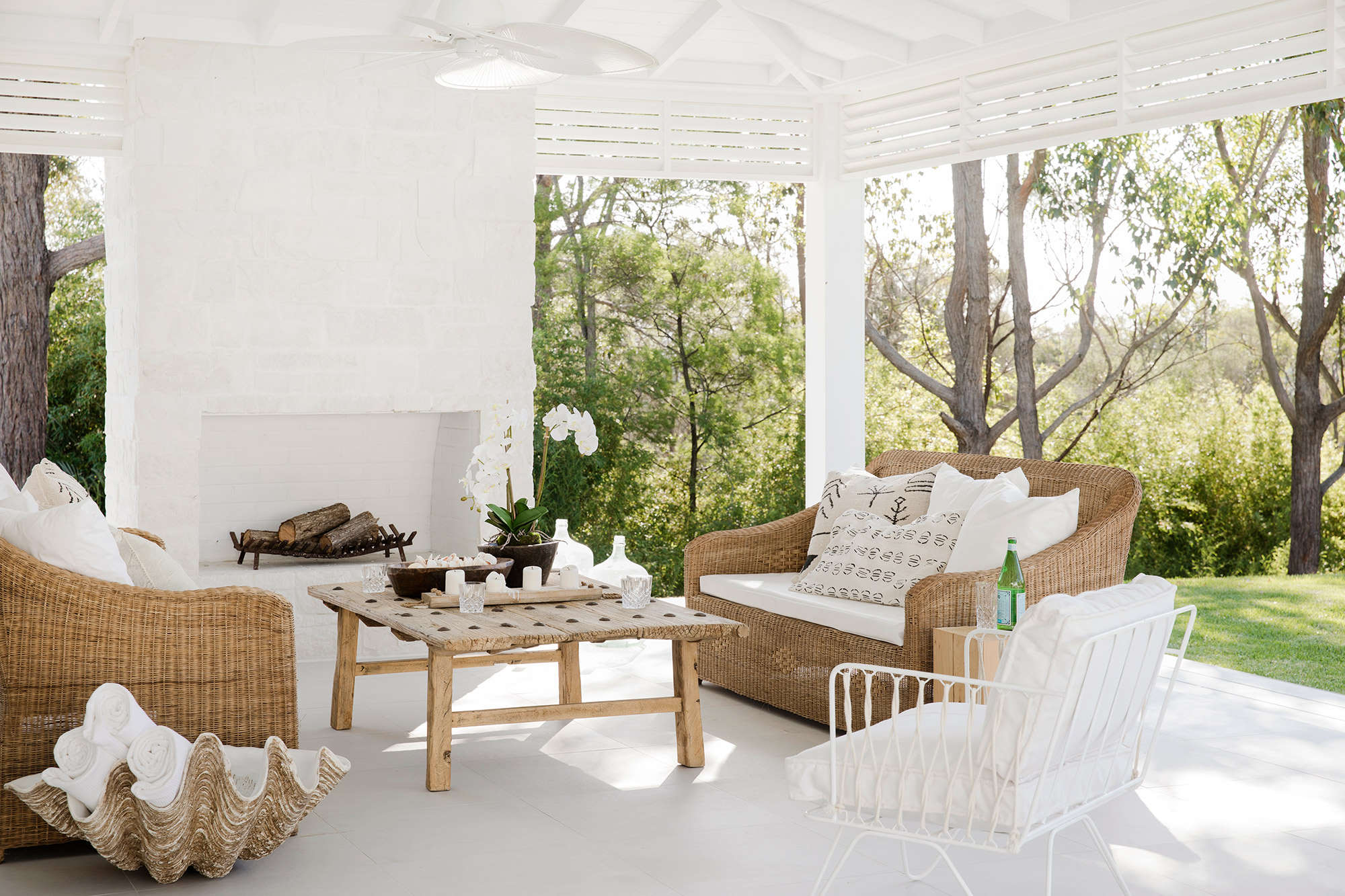 14. Santorini inspired
Bring Greece to your suburban home by painting rendered retaining walls white and adding in ceramics. This is a very simple look that can be ruined if it's overdone. So keep things simple to make this space stand out.
15. Ambient lighting
Turn off the harsh white lights and switch on the warm cosy lighting. If you don't already have ambient lighting in your outdoor area, you must because it will change the game. It's such a simple way to create atmosphere and make your space feel more comfortable.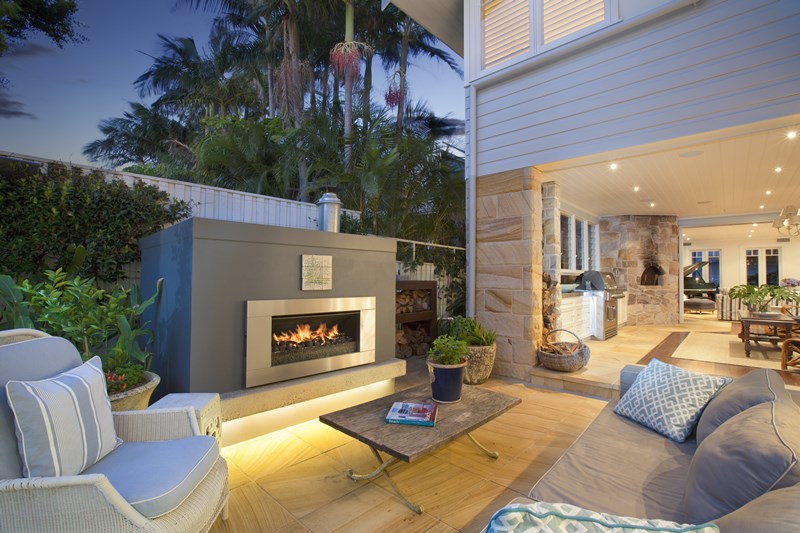 16. Leafy greens
Give me all the plants! Seriously, the number one way to make your space feel like a jungle oasis is to fill it with plants of all shapes and sizes. Add palm trees to your garden, include hedging, put plants and pots and add a fiddle leaf fig in the corner. Need I say any more?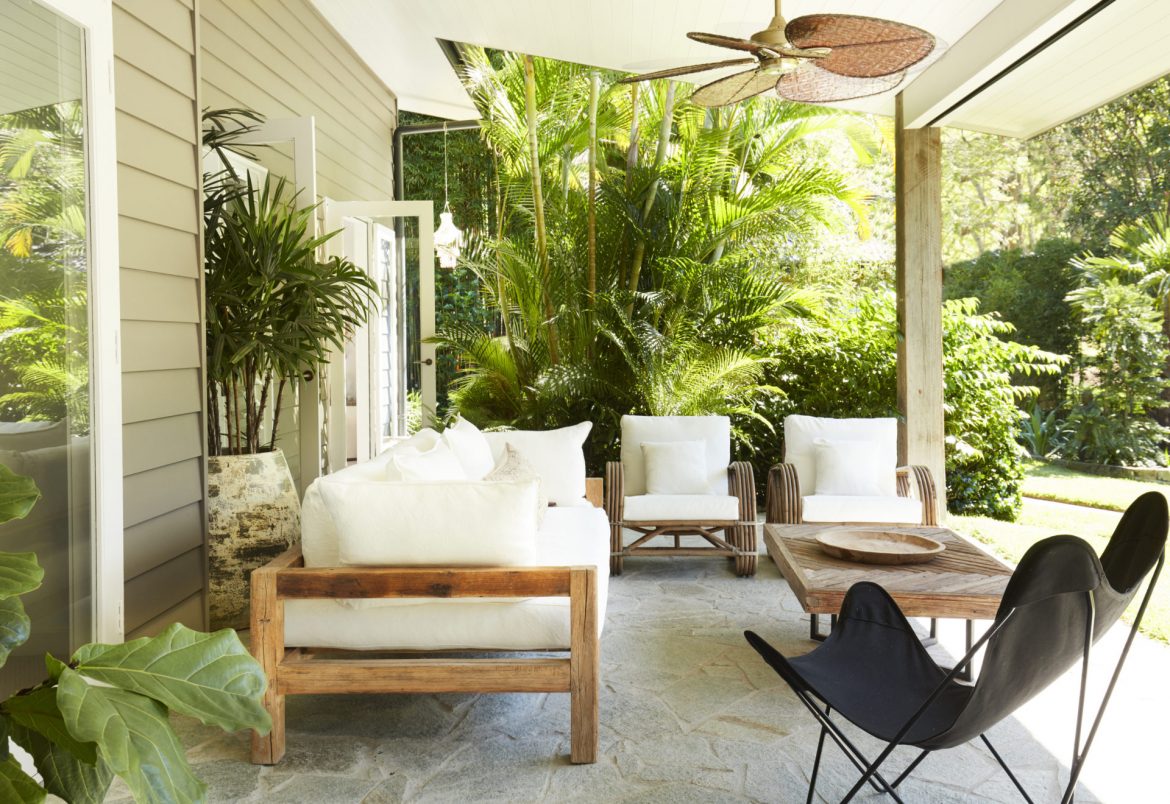 17. Italian style
Doesn't this dreamy space just transport you to Tuscany? Well, you don't have to visit Italy to experience it. Bring the rolling hills and vineyards to your home with a vine-covered alfresco area. Throw a patterned blue cloth on the table and you'll be all ready for your guests. Now, where's the red wine, olive oil and bread?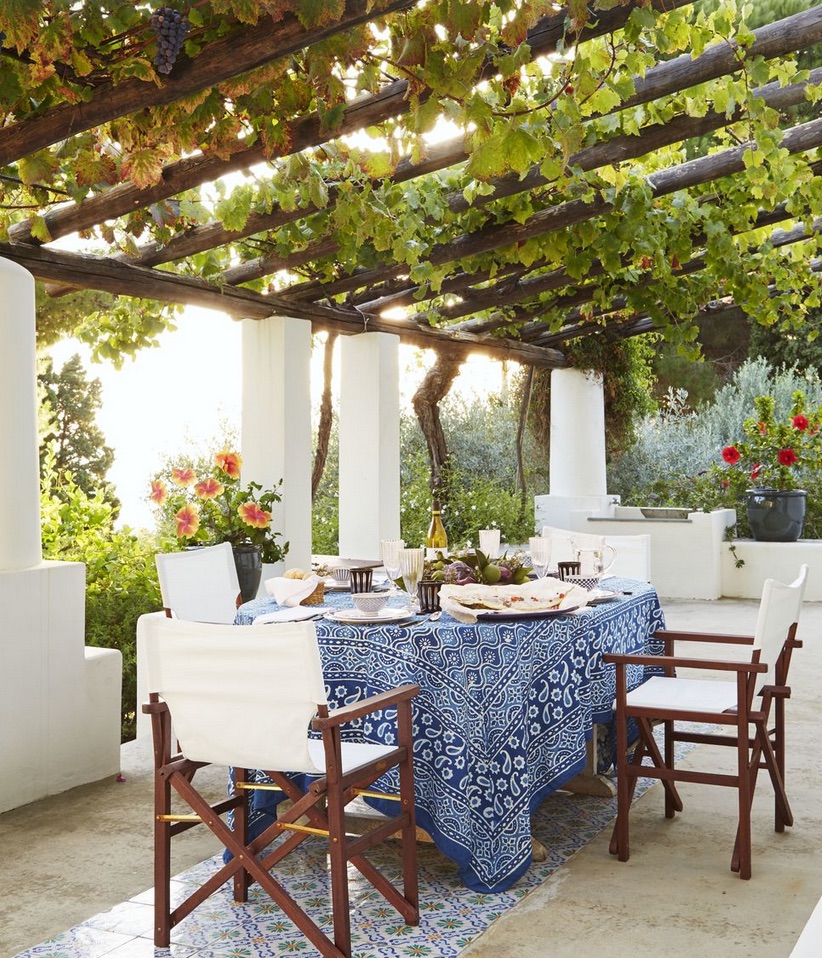 18. Firepit
There's nothing quite like an evening of good conversation around the fire. If this is right up your alley, then why not incorporate a fire pit in your backyard? Add in a few tree stump stools and you'll be set!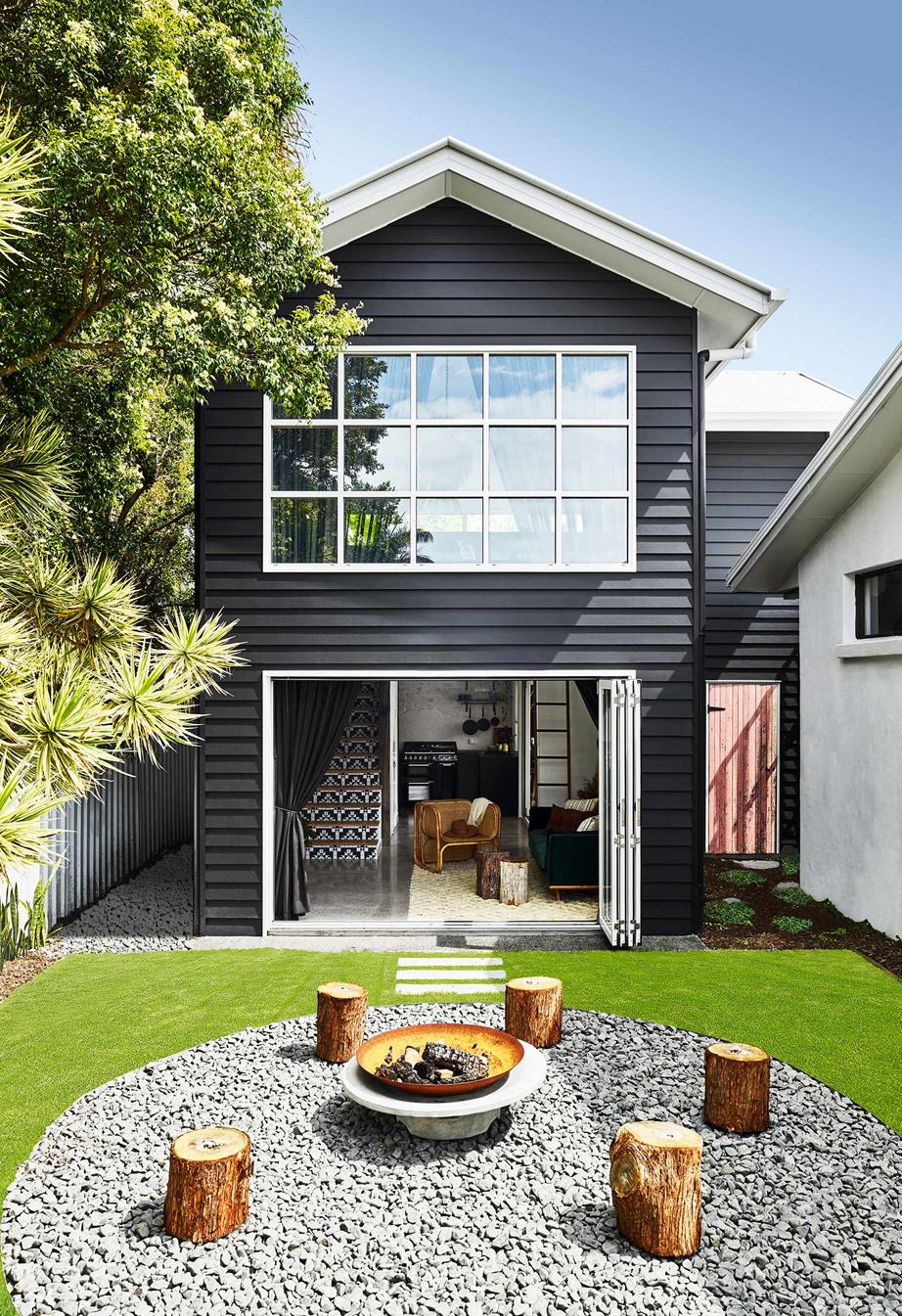 Looking for something a little bit different? We've put together over 35 fire pit ideas that will work in any garden.
19. Black and orange
While white minimalism might be all the rage right now, don't be afraid to shake things up with black. This can be teamed up with timber and burnt orange to create a sophisticated yet laid-back look.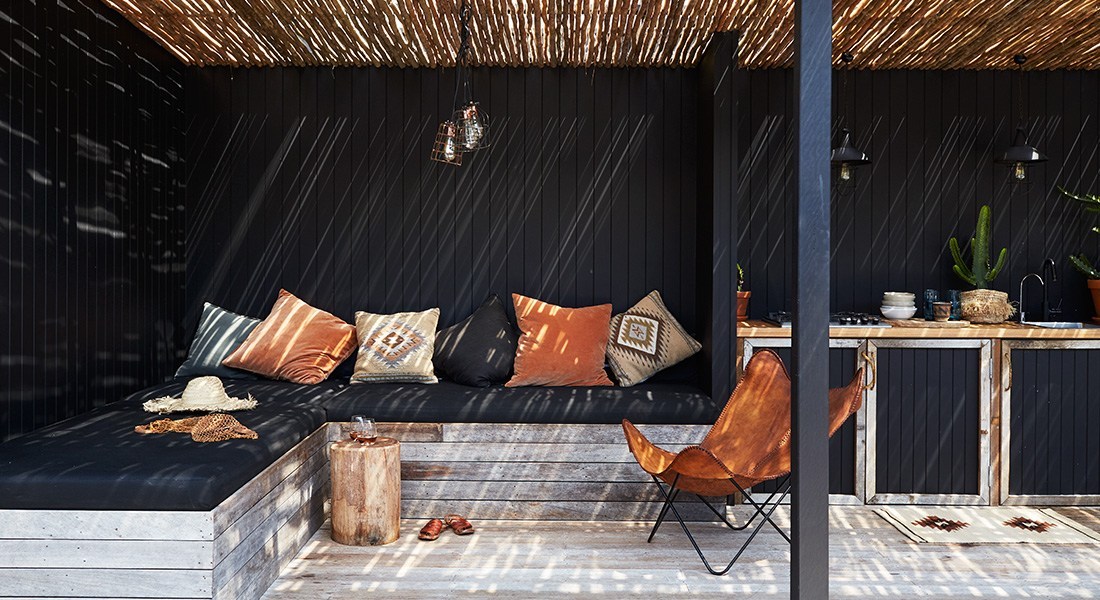 20. Different shapes
When it comes to your alfresco setting, you don't have to stick to the same old furniture. Experiment with different shapes and sizes. Choose chairs that have a bit of character and don't be afraid to mix them up!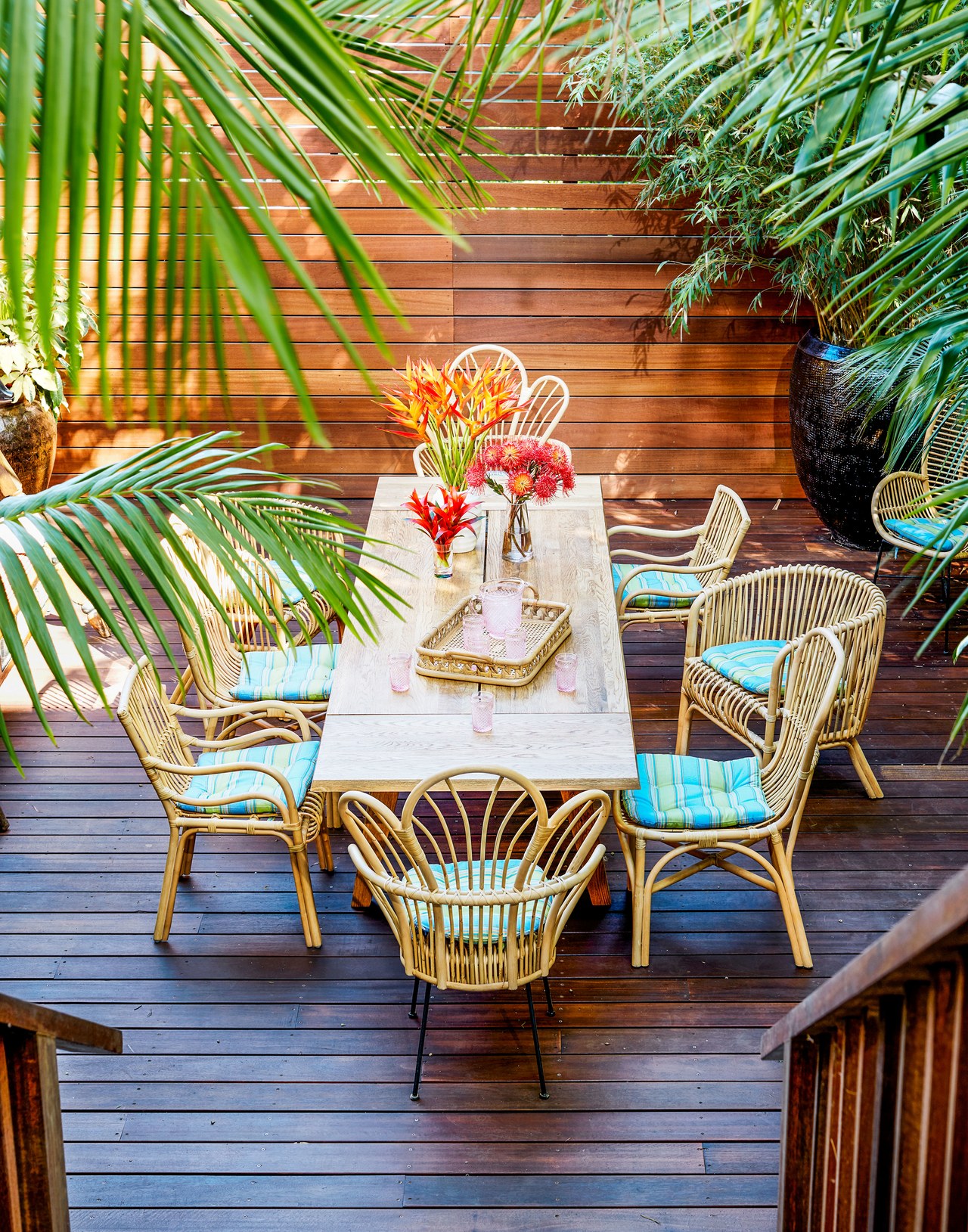 Putting your furniture together can be fickle, so get someone else to take care of your outdoor furniture assembly and then all you need to worry about is planning your next dinner party to enjoy it.
21. Bench seating
If you've got a small alfresco area, then this is the hack for you. Build bench seating into your walls to make space for more guests. This won't overwhelm your area, as it's a very subtle addition. But it's a practical solution that will add character and colour once you add a few throw pillows.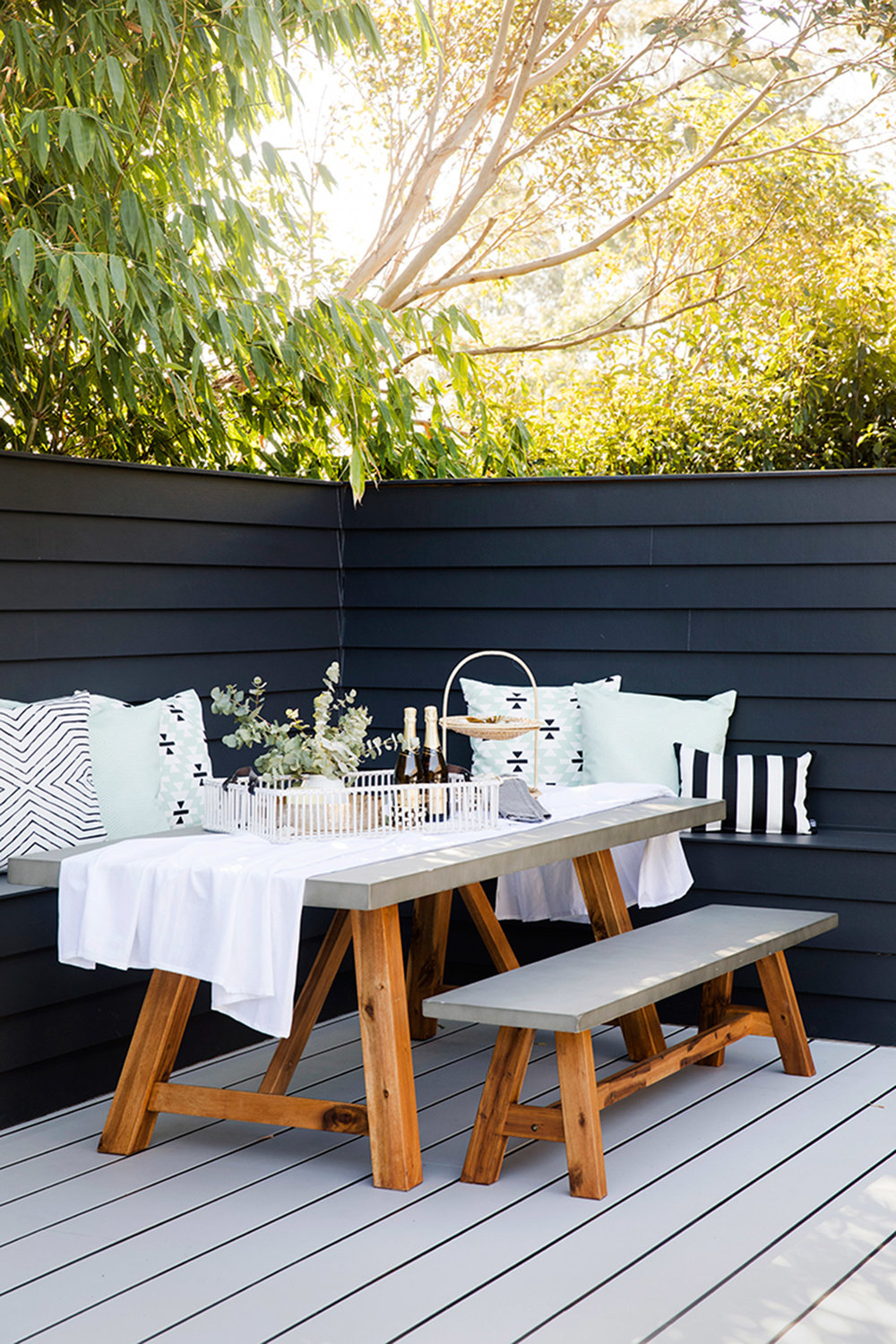 22. Hanging planters
This pergola is the perfect space for the family to gather outside and enjoy a meal. Pretty up your alfresco by hanging plants from the timber rafters.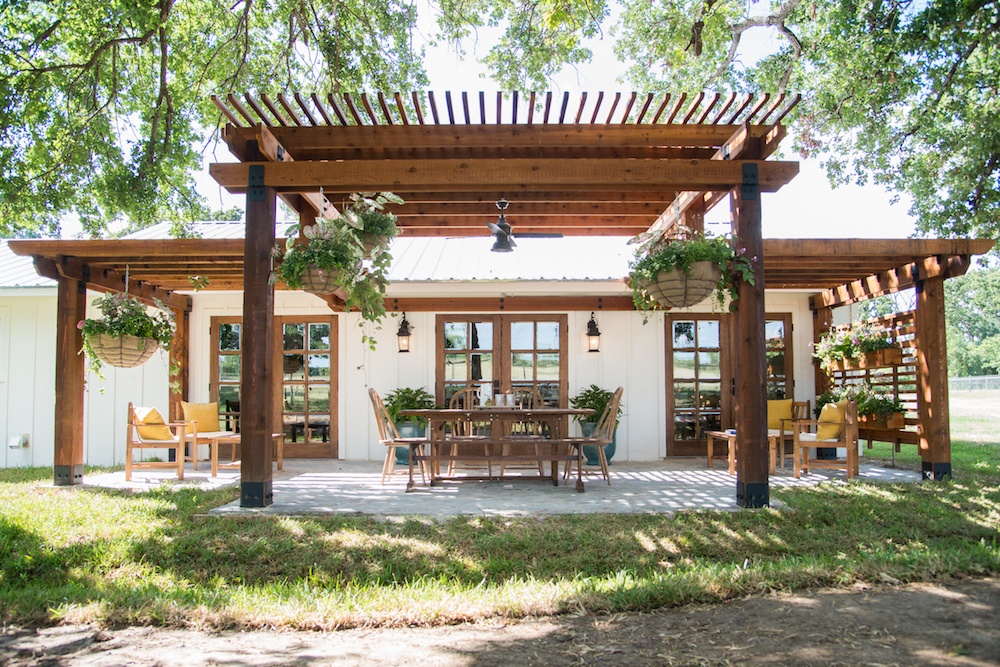 23. Casual dining
If you prefer having dinner outside instead of in, make the most of your alfresco by creating a casual dining space. Choose colours that match your existing hardware. In this case, black has been used for the vertical planter and the chairs to match the door to the deck. Unique overhanging lighting makes this space complete.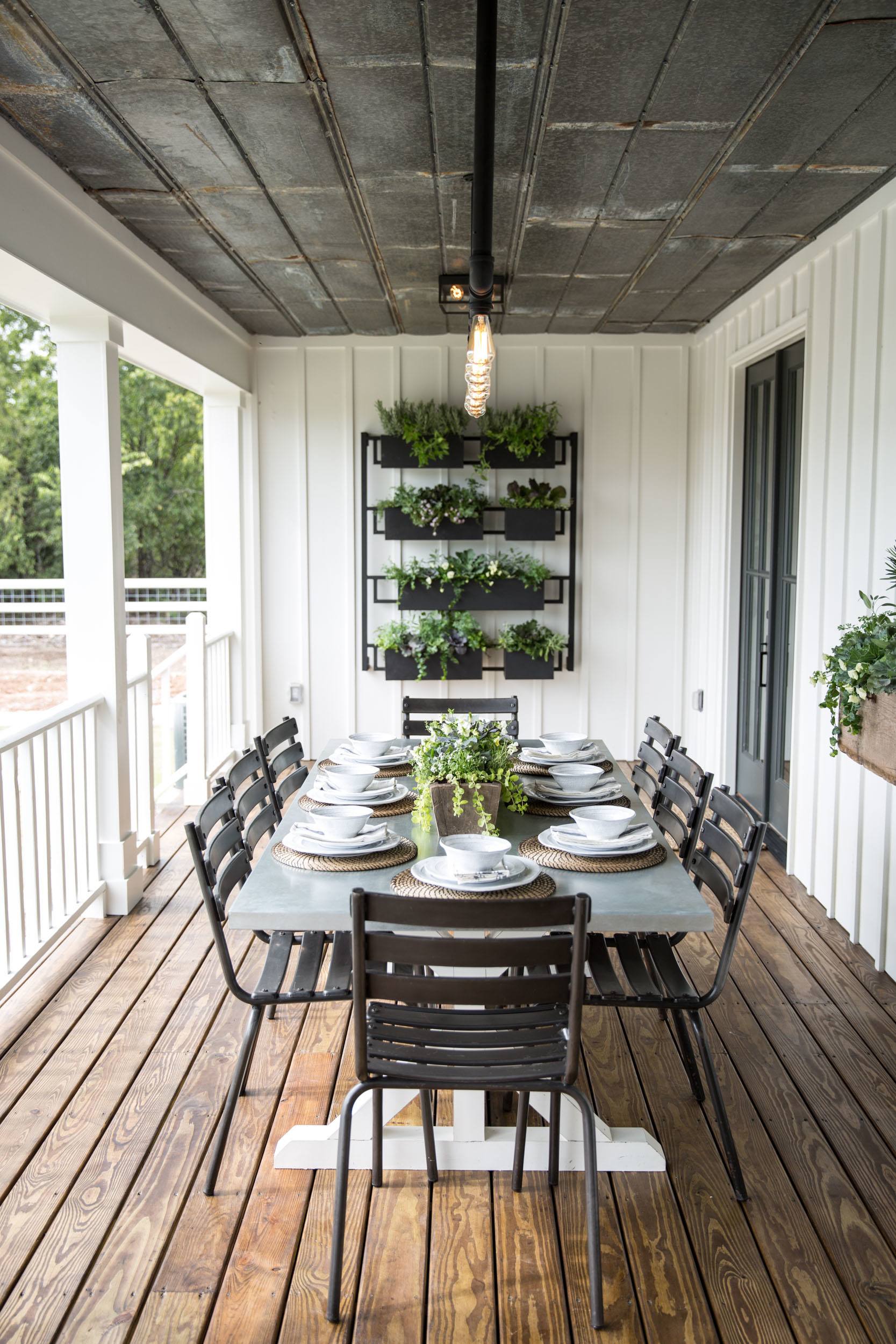 24. Dining by the pool
If you have a pool area, then you should make the most of it! This is the perfect place to enjoy lunch or a cup of coffee while you watch the kids play in the pool. It's also great for those summer pool days, where everyone can gather together in one spot.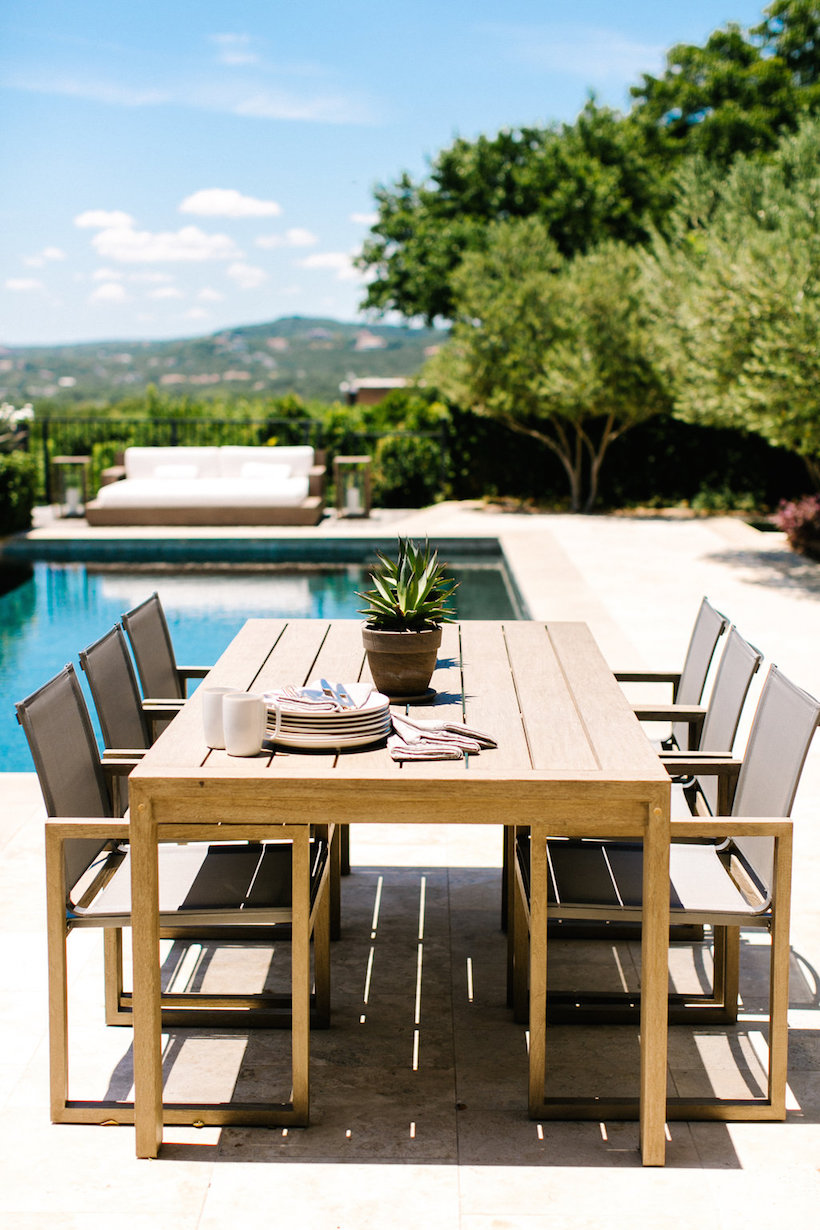 25. It's all in the accents
When it comes to outdoor areas, we can get so caught up in choosing the right furniture that we forget about the little details. Think of your alfresco as your outdoor living room. So where you'd add cushions, throw blankets, magazines and potted plants to your indoor area, include them in your outside area too (just make sure they're weather appropriate or that you bring them inside after use!).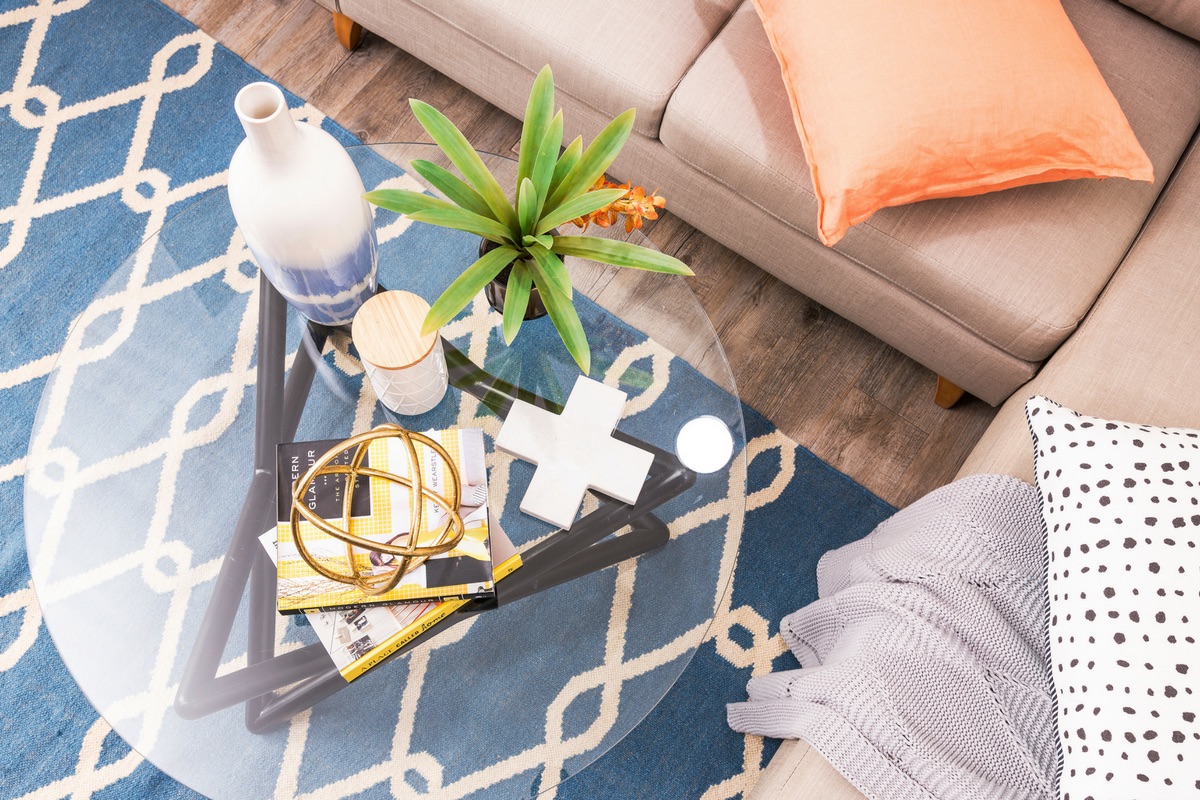 26. Deck out your small alfresco space
Just because you have a tiny outdoor space, doesn't mean you need to compromise on practicality. Make the most of the area you have by installing a basic outdoor kitchen and using space-saving hacks like incorporating a bar bench and stools instead of a huge table and chairs setting. Add a few plants and a pop of colour and you'll have the perfect spot to enjoy a glass of wine or bite to eat.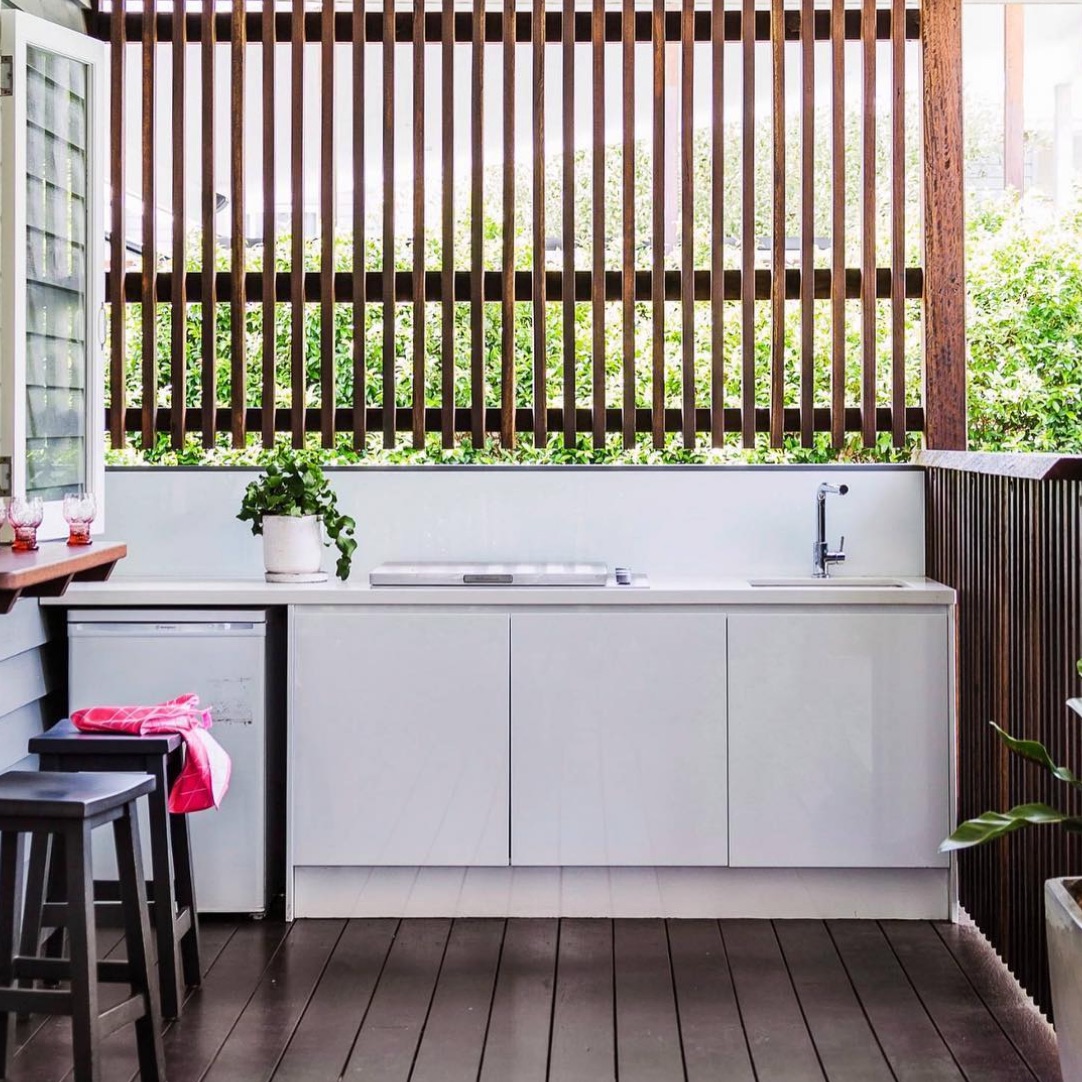 27. Floating deck
Your alfresco doesn't have to be directly connected to your house. In fact, it can be completely separate! Create a peaceful oasis using timber decking, a black outdoor table setting and plenty of greenery.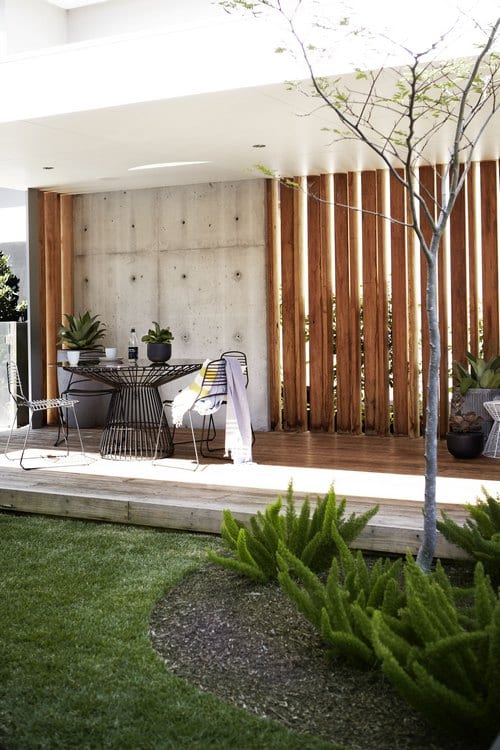 28. Bright and colourful
You may be used to sticking within a set colour scheme, but it can be fun to tiptoe outside the box! Make a bold statement with mixed prints, patterns and colours. Combine bright colours like blue, orange and yellow to give an eclectic look to your alfresco.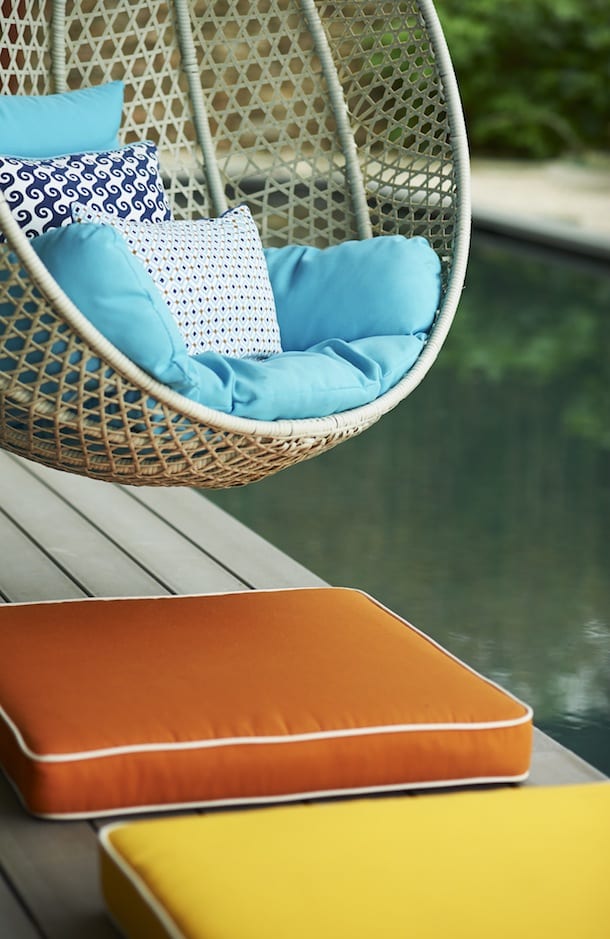 29. Keep it covered from the elements
For a more sophisticated alfresco, keep it covered! You can still enjoy nature with open walls but a pergola will protect you from the sun and the rain. And there are so many advantages to this option. By choosing to cover up, you can include decor that otherwise wouldn't work for outdoor use, like candles, chandeliers and more.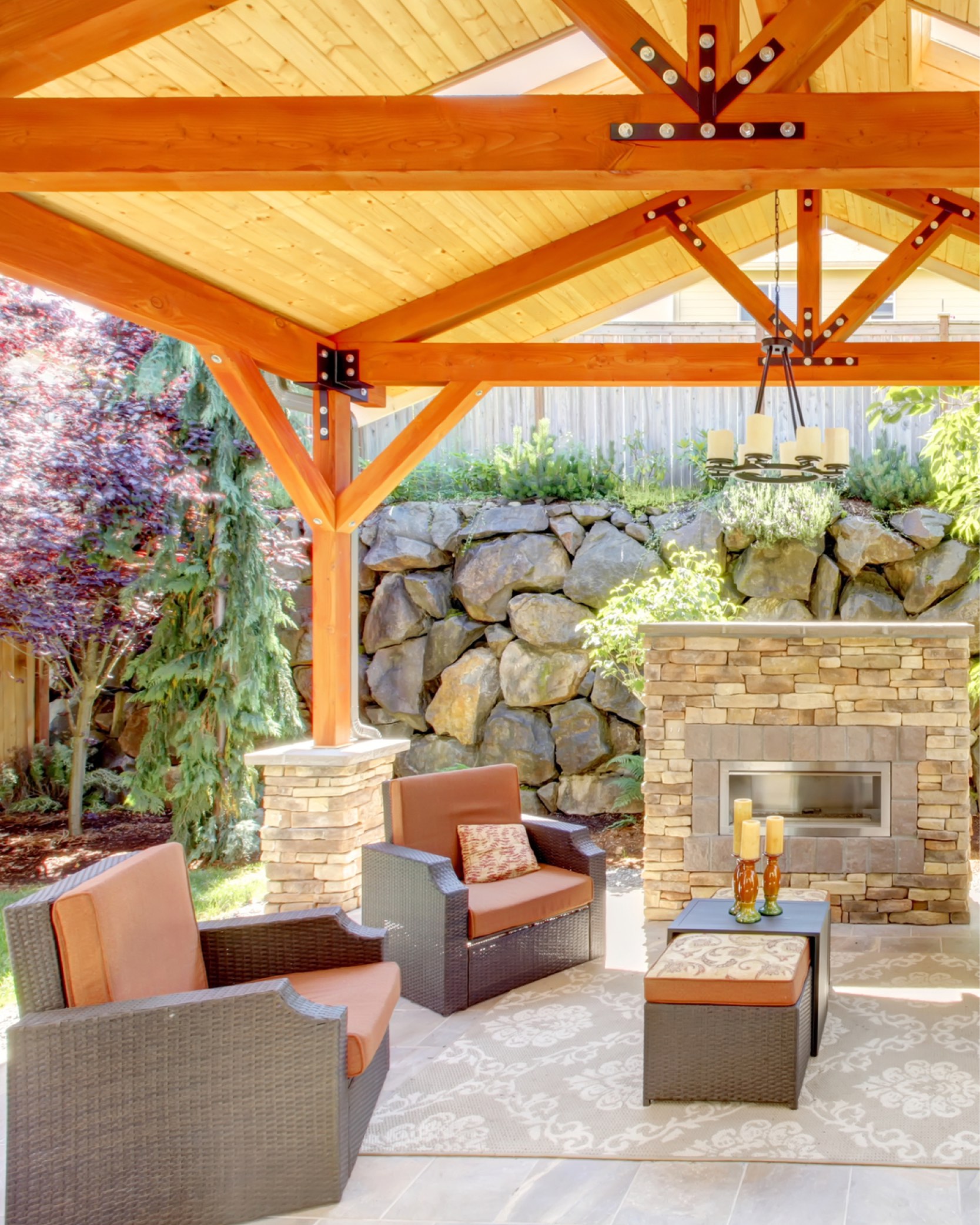 30. Keep the drinks flowing with a bar
Skip the bar fridge and go straight to a full bar! If you love having guests over at your place, then you're going to have a blast whipping up cocktails, mocktails and everything in between in the luxury of your decked out bar. Add funky stools, an outdoor mat and a bowl of fruit to spruce it up!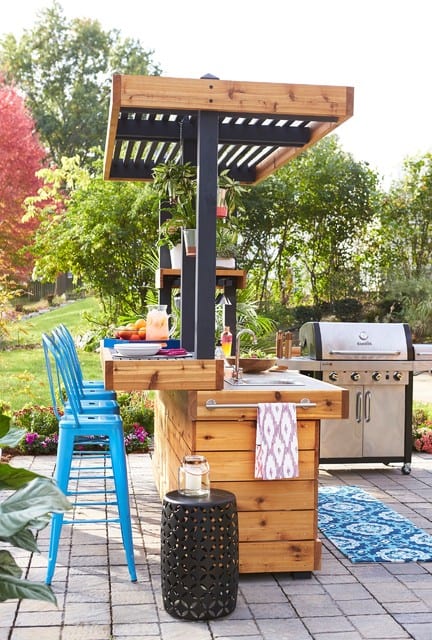 31. Invest in a sound system
Whether you're hosting a party with 50 people or an intimate gathering with your closest friends, you're going to want to have good quality music. Install speakers in your alfresco area so you can keep the music pumping all night long – whether it's your favourite RnB beats or a little bit of smooth jazz.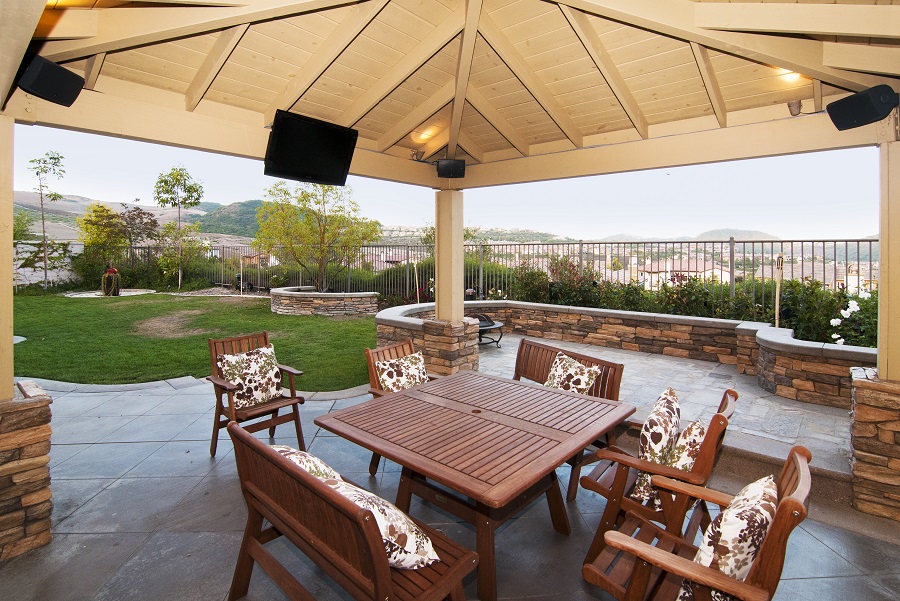 32. How about a backyard cinema?
Bring the silver screen to your backyard with an outdoor cinema. You'll need a projector and a projector screen or sheet stretched out over a timber frame. Set this up on your deck with your existing alfresco setting and add cushions, blankets and mattresses for comfort. Create a bit of mood lighting by stringing some fairy lights or decorative lanterns from the trees. Next – it's time to prepare the popcorn and pick a movie (just make sure everyone agrees!). Enjoy!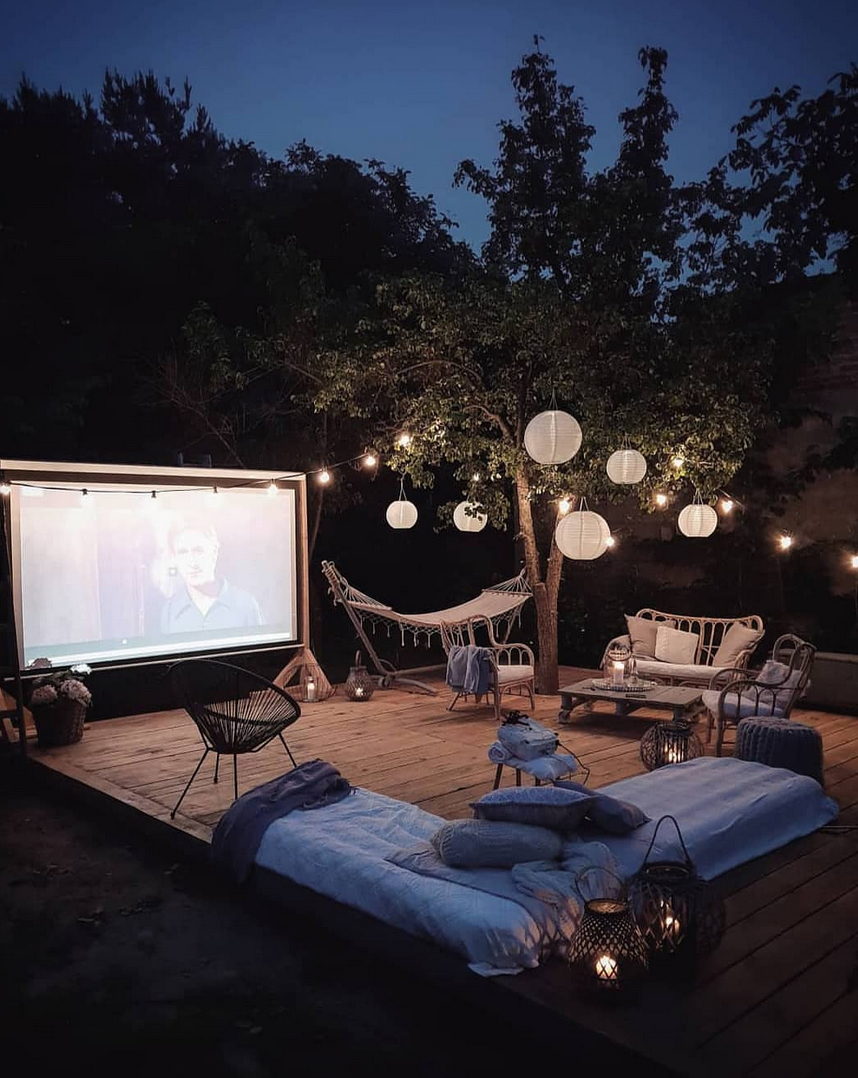 33. Go contemporary with all black
If modern chic is more your style, go all out with black. The great thing about black is that you really don't have to add anything to it because it makes a bold statement on its own. Choose a black kitchen setting, black chairs for your table, and a black bench, and pair it with lacquered timber to complete your alfresco setup.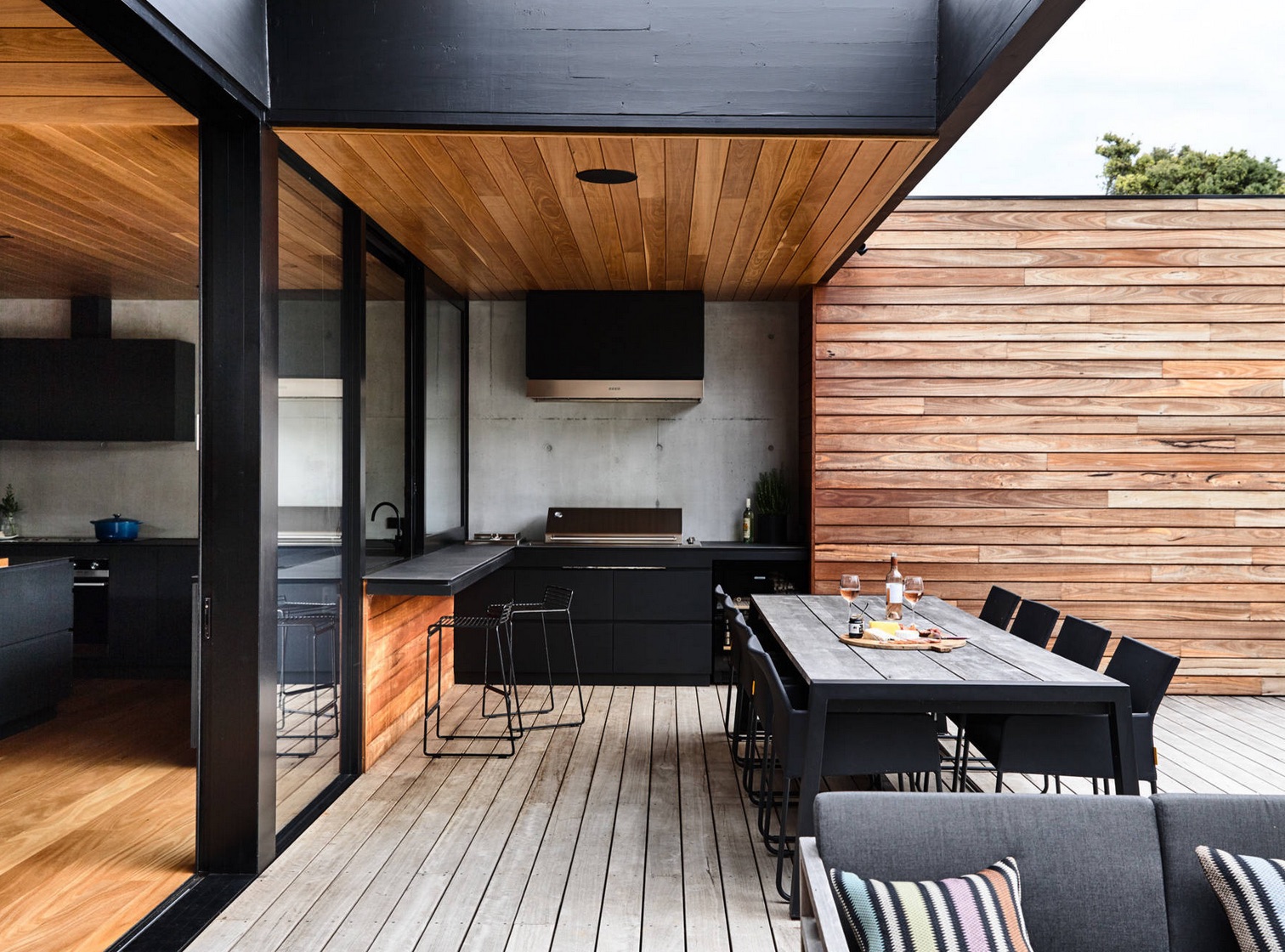 34. Relax under the trees
You don't necessarily need decking or a floating platform to make your alfresco setting work. Create a beautiful dining space on its own under the trees in your backyard with a simple table and chairs. The best thing about it is that you can enjoy the best of both worlds – the warmth of the sun and the shade from the trees.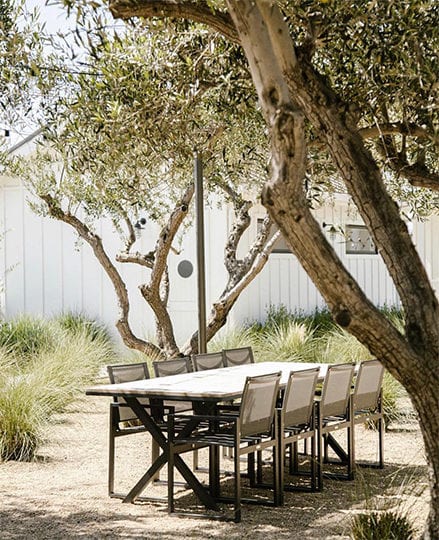 35. Keep it simple
And last but not least, another space-saving idea. If you've got only got a little bit of room for your alfresco area, keep it simple! It's always better to err on the side of 'less is more' than go over the top and add clutter to an already small space. Choose a timber coffee table and chairs, add a few white cushions and complete the area with some white flowers and greenery – perfect!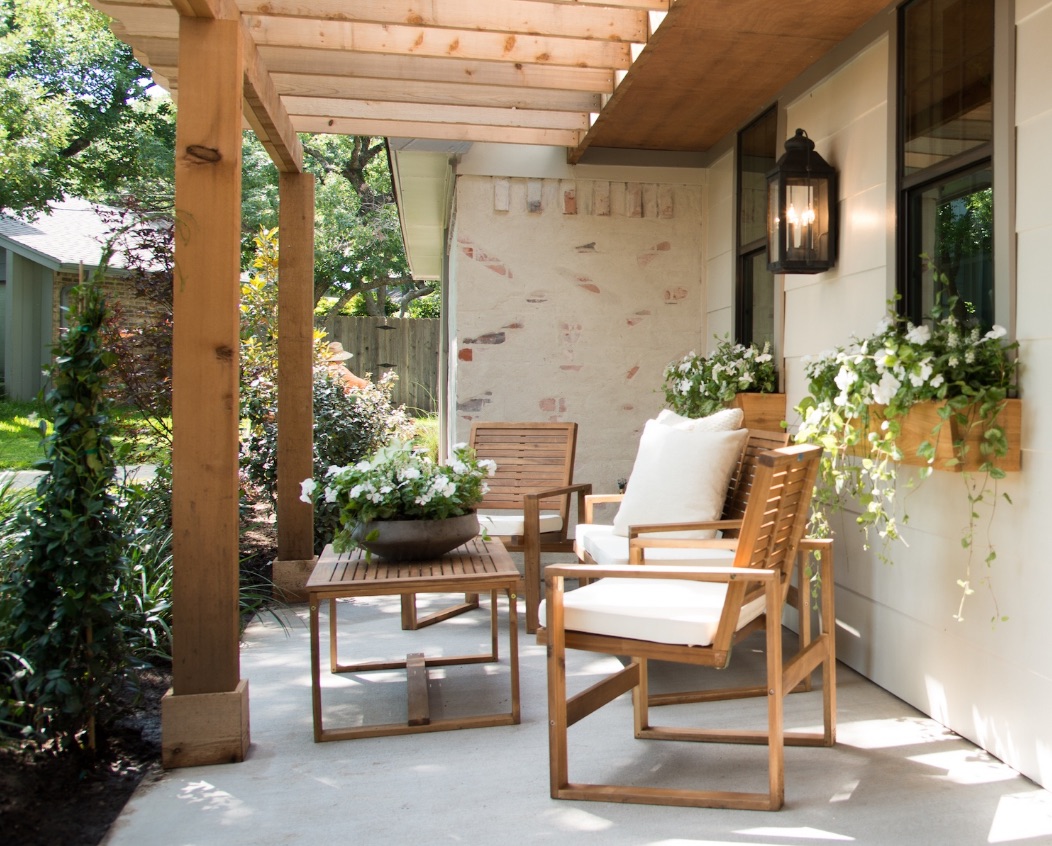 So, what design are you going to choose? Maybe you're going to go with an eclectic mix of bold prints and wild patterns, or perhaps you're going to choose the modern slick-black sophisticated look, or maybe you're ready to transport yourself to Tuscany with a gorgeous green canopy. Whatever style you choose, there's no doubt it will add to your lifestyle. So you can look forward to enjoying the benefits of a beautiful alfresco area for entertaining and relaxing.
If you have any other brilliant alfresco ideas, please share it in the comments section below – I'd love to hear from you!