A great backyard is a part of the Australian lifestyle – it gives you space to enjoy nature, run around with the kids and hosts guests on a Sunday afternoon. One way to spruce up your backyard and have a beautiful space for guests is to have a deck! But where to start… That's why we've put together these divine decking ideas.
Do you build your deck around your house or standalone in the yard? Do you add a pergola or an umbrella? What kind of lighting should you use – decorative lanterns or LED lights? And what sort of timber should you use – hardwood, pine, or something more sustainable?
The truth is that you can use any number of these options! To help you decide, I've compiled 40 unique decking ideas for your backyard.
1. Create shade
If your deck isn't undercover, create shaded spots with an umbrella. This gives you the option to bask in the sun or relax in the cool.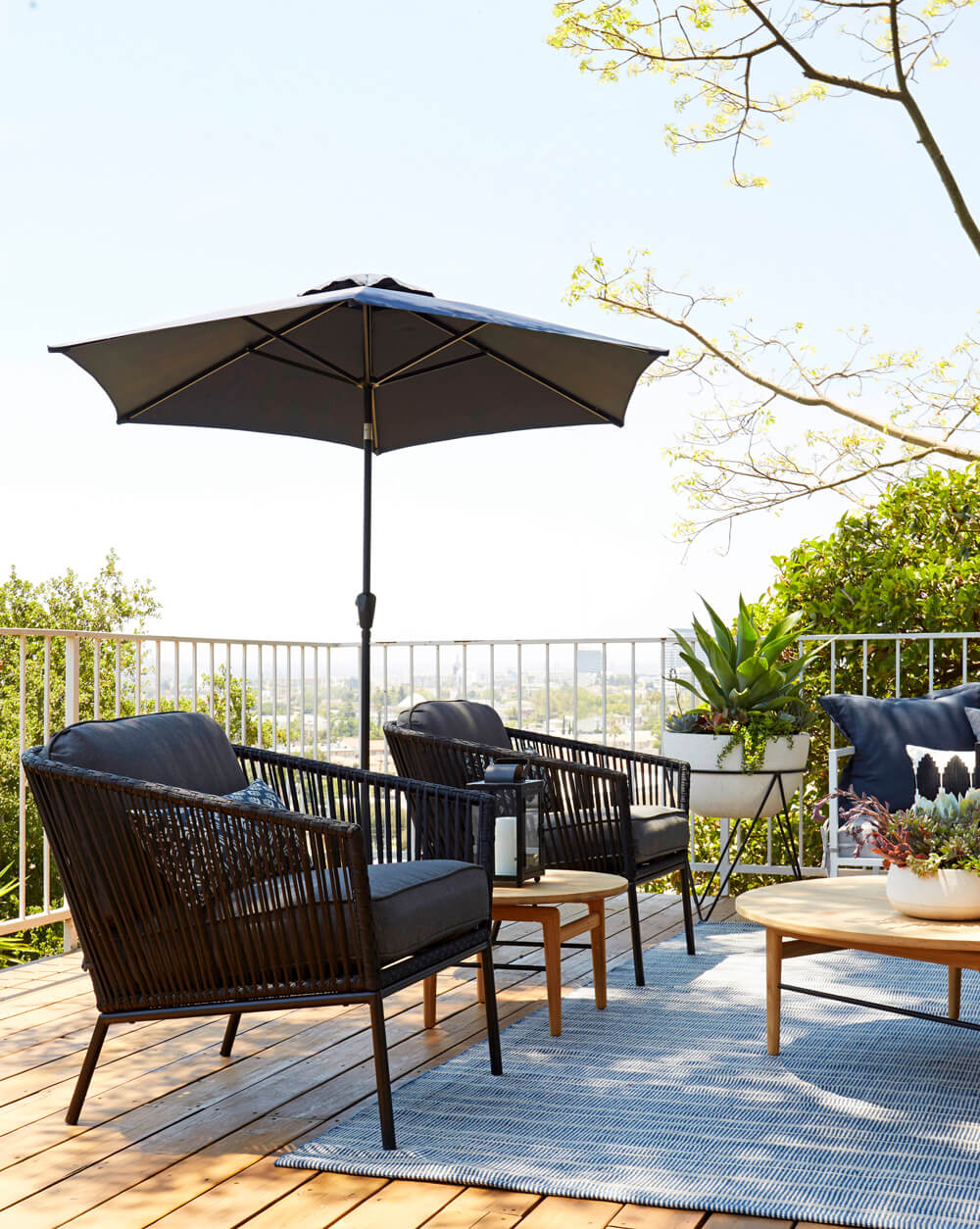 A darker umbrella looks sophisticated and hides any dirt.
2. Make a bold statement
Go all out with white decking against black exterior walls and furnishing for a bold statement. This is a modern, clean look that will take your house to the next level.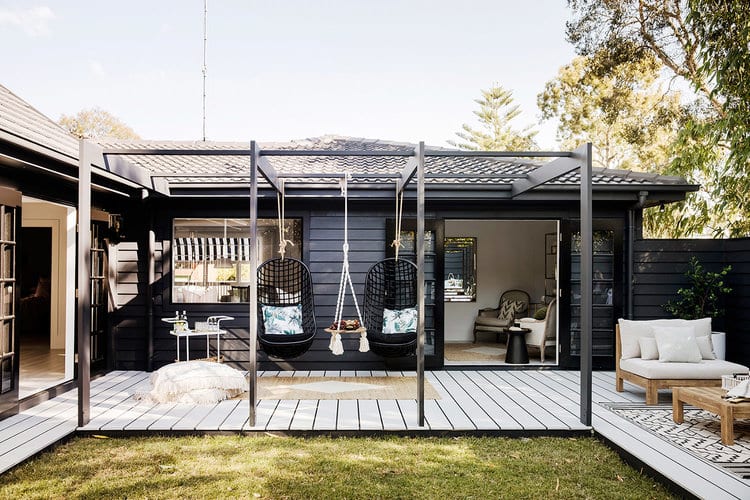 3. Use scaffold boards
DIY your own deck with scaffold boards. This material is a cheap option for those on a budget, and looks great with a little polish!
If DIY is something that you want to do, research and planning is just the start however we've laid out the six easy steps about how to build your DIY deck.
See best-rated taskers here.
4. Floating deck
A floating deck is different from a normal deck because it seems to 'float' on top of the ground. These kinds of decks can be transported anywhere (great if you move house!) and provide a lovely oasis anywhere in your garden.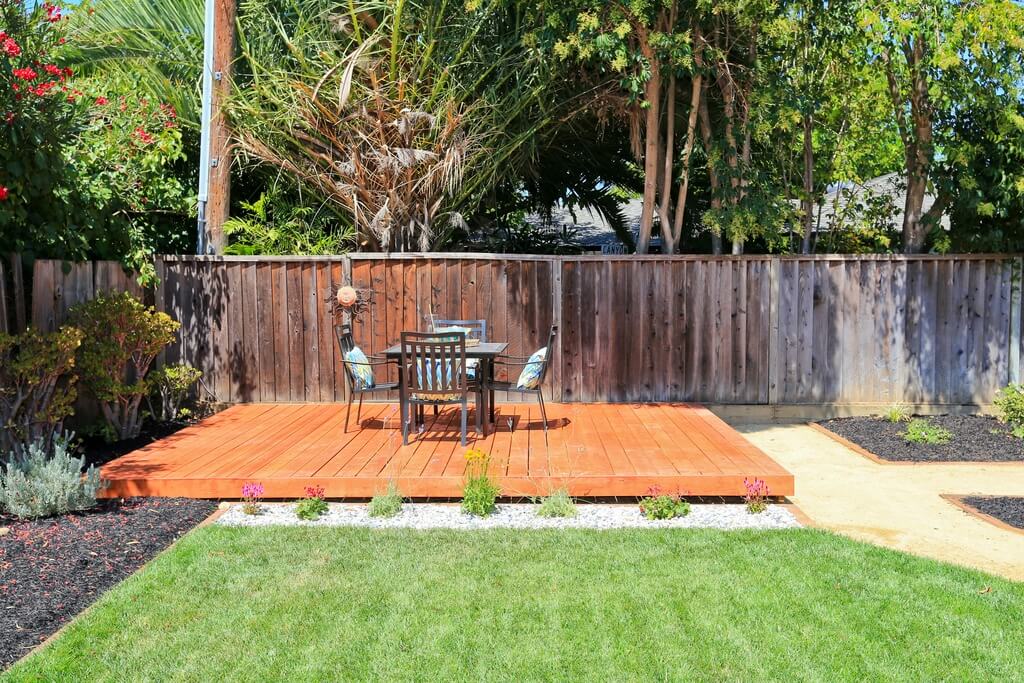 5. Build your deck around an existing tree
While we're talking about floating decks, why not consider building yours around an existing tree on your property? Putting your deck around a tree is just one way to integrate your deck with the yard. Before you begin work, make sure you consult an arborist to make sure you allow enough room for the tree to grow to maturity.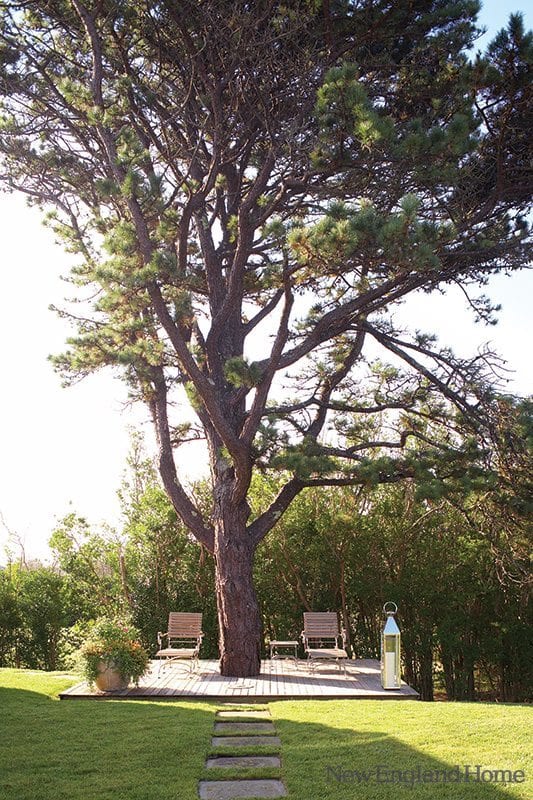 6. Create a peaceful oasis
Your deck is the perfect place for rest, so you want to put in the effort to make sure it feels like a relaxing space. Choose peaceful colours like natural timber and blue, keep a bunch of flowers on your coffee table, hang a throw over the arm of your outdoor seating set, and use an outdoor rug on the floor.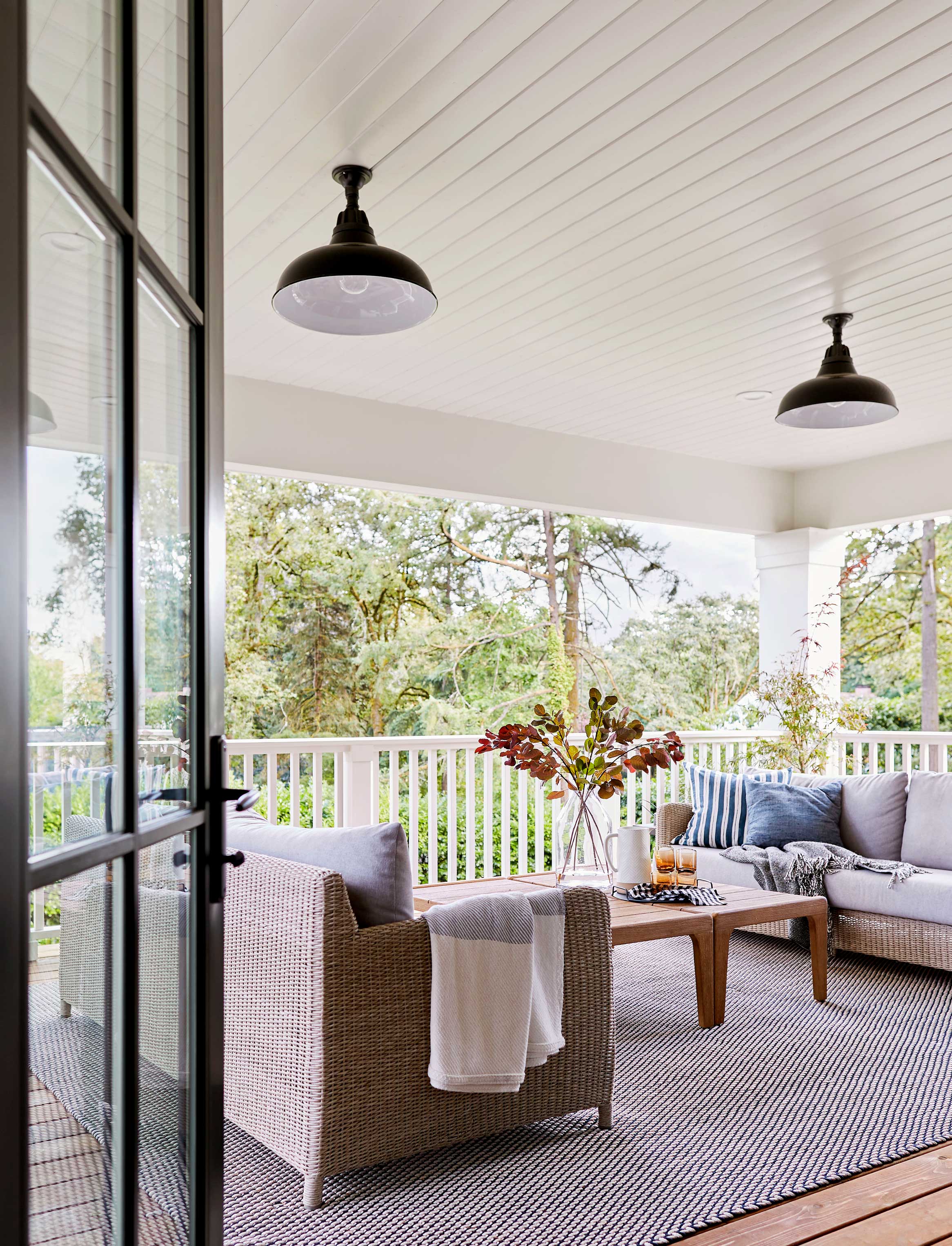 7. Maximise seating
Build seating into your deck to maximise the space. Don't be afraid to use different shades of timber, as this will create interest in your space. Add throw pillows and cushions to make the seats comfortable.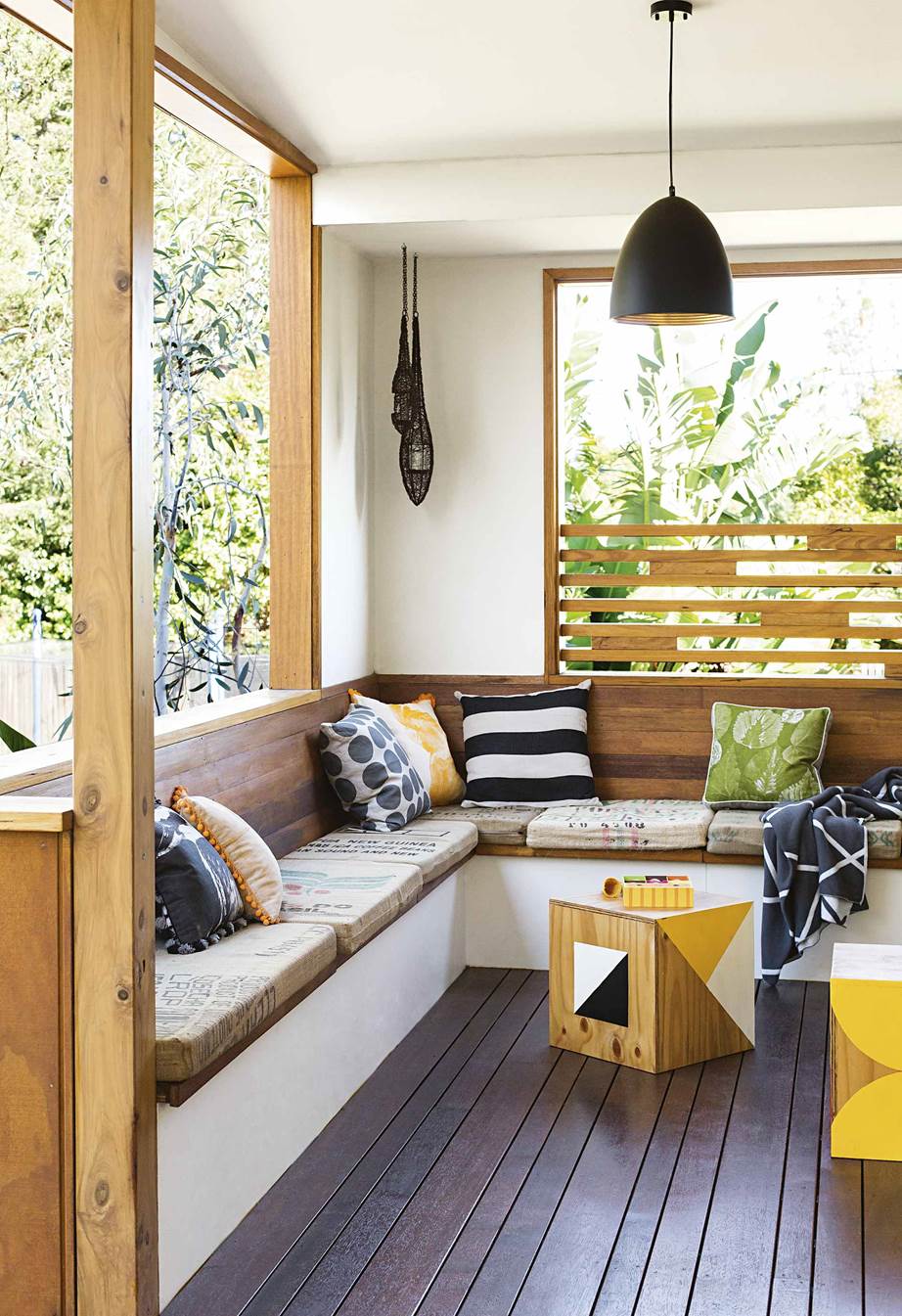 8. Use levels
Break up your deck with levels. Multilevel outdoor living space will bridge the gap between your home and lawn for a seamless design.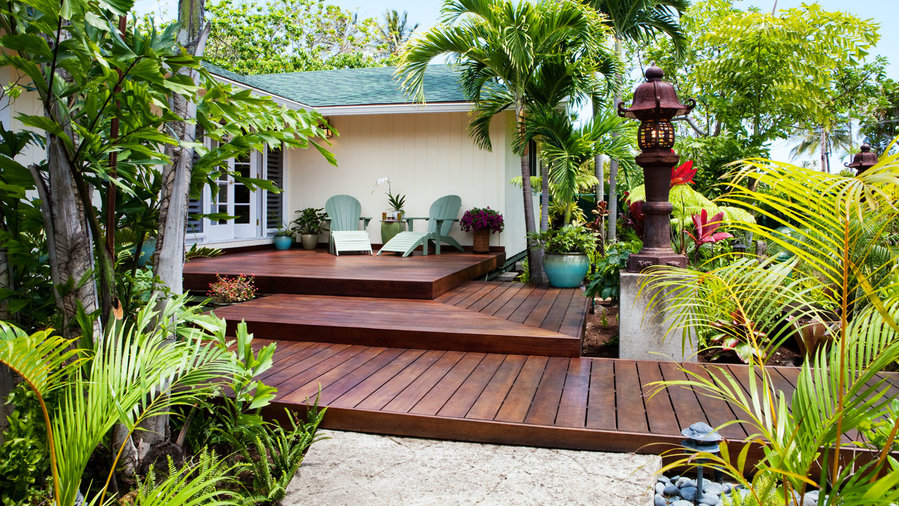 This is something best left to the professionals, take a look if you can find a decking expert nearby.
9. Add floor lighting
Use LED lights on the floor to bring some ambience to your space and draw attention to your deck design.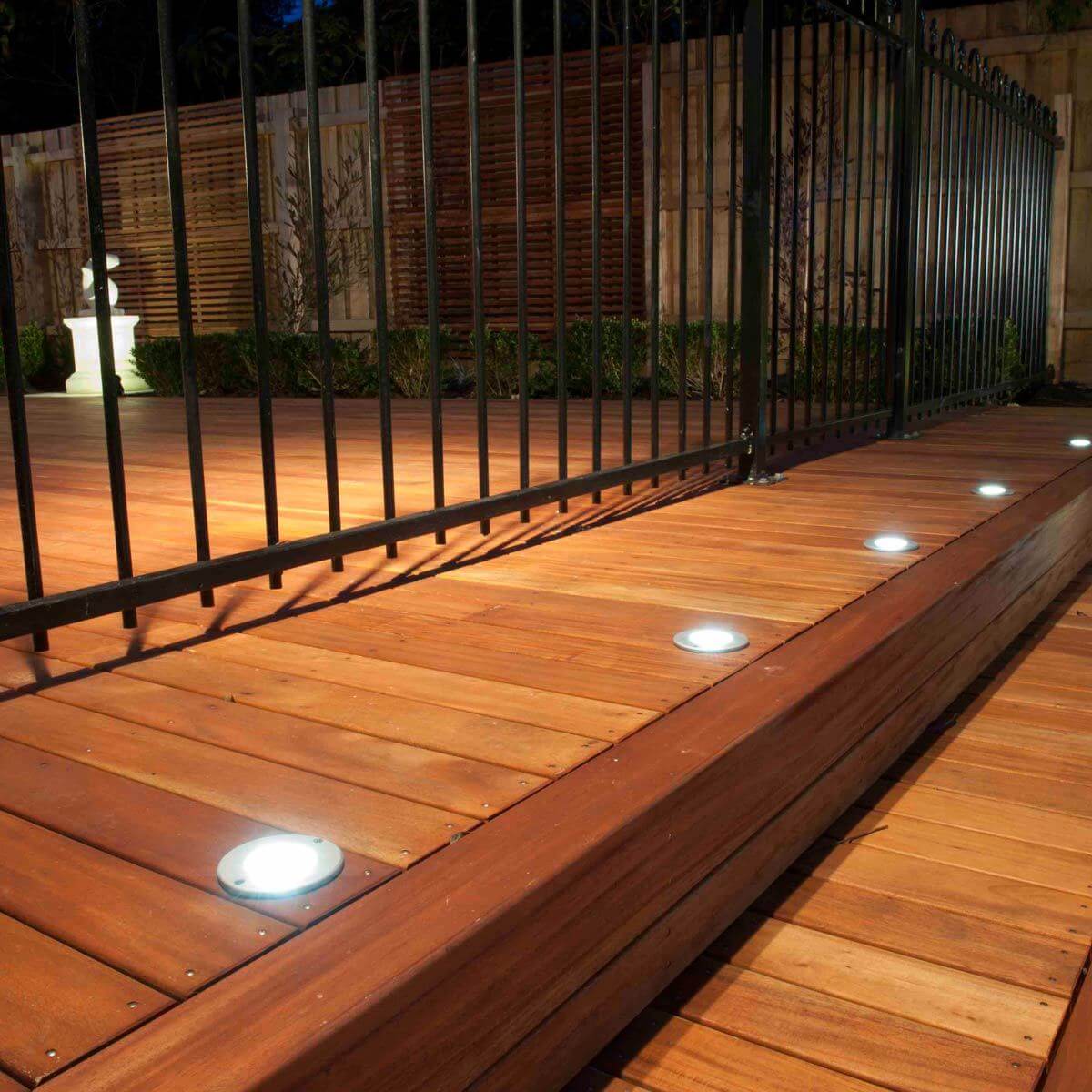 10. Get creative with your lighting
Set the mood with festoon and fairy lights. These will make almost any space instantly beautiful. Decorative lights are perfect for when you're hosting a party or09 simply for when you have guests over for dinner and drinks.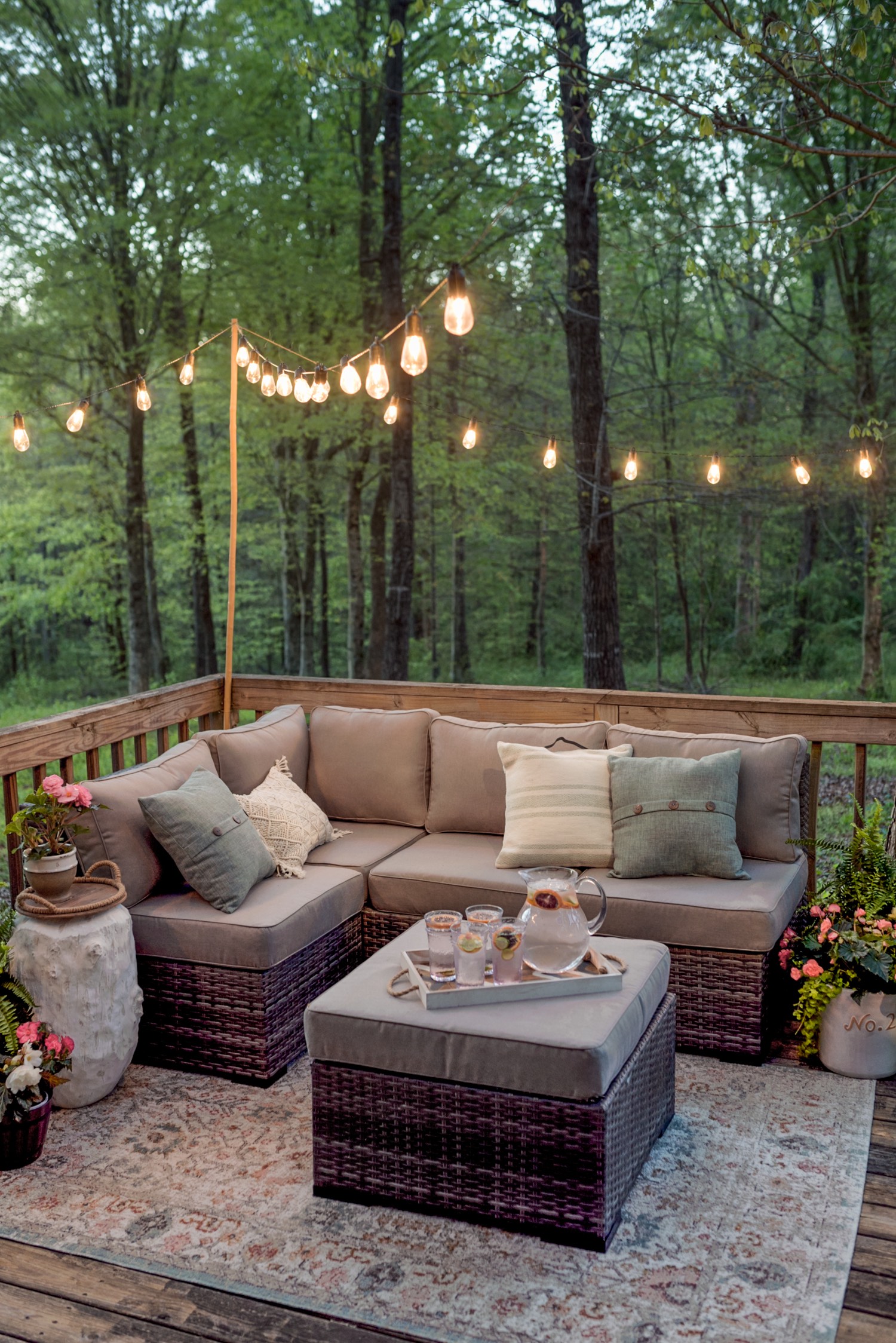 11. Create a front deck
Your deck doesn't always have to be in the backyard. Create a beautiful front deck so that you can look over the street.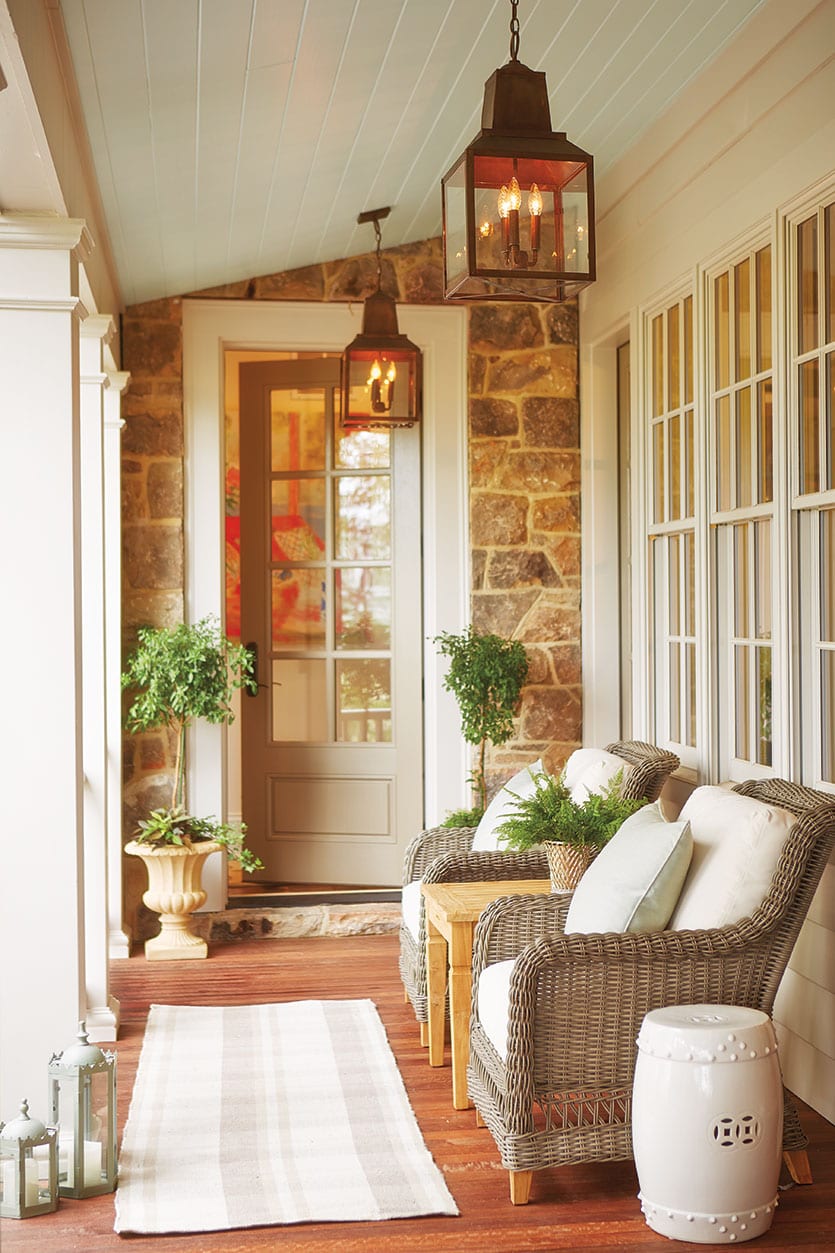 12. Make it cosy
You may think cosy spaces are reserved for the living room – but you can make your deck comfy too! There are plenty of great outdoor furniture options that are weatherproof and durable. Add plenty of pillows (the more the better!) to make the space nice and comfortable.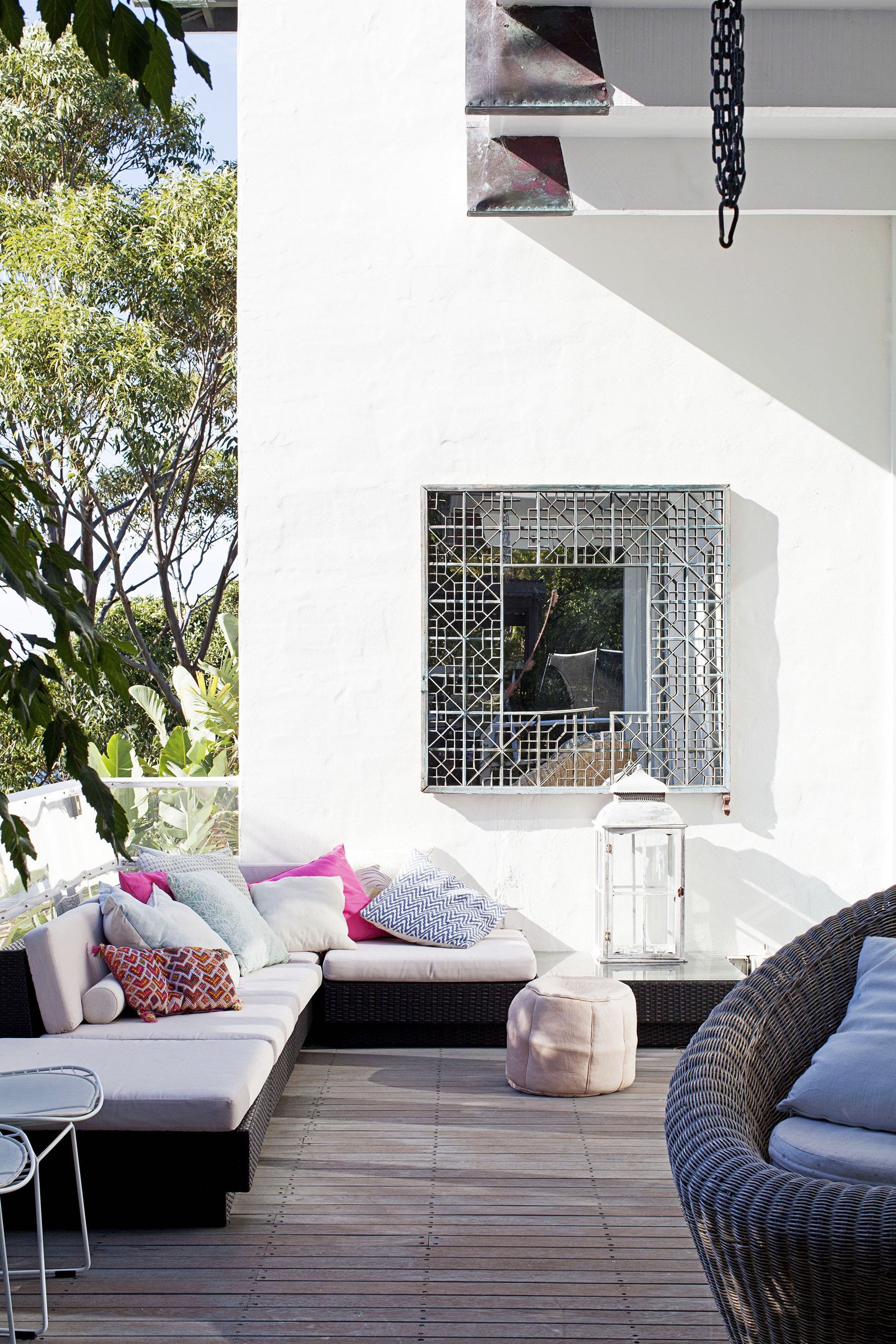 13. Create functional spaces
Get creative with your furniture arrangement by establishing clearly zoned areas. If you have a smaller space, put a bench and dining table closer to a corner; in a larger space, use different textures like rugs to separate dining and relaxing areas.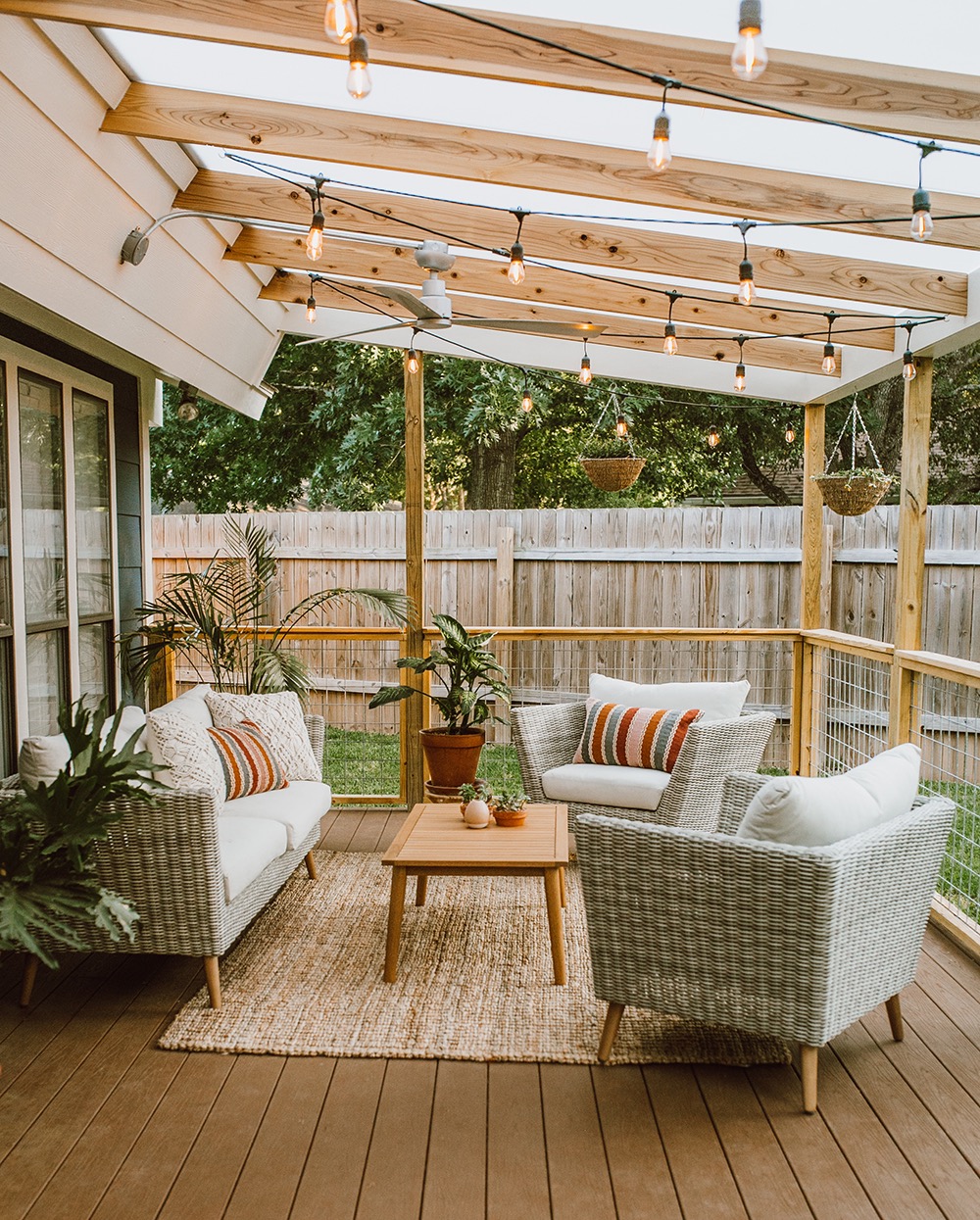 14. It's all in the details
Ultimately, it's the small personal touches that will transform your deck into space you truly love. Just like you would add pillows, throws and decorations to your living room, add some outdoor appropriate decor to your deck.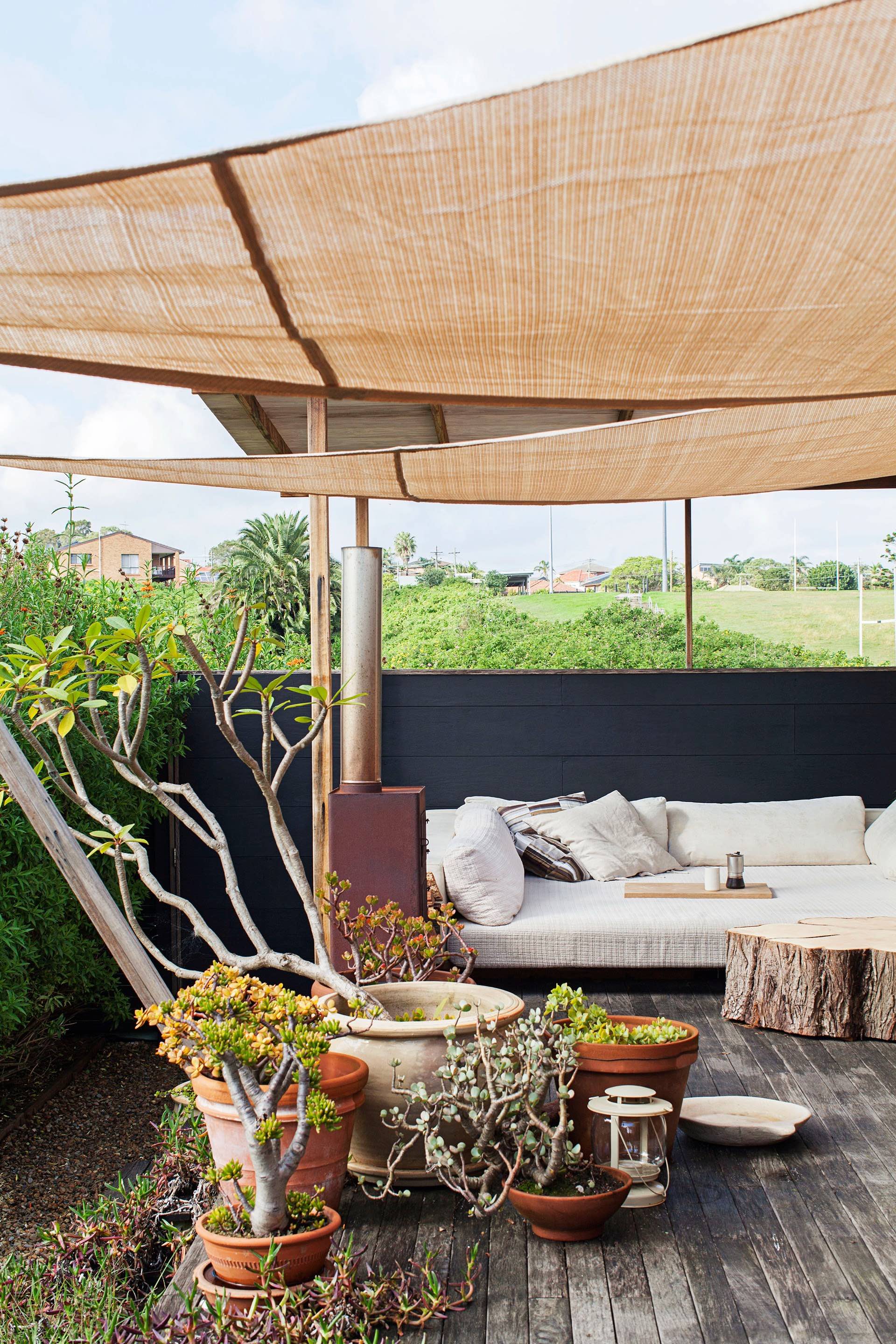 15. Plan your deck around entertaining
I love having my house filled to the brim with people. If you're anything like me and you love entertaining too, then you know the value of having a deck to enjoy with family and friends. This is the place where you can come together at special events like Christmas lunch or family birthdays. It's also the spot where you can enjoy a lazy Sunday lunch with your friends. So you can do this, make sure you design your deck around entertaining. Think of creating tables, bench chairs, lounges and even adding in an outdoor bar or kitchen so that you can keep the party going all night long!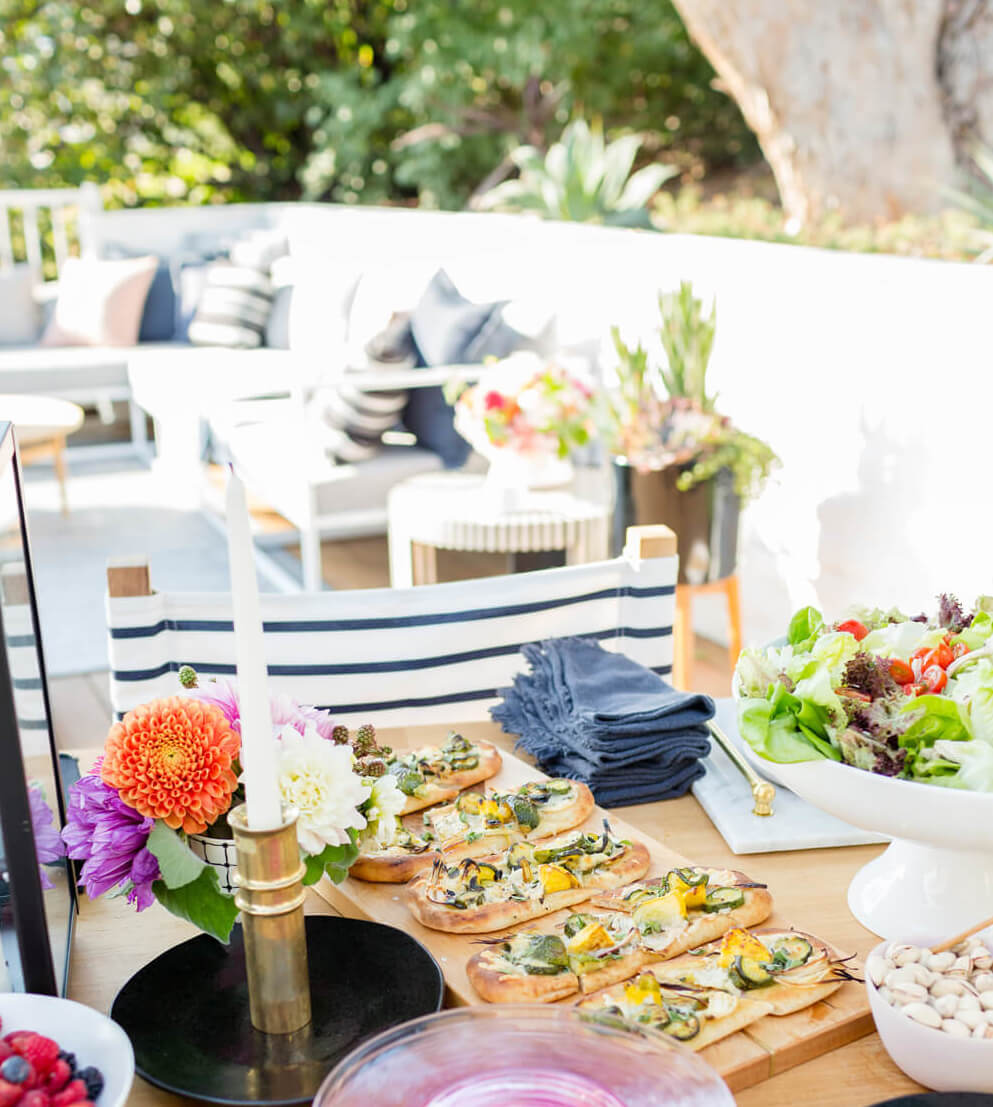 16. Create interest with a rug
Add an outdoor rug to separate the spaces on your deck. If you have a smaller space, simply place a rug under your main table or seating area.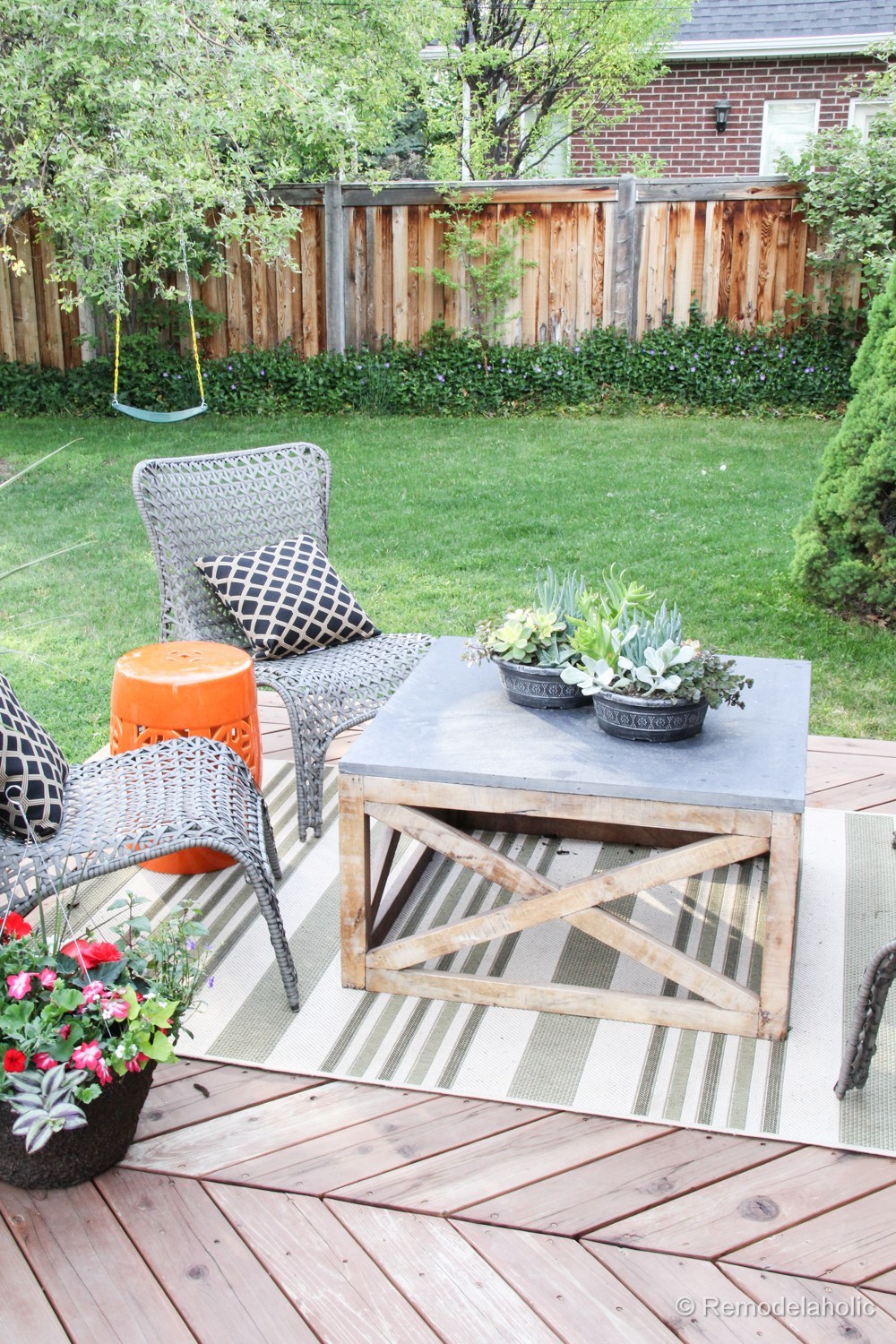 17. Choose the right timber
The most important decision you'll make when it comes to your deck is the type of timber to use. But it can be overwhelming because there are just so many types of decking to use!
Hardwood timber decking – extremely durable, highly resilient and can look, feel and even smell great.
Treated pine timber decking – one of the most common choices for the home because it's highly versatile and affordable.
Composite decking – made from a mix of wood fibres and recycled plastic and is an easy and environmentally friendly option.
Modular decking – real timber boards prefabricated into panels that are fast and easy to install – perfect for the DIY option.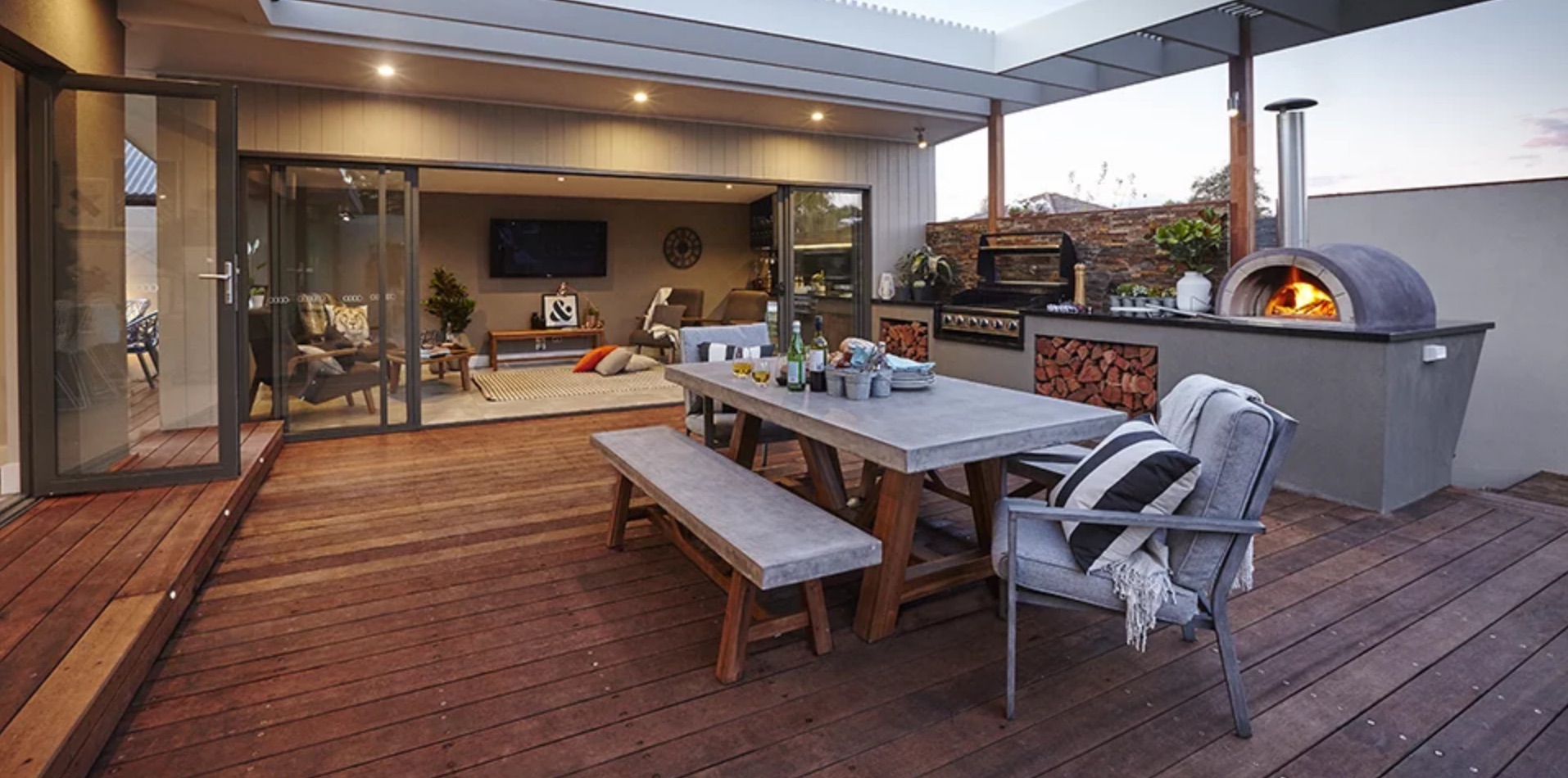 18. Add some outdoor plants
By adding outdoor plants, you'll make your deck feel like a garden oasis. When it comes to plants, my theory is always the more the better! And if you only have a small space, adding plants will make your area feel more lush and relaxing.
My favourite picks for outdoor plants are 'Emerald' arborvitae for height, Bergenia for gorgeous shiny leaves, Heucheras for interest, Blue star juniper for colour and 'Fuldaglut' sedum for a big statement!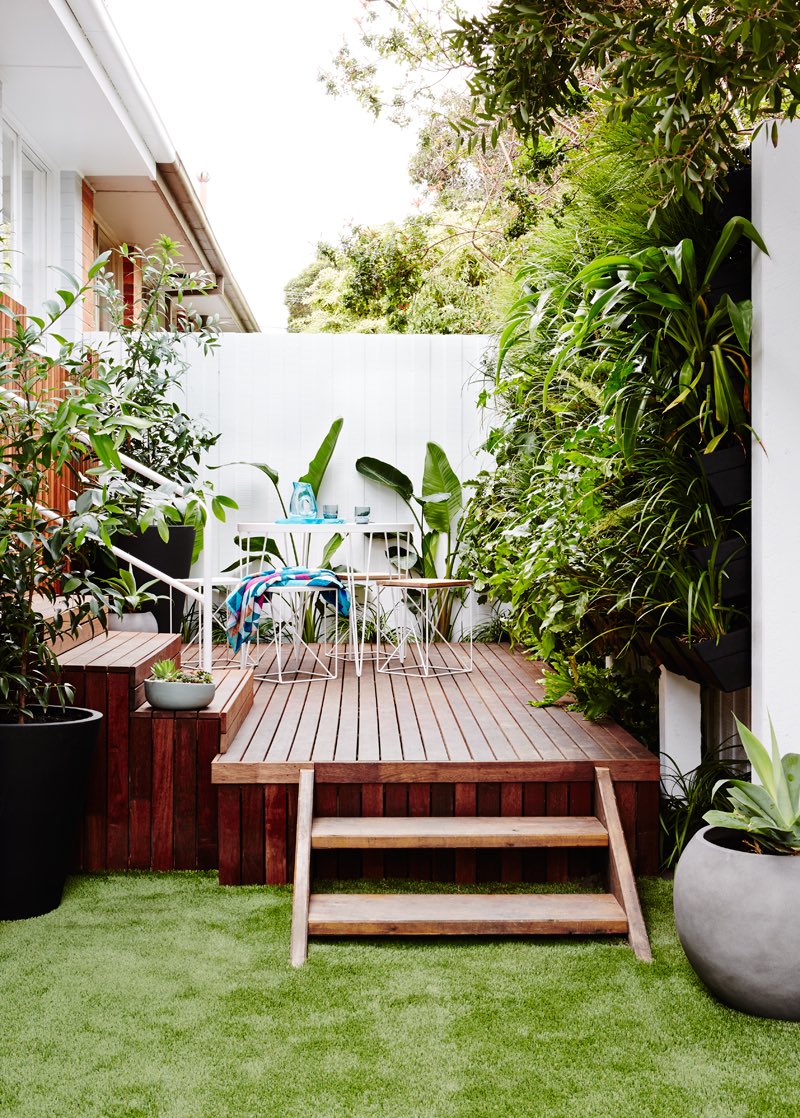 19. Add a swing
For something a little bit different, add a swing to your furniture set. This will be sure to wow your guests and provides the perfect place to relax with a glass of wine in the evening.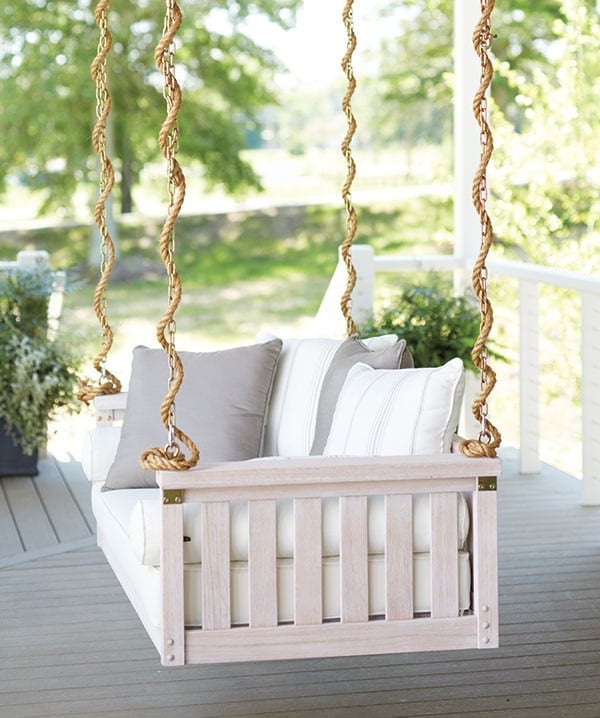 20. Keep warm with a fire pit
There's nothing quite like sitting around the fire with friends on a cool evening. If that sounds like something you'd like to do, then don't waste any time! Grab a fire pit and set it up as a permanent feature on your deck. And then next time you have friends around, you'll be all set to go!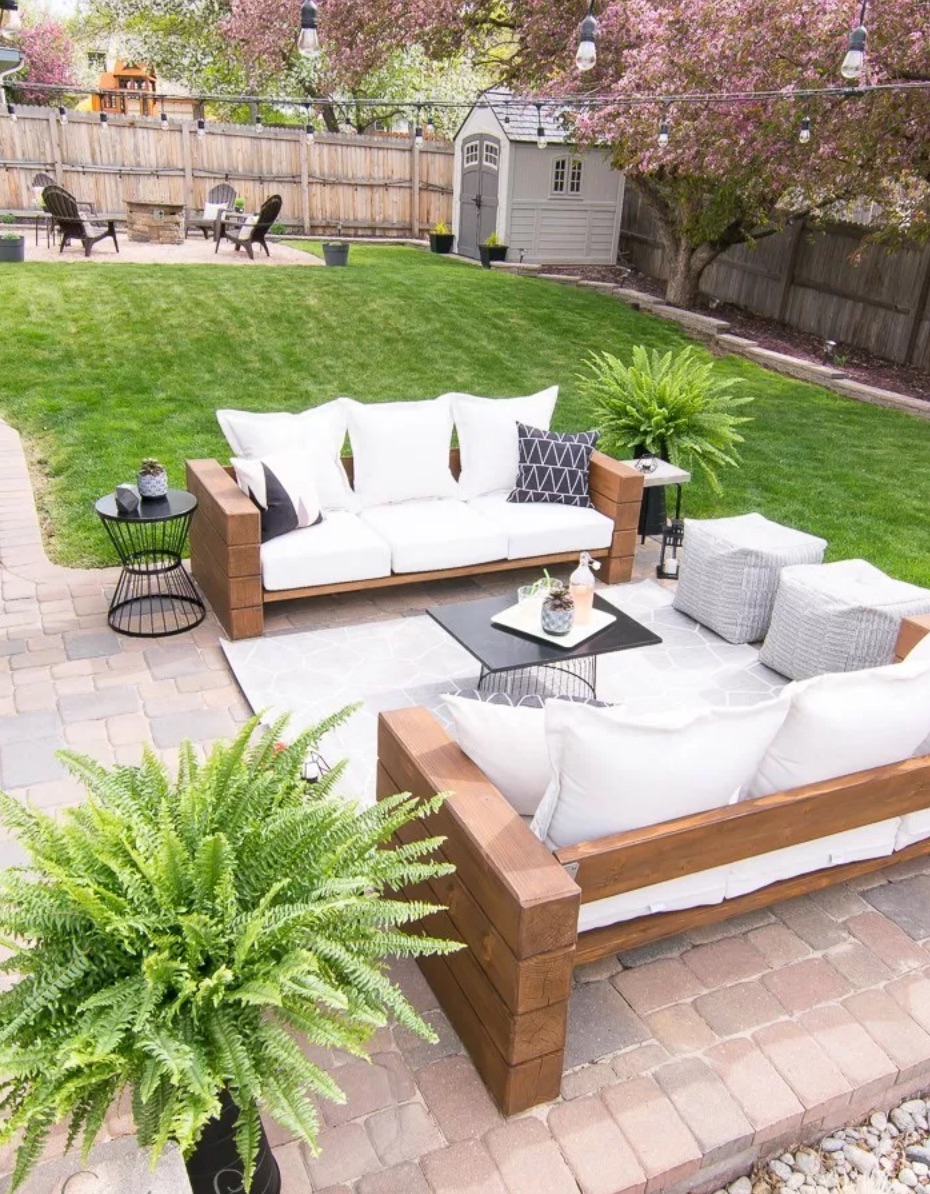 21. Choose feature pillows
Add a little of your personality and style to your deck with some fun pillows. Choose from block colours to animal print to minimal classic, to Moroccan inspired or glam chic. Make sure you keep the colours consistent across your furniture for a seamless look!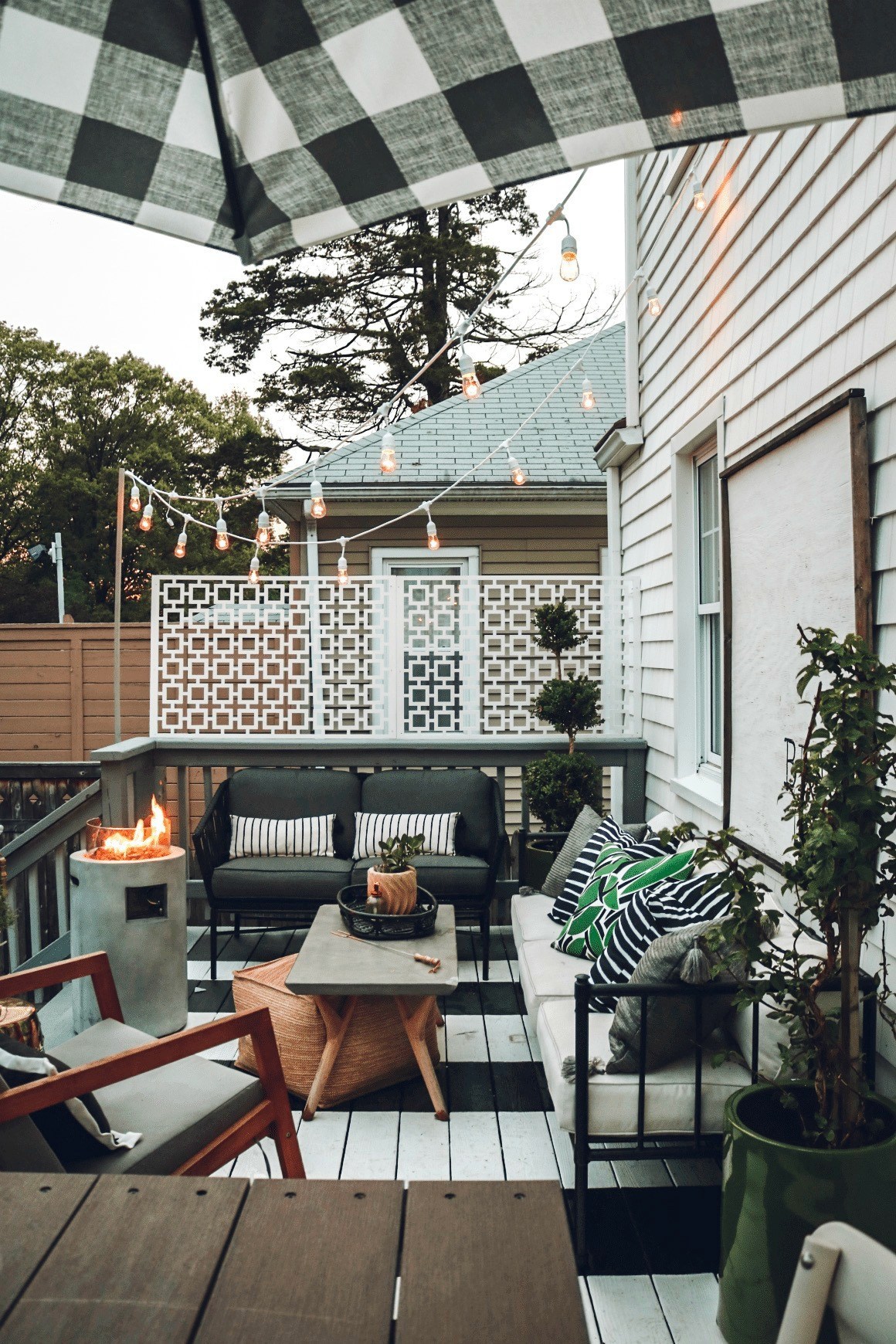 22. Wraparound deck
When it comes to decking, one of the biggest and boldest choices you can make is to go with a wraparound deck. This is the perfect option if you have bedrooms that can open out onto the deck so every family member can enjoy their own peace and quiet!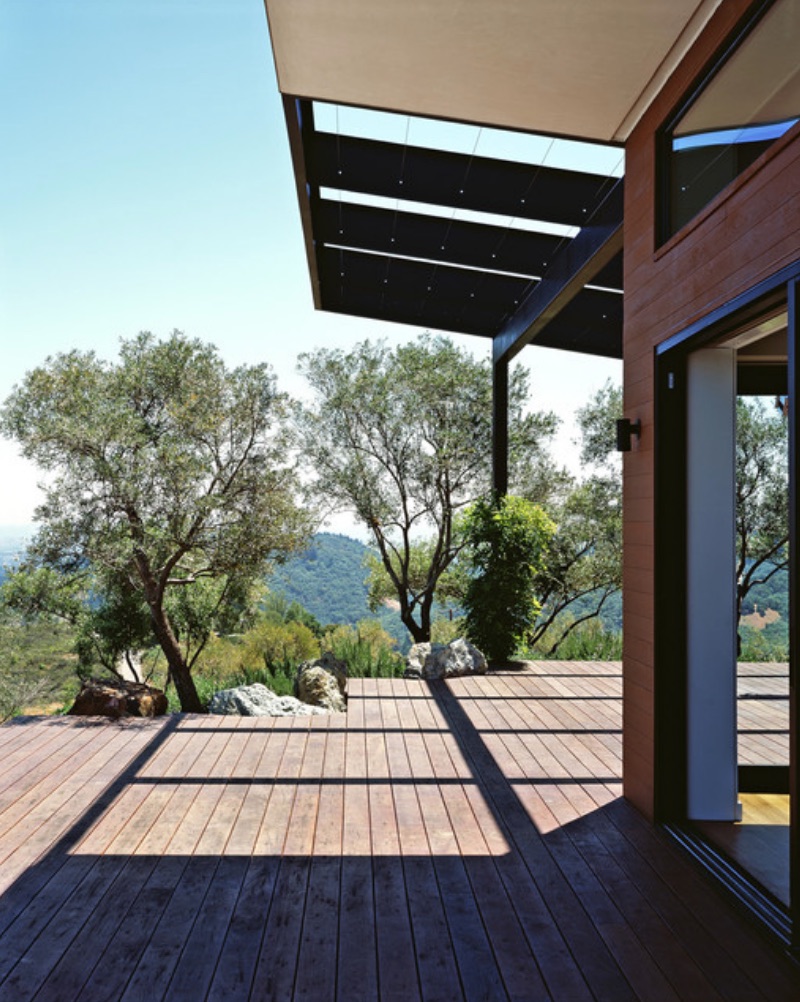 23. Side-yard deck
A smaller hideaway oasis is a perfect addition when you just want to getaway and read a book in peace and quiet.
24. Pool decking ideas
Wrap timber decking around your pool for a seamless look across your entire outdoor area. It's the perfect substitute for tiles.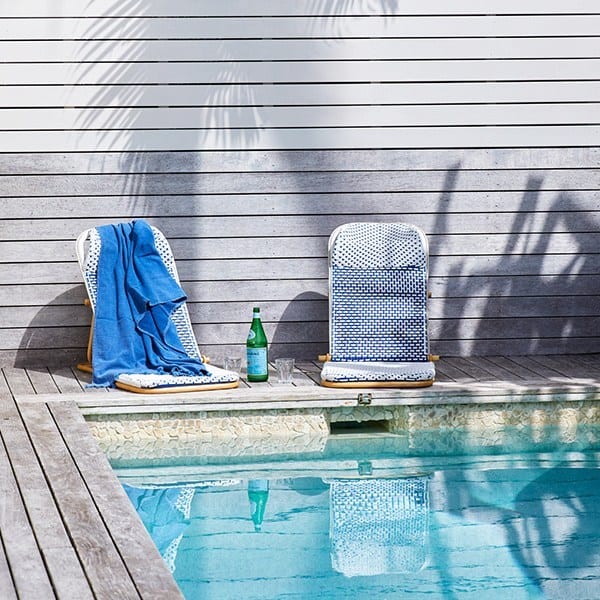 25. Hot tub deck
Looking for a little R&R? This hot tub is what you need. Design the deck to wind around the hot tub to make the perfect restful space.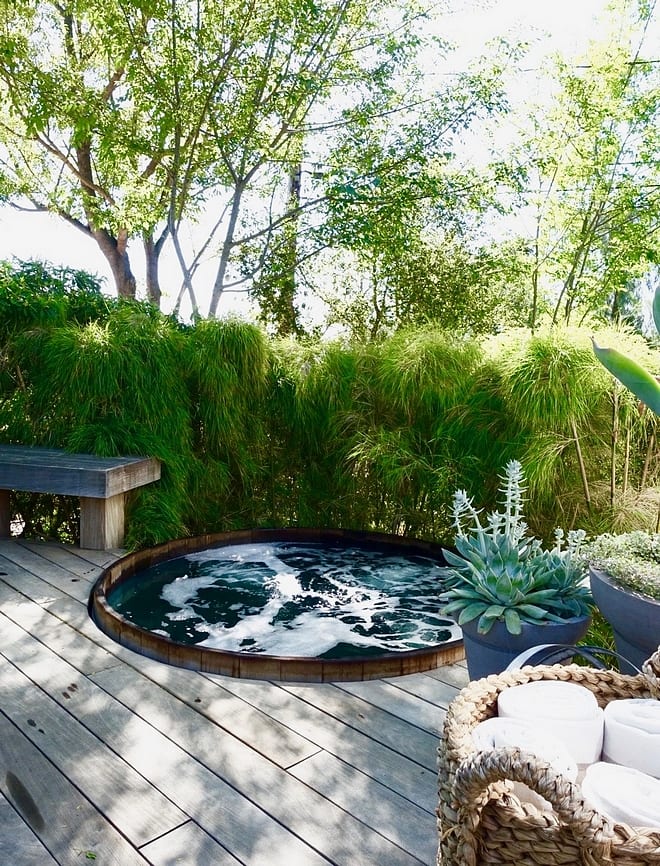 26. Incorporate an outdoor kitchen
If you're big on entertaining, then it might be worth investing in an outdoor kitchen, so you can easily keep the party going. You could choose a complete kitchen system, a BBQ or even an outdoor bar. Whatever you choose, you can be confident that your guests won't be leaving early!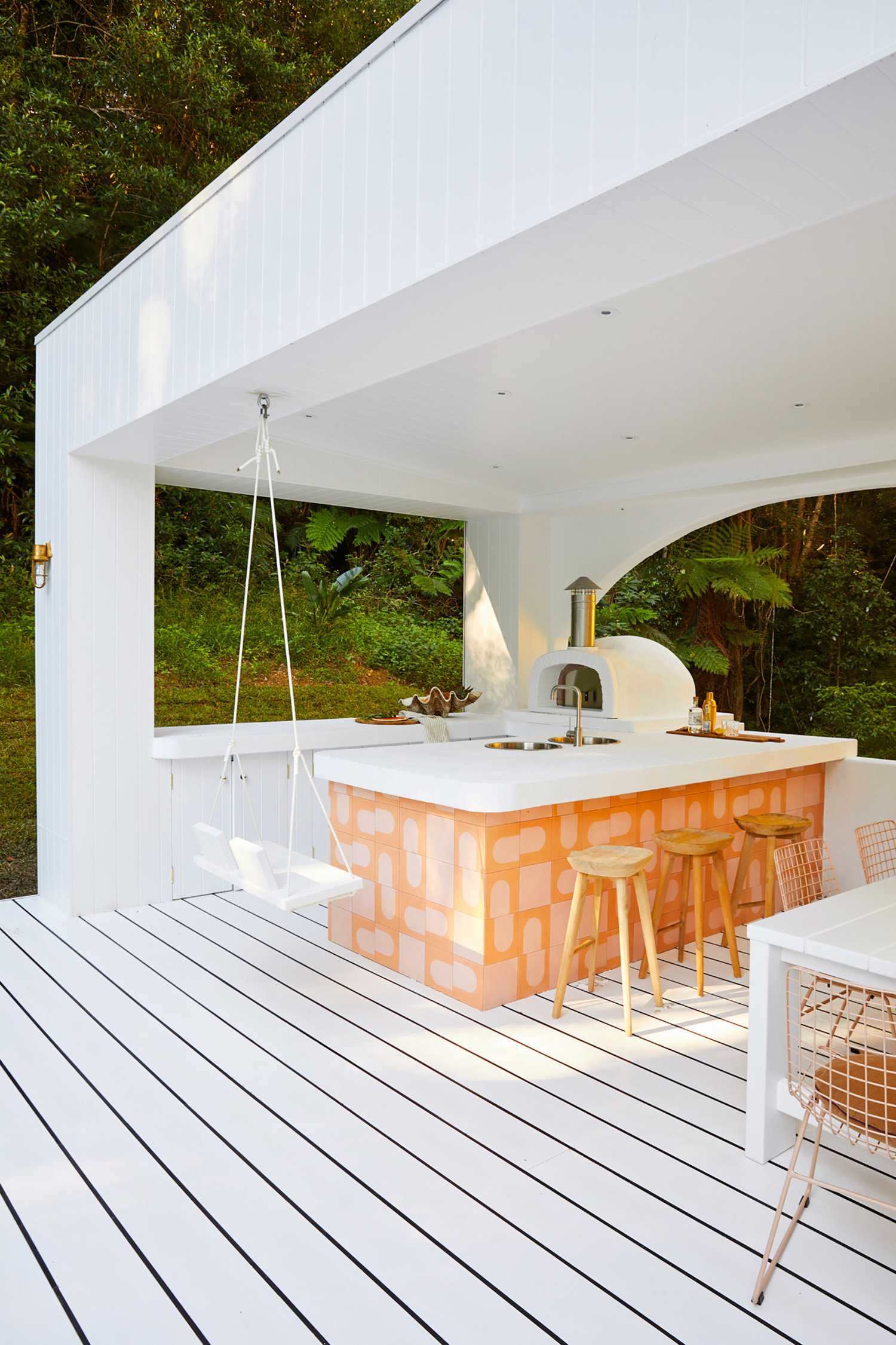 27. Add a herb garden
Use vertical planter boxes to create your very own herb garden on your deck. This not only looks beautiful, but it's handy to have these herbs right outside your door for when you need to add them to a meal as you cook.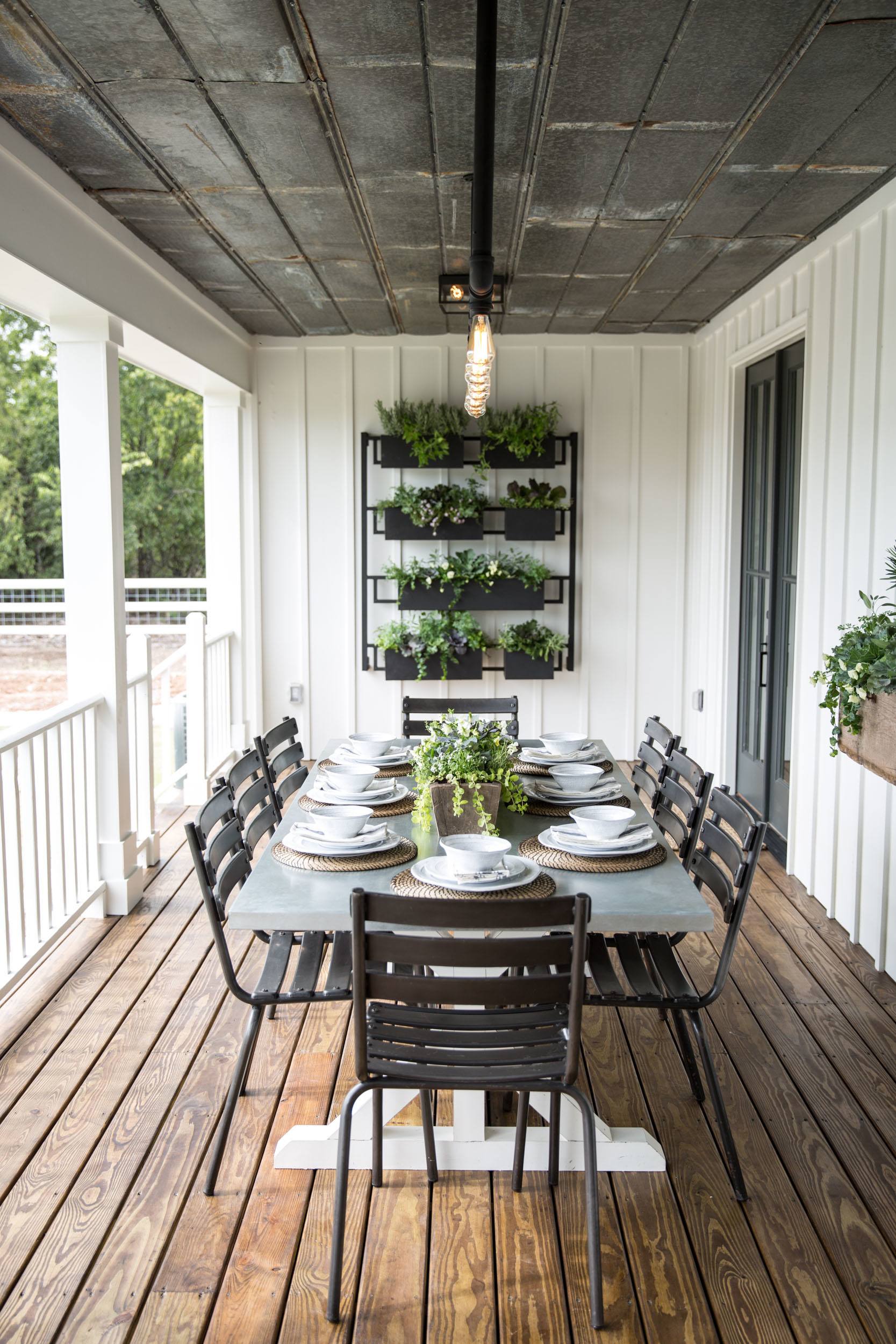 28. Add hanging flower pots
While I'm talking about plants, I simply can't forget flowers! You can integrate flowers into your deck in so many ways. Of course, you can have fresh flowers in a vase on the table. But you can also use flower planters and hang them over your railing or even with rope from a ceiling beam.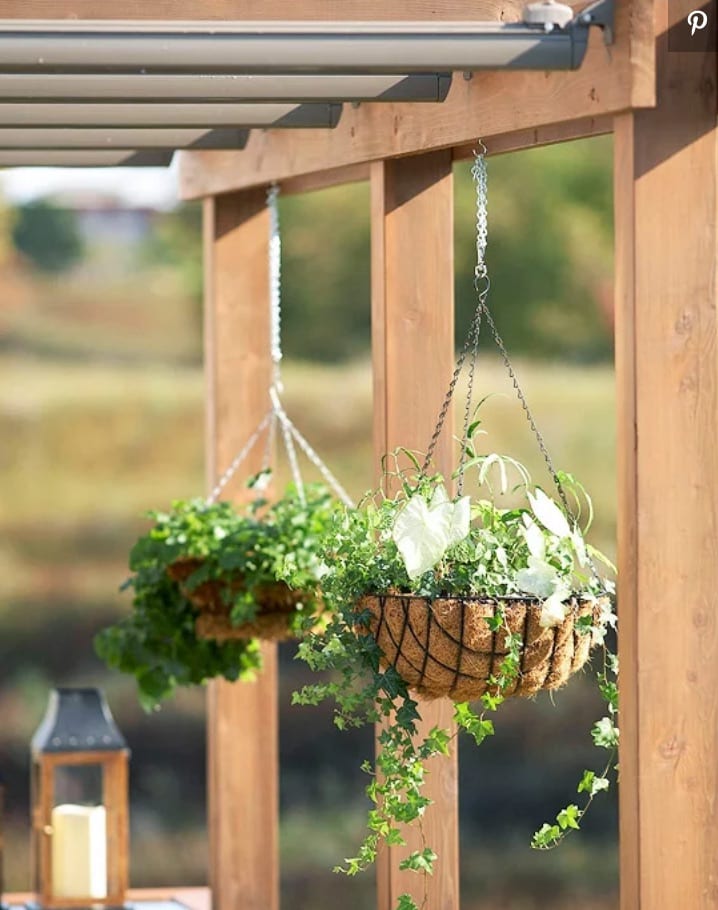 29. Consider composite decking
If you'd rather avoid the upkeep that comes with natural timber, consider composite decking. It's a low maintenance option that's extremely resistant to moisture damage and everyday scratches or stains.
30. Go geometrical with tasteful tiles
Did you know that you could make patterns in your decking? Neither did I! But this is a pretty cool idea for something a little bit different. This tiled pattern is sometimes called a 'box' or 'basket weave' design.' You can customise the colour and arrangement to suit your style.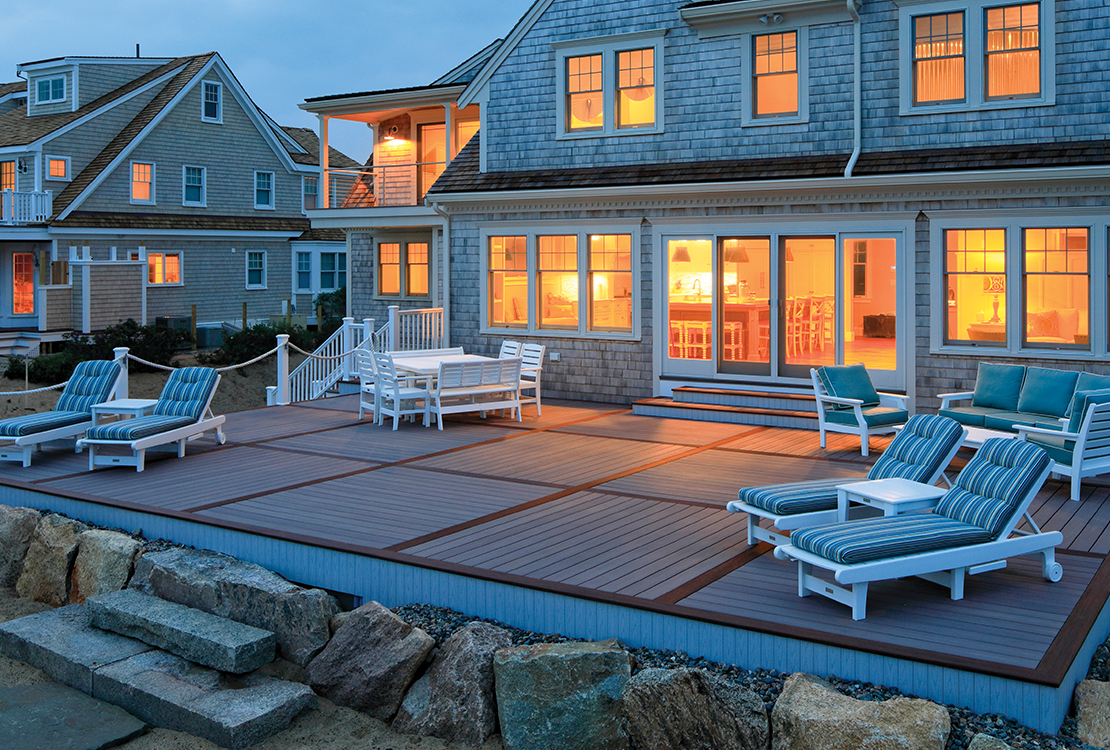 31. Go up
Add an extra dimension by going up and give your backyard a whole new look.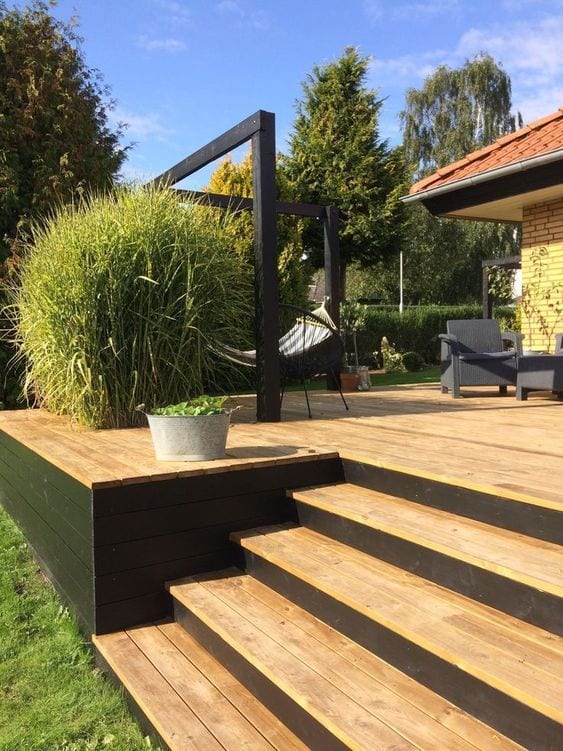 32. Use sustainable materials
Homeowners are turning to more sustainable decking options, as they look at how to make better environmental choices for their homes. Apart from the obvious environmental benefits, sustainable decking is sure to bring a high return on investment as any kind of renewable material is likely to be perceived well.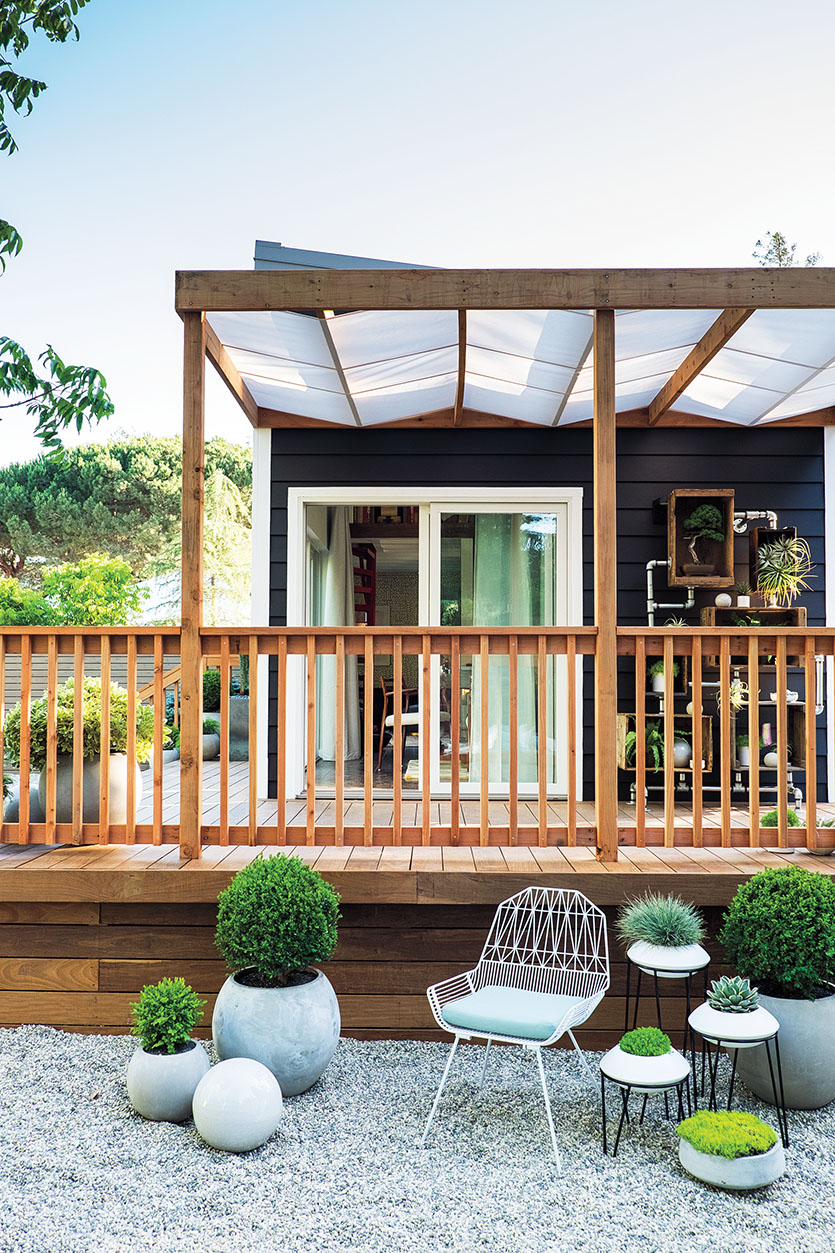 33. Paint it white
You can never go wrong with white – it doesn't date! Coat your timber decking in white paint for a very Hamptons-esque look.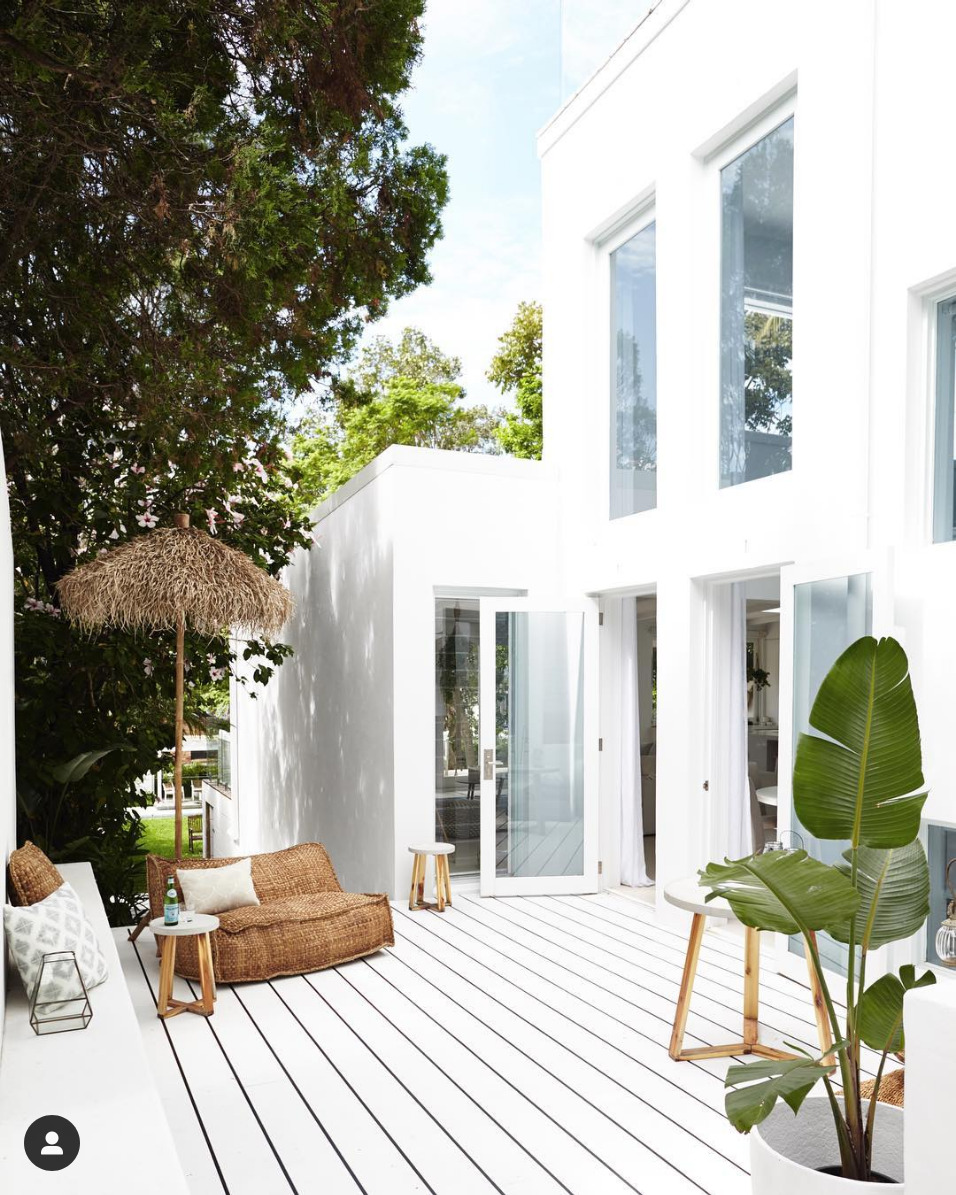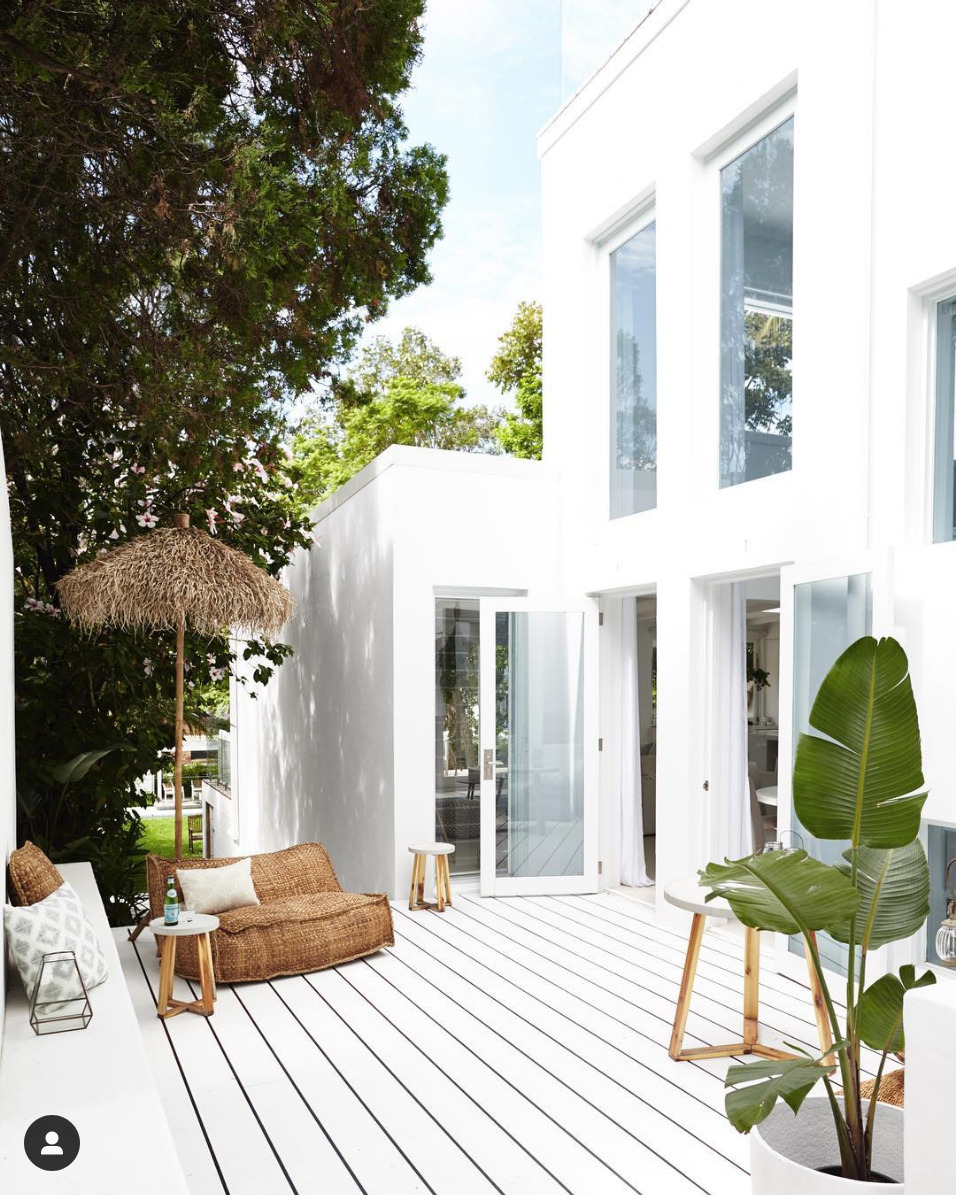 34. Add rocks
Who says your deck has to touch the grass? Define your deck with white pebbles or rocks.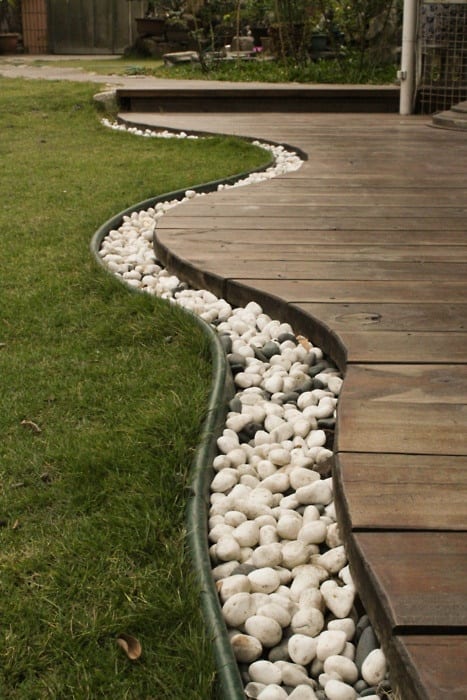 35. Extend your deck through the trees
Create a peaceful oasis by using a walkway to extend your deck along treelines. This project is not for the faint of heart, and it will cost you, but if you have space and money then it will be a beautiful feature of your home.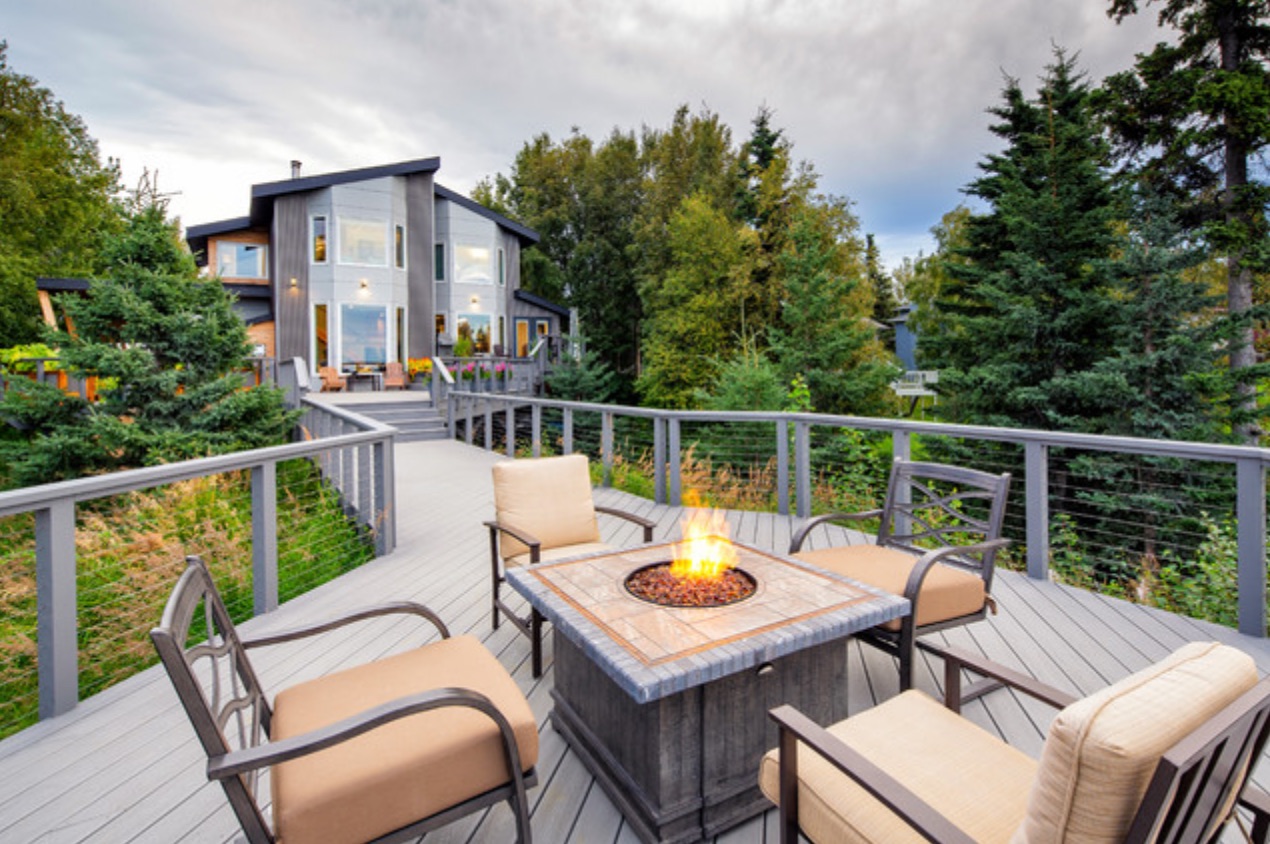 36. Make it big!
If you have space, a big budget and a view, then why not go all out? Add a glass balustrade so that you can maximise your view.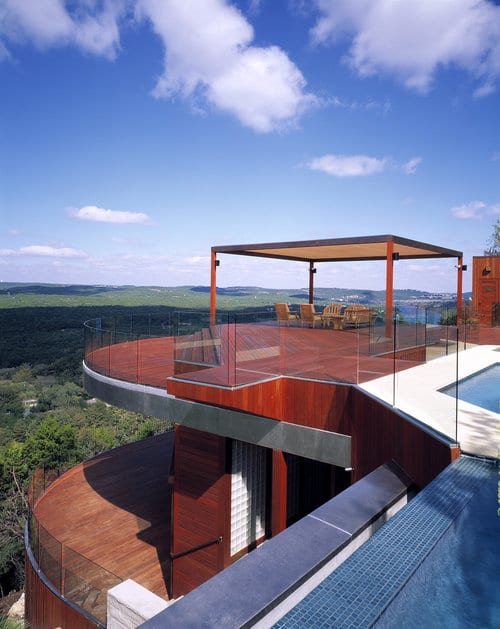 37. Make it modern
Add sleek finishings to your deck for a modern look. Consider lighting, straight-cut edges, clean-lined furniture and a rectangular stone fireplace.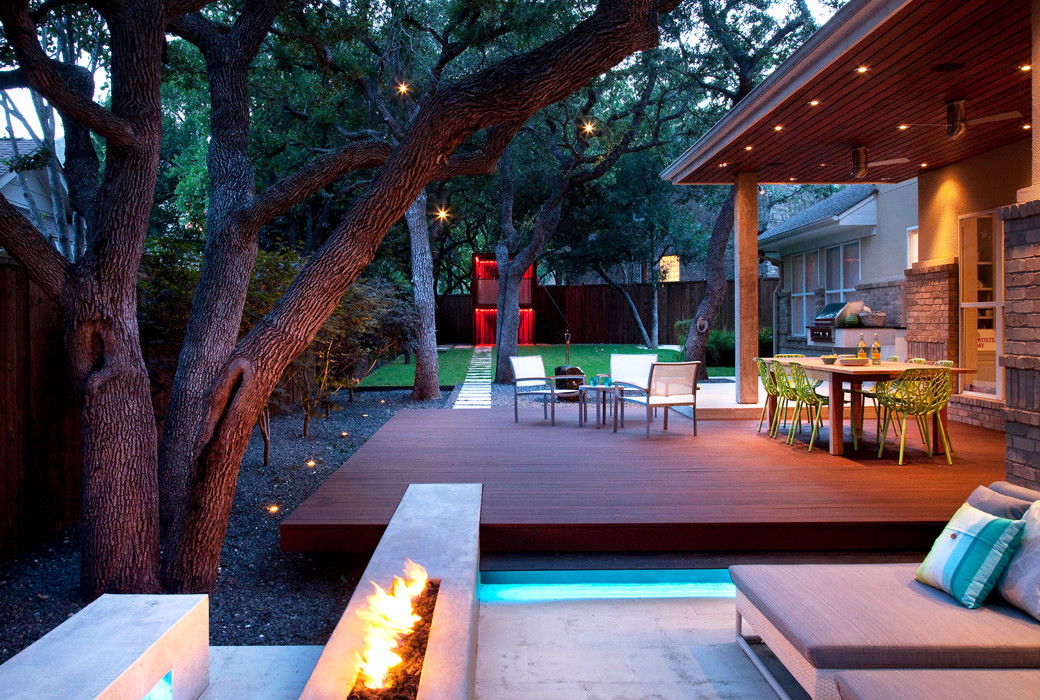 38. Use a neutral colour palette
If you want to create the classic Hamptons style, use a neutral colour palette of muted timber with white and black. The key is to use white railings and tie the colours into your furniture. White deck chairs and black umbrellas will finish off this look beautifully!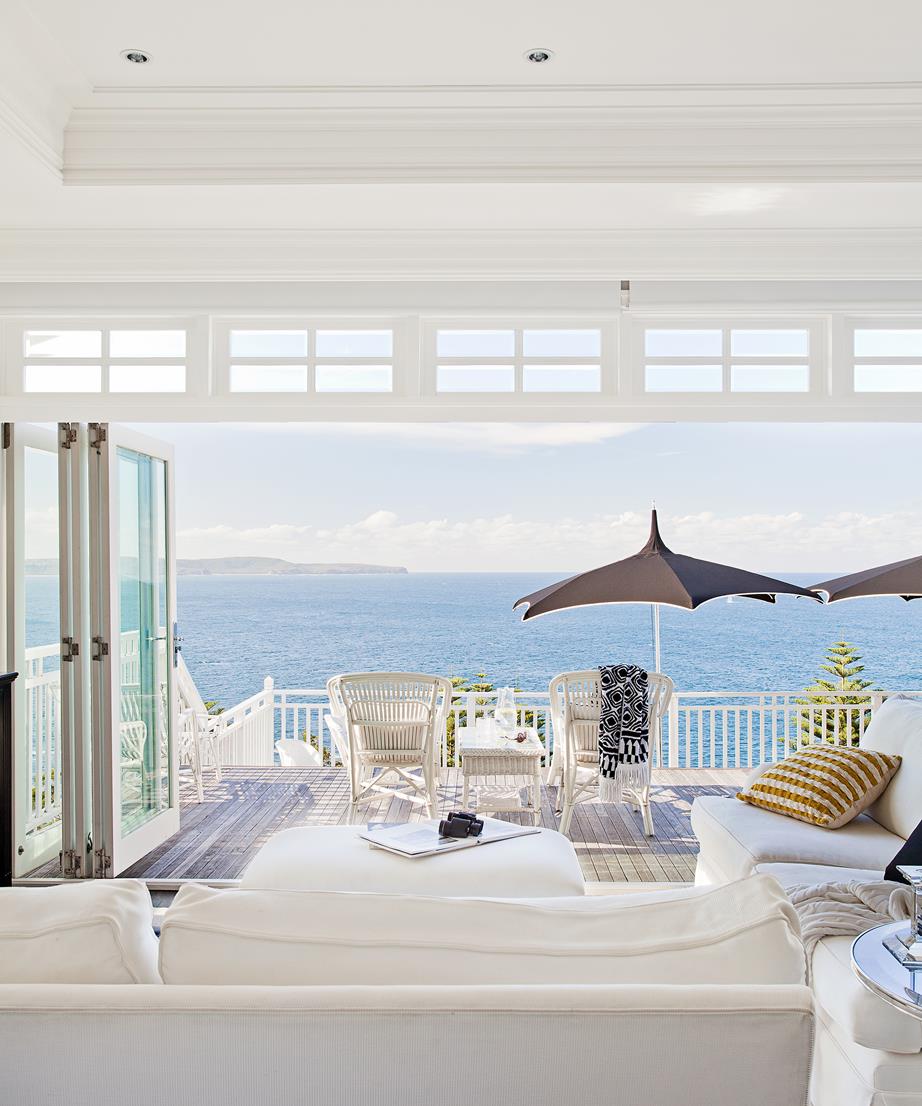 39. Add a pergola
Maximise your outdoor space by adding a pergola. This will protect your outdoor furniture from the elements like wind and rain and keep you safe from the sun while you relax on the couch.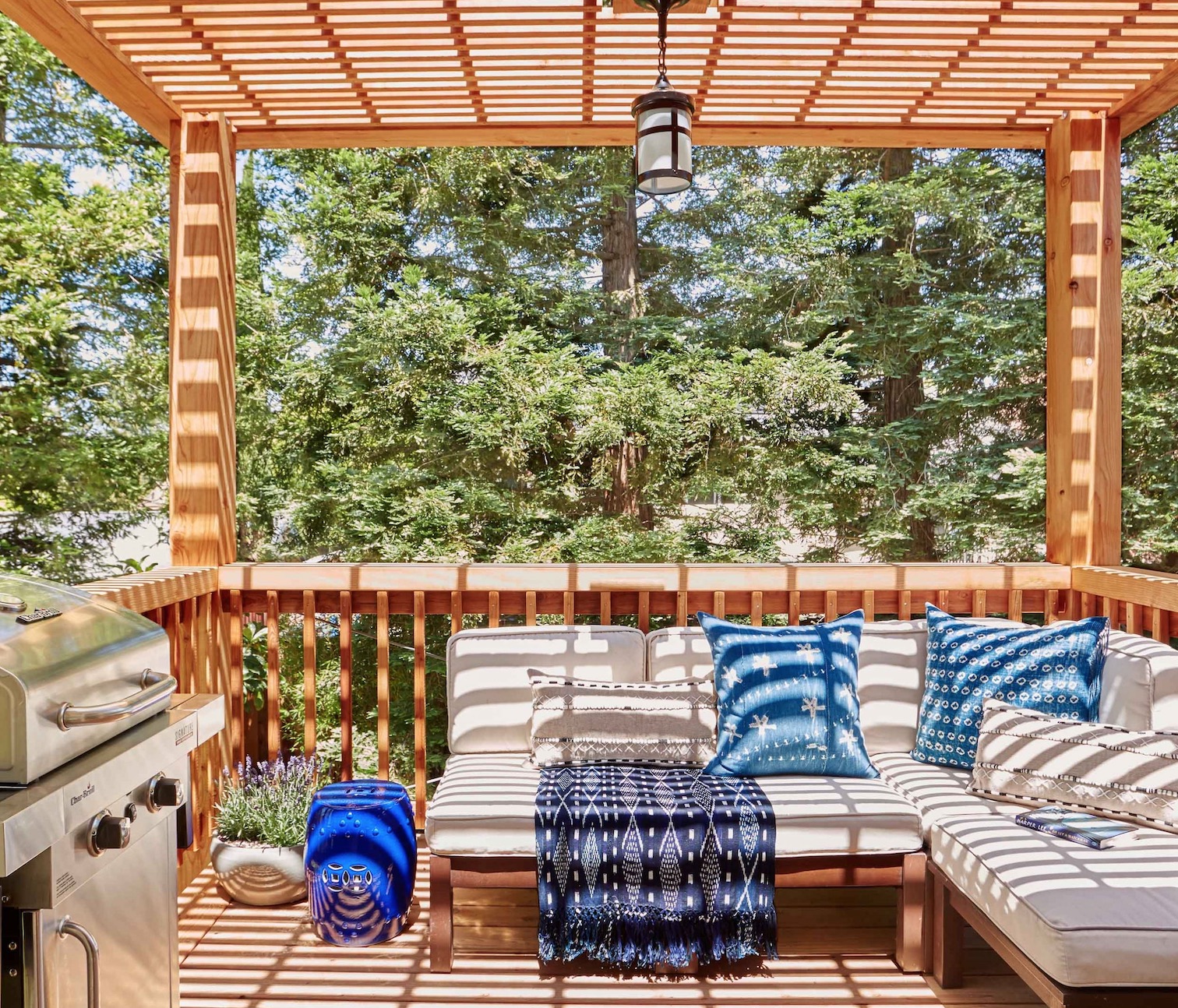 40. Beach style deck
Creating a charming beach-style entertaining space with weatherboard decking, natural timber and white paint. This is the perfect spot for the adults to relax while the kids swim in the pool.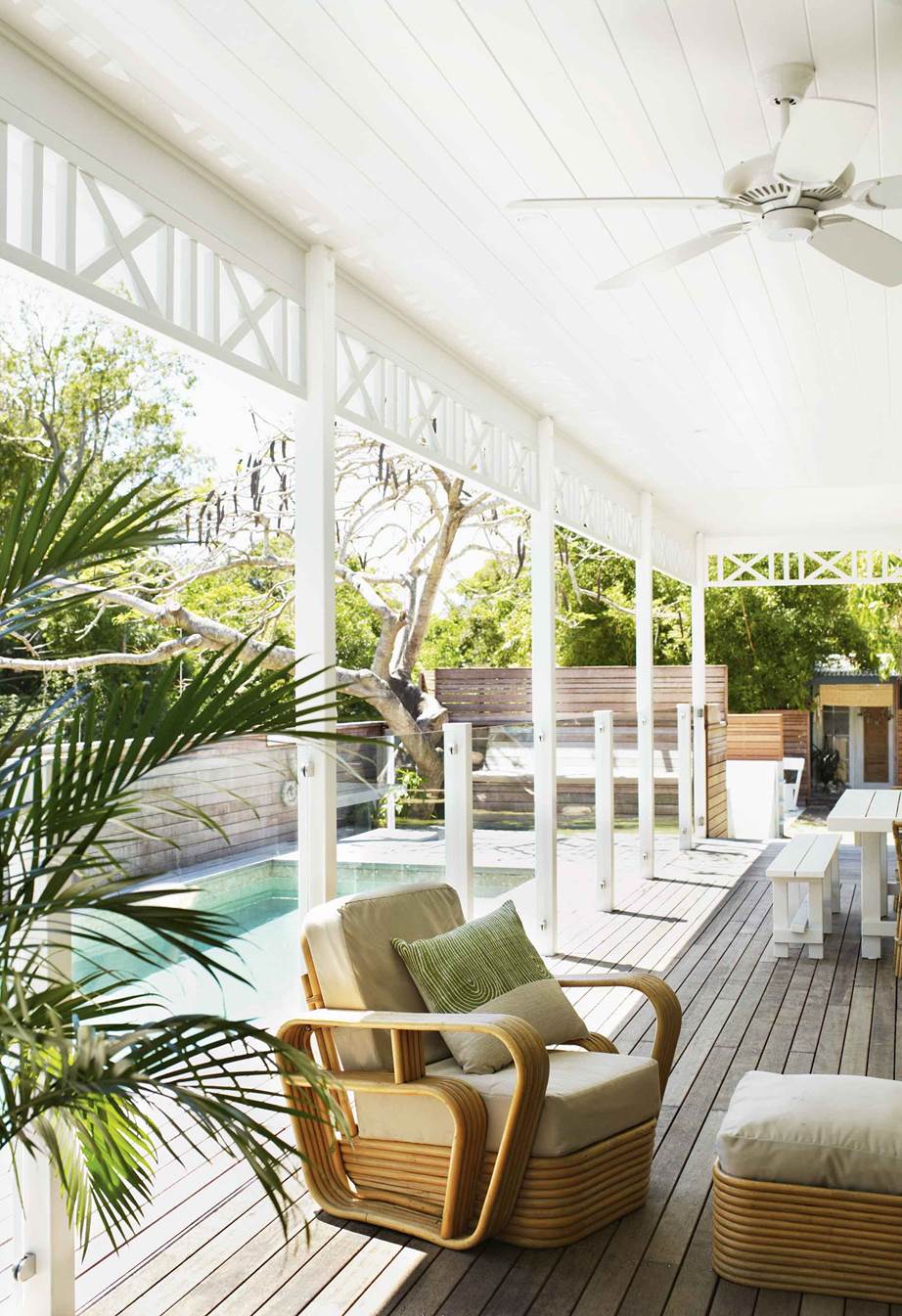 If you have any other decking ideas, I'd love to know – just leave them in the comments below!