A pool is one of the most desired items for a home. It's hard to go a summer without splashing around in the sun, a cool drink in hand, and friends around you. You may be worried that your backyard isn't big enough but these days there are so many different designs due to declining property size. And we're going to explore these smaller plunge pools and all the way up to lap pools with these beautiful pool ideas to help plan your next backyard makeover.
Don't forget there are plenty of professionals who can help guide you with your plunge pool, pool fence installation and once it's all done, your regular pool cleaning and pool pump repairs.
1. Plunge pool ideas
Just because you've got a small yard doesn't mean you have to miss out on having a pool. You can create a small plunge pool with a tiny space! Take inspiration from this backyard. I love the gorgeous tiling in the pool. And aside from the water, the timber feature piece filled with plants adds colour and life to this space.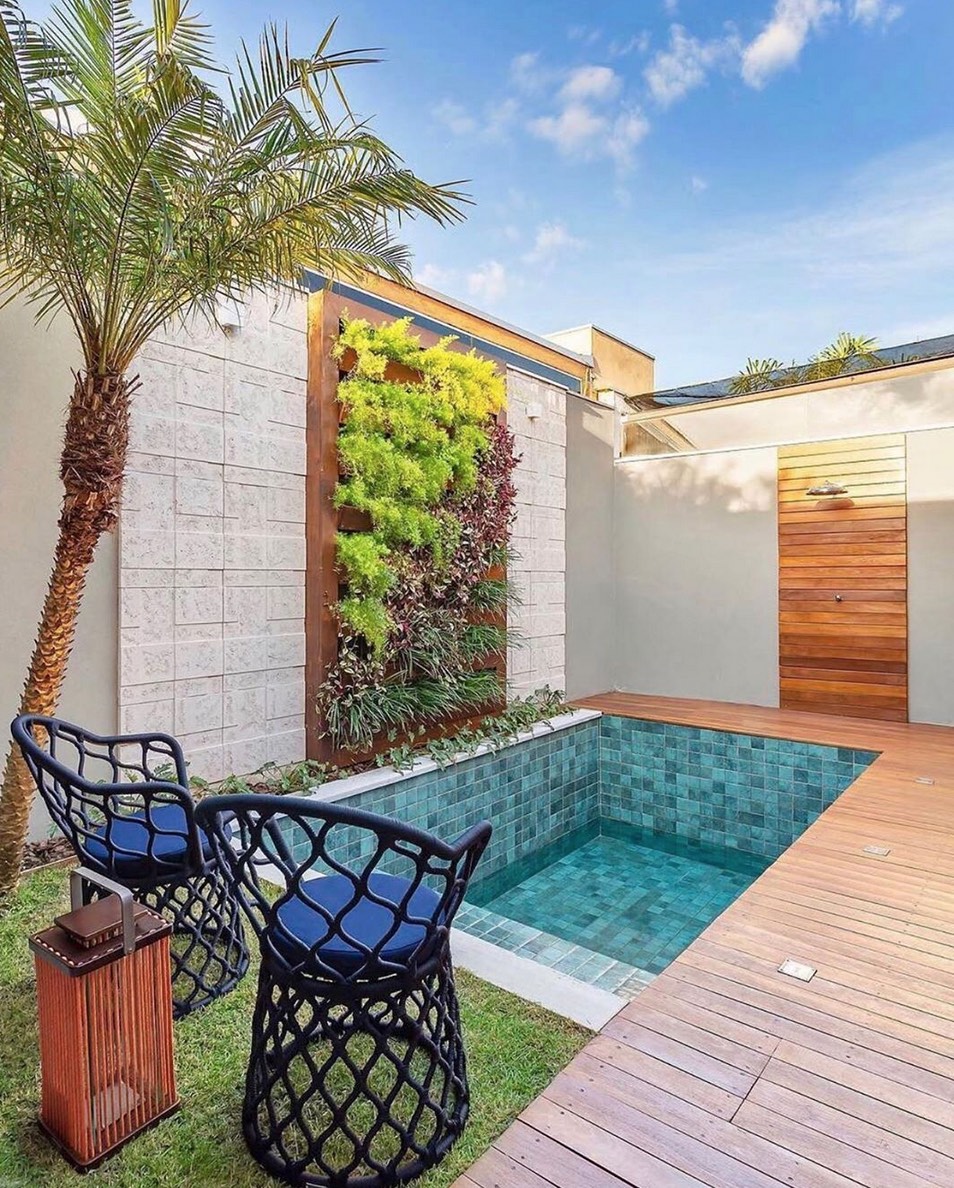 2. Spa and pool combined
Want a spa? And a pool? Why not have both? This combination looks so inviting. And it makes pool time easy at any time of the year. Splash around in the pool in the summer months. But when it hits winter, cosy up in the spa with a glass of red – perfect!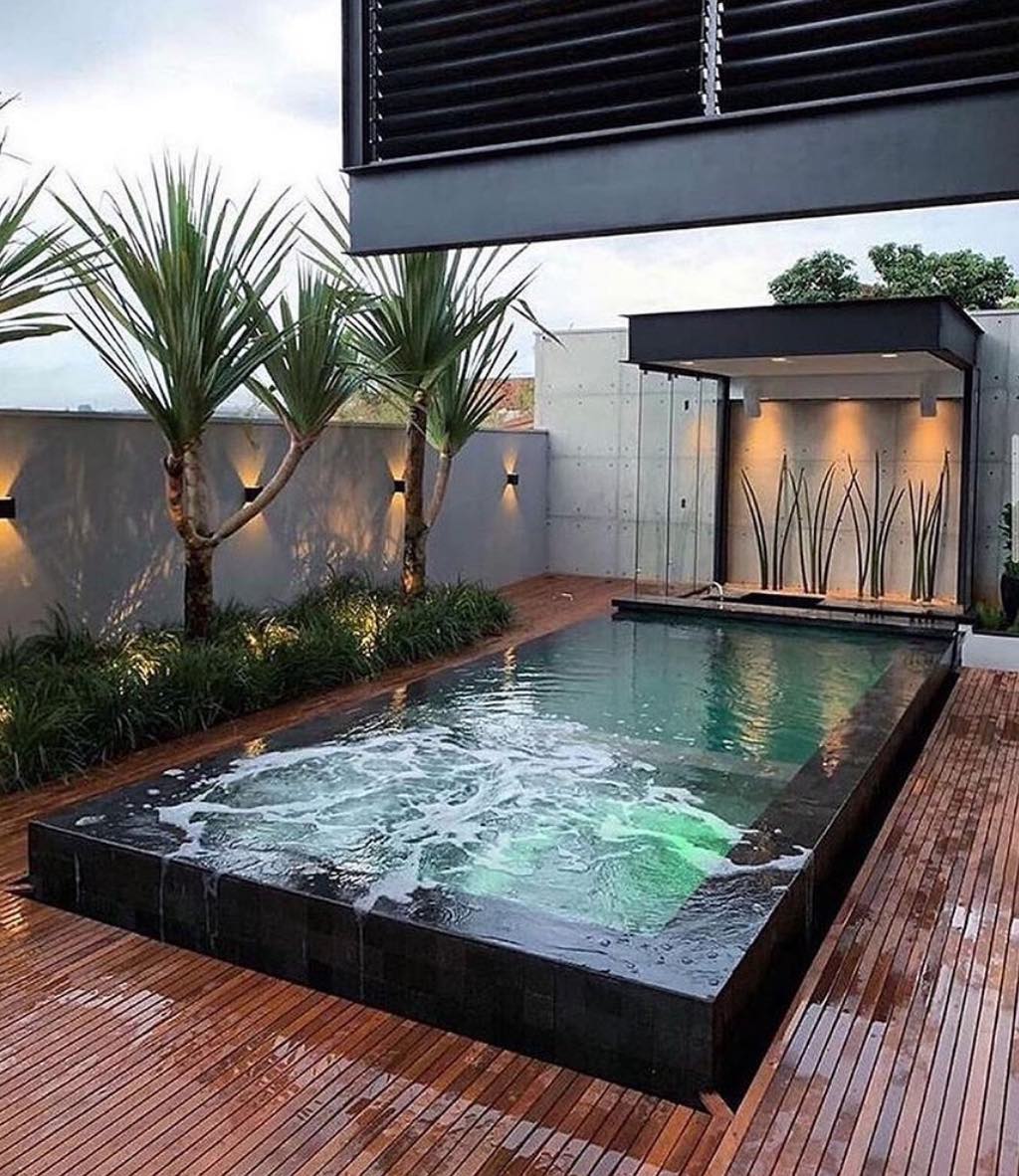 3. Mediterranean inspired pool
How cool is this pool are? I love the cross design that's etched into the brick fencing. And the pattern of the pool tiles is so interesting too. This is just proof that you don't have to travel to the Mediterranean to enjoy it. Bring the Mediterranean world to you with textures and patterns.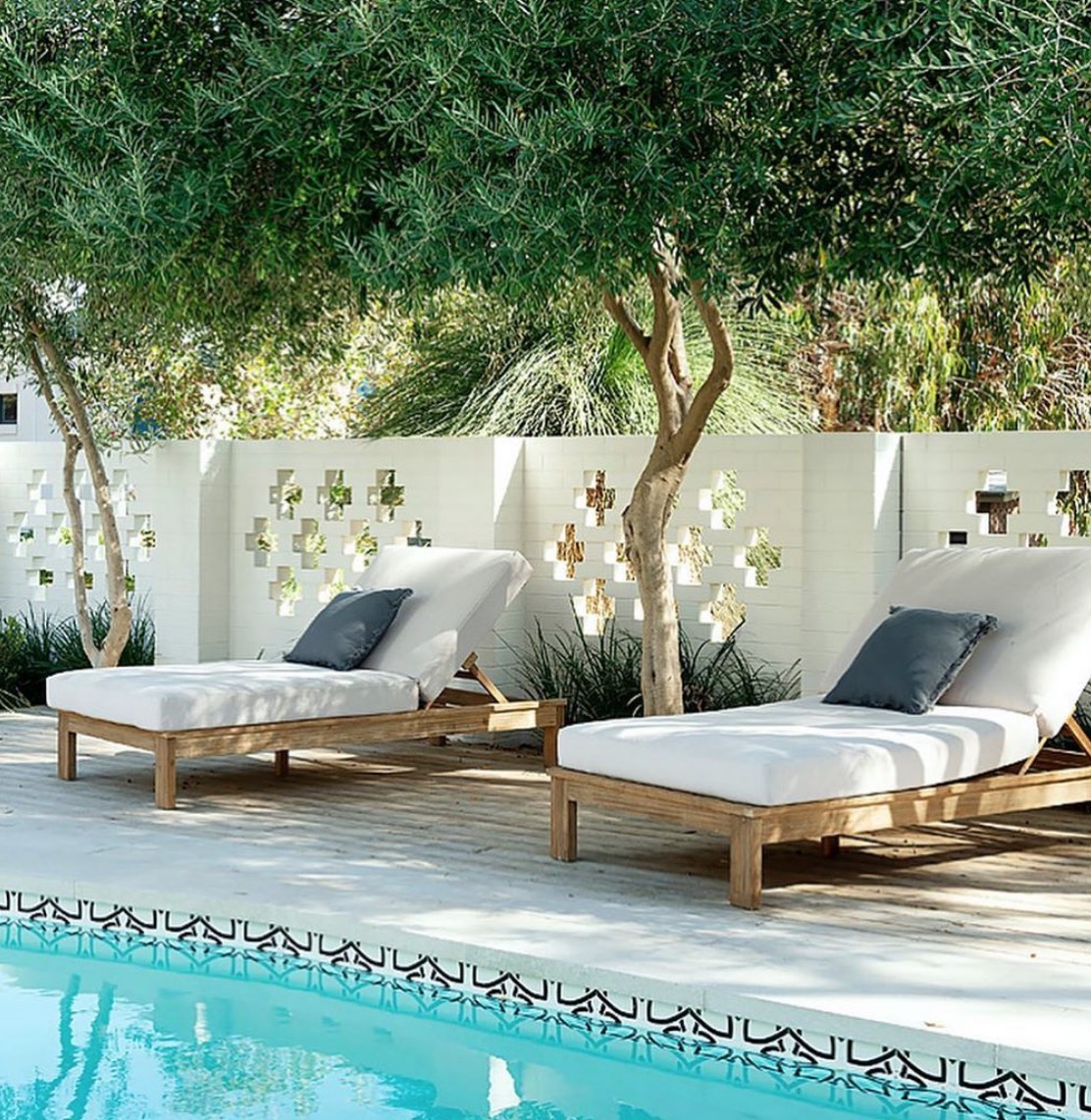 4. Among the ruins
Wow! This is a pool at a Chateau in France and it's just divine. Can you imagine swimming while glancing up at those ancient ruins? While you may not be able to recreate this look at home, it's definitely something to admire.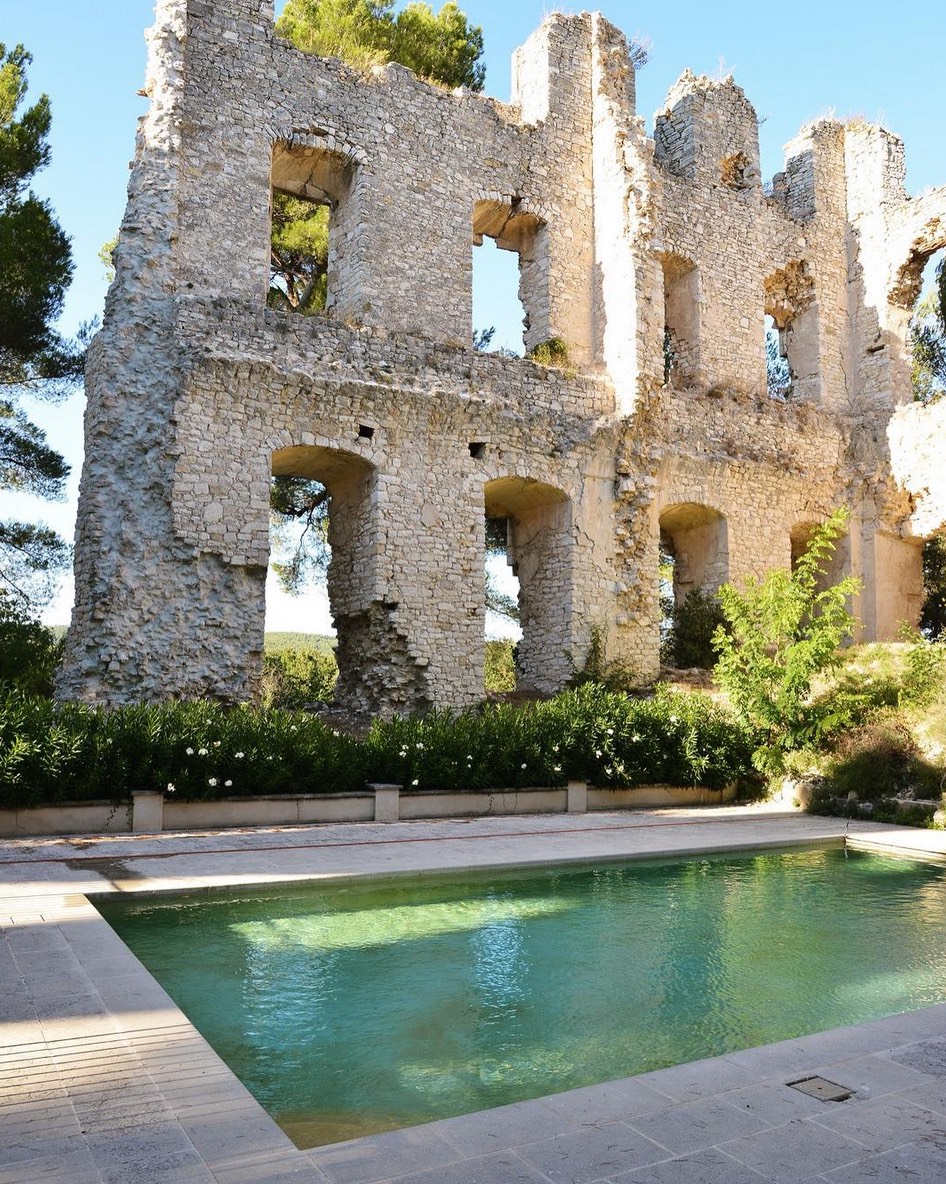 5. Round stones
Something you need to consider when planning your pool area is how you will landscape it. One way to do that is to use round stones around the exterior edging of the pool. And you can combine these with an array of green shrubs to finish off the look.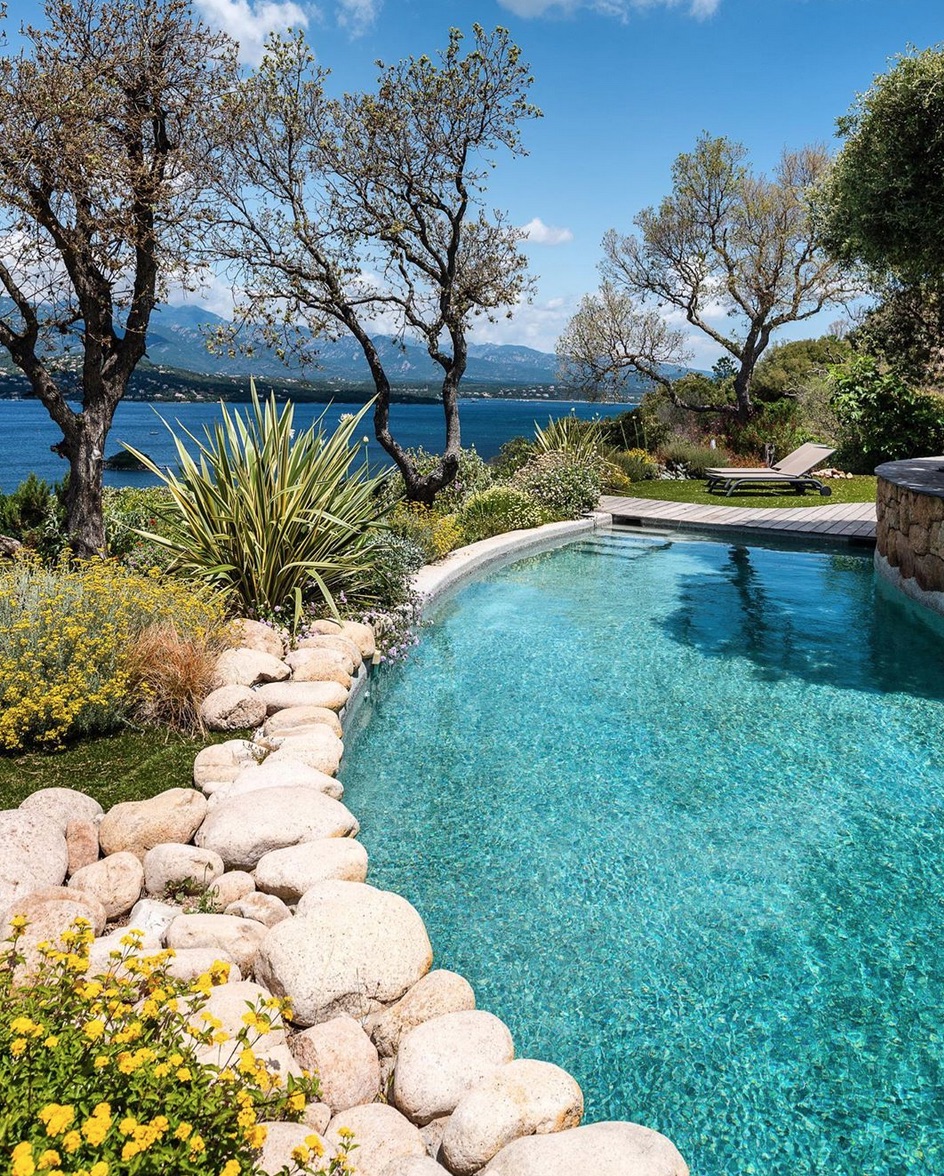 6. Trees galore
What better way to create a relaxing pool area than by planting plenty of trees. I love these ones… you really can't go wrong with palm trees! But in general, large trees will add plenty of shade so you can rest and relax without getting burnt by the sun. You'll see that greenery is used with most of these pool ideas and important not to leave it until the last minute when you're planning your pool area.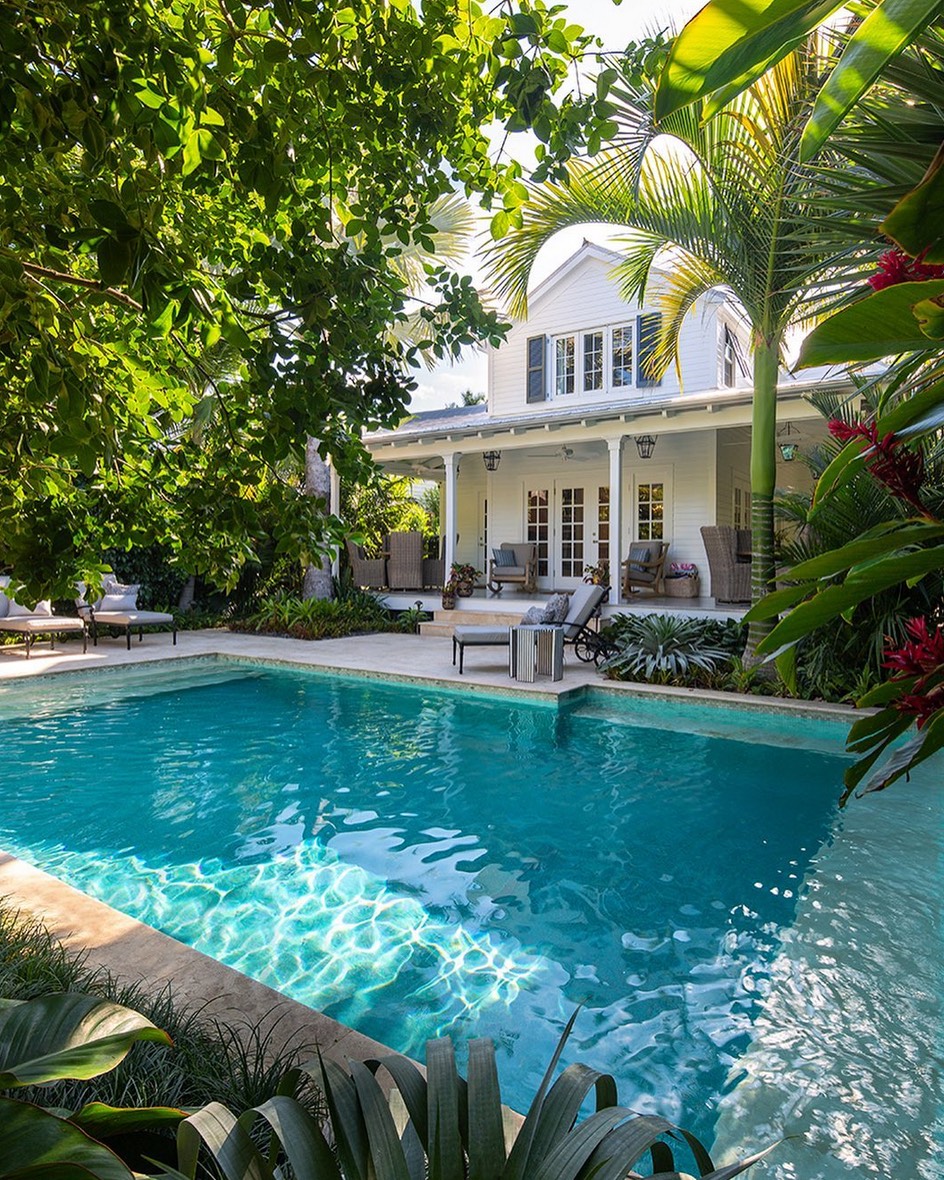 7. Moroccan pool vibes
Why hello, Morocco! This pool is indeed from a gorgeous villa in Morocco. But there's no reason why you can't recreate this look at your own home. You'll need Moroccan tiles, planter pots, and outdoor furniture in all sorts of colours, patterns and textures. You might want to consult a builder and a designer to see how you can create a space like this.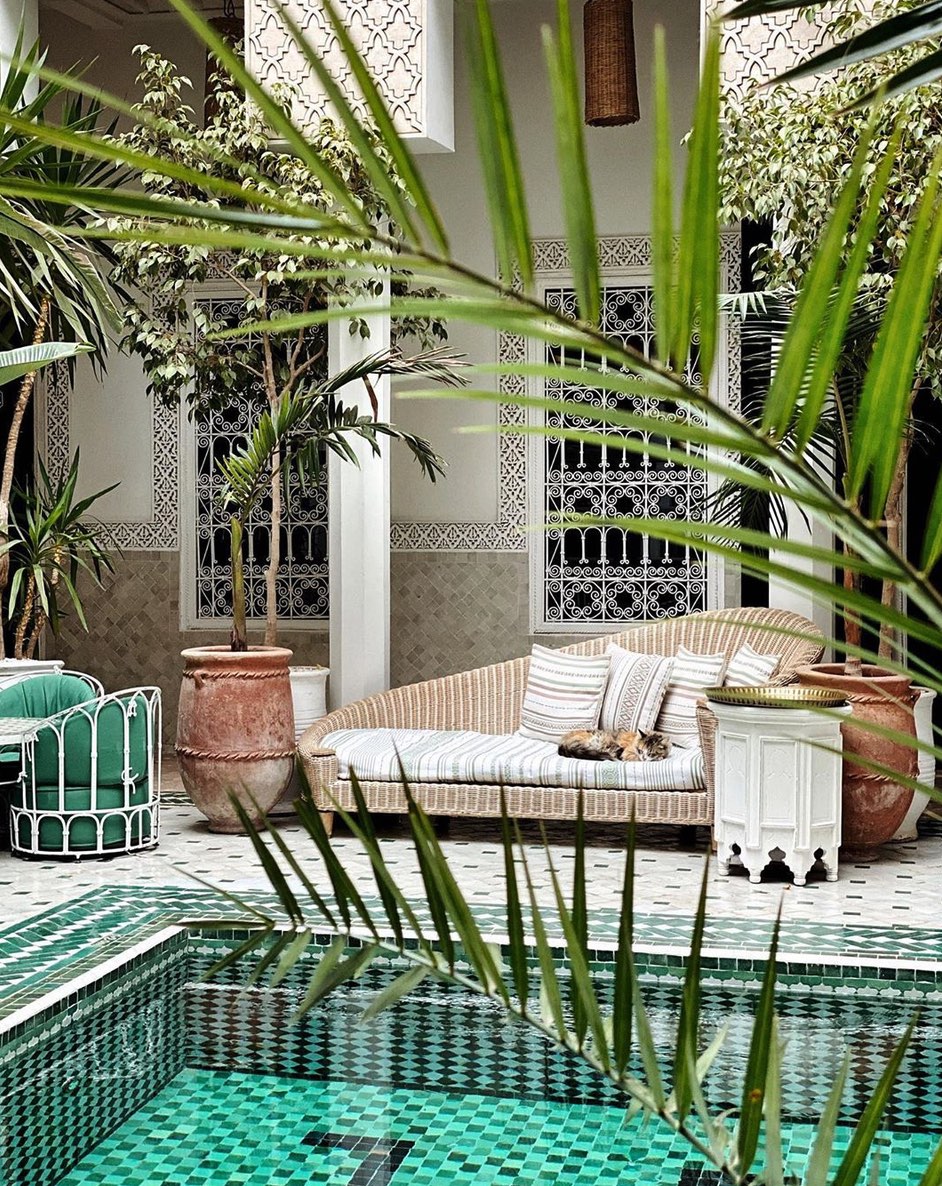 8. White walls
Just looking at this design makes me feel at peace. There's something so tranquil about the combination of greenery against stark white walls. To create this design, keep things simple! Strip everything back to a plain white background with minimal furniture. And focus on making your pool area green with life.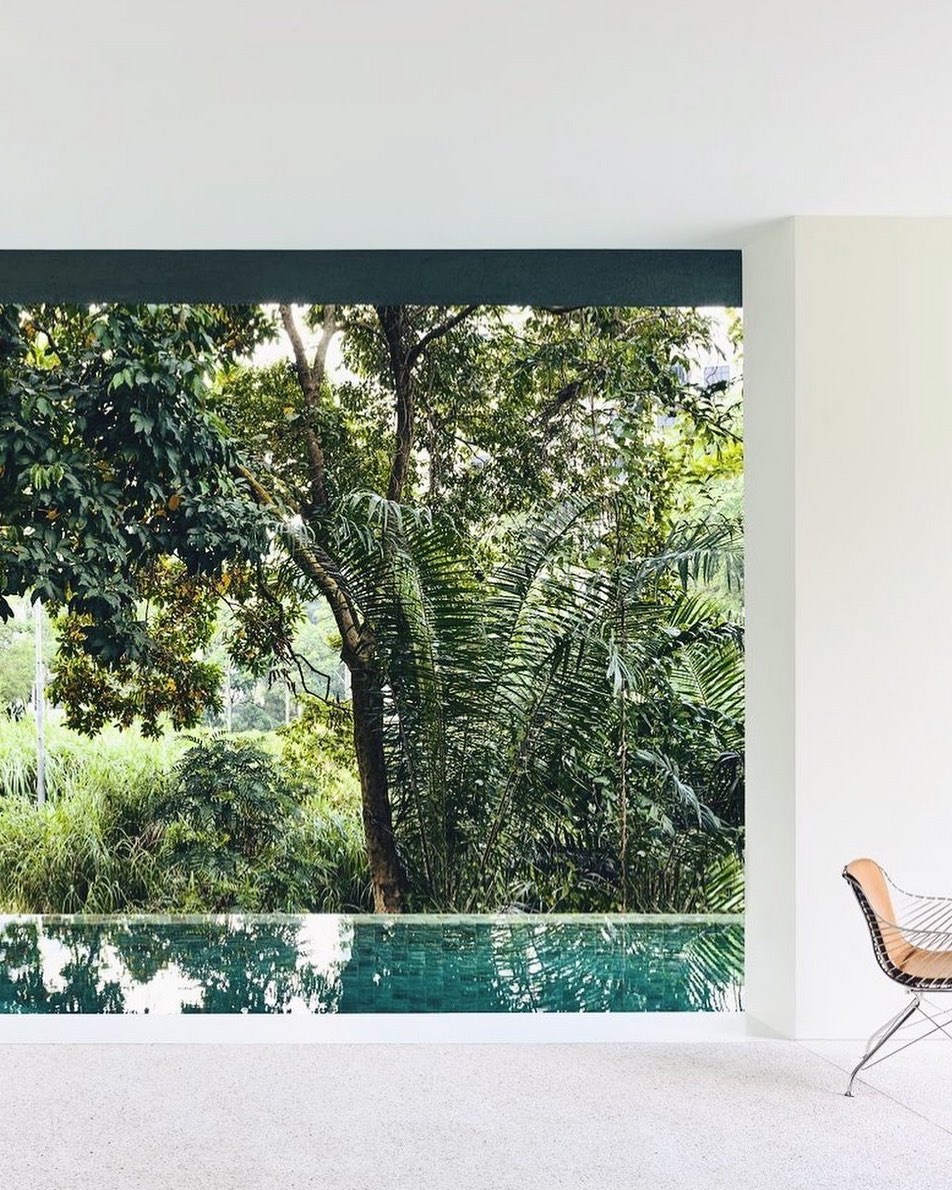 P.S. there are a few more white and clean-lined pool ideas below, so keep scrolling.
9. Among the vineyards
It doesn't get any better than this. Who wouldn't want to enjoy the rolling hills of Tuscany from a crystal clear blue pool? While you can't bring Tuscany to your home, you can take inspiration from the simplicity of this pool area with its stone flooring and retaining wall. This is a great option for sloped backyards.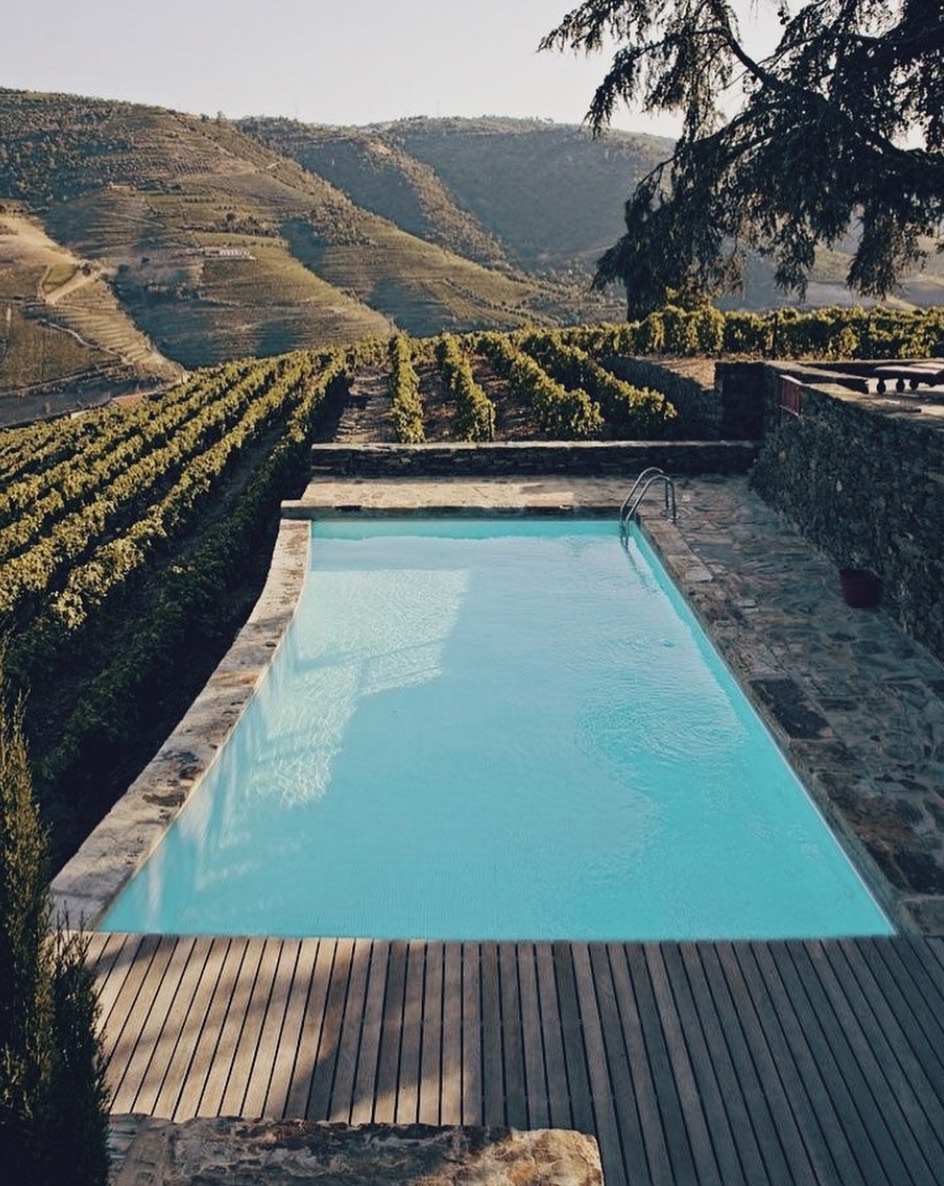 10. Simple and stripped back
Taken straight from the streets of Marrakesh, this Moroccan pool area is a delight. It's much more stripped back and minimal than the other option we looked at. But that's what makes it so beautiful. The focus here is on creating a calming, tranquil area that doesn't overwhelm the senses.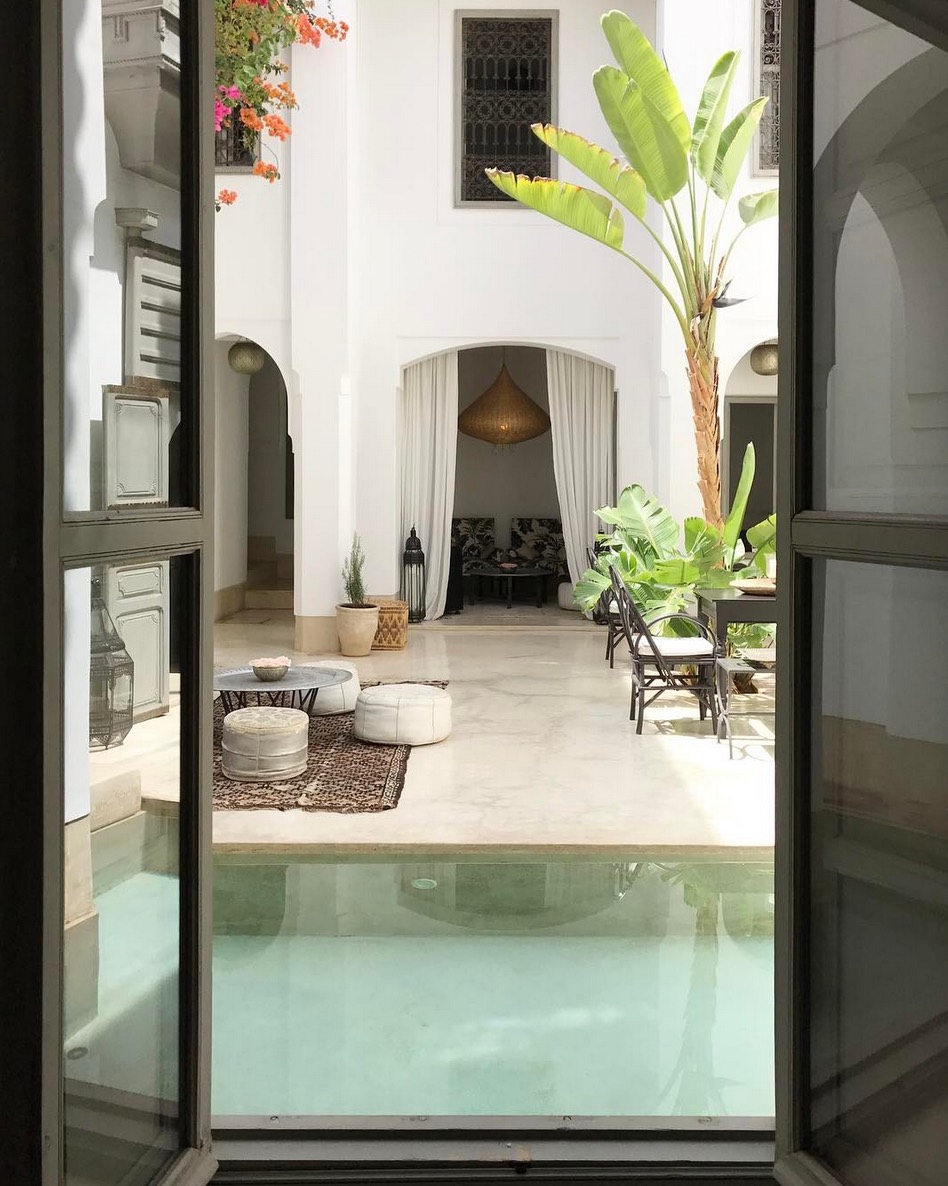 11. Cacti
What a cute space! If you're going for the minimal look with all-white or natural-style walls, adding plants can be a simple way to spruce things up. They not only add colour and life to your space but they also add detail and interest too. I love how the cacti are all different heights!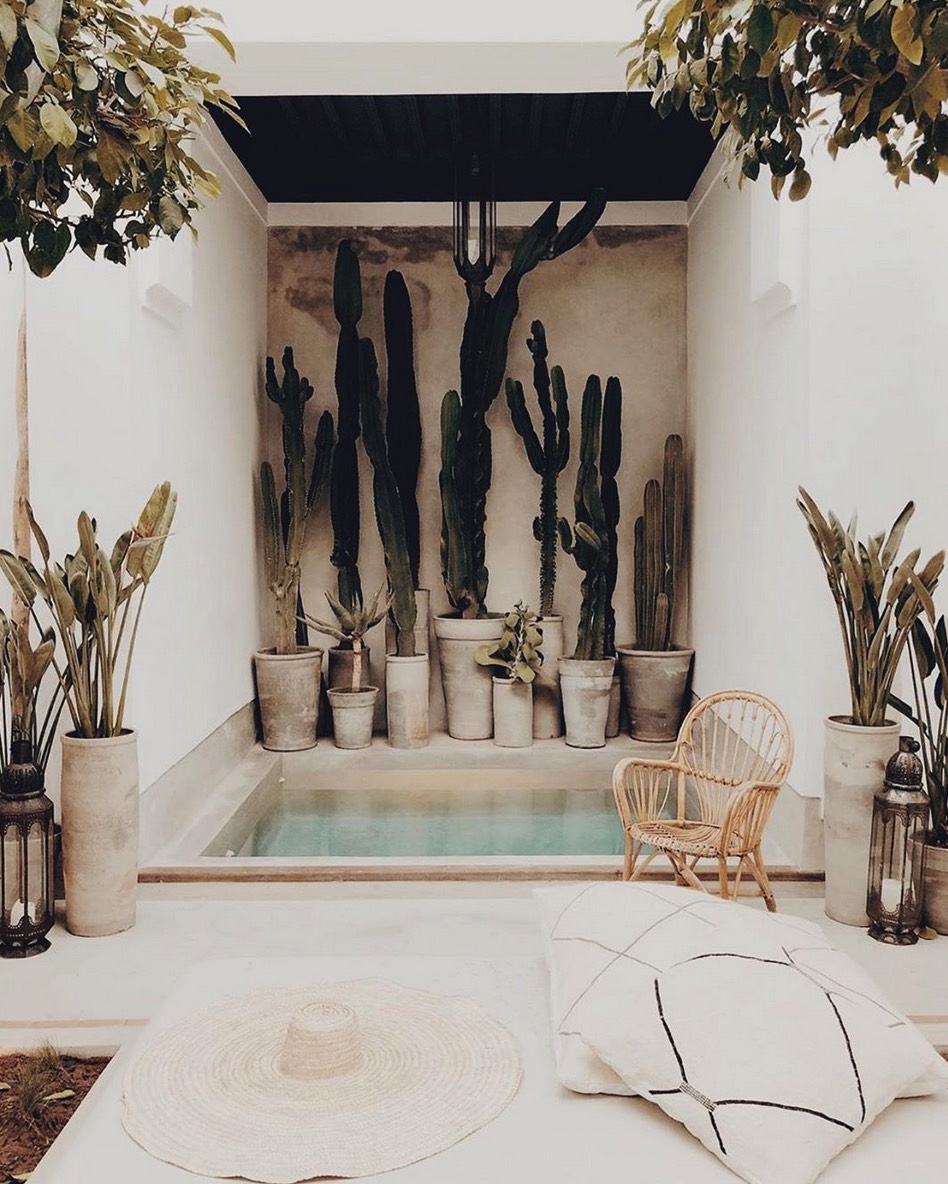 12. Round pool ideas
Gone are the days of the kidney-shaped pool or the rectangle pool. There are so many different shapes to explore when it comes to pool ideas, such as a gorgeous round pool. It breaks all the rules  but if you've got a square-shaped backyard, then this style of pool will do the trick to make it an amazing feature.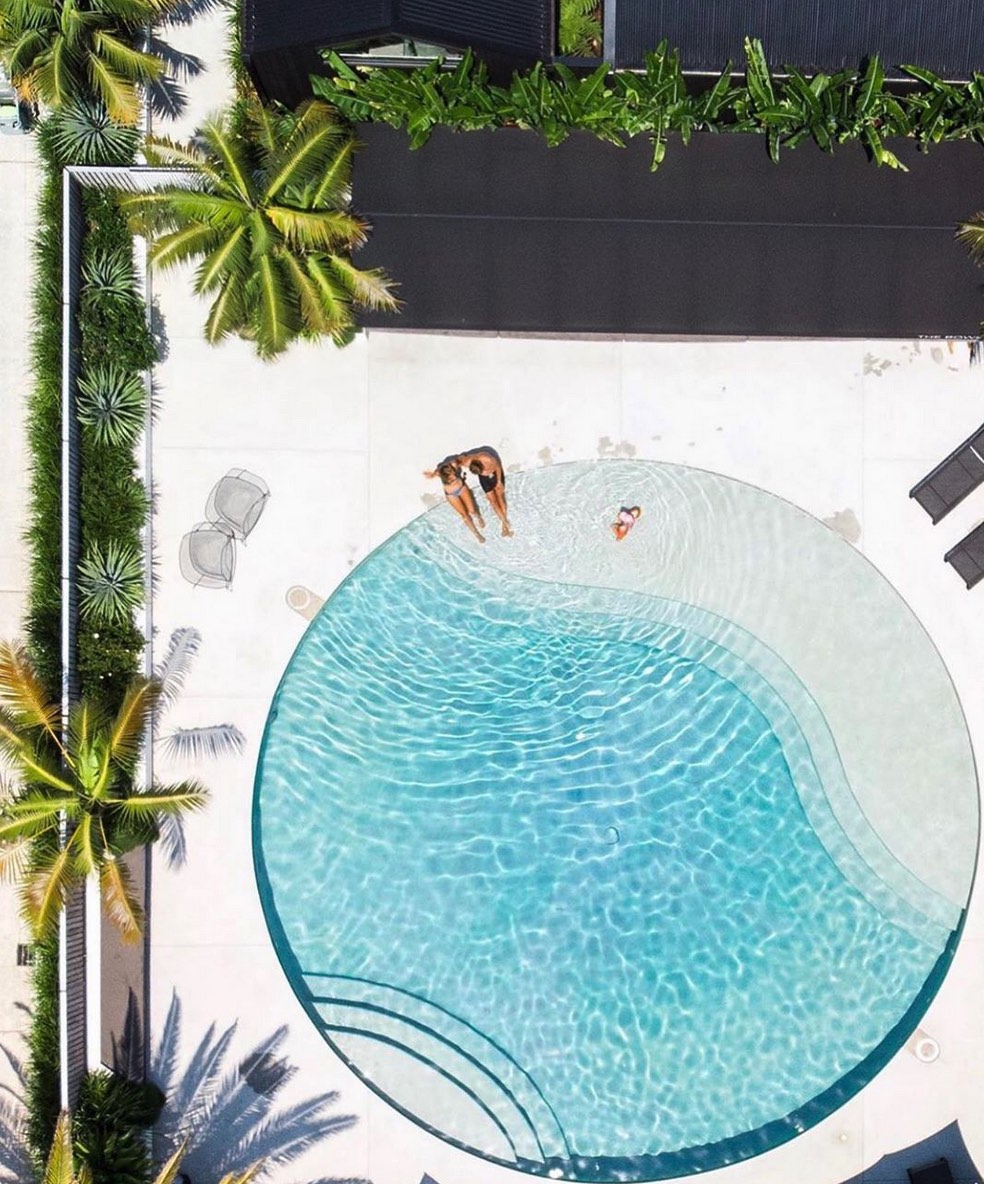 13. Fence it in
One of the last things people think about when it comes to designing their pool area is the fence. But it's one of the most important parts, as it's often the first thing people see when they look at your pool area. If you want your pool area to be the real hero, then install a glass fence like this one. I love how it has timber panels on either side to seamlessly integrate with the timber hut at the back.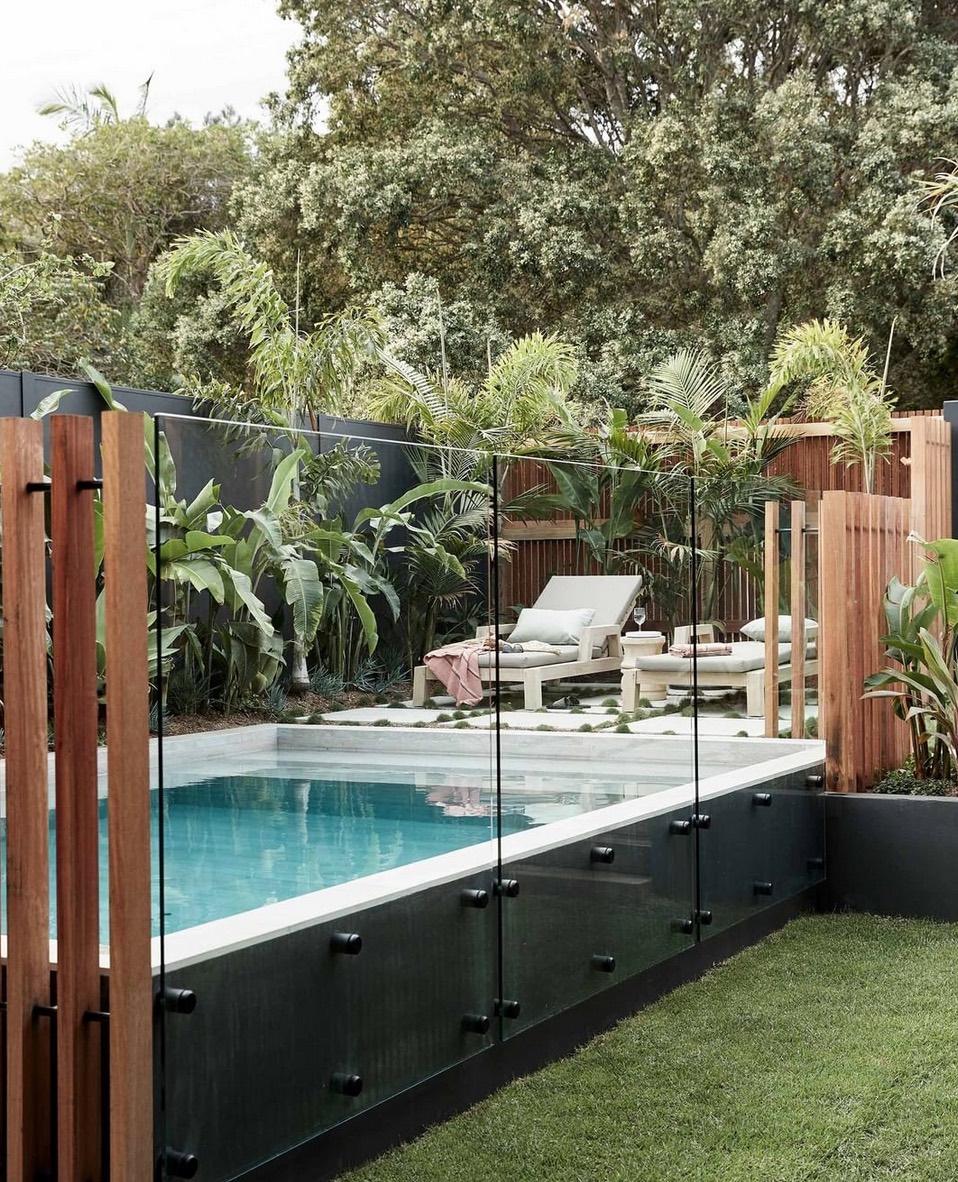 14. Green grass
I know we've looked at a lot of fancy pool areas but I want you to know that you can keep it simple too. Take this space for inspiration. It incorporates a simple grassy area with nice lie back chairs to relax in.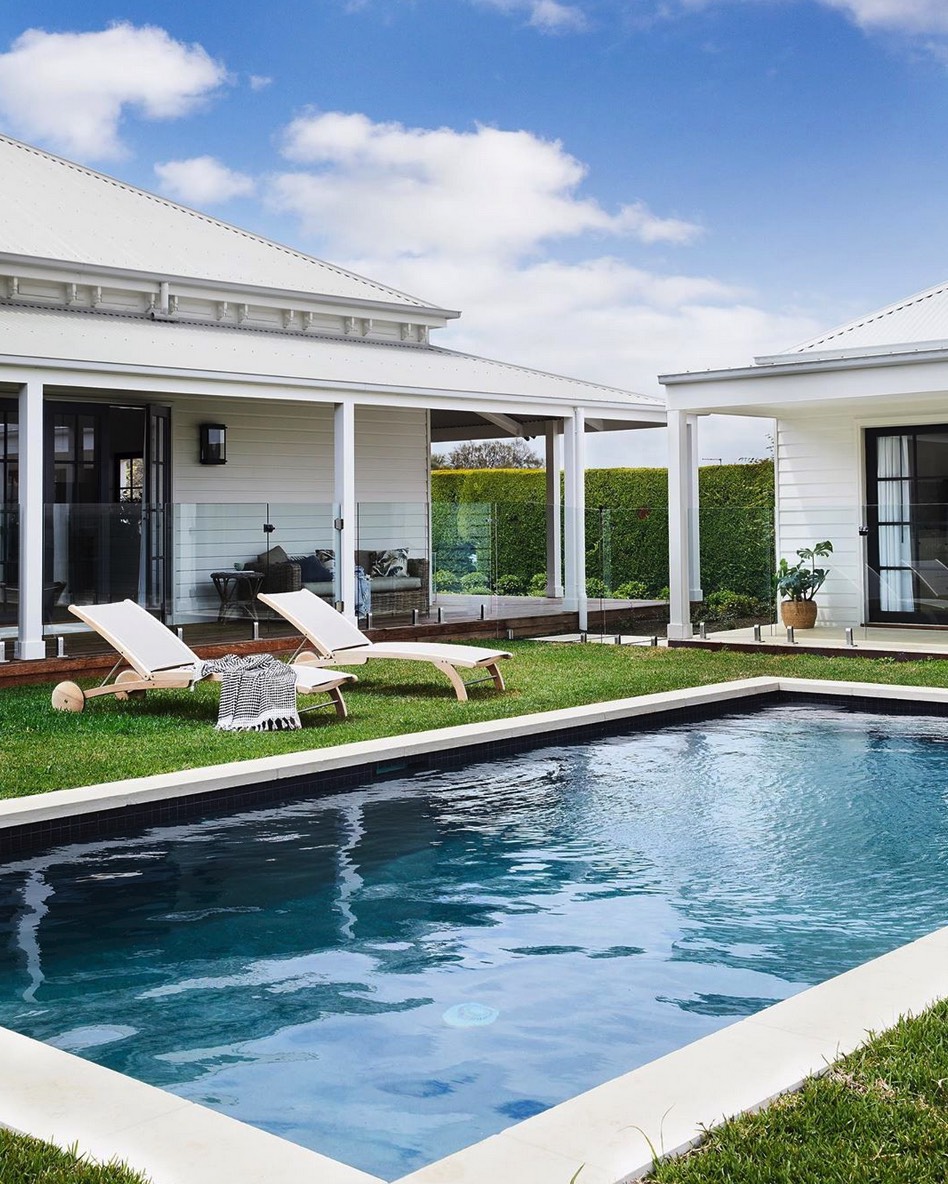 15. Timber touches
Light timber is very in style right now, and there's a good reason why. It's minimal and it looks great with everything. I love how these timber-framed chairs create the perfect seating area to one end of this pool. And the small stump-like table provides the perfect solution for holding drinks.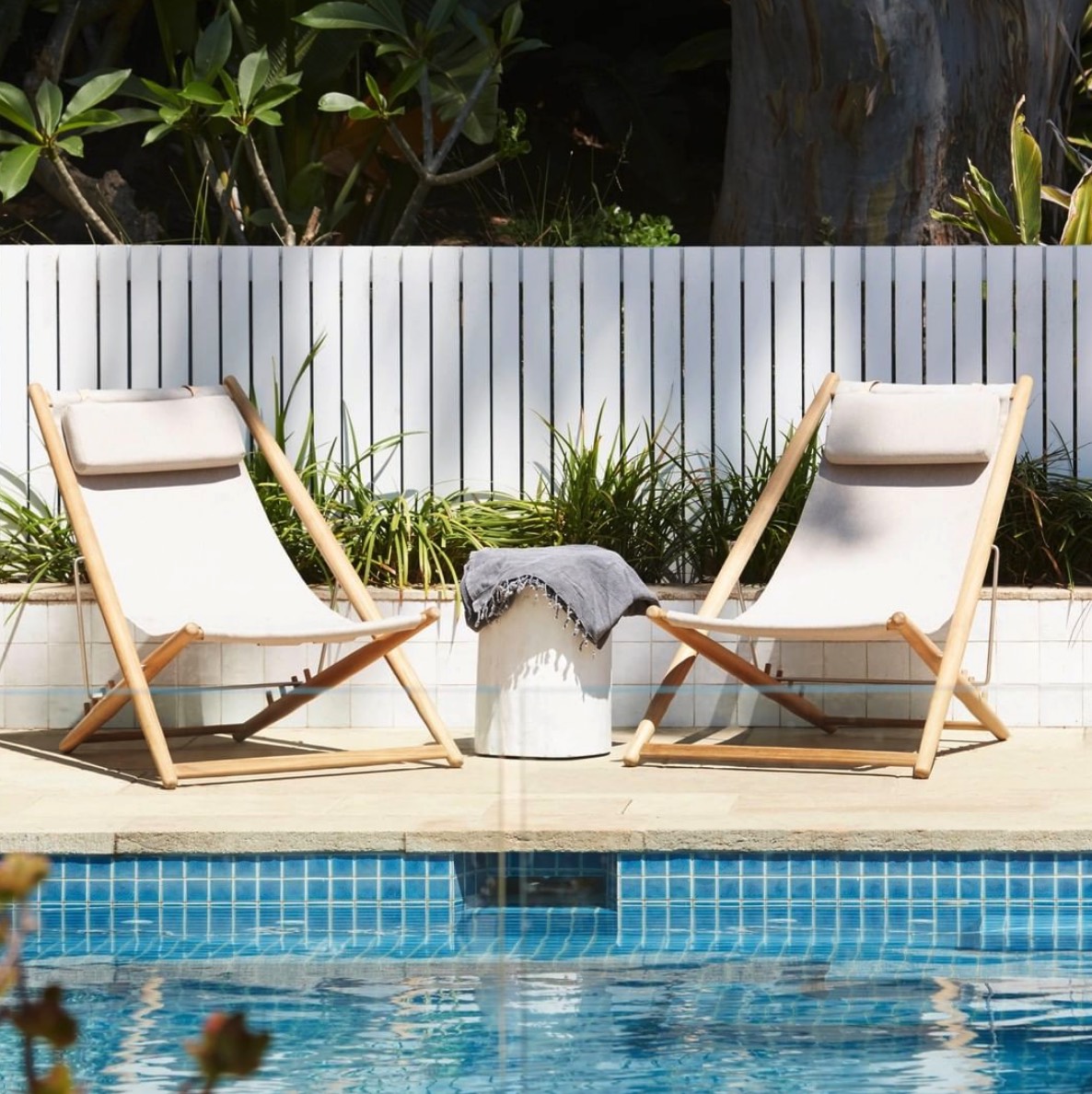 16. Australian style
This backyard is quintessentially Aussie, and I'll tell you why. First, there's the pool – perfect for summer weekends with family and friends. And then there's the grassy area – great for the kids to run around on. And then there's the little shed at the back – handy for storing your tools. But my favourite part of this yard is the beautiful large gum tree.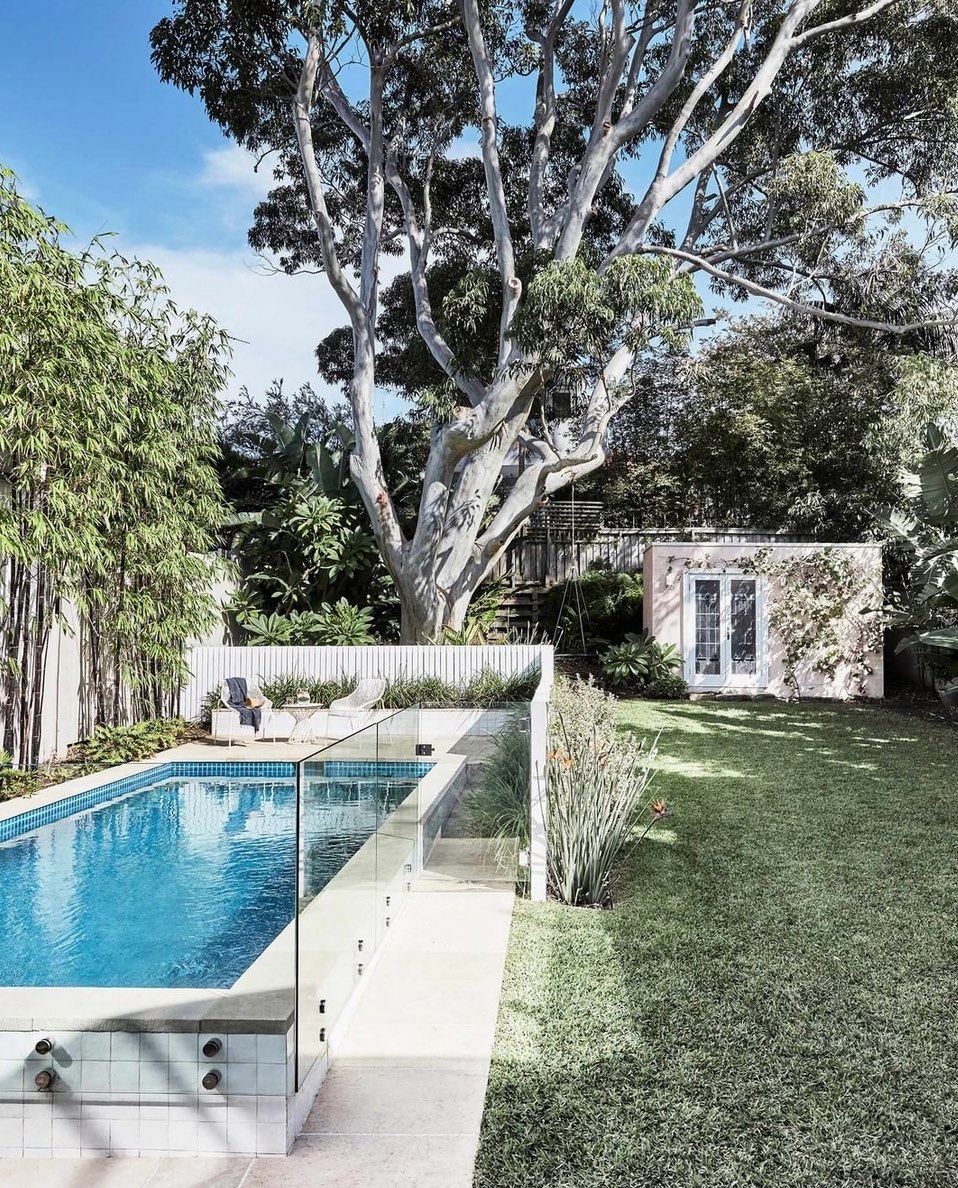 17. Palms galore
This space is oh-so-chic. It's minimal and classy with concrete, timber and white finishes. But my favourite part is the palm trees – there are just so many of them. Palm trees are a great choice if you want something to set your pool area apart and make it feel like a resort.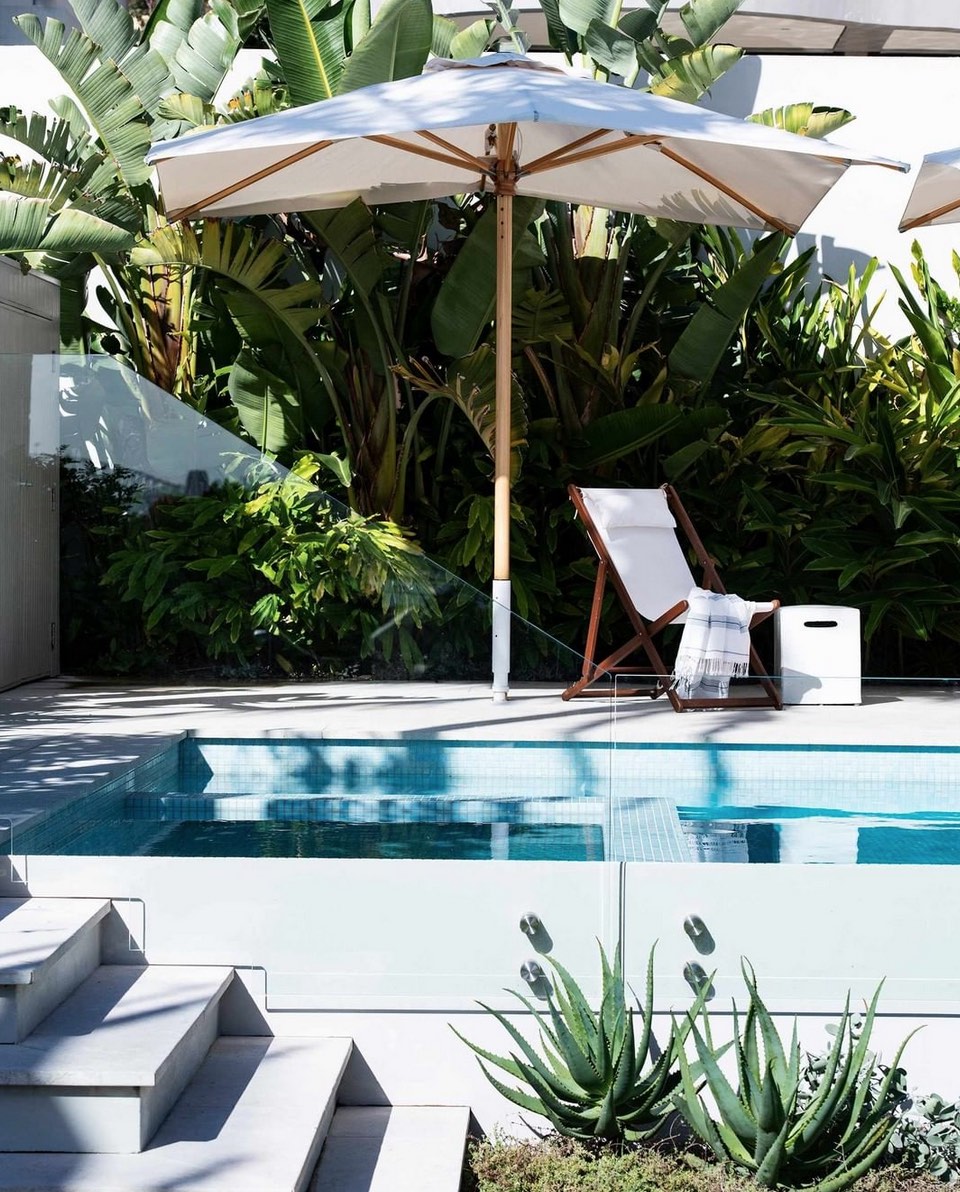 18. Narrow lap pool
I love how this pool design doesn't let space hold it back. If you've got a strip of land on the side of your house, install a pool! A pool will still be a welcoming refresher on hot summer days, even if it's small – you won't regret this decision.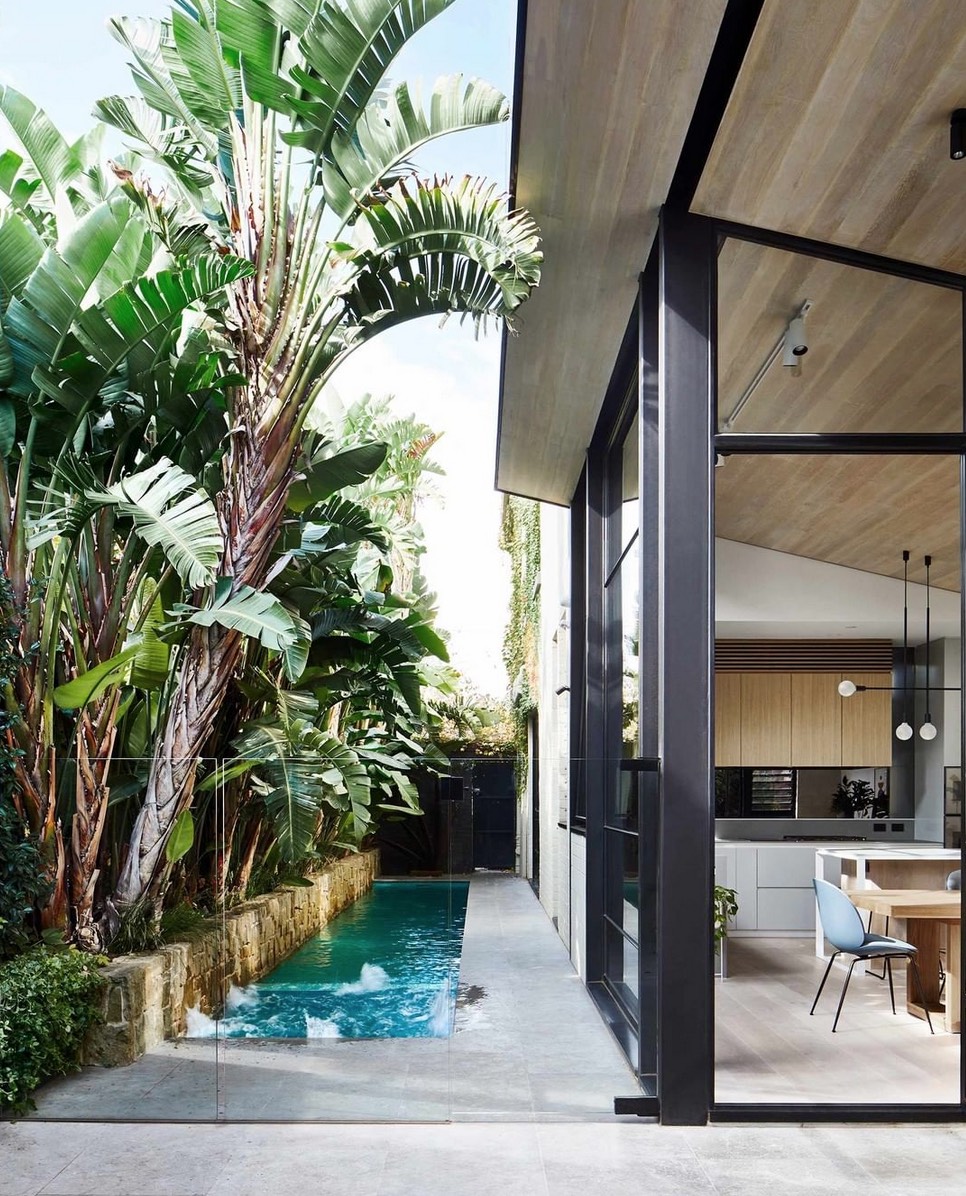 19. Create levels
Why have one pool when you can have two? Or… why have one pool when you can have a spa as well? This space has got it all. Deep blue pool, light blue spa on top. It's the perfect space for the whole family to relax.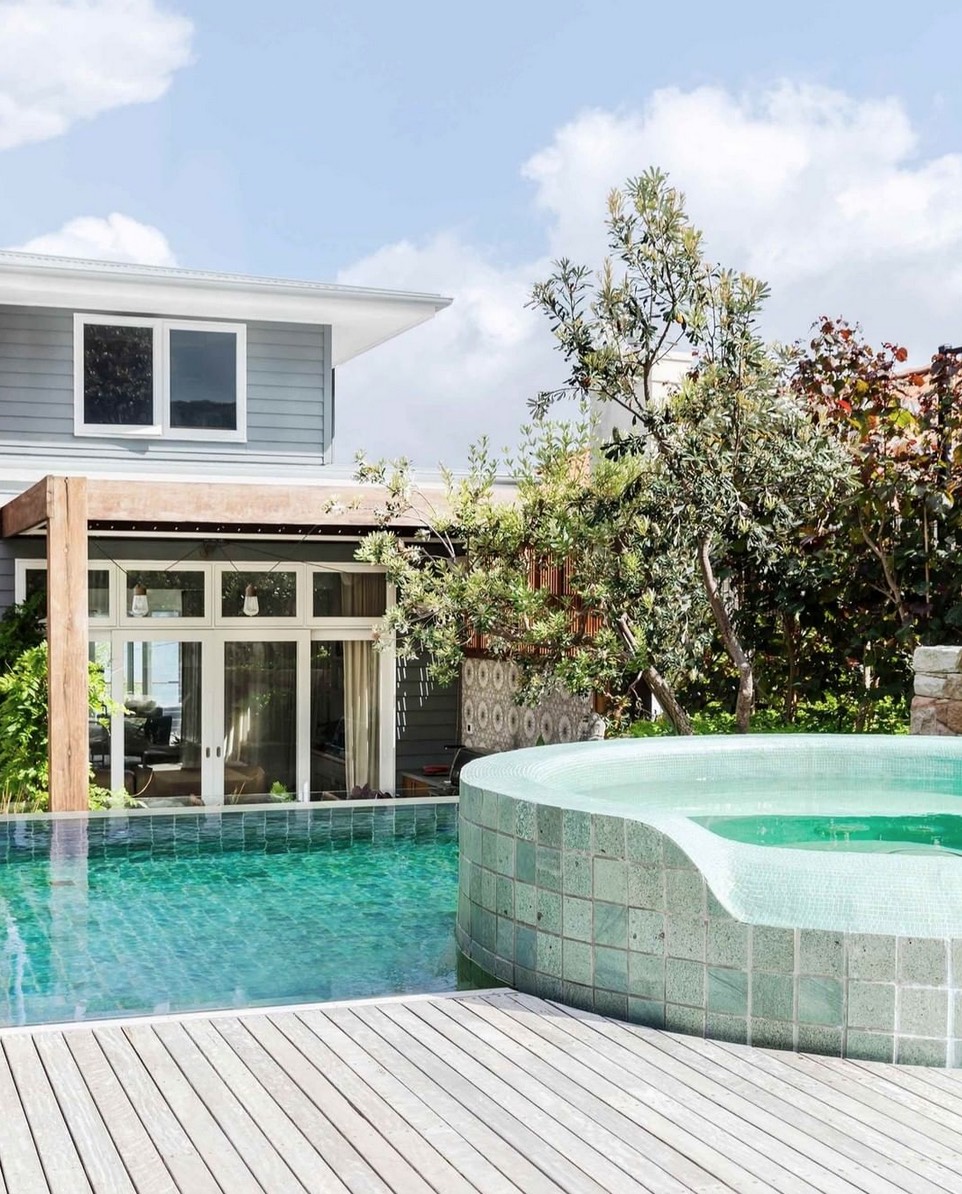 20. Stick to a colour scheme
This pool area is oh so pleasing to the eye, and there's a reason why – the colours are consistent. There's dark timber, black and green throughout. Plus, the lovely pop of blue from the pool, which really adds to the finish.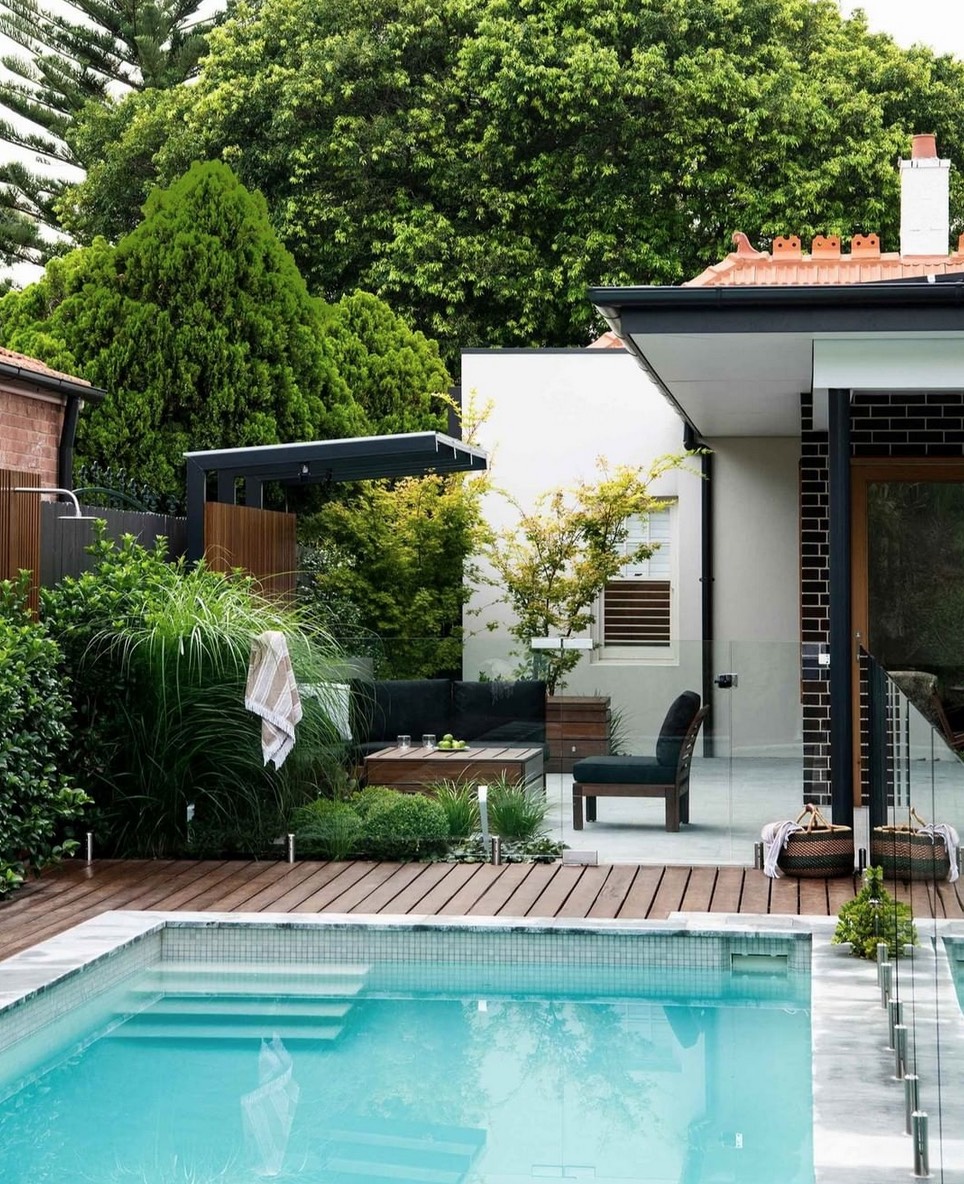 21. Vines
Your pool area is so much more than the pool – it's everything that surrounds the pool. Think hedges, trees, decking, pergolas and more. My favourite addition to this space is the green vine that creeps across the top of the white pergola. This adds another dimension that creates a jungle-like feel to this outdoor space.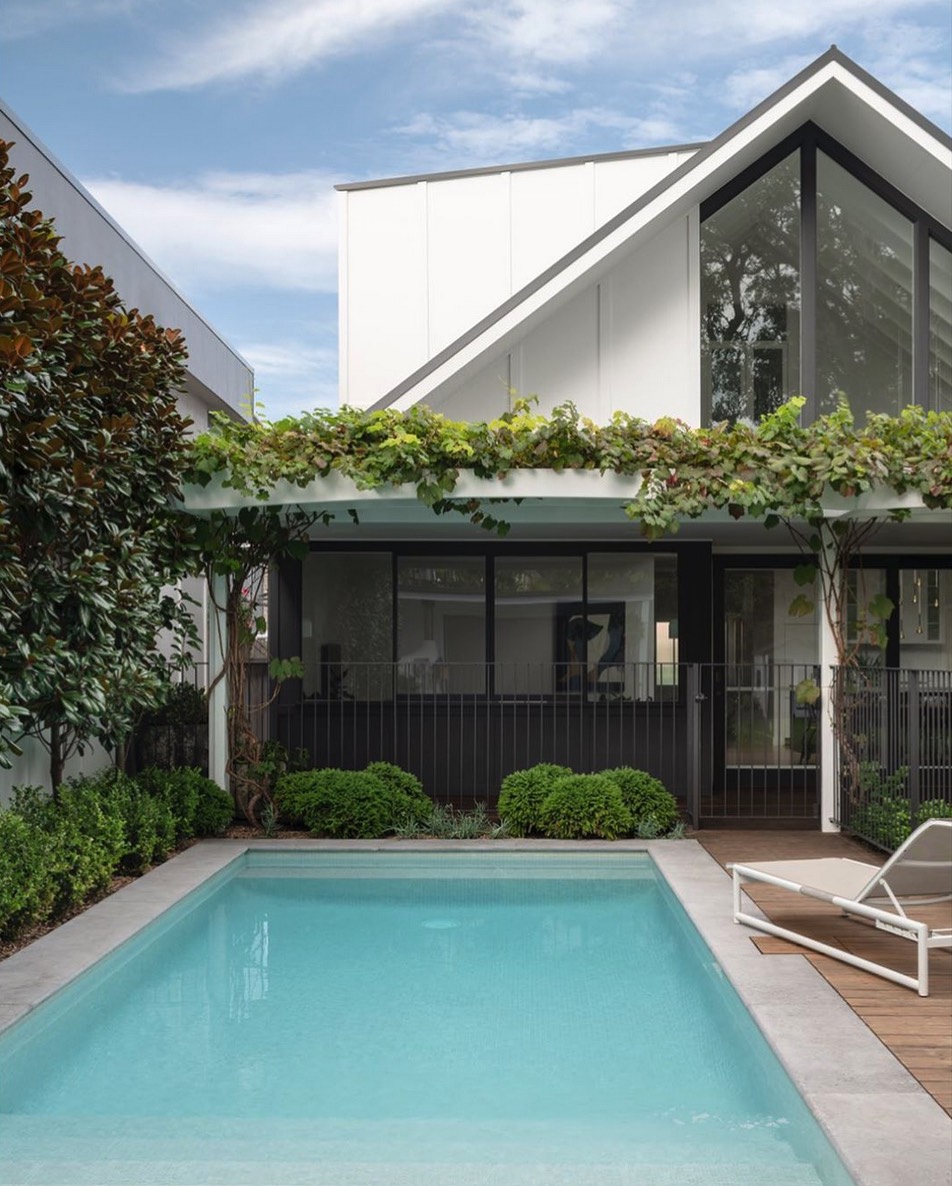 22. Different heights
When thinking about your pool landscaping, consider how you can make it really stand out. My favourite thing about this area is that there are trees that are both tall, as well as small shrubs, and climbing vines. It's these differences that make an area truly unique.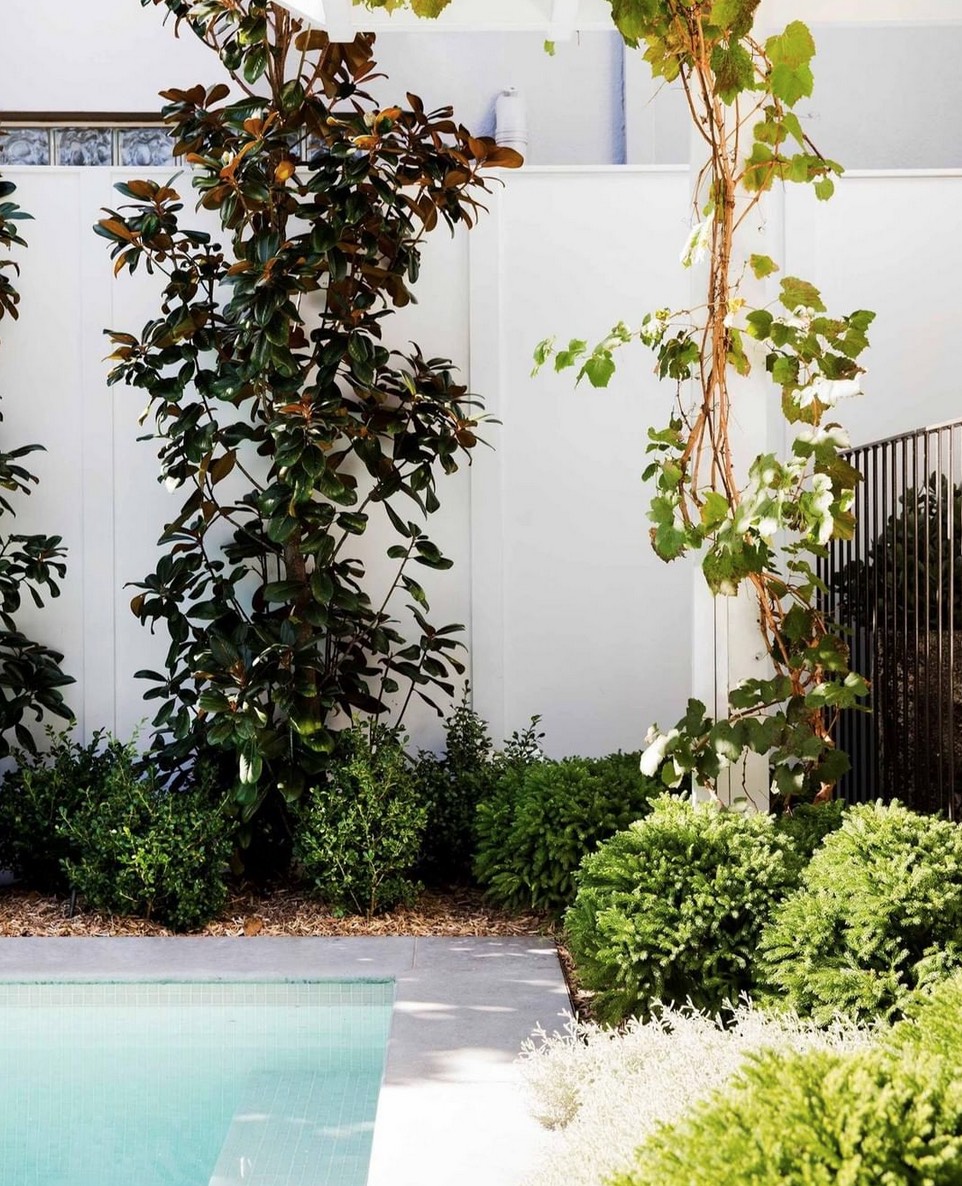 23. Decking
There are so many options for decking around your pool, so you want to make sure you make the right choice for your outdoor space. You can choose concrete decking, paved decking, wooden decking or even bamboo. But what I like about wooden decks is that they are so much more flexible than paved or concrete surrounds, which makes them more child friendly in the event of a fall. So this is something to keep in mind if you have a young family.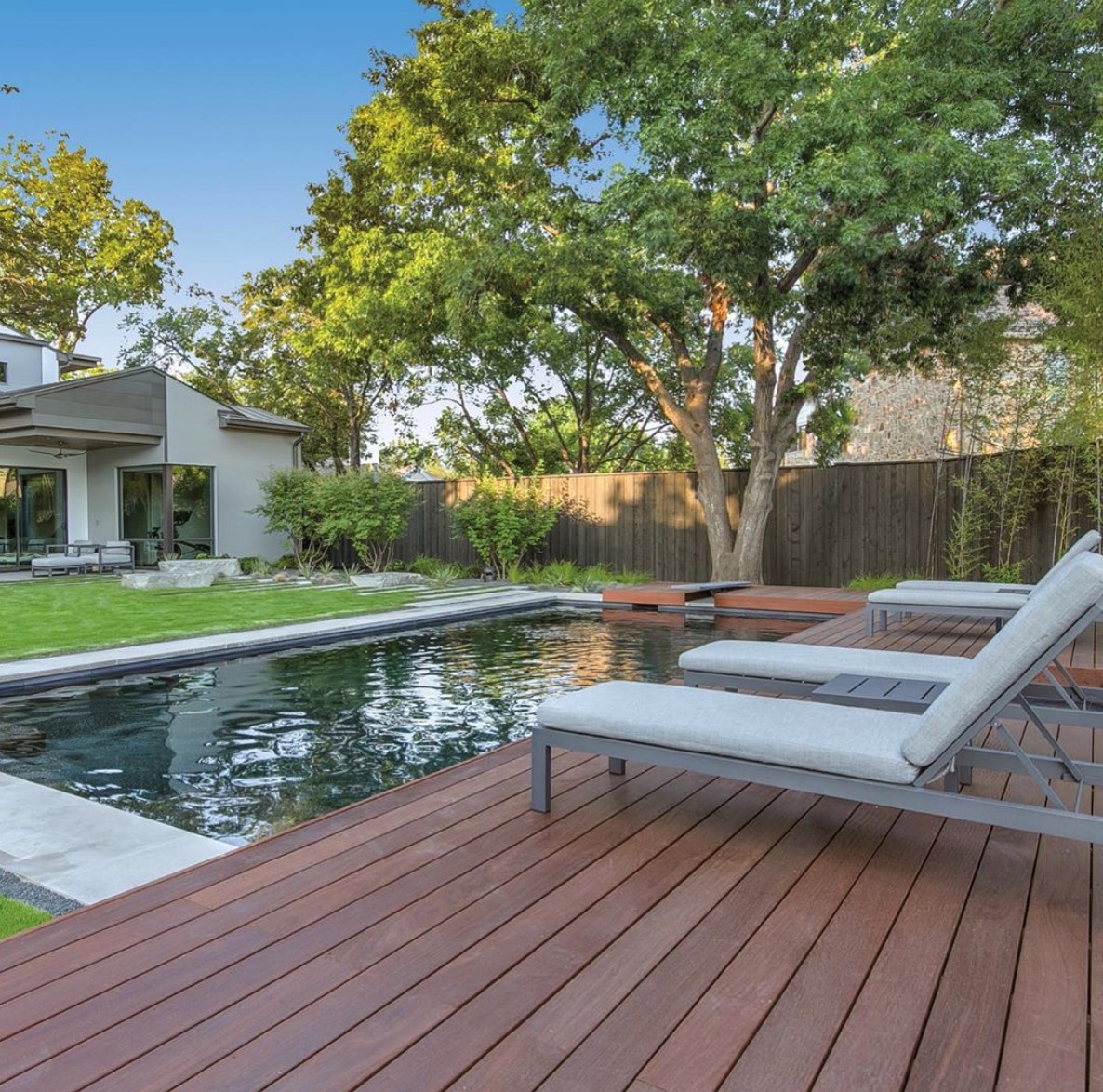 If you're thinking about a DIY deck, take a look at our how to DIY build your own deck guide. Otherwise, find a decking pro in your local neighbourhood.
24. Manicured to perfection
What a yard! This space is stunning and filled with so many things. First, there's the gorgeous blue pool with the relaxing day beds. And then there's the perfectly manicured lawn. And lastly, there's that pizza oven on the far side of the yard – perfect for those warm summer nights with friends.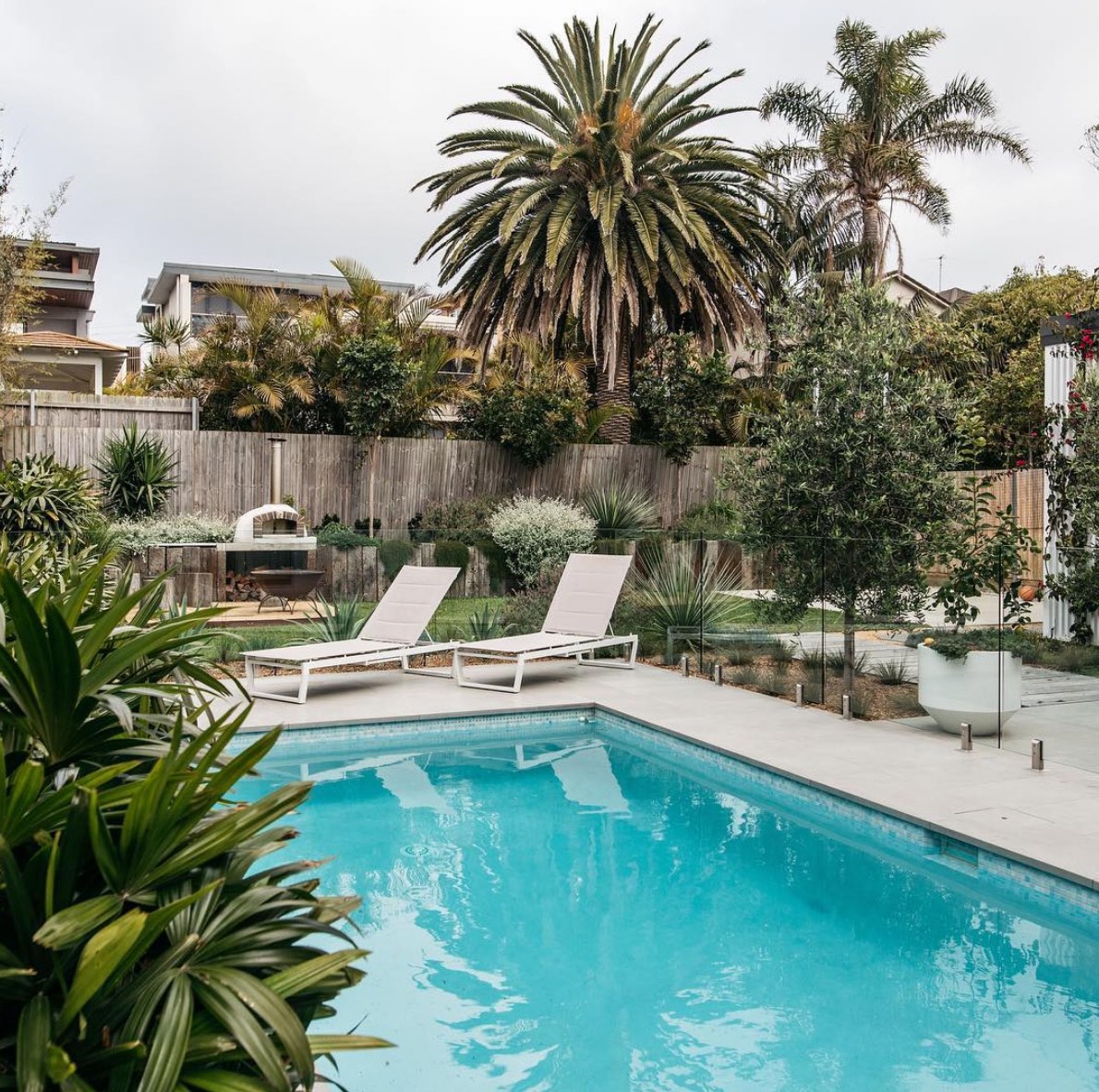 25. Take me to Greece
If there was a pool of my dreams, this would be it. This space is absolutely perfect, and it whisks me away to Greece! The good thing is that you don't have to go to Greece to experience this kind of pool. You can create a design like this in your backyard. Just ask a builder to help you complete the job!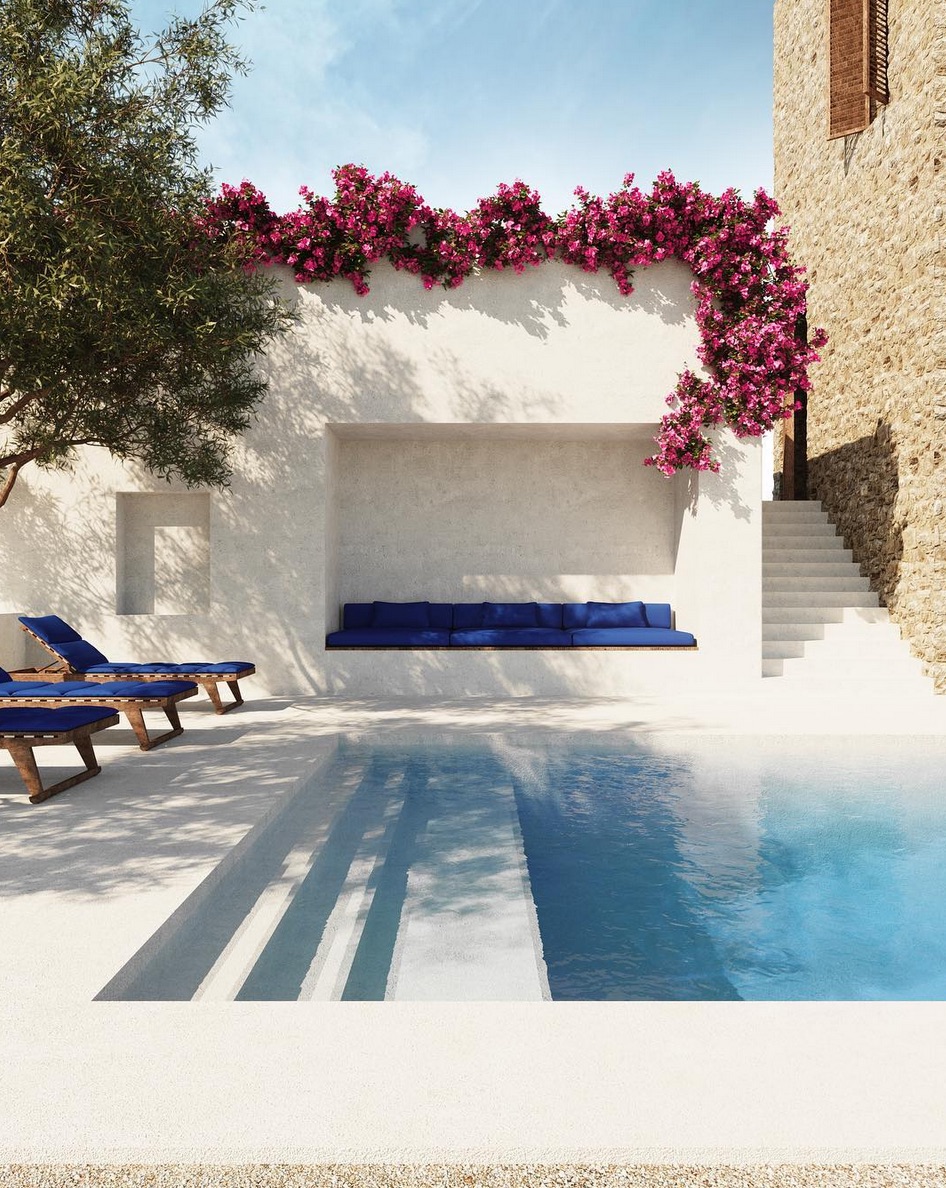 26. Bali style pool
If you can't travel to Bali, bring Bali to you with a resort-style pool. You can recreate this look by using light timber decking, a natural style pool, and plenty of palm trees and greenery. And you can't forget the Bali hut – that's essential!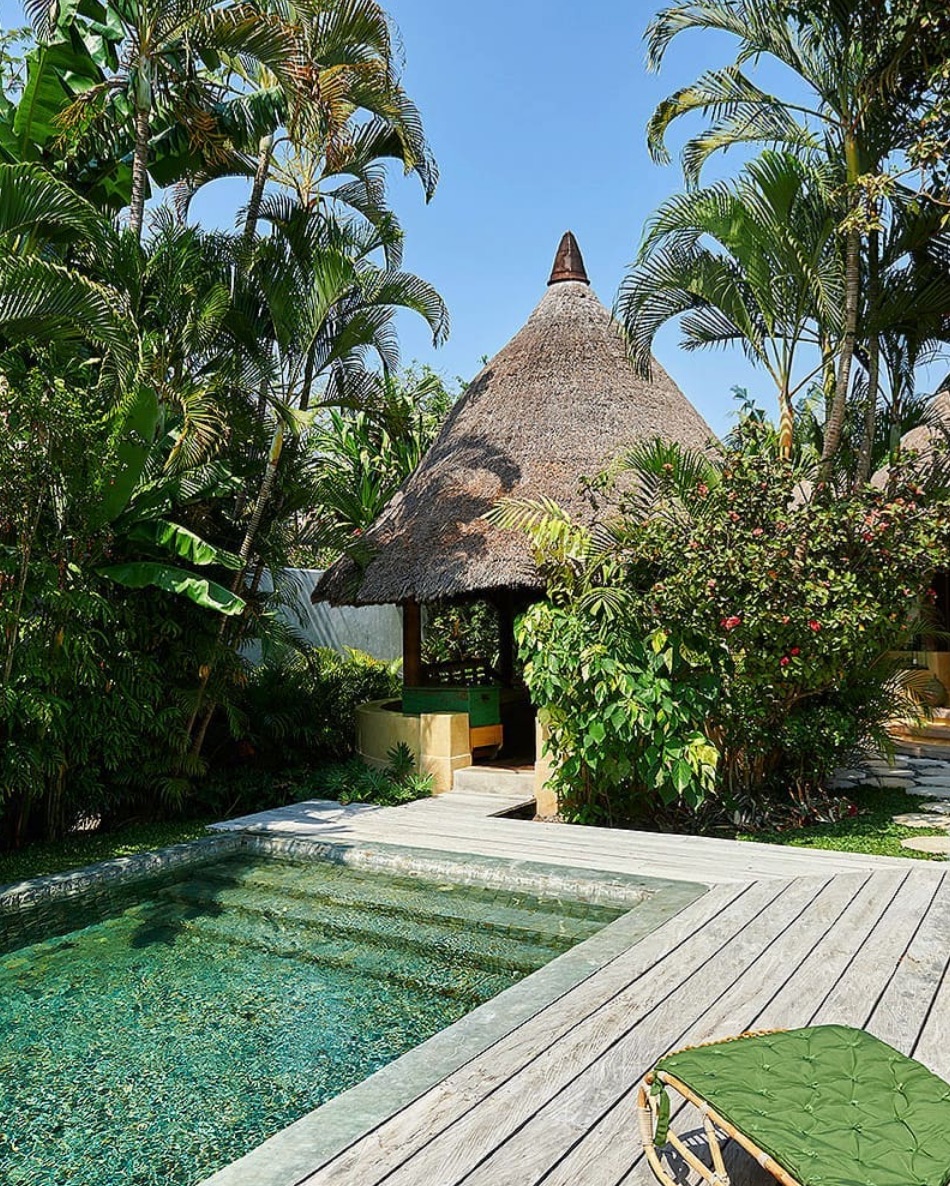 27. Above ground
You may not be able to tell by this picture, but this pool is actually above the ground! Often these kinds of pools get a bad rap because they can be an eyesore… But not this one. It's been dressed up with a picture-perfect timber deck, outdoor furniture, and plants. This is proof that an above-ground pool can look just as nice as an in-ground pool when attention is given to the details.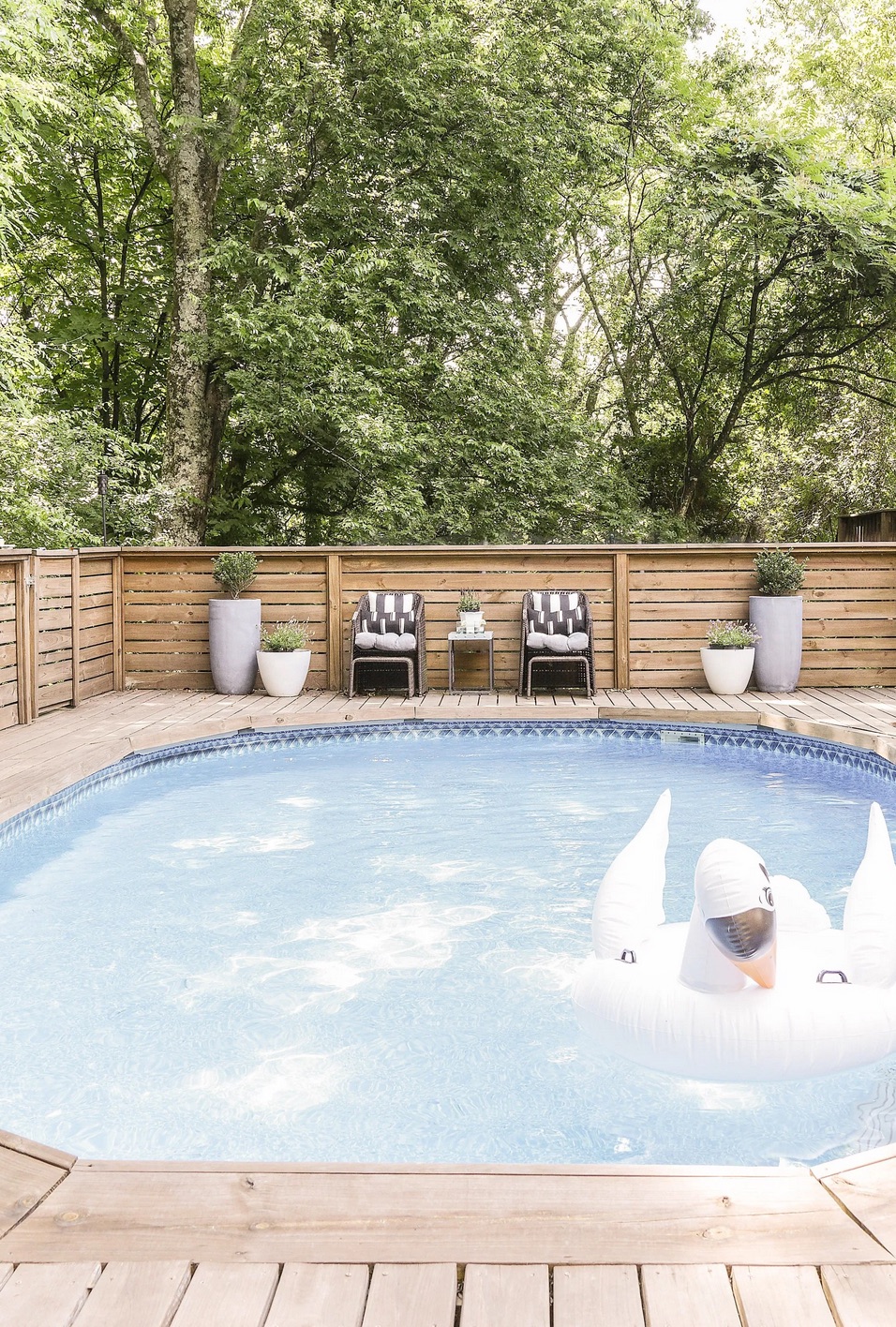 28. 1950s style
Take inspiration from the hills of Pasadena – this pool area is chic yet relaxed. I love the addition of the long wooden bench on the left-hand side of the area. This makes for a great spot for plenty of people to sit, chat and enjoy each other's company. If you need extra seating in your outdoor area, a simple bench seat like this will do the trick.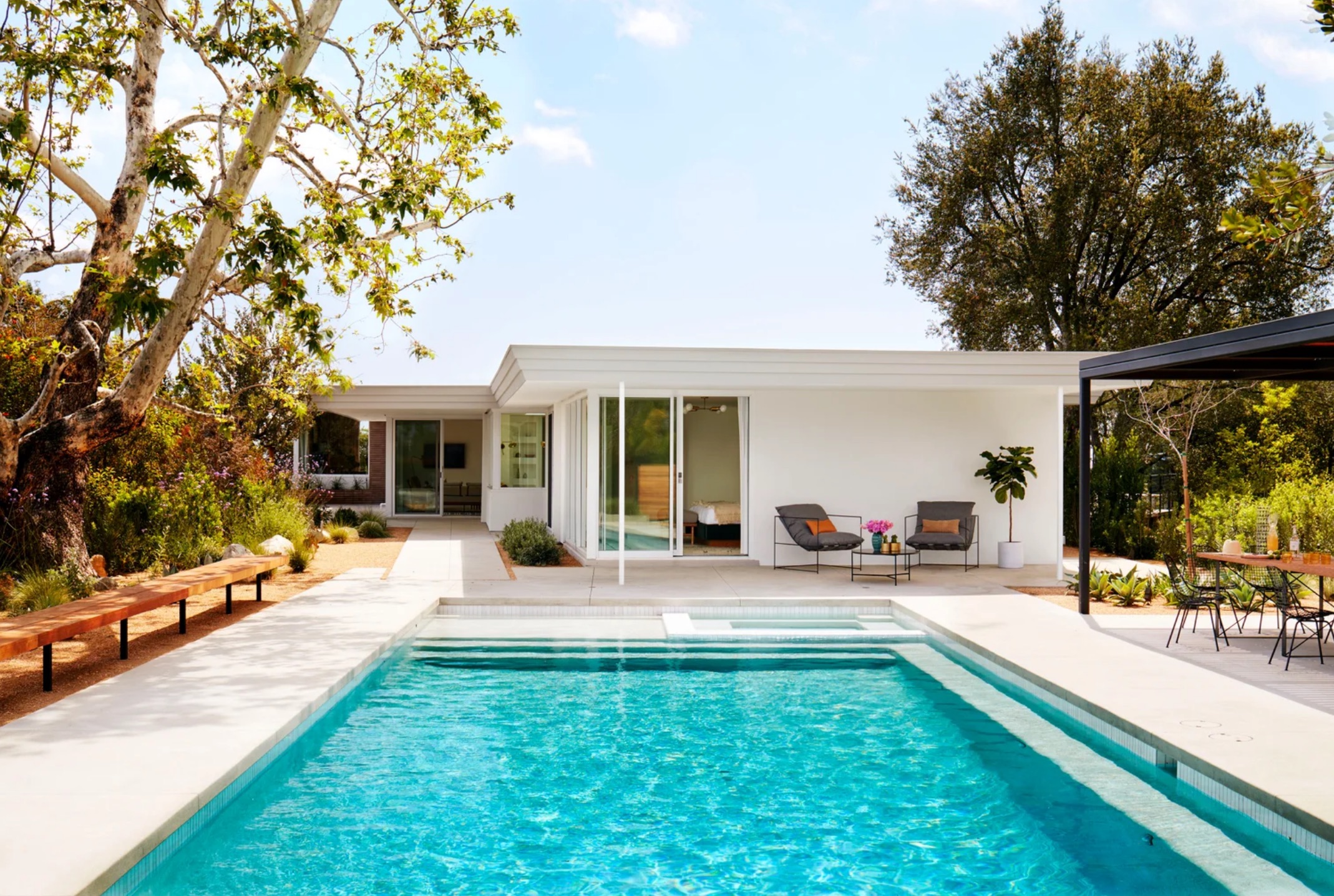 29. Hang a chair
If outdoor living is important to you, then you'll love this design. The pool area has been seamlessly integrated so that you can step out from the living area and into the pool area. And I love the addition of the fun hanging chair – what a cute spot to sit and relax.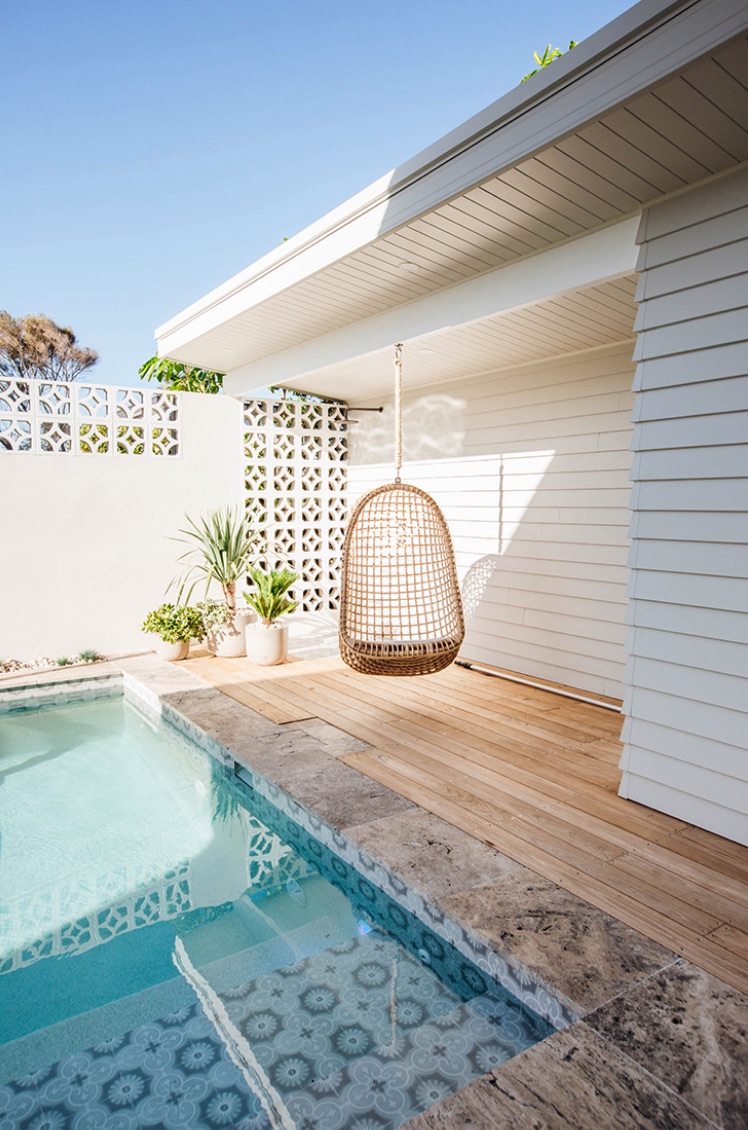 Seating is one thing that you'll see is important in all of these pool ideas and it's something you can either have as a permanent fixture i.e. built into the design, or something that you can change up as your style and taste evolves over time.
30. Stock tank pool
If you're short on space or you're renting, here's a handy solution for you – use a stock tank pool! This is as brilliant as they come. Stock tanks are a cheap and easy way to get cool, and you can buy one for just a few hundred dollars.
I love how this design includes a sandy area complete with an umbrella. This is one way to make it feel like you're at the beach when you're really in your backyard. And, it's perfect for the kids to make sandcastles!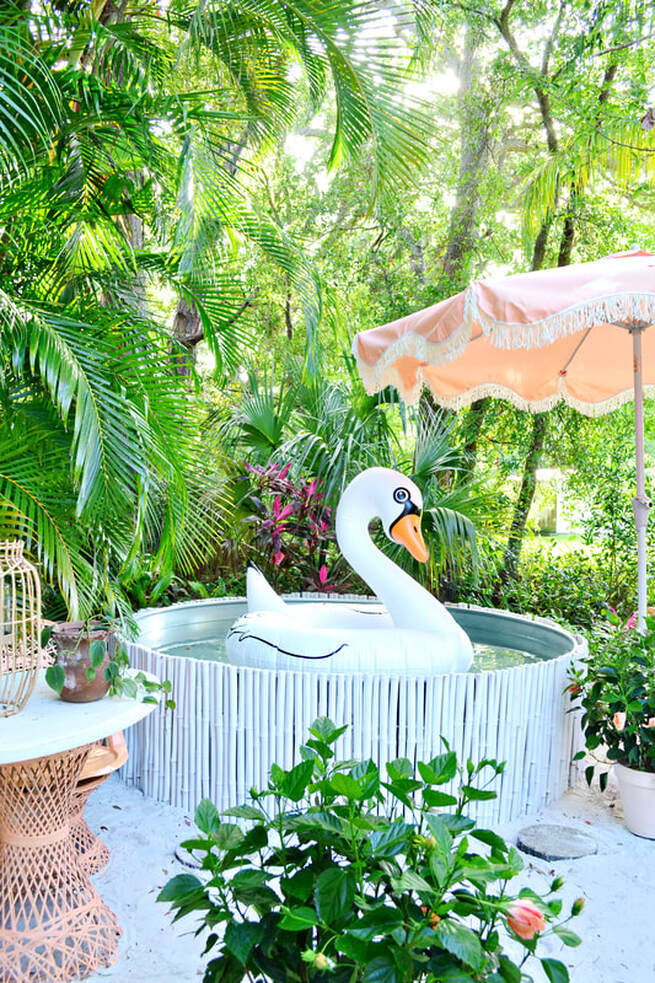 31. Water feature
If you're looking for one way to spruce up your pool area, then you can't go past fancy water features. I love this white/black combo that uses a charcoal leather stone for the wall. The texture of the stone wall, paired with the industrial style scupper on top of the smooth curves of the concrete ball blends hard and soft elements, making for pure perfection.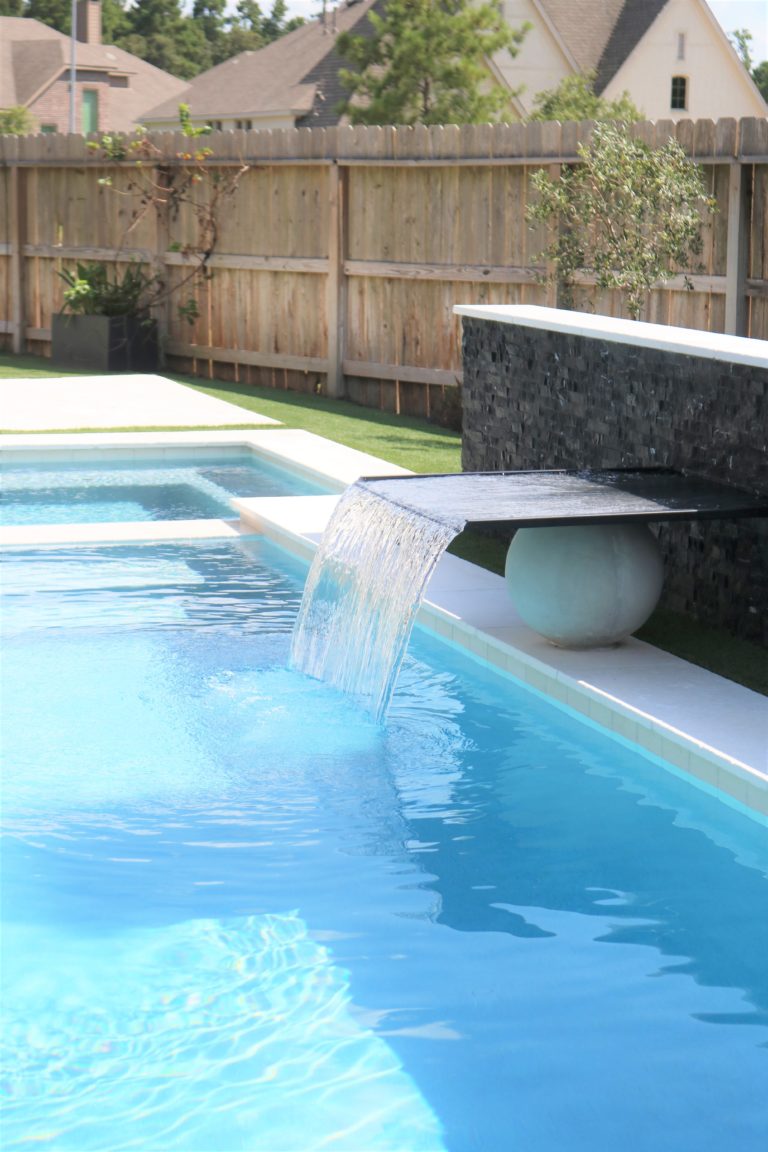 32. A spot of shade
It's going to get warm in the summer months, so you'll want to make sure you have some shaded areas around your pool. One easy fix is to install a beach umbrella over any seating areas. I love this blue boho-style umbrella – it's quirky and cute.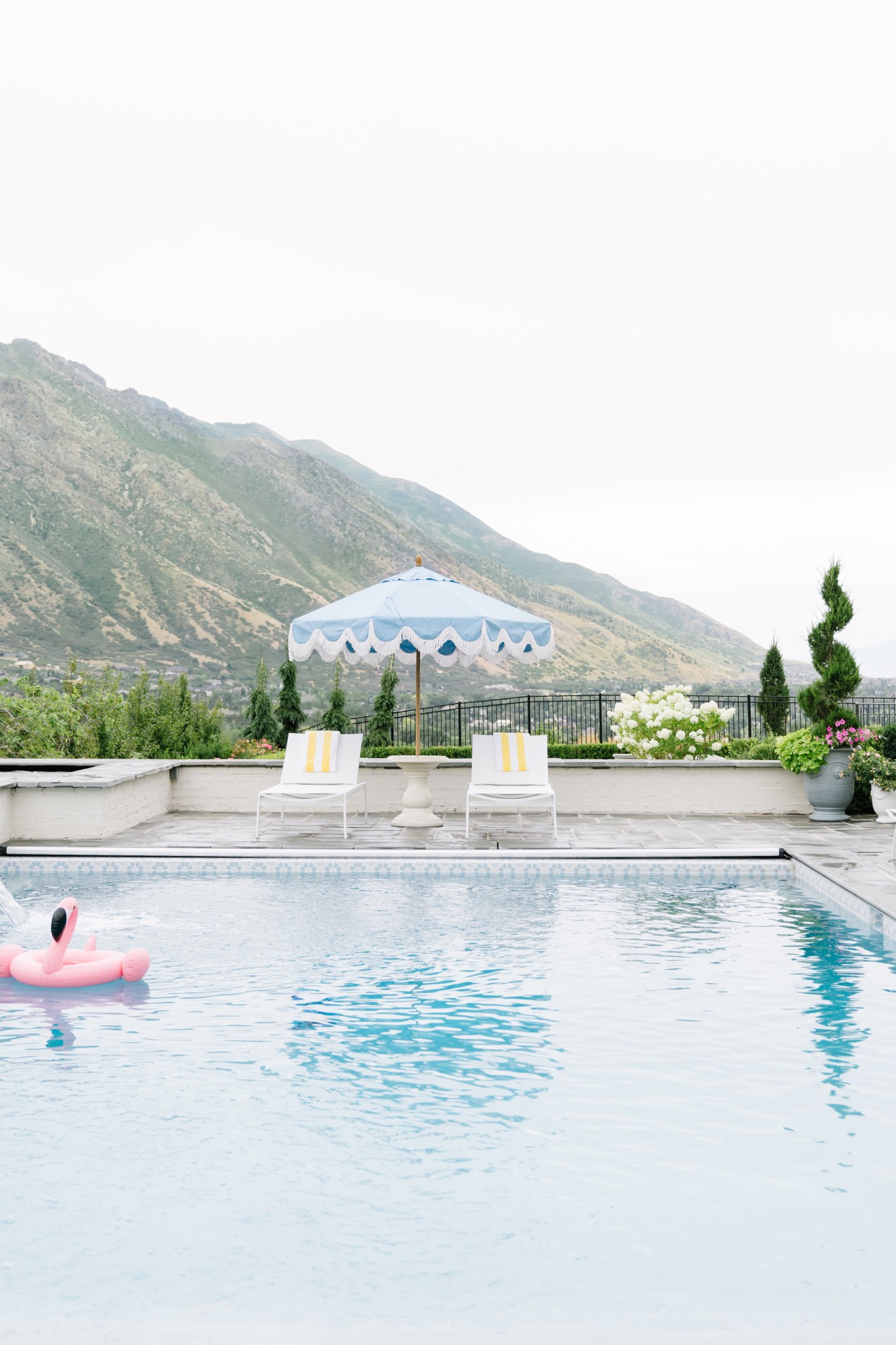 33. Take it indoors
Who says a pool has to be outside? If you've got the money and the space, why not build an indoor pool! This is particularly great if you live in a cool climate but want to be able to enjoy the water all year round.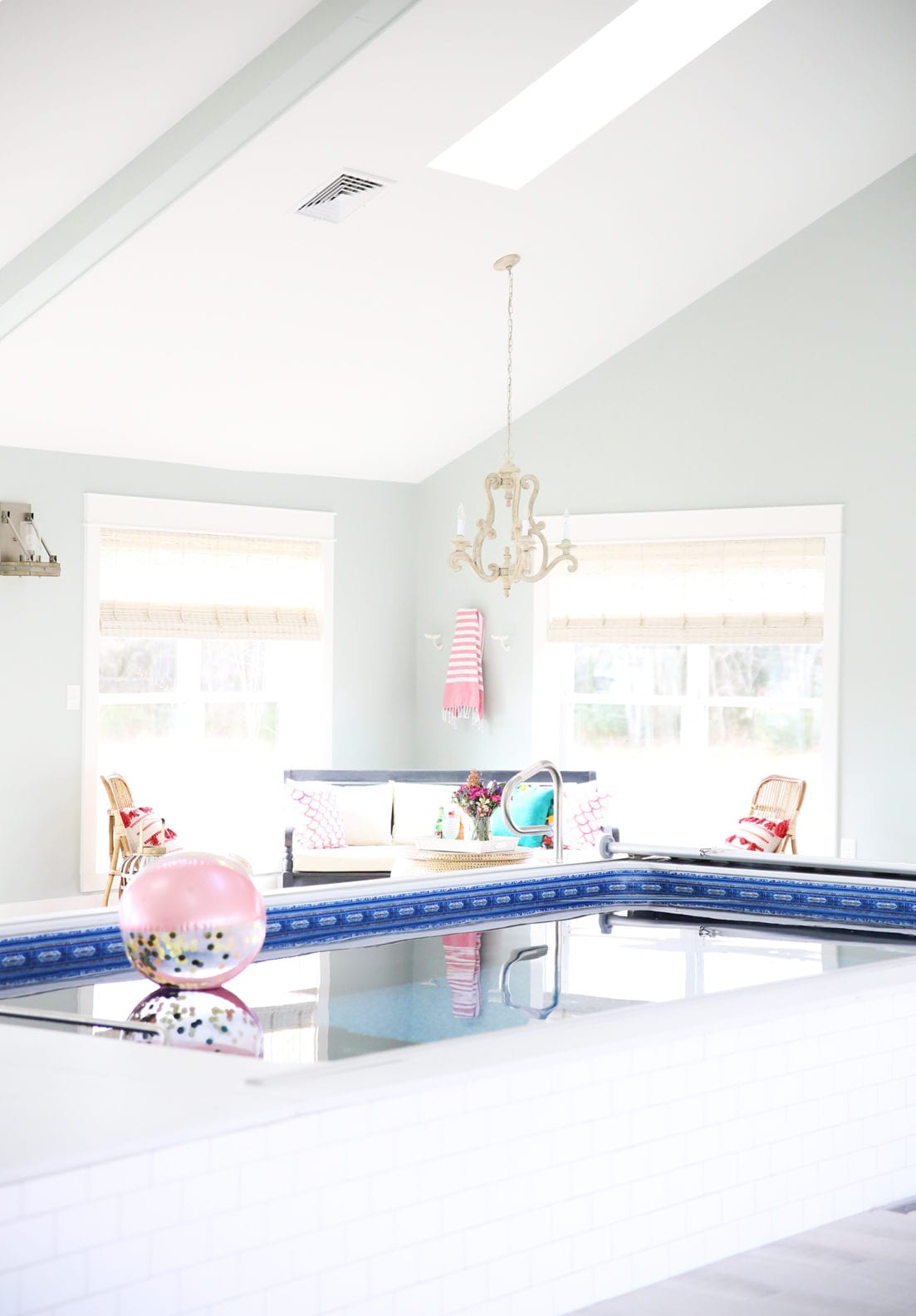 34. Space for entertaining
If you love hosting guests over at your house every weekend, then you'll want somewhere for everyone to congregate. A large alfresco area will do the trick. I love this one – it has a long wooden table with plenty of chairs. Plus, that outdoor kitchen is sure to come in handy around dinner time.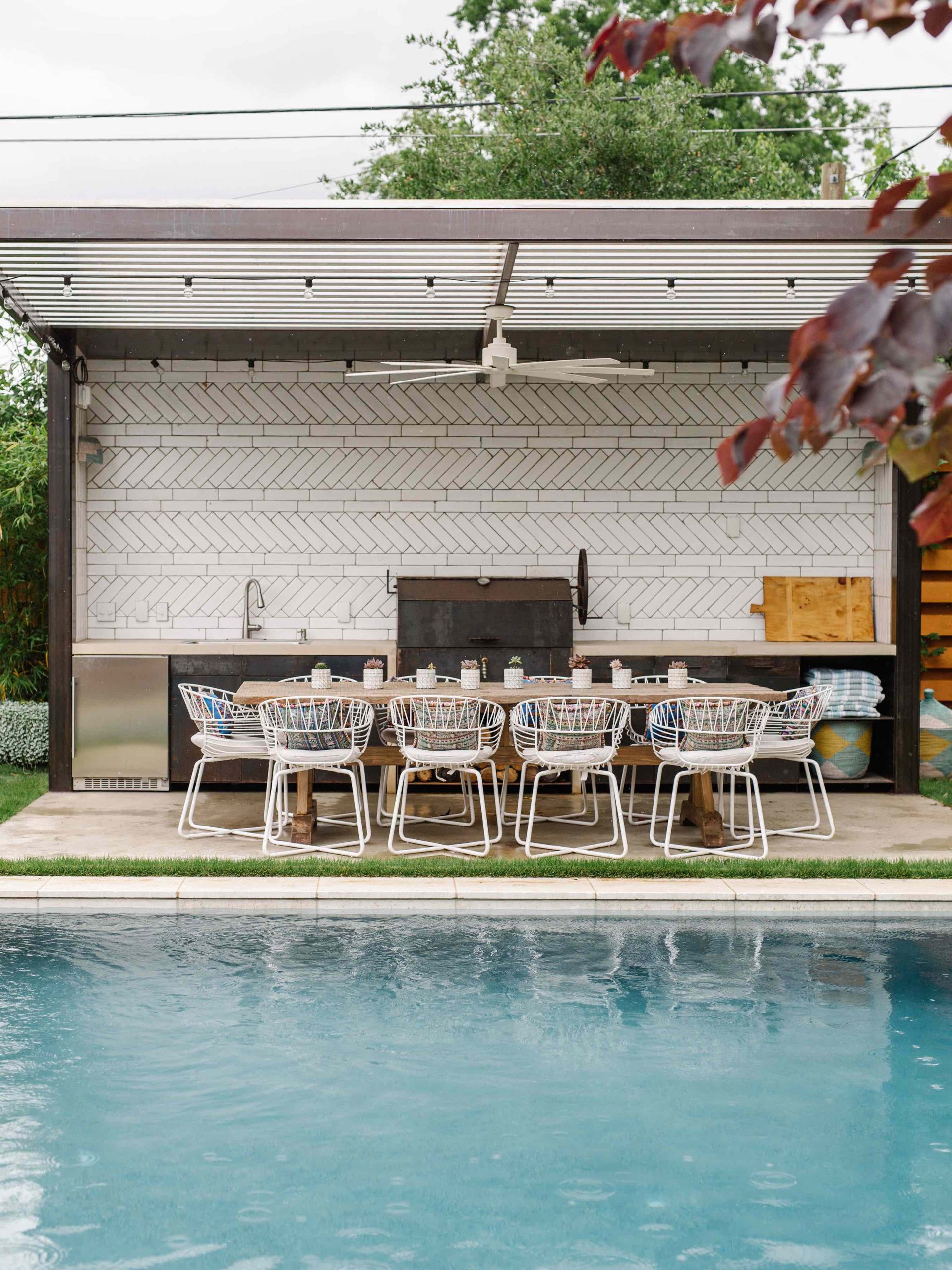 35. Patterned tiles
The tiling you choose for your pool can completely transform it, taking it from average to wow. In fact, the tiling you choose will determine the colour of your water and the overall look of your pool design – so choose carefully. I love these black, blue and grey tiles. Combined, they make for a gorgeous finish.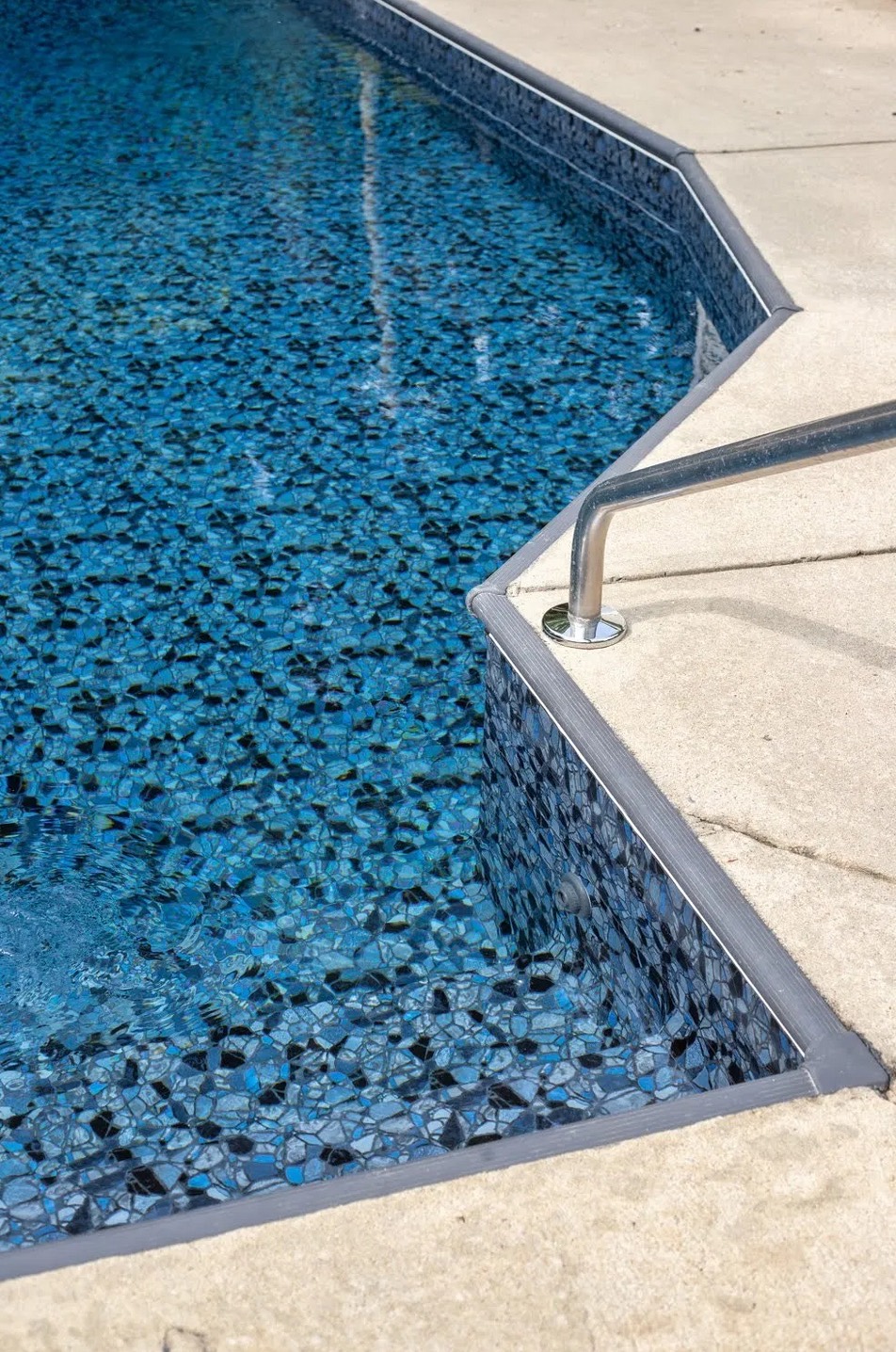 36. Flagstone tiles
If you're looking at one way to fancy up your pool area, then look no further than your tiles. While you may not be able to afford to pave the entire surrounding area with flagstone tiles, you can use a combination of concrete and tiles to achieve your desired look. I love how the tiles are positioned around the edges of the pool – they make this space look like it's a European getaway!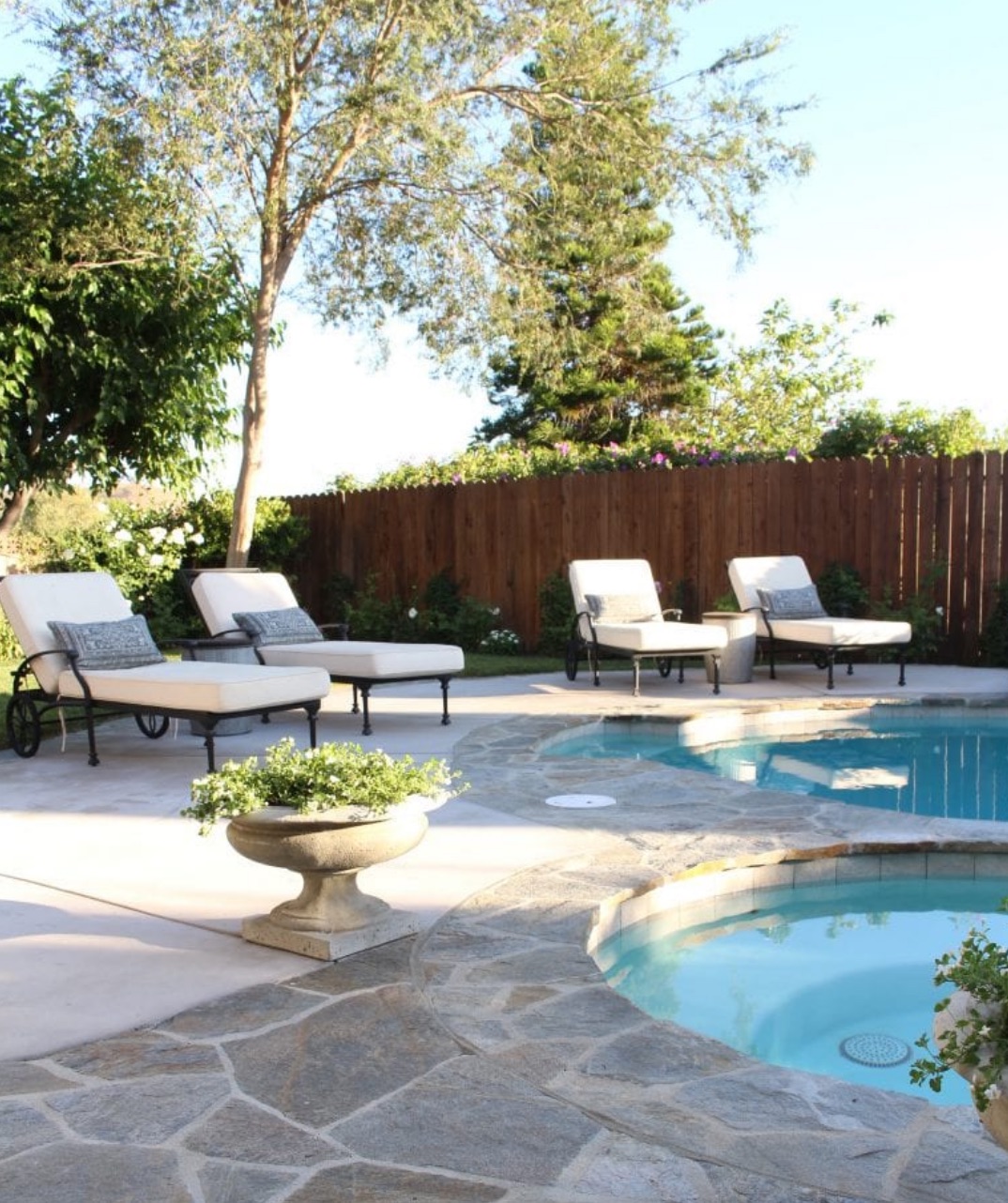 If you need some more inspo, take a quick look at these paving ideas that will help you get the look you want to achieve.
37. Pergola pool idea
Make sure you've always got somewhere shady to sit and relax by building a pergola. Take inspiration from this modern-traditional white and silver design. It incorporates a seating area, a kitchen and a TV – talk about entertainment!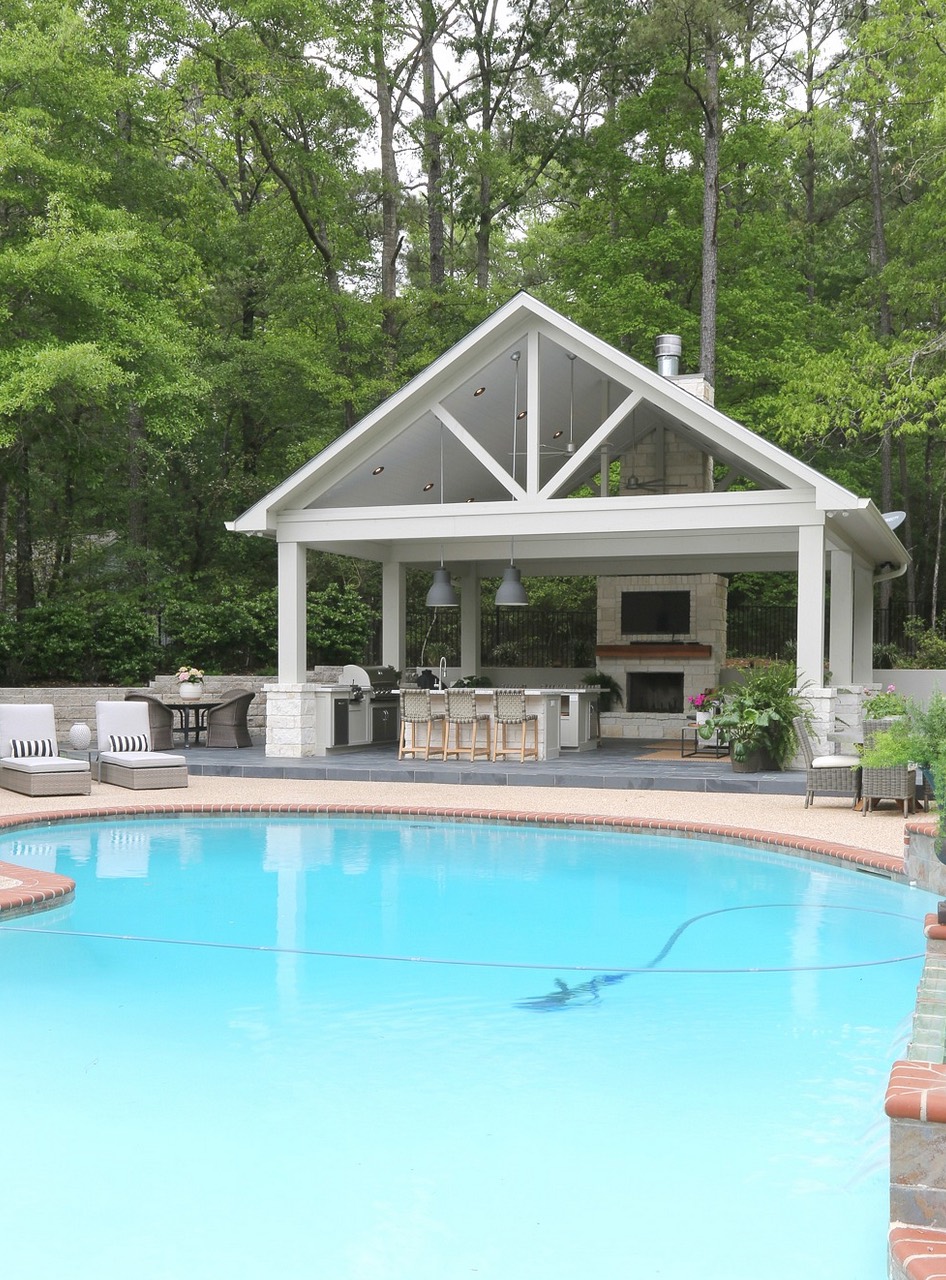 38. Keep it consistent
A pool area is so much more than a place to splash around. It's a place that the whole family can enjoy all year round – whether you're swimming or not. So make your pool area truly stand out by paying attention to the little details. Start with a colour scheme and add pieces of decor like cushions, throws, umbrellas and more.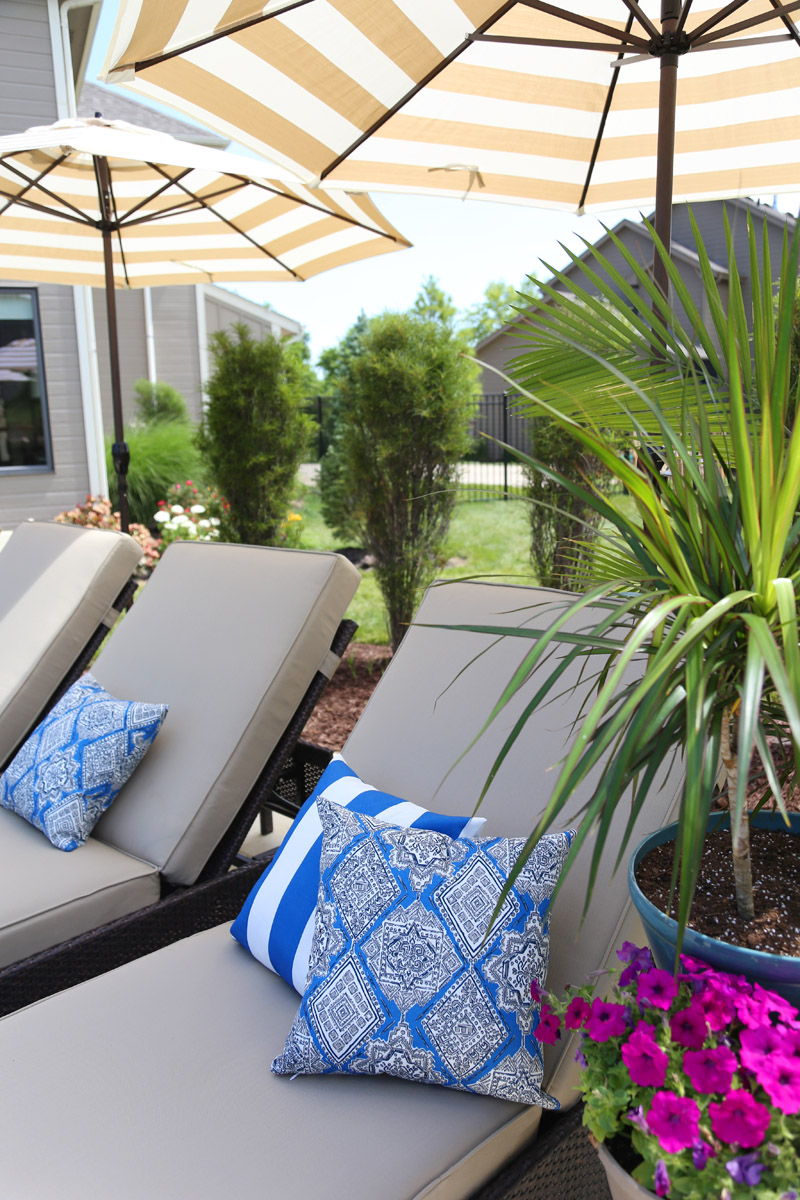 39. Seating nook
While we're on the topic of decor, take a look at this design. I love how a seating area has been incorporated into the space to accommodate more people. This would be very handy come entertaining time!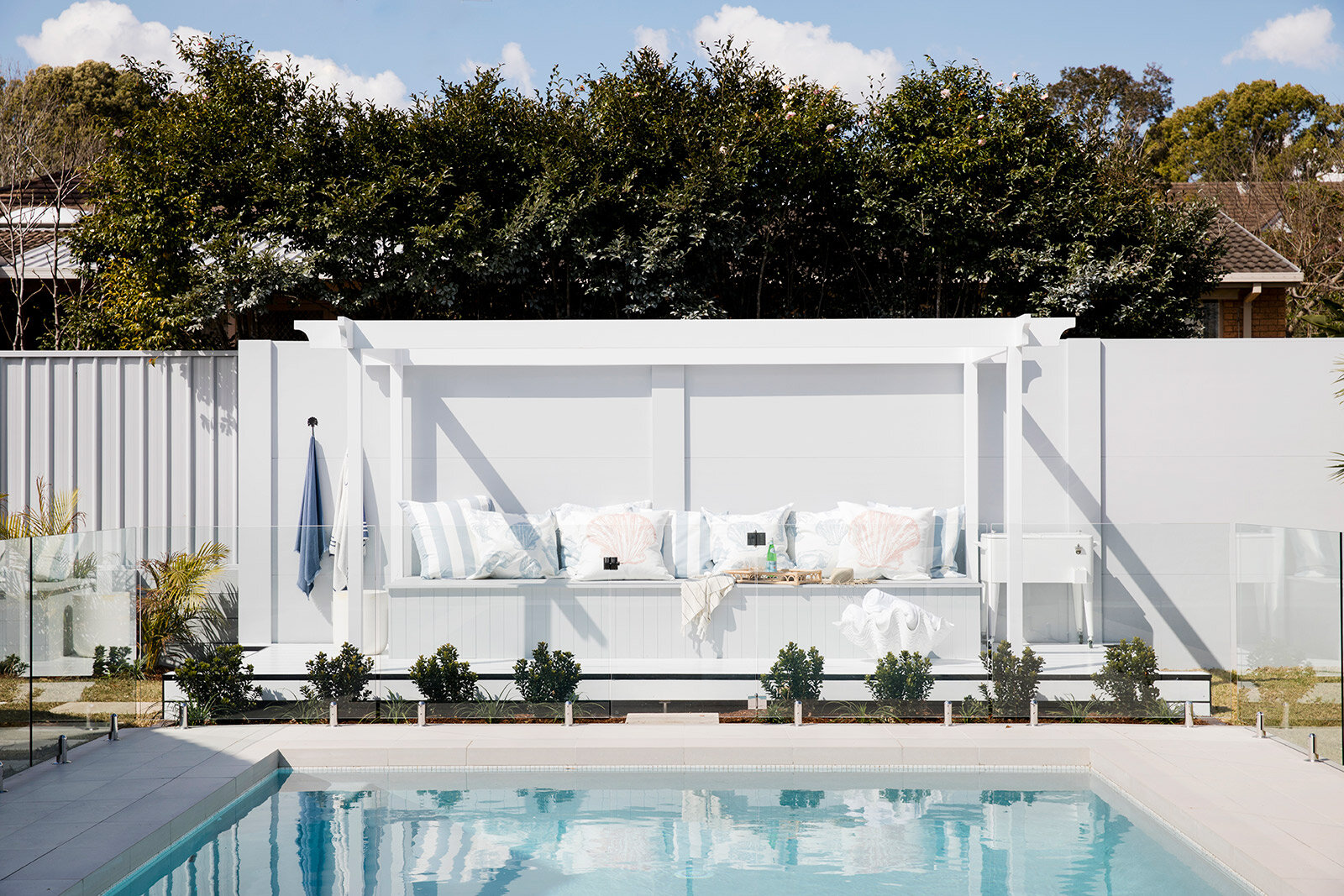 40. Shaggy umbrella
Here's another little shaded area that's so cute. I love that these shaggy umbrellas are in style at the moment. It's the little details like these that really complete your pool area.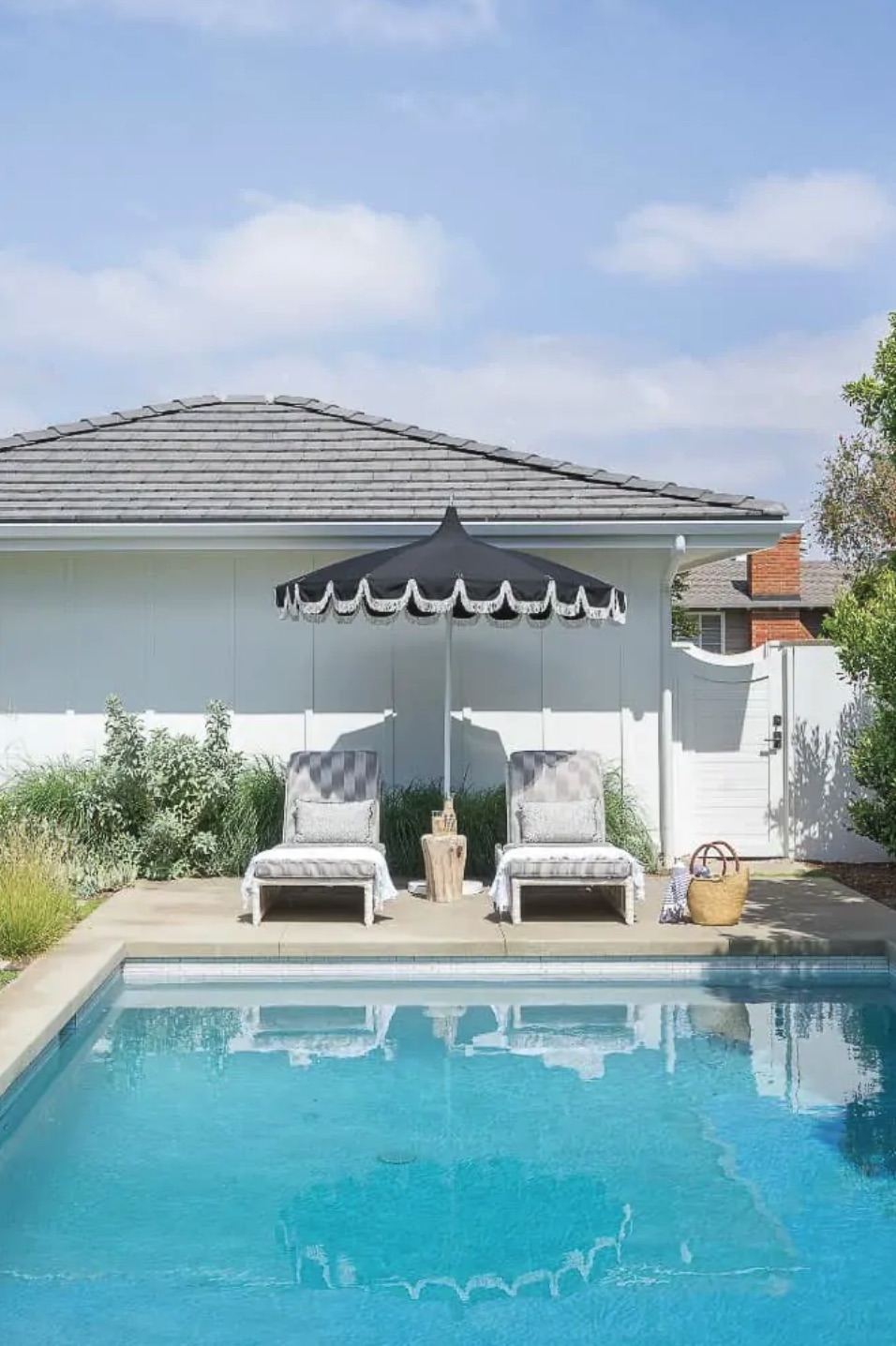 41. Rainforest style
Create your own leafy green oasis with plenty of palm trees and foliage. I can just imagine swimming in this space – it would feel like a retreat! And I love the addition of the floating swan pool toy – great for afternoons in the sun.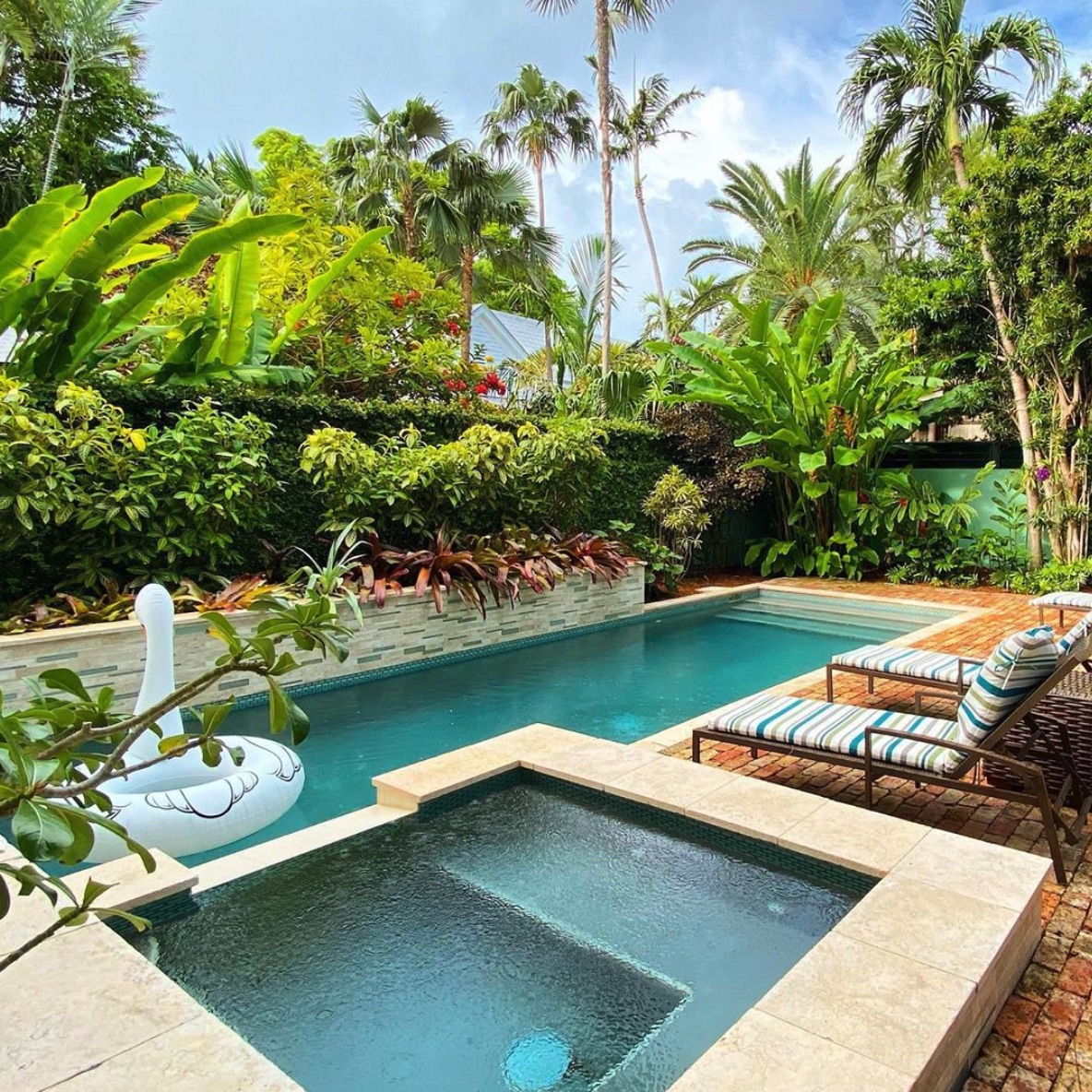 42. Good vibes only
Whoever styled this area has got it right! Swimming in the pool brings all the good vibes. Why not add a cute sign like this in your pool area?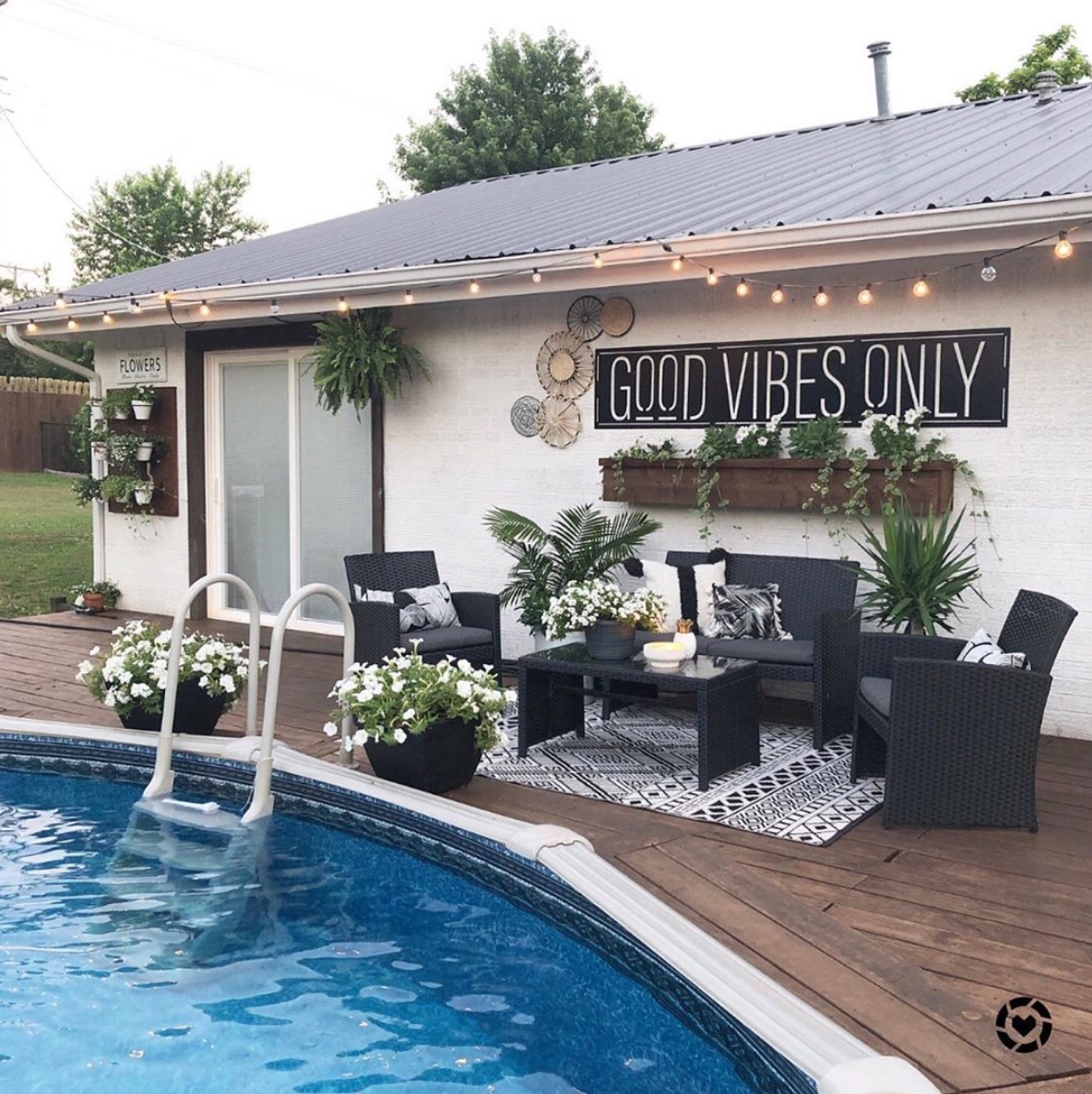 43. Extravagant pool ideas
And then on the more grand side of designs, there's this pool area. It's huge and it's gorgeous. I love how the garden is perfectly manicured with only a few simple hedges. This helps to make the main thing stand out – the pool!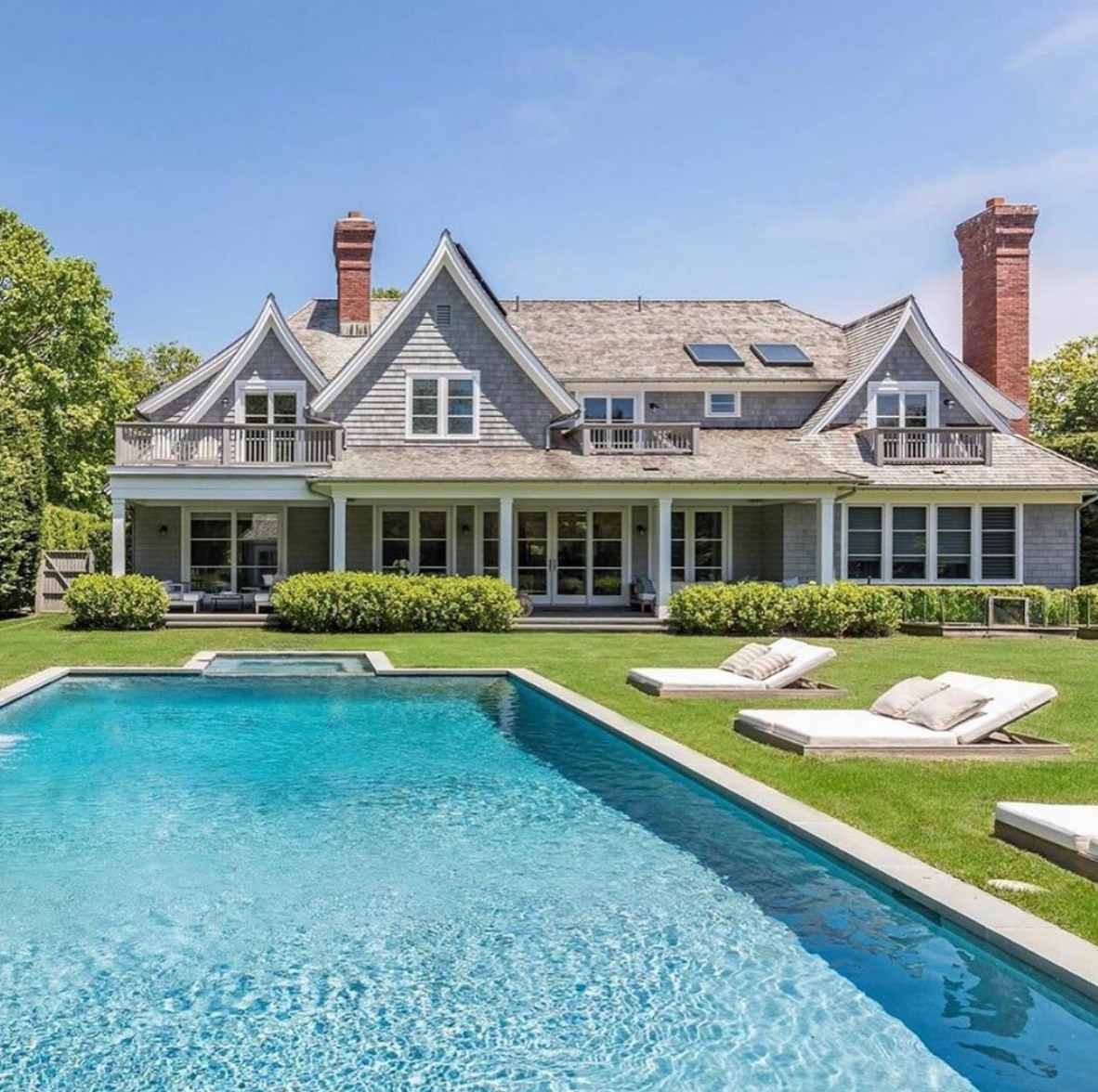 44. Chic backdrop
How gorgeous is this pool area? I love how this design has been so carefully put together to create one beautiful, classic space. My favourite part is the two sets of steps that pave their way down on each side of the veranda. This makes the transition from house to pool an easy one!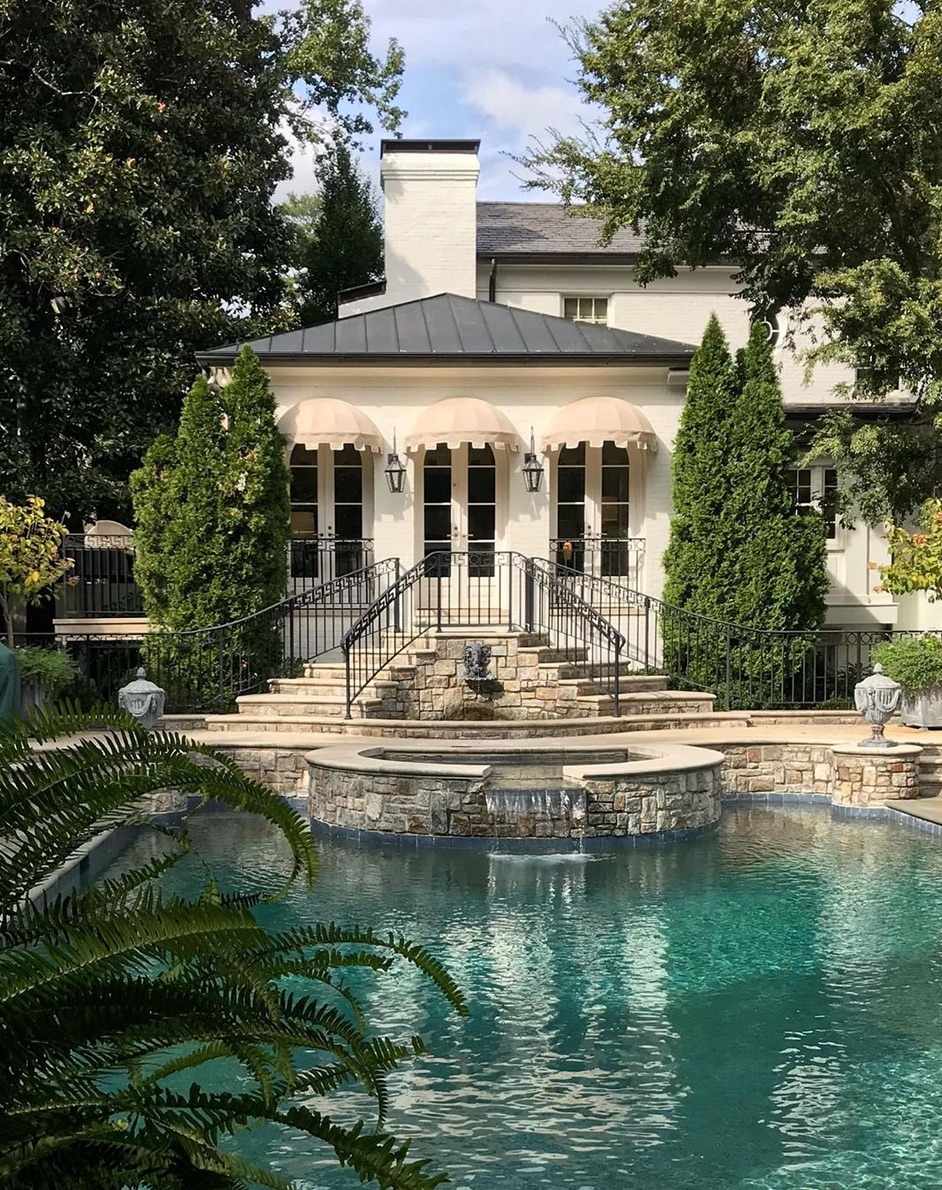 45. Light it up
Make your pool area glow with some warm lighting. This is the perfect setup for summer nights splashing around in the pool. You can include lights in your pool to make the blue from water pop. And you can install LED lights around your entire entertaining space to make it a well-lit area for dinner parties.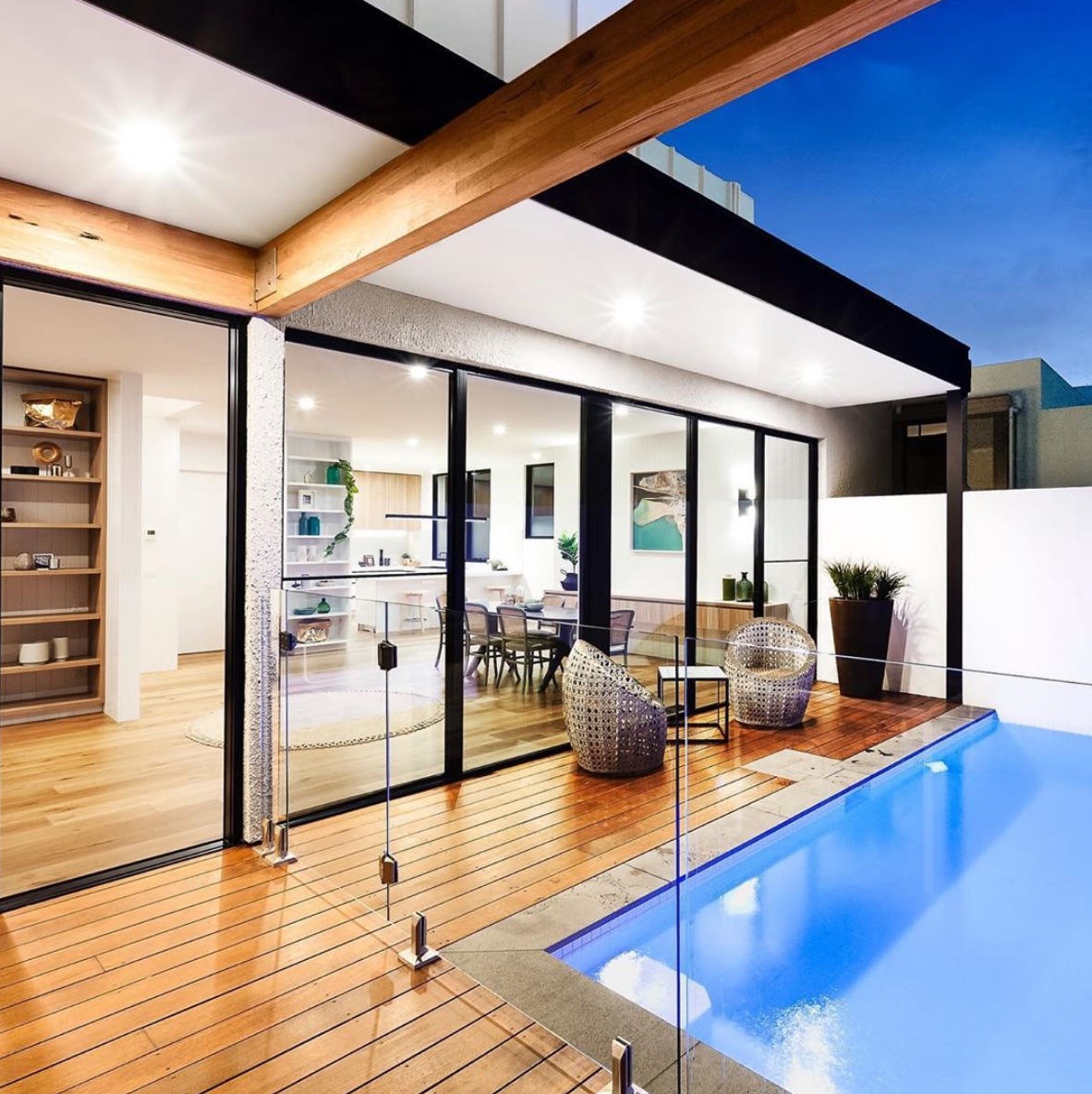 There you have it, 45+ incredible pool ideas. As an Aussie, a pool is a must. And I hope you can understand that installing a pool is possible – even in a tiny space. My favourite designs are the narrow pools because I just love how they make such clever use of small areas. But I'd love to hear yours. Which designs were your favourites? Comment and tell me. And if there's anything you think I missed, make sure you share that too.