A pool is one of the most desired items for a home. It's hard to go a summer without splashing around in the sun, a cool drink in hand, and friends around you. You may be worried that your backyard isn't big enough but these days there are so many different designs for all property sizes. We're going to explore these smaller plunge pools and all the way up to lap pools with these beautiful pool ideas to help plan your next backyard makeover.
Don't forget there are plenty of professionals who can help guide you with your plunge pool, pool fence installation and once it's all done, your regular pool cleaning and pool pump repairs.
1. Plunge pool ideas
Just because you've got a small yard doesn't mean you have to miss out on having a pool. You can create a small plunge pool with a tiny space! Take inspiration from this backyard.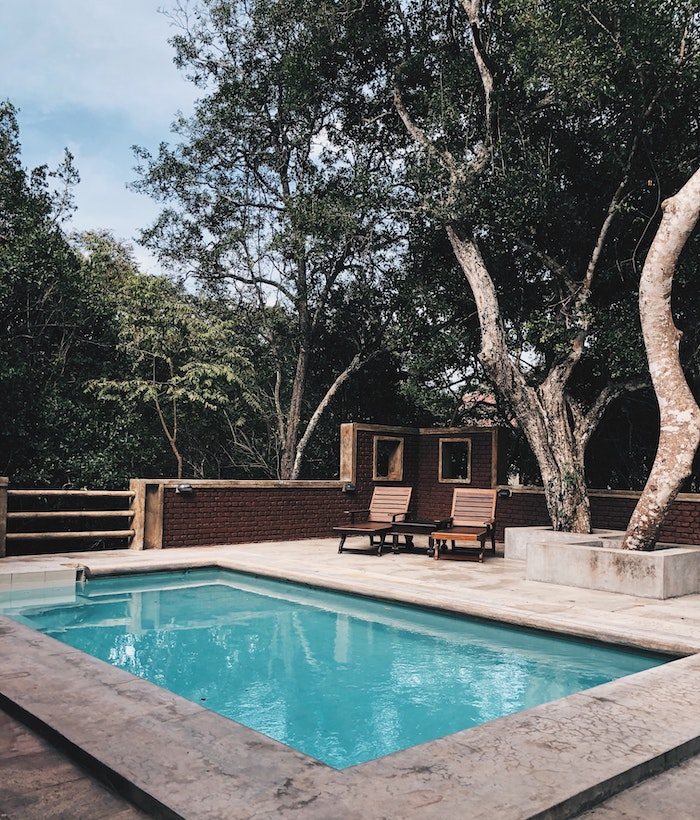 2. Natural tones
For a quintessentially Australian flavoured pool area, go for warm wood decking and nature colours in your pool furniture.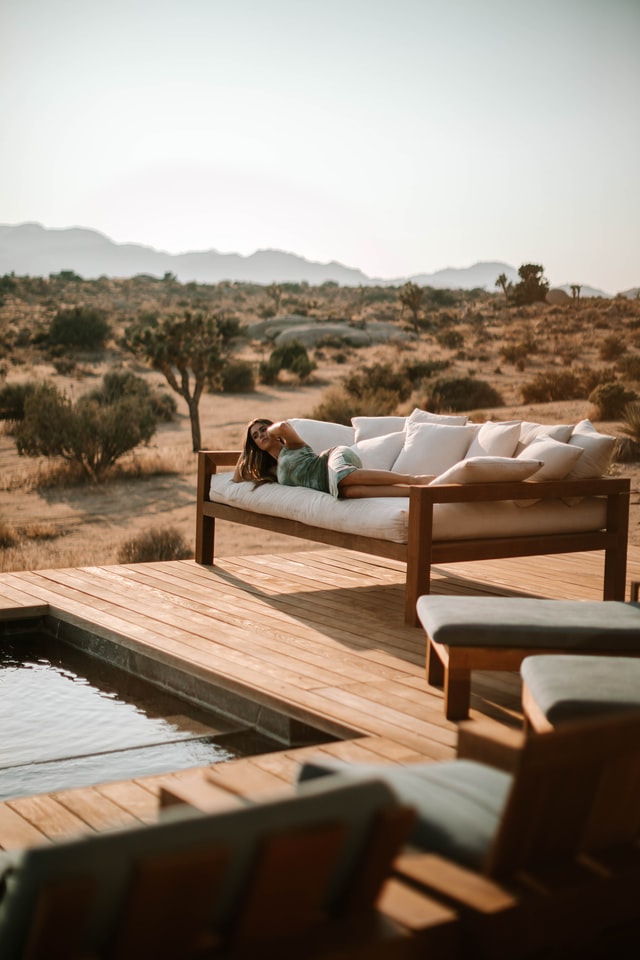 3. Grow vines
For a stunning and simple courtyard pool area, whitewash your perimeter walls and plant up trailing vines to contrast beautifully against the white walls. Add in some oversized container plants for further interest!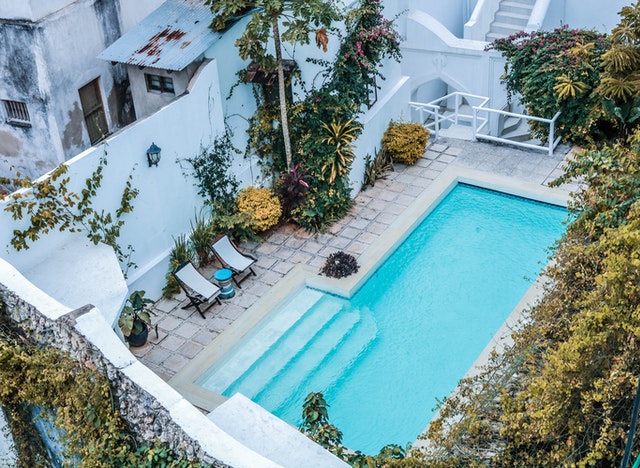 4. Trees galore
What better way to create a relaxing pool area than by planting plenty of trees. I love these ones… You really can't go wrong with palm trees! But in general, large trees will add plenty of shade so you can rest and relax without getting burnt by the sun. You'll see that greenery is used with most of these pool ideas and important not to leave it until the last minute when you're planning your pool area.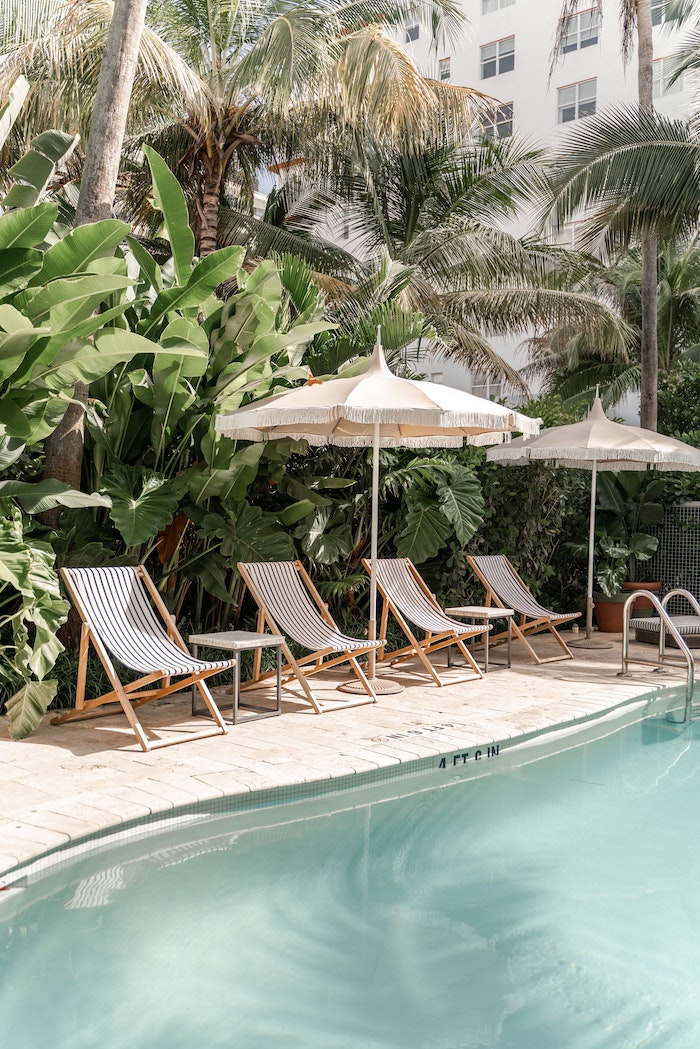 5. Banana leaf plants
Give your pool area instant tropical vibes by planting up banana leaf plants. Add in a thatched umbrella and some deck chairs and it's resort time baby!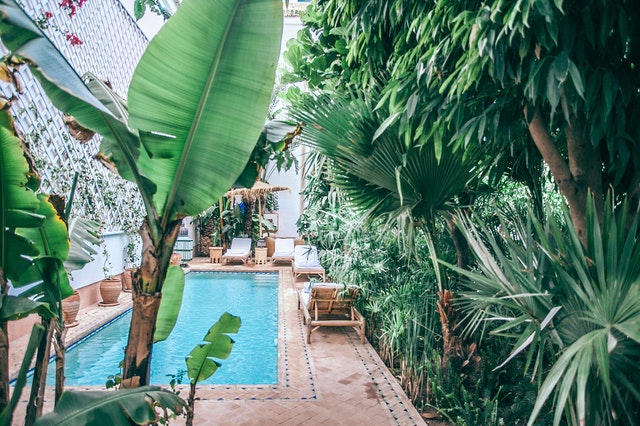 6. Moroccan pool vibes
Why hello, Morocco! This pool is indeed from a gorgeous villa in Morocco. But there's no reason why you can't recreate this look at your own home. You'll need Moroccan tiles, planter pots, and outdoor furniture in all sorts of colours, patterns and textures. You might want to consult a builder and a designer to see how you can create a space like this.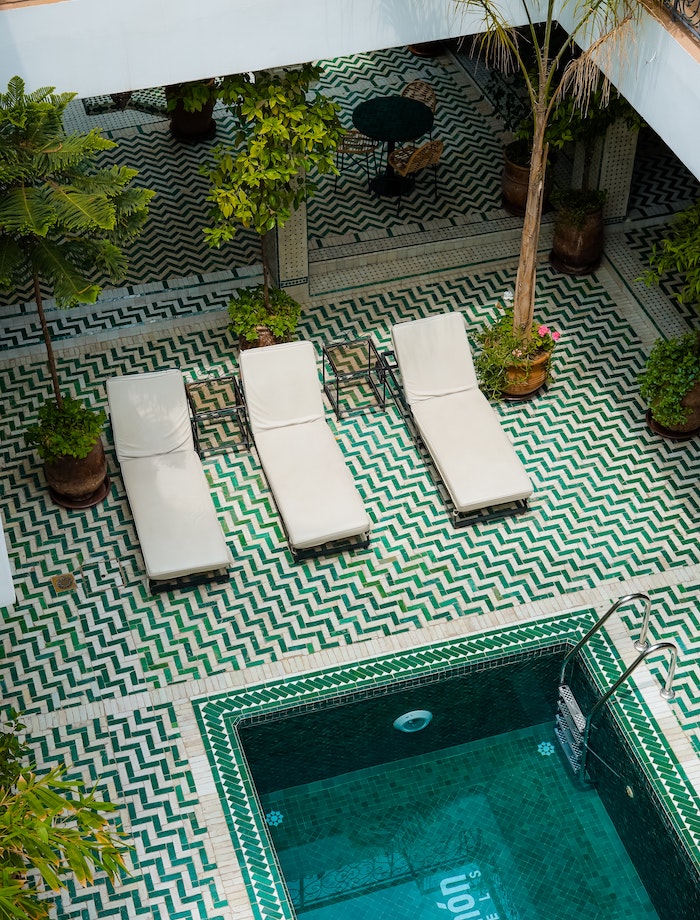 7. White walls
Just looking at this design makes me feel at peace. There's something so tranquil about the combination of greenery against stark white walls. To create this design, keep things simple! Strip everything back to a plain white background with minimal furniture. And focus on making your pool area green with life.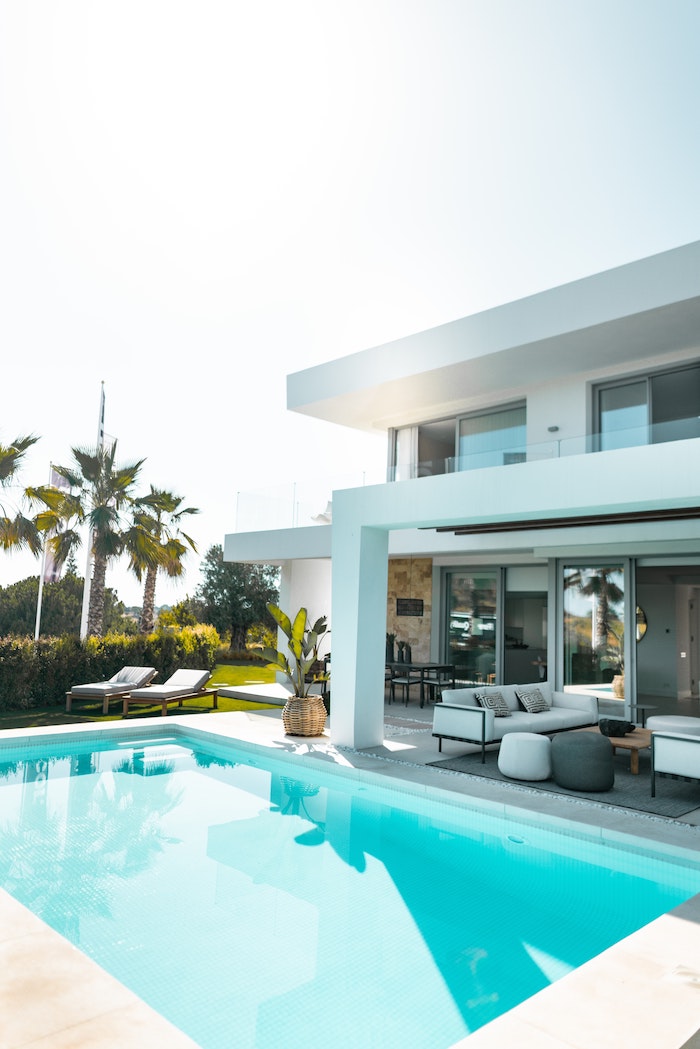 8. Fence it in
One of the last things people think about when it comes to designing their pool area is the fence. But it's one of the most important parts, as it's often the first thing people see when they look at your pool area. If you want your pool area to be the real hero, then install a glass fence like this one.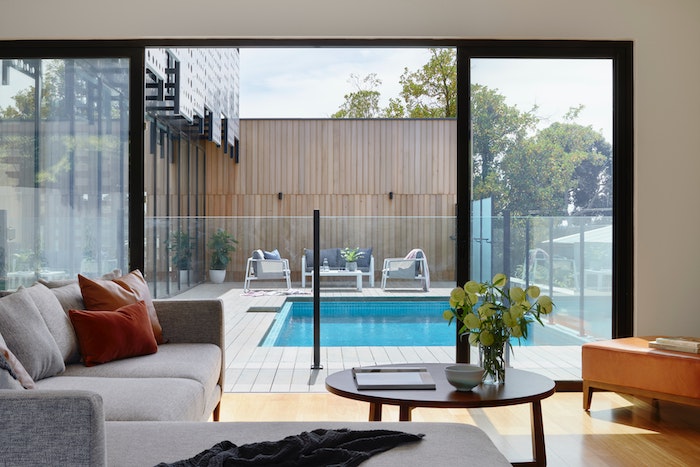 9. Simple and chic
Go for clean contemporary styling by opting for a monochrome colour scheme in your paving, surrounding walls and pool furniture. A mix of white, black and grey always looks modern and chic.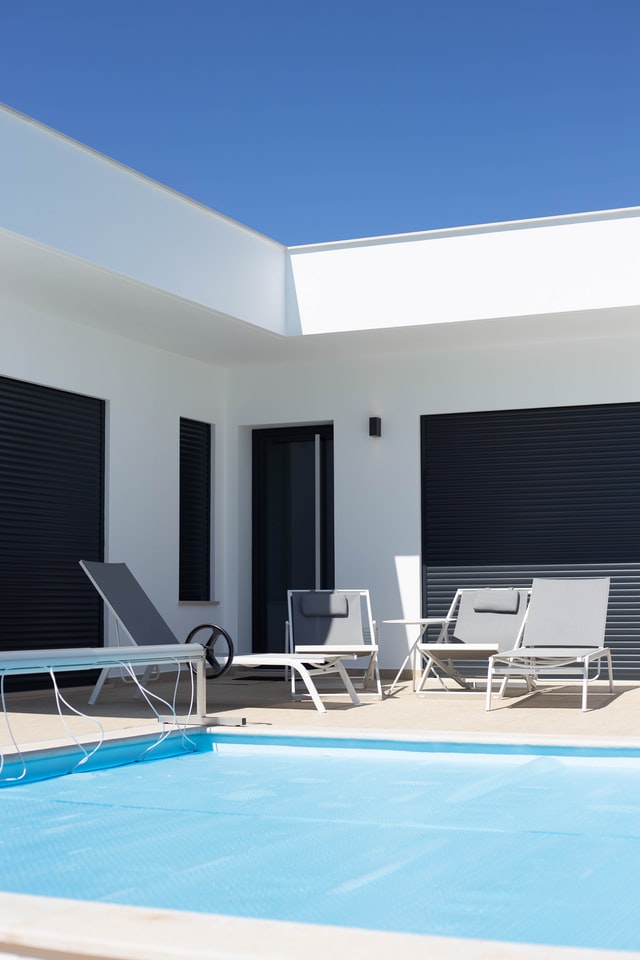 10. Build in seating areas
Extend the timber decking of your pool area out to create a dedicated seating area for lounges and deckchairs. And want to camouflage your pool fence? Consider planting hedges to disguise it!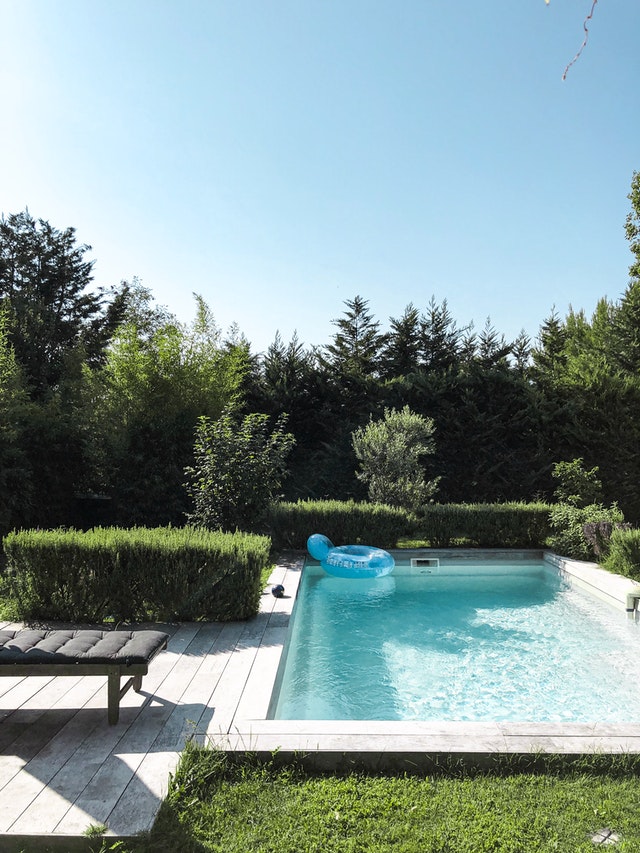 11. Mediterranean vibes
Terracotta tiling around your pool is one way to give your pool area a lovely Mediterranean vibe. I love the criss-cross pattern of this design. And planting citrus trees around the pool is another way to evoke those flavours.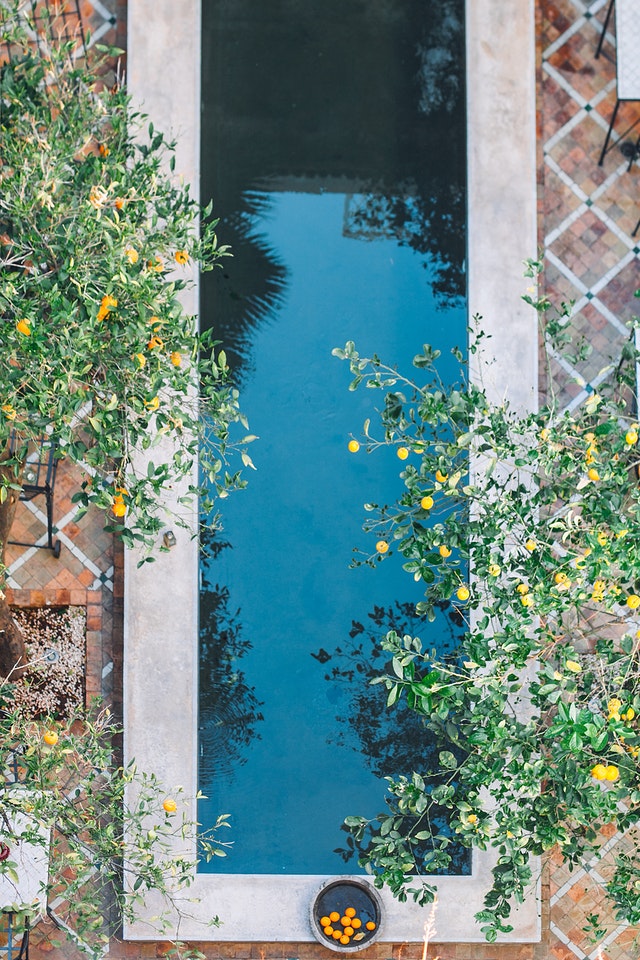 12. Minimalist
Keep it simple with white pool surrounds, concrete paving, streamlined timber pool furniture and a simple pop of colour from a beach umbrella.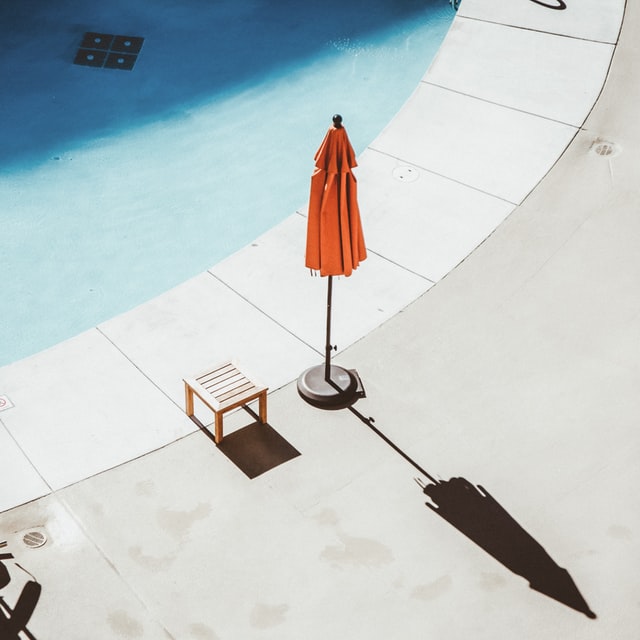 13. Tropical pod
These days you can find woven pool furniture in all shapes and sizes and one cute option is a little pod-style daybed. These make a style statement while being super cool and comfy, with the woven material allowing the breeze through.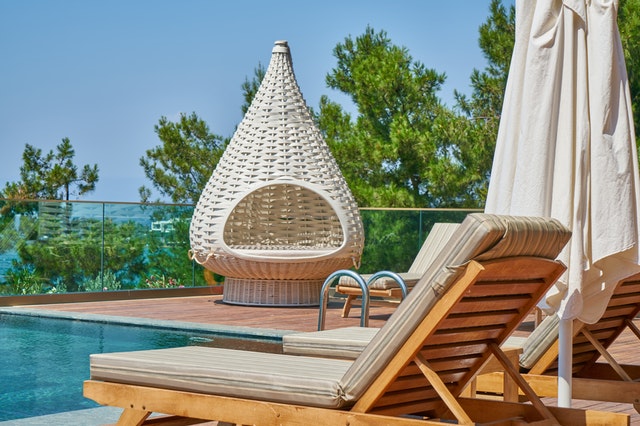 14. To infinity…
There's nothing more relaxing than an infinity pool. If you're seeking that LA lifestyle in your backyard, well then this is the pool idea for you!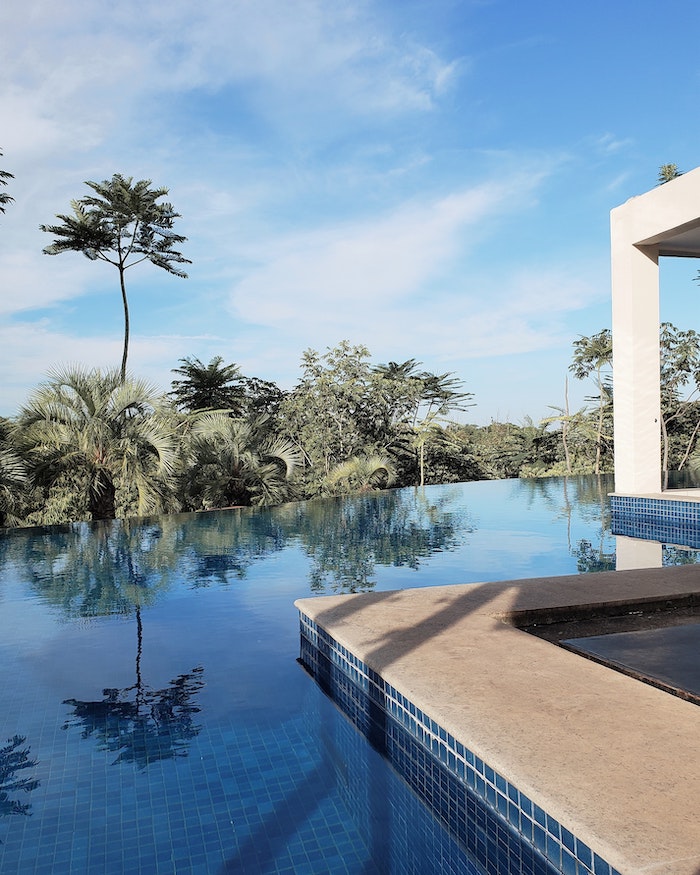 15. Space for entertaining
If you love hosting guests over at your house every weekend, then you'll want somewhere for everyone to congregate. A large alfresco area will do the trick. I love this one – it has a long wooden table with plenty of chairs. Plus, that outdoor kitchen is sure to come in handy around dinner time.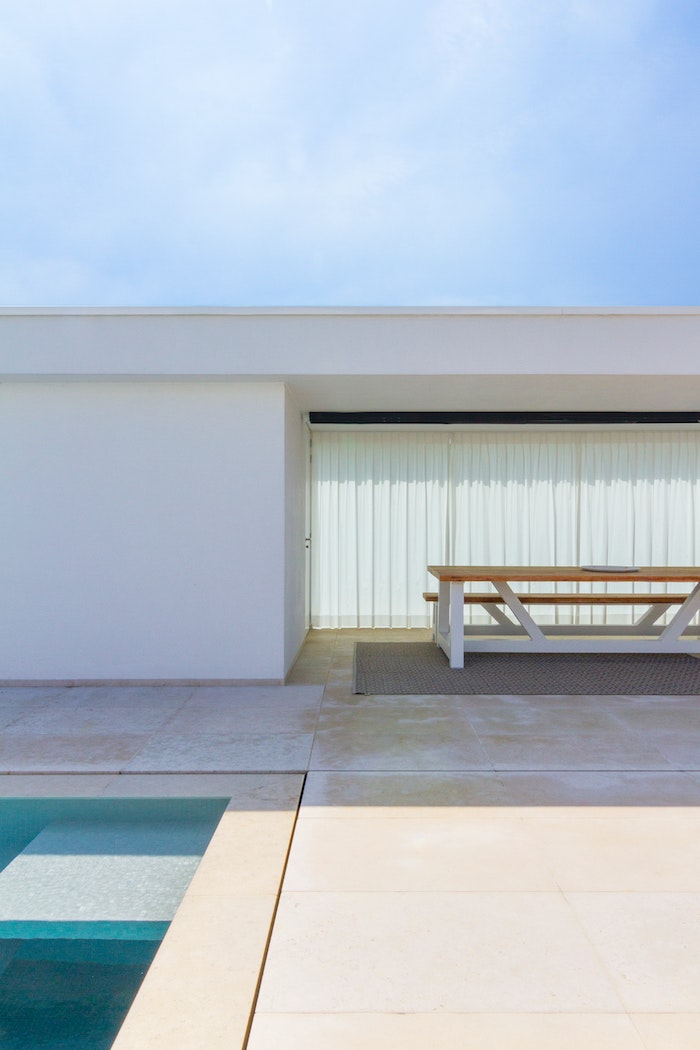 16. Tropical huts
An easy way to create a tropical vibe for your backyard pool is to add some simple timber and thatched roof huts. Perfect for entertaining or just resting in the shade, you'll be transported straight to Fiji with a decorative addition like this.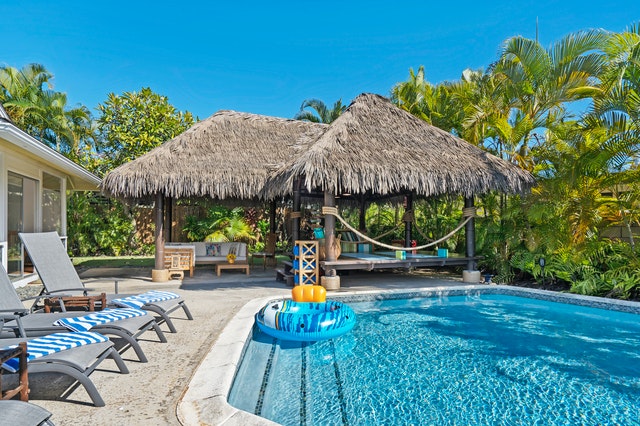 17. Green grass
I know we've looked at a lot of fancy pool areas but I want you to know that you can keep it simple too. Take this space for inspiration. Get help with your lawn maintenance so that it's always in tip-top shape.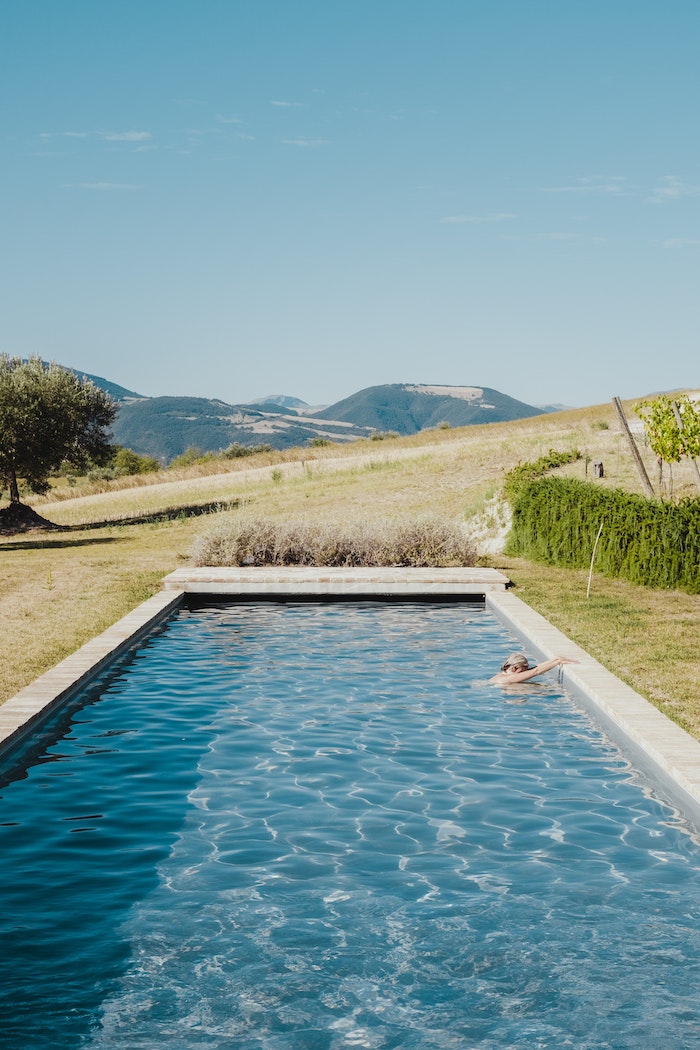 18. Timber touches
Light timber is very in style right now, and there's a good reason why. It's minimal and it looks great with everything. I love how these timber-framed chairs create the perfect seating area to one end of this pool. And the small stump-like table provides the perfect solution for holding drinks.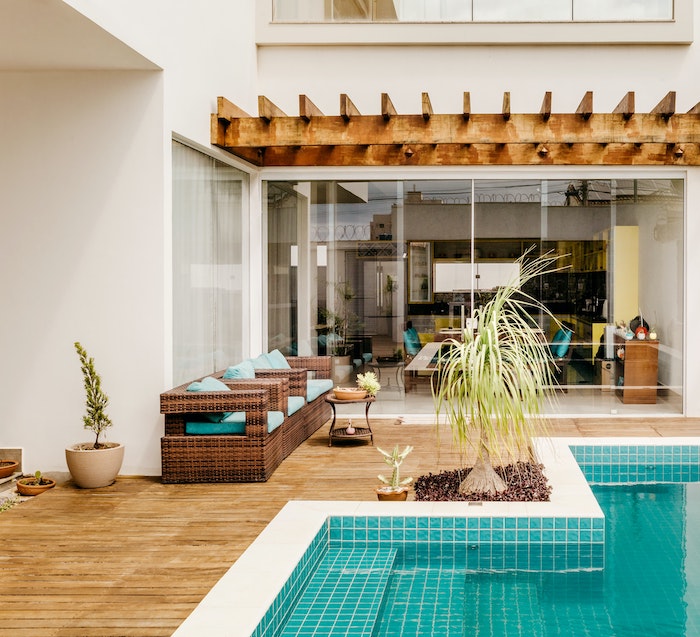 19. Narrow pool
I love how this pool design doesn't let space hold it back. If you've got a strip of land on the side of your house, install a pool! A pool will still be a welcoming refresher on hot summer days, even if it's small – you won't regret this decision.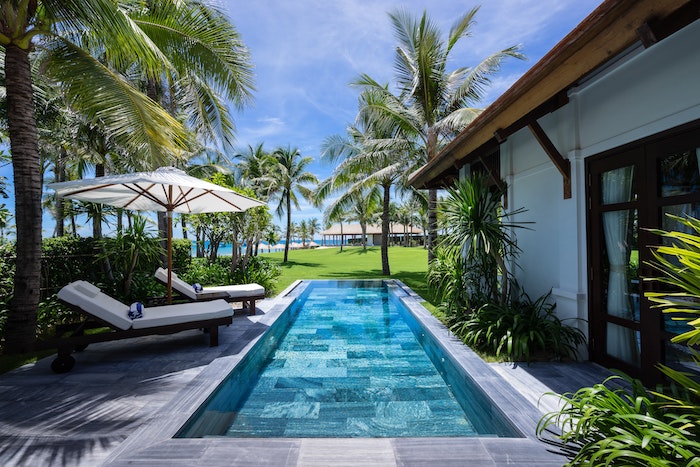 20. Stick to a colour scheme
This pool area is oh-so-pleasing to the eye, and there's a reason why – the colours are consistent. There's timber, peacock blue and natural tones throughout. Plus, the lovely pop of blue from the pool, which really adds to the finish.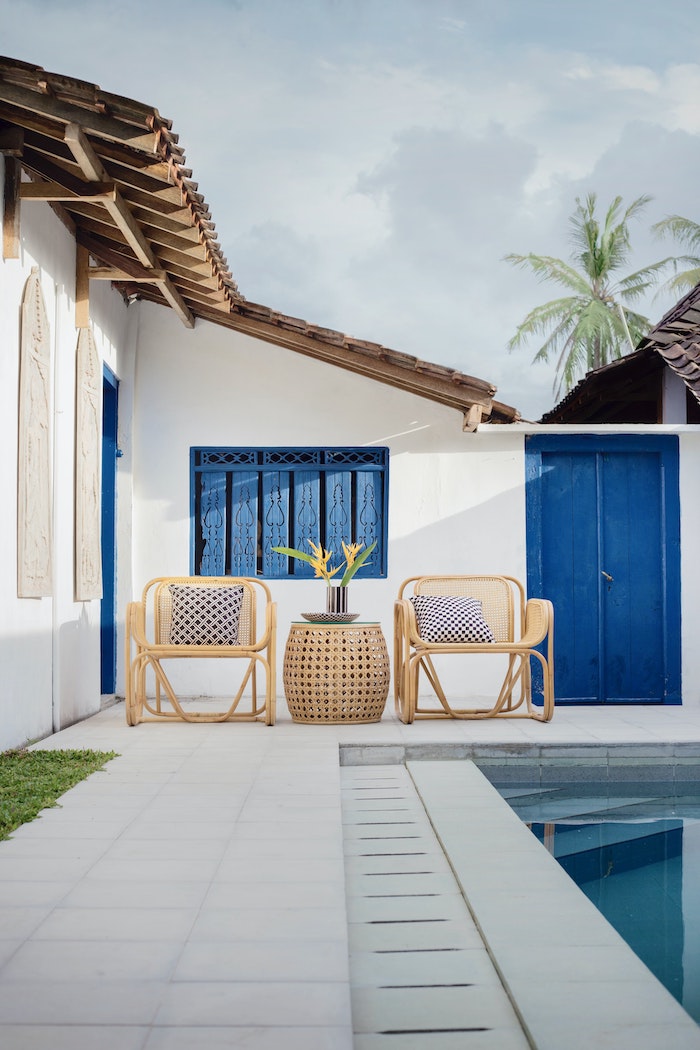 21. Decking
There are so many options for decking around your pool, so you want to make sure you make the right choice for your outdoor space. You can choose concrete decking, paved decking, wooden decking or even bamboo. But what I like about wooden decks is that they are so much more flexible than paved or concrete surrounds, which makes them more child friendly in the event of a fall. So this is something to keep in mind if you have a young family.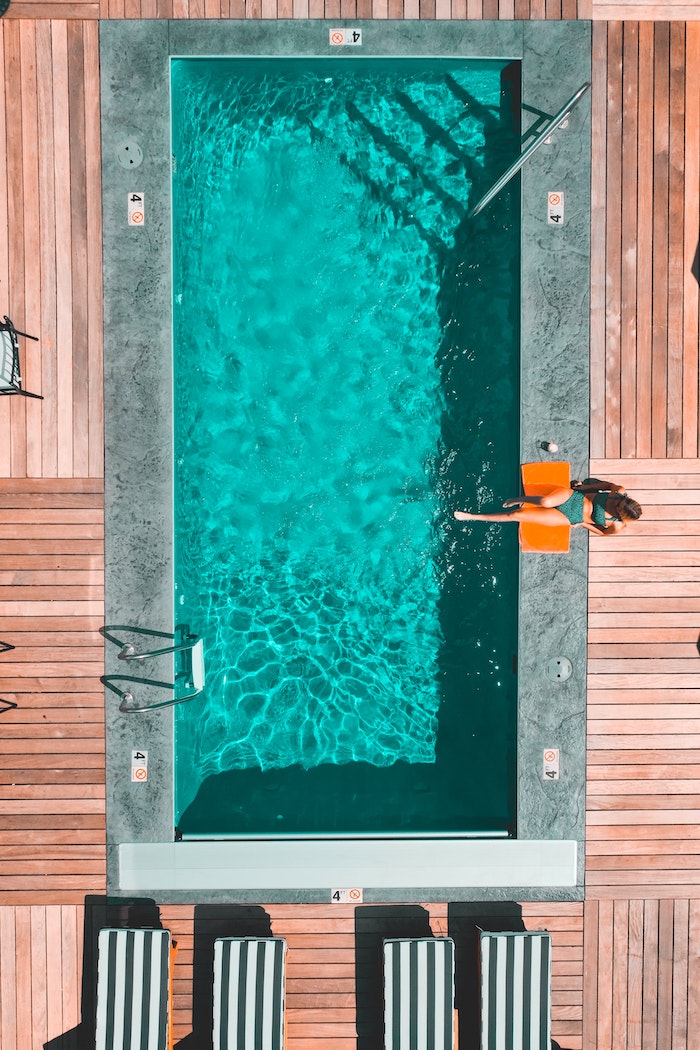 If you're thinking about a DIY deck, take a look at our how to DIY build your own deck guide. Otherwise, find a decking pro in your local neighbourhood.
22. Take me to Greece
If there was a pool of my dreams, this would be it. This space is absolutely perfect, and it whisks me away to Greece! The good thing is that you don't have to go to Greece to experience this kind of pool. You can create a design like this in your backyard. Just ask a builder to help you complete the job!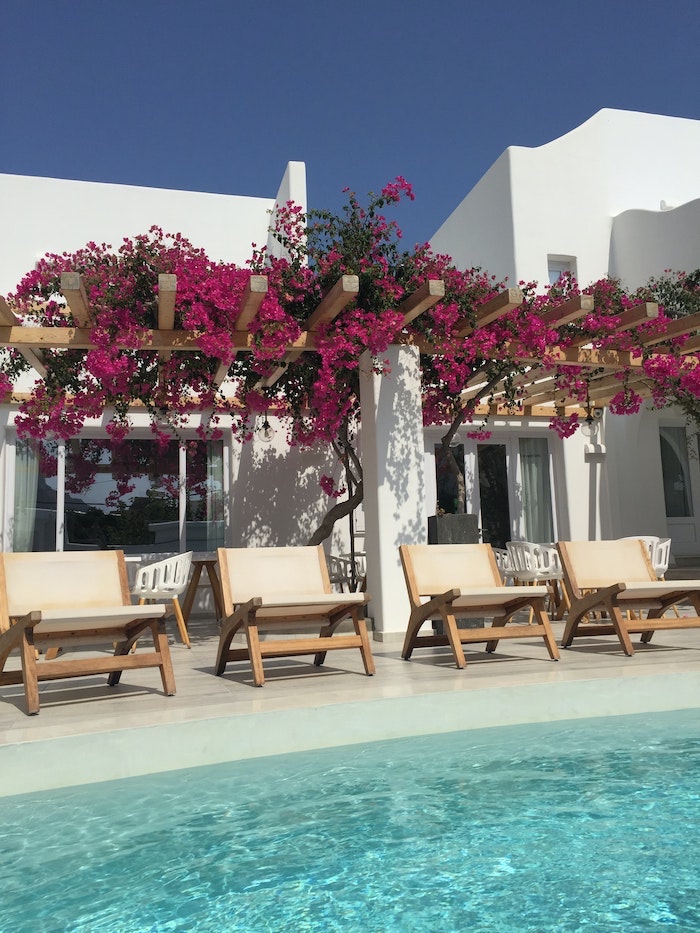 23. Bali style pool
If you can't travel to Bali, bring Bali to you with a resort-style pool with a couple of statues that will complete your zen zone!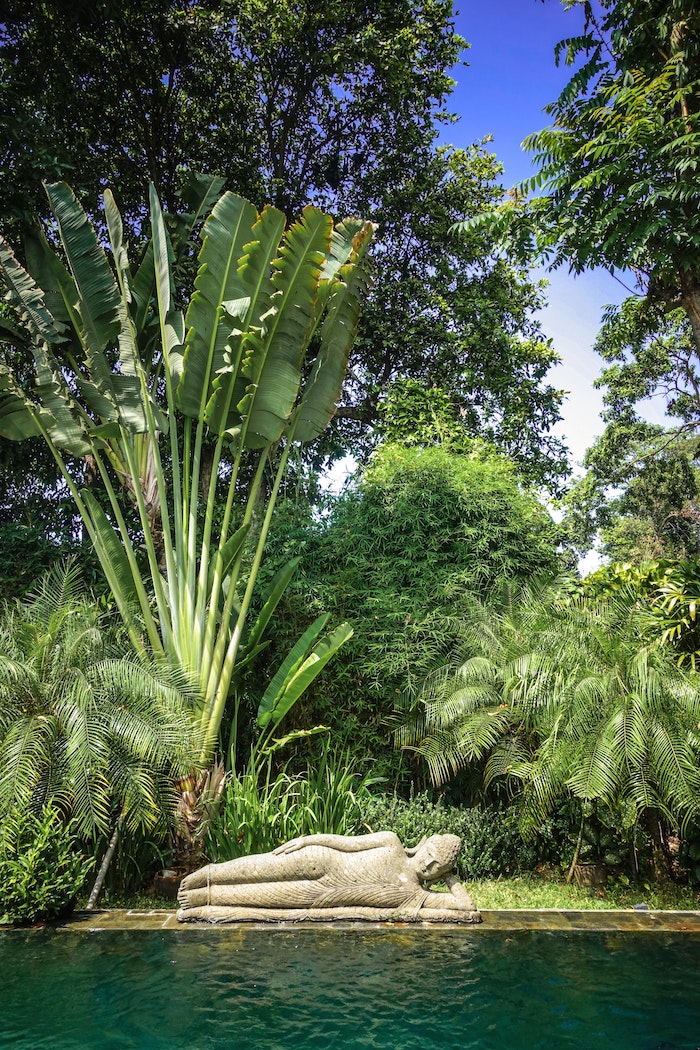 24. 1950s style
Take inspiration from the hills of Pasadena – this pool area is chic yet relaxed. This makes for a great spot for plenty of people to sit, chat and enjoy each other's company. If you need extra seating in your outdoor area, a simple bench seat like this will do the trick.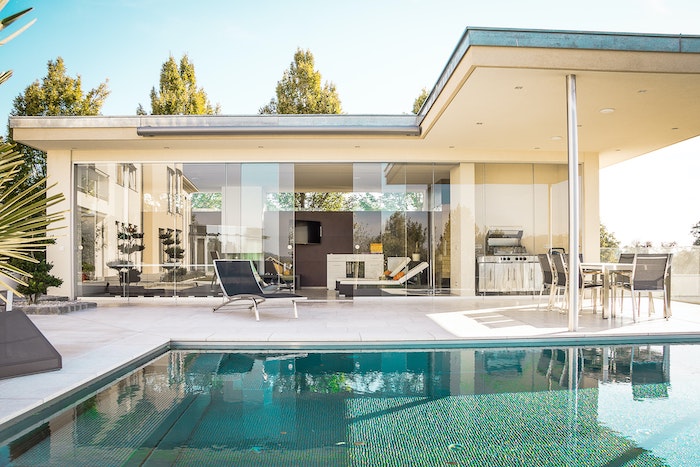 25. Water feature
If you're looking for one way to spruce up your pool area, then you can't go past fancy water features. I love this white/black combo that uses a charcoal leather stone for the wall. The texture of the stone wall, paired with the industrial style scupper on top of the smooth curves of the concrete ball blends hard and soft elements, making for pure perfection.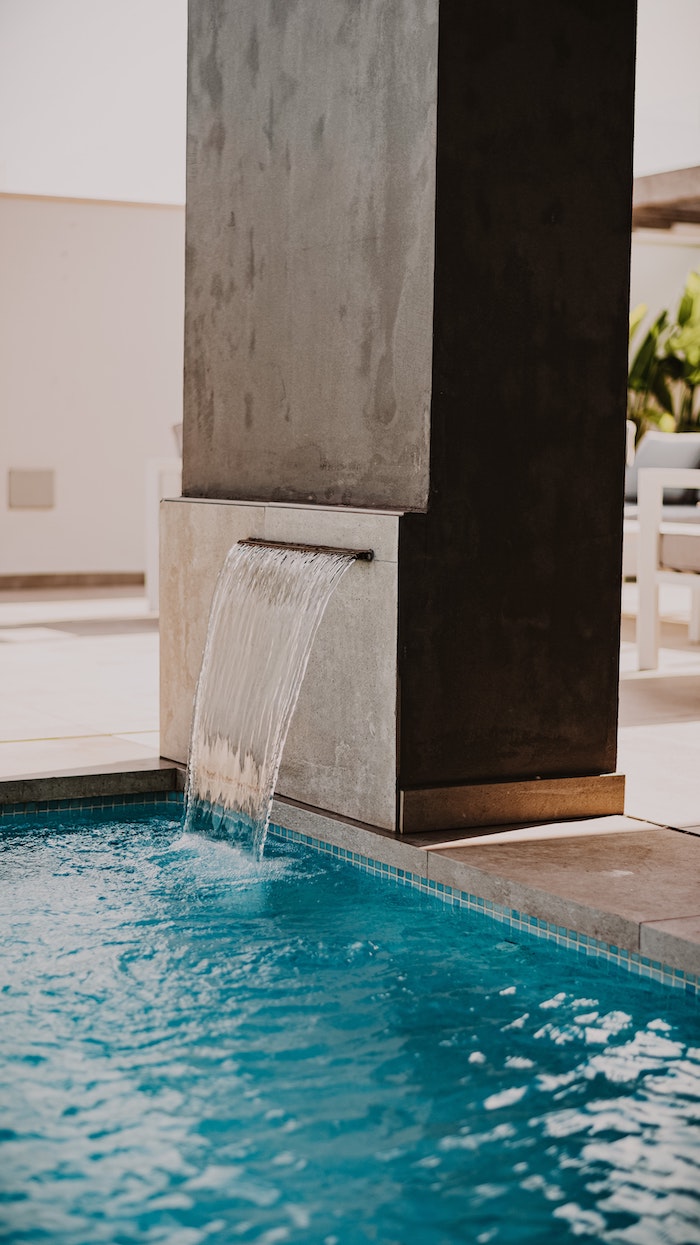 26. Classic blue and white
Finally, how dreamy is this little plunge pool set up? While your home may not be as high up in the clouds as this slightly surreal image is, having a clean whitewashed wall is always a lovely contrast against pool water.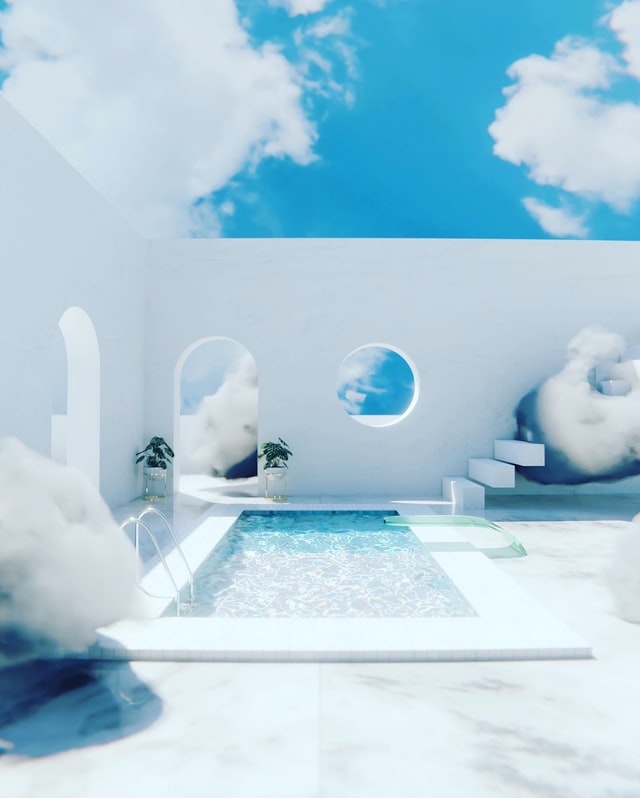 There you have it, 25+ incredible pool ideas. I hope they've helped demonstrate that installing a pool is possible even in a tiny outdoor space. My favourite designs are the narrow pools because I just love how they make such clever use of small areas. But I'd love to hear yours. Which designs were your favourites? Comment and tell me. And if there's anything you think I missed, make sure you share that too.