Adding a pergola to your backyard will not only look great, but it will also add functionality to your space with more shade or even making it rain-proof. It's a great way to add an extension of your house, depending on the type of pergola design you choose. So if you don't have the room indoors for an additional lounging or dining area, you can definitely create a space like this outside under a pergola. But before we dive into the pergola designs, there are three important things to take into consideration:
Pergola seating
There are many ways that seating can be incorporated into a pergola design. You could have a hammock or hanging chairs tied to your pergola to create a very laid back approach. You could add an outdoor lunch set to be able to sit out on instead of being inside all the time. Or, you could even add a complete dining set so that you can entertain guests out under your pergola. The options are really endless!
Various finishes
No matter what theme the building works of your house are, pergolas can be finished in various ways. Wooden, aluminium, render or brick… The decision is really up to you!
Relaxation
One of my absolute favourite things about a pergola is how relaxing they are. So often we are cooped up inside so having a pergola really entices you to get outside more and enjoy the beautiful natural surroundings.
Now onto those pergola design ideas…
1. Hamptons vibes
This pergola is definitely giving me all the Hamptons vibes. It is the perfect extension of the house and I love they have kept the white colour from the house running through to the pergola. Cute black and white umbrellas too. Great for entertaining!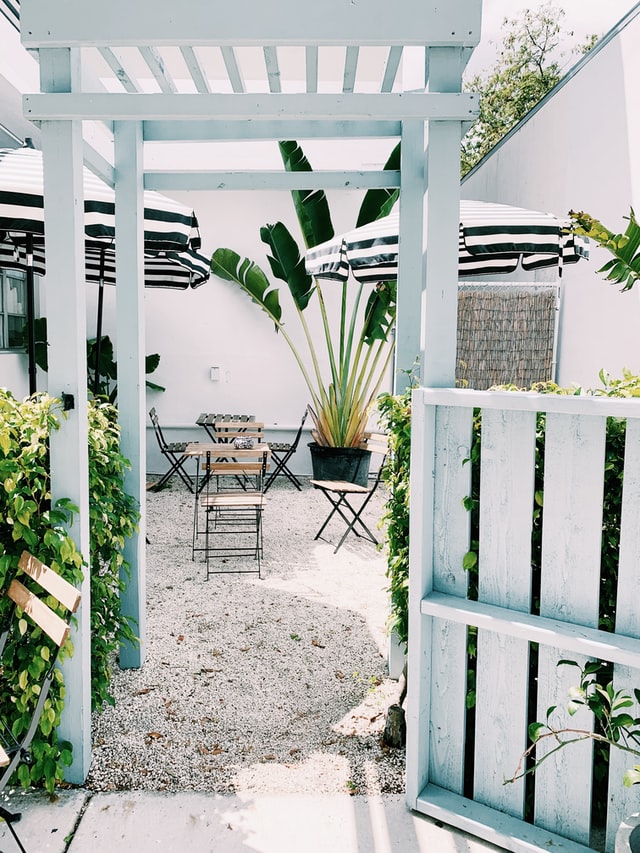 2. Wood slats
Wooden slats are seriously so on-trend. This type of pergola lets in so much light. They look especially contemporary with a black finish. Just add some outdoor furniture and you have an oh-so-relaxing space.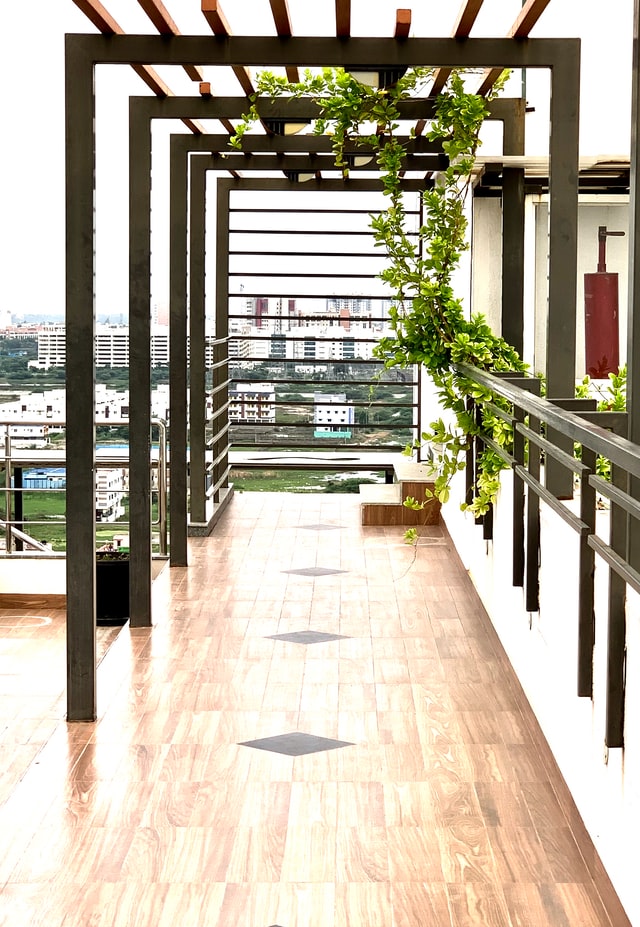 3. Laidback luxe
Give me a good book and a cocktail in the other hand and I would be very happy and content here indeed. This pergola space is as laid back as it is luxurious with its cream coloured outdoor lounge and a table to rest your drink. Adding latticework to your pergola is a fabulous idea too as you can attach hooks to your pergola and wall and put a hammock up.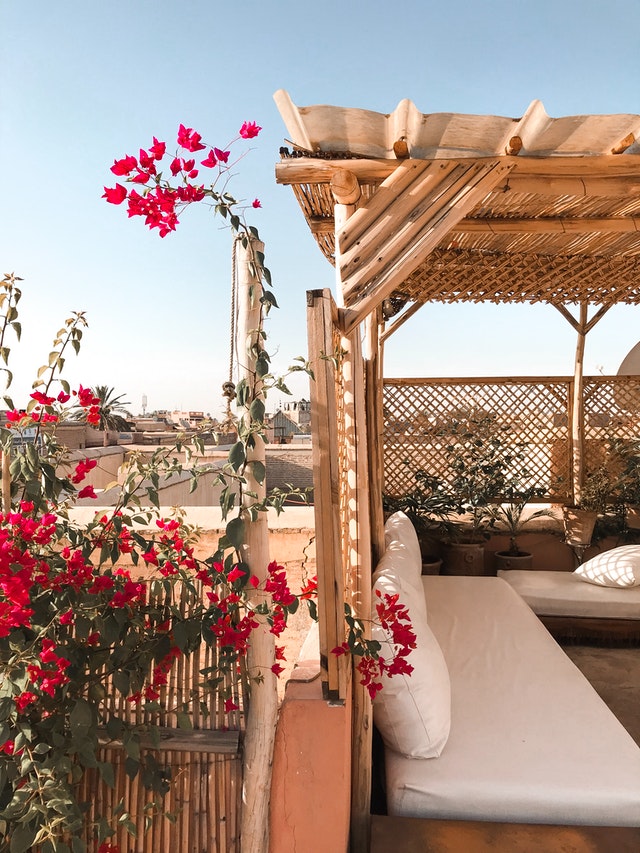 4. Outdoor bar area
For the perfect place to entertain guests, add an outdoor kitchen and bar area beside your pergola. Go for a timber pergola with rustic charm and add greenery on top and you'll have a gorgeous focal point that's perfect for anyone who loves entertaining.
5. Perfectly purple pergola design
Oh, this space is just so feminine and pretty. A perfectly purple pergola space indeed.  The pergola structure itself is quite simple but you could add seating and décor in complementary tones to enhance the prettiness.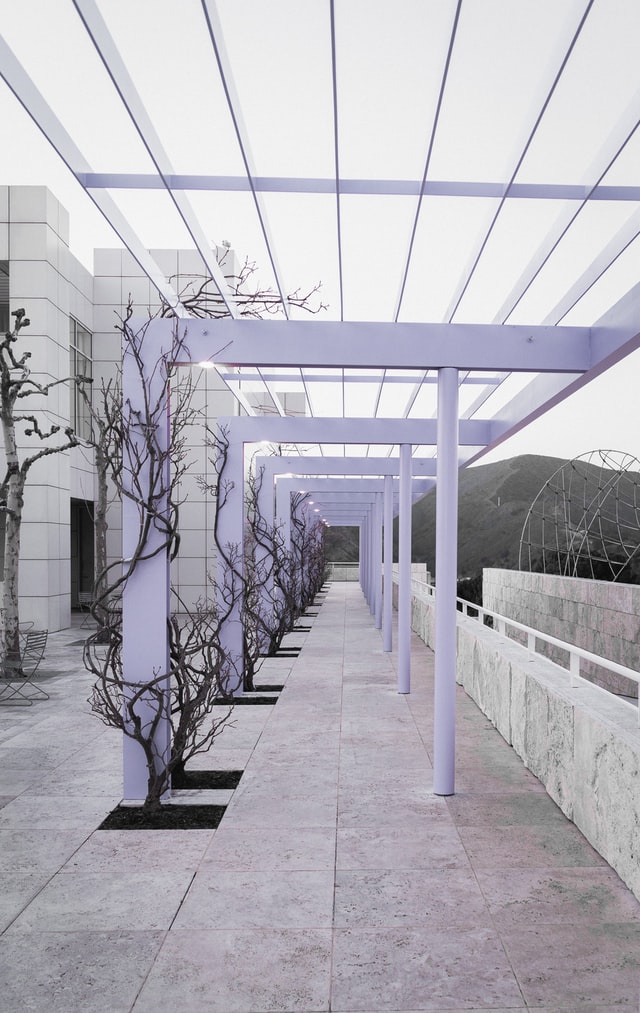 6. Just right timber pergola
This pergola area is just right – balanced, timeless, trendy and functional. I love the natural colours and textures of the wood which give so much character to a very simple pergola. An outdoor table setting really makes this place feel inviting.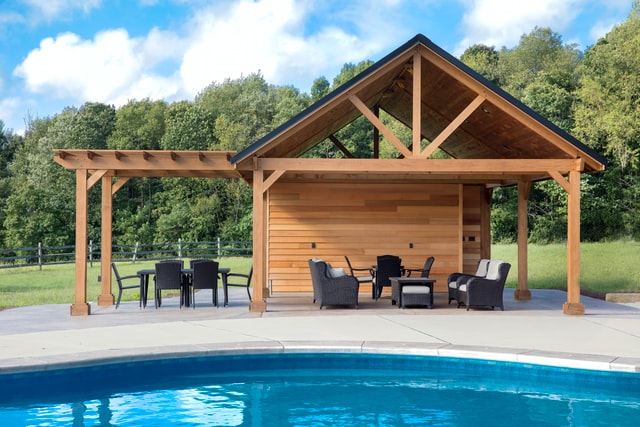 Find someone to help with your pool landscaping design.
7. Add a TV
Want to increase the functionality of your pergola space? Why not add a TV undercover. Watch a game over the weekend, by your pool with a cold drink in hand? Yes please!
8. Floral arbour
What a sweet little space. This pergola reminds me of an arbour in a garden with flower vines growing all around it. If you're wanting this look all year round, there are many great artificial flowers you'd be able to get that would give you a very similar look to this. Adding a seat underneath makes it the perfect spot to chill.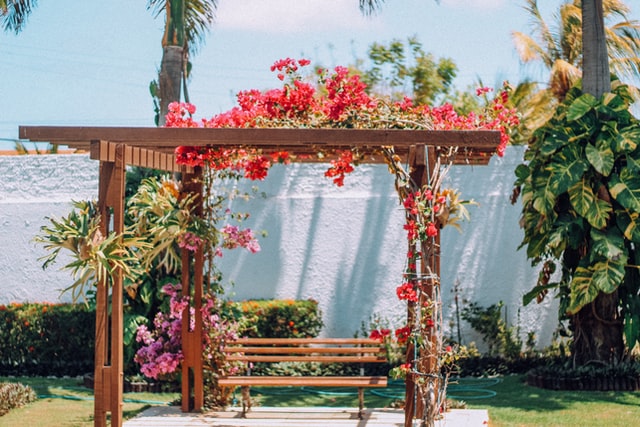 9. White curtain privacy
As well as looking beautiful, flowing sheer white curtains will give any pergola that added bit of privacy. The dark timber used on this pergola looks beautiful against the white curtains as does the aqua outdoor lounge set. I would love to relax with some friends in this space!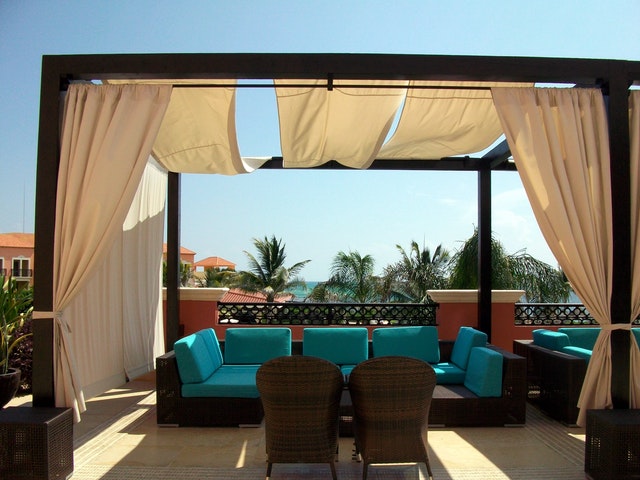 10. Hang lanterns
Want your pergola to look stunning in the evenings? Then add lanterns to the structure. It's an easy DIY project and will make your pergola look that much more fancy. Rattan pendant lanterns are on-trend and look wonderful as the sun sets.
11. Boho chic pergola design
There are so many things to like about this space. It all really starts with this pergola that uses thin slats, rather than the traditional thicker pine, and painted white. All that's missing are some Boho pendant lights—and when it comes to outdoor lighting, it's best to leave it to the professionals to make sure it's all waterproof. Find an electrician to help with hanging your pendant lighting.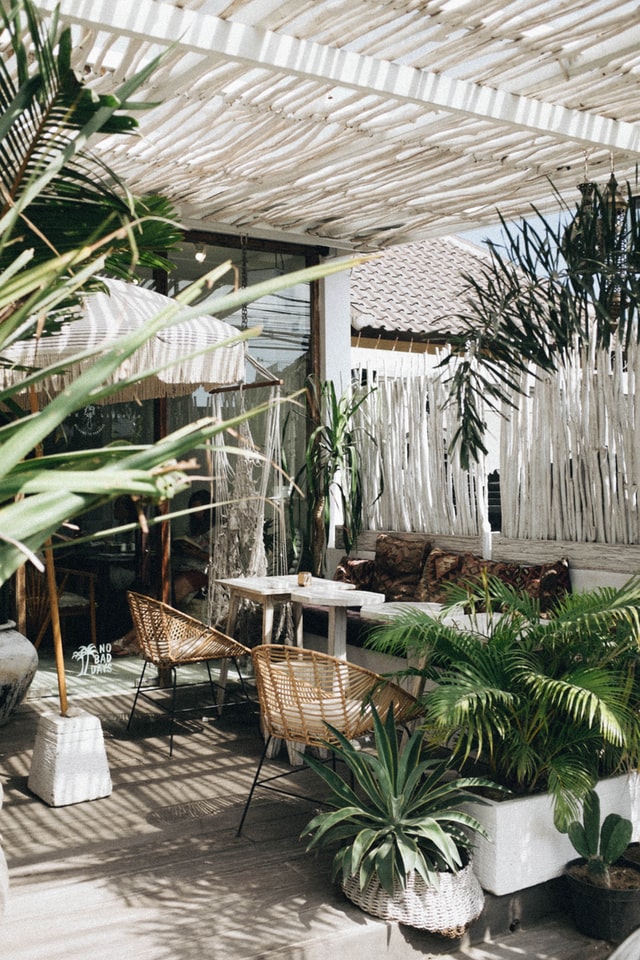 12. Add colour
Want to make your alfresco area a little bit more colourful? Add cascading plants like these gorgeous purple wisteria. They look stunning against the modern black steel pergola.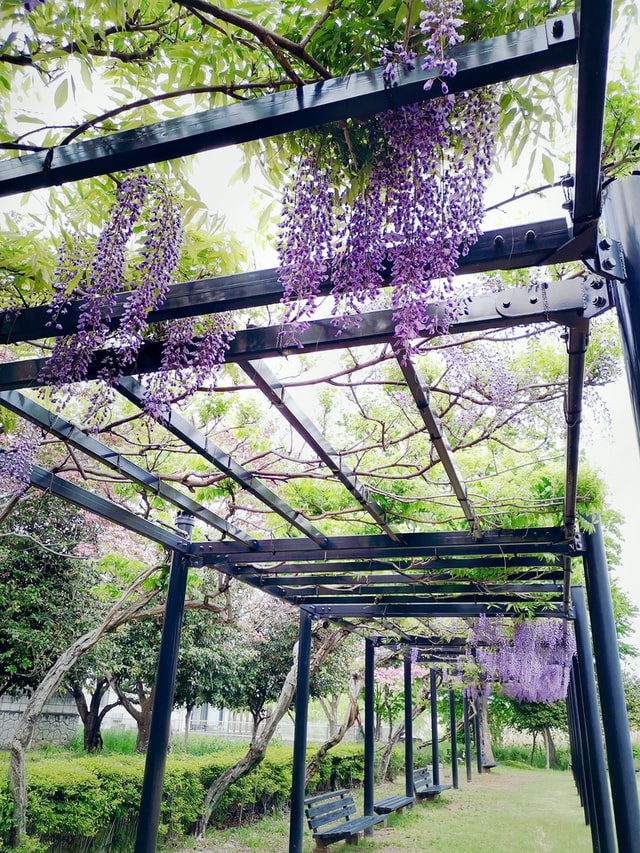 13. Peaceful pergola
White wooden finishes look ever so on-trend. Giving your pergola a whitewash is an easy DIY fixer-upper with a bit of white paint or you can find a painter to take care of all the tricky angles. Then hang things form the beams, such as pendant lights, festoon lights or even a rattan swinging chair. And you're have a seriously chic outdoor space.
14. Rustic pergola design
Rustic doesn't have to mean neglected. This pergola looks rustic and weathered however it really works well in the setting with the faded terracotta pavers.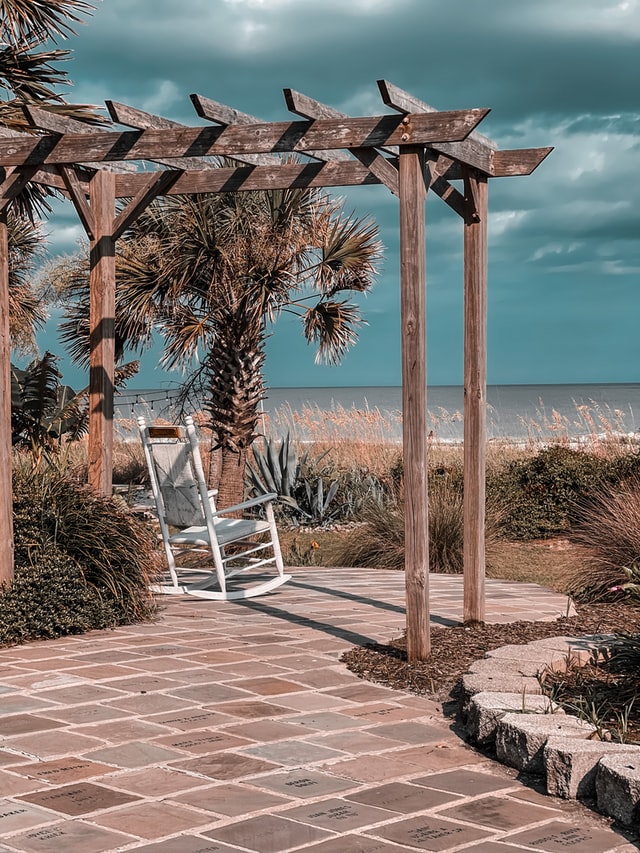 15. Swinging chair
Forget an ordinary lounge chair and swap it for a swinging lounge chair! Just make sure that your beams and the foundations of your pergola are nice and strong. It makes such a cool feature in any backyard. A more grown up and sophisticated version of a playground swing.
16. Fabric covering
If you'd rather complete shade when under your pergola, then a draping fabric covering option is for you. The design is simple yet the simple neutral colour scheme works so well with the rest of the outdoor furnishings such as the outdoor lounges and timber flooring and fence.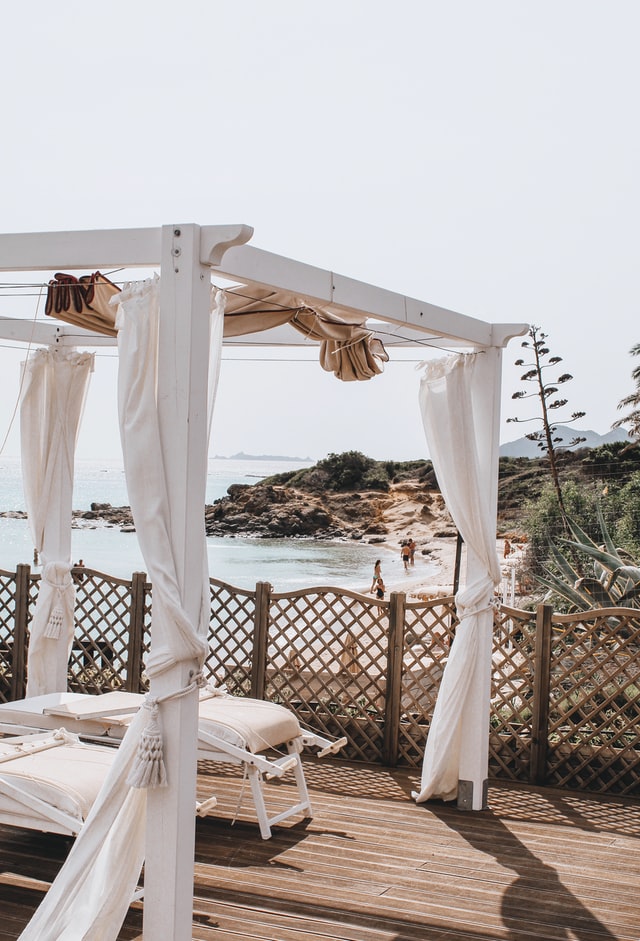 17. Garden goals
If you have a beautiful large backyard to work with, why not incorporate a pergola into your garden? You could even grow some grapevines over the structure to give your garden Mediterranean feels.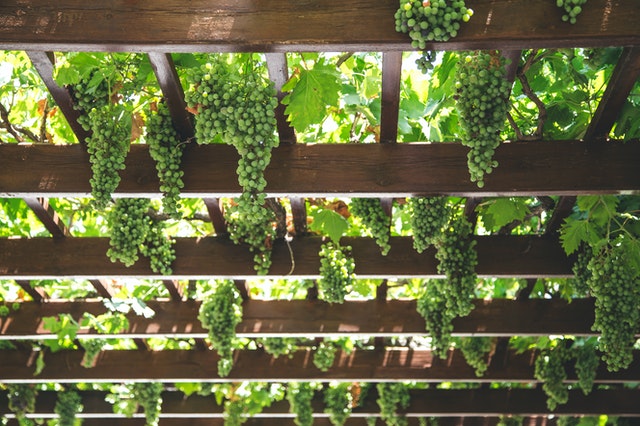 18. Family space
A pergola can make a great family space. You could add shelving for knickknacks, a speaker system, a dart board and an outdoor television to make it the perfect outdoor 'playstation' for everyone! Just think of the awesome outdoor movie nights you could have undercover of your pergola.
19. Minimalist pergola design
A simple pergola structure can create boundaries in your space without intruding on any views and allow you to create a relaxing patio area. For a contemporary look, go for clean lines and neutral colours.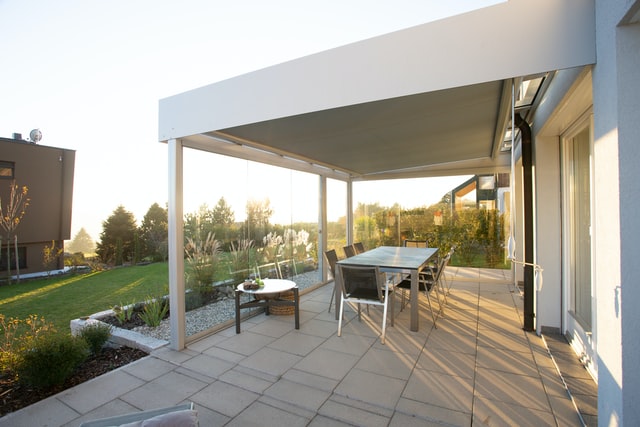 20. Privacy screen
If you have neighbours close by, perhaps a privacy screen will help to make you feel more relaxed when you are under your pergola and not exposed to any nosey neighbours. Simply make the relevant side of your pergola a solid wall or with slats that are close enough together to ensure privacy.
21. Dreamy space
Hello festoon lights! They're such an easy way to doll up any pergola. I love how the outdoor lounge here wraps around an entire corner of the pergola which really makes this space feel very relaxing. The addition of a coffee table is always a good idea especially if you have guests around and want to put out a platter to share!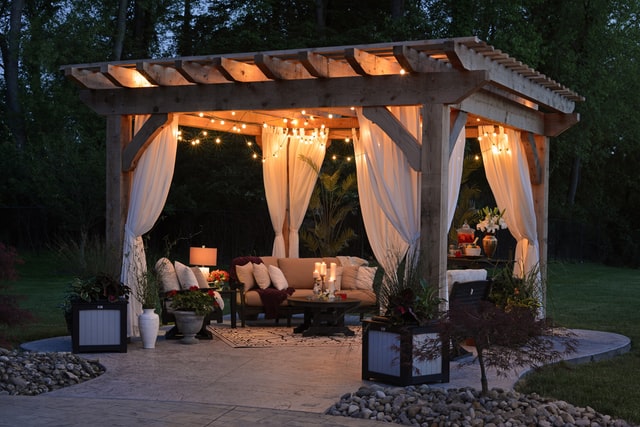 22. City rooftop pergola
Making use of all the space is never more important than when it comes to inner city living. So if you're lucky to have private rooftop access, you should add a pergola to add that extra living area that you will love.
23. Matching timber
If you don't have the room for a standalone pergola, then why not create a deck and pergola area right from your back door?! The natural coloured furniture and finishings on the lounges and coffee table go perfectly with the timber beams on the pergola as well as the wooden railing lining the area. This place just looks so relaxing and zen.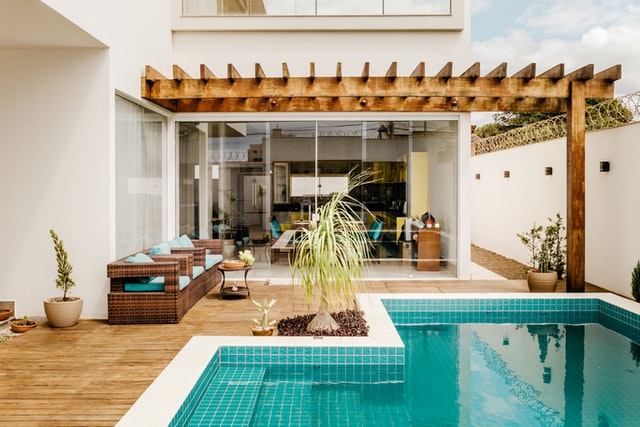 24. Golden hour in the garden
Oh, I just love this garden area. This would just be the perfect place to spend every golden hour. I can just imagine all the beautiful butterflies fluttering in the garden and birds chirping as the sun goes down. The wooden pergola goes perfectly nestled amongst the greenery.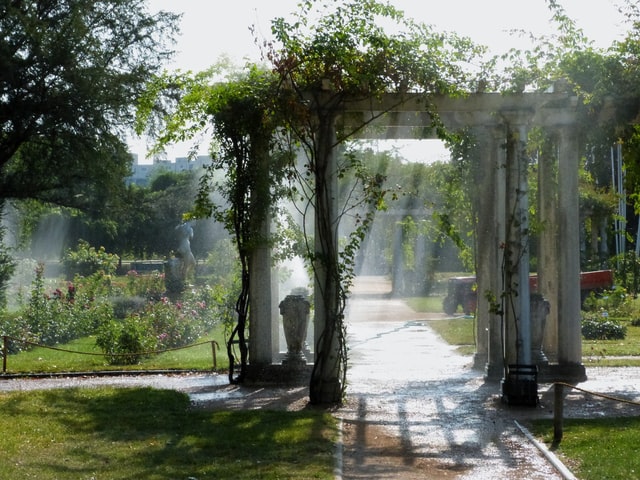 So there we have it, 24 pergola designs to get your ideas flowing! I especially love the pergolas that incorporate festoon lights as they really bring so much warmth and charm into a space. I also love the pergola areas that have been placed in the perfect areas such as in large gardens or overlooking the ocean. Which were your favourites? Let me know in the comments!