Adding a pergola to your backyard will not only look great, but it will also add functionality to your space with more shade or even rain-proof. It's a great way to add a somewhat extension of your house, depending on the type of pergola design you choose. So if you don't have the room indoors for an additional lounging or dining area, you can definitely create a space like this outside under a pergola. But before we dive into the pergola designs, there are three important things to take into consideration:
Pergola seating
There are many ways that seating can be incorporated into a pergola space. You could have a hammock or hanging chairs tied to your pergola to create a very laid back approach, you could add an outdoor lunch set to be able to sit out on instead of being inside all the time or you could even add a complete dining set so that you can entertain guests out under your pergola. The options are really endless!
Various finishes
No matter what theme the building works of your house are, pergolas can be finished in various ways. Wooden, aluminium, render or brick… The decision is really up to you!
Relaxation
One of my absolute favourite things about a pergola is how relaxing they are. So often we are cooped up inside so having a pergola really entices you to get outside more and enjoy the beautiful natural surroundings. Now onto those pergola ideas…
1. Outdoor bar area
First up we have this awesome outdoor bar area. I can just imagine this would be the perfect place to entertain guests and enjoy a cheese platter while sipping a glass of vino or two. It's rustic charm with greenery on top makes for a gorgeous focal point and perfect of anyone who loves entertaining.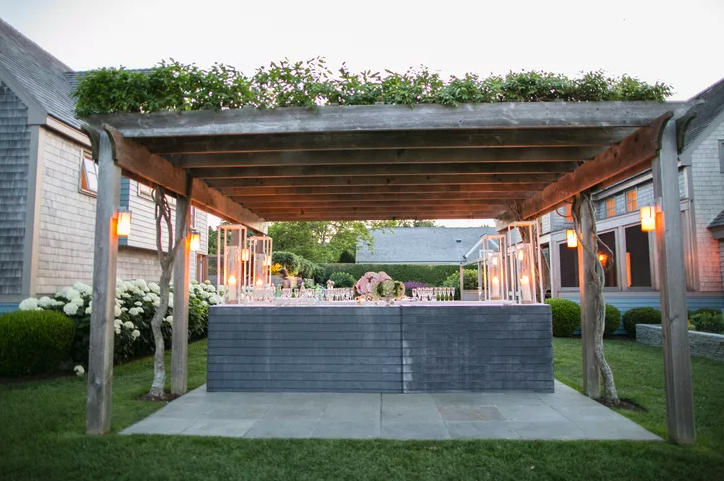 2. Modern pattern
Here is another great design that would certainly make a gorgeous pattern when the sun is hitting it right. The pattern that runs through the three panels is modern, timeless and will look great in years to come. I love that it has been paired with a long timber block underneath that works well as additional seating.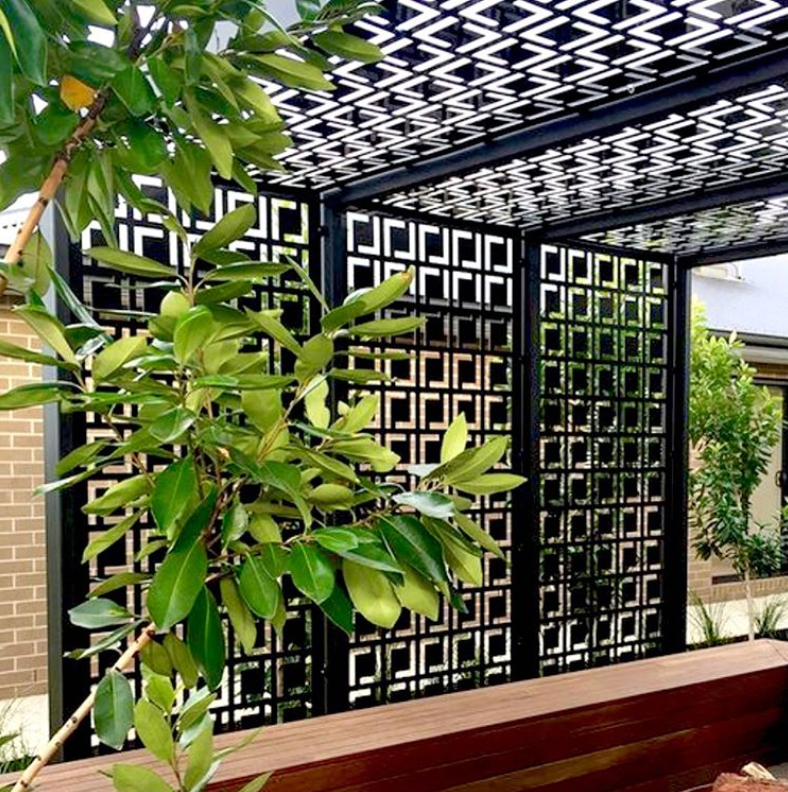 3. Wooden arch
How cool is this wooden arched pergola design. This would be perfect for a place on acreage or out in the countryside. This place just looks so cosy and welcoming with the fire pit, fairy lights and comfortable lounges. I also love the addition of the plant pots on the ground as well as the purple flowers peeking through the top.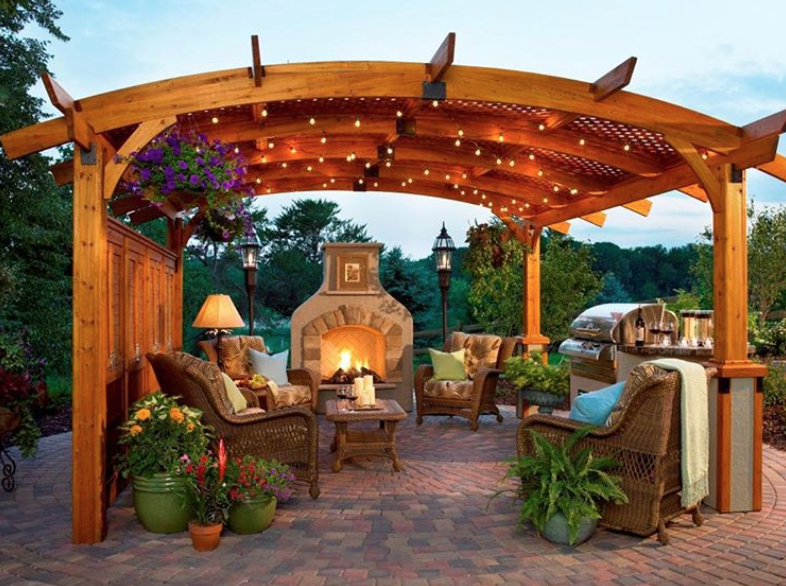 4. Wood slats
These wooden slats are seriously so on trend! There are columns holding up the structure whilst the slats almost look as if they are curving around the area. This type of pergola lets in so much light. So tropical and laidback. I love the addition of the outdoor lounges that look oh so relaxing and comfortable for an afternoon nap.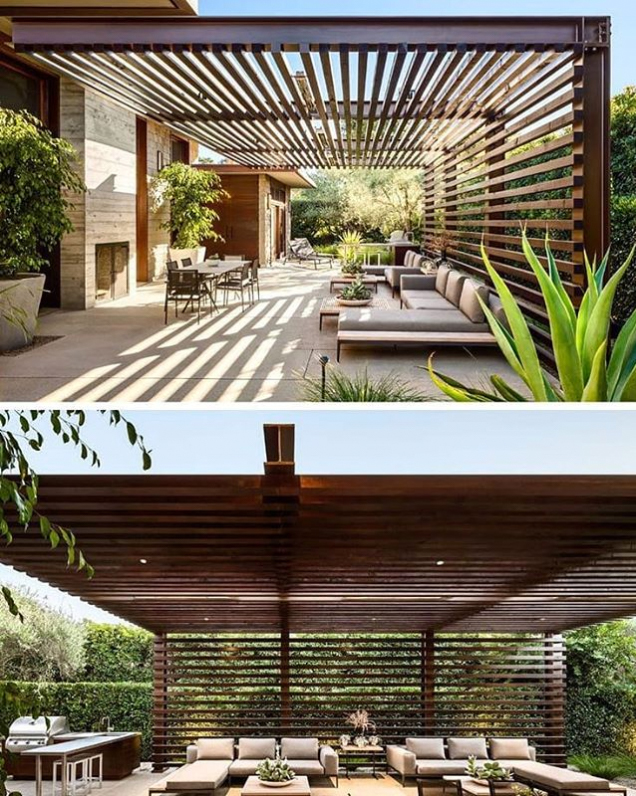 5. Creative corner
What a creative corner! The pergola itself is quite simple with the natural wood and basic building design, however the decorations really bring in so much pizzazz and creativity. Colourful LED lights have been installed behind the pergola to bring in colour and fun. And the rainbow decor really makes this area seem so much fun!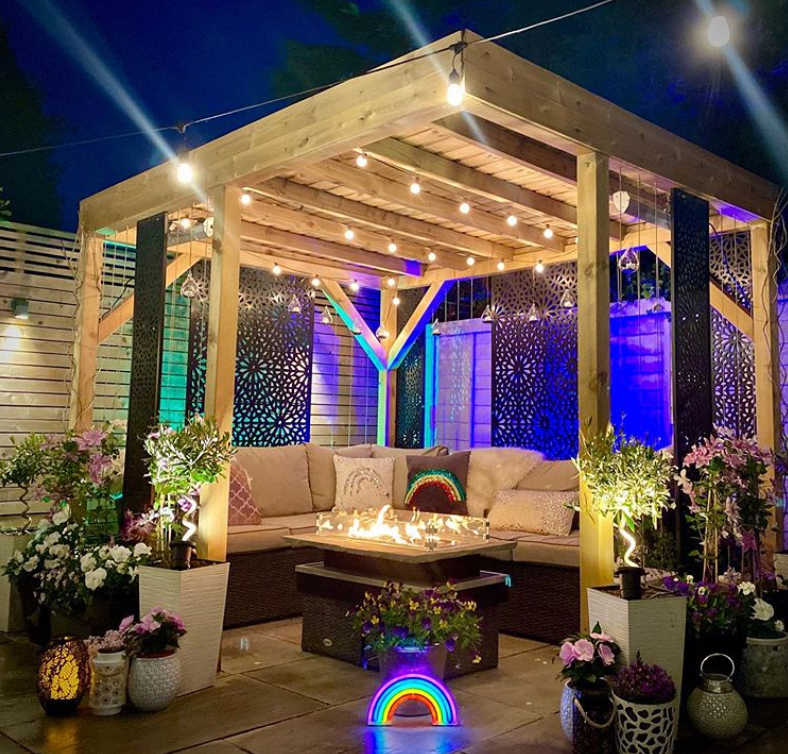 6. Hamptons vibes
This pergola is definitely giving me all the Hamptons vibes. It is the perfect extension of the house and I love they have kept the white colour from the house running through to the pergola. The big outdoor lounge set and a barbeque would work so well under this space. Great for entertaining!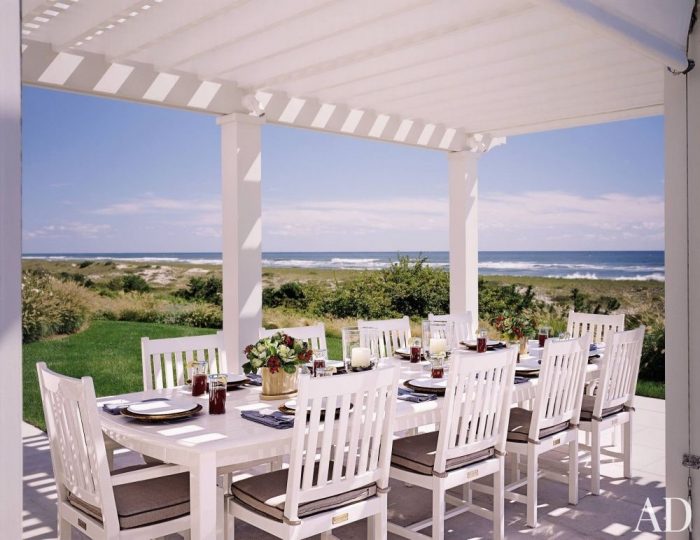 7. Variable design
This design is so modern and chic. I love that the pergola designer has incorporated variations of the same type of pergola throughout which can be seen in the dining section that has a covered roof as opposed to the outdoor lounge area that is completely open and ready for stargazing!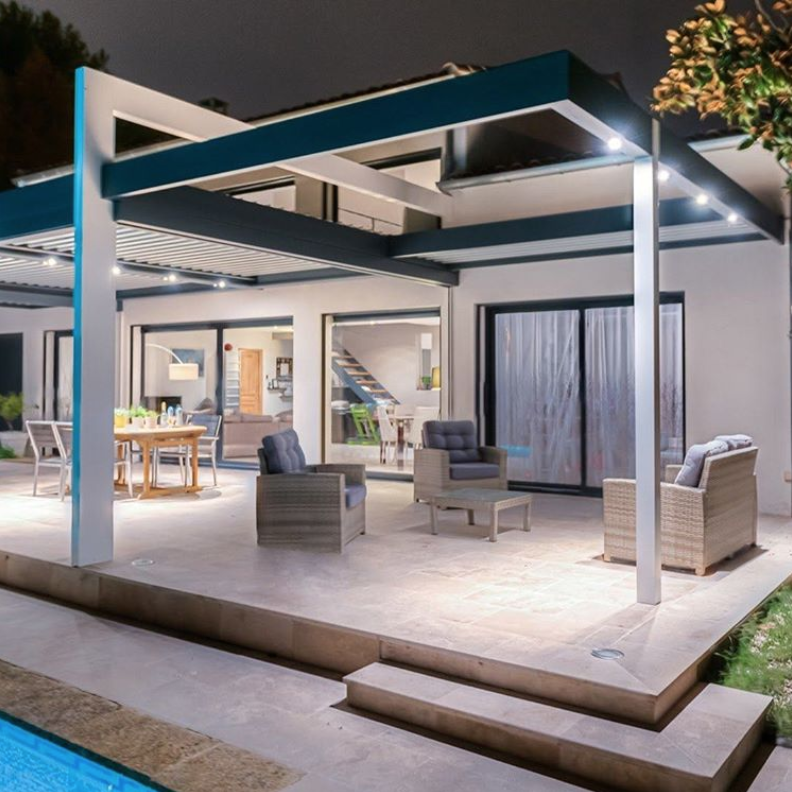 8. Grand border
Here is another pergola design that looks oh so Hamptons. The white pillars align the house and really make known the boundaries of the pathway. I love how the white stands out against the black roof of the house, however the black roof still remains a great feature of this effective feature of the place.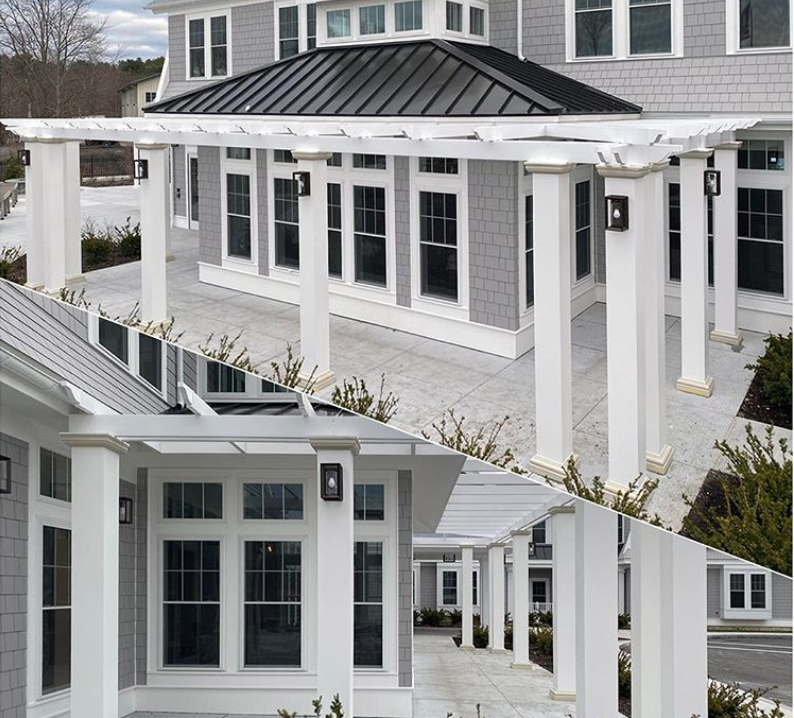 9. Relaxing oasis
Oh wow, how nice would it be to relax here for at least a week. Forget all your worries and lie back enjoying the relaxing oasis that this is. The pergola used here is made up of just a roof which is great for a place like this that has 360 degree views as there are no obstructions in the way! Bliss.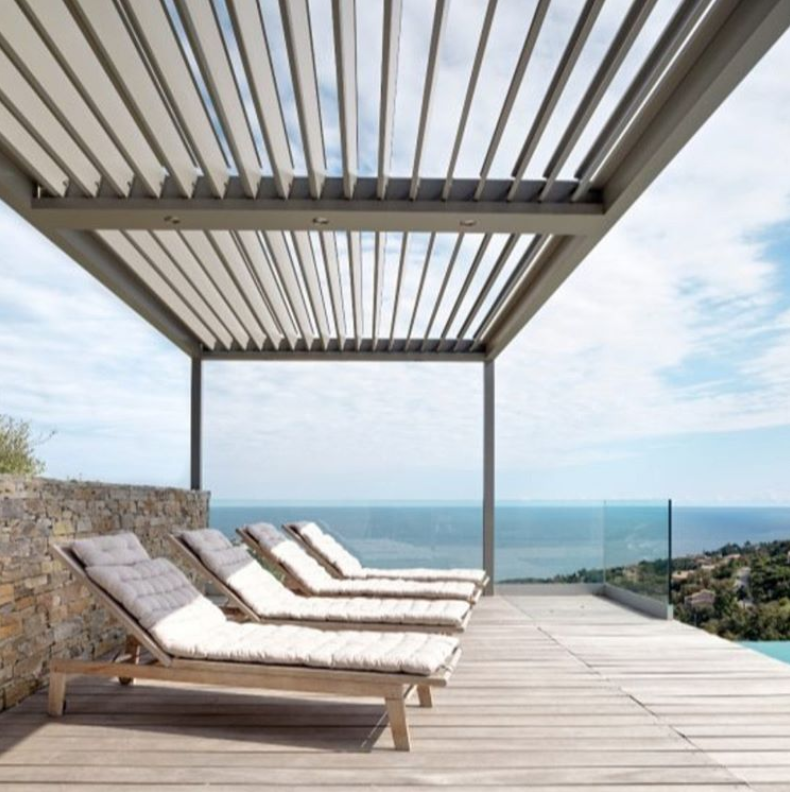 10. City rooftop pergola
Making use of all the space is never more important than when it comes to inner city living. So if you're lucky to have private rooftop access, you should add a pergola similar to this to add that extra living area that you will love.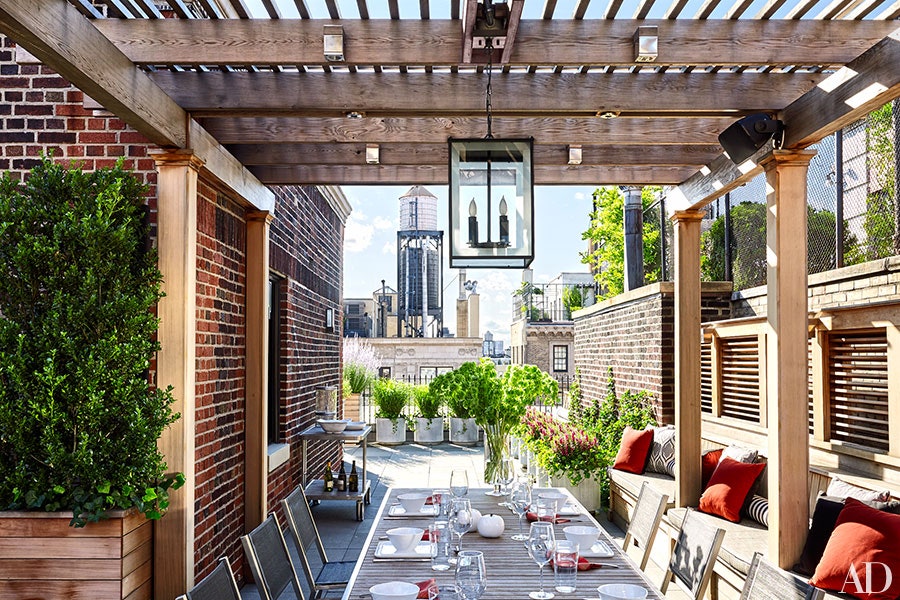 11. Steel entrance
This pergola would work great for a corporate entrance. Although there is not much sun cover here, the open slats work as a feature and a welcome for employees and guests of your building. Open slats will also bring in lots of light and a nice breeze for those stuck in a stuffy office all day!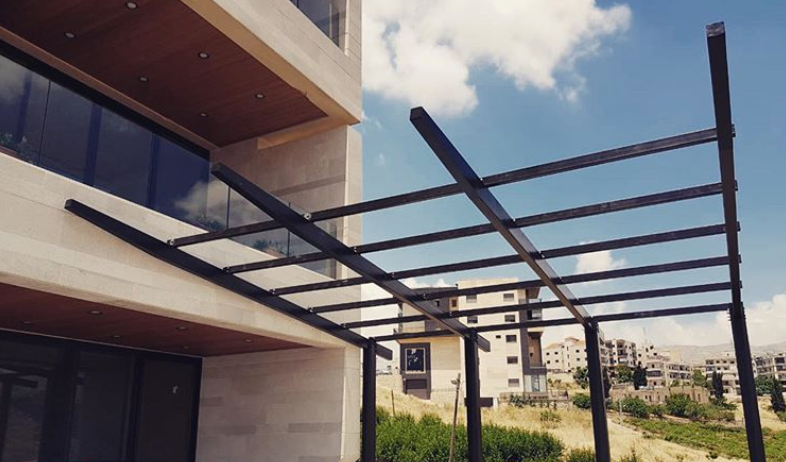 12. Modern Bali villa
We've all seen the typical Bali huts around and this is a great take on one of those. A little bit more of a permanent solution would be this modern bali villa. A great design to have outside the villa for guests to relax under then have a splash in the communal pool! I love how you can see all the through the top of the pergola which would mean staring at all the beautiful palm tree prongs all day.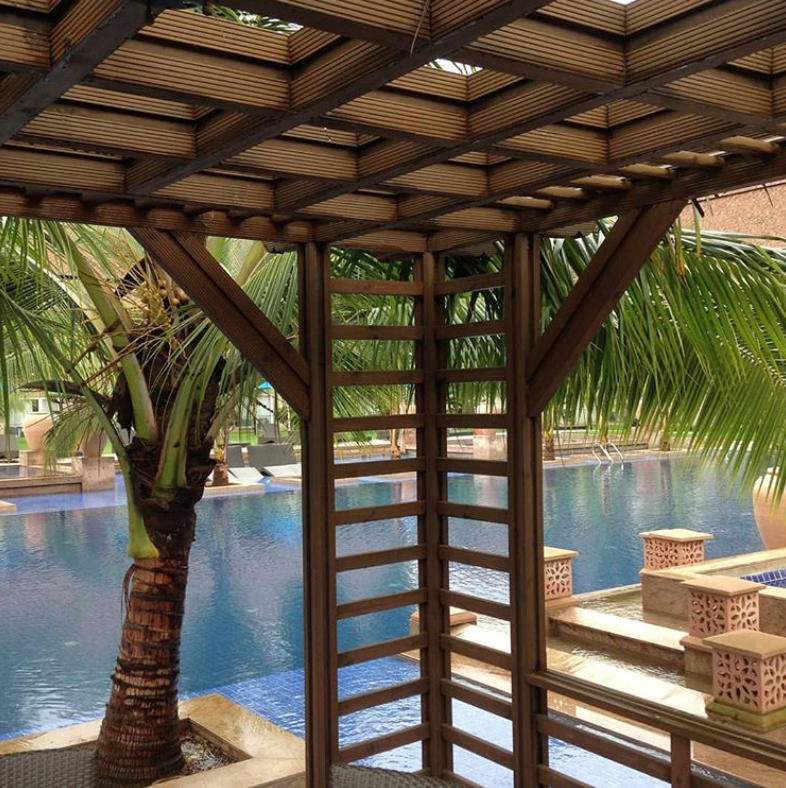 13. By the sea
Ah, by the sea is where I love to be. This stunning pergola makes this area look so vast and airy with its grandeur and simplistic design. The white roof slats are slightly angled so that only the perfect amount of light can be let in. I would love to have a long lunch in this space, staring over the beautiful ocean whilst looking out for whales!
14. Checkerboard variation
This pergola reminds me of a checkerboard with the lines that are alternating horizontally and vertically. The pattern carries through to the floor through the shadows. And it looks as if the pergola has its very own fan installed. What a great idea for those hot summer days! The swirling lining around the border of the pergola also creates interest and personality.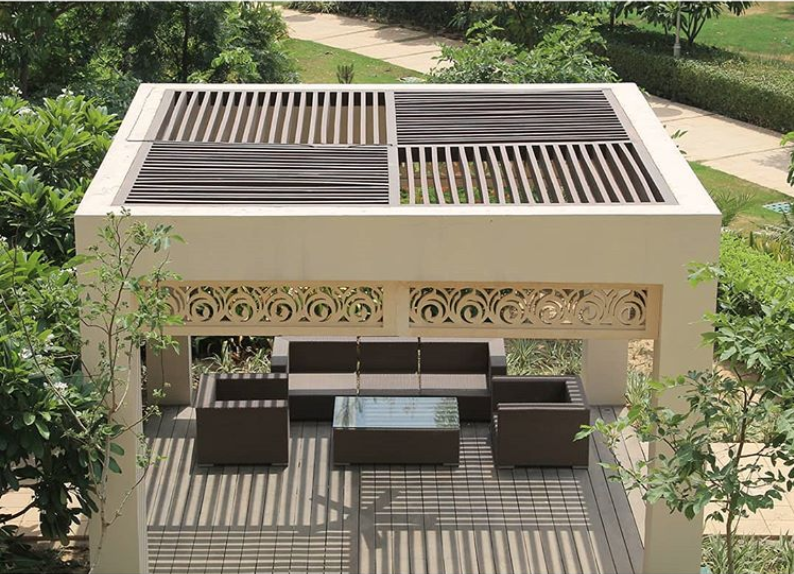 15. Add colour
Want to make your alfresco area a little bit different? Well, while the pergola adds ambience, it's the colour on the walls and furniture that really makes this space one to drool over.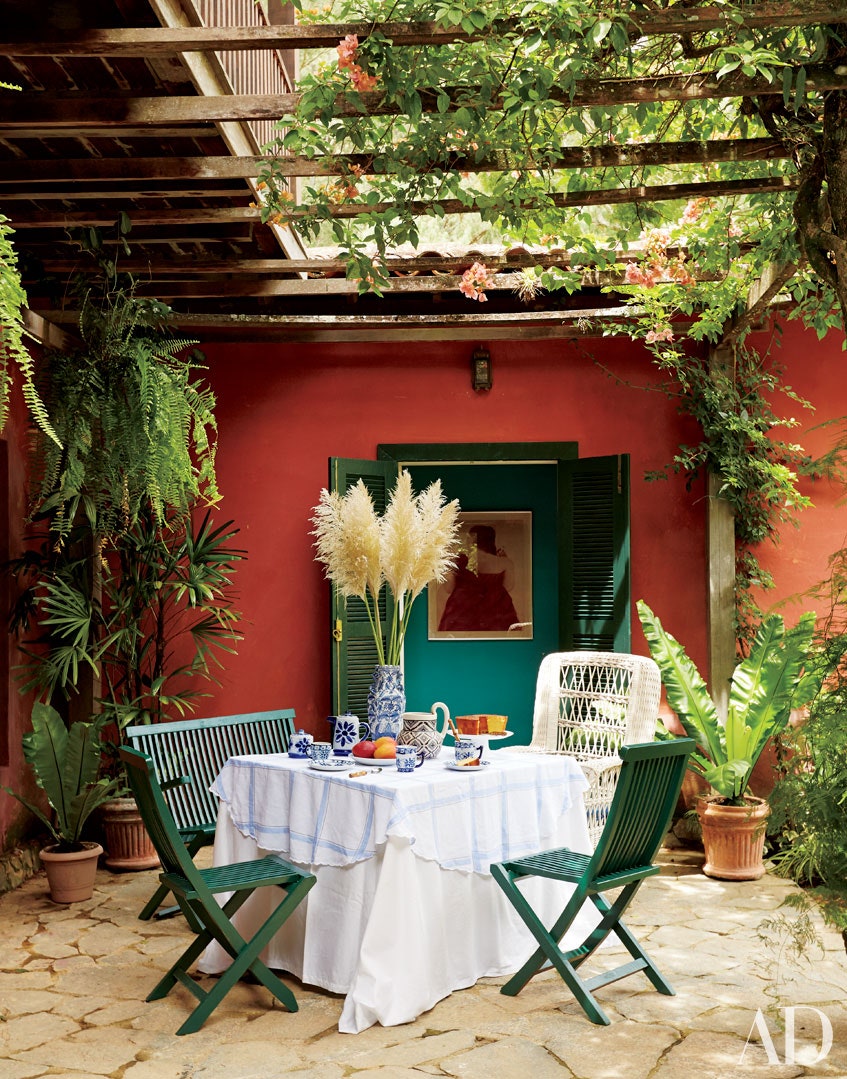 16. Privacy screen
If you have neighbours closeby, perhaps a privacy screen will help to make you feel more relaxed when you are under your pergola and not exposed to any nosey neighbours. The natural wooden finishes of this area make it look on trend, yet timeless. And of course I love the lights that are perfectly placed above the seating area.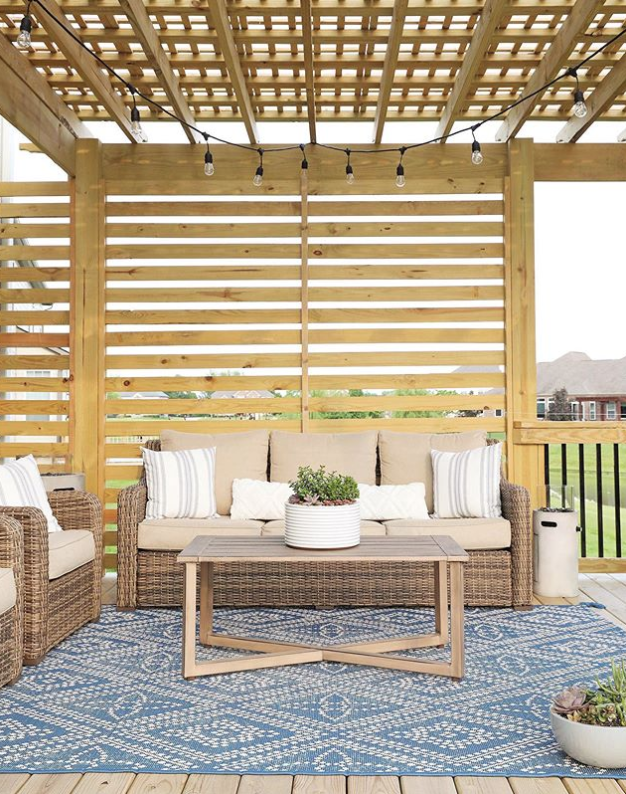 17. Chicken run
How cute are these little chickens running around exploring! I could just imagine relaxing under this large pergola and reading a book with the subtle sound of seven little chooks clucking in the background. How relaxing. This pergola is large, grand and makes a statement which goes hand in hand with the vast land it is seemingly situated on.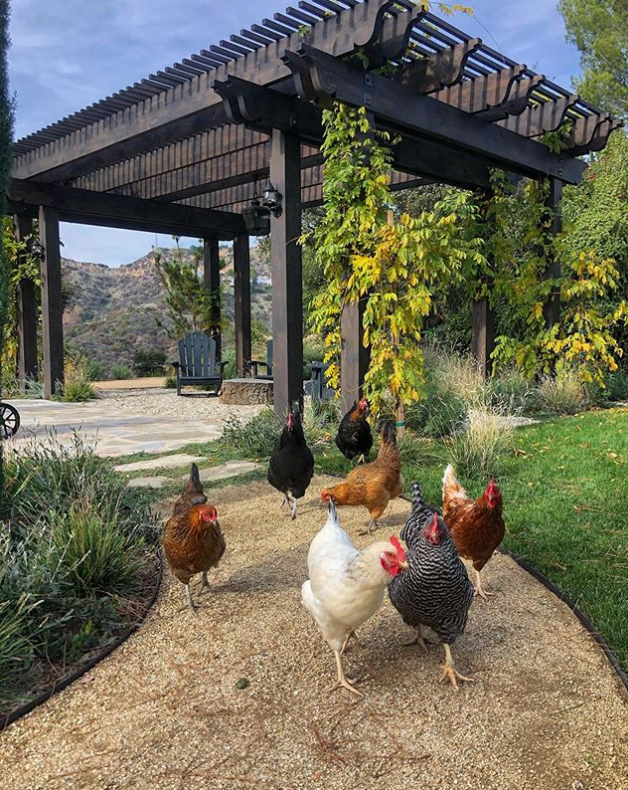 18. Fabric covering
If you'd rather complete shade when under your pergola, then this fabric covering option is for you. The design is simple yet the colour scheme of black and white works so well with the rest of the outdoor furnishings such as the outdoor lounges, pots and back fence.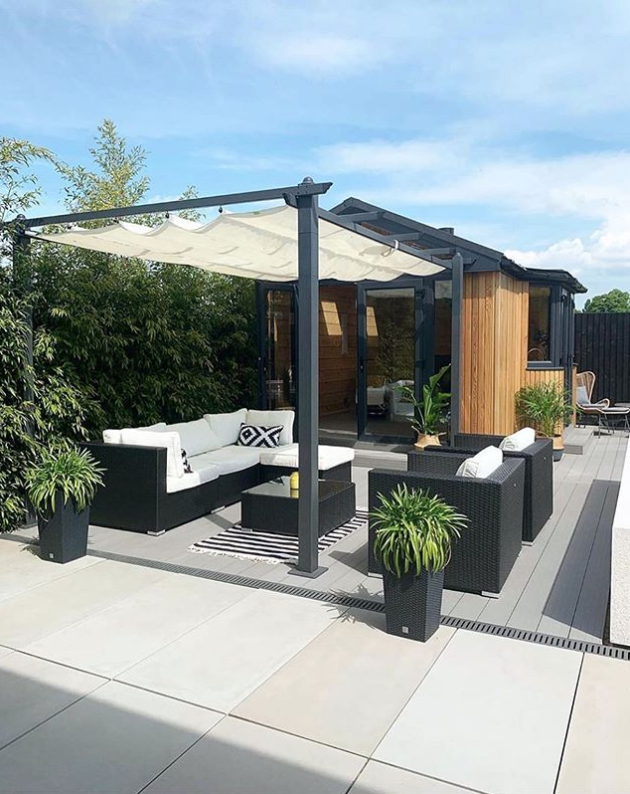 19. Peaceful pergola
This pergola just looks so peaceful and the perfect space to entertain guests. The white wooden finishes look ever so on trend. I love that the beams have been used to hang things off of such as the lighting pendants, white festoon lights and that awesome rattan swinging chair. This place is seriously so chic.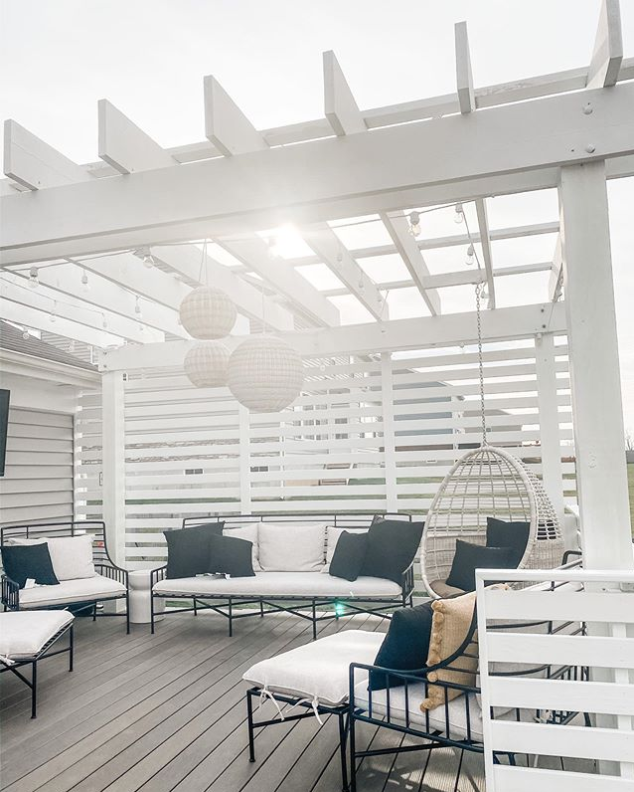 This is such an easy DIY fixer-upper with a bit of white paint and a painter to take care of all the tricky angles.
20. Garden goals
If you have a beautiful large backyard to work with, why not incorporate your garden with your pergola?!  I love the natural light wood finish of the pergola that looks so beautiful with the white flowering hanging pots and garden growing around it. Putting an outdoor lounge set under your pergola will also give your area a laid back and relaxed feel. Which is #goals, right?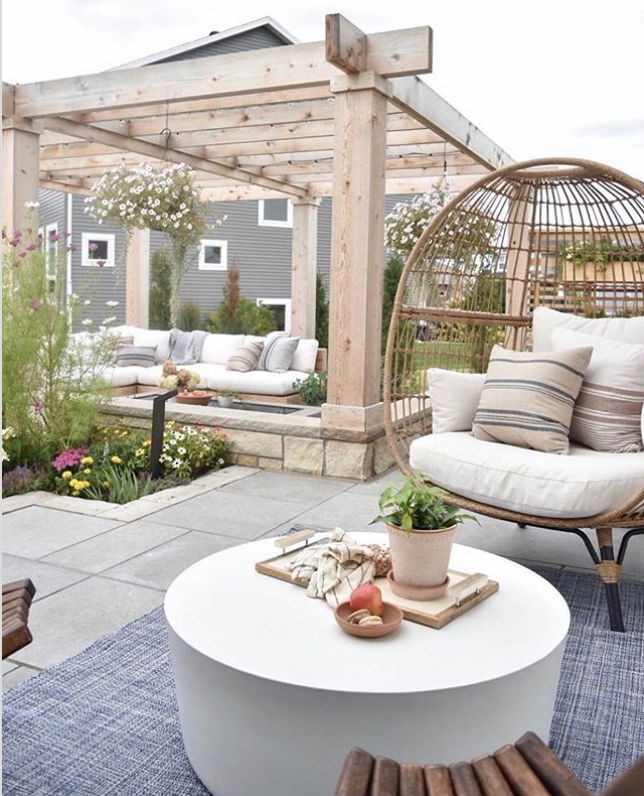 21. Under the moonlight
Oh, how romantic is this little spot! So many times we see a lounge or dining set out under the pergola (which don't get me wrong, it's so beautiful) but what about thinking outside the box and putting something a little different under your pergola?!
I love the hanging vines coming down from the roof that would be thoroughly enjoying all the steam produced from the spa as well as the pretty little candles dotted around everywhere to set the mood.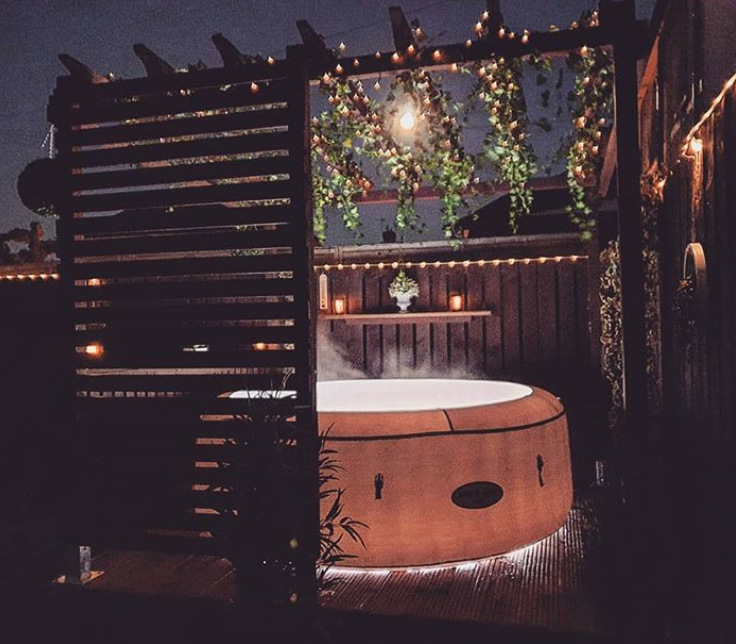 22. Boho chic pergola
There are so many things to like about this space. From its smart use of the outdoor-indoor look to the rattan pendants. It all really starts with this perfola that uses thin slates, rather than the traditional thicker pine, and painted white.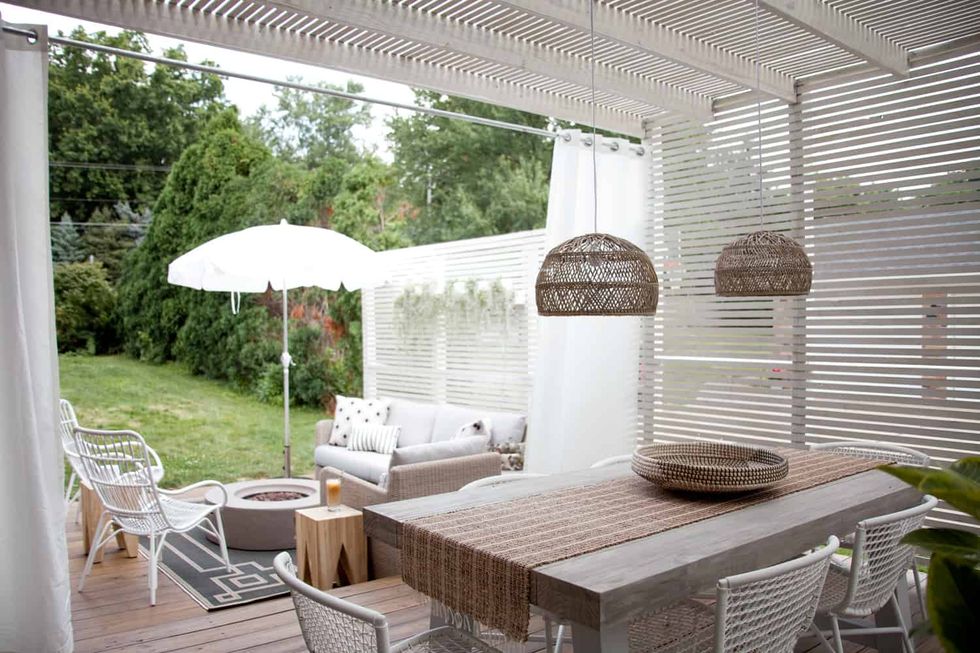 When it comes to outdoor lighting, it's best to leave it to the professionals to make sure it's all moisture proof. Find an electrician to help with hanging your pendant lighting.
23. Entertaining space
What a fabulous place to entertain guests of all ages. If you're wanting two different areas underneath your pergola, having two different height levels for the different pergola spaces will do the trick. Again, I love the utilisation of an outdoor fan as they will really come in handy on those hot days – especially when you're watching the kids in the pool or having your barbecue lunch.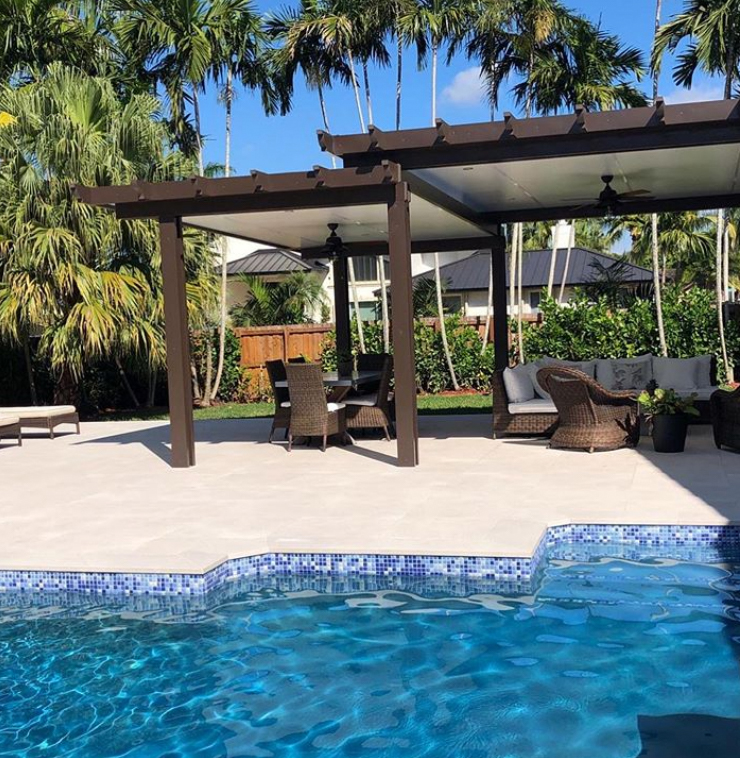 24. Outdoor fireplace
Okay wow, this place looks seriously sophisticated and stylish. At first glance, the outdoor furniture almost looks leatherlike, but on closer inspection, it looks perfectly weatherproofed and ready for any outside elements!.Having a fireplace built into your pergola is certainly a very sophisticated take on an outdoor fire pit. This space would be absolutely perfect for all the chilly winter nights we are about to face.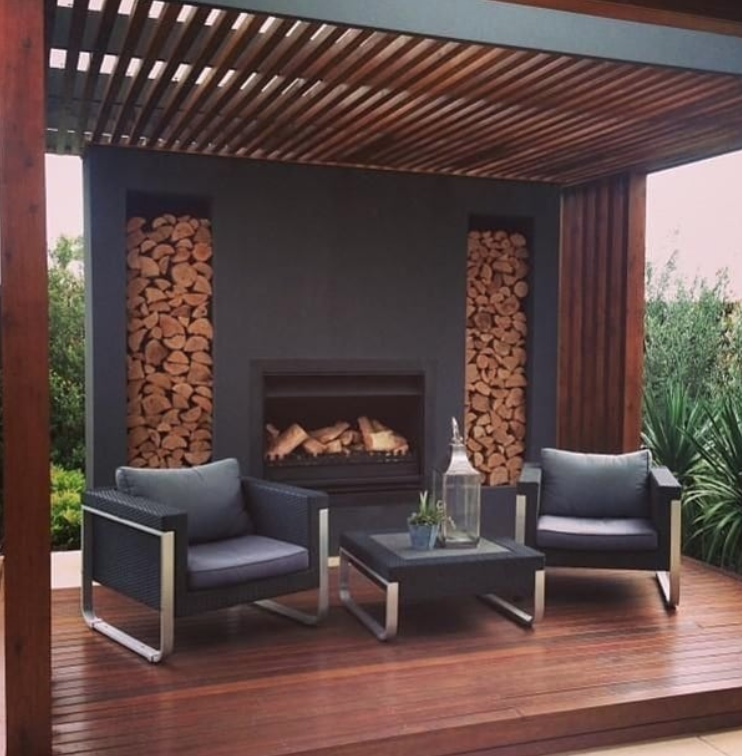 25. Hang lanterns
This was a DIY project where they transformed the backyard into this epic makeover. It looks fancy because of the black painted timber pergola and then styled to the nines with this collection of rattan pendants, which must look stunning as the sun sets.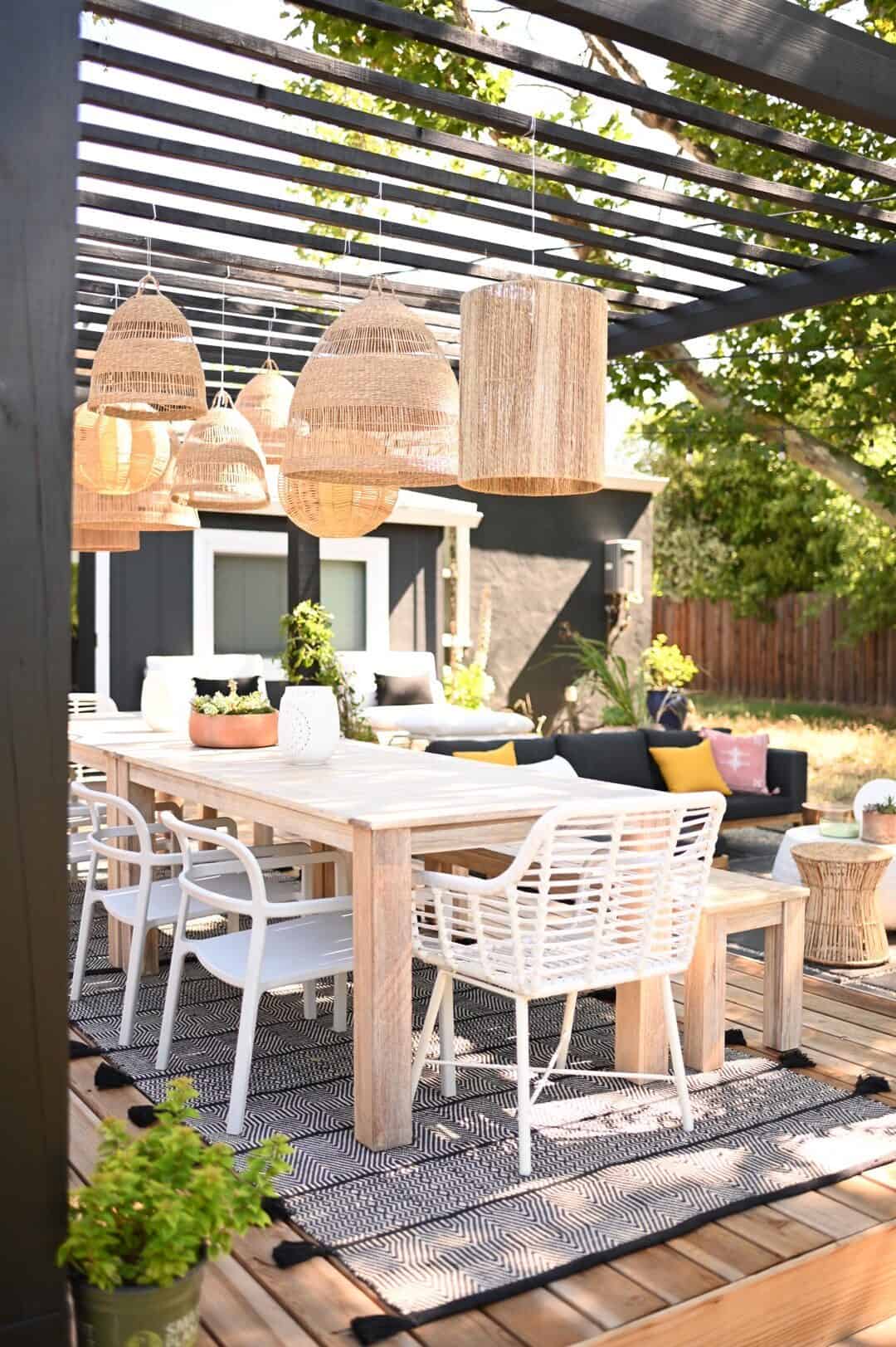 26. Matching timber
If you don't have the room for a stand alone pergola, then why not create a deck and pergola area right from your back door?! The natural wooden furniture finishings on the lounges and coffee table go perfectly with the timber beams on the pergola as well as the wooden railing lining the area. This place just looks so relaxing and zen.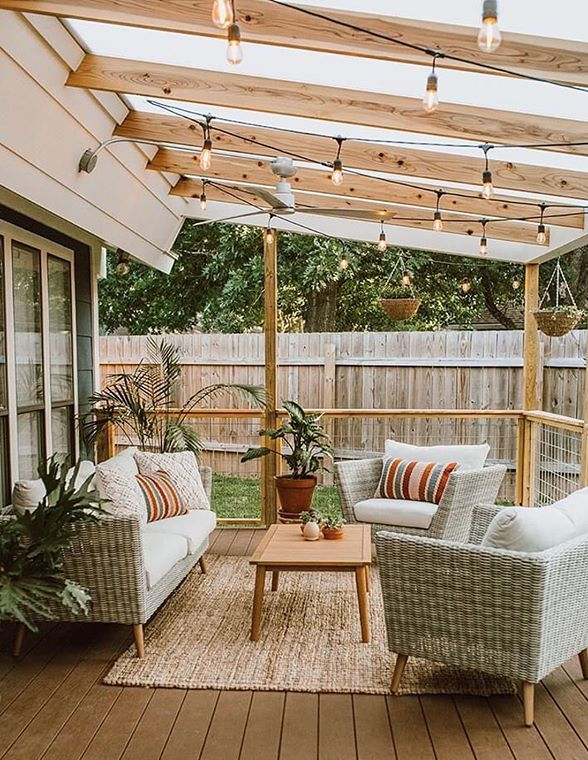 27. Swinging chair
Okay wow, how cute is this area! Forget an ordinary lounge chair and swap it in for a swinging lounge chair! Just make sure that your beams and the foundations of your pergola are nice and strong. This would really be such a cool feature in any backyard. A more grown up and sophisticated version of a playground swing.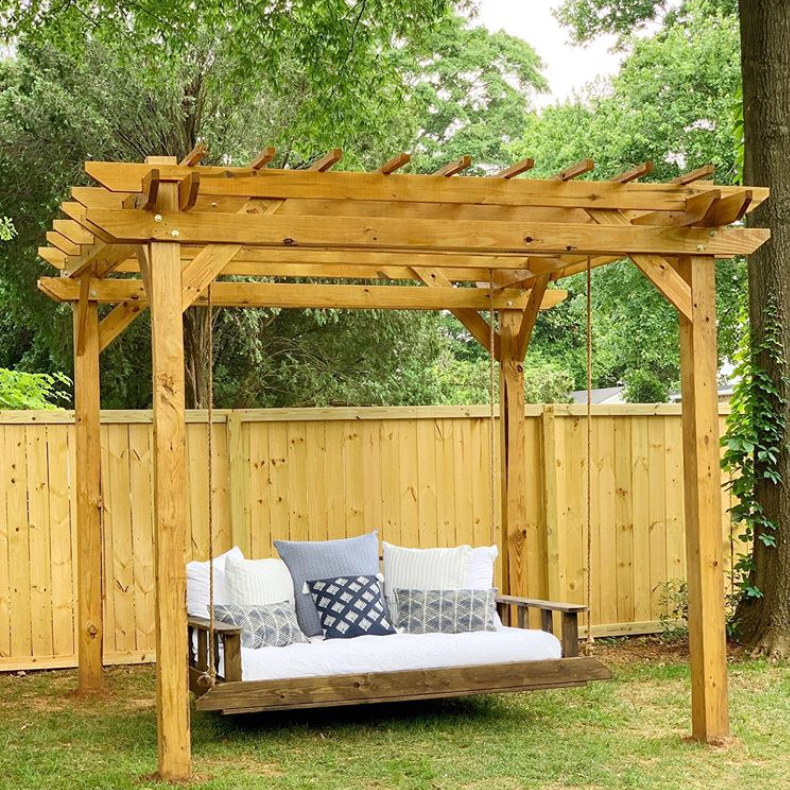 28. Kids pergola
Want to add a functional kids area to your backyard? Here is an amazing example of how to do just that with a white pergola and a bunch of weather-friendly toys.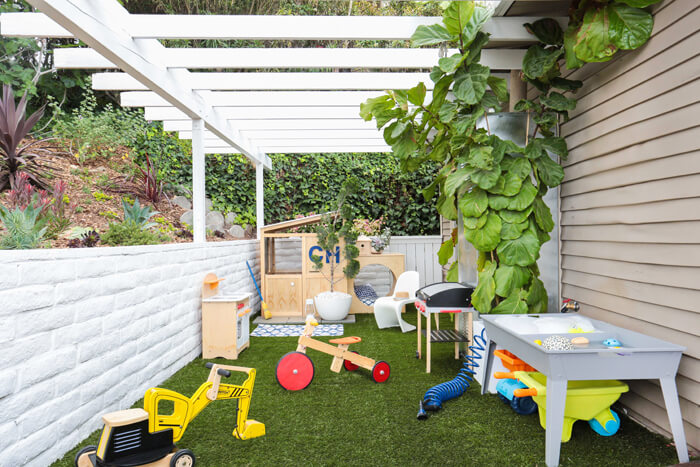 29. Laidback luxe
Oh give me a good book and a cocktail in the other hand and I would be very happy and content indeed. This pergola space is as laid back as it is luxurious. Laid back with the cream crocheted hammock and throw blanket. And luxurious with the outdoor lounge, table to rest your drink and magnificent view to look out on. What a fabulous idea to attach hooks to your pergola and wall so that you can put your hammock up.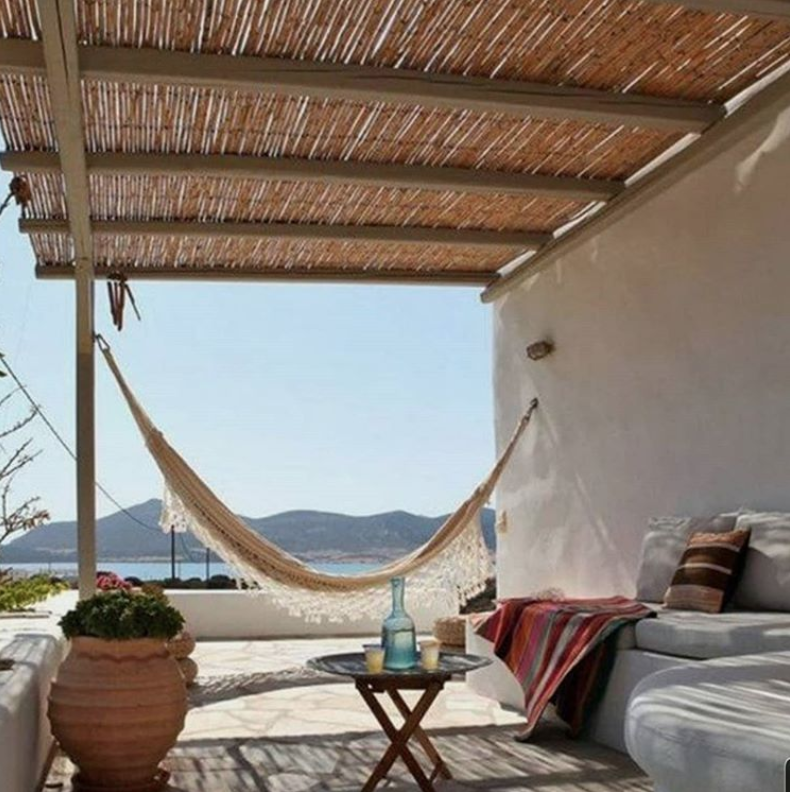 30. Family space
Here is another great area that would be fit for the whole family. This pergola reminds me of a large barn shed with its sturdy shape. The side wall is also a great addition to be able to add shelving, a speaker system, a dart board or even an outdoor television! This would be such a cool place for a family outdoor movie night!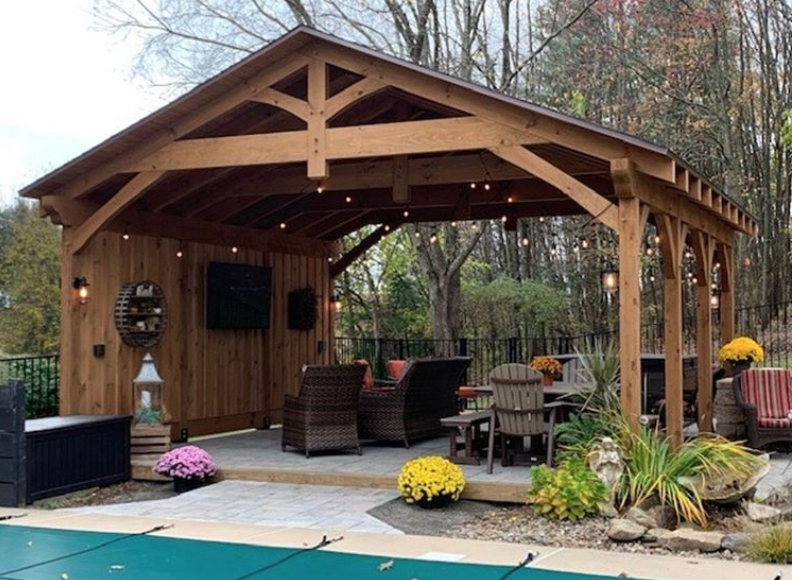 31. Perfectly pink pergola
Oh, this space is just so feminine and pretty. A perfectly pink pergola space indeed. The area is filled with so many pops of pink that really work perfectly together. The pink cushions, throw blanket, bean bag and pink roses in the pot are such lovely touches. The pergola itself is quite simple however it still keeps with the theme of pink in the fabric covering.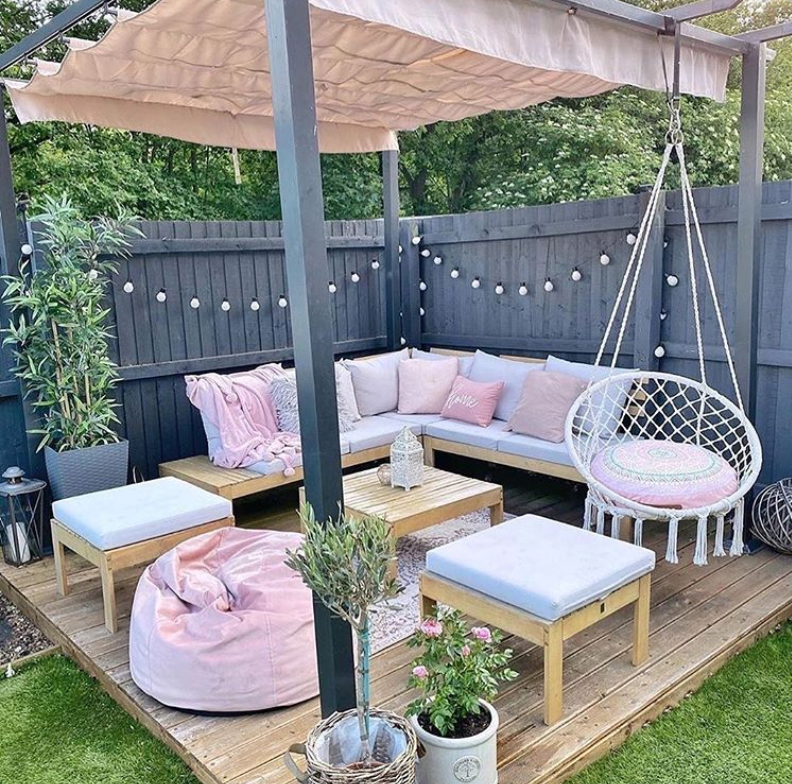 32. Rustic pergola design
Rustic doesn't have to mean neglected. This pergola looks rustic and weathered however it really works well with the neat decor elements. The tidy lounges, plants and rug make this space look comfortable and inviting. And the pergola has some lovely touches such as the white curtain, light pendant and festoon lights. I can only imagine how dreamy this space would look at night.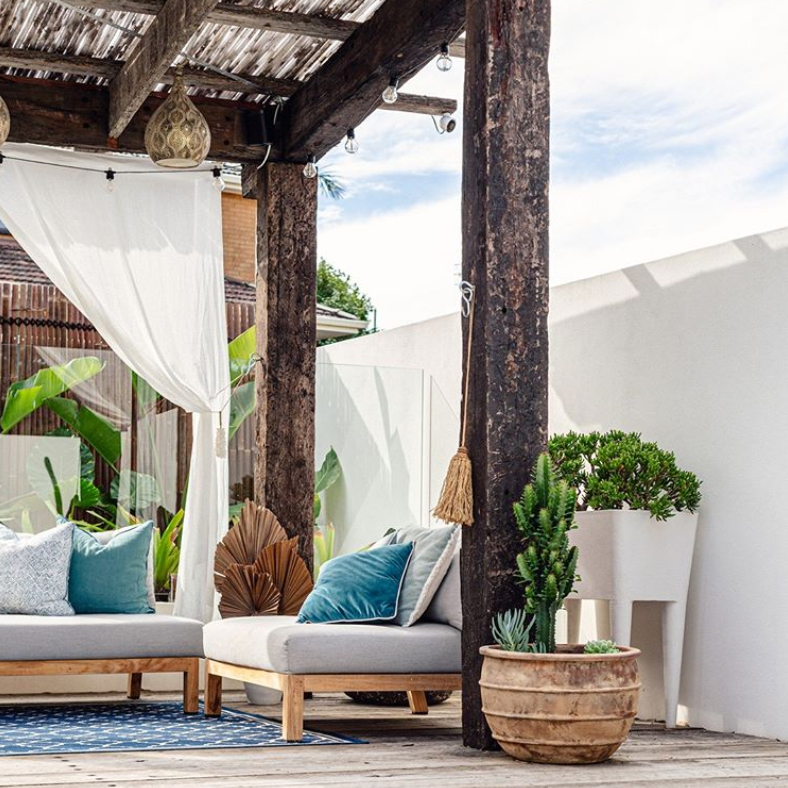 33. Holiday relaxation
This place just looks like something out of a magazine! I can only imagine this place would be somewhere Mediterranean like the Greek Islands. I can almost smell and taste the salty breeze on my lips. This white pergola is minimalist and goes perfectly with the white furnishings as well as the blue tones of the pool, sky and that beautiful crystal clear ocean.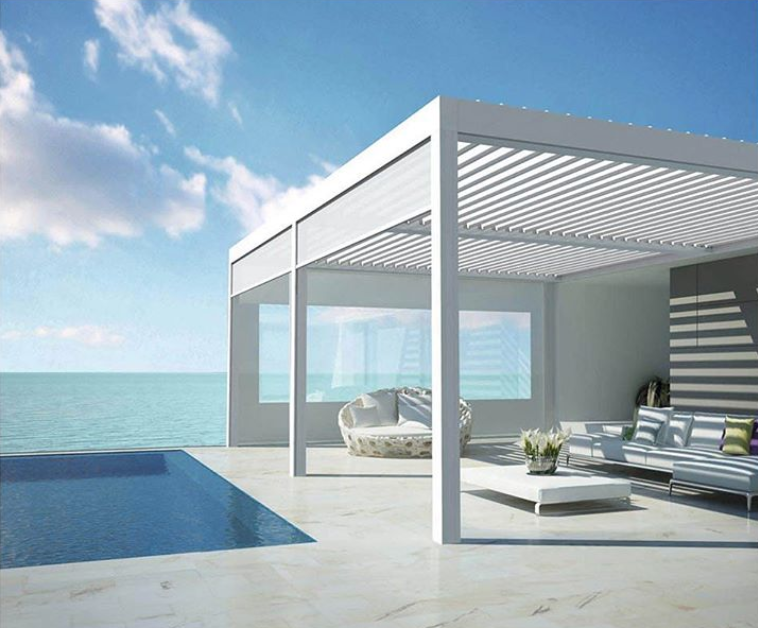 34. Wooden accents
I love the urban feel of this place with all the wooden accents! It just looks so neat and built to last. As the long roofing of the pergola spans over a large space, it would've been hard to find timber that long, so cutting it up into smaller pieces and making a design out of it works really well. I love that the same style of timber has been utilised for the flooring as well.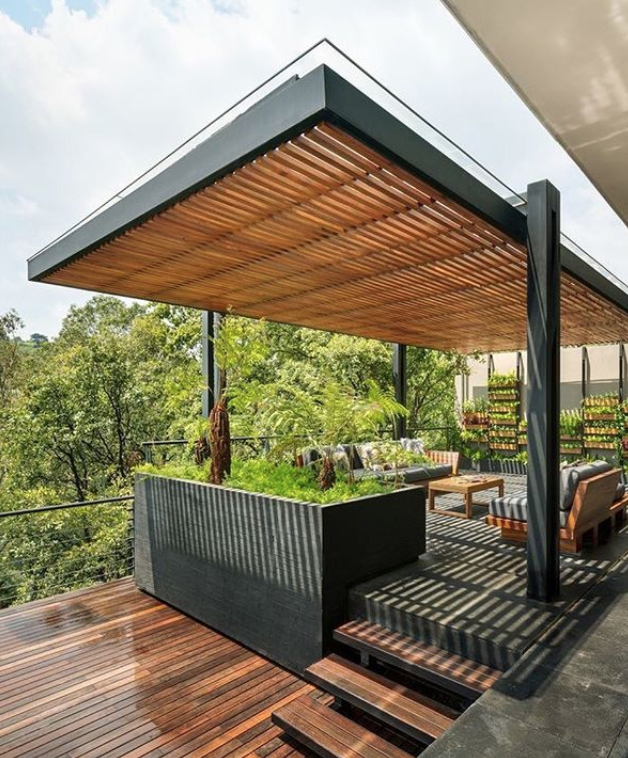 35. Pretty pattern
How pretty is the patterned shadow coming off this pergola! There are so many intricate shapes to look at like geometric shapes, circles and stars. I would love to sit and stare at this design and see how it changes at different times in the day as the sun changes! This is a great example of a super simple pergola design that doesn't have to be boring!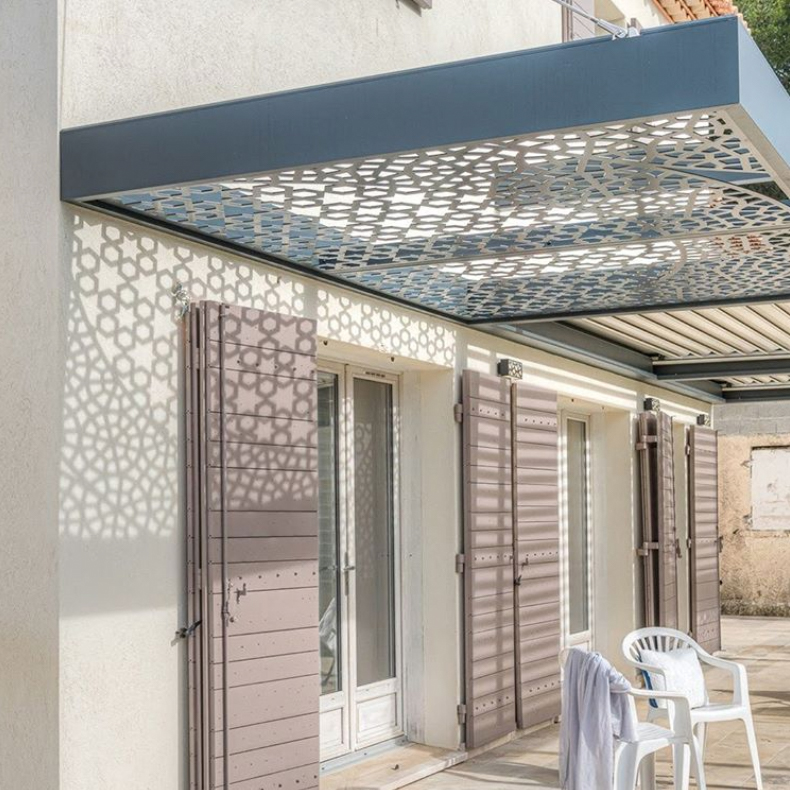 36. Golden hour in the garden
Oh, I just love this garden area. This would just be the perfect place to spend every golden hour. I can just imagine all the beautiful butterflies fluttering in the garden and birds chirping as the sun goes down. The wooden pergola goes perfectly nestled amongst the greenery.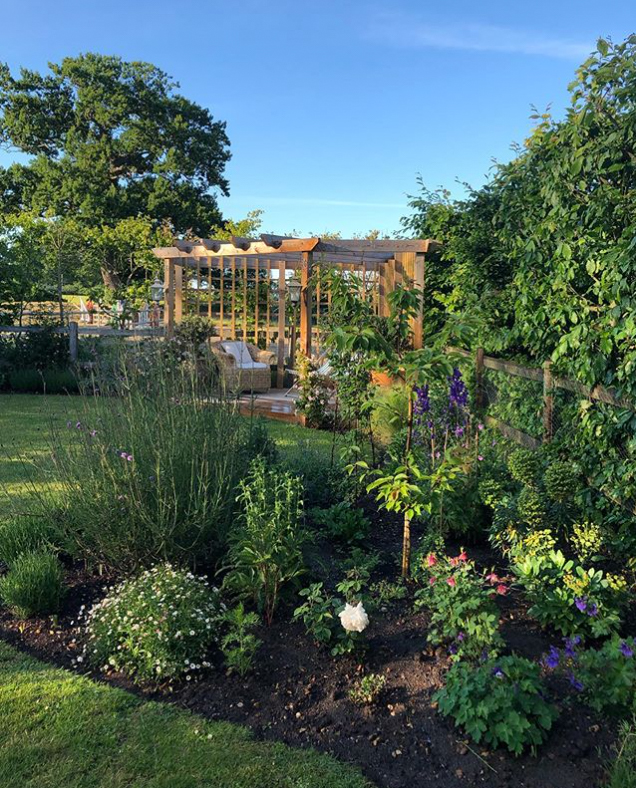 37. Dreamy space
And hello festoon lights, which is a easy way to doll up any timber pergola. I love how the outdoor lounge wraps around an entire corner of the pergola which really makes this space feel very relaxing. The addition of a coffee table is always a good idea especially if you have guests around and want to put out a platter to share!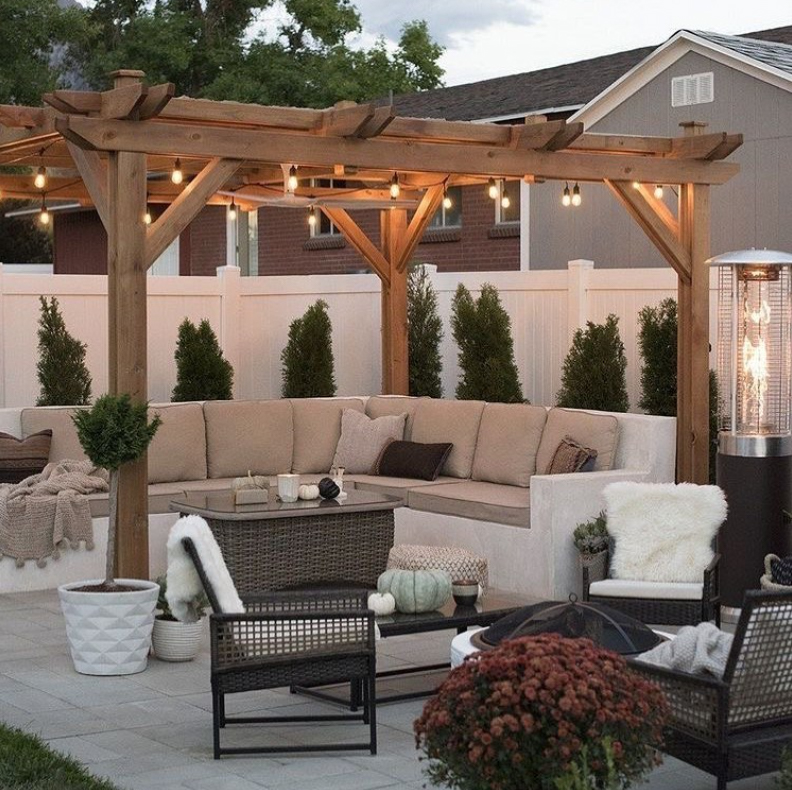 38. Tropical divine
How divine is this tropical space! The pergola itself has been made up of wooden beams and then finished off with white draping fabric which really gives it a tent feel. I especially love the large green palm leaves that really make this space feel tropical and inviting.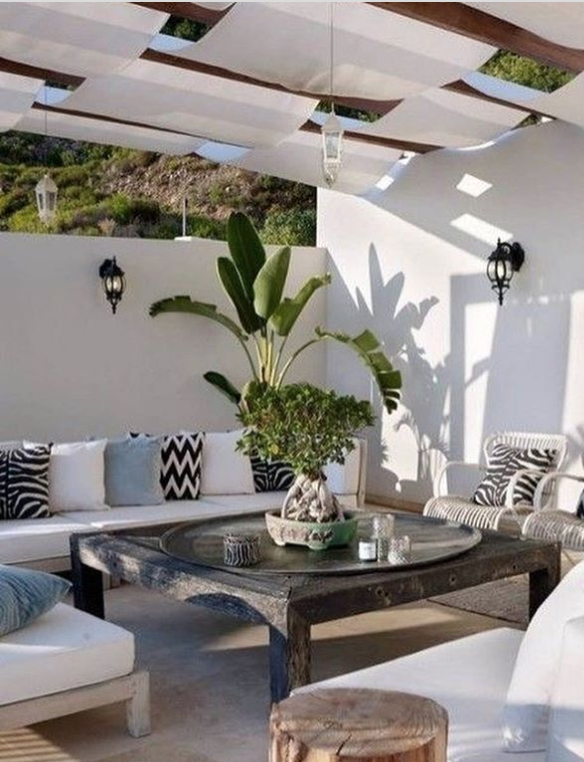 39. Add a TV
Watch a game over the weekend, by your pool with a cold drink in hand? Yes please! This is quite amazing pool landscaping design with the pavers and grass laid together.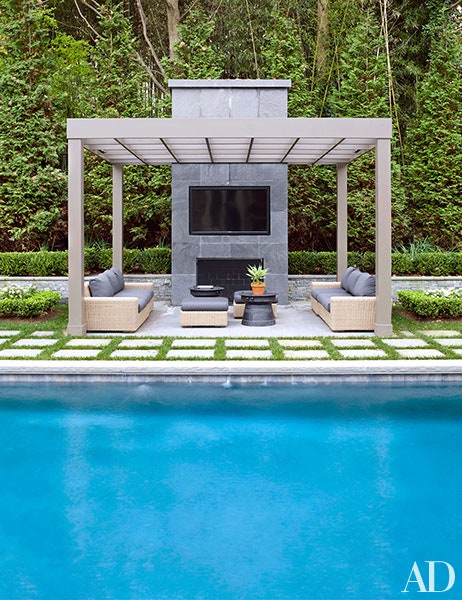 40. Floral arbour
What a sweet little space. This pergola reminds me of an arbour that would be in a garden with flower vines growing all around it. If you're wanting this look all year round, there are many great artificial flowers you'd be able to get that would give you a very similar look to this.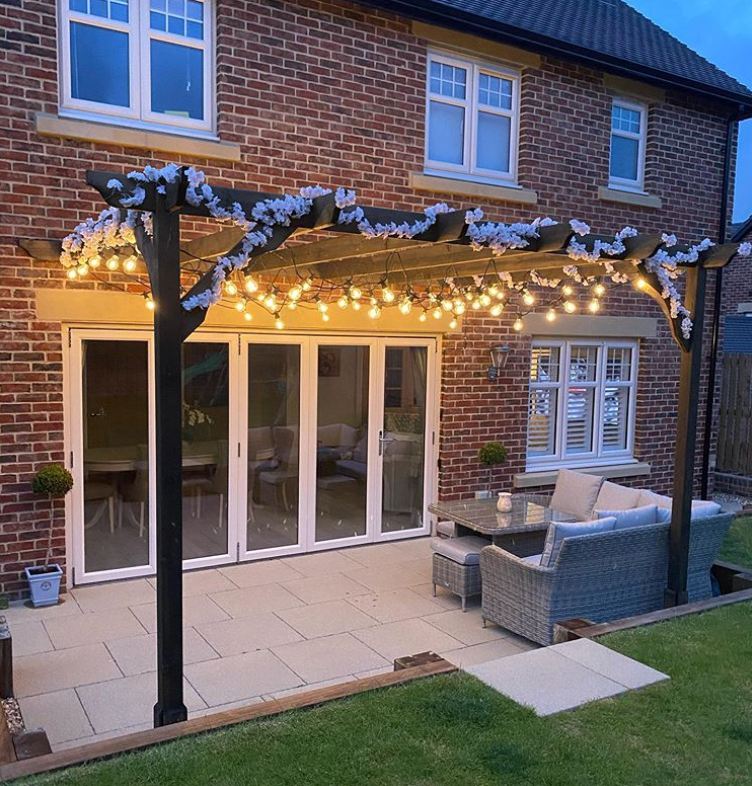 41. White curtain privacy
As well as looking beautiful, flowing sheer white curtains will give any pergola that added privacy and a homely touch. The dark timber used on this pergola looks beautiful against the white curtains as does the white outdoor lounge set. I would love to relax with some friends in this space!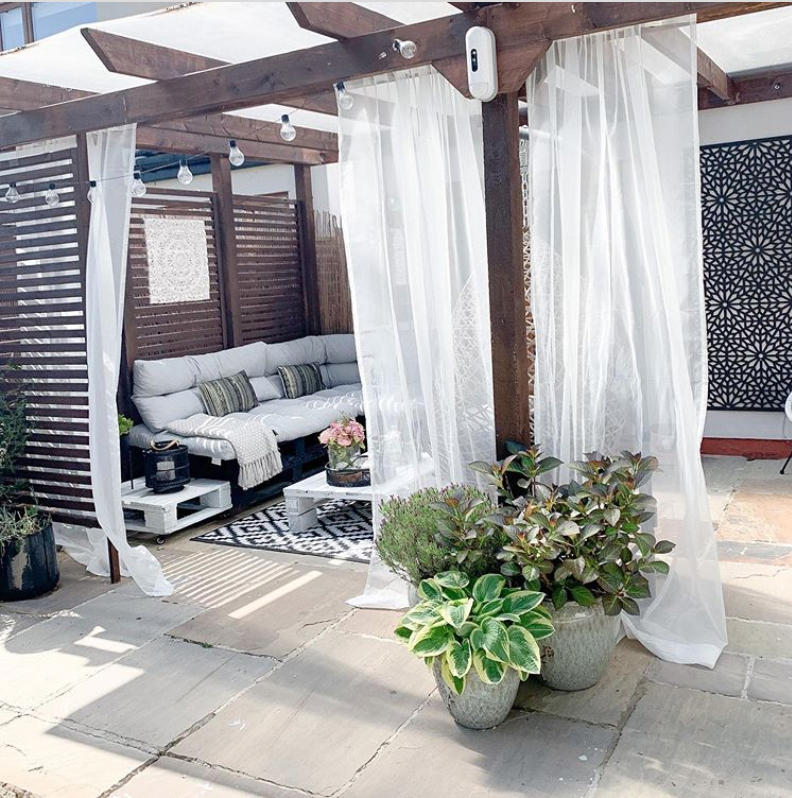 42. Sandstone style
How cool is this sandstone space! With the blue and white concrete style house, I would seriously think I was in Greece! The pergola is made of light coloured wood which really goes nicely with the sandstone elements of the property. If your property looked this good, you would always feel as if you were on holiday. Win win!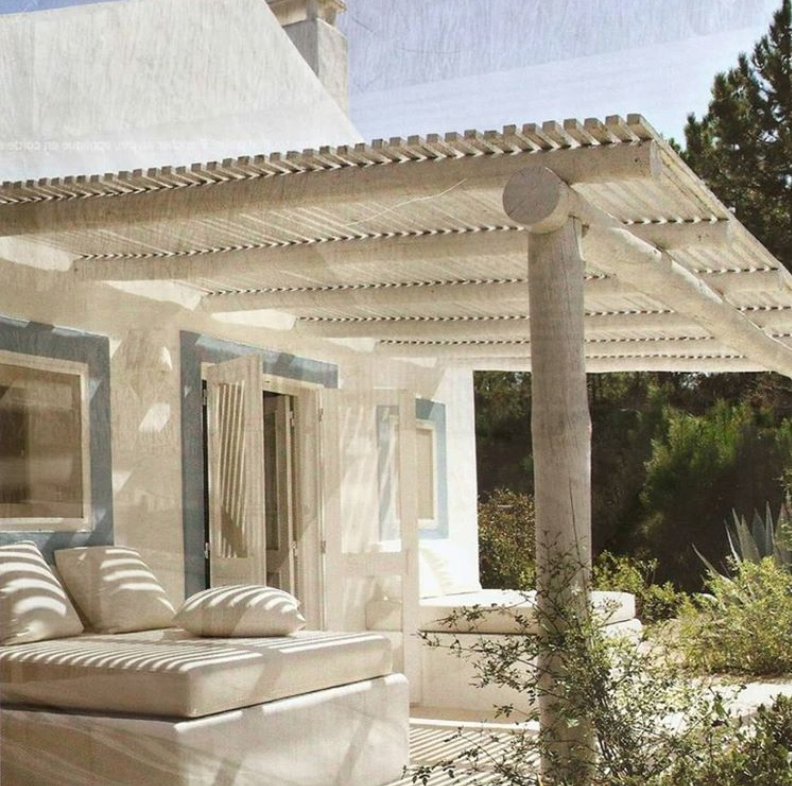 43. Just right timber pergola
This pergola area is just right – balanced, timeless, trendy and functional. I love how the natural colours and textures of the wood have been preserved which gives so much character to a very simple pergola. The long dining table really makes this place feel inviting. I'm sure there have been many laughs and lots of love beaming through this space.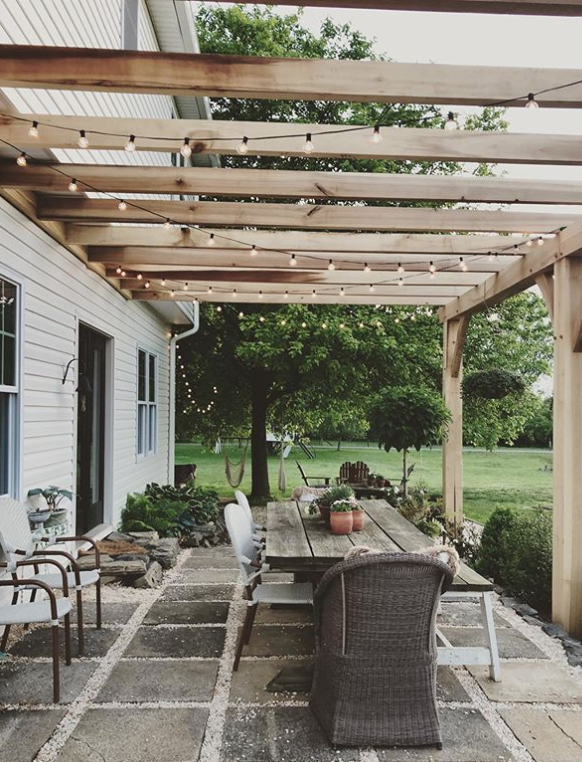 44. Minimalist pergola
If you are wanting a specific space in your yard to stargaze, then an open air pergola is just what you need! Installing a pergola like this will set the boundary of a space without intruding on any views. Place some concrete slabs below, add some greenery as well as some chairs and you have yourself the perfect open air space.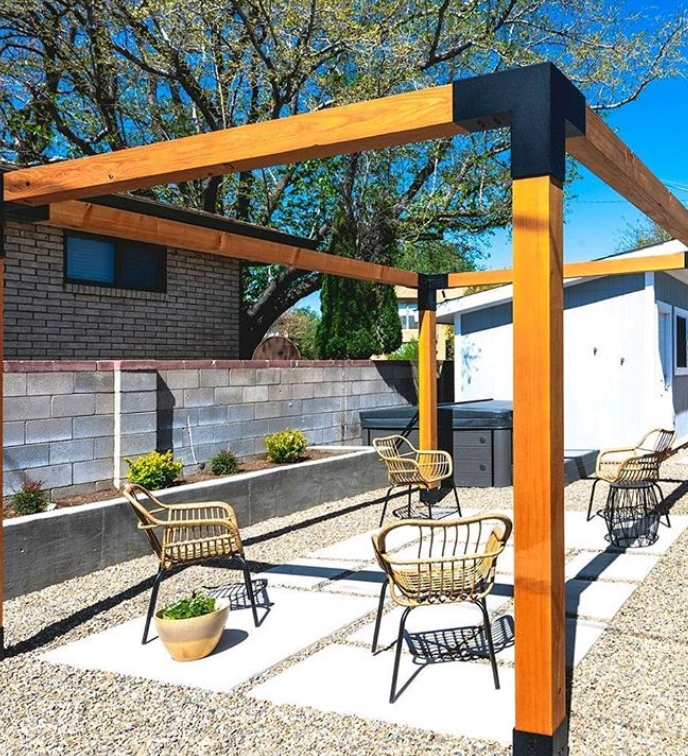 45. All the options
Wow, check out this great pergola design! If you're not sure whether you want a closed roof pergola or an open space, then you don't need to settle for either when you can just have both. The wooden pergola beams allow for a permanent space whilst the fabric covering can be changed to cover the entirety of the roofing, just a little bit or none at all. So many options!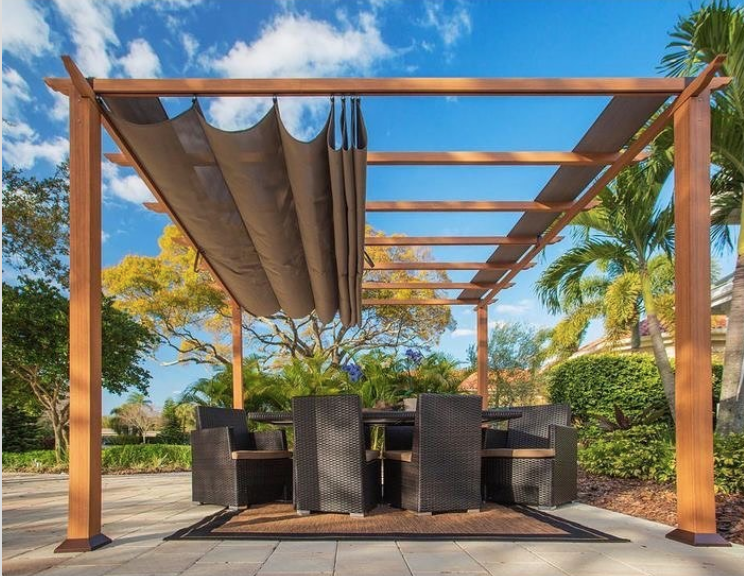 So there we have it, 45 pergola designs to get your ideas flowing! I especially love the pergolas that incorporated festoon lights as they really bring so much warmth and relaxation into a space. As well as the pergola areas that have been placed in the perfect areas such as in large gardens or overlooking the ocean. What were your favourites? Let me know below!