Need a new DIY garden project or perhaps you're looking at tackling a large scale landscaping redesign? Well, you've come to the right spot as I unearth come amazing backyard ideas for your home, including both big and small changes which will see you reap the rewards straight away.
Fancy a swimming pool? Want something a little quirky for your garden? Or perhaps you have a small backyard and not sure what to do… Well, with over 75 ideas you're guaranteed to find something that works for your backyard.
Here are 75 small backyard ideas for your home:
As we continue to shift from larger suburban properties to smaller urban housing, outdoor space is ever changing and large gardens are hard to come by these days. So with less room to work with, it means that we need plenty of smaller backyard ideas to help maximise the space we've got.
Courtyard conversion
In some urban homes, there's a decision to be made as to whether to use a driveway for cars or use the space as a living area. Whilst it depends on your lifestyle demands there are some lovely courtyard garden ideas of how to make it work either way.
Take a seat
By adding a bench up against a wall it means you have a space to sit down without the need for a full outdoor dining set up. You can also turn it into a backyard feature with plants and creative landscape lighting. Just make sure you find a carpenter who will be able to measure up and install the bench safely and to your design brief.
Thinking of adding an entertaining area? We've put together an in-depth article to show you 50 patio ideas to think about when designing your backyard.
Garden mirror ideas
Mirrors work in any room to make it look larger and the same can be said for gardens. Whether you use a big or small mirror, it's perfect for inner-city courtyards to reflect as much natural light as possible.
Vines and climbers
By using crawlers such as Ivy or Jasmine, you can turn a plain concrete privacy wall into something that captures the eye. Simply design the wire in the pattern that you want the plant to grow and then you just need to make sure that you help it grow in the right direction. And don't forget to prune when required so that the shape is maintained.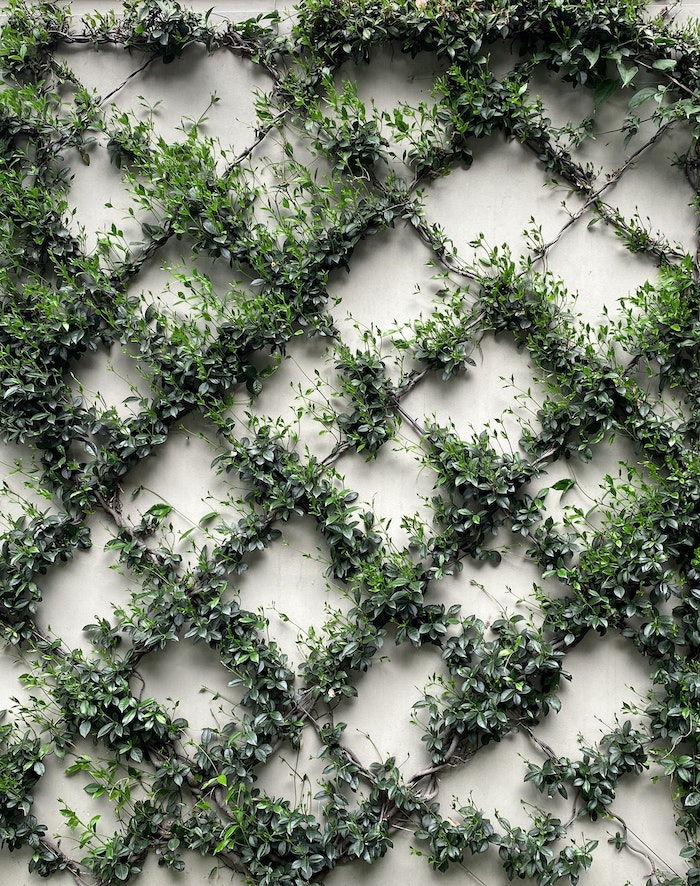 Rooftop garden ideas
If you have a rooftop to use as a garden, it's a beautiful sanctuary that you can relax in and an ideal space to host outdoor garden parties. You could build a vegetable garden or just scatter potted plants around in all different sizes. The options are endless.
Pond ideas
If you want something that is low maintenance, a water feature is the way to go. A garden pond in a container is relatively easy to install and if it is positioned in front of a window or glass door, it doubles as a view!
Add some grass
Adding grass to your backyard will make it seem larger as it divides different areas and it's perfect for families with kids or pets. It can be real grass or astroturf, it just depends on how much maintenance you're willing to do. Perhaps take a look at our guides on laying turf or installing artificial turf before you make your decision.
Potted plants
Using potted plants of different shapes and sizes adds depth to your outdoor space and can work on balconies or throughout a backyard.
Herb vertical garden
You might not have a lot of floor space, so it's important to utilise walls too. Whilst vertical gardens are relatively common, why not do a vertical herb garden instead of just greenery? It's really easy to recycle pot plants and turn it into a DIY project.
If you're in an apartment, here's our guide on how to grow a herb garden on a balcony.
Hanging plants
Not only are they pretty but hanging plants are another great use of space when you don't have a lot of room.
Succulent wall
Bigger the plants, the higher the cost. So by using a lot of smaller plants instead, such as succulents, it can create a feature with a similar impact as one big plant.
Painted fence
Sometimes you just have to work with what you've got, so painting the fence is one way to make your garden stand out and bring that modern look from the inside out. This is one of my favourite backyard ideas that I've come across because it's just so easy for anyone to do.
Fire pits
If you want a different type of feature but you don't have a lot of room, a fire pit is a lovely idea as you can almost use it year-round.
I've put together a whole article on fire pits if that's what you're looking for, so go take a look at these fire pit ideas.
Garden light ideas
Sure it's nice to sit in the sun and enjoy your garden by day but why not get the most out of your backyard and use it at night as well with some of these great garden light ideas?
After all, there's more to garden lighting than an automatic sensor light that is triggered at all hours of the night by animals (owned and strays).
Path lights (but not too many)
It's tempting to put lights down your pathway like an airport runway but please don't do that. Instead, only put a few lights to highlight the general direction people should walk.
Tree lights
A tree might look simple during the day but at night when you add a few spotlights – it can turn it into a fabulous feature. Spotlights can be used to highlight just about anything in your garden, but again, fewer is better.
Want to know how much this will set you back? Here's our outdoor lighting installation cost guide for you.
Water feature
If you're going to invest in a water feature, it's worth putting some lights in to show it off at night as well.
Pool lights
Instead of the usual one or two pool lights, your pool can stand out with colourful lights or perhaps try a different type of lighting design. As you can see in the image below, this pool has smaller lights along the entire length of the pool.
Garden bench lighting
Add more than candlelight to the entertaining areas of your garden. Look at something more permanent like these LED lights under the seating. It turns a normal seat into a focal point.
House lights
Show off your beautiful home with some stylish wall lights. You can get really lovely ones to highlight and shadow certain areas e.g. near entrances.
Fairy lights
They aren't just for parties and Christmas events. Fairy lights can definitely be used all year round because they're just so gorgeous. All you need to do is make sure that you buy the ones that are safe to use outdoors.
Filament lights
These are the pendant light for exteriors, and filament lights by the front door immediately let people know that you're all about great design.
Festoon lighting
First, it was all about fairy lights and then it was festoon lighting, which is pretty much just a bigger version of fairy lights. However, these lights are particularly great when you hang them over a dining table for the ultimate Instagramable dinner party.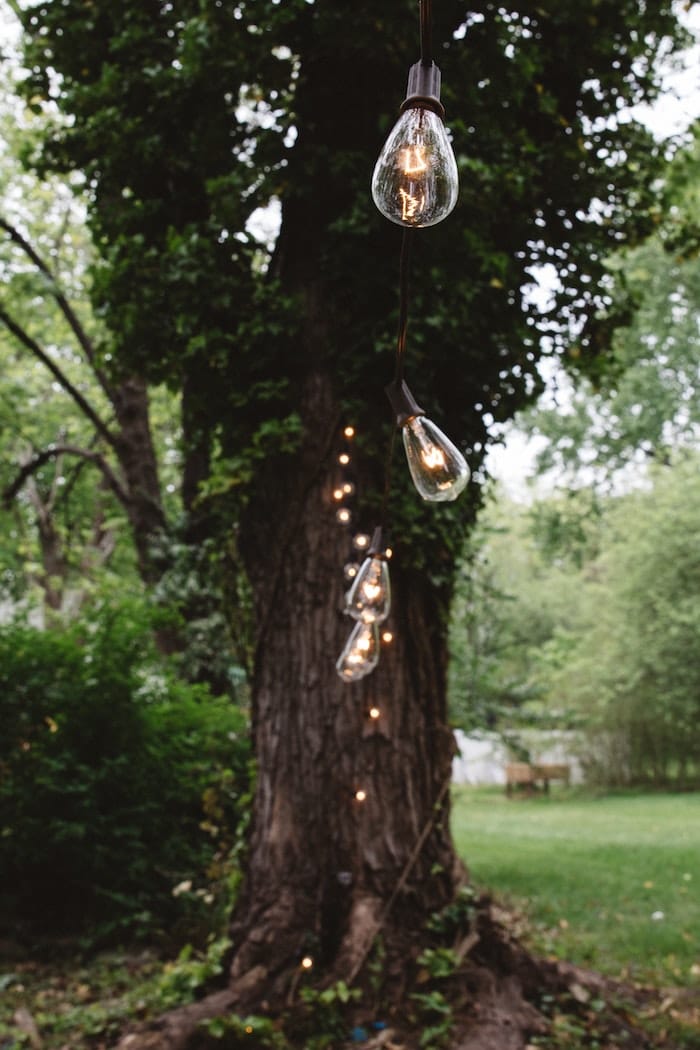 Quirky DIY garden ideas
Sure you could lay some lawn or pot some plants, but if you're more of an out-of-the-box person then these are the interesting DIY backyard ideas you've been looking for!
DIY hanging plants
It's amazing how many things around the home can be reused for a different purpose, such as these colanders which have been transformed into hangers for plants.
Recycled vintage tools
Have an old timber ladder that you no longer use? Turn it into a great feature in your garden with plants or dress it up in lights for a special occasion.
Moveable planters
If you don't have a soil garden and don't want to move heavy pots around, a planter on wheels is what you need. With one of these, you can now constantly change your garden design or even use them to block off different areas.
Vertical garden walls
Vertical gardens have had their time in the spotlight because they work in just about any location, from outdoor terraces and small balconies to living rooms and kitchens.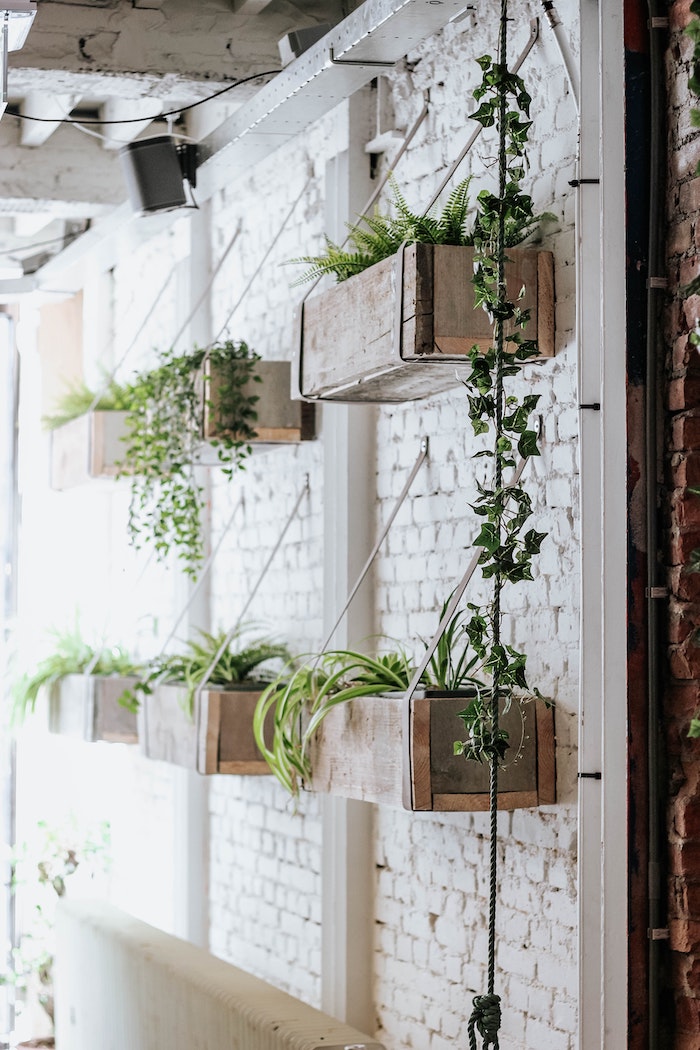 They truly bring the outside in, but if you're looking for something a little different why not try this DIY vertical garden idea, which uses pallets and terracotta pots?
Creative pot plants
If you're a wordsmith, you'll love these pots and so easy to DIY.
DIY garden markers
It's easy to get plants mixed up so DIY garden markers can be made from recycled items around the home such as wine corks.
Succulent plant pots
There are so many different ideas when it comes to planting succulents but you'll go nuts over this coconut planter idea.
Bird feeder
Once seen in many country gardens, the humble bird feeder is a great project for little ones to get involved with as well as feeding your local birds.
Backyard pool ideas
Thinking about splashing out and getting a pool for summer? If you can't decide between an inground or an above ground pool, here are some tips and inspiration.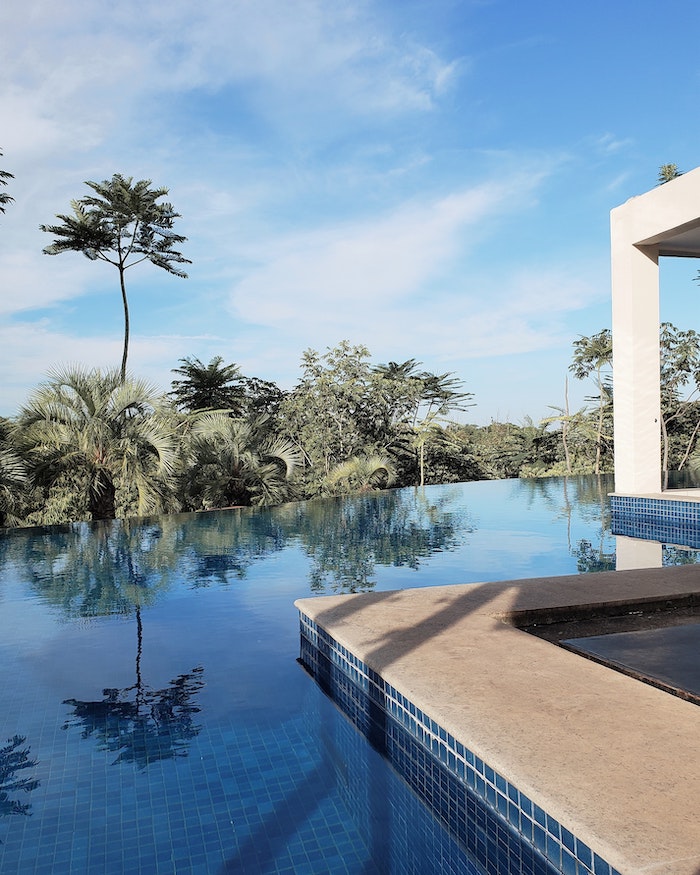 Tip 1: Pool Cost
The cost is usually the reason people choose an above ground over an inground pool; they're generally a cheaper option and can come readily available in a kit. Inground pools are expensive to purchase and install but here is our complete pool installation and excavation cost guide.
Above ground pools are definitely less expensive; depending on the surface material or kit purchased, you're looking at a couple of thousand dollars (plus), but you should check to make sure the installation cost and full equipment kit (i.e. pumps, etc.) are included.
Inground pool ideas
Oh to be one of the lucky few with an inground pool surrounded by grass for the perfect pool landscaping look… This super refined look is something that you would find in a European countryside estate or in a Vogue Living magazine.
Above ground pool ideas
Some people shy away from above ground pools based on the misconception that they aren't very pretty. But above ground pools have really come a long way since the big blue tub era and decking kits can easily be installed for the illusion of an inground pool.
If you've got a sloped backyard, an above ground pool is perfect for utilising this space and can add a great deal of style to your property.
Tip 2: Property value
If you live in a warmer climate, having a pool could potentially do wonders for your property valuation; it adds an aesthetic of relaxation and luxury to your home.
But is it worth it, and does the fact of whether it's an inground or above ground style matter? Well, that depends on the market and how much you might need to spend in order to leverage any increased property value. There is no 'one size fits all' answer to this question; it's best to do some research or speak to a local property agent.
Alternative pool shapes
Kidney, rectangle and oval pools don't have anything on this stunning fan pool design.
Plunge pool
Want both a spa and a pool? Well, a plunge pool is the perfect way to get the best of both worlds because not only can they be heated but also due to their size, the maintenance isn't too much either.
Small backyard pool ideas
Just because you have a small backyard, it doesn't mean that you have to miss out on diving into your own swimming pool. This small pool design feels like you're staying at your own private villa – I love it!
Pool decking ideas
A timber deck surrounding a pool gives it a rustic or beachy vibe when using a natural or ash timber and there's been a definite shift away from tiles to timber decking in recent years. If you love this, then take a look at these other pool decking ideas.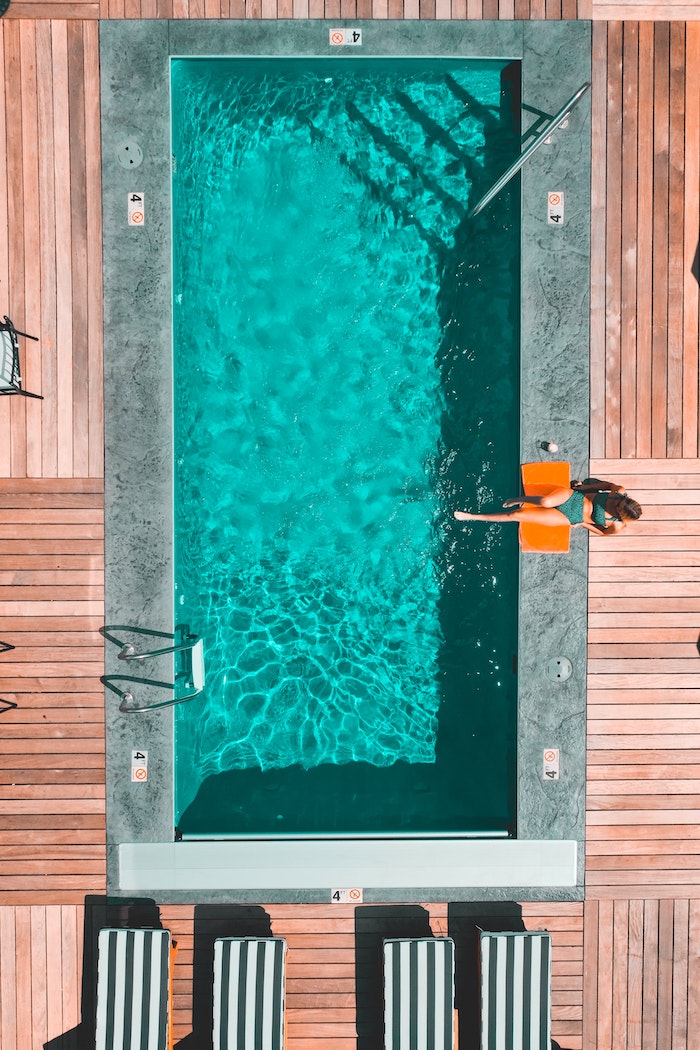 Pool tiling ideas
From terracotta to stone, the options are endless when it comes to tiling around your pool. For a stylish look, make sure it's a tile that flows into multiple areas.
Tip 3: Maintenance
Above ground and inground pools usually require the same level of effort, and the same approach to maintenance tasks, so costs can be quite comparable.
It comes down to the surface material of your pool (i.e. vinyl, fibreglass, etc.), whether it's salt or chlorine, and your maintenance routine. If you consider the fact that an inground pool is a permanent fixture on your property, it could be more expensive in the long term to resolve issues if they occur.
There a number of basic pool maintenance tips you should know and budget for; Airtasker has a number of pool professionals available to help.
Pool landscaping ideas
Plants and landscaping around edges look great but might require some extra attention and care. Go with plants and grass that are resistant to saltwater, otherwise, you can hose poolside plants off with fresh water after splashing around in the pool.
Pool fencing ideas
If you want an unobstructed view, you can't do better than glass just be prepared to clean it.
Tubular metal pool fencing has been around forever and because it's the practical / cheaper option, it can be painted to suit any design. In saying this, there are some great modern variations which are coming into the market though as you can see below.
Garden shed ideas
Your backyard needs just as much love as the inside of your home, so it's important to look after it with regular maintenance. With most backyards, you'll need a lawnmower, hedge trimmer and shovel at the very least which means you'll need a garden shed to store all of your equipment.
Sheds can come in all shapes and sizes, but to make it fit in with your backyard there plenty of different garden shed ideas to look at, starting with the ideas below.
Barn style shed
Bigger the garden, the bigger the garden shed you will need to store the equipment. A barn-style shed looks great on bigger properties.
For this type of shed, you'll need a helping hand with your garden shed installation and painting.
Shed organisation
It's not exactly the external of a shed, but this nifty design using chalkboard paint is one of the best garden shed ideas that I've seen.
Small shed
Only need to hang a few smaller items? Then you can get away with a cupboard shed which can go down the side of the house.
Metal shed
If you head to your local hardware shop to buy a shed, chances are that you'll end up with one of these metal ones, which look simple enough to put together but from personal experience, hire a professional! You'll thank me later 🙂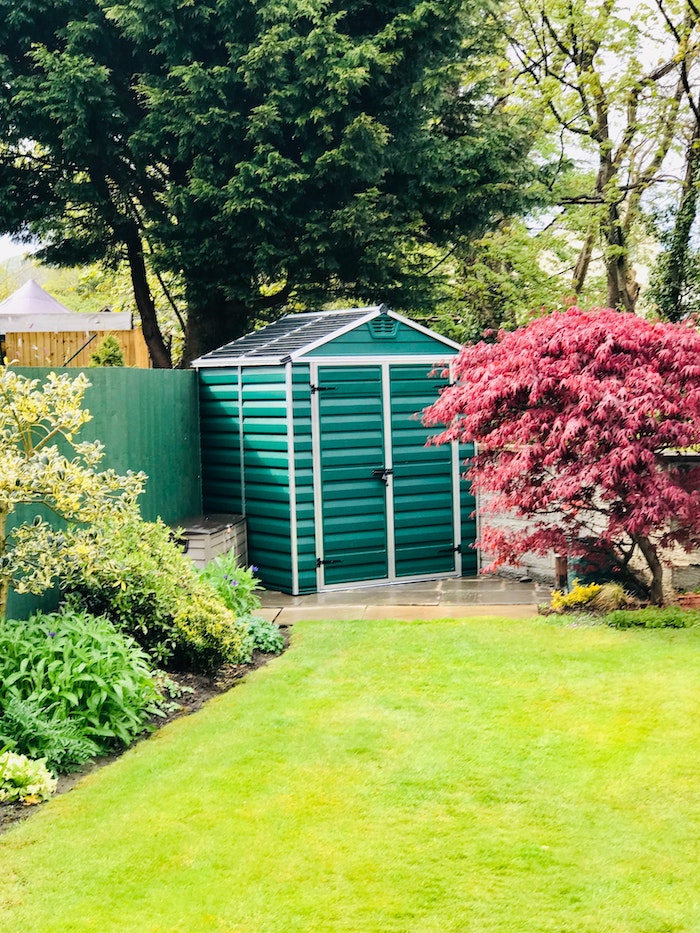 Clever gardening hacks
If dirt under your nails isn't something you particularly enjoy, here are some great home gardening hacks to help make your weekend gardening a little bit easier.
Vertical garden
For a quick and easy vertical garden without the hard work of building a custom vertical planter, get a cheap shoe organiser from your neighbourhood shop.
Keep it fresh
Make sure your plants look fantastic all year round by planting flowers in their original pots. This means that you can easily move them around without digging so that you can colour coordinate for a season or replace if a plant doesn't flourish.
Recycling hack
For an easy watering can, use a milk bottle by poking holes in the lid and fill it up with water. Or you could also use a milk bottle as a handheld shovel for dirt or spreading fertiliser.
Natural fertiliser
This is probably the easiest hack ever but simply pour the water, which is left behind when you cook rice, all over your garden to provide a great source of nutrients to your plants.
DIY irrigation
It's not as hard as you think it is to make your own irrigation system, all you need is a few water bottles dug next to a plant which you've cut holes into, and fill with water when required.
Outdoor furniture ideas
Spoiling yourself with some new outdoor furniture? There's so much choice including size, materials, heights and functionality. So let's take a look at some different types of dining settings.
Bar outdoor furniture
Outdoor bar sets are great for balcony apartments where you want to take in the amazing view. It's also perfect for anyone with a pool.
The only two things to consider with a higher table is that you're limited to entertaining smaller groups because you won't be able to add multiple tables together for bigger get together's, and it also doesn't really work for families with younger kids.
Lounge sets vs. dining sets
Are you an informal or formal host? Will you eat inside or have a full sit down dinner outside? These are some of the questions to ask yourself because whilst it's nice to have an outdoor dining set, you might be able to get a lounge set which is better suited for multi-purpose use.
With a lounge set, you can use it when reading the Sunday paper with a cuppa or for informal pre-dinner drinks during a dinner party.
These sets will normally be delivered as flatpacks, but you can help the time fly by with some furniture assembly help.
Outdoor daybeds
Daybeds are great for limited space within pool areas or a chill-out zone in smaller backyards. There are a few different types that you can get depending on your styling e.g. cabana style, pod sofas or canopy daybeds.
Coordinated furniture sets
If you have a large backyard with various areas to furnish, it's really important that your garden flows and by getting a matching outdoor garden set, you can achieve this very easily.
What about the material?
By now you have a pretty good idea about what type of furniture is going to work for you, but what about the style and material. Here's some inspiration:
Wicker
Timber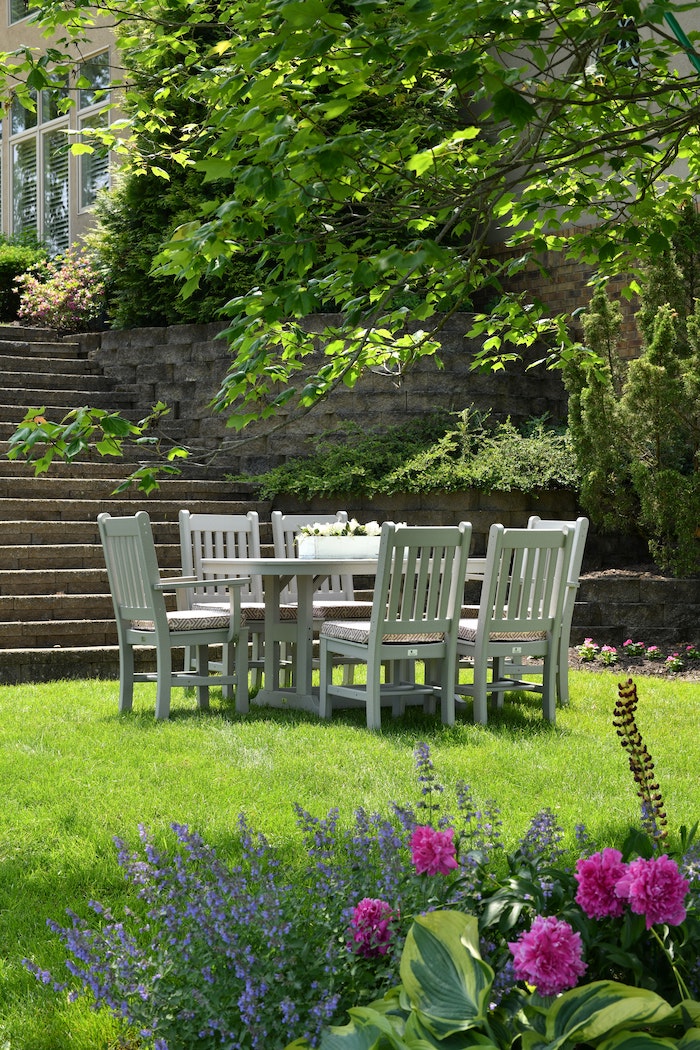 Wrought iron
Stainless steel
Can you DIY?
Absolutely! There's lots of outdoor furniture inspo around and it's amazing what you can do with a few pallets and a sewing machine. But to get some help to make it become a reality, get a handyman who's done it before to help you out.
Now it's time to invite friends and family over to enjoy your beautiful garden. Get some outdoor entertaining ideas about lighting, styling and more!
Deck and pergola ideas
Small backyard pergola
If you don't have a lot of space, go all out with a stunning pergola set up like the one below which has been decked out with festoon lights, an outdoor rug and comfy furniture.
Modern pergola
Pergola design hasn't really changed that much over time, but there are some beautiful creations incorporating a variety of materials.  This could be an up-and-coming trend as we see more cohesive indoor/outdoor living areas.
Rustic pergola
Rustic and recycled is the new boho and this pergola captures the look perfectly. Here's how to build your own pergola, if you want to perfect DIY activity.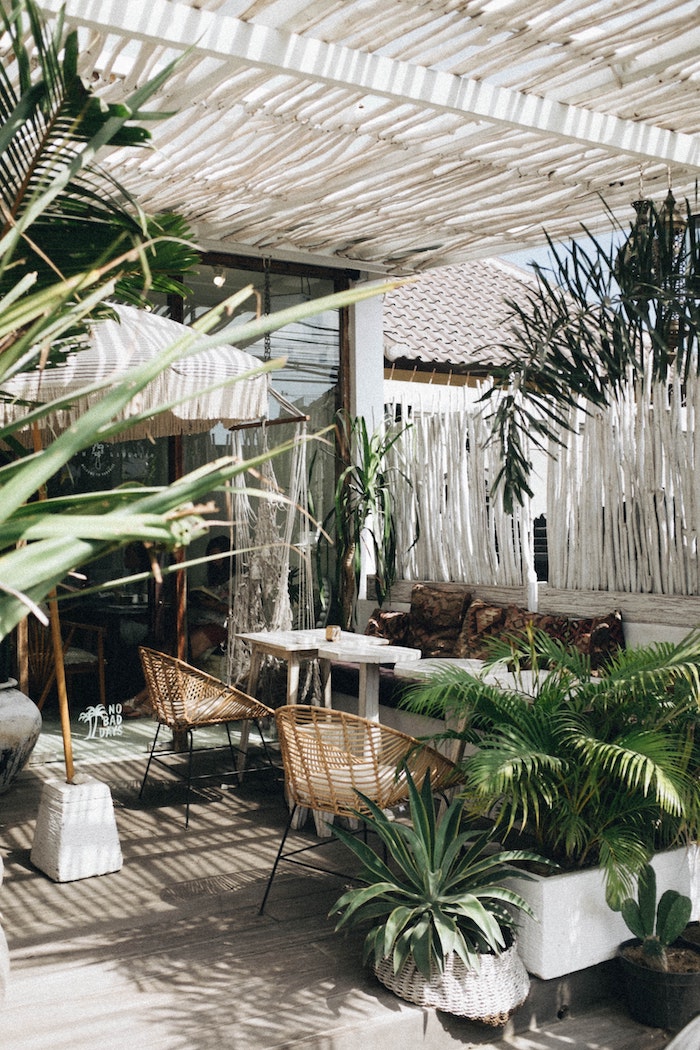 Minimalist decking
You can't go natural timber decking if you want a classic design in your outdoor space. It's a great option if you're thinking of resale value too!
If you're looking to install your own decking, here's a very helpful guide which takes you through how to DIY and build your own deck.
White deck
Instead of natural timber, why not use a colour like white for a refreshing backyard outlook.
Kids backyard ideas
Growing up with a spacious backyard to run around in is a glorious memory for many of us. If you had a sandpit, cubby house or trampoline, all of your friends were probably in your backyard.
Thanks to the internet, technology and the DIY/ upcycling trends, the ultimate 'outdoor playground at home' game has stepped up a level. Here are some inspirational backyard ideas that kids of all ages will love; young and old (and maybe even us grown-ups).
Outdoor blackboard
Do your children love to paint, draw, use chalk and crayons? Moving the art station outside will encourage them to play outdoors and help keep the mess under control. You can mount an easel to your fence, or build something standalone.
Making an outdoor easel is easy and cheap; use a sheet of Perspex (a.k.a. acrylic) for painting and crayons, or a wooden board covered in chalkboard paint for chalk drawing.  You can even buy ready-made, mountable chalkboards if DIY is not your thing.
Mud kitchens
Mud pies… YUM!  Many of us used to use sand buckets and ice cream containers for our mud pie-making extravaganzas, but modern parents have caught on to some great up-cycling trends to make the 'mud kitchen' a more serious business these days.
Upcycle an old sink and some wooden pallets to build a mud pie kitchen. Accessorise with a few pots and pans from the camping basket and the kids are in business!
Stacked bricks with boards or wooden sleepers are a great way to DIY a kitchen bench and then mount some shelves with hanging hooks for utensils.
Cubby houses
Kids can spend hours in cubby houses making up all sorts of games and really letting their imaginations run wild. Here's a lovely recycled cubby house which uses fruit crates.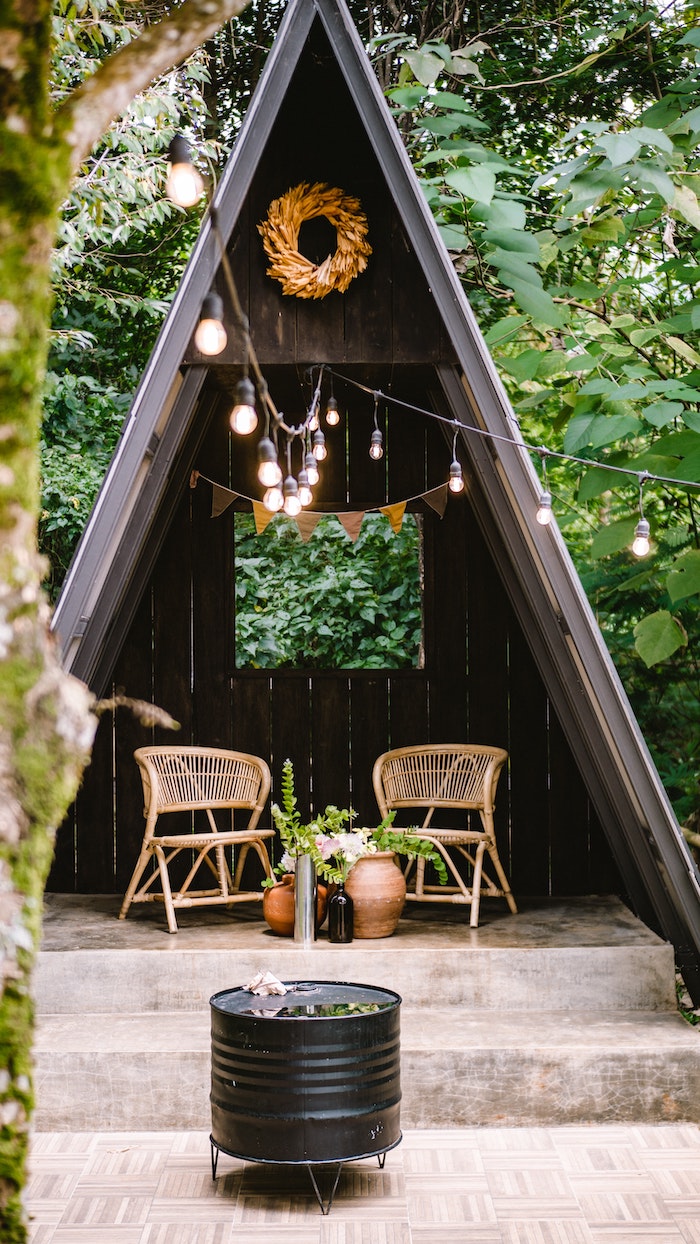 Climbing walls
Do you have an active child and need to constantly tire them out with activities? A climbing wall in the backyard is something that is super fun and can become more challenging over time.
Outdoor cinema
It's simple to host an outdoor movie night with the family. You can make it as simple as hanging up a sheet, borrowing a mini projector and speaker combo, and hooking it up to your laptop; or you can go all out and invest in your own equipment and a proper projector screen.  Then you just need to make some popcorn, throw a picnic blanket down and scatter a few cushions on the ground and enjoy your outdoor cinema experience.
Swings
Bring the park to your home by installing a swing set in your backyard. If you've got a large shady tree with some sturdy branches, this will make for a perfect (and reasonably quick) DIY job. Use a rope or chain, with a smooth plank of wood (sand and paint it to avoid splinters), or try some of the creative swing ideas below.
This pallet swing looks amazing and something tells me that the adults will enjoy it more than the kids. Seriously, what can't you do with a pallet these days?
If you're up for a bit of creative DIY, these painted tyres look very eye-catching.
Don't have a ladder? Get a handyman to safely install your swing for you.
Plant teepee
This idea is so much fun – give the kids some shade in their outdoor playground by creating a green teepee! Climbing beans are awesome for teepees because they grow very quickly, and when they begin to produce a crop they'll double as a 'help yourself' snack for the kids while they're playing inside. This DIY idea is affordable and relatively beginner friendly, involving a few poles, wire or twine, seeds, and elbow grease.
Sandpits
Sandpits are a very iconic item in any family backyard. I remember the blue clam one that I had growing up but this one made from a recycled apple crate is more eco-friendly.
Games
Games are great for kids parties and even every day. Connect four can be something that anyone at any age can play.
Hanging chairs
These look super stylish in your kid's bedroom or in the backyard where you can suspend them from the awnings.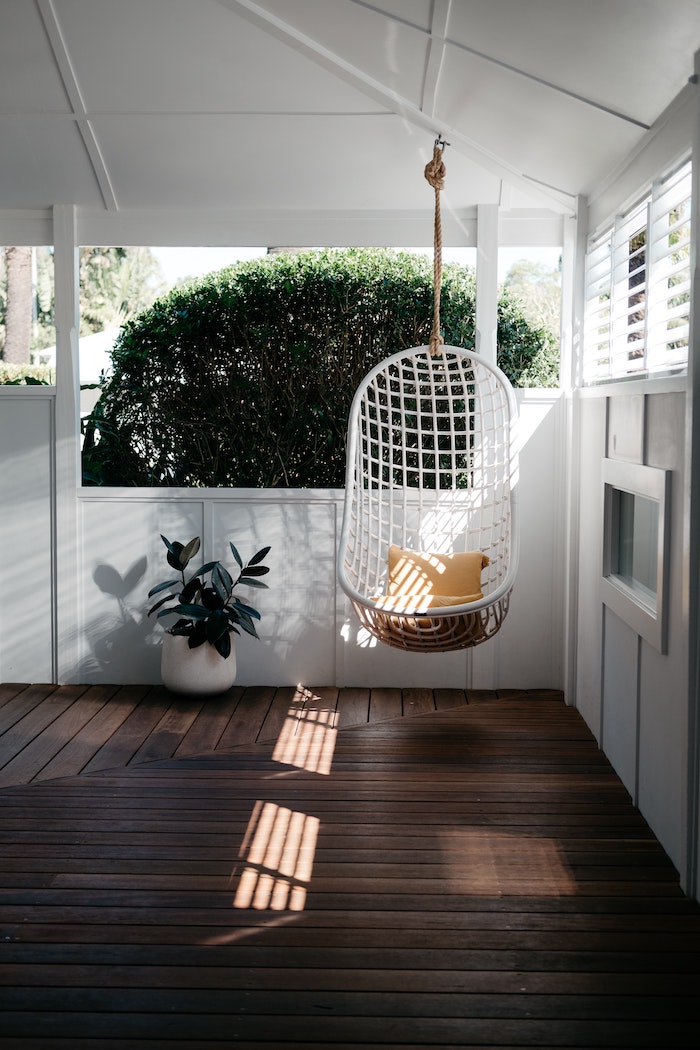 I hope you're able to use some of these backyard ideas in your home and if you'd like me to add any more, please let me know in the comments below.