Enhance your enjoyment of your pool with a gorgeous deck to make lounging poolside look and feel luxurious. But are you restricted to timber or are there more options… Spoiler alert – there are a lot more options to choose from, which is why we put these 35 pool deck ideas together to help make the best choice for your yard.
Decking is a functional landscaping element that adds plenty of usable space to the area surrounding your pool, creating a frame around it and a safe path around the circumference as well as assisting with drainage. But it also lets you create zoned areas for relaxing and entertaining around the pool area. You can plan your deck to accommodate furniture for relaxing and dining, adding overhead structures for shelter like pergolas and cabanas or even just umbrellas.
With the right choice of décor your pool deck can become the perfect place to chill—just add plenty of natural and organic fibres in your soft furnishings, a peaceful colour scheme, and amp up the atmosphere with things like water features, bistro lights and patio umbrellas. So let's make a splash with these pool deck ideas.
1. Rise up
One of the best things about pool decks is they can make your less-costly above-ground pool look like an inground one, by 'sinking' the pool into a level platform extending from the house. With the right choice of fencing, your pool area can become a much-loved, private outdoor relaxing space. Give it spa vibes with all the creature comforts you could need, and you'll never know you once hated above-ground pools.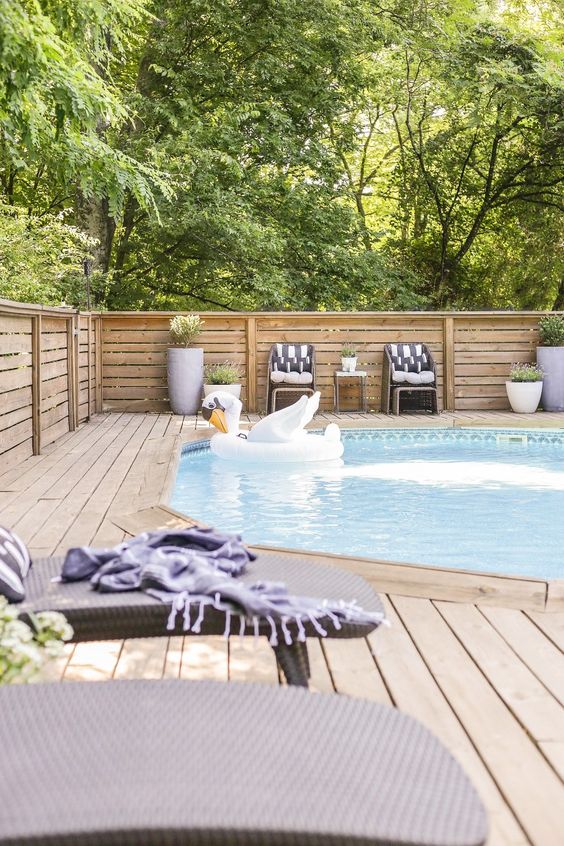 2. Driftwood dreams
To get the perfect sun-bleached, weathered timber look–like the pool decking at Byron Bay's The Atlantic guesthouse, below–one trick is to wash down regular Merbau decking with chlorine, which speeds up the fading. (Merbau is a popular, durable brown-toned decking board that's ideal for outdoor use.) Wrap the decking all around the pool and continue up for fencing to create a really seamless look.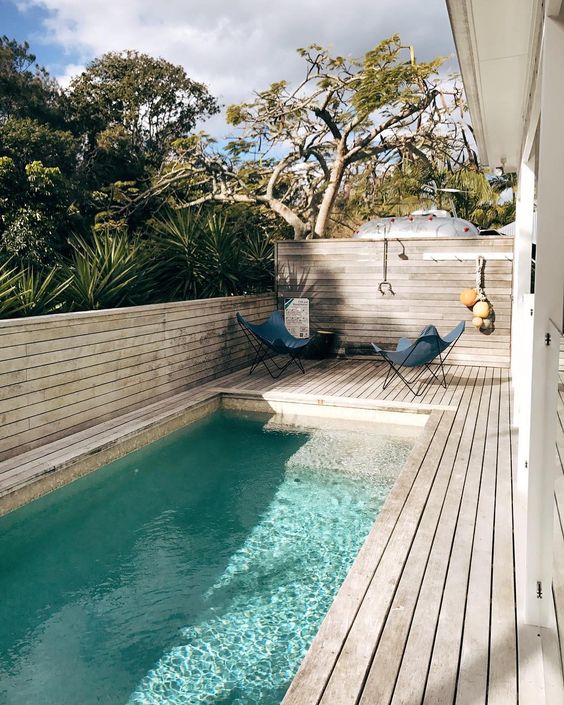 3. Tiny pool
When you're working with a tiny space, maximise it with glass fencing. The pool area becomes a tranquil space to just view from the house when you add leafy plant life, too. (For expert help with glass fencing from somewhere near you, search here.)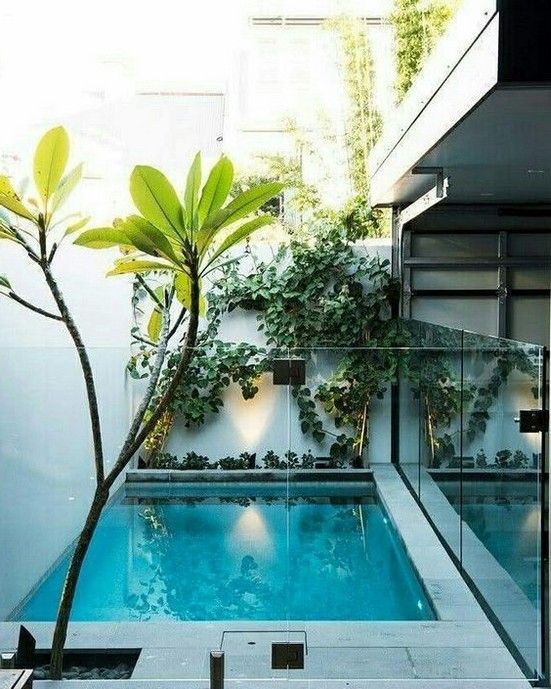 4. Pave the way
While timber is always gorgeous, so are natural stone pavers around the pool. Pavers keep things lovely and cool underfoot and deliver a classic, streamlined, minimalist aesthetic, as you can see in the contemporary Californian home below. The use of pavers works especially well here because they blend with the home's exterior walls and create continuity between the indoor and outdoor entertaining spaces.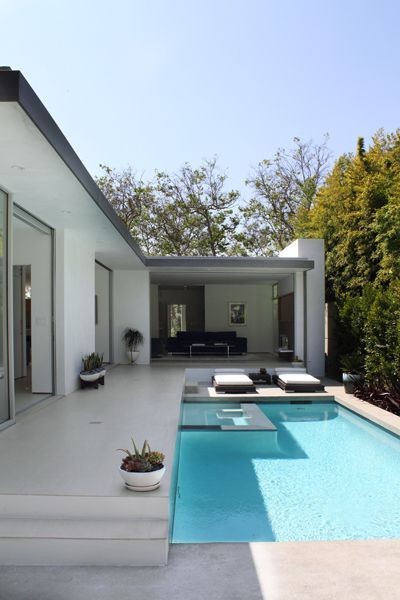 For more inspo on pavers, you might also like to view our article on paving ideas.
5. Round above ground
Rather than being an eyesore, above-ground pools can actually be very attractive and provide a nice sculptural element for your backyard. This plunge pool was constructed from a concrete water tank, with the material contrasting beautifully with the timber fencing and surround.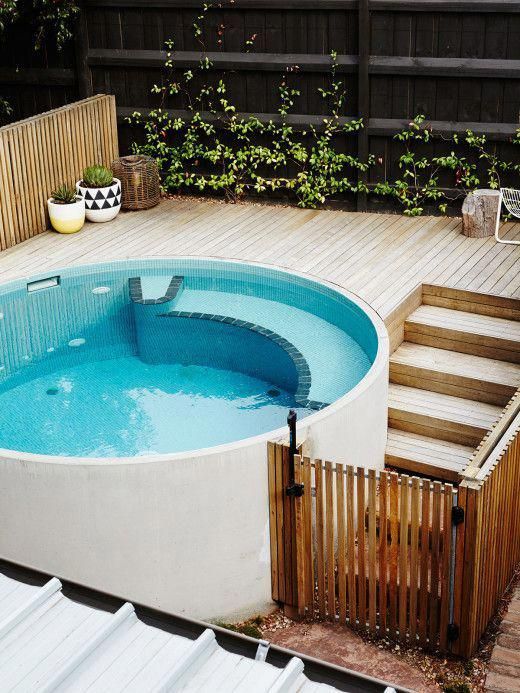 If you love this pool deck and fence combo, then find help with pool fence installation.
6. Tropical flair
Add a series of lush plants to your pool deck to create that resort oasis aesthetic. Banana leaf plants are guaranteed to evoke tropical vibes, and housing them in massive statement containers always looks stylish. I love the chill atmosphere of this pool deck setup.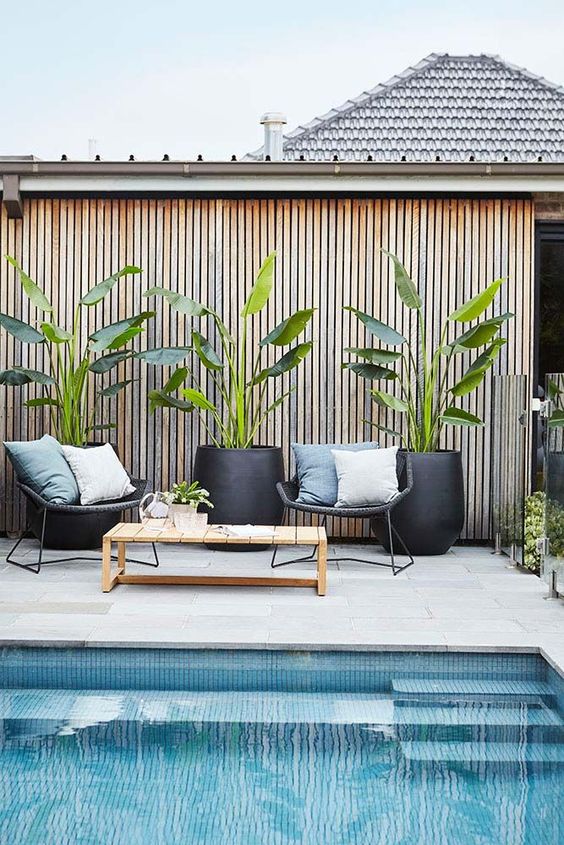 7. White-hot
Durable and cost-effective, concrete remains a popular choice of pool decking material. When painted dazzling white it evokes the Greek Islands – just build in a waterfall at one end, plant scented foliage plants and add a row of lanterns for the atmosphere.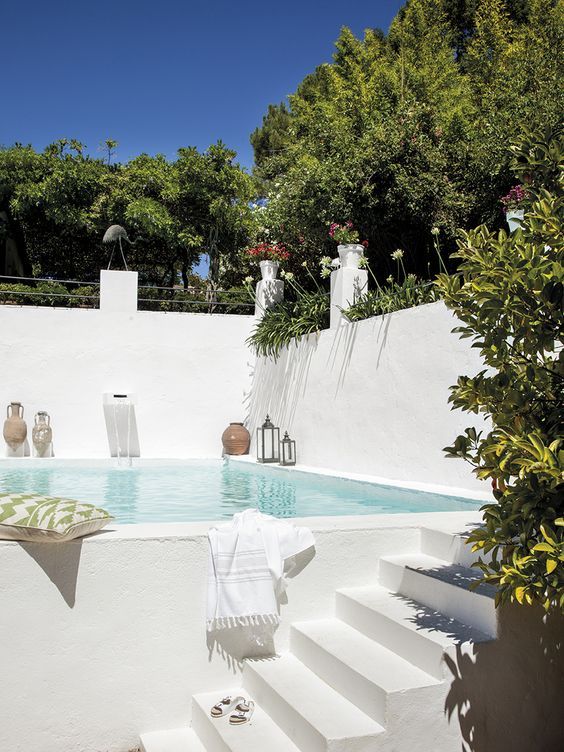 8. Take the plunge
OK, so you may not have the expansive views enjoyed at this African game reserve lodge, but I think this is a gorgeous example of a little plunge pool so neatly surrounded by its timber decking, and providing just enough space to install some sun loungers. Even if you lack a stunning view, this shows you how little space you really need to set up a luxurious-looking oasis in your backyard. (Looking for an expert in plunge pool construction? Start your search here.)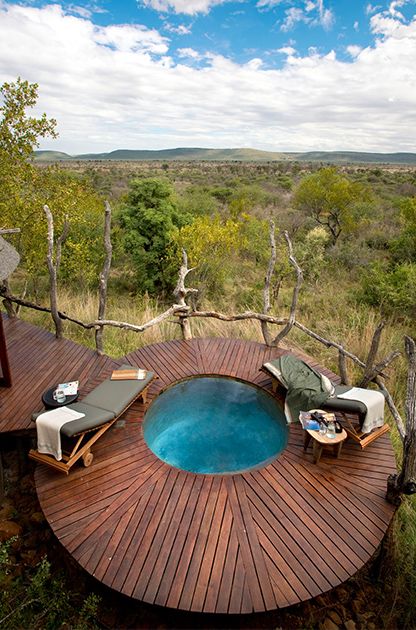 9. Backyard infinity pool
With an infinity plunge pool overlooking nature out on the back verandah, timber would be the obvious choice of decking material to blend in and to work those rainforest eco-lodge vibes.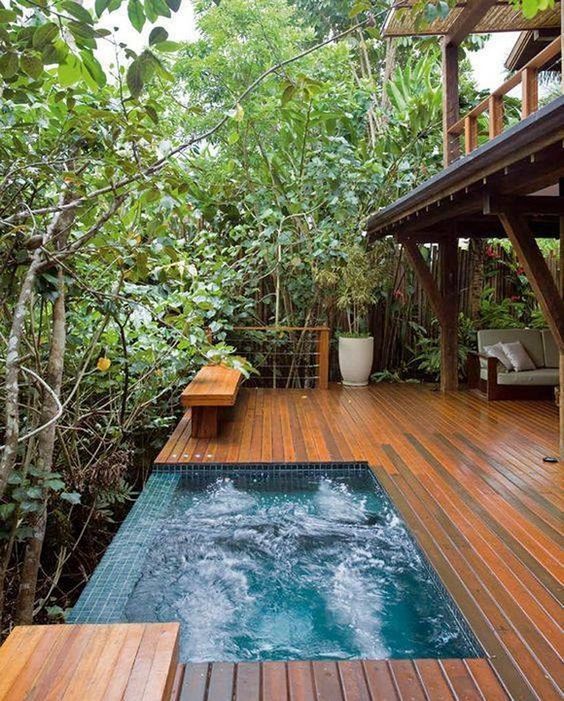 10. Corner cabana
Make the most of a boring pool corner by installing a small wooden deck, adding a roof frame and some trellises to create a little cabana. Not only will it provide shade and shelter and help protect your outdoor furniture and décor from the elements, but it will add all the summery resort vibes to your pool area. And training a beautiful bougainvillea up one side adds so much charm.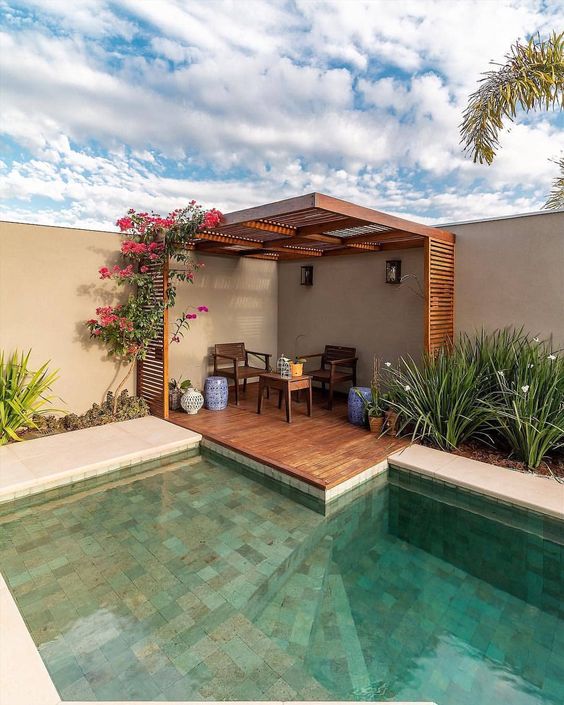 11. Timber touches
Even if you have a concrete pool, adding touches of timber decking (such as at the ends of this one) will give it luxe feels while the contrast in materials also adds more visual interest. Make sure all your timber decking is comfortable underfoot by finding someone to take care of your deck sanding.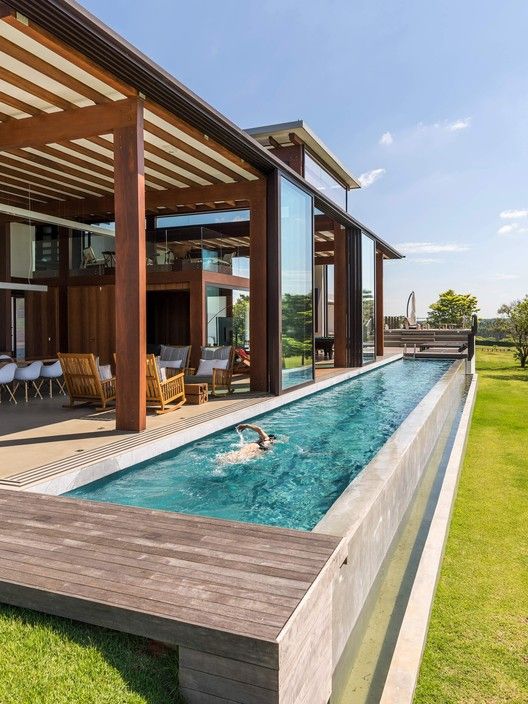 12. Small but stunning
How cute is this small backyard pool setup? You may not be able to swim laps in this one but how relaxing would it be to dangle your legs in here on a hot summer's arvo. I love the natural timber decking adjoining the paved/concreted pool area—a lovely organic touch that blends with your backyard greenery.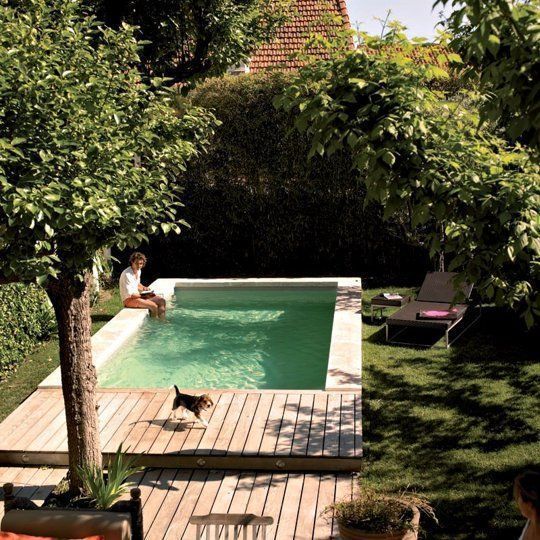 13. Pebble trim
Define your pool with pebbles or rocks, creating a mosaic circumference that adds a little interest to an otherwise plain area–pebbles always bring a little seaside flavour to any pool space.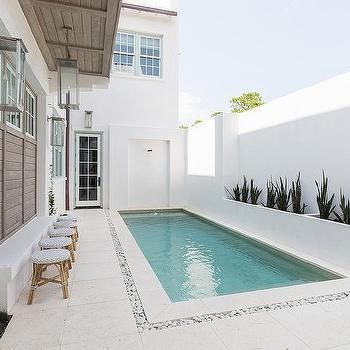 14. Desert oasis
The owners of this Palm Springs-inspired home have created a gorgeous, bright outdoor entertaining space to complement their white weatherboard, timber and limestone house. A space with heaps of character and attention to detail (such as that Moroccan-style tiling of the plunge pool), the backyard is also highly functional with a full outdoor kitchen, an outdoor shower, and a large covered deck area with huge skylights. You really can't go wrong with plenty of natural timber, white, organic decor and smatterings of lush plant life.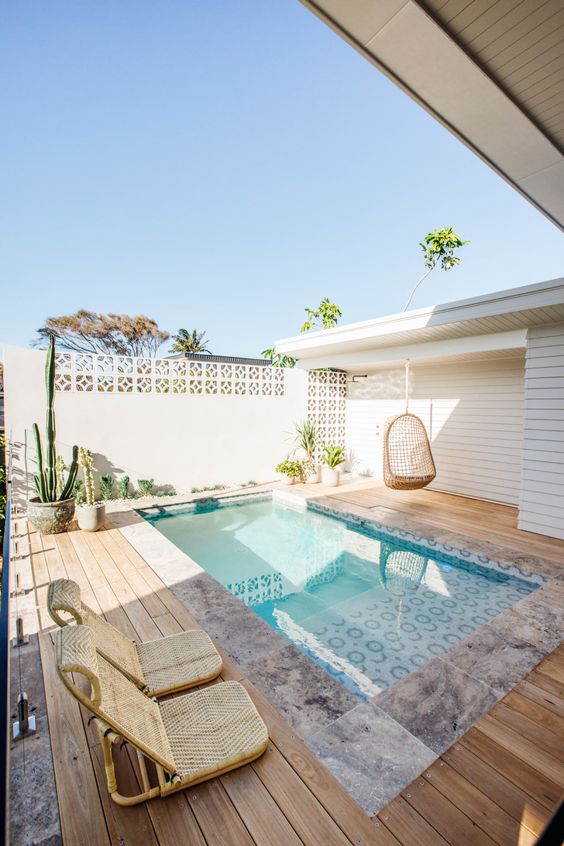 15. Coastal chic
This is the home of nutritionist influencer Ellie Bullen, and it's certainly insta-worthy! Rocking a strong Hamptons vibe, the pale-coloured timber decking is modern, clean and endlessly stylish. Glass pool fencing keeps things airy and minimalist and allows views of the pool area from the house.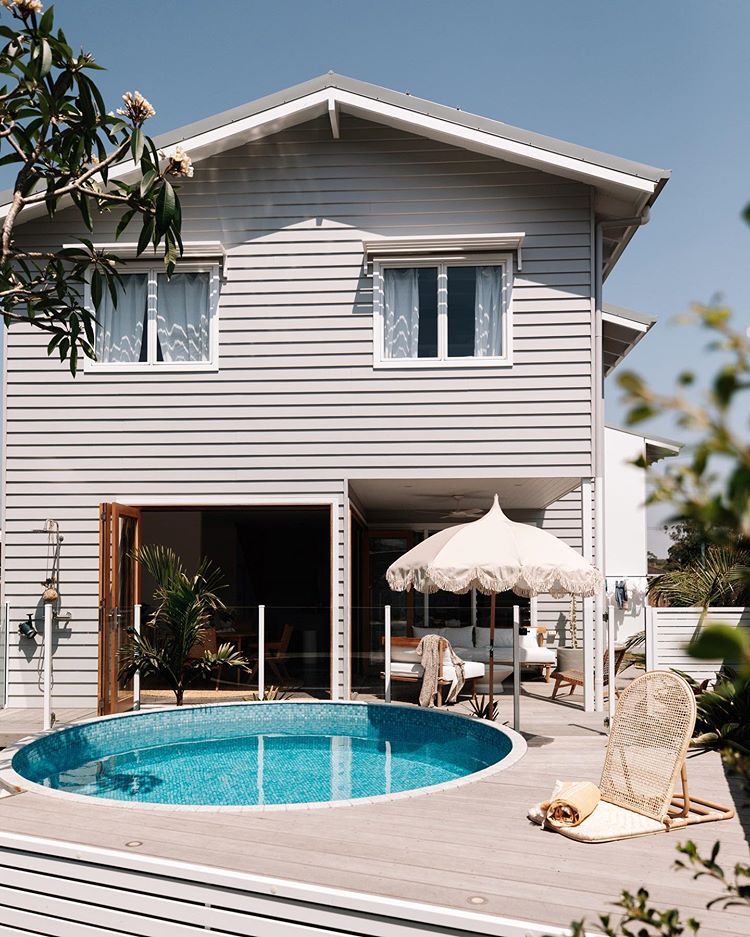 16. Add a glass balustrade
Enable a seamless transition to your pool area by adding a glass balustrade to your pool fencing. Frameless balustrades look chic and close off your wet zone while maximising views, allowing you to enjoy viewing the activity in the pool from other parts of the home or from the alfresco dining area.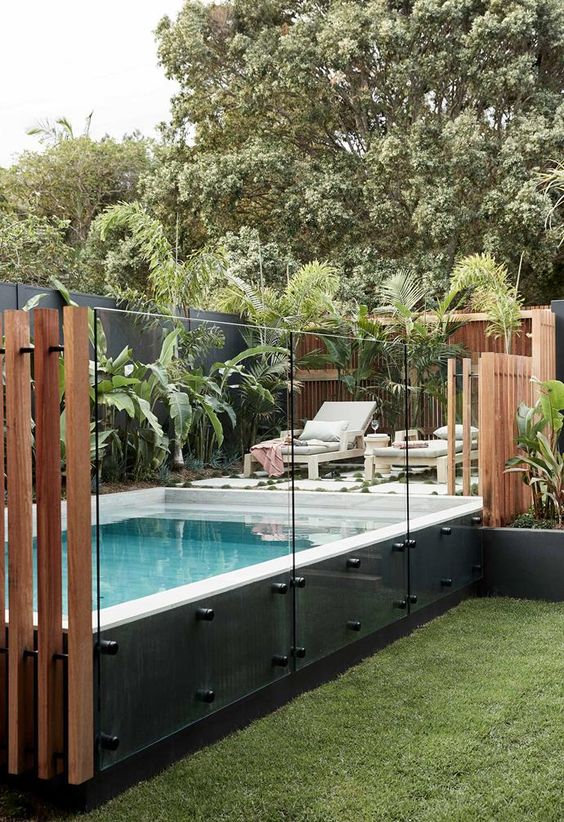 17. Pattern and texture
Mixing materials in your pool deck area is not only functional (as different zones have different uses and needs) but it's aesthetically pleasing too. The interplay of textures, patterns and colours create visual interest while the overall look remains clean and simple. Below, a Balinese luxury rental with generous, luxe materials—I love the mix of timber, metal and concrete here.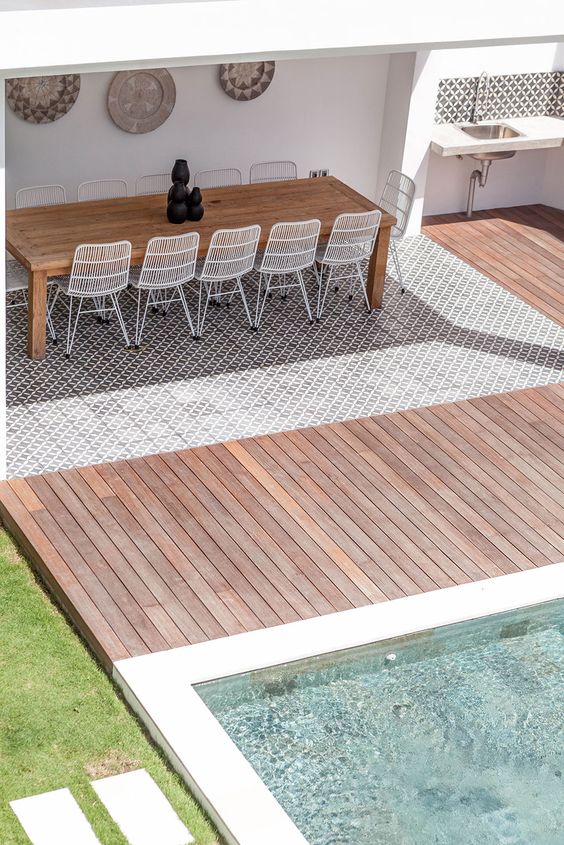 18. Whitewashed
Whitewashed timber decking makes a bold statement and brings plenty of coastal vibes to your pool area. In this case, the designers went for a Mediterranean coastal look—think blinding-white Santorini island style. Along with muted, neutral colours, natural timber and organic décor—it all adds up to one simple yet stunning space.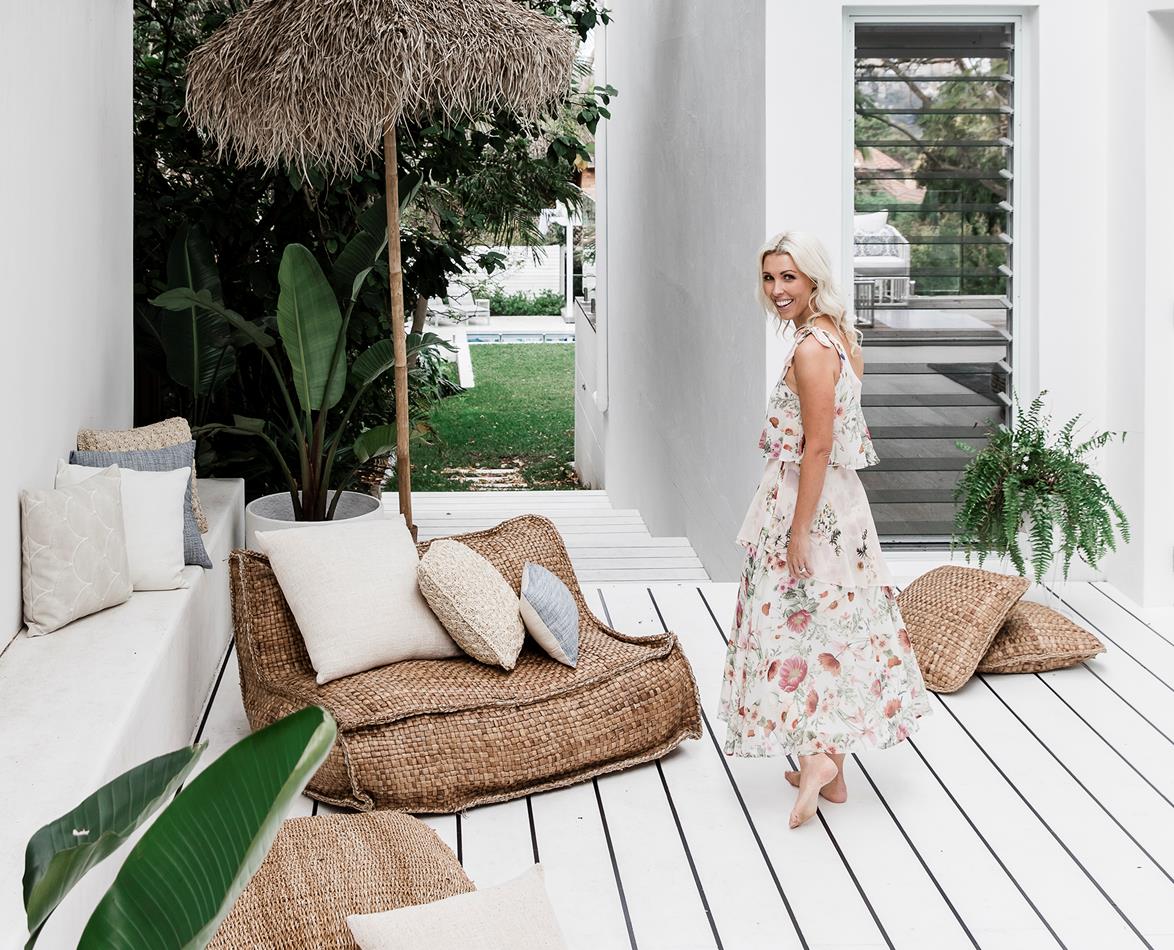 19. Decking with floor pouffes
Choose really comfy and cosy outdoor seating to really make the most of your pool deck area. There are weatherproof and durable options galore, but floor pillows always look inviting arranged around a gorgeous rug. Go for patterned or leather pouffes for that chic Moroccan courtyard aesthetic.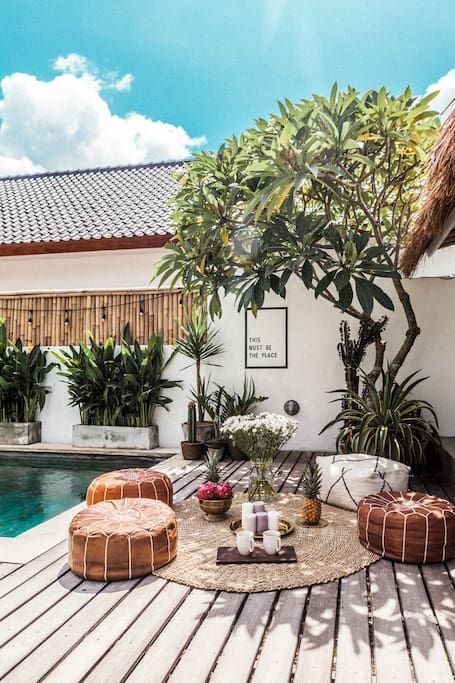 20. Soak cool
Aboveground, freestanding pools have really come a long way—no longer resembling plastic kiddie paddling pools, they come in so many materials and styles.This chic, slate grey miniature soaking pool is a good example of the evolution: it's smart (Bluetooth sound system, underwater LED lights, spa functions with massage), stylish (that overflowing rim) and has a built-in bench seating five people.
The circular shape is minimalist and sculptural, and it's made of economical fibreglass plastic, despite appearing as polished concrete, and contrasts wonderfully with timber decking.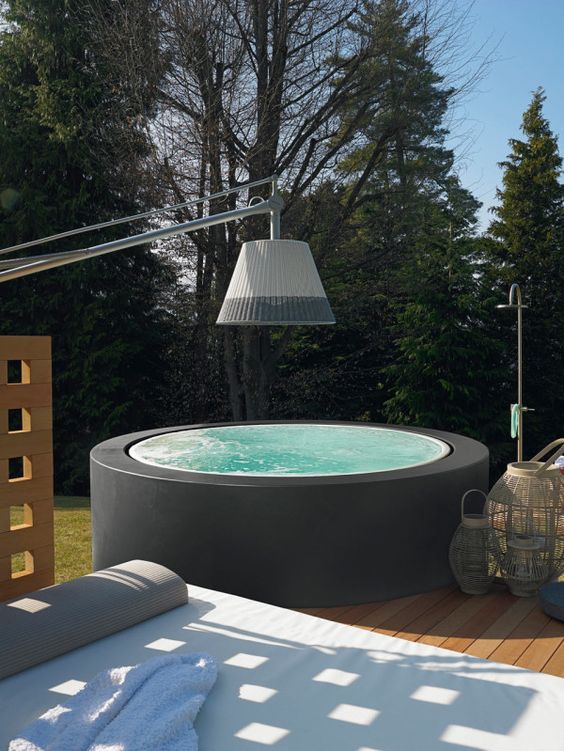 21. Go for lushness
At the other end of the scale from clean minimalism, create a Boho, travellers' paradise aesthetic by choosing natural-hued pool tiles, planting drooping vines, frangipani and other tropical jungle plants, and surrounding your pool with weatherbeaten, raw-looking timber decking.
Sprinkle in some wooden trays, cotton hammocks and large terracotta planters, and you have the perfect pool deck for lazing away a summer's afternoon.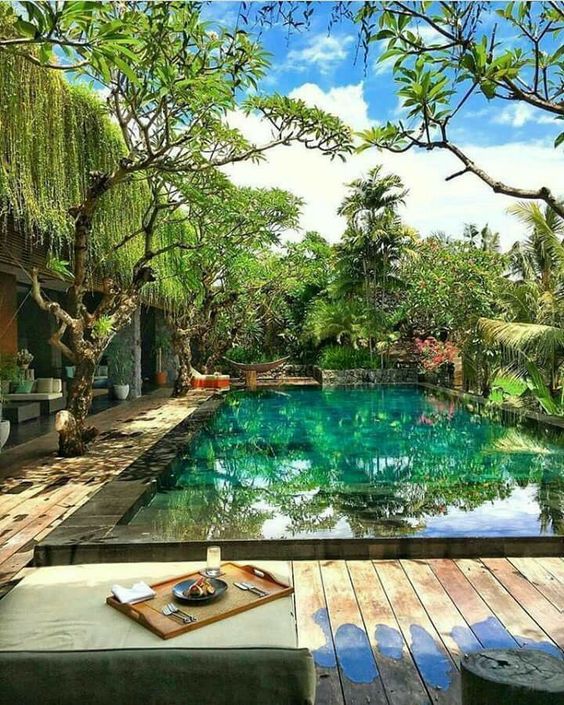 22. Keep it simple
This is a gorgeous design for a plain, rectangular above-ground pool. I love the contrast of the tiny white and grey pool tiling against the dark timber stacked decks and fencing, and the glossy plant edging. Simple and yet luxe.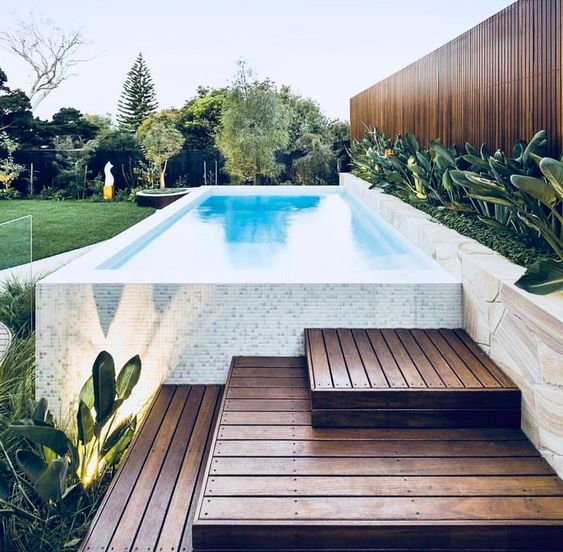 23. Be creative with seating
When you have a narrow pool deck like this, you may want to establish clearly defined zones rather than have it all descend into a free-for-all. Lay out formal seating in a number of configurations for flexibility. You could also build seating directly into the deck to define zones. As always, adding outdoor cushions and throws makes things even cosier.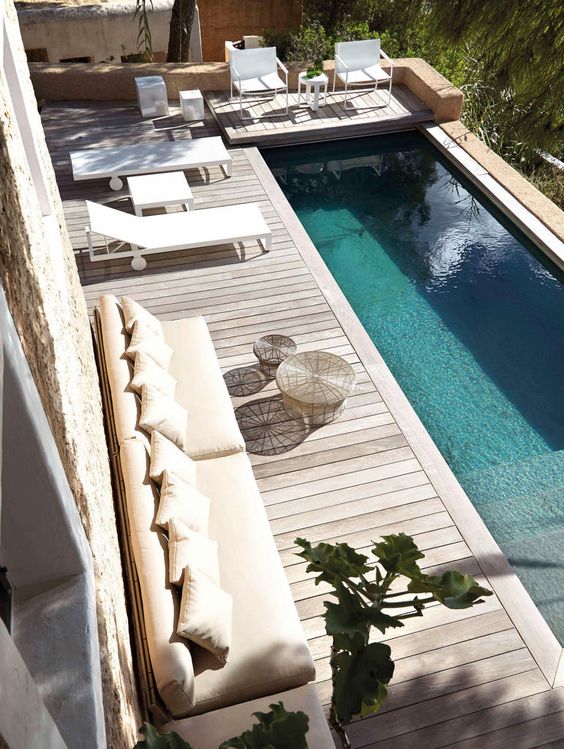 24. Moody and modern
Add sleek soft furnishings for a chic contemporary look. Why not explore darker tones in the timber decking and seating area, for drama and sophistication? The glass-walled pool and black steel awnings here contribute to the streamlined, minimalist look.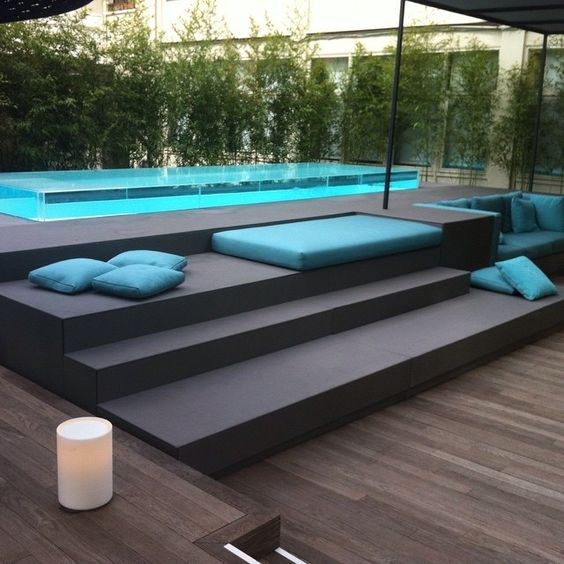 25. Decks are for seating
One great thing about pool decking is that you can creates built-in, designated seating areas for your pool space. You might have timber decking surrounding your pool which incorporates seating ledges, or you might simply have an extended concrete slab like this, where you can just throw down a massive floor cushion next to the pool.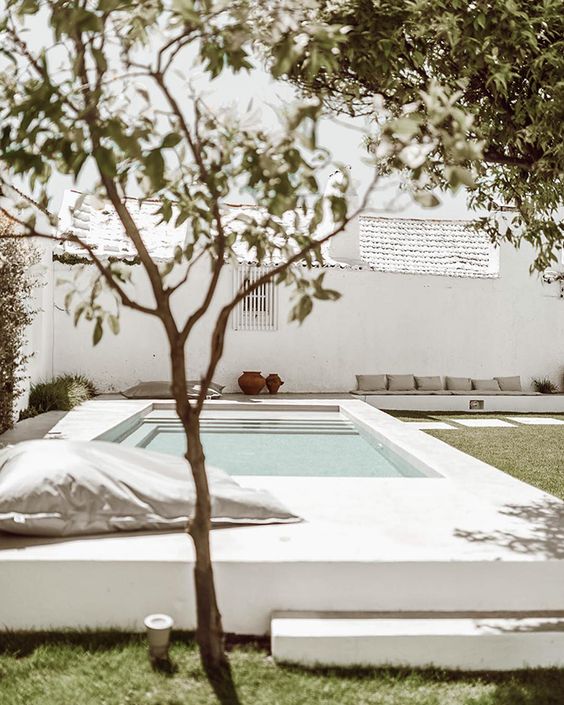 26. Square plunge pool
How about this tranquil little square plunge pool in this north American mid-century modern home? For a streamlined, minimal look like this, go for stone pavers or if you want something a bit different, take a look at these paving ideas.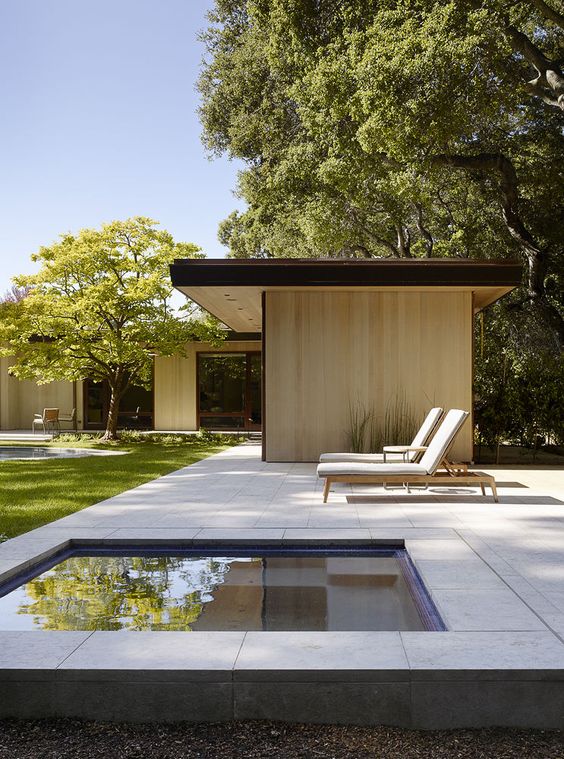 27. Small but sophisticated
If you only have a small yard, break up your deck with levels—and that's easy to do with an above-ground pool that essentially creates levels. Having a multilevel outdoor space makes it seem larger and more interesting, and helps integrate it seamlessly with your home and other elements of your backyard, like a lawn area.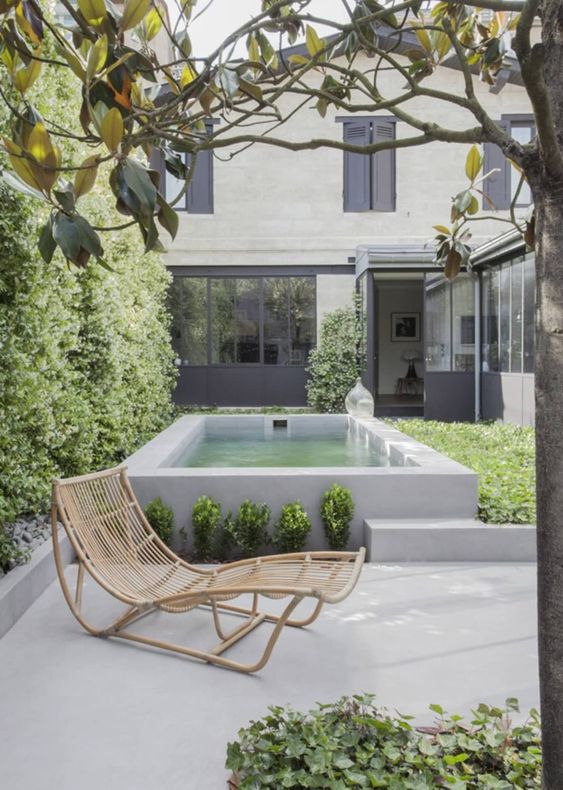 28. Minimalist + contemporary
If you love a modern home, you'll want your backyard space looking equally up to date, so continue the clean lines and minimalist aesthetic of your contemporary interior by incorporating a neat, square, concrete plunge pool. Finish in a dark-toned cement to contrast with the paler pavers.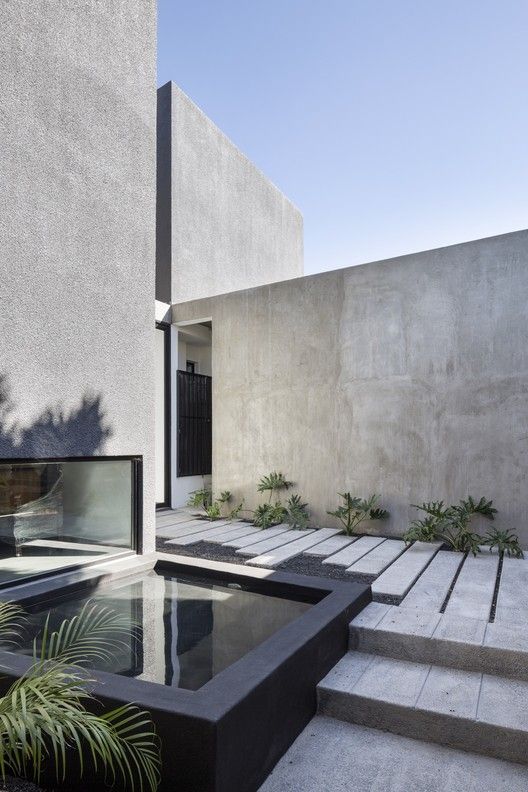 29. Add an outdoor shower
Here's another example of an all-white cement pool deck, given an instant spa makeover with a chrome rainfall outdoor shower with pebble-adorned drain and some oversized tropical plants for contrast. So simple yet so stylish.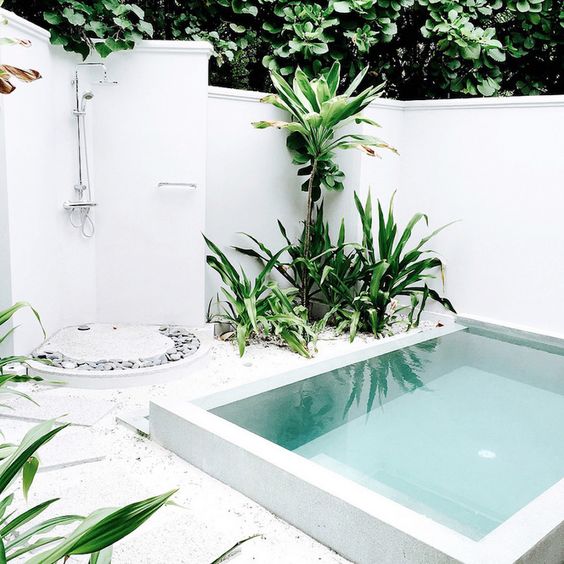 30. Get the beach club look
This is so cute, though I think the pool decking here does need upgrading! Still, the point is that you can very easily create that Hamptons vibe in your own backyard just with the simple addition of some white timber deck chairs, a white or cream beach umbrella, container plants and a scatter of bright, geo-pattered cushions and towels.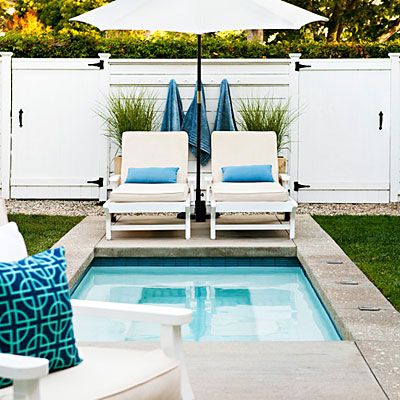 31. Mix your materials
Here's a very simple small rectangular pool that has been elevated to having a chic, architectural look thanks to the blend of textures and materials used: wood veneered concrete wall, a bold planting of succulents and grasses, concrete raised garden beds, ocean-hued pool tiles and, as a focal point, a fountain that helps mask street noise and lights up at night.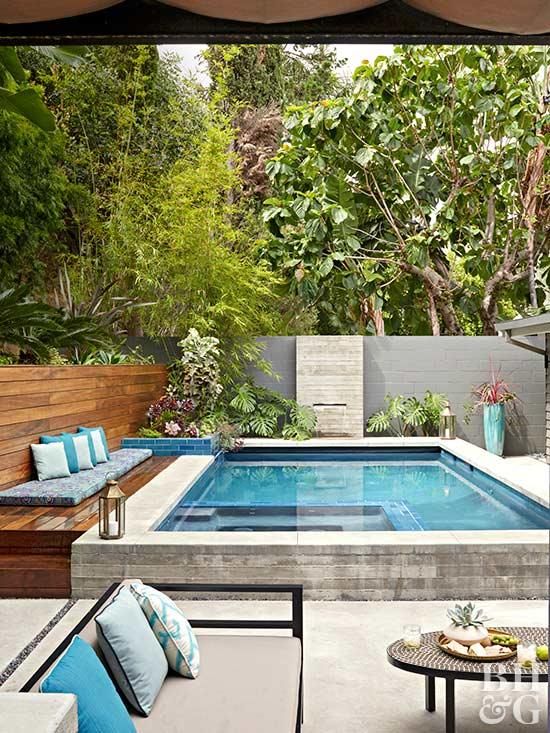 32. Go white + bright
A quick and easy way to add Mediterranean zest to your concrete above-ground pool is to paint everything white and then add colour bursts with vibrant flowering container plants and soft furnishings in blues and neutrals that evoke sea and sand. Decorate with timber, pottery, tiles and stones. Key characteristics of Mediterranean style are freshness, vitality, light, and elegance—a setup like this one ticks all the boxes: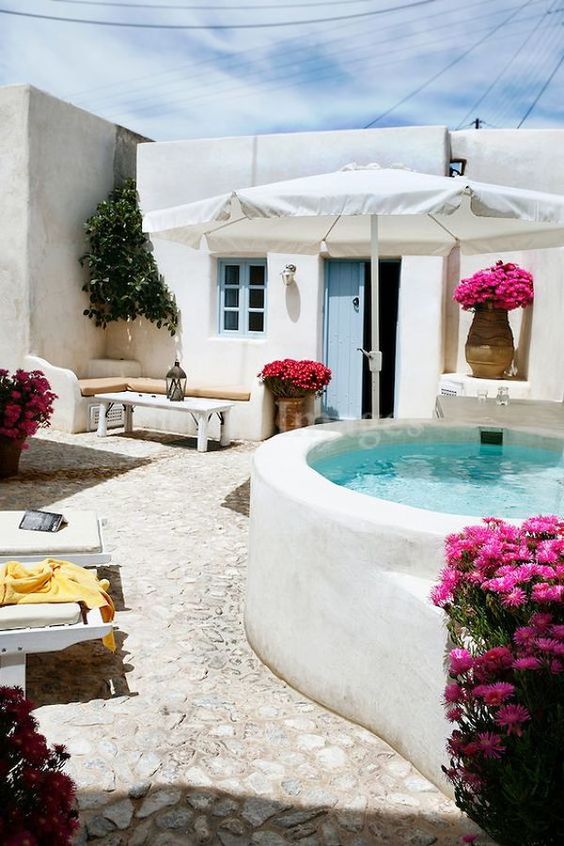 33. Mini waterhole
Here's another circular plunge pool surrounded by wooden decking, again at a luxury African safari lodge. A moonlight dip somewhere like this would be magic. If you copy this rustic look and add a plunge pool with timber and stone, it would be a beautiful feature of your home, not to mention add value to your property.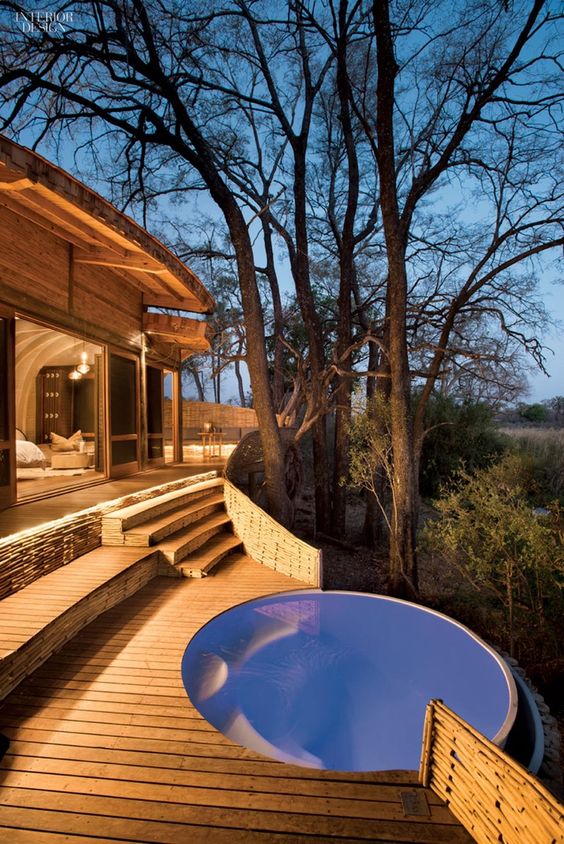 34. The more, the merrier
How about this unusual multi-pool decking design? Although these are backyard ponds rather than swimming pools, it wouldn't be too hard to reimagine them as plunge pools.
Round pools follow a more natural, organic shape than linear rectangles and squares, so they especially suit a rustic, Boho or even a Japanese style garden aesthetic. I love the series of interconnecting circles with the seating on a raised circular decking platform.
To come up with a unique pool deck design like this one, why not collaborate with a pool decking expert who can work out the logistics of something like this for you.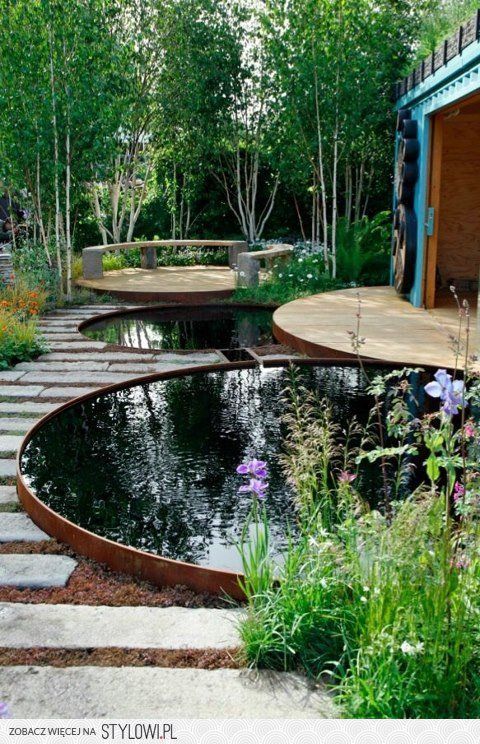 35. Travelling without moving
Finally, let's face it, none of us is getting to Marrakech anytime soon and staying at world-famous resorts like this. But if you can't get to Morocco, let Morocco come to you. All it takes is plenty of teal, marine and navy geo tiling, palms and banana leaf plants, and a chill-out zone of some kind, featuring organic décor in all white or neutrals and aqua. With a backyard set up like this, who wants to go anywhere, anyway?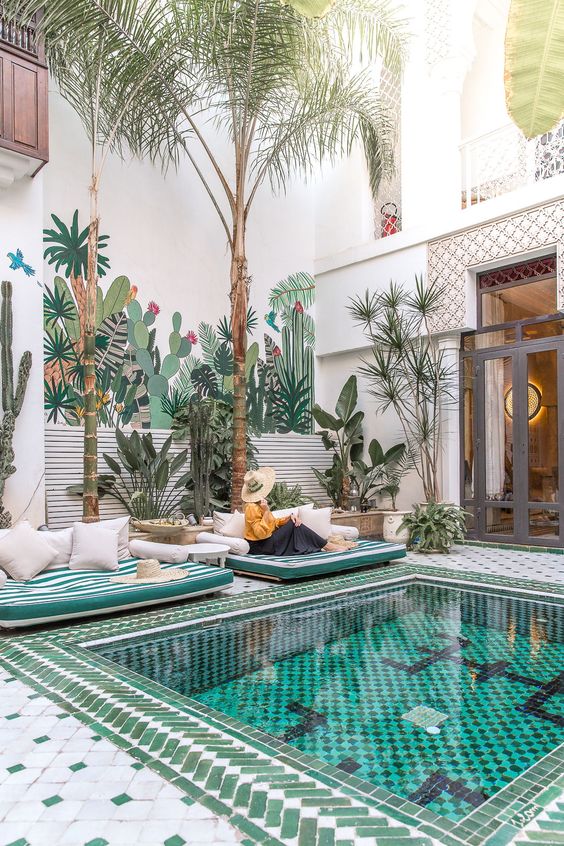 What's the best pool deck material?
Pool deck design options are really wide-ranging, with many patterns and styles possible in a wide range of materials. So how to choose? Your decision will take into account not only your personal aesthetic preference but the cost, the longevity and the safety of your chosen material. You want a sturdy structure that will last, made from a safe, non-slippery material, ideally heat-reflective, and a material that will blend with your other backyard hardscaping materials.
Traditionally, inground pools were constructed with concrete, bricks, tiles or pavers. There are certain advantages to these materials—for example, concrete is a nice smooth surround which goes well with particular design styles, including mid-century modern and contemporary.
Tiles look enticing but are best used in the pool itself as highly glazed ones become very slippery; the least slippery choice for decking is unglazed terracotta. On the other hand, natural stone pavers not only look luxe but are textured for better slip resistance. You can also get interlocking pavers made from concrete which resemble stone or tile and are more cost-effective than flagstones.
Finally, timber decking has always been sought after for pool decking—giving that gorgeous, natural look and feeling beautiful underfoot. Depending on your budget, there are many wood varieties to choose from, from hardwoods to treated pine timber decking to composite decking (a mix of wood and synthetics).
But nobody says you have to stick to just one material and decking that incorporates mixed materials can be visually pleasing, such as mosaics in a paved concrete area or river rocks in grooves alongside another material.
I hope my selection of pool deck ideas has given you some inspo for building a gorgeous pool deck. If it's something you think you might want to DIY, we've got a handy six-step guide on how to build your own DIY deck. Otherwise, your best bet is to find a local expert in pool decking to sort you out. Let me know how you go!