What exactly is an outdoor kitchen? Well, there's no real mystery here! An outdoor kitchen is–as you might suspect–just a dedicated place to cook or prepare a meal outside, rather than doing so cooped up inside the house. Cooking and dining alfresco, aka plein air dining, moves your kitchen functionality to the deck, patio, rooftop or balcony.
An outdoor kitchen is kitted out like a mini-kitchen and typically includes:
Heating elements (stove, cooktop, grill, BBQ, pizza oven)
Fridges (or refrigerated drawers)
Sinks with hot and cold taps, and
Weatherproof counters and benchtops.
The heating element should be high quality, such as a 3-4 burner gas grill. You can then add specialty equipment. For example, a pizza oven or a portable charcoal smoker/grill to allow you to explore new cooking methods and flavours. And ideally, your outdoor kitchen incorporates a bar or full dining set up close by.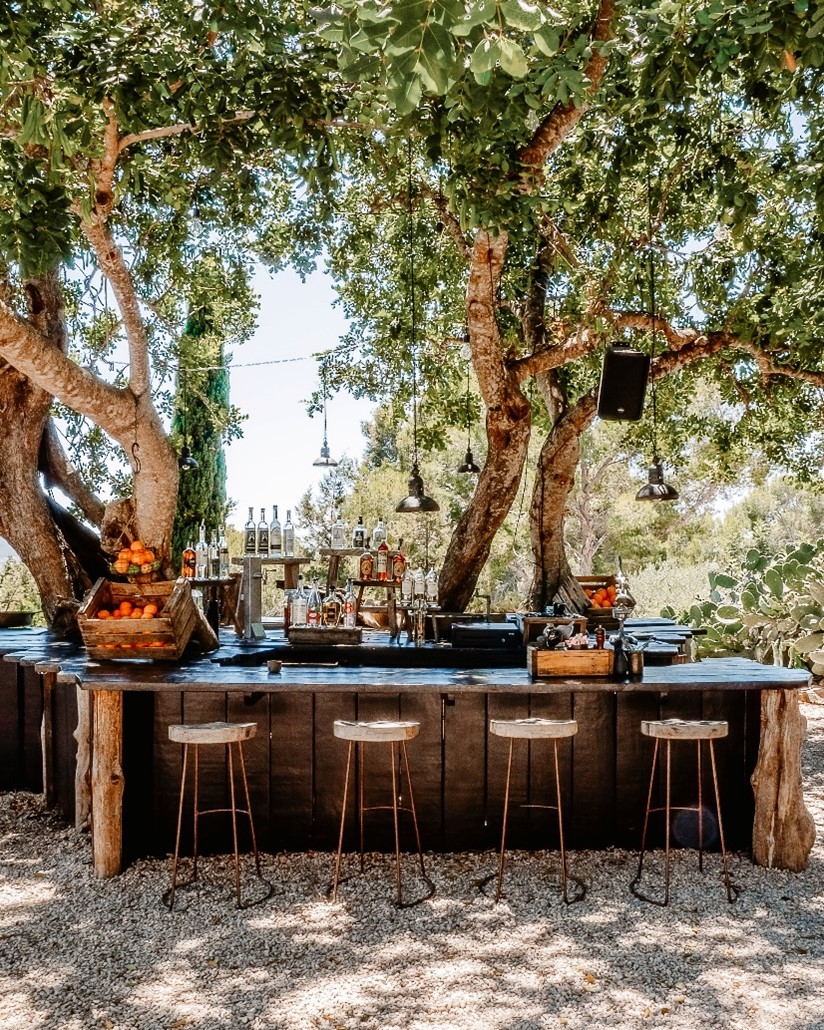 Why have an outdoor kitchen?
Eating alfresco is an essential part of the Australian way of life. And it involves what is known as social cooking, which is spending time with friends and family while you prepare food. Outdoor kitchens improve on this social cooking experience. That's because they enable you to have everything you need on hand. So you'll spend more time around your guests than disappearing into the house to fetch things. Having a slim kitchenette right out there in your outdoor living area makes entertaining a breeze. And it also makes the clean up afterwards super easy.
When creating your own backyard oasis, the style is up to you. If you favour traditional or rustic style kitchens, you may preference timber, stone and brick combos. Or perhaps you enjoy the minimalist look, in which case a mix of timber, metals and concrete will likely appeal. Even if you don't have a great deal of space, you can design a built-in outdoor kitchen up against a wall. Or you can plan to have a hideaway or pop-up outdoor kitchen.
Whichever style you choose, make sure you invest in durable, weather-resistant materials. You want your outdoor kitchen to age gracefully and remain a good investment. And if you need any tips on outdoor kitchen designs, make sure you enlist the help of an expert in kitchen renovations.
Here, we've rounded up the best outdoor kitchen ideas to help you transform your backyard for grilling under the stars. Let's get cooking!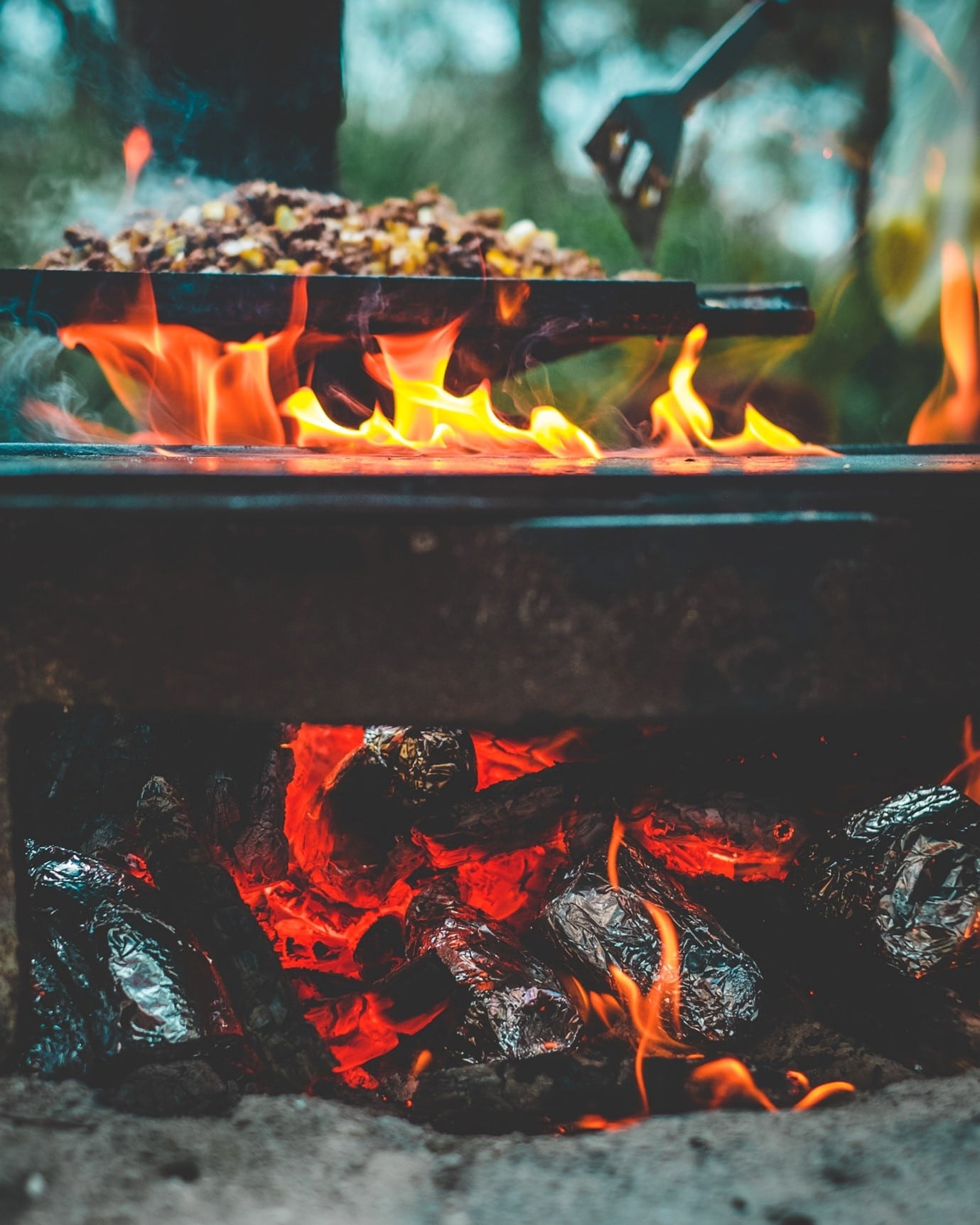 1. The basics
Setting up an outdoor kitchen is easy. Simply mimic the basics of a functional indoor kitchen. Ensure you have a cooktop of some kind, a fridge, a sink and an outdoor table setting for guests to chill while you grill.
2. Go undercover
Your outdoor kitchen area will be exposed to the elements. In other words, sunshine, moisture and temperature variances. To help it age well, use premium materials that can handle the weather, like all-weather lounges. The most weather-resistant materials you can choose for your benchtops are steel or granite. And also consider having it under some form of cover, whether a patio roof or pergola or even simply shade cloth.
3. Choose natural materials
Choose a mix of natural materials for a chic, minimalist outdoor kitchen. Timber, metals and stone look clean and contemporary, together with accessories in rattan, wicker, bamboo, straw or cane. If you choose green-toned cabinetry and timber furniture, the kitchen will blend nicely into the garden area. And you can add character with rustic terracotta pots or vintage metal decorative elements.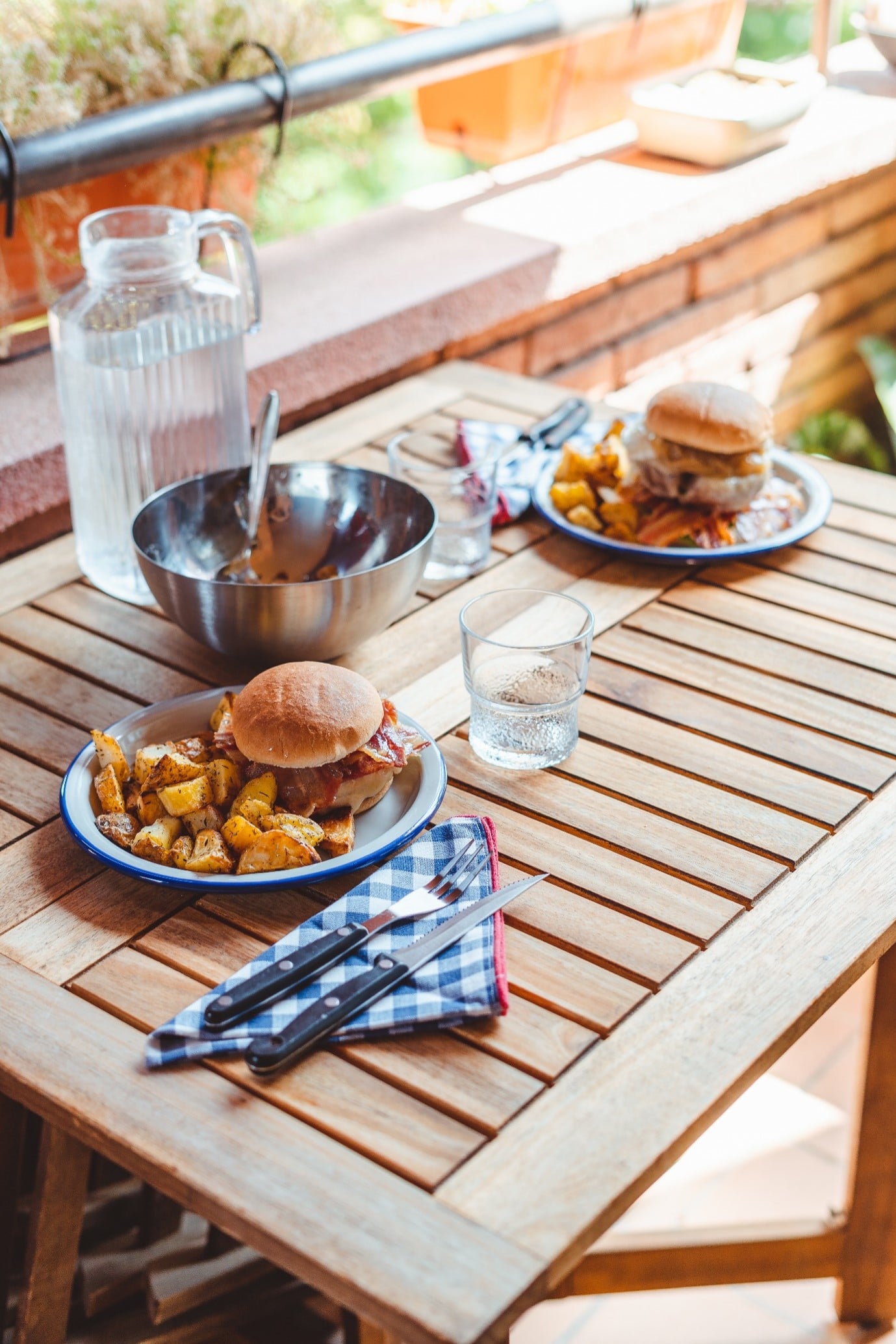 4. Disguise your cabinets
Love a minimalist aesthetic? Opt for streamlined storage that blend into the surroundings, whether through the materials or colour palette. This will ensure you have ample storage while avoiding looking cluttered.
5. Have a solid workstation
Many contemporary outdoor kitchen settings feature durable concrete benchtops and work stations. Concrete provides a lovely contrast to the copious stainless steel usually used in outdoor kitchens. Even if you don't use a lot of concrete, subtle accents remain bang on trend for 2021. Or you could try a granite slab for your outdoor kitchen counter, these are also very popular being easy-care.
6. Make it contemporary
A modern look is to incorporate the use of different tones of timber as well as matte black metal accents.
7. Create a nook
You don't need a huge backyard or patio to create a useful outdoor kitchen. Even a small area can be transformed with a well-planned cooking space.
8. Make a BBQ station
And keep everything you need for grilling close by with a pop-up hinged BBQ, it's the perfect spacesaver for those with limited outdoor room.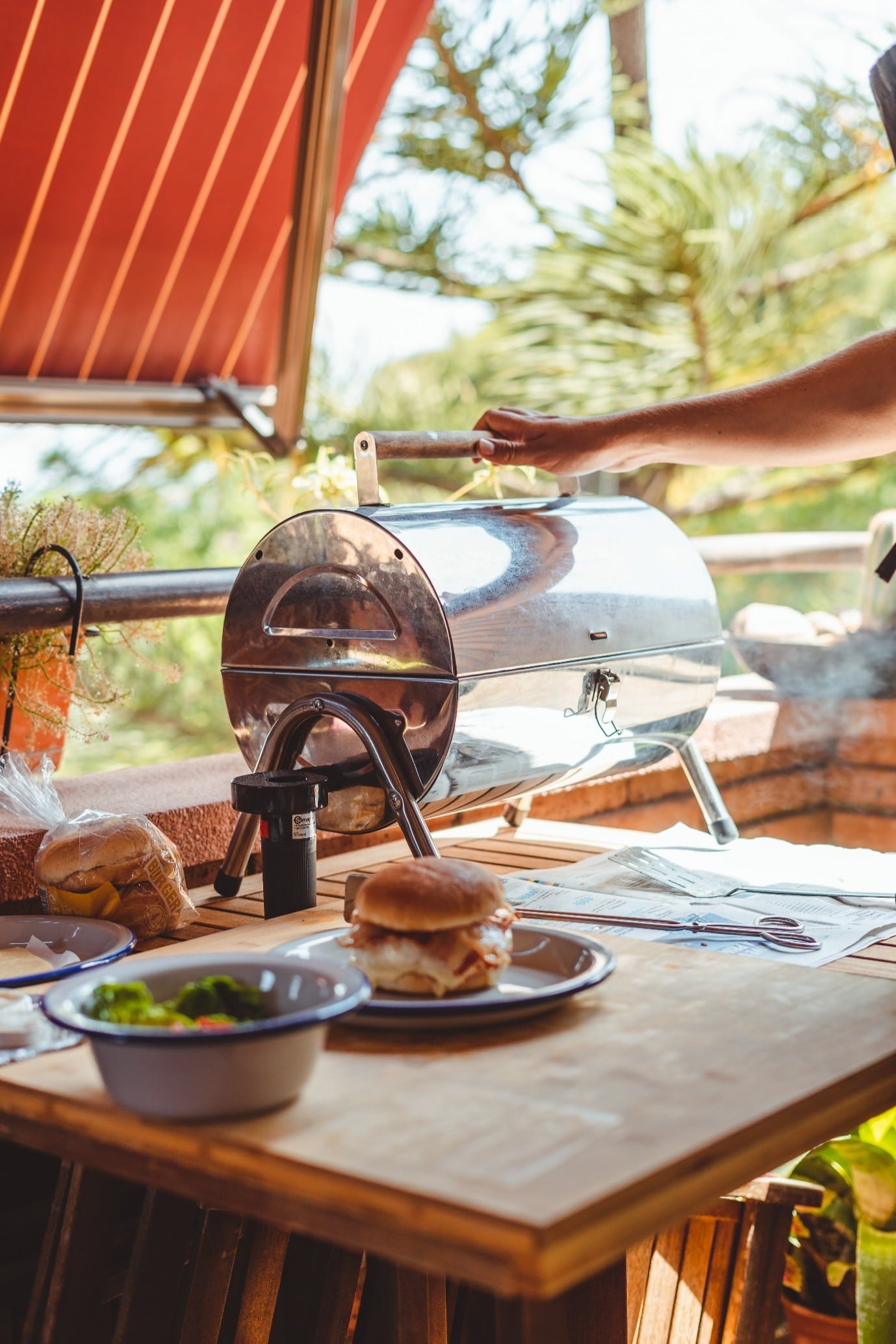 9. Add a slatted screen
Install a slatted screen for hanging your kitchen implements and chopping boards. Then add a workbench in a matching colour, and baskets or wooden crates below for storage.
10. Have an indoor/outdoor kitchen
Rather than create a full outdoor kitchen, you could create a servery by opening up your kitchen windows, if they overlook your deck or yard. A service bar or servery is an increasingly popular way to connect the kitchen to the great outdoors. It allows you to take dining outside very easily.
Looking for some more alfesco ideas? We've got you covered.
11. Hide your outdoor kitchen
For a streamlined, neat outdoor kitchen that you can tuck away from sight when you wish, consider a "kitchen in a box" type of setup. It will remain safe from the elements when not in use. Outdoor kitchens that only take up a single wall are similar to galley kitchens. So you may like to look at our galley kitchens for more ideas on how to make galley kitchen spaces work.
12. Go all-black
Equally as impressive as an all-black kitchen is an all-black outdoor kitchen. Keep it contemporary with this monochromatic look. You can easily change up the look anytime by switching out the cushions or wall décor.
13. Try white + wood + stainless steel
A simple classic look is to mix timber, stainless steel and lots of white. Try a beautiful slab of timber for a countertop and complement it with a wooden table setting. (This will perfectly team up with your Hamptons style kitchen.)
14. Go to the top
Make the most of a killer view by setting up your outdoor kitchen on your roof. Choose stainless steel to keep things feeling fresh and cool. And stainless steel is excellent at withstanding the elements.
15. Consider your wall treatment options
Timber panelling can look gorgeous for a wall in your outdoor kitchen. Or, make it practical and install open shelving.
16. Tile the bar
Bars are very handy for the outdoor kitchen, allowing your guests to feel like they're at a real bar while giving you a hidden prep area under the counter. Why not give your outdoor kitchen a unique look by tiling up your bar? A graphic geo patterned outdoor bar looks chic and provides a strong focal point.
You might also find inspo in these outdoor entertaining ideas.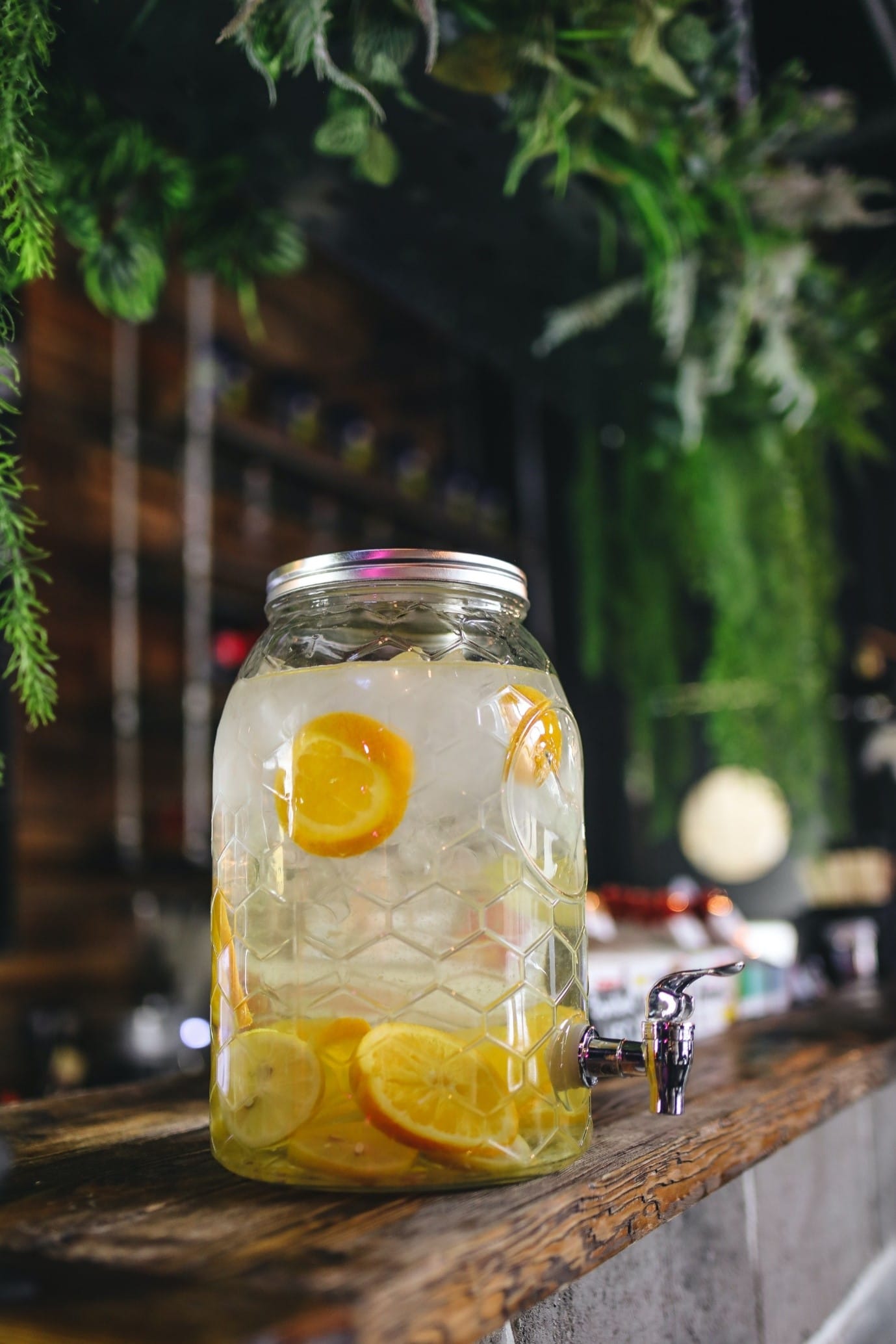 17. Thatch the roof
Allow a little dappled sunshine in with a thatched roof. Add one above a contemporary all-black kitchen to soften the space and add texture.
18. Add a privacy fence
An outdoor kitchen and dining area becomes a truly private oasis when you shield your space from neighbours with a tall privacy fence.
I've actually put an article together all about my favourite privacy fence ideas, which includes all kind of timber, brick and more.
19. Have a classic wooden table
A good old wooden dining table always suits al fresco settings. Just make sure it's adequately weatherproofed, such as with marine varnish.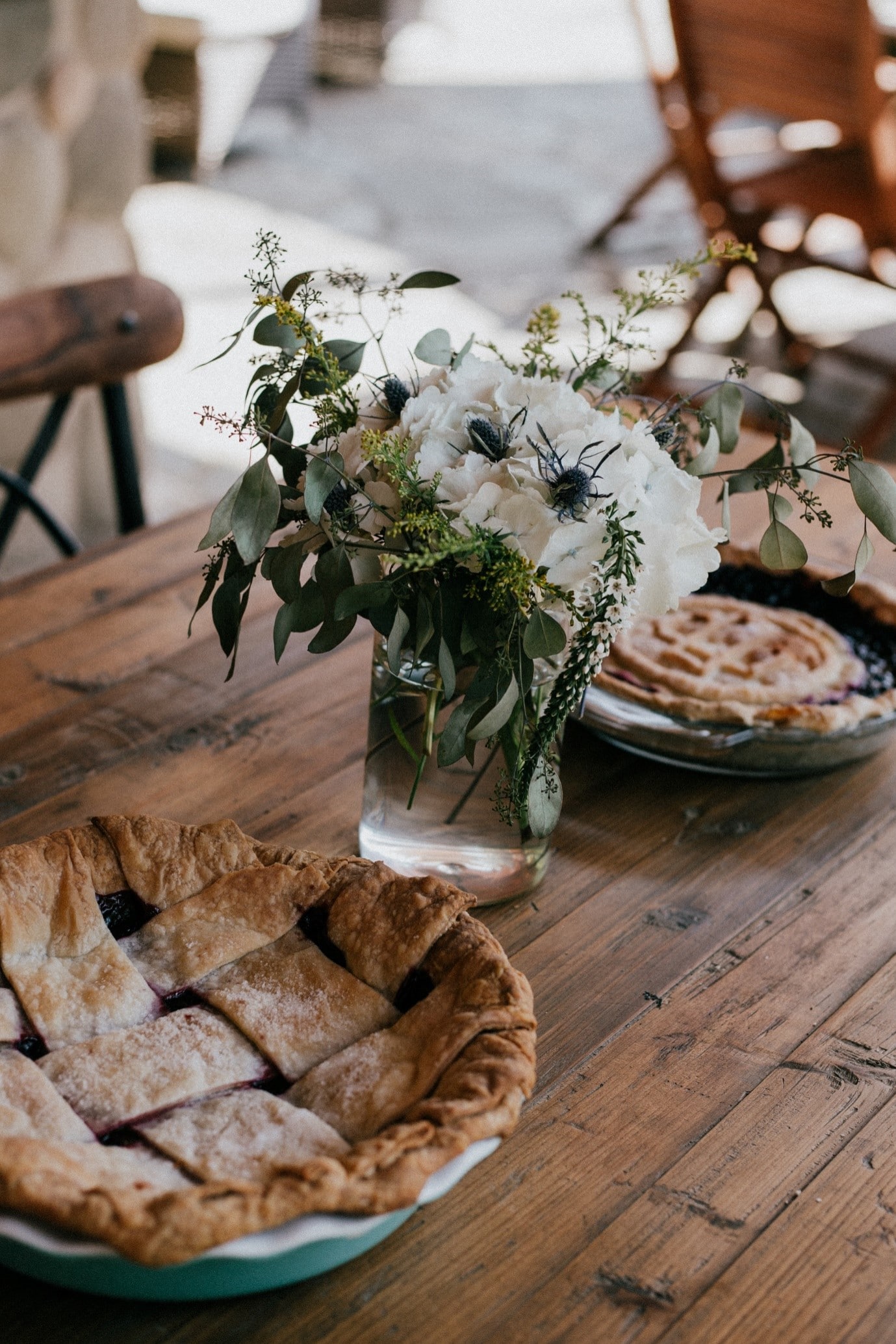 20. Go bright and beachy
You can make an inexpensive outdoor kitchen grilling station out of pallets, as seen here. There's plenty of room for food prep and multiple storage spaces. Just add bright chairs and a colourful weatherproof rug.
21. Aim for a fun vibe
Give your outdoor kitchen setting a playful atmosphere with graphic signs or other décor, and brightly painted chairs.
22. Add unexpected colour bursts
Mimic nature with bursts of kaleidoscopic colour in your outdoor kitchen seating. Chairs, bar stools and lounge upholstery all offer easy ways to introduce colour into any outdoor space. Vibrant, saturated colour look especially stunning against an all-white or all-black wall and servery.
23. Try a concrete island
It makes a strong style statement and a great centrepiece to an outdoor setting. A cement counter can be softened by the addition of timber elements.
24. Go for a black and white palette
Add black furniture and wall panelling, then contrast with crisp white teatowels, utensils and serving ware. Add potted plants to give the space tropical flavour. Have a cane outdoor lantern? Try spray-painting it black for extra impact.
And don't worry if you need help with cabinet painting, there's someone nearby who can help.
25. Have an outdoor sink
Just so handy. And the beauty of having an outdoor sink is that you can use it as a handy potting station when it's not being used for cooking.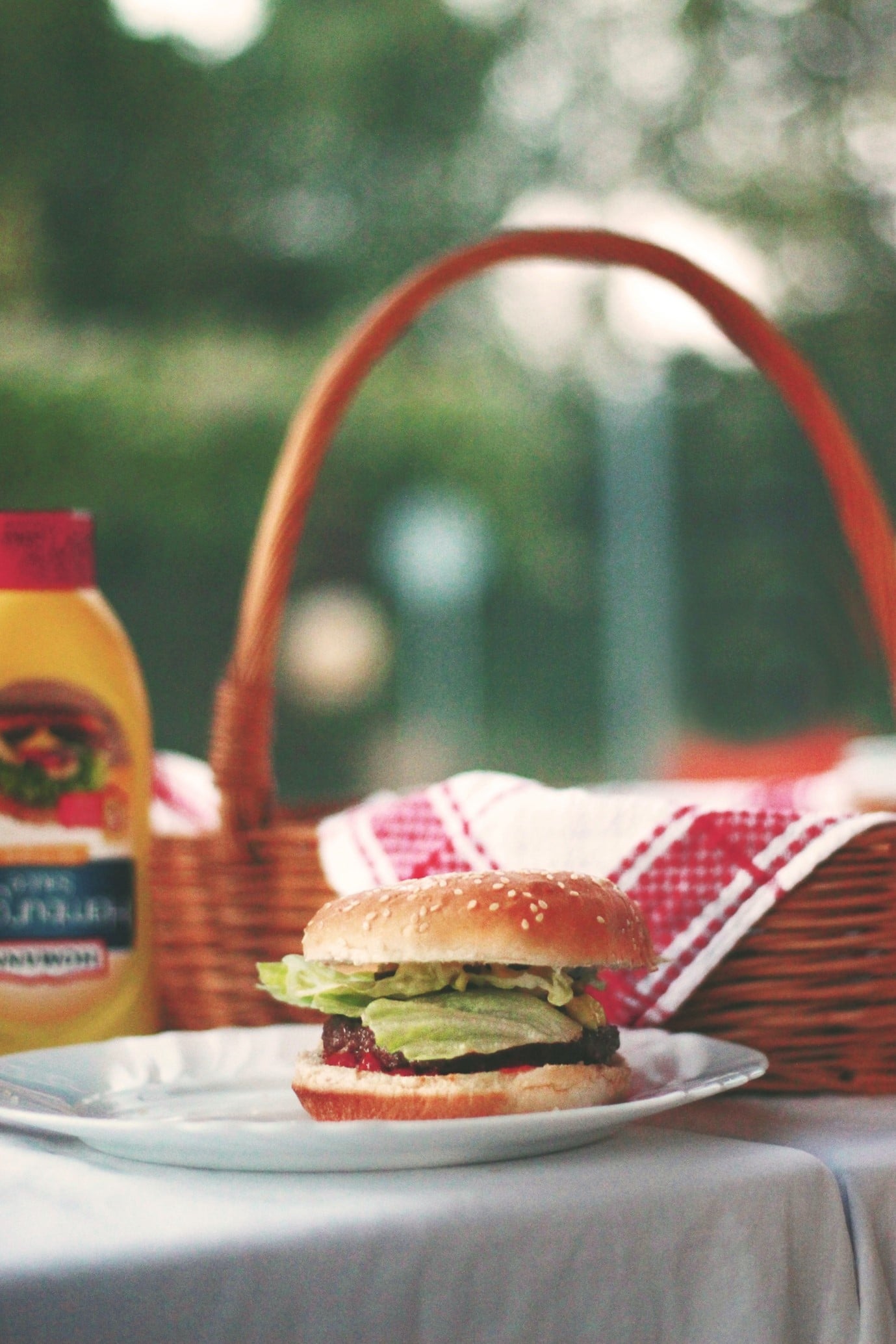 26. Have functional but stylish flooring
Pavers are a great solution. (Laying pavers looks easy but it's something best left to the outdoor paving experts.)
27. Go the whole hog
If you have space and the budget, set up a complete outdoor kitchen and dining area, with a plumbed cooking area, bar, and plenty of bench seating.
28. Add fans and heating
Make your outdoor kitchen more luxe by ensuring it's super comfy all year round. You'll really appreciate fans for air circulation as well as radiant heaters for cool nights.
29. Have a roof feature
Define your outdoor kitchen space clearly with the addition of a pergola. Aside from the decorative effect, pergolas create much-needed shade. You can also dress up your pergola with décor such as fairy lights or plants.
30. Choose characterful furniture
A simple wooden table and benches will create rustic French charm for your alfresco dining setting.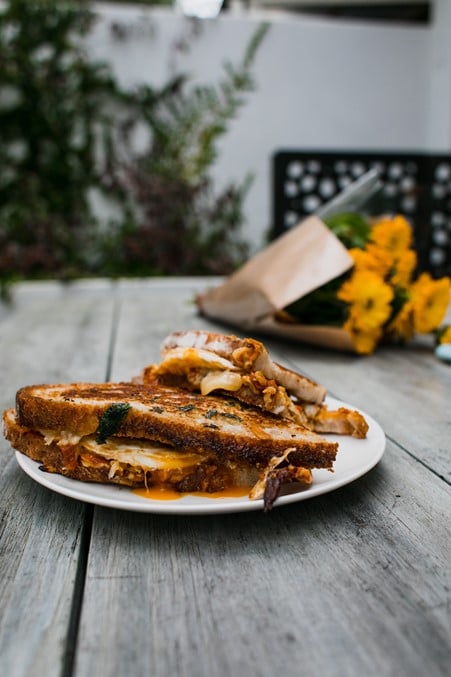 31. Tile a feature wall
Another wall treatment option is to tile up a feature wall or backsplash. You can define your space with tile, as well as add instant beauty and personality. Especially if you go for a gorgeous statement tile.
32. Create a Boho atmosphere
Use plenty of warm, raw, natural materials for a Boho-inspired alfresco area.  Aim for a serene vibe and ensure there's plenty of room for guests with lots of generous seating options.
33. Cleverly conceal storage
Every square metre of your outdoor kitchen can be utilised efficiently with some good planning. For instance, upholstered bench seating can contain hidden storage compartments.
34. Add a woodfire pizza oven
Step up your entertaining game by kitting out your outdoor kitchen with specialty equipment like a woodfire pizza oven.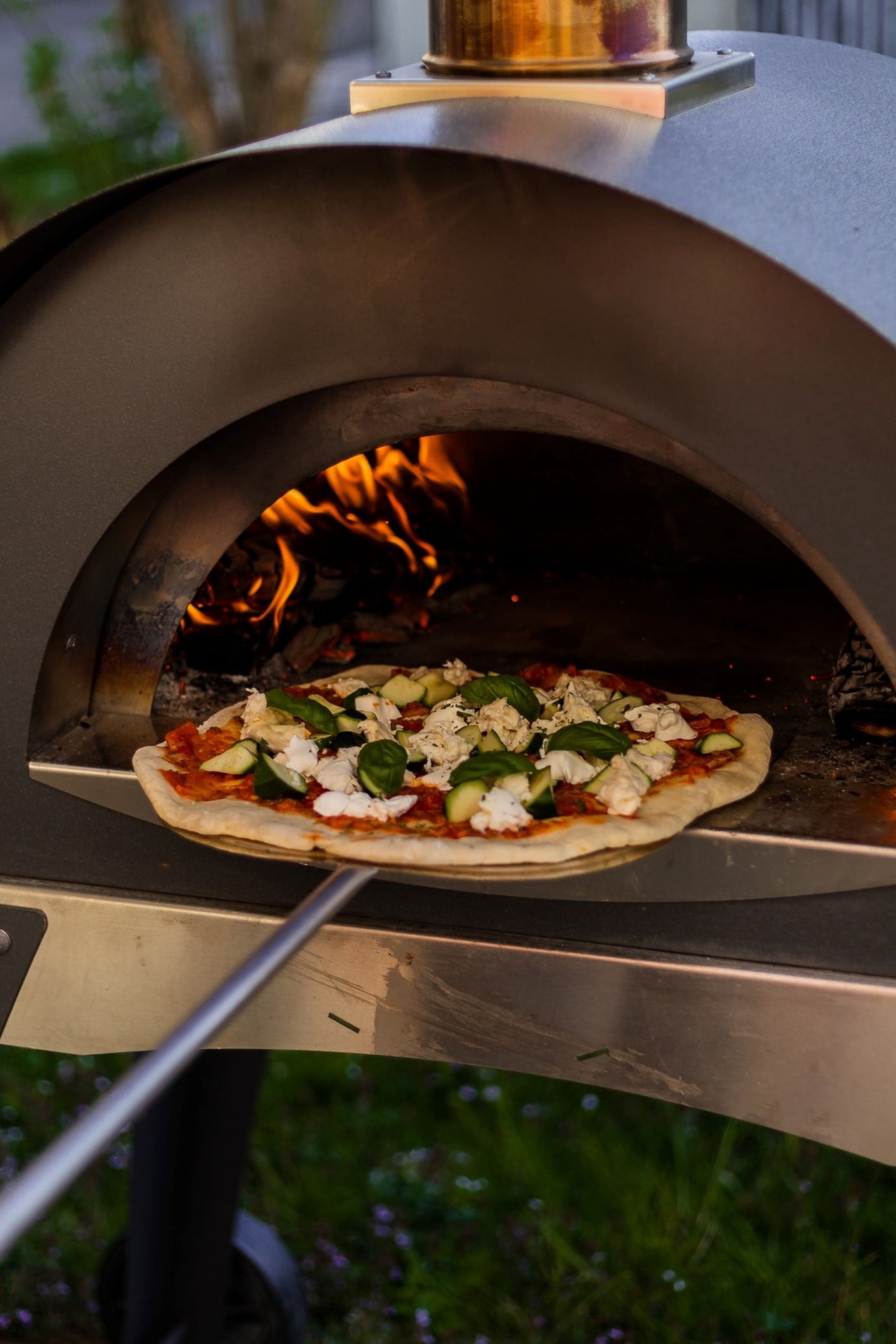 35. Build in a bar fridge
A bar fridge and/or wine fridge is always a great idea to enhance the functionality of your outdoor kitchen.
36. Add personal touches
Bring your space to life by changing up the décor. Add some large garden umbrellas or hang pot plants from the pergola.
37. Add a vertical wall of herbs
Double down on the garden atmosphere by adding a useful vertical herb garden right inside your outdoor kitchen.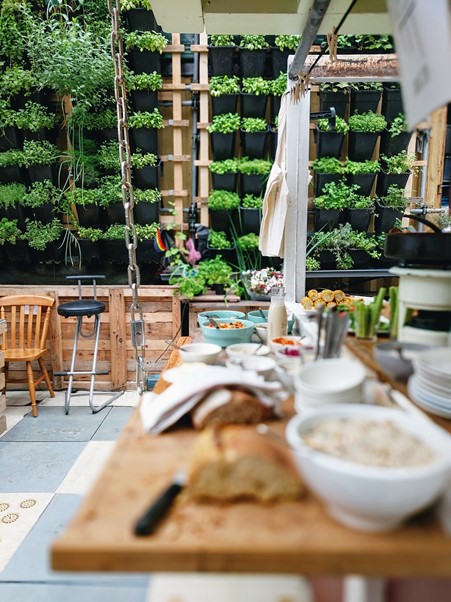 38. Have coloured bar stools
Many classic outdoor dining combos feature a bar area opposite the cooking area, so guests can sit and enjoy a drink as you cook. With outdoor kitchens designed in neutral colours, you can easily add a pop of colour in the bar stools.
39. Have a fire pit area
Consider creating a fire pit and seating area separate from the cooking zone. Firepits are great low maintenance additions to your alfresco area. They create so much atmosphere for guests to enjoy.
And if you're keen on adding some warmth to your backyard, here are a bunch of other fire pit ideas.
40. Add light
Make evenings more magical with lighting in your outdoor kitchen. Hang lanterns from trees, add cascades of fairy lights, or wrap outdoor Edison bulb lights around a pergola roof.
And that's a wrap on my collection of the best outdoor kitchen ideas. Which style of outdoor kitchen is your favourite? Do you think you would splurge on a top-end luxury outdoor kitchen, or is a DIY pallet workbench more your style? If you already have an outdoor kitchen, are there any tips you can share on what works? I'd love to know—drop a comment below!
For general kitchen styling ideas, you might like to also read our recent blog on kitchen ideas.
….
…