Have you got a steep and unleveled garden? Well, you've come to the right spot. If your home is on a plot with an incline you can actually create a really unique and interesting outdoor living space by organising and levelling that steep slope into terraces. A terraced garden is, after all, a series of small gardens on different levels that not only make it look pretty but also help to prevent erosion.
By turning a slope into a terraced garden you basically multiply the available space and it allows you to play with levels in a dynamic and dimensional way. Designing a series of interconnected, multi-level garden beds adds a lot of character to the space, and the result can be a wonderfully dramatic garden with a stage-like, amphitheatre feeling.
This means you can create separate zones with individual purposes, such as decks or patios, bench seating, a firepit area, ponds and pools. So let's jump in and look at 35 stunning examples of multi-level terraced gardens that are full of visual drama.
1. Modern terraced garden
When your terraced garden is on the edge of a cliff, in an area prone to landslides, you want to ensure you have serious structural support! This stunning coastal garden overlooking a bay is a great example of a terraced garden that employs plants chosen specifically for their structural strength (Westringia, Miscanthus and Lavender) and extensive timber decking to hold it all in place. It stays true to the natural contours of the space and the sculptural boardwalk offers plenty of spots to take in the ocean views.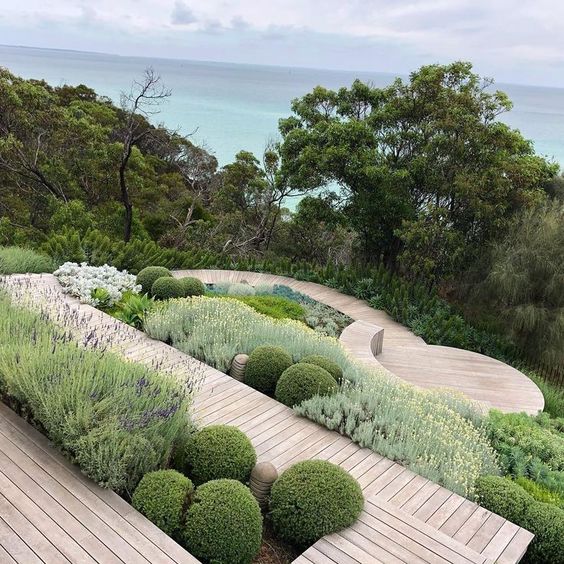 2. Maximise the space
Well defined terraced garden beds, full of solid plantings in a harmonious silvery-green colour scheme, add plenty of impact to this coastal front garden. The orderly layers ensure everything looks neat and having levels really maximises the available planting space. At the top of the retaining wall is teal coloured succulent, chalksticks (Senecio serpens), then a lovely waterfall-like effect is created by Dichondra 'Silver Falls'. Adding dimension on the right is a cardboard palm.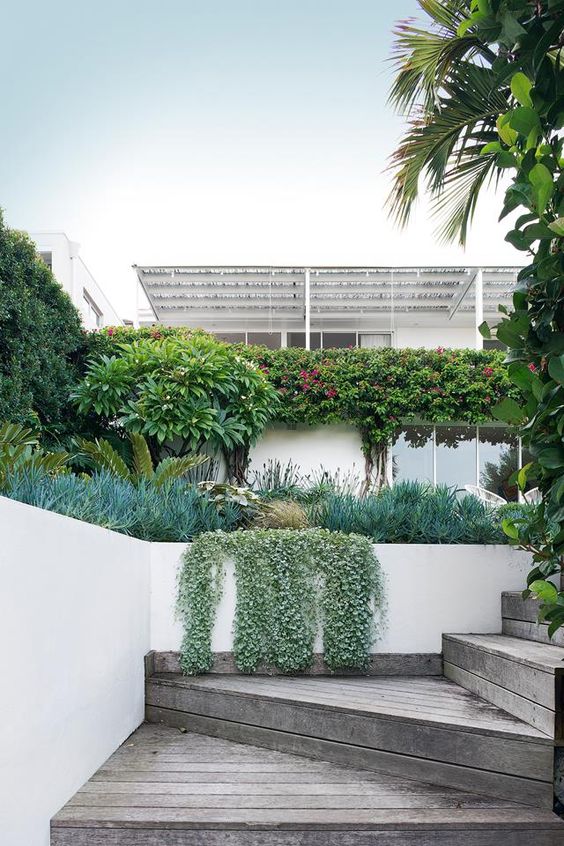 3. Material match
Building your terraced garden retaining walls in the same materials as your home itself keeps the indoors connected to the outdoors. At this beach house, a gorgeous raw timber retaining wall both frames the firepit area and, thanks to its low height, doubles as casual seating. The garden behind the little wall sits in dunes amongst tea tree scrub and features low-maintenance native coastal plants.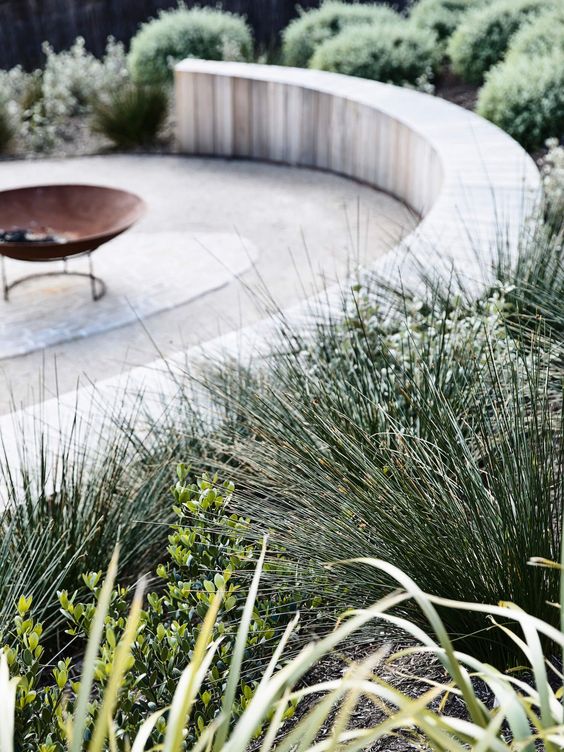 4. Terraced with grasses
Ornamental grasses look beautiful in a terraced garden as they stir and sway in the breeze, and the more layers, the better. Below, these overlapping terraces full of low-maintenance grasses and shrubs soften up the hard lines of the structures and provide pleasing hypnotic movement.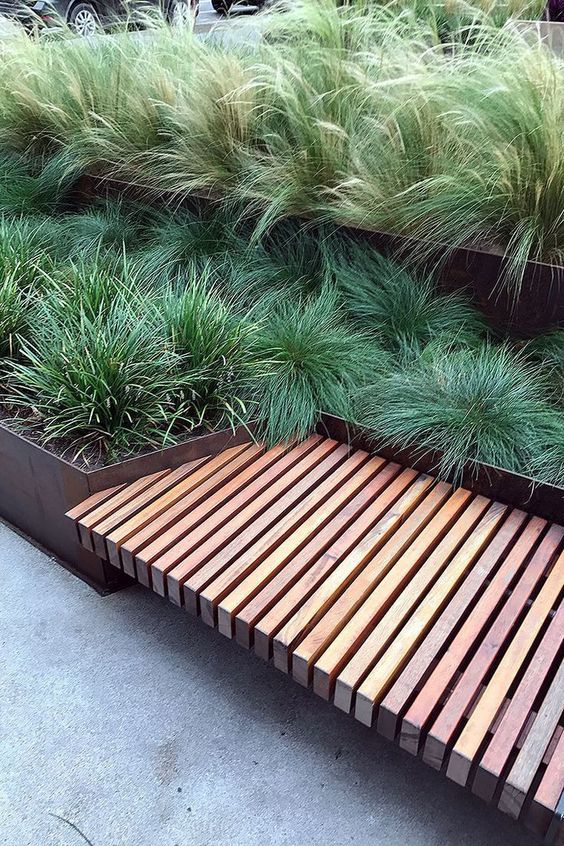 5. Ebbs and flows
Water features always create visual interest in a garden but they are especially well suited to terraced gardens. Little waterfalls or fountains complement the idea of a slope, gravity making water trickle downhill just seems natural. You might even want to incorporate your water feature into your irrigation and drainage system. Here, the organic curves of this terraced garden meld well with the idea of flowing water.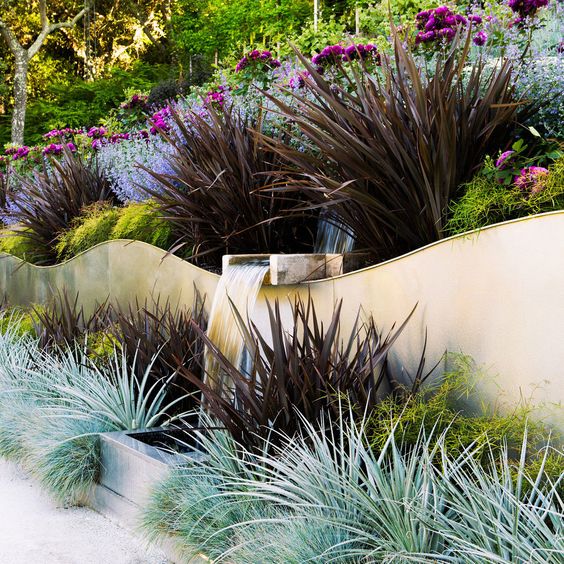 6. Stepping up
This authentic, centuries-old, formal terraced garden in Lancashire, England, includes numerous sets of stairs at varying angles to allow for journeying through its many different spaces. Consider your needs: do you wish to wander through your garden or just view it from afar? What about access for maintenance? This will help you decide if you need to add steps too.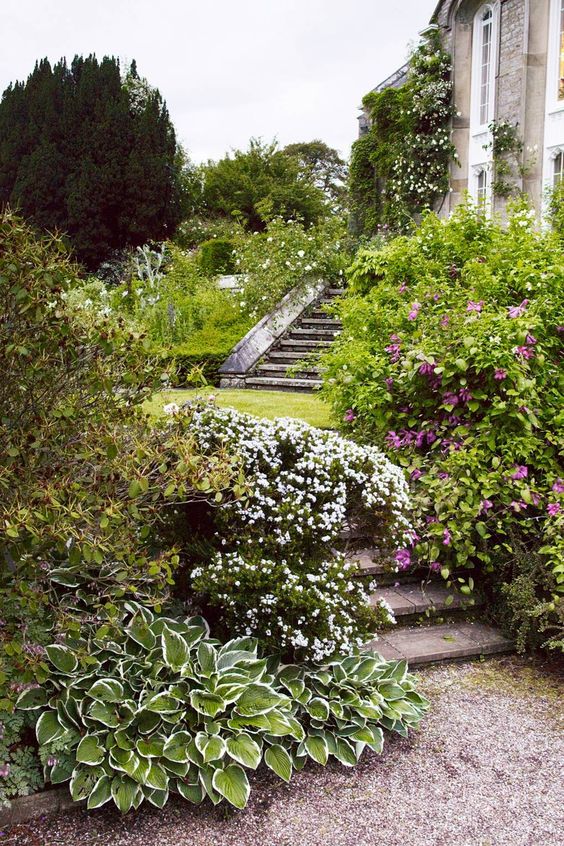 7. Parallel lines
This award-winning structured terraced garden shows how the tiers created by stone retaining walls, rows of trees and hedges result in a series of horizontal parallel lines that are very visually pleasing when viewed from inside the home.
The sloped yard features mature ornamental pear trees that were craned into the garden to provide both a pretty backdrop and privacy from neighbours. The garden features plenty of social spaces for entertaining including banquette seating along the textured stone walls and a dining setting.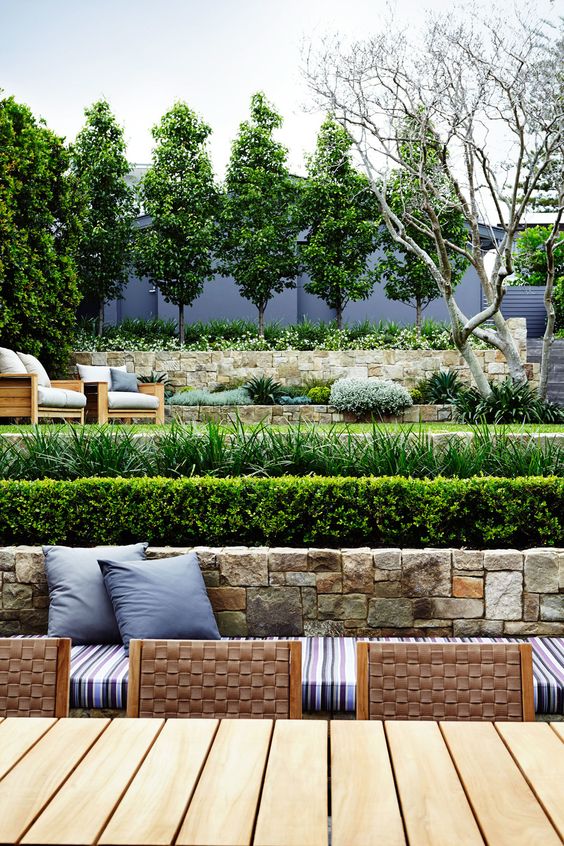 See more outdoor dining ideas with these patio ideas and alfresco ideas.
8. Multi-zones
Gardens are not the only option for your terraced space—you can also include little social spaces on different levels. I love the harmonious colour palette of the terraced garden below with its golden tones and soft hues. It also uses rocks to great effect—these are really helpful in preventing erosion of bare soil and gravel areas.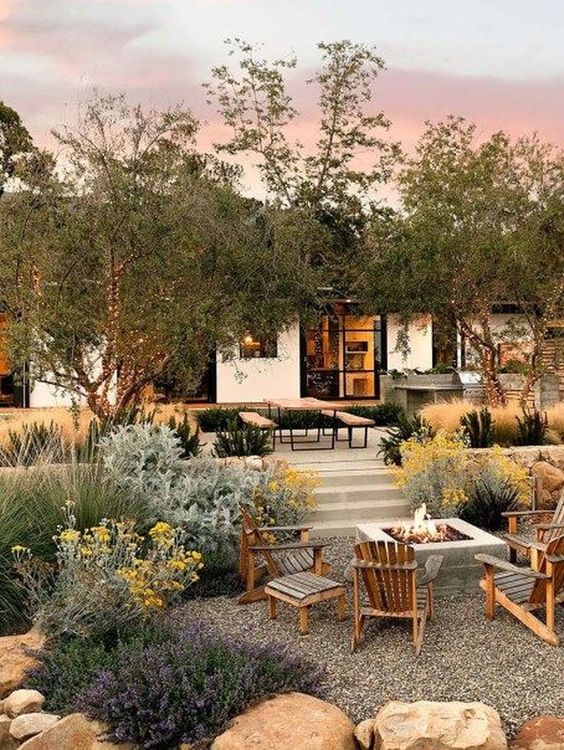 A spot to warm up outside is perfect for cooler nights or winter entertaining. Here are my favourite fire pit ideas that you can use in your garden.
9. Turning points
Little steps that change direction as you traverse the levels make for a dynamic and interesting composition in a small terraced garden. Rather than have a steep straight up and down set of steps, ones that make the odd turn are both pleasing to the eye and safer. I love this chic terraced front garden where the planting palette includes white blossoms to go with the white retaining walls.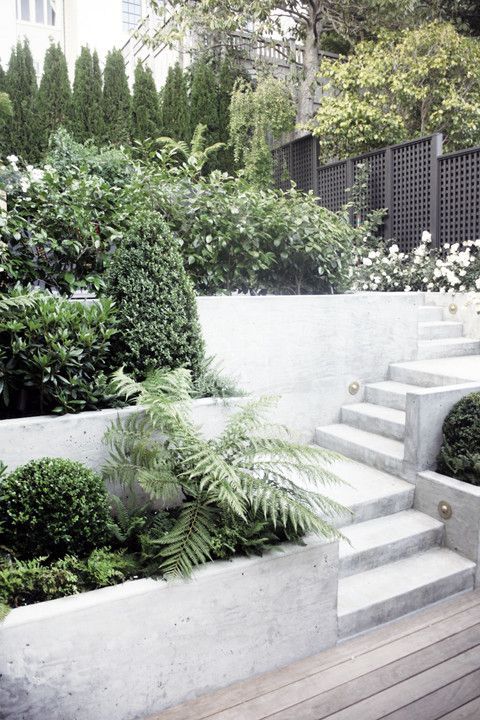 10. Light it up
Highlight your gorgeous terraced garden with clever landscape lighting. Whether you choose solar or wall lights, garden lanterns or a string of festoon lights, illumination will add depth to your levels and put the focus on your feature lights.
Lighting such as recessed LED strips can also help make obvious where changes in levels occur, improving the safety of steps. Speak to an expert landscape lighting designer to work out a plan for your garden needs.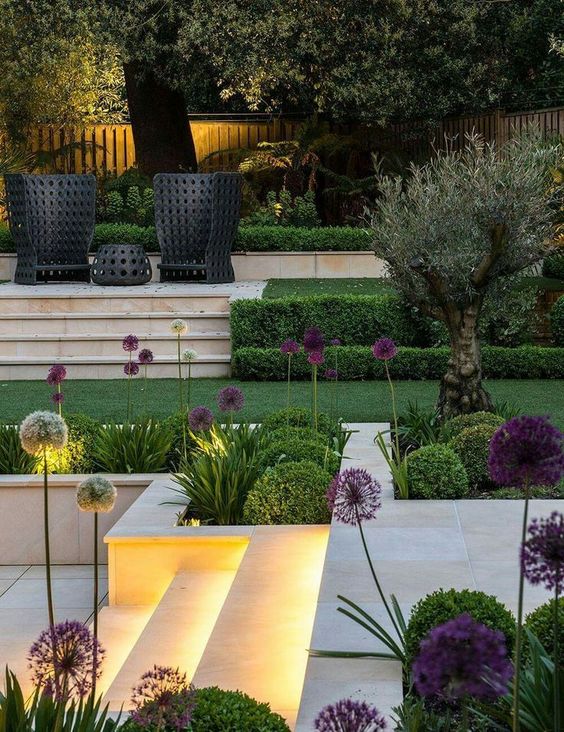 11. Backyard terraced veggie garden
Classic terraced gardens often take the form of a semi-circular, amphitheatre shape, with terraces on either side of a set of steps. This terraced garden is a vegie patch containing mint, chives, chard and tomatoes, right outside the back door for easy access for the cook. It uses corten steel to form the garden walls and define the stairs, which is a nod to the iron-mining heritage of the land surrounding this particular home.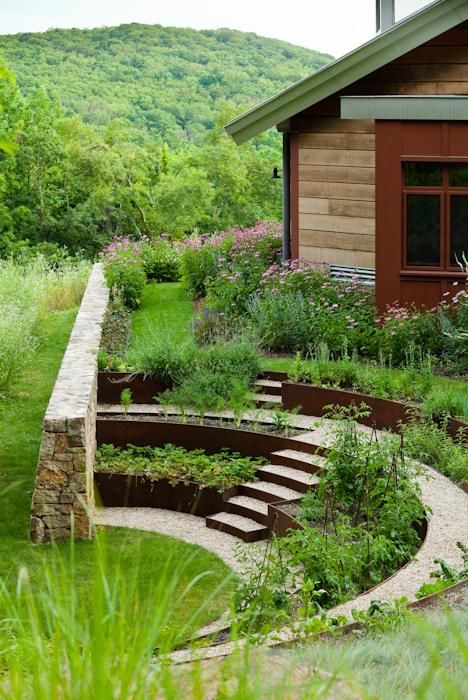 12. Boxy timber terraced garden
This small steep space has been filled with timber decking and steps, with deep platforms to allow space for comfy seating and extra potted plants. It does appear rather heavy on the use of timber, but perhaps once the plants in the planter boxes have established themselves more, it will soften the hard lines a little. If you need some help from an expert in planter boxes, you can always find a local to give you hand.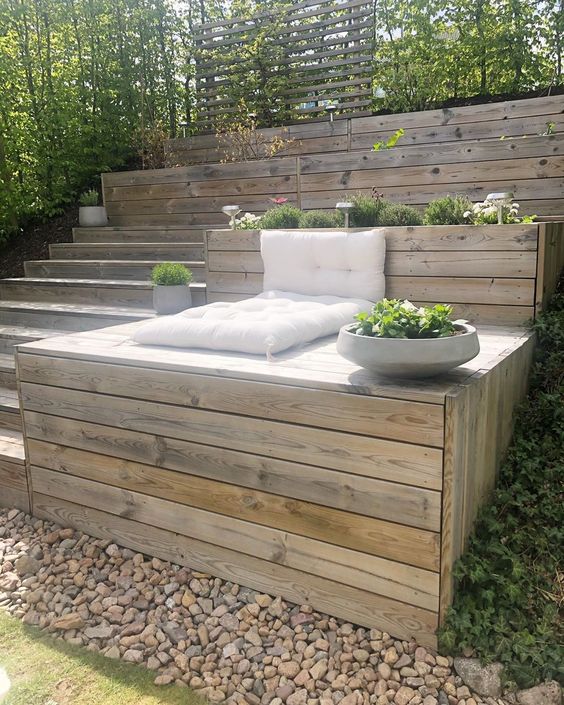 13. Visual tricks
The beauty of a terraced garden is that not only do the levels themselves create more space, but you can also take advantage of optical illusions that make the total space appear even larger. Clever landscaping of a terraced garden means it can seem to have a lot more space and depth than it actually has.
Dimension is achieved in the terraced garden below through a mix of textured plantings and a wandering pathway. Another thing to notice is the way a retaining wall, like the white one below, creates a blank canvas to display plants in front of.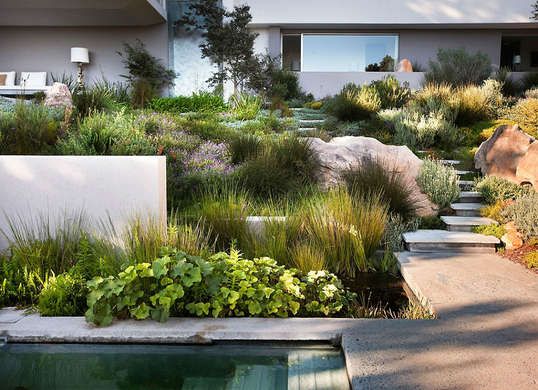 14.Steps as a design feature
Smaller or less steep terraces have less of a need for retaining walls and structural support and might be able to get away with just a few steps with gentle, low rises. Really wide steps like the ones in this terraced cottage garden emphasise the horizontal surfaces and contribute to a luxurious sense of spaciousness. They also allow for room for garden sculptures like the one below.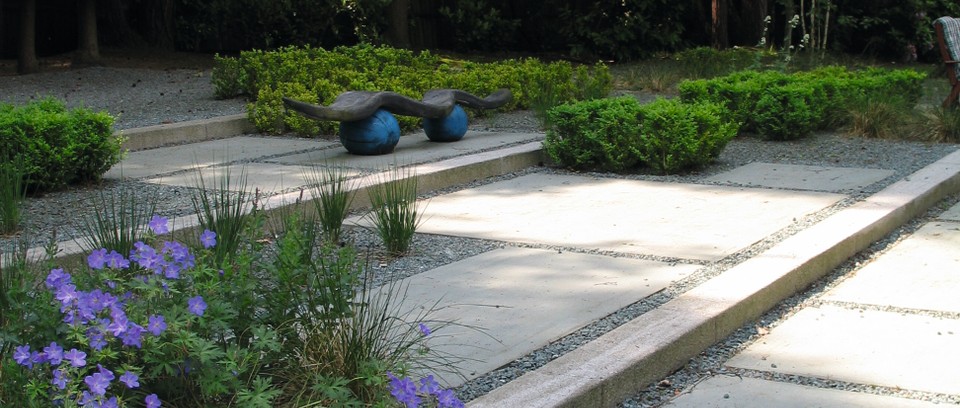 15. Succulent terraced garden
Accessibility to all your levels is a factor with terraced garden design, although steps and platforms can help you reach those tricky spots. However, make your life even easier by planting up your terraced garden with a gorgeous variety of drought-tolerant succulents and grasses.
It's a great idea as this will reduce your maintenance and therefore access needs. And succulents can look absolutely stunning when arranged in mass plantings and mixed with rocks, like in the garden below.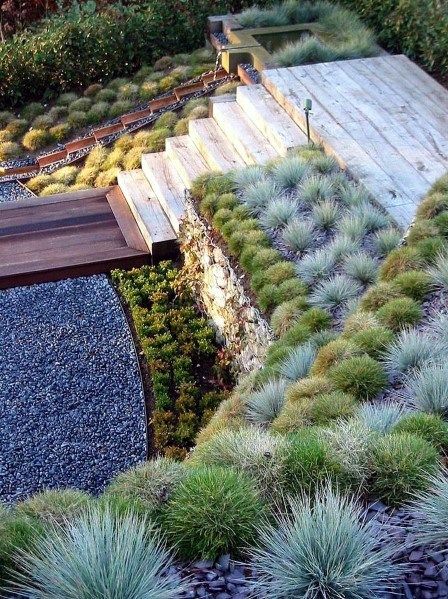 16. Pack a lot in a limited space
This tiny and narrow terraced courtyard manages to fit a lot in, creating a cosy alfresco dining spot that seats eight people. Flowering plants in planter boxes, as well as a few large statement plants, keep things neat and orderly off the ground.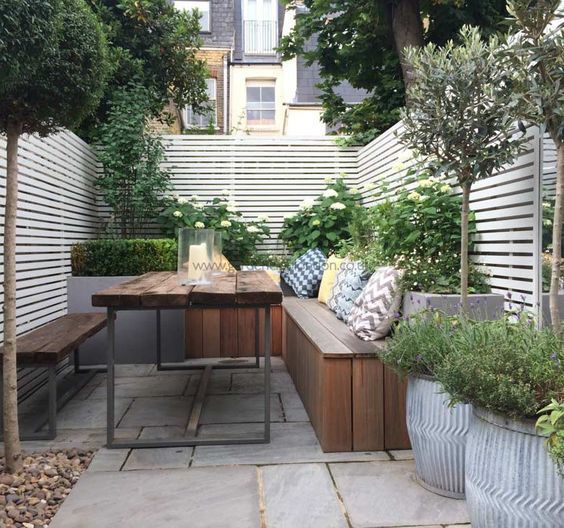 17. Classic terraced garden
Having symmetrical garden beds either side of a set of steps is a classic terraced garden look and provides easy access to all levels of the garden. If you'd like some inspo on other kinds of raised garden beds, see also our article full of amazing raised garden bed ideas.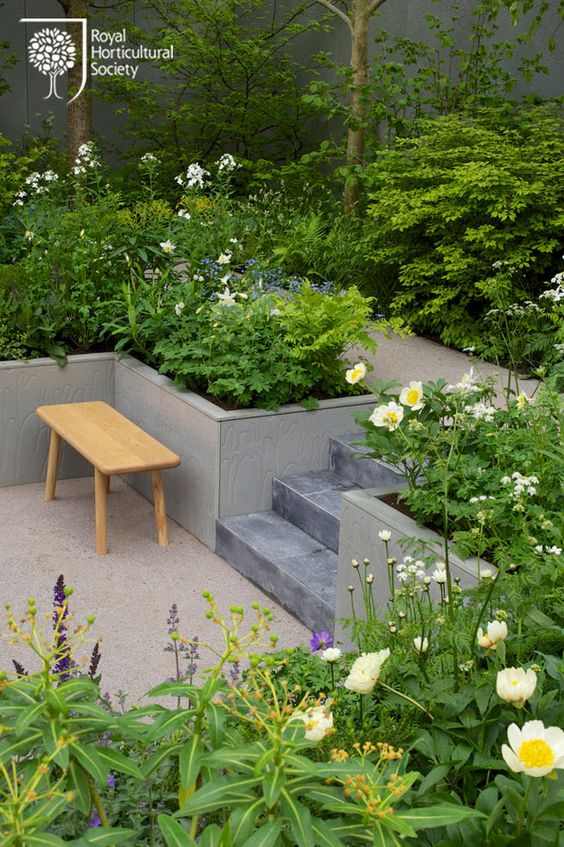 18. Define the steps
How pretty are the stepping stones in this terraced garden? It's a good idea to draw attention to the edges of your steps or pathway for safety purposes, and what better way to do it than to let little purple flowering groundcovers take hold between them?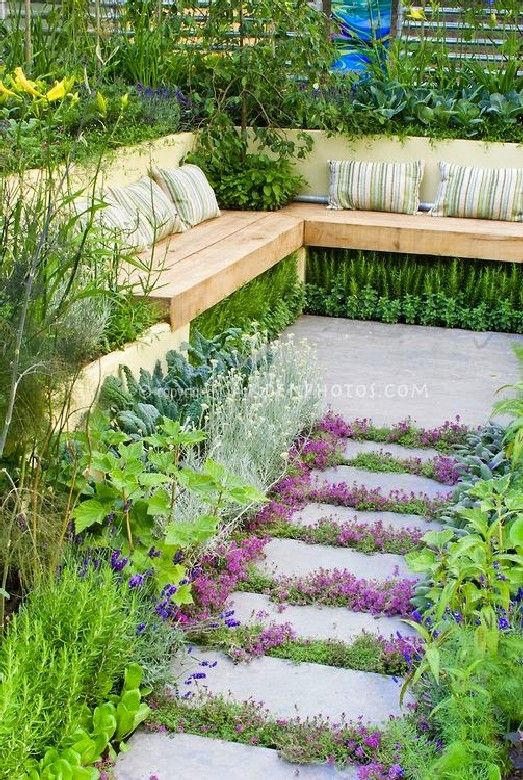 19. Watering needs
It may be that some upper levels of your terraced garden are just for aesthetic purposes. In that case, it can sometimes be tricky to reach the highest parts for watering purposes and installing an irrigation system will be the go. Luckily drip irrigation systems can be made easier in terraced gardens thanks to natural gravity. This angular, contemporary Californian terraced garden has some very high points that would be difficult to water by hand.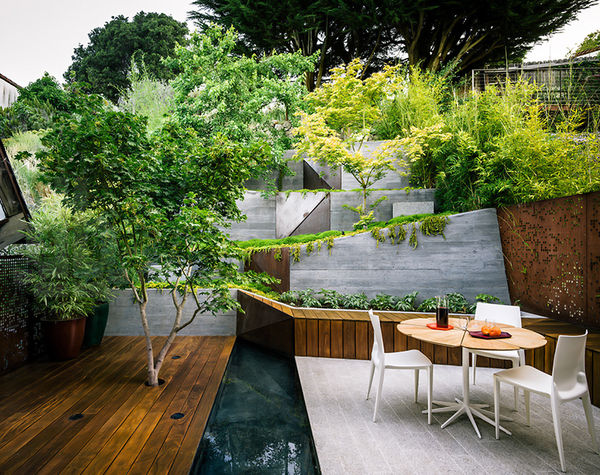 20. Continuity
In planning a terraced garden, think about continuity so that you are keeping a similar visual style both indoors and outdoors. This helps extend the living space out beyond the house itself for a cohesive aesthetic.
Taking the terraced garden below as an example, you can unify the two spaces through colours, materials and even the kind of furniture you add. Here, grey ceramic tiles outside match the concrete flooring inside, with the retaining wall and steps painted grey as well. The happy, bright garden furniture is similar to the homeowner's indoor furniture.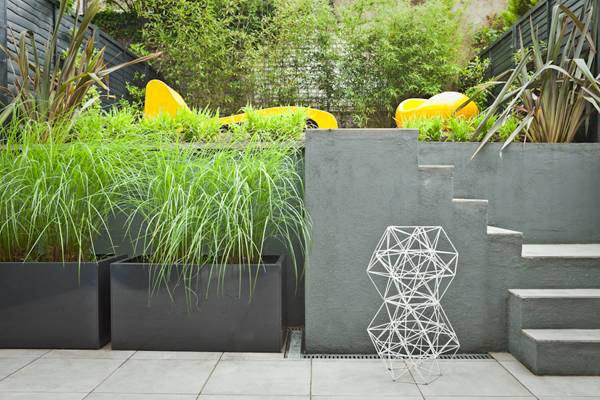 21. Terraced veggie garden – on a terrace
Terraced gardens are ideal for growing herbs and vegies as they enable you to section off different kinds of plants very easily but bed stay close enough so that you can take advantage of things like gravity irrigation systems or companion planting. If you've always wanted an edible garden, a tiered set up might be just right for you. Check out our tips on how to grow herbs on your balcony.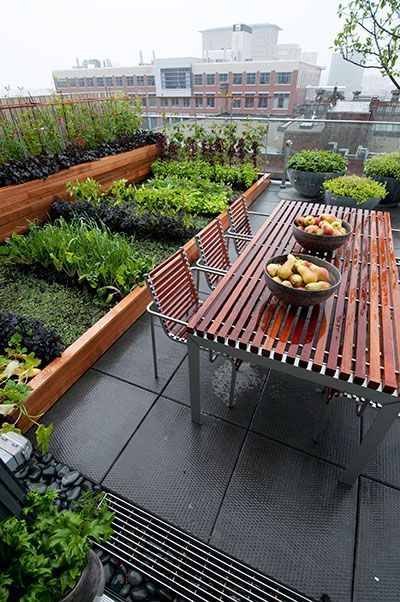 22. Natural look terraced garden
You can create terraces with many different kinds of materials, including rocks and boulders. These mini retaining walls were made from limestone rocks found on the site of a sloping lot in Texas. The landscaper uses them like dams to trap rain preventing soil erosion, which is one of the main advantages of terracing.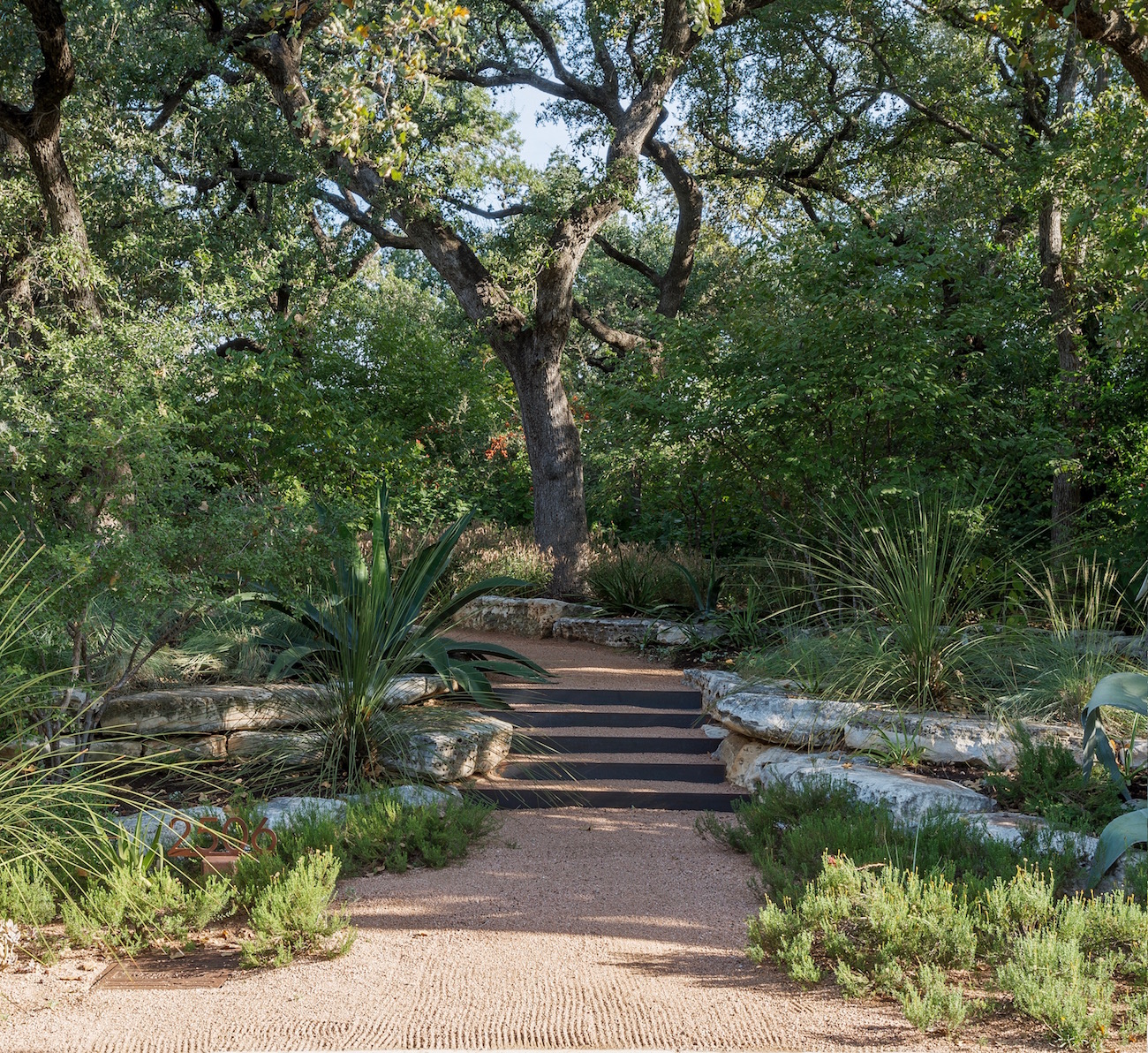 23. Retaining wall in the front yard
A simple two layer retaining wall set up is an easy way to help stop erosion in a sloped front yard. By turning the slope into several gentler steps, the rain gets trapped instead of running off.
Choose an attractive textured stone that complements your home exterior, and plant hardy, low maintenance plants that will dominate over weeds so you don't need to spend as much time out the front weeding. Or, hire someone else to handle your garden maintenance!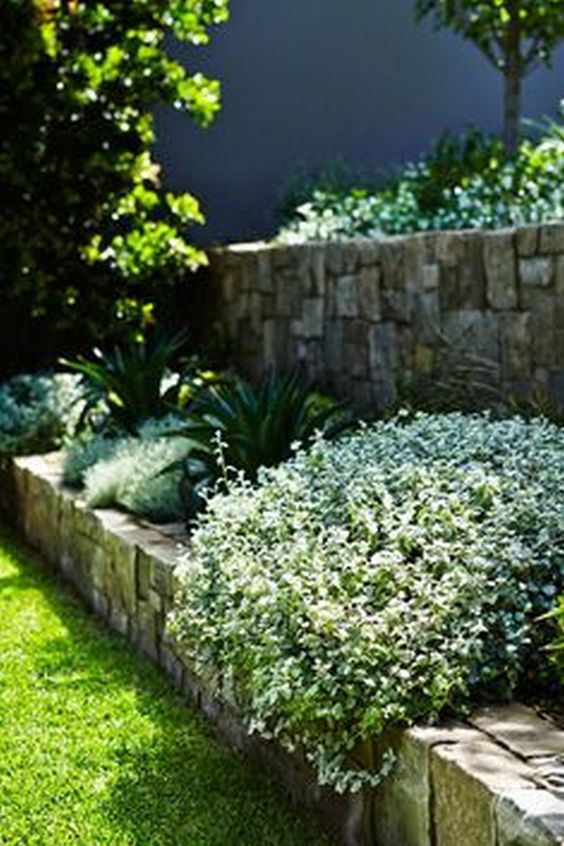 24. Very steep terraced garden
With a very steep slope, you'll have to take a lot of care with the integrity of the site to prevent erosion and slippage. Planter boxes adjacent to the set of stairs here provide plenty of structure and strength for this simple minimalist planting.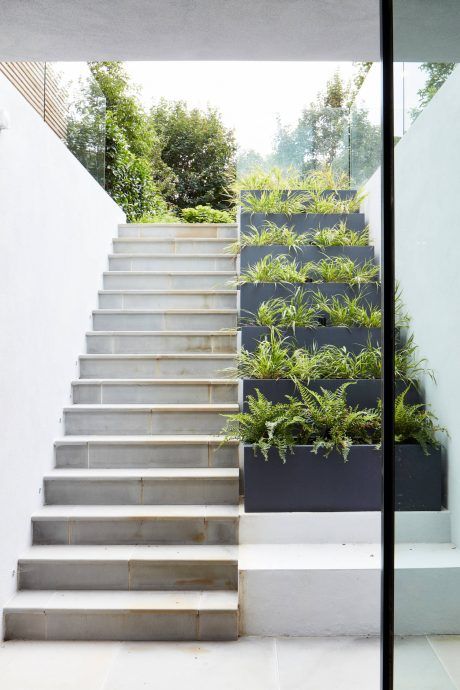 25. Multi-purpose
One of the advantages of working with terraces is that you can create all those individual zones that make the space dynamic and functional. In the small city garden below, the room has been found for a lawn area, a pool and outdoor shower, an outdoor kitchen, and even a cubby. With so much going on and strict demarcation for each activity, you need to make sure the garden stays neat and tidy.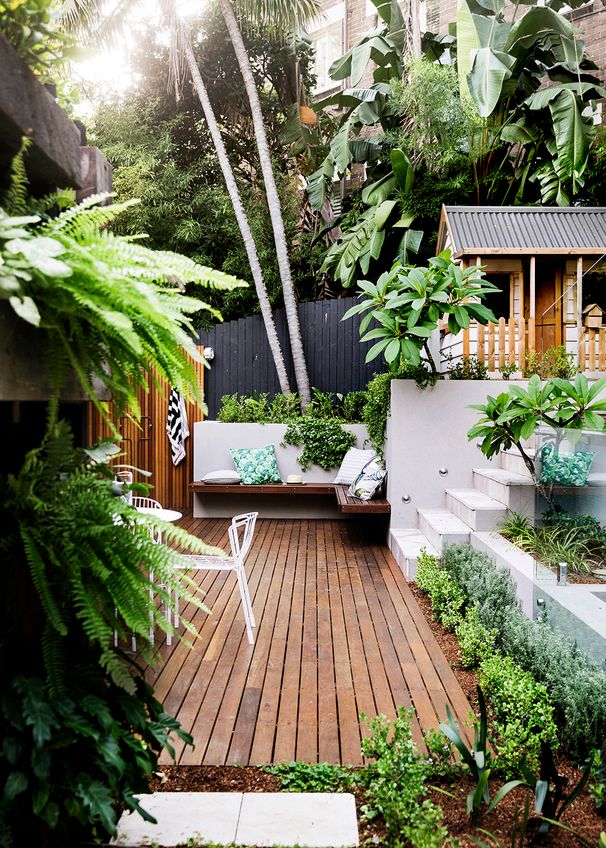 26. Structure and order
Terracing helps turn a ramshackle hillside into a sleek contemporary design, like this San Franciscan terraced garden featuring several retaining walls. Retaining walls can come in such a wide variety of looks and materials, and your site conditions and needs, as well as personal taste, will guide your choice. Common materials include timber, stone, brick or concrete like these ones.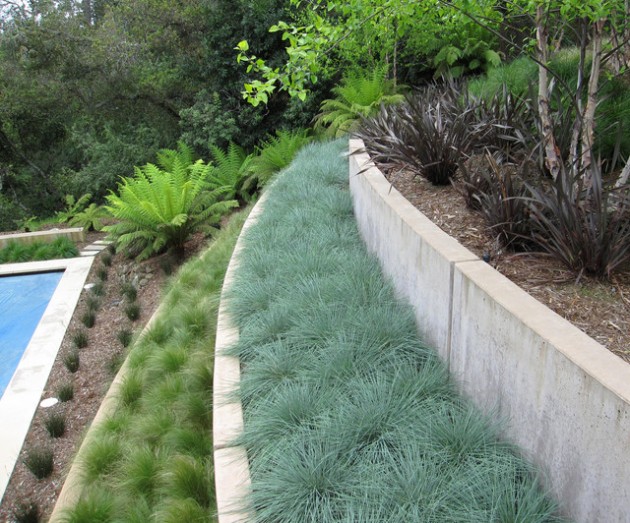 27. Functional and aesthetic
Natural stone retaining walls in steeply terraced gardens have the added benefit of acting as a neutral background to feature plants. The contrasting colour really breaks up the planting to highlight the plants as focal points. Below, a limestone feature wall looks striking paired with a coastal planting and also helps protect the seaside home from powerful winds.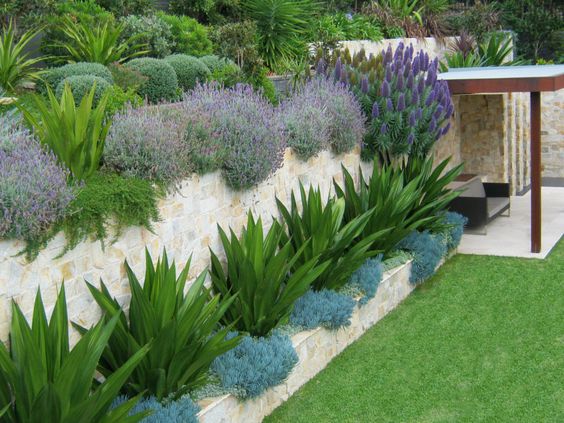 28. Blue terraced garden
Here again, we have an example of a very low maintenance terraced garden packed with drought-tolerant plants that will hold their own against weeds. I love the sea of blues and greens achieved with this planting—if you have a particular colour scheme in mind, why not speak with an expert in garden planting who can help you bring your vision to life.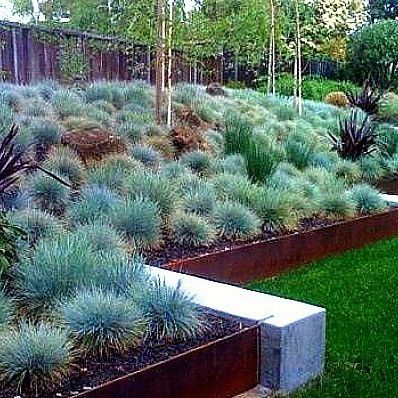 29. Reshaping a site
Rather than have retaining walls installed, this garden has had a gentle gradient created through mounding soil and reshaping the site's contours. Chunky granite steps and bluestone stepping stones look gorgeous against the plant palette of natives and exotics: the stepping stones spaces are filled with native violet groundcover.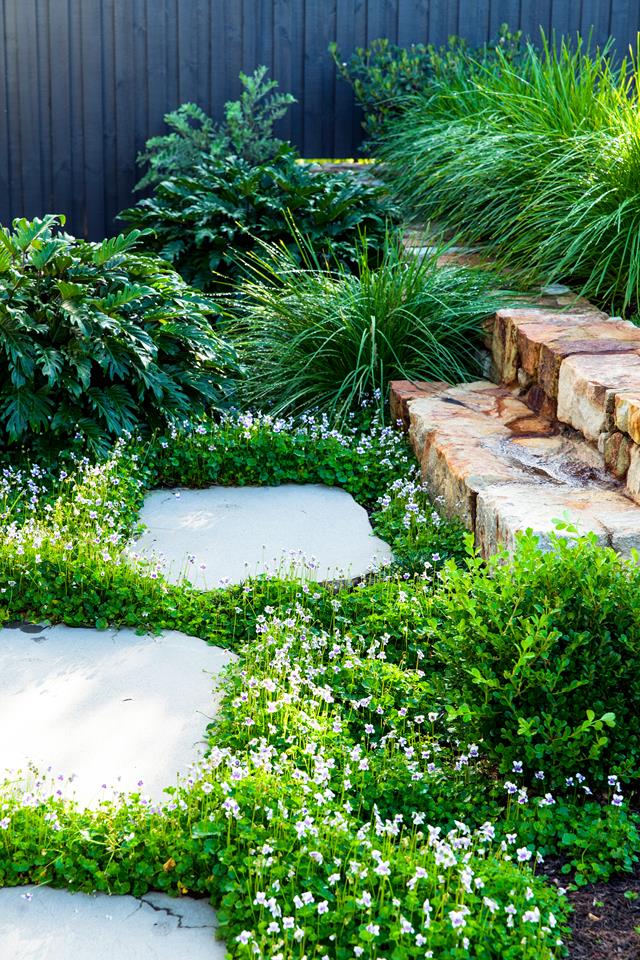 30. From steep to stylish
Imagine just how steep this slope would be if the site hadn't been divided into two levels? Instead, there are now two separate social spaces; the top has been made level for some lawn and the bottom has been paved into a courtyard. A simple wooden staircase joins them.
I love how the homeowner has gone for an asymmetrical planting arrangement for more interest—a green wall behind the courtyard seating and some neat containers perched on the other side of the stairs.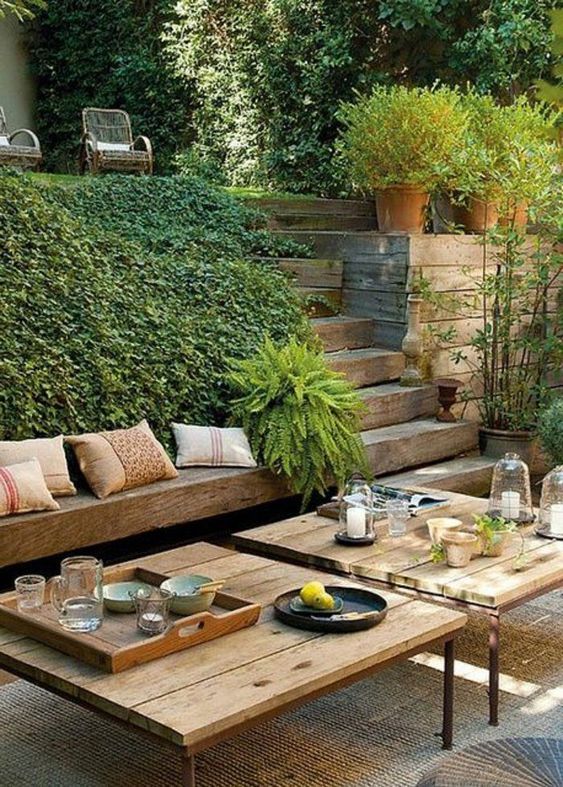 31. Large backyard terraced garden
In this large backyard, two level spaces have been created with stone retaining walls. A bluestone-paved lower patio is perfect for BBQs and alfresco dining or for sitting by the firepit. Stone steps lead up to a lawn and timber studio. Throughout the garden, the homeowners have used low maintenance drought-tolerant plants—which is a good idea when you have such a large garden space to maintain!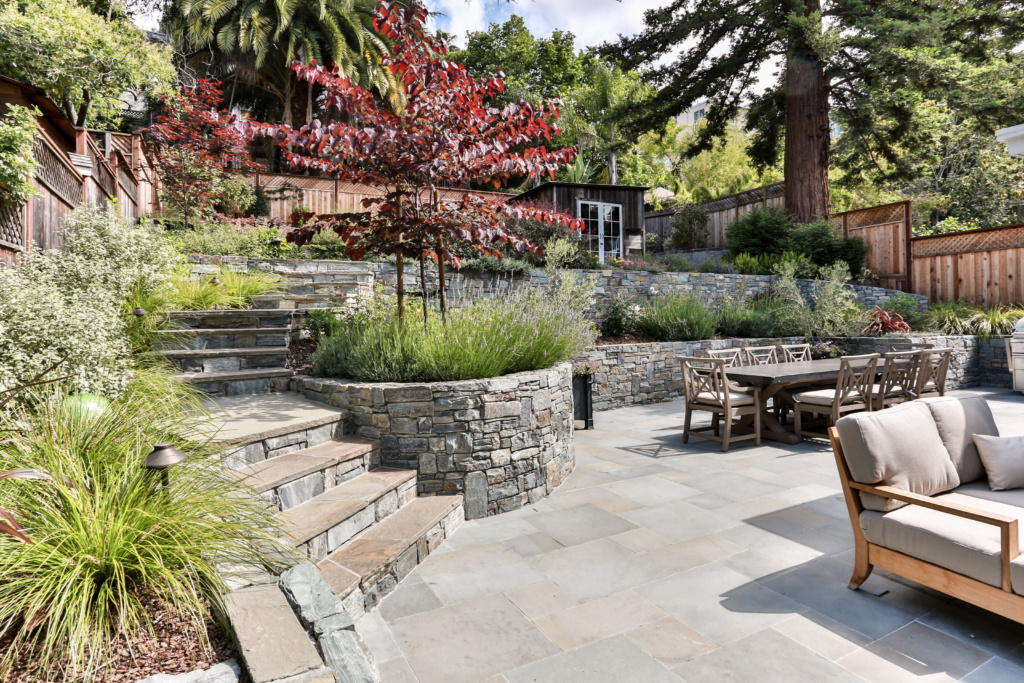 32. Terraced around a tree
When planning your terraced garden and assessing existing features, consider whether ripping out mature trees is a good idea if it will have an effect on your site's integrity by causing ground movement.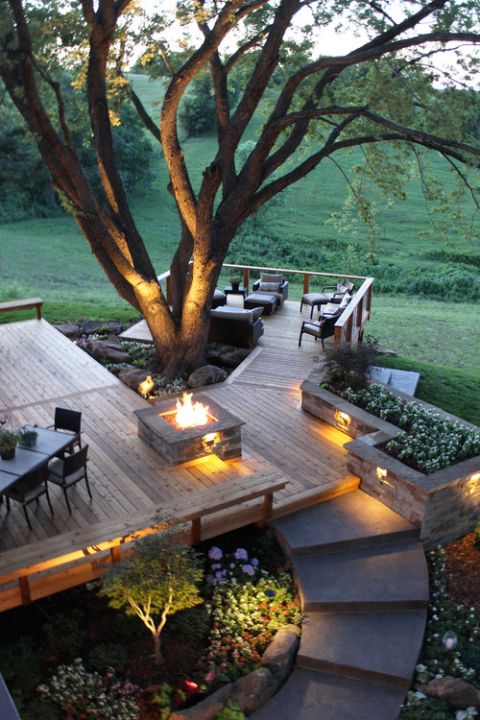 33. Terraced garden with pool
Repetition of materials ensures all the elements and levels of this modern terraced backyard stay tied together. Similar pale shades of timber have been used from the pool decking to the stairs, timber bench seating and even the raw timber adirondack chairs. For more decking inspo, you might also like to see our article on decking ideas.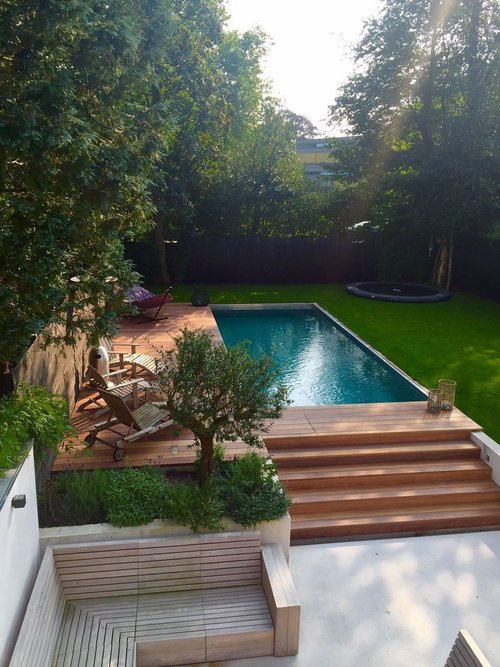 34. Asymmetrical terraced front garden
Having a terraced front garden means you can play around with different plantings and yet everything stays looking super neat and tidy. It also entices visitors through a zigzag of pleasing shapes and colours and of course, increases the curb appeal – that all-important view from the street.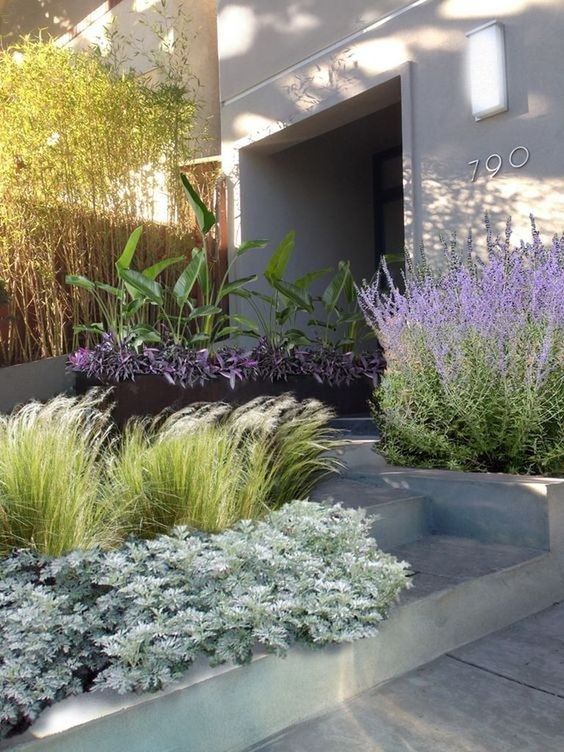 35. Blooms and boulders
And lastly, something completely different… Forget order and neatness, how about a chaotic cascade of colour bursting out from the boulders? You'd need to take very good care on those wonky steps! But it's a gorgeous aesthetic don't you think?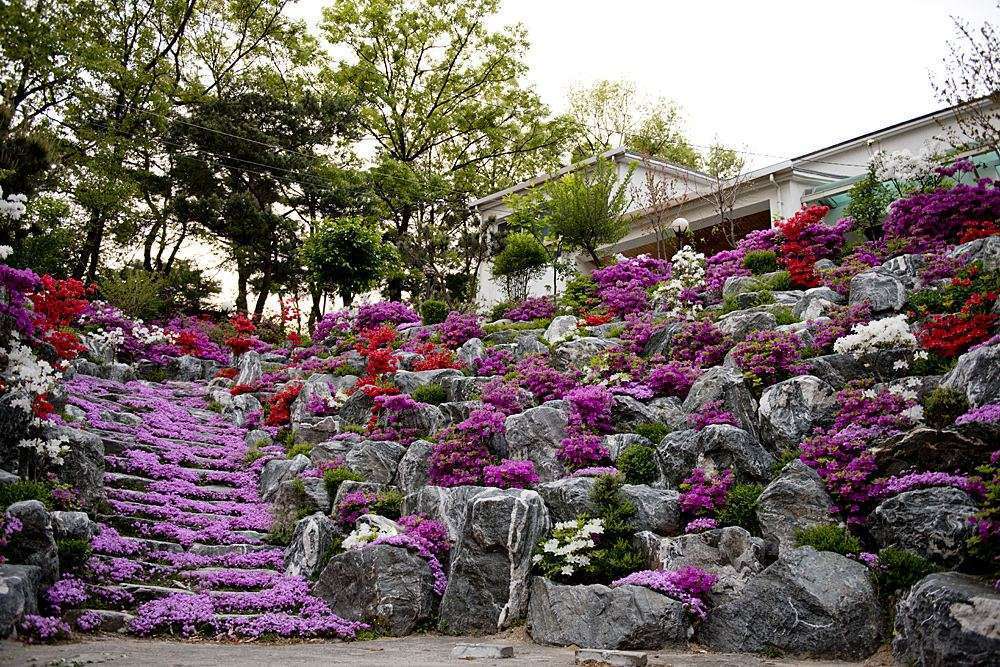 Challenges and considerations
Of course, there are some constraints when it comes to creating a garden on a slope. You won't just be able to start slicing into the hillside or removing existing trees and shrubs with abandon. Careful planning is needed to avoid damaging the integrity and stability of the site—who wants mudslides? You'll need to think about the placement of retaining walls and a planting scheme that's sympathetic to the hilly location.
Towards the bottom of a slope, you'll add plants that can tolerate damper soil where the moisture tends to pool after rain. At the top, you'll plant more dry-tolerant plants. Always look for deep-rooting plants to help with stability. Adding rocks and groundcovers helps anchor soil, and planting trees that create a network of roots helps bind and strengthen the levels. For help with your garden design, you might like to speak to a local expert.
Retaining walls are common for terraced gardens as they turn an incline into smaller increments with less soil pressure, meaning less erosion when it rains. A structural engineer is essential to design a retaining wall that has the right stability and strength. If you have a very steep site, it will usually benefit from site grading as well. Drainage is also crucial to get right to avoid damaging retaining walls. You might also wish to include an irrigation system that will help water slowly flow to the lower levels and to avoid a labour-intensive watering regime.
Accessibility is important to address as well. If you plant up a slope you'll need to be able to access all areas for maintenance or for the enjoyment of social spaces. This may mean adding steps, paths or ramps.
But as you can see from all the wonderful terraced garden ideas above, there are so many ways you could design a gorgeous garden that maximises the vertical space of a slope or hill. Do you prefer the symmetry and order of a sequenced arrangement of parallel terraces? Or perhaps you like a more asymmetrical, organic look? Let me know in the comments below!